Looking for casual Valentines Day outfits? Check this post for cute and romantic Valentine's Day outfit ideas that you will love.
Valentine's Day is just around the corner and it's time to start thinking about what to wear.
Whether you're going out for a romantic dinner with your significant other or having a casual day with friends, having the perfect outfit can make or break your night.
If you are looking for casual Valentine's Day outfit ideas this year, you've come to the right place.
In today's article, I am sharing with you expert tips on how to dress for a casual Valentine's Day vibe and the best casual and cute Valentine's Day outfits for women in different styles.
So scroll on to check these styles tips and casual Valentine's Day styles, and don't hesitate to pin them to your Pinterest board, and share them on social media sites.
This post may contain affiliate links, which means I'll receive a commission if you purchase through my link, at no extra cost to you. Please read the full disclosure here.
This post is all about casual valentines Day outfits.
What is the best outfit to wear on Valentine's Day?
When selecting an outfit for a romantic dinner or date night on Valentine's Day, opt for something that shows off your femininity.
Soft colors like blush pink and pastels will add a hint of romance without going overboard.
Alternatively, you could also choose shades of red as they are known to symbolize passion and love.
Flattering silhouettes such as bodycon dresses or skirts paired with lace tops can help create an alluring look while keeping things classy at the same time.
What color should you wear on Valentine's day?
Red is often considered the most obvious choice – after all, it is the traditional color of love! But there are other options as well, such as pink or even black if you want something subtle yet stylish.
You could also choose yellow or orange if you want to stand out from the crowd.
The best way to decide which color is right for you is by considering your personal style and preferences.
If you want something a bit daring, why not opt for a bright and vibrant hue such as purple or blue?
What do you wear on a casual Valentine date?
A casual Valentine date can be the perfect way to spend time with your loved one.
For women looking for a cute yet comfortable ensemble on their casual Valentine's Day date, choosing items that have a feminine touch but don't feel overly dressy is key.
An oversized sweater with jeans or leggings is always a great option for a casual Valentine date.
You can incorporate some red or pink accessories such as earrings, bracelets, or shoes to add a subtle touch of color without feeling too over-the-top.
If it's cold outside you might want to wear an extra layer such as a jacket or cardigan; however, make sure you still look put together!
For shoes, choose something versatile such as sneakers if you plan on doing any activities like walking around town.
What should I wear for Valentine's Day Dinner at home?
This coming Valentine's Day, many couples will be celebrating in the comfort of their own homes.
With no need to worry about reservations or a pricey dinner bill, an at-home feast is a great way to spend quality time with your partner.
But how do you dress for an intimate night at home?
You can opt for something comfortable and flirty like a floaty midi dress paired with strappy sandals or casual sneakers – this gives off all the right vibes without trying too hard.
Wear light makeup if desired and accessorize it with subtle pieces such as a pair of earrings and a small necklace.
You can also wear a cozy cute sweater or a silky blouse with cropped pants which is an elegant yet casual look that can be dressed up with jewelry or accessories like leather sandals or wedges.
Casual Valentine's Day Outfits
If this Valentine's Day you're looking for an outfit that is fashionable but still comfortable, look no further!
There are several stylish and casual options available for women that will allow you to show off your unique style without sacrificing comfort.
From cute blouses paired with figure-flattering jeans to chic dresses that can be dressed up or down, here are some great casual Valentine's Day outfits for women.
For a flirty and feminine look, try pairing a classic white eyelet blouse with destroyed denim skinny jeans.
Add a colorful crossbody bag and heeled sandals in a coordinating hue to make the outfit pop.
If you want something bolder and more daring, opt for a bright-colored mini dress with puff sleeves that'll definitely turn heads.
Finish the look off with black ankle boots and statement jewelry pieces such as chunky hoop earrings and layered necklaces.
Want more ideas? Scroll on to check our favorite outfits from online fashion stores to copy and shop for directly.
Cute Valentine's Day Outfit
Classy Valentine's Day Outfits
Blush Pink Knit Skirt Set
Pink Sweater + Pink Wide Leg Pants
White Knit Cardigan + Pink Pants + Loafers
Long Sleeves Crop Top + Pink Pants + Heels
Sweet Valentine's Day Casual Look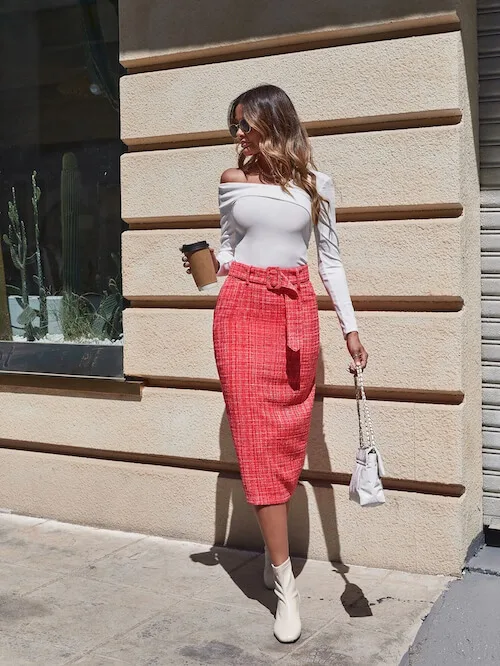 White Crop Top + Red A-Line Skirt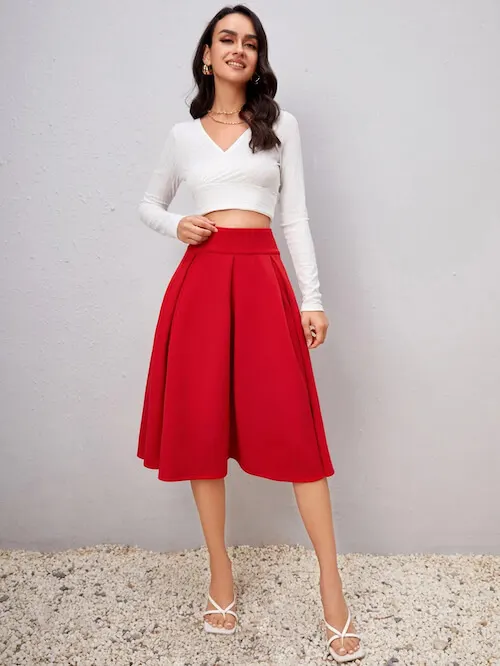 Baddie Valentines Day Outfit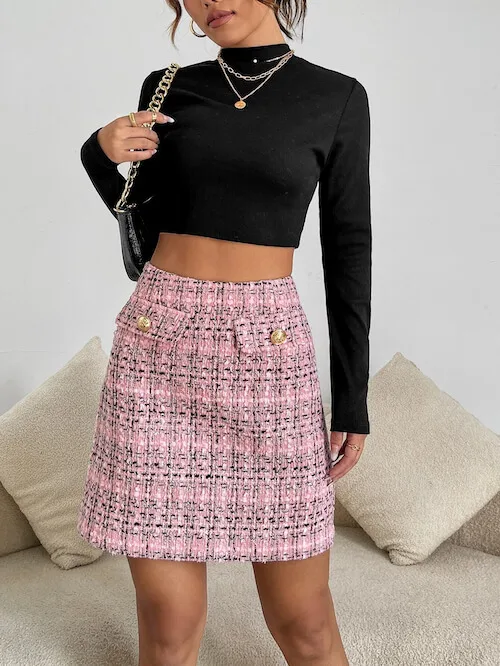 Pink Cardigan + Jean Shorts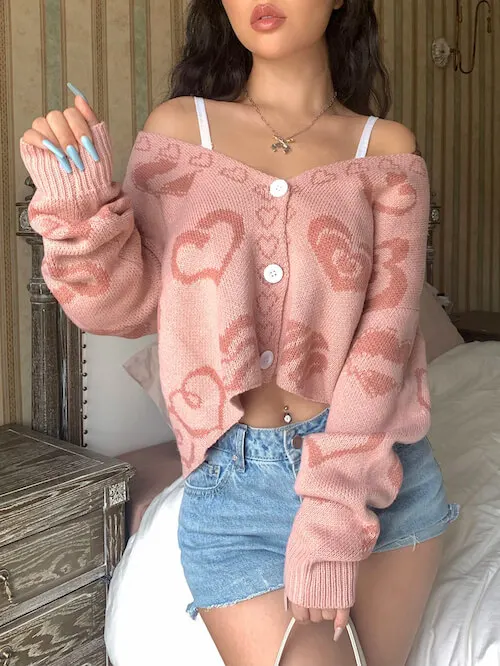 Pink Knit Wrap Top + Denim Jeans
Chic Valentine's Day Date Night Look
Pink Animal Print Button Down + Skinny Jeans
White Blouse + Pink Mini Dress
Stylish Valentine's Date Outfit
Pink Sweater + Black Jeans + Sneakers
Pink And Red Top + Black Leather Pants
Pink Sweater + Black Mini Skirt
Cardigan + Satin Midi Skirt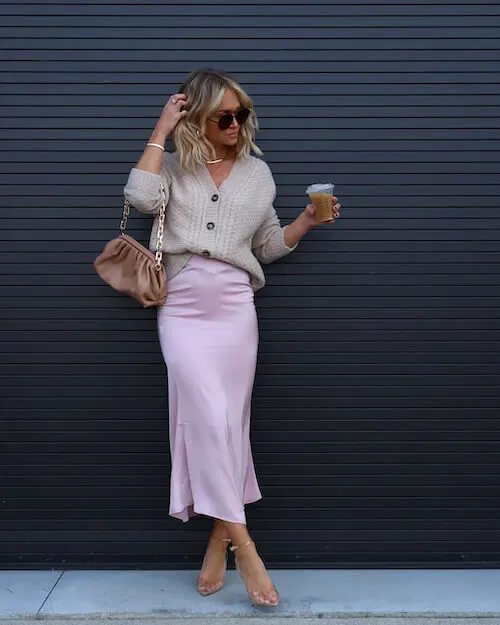 Pink Sweater + Flare Jeans
Hot Pink Sweater + Beige Pants
Pink Sweater Dress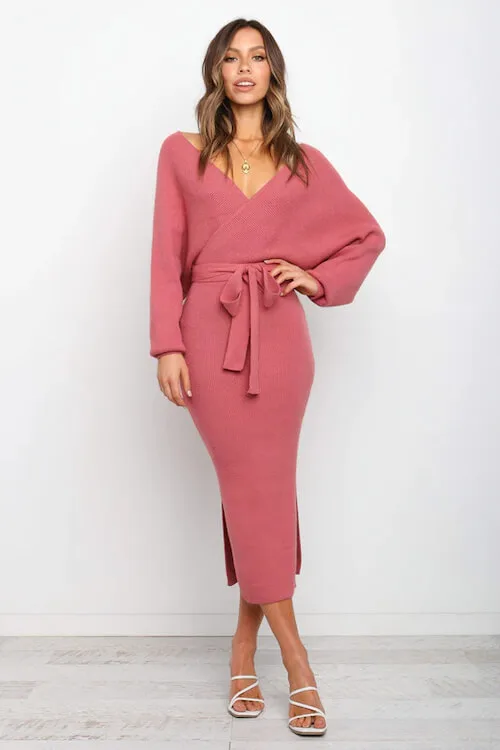 Casual Flirty Valentines Day Outfit Ideas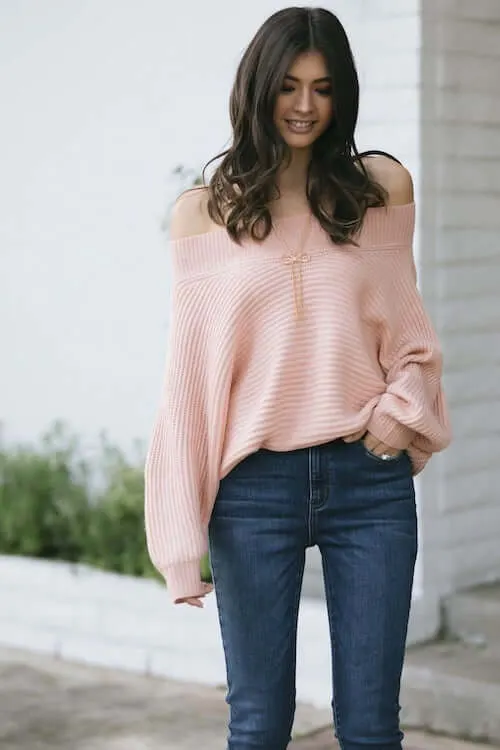 Pink Sweater + White Tulle Skirt + Booties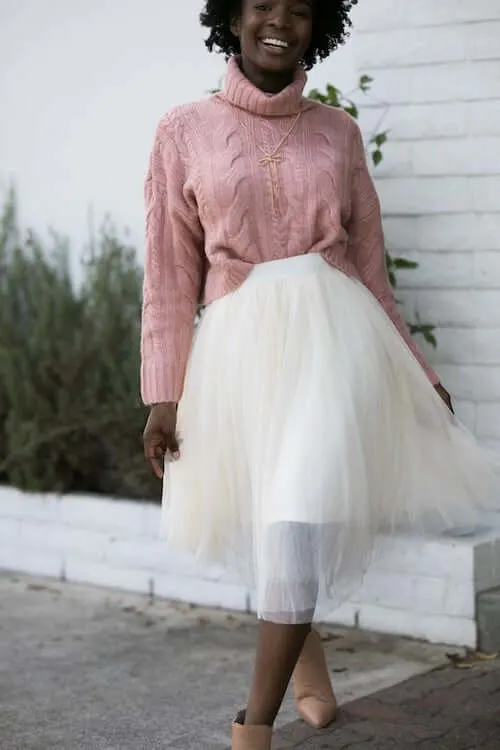 Pink Satin Bodysuit + Jeans + Floral Print Cardigan
Blush Sweater Dress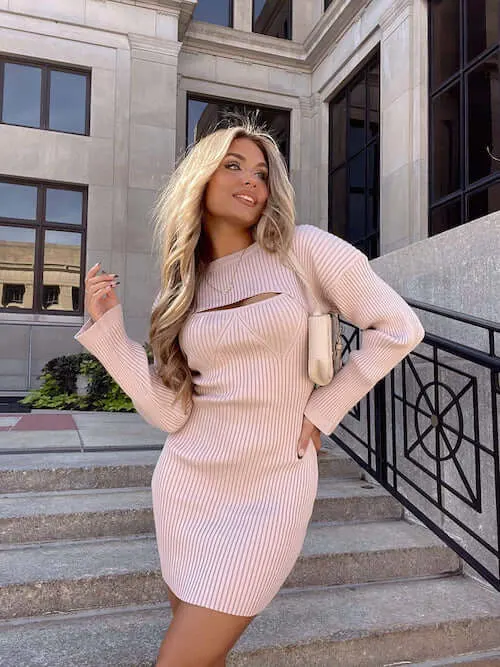 Pink Cardigan + White Tank Top + Mini Skirt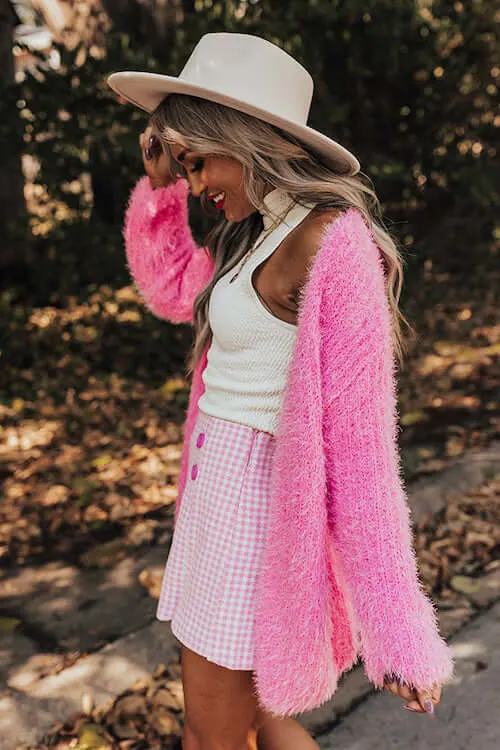 Pink Off The Shoulder Top + Leather Leggings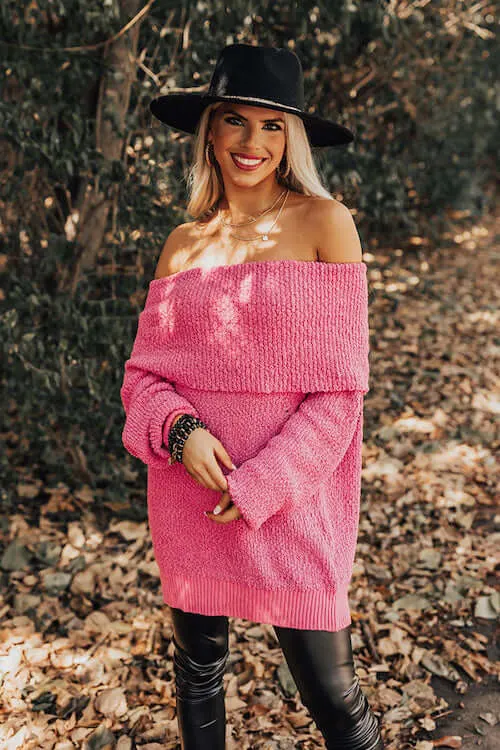 Gray Sweater + Pink Hue Skirt + High Boots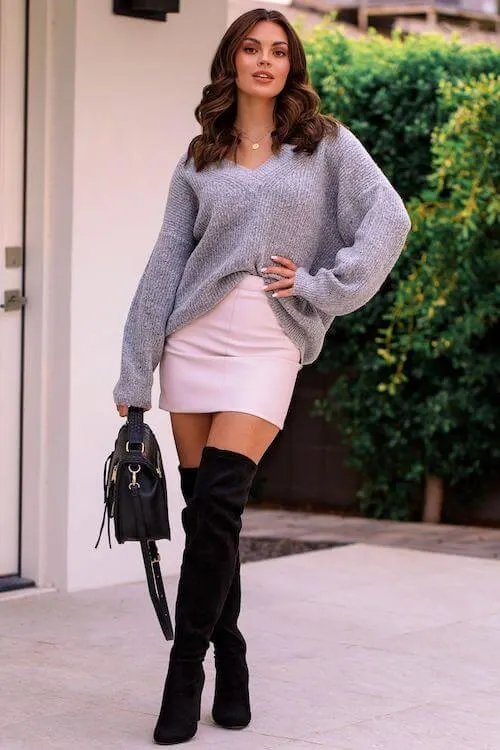 Easy Valentine's Day Outfit Ideas
Cute And Casual Valentine's Day Outfit For A Home Dinner
>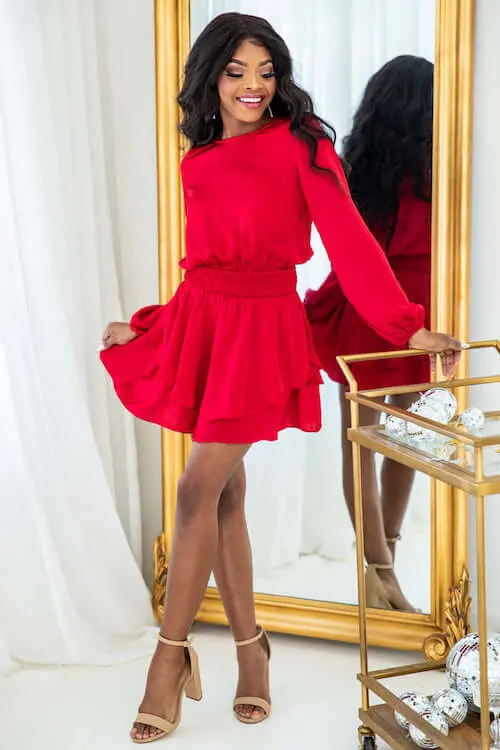 Pink Sweater + Skinny Jeans + Knee High Boots
Low-Key Valentine's Day Outfit Ideas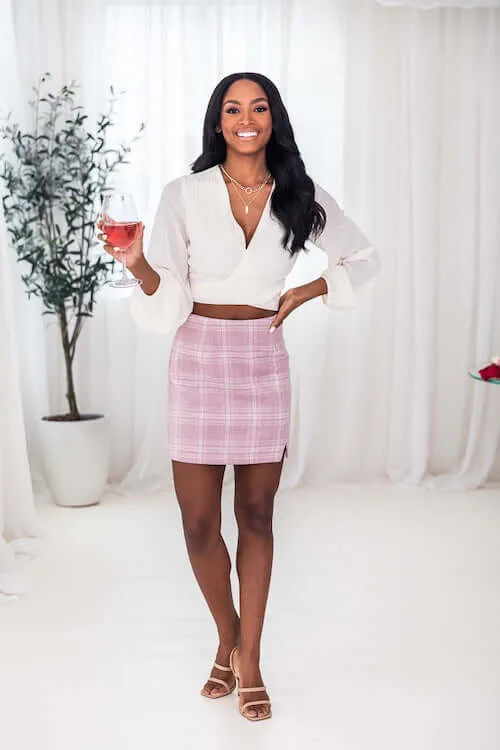 Light Pink Sweater + Blue Skinny Jeans
Pink Blazer + Pink Knit Top + Jeans + Sneakers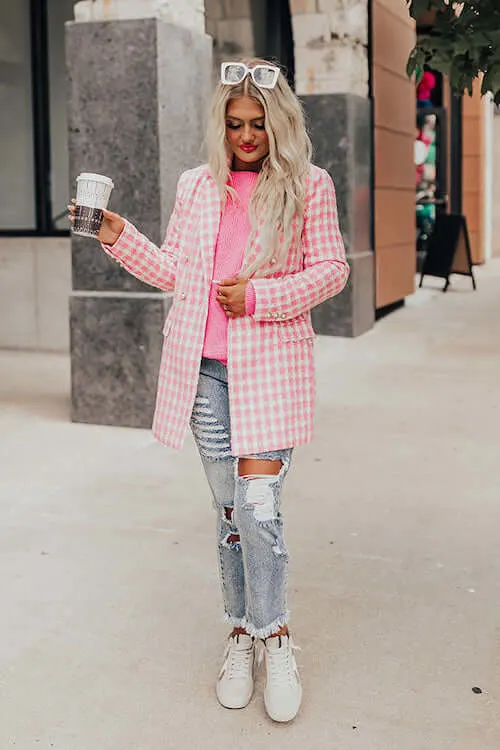 Cute Valentine's Day Outfits For A Movie Night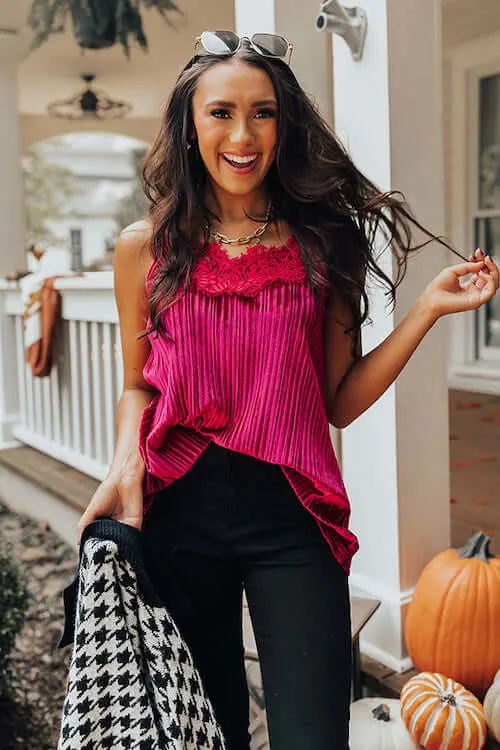 Little Red Dress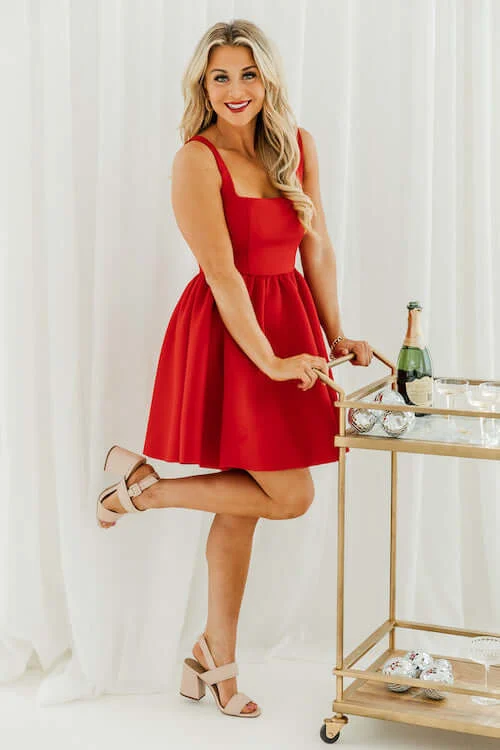 Cute Valentines Day Outfit for Plus Size Women
Red Hat + Heart Print Sweater
Pink Sweatshirt Dress
White Lace Top + Red Skirt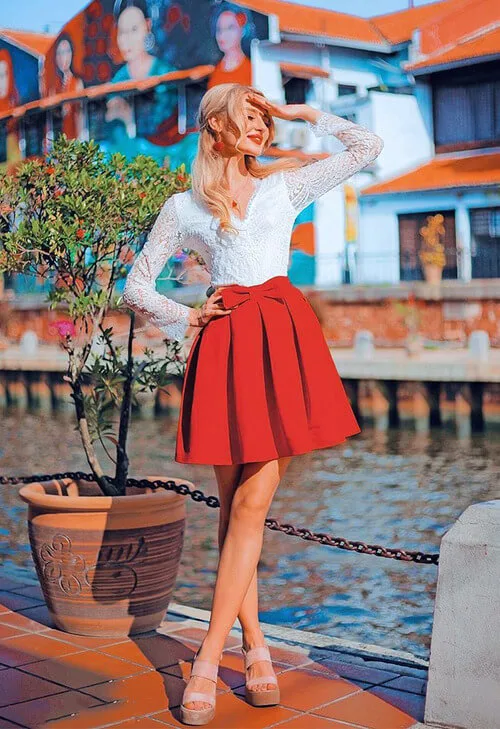 Red Coat
Red Satin Set
Red Blazer + Black Joggers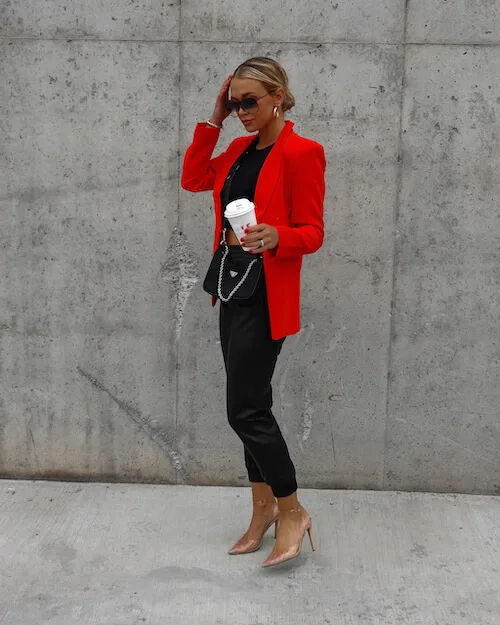 Pink Off The Shoulder Bodycon Dress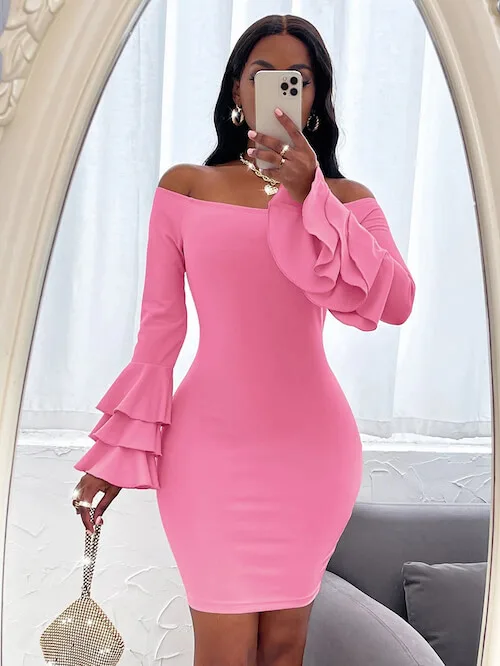 Red And Pink Long Satin Dress + Hot Pink Sandals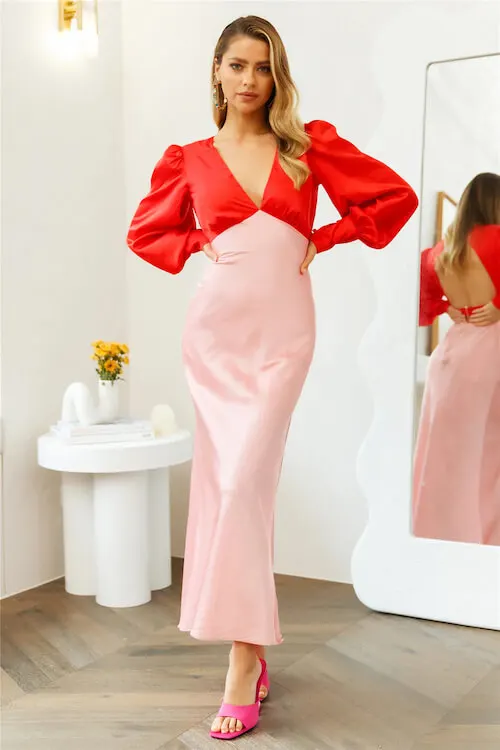 Red One Shoulder Blouse + Black Leather Mini Skirt
Red Sweater + Black Flare Pants
Black Heart Print Sweater + Black Mini Skirt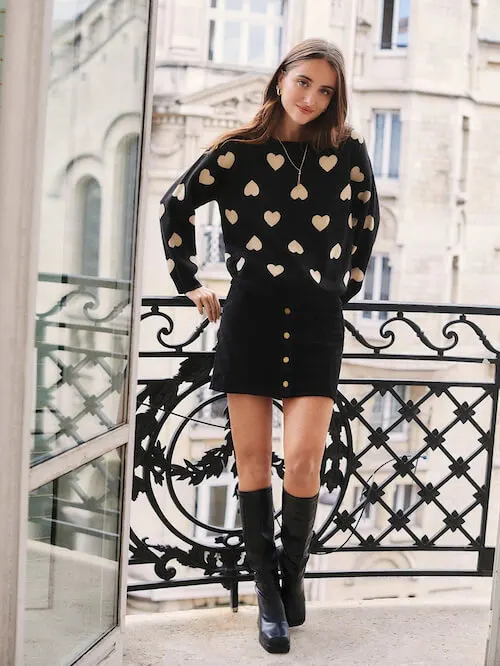 Hot Pink Sexy Dress + Oversized White Blazer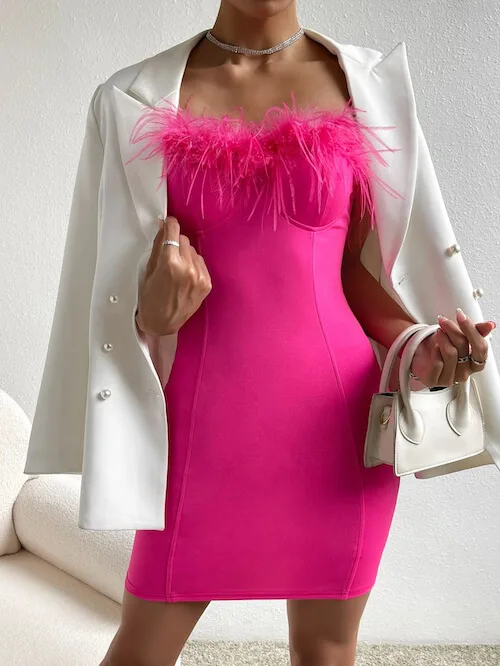 Black High Neck Sweater + Heart Print Skirt
Classy Turtleneck Pink Sweater Dress + Black Booties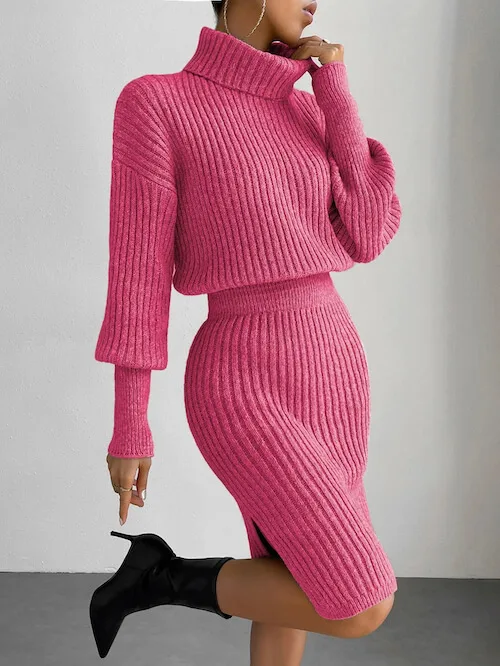 Pink Heart Print Sweater + Blue Jeans + Ankle Boots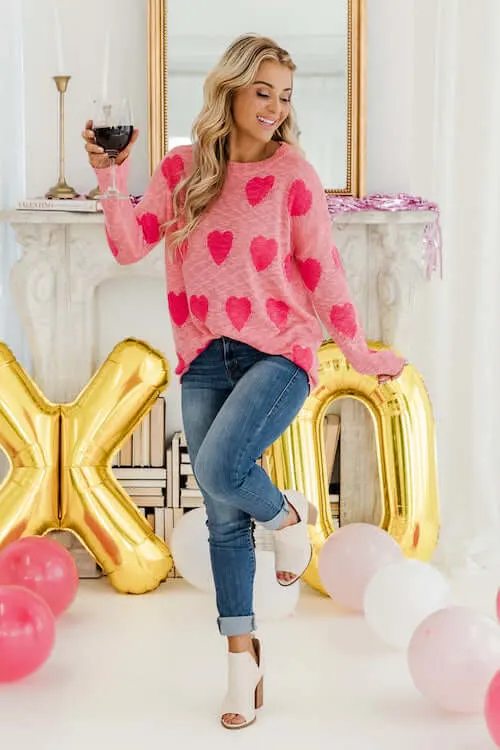 More Cute Valentines Day Outfits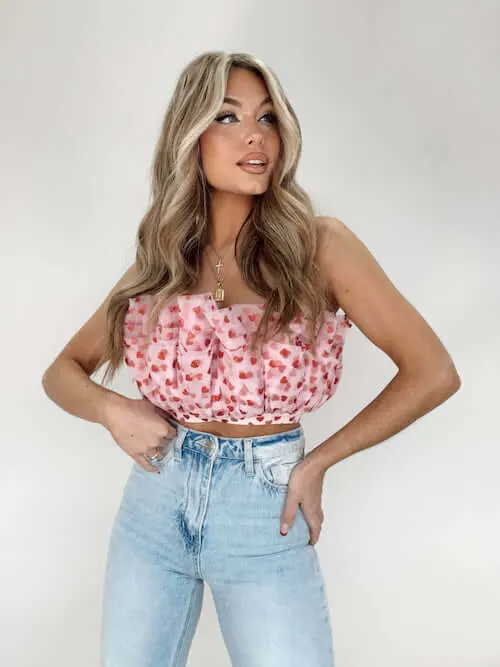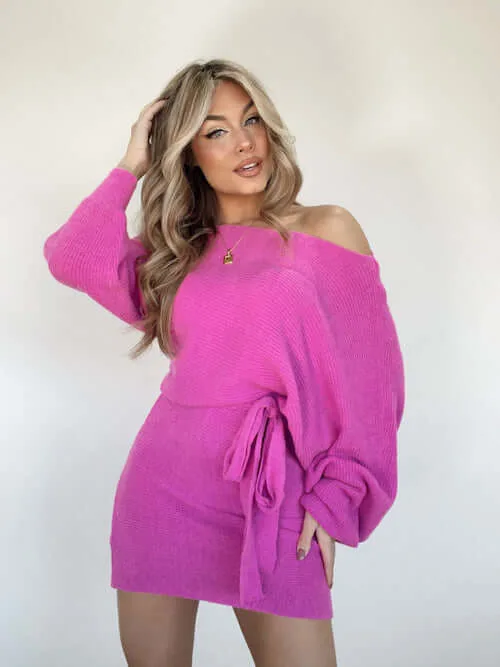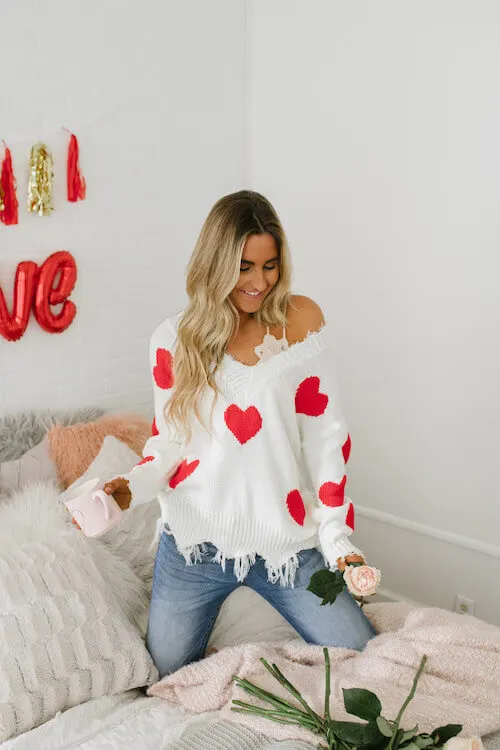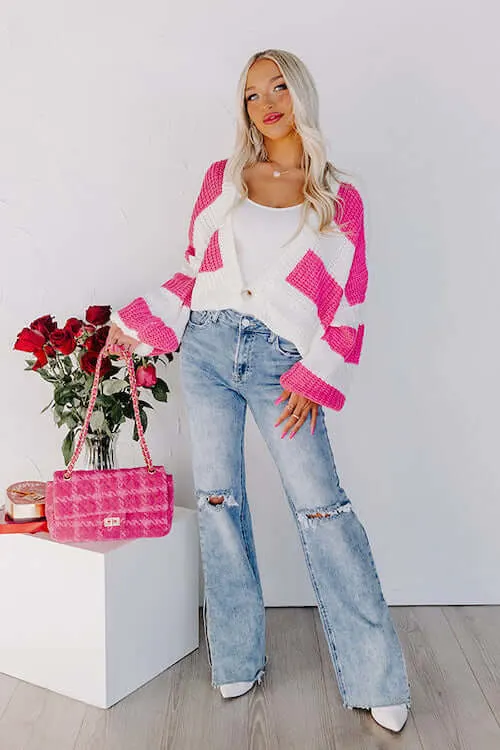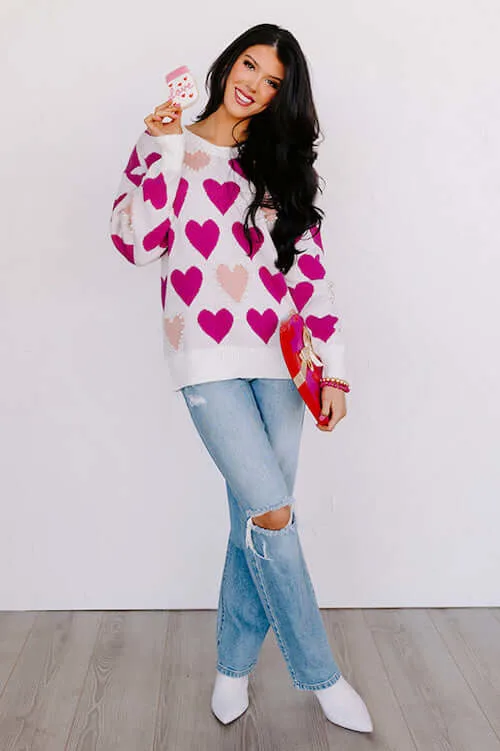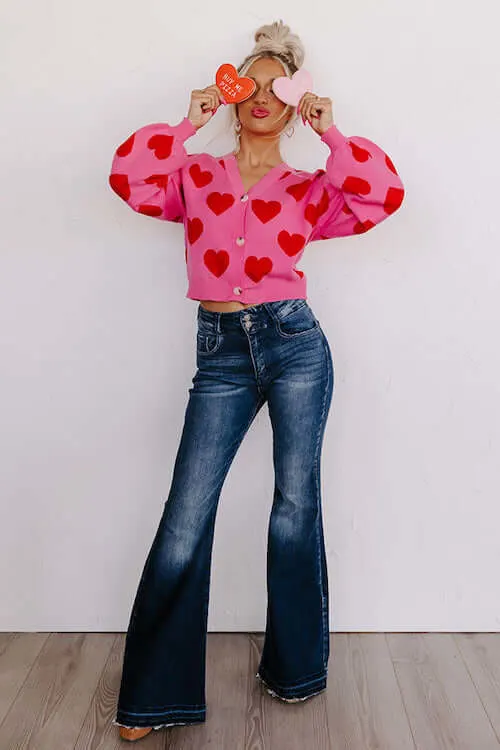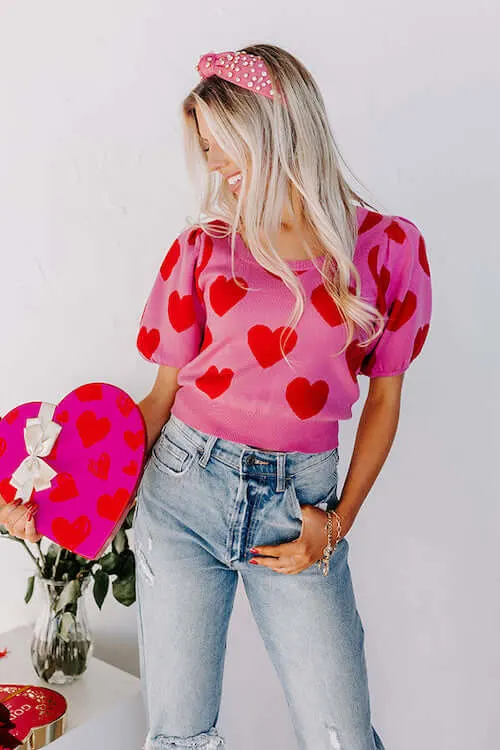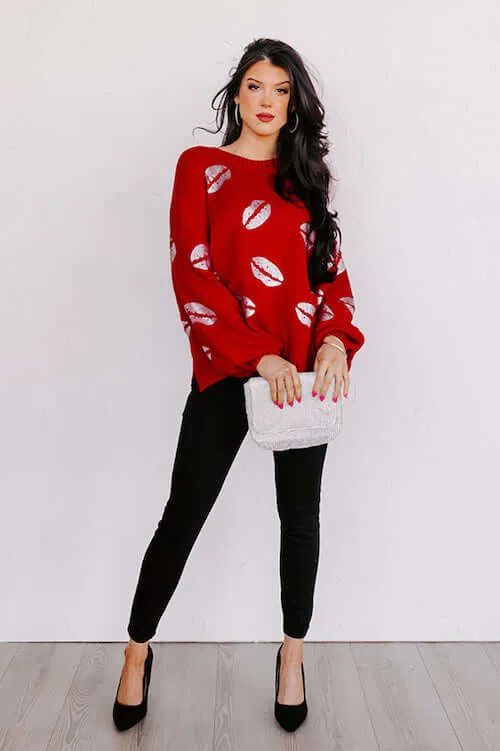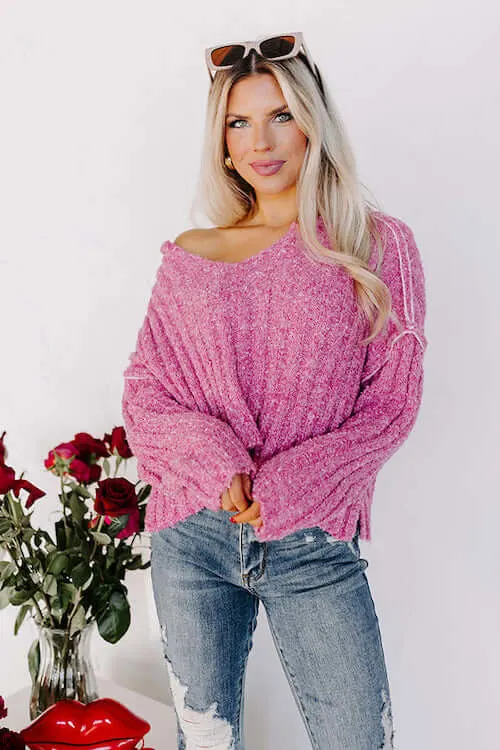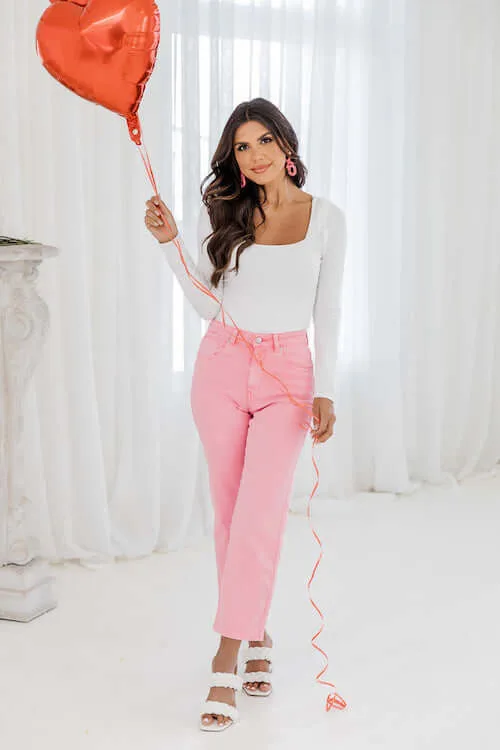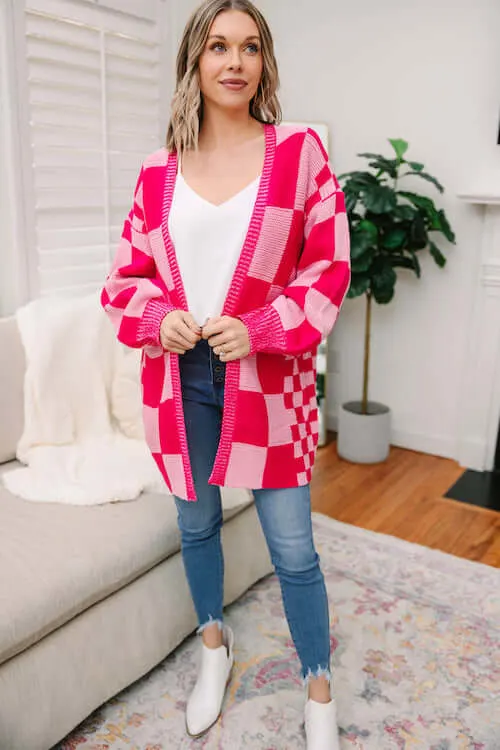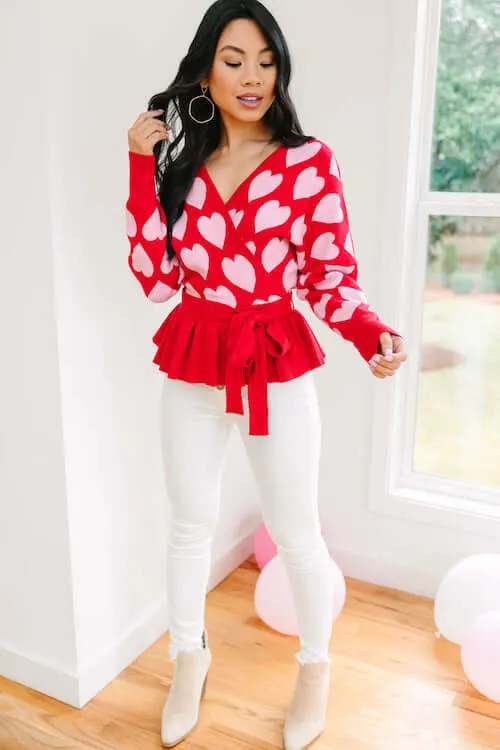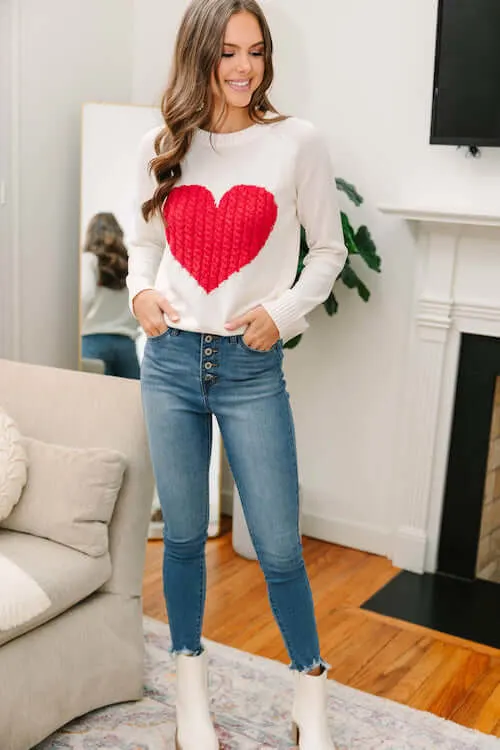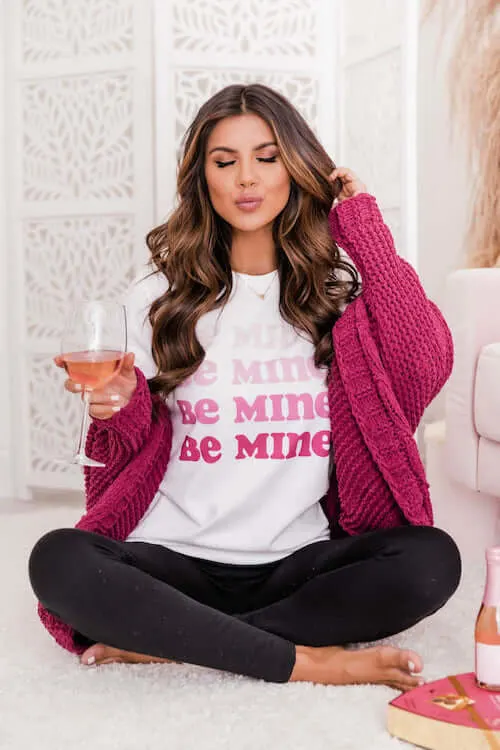 What to wear on Valentines day if it's cold?
While the traditional date night usually involves going out, there are also ways to enjoy Valentine's Day even if it's cold outside.
Here are some ideas on what to wear when you decide to stay in and spend time with your significant other during this romantic holiday.
To keep warm and still look fashionable, opt for pieces in shades of pink or red that will add layers of warmth while keeping a cute look.
For those who plan on staying indoors, try a chic oversized sweater or cardigan paired with comfortable leggings or jeans.
Add some flair by wearing statement jewelry like necklaces or earrings, as well as stylish shoes like ankle booties or combat boots.
What to wear to work for Valentine's Day
Valentine's Day is a day for celebrating love, and that includes showing love to your work environment.
Whether you're looking to add a bit of flair to the office or make an impression on colleagues, choosing the right outfit for Valentine's Day is essential.
The trick is finding clothing that looks professional yet still allows you to show off your personality.
If you're looking for something casual, start by selecting pieces in festive colors such as reds and pinks, or opt for some subtle heart-shaped jewelry or accessories.
A nice blouse in a classic cut can be paired with trousers, skirt or dress pants – just ensure they're properly fitted.
For shoes, steer away from overly flashy styles but feel free to add a touch of sparkle with embellishments like studs and buckles.
What to wear on Valentine's day if you're single?
Valentine's Day has come to be known as a holiday for couples, but that doesn't mean singles can't join in on the fun.
Whether you are single and ready to mingle or just want to treat yourself, Valentine's Day is the perfect opportunity to dress up and feel great about yourself.
So what should you wear? Here are some ideas for all the single ladies (and men) out there this Valentine's Day!
For women, a classic little black dress always looks elegant and chic.
Choose one with an interesting silhouette or unexpected fabric for something new.
If you prefer something more casual, try a pair of jeans with a feminine top and add some stylish accessories like earrings or necklaces.
Men can never go wrong with dark denim jeans paired with a crisp white shirt – add your favorite shoes or boots for extra personality!
Conclusion: Casual Outfits For A Valentine's Day Celebration
In conclusion, when it comes to dressing for a Valentine's Day celebration, casual outfits can be just as beautiful and memorable as more formal looks.
With these tips in mind, you'll be sure to make the most of your special day with a stylish ensemble that reflects your personality and style.
From romantic midi dresses to relaxed jeans and tops, there are plenty of options for every budget and body type. Don't forget to accessorize!
This post was all about casual valentines Day outfits.
About The Author
Tracy is an experienced personal stylist, shopping expert, and fashion & lifestyle blogger. She has been featured on Time Magazine, Bustle, Best Life, Glam, The Zoe Report, Mic, and GOBankingRates, for her insights on fashion, beauty, home decor, and lifestyle. Read More
Related Posts: