Get into the fall and Halloween spirit with our unique pumpkin nail art designs. Perfect for adding a seasoned flair and spooky touch to your nail designs!
As the leaves start to change colors and the air becomes crisp, it's time to embrace all things fall.
And what better way to do that than with a festive manicure?
Pumpkin nails are the perfect way to add some autumnal charm to your fingertips.
From cute and playful designs to elegant and sophisticated styles, there are endless possibilities when it comes to pumpkin-inspired nail art.
Whether you're getting ready for Halloween or looking forward to Thanksgiving, these 90+ cute pumpkin nail ideas will surely get you in the spirit of the season.
So grab your favorite fall polish shades and get ready for some nail art inspiration!
This post is all about pumpkin nails.
Fall Pumpkin Nail Art Designs
Easy Pumpkin Nail Designs for Beginners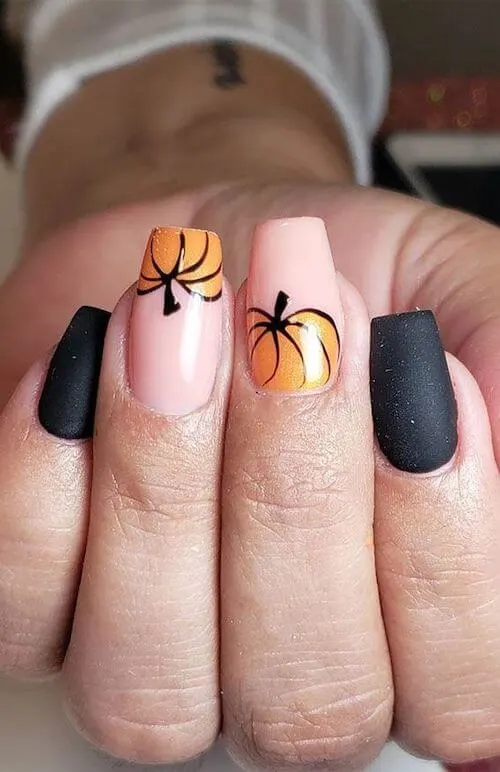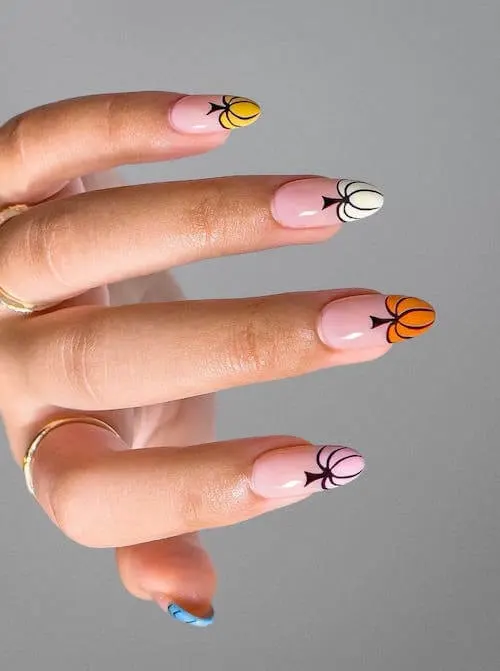 @nail.art_.by_.tea_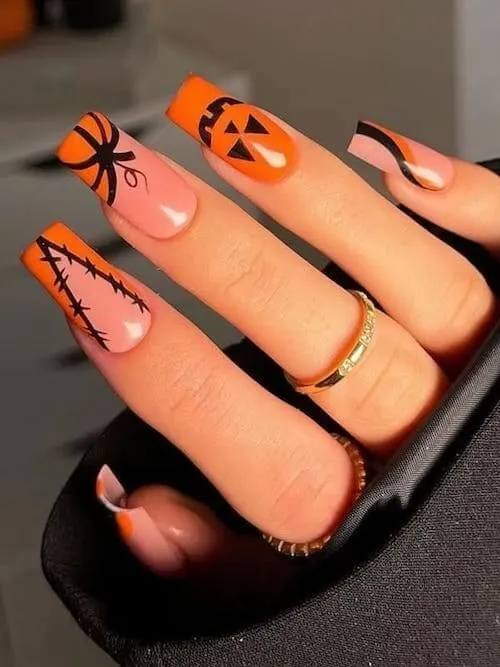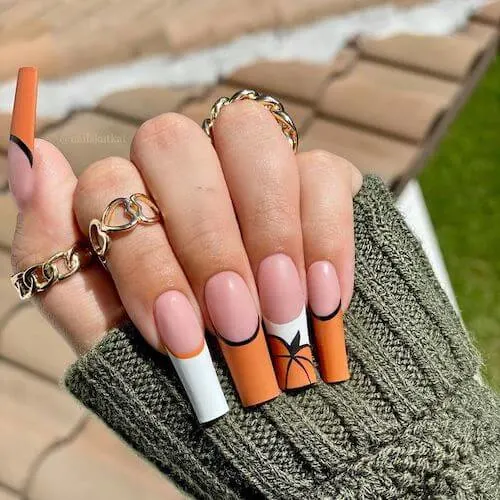 @nailzkatkat
If you're new to nail art and want to try pumpkin designs, there are plenty of easy options for beginners.
One simple design is to paint your nails with an orange polish as a base color.
Then, using a toothpick or a dotting tool, create small black dots randomly on each nail to represent the pumpkin's face.
This cute and easy design is perfect for Halloween or for adding a touch of autumn to your manicure.
Cute Pumpkin Nail Ideas for Autumn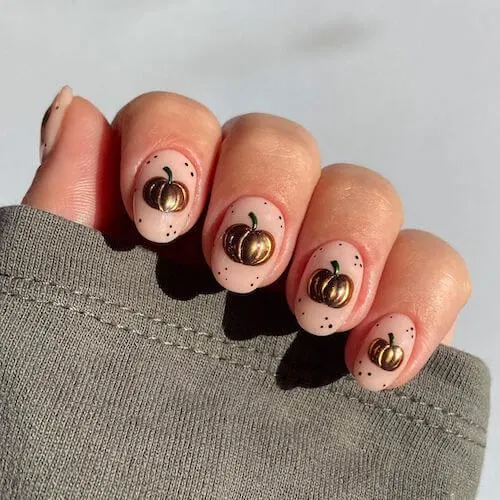 @naileditbyliv
@annagracenails_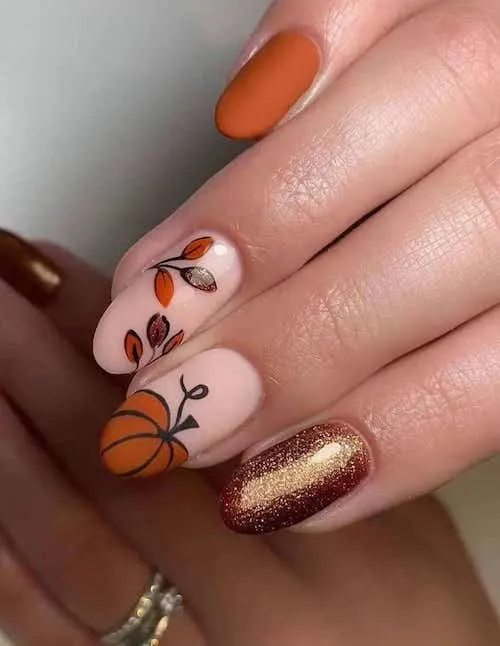 @nailsby.hazelkate
@denasnails
@adriannawysocka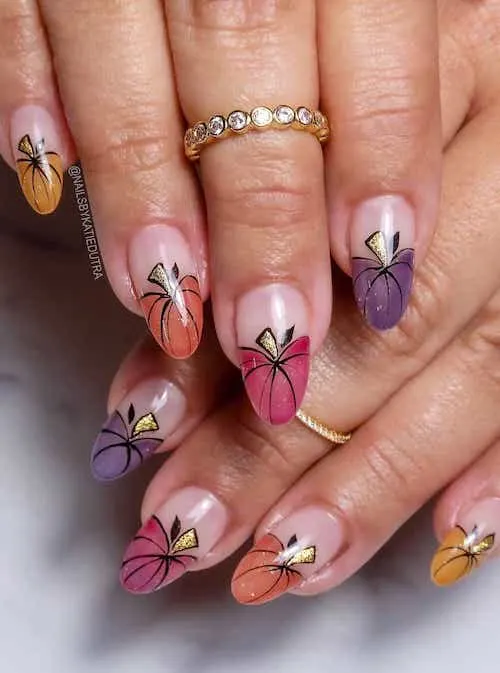 @nailsbykatiedutra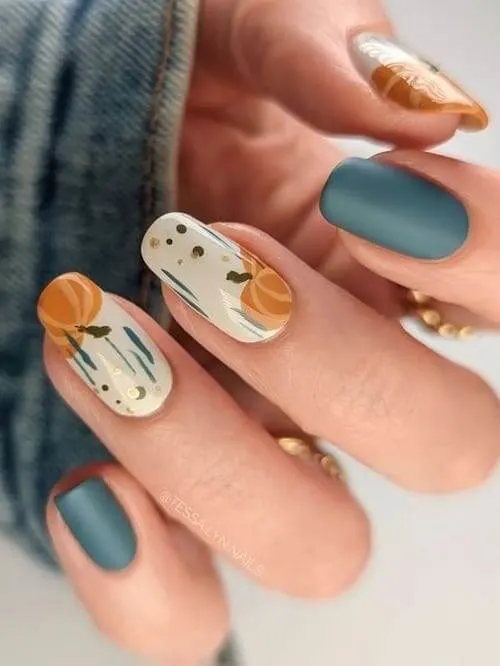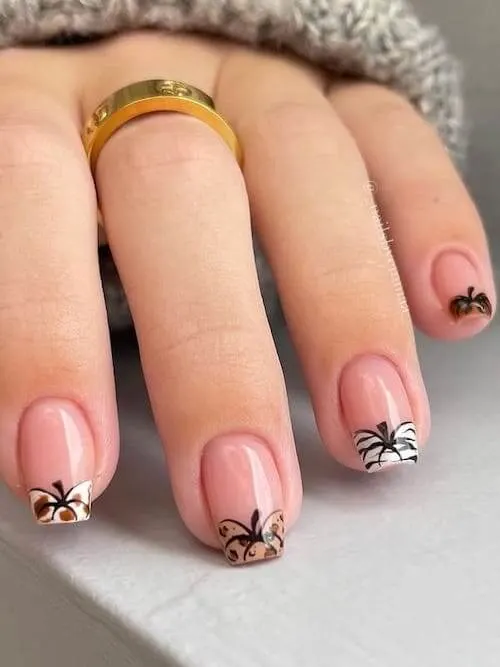 As the leaves start to change color and the air gets crisp, it's the perfect time to embrace cute pumpkin nail ideas for autumn.
These designs often feature warm and earthy tones that reflect the beauty of the season.
Consider trying fall-inspired pumpkin nail designs, like adding leaf accents or using shades of brown and orange.
Another trendy option is pumpkin spice nail art, which incorporates the iconic flavors and colors of the season into your manicure.
Fall-Inspired Mini Pumpkin Nail Designs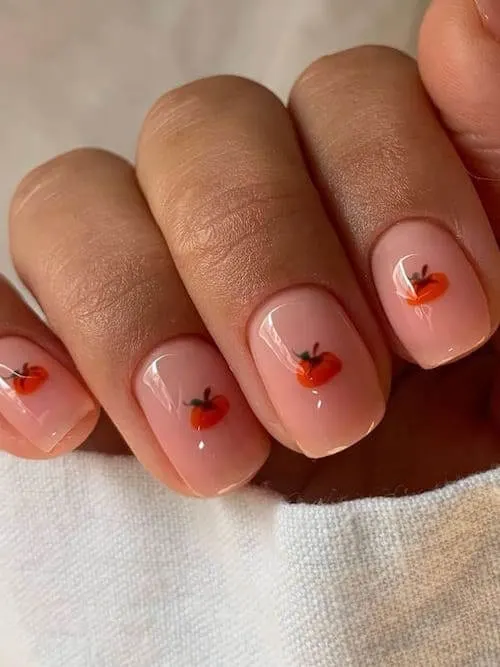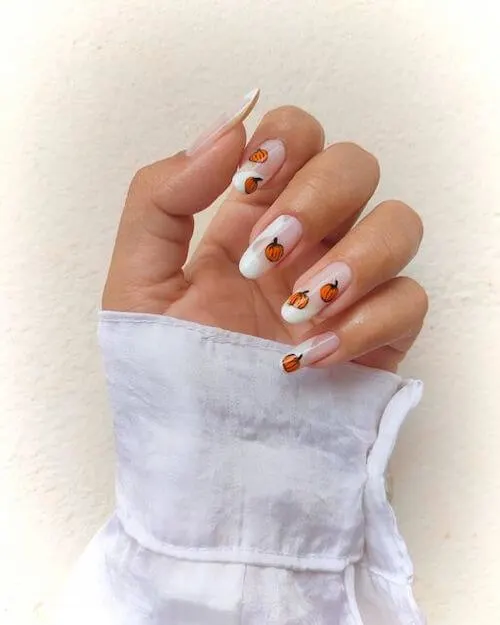 @ingridraiana_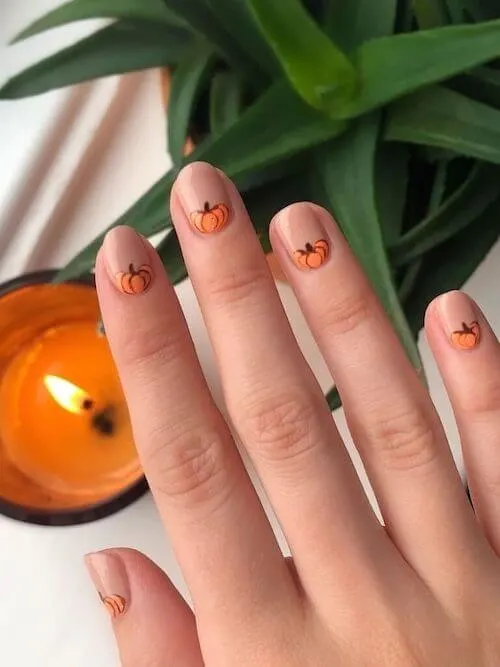 @sadiejnails
@maleaht.nails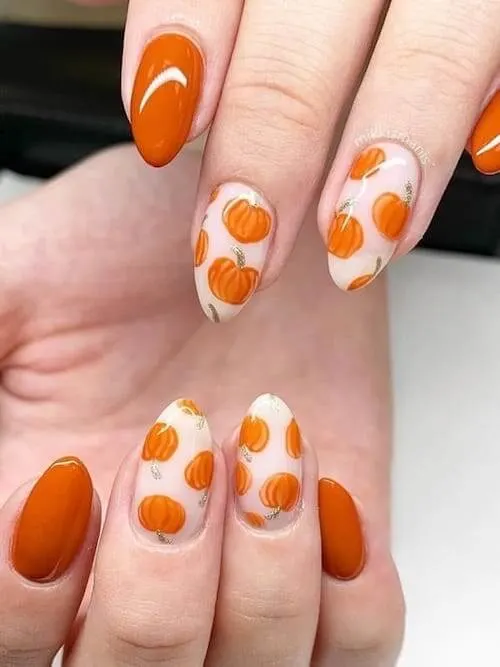 Fall is the perfect time to embrace all things cozy and festive, and what better way to show your autumn spirit than with some adorable mini pumpkin nail designs?
These charming nail art designs are a fun and stylish way to celebrate the season.
From classic carved pumpkins to whimsical painted ones, there are endless options for creating unique and creative looks.
One trendy idea is to use subtle earth tones like burnt orange, deep forest green, and warm brown as the base for your pumpkin-inspired nail art.
Then, add tiny black lines or dots to mimic the texture of a real pumpkin. For an extra touch of cuteness, you can even incorporate little faces or leaf accents onto each nail.
The result is a playful yet sophisticated design that will make your nails stand out in any fall ensemble.
If you're feeling more adventurous, try experimenting with different shapes for your mini pumpkins.
Instead of sticking with the traditional round shape, opt for longer oval-shaped pumpkins or triangular Jack-o'-lanterns.
You can even mix and match sizes on different nails for a visually interesting effect.
Whether you choose simple minimalist designs or intricate patterns with lots of details, these fall-inspired mini pumpkin nails are sure to leave everyone impressed with your creativity.
Pumpkin Spice Nail Art for the Fall Season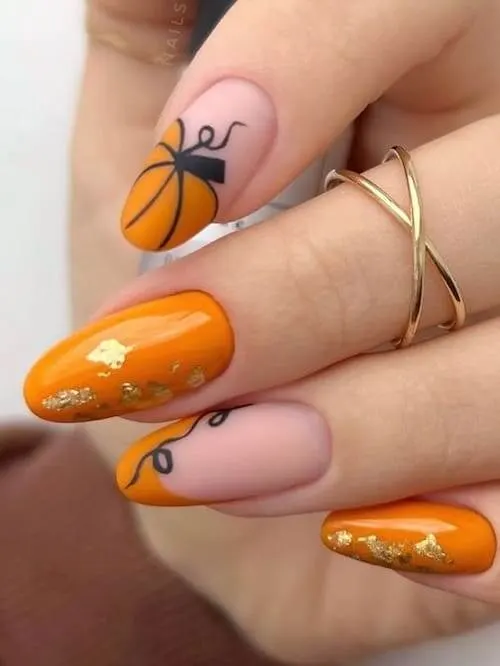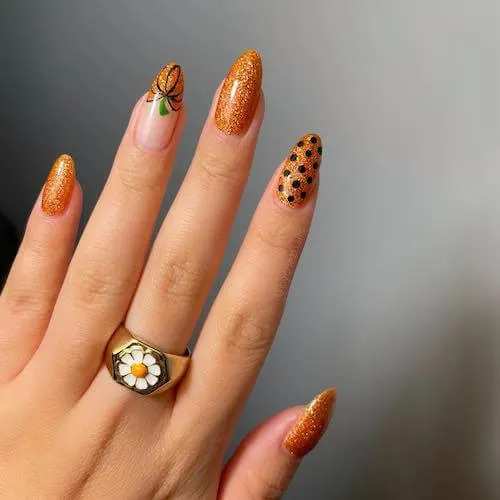 @bycheznails
Pumpkin spice lattes, candles, and desserts have become symbols of the fall season.
But why should these delights be limited to just your taste buds? Extend the pumpkin spice magic to your fingertips with pumpkin spice nail art!
This trendy and adorable nail design is perfect for adding a touch of autumnal charm to your overall look.
Embrace the warm hues of fall by opting for a rich orange shade as the base color for your pumpkin spice nails.
Then, add playful accent nails with whimsical pumpkin faces or delicate leaf motifs using earthy tones like brown or gold.
For an added dose of sparkle, incorporate some glitter into the mix—either on the tips or as an accent on certain nails.
The combination of vibrant colors and shimmering elements will undoubtedly make your nails stand out in any autumn gathering.
Plaid Pumpkin Nails for a Cozy Look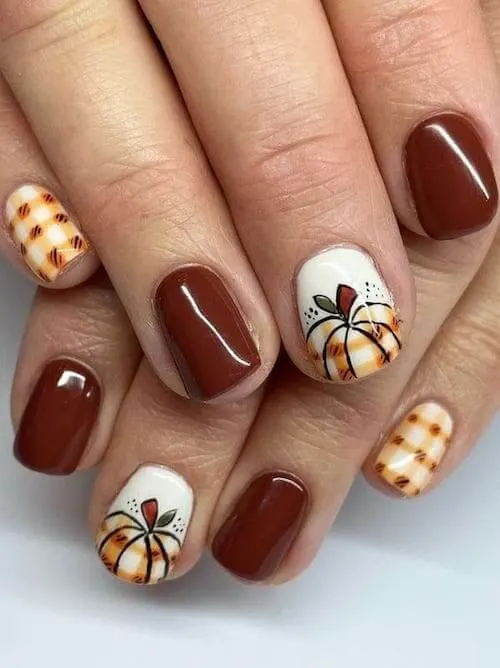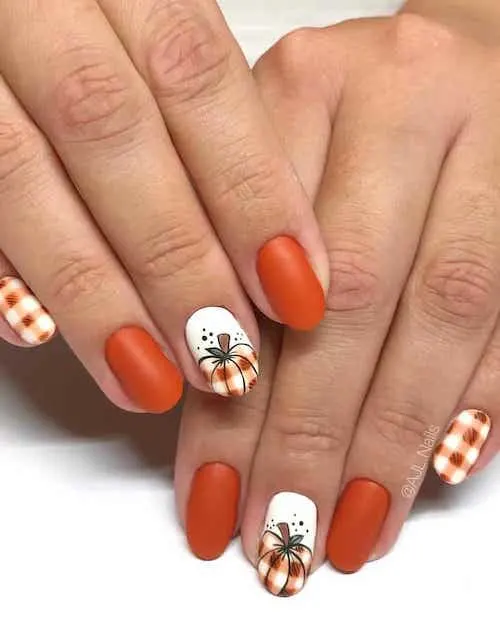 @ajl.nails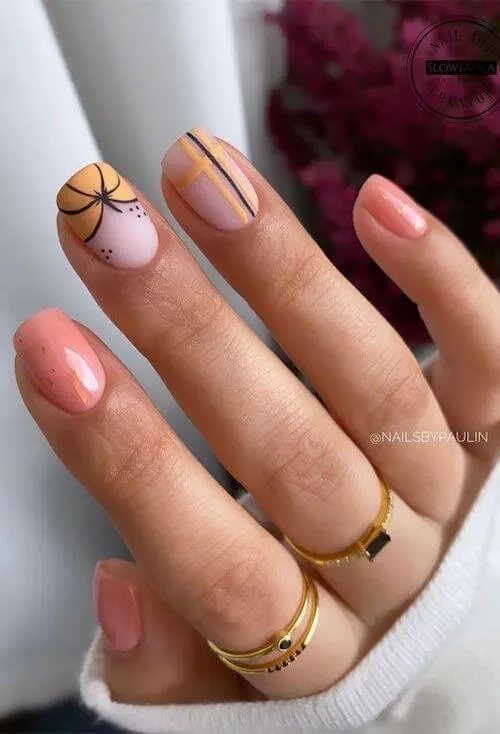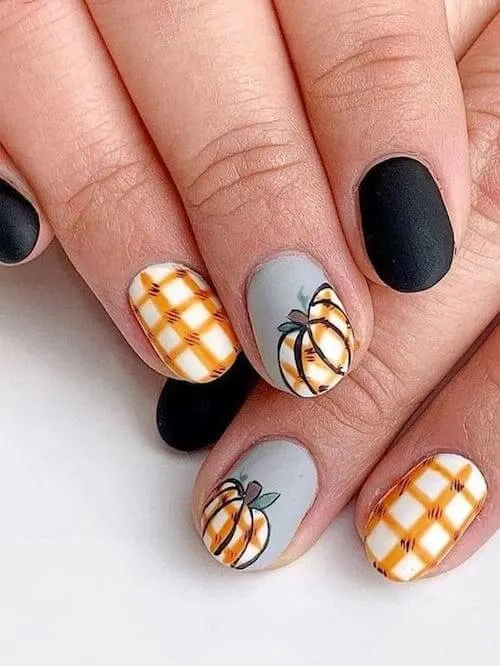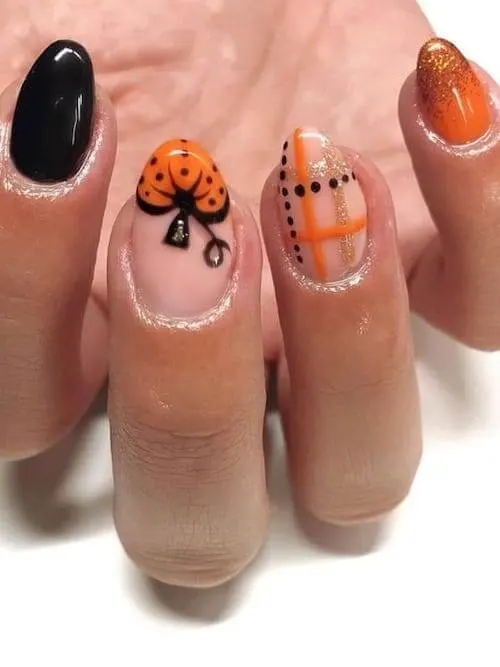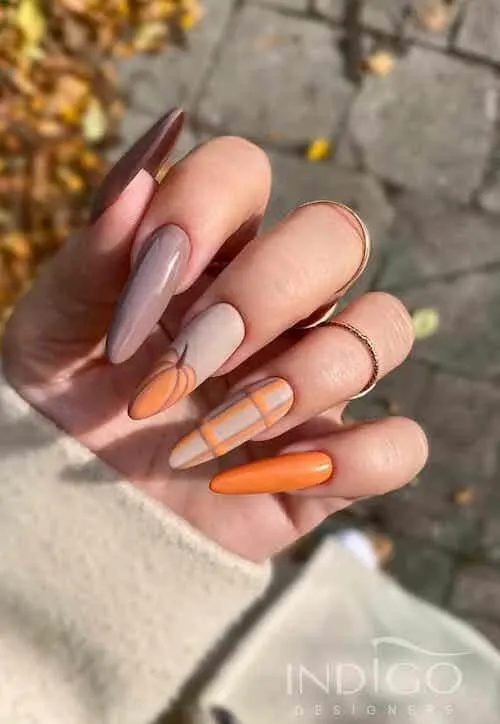 @donatam_nails
To achieve a cozy look for your pumpkin nails, consider incorporating plaid patterns.
Plaid is a classic fall pattern that adds a touch of warmth and comfort to any manicure.
Paint your nails with a base color in a warm shade, like burnt orange or deep red.
Then, using a thin nail art brush or a striping brush, create plaid patterns in contrasting colors, such as yellow or beige.
Finish off with a top coat for a polished and cozy look.
Halloween Inspired Pumpkin Nail Designs
Halloween is the perfect time to get creative with your pumpkin Halloween nails.
You can go for spooky and eerie looks or opt for cute and playful designs.
Consider trying some spooky Halloween pumpkin nail ideas that incorporate elements like bats, spiders, or haunted houses.
You can also go for a pumpkin patch nail art look, where each nail showcases a different pumpkin design.
Another option is spider web pumpkin nails, where you create a creepy spider web pattern using black nail polish.
Amazing Pumpkin Nail Art Ideas for Halloween Party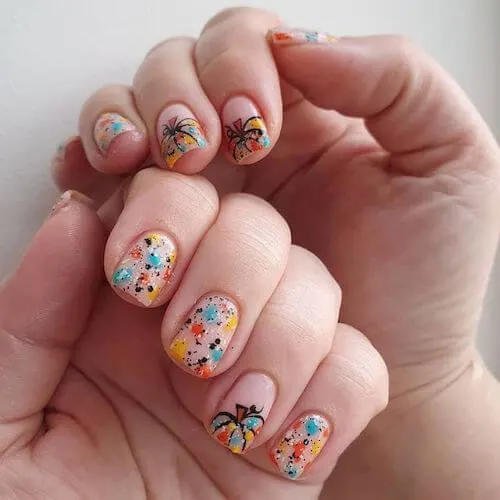 For Halloween, you can take your pumpkin nail art to the next level with some amazing ideas.
Consider adding some spooky elements like spider webs or ghosts to your pumpkin designs.
You can also experiment with different nail polish finishes, such as matte or glitter, to create a unique look.
Whether you prefer cute and playful pumpkins or eerie and spooky designs, there are endless possibilities for Halloween-inspired pumpkin nail art.
Spooky Halloween Pumpkin Nail Ideas
@swaknails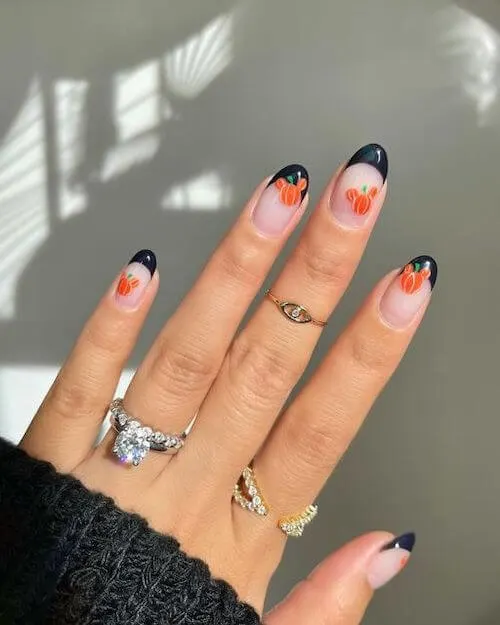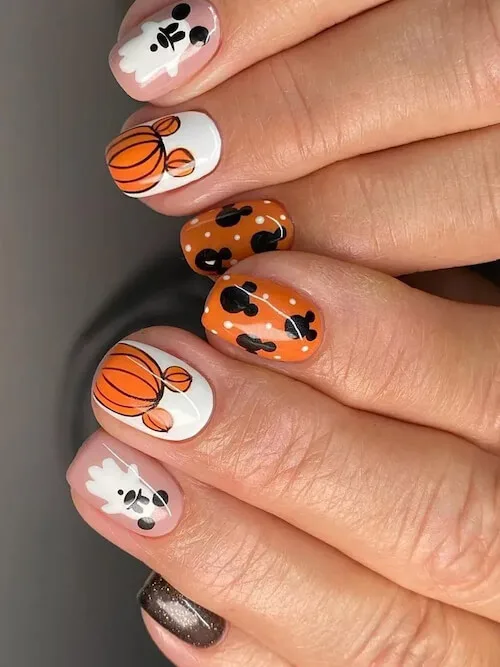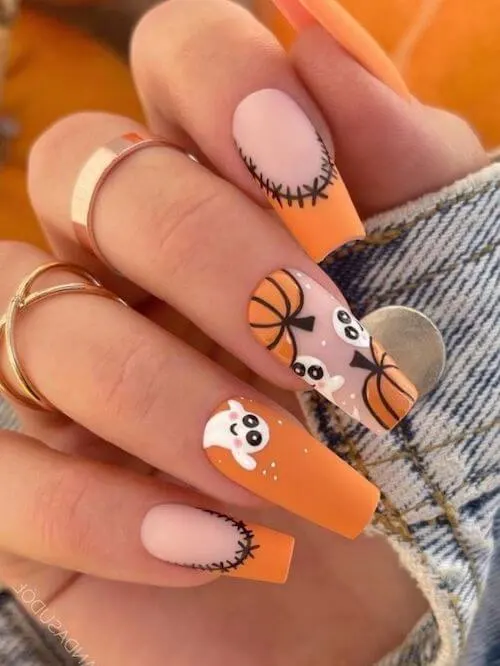 Spooky Halloween pumpkin nail ideas can take your manicure to the next level. Consider adding some eerie elements like bats, ghosts, or even Jack-O'-Lantern faces to your designs.
You can use acrylic paint or nail art pens to add fine details and create a spooky atmosphere.
Don't forget to finish off with a top coat for a glossy and long-lasting finish.
Pumpkin Patch Nail Art for a Festive Look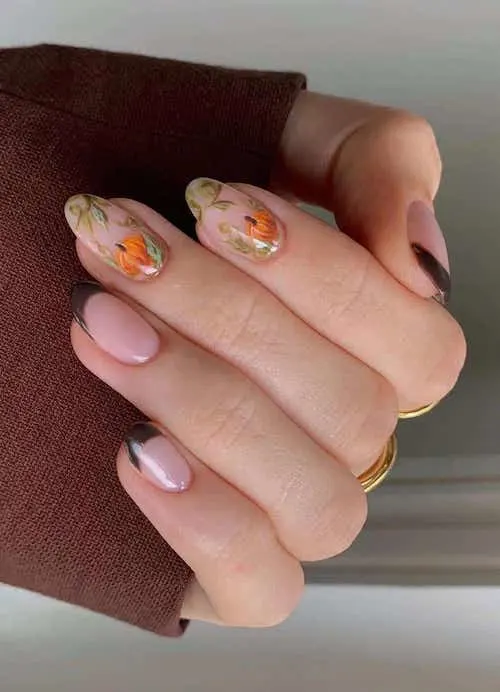 @amberjhnails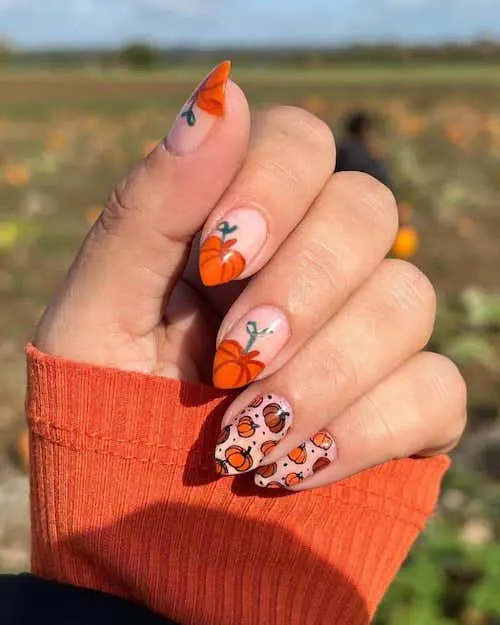 @curious_about_polish
@nailsmyth
Pumpkin patch nail art is a festive and fun choice for Halloween.
Each nail can showcase a different pumpkin design, ranging from cute and playful to spooky and scary.
Use a variety of colors, like orange, white, and black, to create a diverse pumpkin patch on your nails.
You can even add some glitter or decals for an extra festive touch. This nail design is sure to impress at any Halloween party.
Spider Web Pumpkin Nails for a Creepy Touch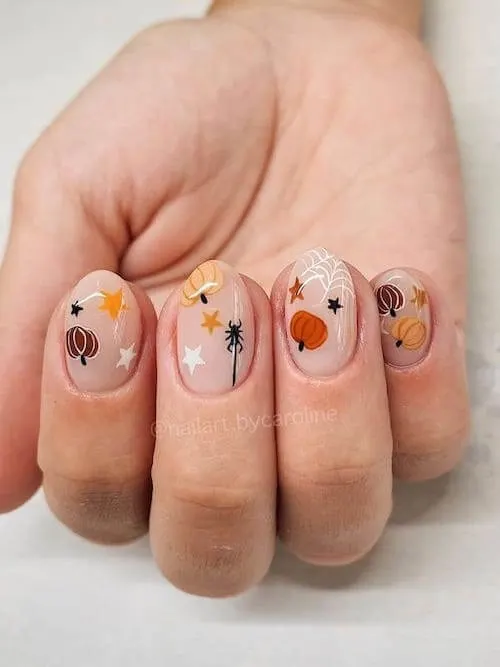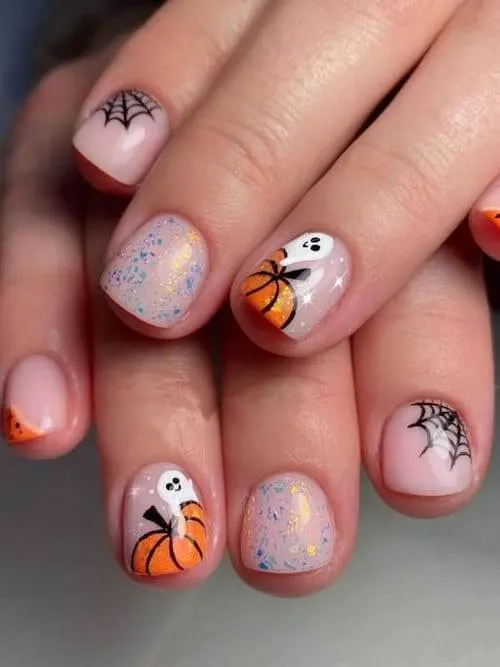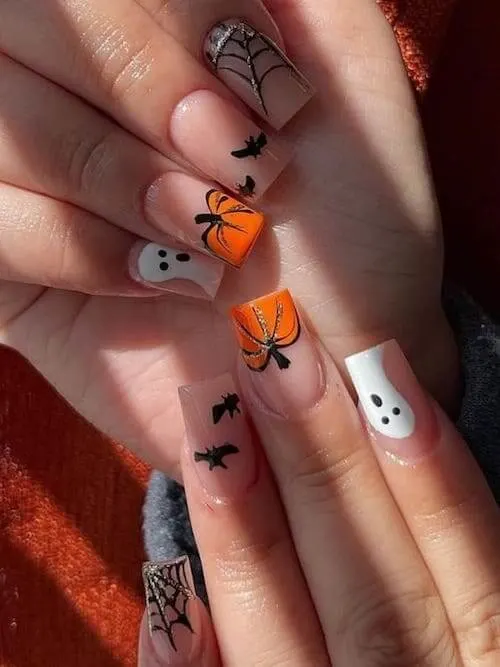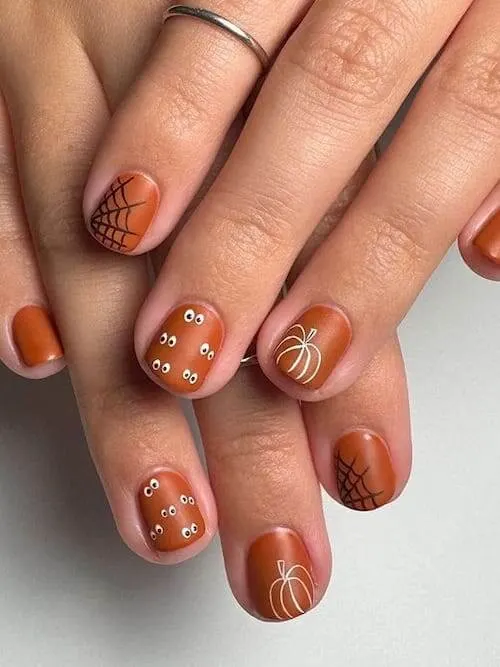 If you're looking to add a creepy touch to your pumpkin nail designs, spider web pumpkin nails are the way to go.
Start by painting your nails with black polish as a base color.
Then, using a thin nail art brush or a toothpick, create a spider web design on each nail using white or silver nail polish.
Add a small orange pumpkin at the base of each nail to complete the look. This spooky nail design is perfect for a Halloween night out.
Acrylic Happy Halloween Nail Art With Pumpkin Designs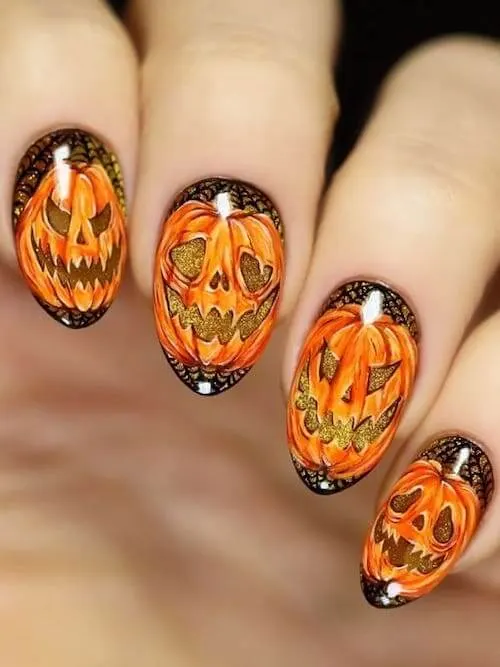 Nothing says Halloween quite like a vibrant, eye-catching pumpkin design on your nails.
And with acrylic nail art, you can bring these festive pumpkins to life in the most creative and adorable way possible.
From simple orange pumpkins with smiley faces to more intricate designs featuring spooky jack-o'-lanterns and haunted backgrounds, there are endless possibilities to show off your Halloween spirit.
Cute Pumpkin Nail Art Ideas for Thanksgiving
Thanksgiving is another perfect time to showcase your cute pumpkin nail art.
You can create designs that are inspired by the autumn season or incorporate Thanksgiving elements.
Consider trying Thanksgiving pumpkin nail designs that incorporate colors like brown, orange, and gold.
Another idea is to create an autumn-inspired pumpkin manicure using leaf accents or a warm color palette.
If you want a simple yet festive look, try pumpkin sticker accent nails paired with neutral colors.
Black And Orange Thanksgiving Pumpkin Nail Designs
Black and orange Thanksgiving pumpkin nail designs offer a unique twist on traditional autumn nails, capturing the essence of the holiday in a stylish and playful way.
The combination of black and orange creates a striking contrast that immediately grabs attention.
Opt for a deep, rich shade of black as the base color, allowing your orange pumpkin designs to pop against it.
Whether you choose to paint small pumpkins on each nail or go for an accent nail featuring a larger design, these bold colors will make your nails stand out and add an element of fun to any Thanksgiving gathering.
Burnt Orange Fall Nails With Pumpkin Designs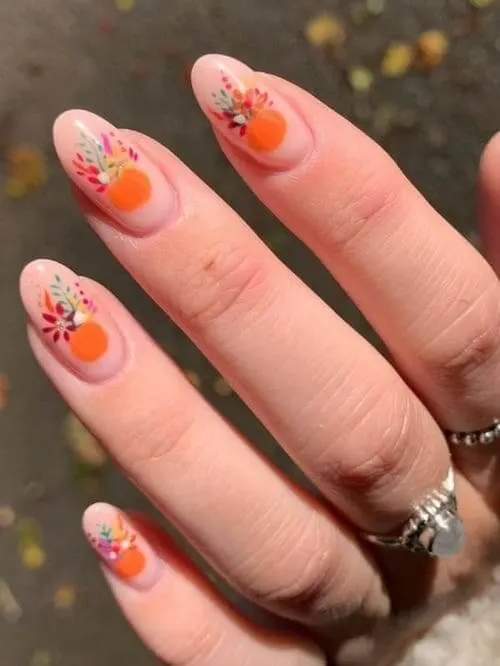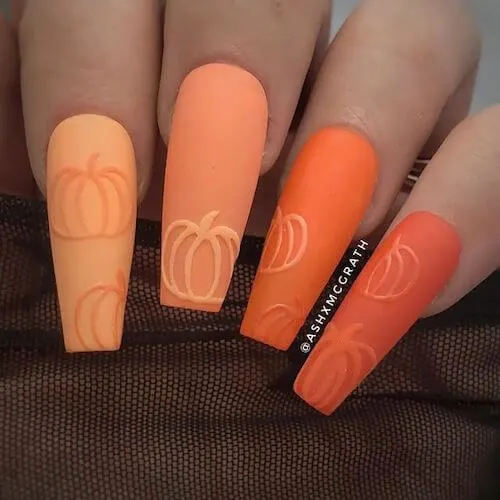 @ashxmcgrath
Burnt orange nails with pumpkin designs are the perfect way to embrace the autumn season and make a bold statement.
The rich, warm shade of burnt orange adds a touch of sophistication to any nail look, while the cute pumpkin designs bring in a playful and festive element.
Whether you opt for a full set of burnt orange nails adorned with tiny pumpkins or choose to showcase the pumpkin design on just one accent nail, this trendy nail art is guaranteed to turn heads.
Chic White Pumpkin Manicure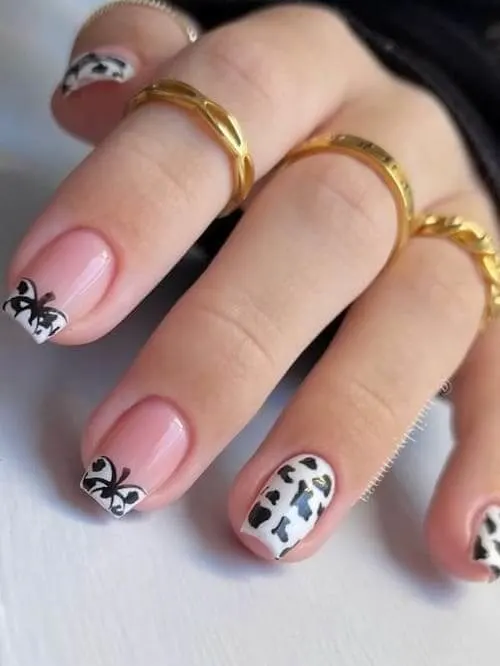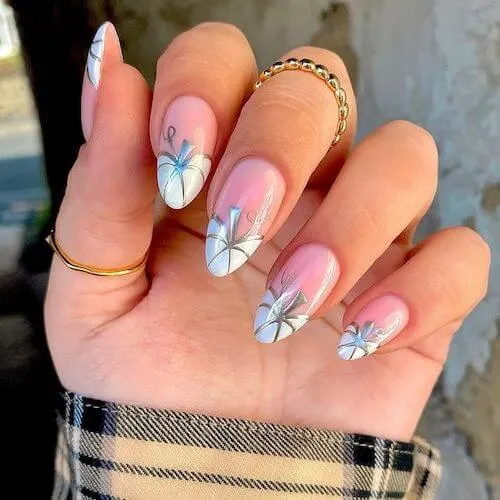 @nailzkatkat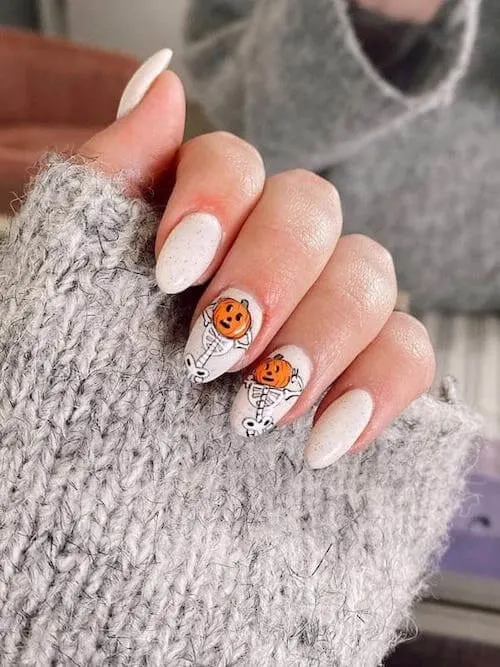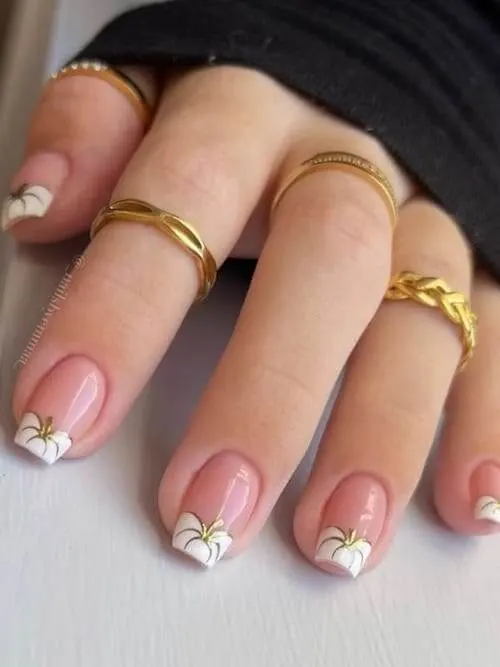 One of the chicest trends for manicures this fall is the white pumpkin manicure.
While traditional orange pumpkins are always a festive choice, opting for a sleek and sophisticated white tone adds an element of elegance to your nail art.
The soft white hue perfectly complements any outfit choice, making it an ideal option for any occasion.
What makes the white pumpkin manicure truly unique is the versatility it offers in terms of design.
From minimalist geometric patterns to intricate lace-inspired details, there are endless possibilities when it comes to expressing your creativity on this canvas.
The contrast between the delicate white color and darker accents creates a visually stunning effect that will surely turn heads wherever you go.
For those looking for a more subtle approach, a simple yet elegant French tip with small white pumpkin accents at the base can instantly elevate your manicure game.
On the other hand (no pun intended), if you're feeling bolder, try incorporating different textures and layers into your design using contrasting shades like silver or gold to bring out even more dimension.
Pumpkin Accent Nails for Thanksgiving
@paige_heavenonearth
@finewinemanis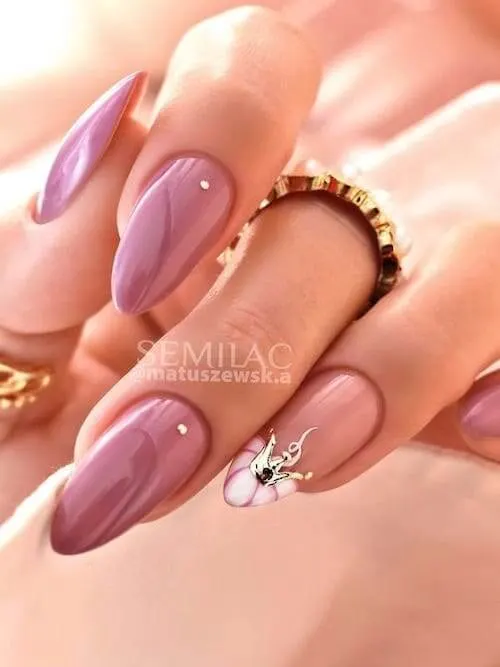 One of the best ways to embrace the Thanksgiving spirit and add a festive touch to your nails is with pumpkin accent nails.
Pumpkins are synonymous with fall, and incorporating them into your nail art can instantly elevate your manicure game.
Whether you opt for cute cartoon pumpkins, rustic pumpkin patches, or elegant metallic designs, there's a pumpkin nail look out there for everyone.
If you're looking for something bold and eye-catching, consider painting your accent nail as a vibrant orange pumpkin against a neutral-colored base.
This simple yet striking design will make sure all eyes are on your manicure during Thanksgiving dinner.
For those who prefer subtler options, try adding small pumpkin decals or stickers to one or two nails while keeping the rest of the design minimalistic.
This way, you'll still get that seasonal touch without overpowering your entire look.
Matte Pumpkin Mani for a Chic Look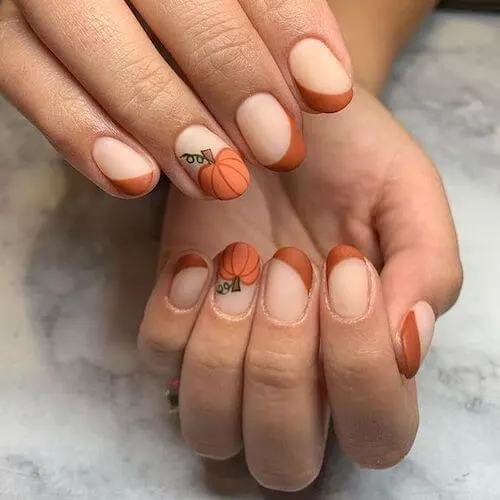 @nicolediaryofficial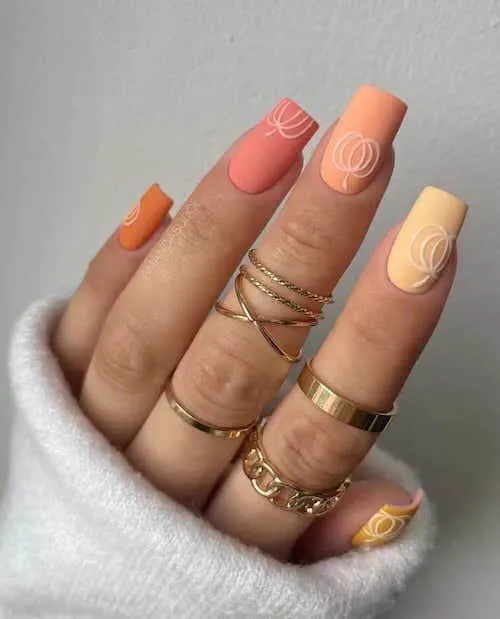 @amanda.sudolll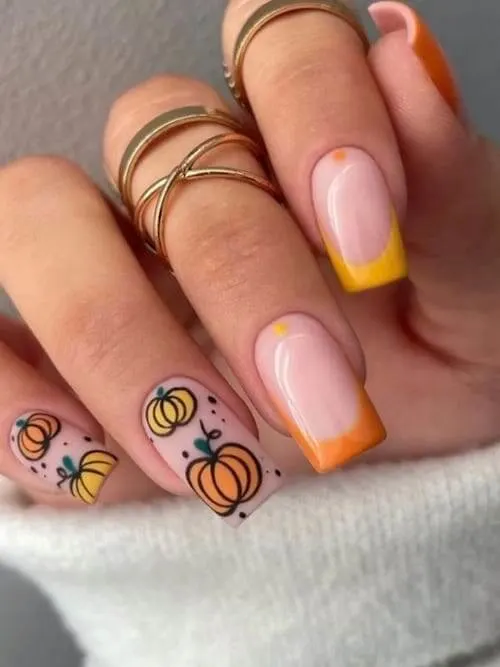 For a chic and sophisticated Halloween look, opt for matte pumpkin nails.
Start by painting your nails with orange nail polish.
Once the polish dries, apply a matte top coat to give your nails a velvety finish.
This simple yet stylish manicure will complement any Halloween outfit.
Glitter Pumpkin Nail Designs for a Sparkly Season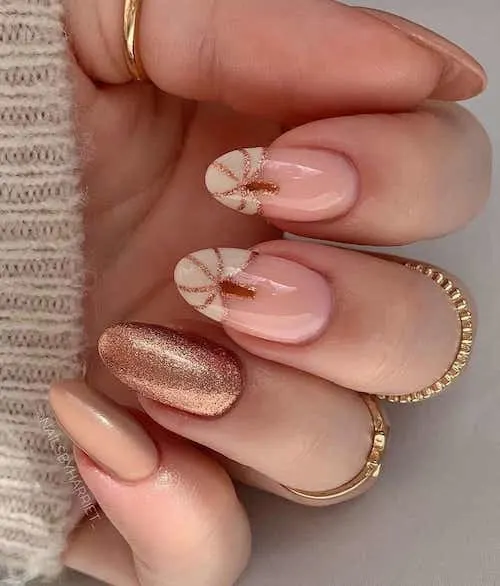 @nailsbyharriet_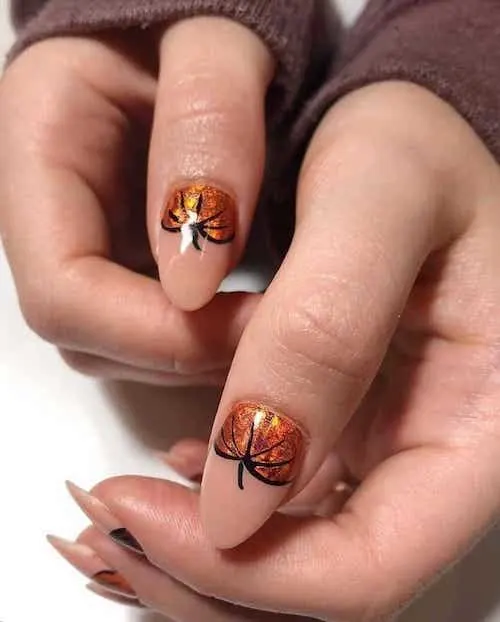 @lovelecente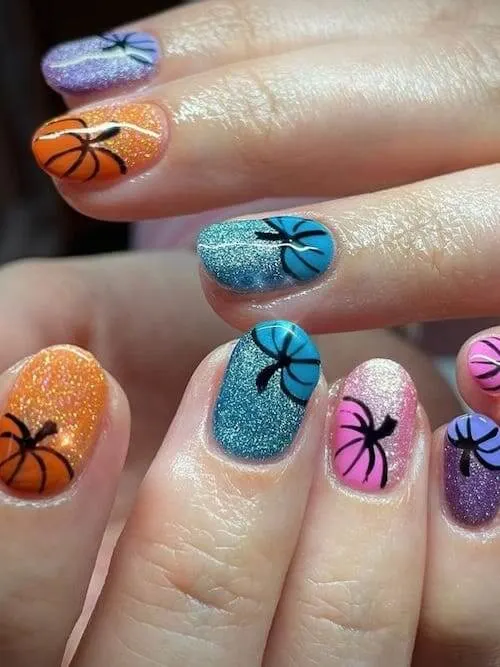 @heygreatnails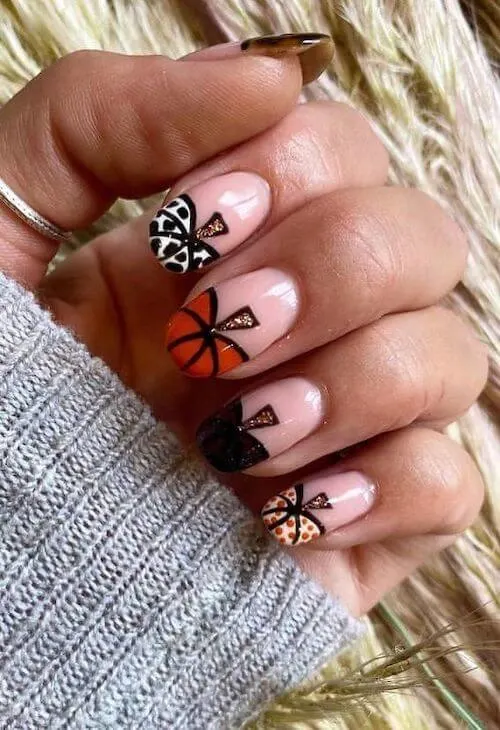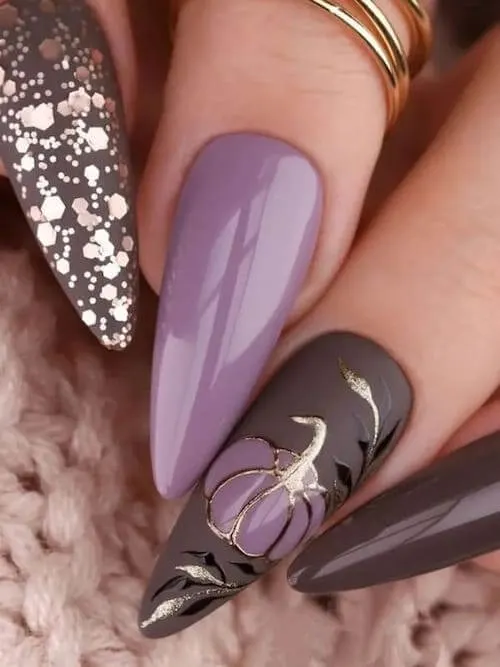 If you're looking to add a touch of glamour to your Halloween or fall nail art, why not try some glitter pumpkin designs?
Glitter is often associated with celebrations and sparkles, and combining it with the seasonal symbol of pumpkins creates a truly dazzling look.
Whether you opt for all-over glitter nails with one or two pumpkins as an accent, or intricate pumpkin designs made entirely from glitter, these nail art designs are sure to make heads turn.
Green And Orange Nail Polish Pumpkin Nails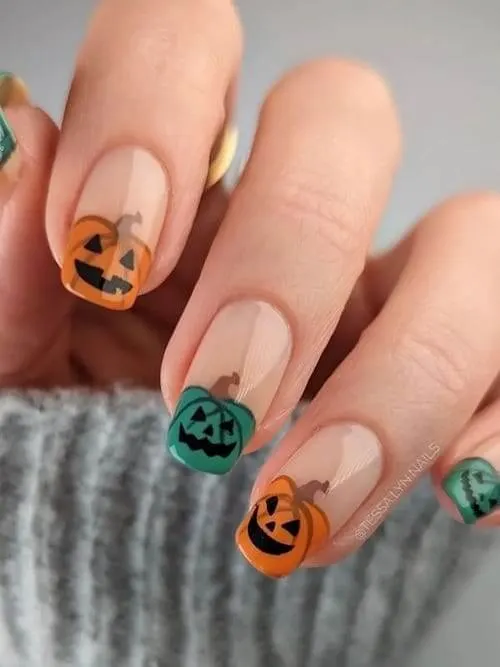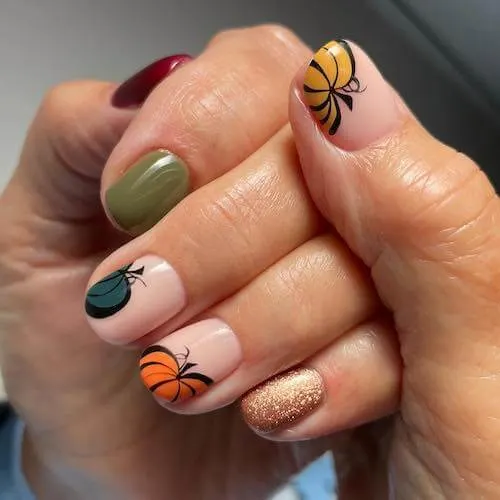 @nailchark
One of the most unique and striking variations of pumpkin nail designs is the combination of green and orange.
This color scheme not only captures the vibrant essence of fall, but also adds a touch of whimsy to your Halloween-inspired manicure.
The contrasting colors create an eye-catching look that is sure to turn heads.
Orange Pumpkin French Tips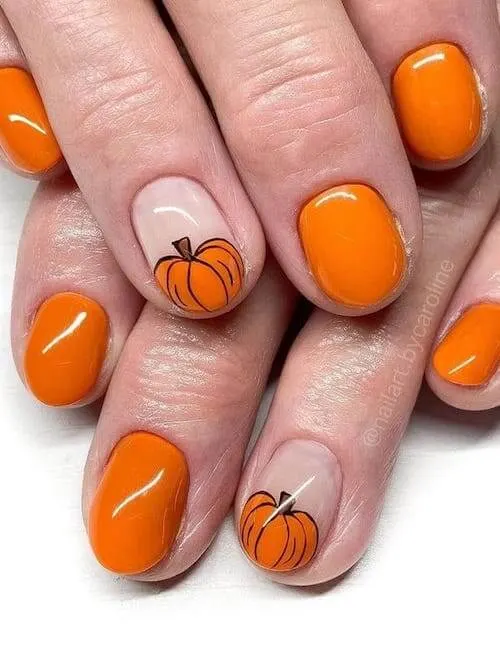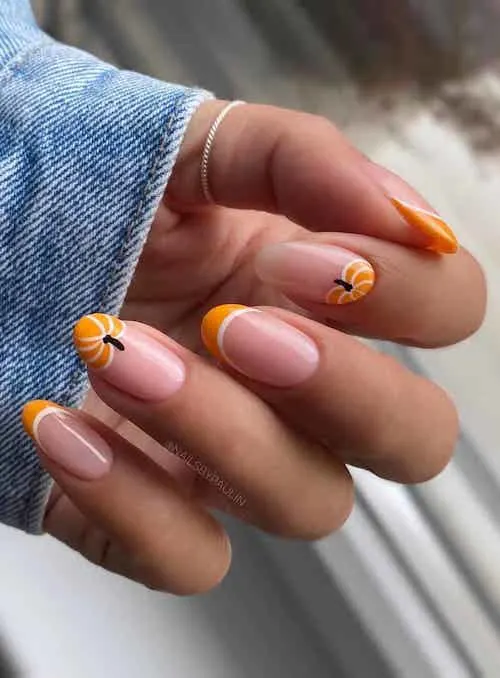 @nailsbypaulin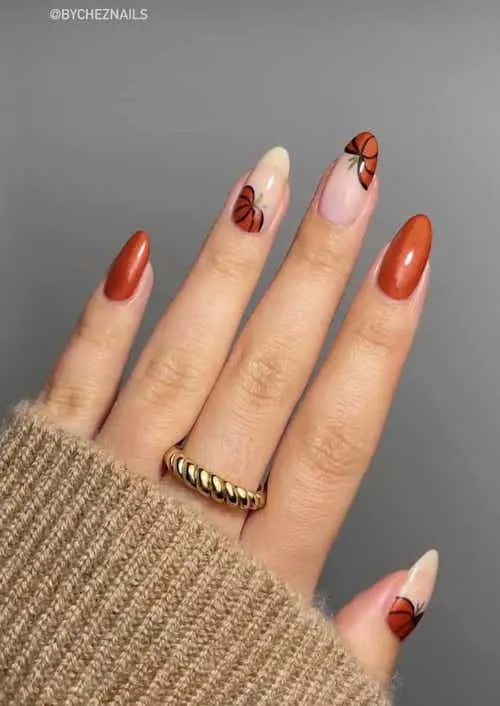 @bycheznails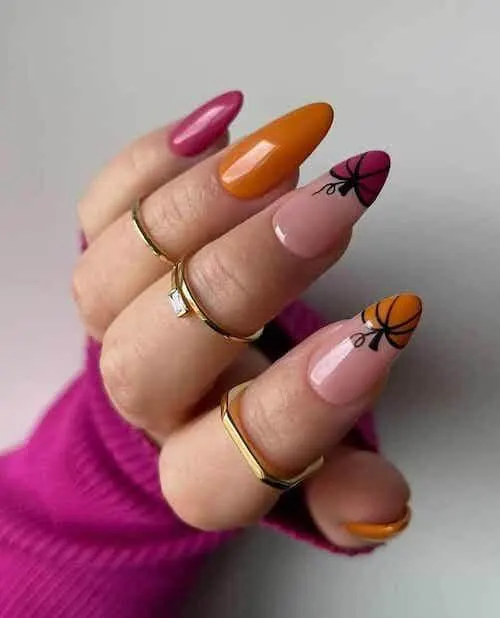 @gelfully
@purenailsuk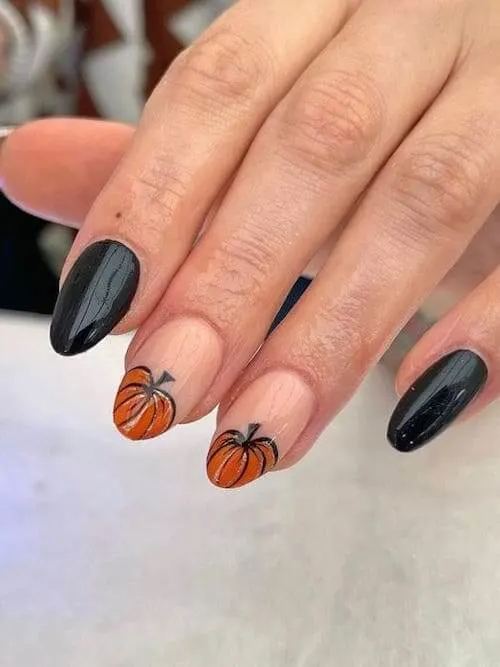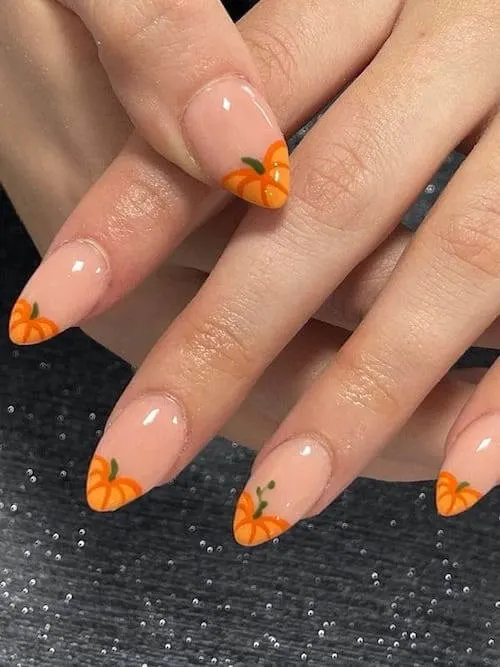 @beauty___hq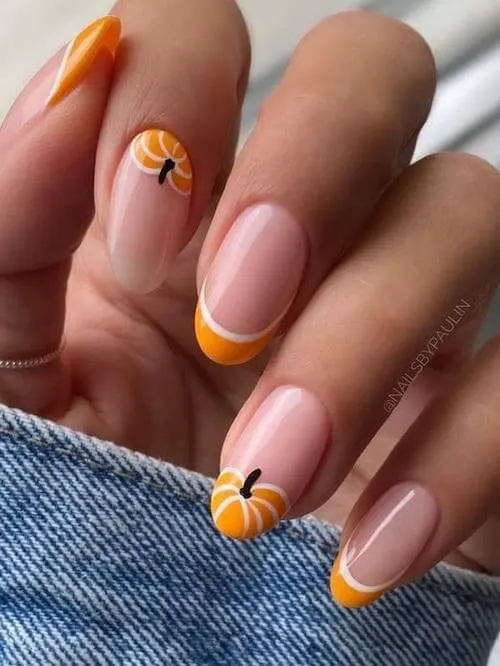 Orange Pumpkin French Tips add a fun and festive touch to your nails this fall season.
The traditional French manicure gets a twist with the incorporation of vibrant orange polish and pumpkin-inspired designs.
Whether you're headed to a Halloween party or simply want to embrace the autumn vibes, these nail tips are sure to make a statement.
Pink Pumpkins Nails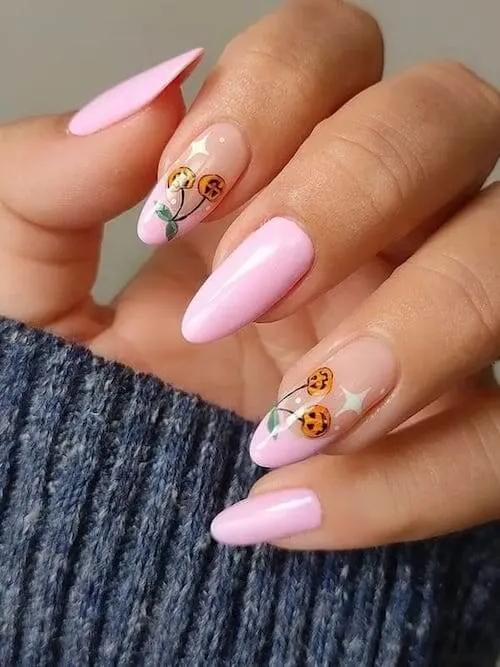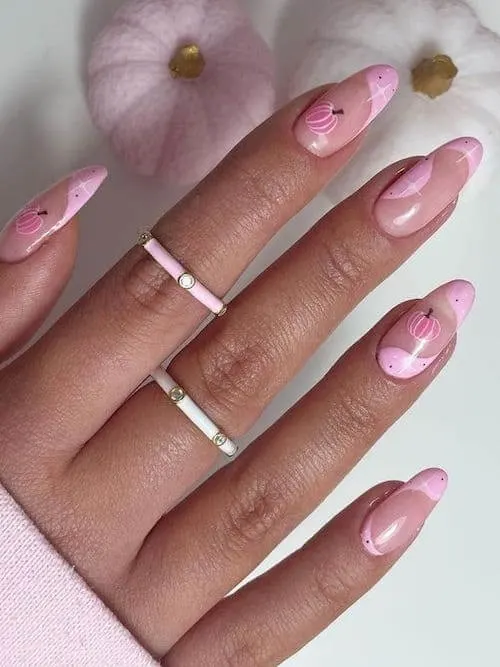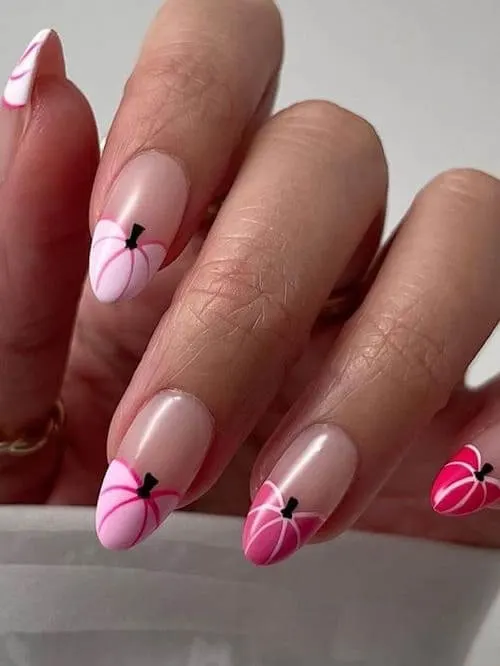 @naileditbeauty
Pink pumpkins nails offer a fresh twist on the classic pumpkin nail design.
The delicate and feminine shade of pink adds a soft and elegant touch to your Halloween manicure.
Whether you opt for a subtle pastel pink or a vibrant neon hue, these pink pumpkins will surely make your nails stand out.
Pumpkin Long Nails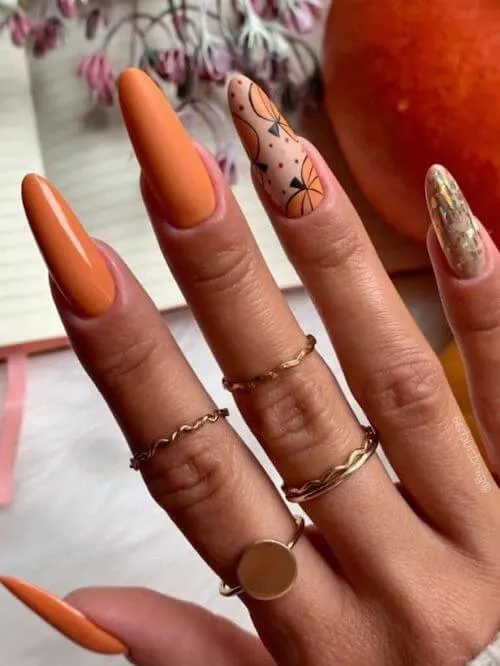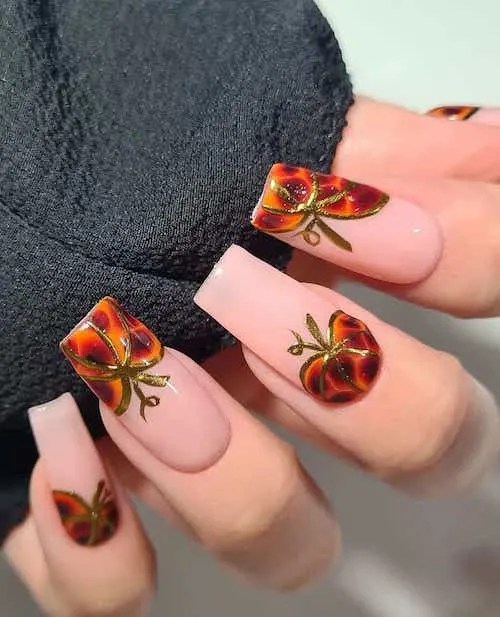 @by_leahbispham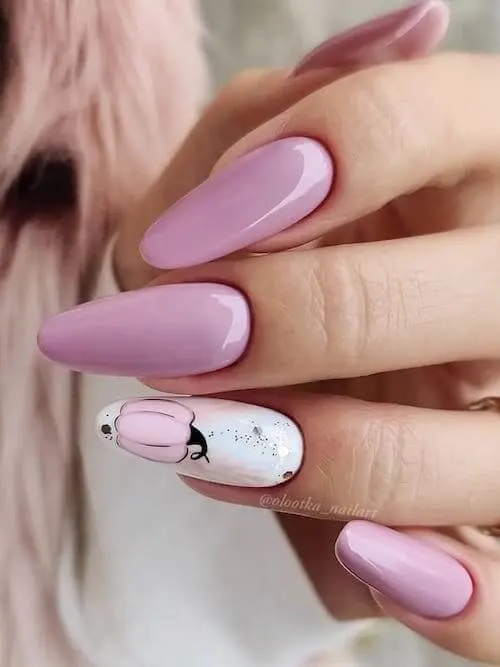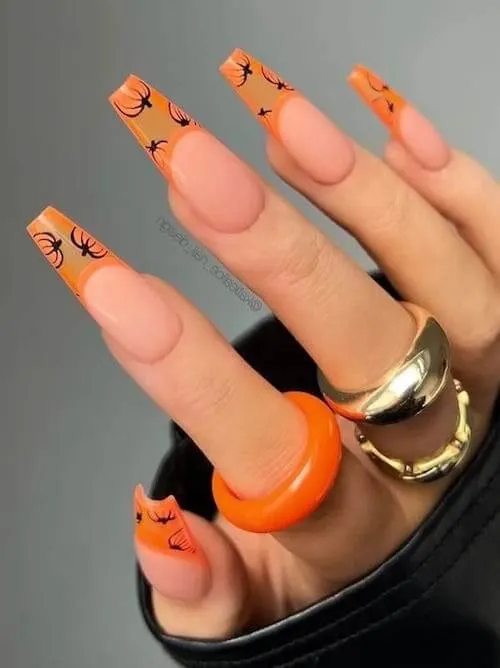 Long pumpkin nails are a unique and eye-catching nail design that adds a touch of Halloween spirit to your look.
This extended style allows for more creativity, with the nail technician having plenty of space to showcase intricate details.
The elongated shape resembles the silhouette of pumpkins, giving them an unmistakable whimsical charm.
Final Thoughts On The Best Pumpkin Nails
In conclusion, the best pumpkin nails truly capture the essence of fall and add a whimsical touch to any manicure.
Whether you opt for simple pumpkin accents or intricate jack-o'-lantern designs, these nail art ideas are sure to impress.
This post was all about pumpkin nails.
About The Author
Tracy is an experienced personal stylist, shopping expert, and fashion & lifestyle blogger. She has been featured on Time Magazine, Bustle, Best Life, Glam, The Zoe Report, Mic, and GOBankingRates, for her insights on fashion, beauty, home decor, and lifestyle. Read More
Related Posts: