Want to know how to wear a denim shirt female in a chic and modern way? Check this post for the best casual denim shirt outfit ideas & stylish ways to style your chambray shirt this year.
Denim is a timeless classic, and denim shirts are one of the most versatile pieces you can own.
In this article, I am sharing with you chic and modern denim shirt outfit ideas that will make you look stylish!
Denim has been a fashion staple for decades but with the right styling can still be updated to look modern and trendy.
From casual days out to date nights, this article will show you how to make a denim shirt fit into almost any occasion.
This post is all about how to wear a denim shirt female.
Is the denim shirt out of style?
No, the denim shirt is far from out of style. It has been a classic wardrobe staple for decades and continues to be a go-to choice for fashionistas around the world.
The denim shirt is a versatile item that can be styled in countless ways to suit any occasion, making it an essential piece for every wardrobe.
The denim shirt can easily transition from day to night.
Pairing it with jeans or shorts creates an effortless casual look, while adding a blazer and sleek pumps make it perfect for work or evening wear.
Whether you choose light wash or dark indigo, there's no denying the timelessness of this classic garment – it will always remain in style!
Accentuate your outfit with jewelry or hats to make your statement even more unique and fashionable.
What to Wear with a Denim Shirt?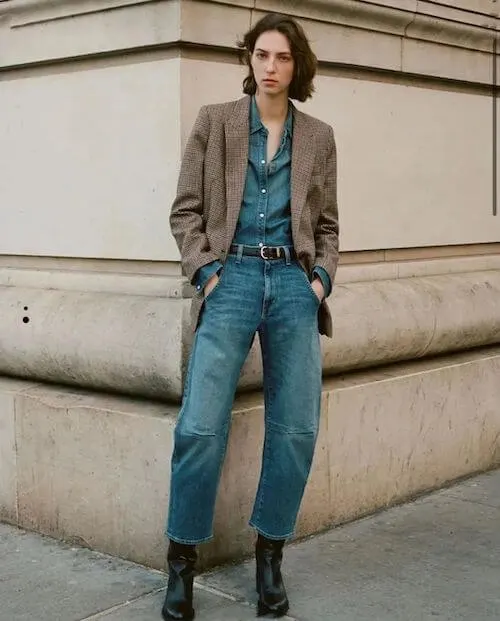 @Nili Lotan
On those lazy weekend days when comfort is key, pair your denim shirt with black leggings or joggers and sneakers for a cool street-style vibe.
And this year, don't forget to try out the trending denim-on-denim style!
Add a jacket if the weather calls for it, or if you're looking to add more texture try switching out your shoes with chunky ankle boots.
For something more formal try tucking in your shirt into a midi skirt and accessorizing with statement jewelry pieces like layered necklaces or earrings.
Scroll on to check more denim shirt outfit ideas!
What color goes best with a denim shirt?
Denim shirts can be dressed up or down depending on how they are styled and paired with other pieces of clothing.
A great way to elevate your look is by pairing a denim shirt with neutral colors like black, white, cream, or gray.
These colors will provide an understated but stylish backdrop for the blue hue of your top.
Alternatively, if you're wanting to create an eye-catching ensemble then why not opt for bright and bold colors such as yellow, green, pink, or red?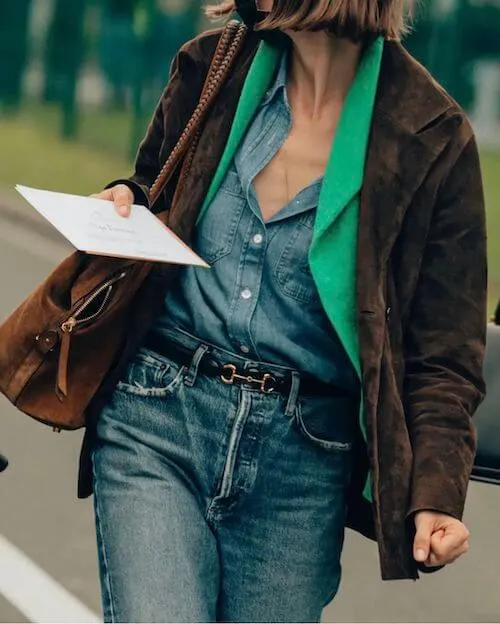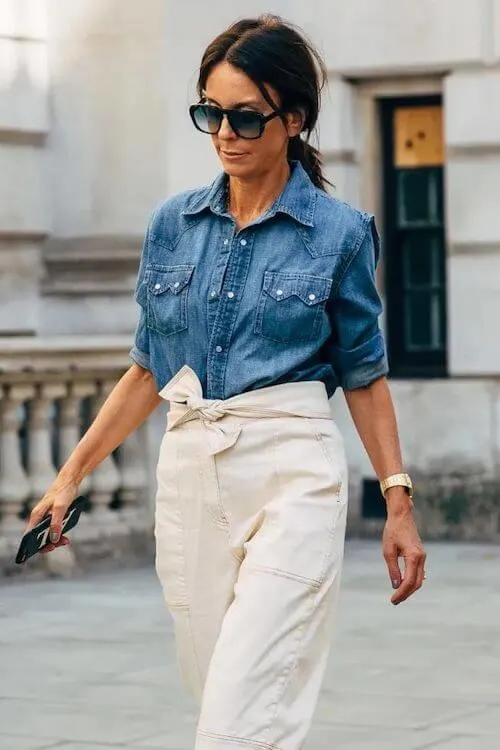 How to wear a denim shirt female
There are many ways to wear a denim shirt that will help you create your own signature style and look fashionable.
First, when wearing a denim shirt consider what other items you pair it with.
Denim shirts look great with jeans and shorts for an effortless casual look.
For something more refined, pair your denim shirt with formal trousers or skirts for an edgy yet stylish outfit.
You can also layer your denim shirt over maxi dresses or midi skirts to add texture and dimension to your outfit.
Adding accessories such as scarves, necklaces, earrings, and belts will also help pull together your ensemble.
Head, we are sharing with you more stylish outfits with a denim shirt.
Can you wear a denim shirt with jeans?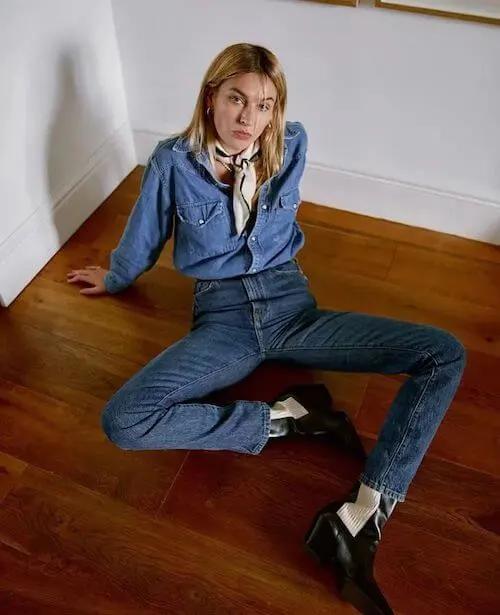 @Camille Charrière
Yes! Denim on denim is very on-trend, so there is no reason why you can't wear a denim shirt with jeans.
While this look may seem intimidating to some, it is actually simpler than it looks.
All you need to do is pick the right combination of washes and styles for your outfit.
A pair of black jeans or dark wash jeans with a light wash denim shirt provides a polished yet casual look that can be worn both day and night.
Pairing two shades of blue together should also be avoided–instead, mixing in colors such as black or gray for contrast will help create an eye-catching ensemble that looks effortless and stylish.
With some creativity, wearing a denim shirt with jeans can be the perfect way to enhance any wardrobe.
Denim Shirt + Wide Leg Jeans / Straight Leg Jeans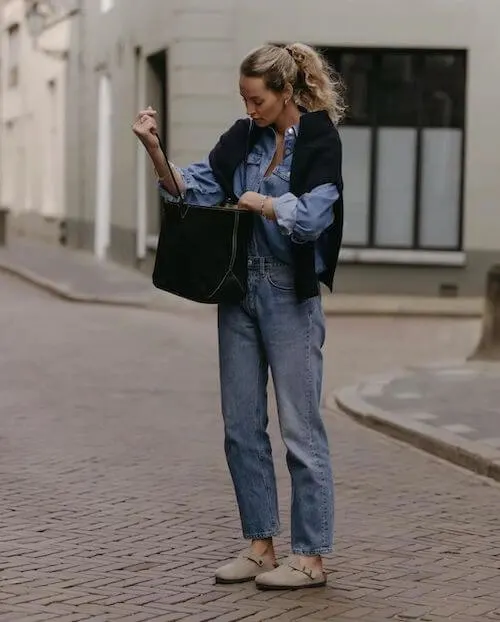 @Anouk Yve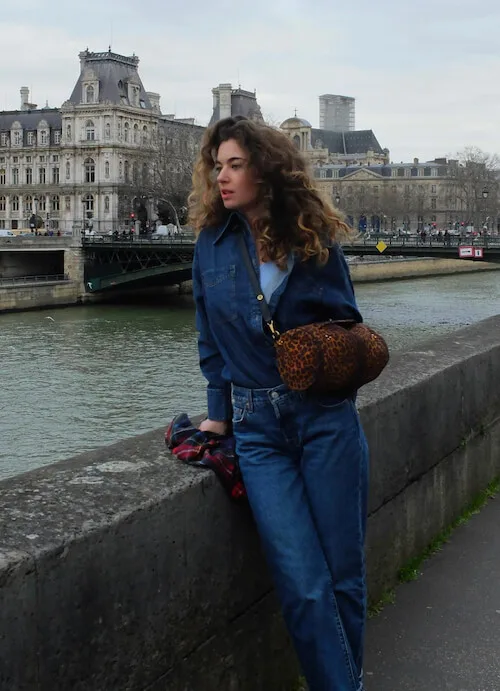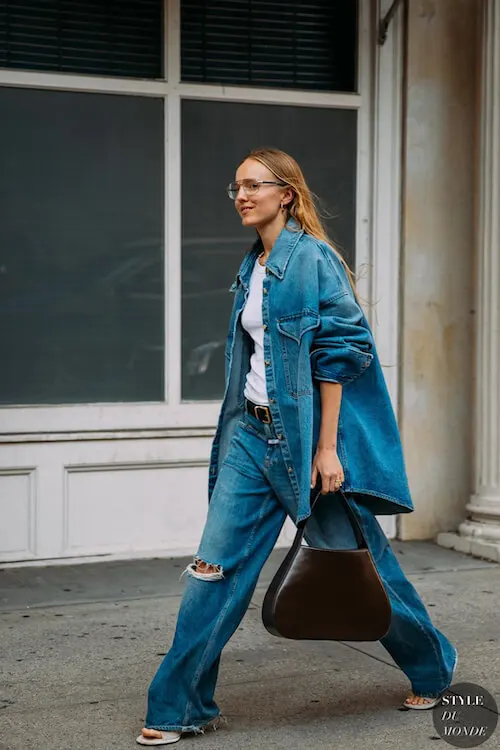 @Alexandra Carl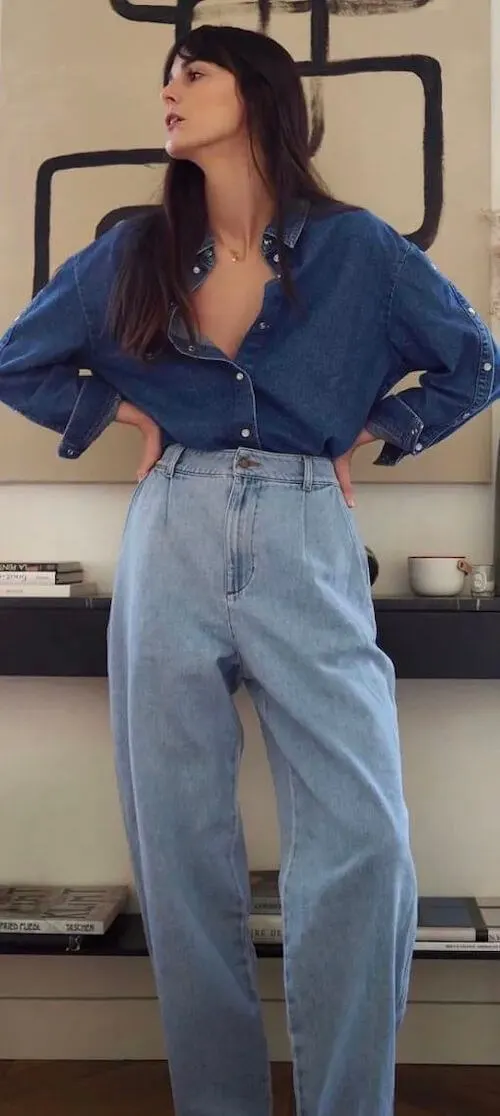 Denim Shirt + Flare Jeans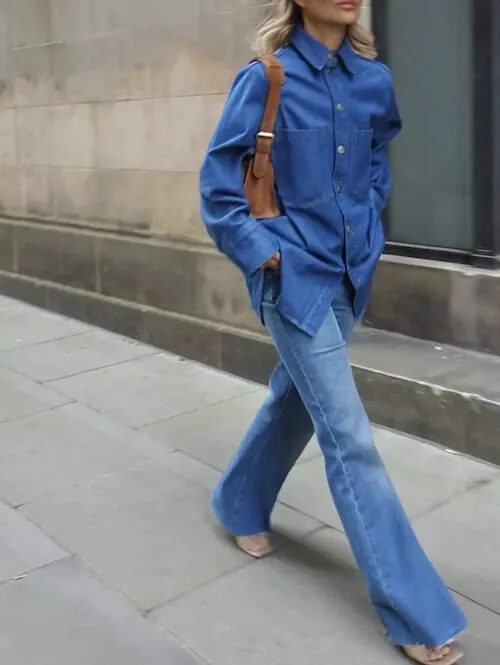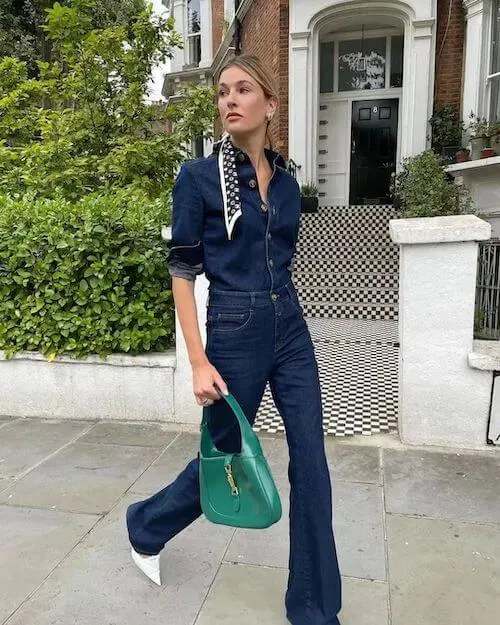 @Camille Charrière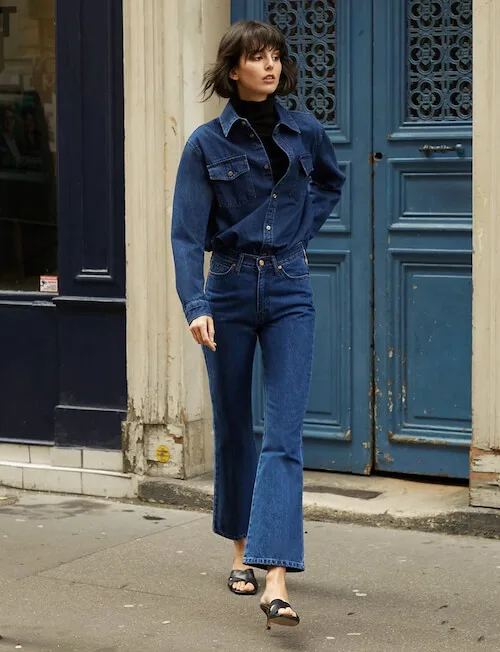 Denim Shirt With White Jeans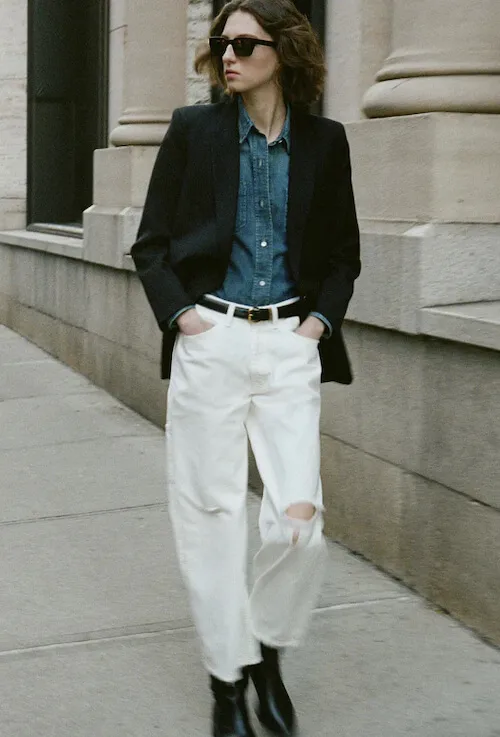 Chambray Shirt + Skinny Jeans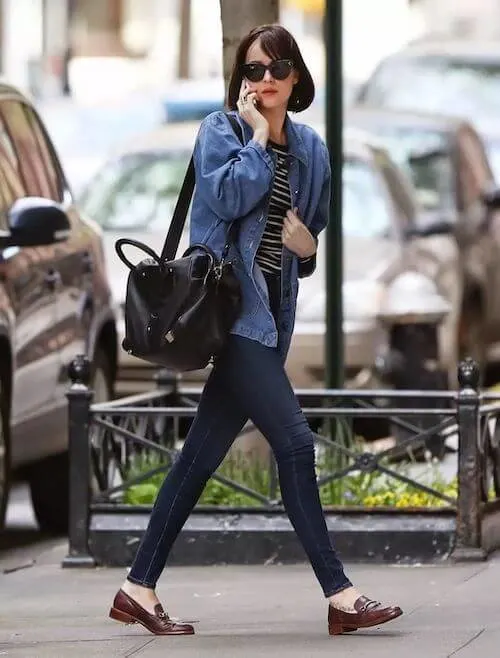 @Dakota Johnson
Tuck In High-Waisted Jeans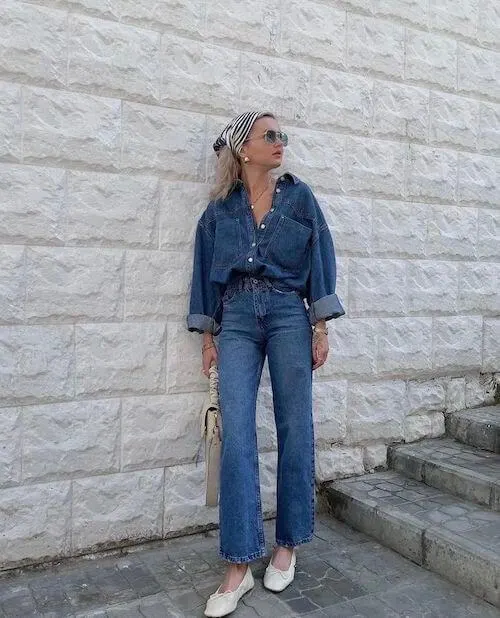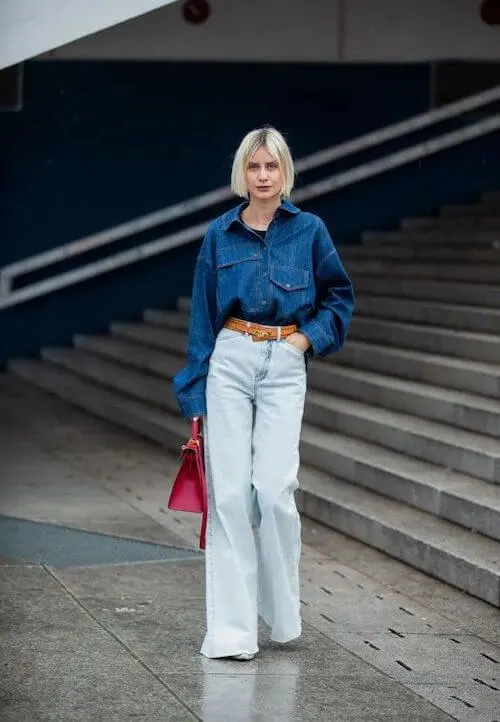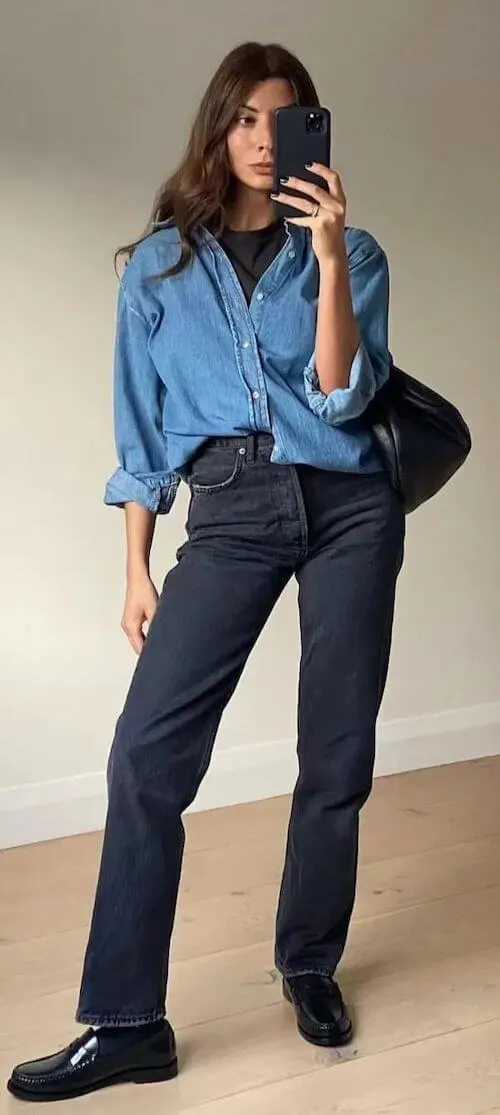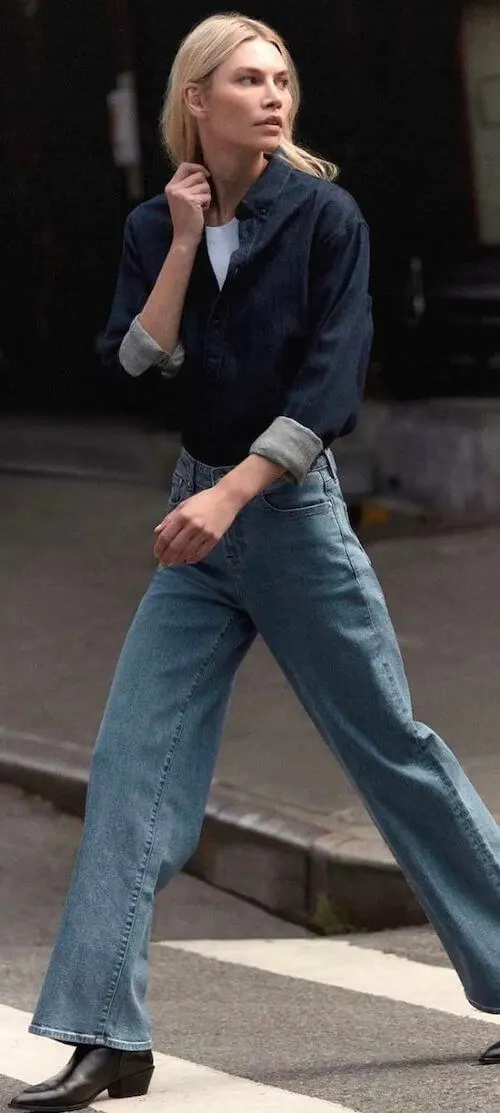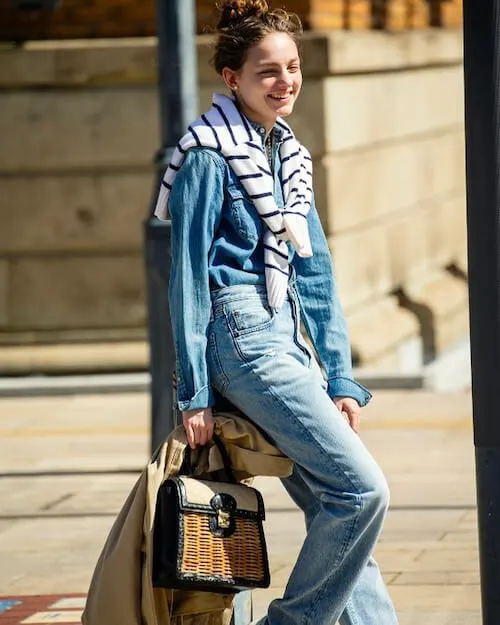 How to wear a denim shirt with leggings?
An oversized style will give the appearance of a more relaxed and laid-back vibe, while still keeping you looking chic and fashionable.
To start off your outfit, pick out a quality oversized denim shirt that fits well and compliments your body type.
Choose one that has some texture to it such as slight distressing or rips for added interest and dimension.
Then choose a pair of leggings in either black or grey – these neutrals will serve as the perfect base for any look.
Blue Denim Shirt + Leggings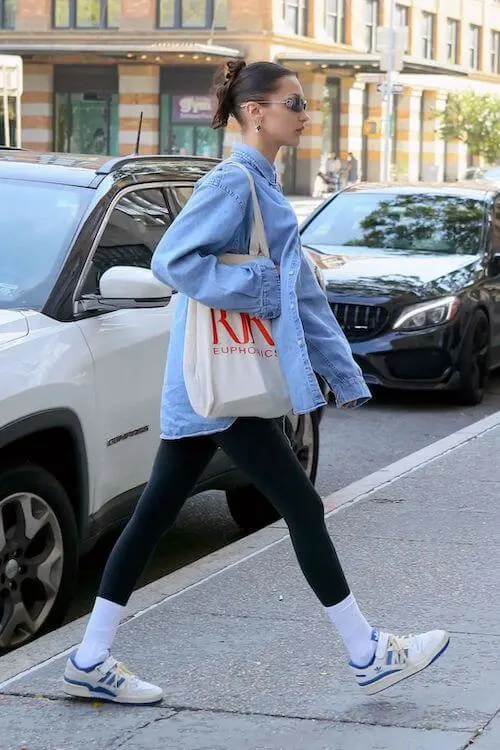 Hailey Bieber
How to wear a denim shirt as a jacket?
If you're looking to add a unique twist to your ensemble, consider wearing your denim shirt as a jacket!
To pull off this look, start by picking out the right denim shirt for the job.
Look for one that is slightly oversized. You can choose pieces with bold features like patch pockets or frayed edges.
With that taken care of, all you need to do is pair it with some stylish accessories and wide-leg pants or cute leggings!
Tuck in a statement belt around your waist for added definition and layer on chunky pieces such as necklaces or sunglasses.
Add white sneakers and black ankle boots for an edgy yet fun look that will stand out from the crowd.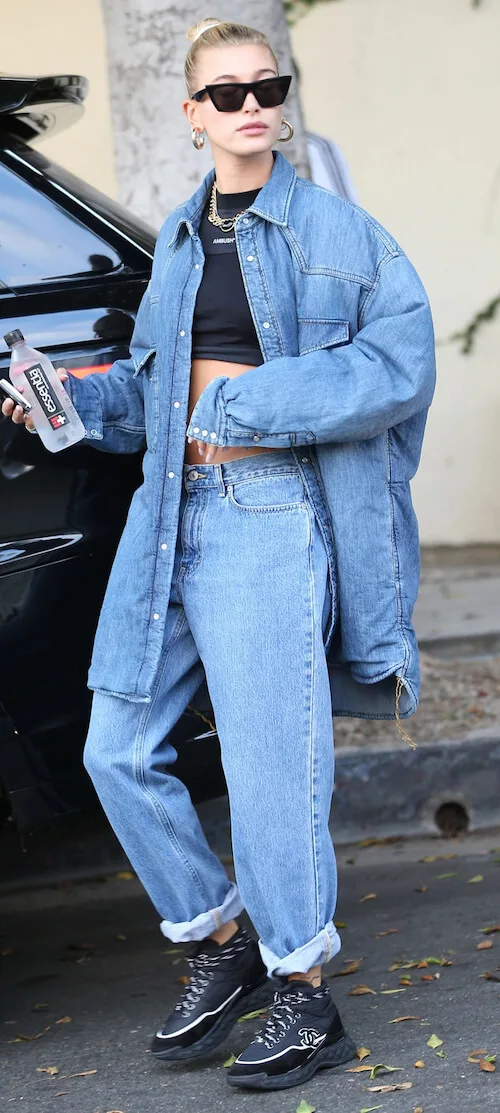 @Hailey Bieber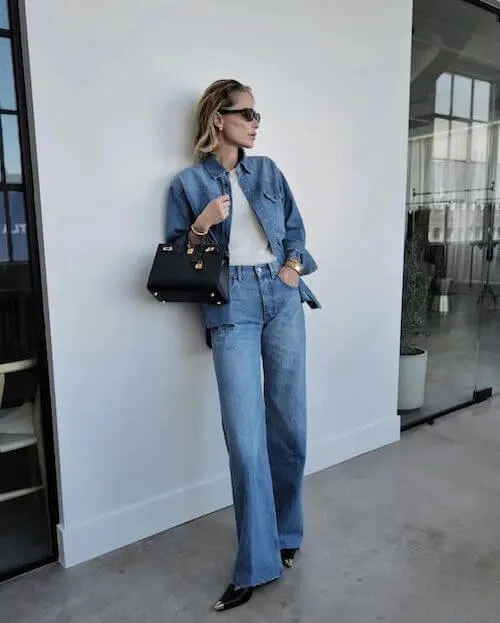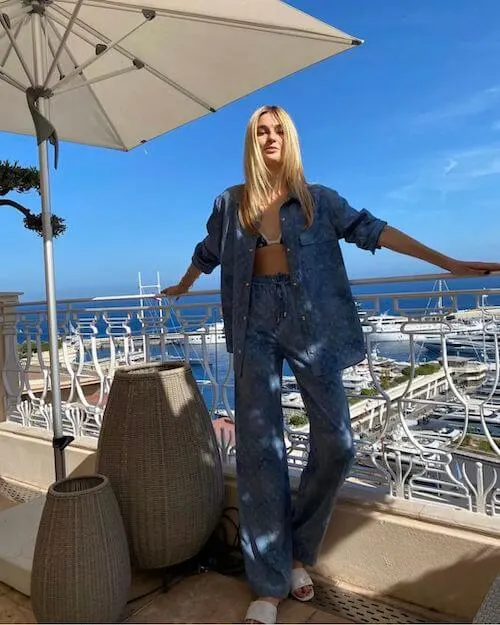 @Camille Charriere
How to wear a denim shirt with shorts?
Whether you're going for a casual look or something more dressed up, there are many ways to style a denim shirt with shorts.
For an edgy weekend look, pair your denim shirt with biker shorts or cutoff denim shorts.
The combination is sleek and stylish and perfect for running errands around town or meeting friends for brunch.
For something more polished, try pairing your denim shirt with Bermuda shorts in neutral colors like beige or white.
Complete the ensemble by adding on-trend accessories such as dainty jewelry and stacked heels—this outfit is perfect for heading out on date night or attending outdoor events during the summer months.
Throw on some sunglasses to finish off the chic look!
Cool Ways To Wear A Denim Shirt
Oversized Denim Shirt + Maxi Skirt
The oversized denim shirt and maxi skirt fashion trend is one of the most popular looks this season.
Not only is it comfortable, but it also makes a major statement.
Women of all shapes and sizes can show off their unique style with this look.
This outfit is perfect for achieving a casual-cool vibe during the summertime–pairing an oversized denim shirt with a long maxi skirt gives you the perfect balance between comfort and chicness.
The best part?
You can dress it up or down, depending on what kind of look you're going for!
Throw on some chunky jewelry to glam up your ensemble, or keep things simple with sandals and minimal accessories for an effortless feel.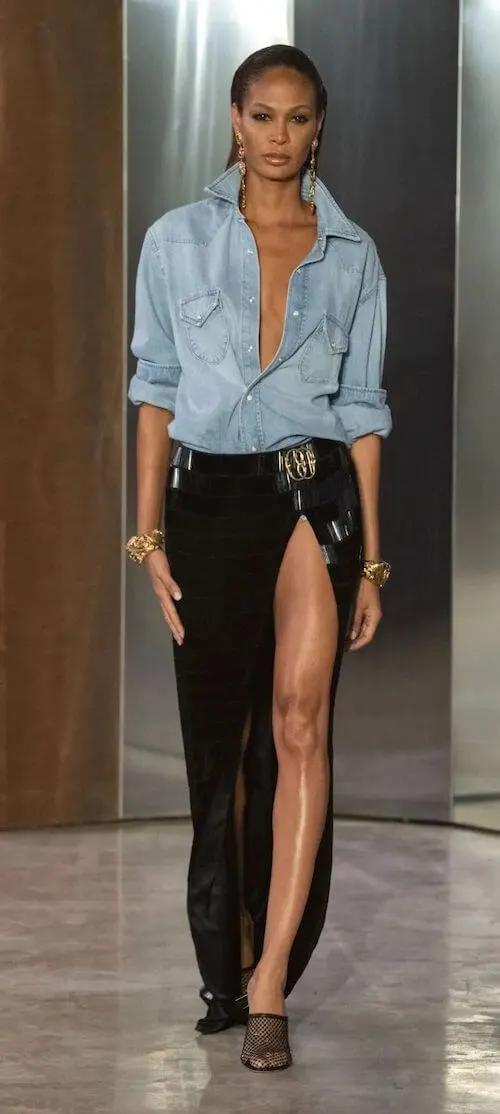 @Bally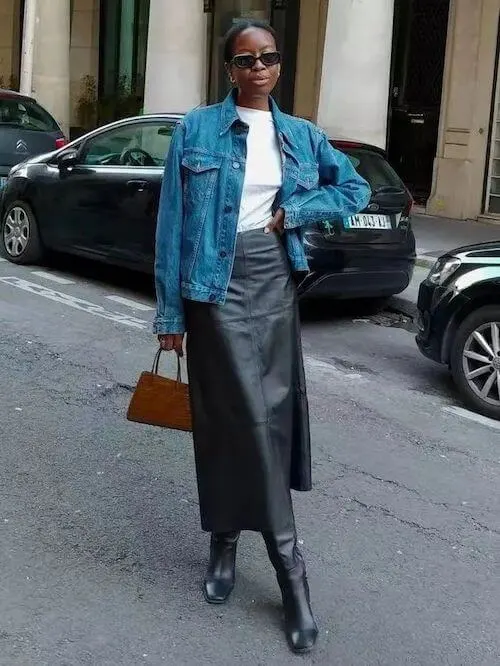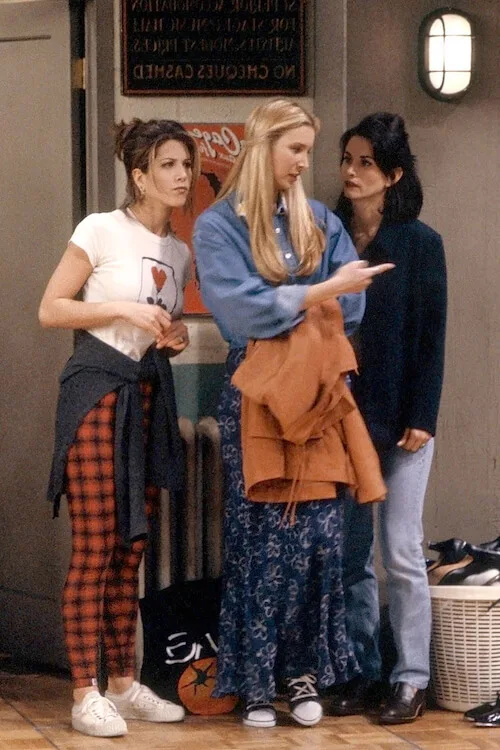 Denim Blouse + Maxi Dress
Denim shirts and maxi dresses have long been fashion staples, but this season they're having a major moment.
Whether you're looking for new ways to mix up your wardrobe or just want to stay on trend, pairing these two timeless pieces is an easy way to take any outfit up a notch.
The versatility of denim and the classic silhouette of a maxi dress make them the perfect match for virtually any occasion.
For casual days, keep it simple with a light-wash denim shirt layered over the dress, or opt for darker shades like indigo or black if you want something edgier.
Accessorize with statement jewelry, sandals, and an oversized clutch for a look that's sure to turn heads.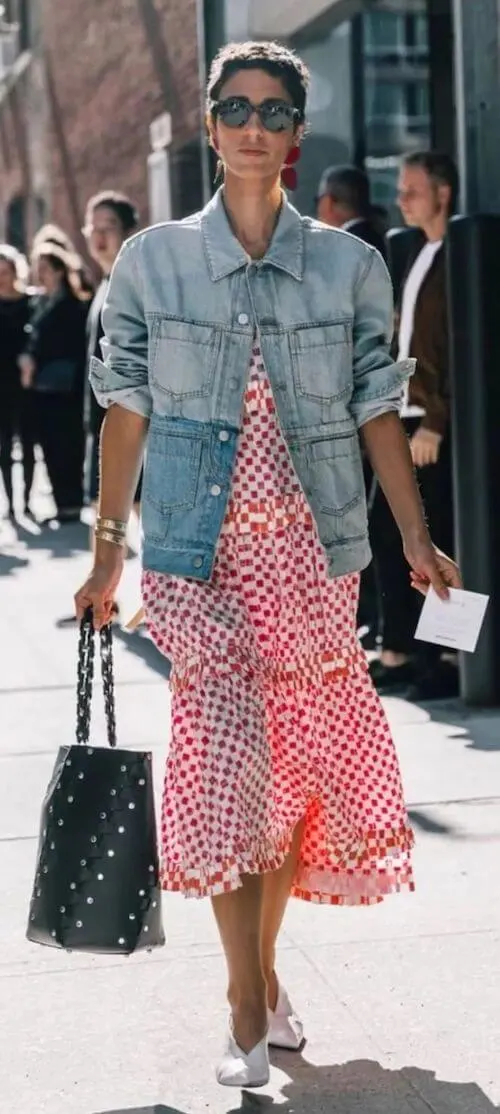 Denim Jacket + Leather Pants
For the fashion-forward who crave a look that's both edgy and sophisticated, there's no better combination than a denim shirt or jacket and leather pants.
Whether you're headed to the office or the dance floor, this classic pairing is sure to turn heads.
Leather pants are another stylish way to add some edge to your outfit.
Sleek, slim-fit styles lend themselves perfectly to a smart/casual ensemble; for nights out, why not try cropped silhouettes?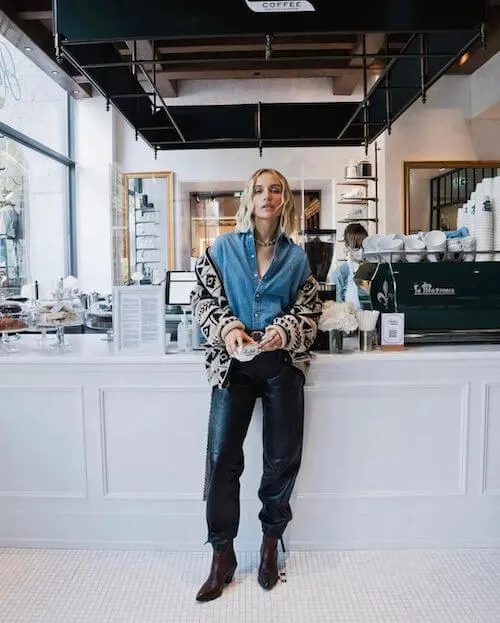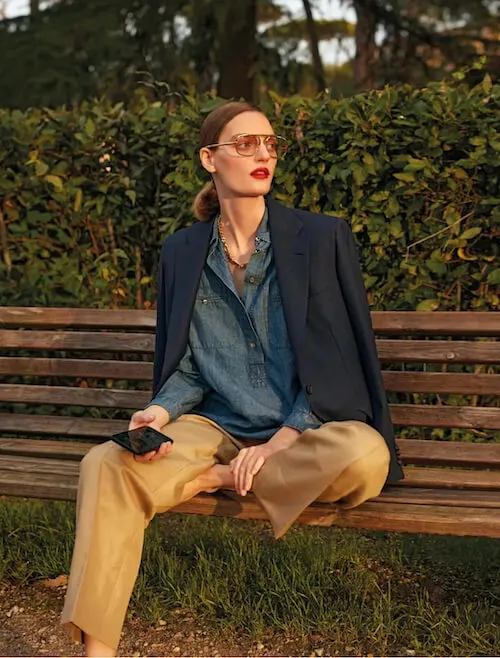 @iO Donna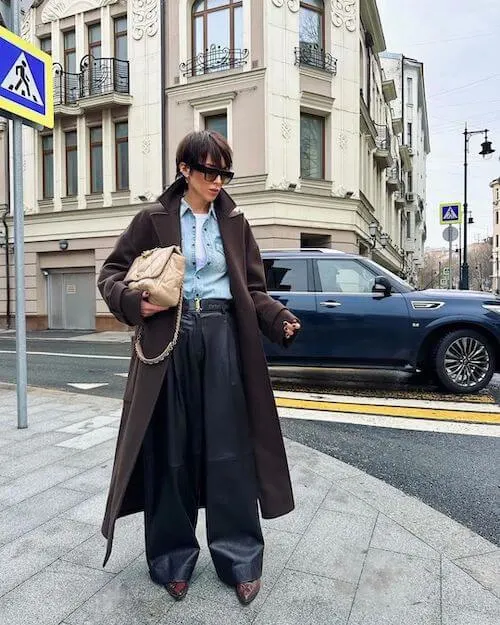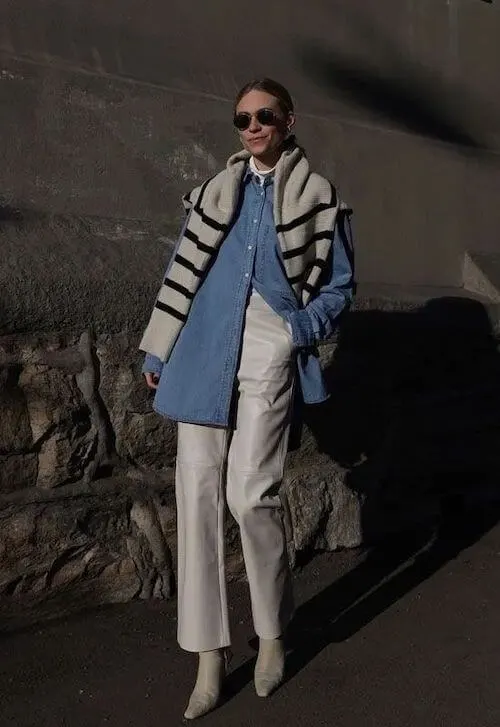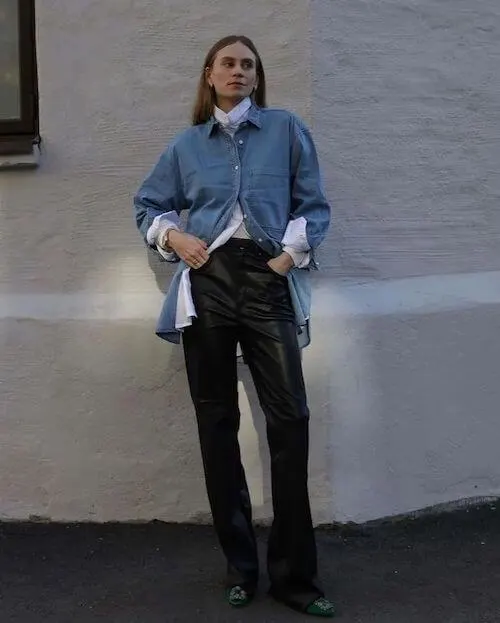 Denim Top + Denim Midi Skirt
The denim shirt and denim midi skirt is a classic combination that will never go out of style.
This pairing has been seen on celebrities and in fashion magazines alike, making it a timeless look.
The denim shirt and midi skirt combo can be dressed up or down depending on the occasion, making it an incredibly versatile choice for any wardrobe.
A high quality denim shirt will last season after season, providing an easy-to-wear day or night look with minimal effort required.
Whether you opt for a fitted style or oversized boyfriend fit, the versatility of this piece makes it ideal for dressing up with heels or dressing down with trainers.
Team your chosen shirt with a classic denim midi skirt and you've created an effortless yet stylish outfit that will take you from day to night in no time!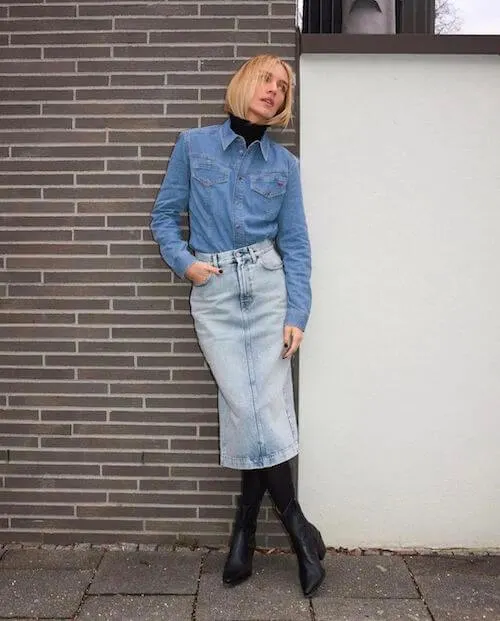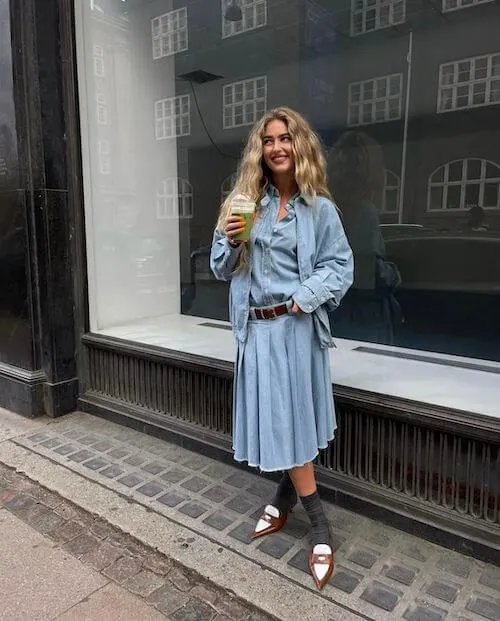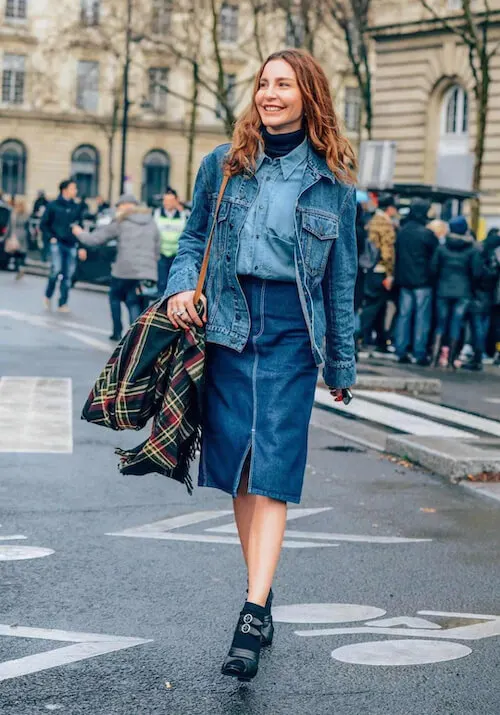 Denim Shirt + Maxi Denim Skirt
The denim shirt is a classic and timeless style staple, but now it's being given a modern makeover that has taken the fashion world by storm.
With the current trend of maxi denim skirts, this combination of two wardrobe staples has become one of the hottest looks to sport this season.
Whether you choose to pair your maxi denim skirt with a classic chambray shirt or go for something more daring with an oversized and distressed version, you'll be sure to stand out from the crowd.
For those who want to add some extra fun and flair, try accessorizing with bright colors or statement jewelry pieces for a look that's totally unique.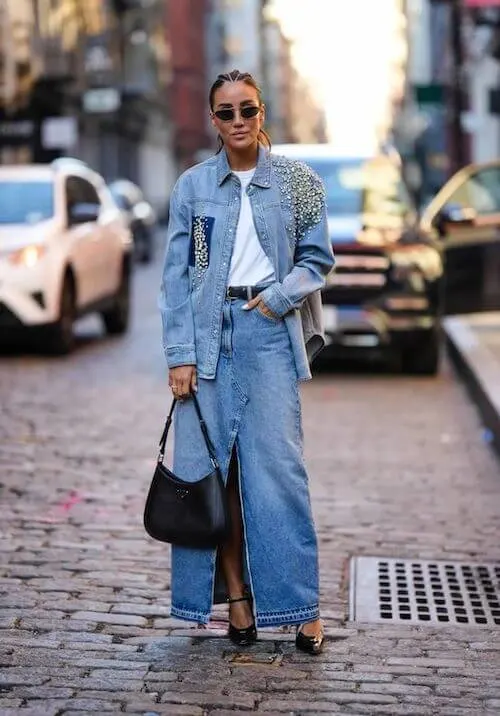 Head-To-Toe Denim + Coat
Head-to-toe denim is a look that has been around for decades, and it isn't going away anytime soon.
This season, take the classic style up a notch by pairing it with a long coat for an extra layer of warmth.
The best part about this look is its versatility.
You can go as subtle or bold as you'd like – start off with classic blue jeans and a white tee and add some distressed denim pieces for flair, or incorporate hues of black or grey if you're feeling daring.
Throw on your favorite long coat, whether it's leather or wool – whatever suits your taste – and you have a timeless look that will stay in style all year round!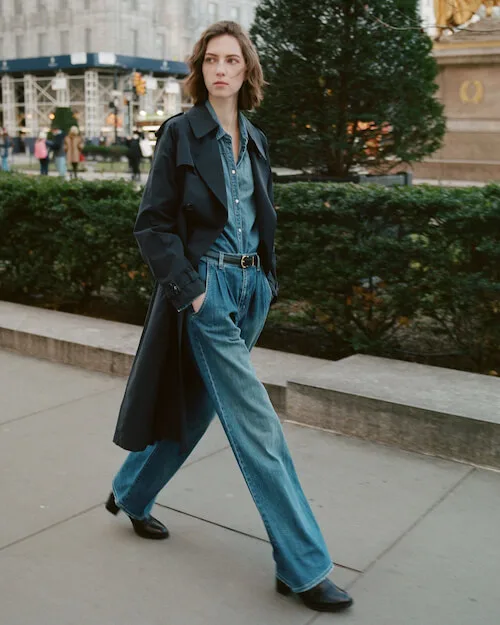 @Nili Lotan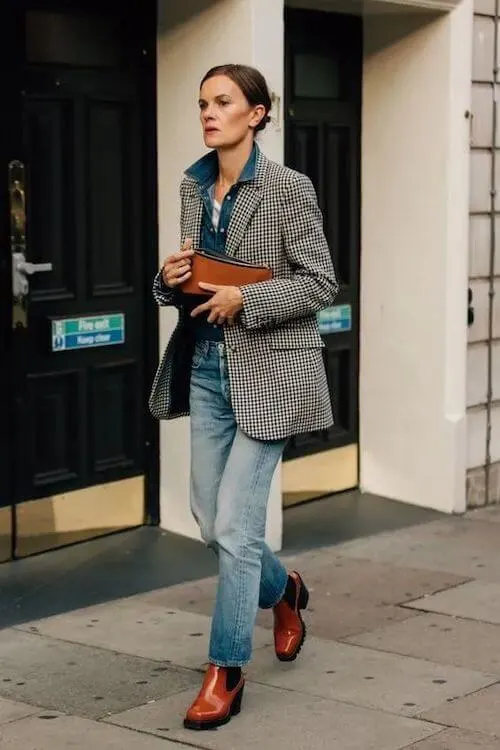 @Jo Ellison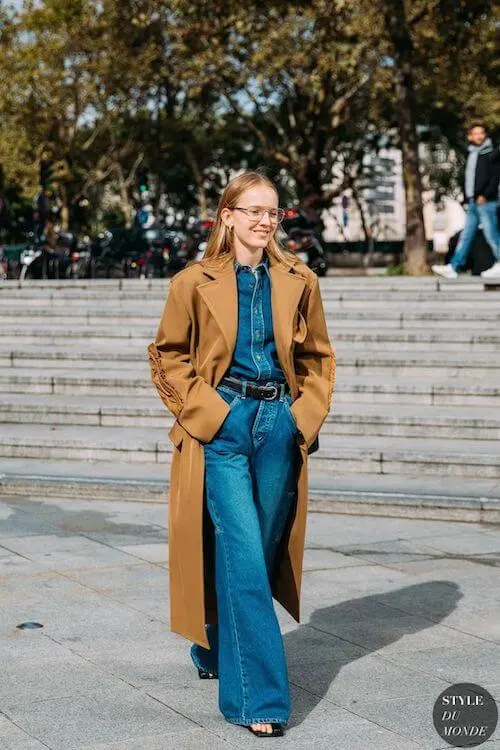 @Alexandra Carl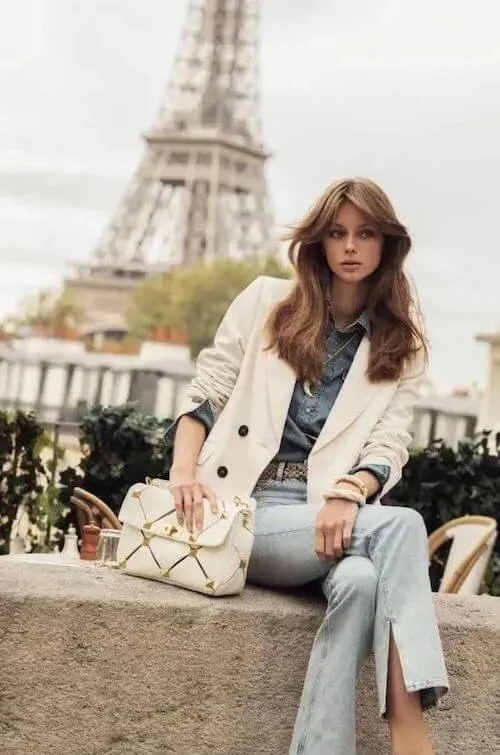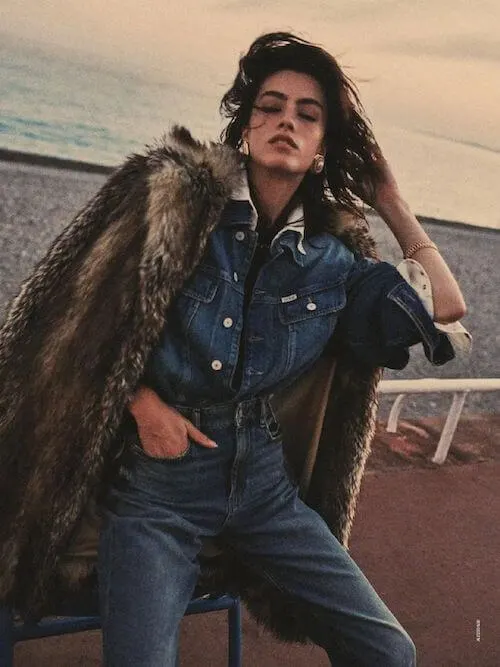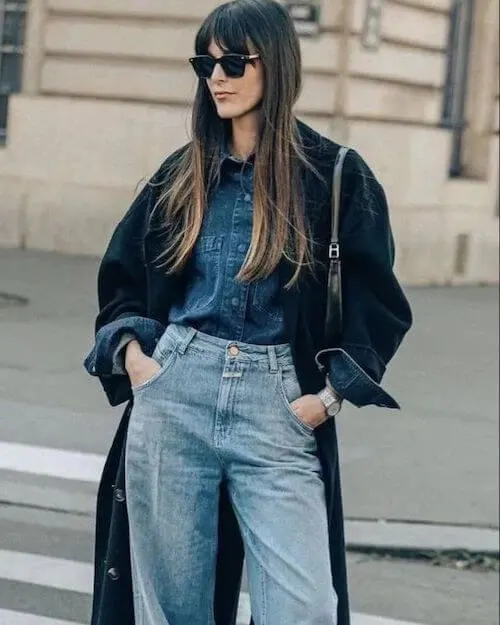 @Leia Sfez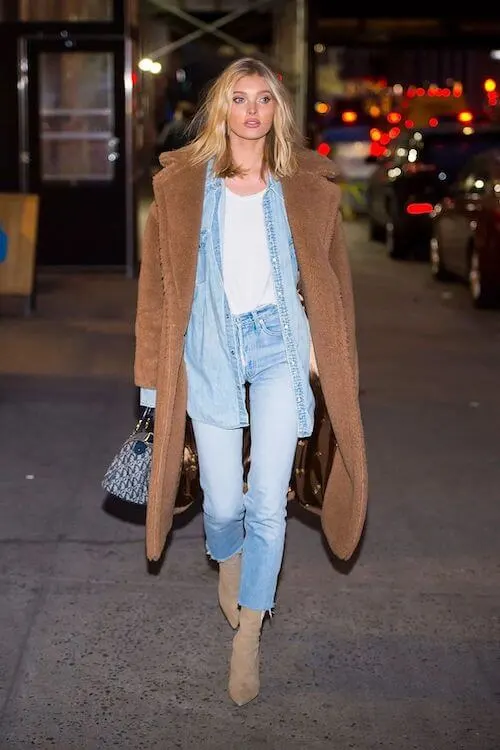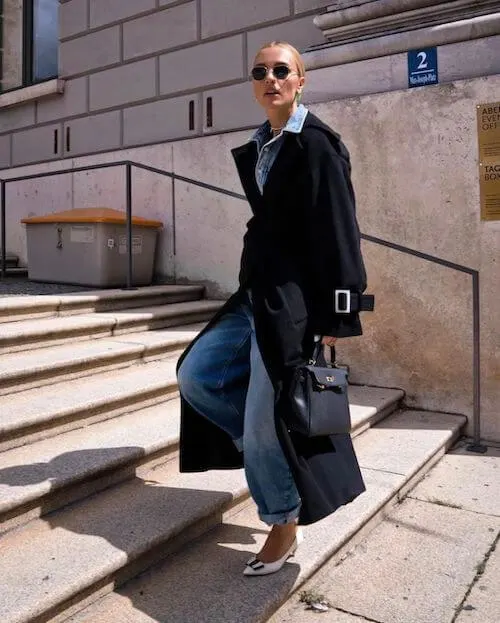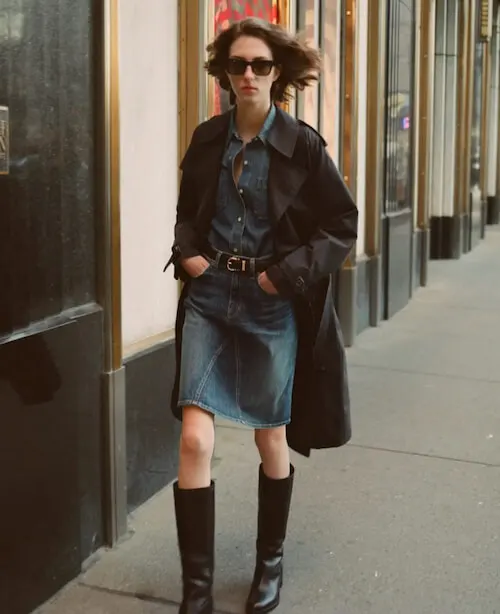 @Nili Lotan
Denim Shirt With Black Blazer
A denim shirt and black blazer are a classic combination that never goes out of style.
The key to this classic pairing is finding the right fit and fabric for your body type.
A slim-fit denim shirt will provide a modern update while maintaining its timeless appeal.
The black blazer should be tailored to your body shape for maximum impact.
Choose one made from lightweight wool or cotton for breathability in warmer temperatures, or opt for heavier materials such as tweed or flannel if you're heading into cooler weather.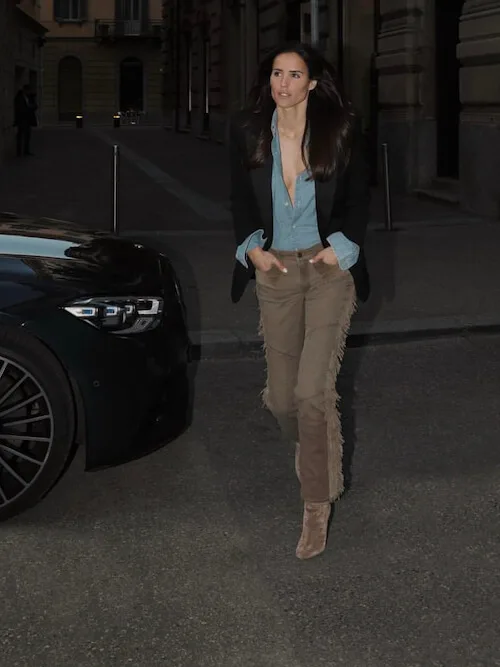 @Alex Rivière-Sieber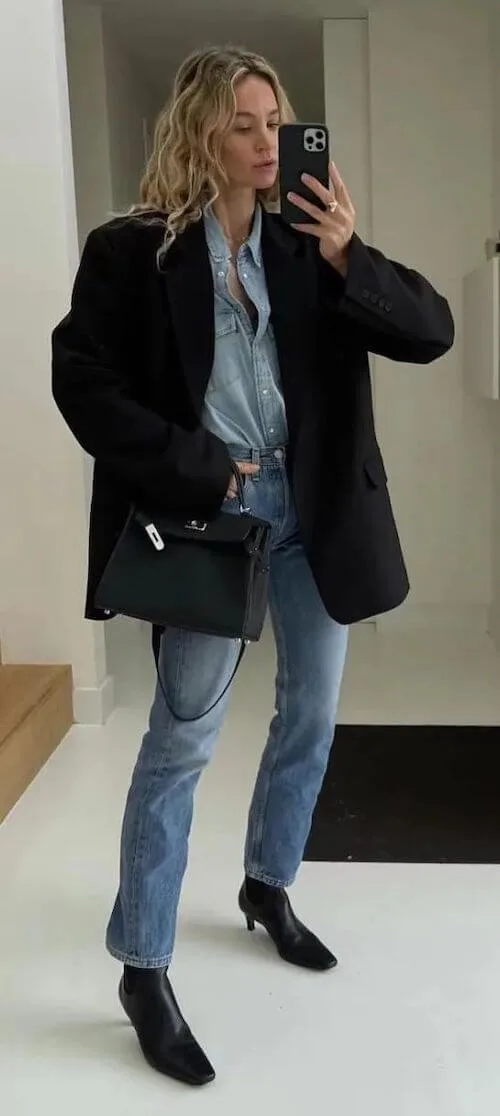 @Anouk Yve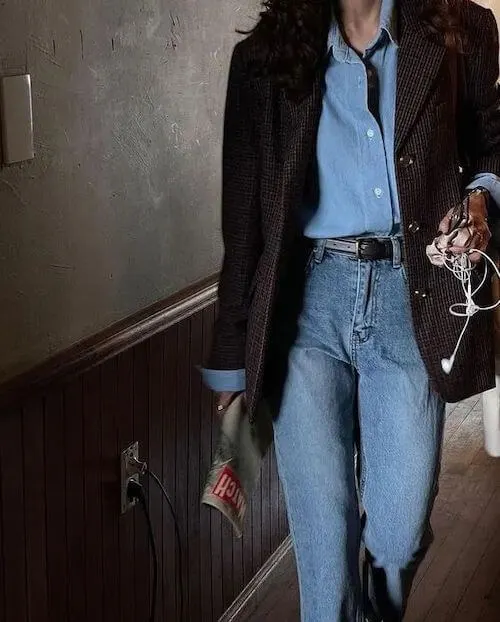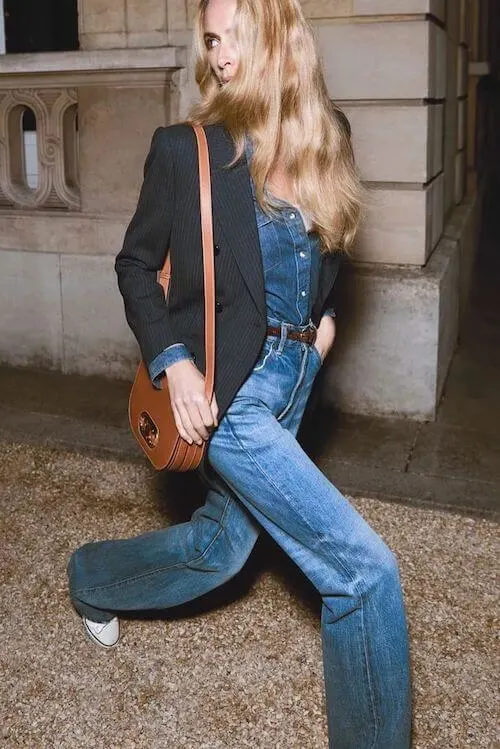 Denim Shirt + Sweatpants
Denim shirts and sweatpants are a classic combination for casual weekend wear.
A denim shirt can be paired with any color of sweatpants, but for a more stylish look, choose neutral-colored sweatpants such as grey, black, or white.
Red is also an option and will give the outfit some extra flair.
To pull off this look, it's important to get the proportions just right.
Start by selecting a slightly fit denim shirt that falls just below the hips or mid-thigh – depending on what looks best on your figure type.
Make sure to pair it with loose sweatpants so that your silhouette remains balanced.
Add accessories like earrings and a statement necklace to complete the style and make it your own!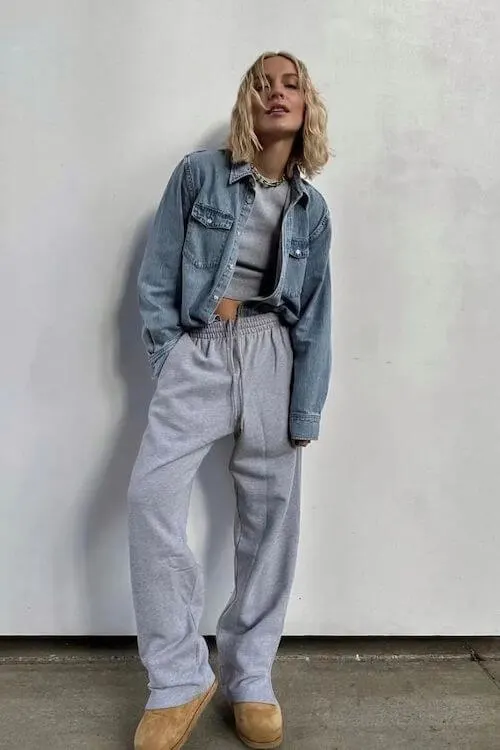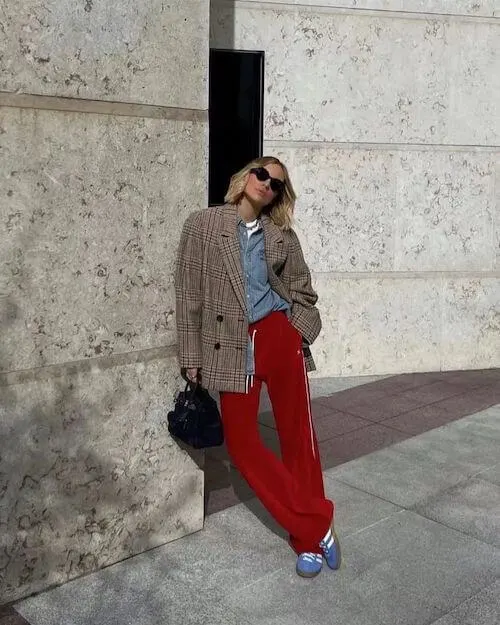 What is the best way to style a long denim shirt?
For casual days, you may want to pair a long denim shirt with jeans or leggings and sneakers or sandals.
The look can be dressed up by adding statement belts and jewelry pieces such as necklaces or earrings.
For dressier occasions, choosing an ankle-length skirt or trousers along with heels will create an elevated look that is appropriate for any season.
Accessorizing the outfit with colorful scarves or bags will take this style to the next level!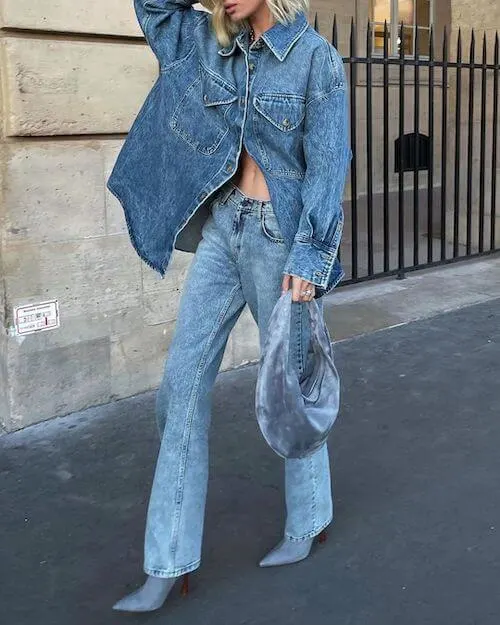 @Elsa Hosk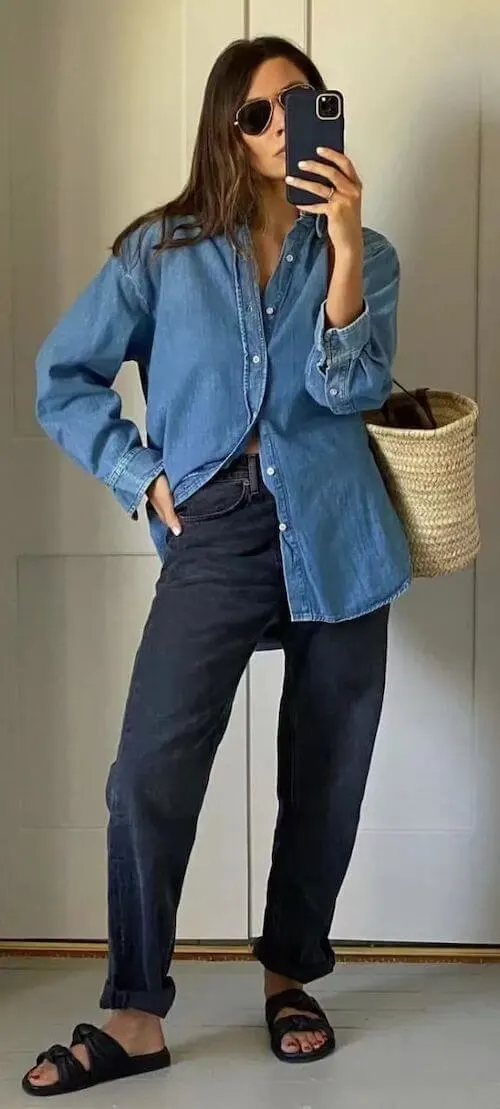 More Cute Casual Denim Shirt Outfit Ideas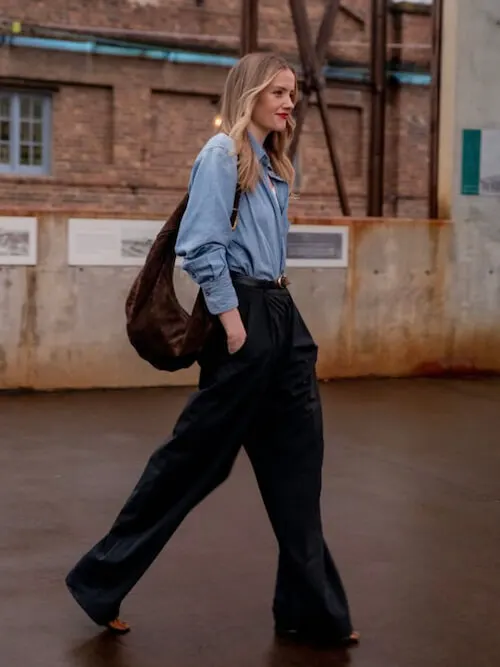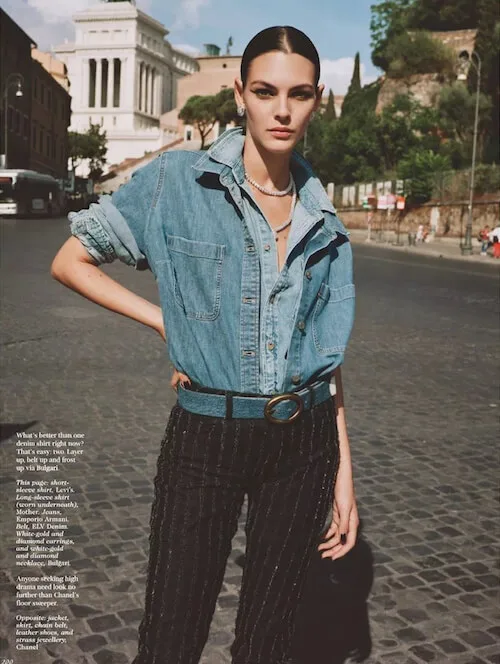 via VOGUE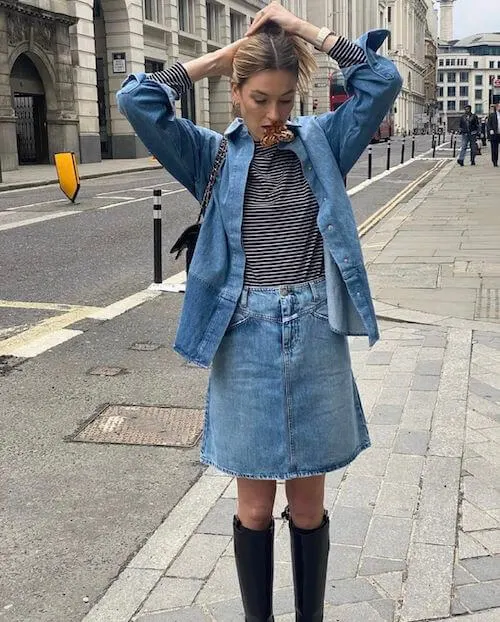 This post was all about how to wear a denim shirt female.
Related Posts: