Want to know how to style sweater vests for women? Check this post for the 30+ best outfit ideas to copy directly this year.
Sweater vests have become so popular in recent years. It seems that every fashion blogger is wearing it.
Why are women's sweater vests so popular? Because it is suitable for almost all the seasons, and there are many ways to style it. And they look cozy and fashionable.
Moreover, there are more and more sweater vest styles now, long, cropped, loose, fitted… No matter what style you likes, you can always find the right one you like.
Long sweater vests can even be worn as dresses.
Even for the minimalist style, the sweater vest does not violate the style, and it adds a bright spot to the entire outfit.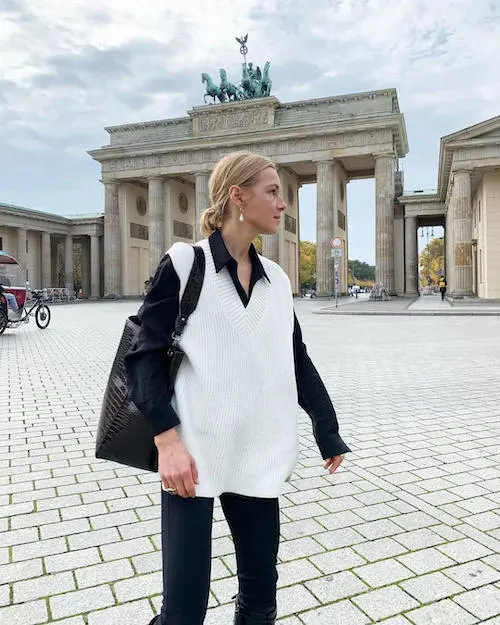 In addition, even bloggers in pregnancy are also very suitable for wearing sweater vests. The upper body changes a lot during pregnancy, many clothes may not be suitable, and the sweater vest looks fashionable and cute.
So in this post, we will talk about sweater vests. We will share with you the three most fashionable sweater vests today.
At the same time, we will also share with you how to wear sweater vests for women in the trendiest ways and what to wear with a sweater vest.
So scroll down to check the sweater vest outfit inspo and don't hesitate to pin the ideas you like.
This post is all about sweater vests for women.
Best Women's Sweater Vests To Shop For This Year

There are three trending types of sweater vests this year.
Academia Style: Cricket Sweater Vests
Academia fashion is so trending these years, and the cricket sweater vest is also a classic item of the academic style.
The characteristic of this kind of vest is that other colors contrast the collar, cuffs, and bottom hem, and the top is generally a twisted pattern.
In terms of color, there are more white and dark blue colors.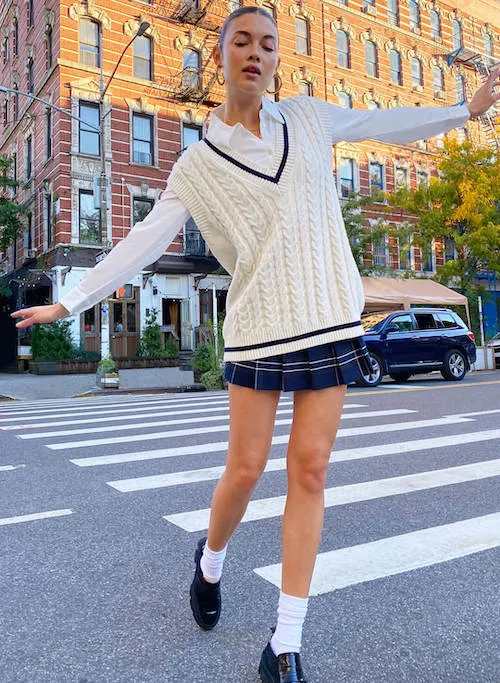 Minimalist Style: Solid Color Sweater Vests
Many minimalist bloggers on ins also like to wear sweater vests. The neutral colors selected are black, white, and gray.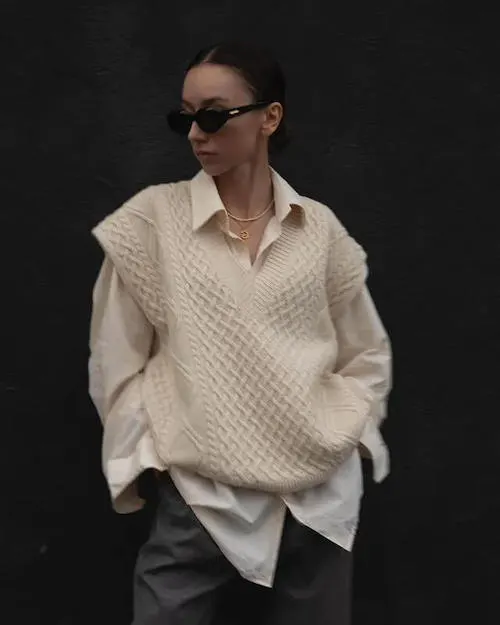 Remember to choose solid colors for other items so that you can have that feeling as a whole.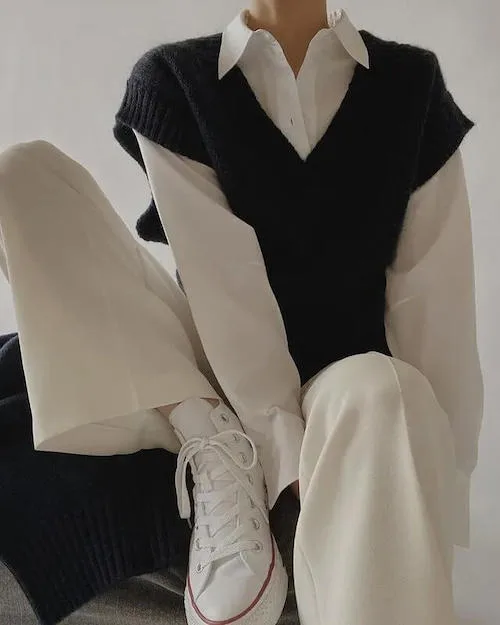 Retro style: patterned sweater vest
This style is particularly popular in spring and summer, and all kinds of knitted patterns are available. You can find many very special styles on Etsy.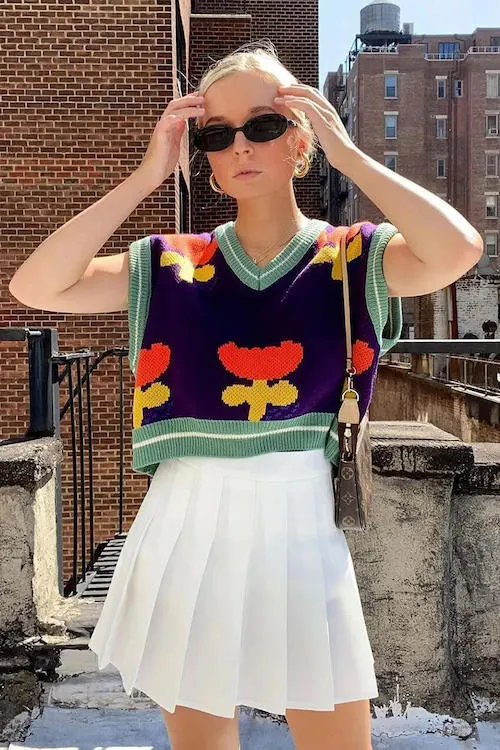 How To Style Sweater Vests For Woman
Want to how the best tips on styling a sweater vest? Check below outfits with sweater vests for white knitted vests, black
Wear It Alone
Wearing alone is one of the most popular wearing methods recently. Whether a drop shoulder sweater vest or a fitted sweater vest, wearing it alone can present a very fashionable effect.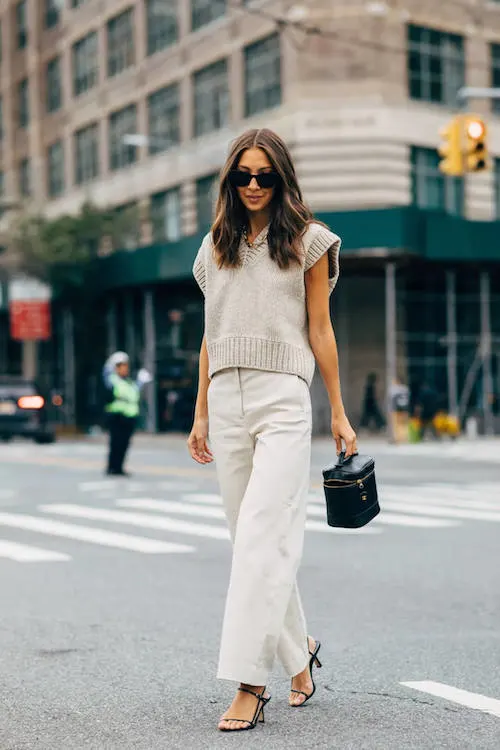 When you wear it alone, choose simple bottoms to wear the fashionable highlights on the sweater vest.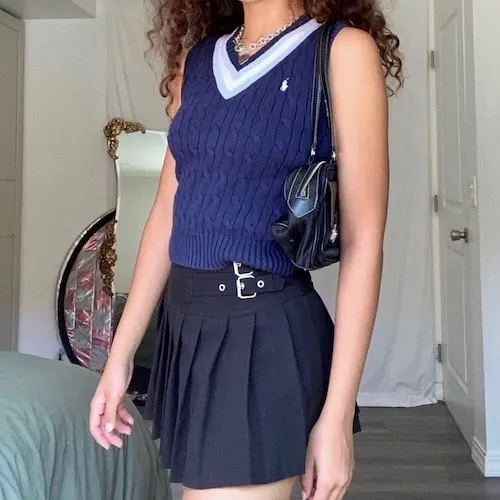 With A White Button-Down Shirt Or White Tee
Button-down shirts are so popular this year; I believe you must have bought one. If you think about how to style this popular item, you must pair them with your sweater vests.
This white shirt and vest outfit combo is so versatile. If you want to be lazy and casual, you can also let the hem of shirts and vests fall directly. It's pretty popular now to wear like this.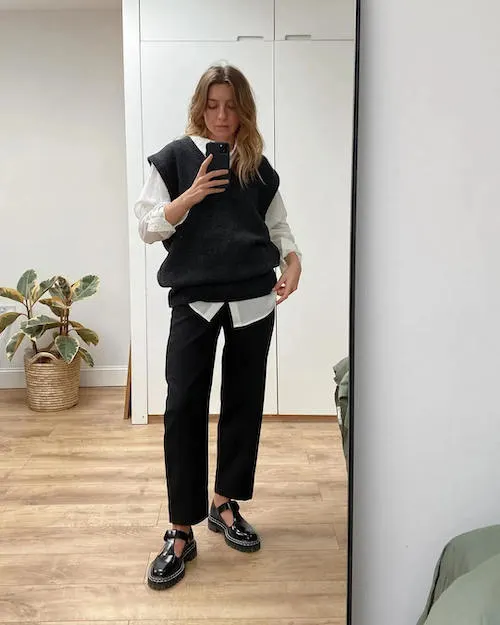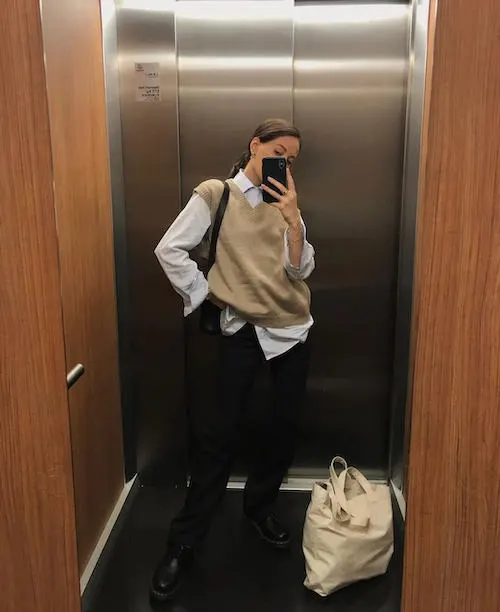 Many celebrities and bloggers also like to wear light blue striped shirts, which is not as refreshing as white, but the temperament will be more lively.
It is also necessary to make a good color matching, generally white, beige, and other solid color sweater vests and light blue are pretty good.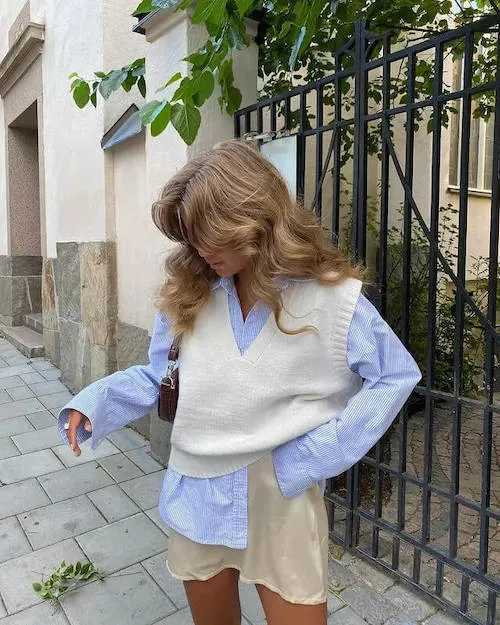 When it gets warmer, the sweater vest can be combined with the white round-neck T-shirt.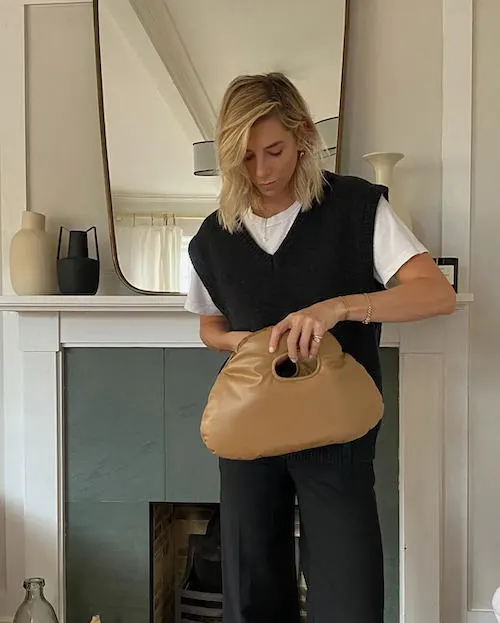 What Bottoms To Wear With A Sweater Vest?
If you want to look slender and well proportioned, you can choose a tight fit for the lower body.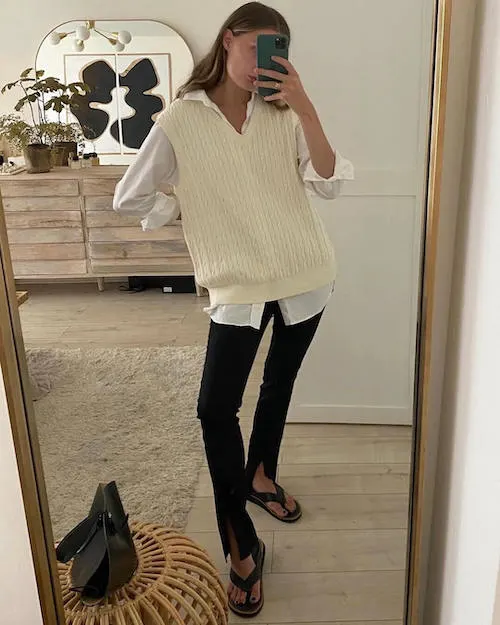 If you want to be full of energy, you can match it with shorts or short skirts.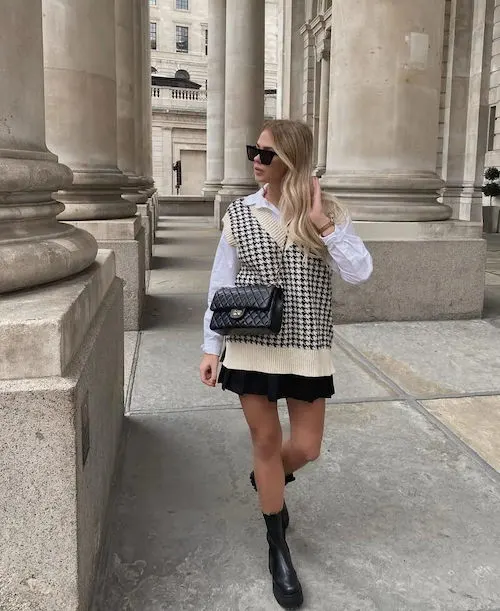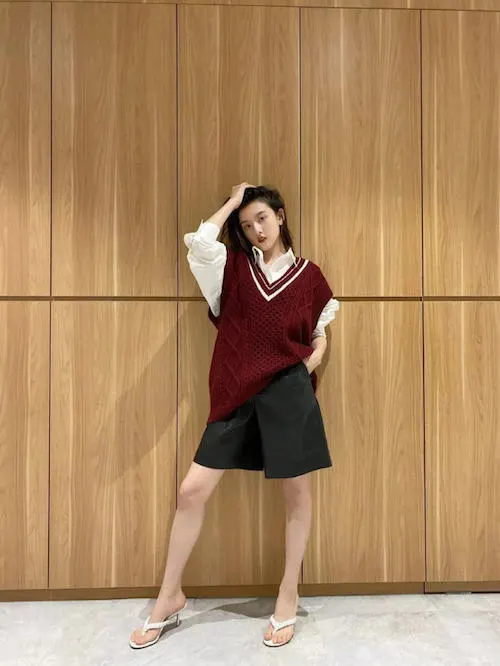 Australian blogger Jess Alizzi pair the vest with shorts and boots, which were pretty chic.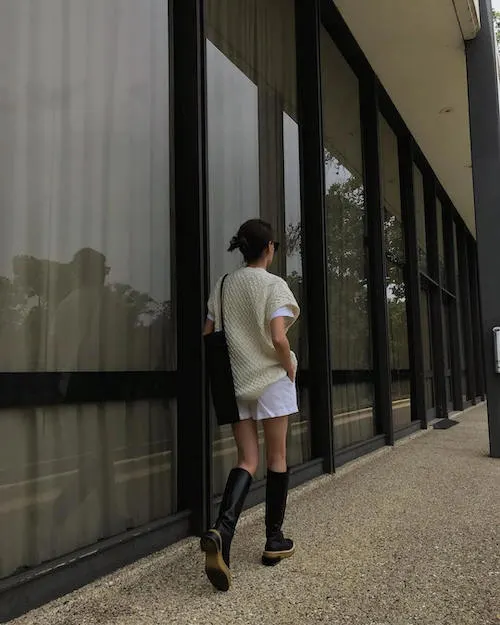 You can also pair it with slim-fit straight-leg pants and cigarette pants.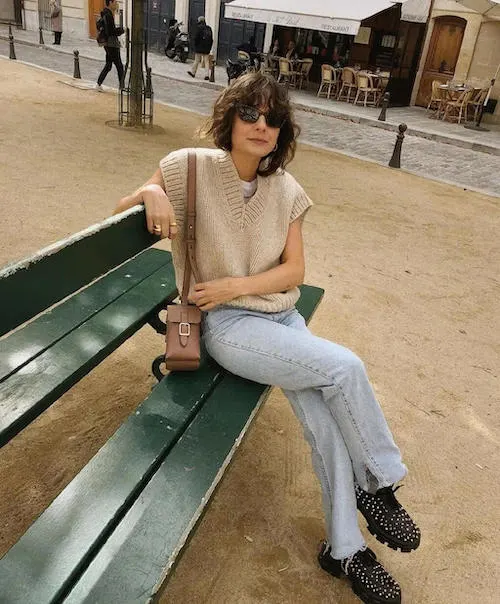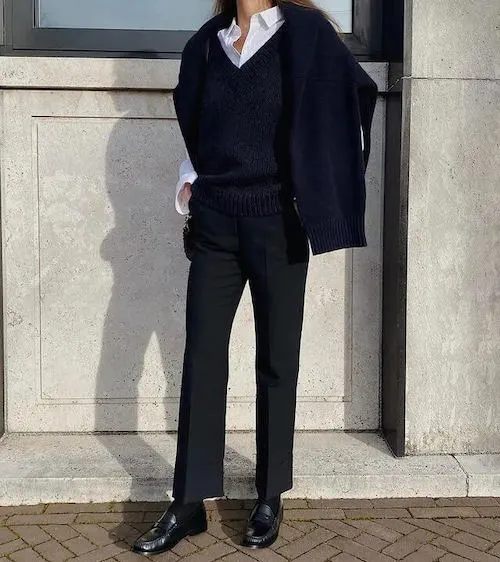 If you choose shoes with higher heels, you will look more slender.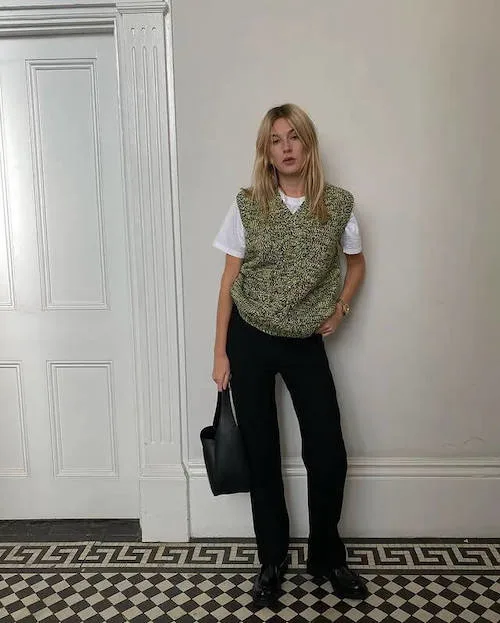 If the sweater vest is a little shorter, it is easier to choose more pants. Pairing with wide-leg pants and flats is also possible.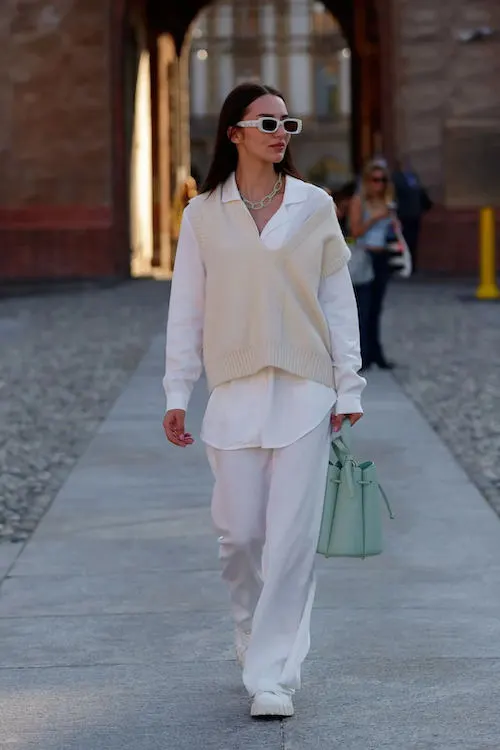 Longer sweater vests are combined well with skirts, too, a little bit academia style.
With A Jacket Or Coat
We have already talked about matching a white shirt with a sweater vest, so when the weather is colder, you can add a coat or jacket in addition to this combo.
At this time, you can wear white bottoms to pair with them, such as white pants, white tennis skirts, etc., to make the overall outfits look more lively and refresh.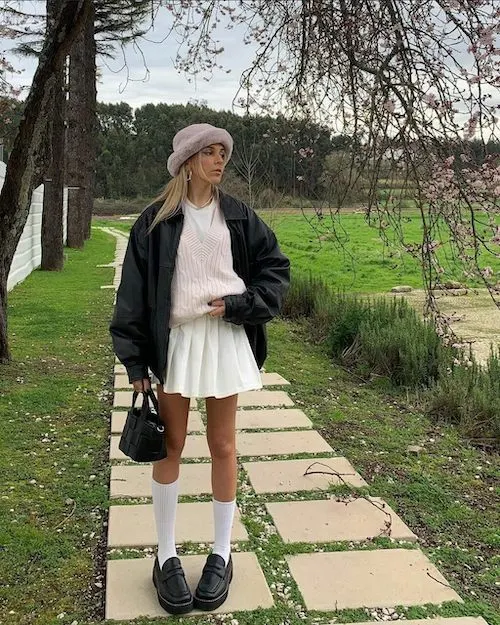 Or, you can still expose the hem of the white shirt, so the white is responsible for the transition seasons.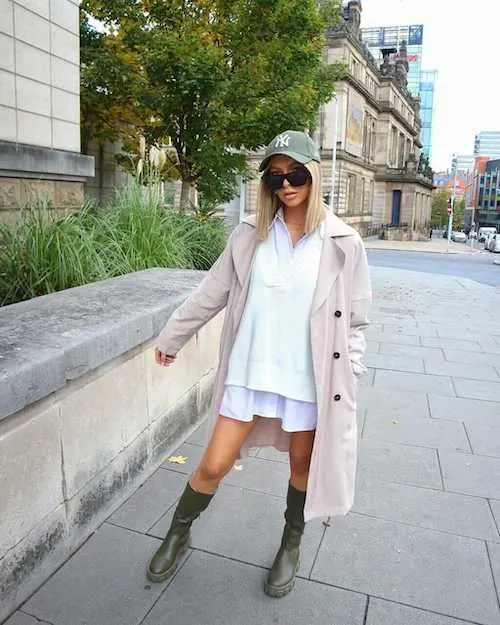 Click To Shop Our Favorite Sweater Vests:
This post was all about sweater vests for women.