Looking for the best Valentine's Day nail designs? Check this post for the 70+ best Valentine's Day nail ideas that we can't wait to copy!
February 14th is coming and it is a perfect excuse to polish our favorite romantic colors and patterns on our Valentine's Day nails again to embrace the most romantic time of the year.
We love how lovely the red, pink, white, silver glittering nails would look even with the simplest outfit from our black wardrobe. They help us quickly to bring the romantic vibe to the next level.
If you are not confident with your skill set, go straight to your favorite nail salon to copy the lovely Valentine's Day nail designs. Or this year, you can take the better way, pick up a relatively easy to copy idea, take a bit of patience, and make your own home nail art.
If you haven't tried doing your nails at home, this is a video tutorial that we highly recommend, from which you can learn how to paint your nails perfectly at home at yourself!
We also prepare many simple but super romantic Valentine's Day nail designs that you can copy directly. So don't hesitate to pick up your favorite nail color to get the most perfect set of nails.
So scroll down to check these best nail ideas for this coming Valentine's Day and have a unique take on enjoying the romantic vibe.
This post may contain affiliate links, which means I'll receive a commission if you purchase through my link, at no extra cost to you. Please read the full disclosure here.
This post is all about Valentine's Day nail designs.
Best Valentine's Day Nails
Pink is our favorite color for Valentine's Day nails. They match perfectly with almost any color of your outfits, and it is also a perfect base for the other nail polishes, patterns, or decors. A simple little cute heart or some thin links on the pink base look beautiful.
Romantic Pink Nails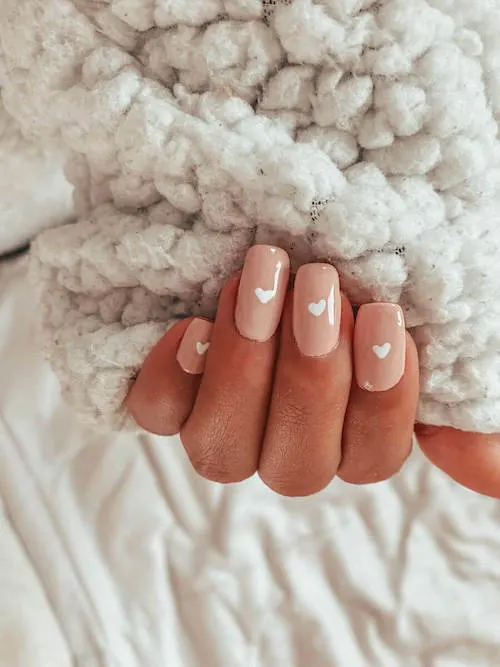 Cute Red Hearts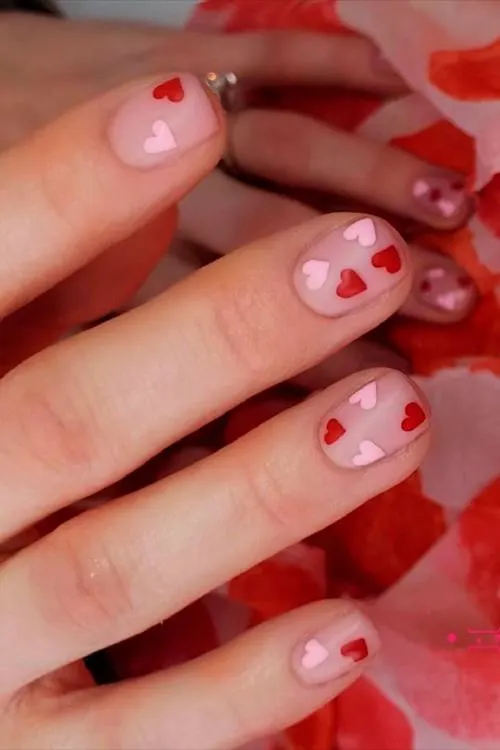 Red Tips With Negative Space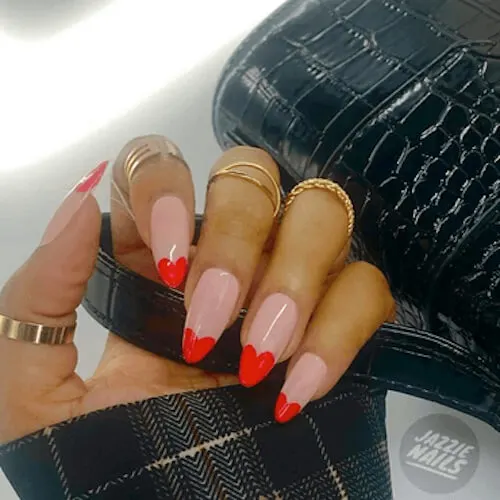 Valentine's Day French Tips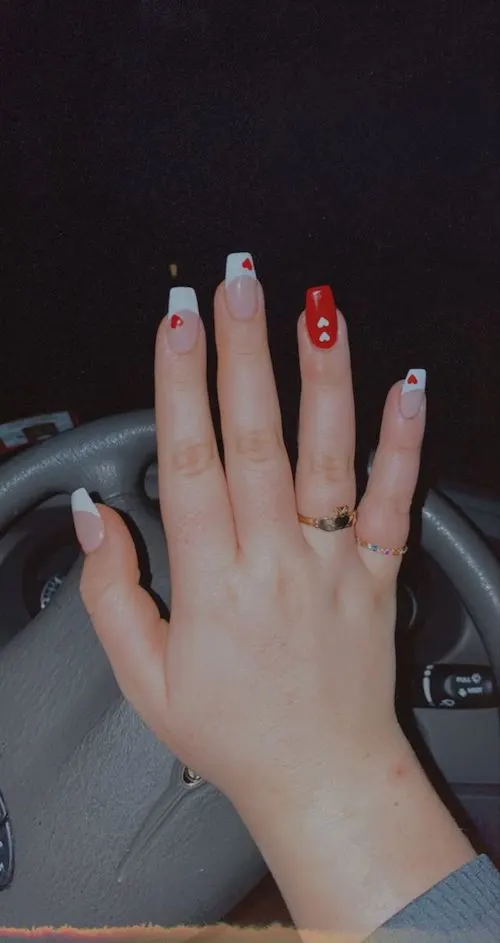 Valentine's Day Accent Nails
Pink Hearts Nails
Ring Finger Heart Nails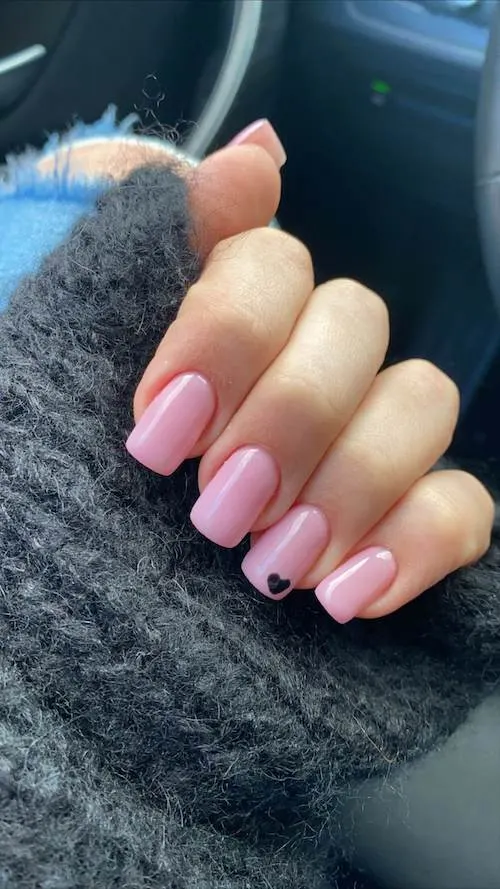 Classic French Manicure Valentine's Day Nails
Simple Design Valentine's Day Nails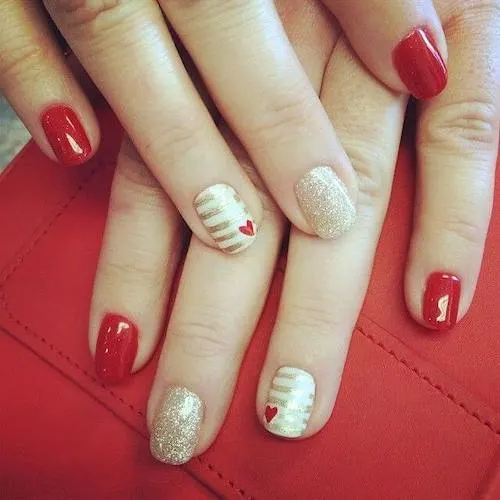 Valentine's Day Nails With Different Shades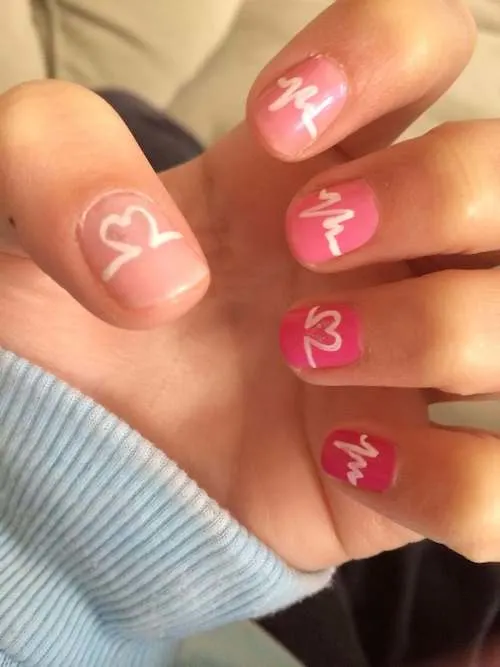 Romantic Valentine's Day Nail Designs
Want more sparks for your Valentine's Day looks? Add more gold and silver glitters to your Valentine's Day nail designs. Play freely with the little cute hearts or dots on your nails, or white carefully passionate love notes in your designs to express your love to your partner.
And don't forget the black. It is a fast approaching to making your nails look elegant and sexy for the romantic date night.
Don't Forget The Black Nail Polish
Tiny Hearts Nails
Try A New Top Coat
Bright Red And The Pink Shade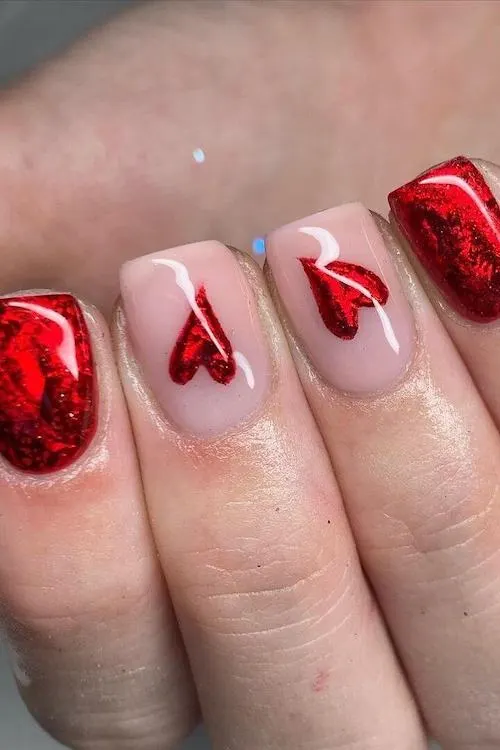 Beautiful Silver Glitters
Stunning Red Coffin Nails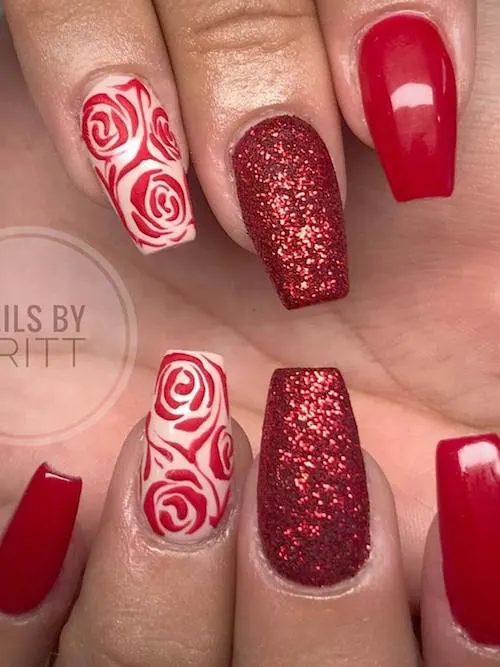 Natural Nails
Animal Print Nails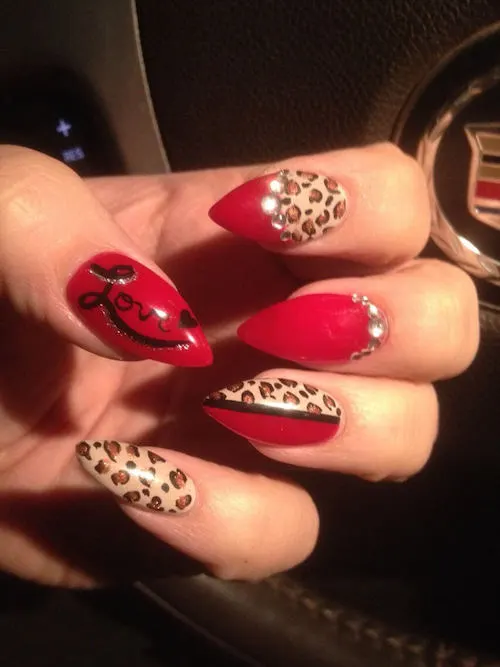 Love Heart Nails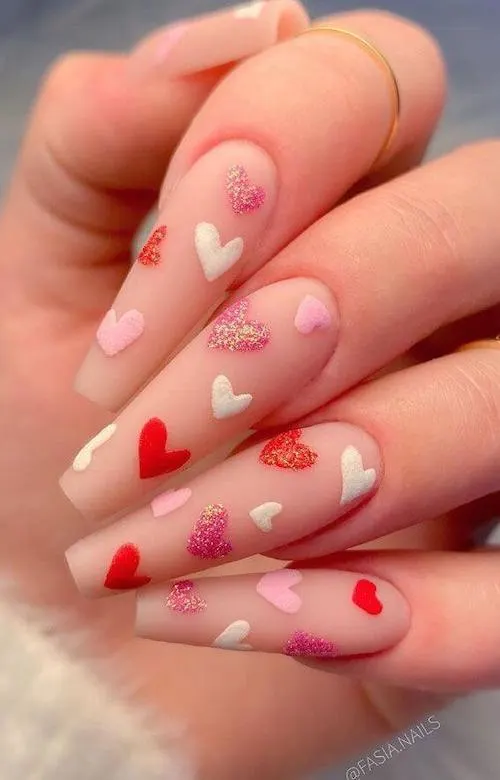 Red Small Hearts
Cute Nail Art Idea Inspiration For Valentine's Day
A cute heart may be the best Valentine's Day nail pattern, but we also fall in love with the other unique and romantic elements, including red lips, love letters, teddy bears, bows, pearls, etc.
Want more creativity? Change the pink or red traditional Valentine's colors to candy colors, and to enjoy a vivid Valentine's look.
Ombre Stripe Nails
Silver Glitter Finger Ring Nails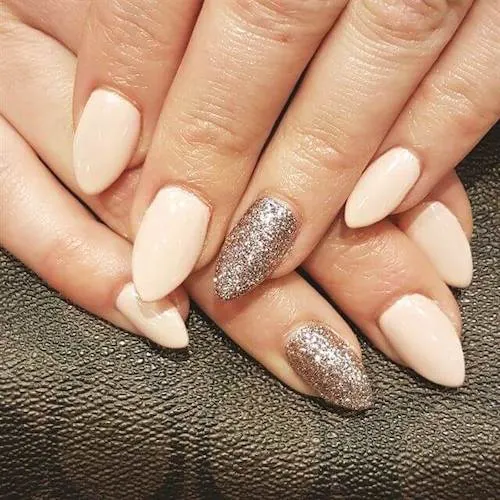 Red Hearts And The Thin lines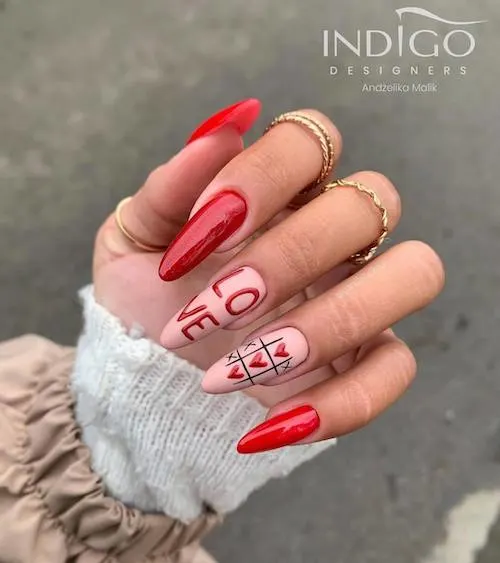 Adventurous Shapes
White Nail Polish Color Palette
Candy Nails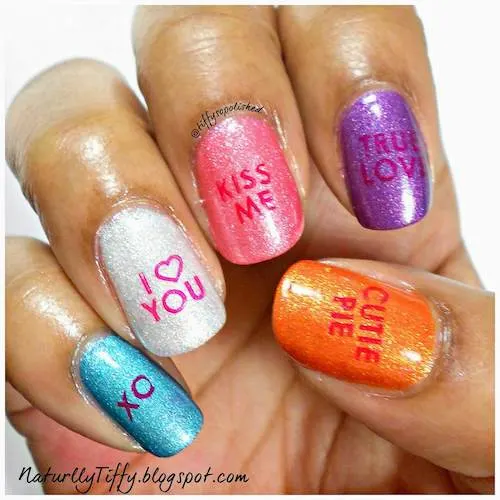 Cute Candy Hearts Nails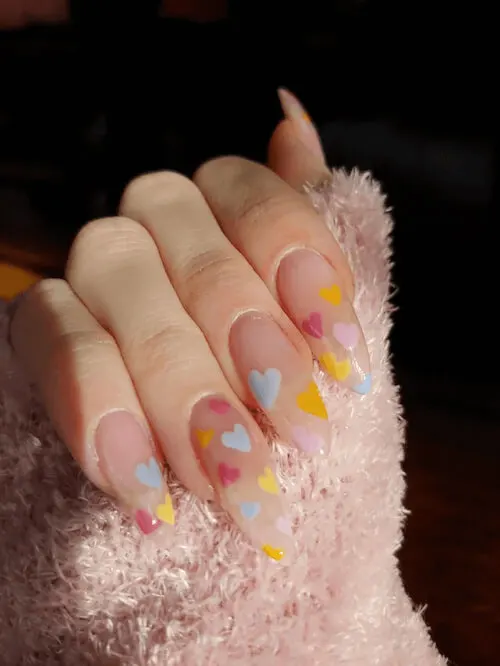 Teddy Bear Nails
Bright Pinks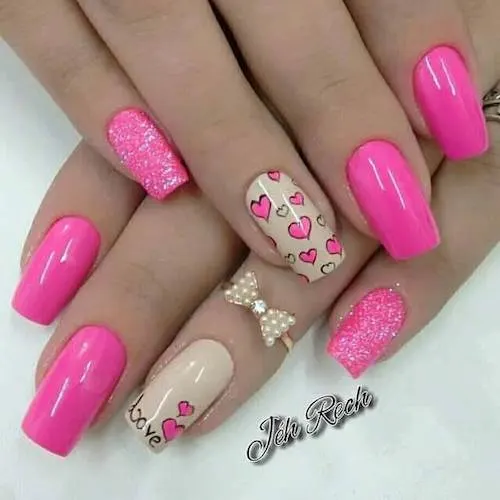 Kisses For The True Love
Best Valentine's Day Nail Designs
If you want to paint your own nails at home this Valentine's Day, below are some of our favorite simple Valentines nail ideas. The colors of them are easy to get, so you can have a stunning nail look quickly on your own.
The choice of nail color should also conform to your own style.
For example, a woman who likes a simple and low-key style can choose a nail design based on solid colors, lines, and simple heart patterns.
For those who like sweet and cute styles, you can choose a design based on pink and bright red tones, or a nail design with a little cartoon pattern.
If you like a mature and elegant style, you can choose nail art with golden or silver fine lines.
If you like a personalized and special design, you can turn to black and silver as the main base color, and then add a little pink or other bright color elements, so that your nail design looks very cool.
Perfect Heart Shapes
Sugary Hearts
Nude Shade Nails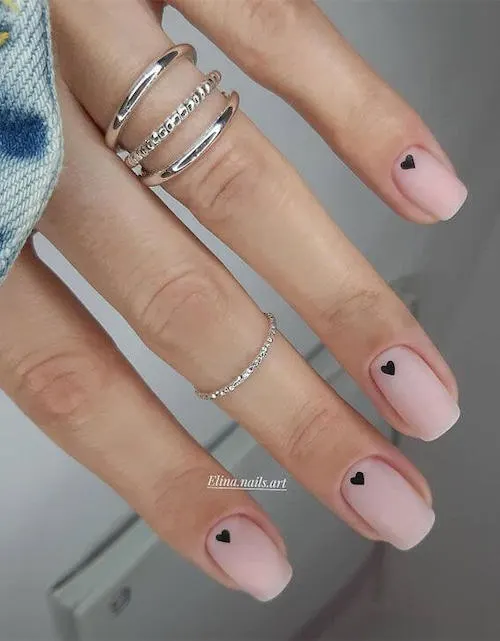 Love Letters Nails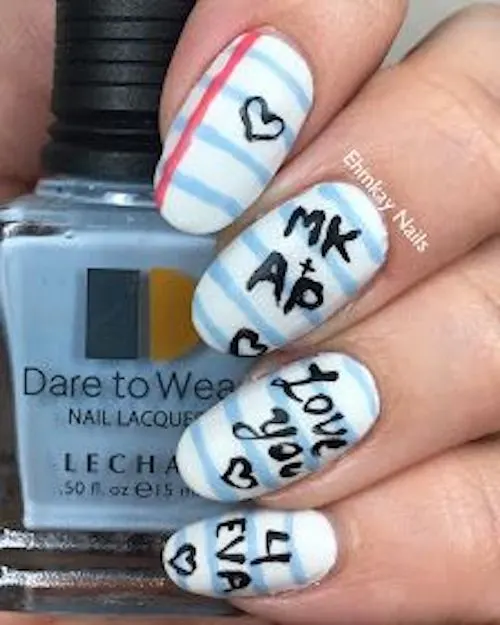 Red Lips Nails
White Tips Nails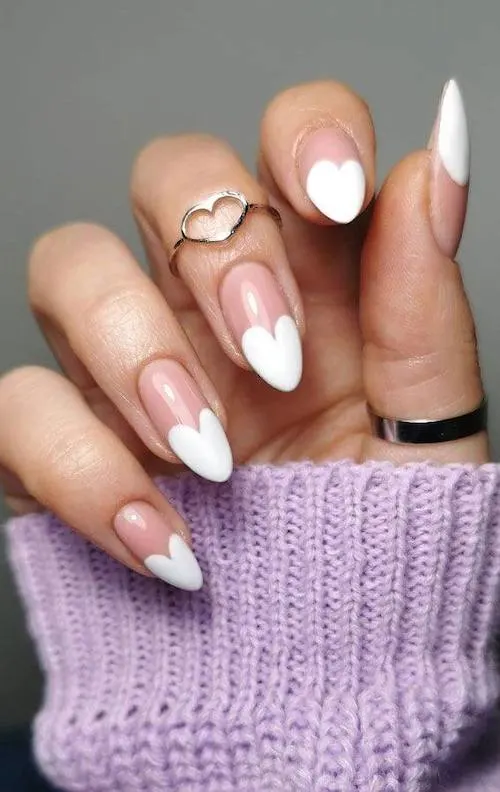 Glitter Nail Polish Nails
Pale Pink Nails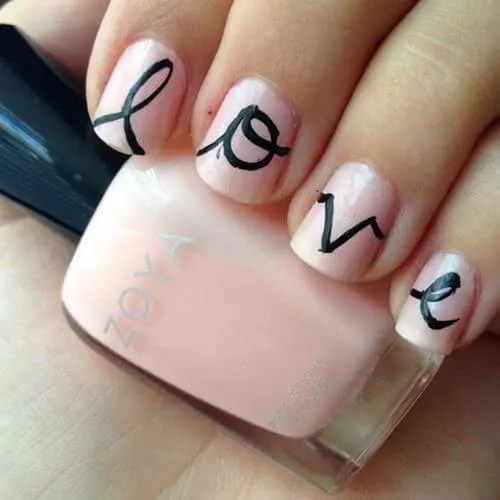 Cute Baby Pink Nails
Black Heart Tips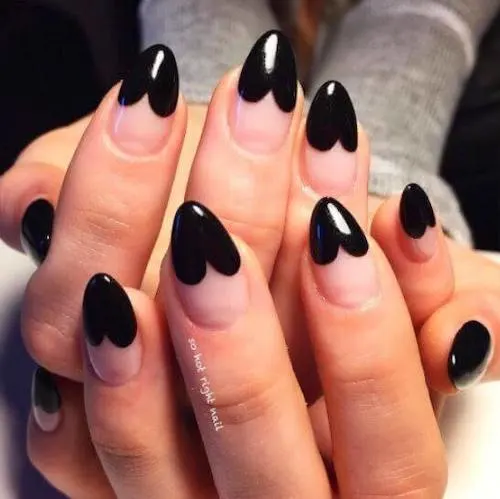 Stunning Valentine's Day Nails
Black And Nude Polish Nails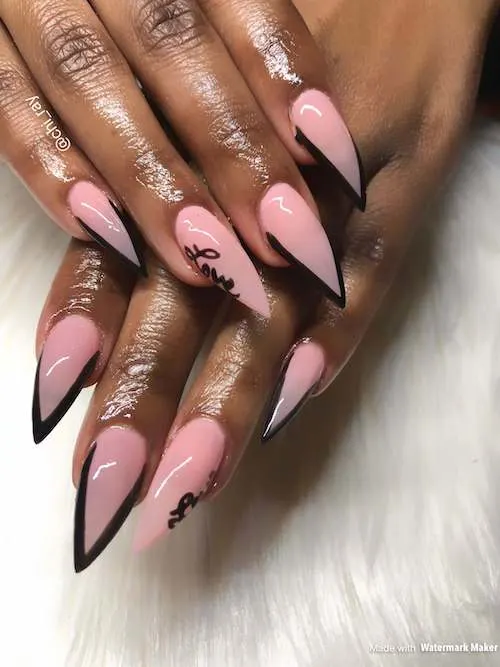 Juicy Red Nails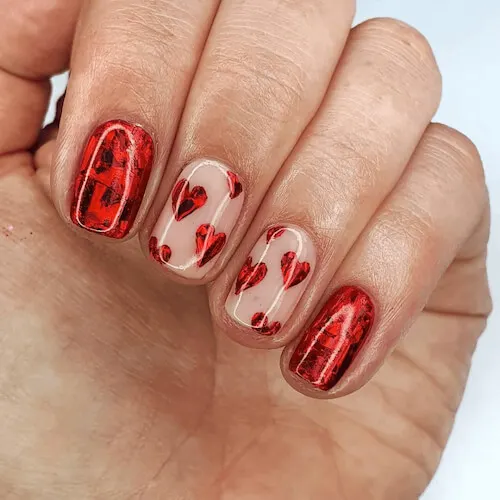 A Playful Look
Valentine's Day Classic Manicure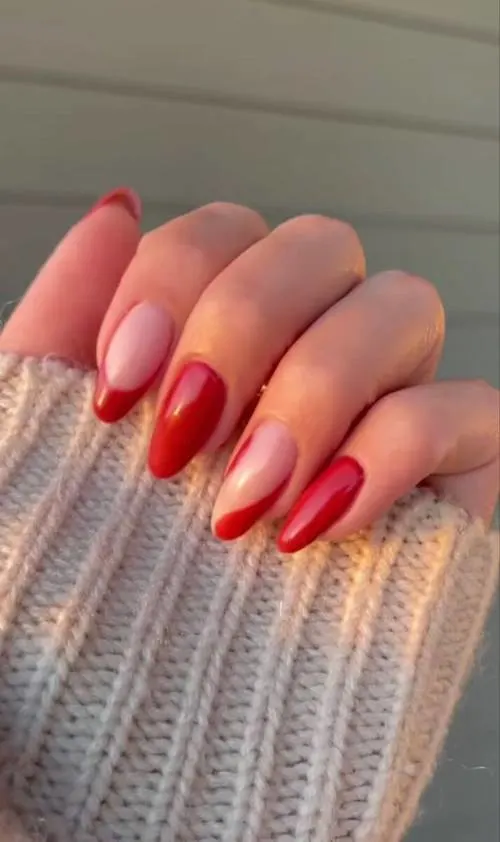 Simple Heart Design Nails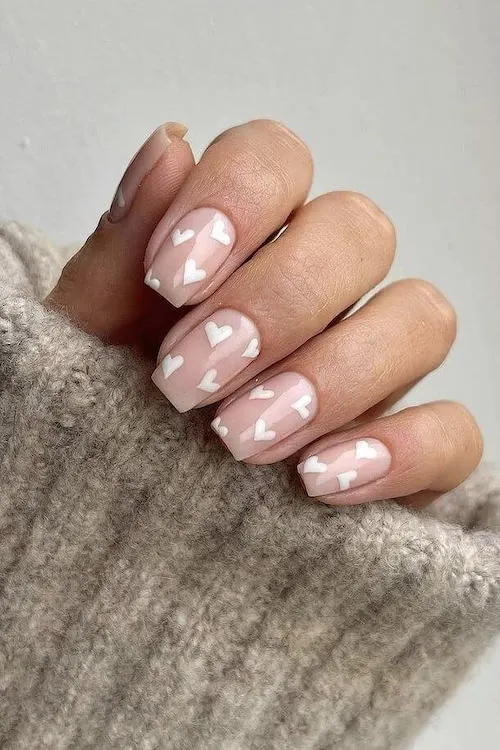 Elegant Red Heart Nails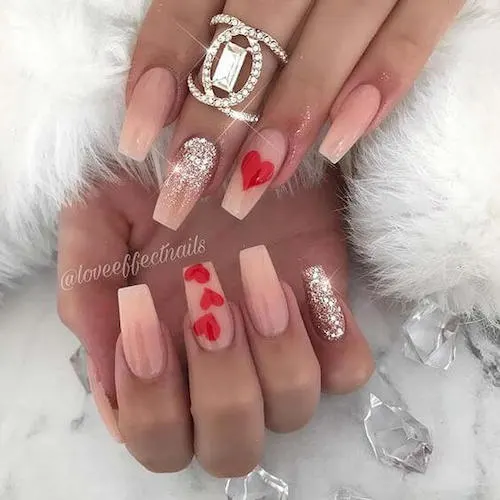 Cute Hearts And Flower Nails
Hot Pink Hearts
Red Heart Beat Nails
Beautiful Shades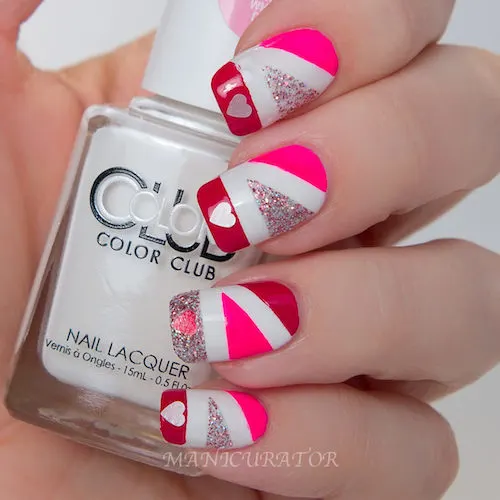 Cute Valentine's Day Manicure Ideas
There are so many creative cute Valentine's Day nail designs this year, and below are our favorite!
If you find it a little bit hard to paint complicated nail designs, an alternative idea is to boldly play with all your favorite romantic but simple elements and mix them on your nails.
In the below ideas, you can find how to mix the love letters with a lovely heart, how to put the little cute hearts beautifully on your nails, how to add the lips, lines, and animal print to make your Valentine's Day nail art designs uniquely beautiful!
XOXO And Lips Nails
Sexy Animal Print Nails
Simple Black Hearts Nails
Love And Hearts
Red And Purple Hearts
Romantic Purple Valentine's Day Nails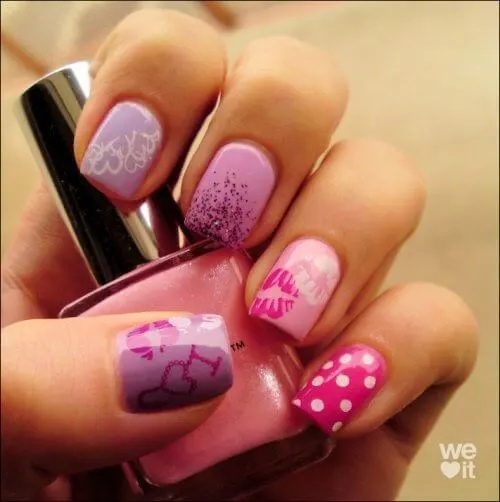 Red Hearts On The Ring Fingers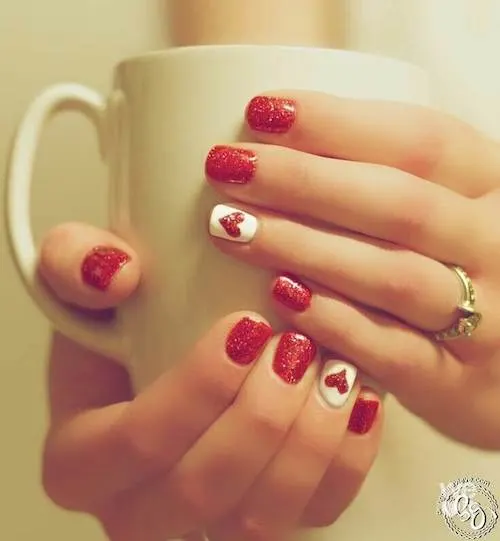 Silver And White Hearts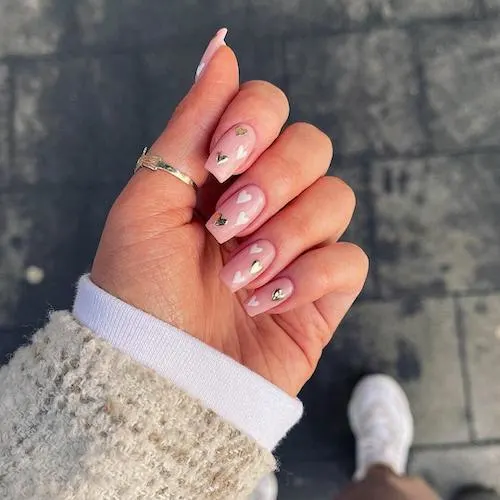 Best Valentine's Day Nail Colors
In addition to the gentle nude pink, bright colors are also very popular this year. You can see bright pink and juicy red nail designs. They either put the peach heart pattern on the fingertips or use retro-style patterns on a large area, which look cute and elegant.
In addition, the contrasting colors are also very attractive. Black and red, silver and red, white and red, pink and white, etc. These bright and eye-catching contrast colors all show enthusiasm and sweetness, and will add a lot of romance to your date night!
So check the below inspirations and form your own Valentine's Day nail color family, don't waste this fun excuse to play with your nail brush in a perfect way!
Hot Pink And White Hearts Nail Ideas
Super Cute Valentine's Day Hearts And Love Letter Nails
Red Black And Silver Nails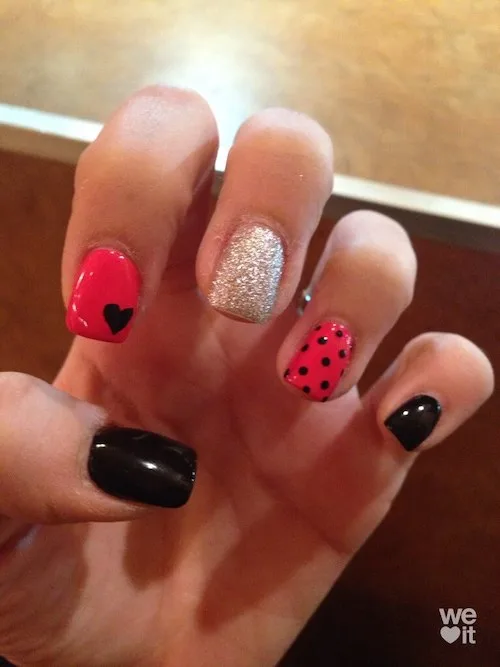 Simple Design Pink Romantic Nails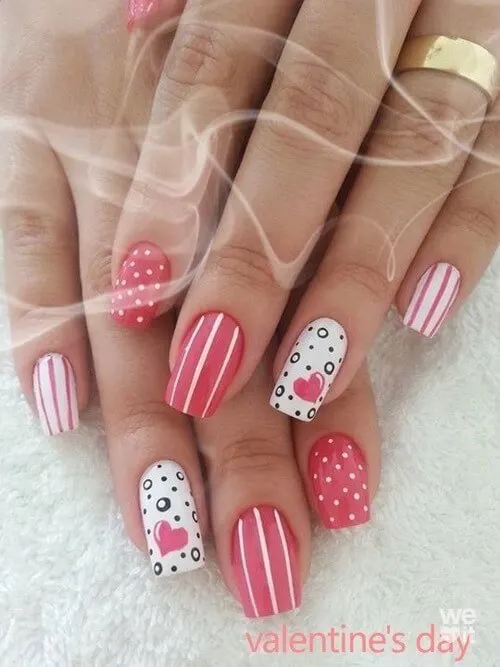 Cute Red Nails And Hearts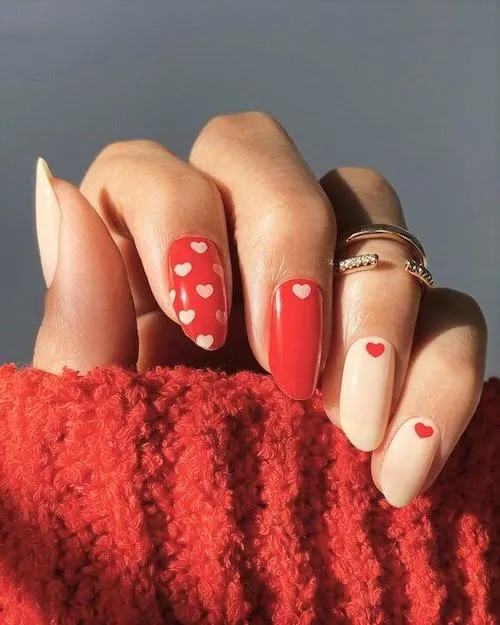 Pink Love Letter Nails
Small Red Hearts Nail Designs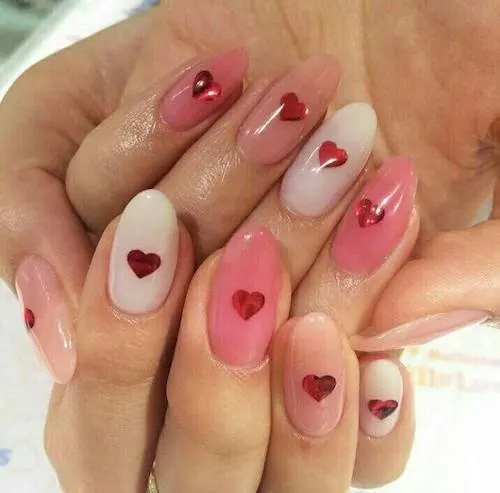 Glitter And Pink Hearts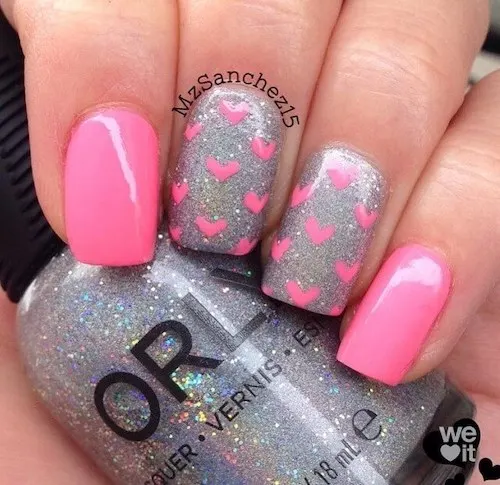 Abstract Black Nails
Minimalist Red Nails
Passionate Red Heart Nails
Playful Pink White Nails
This post was all about Valentine's Day nail designs.
About The Author
Tracy is an experienced personal stylist, shopping expert, and fashion & lifestyle blogger. She has been featured on Time Magazine, Bustle, Best Life, Glam, The Zoe Report, Mic, and GOBankingRates, for her insights on fashion, beauty, home decor, and lifestyle. Read More
Related Posts: