Wondering what to wear with brown pants female? Check this post for chic and cute brown pants outfit ideas to help you create perfect outfits with brown pants this year!
When it comes to fashion, brown pants are a timeless piece that can be paired with almost anything!
Whether you're looking for casual, dressy, summer or winter styles, this article will provide the perfect guide on how to style brown pants for any occasion.
From cozy sweaters and comfy tees in the winter to breezy sundresses and statement jewelry in the summer, there are endless ways to look great while wearing your favorite brown pants.
This post may contain affiliate links, which means I'll receive a commission if you purchase through my link, at no extra cost to you. Please read the full disclosure here.
This post is all about what to wear with brown pants female.
How To Style Brown Pants Female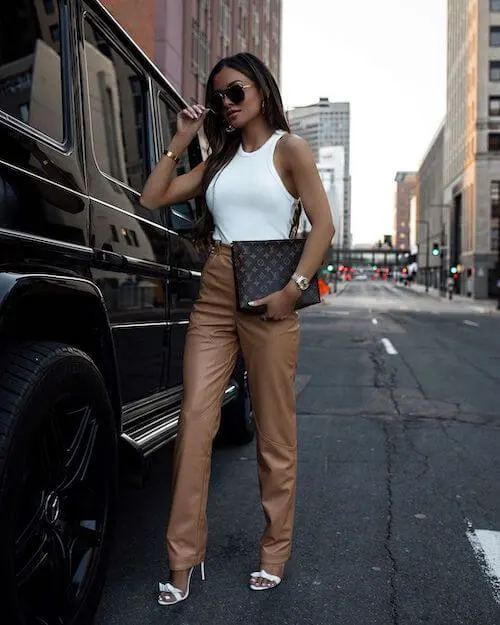 @miamiamine
Here are some easy ideas on how to make your brown pants look stylish and fashionable.
For a classic office outfit, try wearing your brown pants with a light colored blouse and black heels. A structured blazer will give you an extra layer of sophistication and complete the look.
For casual days, go for something comfortable like a white t-shirt tucked into your pants with sandals or sneakers. Add a denim jacket if it's chilly outside or add some jewelry to dress it up even more.
What to wear with brown pants female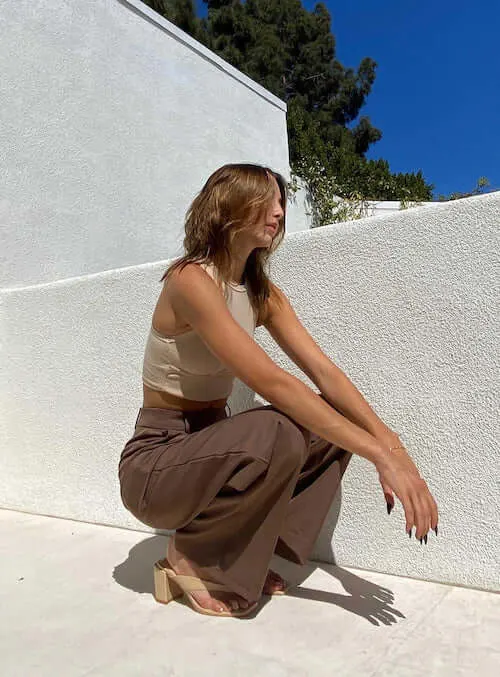 What to wear with dark brown pants
Dark brown pants are a great addition to any wardrobe.
Whether you're looking for an office-ready look or something more casual, there's an outfit that will suit your style perfectly.
When styling with dark brown pants, the key is choosing complementary colors and textures.
A classic combination is to pair these bottoms with a crisp white or black blouse or shirt for a sharp contrast.
For something dressier, try wearing them with an ivory blouse or cream-colored sweater and statement jewelry.
To get a more casual feel, opt for earthy shades like olive green or terracotta as well as chunky knit sweaters in neutral colors for comfort and warmth during cooler months.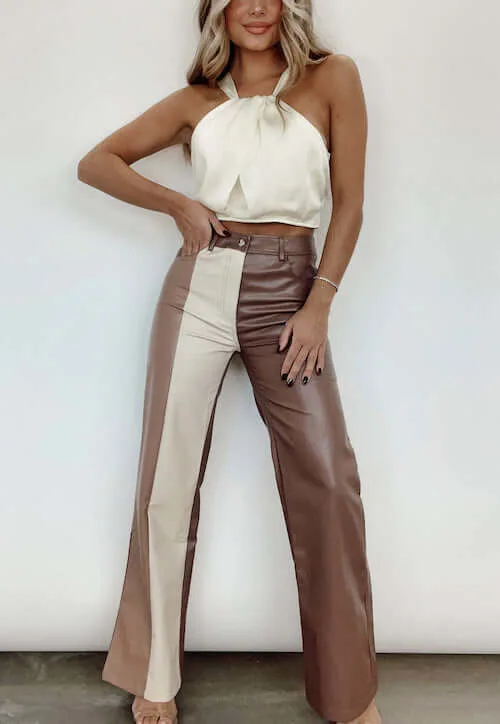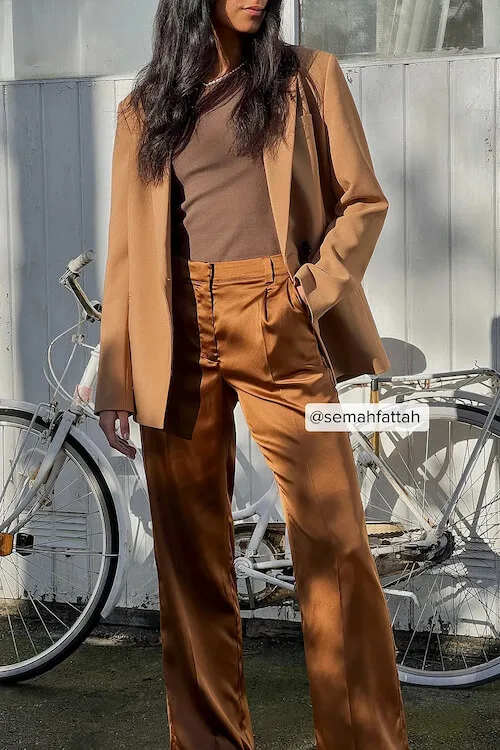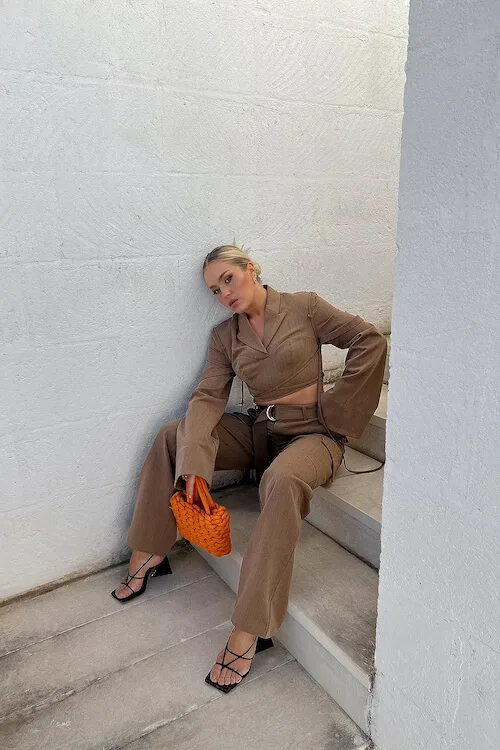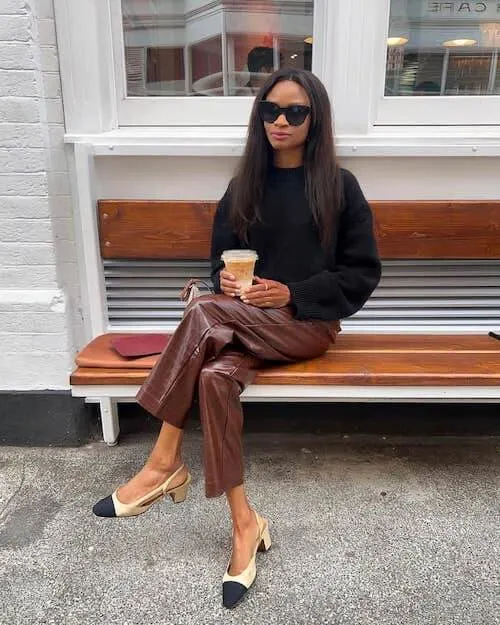 @SYMPHONYOFSILK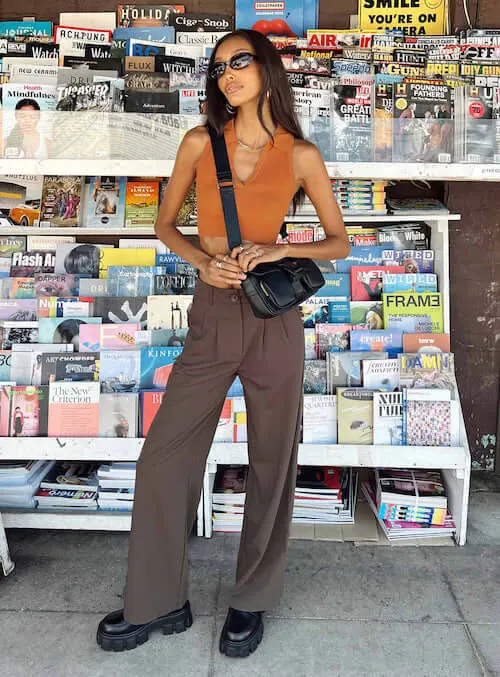 What looks good with brown leggings
Brown leggings are a staple in many wardrobes and can be easily dressed up or down for any occasion.
Whether you're looking to create an ultra-chic evening look, or just want something comfortable and stylish to wear during the day, there are plenty of options when it comes to pairing brown leggings with other items.
Leather leggings specifically can take your style up a notch and add some serious edge to your outfit.
When creating an outfit with leather leggings, think about adding texture by pairing them with light knits or chunky sweaters.
To keep the look balanced, find pieces that blend together while still making a statement.
Neutral colors like black and white will pair perfectly with brown leather leggings as they won't overpower the look but still provide contrast.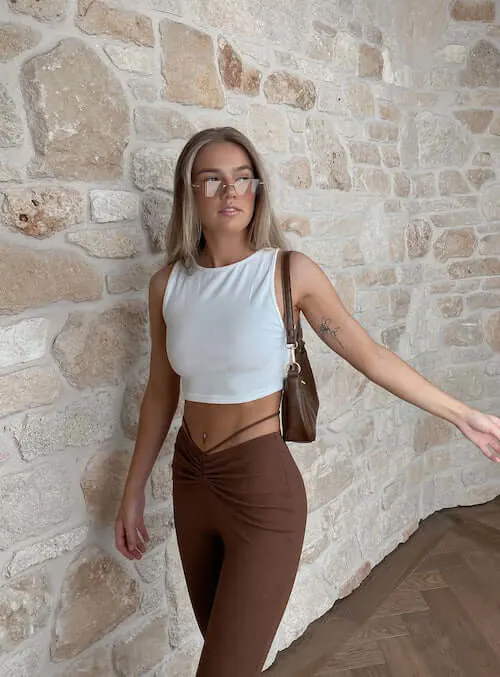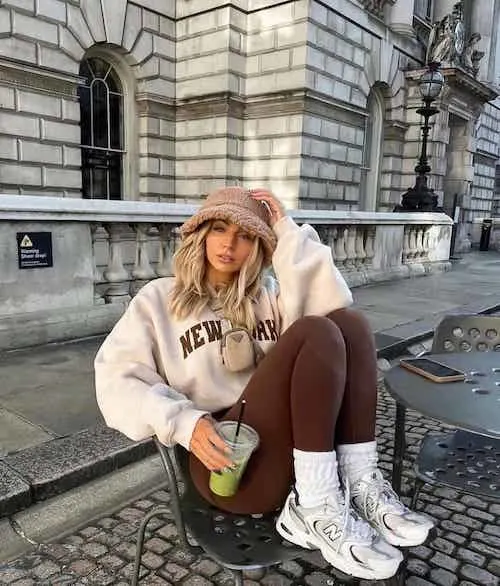 @AZURFIT
What to wear with light tan pants
When it comes to deciding what to wear with light tan pants, the options are almost endless.
A classic look would include a white blouse or tank top paired with light tan pants.
This combination is perfect for warm weather and can be both comfortable and stylish.
To dress up this outfit, add some statement jewelry such as a chunky necklace and earrings or even a bracelet stack.
Adding an elegant cardigan or blazer in black or navy will instantly elevate your look even further.
For an edgier vibe, try pairing your light tan pants with a graphic t-shirt or band tee shirt tucked into the waistband of your denim jeans.
Finish off this look by adding some booties in either black or brown leather for extra style points.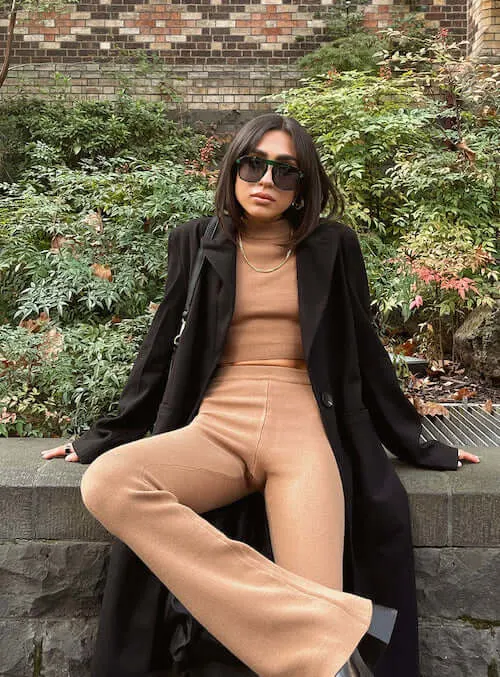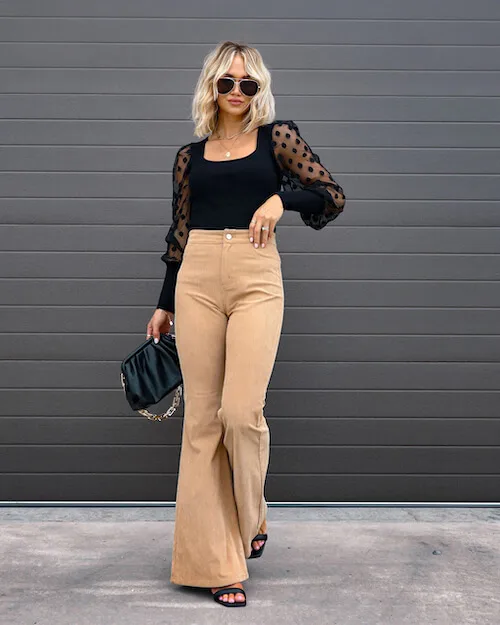 What to wear with brown jeans girl
Brown jeans are a classic wardrobe staple for any girl.
They're comfortable, and stylish and can be dressed up or down depending on the occasion.
For those wondering what to wear with brown jeans, there is an array of options that create chic and modern looks.
A white t-shirt paired with brown jeans creates an effortless comfy look.
To add a bit of edge, consider adding a leather jacket or chunky cardigan over the look.
Alternatively, if you want to dress your outfit up, try pairing your brown jeans with a tucked-in blouse and statement necklace.
A structured blazer can also elevate your ensemble to create a more put-together ensemble that is perfect for work or formal occasions.
For shoes, keep it simple with some white sneakers for casual days, or opt for pointed-toe pumps if you're looking for something dressier.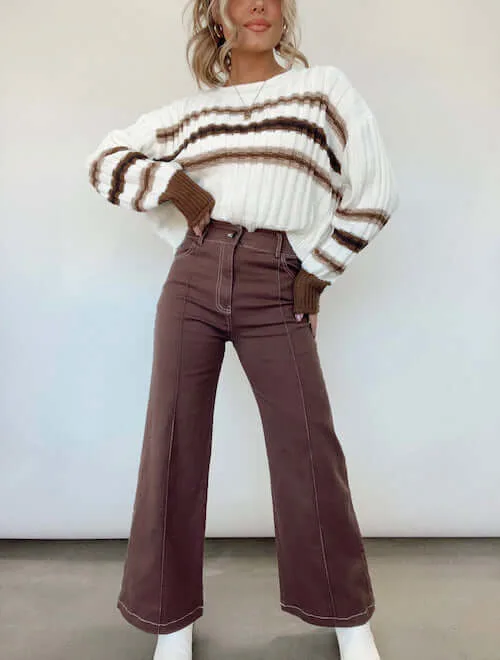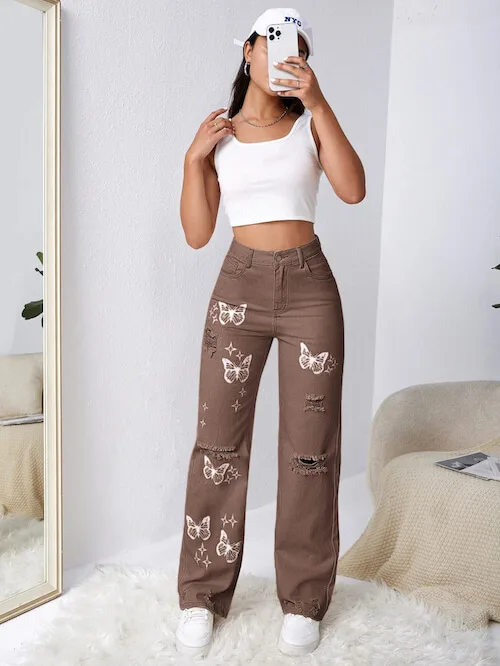 What to wear with chocolate brown pants female
When it comes to creating a stunning look, chocolate brown pants are an ideal choice.
This timeless classic easily transitions from casual to formal and looks great on almost any body type.
Whether you're searching for an outfit for the office or a night out with friends, here are some tips on how to style chocolate brown pants for women.
The key is to pick a top that complements your specific shade of brown.
For instance, if you want a muted ensemble, try pairing your trousers with light shades such as cream or blush pink.
For something more vibrant and modern, opt for bolder colors like yellow or electric blue.
Alternatively, go edgy by opting for black leather accessories like belts and bags which will add texture while still blending in with the color palette.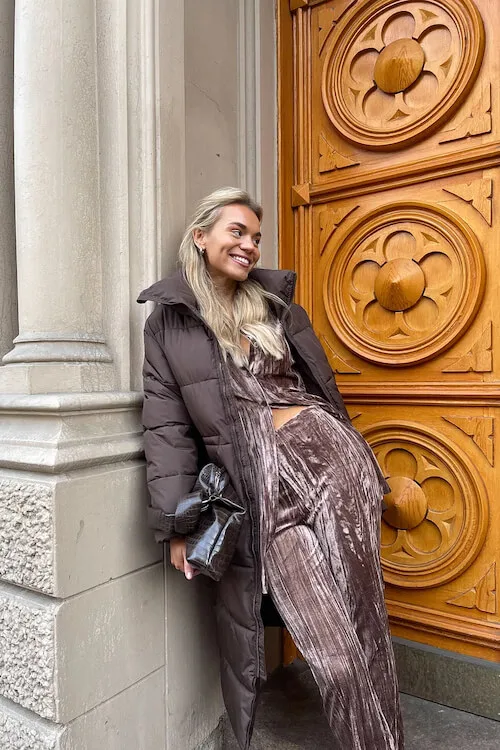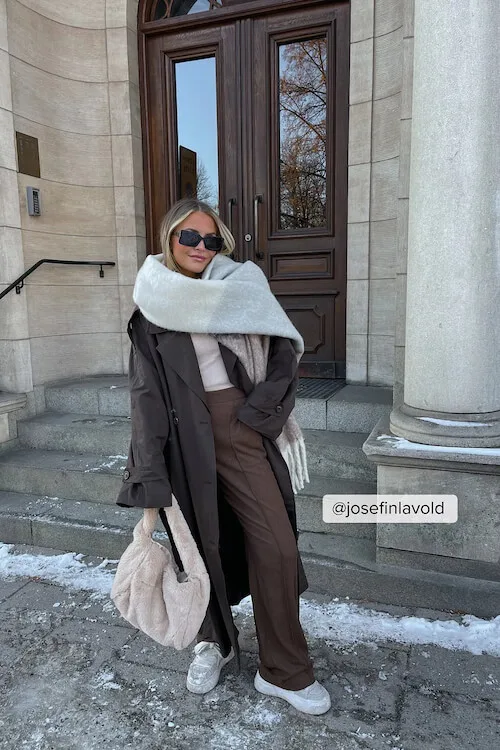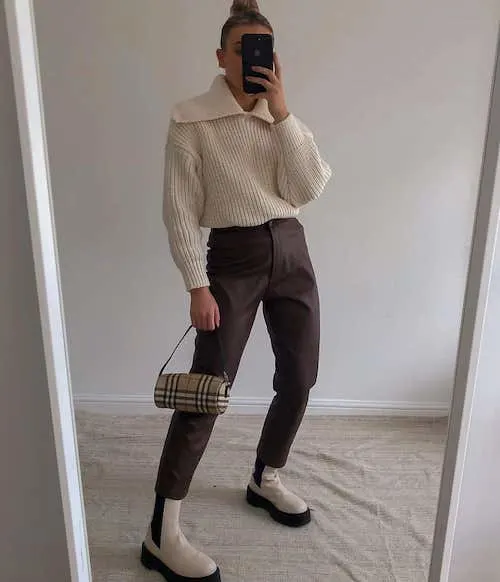 @LUCYPAGE_
Chic & Cute Brown Pants Outfit Ideas Female
Brown Corduroy Pants + Neutral Color Tank Top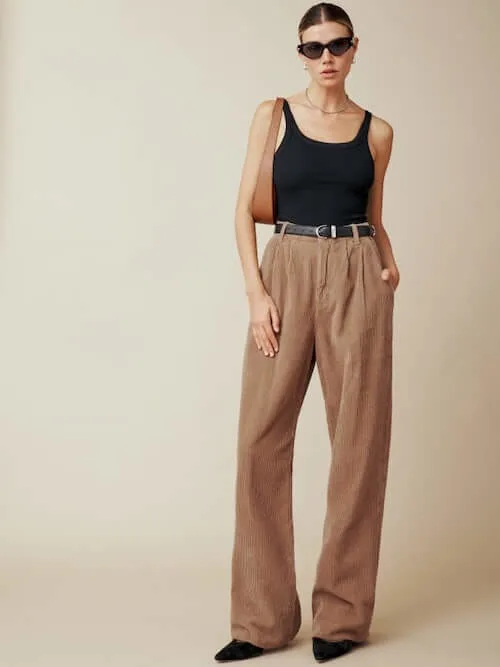 Light Brown Pants + Blue Shirt + Mary Janes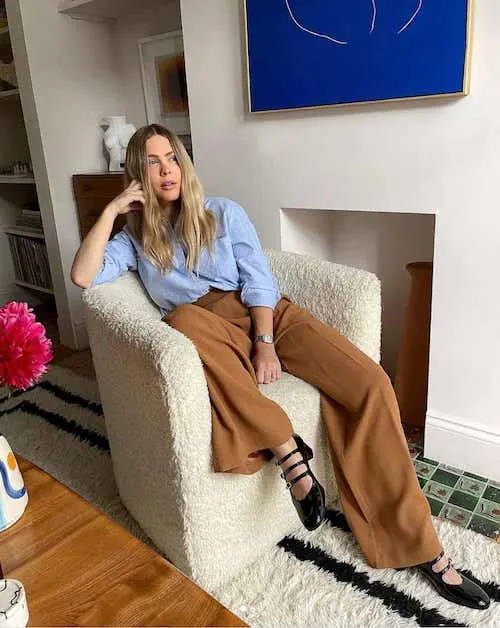 @JESSIE_BUSH
Plaid Brown Slacks + Black Top + Beige Hat + Ankle Boots
Brown Pants + Light Colors Turtleneck + Loafers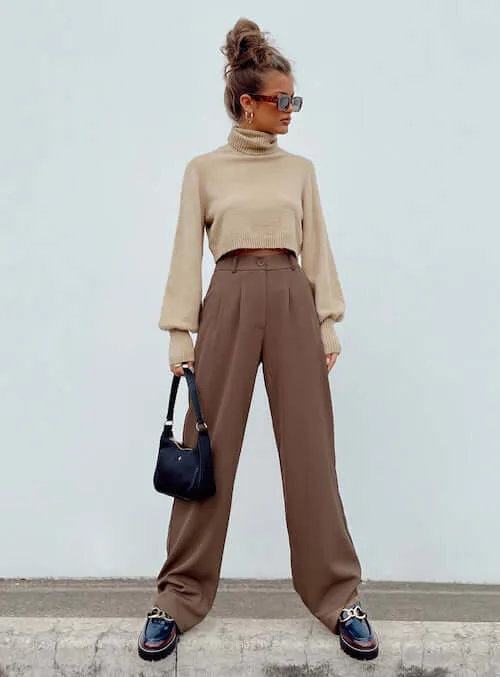 Brown Wide Leg Pants + Cropped White Shirt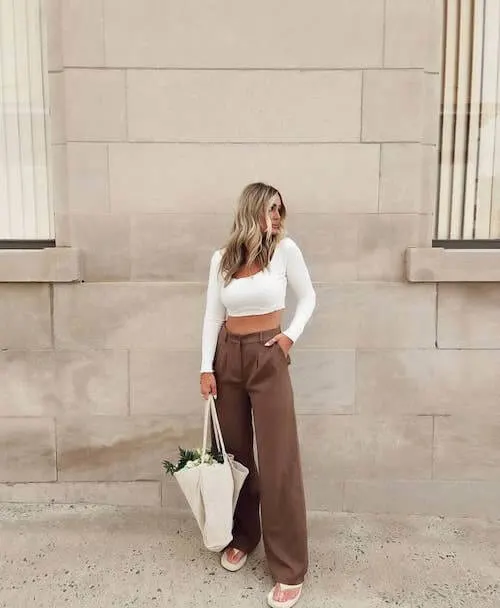 @LEANNCAVES
Bright Color Dress Shirt With Brown Pants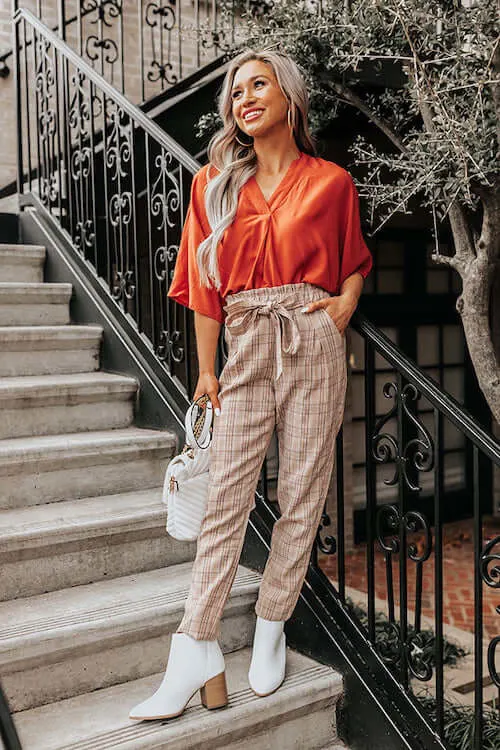 Brown Colors Pants + Brown Shirt
Khaki Pants + Black Shirt
Brown Leather Pants + Black Dressy Blouse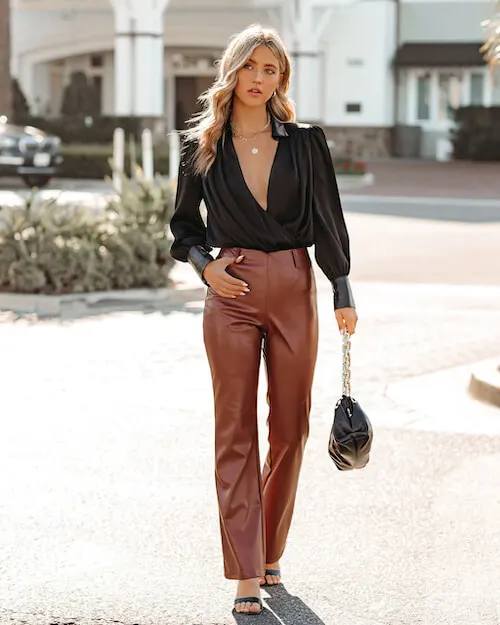 Brown Pants + Denim Jacket + White Sneakers
Classic Brown Trousers + Oversized Brown Blazer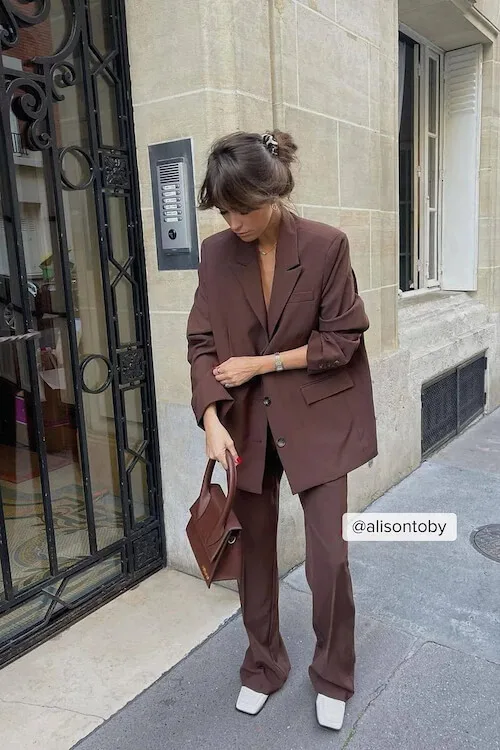 Light Brown Leather Pants + Brown Plaid Shirt
Classy & Elegant Look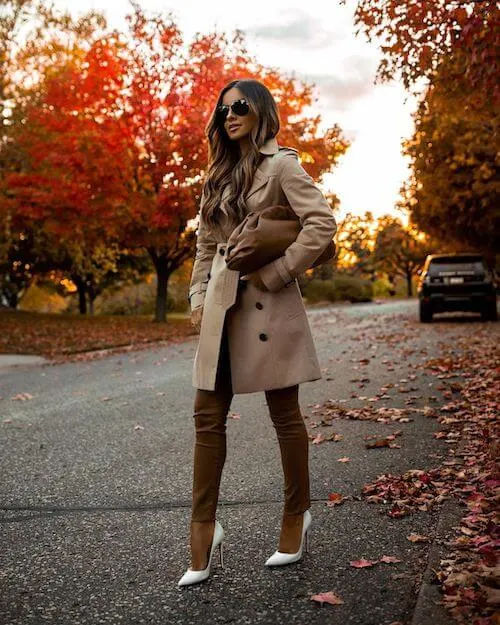 @miamiamine
Casual Street Style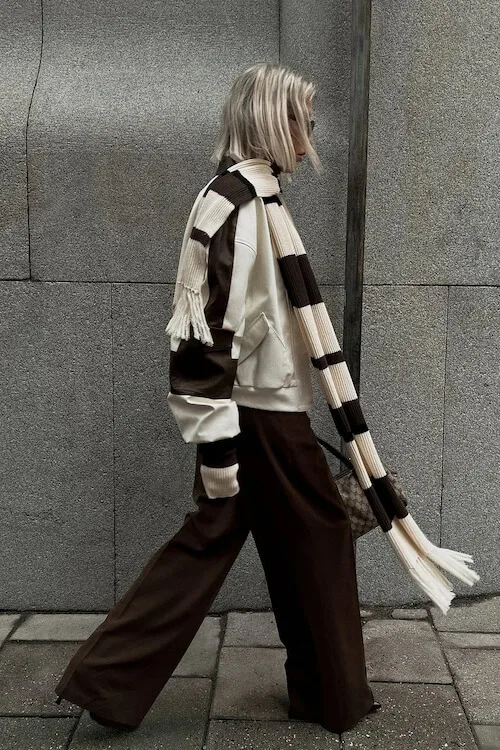 Sporty Vibe With Brown Leggings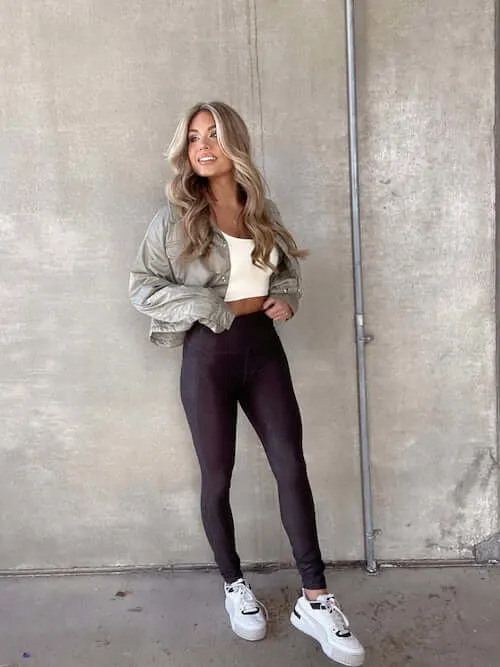 Sexy Brown Pants Outfit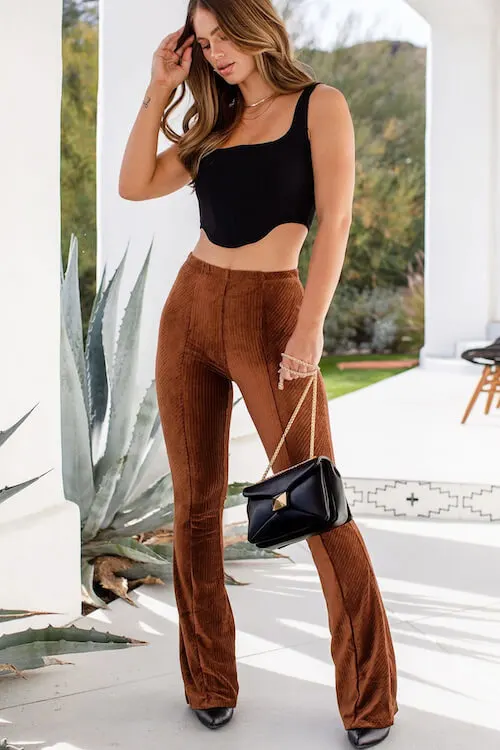 More Cute Outfits With Brown Pants
What colors go well with brown pants?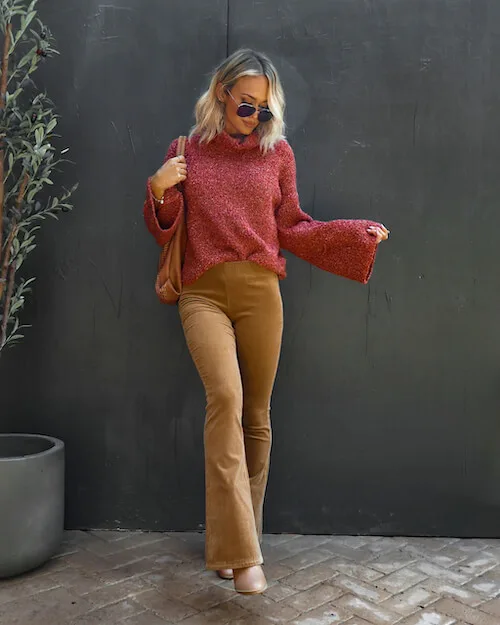 For those who prefer lighter shades, navy blue or white tops work well with brown bottoms.
A light pink shirt can add a touch of femininity and romance to an ensemble featuring brown trousers, while grey and black are ideal for creating a more neutral look.
If you're feeling bolder and want to make an impression, vibrant colors like red, yellow and orange make excellent choices for pairing with darker hues of brown.
How To Style Brown Pants For Spring Summer?
Spring and summer are the perfect time to break out of your normal style routine and experiment with different fashion looks.
Brown pants are a great choice for creating flattering and eye-catching outfits, but it can be hard to know how to style them.
Here are some tips on how to wear brown pants this spring and summer as a woman.
First, think about what type of fabric you want in your brown pants – linen is extremely popular during the warm months due to its lightness while still being classy and stylish.
For a casual look, pair with a bold top or tee shirt, sandals, and minimal jewelry for an effortlessly chic look.
Alternatively, dress up your brown pants for an evening outing by selecting a patterned blouse or satin top – add heels or wedges for extra height!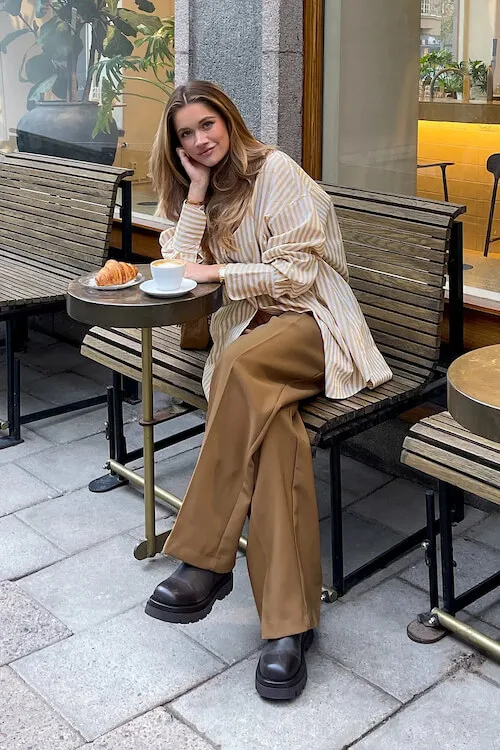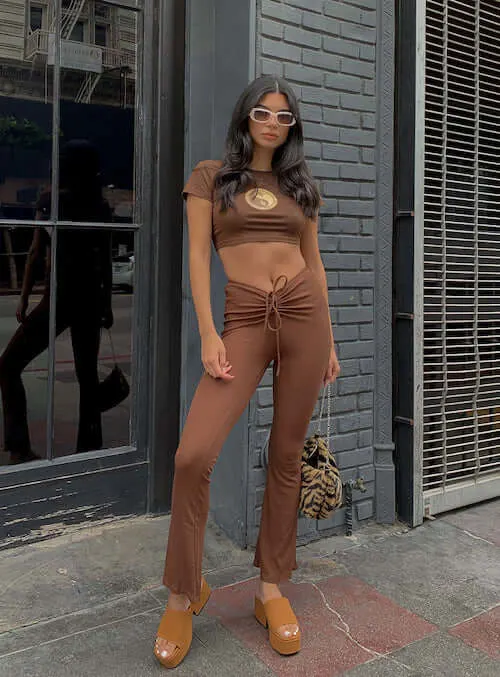 How To Style Brown Pants for Fall Winter?
Fall and winter are the perfect seasons to bring out a wardrobe staple: brown pants.
Whether you're rocking a pair of leather trousers or more casual corduroys, styling your brown bottoms with the right pieces can create an on-trend look.
To make it easier, here are some tips for how to style brown pants for Fall/Winter for women.
When wearing a pair of dark chocolate-brown trousers, try pairing them with a printed blouse and heeled ankle boots for a sophisticated yet stylish workwear look.
A lightweight cardigan draped over the shoulders will complete the outfit and keep you warm when temperatures drop outside.
For something more casual, go for lighter shades of tan or beige chinos combined with either a cozy knit sweater or an oversized shirt – these looks can easily take you from morning to night in style!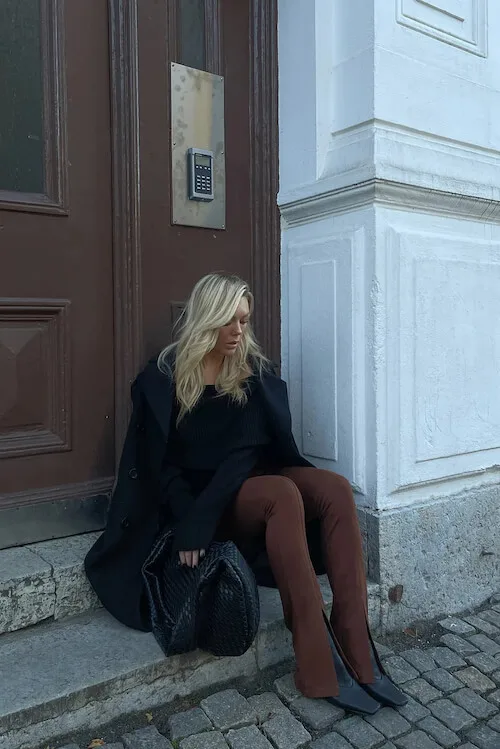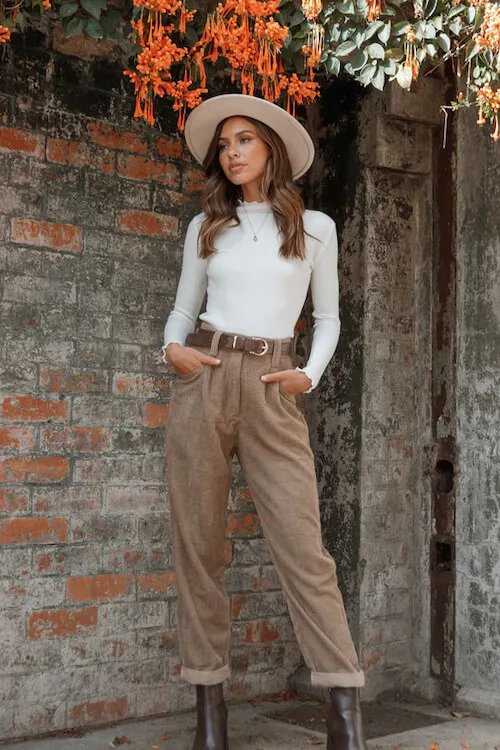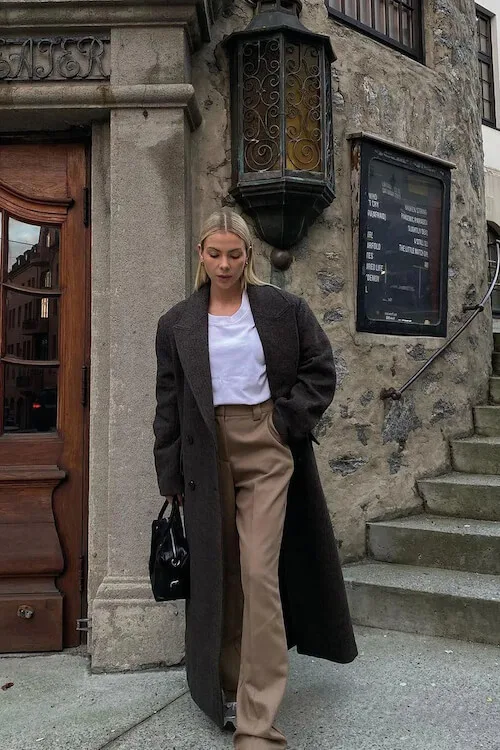 How To Wear Brown Pants For Vacation?
Brown trousers can be both fashionable and versatile, allowing wearers to create an array of stylish looks for both day and night.
To help you get the most out of this classic piece, here are some useful tips on how to wear brown pants during vacation.
The first tip is to choose the right shade of brown.
Opt for lighter shades such as beige or tan which look great with bright colors like yellow or pink.
Alternatively, darker shades like chocolate or coffee will pair nicely with more muted tones like navy blue or olive green.
When deciding what color top to wear with your brown bottom, make sure it either matches the shade of your trousers or complements it in some way.
For example, a light yellow shirt looks amazing when paired with dark chocolate-colored jeans!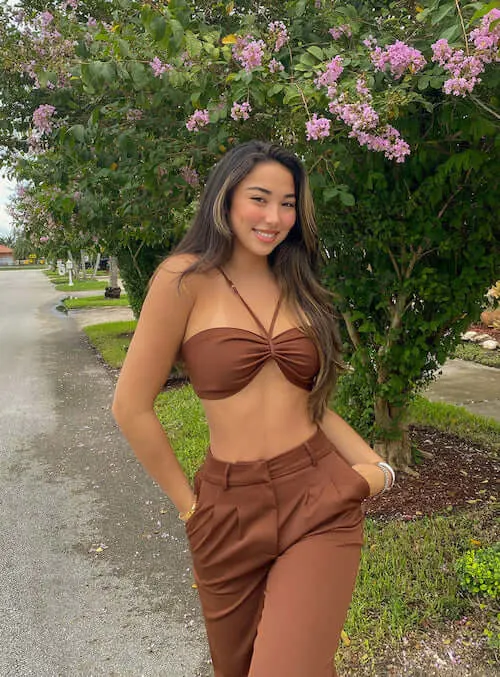 How To Wear Brown Pants For Work?
Brown pants are a great way to add a touch of sophistication and class to any workplace outfit.
You can easily wear brown pants for work by choosing the right style, fit, and accessories that will make them look professional yet stylish.
When choosing the right pair of brown pants, it's important to select a slim-fit or straight-leg style in a mid-tone brown hue.
You should also consider pairing them with classic tops like white or black blouses or tailor-made shirts.
To complete the look, accessorize with nude pumps or flats and delicate jewelry pieces such as pearls or gold earrings.
This timeless look can be dressed up further with animal print bags, patterned scarves, and statement necklaces for an even more professional vibe.
Brown pants are perfect for creating elegant and polished office attire that will make you stand out from the crowd.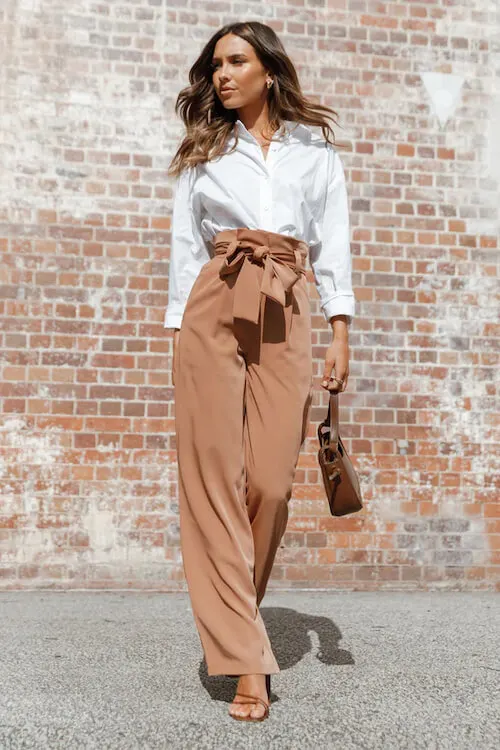 What color shoes to wear with brown pants?
There are several options when it comes to what color shoes to wear with brown pants.
Black shoes are a classic choice for pairing with brown trousers.
Whether you go for a sleek boot or strappy sandal, black adds an element of sophistication and can be dressed up or down depending on your chosen top and accessories.
If you're looking for something more casual yet still stylish then consider opting for tan or cognac colored shoes; they will coordinate perfectly giving you an effortless look while staying classic.
This post was all about what to wear with brown pants female.
Related Posts: