Wondering what to wear with cargo pants? Check this post for the trendiest ways to wear cargo pants this year, and the best cargo pants outfit ideas to style this fashion trend! From wide-leg cargo pants to skinny cargo pants, from chic looks to elevated casual street style, we've got you covered!
Cargo pants have had a resurgence in recent years and are now a wardrobe staple for fashion-forward women.
With the right styling, they can be effortlessly cool and make any outfit look trendier.
Not sure what to wear with cargo pants? In this article, I am sharing with you helpful tips on how to accessorize and style cargo pants to create a variety of looks that will ensure you stand out from the crowd.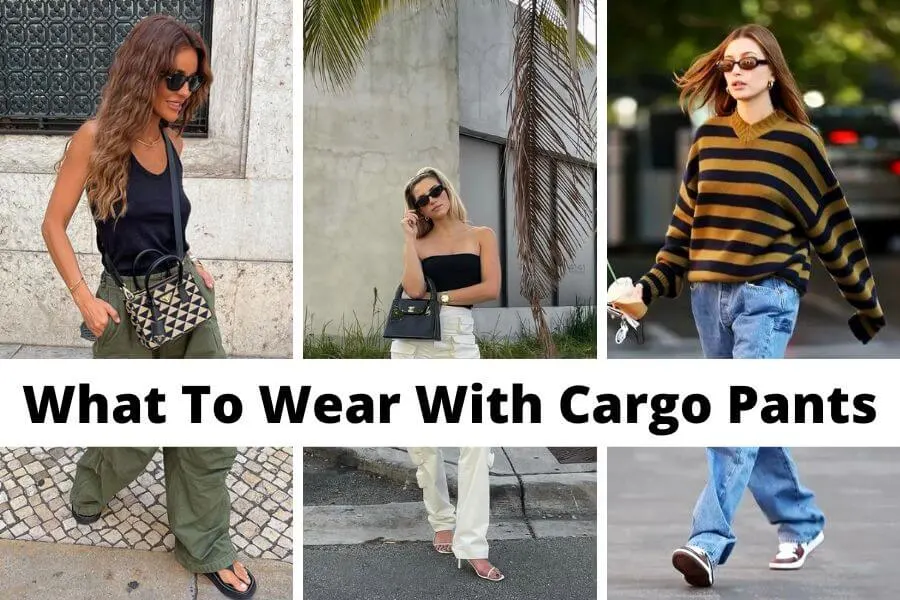 This post may contain affiliate links, which means I'll receive a commission if you purchase through my link, at no extra cost to you. Please read the full disclosure here.
This post is all about what to wear with cargo pants.
Are Cargo Pants in Style in 2023?
Yes, cargo pants are here to stay and have cemented themselves as a wardrobe staple for many fashion-forward individuals.
These comfortable yet stylish trousers have been seen all over street-style blogs and social media platforms.
With their laid-back aesthetic, they provide an effortless look that can be dressed up or down with ease.
Despite the ever-changing trends of the fashion world, cargo pants continue to remain a reliable go-to for those looking for an understated yet cool ensemble.
Whether you go for classic military greens or muted earthy tones, these versatile bottoms will ensure you make a statement while keeping things relaxed and comfy.
So if you're wondering what to wear this season – then why not try out some cargo pants?
With so many colors and fabrics to choose from there's sure to be something for everyone.
What To Wear With Cargo Pants
via Vogue
If you're looking for a fashionable and practical way to add some variety to your wardrobe, consider adding cargo pants.
For ladies looking to sport this trend, there's no shortage of options when it comes to pairing cargo pants with other items in your closet.
To dress up your trousers, try pairing them with a basic tank top or t-shirt and a blouse or cardigan thrown overtop.
You can accessorize this look with simple jewelry pieces like pendants or earrings.
If you want something more casual, opt for a graphic tee paired with sneakers or ankle boots instead of sandals or heels.
Want more inspiration? Scroll on to check out more cargo pants outfit inspiration.
Crop Top
Crop tops and cargo pants are two of the hottest trends for women this year.
Balance out the proportion by pairing the cropped top with high-waisted cargos, which will elongate your legs and give you an ultra-chic look.
To complete the outfit, choose some statement accessories such as chunky jewelry pieces or bold shoes to pull everything together.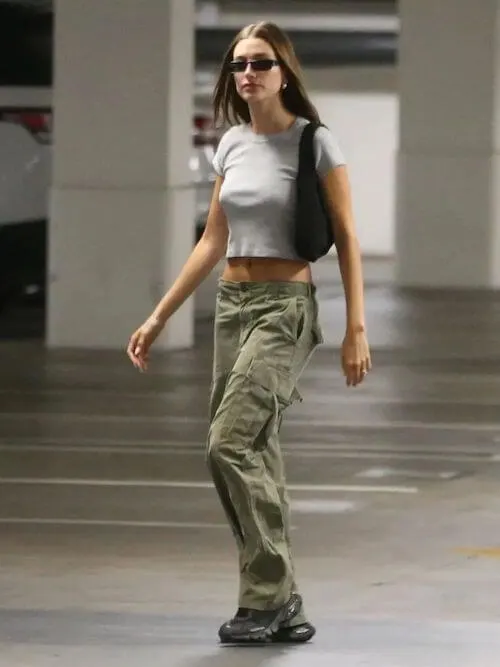 via Vogue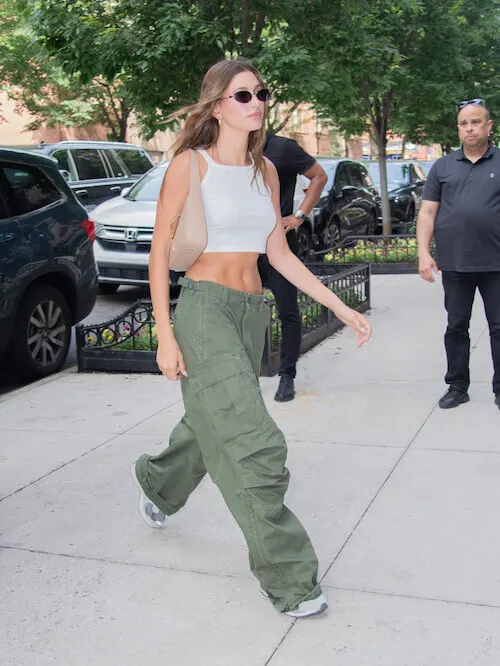 via Vogue
Denim Jacket
Wearing a denim jacket with cargo pants for women is a great way to look stylish and fashion-forward.
Denim jackets are perfect for the cooler months when you want to layer up and stay warm.
A denim jacket adds an edgy, cool-girl vibe that can be paired with almost any bottom.
Cargo pants in particular provide a casual but still fashionable look that pairs perfectly with a denim jacket.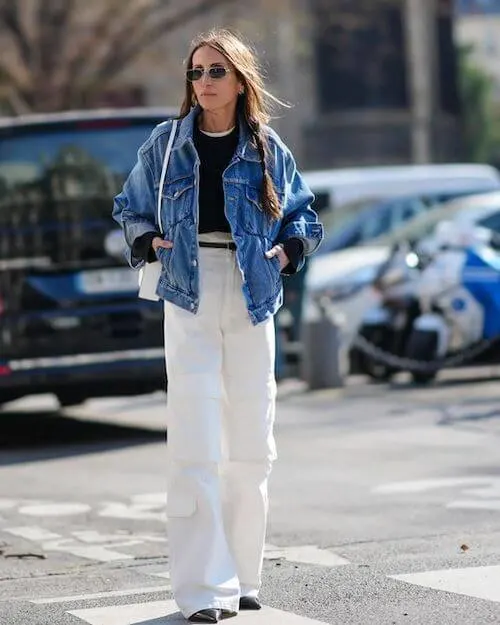 @louloudesaison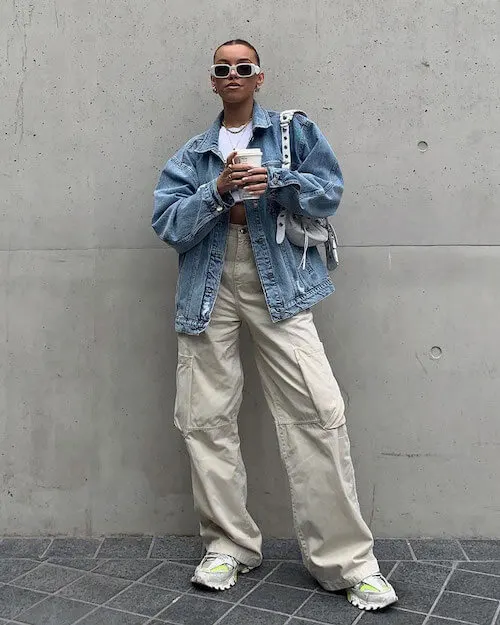 @missjamiefirth
Oversized Button-Down
Tired of wearing the same boring outfits day after day?
Spice up your look with an oversized button-down and cargo pants.
This fashion statement is both comfortable and stylish, perfect for everyday wear or a night out.
Women of all sizes can embrace this look and make it their own – add a belt to cinch in the waist or layer on jewelry to give it some sparkle.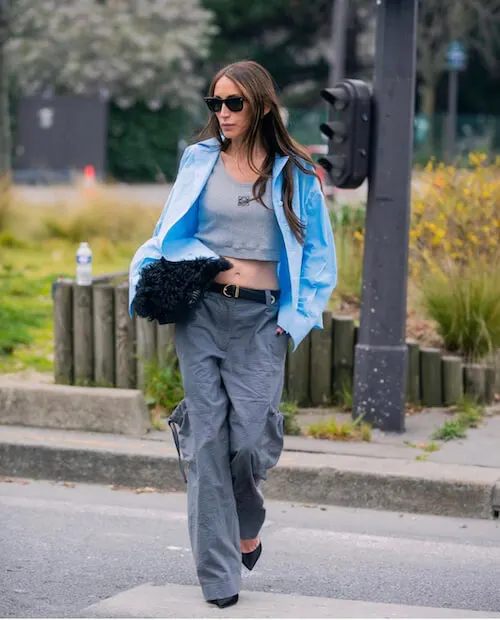 @louloudesaison
Blazer
Are you looking to create a fashion statement that stands out but is practical?
Consider pairing a blazer with cargo pants for women.
This style combination can easily transition from day to night, and suits many occasions.
The key to mastering the look is finding the perfect balance between smart and casual.
The blazer should be tailored for an elegant fit, but it doesn't need to be too formal – a light-colored or patterned fabric can keep the outfit from looking too corporate.
Choose cargo pants in a neutral color like black or charcoal gray that has some stretch for comfort; this will ensure they don't overpower the other elements of your ensemble.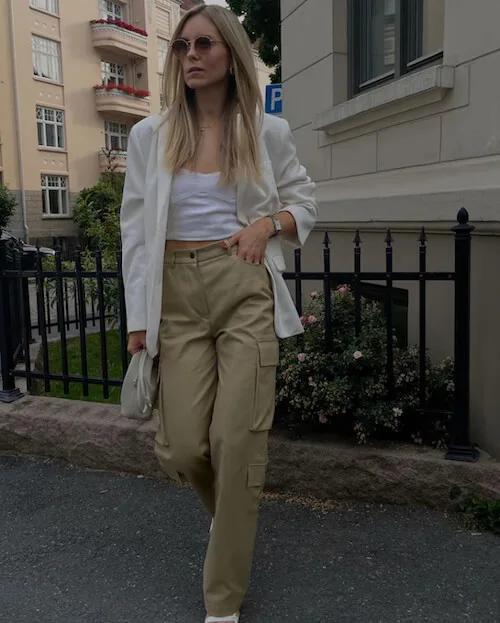 @austulyys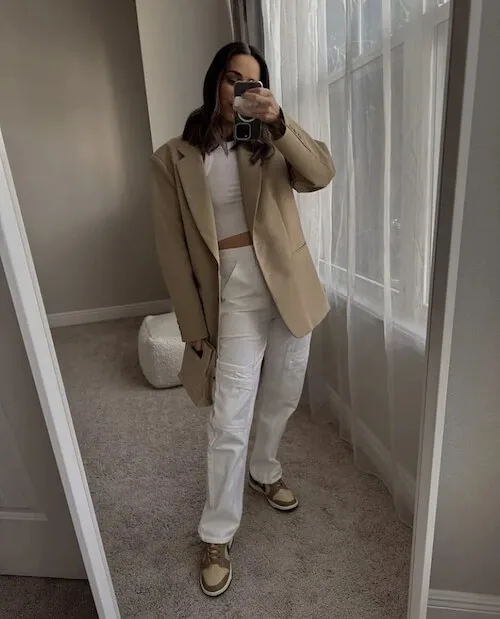 @modeetchien
Blouse
Having trouble finding an outfit that's perfect for both day and night?
Look no further than a classic pairing of cargo pants with a cute blouse.
This look is timeless, and comfortable, and can be dressed up or down for any occasion.
To create the outfit, simply start with a pair of mid-rise cargo pants in either black or khaki.
For the top half of the outfit, choose from a variety of different blouses – from floral prints to chiffon fabrics – to find one that suits your style best.
Finish off the look with some sandals or sneakers for a laidback daytime vibe, or opt for ankle boots and statement jewelry when you're heading out in the evening.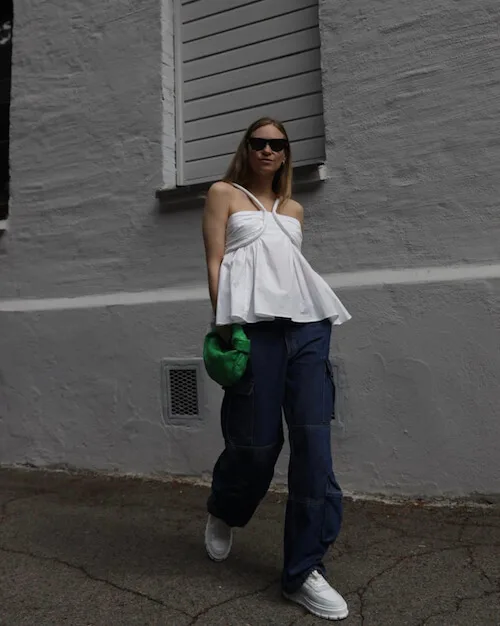 @tineandreaa
Baggy Leather Jacket
This combo offers both an edgy and laidback vibe, so you can wear it for any occasion.
Whether you are walking around town or going out for dinner, you'll be sure to turn heads when wearing this outfit.
The best thing about this combination is that it can be dressed up or down depending on the occasion.
For instance, if you are going out for a night on the town, pair your baggy leather jacket with black cargo pants and some heeled boots for a sleek finish.
If you want something more relaxed and casual, opt for lighter colors like khaki cargo pants paired with white sneakers – perfect for shopping trips!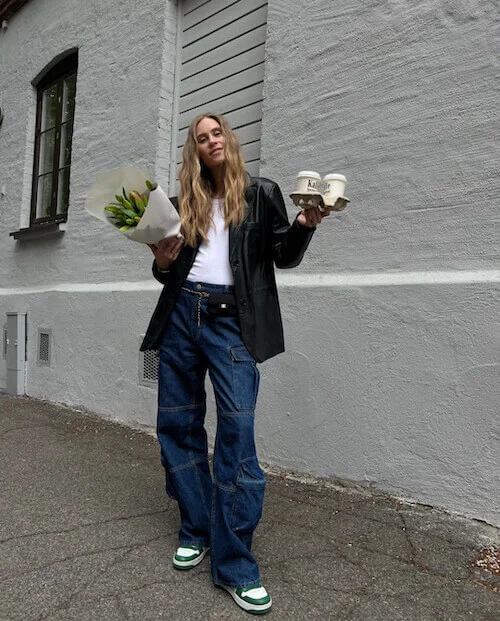 @tineandreaa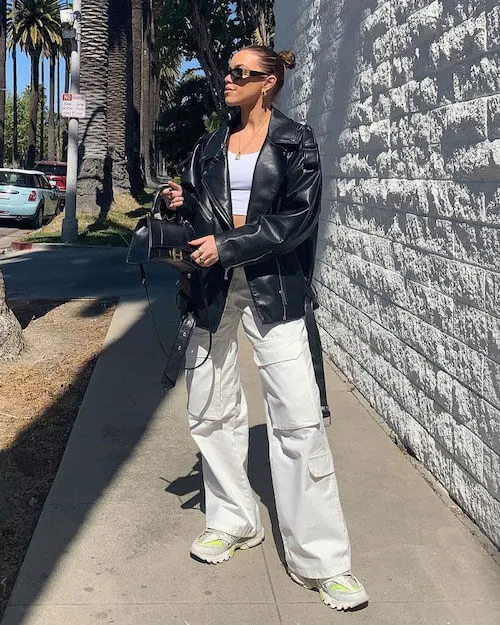 @modeetchien
Cardigan
As we head into the new season, one of the easiest ways to update your look is by pairing a cardigan with cargo pants.
Cardigans come in a variety of colors, lengths, and styles that can be used to create different looks for any occasion.
When paired with cargo pants, they give off an edgy yet relaxed vibe that is perfect for day or night activities.
For example, you could opt for a cropped sweater over loose-fitting cargo joggers with sneakers for an easy casual look, or choose an oversized cardigan and pair it with slim-fit trousers and heeled ankle boots for something more stylish.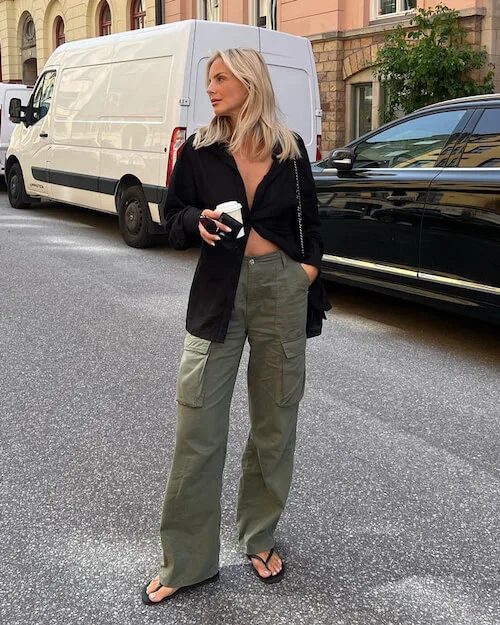 via Pinterest
Bomber Jacket
For women looking for a chic, modern take on this classic style, try pairing a soft leather bomber with slim-fit cargo pants in khaki or olive green.
Finish off the look with some stylish sneakers or booties depending on where you're going.
If you want something more casual, go for a lightweight cotton bomber in black or navy blue paired with loose-fit cargos in earth tones like brown or tan.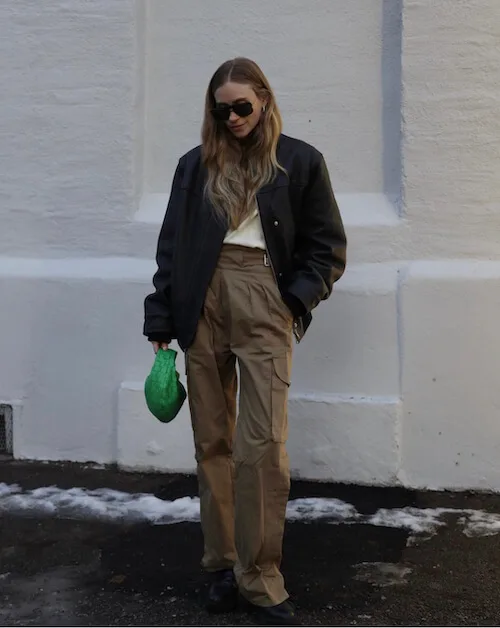 @tineandreaa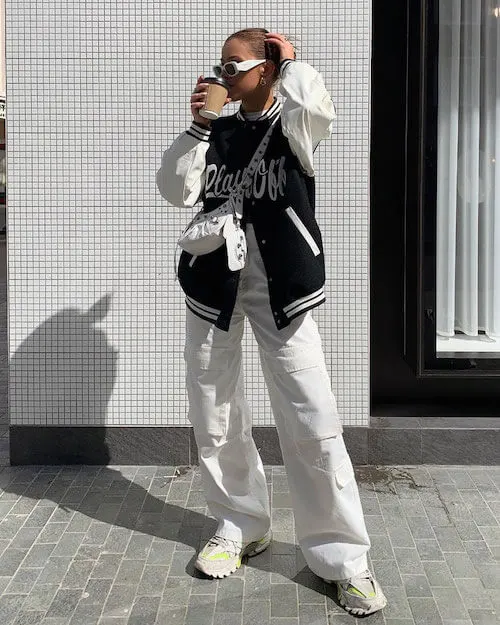 @missjamiefirth
Tank Top
For a cool and stylish look that's both comfortable and on-trend, try pairing your favorite pair of cargo pants with a tank top.
For those warm summer days, opt for a lightweight cotton tank top in simply white or an eye-catching color like neon pink or yellow.
Keep the rest of your ensemble breezy by pairing it with slim-fit cargo pants rolled up at the ankles.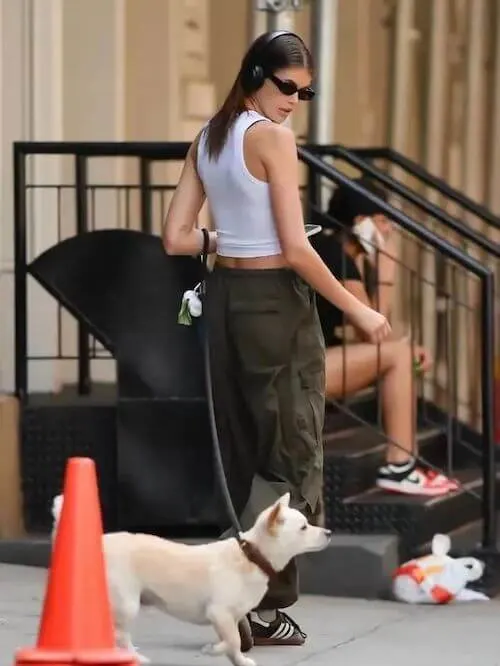 via Vogue
How To Wear T-Shirt and Cargo Pants
T-shirts are a popular choice for any casual outfit, but when paired with cargo pants they add a certain level of sophistication.
For added comfort and style choose the right type of shoes; try sneakers or boots depending on your preference!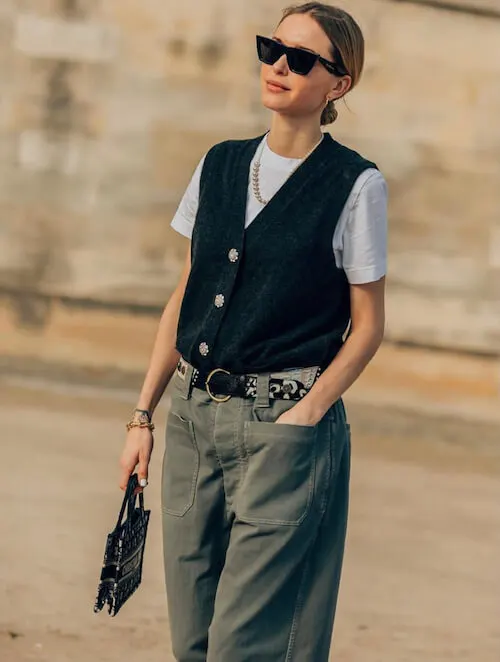 @pernilleteisbaek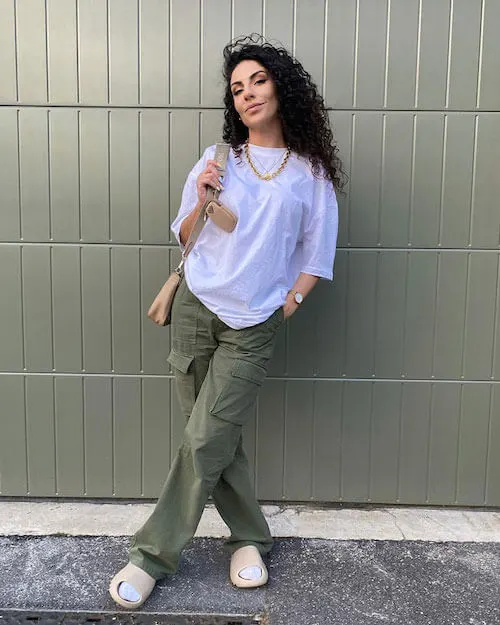 @fanamss
What Shoes To Wear With Cargo Pants
What shoes do you wear with these pants?
Fortunately, there are several options available in order to find the perfect pair of shoes for your look.
For a casual look, sneakers are always a great choice when wearing cargo pants.
Go for something classic like white canvas Converse or opt for something bolder such as bright-colored Nike sneaks.
Other options include stylish loafers and ballet flats; both will create an effortlessly chic outfit that is sure to turn heads!
For those who want something more dressy, heels or strappy sandals paired with cuffed cargo pants can be the perfect ensemble for an evening out on the town.
Cargo Pants Outfits With Sneakers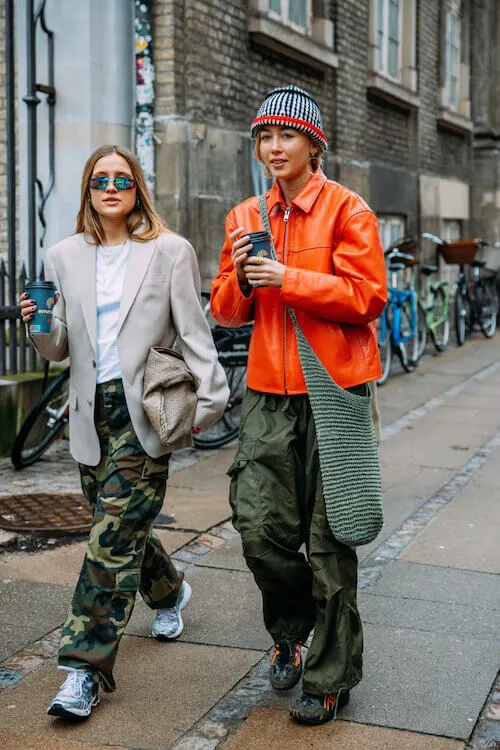 via Pinterest
Cute & Stylish Cargo Pants Outfit Ideas Female
How To Style Denim Cargo Pants
From casual to dressy looks, denim cargos can make any outfit look stylish and put together.
Here are some tips on how to style this versatile piece for any occasion.
For a casual everyday look with denim cargos, try pairing them with an oversized t-shirt or tank top.
Add a pair of white sneakers and a statement belt for an effortless yet stylish look that is perfect for shopping or running errands.
To add a bit of edge, try throwing on a leather jacket over your ensemble as well – it will bring the whole outfit together in true fashionista style!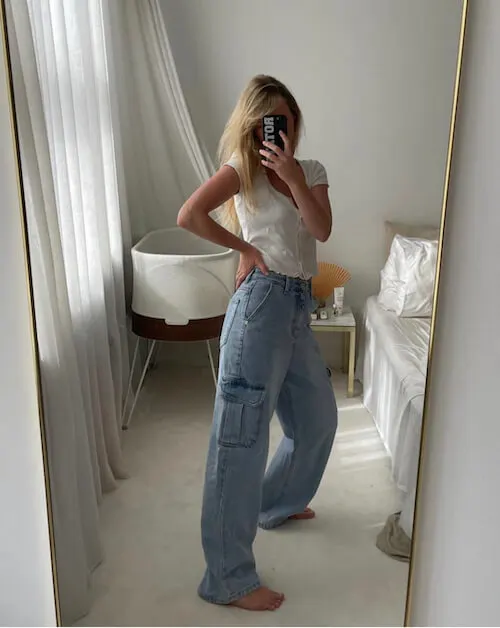 @pernilleteisbaek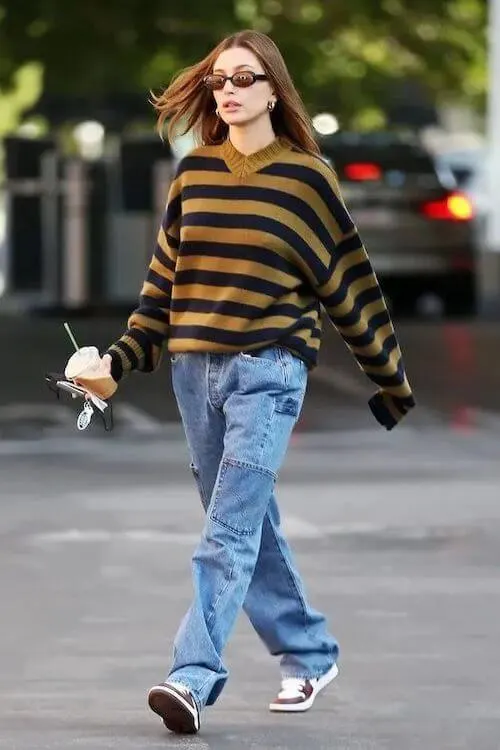 via Vogue
How To Style Wide-Leg Cargo Pants
Wide-leg cargo pants are a great way to make a fashion statement while having the comfort and flexibility of a casual look.
With the right styling, women can create an eye-catching outfit with some unique flair. To help you style these pants for any occasion, here are some easy tips to follow.
First, start with a top that's form-fitting and tucked in so your wide-leg cargo pants don't overwhelm your shape.
A sleek bodysuit or collared blouse is perfect for highlighting the waistline and creating a balance between the bottom and top pieces.
For shoes, opt for something classic like ankle boots or espadrilles to keep the look polished yet still relaxed.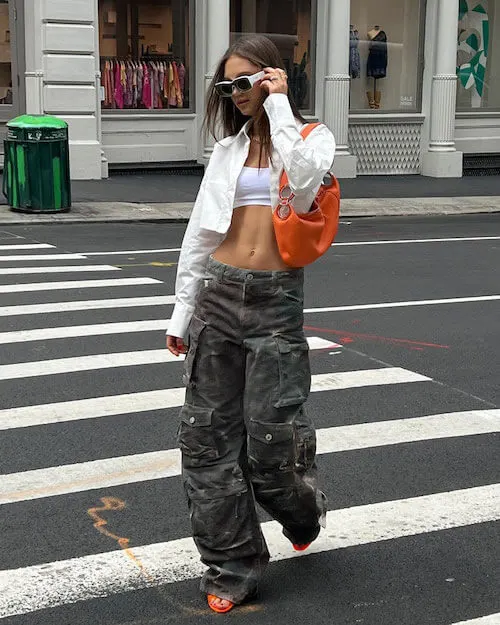 @nastyaswan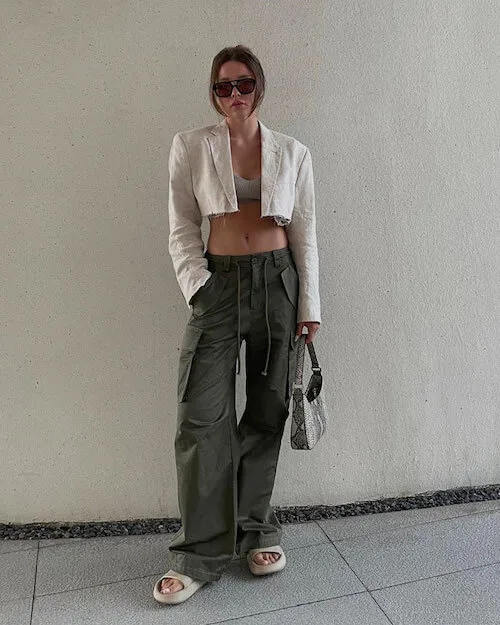 @irinaa-lashina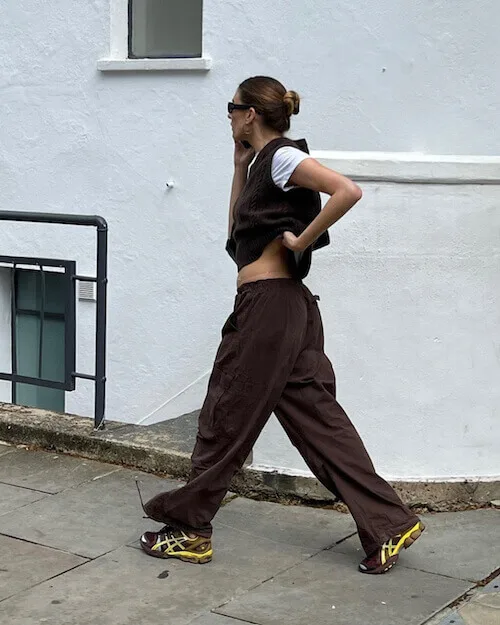 @camillecharriere
What To Wear With Skinny Cargo Pants
If you're looking for a stylish and versatile piece of clothing, then skinny cargo pants are the way to go.
This fashion-forward trend is perfect for casual days out with friends and can be dressed up or down depending on the occasion.
For an everyday look, pair your black skinny cargo pants with a printed tee or tank top in neutral colors like white, grey or navy blue.
Add in some statement jewelry such as dainty necklaces, earrings and bangles to complete the outfit.
To dress it up a little more, try layering over a blazer or leather jacket along with some heeled boots – this will instantly elevate your outfit from daywear to nightwear!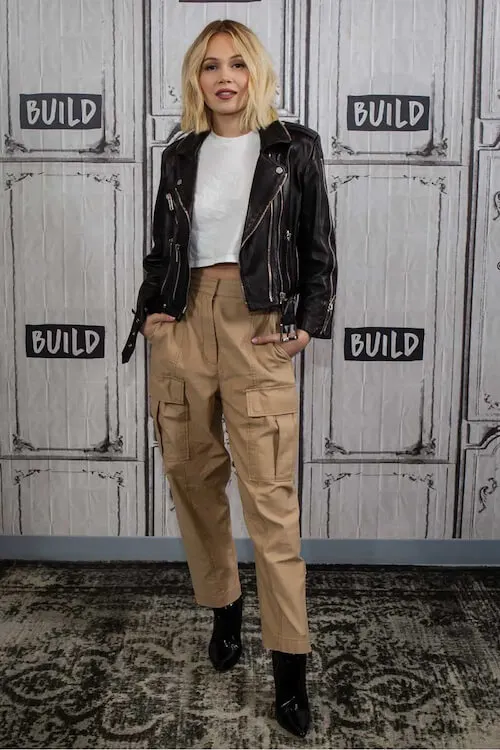 via Pinterest
White Cargo Pants Street Style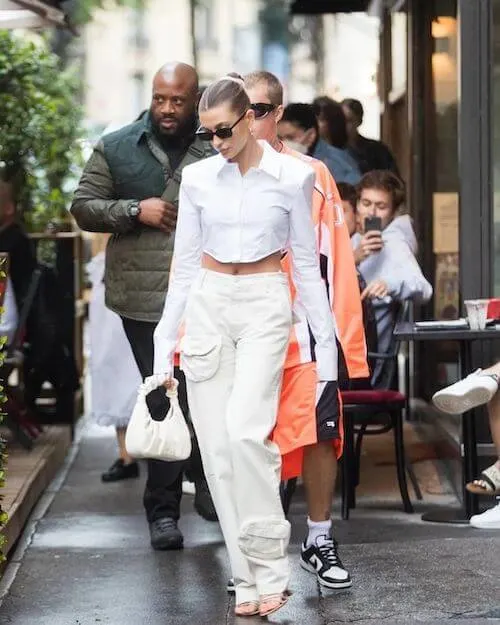 via Vogue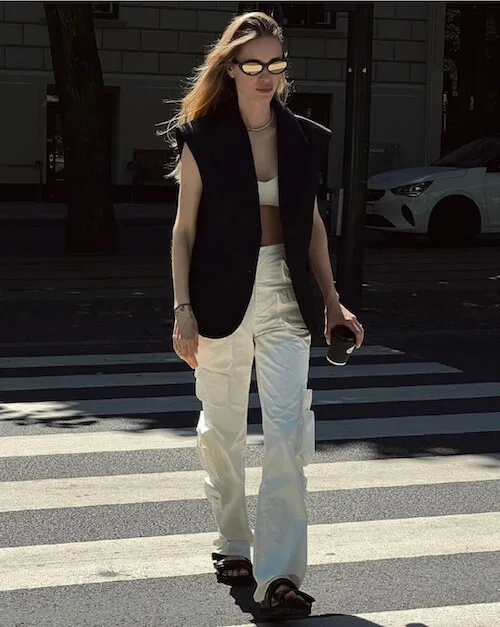 @pernilleteisbaek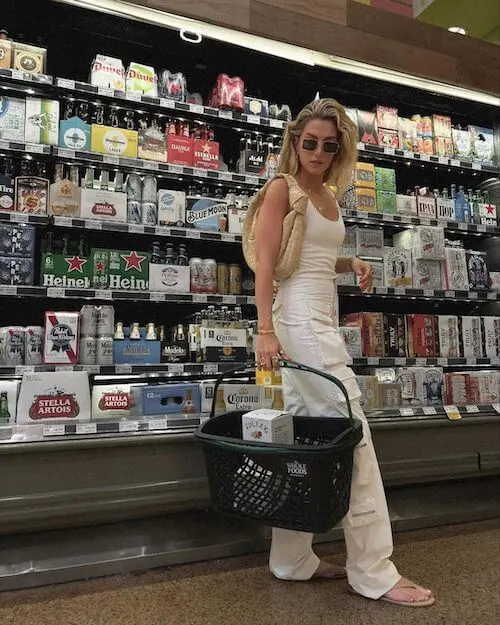 @cassdimicco
@cassdimicco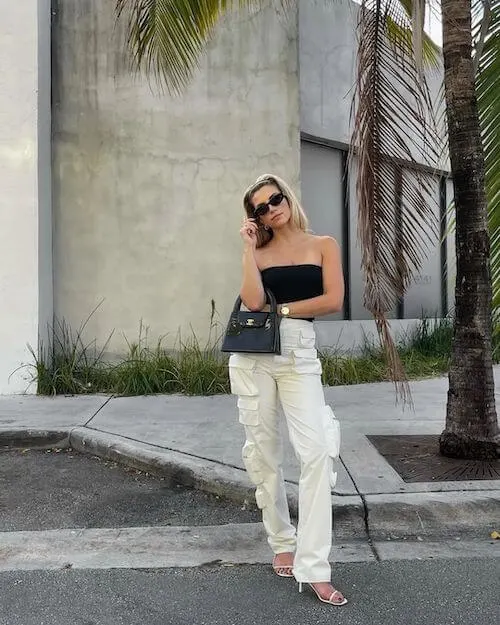 @cassdimicco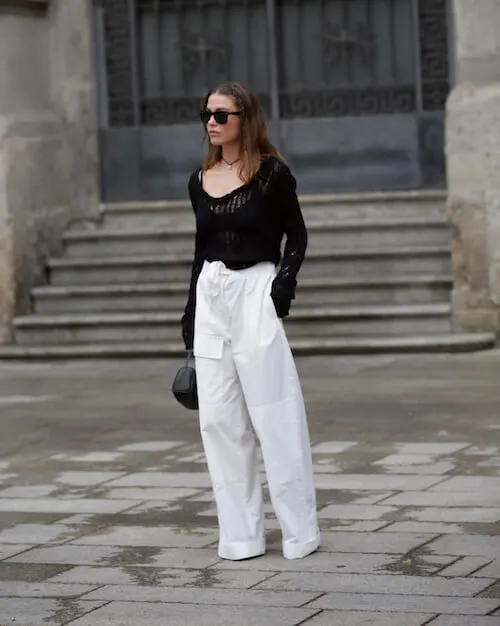 @sophiaroe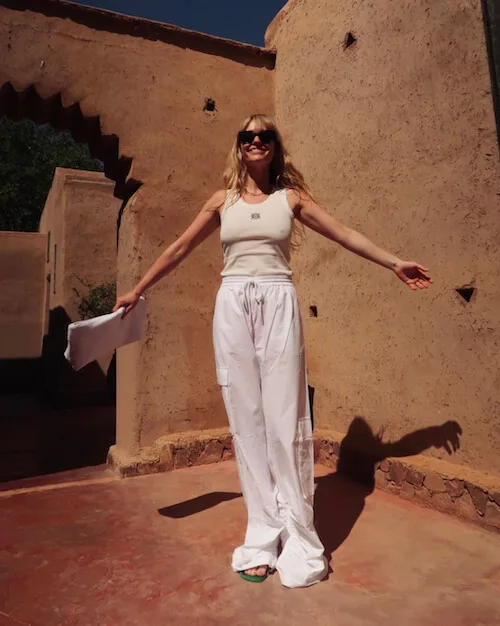 @_jeanettemadsen_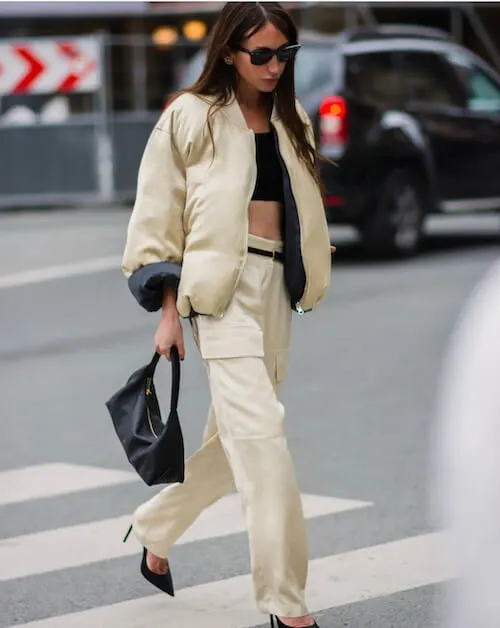 @louloudesaison
Khaki Cargo Pants Outfit Ideas
@tineandreaa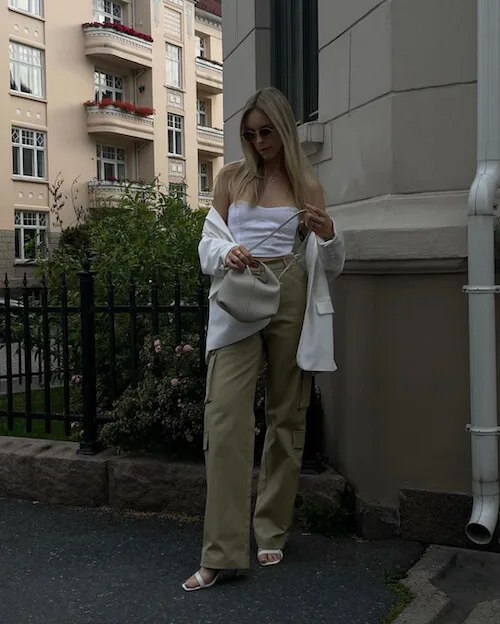 @austulyys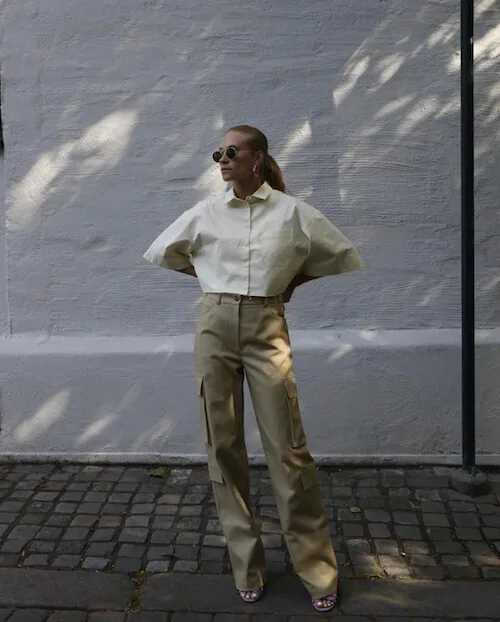 @tineandreaa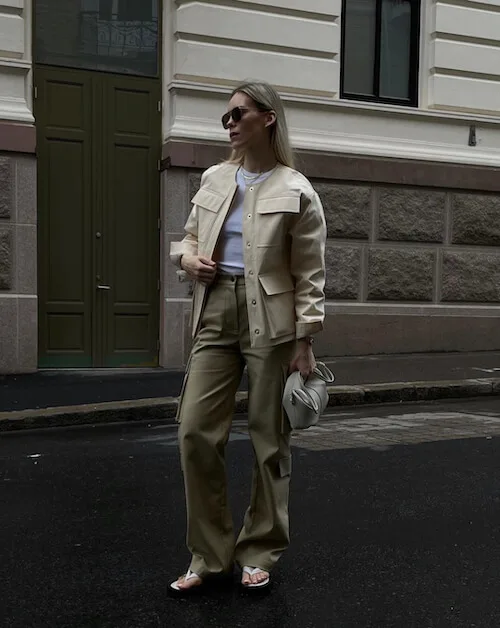 @austulyys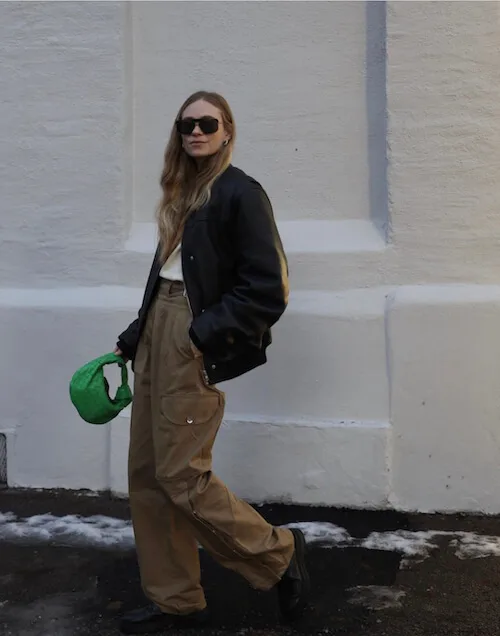 @tineandreaa
Chic Green Cargos Streetwear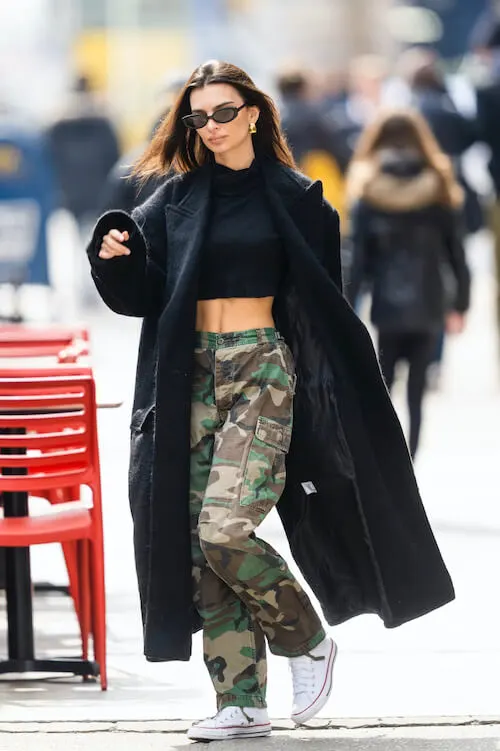 via Vogue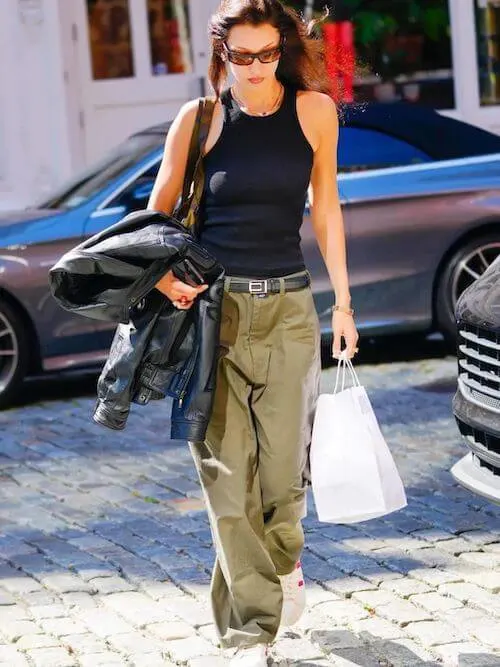 via Pinterest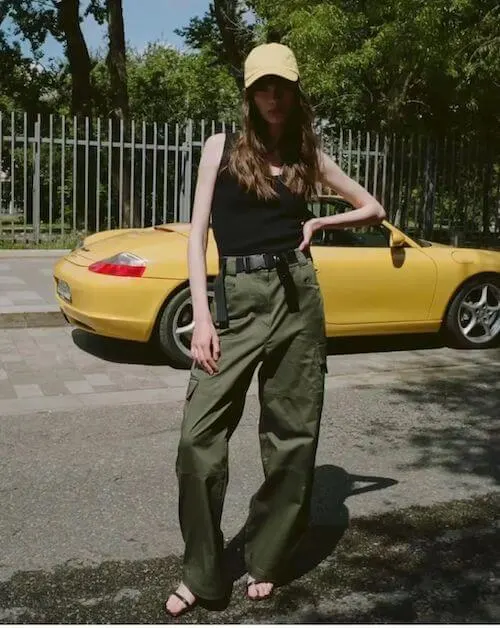 via Present & Simple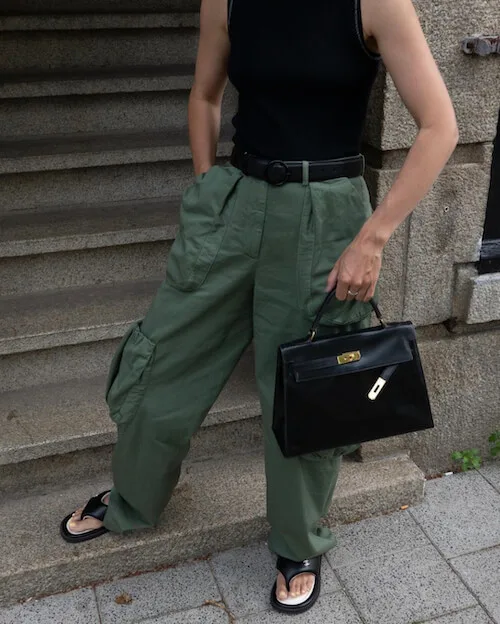 @lindatol_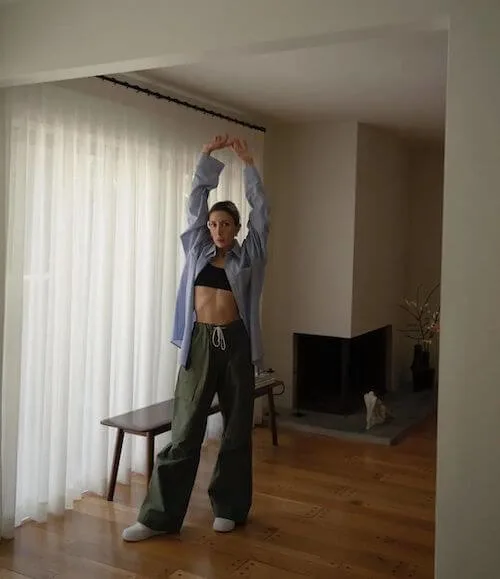 @angelafink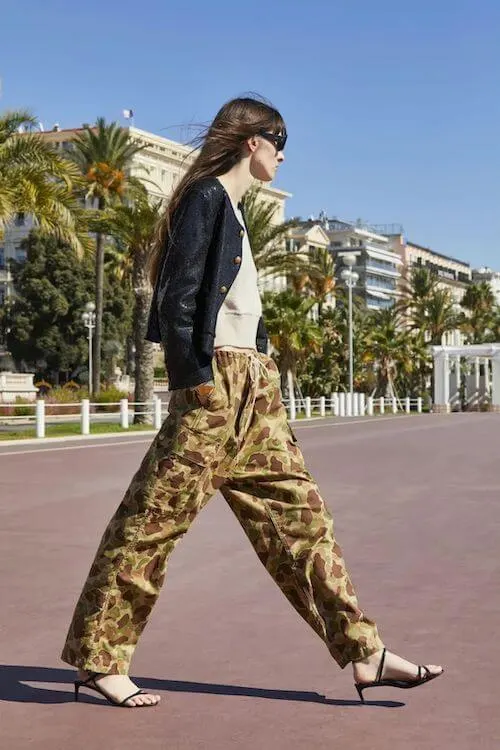 via Celine
Outfits With A Pair of Black Cargo Trousers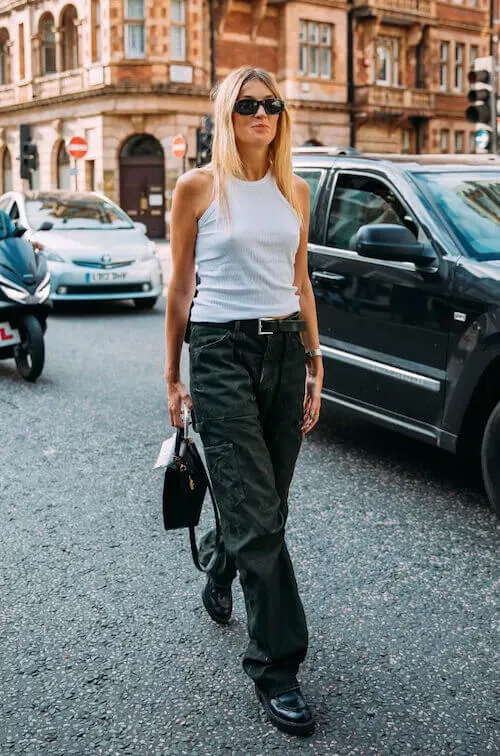 @asiatypek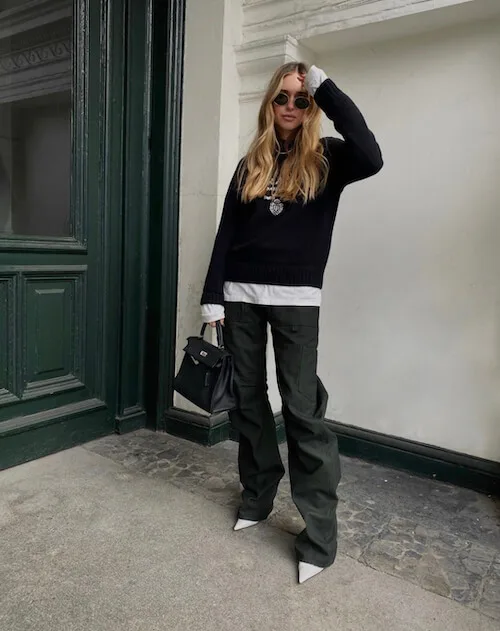 @pernilleteisbaek
Hailey Bieber Inspired Looks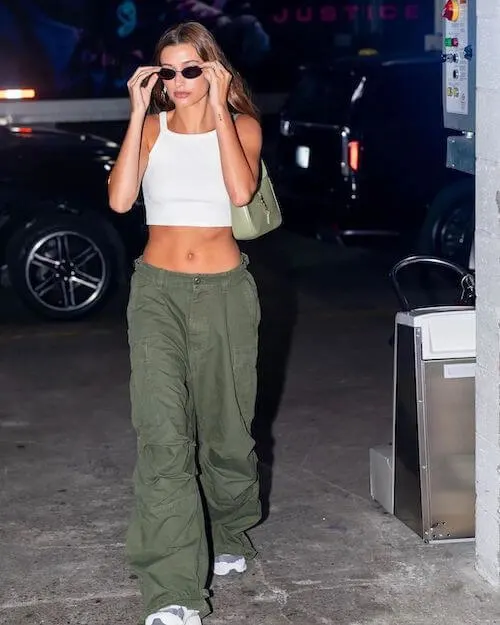 via Vogue
How To Style Cargo Pants For Summer
When it comes to summer fashion, most women focus on shorts and sundresses.
But cargo pants are making a comeback this season and can be an unexpected yet stylish addition to any wardrobe.
To achieve the perfect look, start by pairing your cargos with a simple tee or tank top in either a classic white or eye-catching color.
This creates the perfect balance between casual and dressy while allowing you to show off your curves.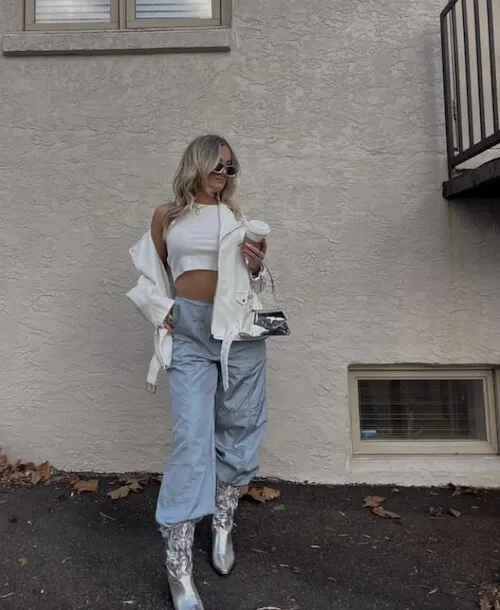 @shanmccormick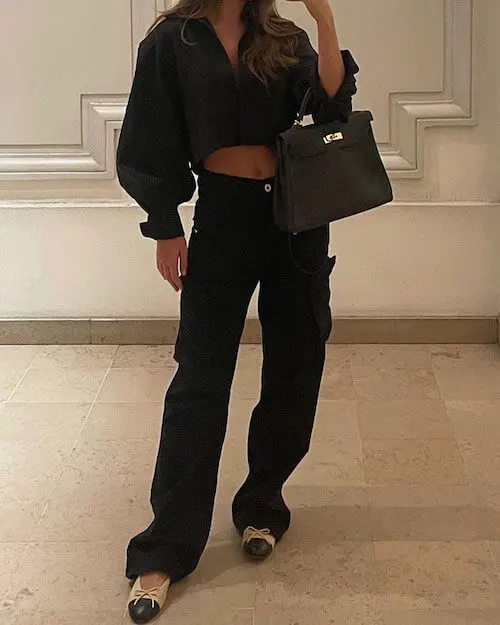 @chloeschuterman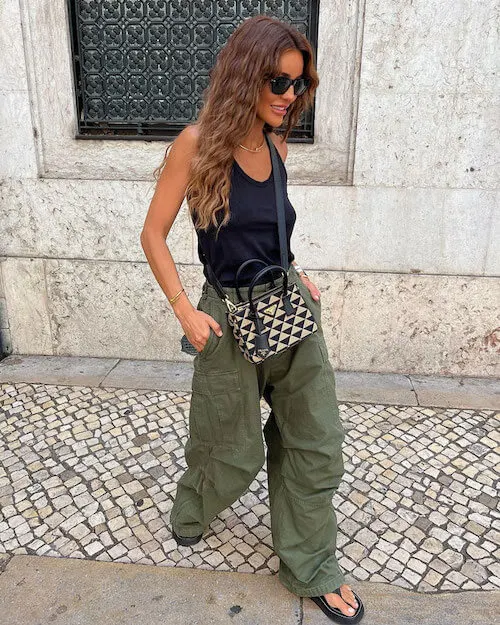 @nurbilenyavuzer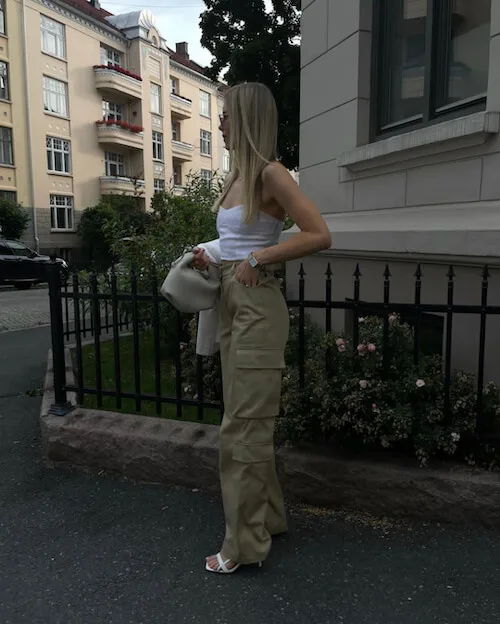 @austulyys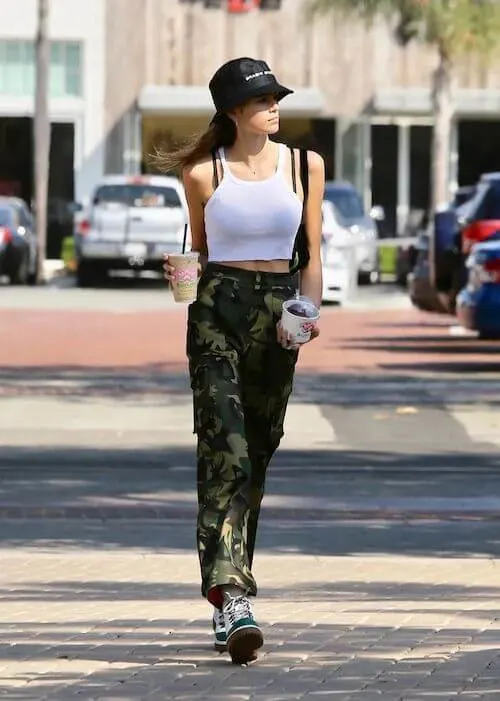 via Pinterest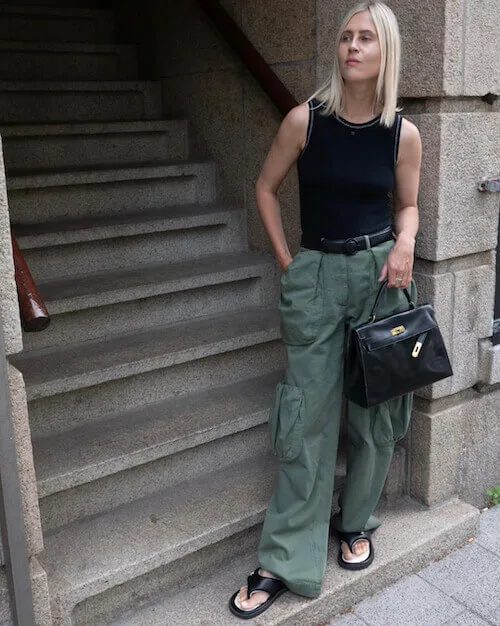 @lindatol_
How To Wear Cargo Pants In Winter
When it comes to winter fashion, cargo pants offer a unique opportunity for women to stay warm and stylish.
With the right styling, cargo pants can be easily transitioned from daytime errands to a night out with friends.
Here are some great tips on how to style cargo pants for winter for the modern woman.
To start off, select a pair of cargo pants made from thick material that will keep you warm during cold weather.
Look for materials like corduroy and wool blends that come in classic earth tones such as olive green or tan.
To complete your look, pair your cargos with an oversized sweater or long coat, and fashionable ankle boots or booties.
Add accessories such as scarves, gloves and hats in coordinating colors to give your outfit an extra layer of warmth and style.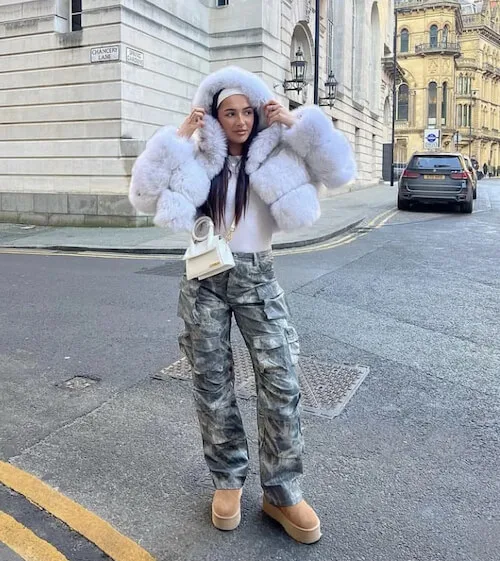 @oliviacrompton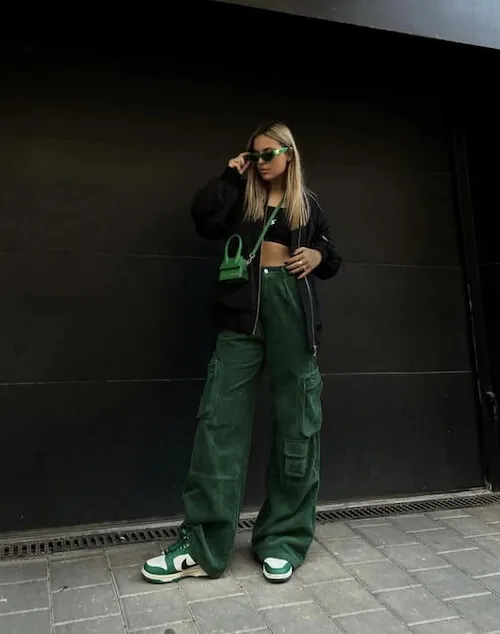 @maycohenx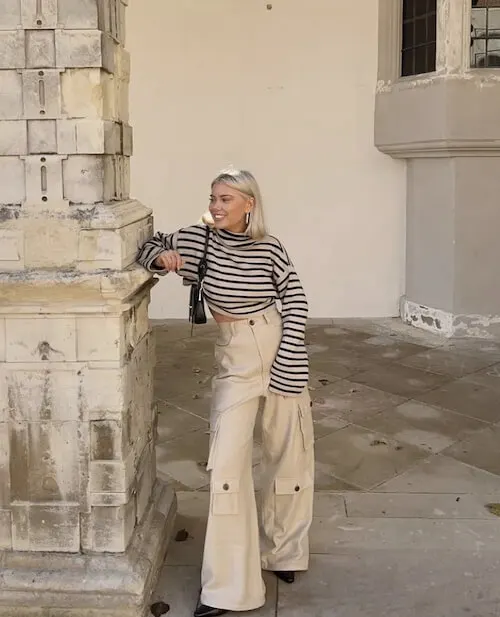 @laurajadestone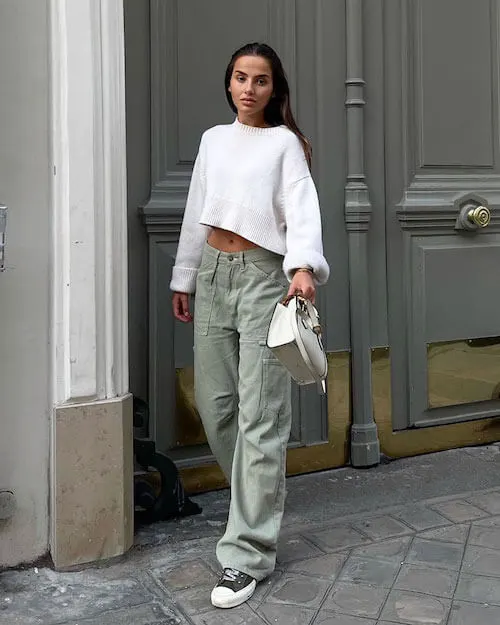 @chloeschuterman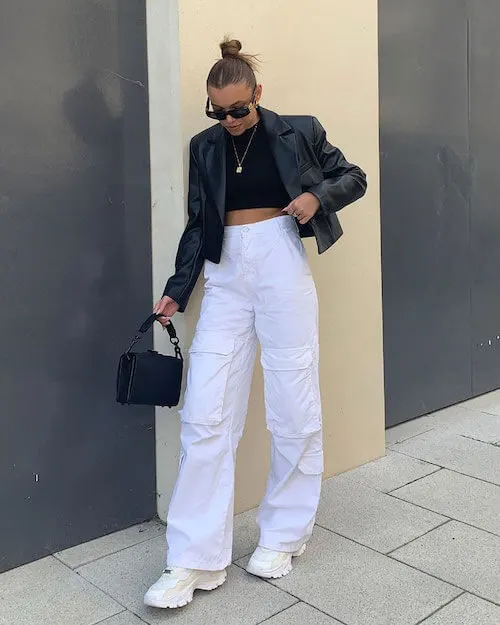 @missjamiefirth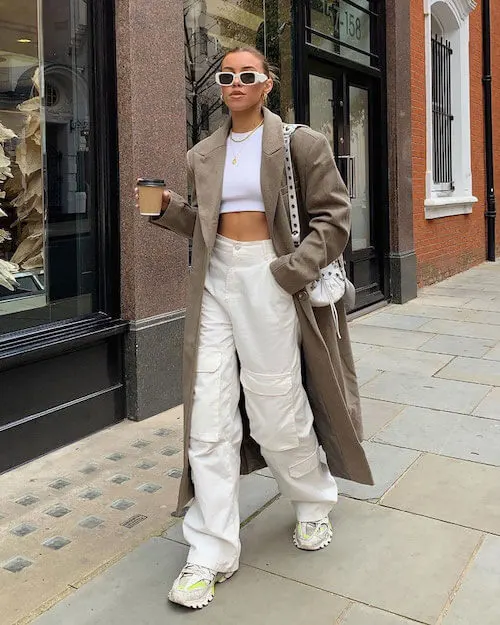 @missjamiefirth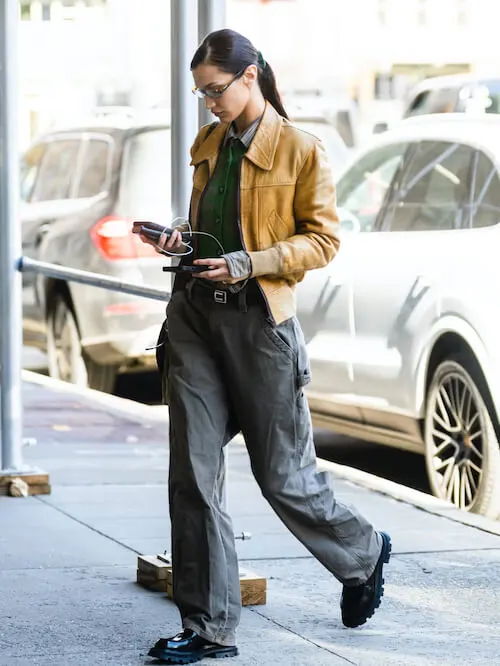 via Pinterest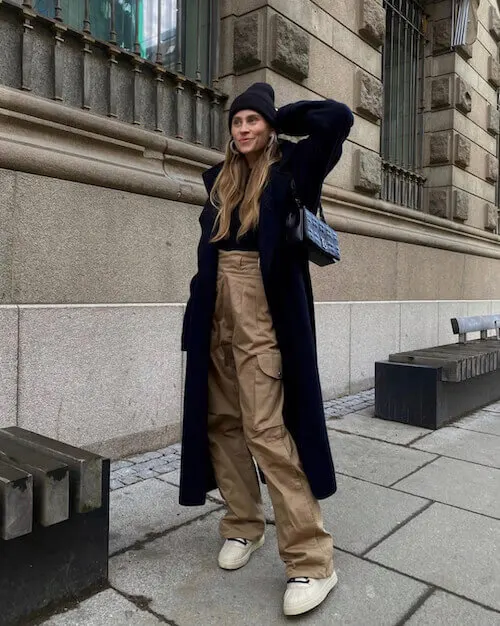 @tineandreaa
This post was all about what to wear with cargo pants.
About The Author
Tracy is an experienced personal stylist, shopping expert, and fashion & lifestyle blogger. She has been featured on Time Magazine, Bustle, Best Life, Glam, The Zoe Report, Mic, and GOBankingRates, for her insights on fashion, beauty, home decor, and lifestyle. Read More
Related Posts: