Wondering what to wear with grey sweatpants for female? Check this post for 50+ chicest grey joggers and grey sweatpants outfit ideas to elevate your style.
Grey sweatpants are a versatile and comfortable option for any wardrobe.
Whether you're running errands or heading out on a night out, having a few stylish ideas of what to wear with grey sweatpants can help you dress up your look and keep you feeling comfortable all day long.
From classic street style to modern chic vibes, this article will outline some of the best options for women looking to make the most out of their grey sweatpants.
This post may contain affiliate links, which means I'll receive a commission if you purchase through my link, at no extra cost to you. Please read the full disclosure here.
This post is all about what to wear with grey sweatpants female.
Can You Look Good In Sweatpants?
Sweatpants have long been considered a wardrobe staple, but women, in particular, are often unsure if they can pull off this look without feeling frumpy or unkempt.
The truth is that sweatpants can be stylish and comfortable when paired with the right items.
For example, adding a stylish blouse or t-shirt on top with a pair of sneakers will give your outfit an edgy spin on classic streetwear style.
If you're looking for something more formal, try pairing your sweats with a tailored coat and loafer combo for an ultra-chic statement look.
A puffer jacket and booties are also great alternatives if you want to dress up your sweatpants further.
How to Style Grey Sweatpants And Not Look Sloppy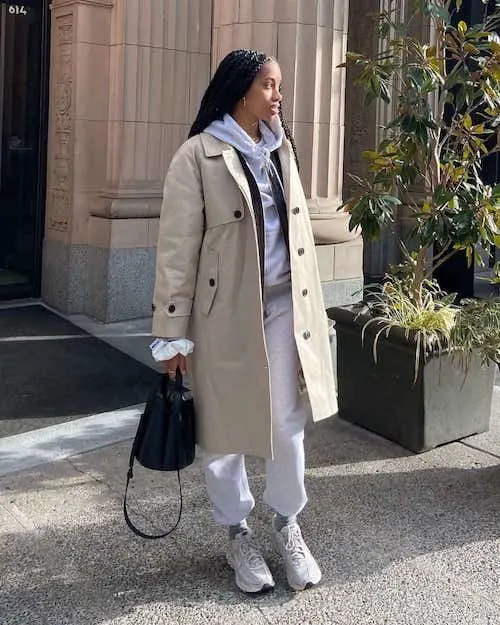 @claire_most
Grey sweatpants can be a great fashion statement for any woman.
Here are some tips on how to style grey sweatpants and not look too casual.
First of all, choose the right fit for your body type – grey sweatpants that are too baggy will make it difficult to pull off a polished outfit.
Secondly, pair your grey sweatpants with dressy items such as dressy tops or blazers or chic coats, and pick the right accessories like statement earrings or necklaces to add some glamour to the look.
Thirdly, wear shoes that will elevate your outfit – chic sneakers, heeled sandals or booties work perfectly when styled with gray sweats.
What to Wear with Grey Sweatpants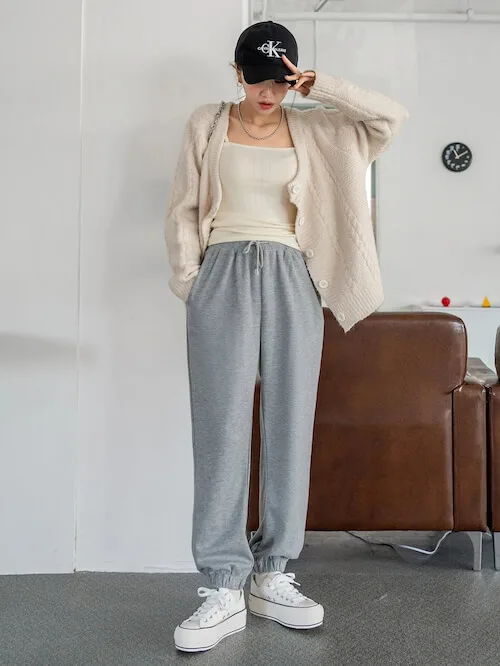 Whether you're looking to create an edgy streetwear look or dress up your sweats for a more casual outing, there are plenty of stylish options out there that will help you get the perfect outfit.
For casual days out, pair your grey sweatpants with a classic white tee and some cute ankle boots.
This look is timeless and simple yet still exudes effortless cool.
To take it up a notch, throw on an oversized jacket in black or navy blue and add some chic jewelry pieces like gold hoops or layered necklaces.
The key is making sure the rest of your outfit complements the relaxed vibe of your pants while still appearing polished enough for any occasion!
Below are our favorite fashion tips on what to wear with grey sweatpants.
What tops to wear with sweatpants?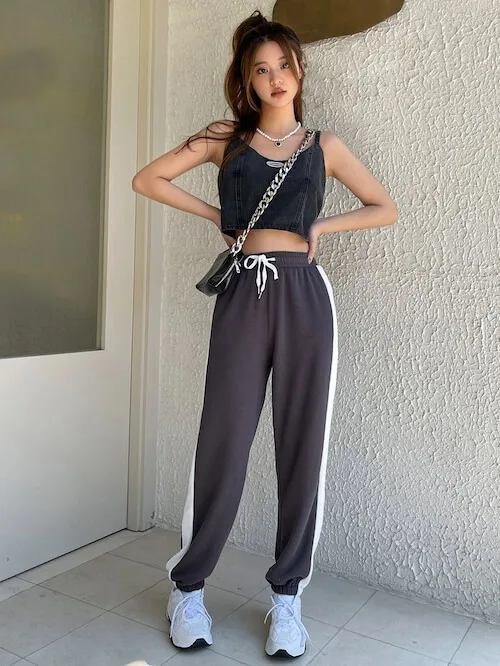 What tops should you wear with your favorite grey sweatpants? Here are some top options that will help you create a stylish and fashionable look.
A classic and timeless option is a white t-shirt or tank top. It's simple yet effective and looks great when paired with grey sweatpants.
To achieve an effortless look when running errands, opt for a relaxed t-shirt. Accessorize your outfit with sneakers and add a crossbody bag to store your items while staying hands-free.
For cooler weather, layer a cozy pullover sweater or an oversized sweatshirt over your t-shirt and add ankle boots to complete the look.
Pull on a denim jacket for added warmth and layer over a puffer jacket if it's cold outside.
If you want something more daring then opt for an eye-catching color like red or yellow which will help create an interesting look while still staying comfortable and casual. top,
For those heading out for drinks with friends, elevate your style with an off-the shoulder top paired with heels.
Opt for an oversized blazer for an elevated casual style.
Grey Sweatpants + Crop Top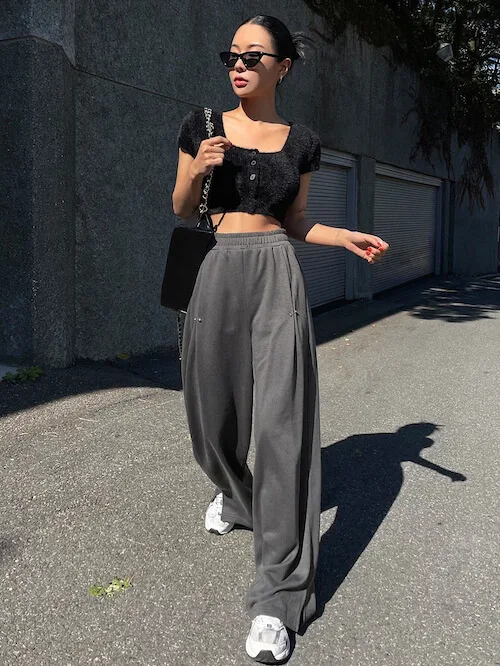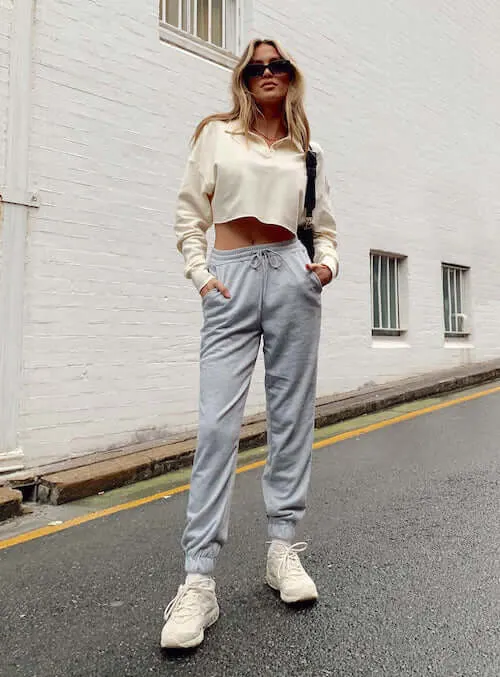 If you're looking for a cozy yet stylish look this season, grey sweatpants and crop top are the perfect combination.
Paired with a cropped top, this look is perfect for those days where you want to feel comfortable but still put together.
Cropped tops come in all sorts of styles and can easily transition from day to night by dressing them up or down depending on the occasion.
Grey Sweatpants + Denim Jacket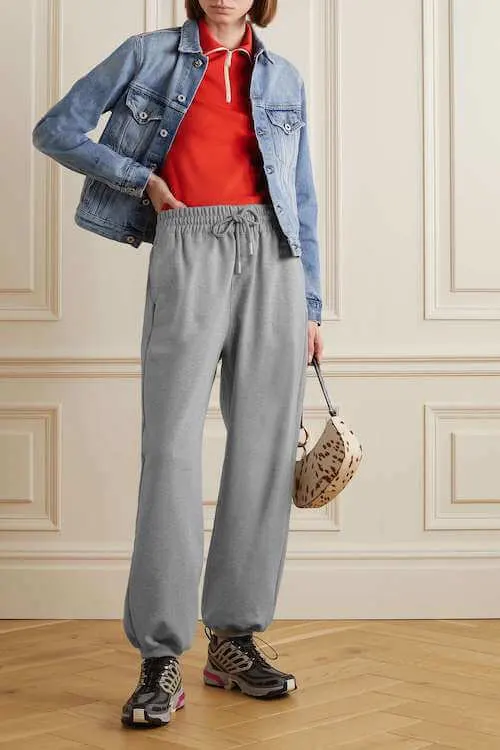 Are you looking for a casual, yet stylish outfit for your weekend activities?
A denim jacket with grey sweatpants is a great choice for women who want to look sharp without sacrificing comfort.
The denim jacket provides warmth while the grey sweatpants ensure maximum flexibility and comfort throughout the day.
This combination works best when the top half of your outfit consists of neutral colors such as white or black to create an effortlessly cool ensemble.
A Pair of Grey Sweatpants + Leather Jacket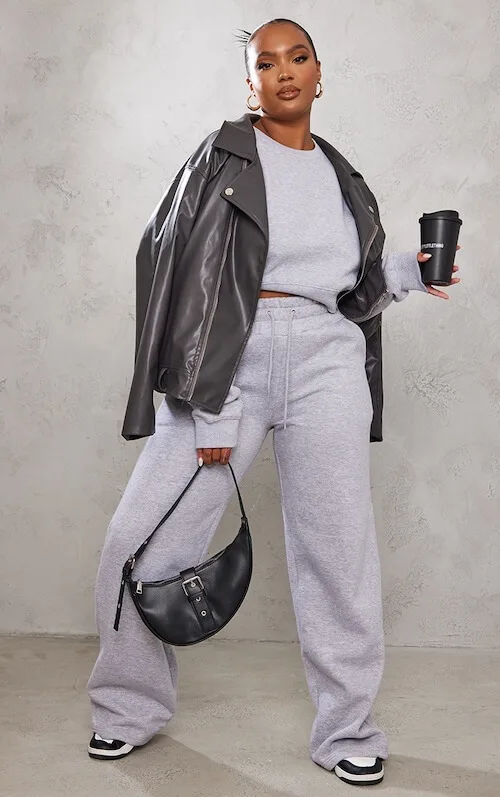 The combination of leather and grey sweatpants pairs comfort and style together in one look.
The leather jacket gives off an edgy vibe while the sweatpants provide a casual touch to balance out the outfit.
Whether you're looking to dress up your style or just feel more comfortable and relaxed, this look is sure to do the trick.
Grey Sweatpants + Fleece Jacket / Puffer Jacket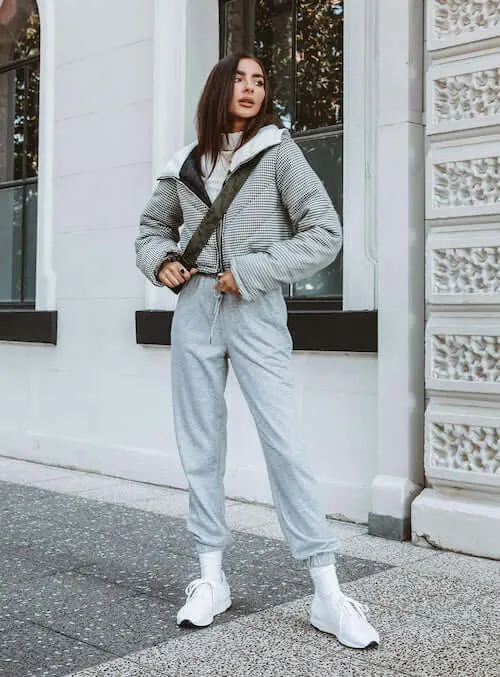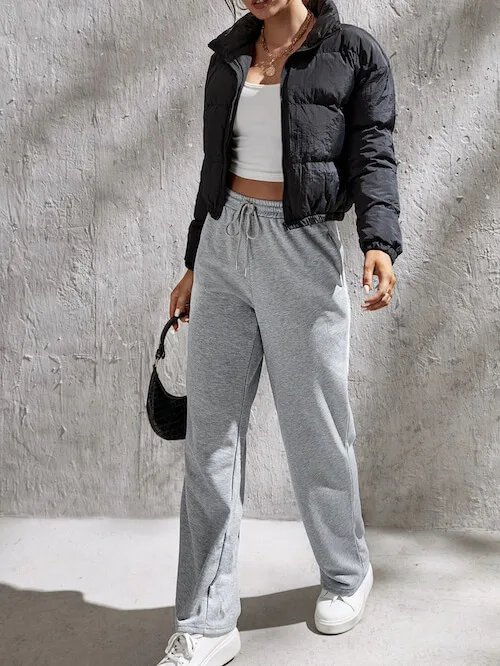 This combination provides the perfect balance between a chic and casual look while still maintaining warmth.
For a more relaxed vibe, pair your ensemble with some canvas sneakers and a beanie.
If you want to dress it up, opt for heeled boots, statement jewelry, and a chic crossbody bag.
Grey Sweatpants + Turtleneck Sweater / Half Zip Up Sweater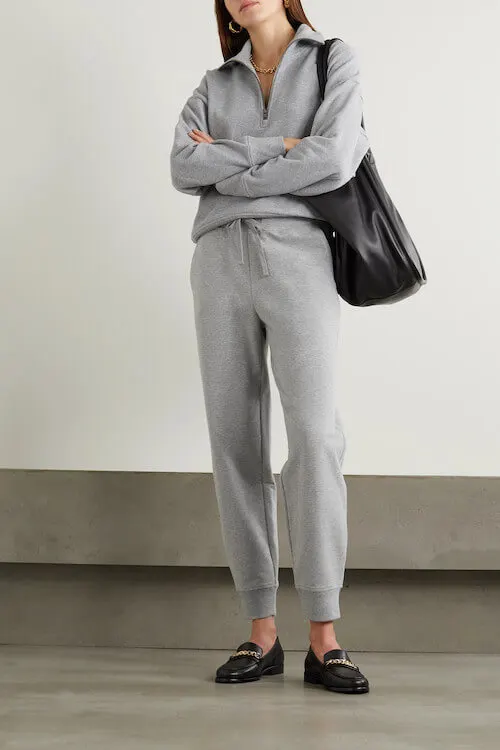 Women look amazing in a casual outfit of grey sweatpants and a turtleneck sweater.
For a classic yet chic look, choose muted colors like a black, navy or white turtleneck to pair with your sweatpants.
Make sure the fabric is lightweight so you can achieve an effortlessly put together style.
Alternatively, try a half-zip up sweater for easy going days when you still want to look cool.
Choose from various styles including cropped sweaters or those with ribbed sleeves for added texture and flair.
Accessorize the outfit with simple jewelry for the perfect finishing touch to your laidback ensemble.
Grey Sweatpants + Oversized Sweatshirt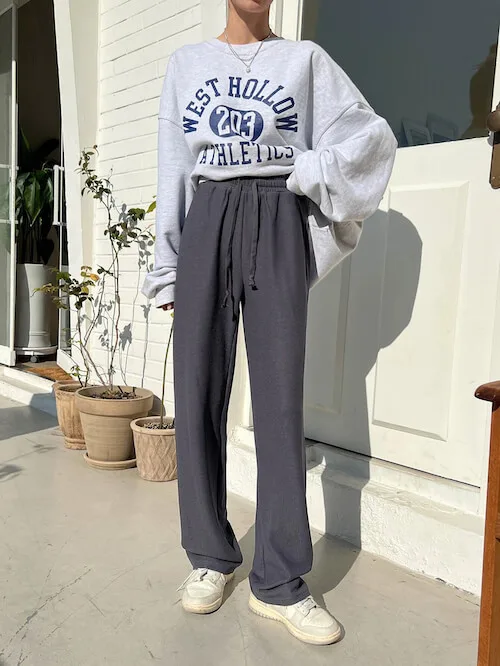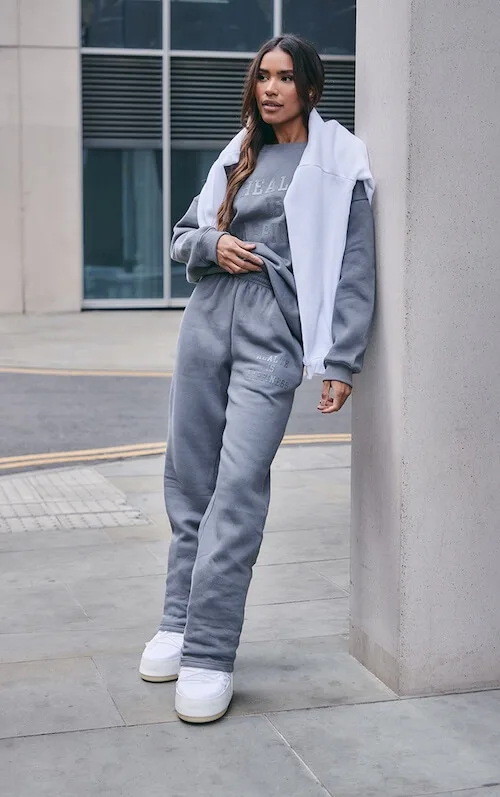 The oversized sweatshirt and grey sweatpants combination is a classic style that is both comfortable and stylish, making it ideal for any woman who wants to stay cozy while still looking great.
On nights out with friends, add a feminine touch by accessorizing with sparkly jewelry and heeled boots.
For an added touch of style, try pairing your outfit with a pair of white sneakers and a designer belt bag for some chic streetwear vibes!
Grey Sweatpants + Blazer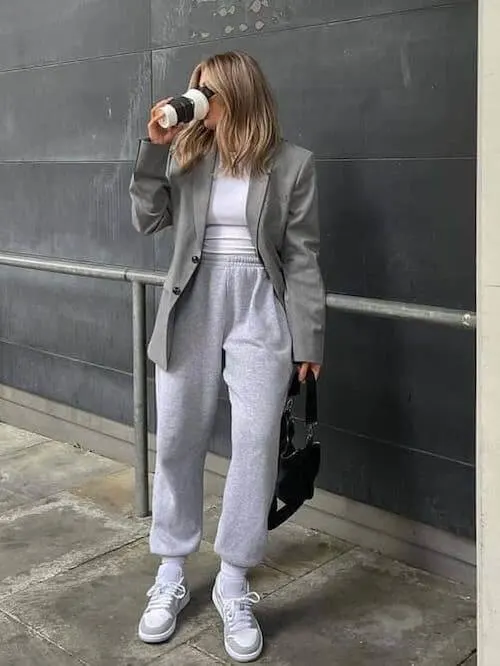 via Pinterest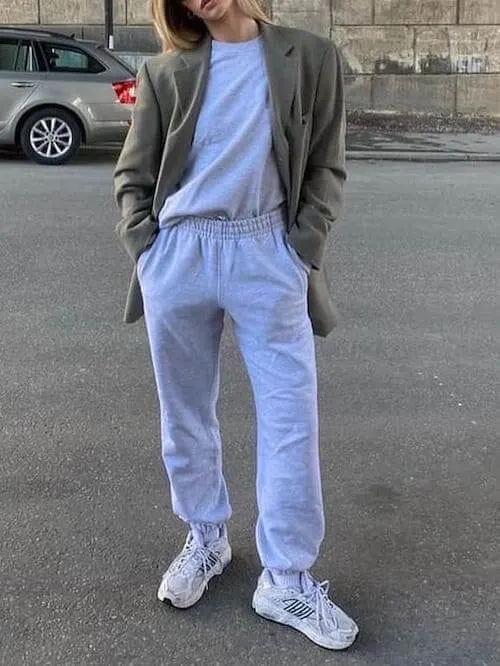 via tumblr
For a timeless outfit that fits any season, wear a blazer with grey sweatpants for women.
Whether you're heading out for drinks with friends or attending an important meeting at work, this look will ensure you standout from the crowd in style!
Grey Sweatpants + Cardigan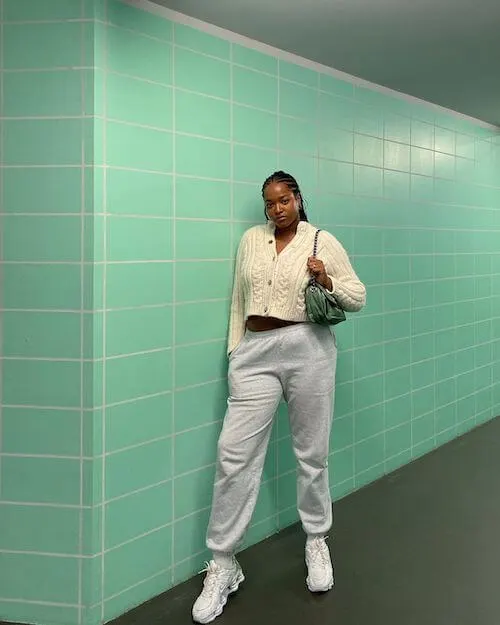 @champagnemani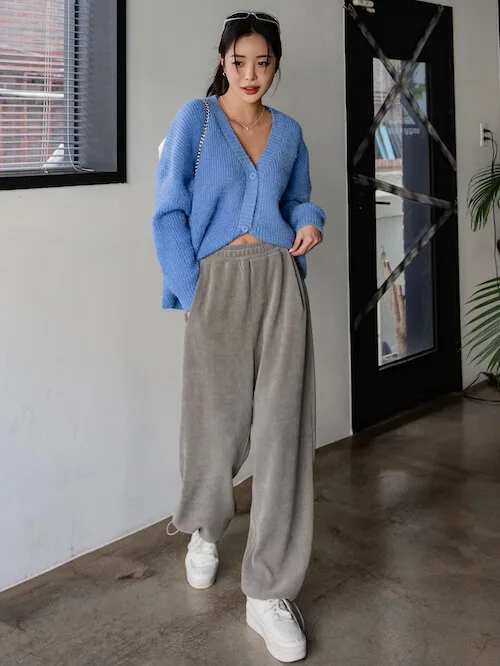 Grey sweatpants and cardigans have been popular wardrobe staples for many fashion-savvy women.
The two pieces can be worn together to create a cozy, comfortable look that is both stylish and on-trend.
Begin by selecting the right shade of grey for your outfit – whether it's light or dark.
Light colors will give you an effortless casual look while darker shades will provide a more sophisticated style.
Next, pick the right fit of sweatpants – they should be slightly baggy but not so much that they become saggy. When it comes to cardigans, opt for v-necks or open fronts in relaxed fits over longer lengths.
Grey Sweatpants + Trench Coat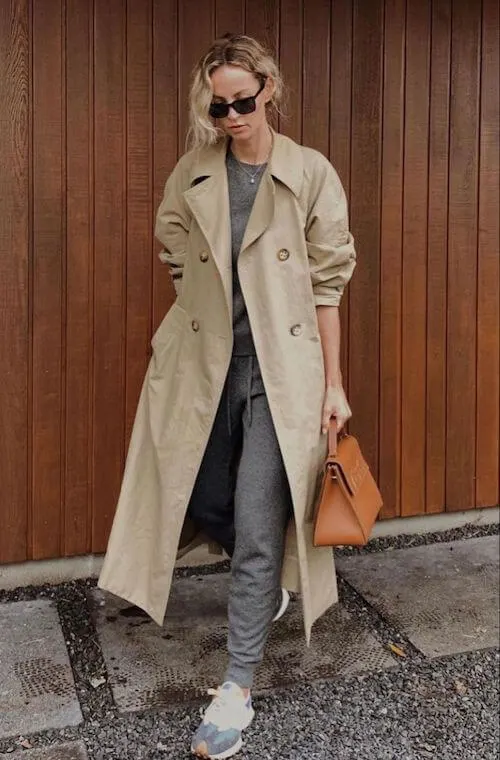 via Pinterest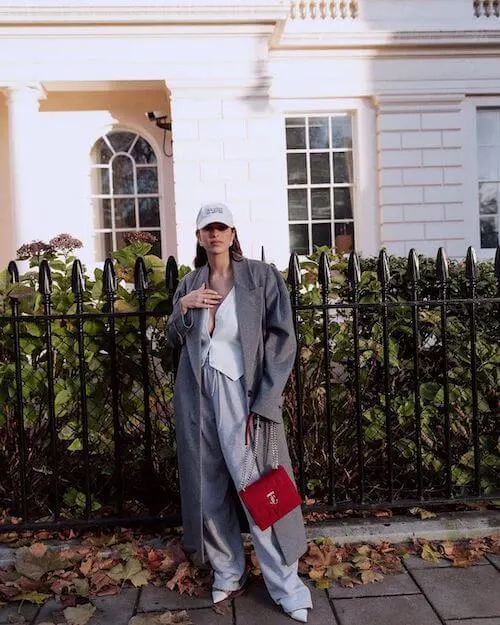 @bettinalooney
Grey sweatpants and a trench coat is an unexpected combination that can be very stylish when worn correctly.
This look is great for the spring or fall months when temperatures start to drop but aren't quite cold enough to wear heavy winter attire.
Start by choosing a pair of lightweight grey sweatpants with minimal details like pockets or ribbing which will keep your overall look refined.
Add a neutral-toned top such as white or black for contrast, then layer with a classic beige trench coat.
A black belt will also add definition and create more structure around the waist area if desired.
Grey Sweatpants + Winter Coat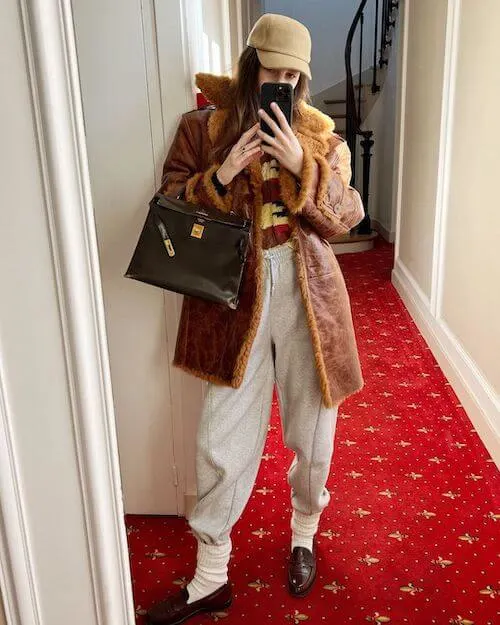 @estellechemouny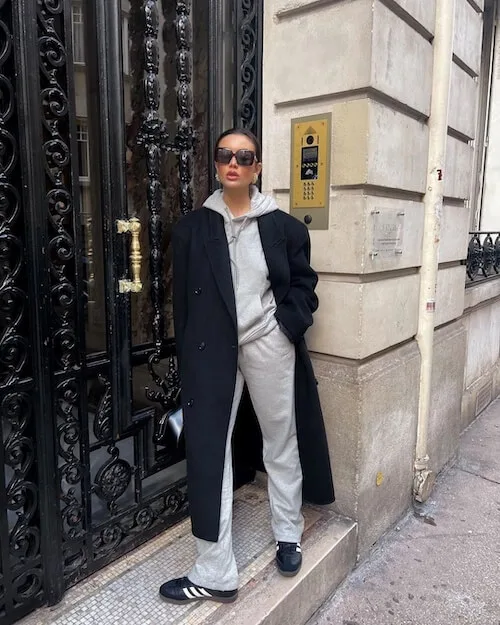 @mimiarr
The key to wearing grey sweatpants and a winter coat together is layering.
Start by pairing your grey pants with a light-weight T-shirt or sweater for warmth without bulk.
The next step is choosing your outerwear – select a long coat in a color like camel, navy or black that complements the grey of the pants.
Consider adding some extra layers underneath, such as a vest or scarf for added warmth and style points!
Grey Sweatsuit + Long Coat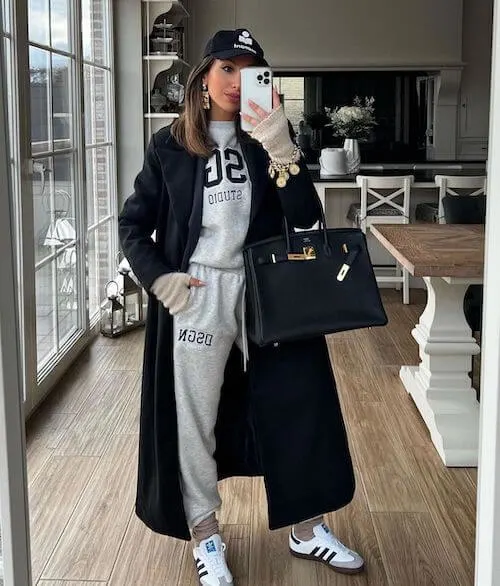 @sasabylopez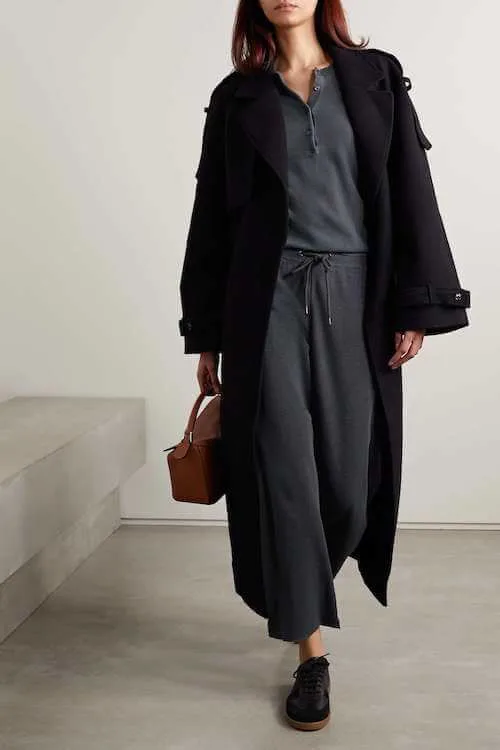 Wearing a grey sweatsuit with a long coat is an effortless way to look fashionable without sacrificing comfort.
Whether you choose a light or dark grey, this sleek and cosy combination of clothing pieces will make even the most mundane errands look chic.
To begin, choosing between a light and dark grey sweatsuit will depend on your personal preference and color scheme.
A light grey sweatsuit works particularly well when paired with bright colors like yellow, pink or green for a playful yet classic look.
On the other hand, darker grey sweatsuits are perfect for more minimalist styles in neutral hues such as black, cream, or white.
What to wear with light grey sweatpants female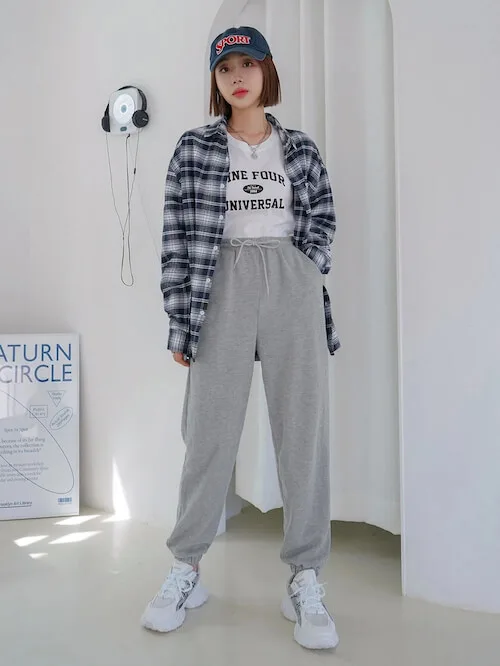 For a casual, yet chic look that is perfect for everyday wear, try pairing your light grey sweatpants with either a white t-shirt and black denim jacket or a printed off-the-shoulder shirt with sneakers.
A bright patterned top will also add some fun and stylish flair while keeping your outfit easily wearable.
If you're feeling more adventurous, try adding an oversized blazer over your outfit and pairing it with some chunky ankle boots.
This look is perfect for when you want something simple but trendy enough to stand out in the crowd.
More Outfit Ideas with Grey Sweatpants for Women
Chic Lounge Wear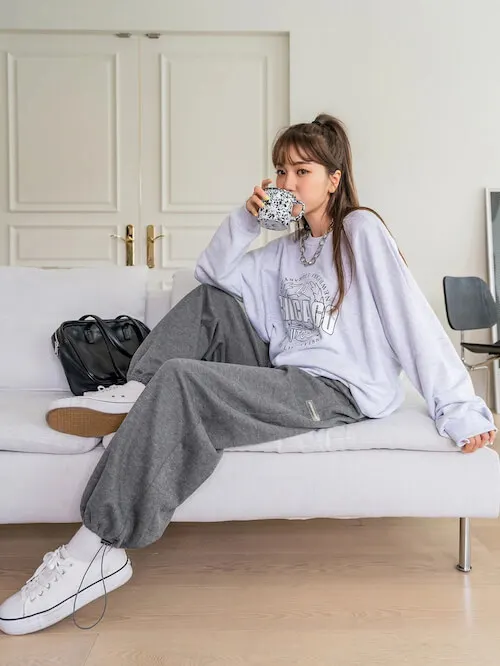 How To Wear Grey Sweatpants In Summer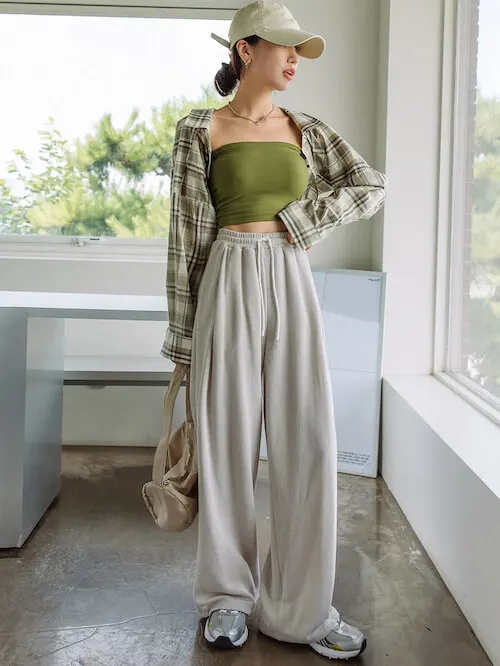 Cozy Grey Sweatpants Outfit Ideas In Winter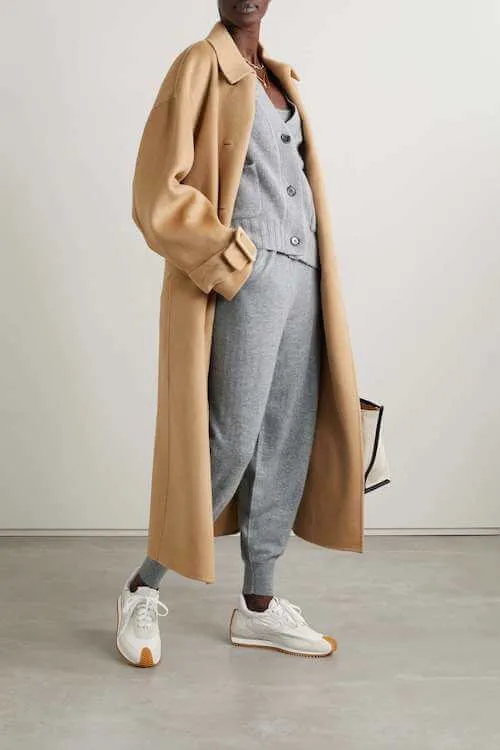 Cute Grey Joggers Look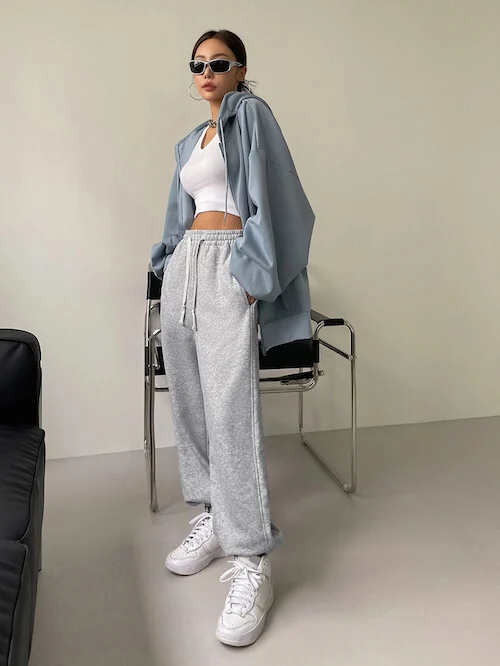 Cool Gray Sweatpants Style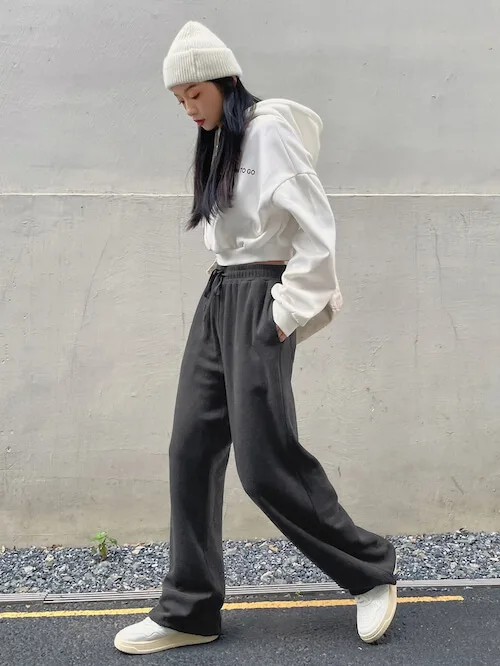 More Grey Sweatpants & Grey Joggers Looks To Copy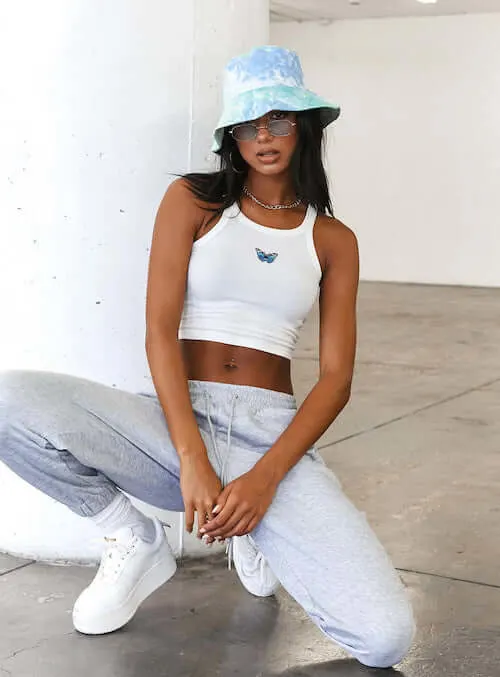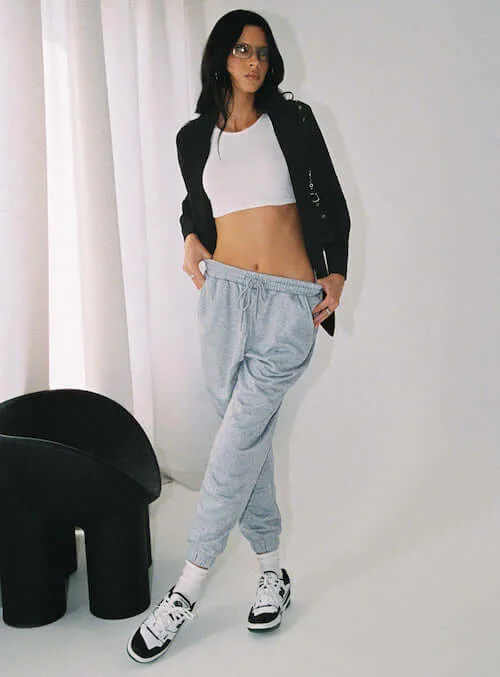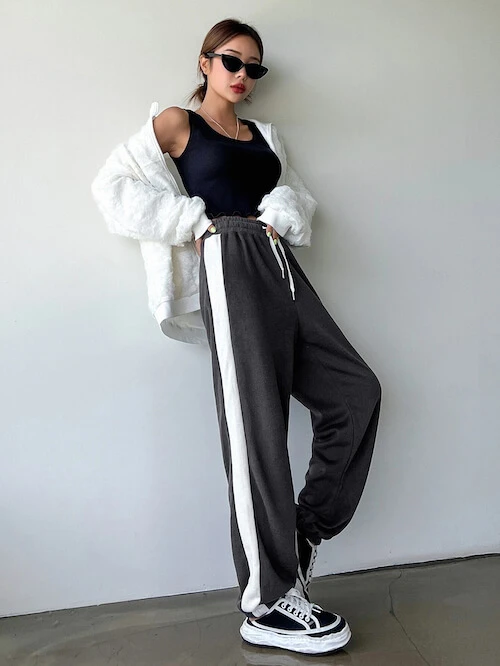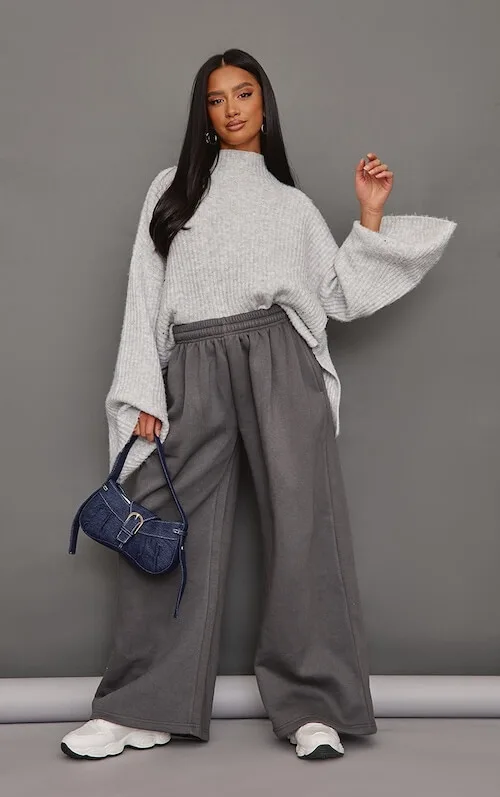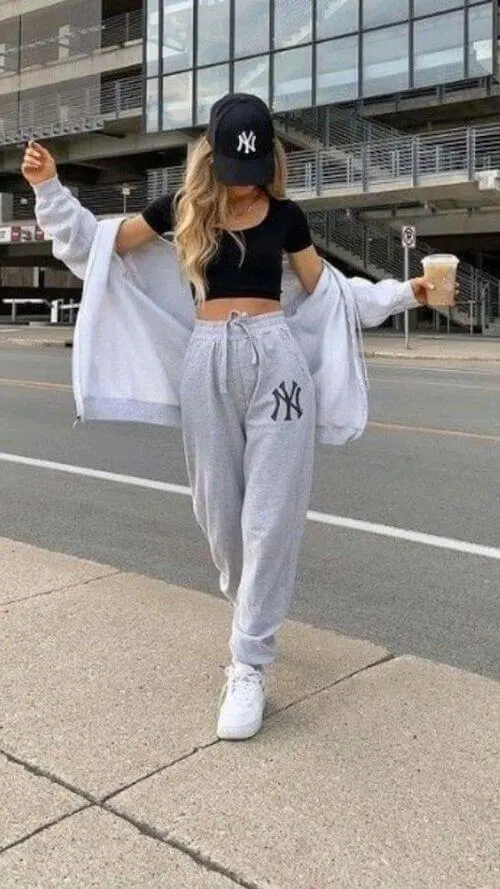 via Pinterest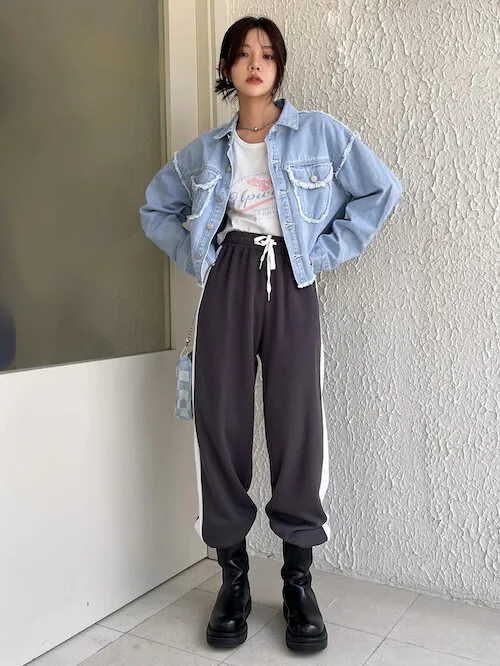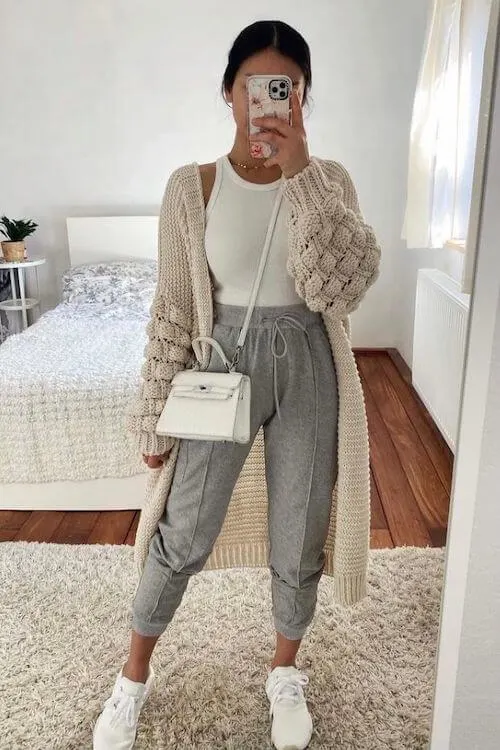 via Pinterest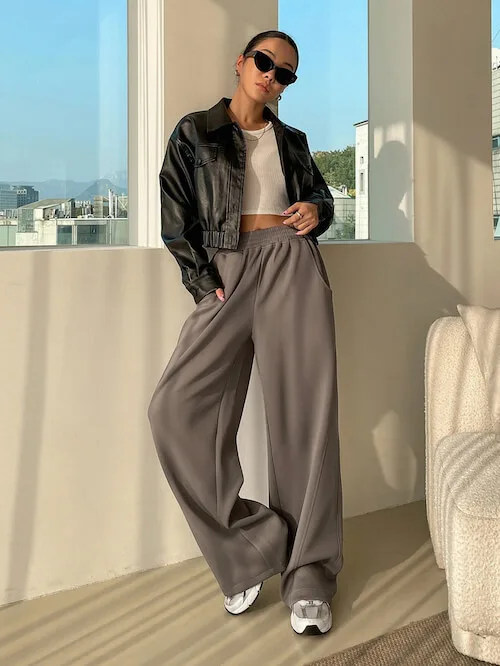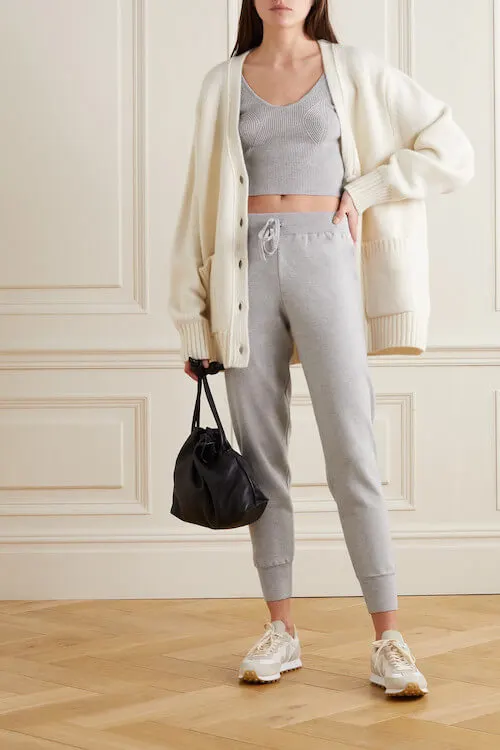 This post was all about what to wear with grey sweatpants female.
About The Author
Tracy is an experienced personal stylist, shopping expert, and fashion & lifestyle blogger. She has been featured on Bustle, Best Life, Glam, The Zoe Report, Mic, and GoBankingRates, for her insights on fashion, beauty, home decor, and lifestyle. Read More
Related Posts: