Looking for the cutest sweatshirt outfits to copy? Check this post for the trendiest style tips on how to style a sweatshirt or a hoodie, and chic sweatshirt outfit ideas to copy directly!
If you're looking for the perfect mix of comfort and style, then look no further than cute sweatshirt outfits for women.
From running errands, to going to brunch with friends, or even just lounging around the house – a cute sweatshirt is perfect for any occasion.
When it comes to style, comfort and versatility, sweatshirts are a great wardrobe staple for women of all ages.
But simply throwing on a plain hoodie isn't enough; why not take your look up a notch with some stylish sweatshirt outfits?
This post may contain affiliate links, which means I'll receive a commission if you purchase through my link, at no extra cost to you. Please read the full disclosure here.
This post is all about sweatshirt outfits for women.
How do you style a sweatshirt in 2023?
In 2023, fashion trends will change drastically. Sweatshirts are no longer just for lounging around.
They have become the latest must-have item in the fashion world!
Styling a sweatshirt in 2023 isn't as hard as it may seem – with neutral colors, laid-back style and dressy accents, you'll be able to create an outfit that is both stylish and comfortable.
Cute Sweatshirt Outfits
What Do You Wear With A Sweatshirt?
Sweatshirts for women can be a great wardrobe staple.
They come in many different styles, colors, and patterns and are perfect for days when you want to be comfortable yet fashionable.
But what do you wear with a sweatshirt?
Here are some styling tips on how to pair your favorite sweatshirt with other pieces of clothing for an effortless look.
Start by pairing your sweatshirt with jeans or trousers in a complementary color.
Balance the casualness of the top by choosing a more tailored bottom silhouette like skinny or straight leg denim or trousers made from wool or corduroy fabrics.
To add sophistication, throw on a sleek coat over your sweatshirt and finish off the look with heeled boots or loafers in leather.
Now scroll on to check more of our favorite ways to style different kinds of sweatshirts.
Black Sweatshirt + Leather Pants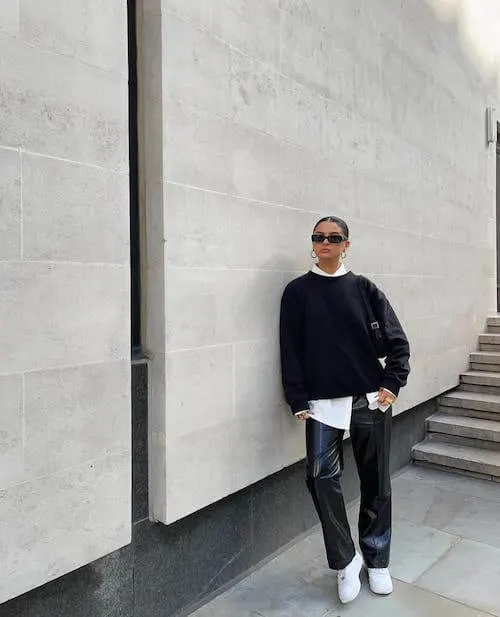 @SHERRIEWEBSTER
Black Hoodie + Straight Leg Jeans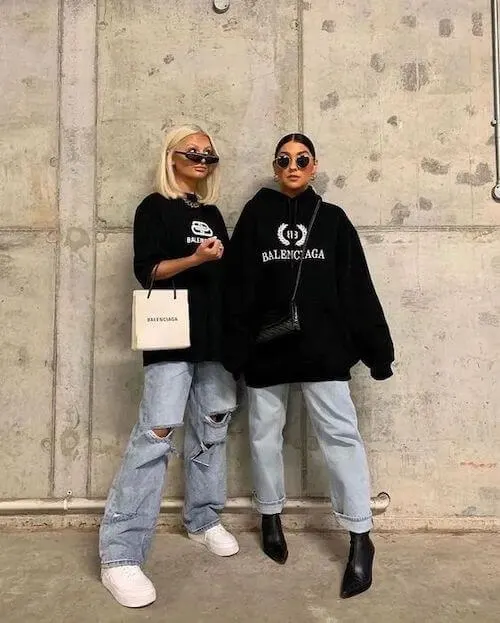 Grey Sweatshirt + Olive Green Pants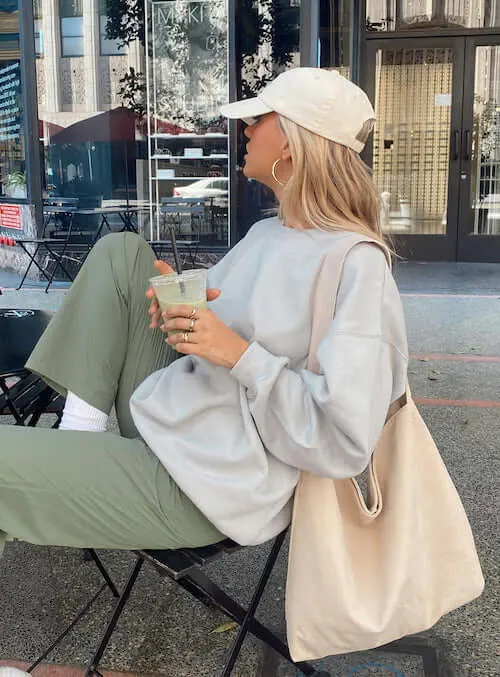 Grey Sweatshirt + Khaki Shorts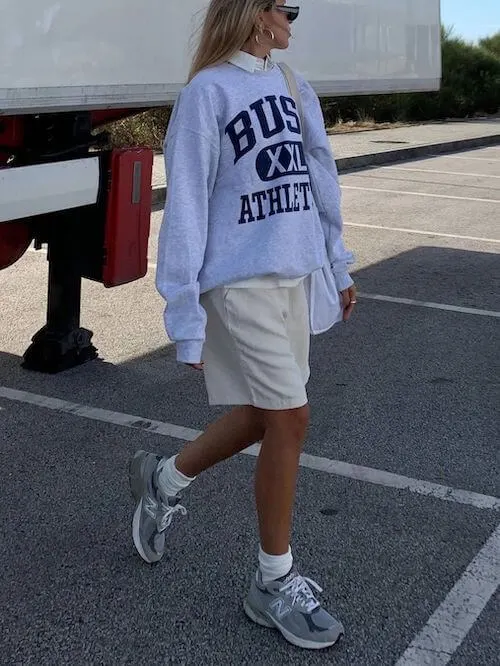 Grey Crewneck Sweatshirt + Black Leather Leggings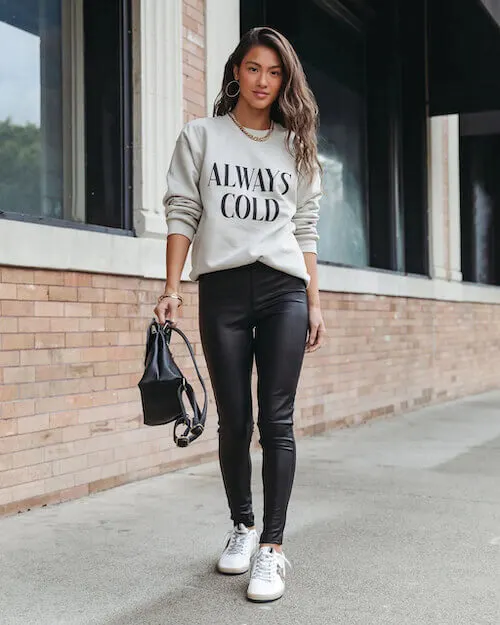 Grey Sweatshirt + Grey Blazer
Dark Grey Crew Neck Sweatshirt + Black Skinny Jeans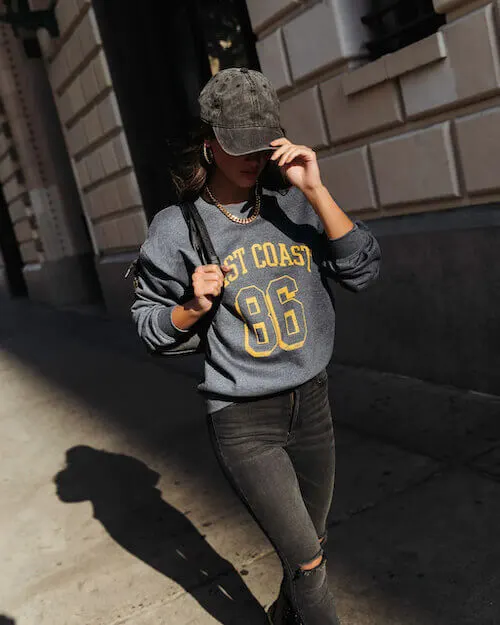 White Sweatshirt + Black Bike Shorts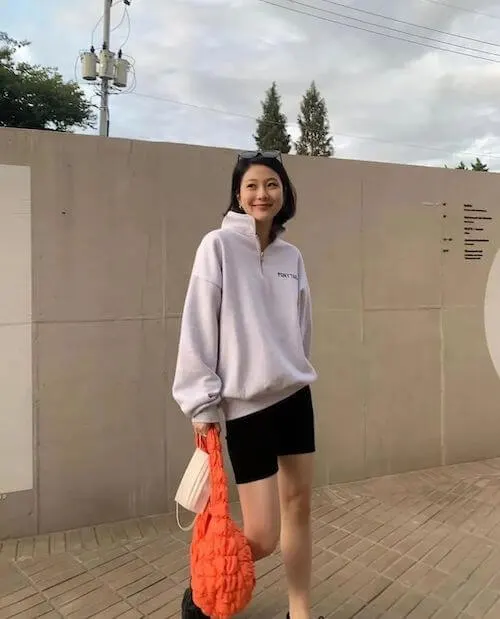 Cream Sweatshirt + Long Coat
White Sweatshirt + White Joggers + White Coat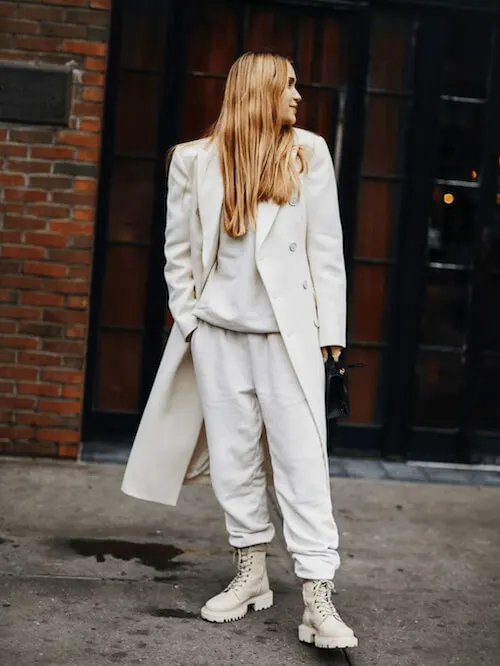 Green Sweatshirt + White Pants + Canvas Shoes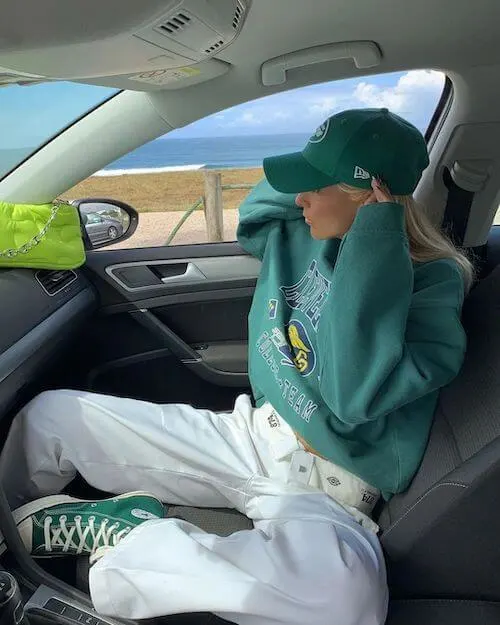 Green Sweatshirt Set + Grey Coat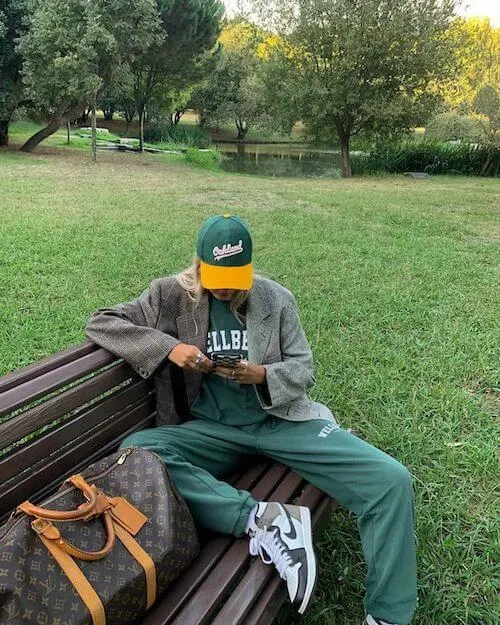 Bright Green Sweatshirt Set + Black Puffer Jacket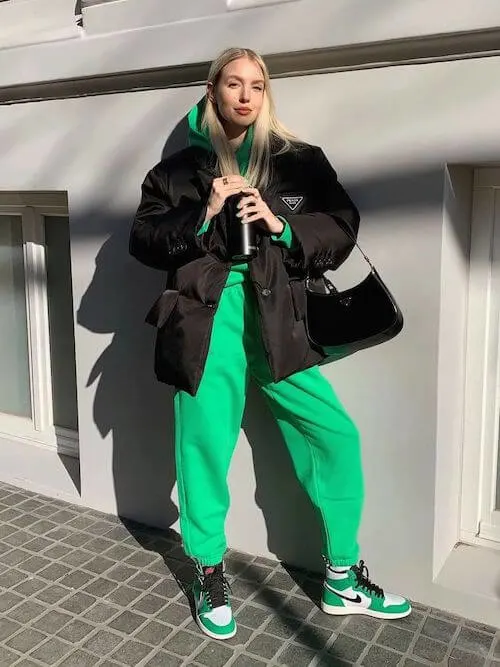 Brown Sweatshirt + Lightweight Jacket + White Shorts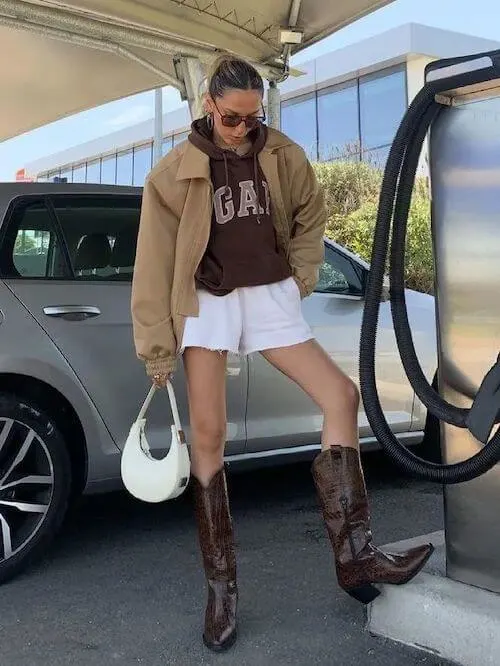 Brown Sweatshirt + Dark Brown Leather Jacket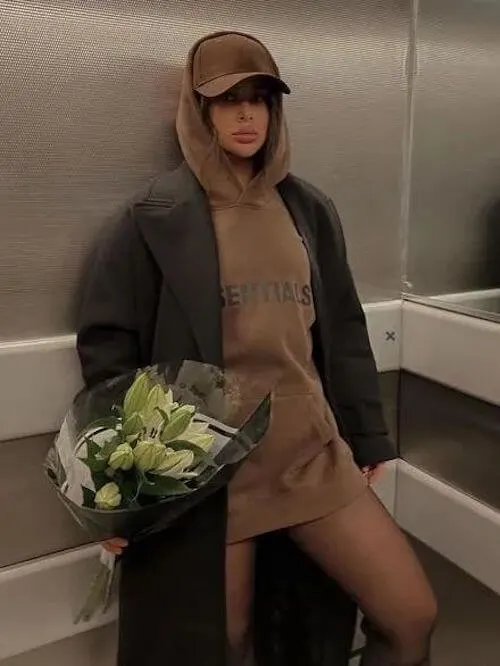 Brown Sweatshirt Set + Khaki Trench Coat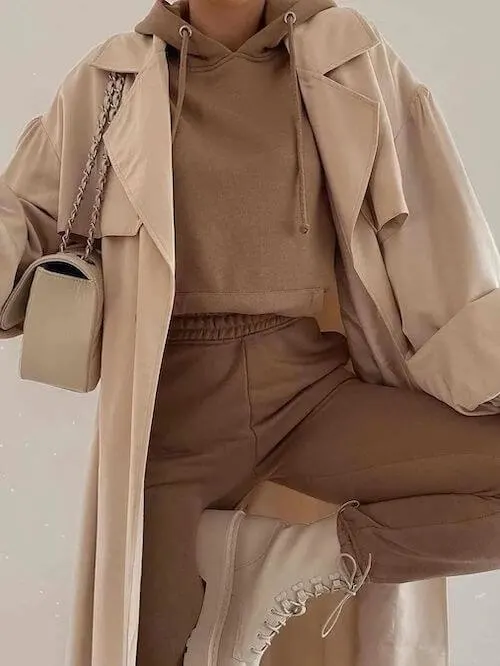 Blue Sweatshirt + Black Shorts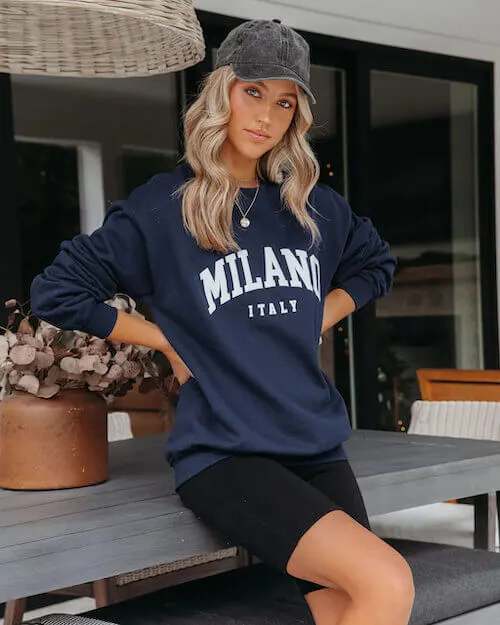 Blue Sweatshirt + White Button Down + Khaki Wide Leg Pants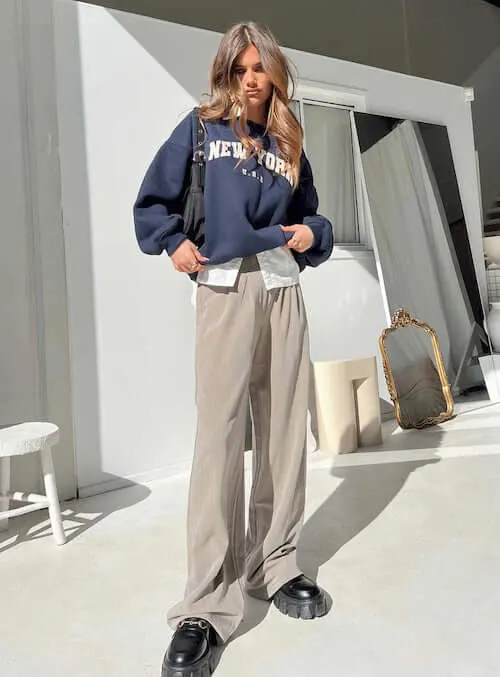 Light Blue Sweatshirt + Light Wash Jeans + Combat Boots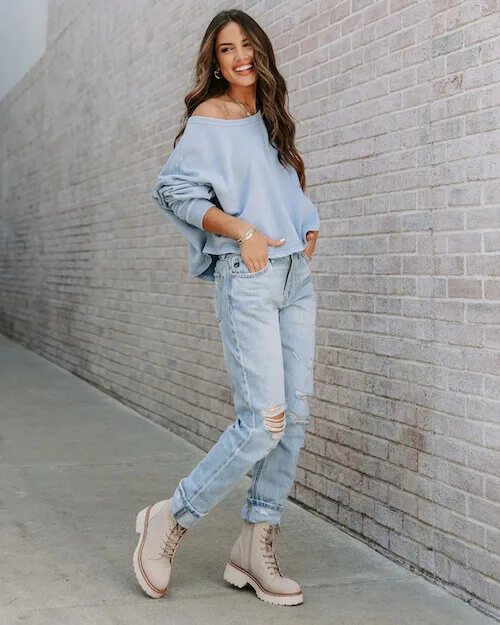 Dusty Blue Sweatshirt Set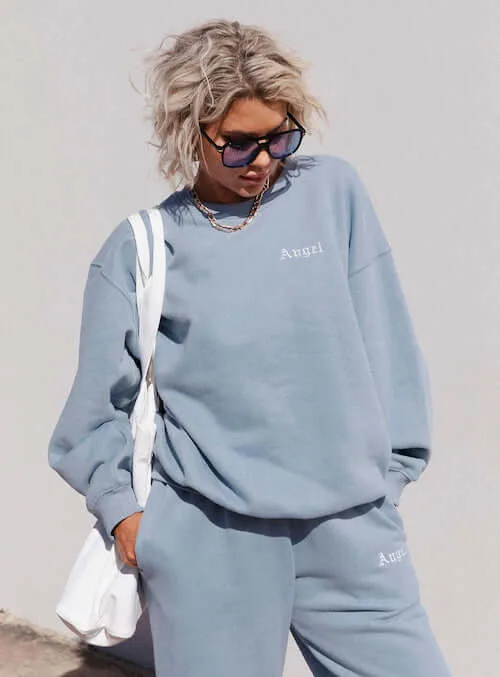 Dark Blue Sweatshirt + Light Grey Long Coat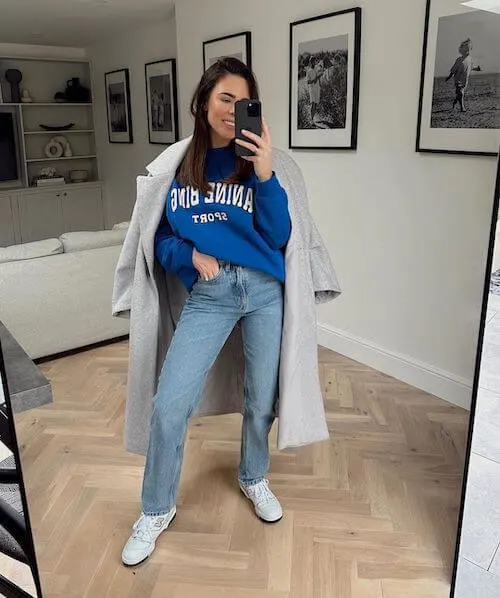 @jessica_rosetaylor
Red Sweatshirt + Red Sweat Shorts + White Sneakers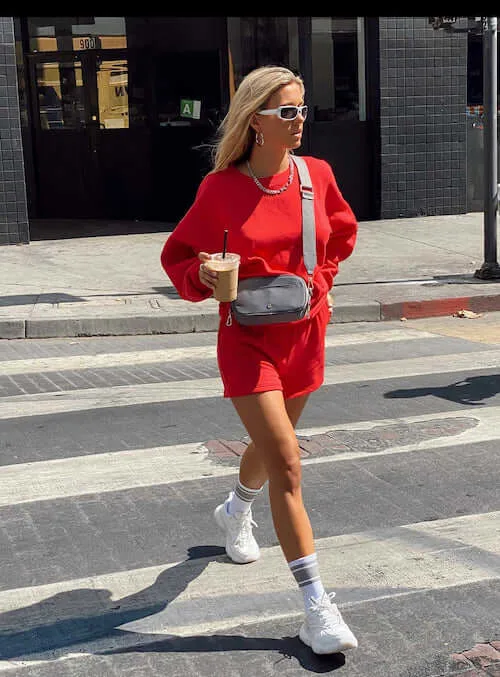 Pink Sweatshirt + Wide Leg Jeans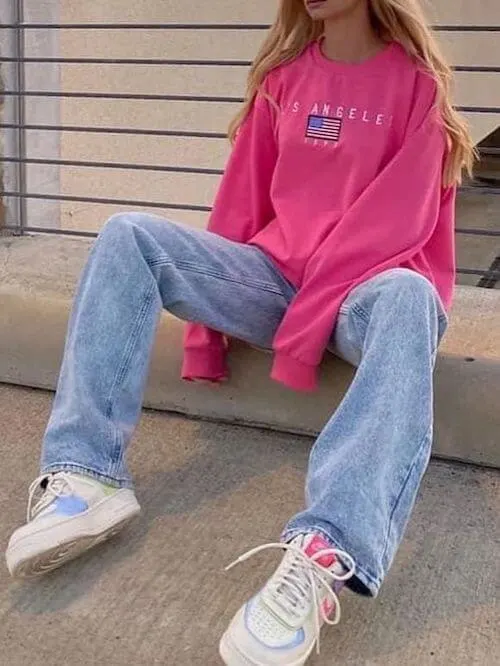 Crop Pink Sweatshirt + Pink Sweatpants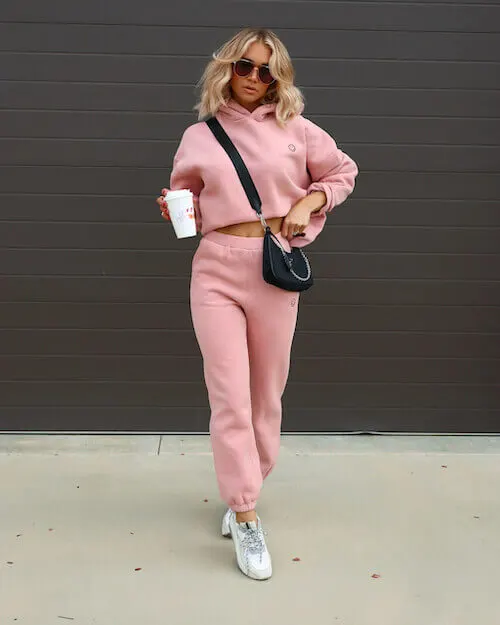 Pink Pullover + Dusty Green Pants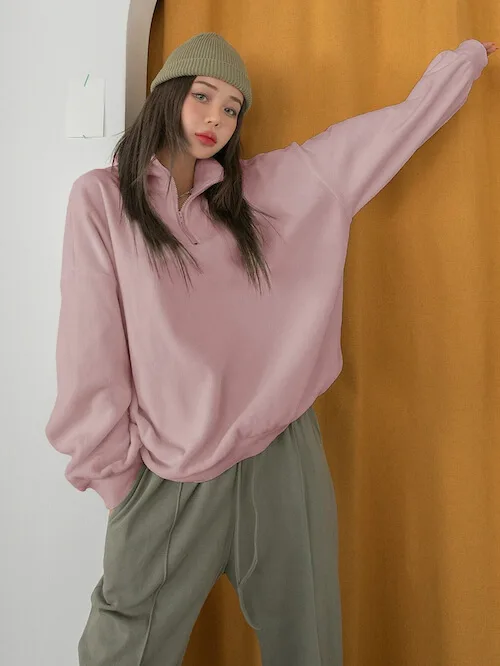 Cropped Sweatshirt + Sweatshorts + Knee High Boots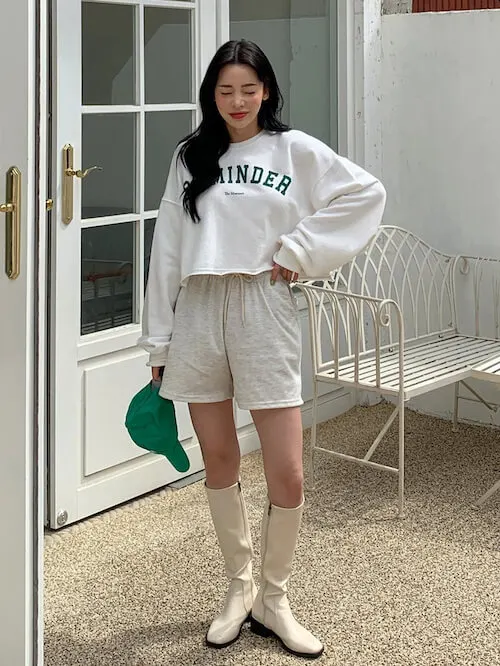 Cropped Sweatshirt + Baggy Pants + Chunky Sneakers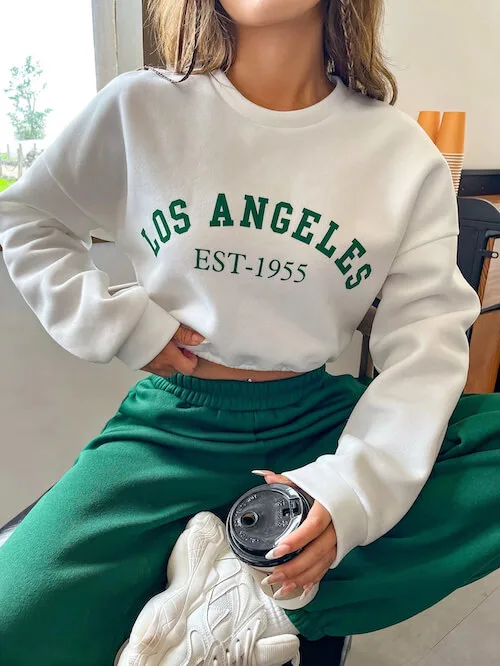 Cropped Green Sweatshirt + Mini Skirt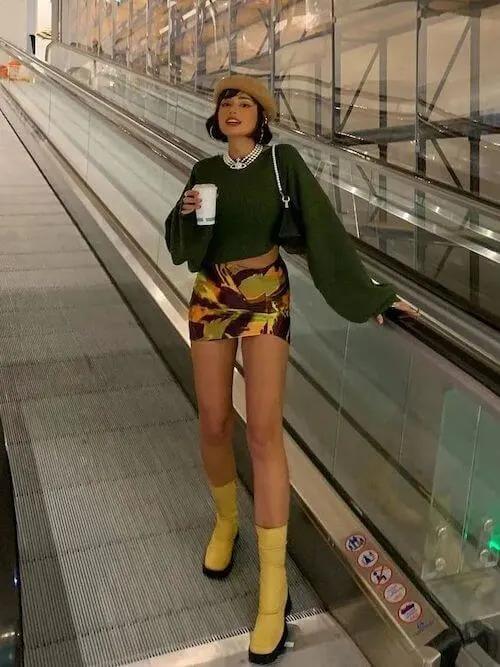 Cropped Baby Blue Sweatshirt Set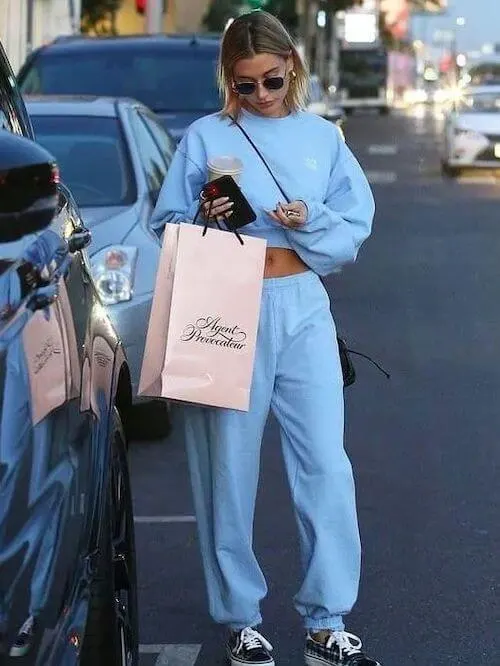 How To Wear An Oversized Sweatshirt
Oversized sweatshirts are one of the hottest fashion trends this season.
Whether you're looking for a casual outfit or a trendy street style, an oversized sweatshirt can be your go-to item.
Women's oversized sweatshirts come in various styles and fabrics, so there are plenty of ways to wear them.
First, choose a color that suits you best and choose one with a bold print if you want to make it stand out more.
Pair it with shorts and sneakers for a casual look or dress it up with heels, leather pants, and accessories like chunky jewelry or statement earrings.
To give the outfit an extra touch of femininity, add a mini skirt underneath or add soft layers such as light knits or cardigans over the top.
Oversized Sweatshirt + Biker Shorts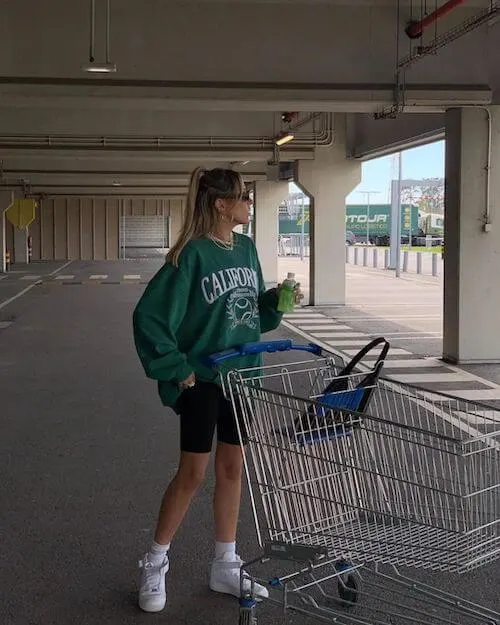 Oversized Sweatshirt + Tennis Skirt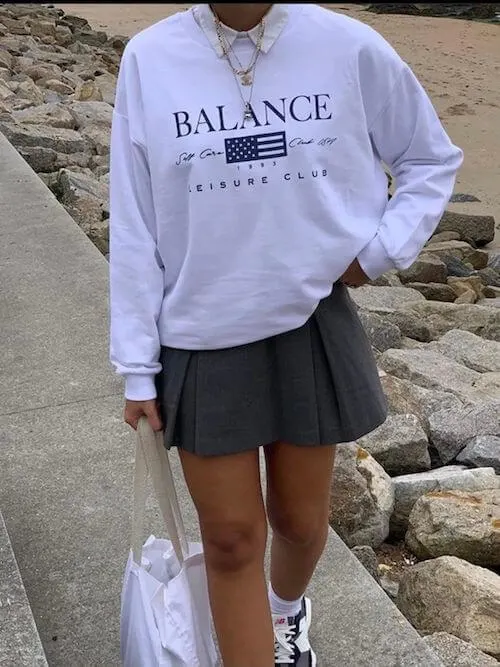 How Do You Dress Up A Sweatshirt?
Sweatshirts have come a long way since their original use as an athletic garment.
Nowadays, there are so many creative ways to dress up this comfortable and casual piece of clothing.
Add a sweatshirt to your wardrobe, and With the right accessories and styling tricks, you can look put-together in a sweatshirt.
A great way to spruce up a basic sweatshirt is by adding statement jewelry pieces or scarves.
Simple necklaces or layered pendant necklaces will instantly elevate any plain top.
Scarves are also an easy way to add color and texture to your outfit without taking away from the comfort of the sweatshirt fabric.
Try finding an oversized scarf with bright patterns in order to create contrast between it and your solid-colored top.
Burgundy Sweatshirt + Pleated Midi Skirt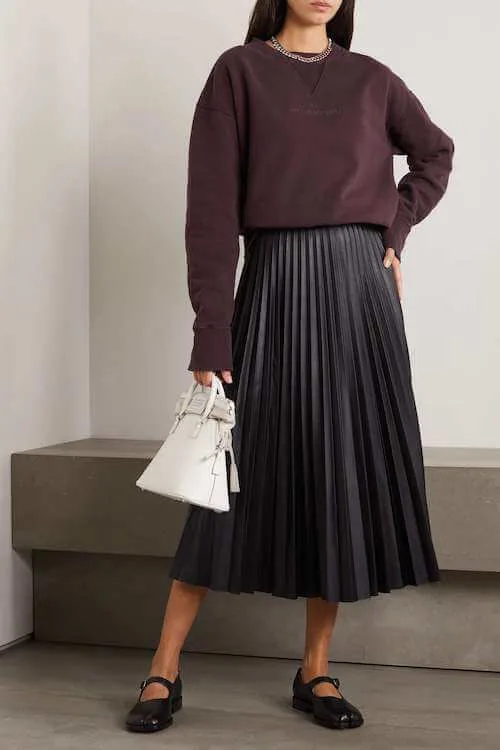 Black Sweatshirt + Metallic Mini Skirt + High Boots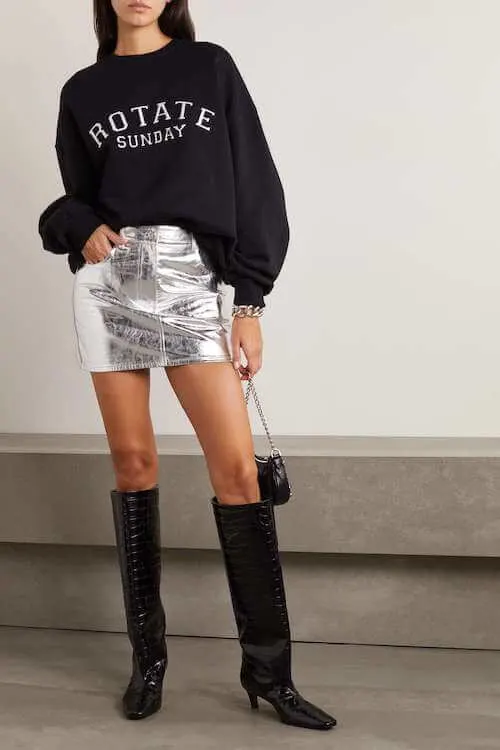 Neutral Color Sweatshirt Set + Knitted Scarf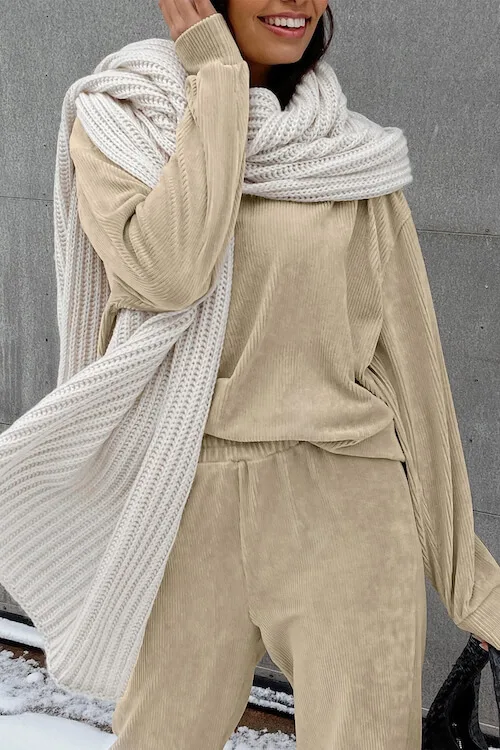 How To Wear The Half-Zip Up Sweatshirt And Quarter-Zip Up Sweatshirt Trends?
Half-zip up and quarter-zip up sweatshirts are a wardrobe staple for those of us who want to make a statement.
Whether you're looking for a casual athleisure outfit or something more sophisticated, they are versatile pieces to bring your personal style to the next level.
The key to styling half-zip up and quarter-zip up sweatshirts is all about the details.
Try pairing with bright colors, patterns or contrasting textures like satin skirts, wide leg trousers or distressed jeans.
For an edgy look, tuck the sweatshirt into high waisted shorts or culottes with chunky boots for added height and comfort.
For a more polished look try layering with longline blazers and adding accessories like statement earrings or scarves in coordinating shades.
Half-Zip Up Sweatshirt + Denim Jeans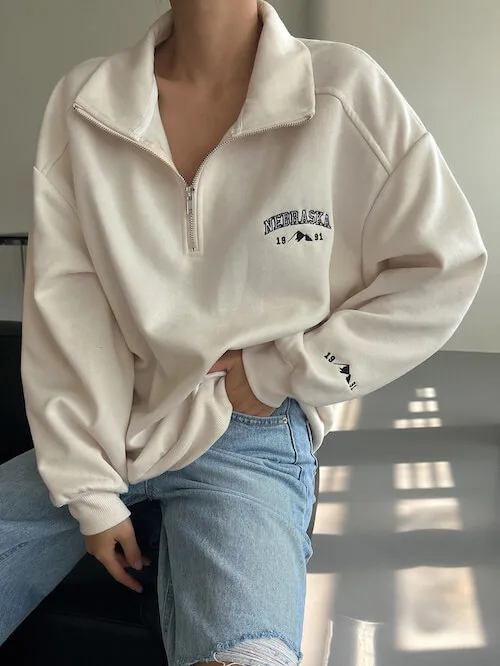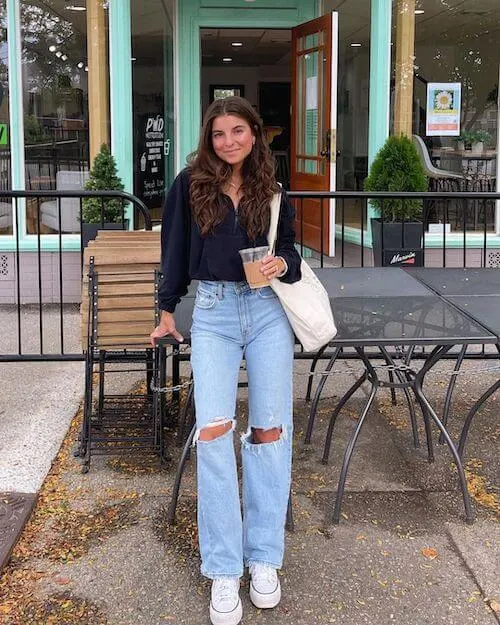 @vivianeaudi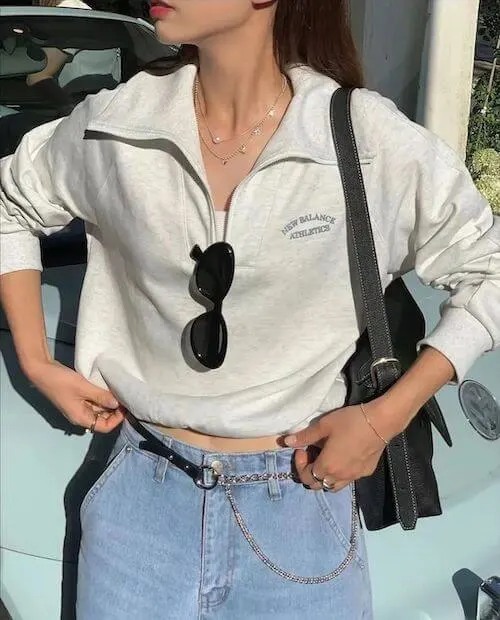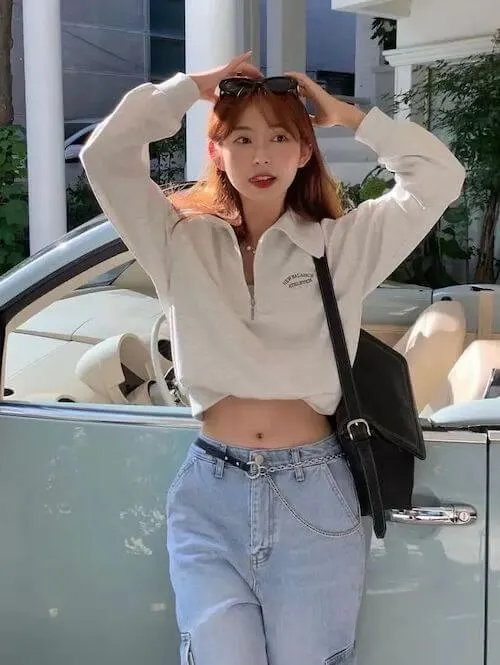 Half-Zip Up Sweatshirt + Simple Shorts
Half-Zip Up Sweatshirt + Sweatpants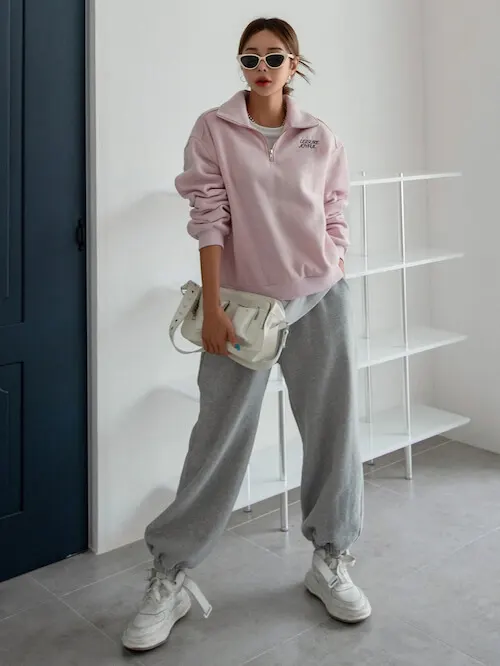 Half-Zip Up Sweatshirt + Mini Skirt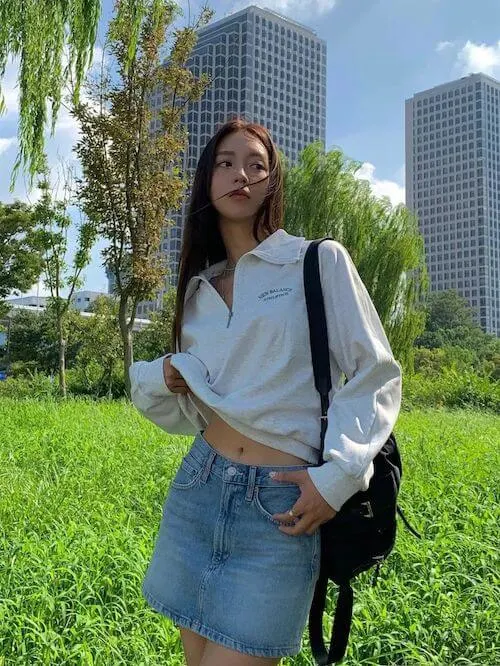 Are Hoodies In Style 2023?
One thing is for certain: hoodies are always in style.
Hoodies have been a wardrobe staple for decades, and there's no reason why they won't continue to be fashionable into 2023 and beyond.
They offer endless possibilities for styling—they look great when worn alone or layered over other pieces.
They come in a variety of colors, textures, lengths, and prints which allows you to easily create trendy looks that can transition from day to night with ease.
Plus, their ultra-cozy feel makes them perfect for any season.
Below are easy and stylish ways to help you style your favorite hoodie.
Pink Hoodie + Red Pants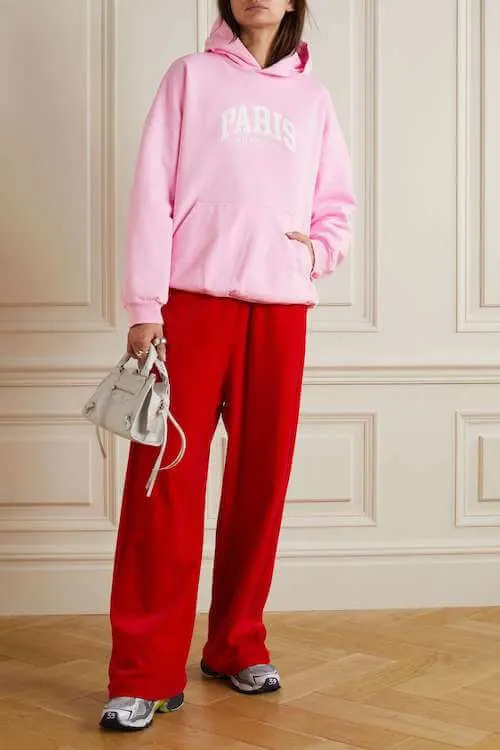 Grey Hoodie + White Long Skirt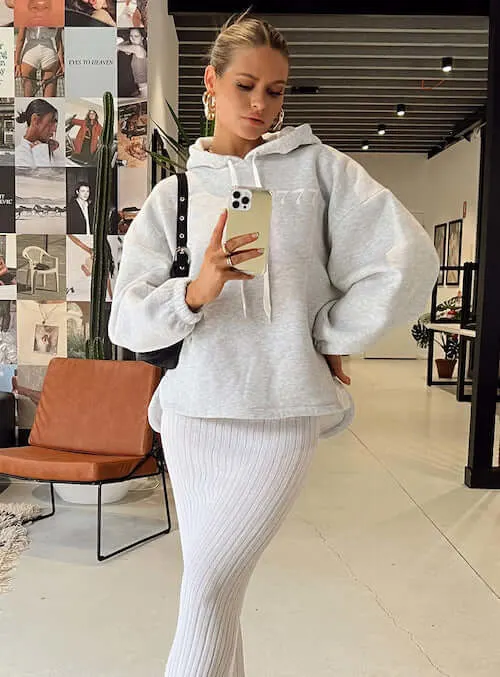 Minimalist Hoodie + Cropped Shearling Coat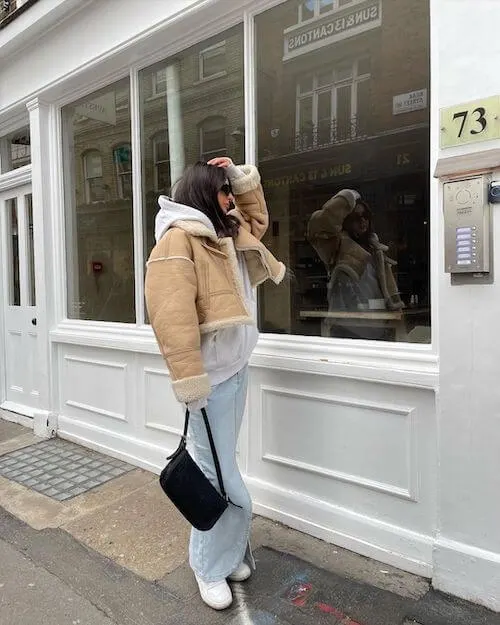 @sherriewebster
White Oversized Hoodie + White Wide-Leg Pants
White Hoodie + Plaid Button Down + Brown Trench Coat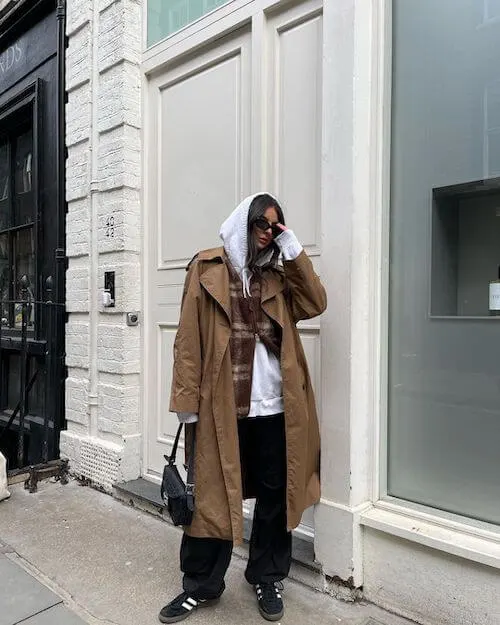 @sherriewebster
Simple Hoodie Outfit With Straight Leg Jeans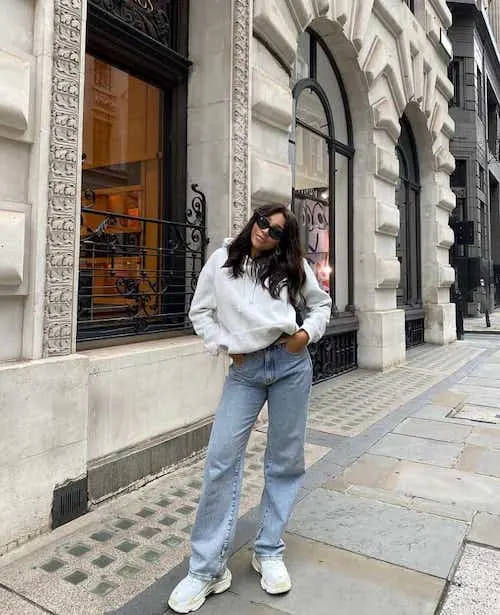 @BYGIGIVASSALLO
Modern Sweatshirt Outfit Ideas
The sweatshirt is quickly becoming one of the most versatile pieces in fashion.
Its easy style makes it the perfect choice for a casual date night look, or for comfy travel outfits.
But how can you style this wardrobe staple to achieve a modern look?
For a cool, streetwear vibe, try pairing ripped jeans with an oversized white hoodie and chunky sneakers.
Accessorize with gold jewelry to give your look an extra edge.
Alternatively, opt for an athleisure inspired ensemble by combining joggers with a colorful graphic sweatshirt – perfect for running errands or meeting friends.
To make your outfit ultra cozy on chilly days, layer up with a statement coat like an oversize faux fur jacket or edgy biker leather.
Want more inspiration? Scroll on to check more our favorite sweatshirt looks.
Laid-Back Style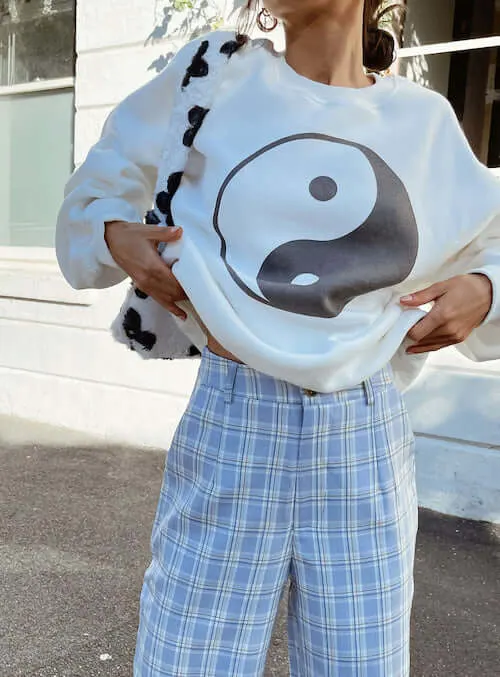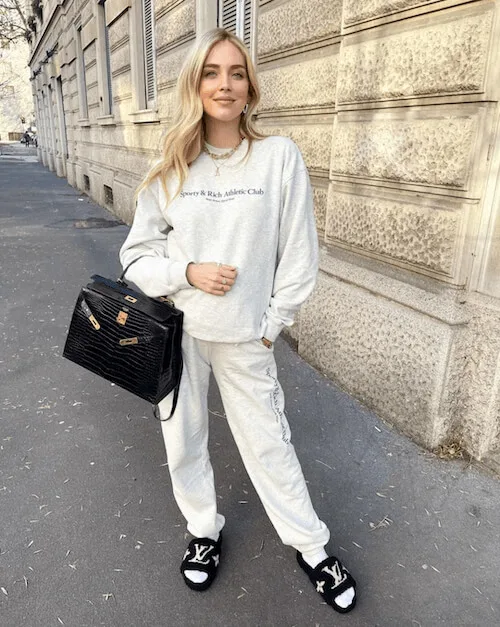 Layer Without Sacrificing Style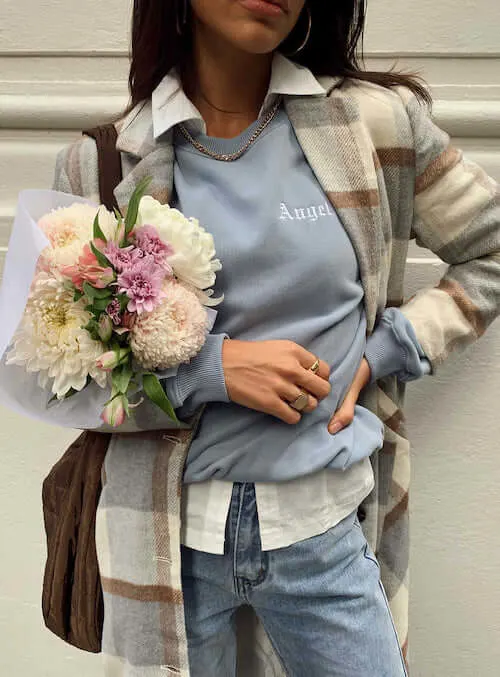 Elevated Casual Look
Chic Ways To Style A Sweatshirt In Winter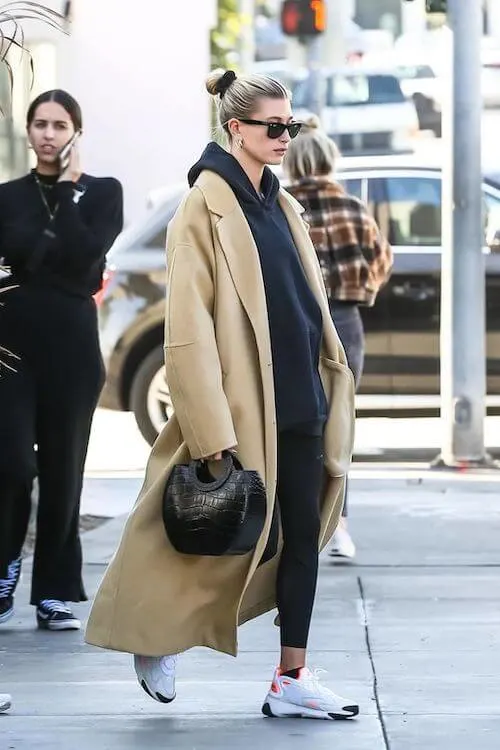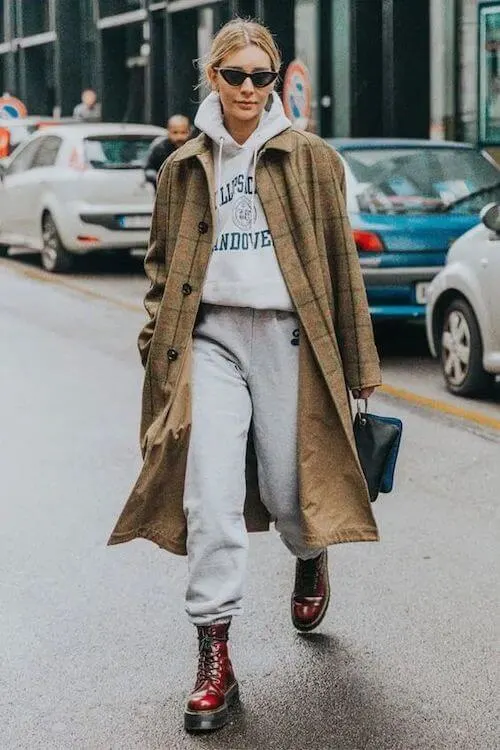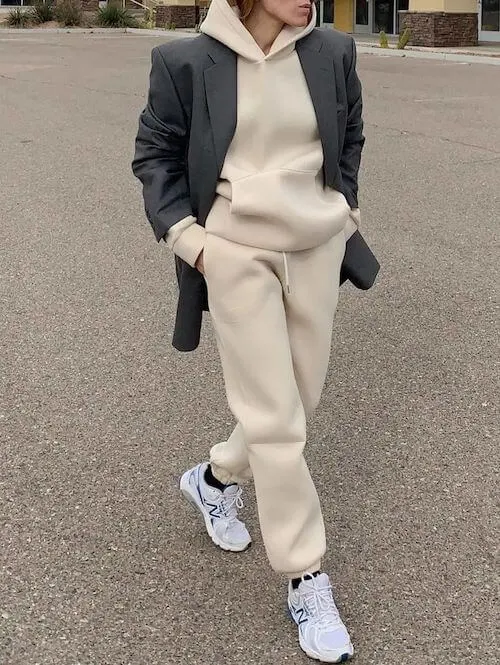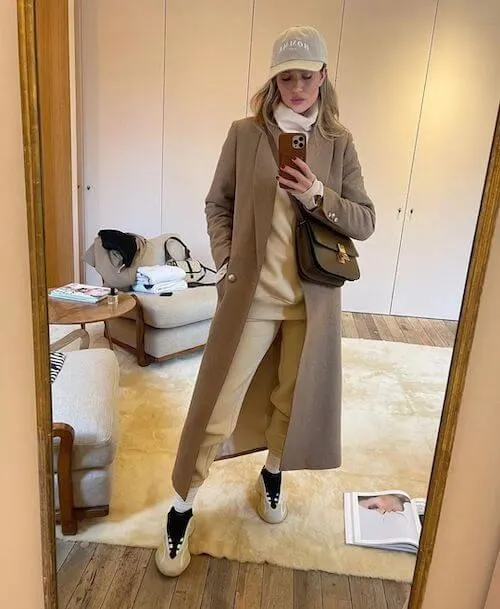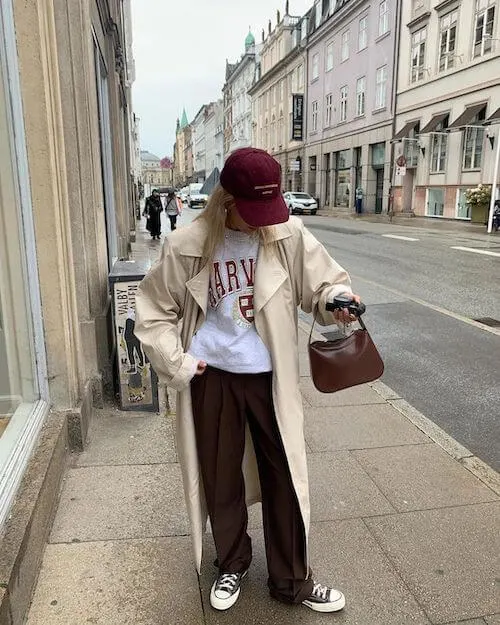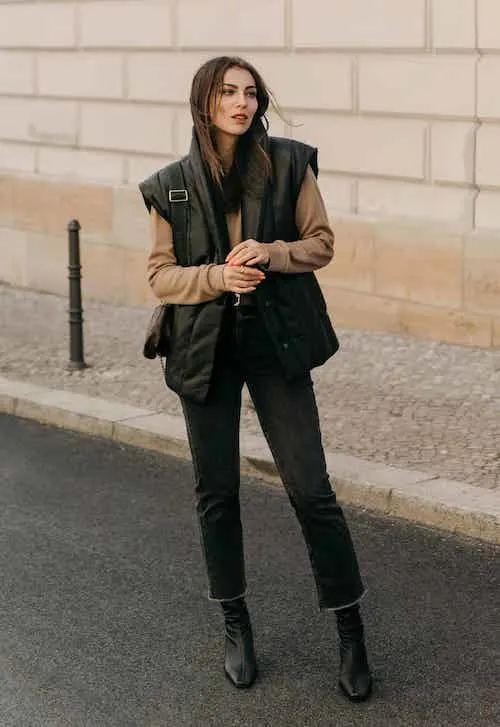 @MASHA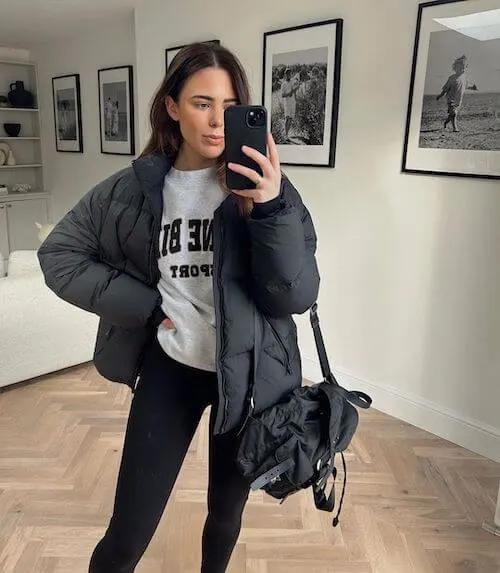 @jessica_rosetaylor
Simple Hooded Sweatshirt Looks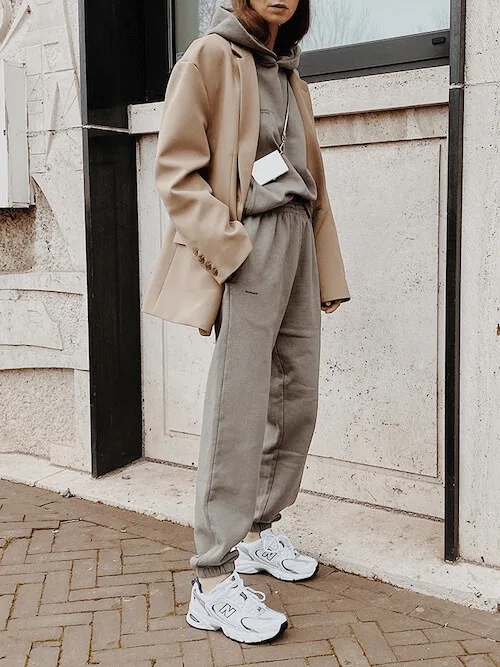 Stylish Sweatsuit Outfits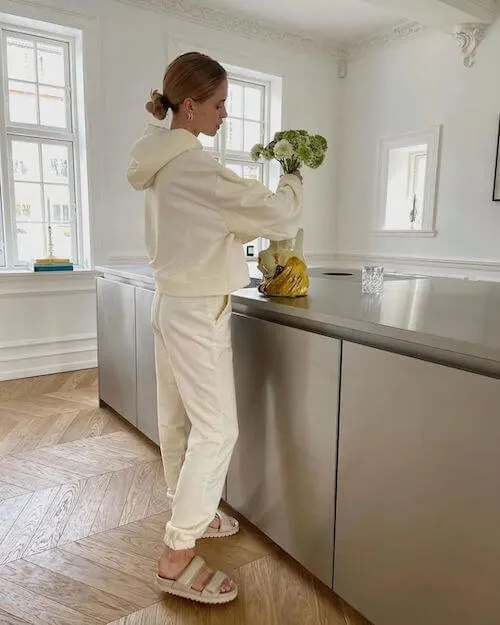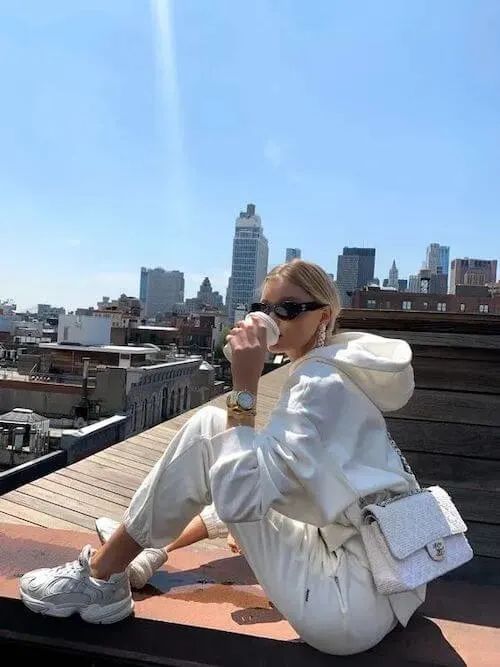 Sporty Oversized Fit
@ANINEBING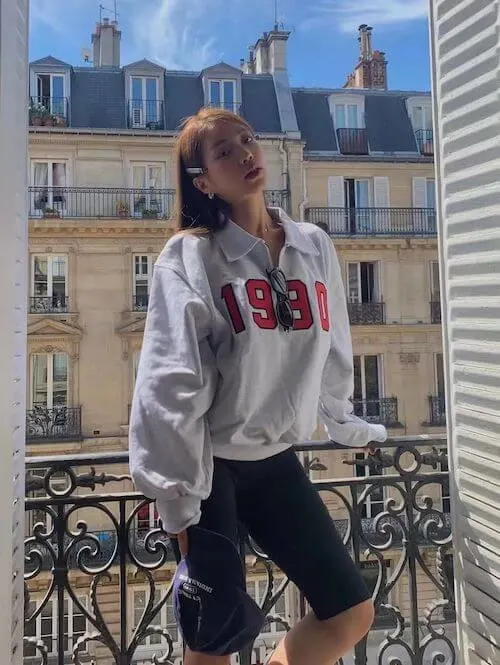 Cute Street Style
@IMMILLIEHOLMES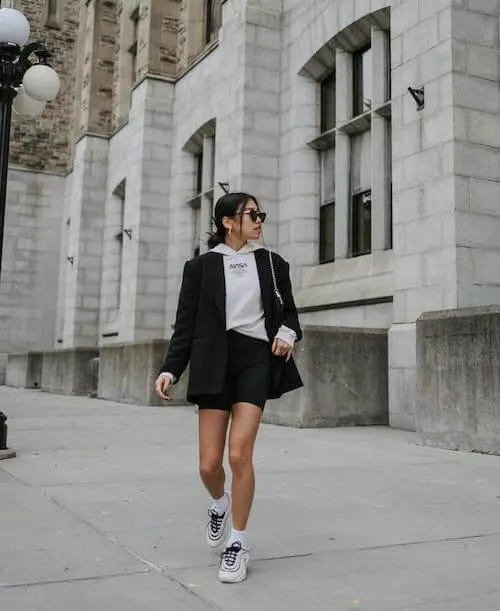 @CHEERSCHARLIE
Neutral Outfit With Oversized Hoodies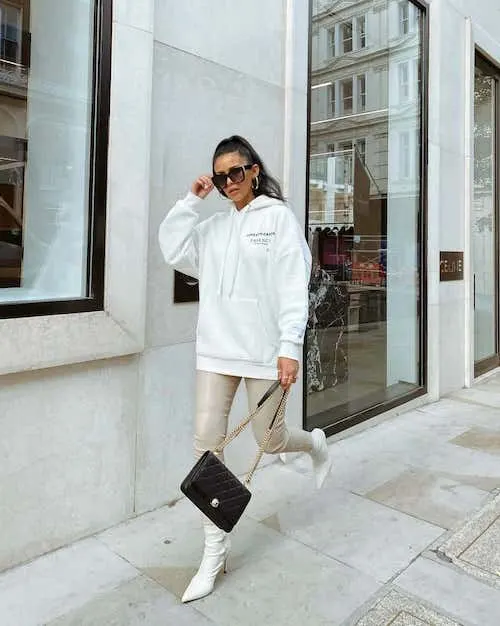 @ORIANAFINDLAY
Casual Date Night Look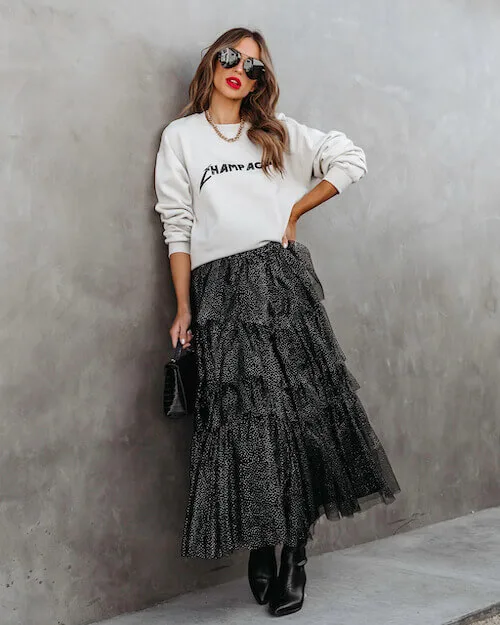 Comfy Travel Outfit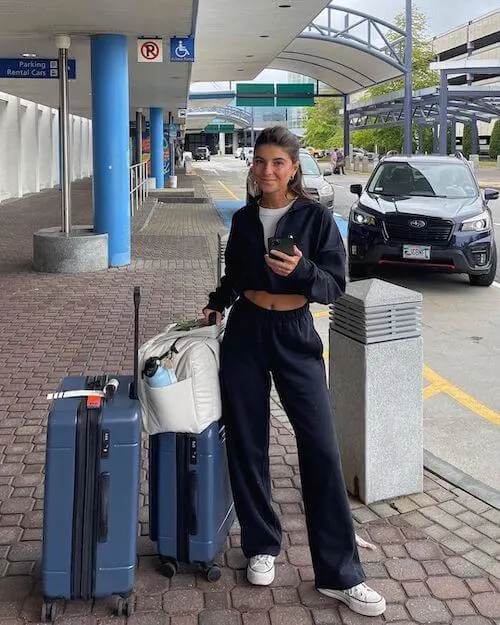 @vivianeaudi
Princess Diana Inspired Look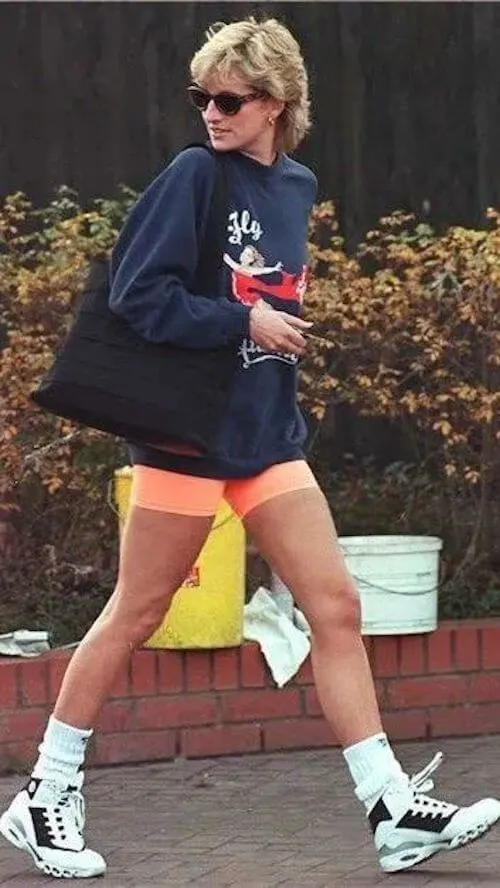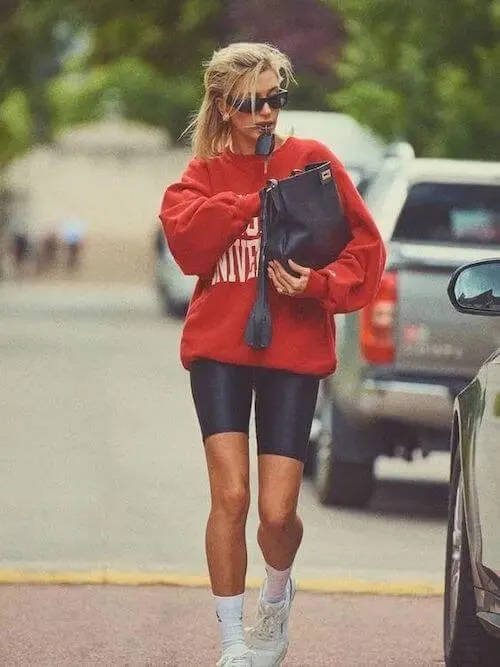 How To Wear Nike Sweatshirts And Hoodies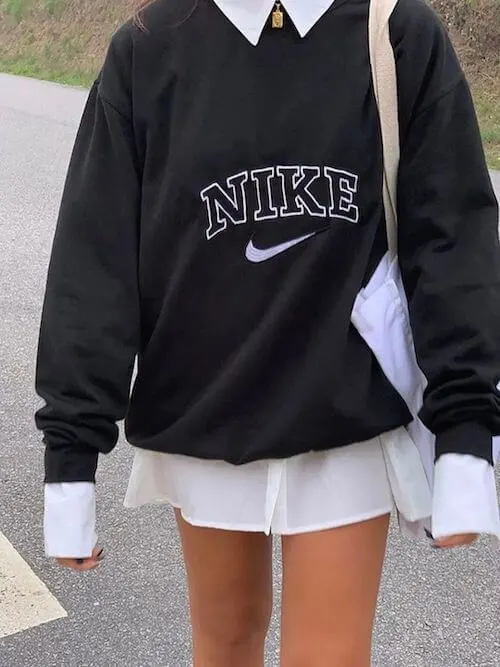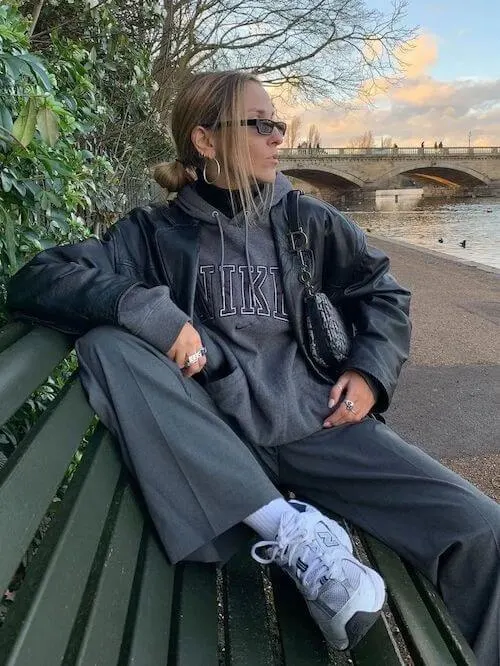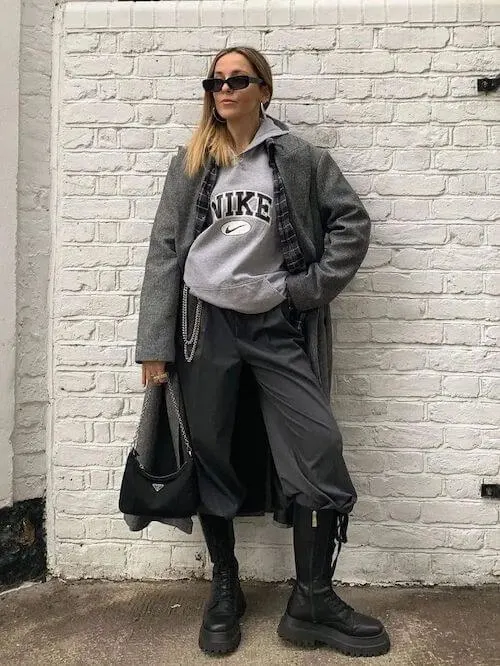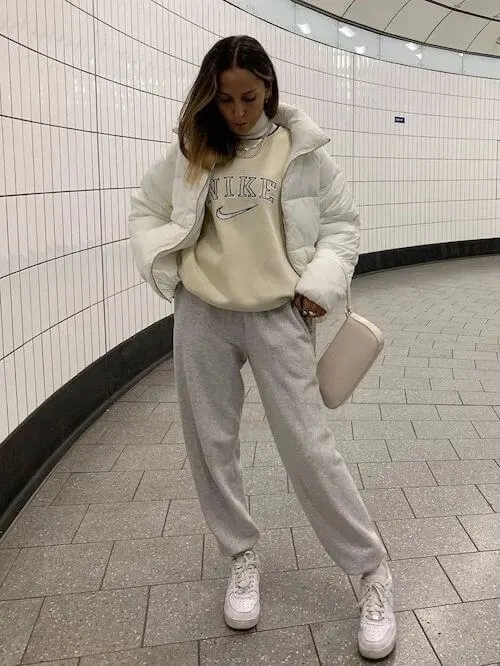 How To Wear Gucci Sweatshirt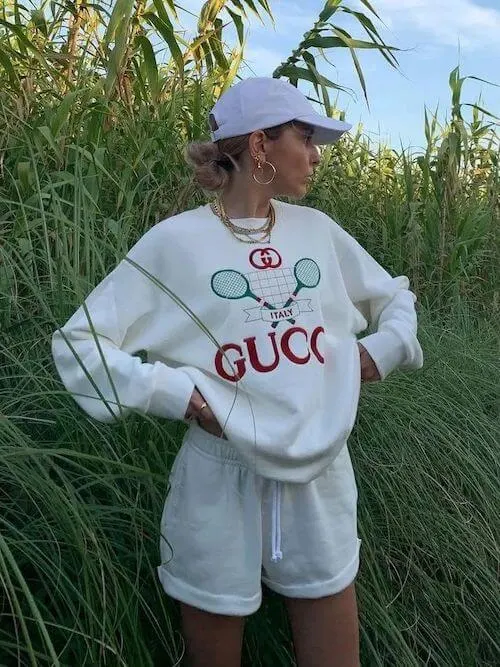 How To Style A Sweatshirt For School
A sweatshirt is a great way to stay warm while still looking stylish for school.
Here are some tips on how to wear a sweatshirt for school in order to create an effortless, chic look.
For starters, choose a lightweight hoodie or pullover that fits comfortably without being too loose or baggy.
To create an effortless yet fashionable outfit, pair the sweatshirt with jeans or leggings or a tennis skirt and sneakers or boots depending on the weather.
The key is to choose colors that complement each other.
For example, black leggings go perfectly with almost any color of hoodie from pale pink to deep reds and blues.
A dark-colored pleated tennis skirt also looks great when paired with a simple sweatshirt or hoodie for an understated yet classic look.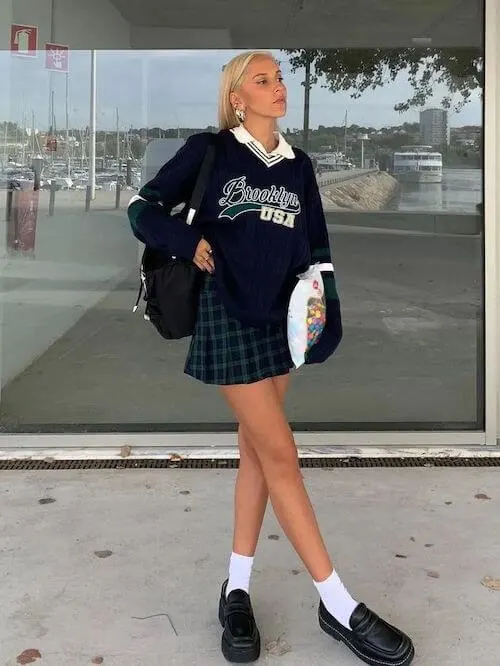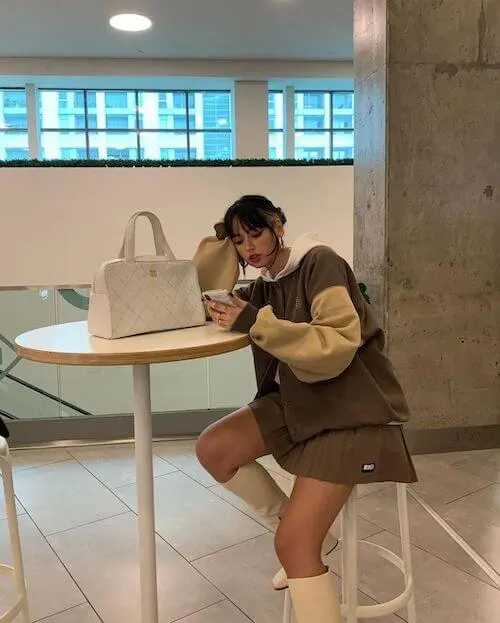 More Cute Outfits With Sweatshirts
Can I wear Sweatshirts to work?
Sweatshirts have long been associated with fashion faux pas, but are they really just for lazy Sundays?
With athleisure trends on the rise, can women actually wear sweatshirts to work?
The answer is yes!
Sweatshirts can be a great way to look stylish and cozy while still being professional.
To make sure you look polished and not sloppy, pair your sweatshirt with more structured pieces such as trousers or a skirt in neutral colors.
You can also layer up in a blazer or cardigan to complete the look.
Wearing subtle patterns like stripes or polka dots will add interest without going overboard.
If you're feeling daring, why not try an oversized hoodie instead of the classic crew neck for an edgy vibe?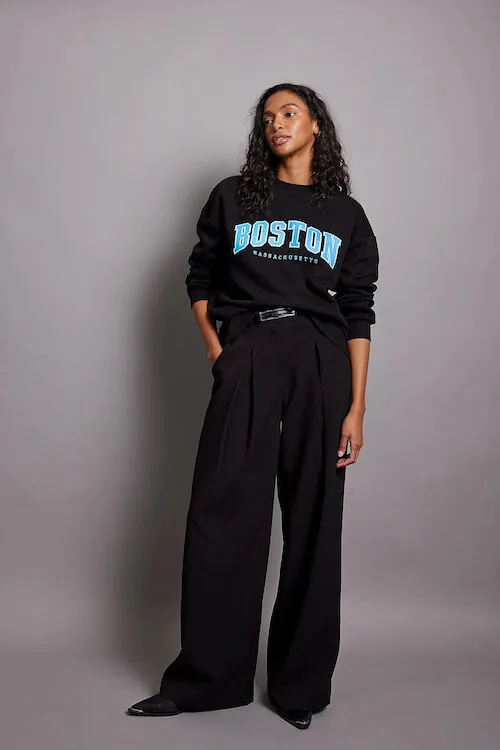 Can You Wear Sweatshirts In Summer?
Sweatshirts are a great way to stay warm and comfy during the cold winter months, but can you wear them in summer?
Although it may seem like an odd choice for warm weather, there are some ways to successfully pull off wearing sweatshirts even when temperatures rise.
Incorporating lightweight fabrics is key to make this look work.
Look for pieces made with lighter materials like cotton blends or linen for a more breathable option that won't leave you feeling overheated.
It's also important to pay attention to the fit and structure of your sweatshirt; opt for lightweight sweatshirt with slightly oversized shapes that don't hug too close and allow air flow throughout.
To complete your ensemble, pair your sweatshirt with light colored bottoms such as shorts or skirts.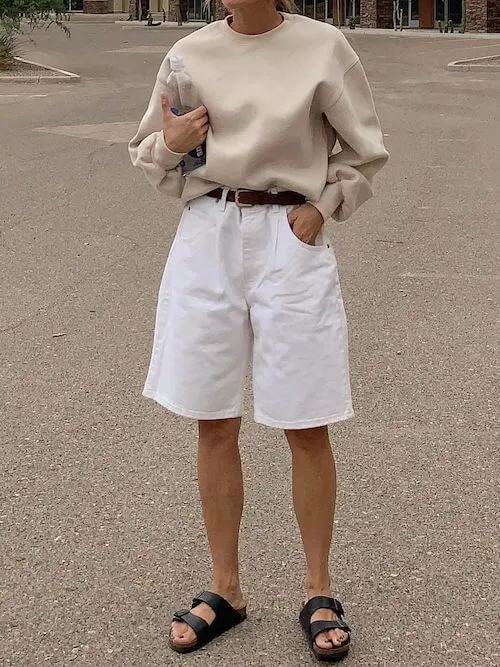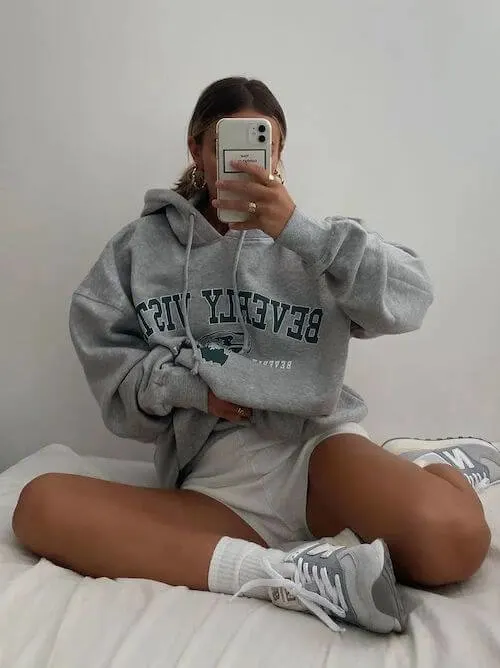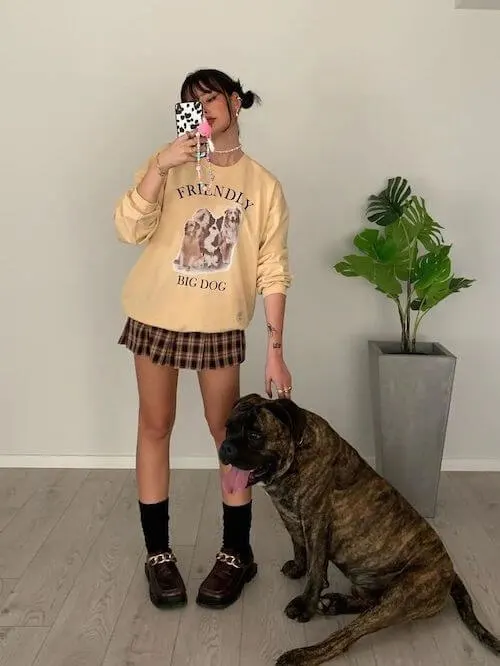 Conclusion: What To Wear With A Sweatshirt?
In conclusion, pairing a sweatshirt with the right pieces can elevate a casual outfit to something more stylish and put together.
Whether it's a classic pair of jeans, fitted trousers, or a skirt, adding the right accessories such as jewelry, bags and shoes will help bring the look together.
And don't forget – layering pieces like jackets and coats can also add texture and interest to an outfit.
This post was all about sweatshirt outfits for women.
About The Author
Tracy is an experienced personal stylist, shopping expert, and fashion & lifestyle blogger. She has been featured on Time Magazine, Bustle, Best Life, Glam, The Zoe Report, Mic, and GOBankingRates, for her insights on fashion, beauty, home decor, and lifestyle. Read More
Related Posts: