Wondering what to wear with black sweatpants? Check this post for the cutest outfit ideas with black sweatpants or black joggers to elevate your style with this sportswear trend.
Black sweatpants are the ultimate comfort piece for women's wardrobes.
Not only are they comfortable and practical, but the versatility of black makes it a great choice to style with other pieces.
Whether you're looking for a cozy lounge look, an edgier street-style ensemble, something casual and relaxed for everyday use or something more stylish for going out on the town, there are plenty of options to choose from when styling black sweatpants.
This article will provide helpful advice on what to pair with black sweatpants so that you can put together an outfit that looks stylish and polished.
This post may contain affiliate links, which means I'll receive a commission if you purchase through my link, at no extra cost to you. Please read the full disclosure here.
This post is all about what to wear with black sweatpants.
How do you make black sweatpants look good?
Having a pair of black sweatpants in your wardrobe can be a great way to look stylish for any occasion.
Sweatpants have undergone a major fashion revolution, going from the gym to streetwear in no time.
With some styling tips, you can make black sweatpants look chic and fashionable for women.
The key to wearing black sweatpants is finding the right fit and pairing them off with other items correctly.
Women can opt for slim-fitting or tapered sweatpants that end at the ankle so they don't overwhelm your figure.
You can also choose a pair of long oversized black sweatpants for a laid-back street style.
Adding an oversized shirt or jacket on top will help create a balanced silhouette while still looking put-together.
Accessories like belts, scarves and hats are also great additions when wearing black sweatpants as they can add texture and an extra layer of style to any outfit.
What not to wear with sweatpants?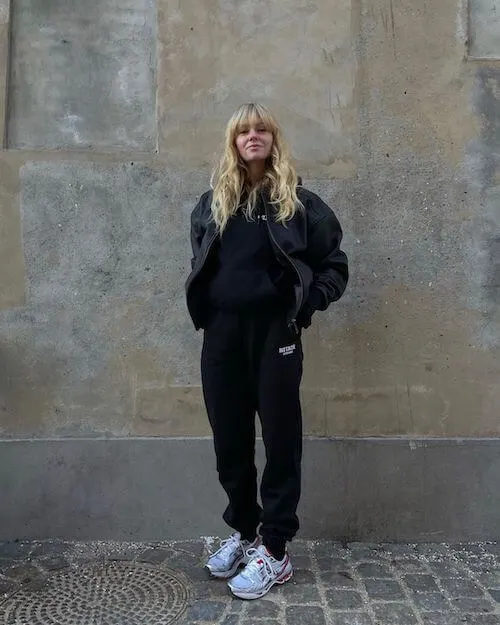 IG@_jeanettemadsen_
Sweatpants are a staple wardrobe item for many women.
Unfortunately, they can be tricky to style and it's easy to make the wrong fashion choices when wearing them.
To ensure you look fashionable and stylish in sweatpants, it's important to know what not to wear with them.
When choosing an outfit for going out or for the office, avoid pairing sweatpants with dressy tops or blouses.
Sweatpants should never be worn with anything too formal-looking since this combination looks sloppy.
Additionally, stay away from any revealing clothing items as these are not appropriate for an effortless relaxed style.
Instead, stick to relaxed and comfortable pieces such as oversized tees, sweatshirts and sweaters which would pair well with the baggy fit of most sweatpants styles.
What to Wear With Black Sweatpants
When it comes to comfort, there's nothing quite like a pair of black sweatpants.
They are versatile and easy to style, so you can create the perfect look for any occasion.
Whether you're dressing up for a night out on the town or simply heading to the gym, here are some tips on how to wear black sweatpants for women and make a stylish statement.
Crop Top + White Shirt + White Sneakers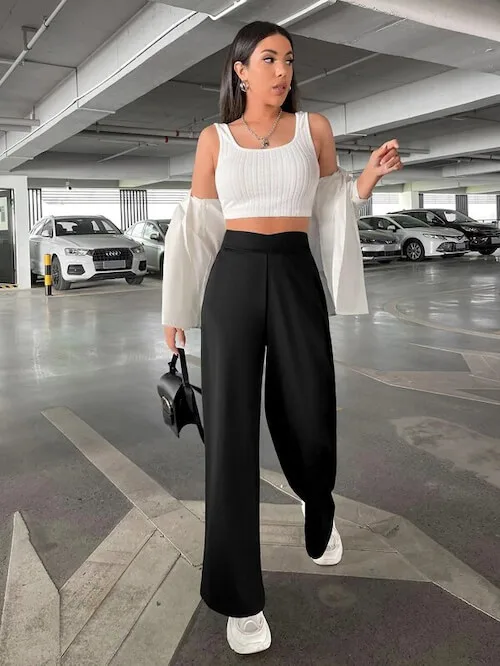 Black Leather Jacket + High Neck Top + Sandals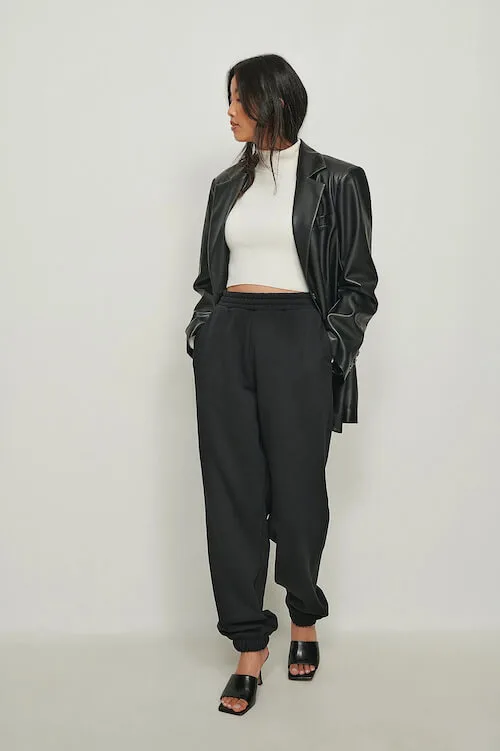 Denim Jacket + Simple Black Top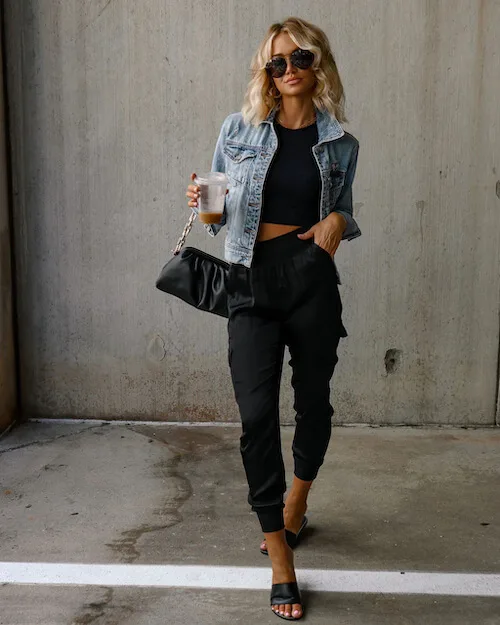 Black Sweater + Zip Up Sweatshirt + Black Combat Boots / Ankle Boots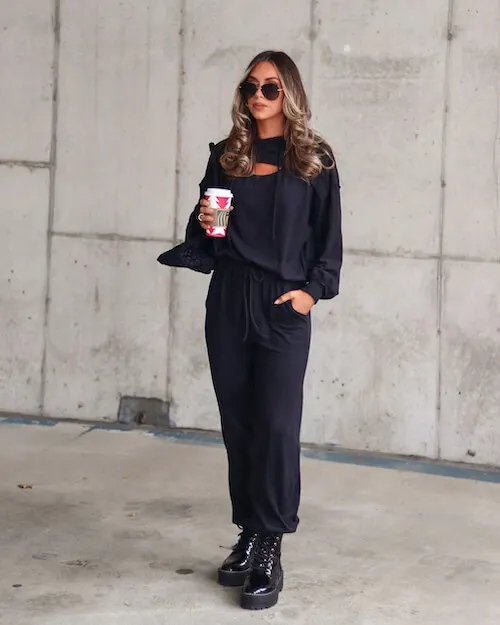 Gray Oversized Sweatshirt + Platform Sneakers
Fitted Long Sleeved Shirt + White Sneakers + Canvas Bag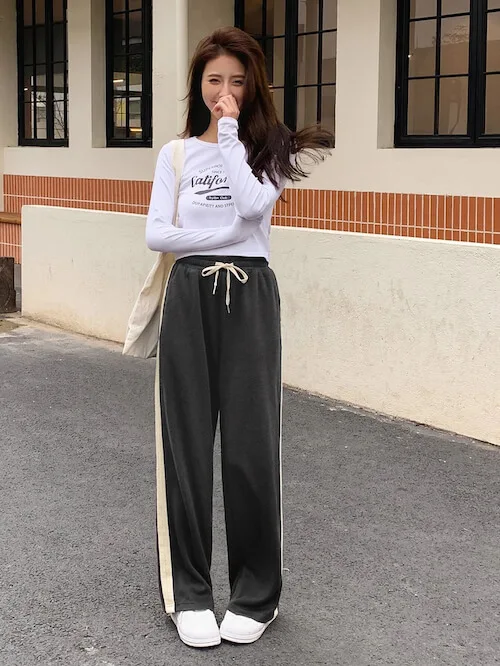 Crop Hoodie + Baseball Cap + Athletic Shoes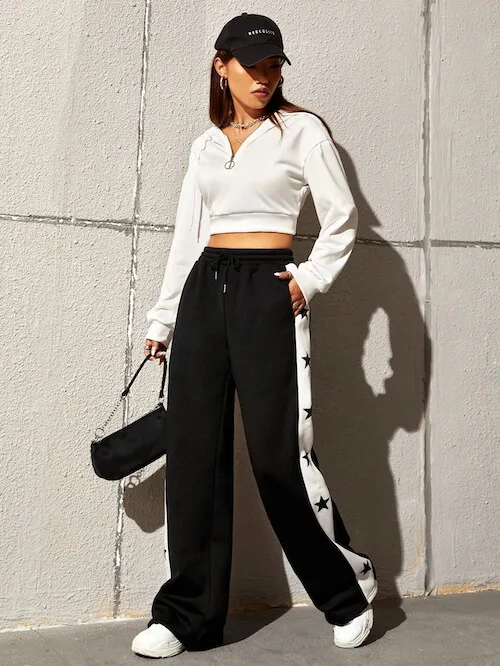 Long Sleeve Button-Down Shirt + Platform Sandals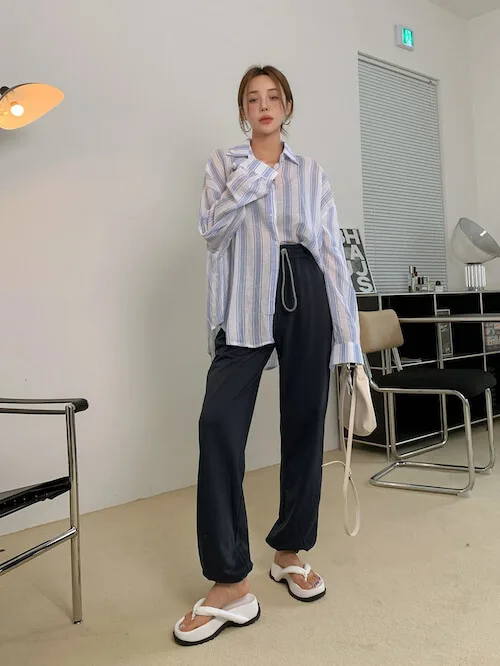 Gray Cropped Oversized Sweatshirt + Chunky Sneakers
Baggy Top + Chunky Sneakers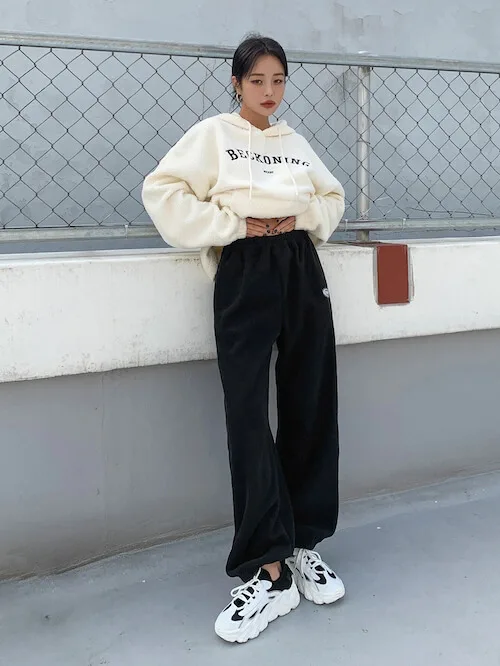 Green Hoodie + White Bag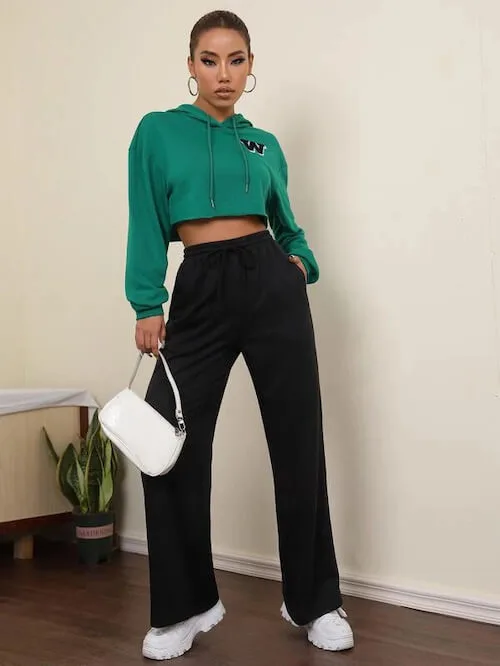 Graphic Top + Black Sneakers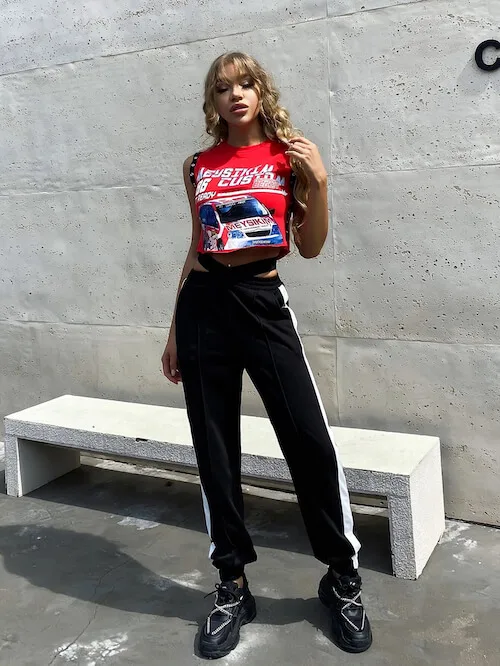 Cool Top + Chunky Boots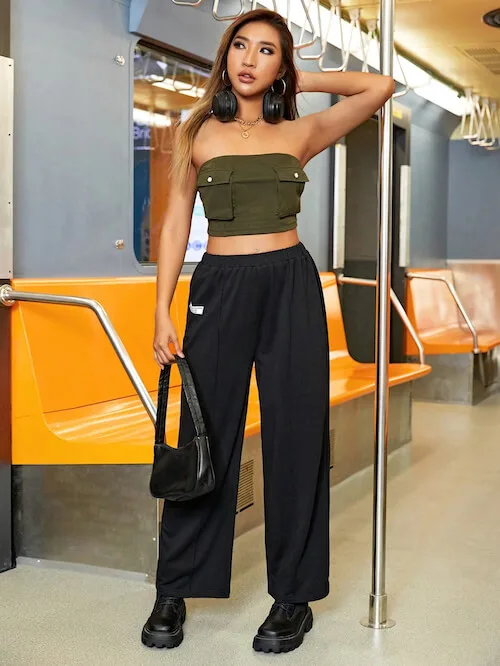 White Cropped Cardigan + Bright Color Accessories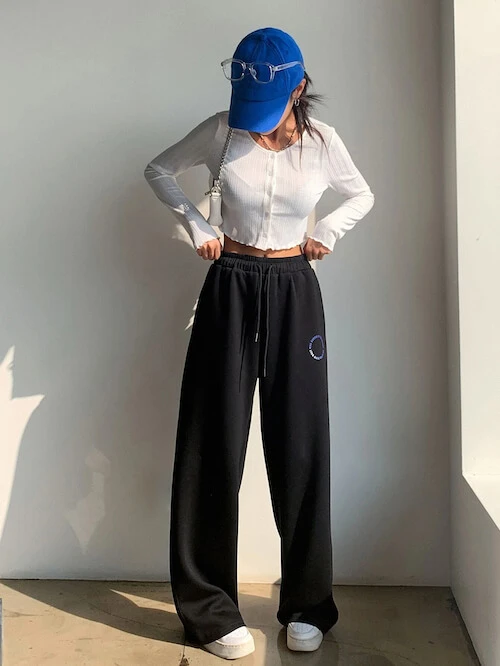 Zip Up Hoodie + White Sneakers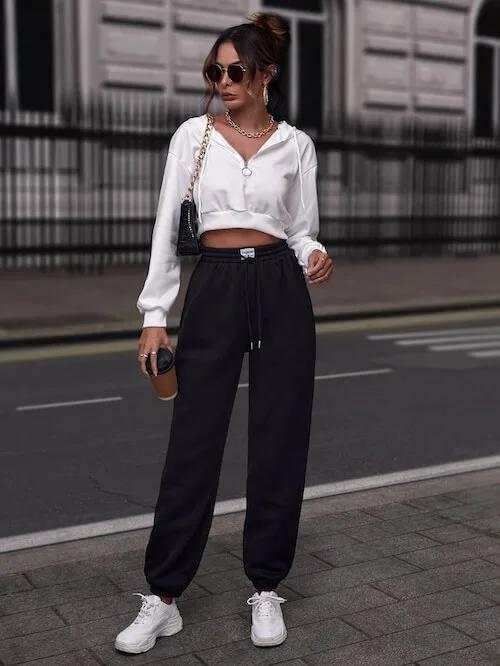 Bodysuit + Teddy Coat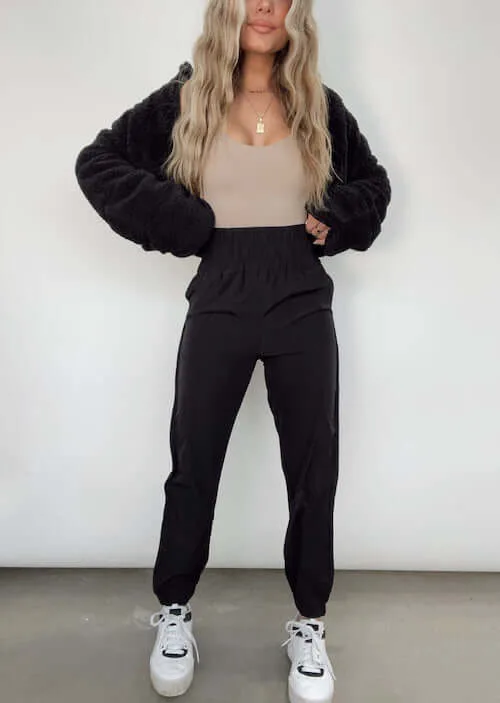 Cropped Knit Top + Sneakers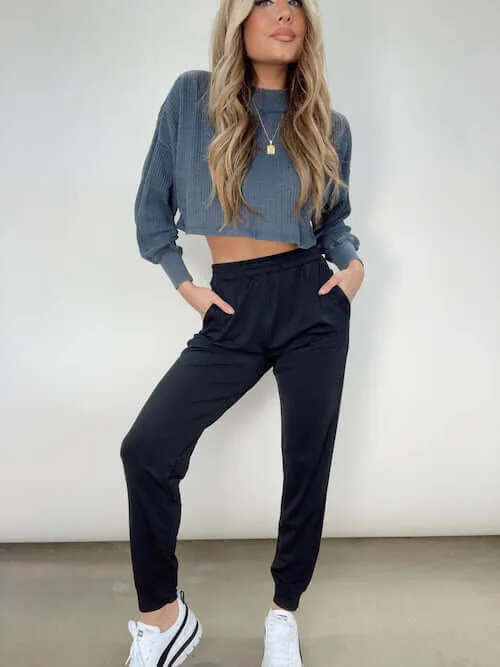 Black Blazer + Gray Hoodie + Leather Low Top Sneakers / Loafers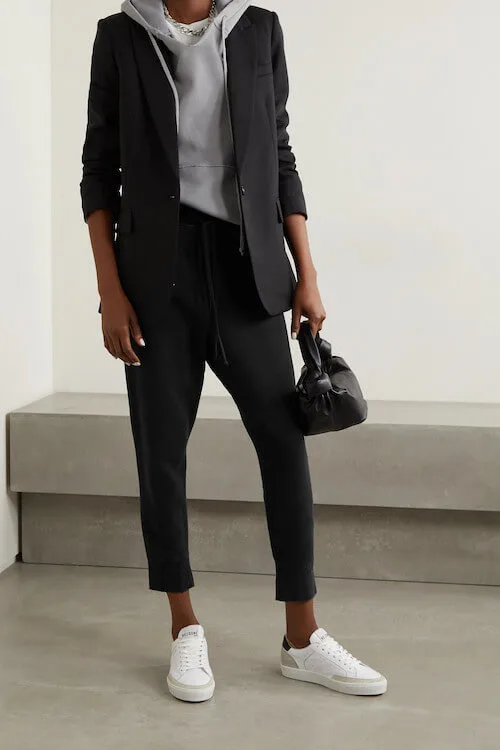 Black Hoodie + Trench Coat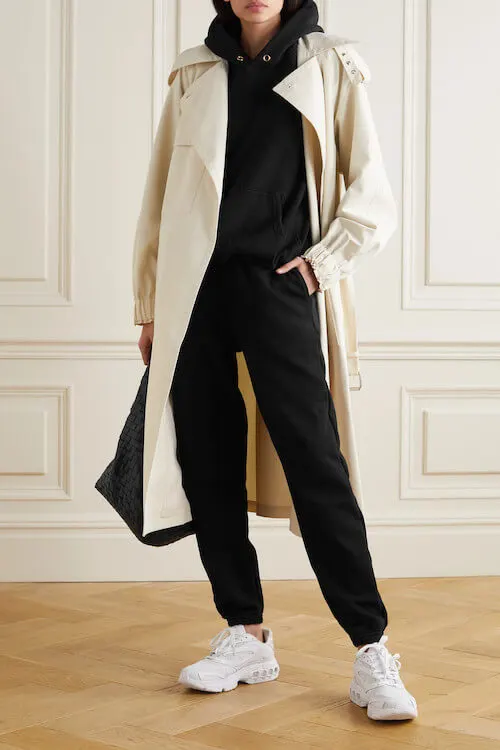 Brown Sweatshirt + Black Puffer Vest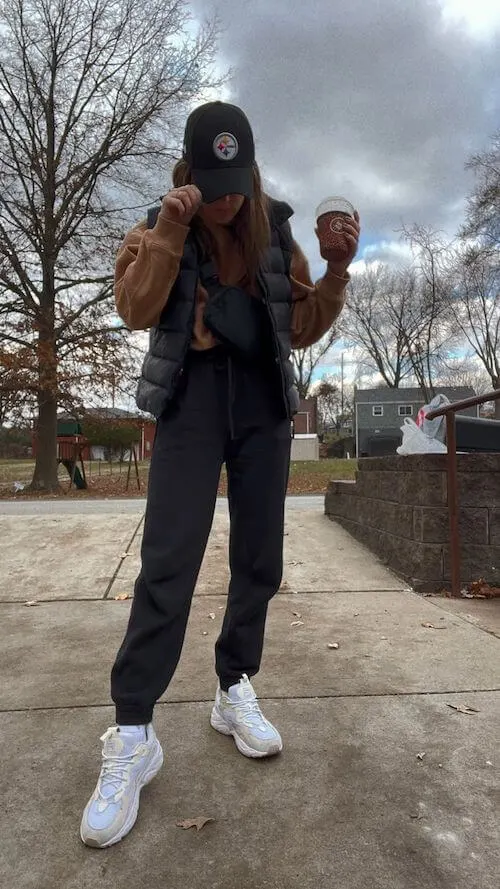 via Pinterest
Black And White Stripped Top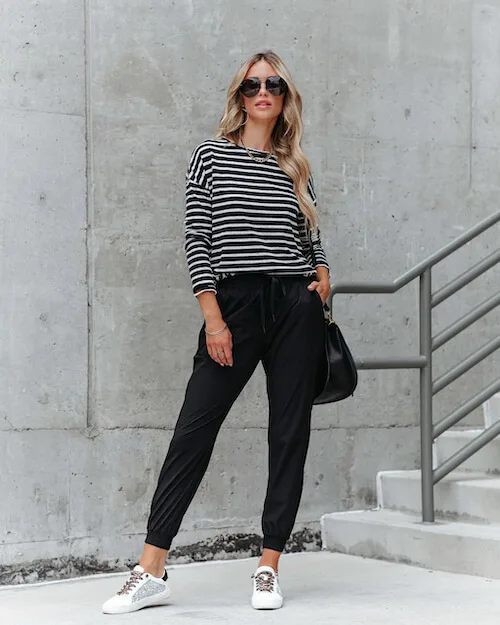 Sexy Cropped Top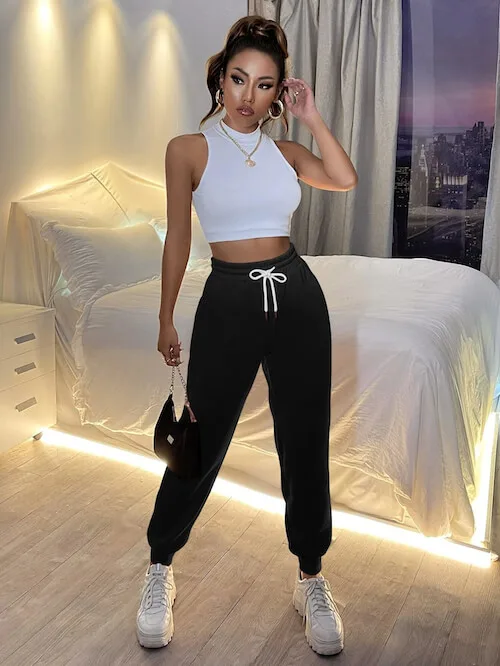 Bomber Jacket + Blue Crop Top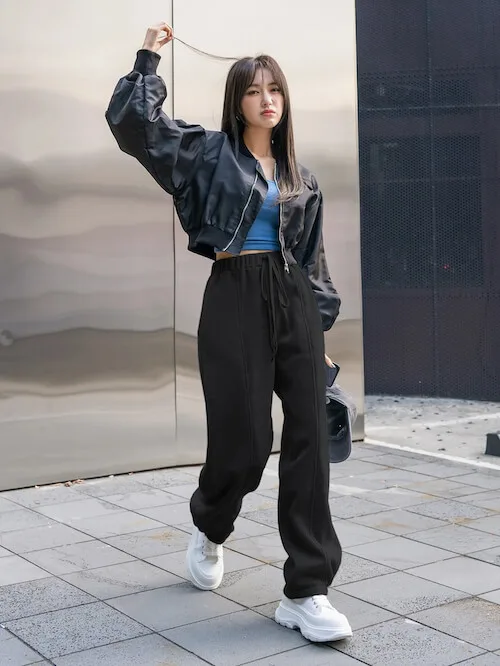 Cropped Tee + Sunglasses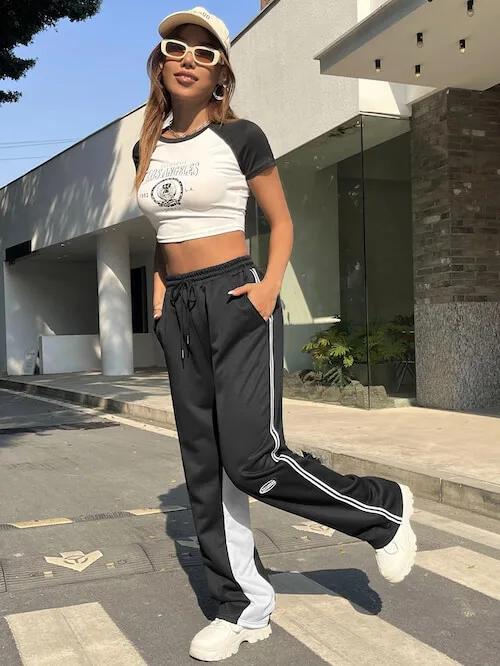 Crop Bomber Jacket + White Tee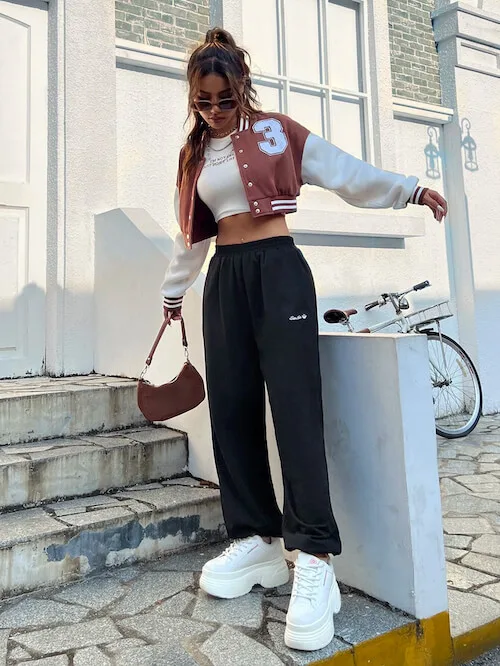 More Modern Black Sweatpants Outfit ideas
Simple Black And White Combination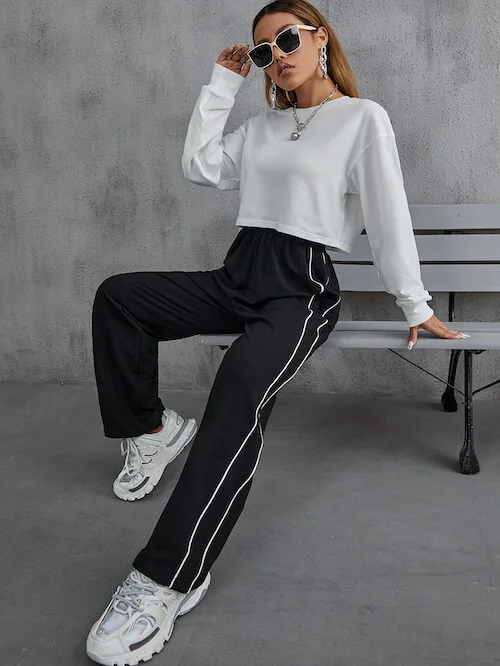 All-Black Dressed-Up Monochromatic Look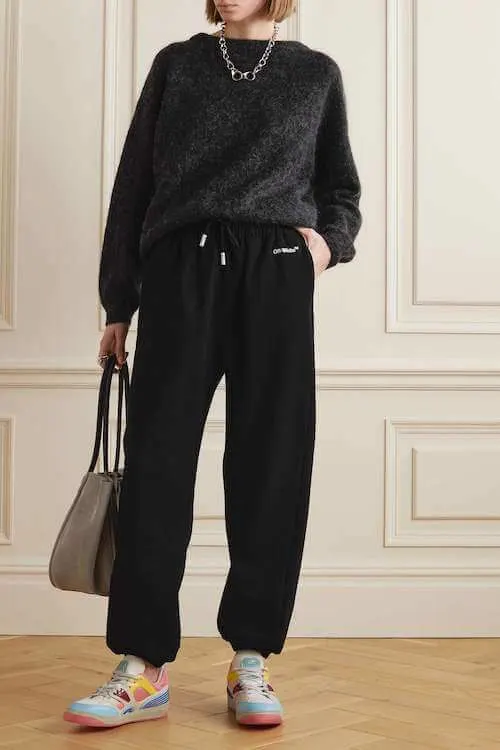 Comfy Outfit With Black Joggers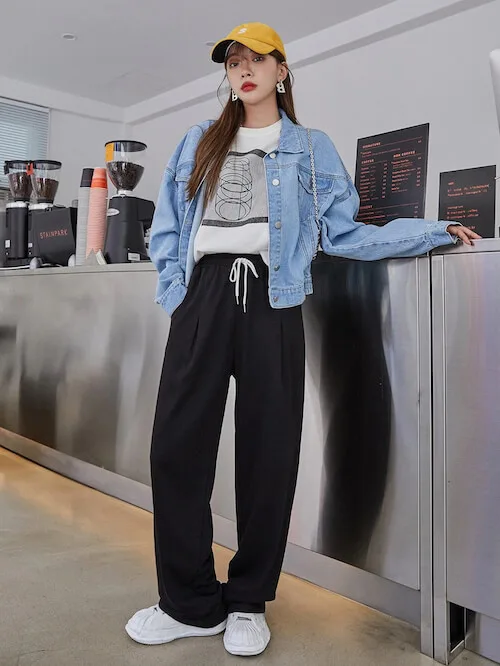 Chic Casual Outfit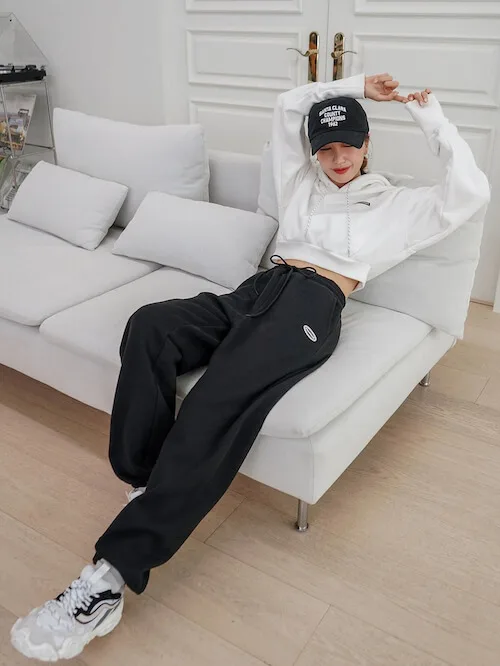 Cool Outfit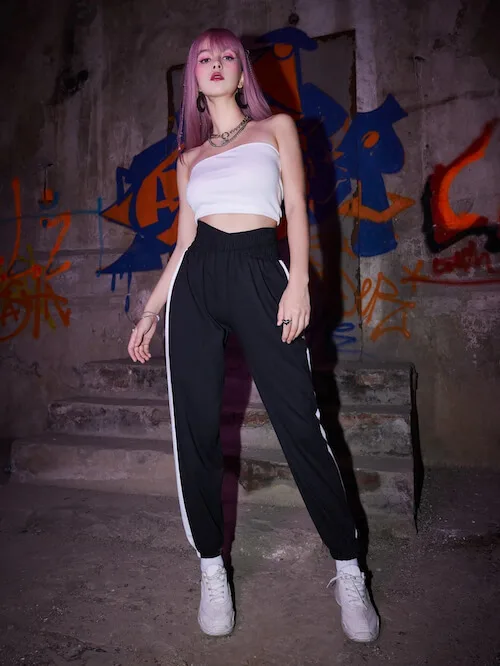 Stylish Black Sweatpants Outfit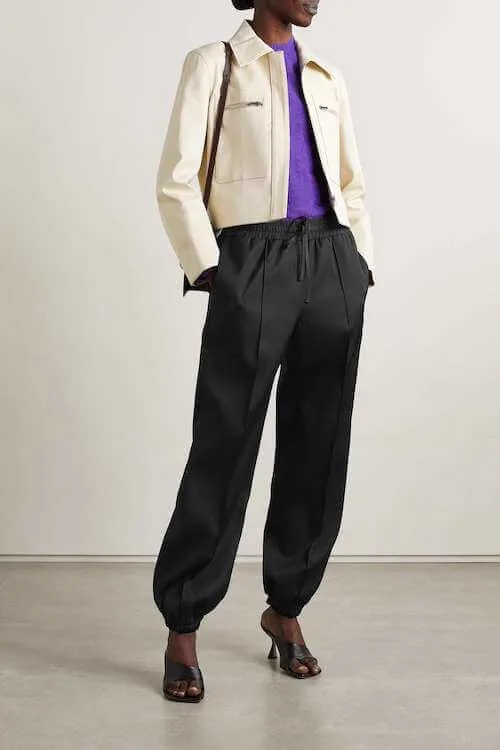 Easy Laid-Back Neutral Look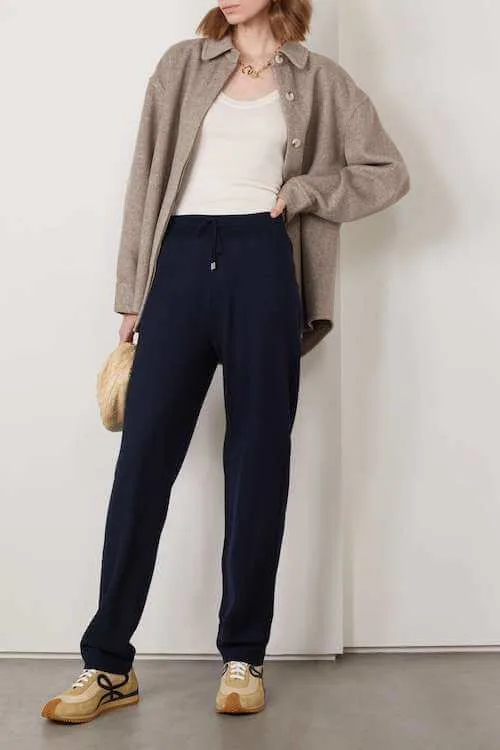 Business Casual Outfit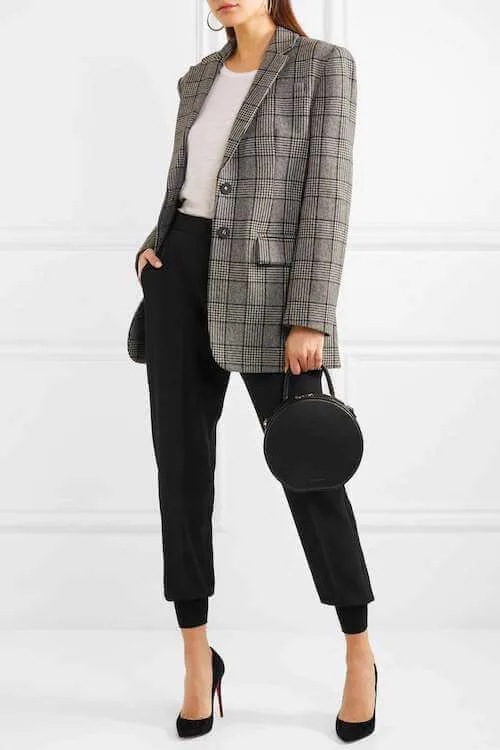 How To Style Black Sweatpants In Spring And Summer?
Style and comfort can go hand-in-hand when it comes to wearing sweatpants in the warmer months.
Sweatpants are often thought of as casual and frumpy, but with the right pieces, black sweatpants can make a fashionable statement during spring and summer for women.
To keep your look trendy this season, here's how to style black sweatpants for an effortless yet stylish outfit.
Begin by pairing your black sweatpants with a simple white tee or tank top.
This classic combination is timeless, creating an easygoing look that won't ever steer you wrong.
Balance out the relaxed fit of your pants with a structured blazer or denim jacket on top for added flair.
You could also add some texture by throwing in a baseball cap or adding some fun accessories like hoop earrings or layered necklaces.
How To Style Black Sweatpants In Fall And Winter?
For women who are looking for a comfortable yet stylish look this fall and winter, black sweatpants are the perfect solution.
Whether you're heading to the gym or out with friends, styling these pants can be surprisingly versatile.
While sweatpants may not seem like something you would wear in public, there are plenty of ways to make them appear chic.
Here's a guide on how to style black sweatpants in fall and winter so you stay warm and fashionable all season long!
Start with a statement top like an oversized cable-knit sweater or turtleneck.
Balance it out by wearing the pants fitted, either straight leg or ankle length.
To add some edge and glamour, layer up with an overcoat or moto jacket then finish off with booties that have chunky heels for height and structure.
This post was all about what to wear with black sweatpants.
About The Author
Tracy is an experienced personal stylist, shopping expert, and fashion & lifestyle blogger. She has been featured on Time Magazine, Bustle, Best Life, Glam, The Zoe Report, Mic, and GOBankingRates, for her insights on fashion, beauty, home decor, and lifestyle. Read More
Related Posts: