Looking for chic white and gold Christmas tree ideas? Check this post for the best white and gold Christmas tree decorating ideas for an elegant and dreamy holiday!
Christmas is coming! Are you all about to start decorating the Christmas tree?
If you like the White and gold Christmas color scheme, the good news is that this color scheme is still very popular this year.
A beautiful white and gold themed Christmas tree is the key to such gorgeous and elegant magic of the holiday season, and it is perfect for either the home or office.

If you haven't bought a Christmas tree yet or don't know how to decorate a white and gold tree, you've come to the right place.
In today's article, I am sharing with you the best tips on how to decorate a white and gold Christmas tree.
And I am also sharing with you 70+ best white and gold Christmas tree decorating ideas for you to copy directly.
At the end of the post, I also include great video tutorials for you to learn how to decorate a tree step by step for Christmas time.
So scroll down to check these white and gold Christmas trees and don't hesitate to pin them to your Pinterest board, and share them on social media sites.
This post may contain affiliate links, which means I'll receive a commission if you purchase through my link, at no extra cost to you. Please read the full disclosure here.
This post is all about white and gold Christmas tree ideas.
Tips on How to Decorate an Elegant White and Gold Christmas Tree
Select A Perfect Christmas Tree
There are generally two options for Christmas trees, real trees or artificial trees.
A real Christmas tree has the unique fragrance of pine, which makes the whole house full of fragrance and has a real Christmas flavor.
The disadvantage is that real trees need to be bought every year.
Artificial trees are more affordable and economical.
You only need to buy them once and use them for many years! And they are easy to assemble and store, and don't take up much space.
My favorite stores for artificial trees are:
Fluff And Shape Your Tree
After you have assembled your Christmas tree, it is a great idea to fluff and shape your tree to give it a more beautiful and natural shape.
Fluffing refers to separating and spreading out the branches so that they look full and lush.
Start by working from the bottom of the tree and gently pulling each branch apart, giving them a gentle shake to separate any clumps of needles.
This process will make your tree look much more realistic and visually appealing.
In addition, shaping your tree is essential for achieving a polished and sophisticated look.
Make sure to take your time when bending each branch into its desired position.
By carefully manipulating the branches, you can create depth and dimension, making your white and gold ornaments stand out even more.
Don't be afraid to experiment with different angles or curves; this will help you achieve a perfectly balanced design that complements your chosen color scheme.
Remember, fluffing and shaping your tree may seem like minor details, but they are crucial in transforming a plain-looking tree into a stunning centerpiece for your holiday decor.
Taking the time to give each branch its proper attention will result in an elegant display that you'll be proud to show off during this festive season.
Please wear your gloves for this process to prevent your hands from being scratched by branches.
Create A Snowy Like Texture
The most popular white and gold Christmas trees are flock or snowy Christmas trees.
An easy way is to buy directly an all-white Christmas tree, or a beautiful flocked Christmas tree.
Another great way is to spray paint a Christmas tree.
If you're looking to create a snowy like texture on your Christmas tree, there are several techniques to achieve this enchanting effect.
One simple way is to spray flocking powder onto the branches of your tree.
Flocking powder is a white, fluffy substance that mimics the look of freshly fallen snow.
By evenly spraying it onto the branches, you can instantly transform your tree into a winter wonderland.
Another option is to use artificial snow spray.
This product typically comes in an aerosol can and can be easily applied by spraying it directly onto the branches of your tree.
Artificial snow spray not only adds texture, but also creates a realistic-looking layer of frost on each branch.
For a more natural appearance, you can lightly mist the branches with water before applying the snow spray, as this will help enhance its ability to stick and create an authentic icy effect.
You can also add fur ribbons to your Christmas tree.
This is the easiest way to create snowy Christmas trees.
Add Ornaments, Florals, And Picks
Adding ornaments, florals, and picks is a surefire way to elevate the elegance of your white and gold Christmas tree.
Ornaments are the perfect addition to create depth and texture on your tree.
Mix and match different sizes and shapes, such as delicate glass balls, oversized baubles, or intricately designed snowflakes.
Opt for ornaments in shades of white, gold, and champagne to maintain a cohesive color scheme.
Florals bring a touch of nature indoors while adding an element of whimsy to your tree.
Choose flowers like white roses or poinsettias with gold accents for a luxurious look.
To make them stand out even more, consider nestling them in clusters throughout the branches instead of hanging them individually.
Picks are another fantastic way to enhance the visual appeal of your tree.
These slender decorative stems can be found in various styles – from glittery snowflakes to shimmering stars or even glistening pinecones – all specifically designed to be inserted into the branches of your tree.
Use picks strategically to ensure they evenly accentuate different sections of your tree without overwhelming it.
For affordable Christmas tree ornaments, I recommend Target, Amazon, and SHEIN.
They are sometimes offering great discounts.
If you want to buy some ornaments with special meaning and a little bit of personal style, I strongly recommend Pottery Barn.
Pottery Barn provides personalized ornament services. You can engrave your kids' names on ornaments.

Tree Topper
The tree topper is the pièce de résistance of any Christmas tree.
It is the crowning glory that adds a final touch of elegance and style to your festive decor. This year, consider adding a unique tree topper to elevate your white and gold Christmas theme.
A popular trend in tree toppers this season is incorporating natural elements such as feathers, leaves, or even antlers.
These unexpected additions bring a sense of whimsy and flair to your tree while maintaining the overall sophistication of the white and gold color scheme.
A feathery angel with golden wings or a majestic reindeer antler adorned with white flowers can make for stunning choices that will surely catch everyone's attention.
Alternatively, if you prefer a more traditional approach, opt for a sparkling starburst or an ornate snowflake as your tree topper.
Their intricate designs will play off beautifully against the simplicity of the white branches.
You can buy beautiful toppers, or you can be very creative in making your own toppers using picks or other items you like.
In the best white and gold Christmas tree ideas below, you can find the one you like and just copy it.
Twinkle Lights
Twinkle lights are an essential and timeless addition to any Christmas tree decor.
They effortlessly add a touch of magic and whimsy to the overall ambiance.
While traditional white lights create a classic and elegant feel, opting for gold twinkle lights can elevate the visual appeal even further.
The warm golden glow intertwines with the metallic accents on the ornaments, bringing out their shimmer in a harmonious display.
One creative way to incorporate twinkle lights is by wrapping them around the branches in uneven patterns.
This technique adds depth and dimension to your tree, creating a captivating focal point that draws the eye from every angle.
Another idea is to use twinkle lights in varying sizes, combining mini bulbs with larger ones for a dynamic effect.
By interspersing small bursts of light amidst bigger clusters, you create an intriguing visual interplay that lends an enchanting charm to your holiday centerpiece.
You can also opt for artificial trees that are already installed with lighting.
They come with a variety of lighting effects, which is very convenient!
A Snowy-Like Faux Fur Tree Skirt
One of the most enchanting elements of winter is the fluffy, pristine white snow that blankets the world in a serene beauty.
And now, you can bring that snowy charm into your home with a snowy-like faux fur tree skirt.
This tree skirt is made from luxurious faux fur, which looks and feels just like real snow.
The softness and texture of the fur add an extra touch of elegance to your Christmas tree, creating a glamorous focal point in any room.
Not only does this faux fur tree skirt exude sophistication, but it also provides practical benefits.
It acts as a protective layer between your delicate ornaments and the floor, preventing any scratches or damage.
Additionally, its generous size ensures that no unsightly buckets or stands are visible beneath the tree.
You can also use a base of the tree. I recommend a gold or white one for your gold and white holiday style.
Gift Boxes
Whether you opt for classic white gift boxes adorned with delicate golden bows or modern geometric designs with shimmering gold accents, there are countless ways to incorporate these exquisite boxes into your holiday decor.
Consider clustering them together under the tree or hanging them as ornaments for a unique twist on traditional baubles.
But if you don't have that many gifts, you can also buy some gift boxes instead.
Best White And Gold Christmas Tree Ideas
Want more inspiration?
Scroll on to check the cutest white and gold Christmas trees below and create your own one for this Christmas season.
Chic White And Gold Christmas Tree
IG@randigarrettdesign
Glam Gold And White Tree For Christmas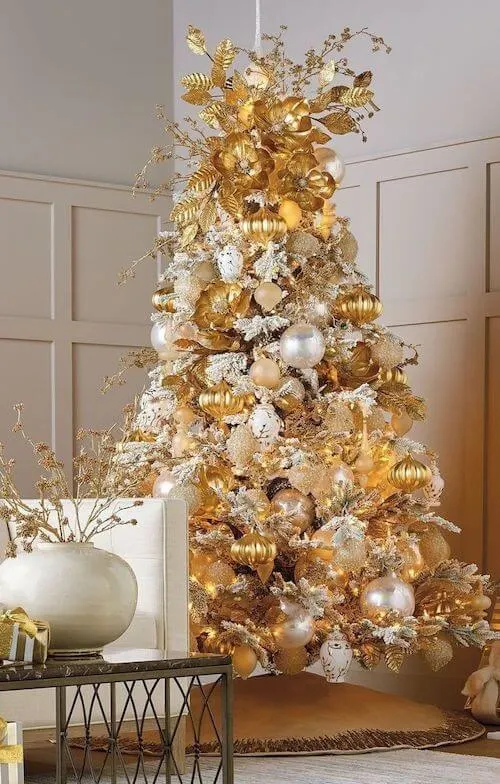 Cute Gold Ornaments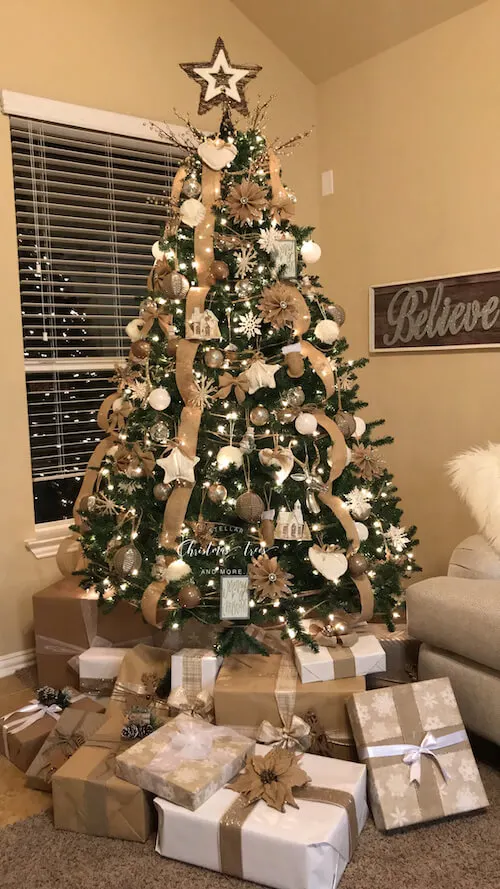 Winter Wonderland with Artificial Christmas Tree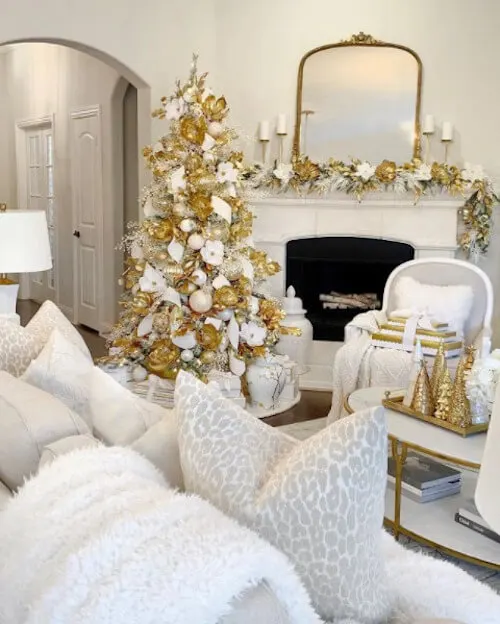 via Tumblr
Luxury Christmas Living Room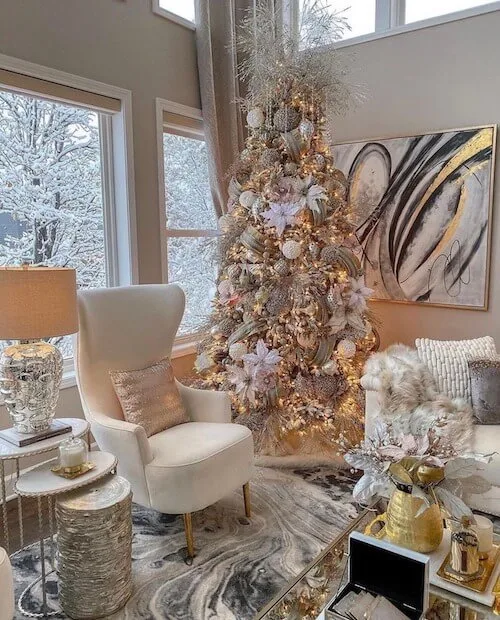 via Tumblr
Unique Christmas Tree Topper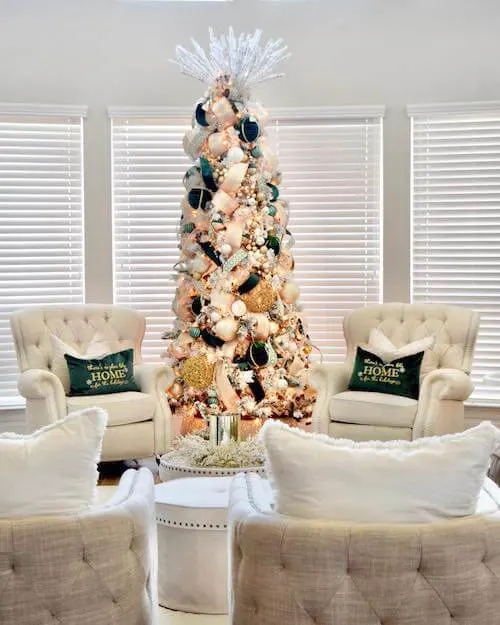 IG@buildingourforever
White And Gold Flowers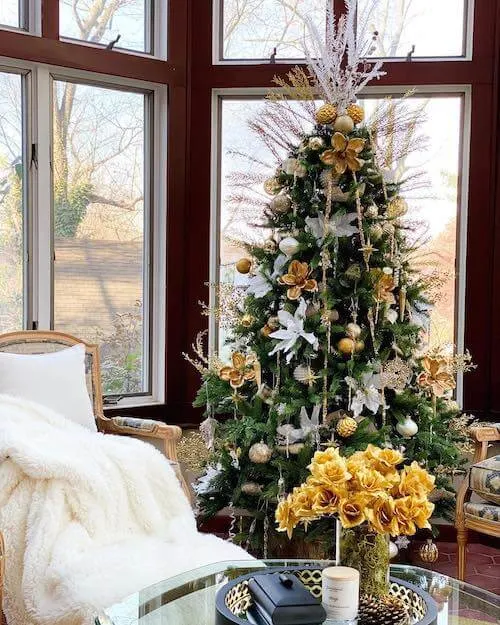 IG@classicmodernhomestyle
Twinkling Christmas Lights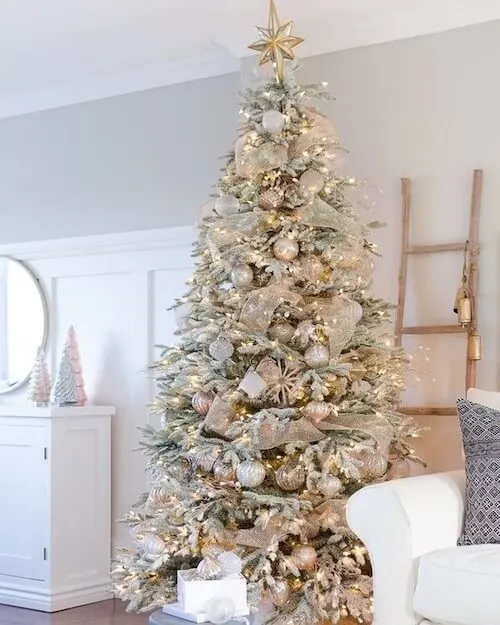 How To Decorate An Artificial Tree
IG@reynoldsresidence
Creatively Decorate The Top of The Tree
IG@sonsireehomedecor_lover
White Snowflakes Decorations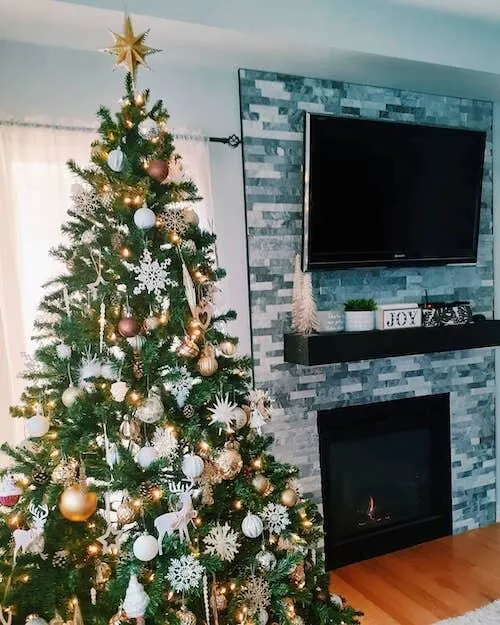 IG@shezelslife
White Gold And Silver Christmas Tree Ideas
IG@settingforfour
Gold and Silver Ornaments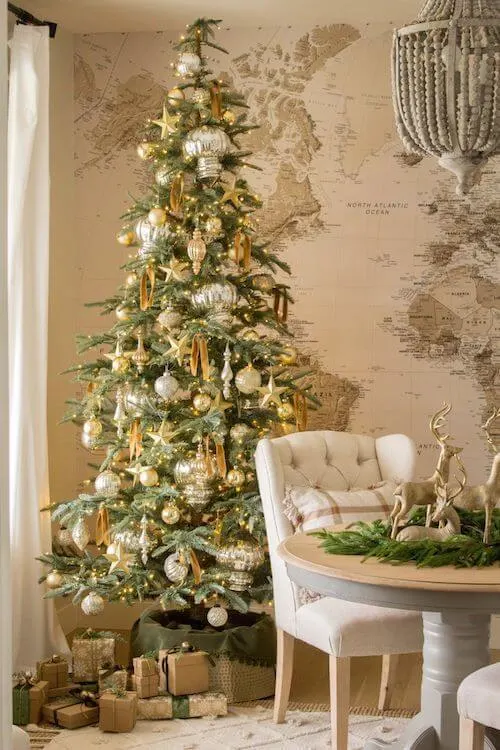 Put Green Gift Boxes Around The Tree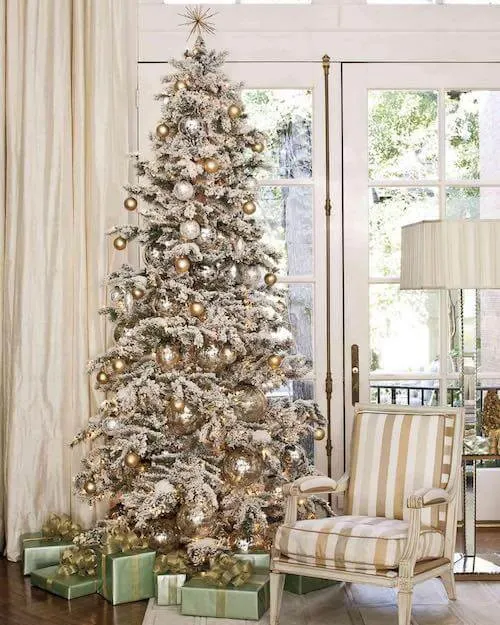 IG@torontoparadiseplants
Oversized Bubbles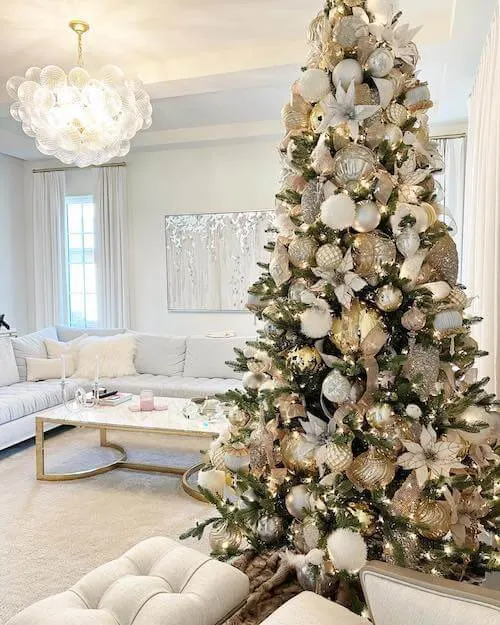 IG@ngavudesigns
Half White Half Gold
IG@britto_rusticglam
Cute White Christmas Decor Ideas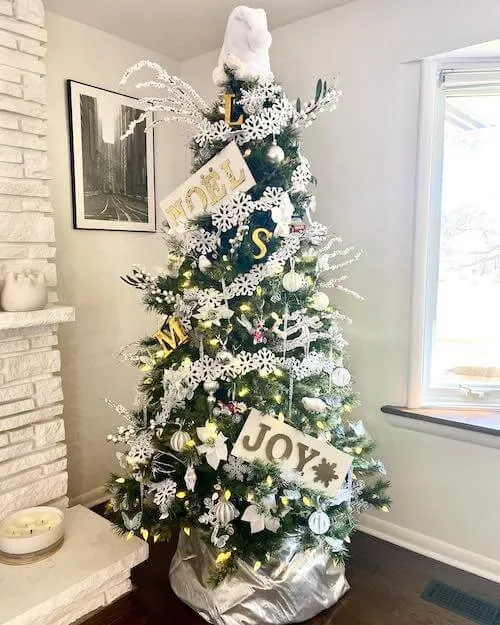 IG@s_t_y_l_e_g_i_r_l
Perfect Christmas Tree Ornament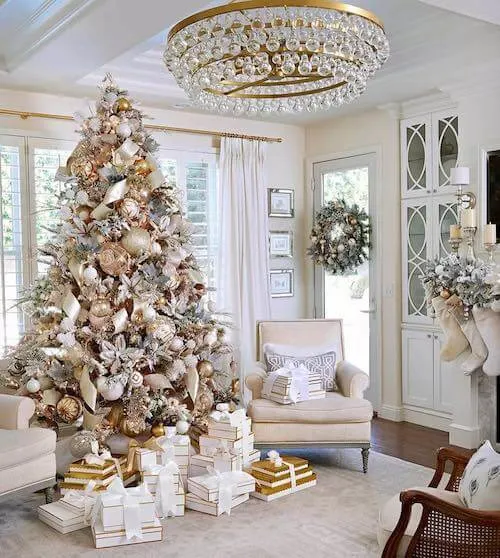 IG@randigarrettdesign
Dangling Christmas Tree Decorations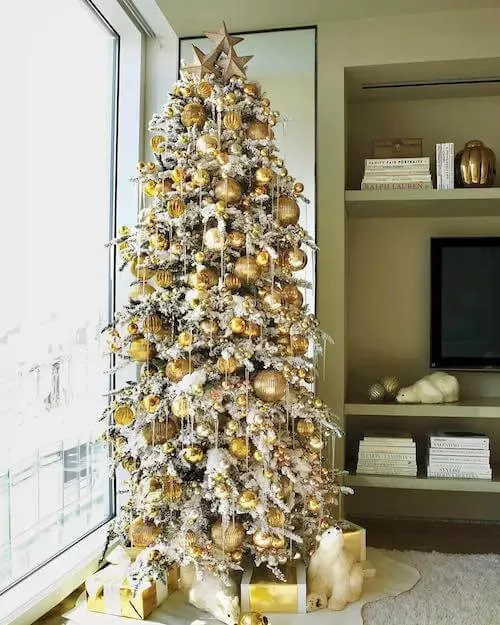 IG@@marthastewart
White And Gold Decor Ideas For Green Christmas Tree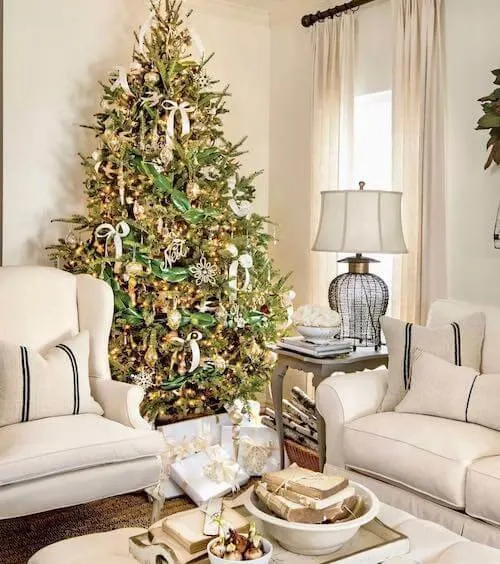 IG@southernlivingmag
Minimal White And Gold Christmas Decor Idea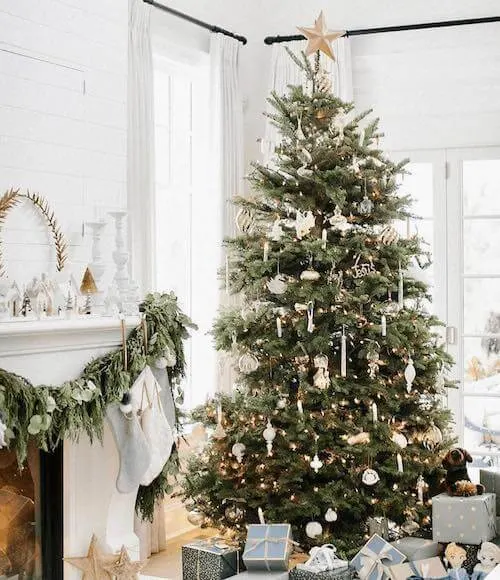 IG@monikahibbs
Beautiful White Snowflakes and Stars
IG@modernglamhome
Gold Ribbon Decors and White Baubles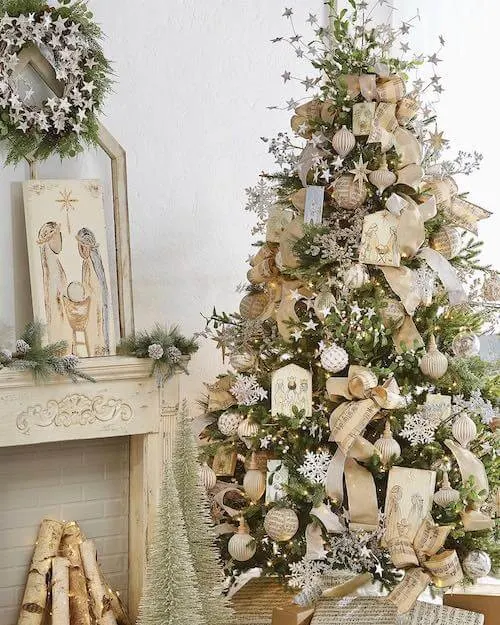 IG@trendytreesanddecorations
Elegant White Snowflakes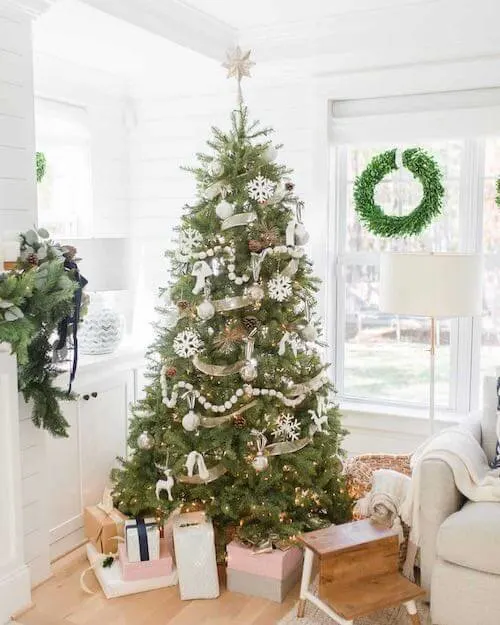 IG@chrissymarieblog
Shining Christmas Tree Ornament Ideas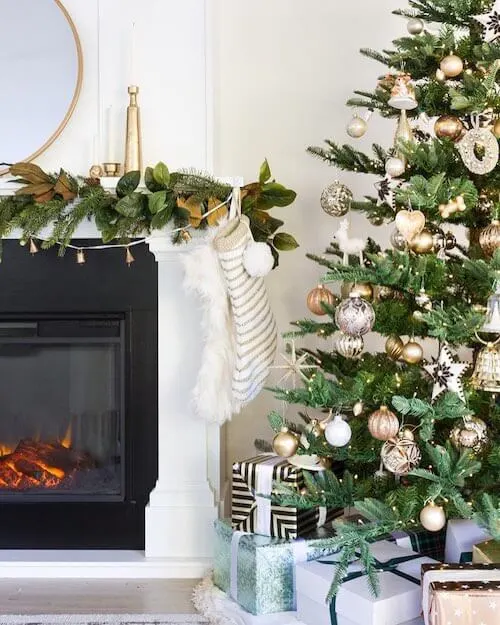 IG@zevyjoy
Merry Christmas Garland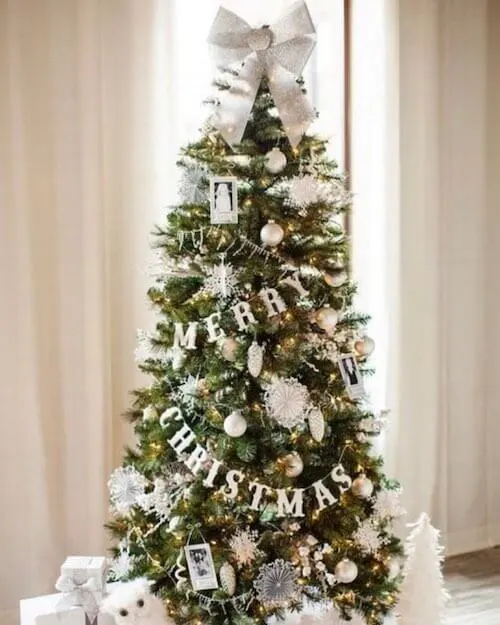 IG@tomkatstudio
Luxury Holiday Tree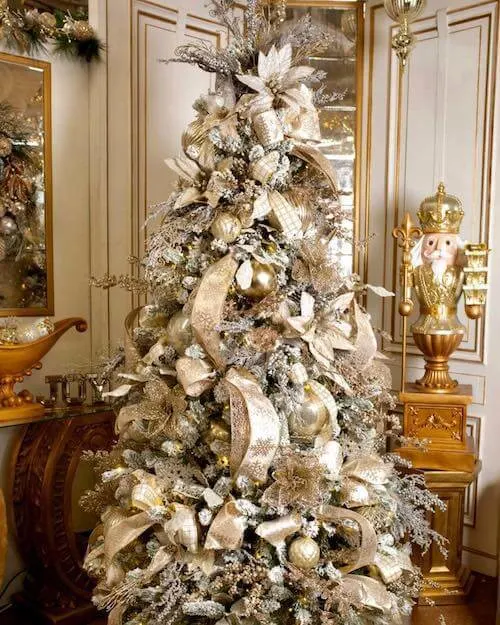 IG@decoratorswarehouse
White And Gold Ribbons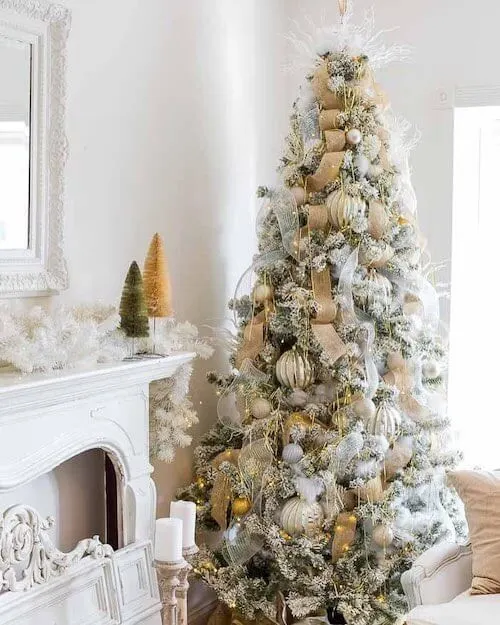 IG@shabbyfufu
Mix Elegant Trees Together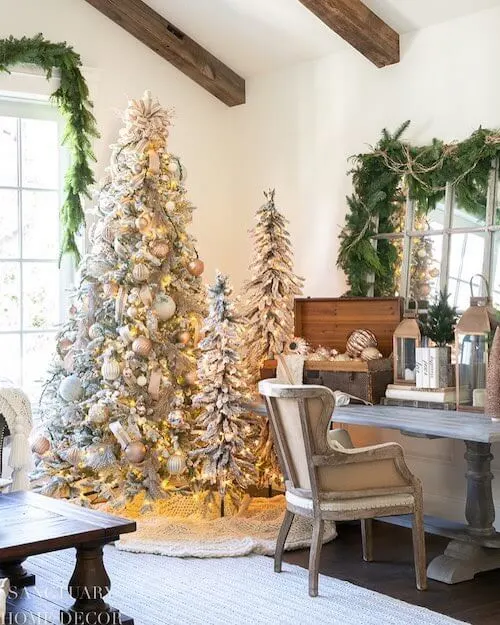 IG@sanctuaryhomedecor
White Flocked Christmas Tree & Gold Star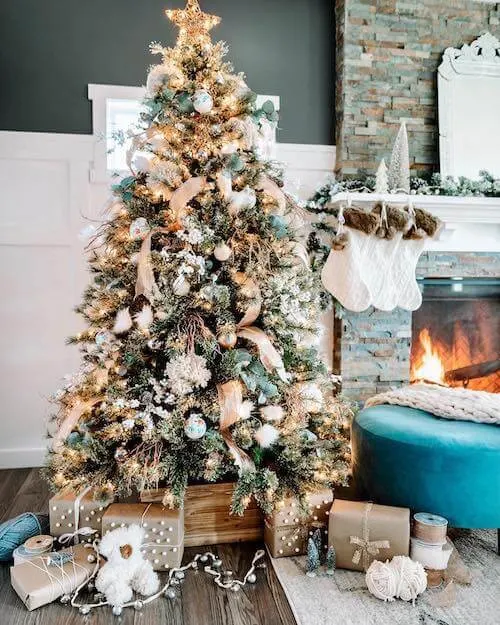 IG@thediymommy
Oversized Balls and Gold Ribbons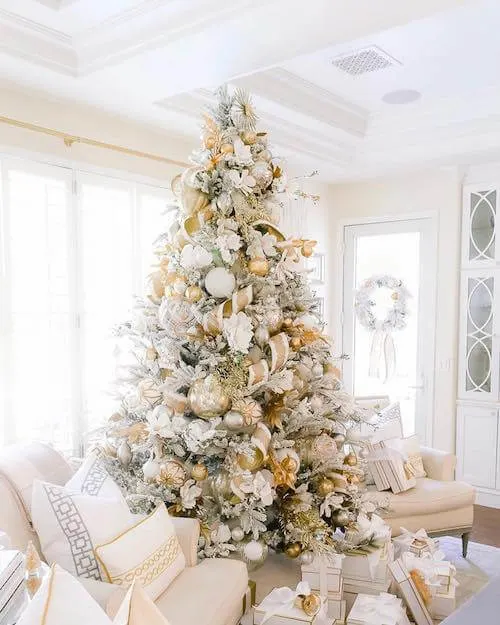 IG@randigarrettdesign
Pale Gold And White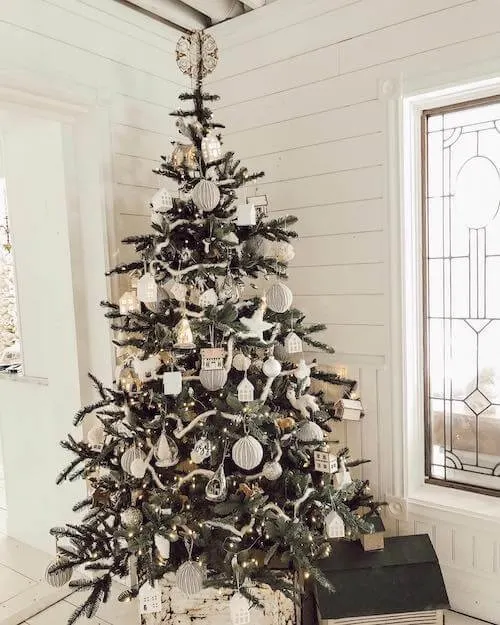 IG@lizmariegalvan
Wide Gold Ribbons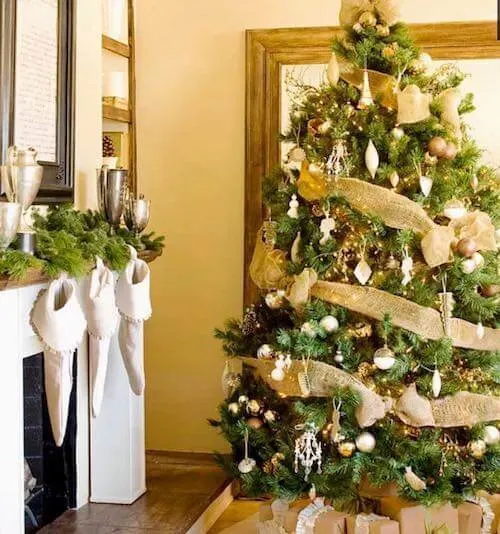 IG@betterhomesandgardens
All White Christmas Tree and Gold Ornaments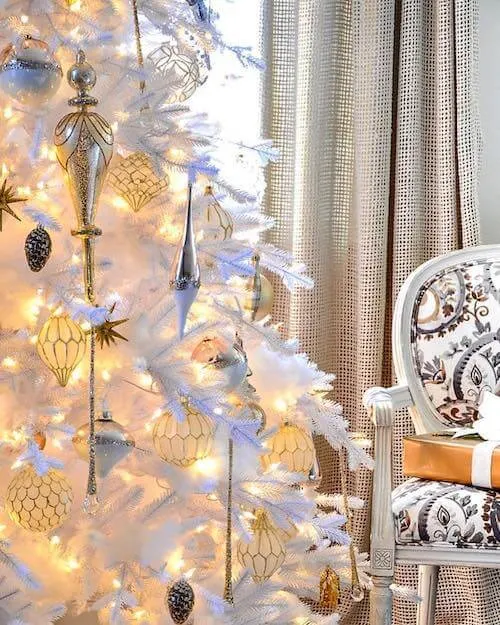 IG@stonegable_blog
Oversized White Ornaments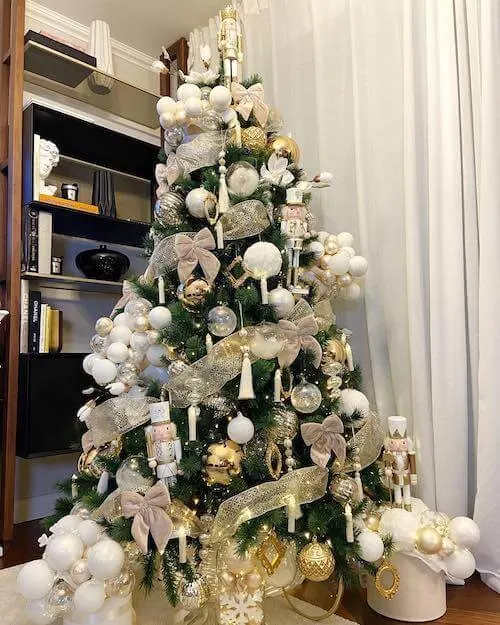 IG@_andyspointofview_
Festive Metallic Hues For A Classic Look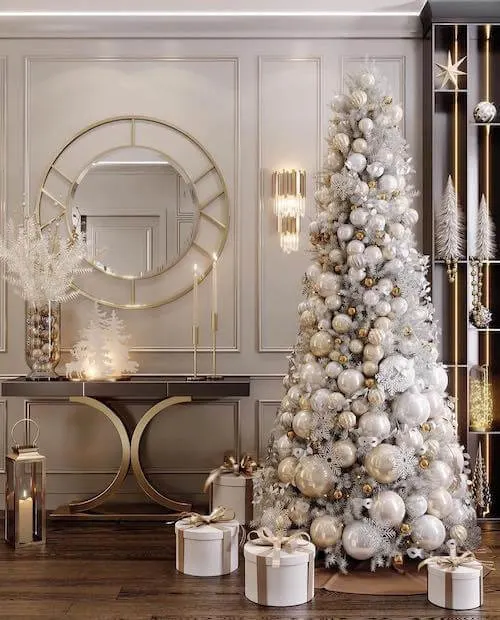 Gorgeous Christmas Tree
IG@balsamhill
White Gold Christmas Tree and Blue Gift Boxes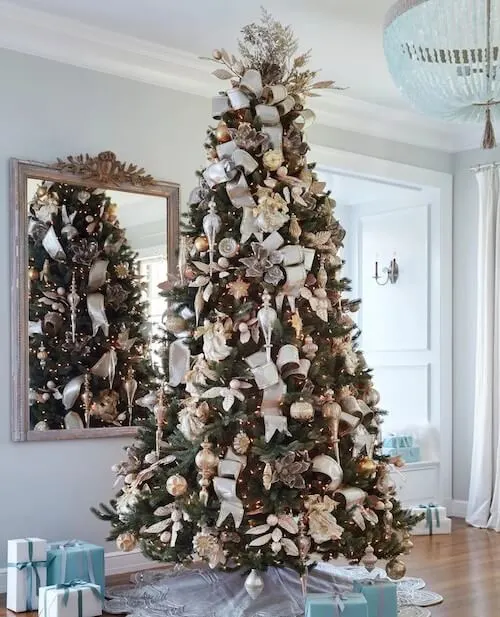 IG@balsamhill
Dreamy Christmas Tree With Faux Fur Tree Skirt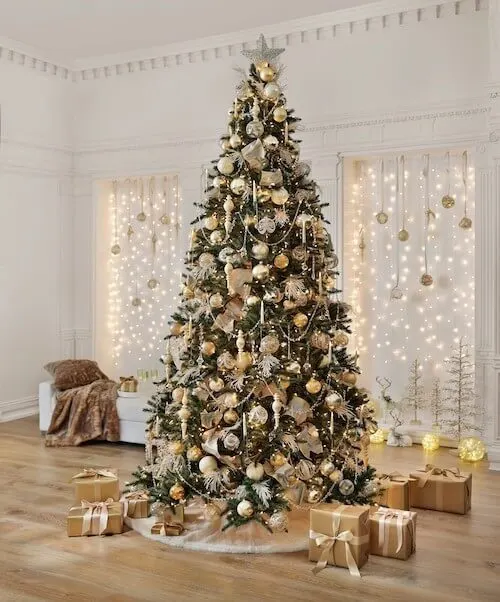 IG@balsamhill
Elegant Christmas Tree Ideas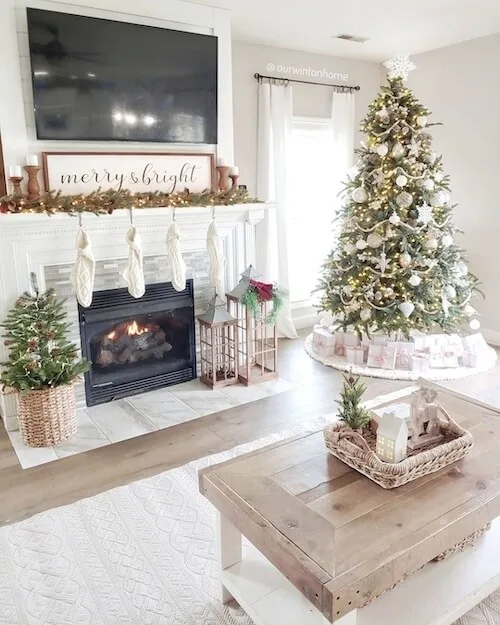 IG@ourwintonhome
Gold Christmas Tree Decorating Ideas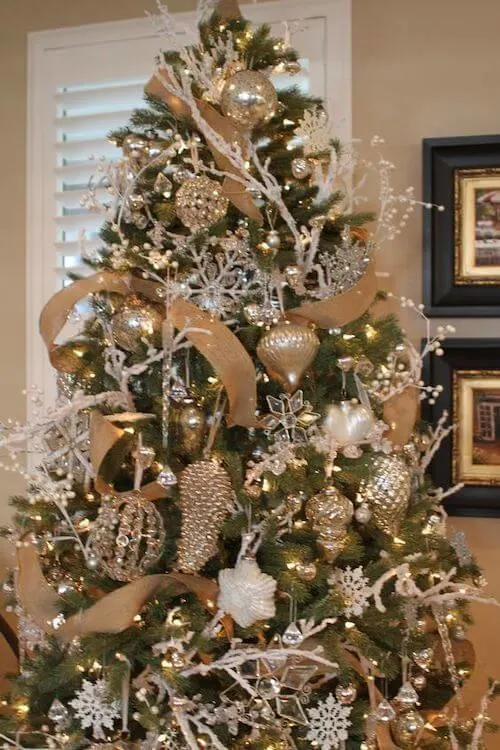 Beautiful Ornaments for Christmas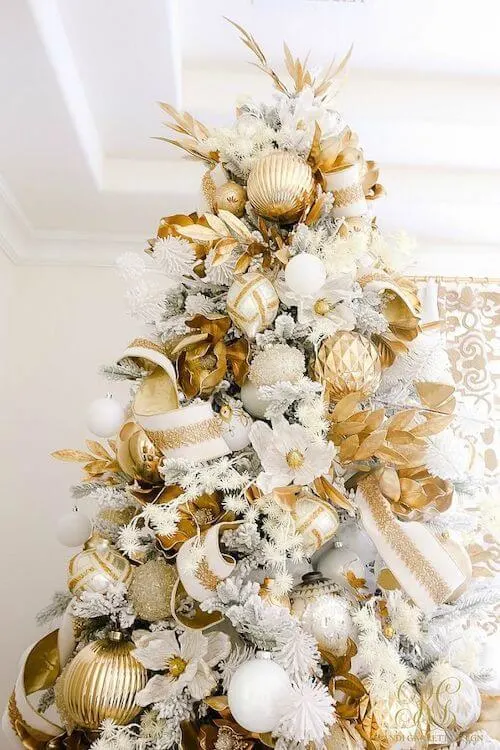 Gorgeous Tree Ornaments In Gold Color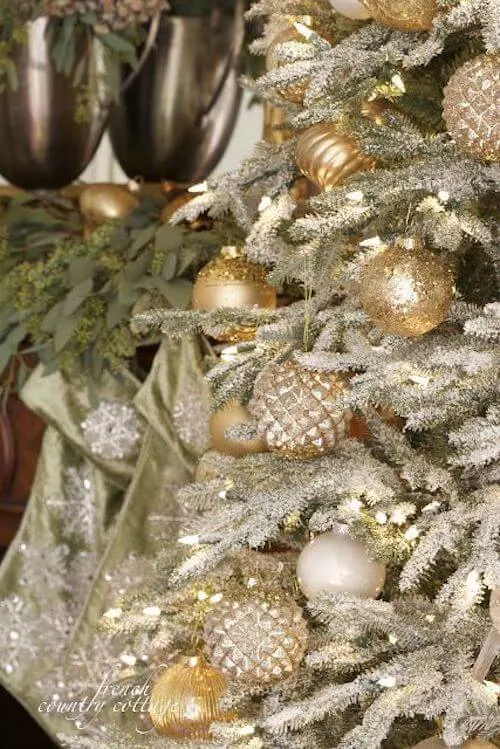 Modern Christmas Tree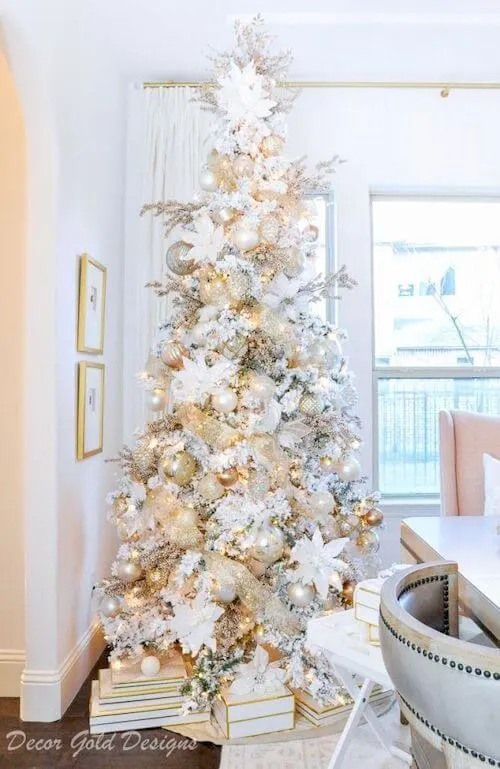 Gorgeous Gold and White Christmas Tree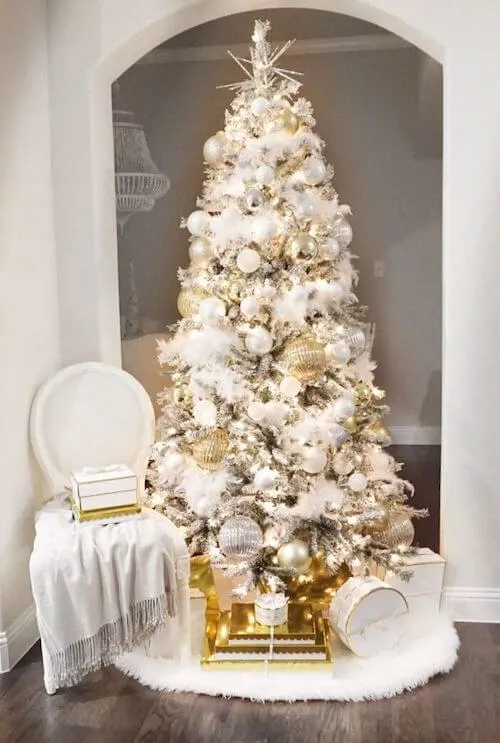 White Branches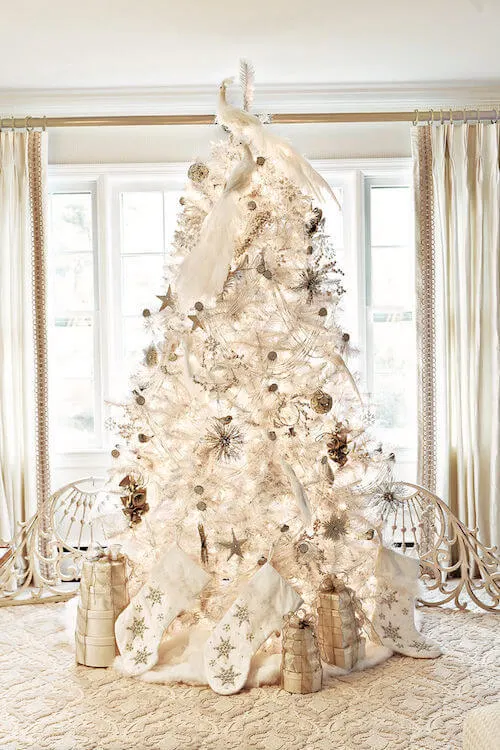 via weheartit
Faux Snow Holiday Decor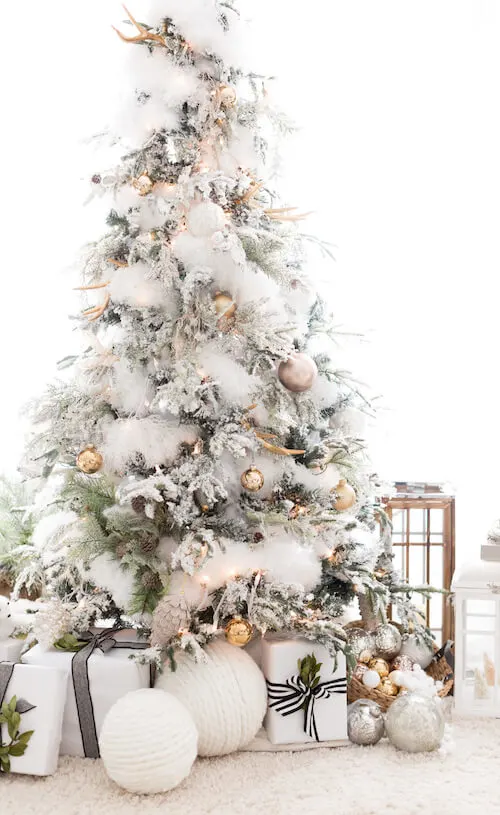 White Christmas Tree Decorations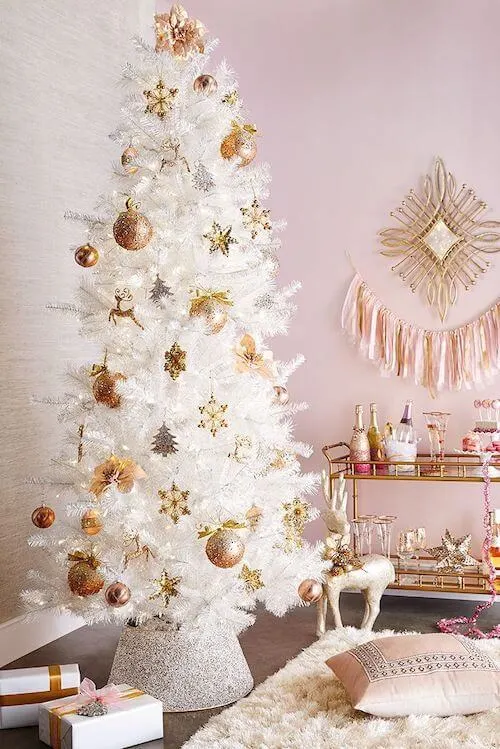 White, Gold and Green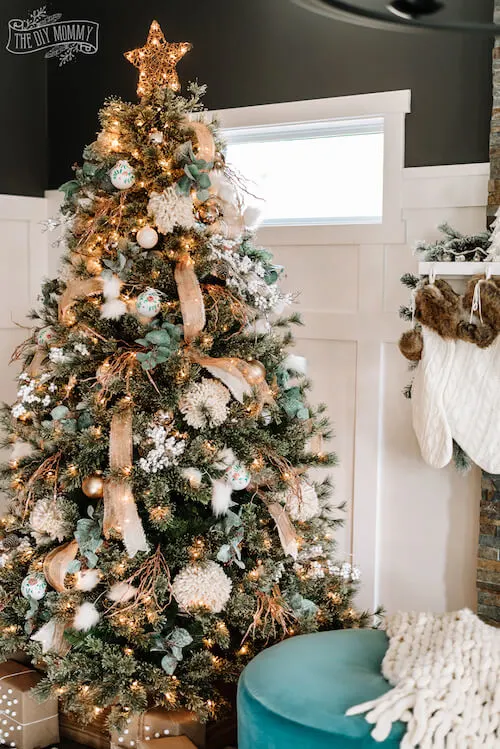 Pale Gold, Silver and White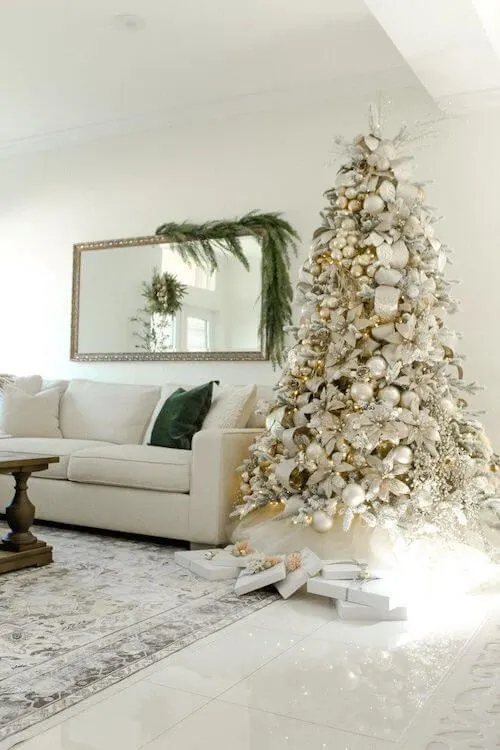 via Pinterest
Oversized Gold Ball Ornaments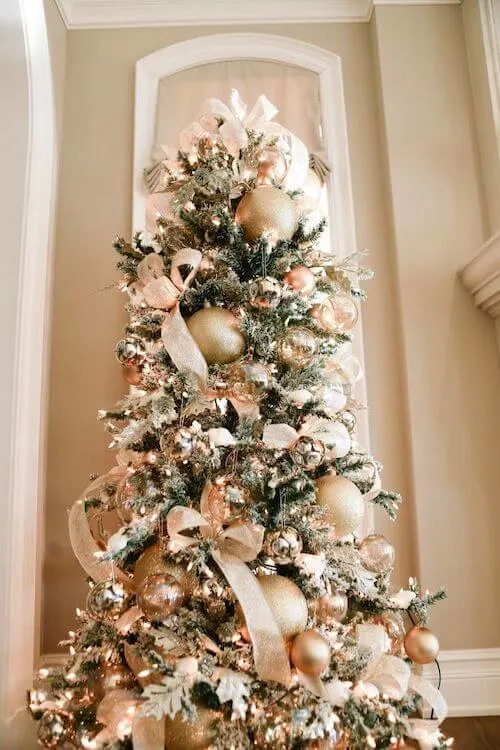 Elegant Gold White Themed Tree
Small White And Gold Christmas Tree Ideas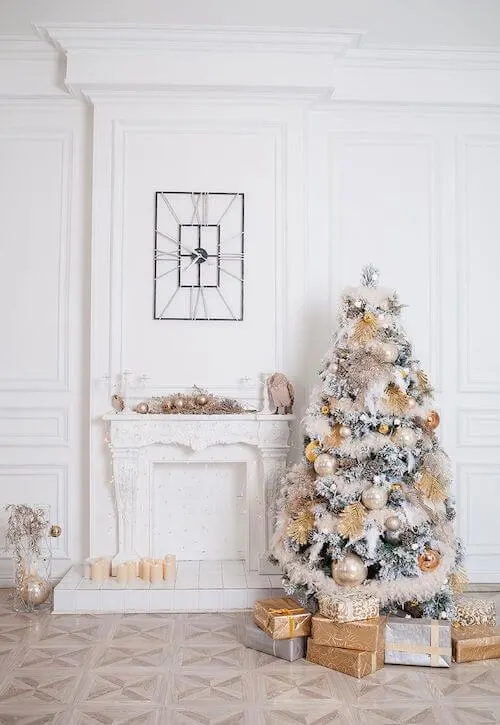 IG@starbackground
Rustic White And Gold Color Scheme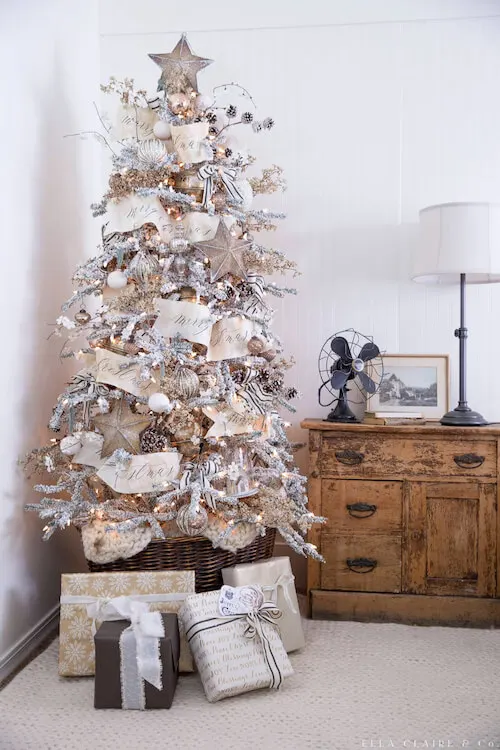 by ellaclaireinspired
With Silver Gift Boxes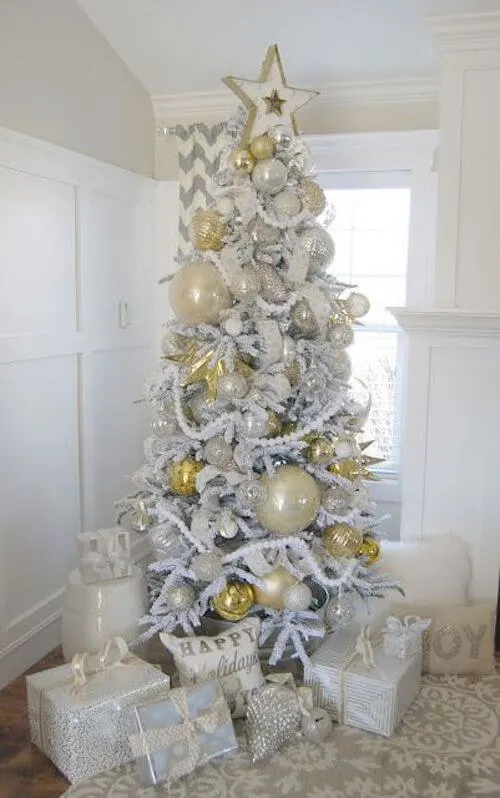 Beautiful Gold Ribbons and Gold Balls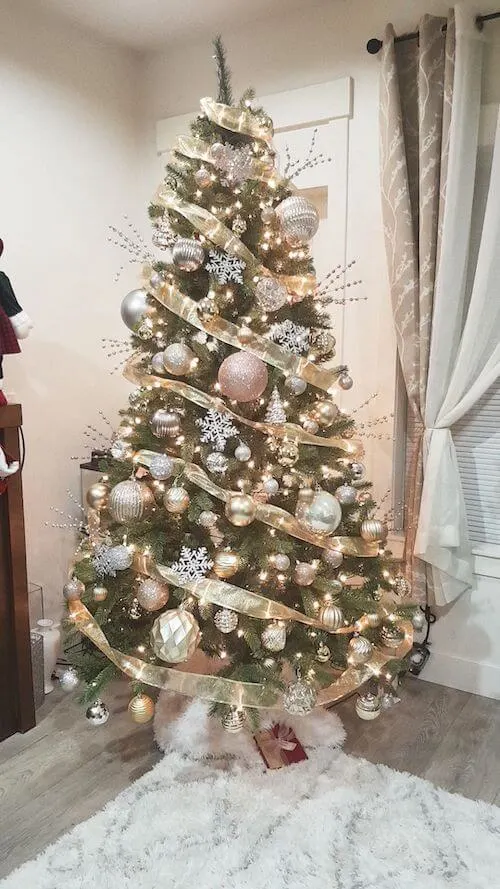 A Snowy Flocked Christmas Tree
White And Gold Christmas Tree Decoration Ideas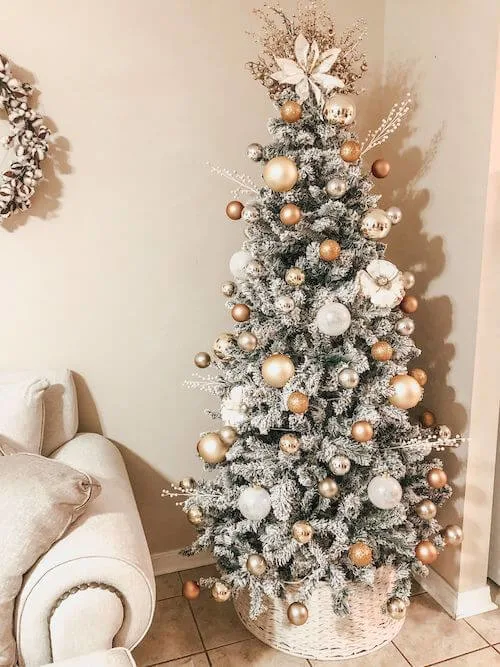 via Pinterest
Festive Snowy Look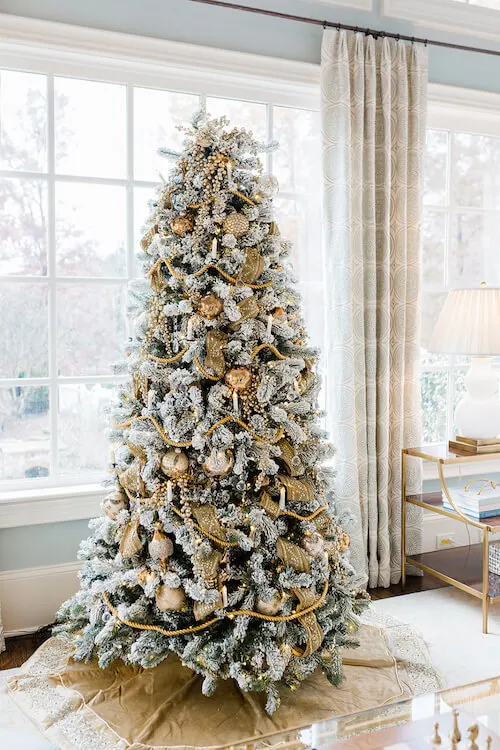 IG@bluegraygal
White and Silver Ribbons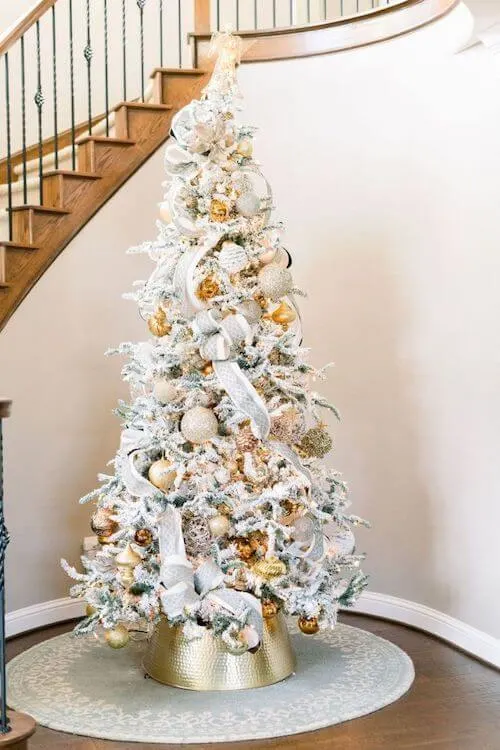 IG@therecruitermom
Christmas Tree Ideas White And Gold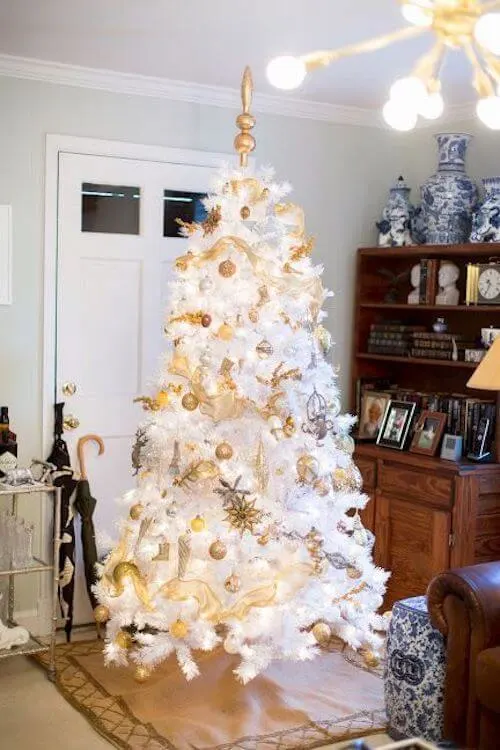 White Silver and Gold Christmas Tree Decorations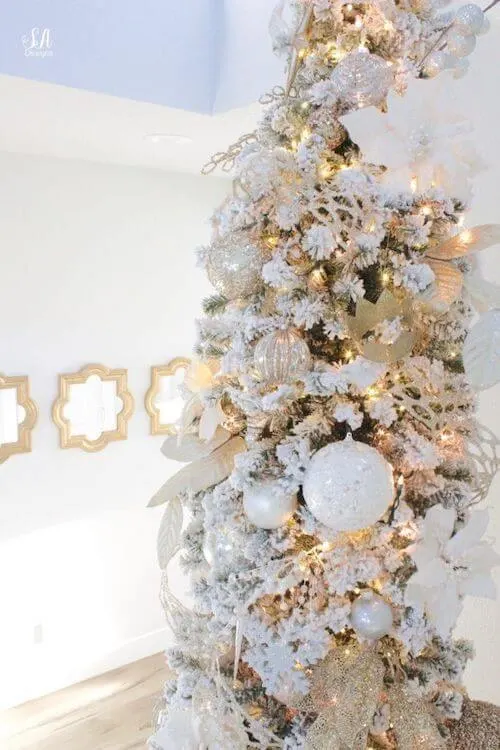 IG@summeradamsdesigns
White and Gold Xmas Tree Decorations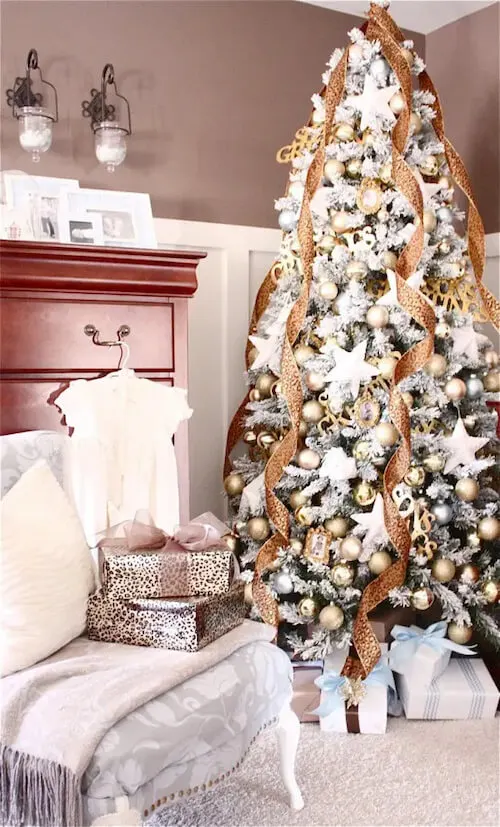 Simple White And Gold Christmas Tree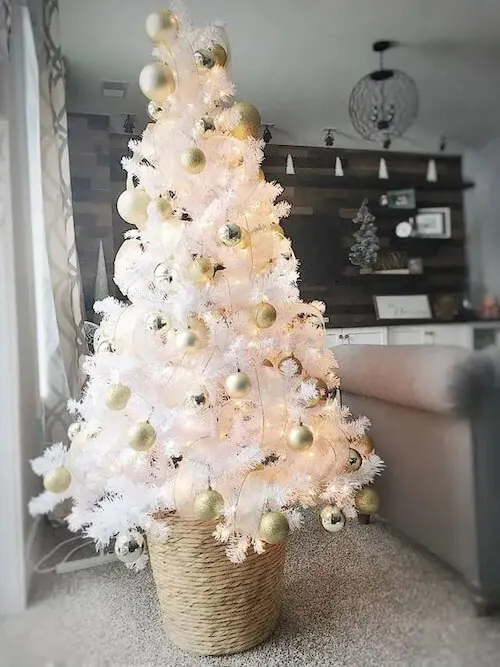 by harperhomedesigns.com
White And Gold Christmas Tree Decorations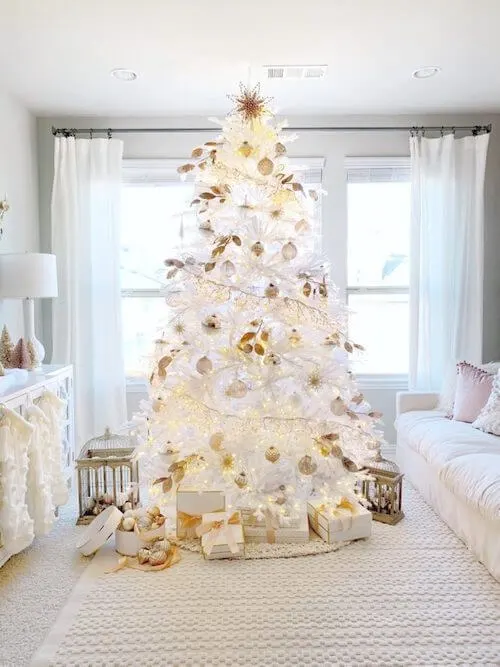 IG@mytexashouse
Classy White And Gold Christmas Tree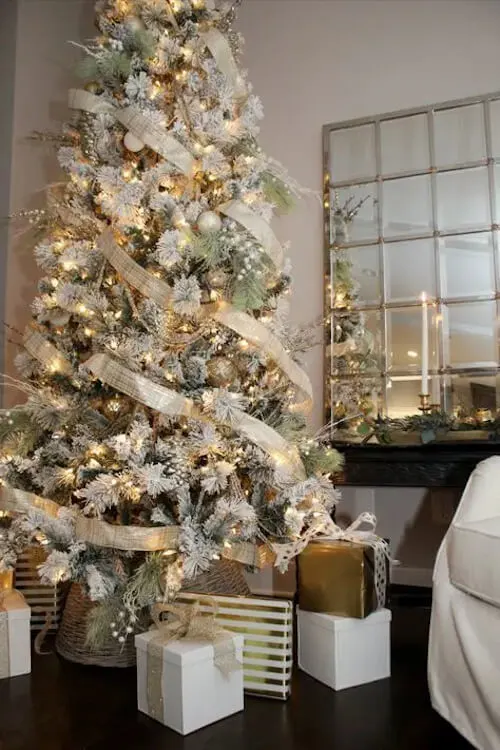 White Gold And Green Christmas Tree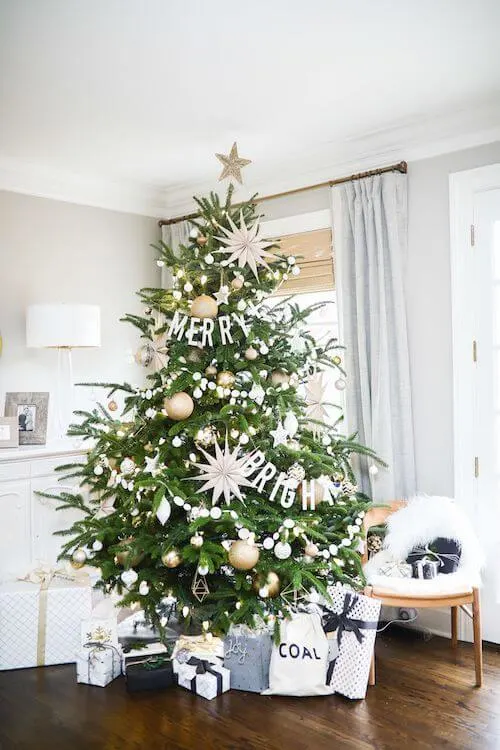 via Weheartit
White And Gold Christmas Decorations Ideas
A Beautiful Tree For Small Living Room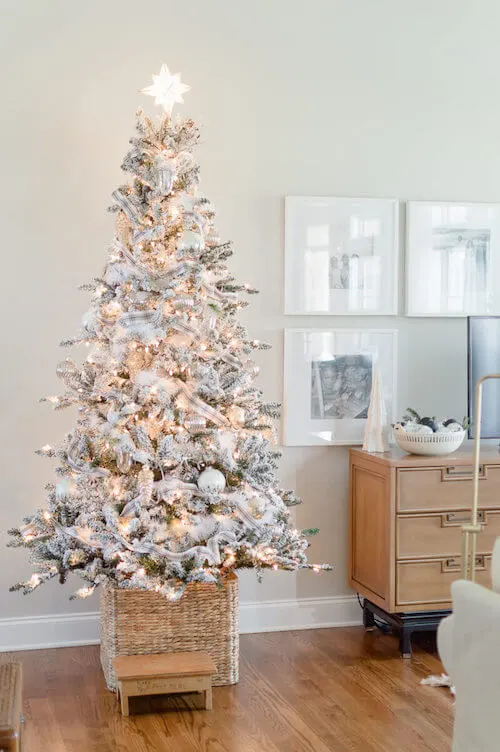 IG@thehomeicreate
Stunning Gold Flowers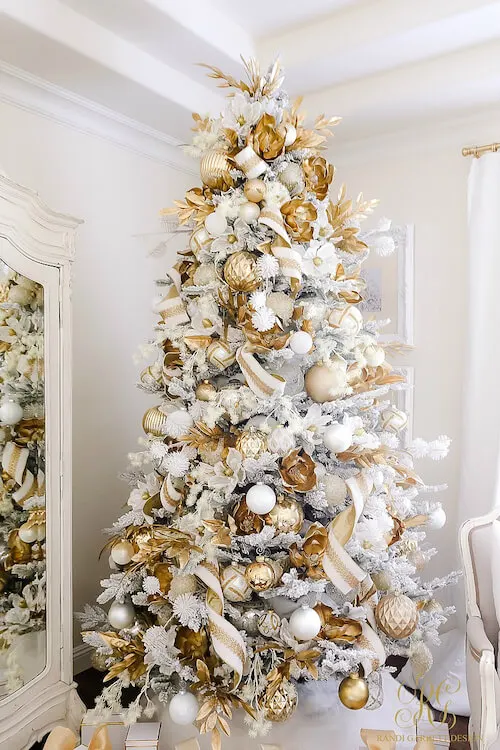 White And Gold Theme Christmas Tree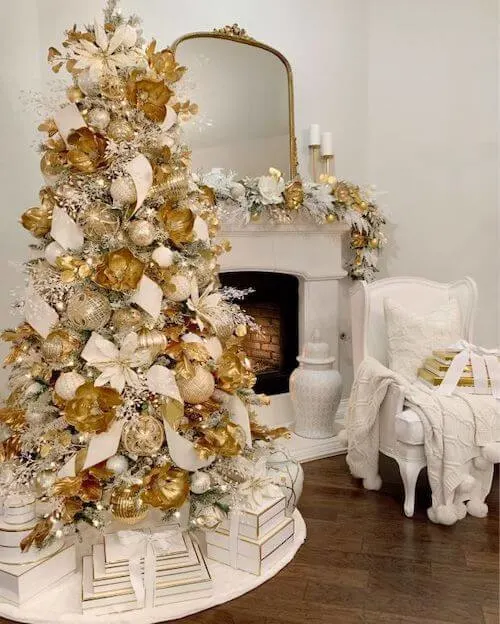 Small Space White And Gold Christmas Tree Decorating Ideas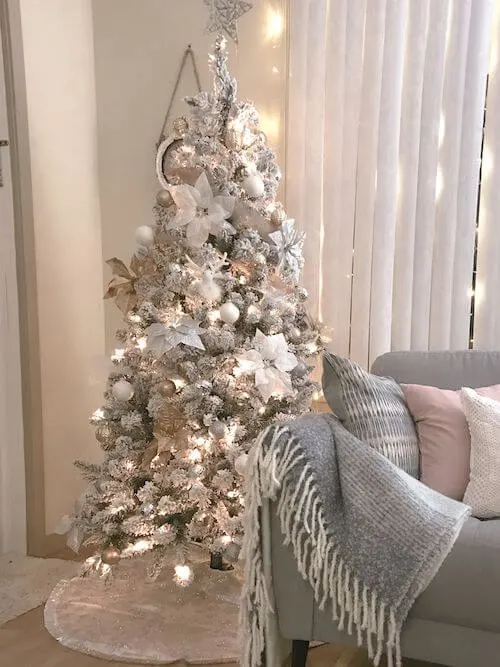 How To Decorate A White And Gold Christmas Tree (Video Tutorials)
Decorate your own tree for the first time?
Below is one of our favorite video tutorials on how to decorate a white and gold Christmas tree.
It is clearly explained and easy to follow!
How To Spray Paint A White And Gold Christmas Tree
If you want to transform your old Christmas tree into an elegant flock Christmas tree this year, here is a great spray painting Christmas tree video tutorial.
The spray used in this tutorial is this best-selling spray from Rust-Oleum.
This post was all about white and gold Christmas tree ideas.
About The Author
Tracy is an experienced personal stylist, shopping expert, and fashion & lifestyle blogger. She has been featured on Time Magazine, Bustle, Best Life, Glam, The Zoe Report, Mic, and GOBankingRates, for her insights on fashion, beauty, home decor, and lifestyle. Read More
Related Posts: