Looking for chic Boho inspired bedroom ideas? Check this post for 41 gorgeous decor ideas and decorating tips that you can copy right now.
Boho inspired bedrooms are never out of style. A Bohemian style bedroom always inspires us with its love of free spirits, natural materials, cultural pieces, and casual feeling. From small bedrooms to master bedrooms, the Boho decors always show the personality and creativity that attract us the most.
While there are many ways to decorate a Bohemian space, we share the 31 best Bobo style interior design ideas with you. All of the boho bedroom ideas are simple to copy and can level up your bedrooms immediately.
In this post, you will find inspiration for the wall decors, bed frame, color scheme, DIY decorations, and rugs, pillows, beddings, and some other soft furnishings for your bedroom.
So scroll down to check the best ways, and don't forget to pin the ideas you love. You can also shop the ideas directly via the "Shop The Room" link below each image.
This post may contain affiliate links, which means I'll receive a commission if you purchase through my link, at no extra cost to you. Please read the full disclosure here.
This post is all about Boho inspired bedroom ideas.
Chic Boho Inspired Bedroom Ideas
Have A Boho Curtain
If you want to add a unique bohemian Decor to your bedroom, choose a Boho style curtain. It brings the breeze and feeling from the outside and helps you relax in your private space, and you will feel like being on vacation.
Bohemian Wall Hangings On The White Walls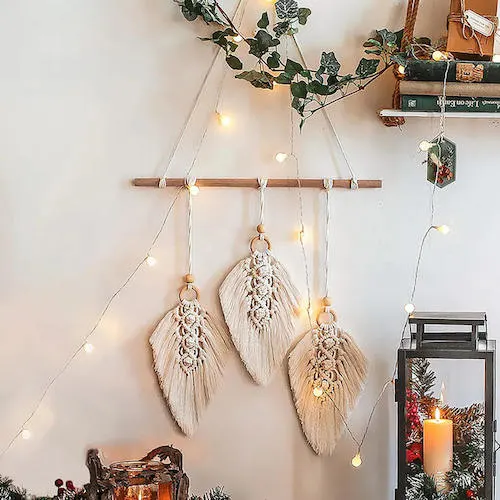 This Boho decor is trendy. And we strongly recommend you add string lights around it like the image above to make the Bohemian feel much cuter.
A Bohemian Style Master Bedroom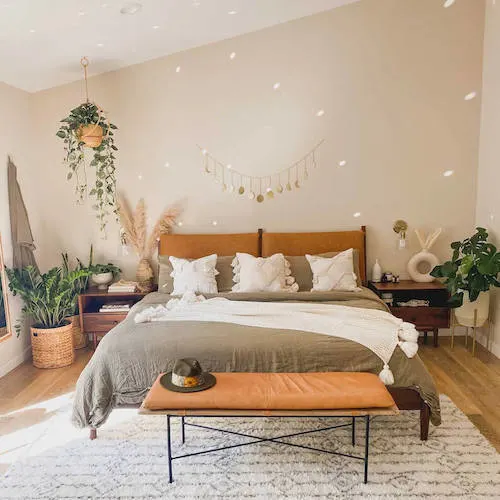 This simple Boho bedroom has the same color scheme for its beddings, furniture, walls, and wall decors, making the room so chic and in style.
Have A Natural Look Wall Decor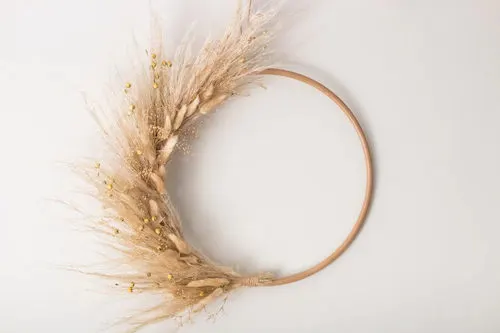 This is such a beautiful Boho bedroom decor to add the perfect touch to your room.
Creative Headboard For Small Space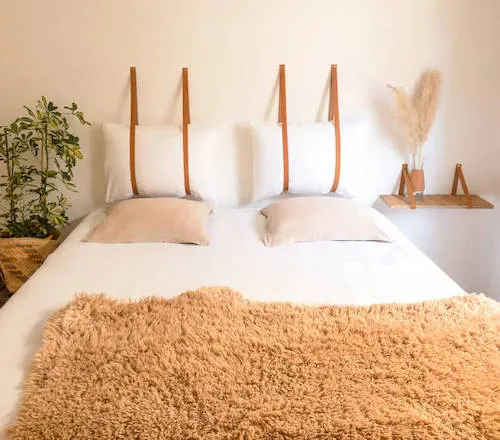 The minimalist Boho style hanged headboard and hanging shelves can help you save space. Perfect for small bedrooms.
Have a Hanging Chair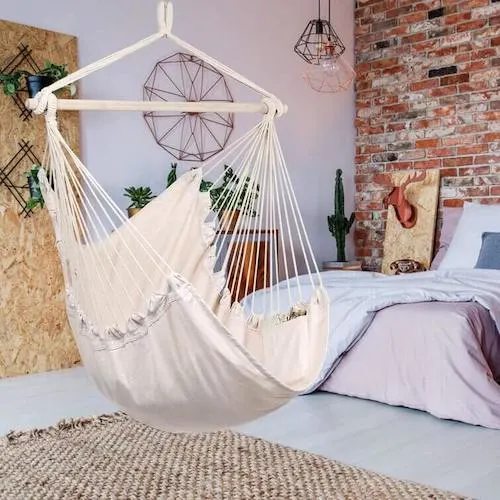 Hanging chairs are so trending now, and why not have one for your cute bedroom? A white color hanging chair makes it easier to match any Boho style room and looks inviting.
A Pretty Accent Wall
This cute room has vibrant colors. It is also a good idea to have a wall showing all the pretty wall arts.
If you want to use different colors in your Boho room, make sure the colors that seem not suitable for a Boho style do not take up too much space.
The room above has some hot pink decors, but they are small, so the room still looks gorgeous without any tacky feeling.
Same Color Scheme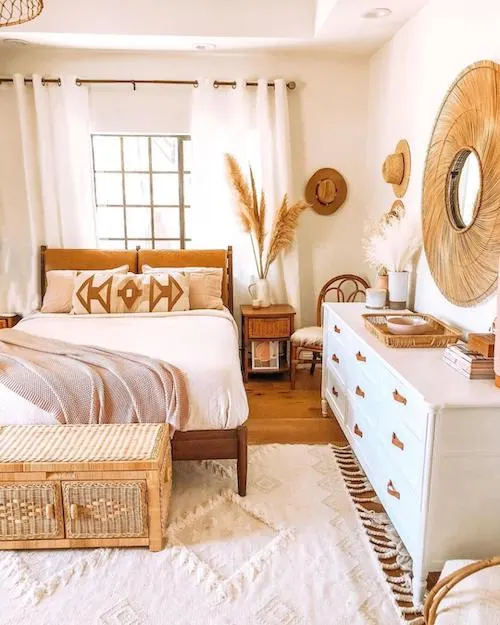 Using the same color scheme is a great way to create a chic Boho bedroom, making the room look much bigger.
Have A Boho Style Light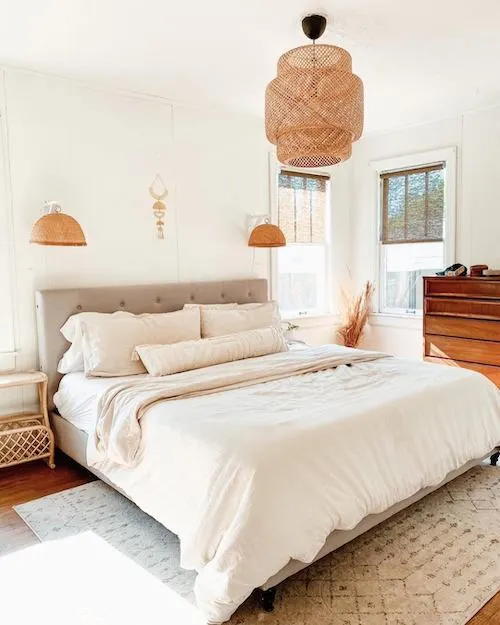 If you don't have many budgets to decorate your room, you can invest in statement pieces. A woven light is perfect Bohemian bedroom decor.
And all you need to do is make the other decors in your room as simple as possible to make the statement pieces showcase their beautiful designs.
An Eclectic Style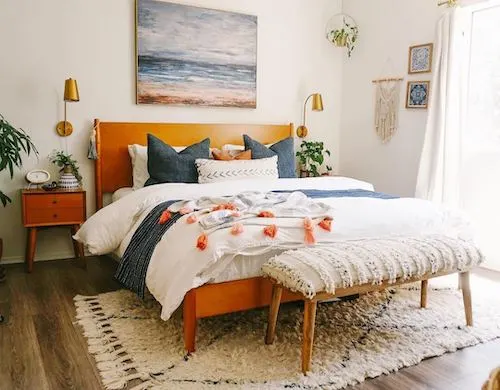 Mixing the boho look with the other bedroom styles you like is also a great thing.
Keep most of the decors in the same color, for example, the brown or orange as shown on the image above, then your room will look neat and pretty with the eclectic look.
Use Bright Colors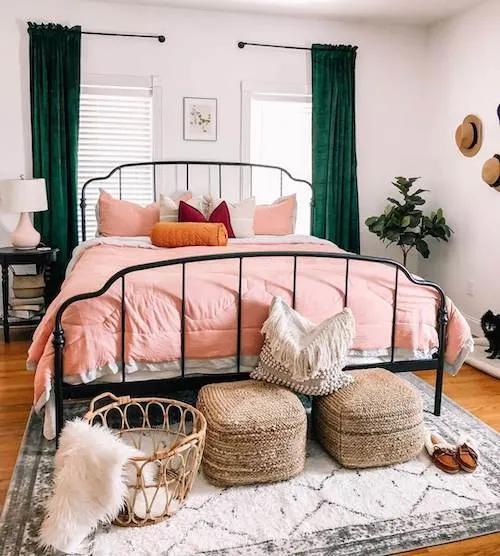 This room shows a Bohemian look with wooden floors, woven decors, faux plants, and bright color beddings.
A Simple Bed Frame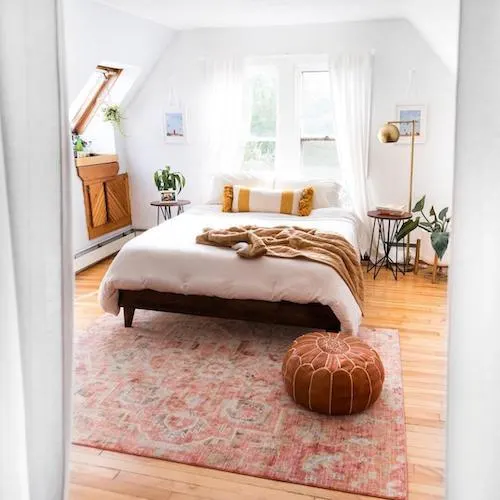 A simple bed frame is perfect for a Boho bedroom. With white color scheme beddings, it helps to fully showcase the beauty of the other Boho decors to get a chic bedroom.
Use Boho Style Soft Furnishings
Adding some boho style soft furnishings can turn an ordinary bedroom into a Bohemian flair room immediately.
Start with your favorite wall art and a pom pom throw blanket, and you are on the right track.
Keep It Simple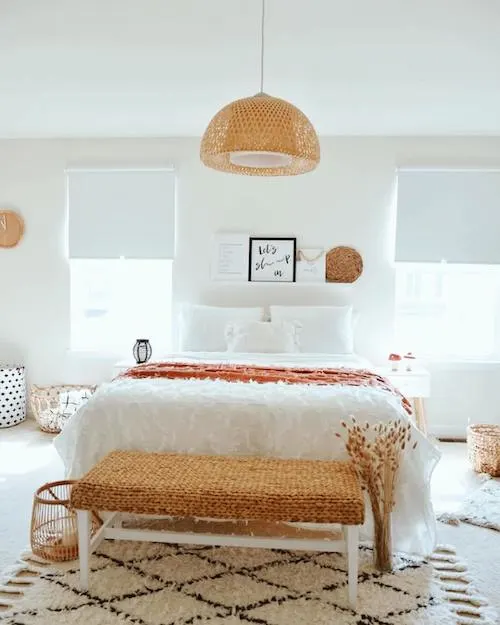 Keep the wall color, the furniture, and the beddings white, and only add some woven decorations. You can get a perfect Boho bedroom for your own home.
A blush Boho Bedroom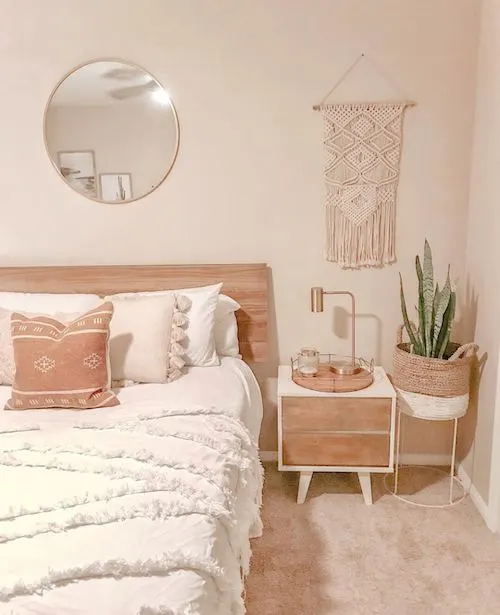 The blush color and the natural tone of the furniture make the Boho space cute and cozy. A little plant adds a slight pop up of the room.
Decorate The White Wall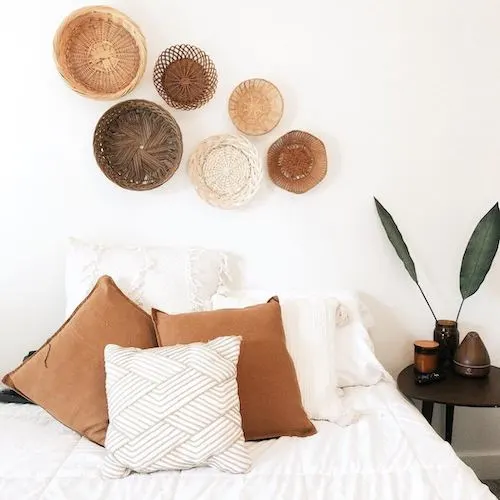 You can creatively DIY your wall decorations to add a Bohemian vibe to your cute bedroom.
Stick With The Wood Floor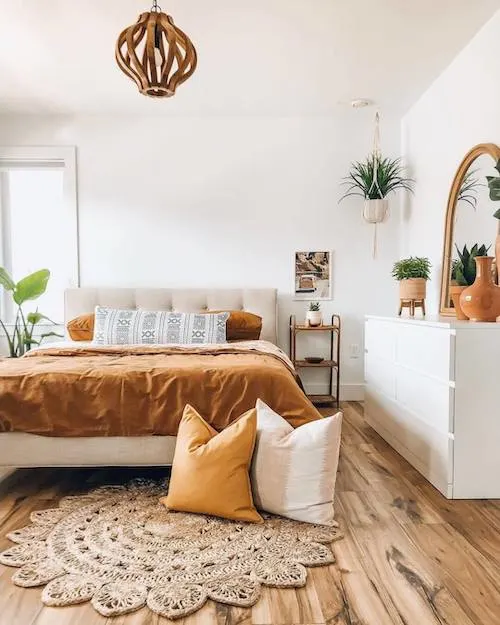 This beautiful floor is a perfect way to have a natural style and set up all the pretty decorative elements in the room. The earthy beddings add an additional cozy vibe to such a cute space.
Make Use Of Vintage Furniture And Vintage Decors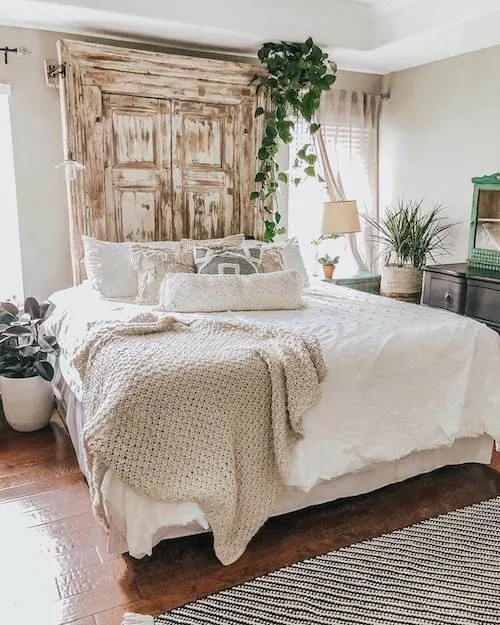 This is a perfect example of using vintage things to get a chic feel.
Create A Beautiful Brick Wall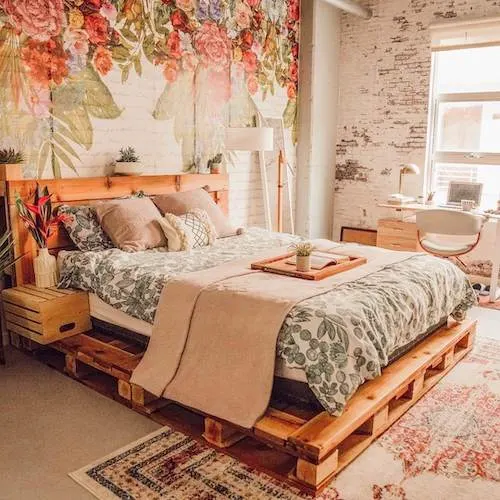 Enjoy your sweet dreams. The flowers on the wall make this room standing out.
A White Boho Bedroom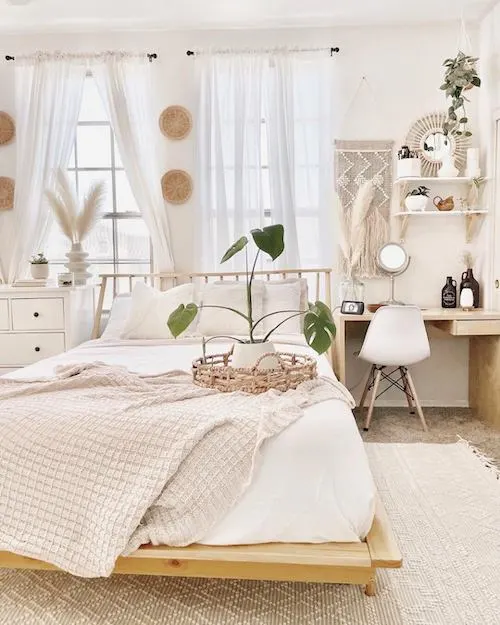 Simple and cozy with a bright mood. The all white scheme sets a good base for all the Boho decor details to make the room much cuter.
Invite The Plants In
Indoor plants are popular Bohemian bedroom ideas.
If you are not good at keeping plants, start with the small ones, and they are cute and flexible to place in any place you like.
Rattan Headboards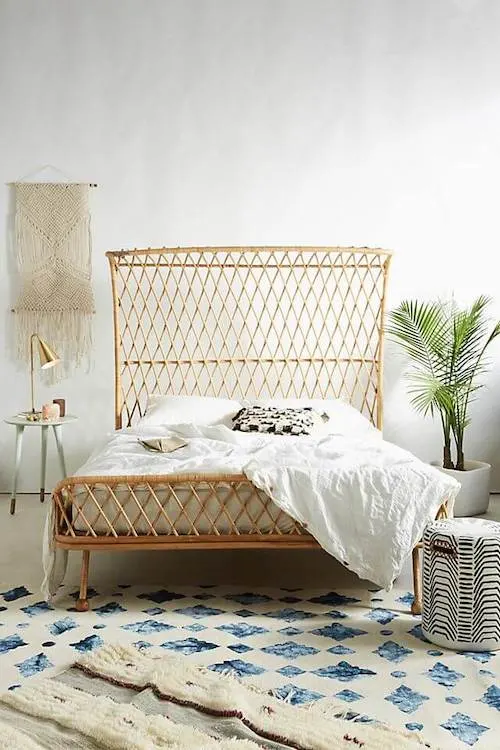 Rattan furniture is one of the best things to use in a Boho style bedroom.
Using a white bed sheet and adding a woven tapestry to complete the whole style.
A Gorgeous Color Palette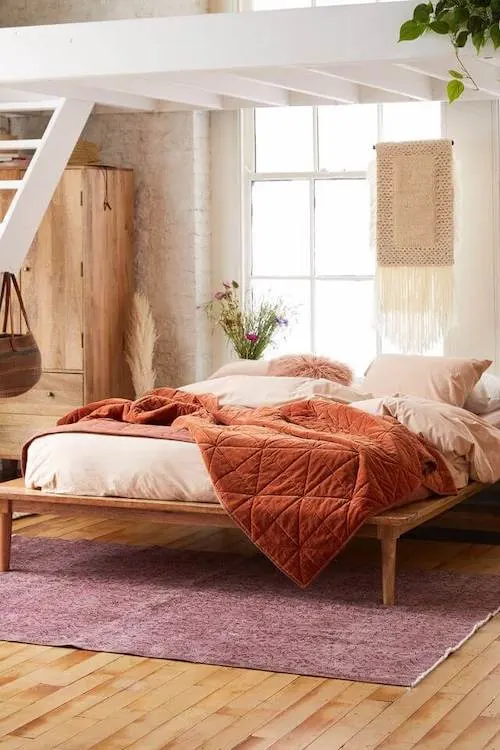 Vivid colors look pretty in a Boho bedroom, a little exotic style, and so cozy.
Have A Boho Throw Blanket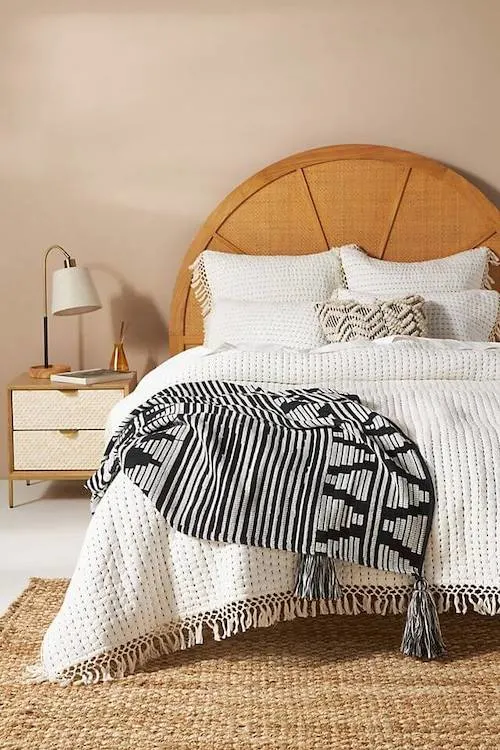 Choosing a unique and beautiful Boho style throw blanket to be a chic decor in your simple room. It could be the focal point of the room or be a good touch among the earthy tones.
Have A Canopy
Such a perfect place to get your energy back. The canopy draws your eyes upward to make the room seem bigger, is inviting, and provides colors to the room.
Have A Rattan World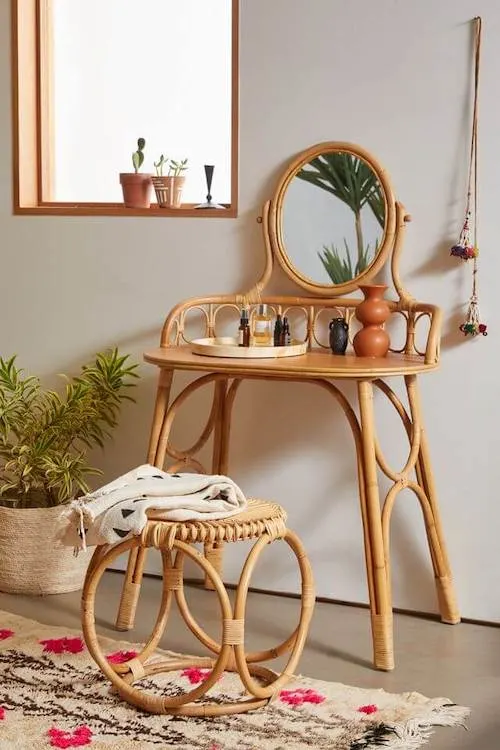 Make this the focal point in your beautiful room.
Set Up A Quiet Sitting Area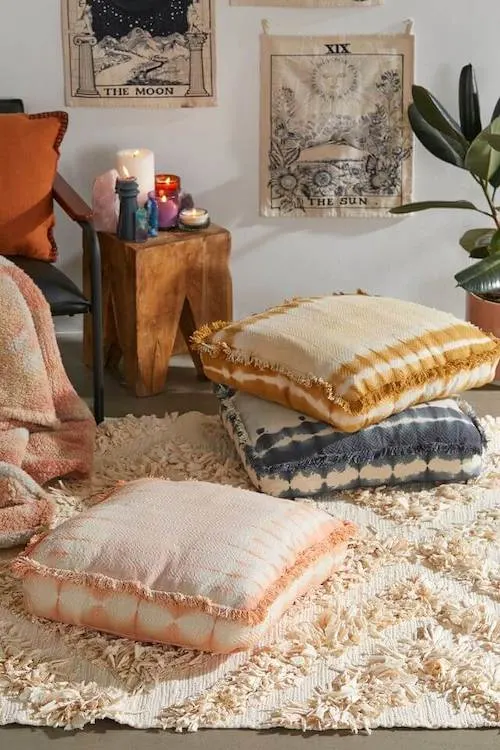 It won't cost much to have a multi-functional bedroom.
Just putting some Boho colorful throw pillows on the floor then you have an ideal corner.
Use Pretty Beddings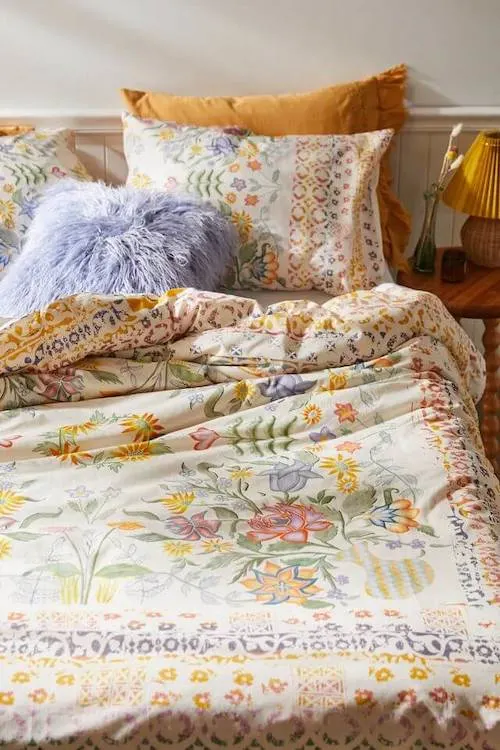 If you are tired of white beddings for most Boho rooms, why not choose such a pretty one? You can make it the focal point to mix and match with all the other vivid colors. This is perfect for showing your love for nature and exotic culture and your creativity.
Use Boho Pillow Cases Everywhere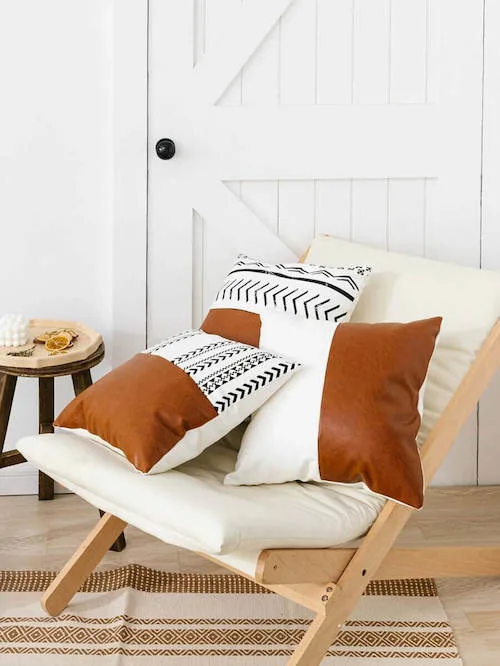 These beautiful pillows are suitable for almost all Boho design ideas. They can go well with the earthy tone, the white color scheme, and so many other rooms you can dream of. These are affordable but never out of style decors to set a Boho mood.
Add A Boho Vibe Rug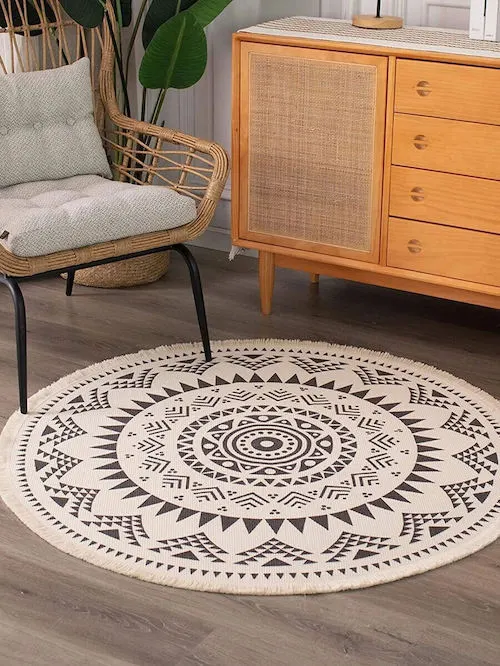 A perfect addition to your floor to spice things up in this Boho inspired bedroom and make it feel homey.
Stick With A Bohemian Design Shag Rug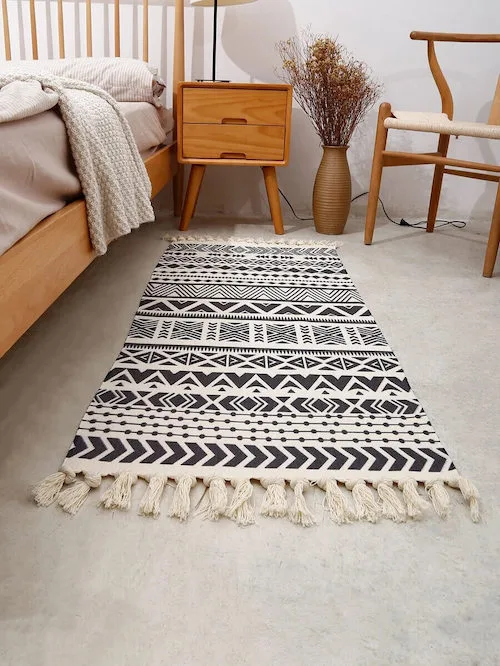 If you want to embrace the boho vibe in an eclectic design, you can choose such a rug to make the room vivid in a minute! Yes, the patterns, colors, and tassels have everything you need for your Boho style!
Choose Exotic Style Beddings With Vivid Colors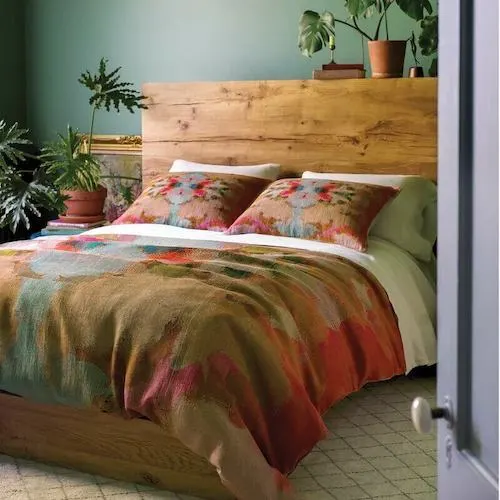 These beddings perfectly showcase the exotic atmosphere, full of artistic atmosphere while making people feel warm. It can make any original simple room instantly become very luxurious.
Use Vacation Vibe Beddings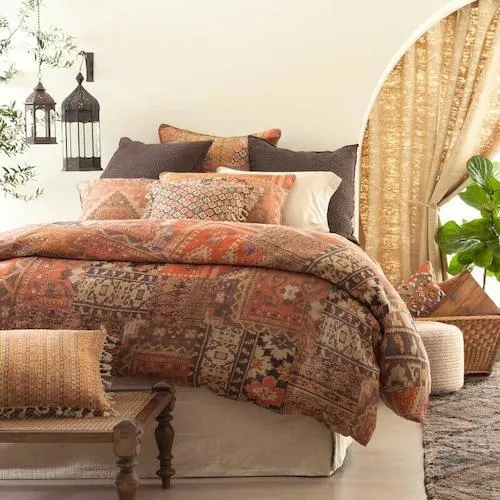 It is also a group of beddings full of exotic cultures, but at the same time, it has a strong vacation vibe.
The colors of the overall decors of the room are different but within the same color scheme, so that the colors of the room are rich but not cluttered at all.
Cute White Bedroom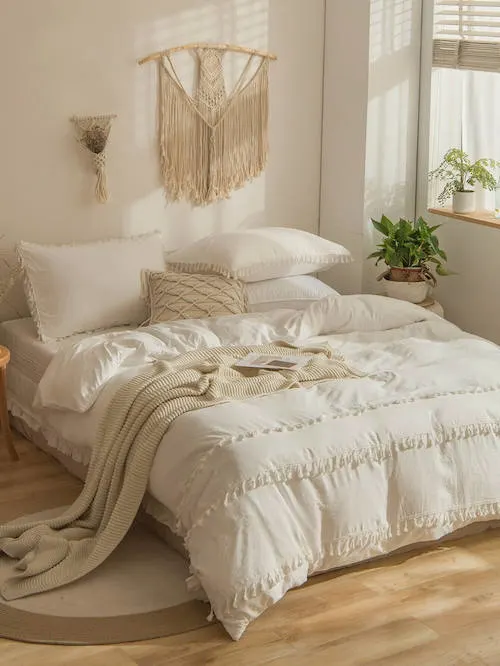 All white beddings are not expensive, but they make the room look chic and tidy enough, especially suitable for small spaces.
The exquisite woven Boho wall hangings and the scattered plants make the room cozy and full of vitality.
Elegant Bed Frame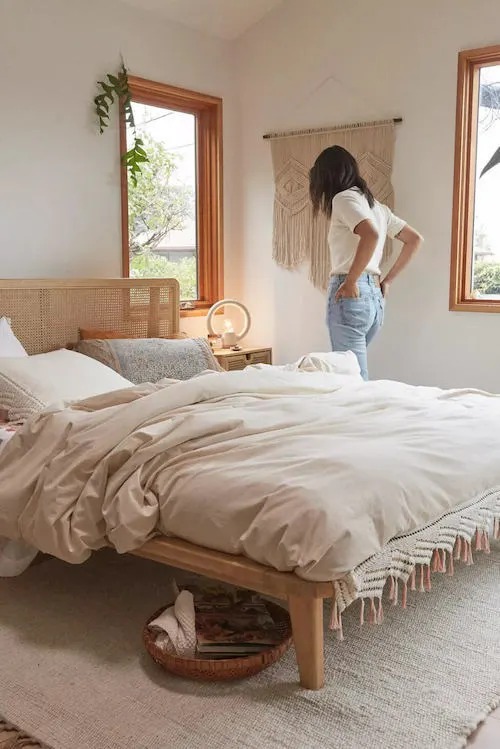 Choosing an elegant bed frame can instantly enhance the beauty of the bedroom. The carpet, beddings, and wall decors are all beige but different in texture, fully demonstrating the owner's taste.
Ratten Wall Shelf
This rattan wall shelf is unique and practical, making your Boho themed bedroom look unique and cute. The white wall fully demonstrates the beauty of rattan.
Beautiful And Versatile Rattan Dresser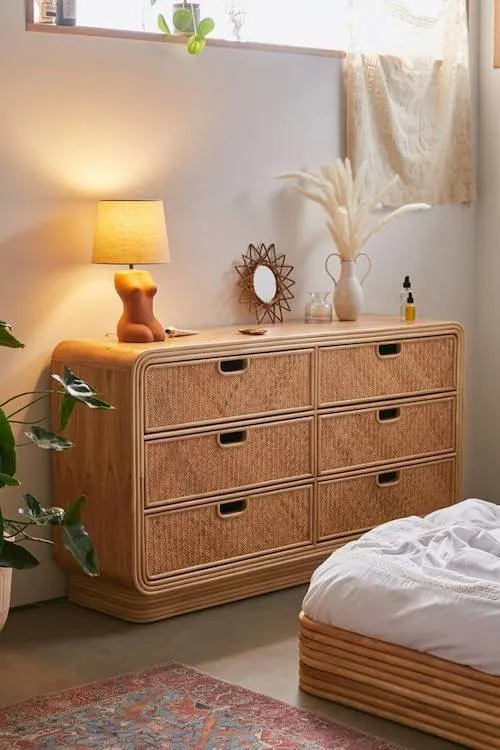 Also useful is this rattan dresser, which is a lovely decoration and compelling storage idea. It can also be used to display your other pretty collections.
Beautiful Handcarved Bed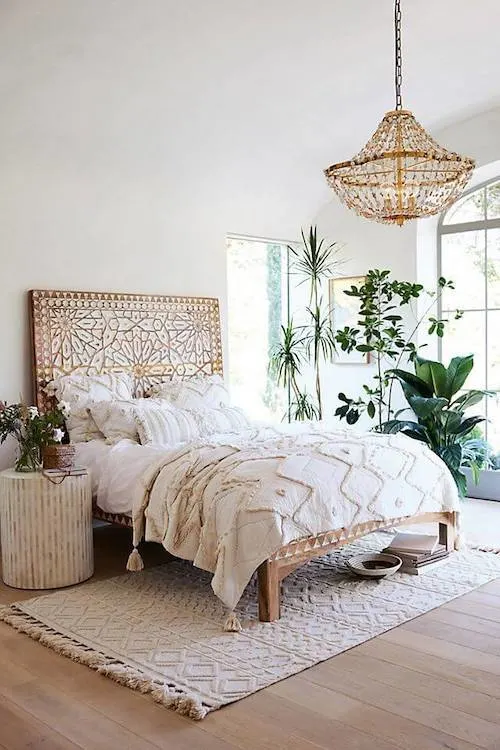 If your budget is sufficient, investing in a handcarved bed is worth it for your Boho inspired bedroom.
This stunning bed is full of artistic sense; it looks like a piece of artwork from a long time ago, very exquisite, luxurious, and not tacky at all.
Rattan Bed With Lovely Red Curtain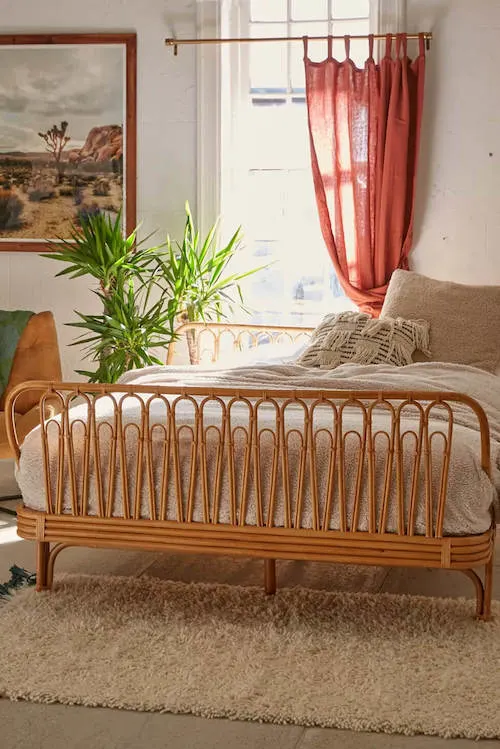 A rattan bed is also a good choice, especially for small spaces.
We also particularly like the red curtain in this room, which makes the whole room more vivid.
Add A Gold Rug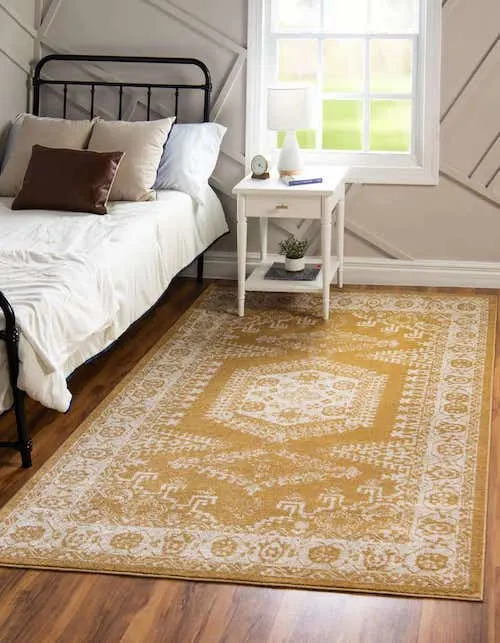 Gold's rug is not typical for Boho rooms, but it is worth a try. It will make your simple room very new instantly, especially it matches well with the wooden floor, and has a luxury feeling.
More importantly, it is very cozy.
An Exotic Style Rug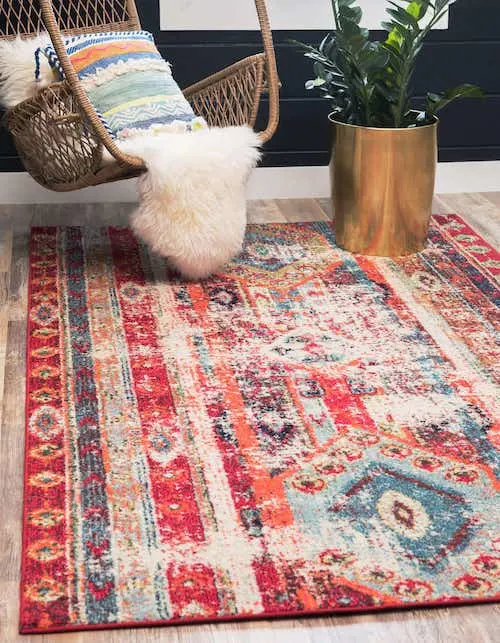 We also strongly recommend this beautiful rug with rich colors. It is very much like a souvenir you brought back when you traveled to a foreign country, full of memory, imagination, and mystery.
This rug is so beautiful with a rattan hanging chair and vibrant plants, inviting and making the room Boho all the way through.
This post was all about Boho inspired bedroom ideas.
About The Author
Tracy is an experienced personal stylist, shopping expert, and fashion & lifestyle blogger. She has been featured on Time Magazine, Bustle, Best Life, Glam, The Zoe Report, Mic, and GOBankingRates, for her insights on fashion, beauty, home decor, and lifestyle. Read More
Related Posts: