Looking for gorgeous bedroom inspirations for your room? Check this post for 41 fantastic bedroom design ideas that you can copy directly!
I have always felt that no matter how big the house is, the bedroom is always the most critical. You will spend the longest time in your bedroom. You need to rest and restore energy in the bedroom. Therefore, it is very important to have a relaxing and pleasant bedroom.
Today, we round up our recent favorite bedroom designs, including modern bedroom inspirations, small bedroom inspirations, elegant bedroom inspirations, white bedroom inspirations, grey bedroom inspirations, blue bedroom inspirations, etc. I hope to inspire you and help you better design your bedroom.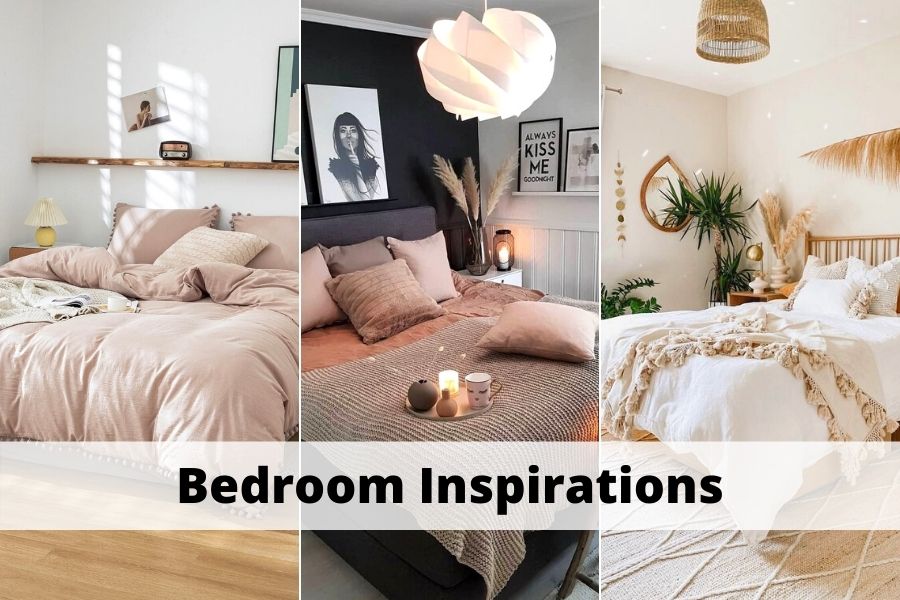 This post may contain affiliate links, which means I'll receive a commission if you purchase through my link, at no extra cost to you. Please read the full disclosure here.
This post is all about bedroom inspirations.
Modern Bedroom Inspirations
1. Using Chic Black Decors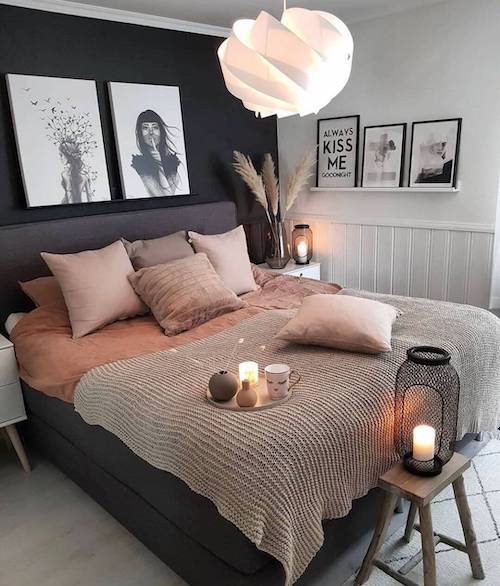 Good use of chic's black decors can enhance the taste of the room and make your room look simple but expensive!
You can also paint a wall black like the room above so that even the simple wall decoration will be set off very layered and very attractive.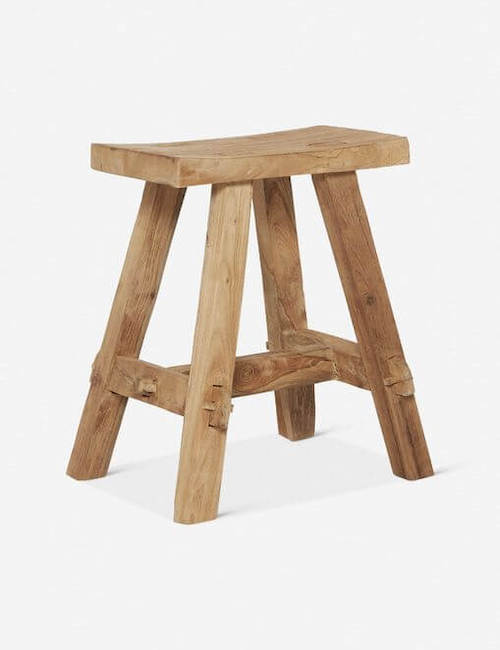 2. Bedroom Inspirations: Using Layering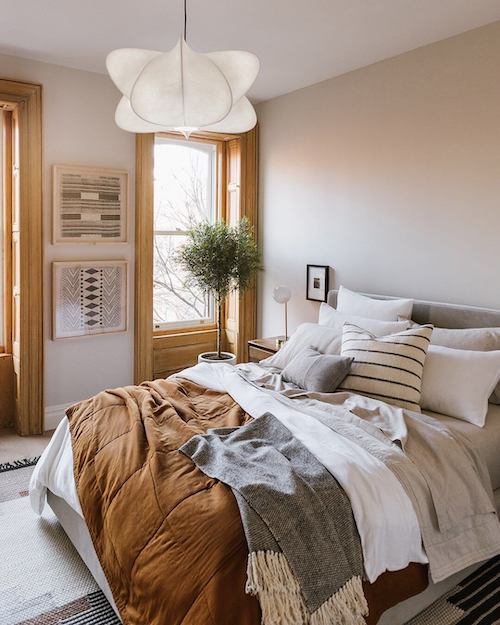 Layering fabrics of different fabrics together is the easiest way. One of the small tips is to keep most fabrics similar in color and use one or two darker or different colored fabrics to make your bedroom look neat and not monotonous.

Small Bedroom Inspirations
3. Small Bedroom Inspirations: A Cute Tapestry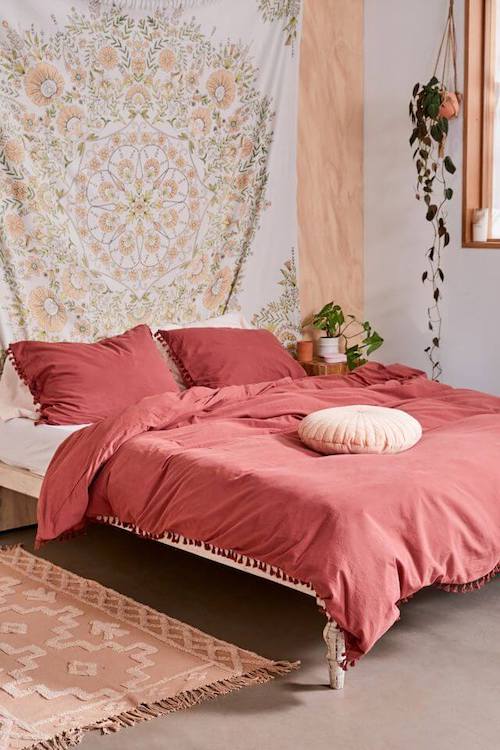 Tapestry has always been a cheap and fast way to enhance the bedroom's atmosphere, and it can also improve the warmth of the bedroom.
4. Small Bedroom Inspirations: Hang Up Neon Lights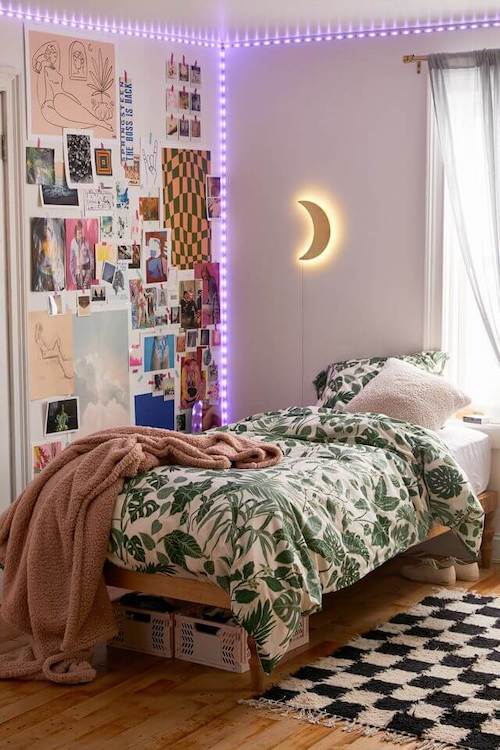 Neon lights have been so popular recently. Why not use them in your bedroom decoration?
I like the above idea very much. The neon string lights surround the photo wall as if adding a photo frame makes these wall decors look less messy.
5. Small Bedroom Inspirations: Have A Backrest Pillow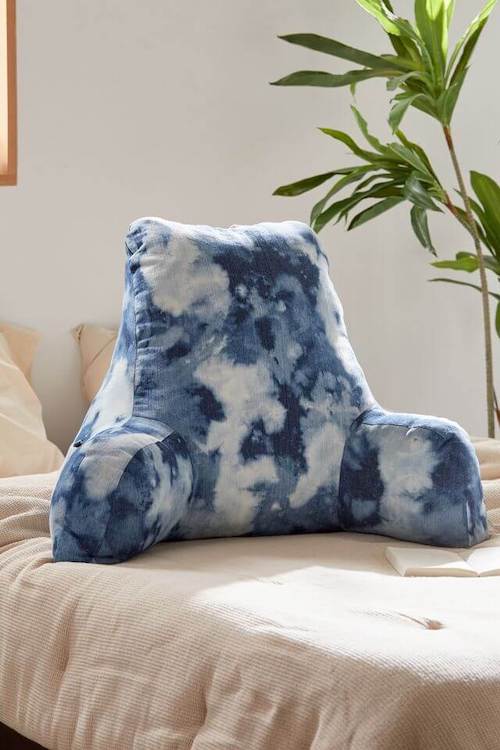 You must try this pillow! I bought one, and it has become my recent favorite. It can hold your waist and back well and make you sit up more comfortably. You can put it on the floor, bed, sofa. You can have a very comfortable corner to sit up at any time, anywhere!
6. Small Bedroom Inspirations: Use Floor Pillows To Create A Cozy Seat Area
It is a brilliant way to arrange your favorite floor pillows into a cute seat area.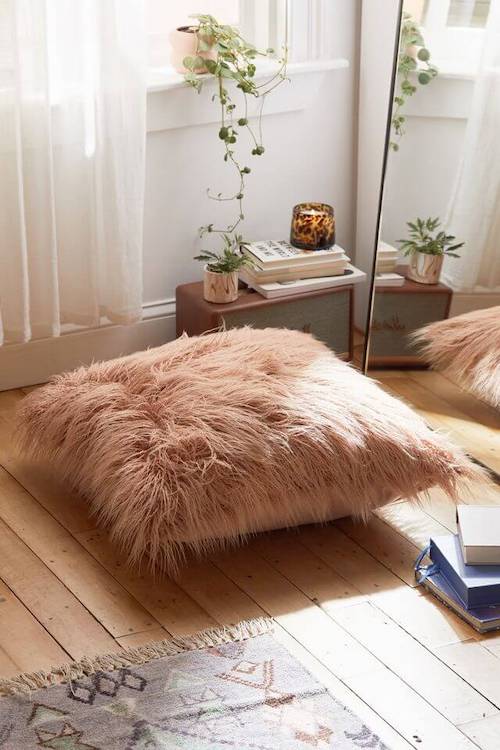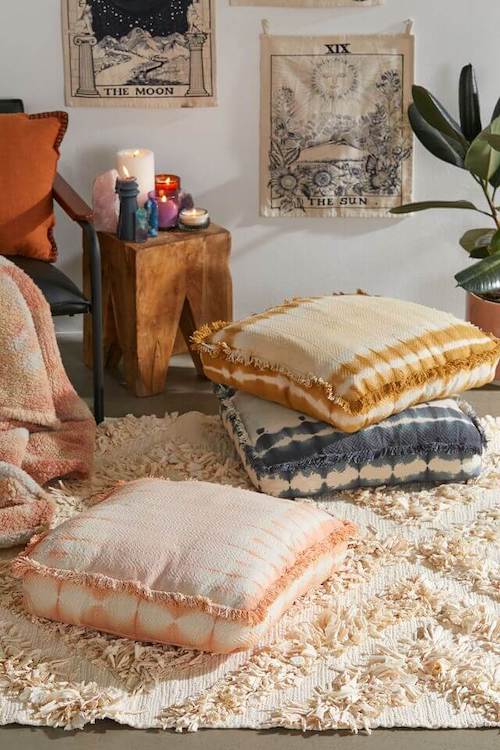 7. Small Bedroom Inspirations: Put The Wall Decors On the Headboard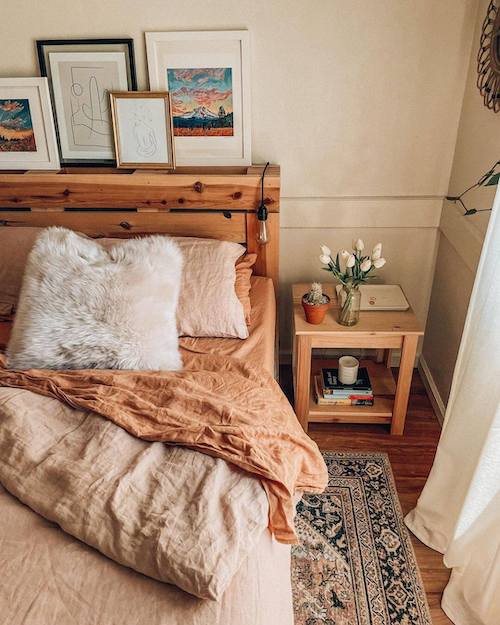 If your headboard is relatively wide, you don't need to hang the wall decor on the wall, but you can visit them directly on your headboard. This will not damage the wall. Significantly if you have just helped your home and haven't figured out how to arrange your walls, this method is very practical!

8. Small Bedroom Inspirations: Use A Over-Bed Shelf
If your bedroom is relatively small, this shelf is very practical, adding a lot of storage space. And it can also help you decorate your walls!
Elegant Bedroom Inspirations
9. Have A Chic Rug
A stylish rug can improve the quality of the room! Choose a rug you like to decorate your bedroom.
10. Have Plants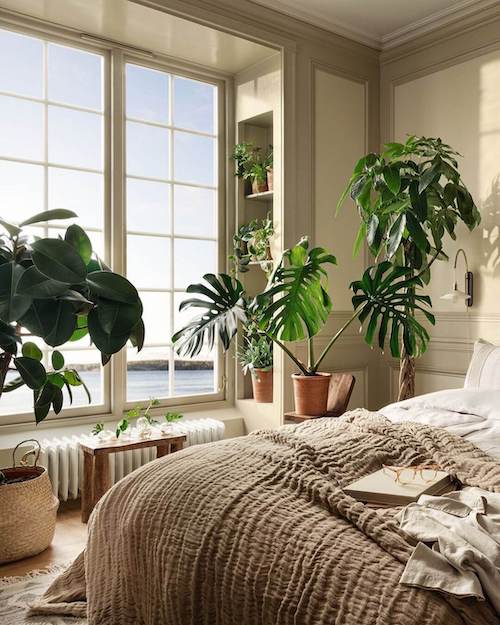 Plants are one of the best decorations in the bedroom. It seems that no green plants would be unsightly. You can place plants as you like, and they can make your bedroom full of life.
11. Use Simple And Versatile Furniture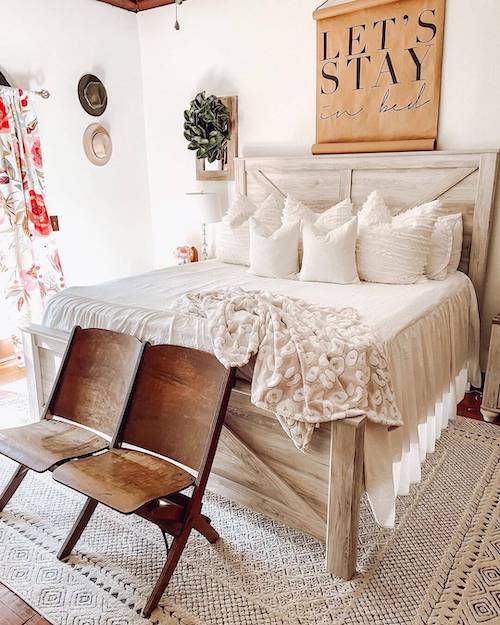 Sometimes, you don't need to buy specific furniture. Choose some simple furniture that you like, and try to make them more useful. For example, the two chairs in the room above can be used as bedside stools.
12. Add Turquoise Decors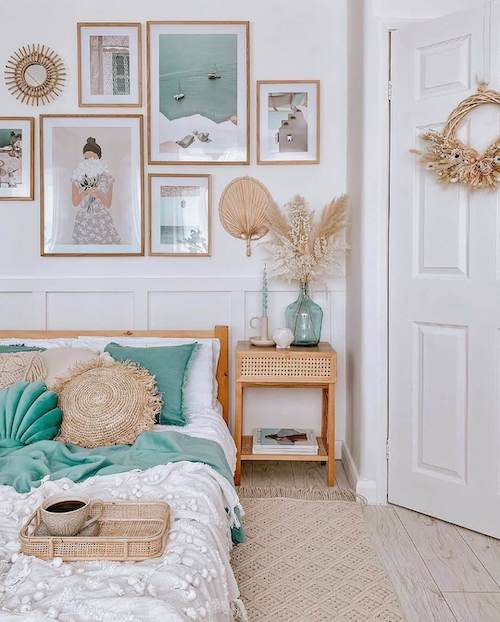 White and turquoise are so elegant and charming!

13. Have Classic Dressers
Classic dressers can help you store many things and can also be used to display your favorite decorations.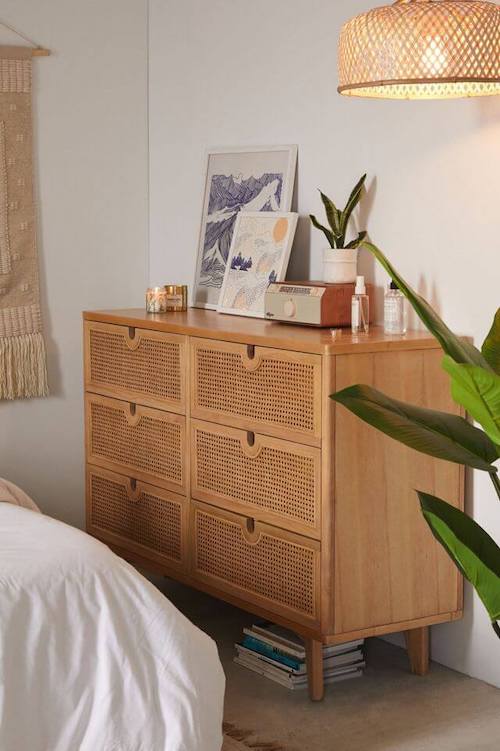 Simple Bedroom Inspirations
14. Use gentle Decors
Choosing gentle decorations can make your bedroom look more welcoming.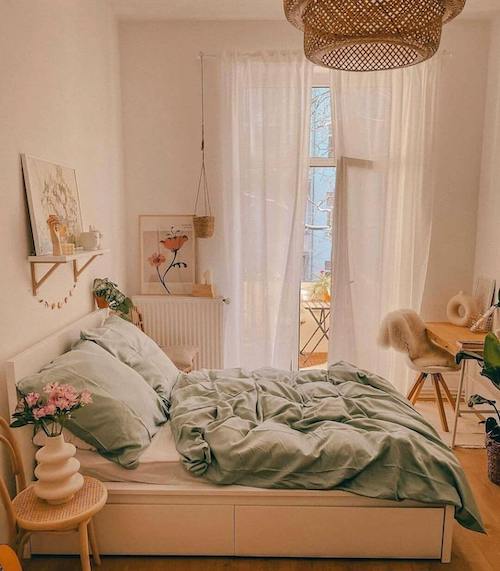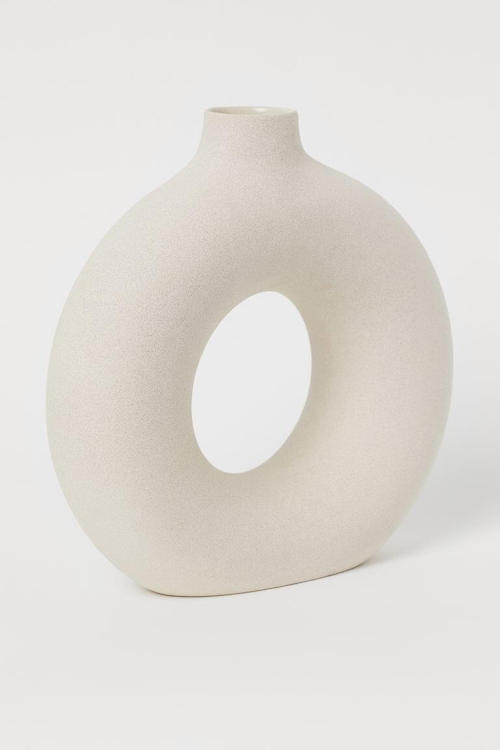 15. Use Black And White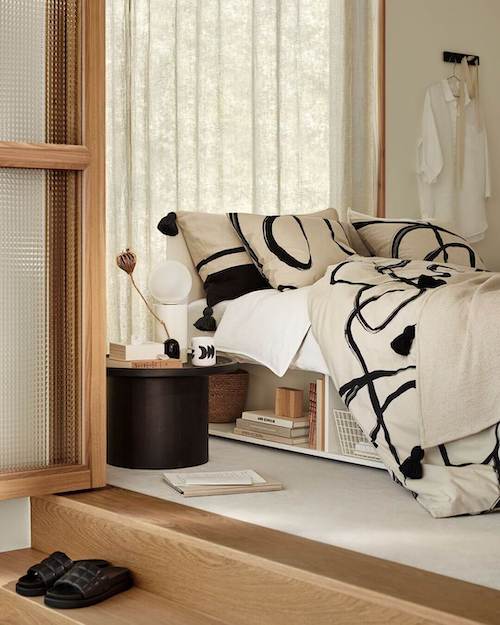 The black and white decorations look very artistic and can be matched with any other color decorations. If you plan to change the beddings, you can consider buying black and white patterns.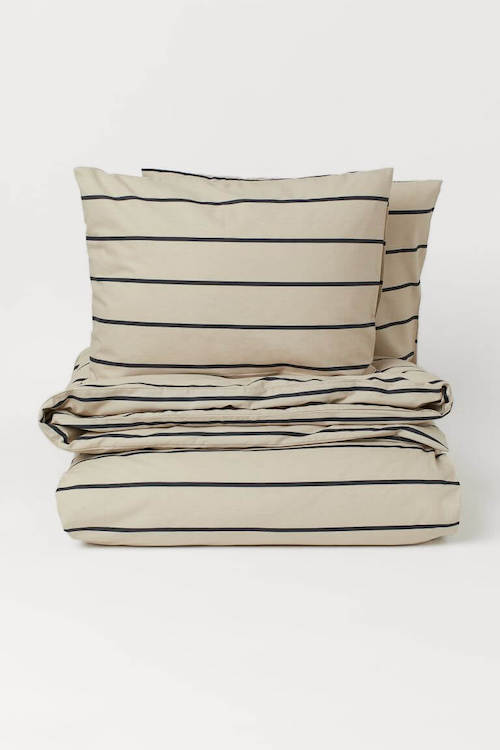 16. Choose A Cute Bedding
Beddings often set the style foundation of the entire bedroom. Therefore, in addition to the black and white beddings mentioned above, you can also look at different bedding styles and try the colors and patterns that you haven't tried, which will bring you a brand new feeling.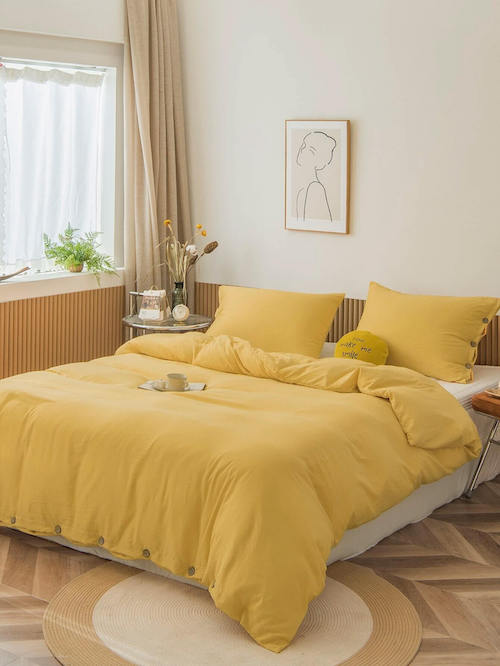 17. Use Your Biggest Room As The Bedroom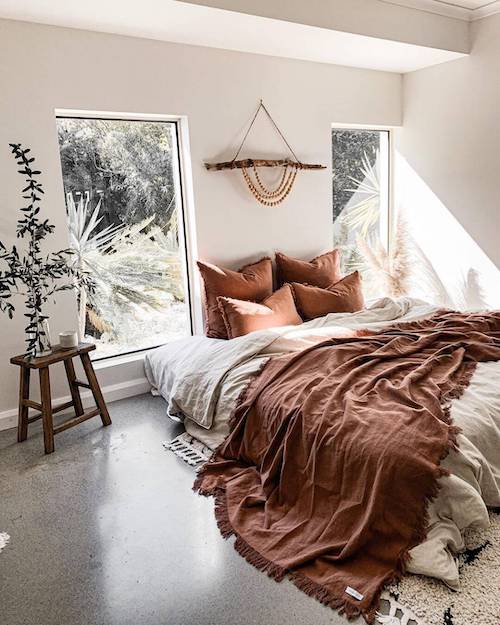 Have you ever thought that your bedroom does not need to be the one you are using now? Your living room, and even other rooms, if appropriate, can be used as bedrooms! For example, why not decorate the sunniest and largest room in your home as your bedroom? You can enjoy a luxurious big bedroom.
18. Use Boho Style Decors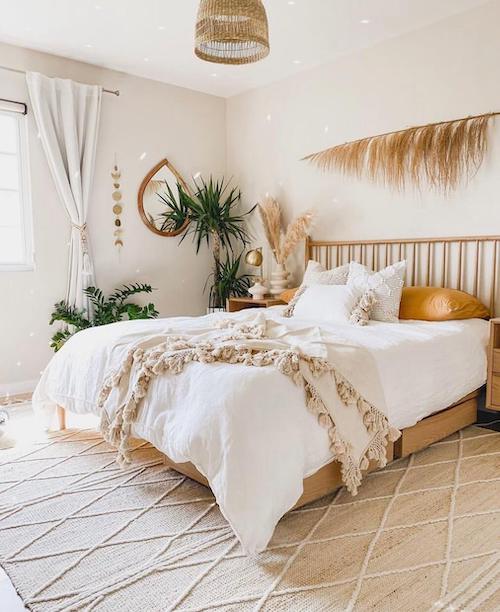 Boho bedroom styles are still trendy. Here, I especially recommend the rattan wall mirror. It looks delicate and cute. If the boho decoration is not well chosen, it will make the whole decoration look very cheap, while the rattan mirror will not have this problem.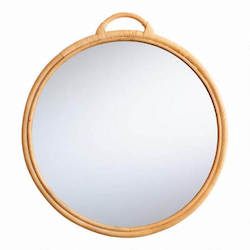 19. Use The Same Color Scheme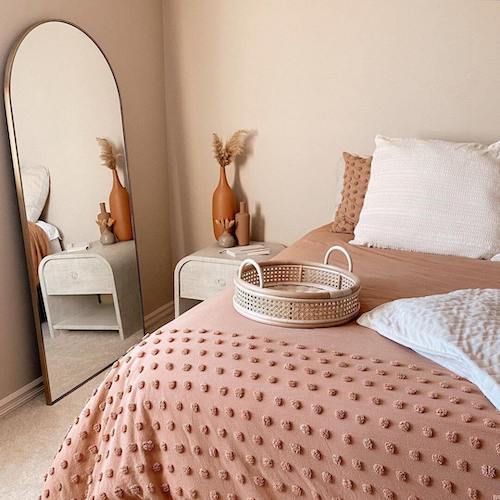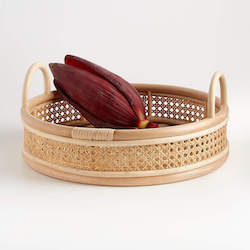 Choosing the same color tone is one of the easiest and safest ways to decorate the bedroom. At this time, you can add some exquisite and tasteful decorations to avoid the monotony of the entire room because of the uniform color.
Grey Bedroom Inspirations
20. Paint A Grey Wall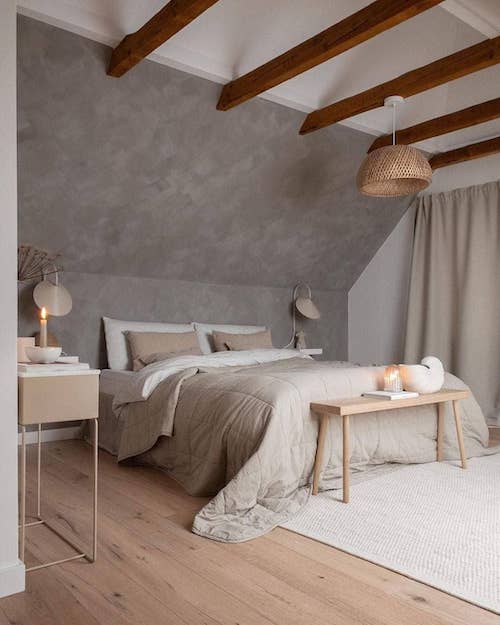 A gray wall makes people feel relaxed, very suitable for the bedroom.
21. Make It Glam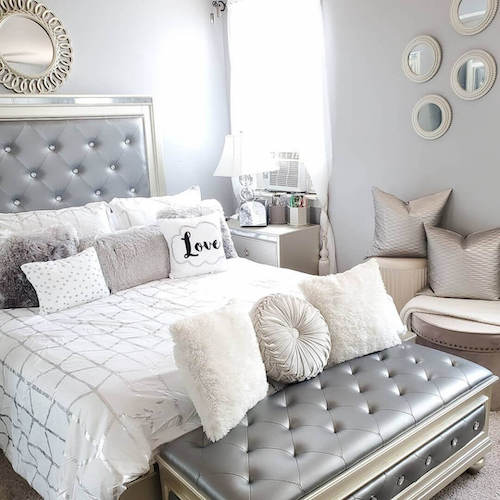 Glam style is also trendy recently. If you don't know how to create this style, choosing this grey on the picture is safer. It looks luxurious and elegant, not tacky.
22. Add A Woven Bucket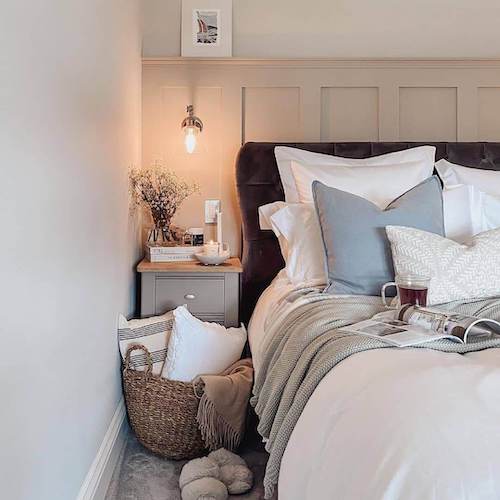 Putting a beautiful woven bucket next to your bed is very practical. You can put clothes you don't wear, pillows you don't use, etc.

Blue Bedroom Inspirations
23. Use Dusty Blue And White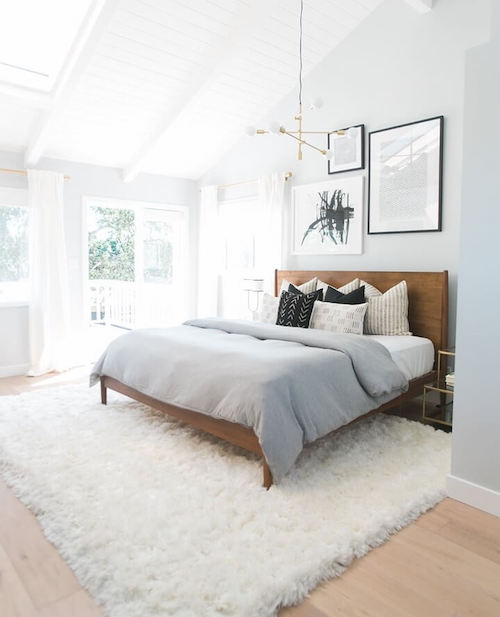 Dusty blue and white are exquisite and look expensive. If you like blue, you might as well try dusty blue.
24. Use Storage Bed
White Bedroom Inspirations
25. Use A Cute White Bedding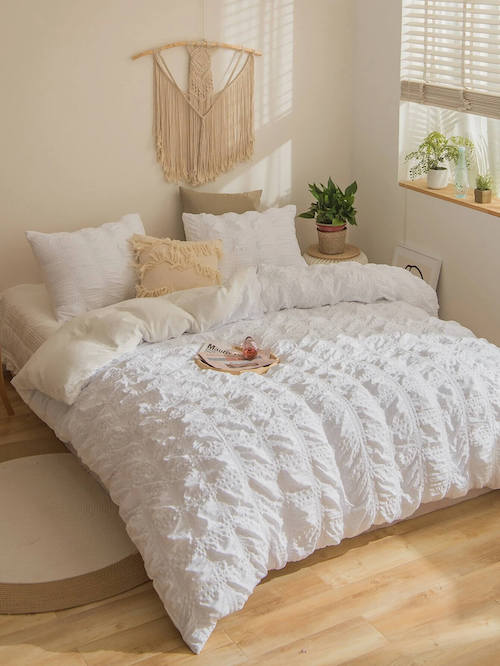 As mentioned above, beddings are very important to a bedroom. You can choose cute white bedding, which can instantly make your bedroom very cute.
26. Have A Pop-Up Color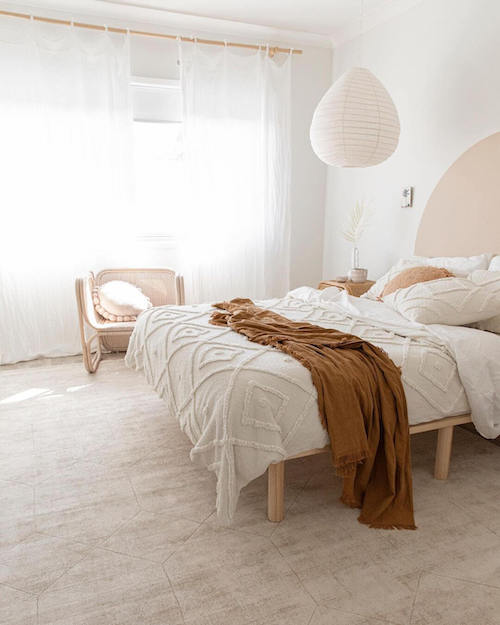 If you are worried that a whole white bedroom is too monotonous and boring, adding some pop-up color decorations, such as a throw blanket, can immediately make your bedroom lively.
27. Mix Bright Whites With Creamy Tonal Layers
How to create an effortlessly stylish bedroom: mix bright whites with creamy tonal layers, then bring in texture with cozy throws, natural woven caning, and brass finishes.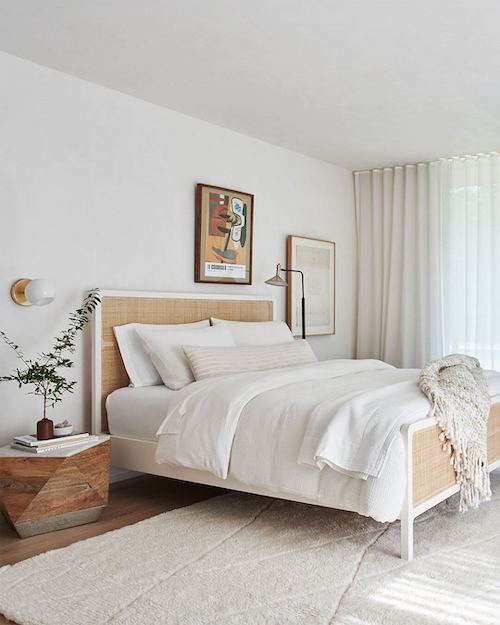 28. Add A White Rug
In addition to the white beddings, you can also choose a warm white rug for your white bedroom.
Cozy Bedroom Inspirations
29. Use A Ladder To Create A Casual Feeling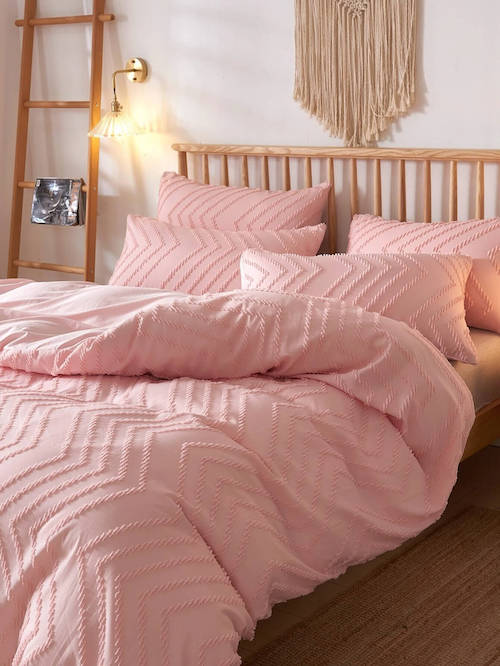 This method is charming. To make your bedroom cozy, you don't need to buy very luxurious furniture. Simplicity and warmth are the keys to your choice of home.
30. Have A Pom Pom Throw Blanket
Throw blankets often look the same; why not choose a unique and cute one?
31. Use A Beaufiful Bed Frame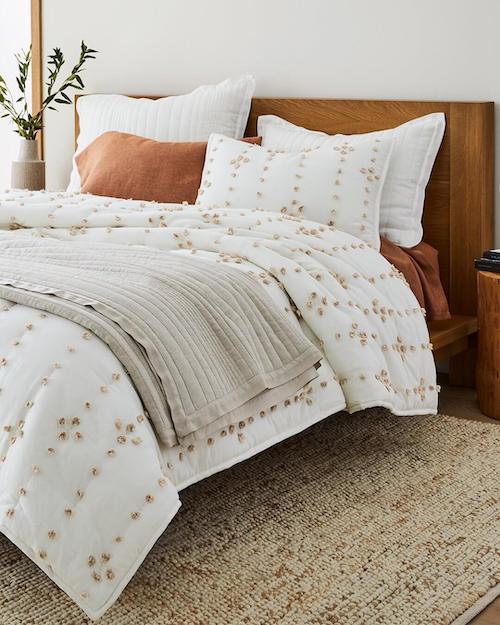 I like this bed frame very much. Simple but very high quality. It can make you sleep peacefully.
32. Use Different Shapes Pillows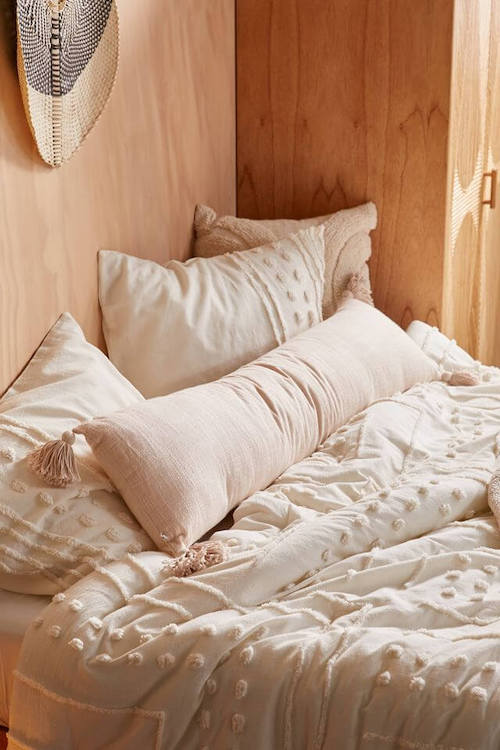 Put the bed against the wall, and put pillows of different shapes and patterns on the foot of the bed. Your bedroom will become warm and comfortable all at once.
33. Use Different Textures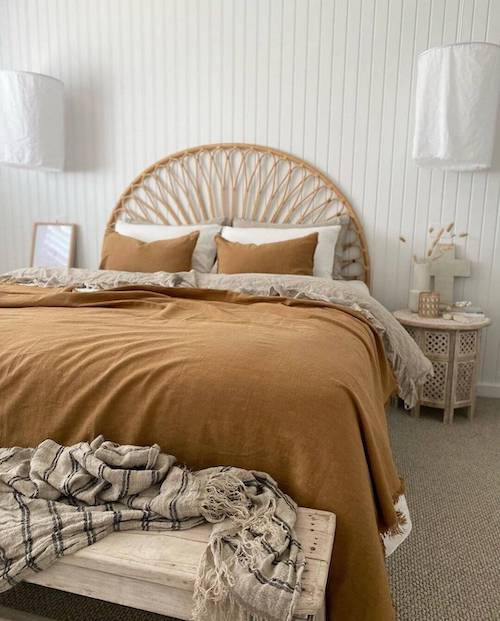 The fabrics of different textures are together, very able to create a cozy feeling. Remember to choose materials with similar colors but with apparent patterns and distinct shades of color. This can create more levels.
34. Have A Egg Chair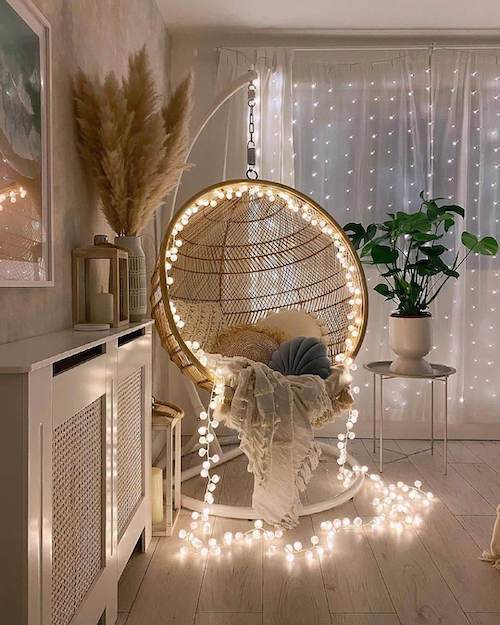 If your room is big enough, you can prevent a swing egg chair! You can sit comfortably on it in a daze, read a book, and drink coffee.
35. Have String Lights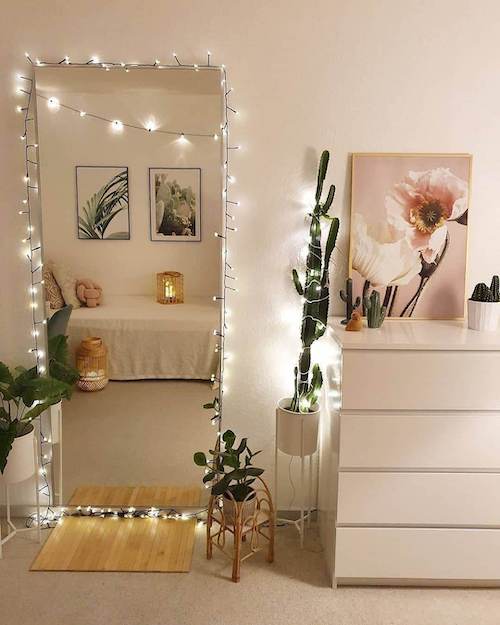 String lights are one of the cheapest but most magical decorations!

36. Have A Float Side Table To Add A Vacation Vibe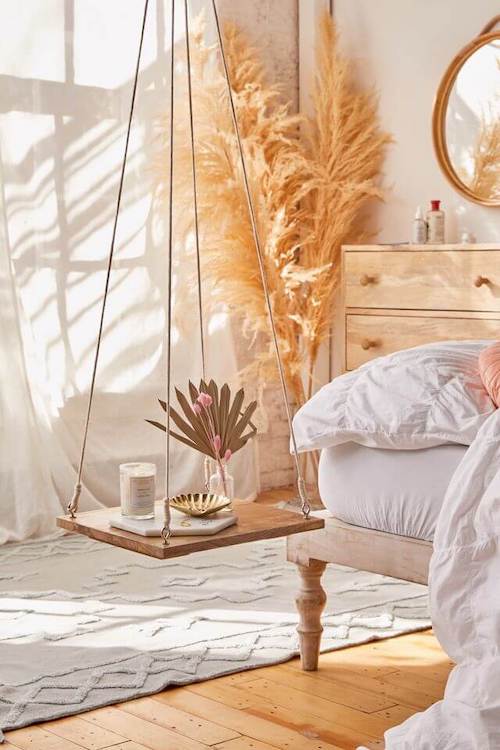 Do you want to feel like you are on vacation all the time? Try this float side table?
37. Have A Cute And Warm Table Lamp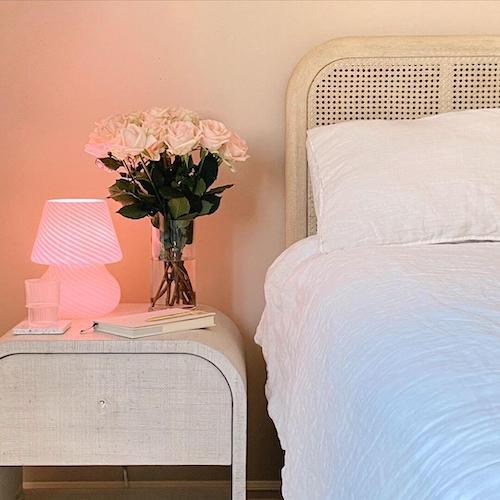 Put a warm table lamp next to your bed! If you think the lamps you have seen are very dirty or old-fashioned, take a look at the one we chose?
38. Have A Warm Quote Decor
A cozy bedroom needs warm words to accompany you. Do you like the above?
Colorful Bedroom Inspirations
39. Play With Different Colors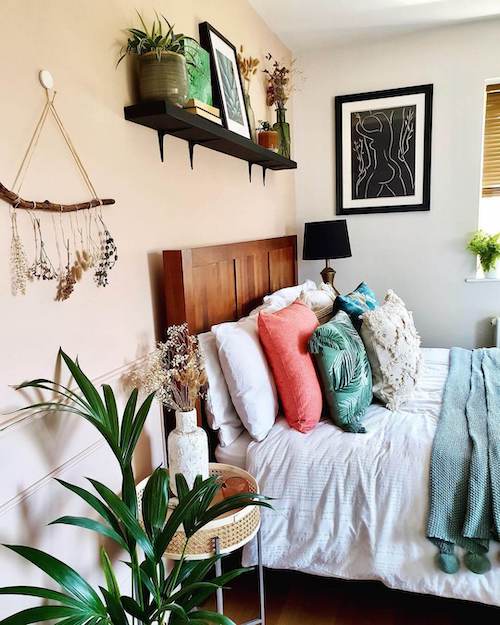 If you like colorful styles, you can boldly introduce more different colors of decor into your bedroom.
If you don't know how to decorate the bedroom, you can first choose the same color for most decors, such as green and blue in the picture above, and then add one or two decorations of entirely different colors, such as the red pillow on the photo above. This way, the whole room won't look messy.
40. Have A Unique And Stylish Head Board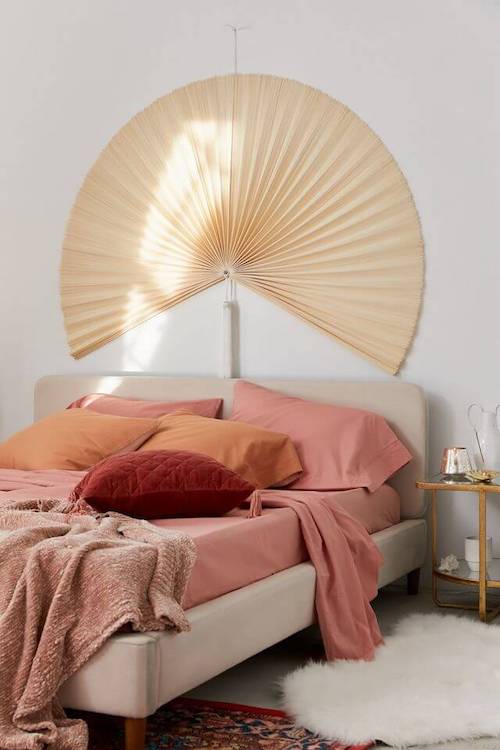 You can also build your colorful bedroom from your headboard. Choose a unique headboard so that your simple bed can be turned into a work of art.
41. Have A Stylish Nightstand
Finally, the nightstand in the bedroom. We have selected the following reasonably priced and lovely nightstands for you. Come and see if there are any you like.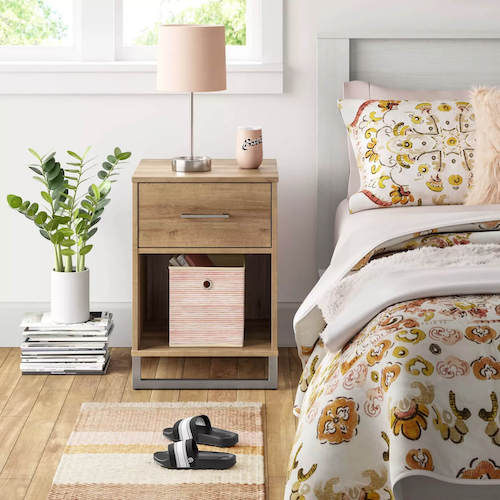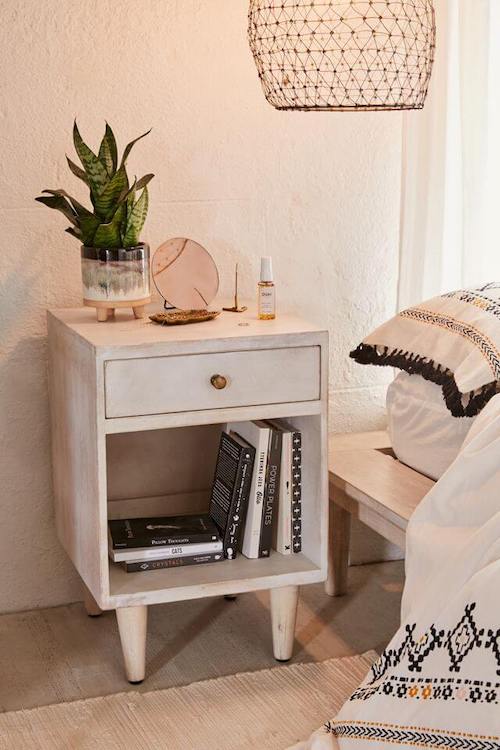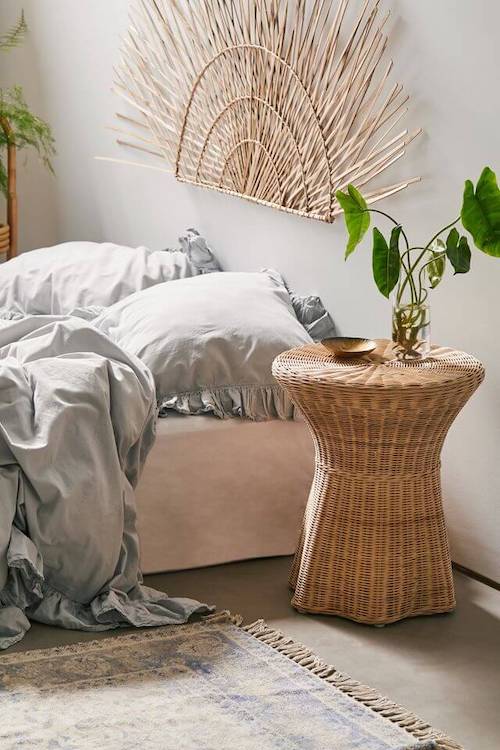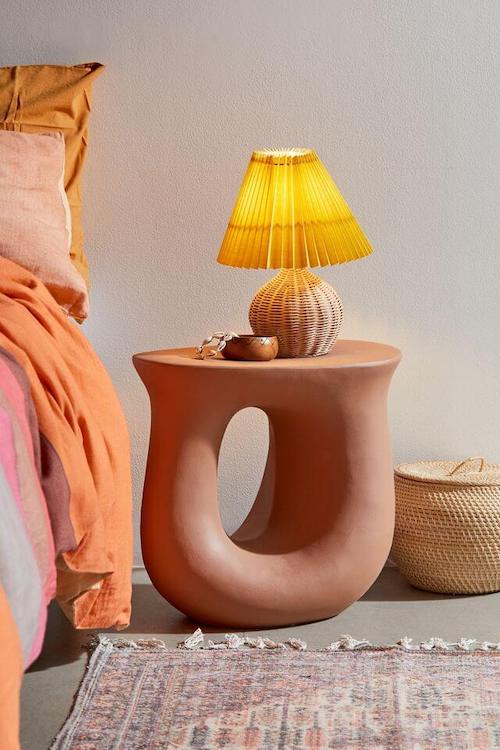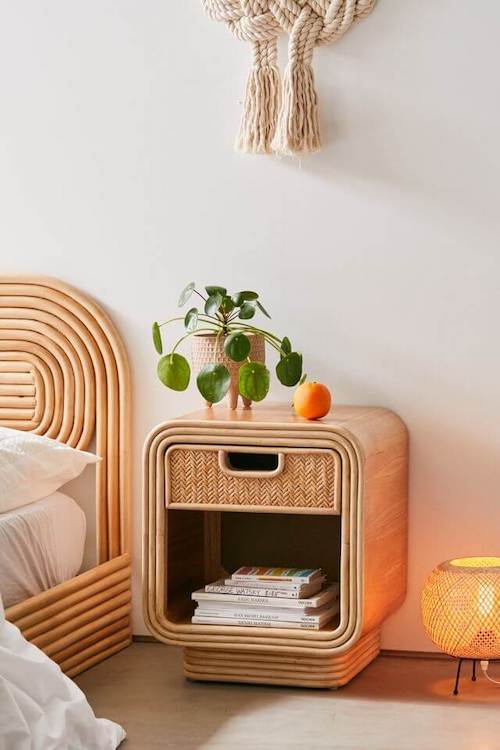 This post was all about bedroom inspirations.
Related Posts: