Looking for cozy and classy bedroom ideas for women? Check this post for the best tips on how to style a bedroom for women, and the cutest bedroom decor ideas to copy. From girly styles to minimalist styles, from chic cozy rooms to fun bedroom ideas, whether you are in your 30's or 20's, we've got you covered!
Creating a cozy and classy bedroom for yourself can be a great way to relax and unwind after a long day.
Whether you're looking for ways to spruce up your current bedroom or starting from scratch, there are plenty of bedroom ideas out there specifically tailored to the modern woman.
From color schemes to furniture choices, creating the perfect room for yourself is easy when you know what details to look for.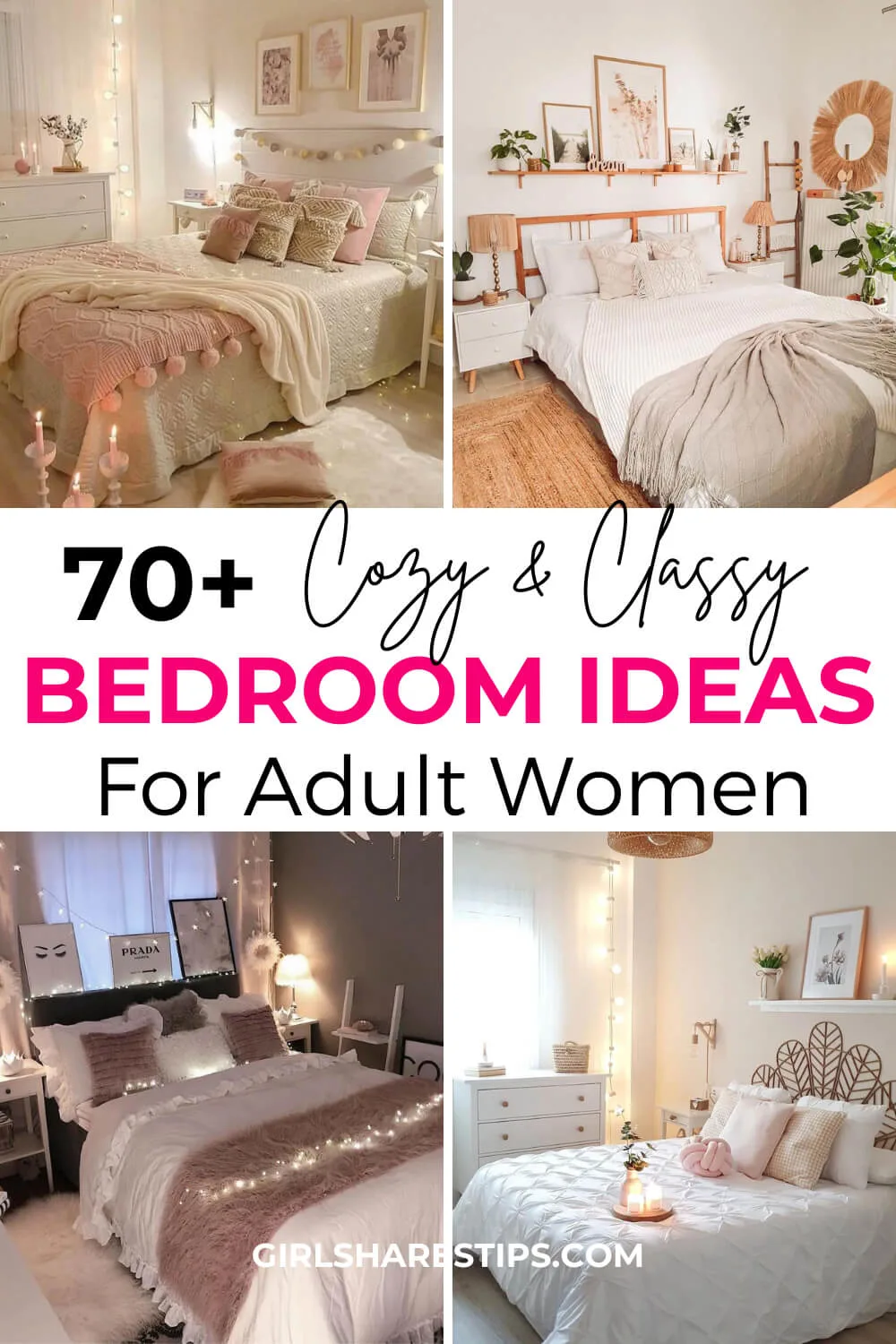 This post may contain affiliate links, which means I'll receive a commission if you purchase through my link, at no extra cost to you. Please read the full disclosure here.
This post is all about bedroom ideas for women.
Best Bedroom Ideas For Women For Different Styles
Beautiful Bedroom For Small Space
Whether you're looking for ways to make your own bedroom more spacious or designing a new home, the below tips will help you create the perfect bedroom for even the smallest of spaces.
Start by assessing what type of bed would work best in your space; if square footage is limited, opting for a platform bed with built-in storage drawers beneath is an excellent choice.
Be sure to consider how much closet space you need; adding shelves or hanging rods above the bed can maximize storage potential.
To open up cramped quarters even further, choose furniture that's light in color and low to the floor – this helps keep things feeling open and airy.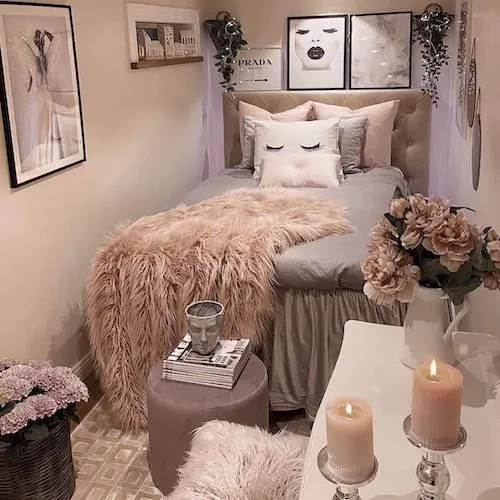 @everlasting.charm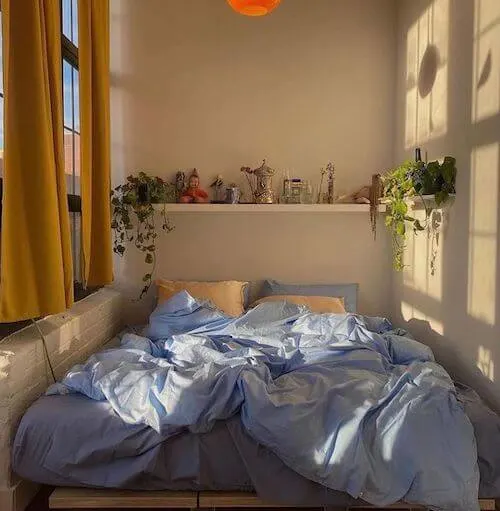 @oshsdesign
Rustic Bedroom Decor Ideas
Adding rustic decor to a bedroom can be a great way to create a cozy and inviting atmosphere.
Women who are looking for ideas on how to bring the charm of country-style living into their bedrooms have many options available.
The first step in creating a rustic bedroom is selecting the right wall colors and fabrics.
Earthy shades such as pale yellow, oatmeal, and soft green are ideal for evoking that pastoral feel.
To make the most of these tones, look for curtains and bedding sets with intricate patterns or delicate prints featuring natural elements such as flowers, birds, or trees.
If you want to add a little extra texture to your space, consider adding woven rugs or braided jute accents.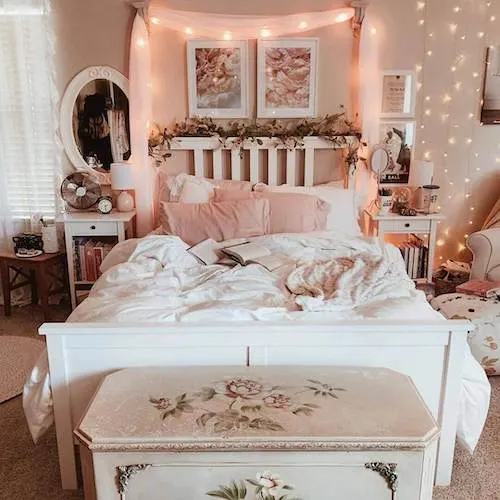 @homebyis
Neutral Color Bedroom Design
Neutral colors can be used to create a calming and stylish bedroom for women.
Neutral colors like soft gray, white, and light tan are perfect for creating an inviting atmosphere that is both cozy and sophisticated.
Women who opt for neutral color bedroom designs will enjoy the timeless elegance these colors provide while avoiding more traditional girly hues.
The beauty of these neutrals is their versatility; they can be paired with bold accent pieces to add dimension and personality, or simply used alone to create a minimalist look.
Neutral color bedroom design offers many benefits; they're easy to update if you ever want a change of scenery, but also timeless enough that your space won't look dated as trends come and go.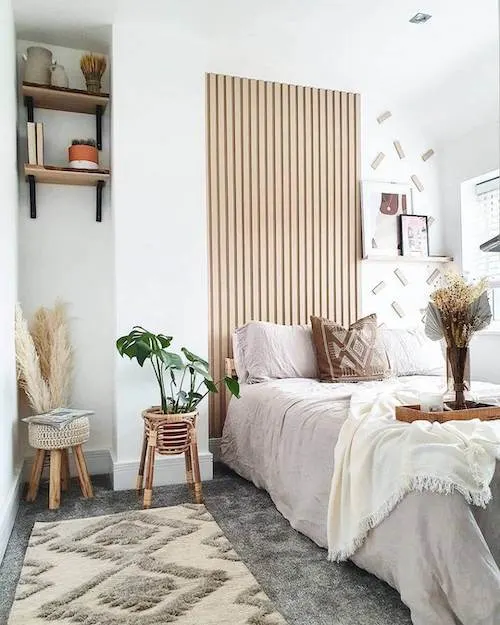 @at.home.with.missb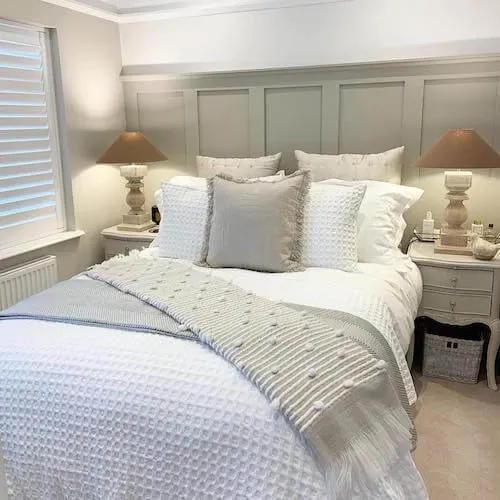 @homeonthehey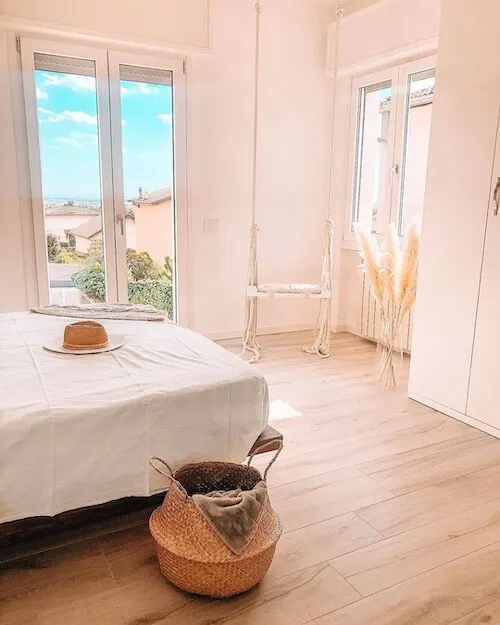 @ashleejayinteriors
Boho Style Bedroom
Boho-style bedrooms are becoming increasingly popular among women looking to add a touch of personality to their abode.
Whether you're a first-time homebuyer or just want to give your existing space an upgrade, this eclectic style is the perfect way to express your creativity and have fun with your decor.
To help you get started, here are some tips on how to create the ultimate boho bedroom for women.
Start by adding plenty of bright colors and patterns throughout the room, such as patterned rugs, throw pillows, curtains, and bedding. An abundance of potted plants will also instantly bring life into any living space.
Opt for natural materials like wood furniture pieces and cane chairs to keep things simple yet stylish.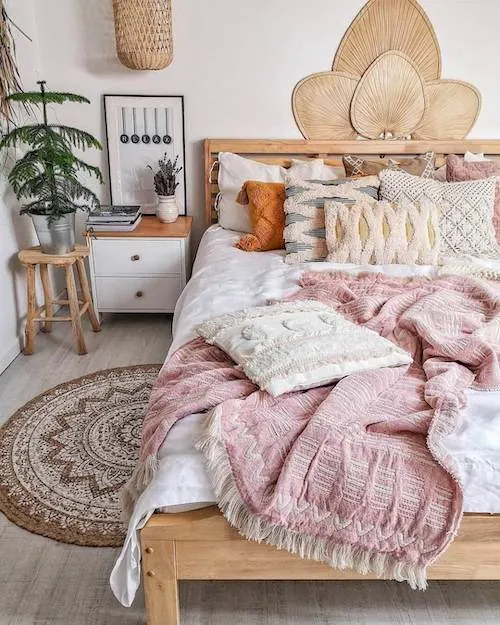 @z_potrzeby_piekna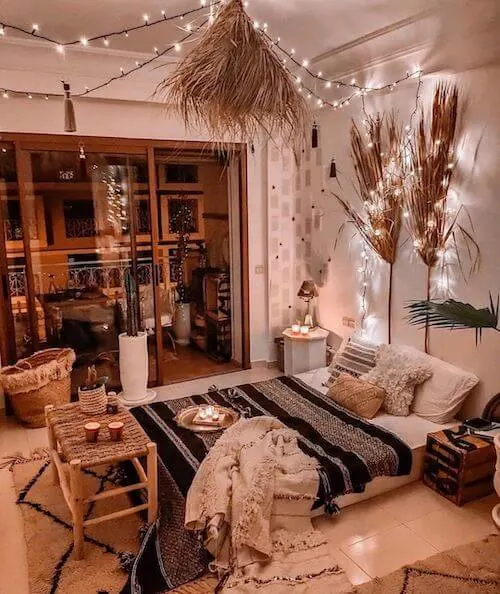 @kalk_katt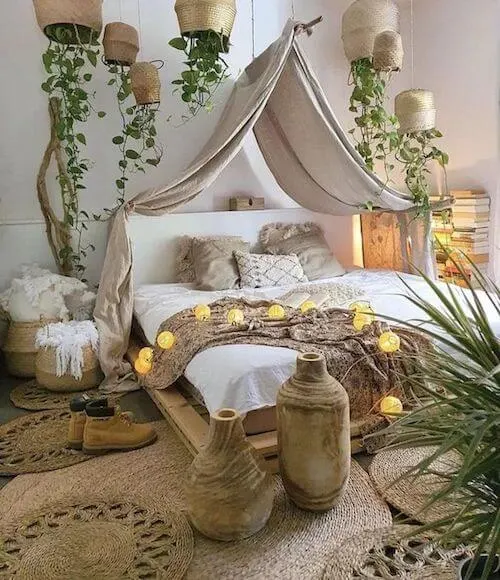 @mybohocouch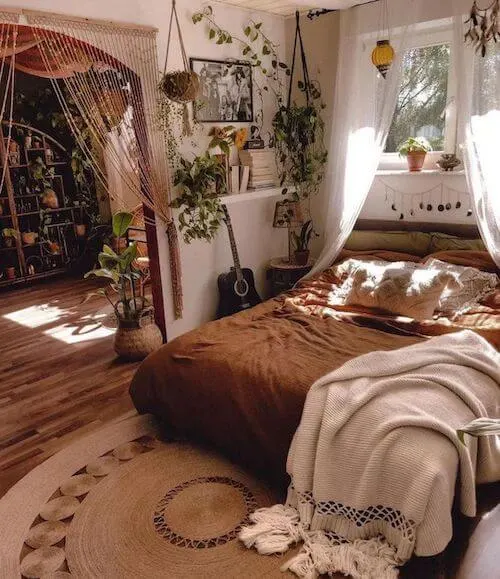 @bidathomes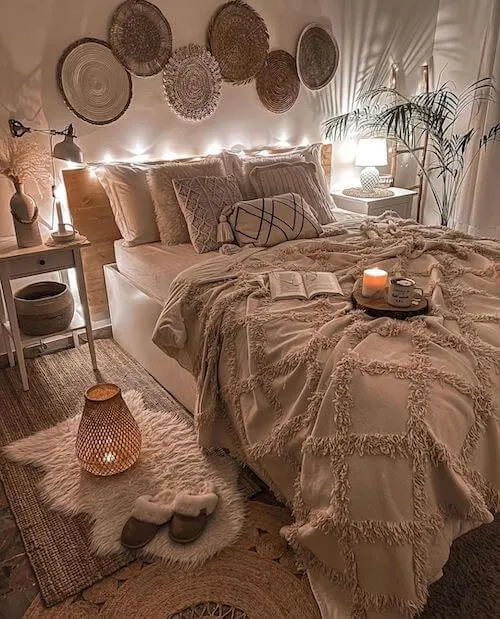 @adelfiazampella
Modern Boho Bedroom
A modern boho bedroom is a perfect place for anyone who loves to bring their own unique personality into their home decor.
With a mix of colors, patterns, and textiles, this style creates a beautiful and comfortable environment.
Taking inspiration from traditional bohemian design, a modern boho bedroom has all the same elements with a more contemporary twist.
For women looking to create this cozy aesthetic in their own space, there are plenty of ways to incorporate modern boho elements into the room.
Start by selecting timeless furniture pieces in light wood tones that can be paired with brightly colored cushions and throws.
Hang eclectic artwork on the walls alongside geometric mirrors and dreamy macrame wall hangings.
Add plenty of plants to brighten up any corner and finish off with natural fiber rugs for added texture beneath your feet.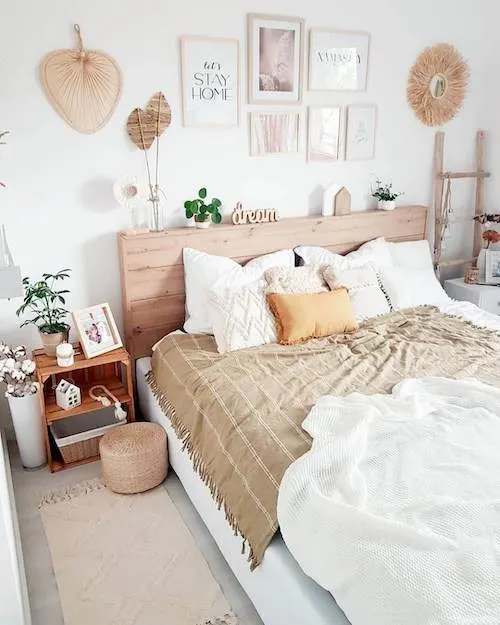 @martaa_home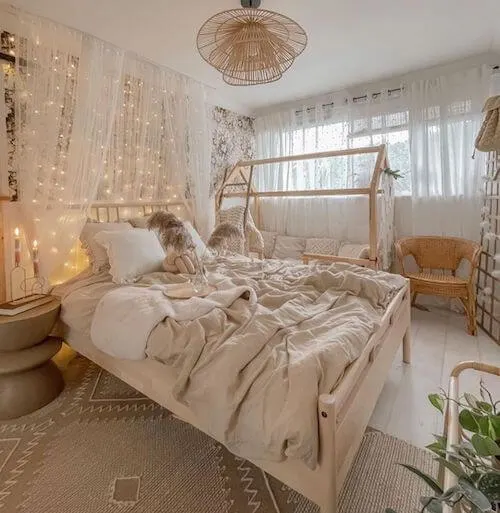 @girl_with_panda_tattoo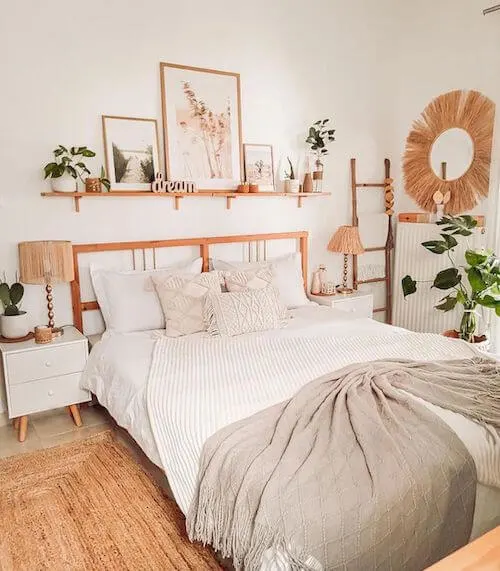 @my.bohemian.nest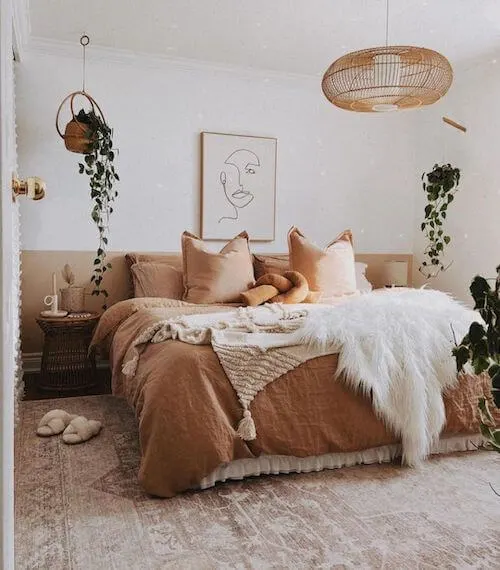 @styledby.rhonda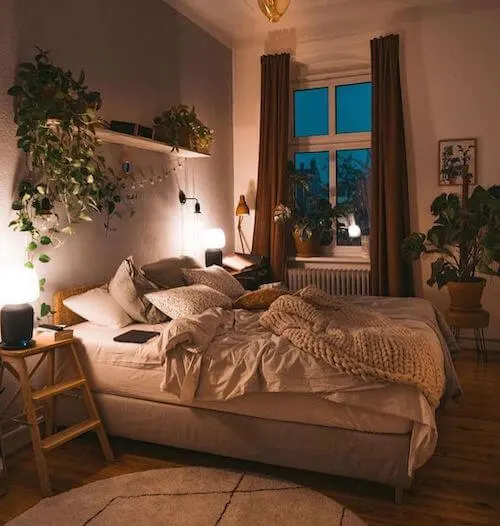 @roomdecor.goals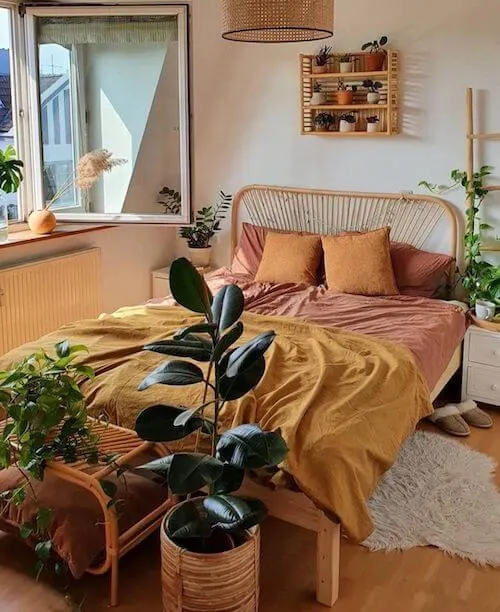 @my_boho_interior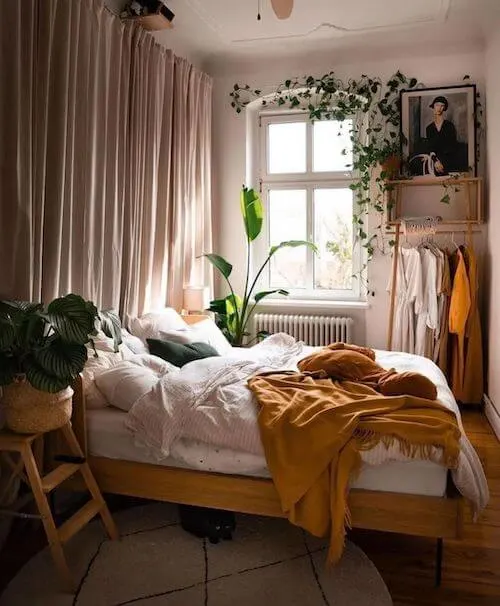 @spotlightonmyhome
Elegant Bedroom
Creating an elegant bedroom can instantly give a woman's space a sophisticated makeover.
Whether you prefer classic designs or modern decor, there are many ways to create an inviting and exquisite bedroom that reflects your personal taste.
Start with the bed itself. An upholstered headboard will add a luxurious touch to the room, while also providing comfort when propped up against it for reading or watching TV.
Choose from a range of colors and textures such as velvet, tufted leather, faux fur, and more!
Next, choose bedding in soft fabrics like silk or linen in beautiful shades of cream and pastels.
Throw pillows with intricate embroidery will also provide an added touch of luxury while adding texture to the overall look.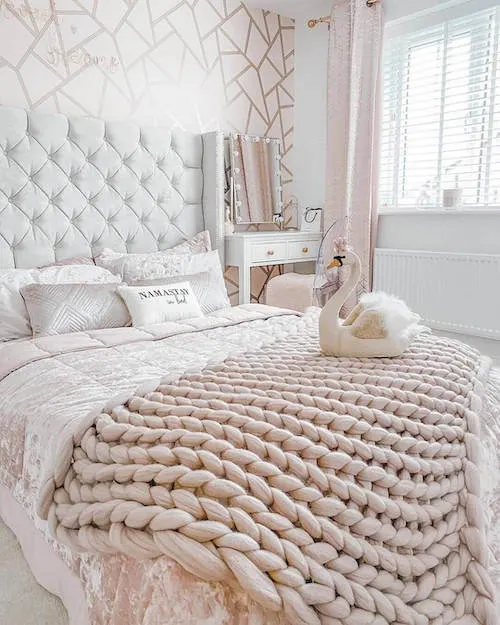 @themarklandhome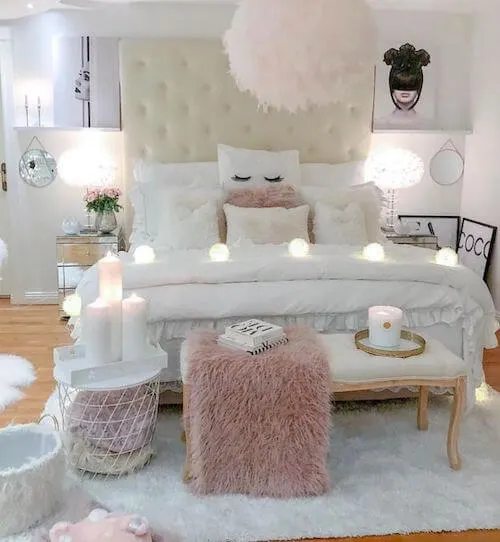 @homebyis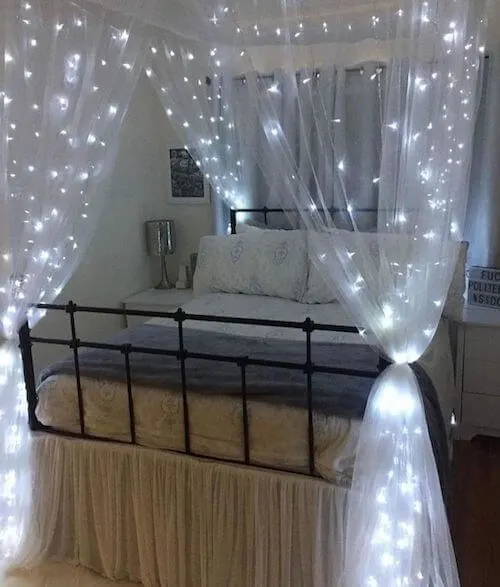 @roomdecor.goals
Feminine Bedroom
Feminine bedrooms are a great way to express yourself, your style, and your personality.
Whether you prefer bright colors and bold designs or more muted tones and subtle textures, there are plenty of ways to create a feminine bedroom space that speaks to you.
From soft colors like pink and lavender to statement pieces such as ruffled curtains and mirrored furniture, here are some creative feminine bedroom ideas for women that will transform any room into an inspired haven.
For the walls, try adding wallpaper with small floral patterns or a paint job in pastel shades.
To give the room an extra feminine touch without making it too busy, add framed art of dainty objects like birds or flowers.
For lighting, hang chandeliers with delicate crystals on them or opt for bedside lamps with light-colored shades.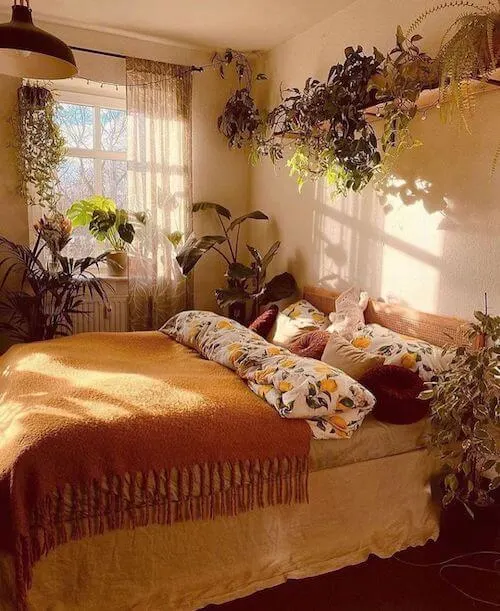 @cozywonderspots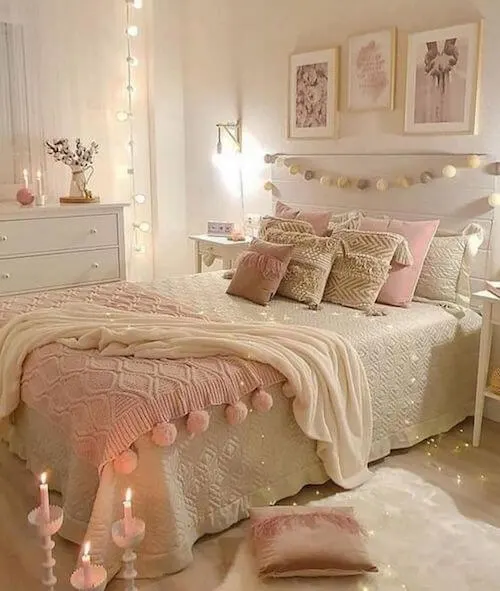 @bedroom.decor.057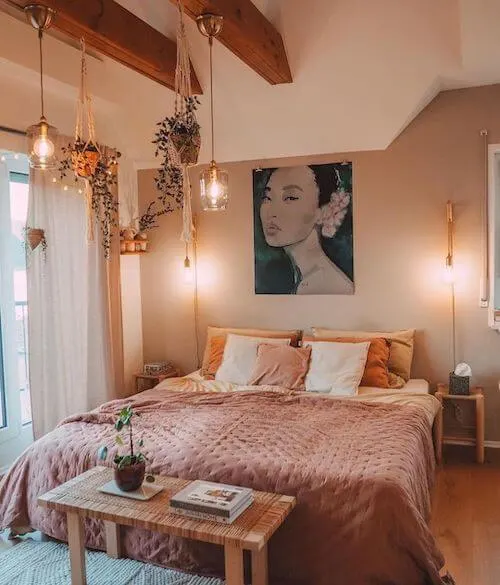 @tantefrida
White Bedroom
Are you looking to add a fresh and stylish feel to your bedroom?
White bedrooms provide a classic and elegant look, perfect for any woman.
Whether you're going for a luxe bohemian vibe or an airy Scandinavian style, there are plenty of white bedroom ideas to choose from.
Here are some tips on how to create the perfect white bedroom oasis.
White walls serve as the perfect backdrop for adding color with artwork and decorative accents.
Incorporate several layers of texture by adding in plush rugs and blankets, velvet curtains, and silk pillows for an extra touch of luxury.
For a feminine flair, introduce bold colors like blush pink or lavender into the mix through accent pieces like lamps, vases or throws.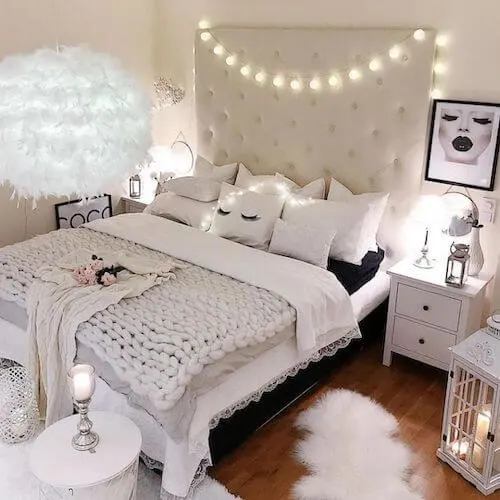 @interiorfinesse
@my_skandi_lifestyle
Modern Bedroom
Creating a modern and stylish bedroom for women doesn't have to be complicated.
Whether you're looking to update an outdated space or create a relaxing haven from the hustle and bustle of everyday life, there are plenty of ideas that can help take your room from drab to dramatic.
Start by incorporating accent colors like blush pink, soft gray, and navy into your design scheme as these shades will add a touch of femininity without overwhelming the entire space.
Adding some wall art with feminine designs such as florals or abstract shapes is also a great way to bring in more color while still maintaining a modern vibe.
When it comes to furniture pieces, look for those that have simple lines but interesting details like tufting or carved wood accents.
Finally, don't forget about lighting which can make all the difference when it comes to creating an inviting atmosphere.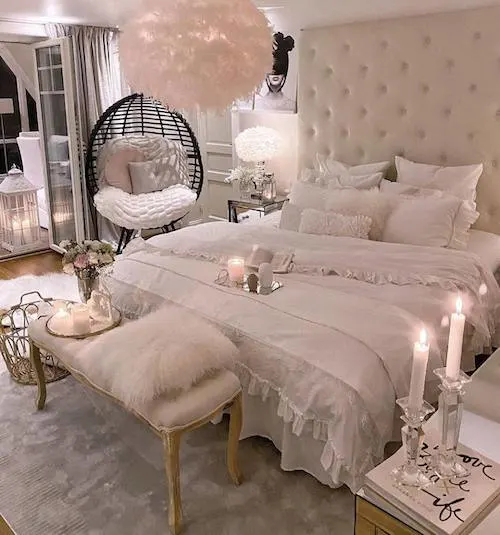 @homebyis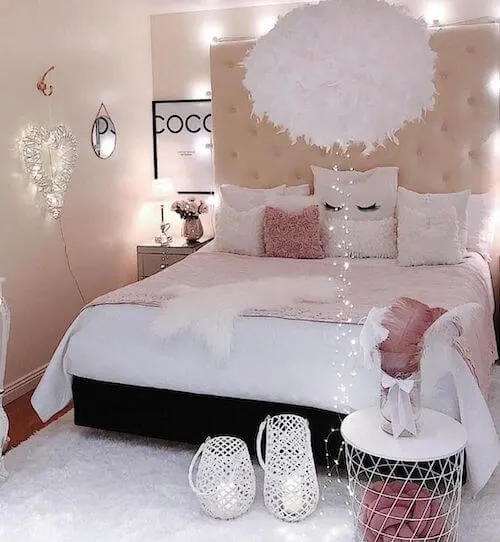 @homebyis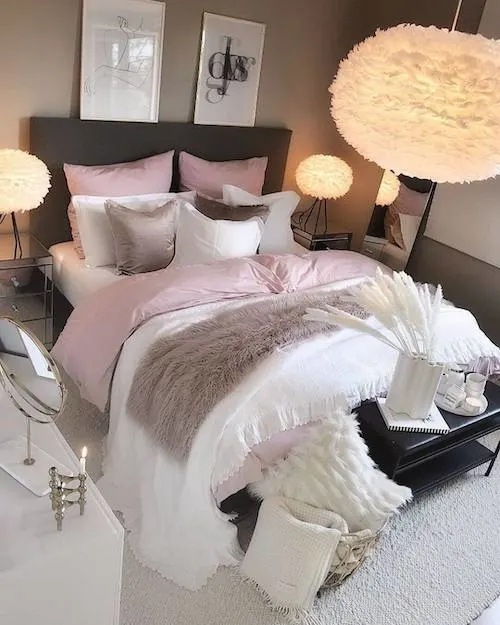 @zeynepshome
Minimalist Chic Bedroom For Women
With the rise of minimalist chic design, modern women everywhere are turning to a simpler way of styling their bedrooms.
A minimalist bedroom can be as basic or elaborate as you make it, but the key is to choose furniture and decor pieces that are both functional and aesthetically pleasing.
Think minimalistic bed frames paired with plush bedding and subtle accent pieces like artwork or a mirror.
A statement headboard can add a bit of personality while still maintaining the overall airy feel you're going for.
You can also use throw pillows to add texture without taking up too much physical space in the room – this will help create more visual interest without making it feel cluttered.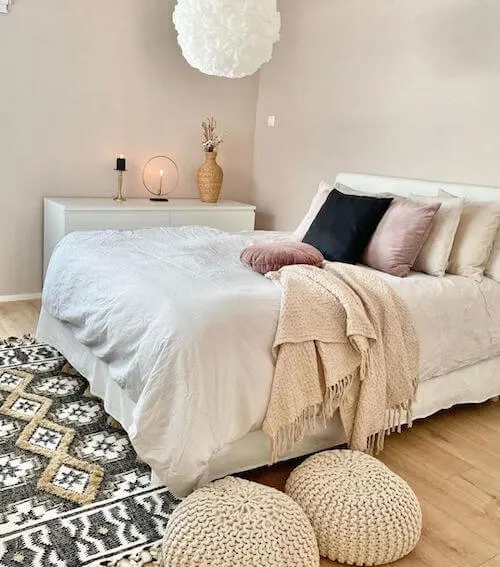 @kodinsisustaja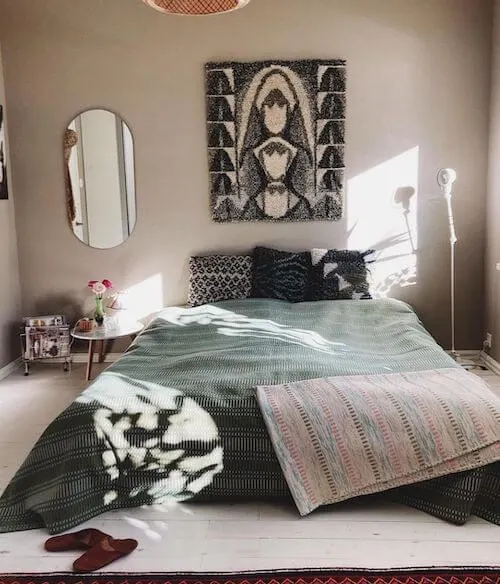 @cozywonderspots
Glam Bedrooms
A glam bedroom is a perfect way to show off your personal style and taste.
Whether you're looking for an elegant and sophisticated space or something a bit more fun and flirty, there are plenty of ideas out there to help you create the perfect glamourous bedroom.
Here are easy ways to spruce up your space:
Start by picking a color palette that speaks to you – look for colors that bring out your personality while still creating an inviting atmosphere. Try playful pinks or warm purples paired with luxurious metallics like gold or silver for added elegance.
Select furniture pieces that add texture and interest – velvet sofas, tufted headboards, and mirrored nightstands; all these elements can really elevate your space.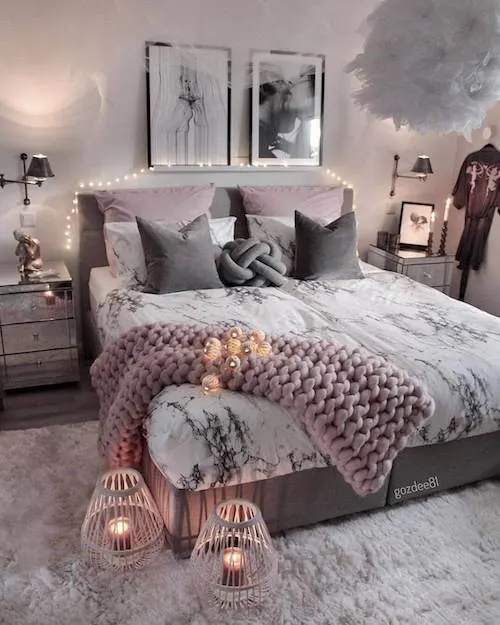 @gozdee81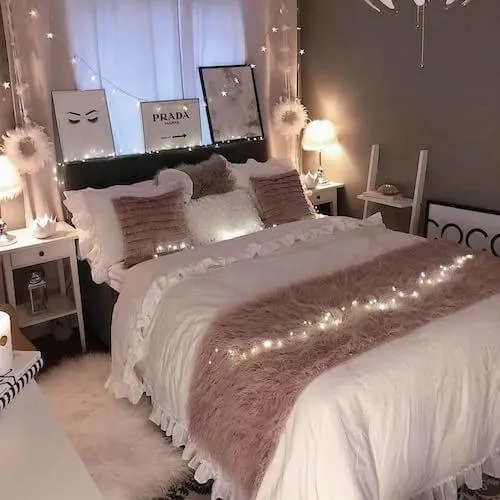 @interiorfinesse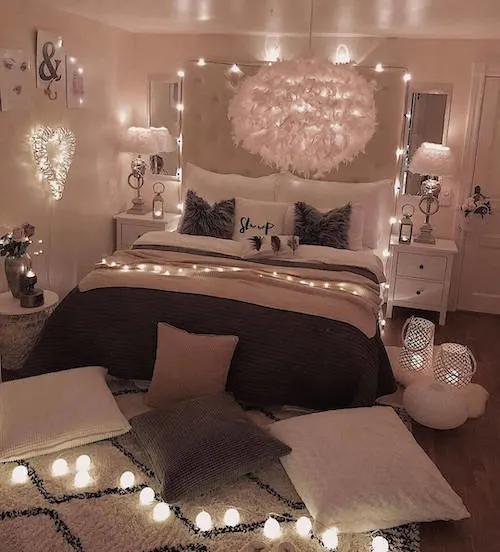 @homebyis
Blue Bedroom Ideas
Women can create a gorgeous and inviting atmosphere in their bedrooms with blue bedroom ideas.
A blue color scheme is ideal for creating a tranquil space where relaxation and dreaming come easily.
The key to decorating with this hue is to choose the right shade.
From light sky blues to bold navy, there are plenty of options that can be used to make any room into a cozy oasis.
When it comes to furniture, white or natural wood pieces pair well with most shades of blue.
This creates an airy environment while still maintaining a classic touch.
Additionally, adding a few accent pieces in muted greens or pastels will give your space an even more serene feel.
To finish off the look, add a few decorative pillows and throws along with some artwork featuring light blues that will bring all the elements together beautifully in your dreamy retreat.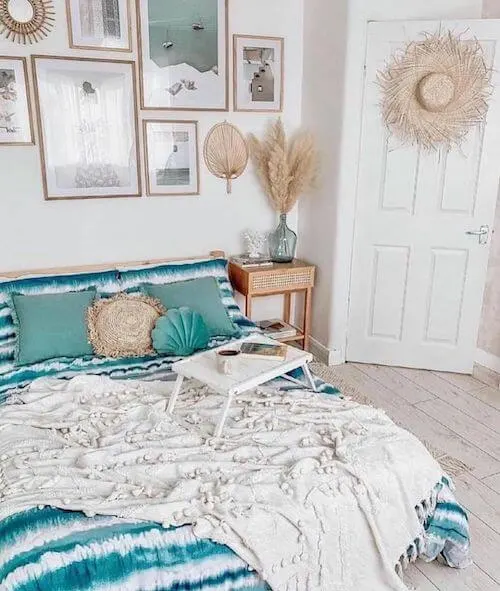 @cleanbohodecor
All Black Bedroom Ideas
A black bedroom can be a powerful and bold statement.
Whether it's an all-black design or just a few accents of black throughout the space, there is something so attractive about this beautiful neutral color.
Create an oasis with white sheets and walls contrasted against sleek black furniture pieces.
This look creates an inviting yet sophisticated style that you can further enhance with luxurious details like velvet pillows and plush rugs.
To add depth, layer different textures such as natural fibers like jute or softer fabrics such as wool for a cozy feel.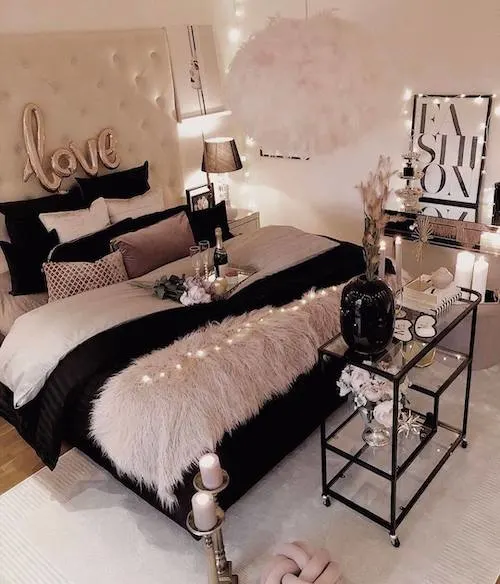 @herzenstimme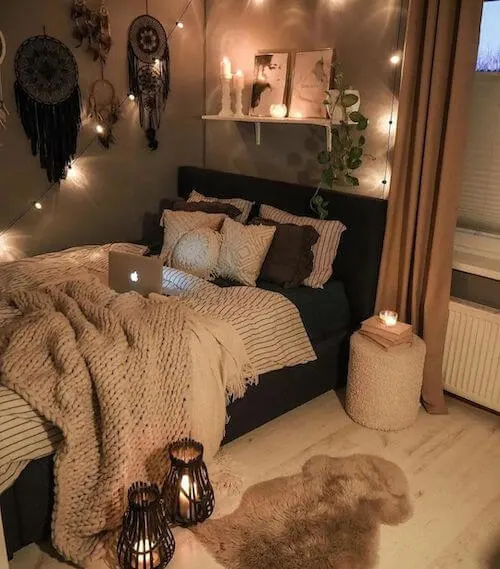 @homebohodesign
Bedroom Ideas For Women In 30's
Women in their 30's are often looking for ways to update their bedrooms to reflect their style and personality.
Whether it's starting from scratch or just giving an existing space a mini overhaul, there are plenty of bedroom ideas that can help create a comfortable and stylish retreat.
By choosing the right colors, furniture, and accessories, you can create a luxurious yet modern living space that is perfect for relaxation.
To start off your decorating journey on the right foot, consider adding some bold wall art to make a statement.
Try incorporating a gallery wall with artwork in various sizes and shapes to add interest while still maintaining balance.
As far as furniture goes, opt for pieces that have clean lines but also provide ample storage such as nightstands with drawers or dressers with multiple compartments.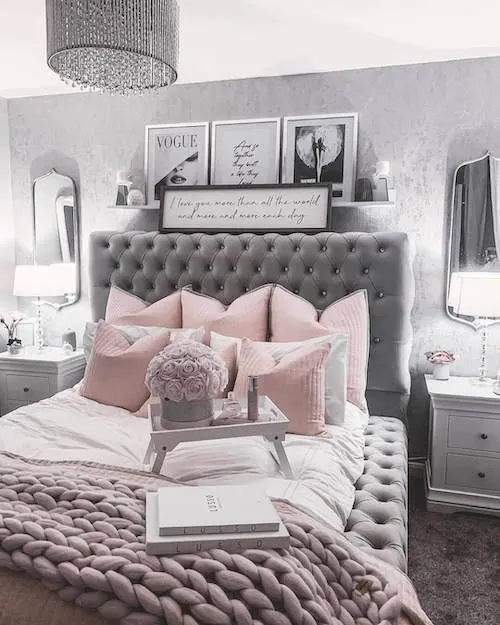 @theonlywayisgrey_
@homebyis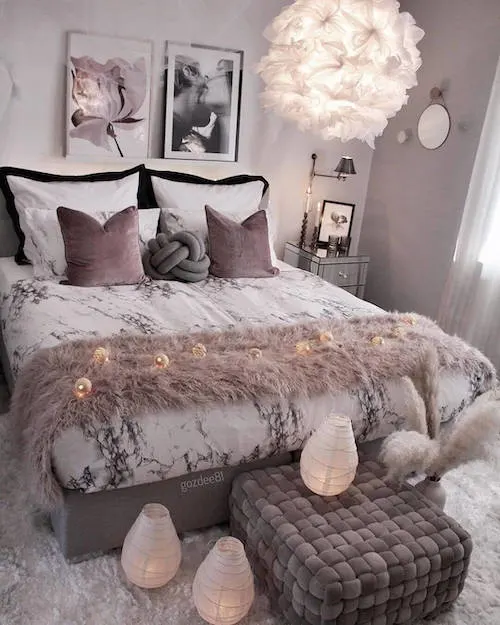 @gozdee81
Bedroom Ideas For Women In 20's
Are you stuck for ideas for your bedroom as a woman in her 20's?
Do you want to give it a makeover but don't know where to start?
You may not feel ready to commit to permanent changes, or just need some inspiration on how to make the most of your space.
Whether you're looking for something bold and bright or subtle and stylish, there are plenty of ways you can spruce up your bedroom.
Here are some great ideas tailored specifically towards women in their 20's that will help spark creativity.
Keep things minimal yet inviting with warm lighting and neutral colors;
Use natural materials like wood and jute for furniture pieces, accentuate with cushions of different textures;
Add hints of color with plants and soft furnishings such as throws or rugs.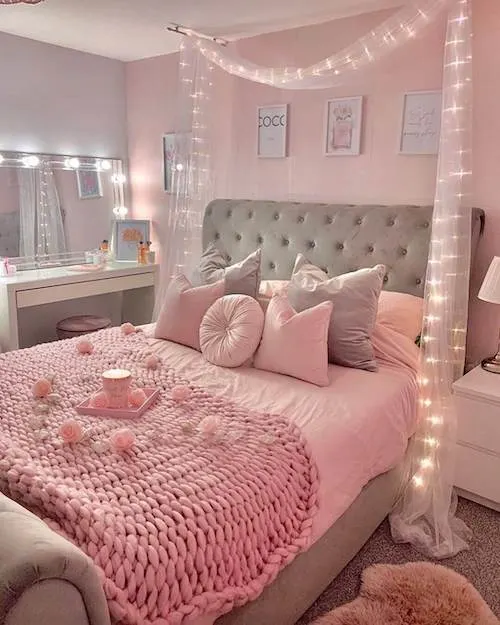 @perfectpinkhouse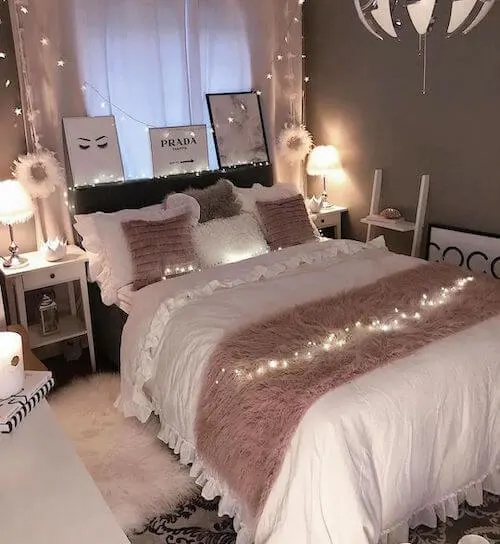 @homebyis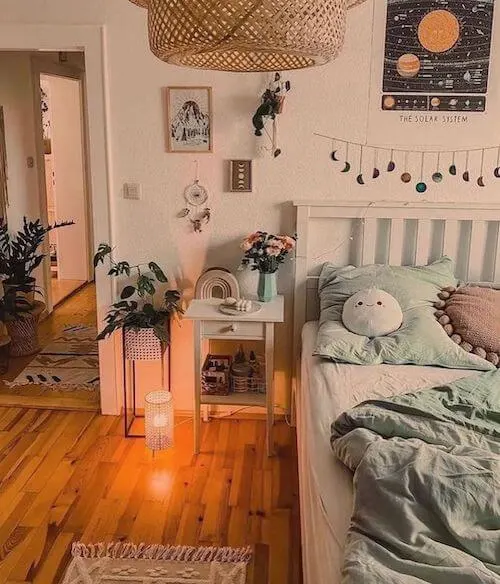 @valpur
@interiorfinesse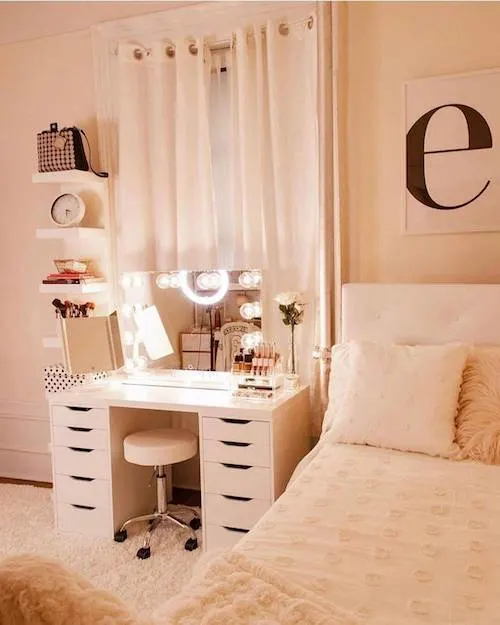 @interiorinspo14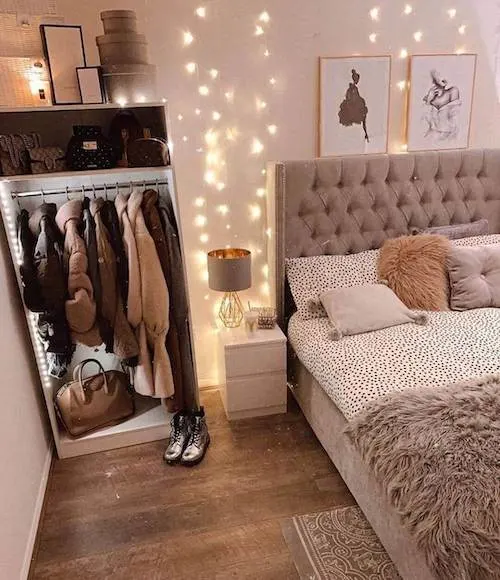 @interiorinspo14
Small Bedroom Decor Ideas For Women
Having a small bedroom doesn't mean you have to sacrifice style and design.
There are several easy ways to decorate a small bedroom for women in order to make it stylish, comfortable and inviting.
Here are some great tips on how to create the perfect space for any woman who's looking to spruce up their room!
The first step is to choose furniture that fits the size of the room.
A smaller bed, such as a twin or full-size mattress will be more suitable than a queen or king-sized one.
To maximize floor space, opt for storage solutions such as under-bed drawers or hanging shelves on the walls instead of large dressers.
Also, consider using multifunctional furniture such as an ottoman that doubles as seating and storage space.
Adding area rugs can help divide up the room into different sections while also adding texture and warmth.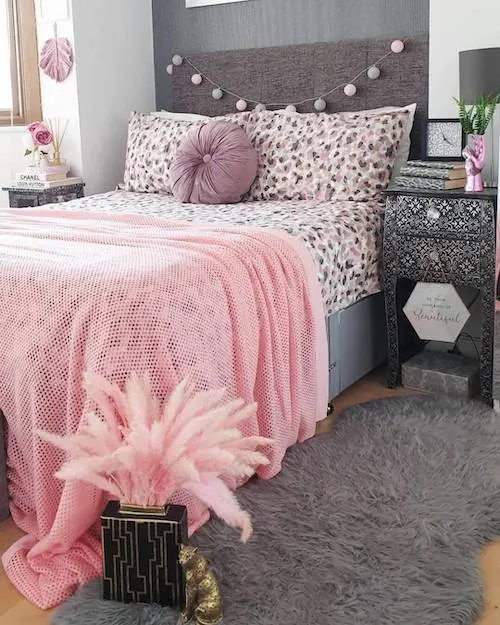 @ourss9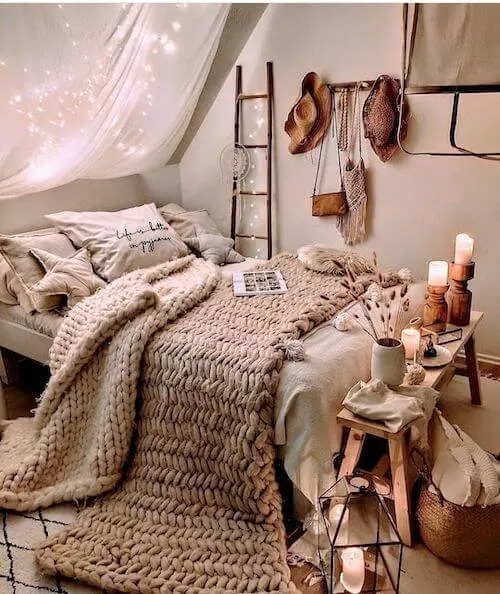 @herzenstimme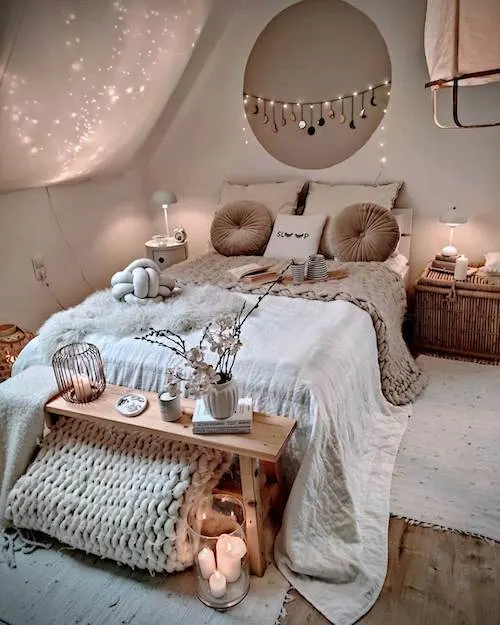 @herzenstimme
More Chic Bedroom Ideas For Women
Canopy Bed Room Idea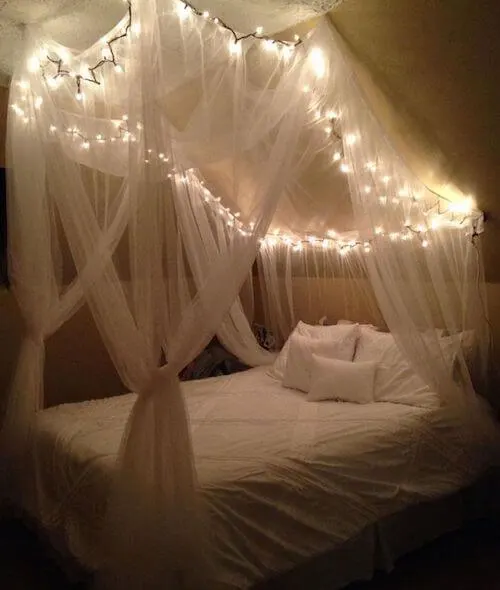 @roomdecor.goals
Perfect Neutral Tones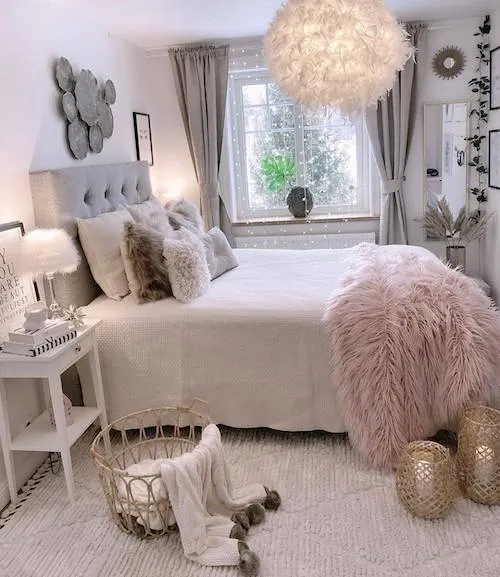 @homebyis
Stunning Monochromatic Room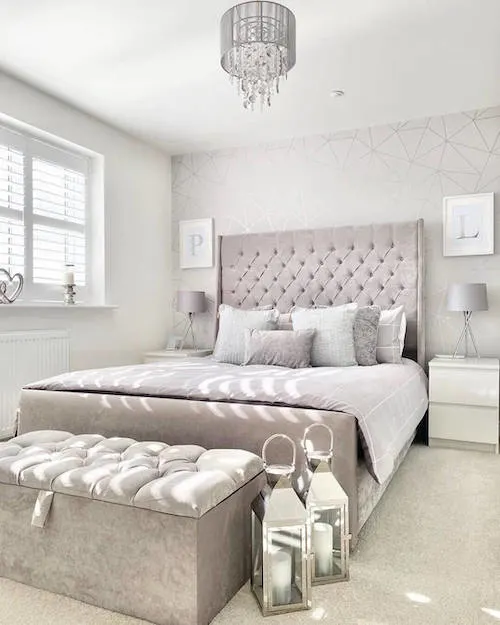 @pauls.and.lees.home
Pastel Bedroom Color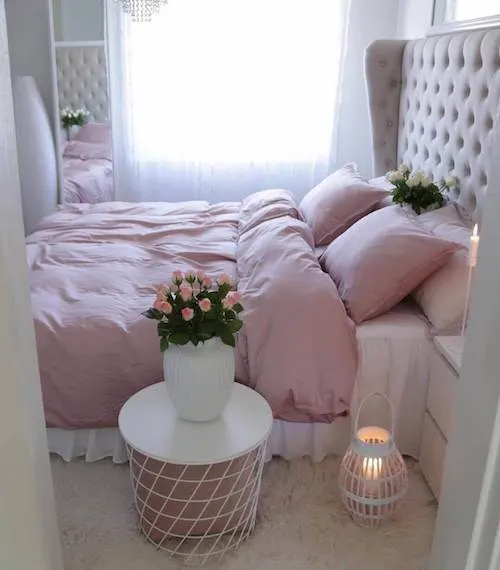 @ashleejayinteriors
Dreamy Pastel Colors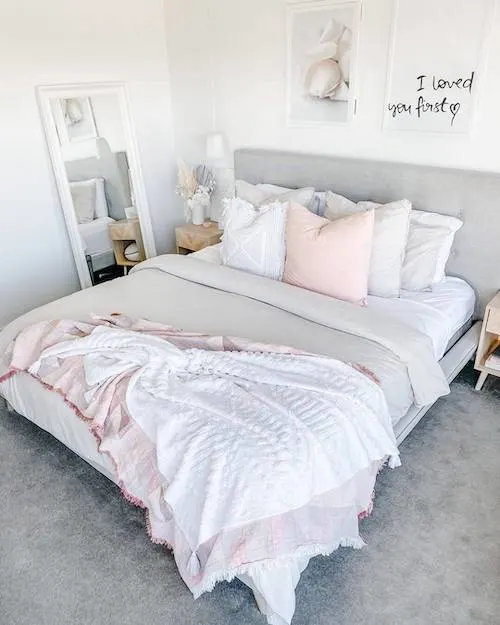 @freemenscushions
A Pop of Color In A Stylish Bedroom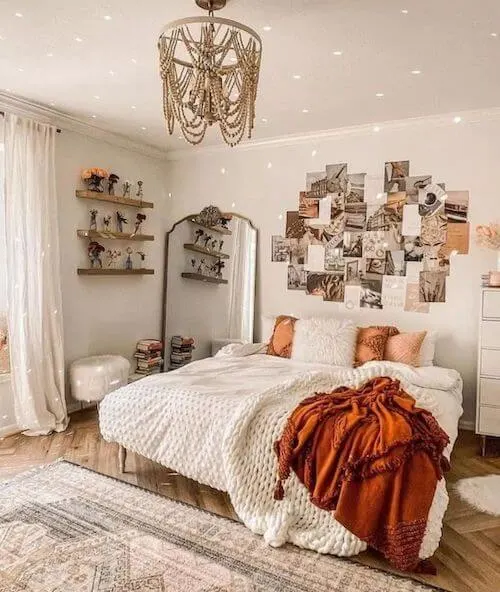 @bohotribe
Chic Feminine Color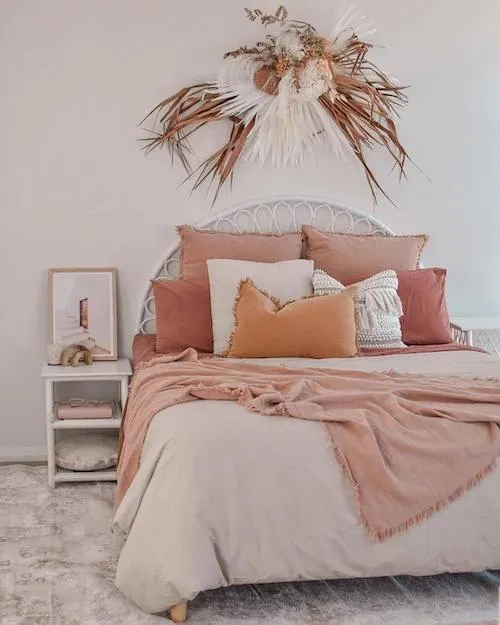 @ofmixednotions
Cozy Bedroom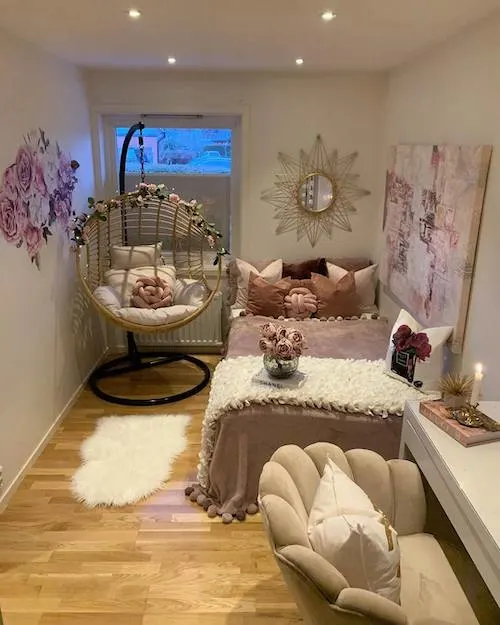 @home_byhesho
Embrace Natural Light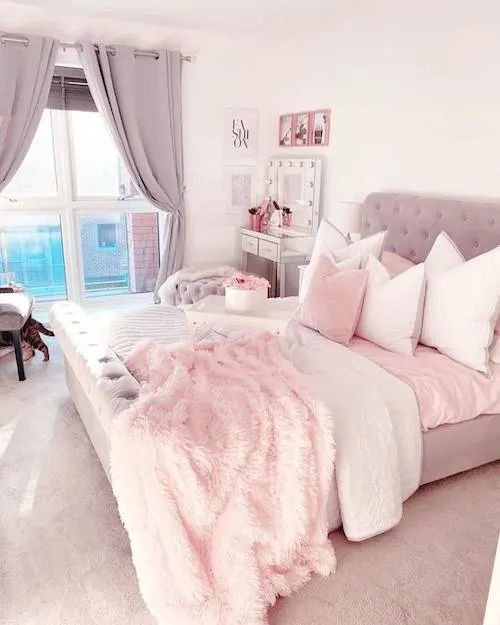 @mrsvictoriabaker_athome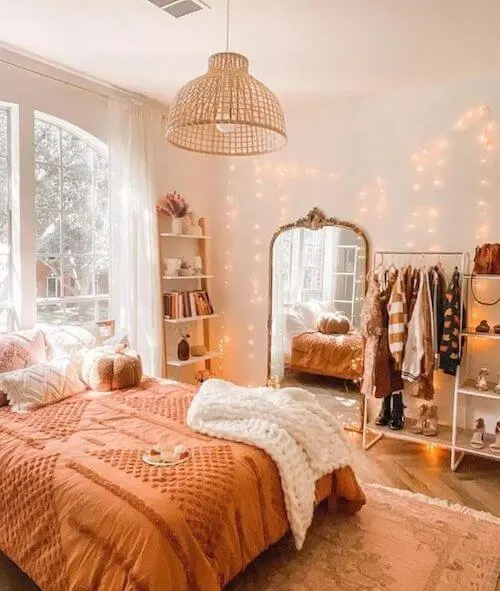 @bohotribe
Cute Bedroom Ideas For Women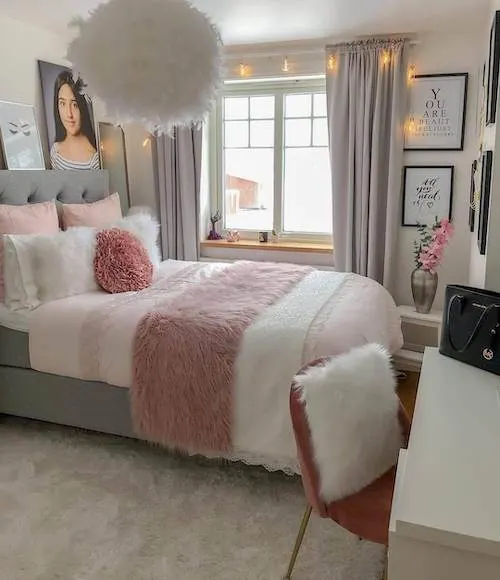 @homebyis
Stylish Attic Bedroom
@zadomowiona_na_ziolowej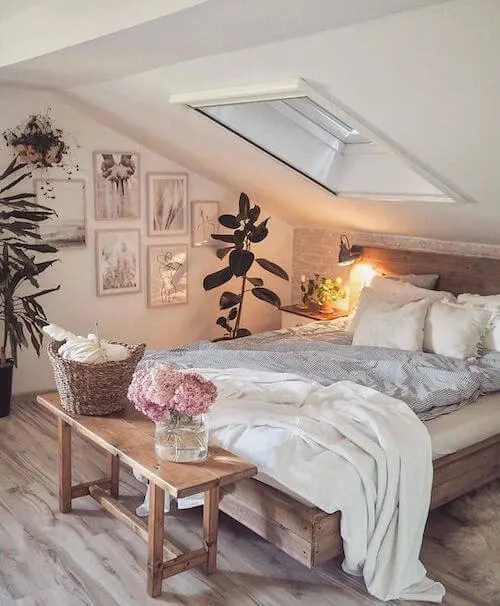 @nasze.poddasze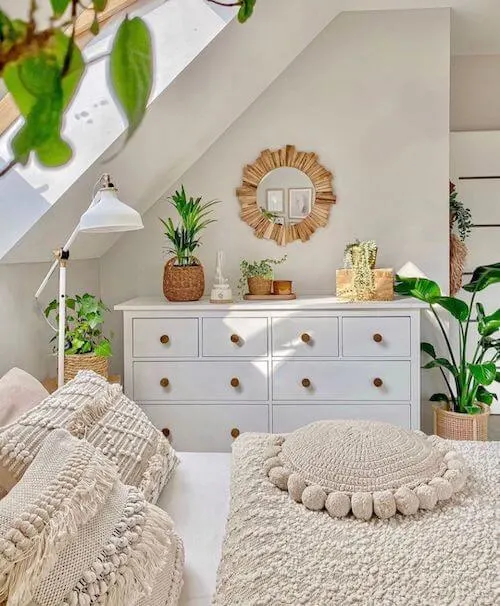 @zadomowiona_na_ziolowej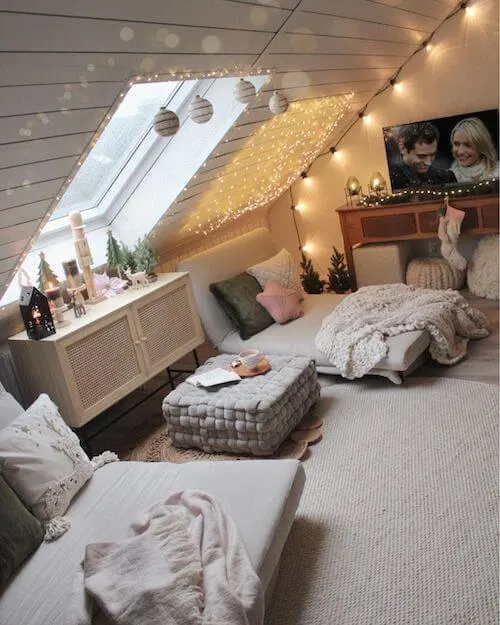 @gozdee81
What should be in a woman's bedroom?
Bedroom Furniture
Choosing bedroom furniture for a woman can be a difficult decision.
When selecting pieces, there are several factors to consider.
It's important to pick furniture that is both stylish and practical.
Start by taking into account the size of the room, as well as existing decor and color schemes.
Make sure there's enough space for all the desired pieces, while also leaving enough room to move around freely.
Measurements should be taken so that you know the exact dimensions of each item before making any purchases.
After determining what will fit in the space, start thinking about design elements such as bed frames, dressers, and nightstands.
Consider your individual style when choosing fabrics and materials like wood or metal.
Lastly, make sure you will have plenty of storage options available to organize her belongings neatly and efficiently.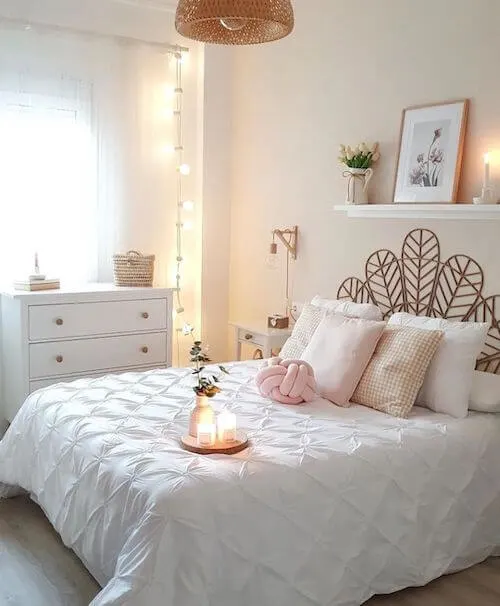 @rosenude_homedeco
Bedroom Wall / Accent Wall
A woman's bedroom is a special place, and decorating the walls can make all the difference in creating an inviting sanctuary.
For those who prefer more traditional wall decorations, framed art prints are always a classic choice.
From bright and colorful abstract designs to vintage-style landscapes, artwork can bring texture and personality into any room.
Alternatively, wall mirrors are a popular option that will add light and depth while achieving an elegant look.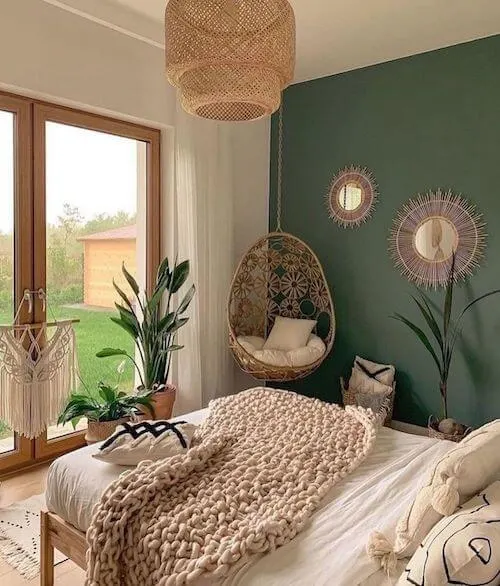 @cozywonderspots
Wallpaper
When a woman is decorating her bedroom, selecting wallpapers may be one of the most fun and important decisions she will make.
Wallpaper can give a room the perfect ambiance and reflect a woman's personal style.
First, consider what kind of style and vibe you would like your bedroom to have.
Wallpaper materials come in many different colors, textures, and patterns that can create various visual effects.
Choose paper with a pattern or color palette that complements your bedding, furniture pieces, and other accent pieces in the room.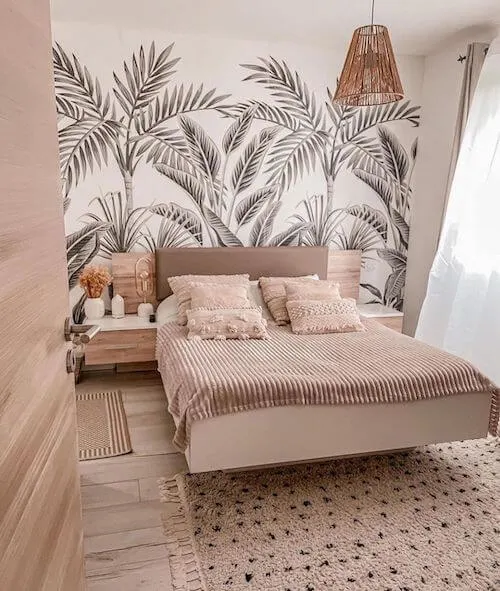 @deco.by_adel
Throw Pillows
When it comes to sprucing up a woman's bedroom, adding throw pillows is an easy and affordable way to give the space a quick makeover.
From classic and cozy to modern and minimalist, there are plenty of options available that will fit any style.
Here's how to ensure you pick the best throw pillows for your female friend or family member's bedroom.
First, consider the overall style of the room.
If it has bold colors and patterns already in place, opt for something simple like a solid-colored velvet pillow or one made from natural fibers like jute or linen.
If there were muted tones throughout, choose something with texture such as fringe trimming or tassels.
Additionally, look for something that has personality — maybe a fun patterned fabric with embroidery on it for an added touch of glamour.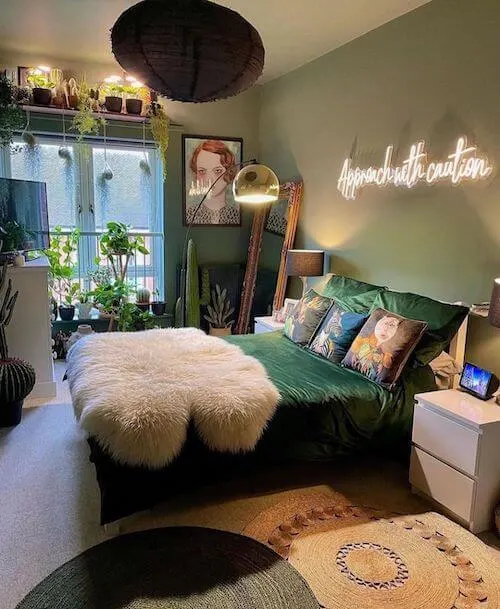 @my_homely_decor
Headboard
When it comes to styling a bedroom, the headboard is often the most important element.
It's an eye-catching piece of furniture that can bring together the entire look and feel of the room.
For women, choosing the right headboard for their beds can be especially daunting because there are so many different styles available.
When selecting a headboard that best complements a woman's bedroom, it's important to consider your style and personality.
If you tend to lean towards traditional pieces, then choosing a wood or metal frame with detailed carvings might be just what you need for an eye-catching focal point in your room.
For women who prefer more modern designs, there are plenty of options such as upholstered fabric headboards or sleek metal frames with cool geometric shapes and patterns.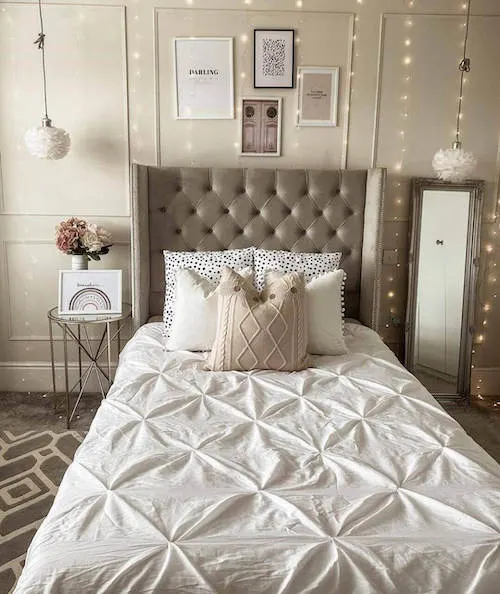 @thehstyled
Rug
Women's bedrooms should be a sanctuary of relaxation, serenity, and comfort.
The right rug can help create the perfect atmosphere for these goals. But with all the different colors, patterns and sizes to choose from, how do you know which rug is right for your bedroom?
Here are some tips to help you make the best choice:
First, consider the size.
Your rug should fit comfortably in the room without covering too much or too little floor space.
Next, choose a color that matches your overall design scheme but also adds texture and warmth to your space.
Finally, think about material: wool rugs are durable and great for high-traffic areas; cotton rugs have a softer feel; jute and sisal offer more texture; and silk has an elegant look but needs more upkeep.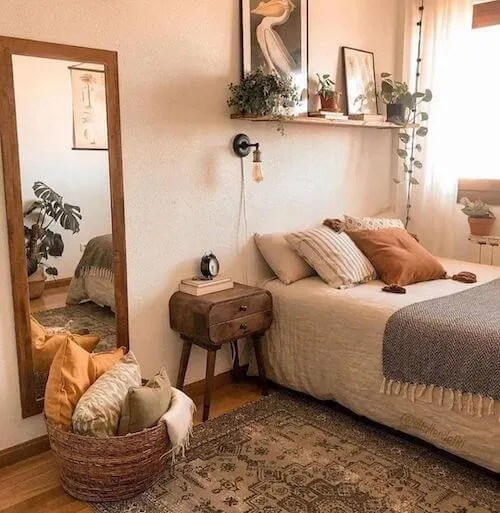 @homewithrue
Lamp
Choosing the right lamp for a woman's bedroom is an important task.
The type of lamp you choose can have a huge impact on the atmosphere and feel of the room.
When shopping for a lamp, there are several things to consider.
First, think about your current decor and color palette in the room.
Choose a lamp that will complement these colors rather than clash with them.
Next, consider the size of your space; be sure to select a lamp that won't overpower it or make it feel cluttered.
Additionally, take into account any furniture pieces in the vicinity; you want to ensure that they do not block out light from the bulb when turned on.
Finally, make sure whatever style you go with fits your personal taste; this will allow you to enjoy it for years to come!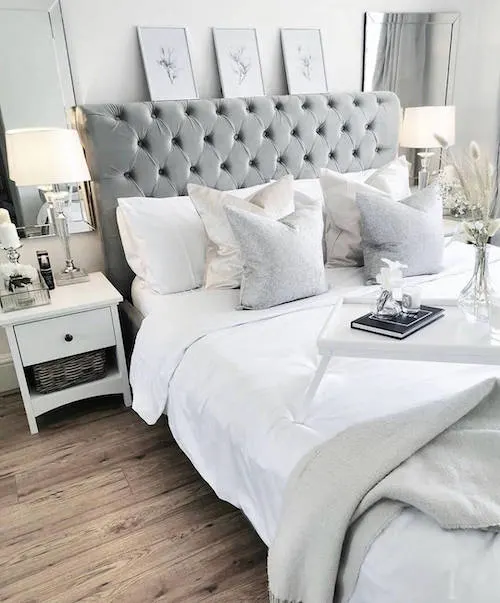 @homeofcc
Women's Bedroom Interior Design Tips
How can I make my bedroom look classy?
Making a classy bedroom for a woman can be achieved with a few simple steps.
To begin, start with the bed as it's the focal point of any space.
Choose an elegant headboard that is timeless and neutral in color to create a sophisticated look.
To add subtle interest, layer on some cozy bedding in colors like gray, navy, or white and include beautiful pillows in various shapes and sizes.
Next, select furniture pieces that fit your style but also provide extra storage such as dressers and nightstands.
Adding lamps to both sides of the bed will bring balance to the room while making sure there's enough light for reading at night.
Lastly, accessorize with artwork and mirrors to enhance the space further.
These items should reflect your personal taste and complement the colors already present in the room.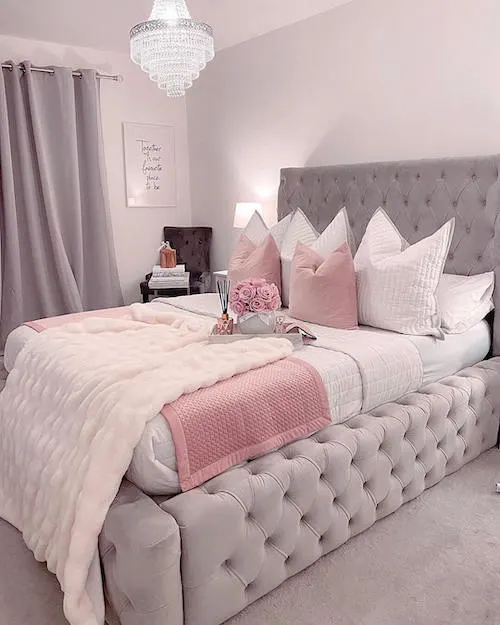 @homeofcc
How can I make my bedroom nice and cozy?
The first step in creating a cozy bedroom is to choose the right color palette.
Soft colors such as pastels, neutrals, or muted tones will help make the room feel more peaceful and inviting.
Placing an area rug on the floor of the room also helps add warmth and texture to the space.
Adding decorative pillows, throws and other soft fabrics can also help create an inviting atmosphere in your woman's bedroom.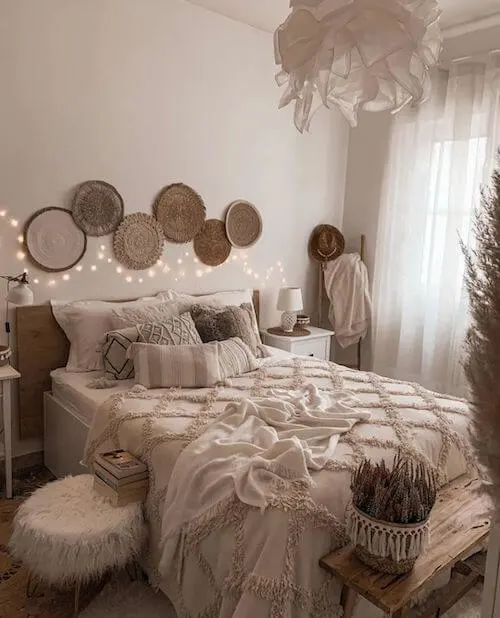 @adelfiazampella
What is a good color for a woman's bedroom?
When it comes to decorating a woman's bedroom, color choice is important.
The color of her room will set the tone for her entire space.
It can make a room feel cozy and inviting or chic and modern.
So what is the best color for a woman's bedroom?
One popular option is pink. It's feminine and romantic, creating an atmosphere that is both classic and modern at the same time.
Rose gold has also become increasingly popular in recent years due to its warm hue and subtle sparkle, making it ideal for those who want to add some glamour to their bedrooms.
White is another good option as it creates an airy atmosphere while still being calming and inviting, perfect for encouraging relaxation after a long day.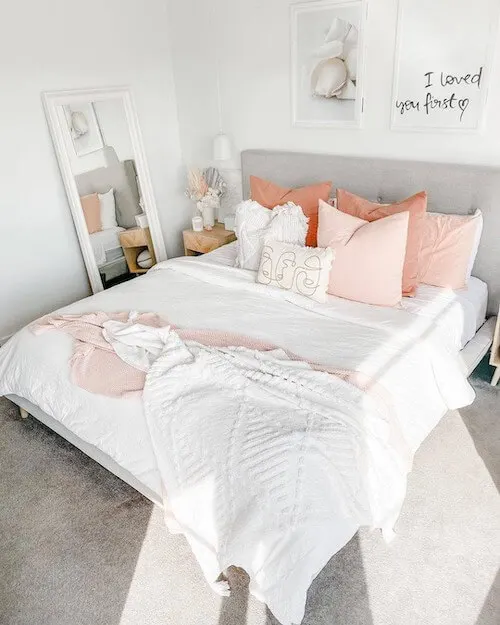 @ashleejayinteriors
How can I make my bedroom look nice without money?
Creating a beautiful bedroom without money can be challenging, but it's definitely possible.
A few simple steps can give any woman's bedroom an instant upgrade without breaking the bank.
The key is to focus on maximizing existing pieces in inventive ways and adding small touches of beauty here and there.
Here are some tips for making a room look nice without spending any money:
Start by taking stock of what you already have in the room and how you can use it differently.
Rearrange furniture to create an interesting layout, or swap out pillows or throws to give your bedding a fresh new look.
You can also spruce up your walls with wall art or photographs that you already own; even simply rearranging frames around the room can make a big impact.
Repurposing items like old jars as flower vases gives them new life while also adding texture and visual interest to the space.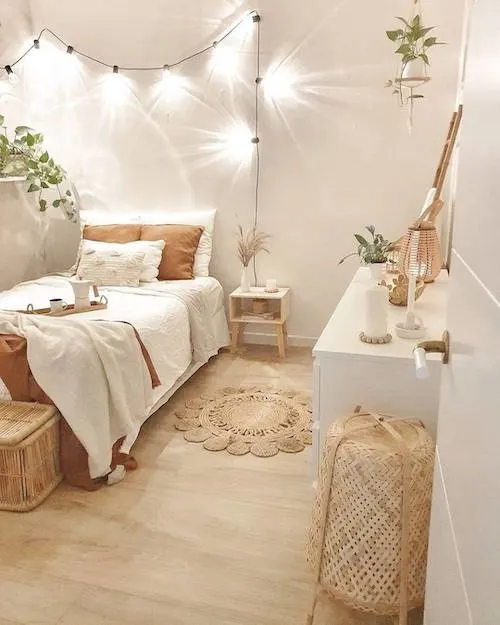 @sandradeco__sweet_home
Final Thoughts: Best Bedroom Decorating Ideas For Women
In conclusion, decorating a bedroom for a woman can be a fun and rewarding project.
Whether you decide to opt for subtle or dramatic changes, selecting the right colors, textures, and pieces of furniture is key when it comes to achieving the desired look.
With these tips in mind, choosing the perfect bedroom decorating ideas for women should be an enjoyable process.
Remember to have fun with it and experiment with different styles to create an environment that reflects your personality.
This post was all about bedroom ideas for women.
About The Author
Tracy is an experienced personal stylist, shopping expert, and fashion & lifestyle blogger. She has been featured on Time Magazine, Bustle, Best Life, Glam, The Zoe Report, Mic, and GOBankingRates, for her insights on fashion, beauty, home decor, and lifestyle. Read More
Related Posts: