Looking for the best birthday photoshoot ideas? Check this post for expert tips to have the amazing shots and creative photoshoot ideas for your birthday this year!
For many of us, a birthday is more than just a date on the calendar, it's a big day, the beginning of a new life, and the best time of your life to see the past year from a different perspective. Such a day only happens once a year, so birthdays should be different from other days. In order to do this, birthday photography requires some creative ideas.
So in this post, we are sharing 6 proven quick tips to have the best shots for your birthday photo session, and the best birthday photoshoot ideas you can try out immediately for your next birthday! You don't even need a photo studio to help you, you can completely start your home studio and take your own birthday photos.
Scroll down to check these tips and ideas, take your great social media worthy birthday photos. Happy birthday and have a fantastic time !
This post may contain affiliate links, which means I'll receive a commission if you purchase through my link, at no extra cost to you. Please read the full disclosure here.
This post is all about birthday photoshoot ideas.
6 Quick Tips To Have The Best Birthday Photos
Want to make your birthday photos stand out quickly this year? Here we share 6 tips to quickly make your photos look amazing! Come and use it! They are very simple but very practical.
1. Take gorgeous cake photography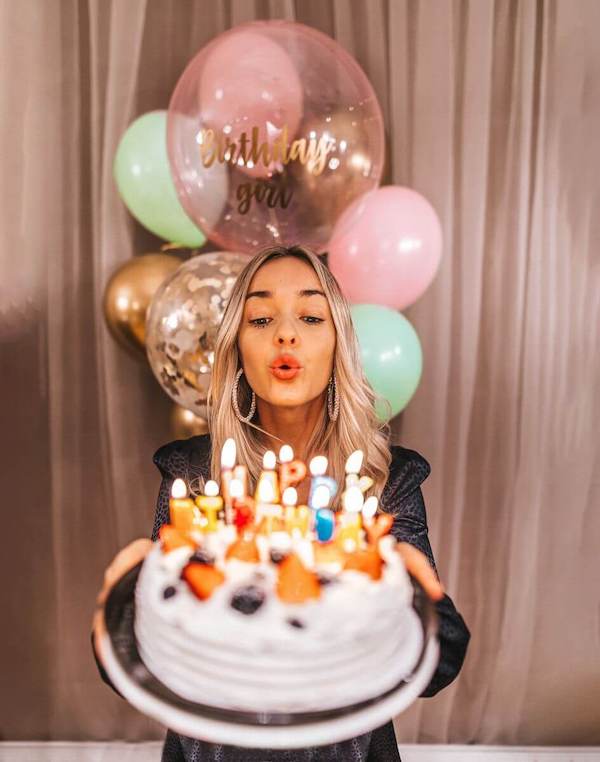 Cakes are definitely indispensable for this special day, and this is a great idea. When you shoot cakes, try to keep the background simple and clean, or the content of the picture should be related to the theme.
You can also take a picture when the candles are inserted. At this time, most of the lights are turned off, and there is only the light of the candles. When taking pictures, lower the exposure and place the focus center on the candles to create a more atmospheric feeling for your great pictures.
2. Use props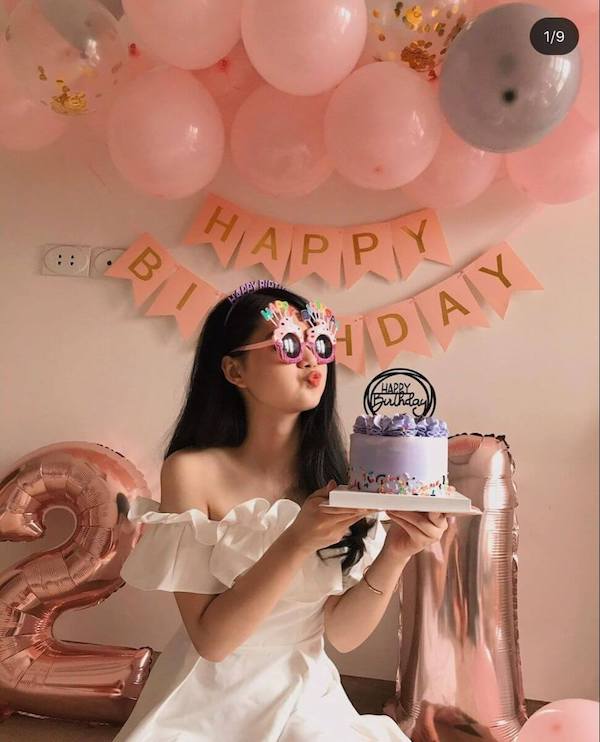 A best way to take perfect pictures for your birthday!
When we take photos on our birthdays, there are props that can help us make more poses. If we only rely on our gestures and body movements, we won't know what to take if we don't take a few pictures. Props can enrich the content and color of the picture, enhance the theme atmosphere, and also make our poses more natural.
The props can choose birthday hats, glasses, etc., which can make the photos more joyful, you can also choose balloons, or simply arrange the scene.
Another prop is the cake, which you can take photos with it from start to finish.
Our favorite places to get affordable cute birthday props are: Amazon, SHEIN, Etsy.
3. With your friends
Taking group photos with your friends is a good idea.
At the special occasion, each person can have a pair of birthday glasses, which are cute and can cover their faces, and they can be funny. Choose some uniform photo poses, the same hairstyle, the effect will be doubled, and the exaggerated expressions will look more interesting.
4. Use a projector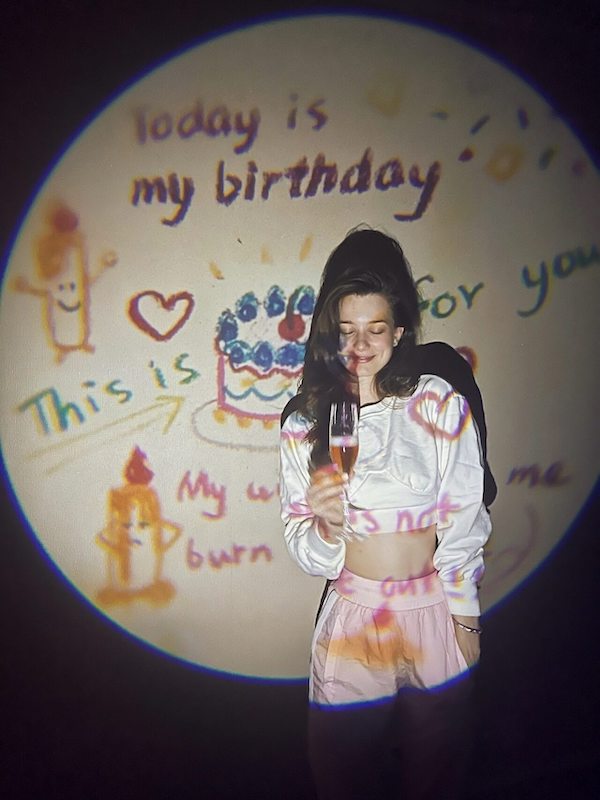 This is one best idea we love the most this year!
You need to prepare a projector, then choose a white wall, choose a picture about the birthday and cast it on the wall, and try to choose a simpler one.
Leave a small light in the room, turn off other lights, and do not turn on the flash when taking pictures, if it is too bright, it will be unclear.
Also try not to be too fancy in clothing, otherwise it will cover the projector screen. When taking pictures, be careful not to let the objects or color blocks in the picture hit your face, it will be a bit weird.
You can get our favorite projector here to take a picture like the one above.
5. Shoot site layout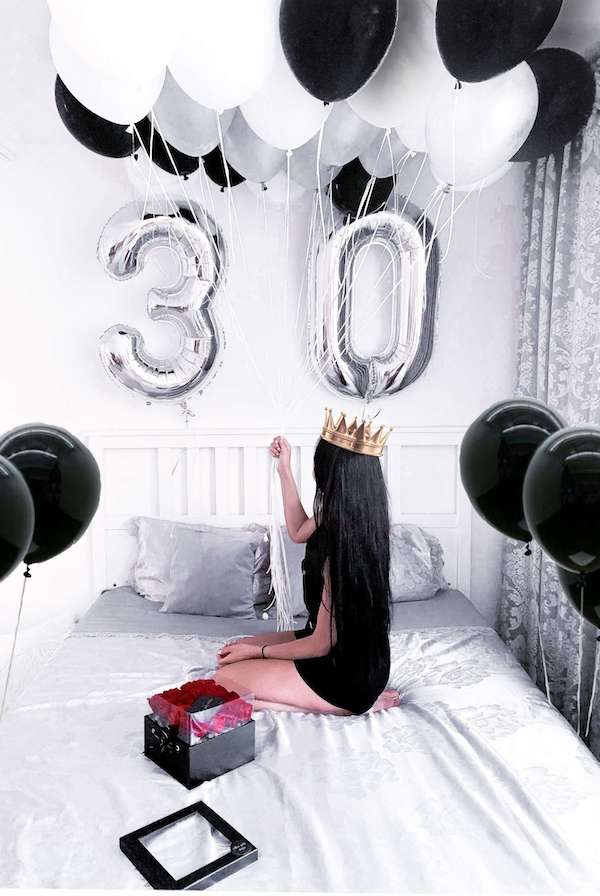 If it is a carefully arranged birthday site, you can take a little photo alone, or the birthday star stands or sits in the scene and adopts the composition method of "big scene and small person".
When you shoot a birthday party, you are trying to tell the story of the event. A great way to do this is to consider different scales.
This means wide-angle shots for details, photos of people, and crowds.
For birthday party photography, this can be a photo of a birthday cake, a pile of gifts, or the decoration of an entire space.
6. Not every photo has to have a face
Shooting from the back and using lights to contrast the people is a fun way to take creative birthday photos, and will make the photos romantic and very different!
Want more inspiration? Check more photoshoot ideas below and don't hesitate to pin the ideas you like!
Best Birthday Photoshoot Ideas
From indoors to outdoors, from wearing comfortable loungewear or preparing a special birthday outfit for your birthday photoshoot, you can find the style and angle you like to take your birthday photos.
You can think ahead about the style you want before you shoot, or try something you've never tried before and express it in your birthday photos with your costumes, props, scenes, and makeup.
Color is a key factor in making a photo look very attractive at first glance! To get a photo that looks like it was taken by a professional photographer, you can work a little bit more on the color.
For example, you can choose the same color as the cake and props for your outfit, or you can choose a color from the props for your outfit, or choose the same color for the props, but choose its strong contrast color for your outfit. These are all great methods.
Cute Birthday Wishes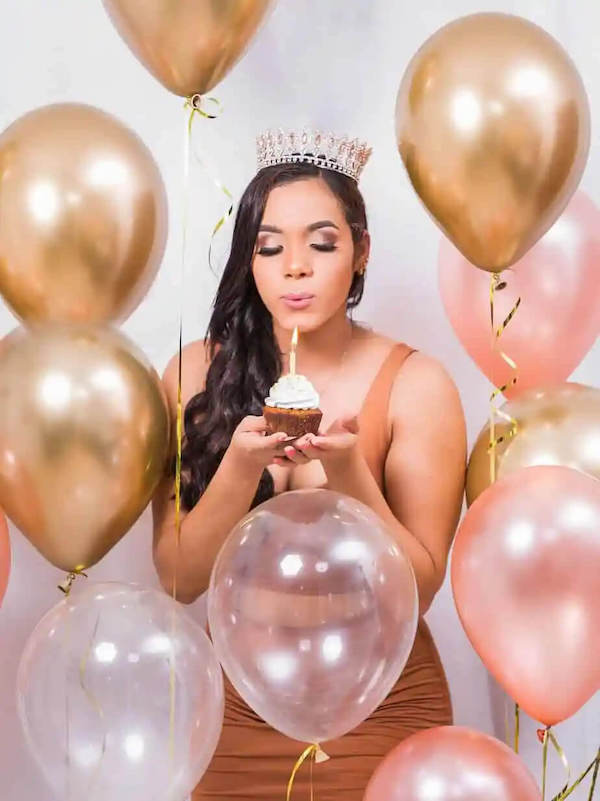 Birthday Bathroom Photo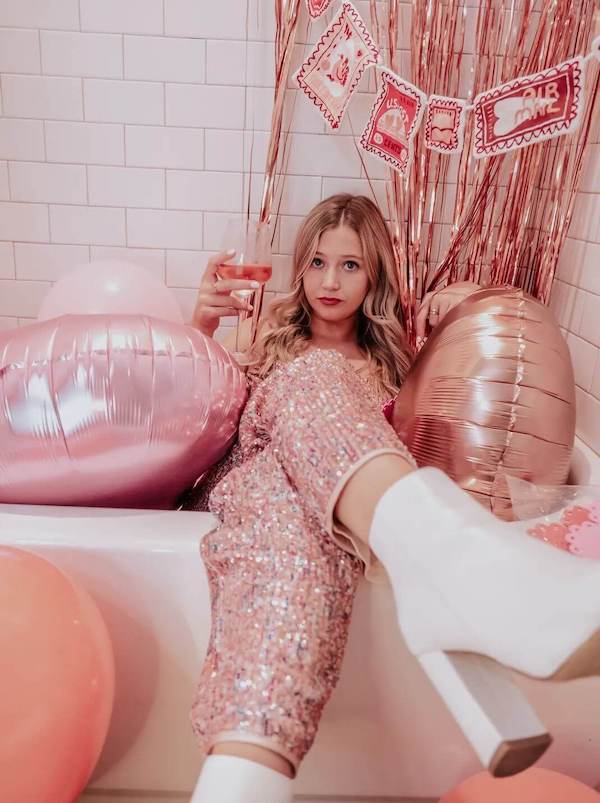 Silver Birthday Photo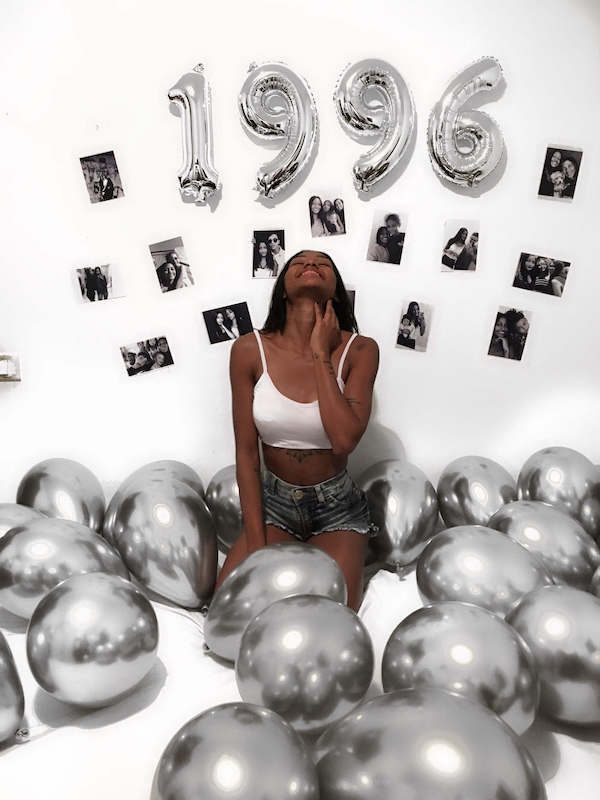 In The Middle Of Birthday Balloons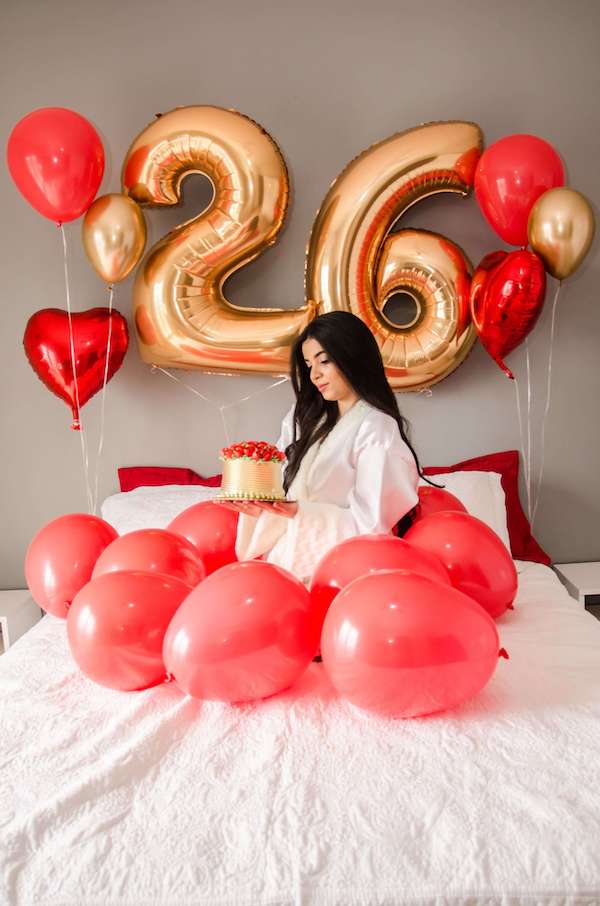 Cute Special Cake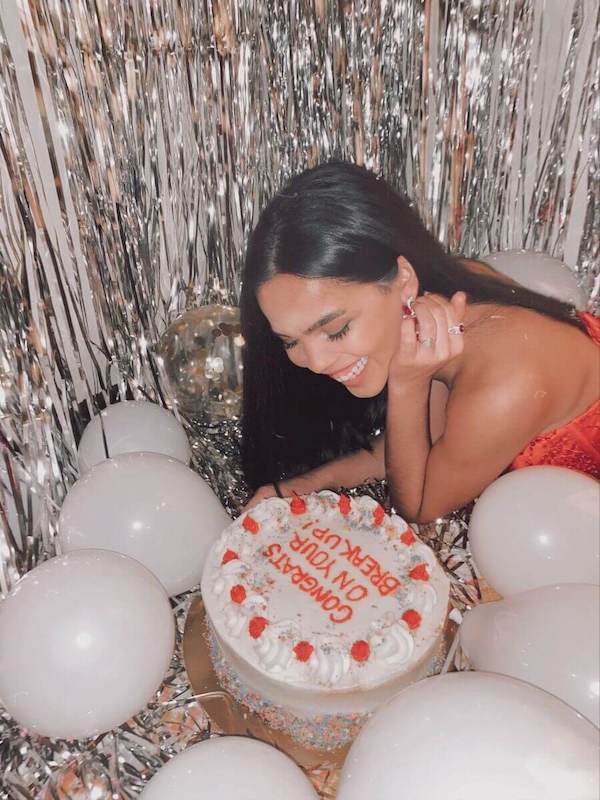 Birthday Breakfast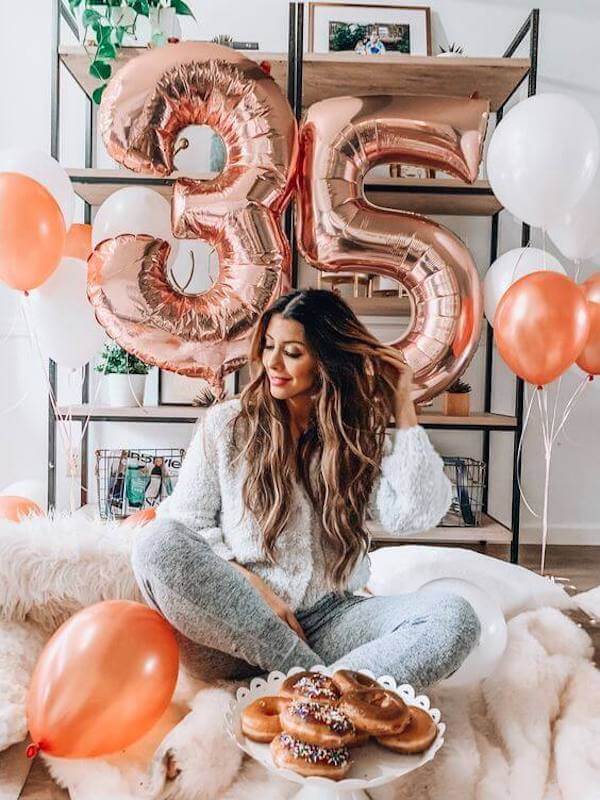 I'm the cute birthday girl!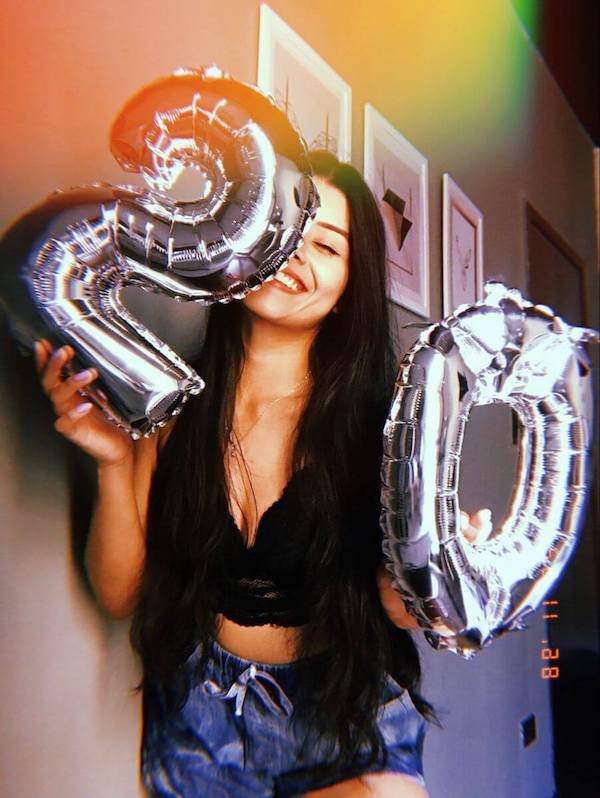 30th Birthday Photo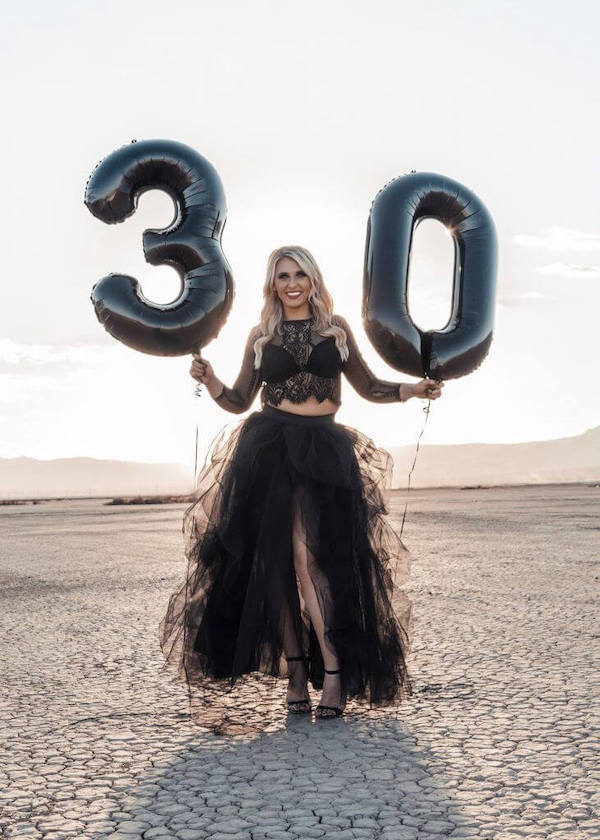 Enjoy Your 30!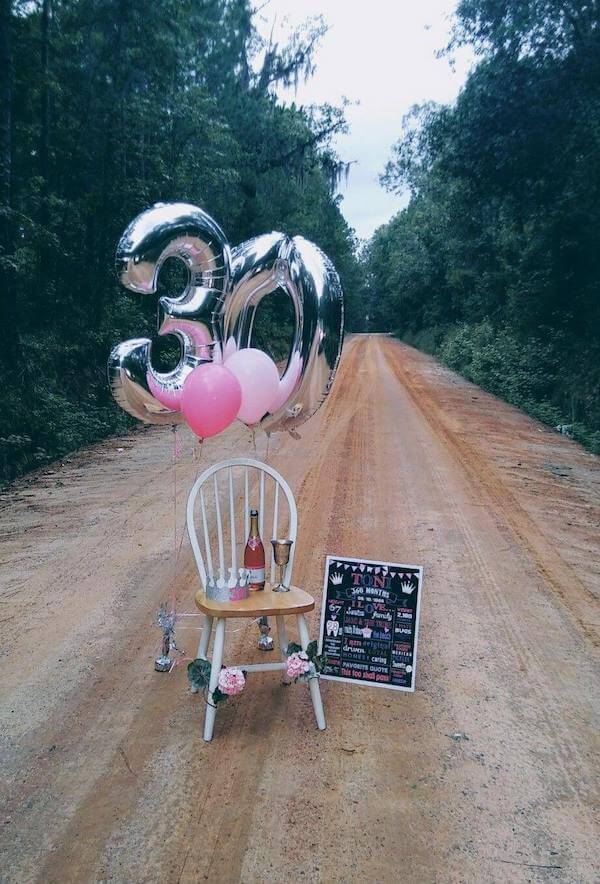 Colorful Balloons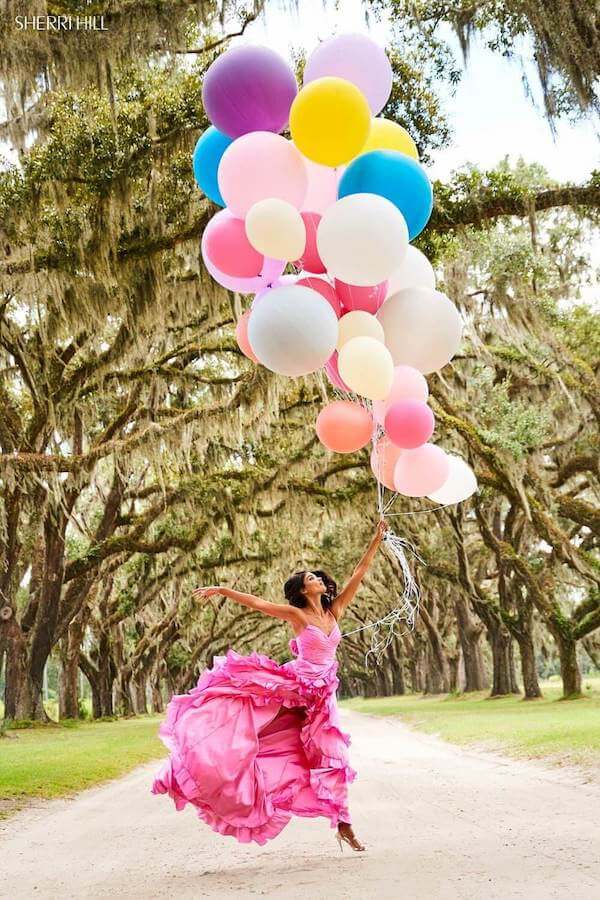 DIY My Birthday Dress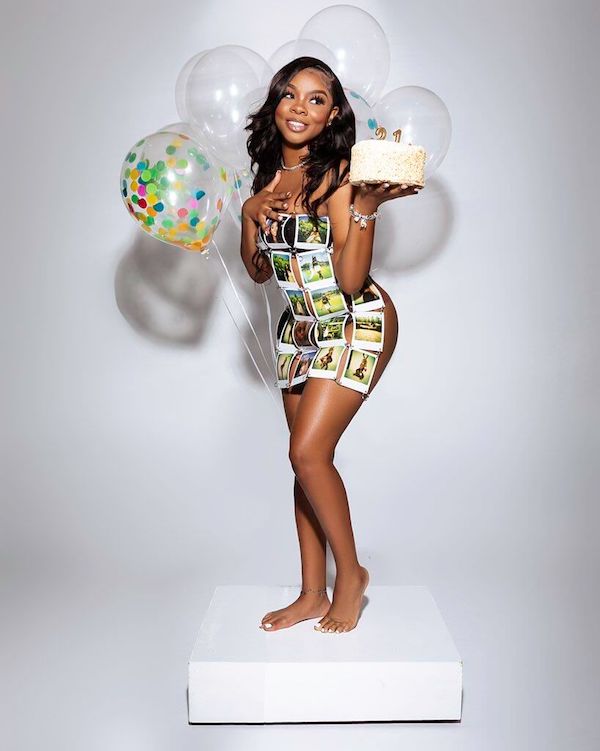 336 Months Old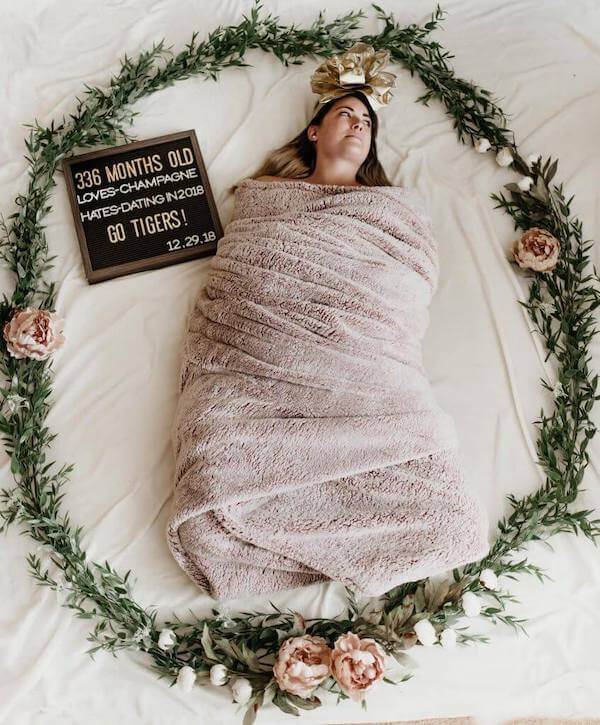 Birthday Queen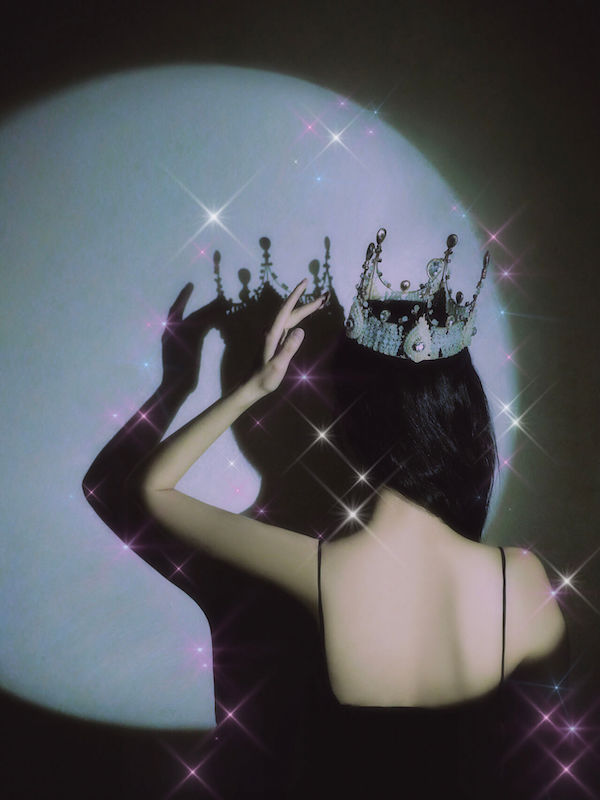 Cute Birthday Shoot Ideas At Home
Taking birthday photoshoot at home is a great option. When taking birthday photos at home, you can make the most of your lovely bed, bathroom, and even the floor for very professional and fun birthday photos!
Relaxation and joy are themes for indoor birthday photos. Have a good laugh! do not worry. There are tons of props that you can set up in advance for a fantastic birthday scene. Yes, on this day, you are the princess, you are the queen! This way you can show off your beautiful smile more easily and freely.
Slay My Birthday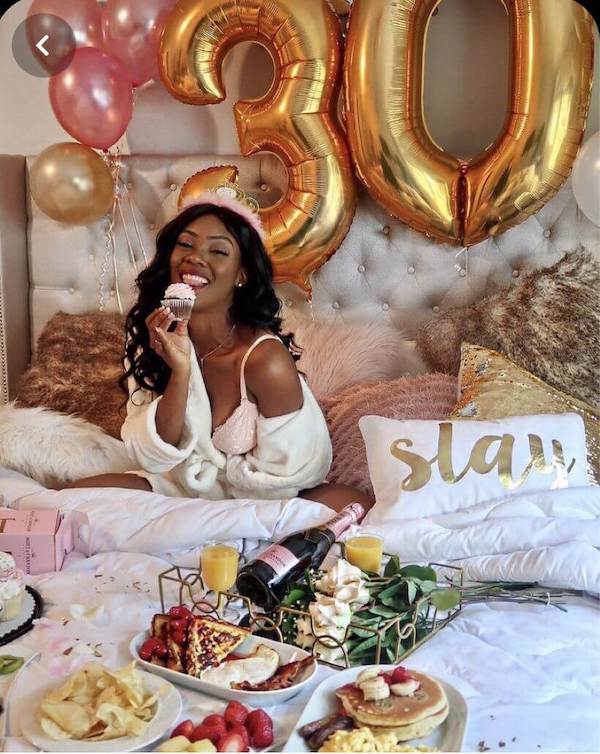 With My Birth Year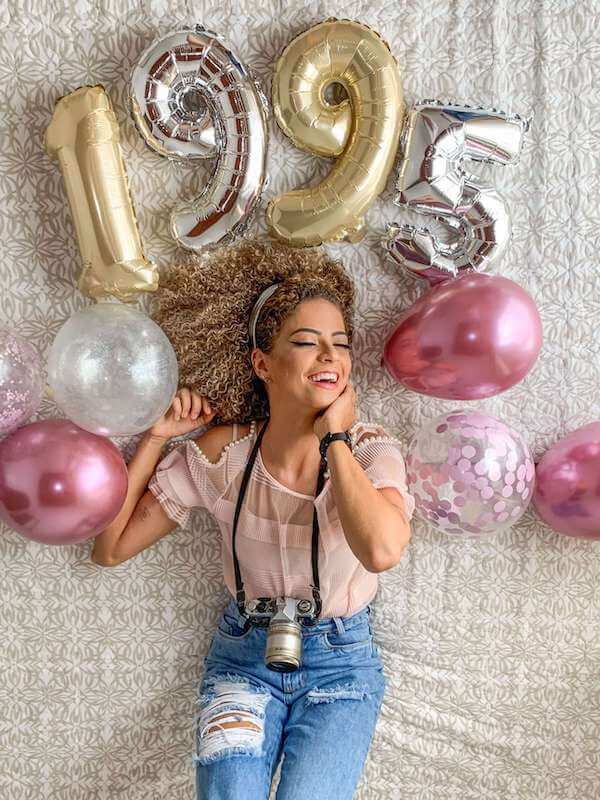 Bathroom Birthday Photoshoot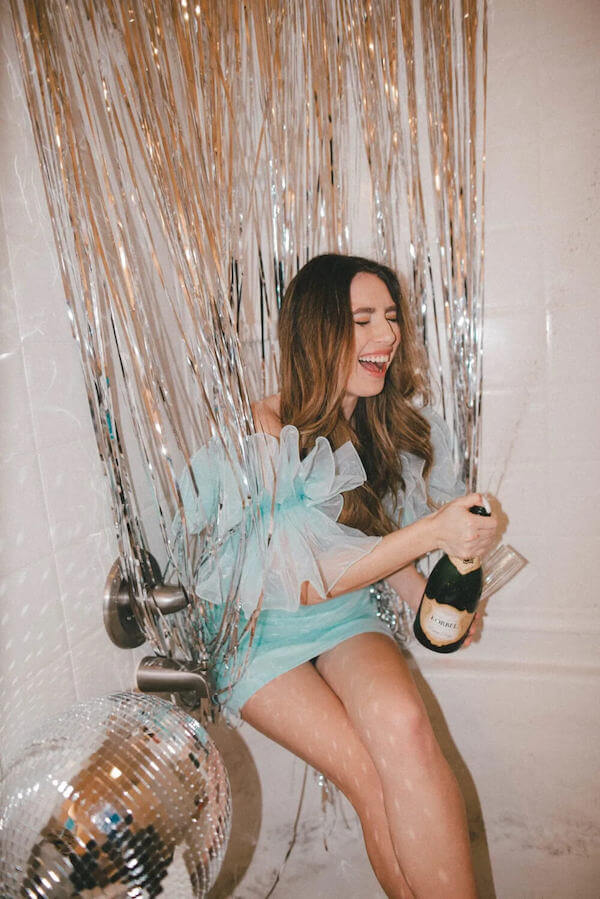 Good Vibes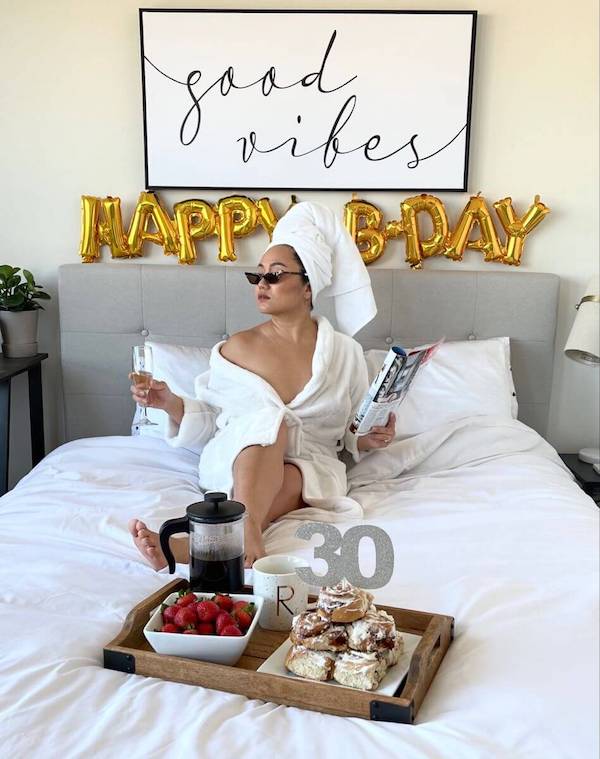 Happy 17th Birthday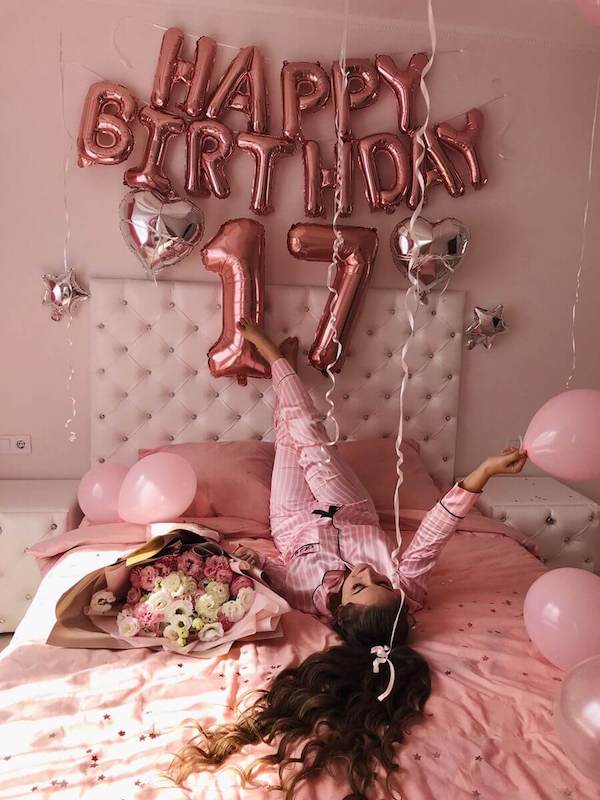 Creative Birthday Pictures For Women
Funny or retro? Which style do you prefer? How about a romantic time trip with your best friends? Or, do you want to spell out your birthday declaration using number balloons etc? Or add a little humor?
Be creative.
Important Milestone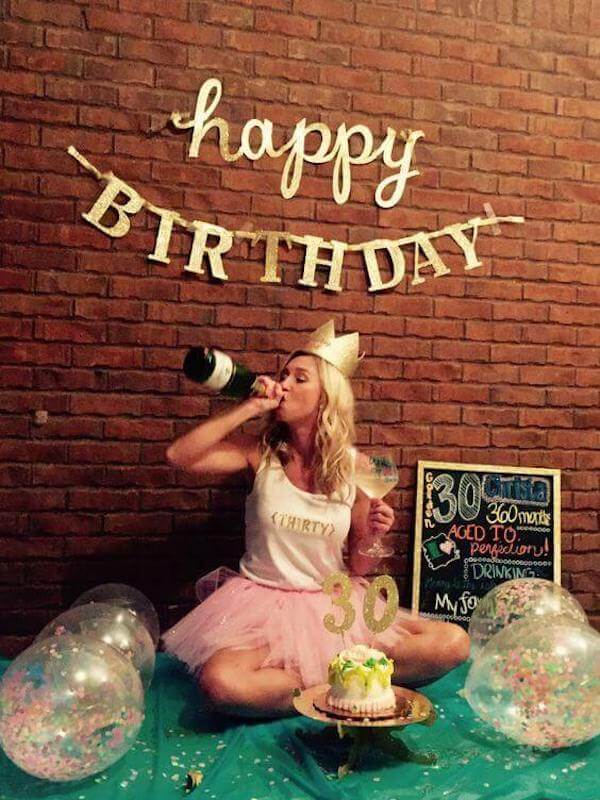 With My Closest Friends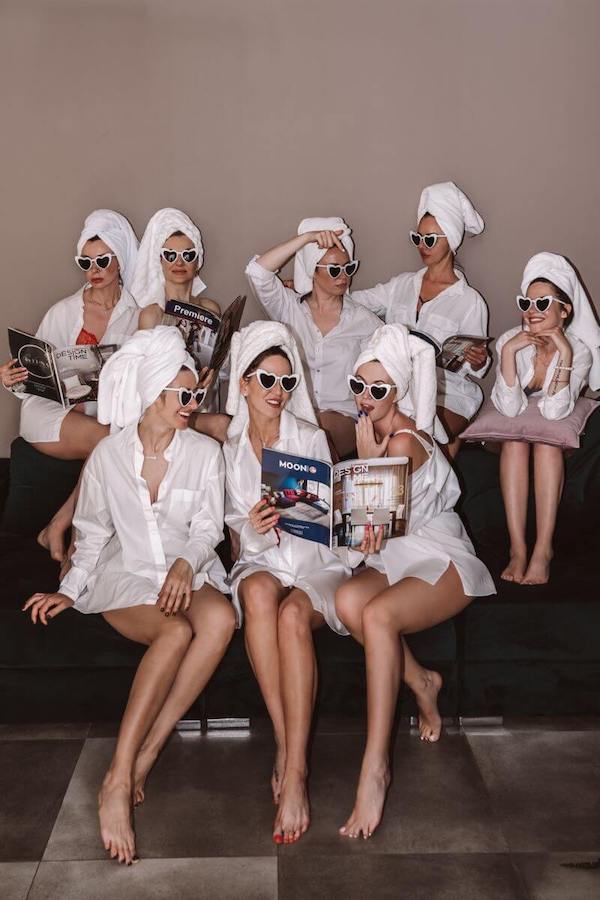 Retro Bright Colors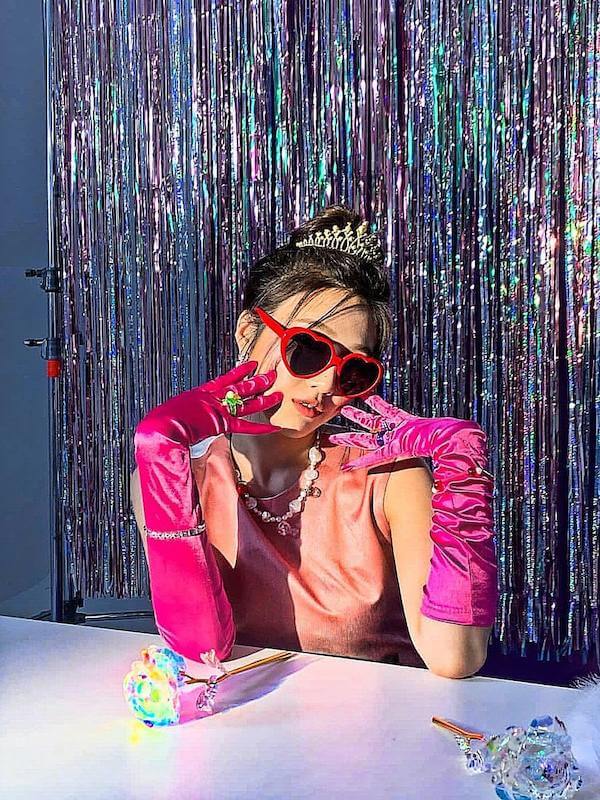 Happy Birthday!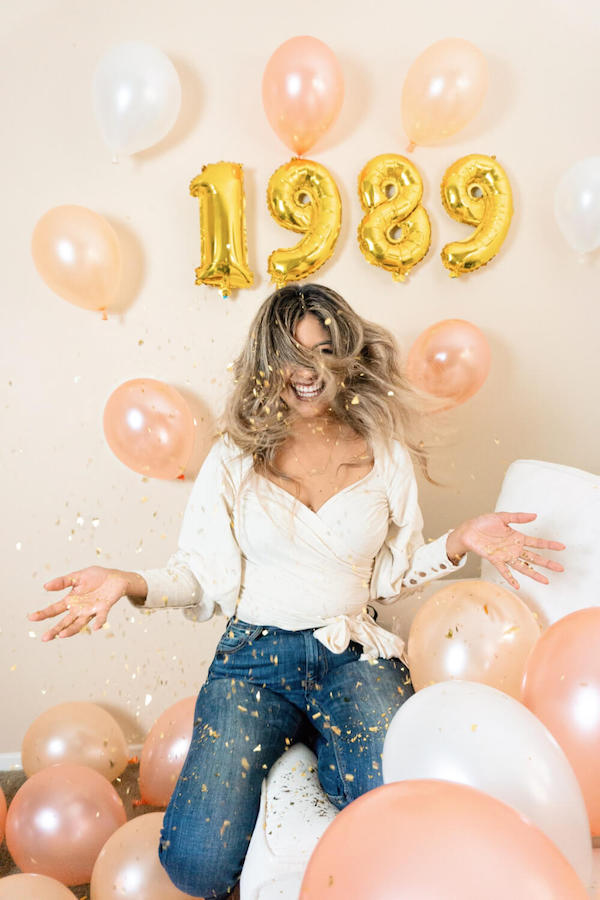 Sweet Birthday Moment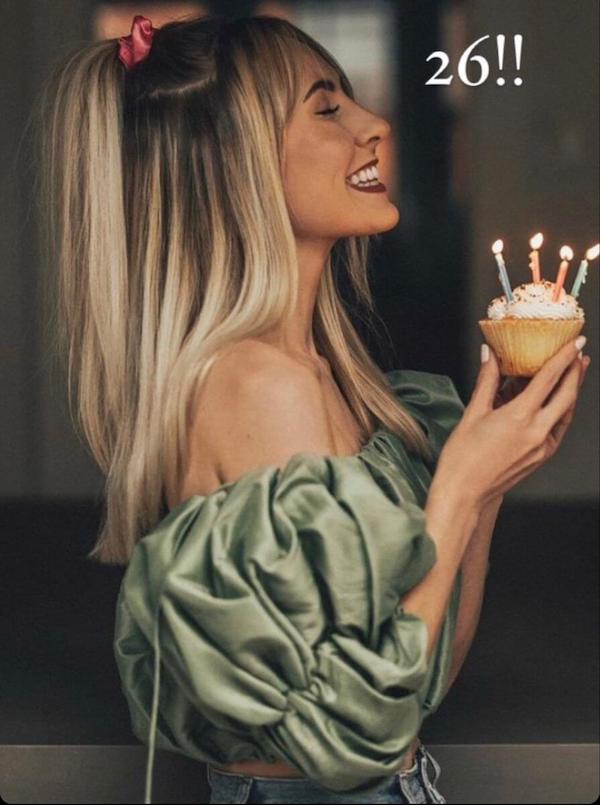 A Big Smile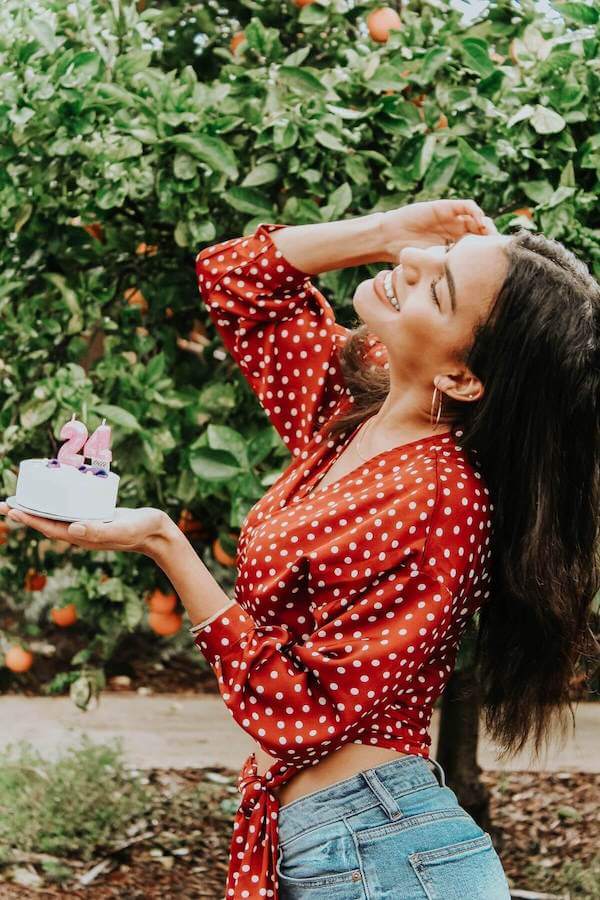 Hold The Birthday Cake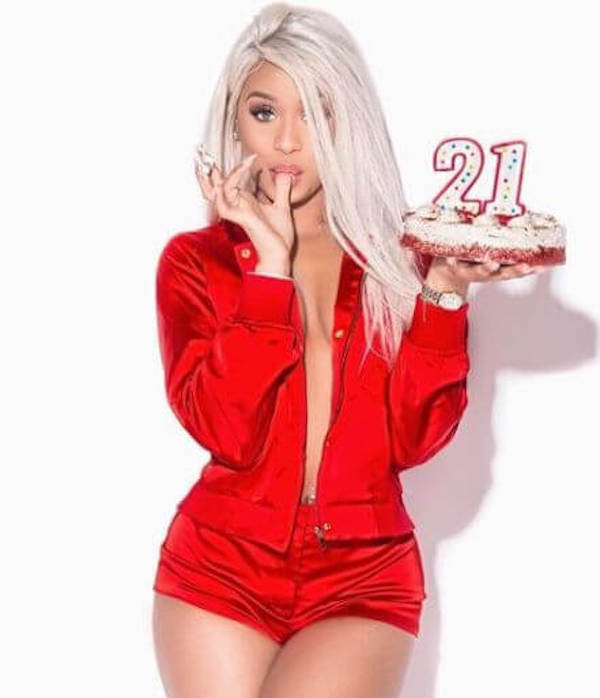 Pink Birthday Photoshoot Ideas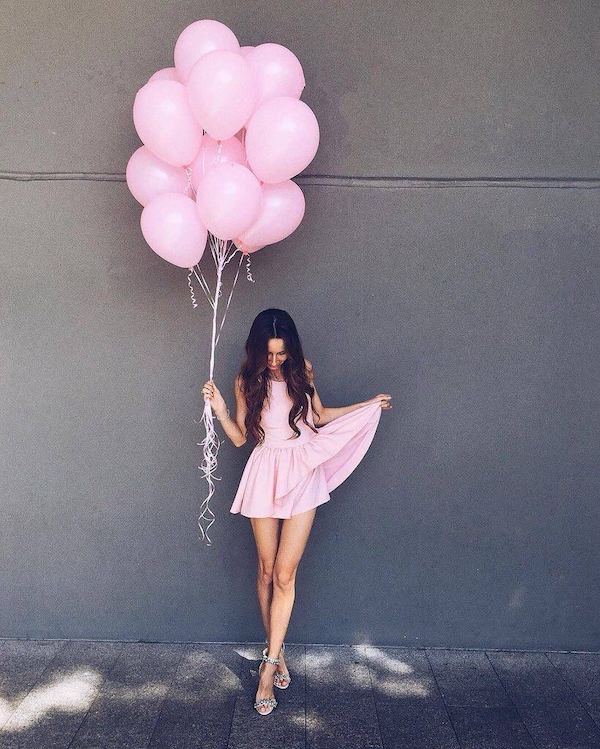 25th Birthday In Bed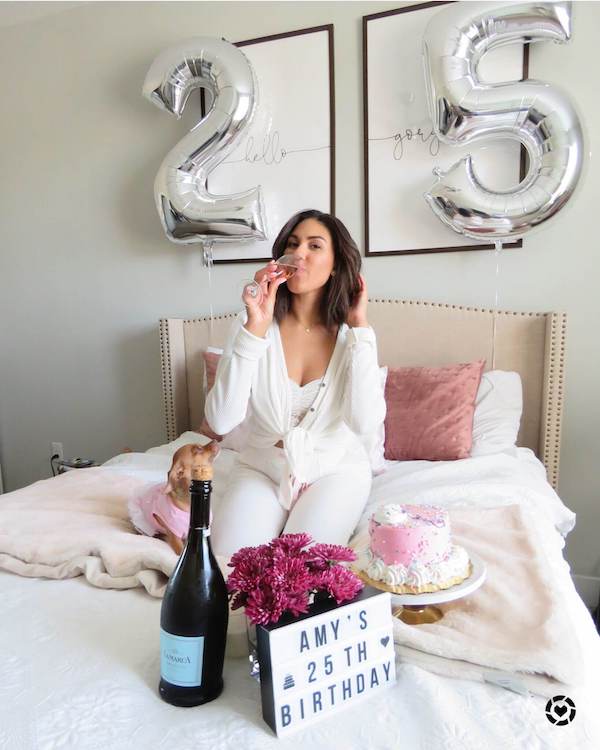 A Sparkler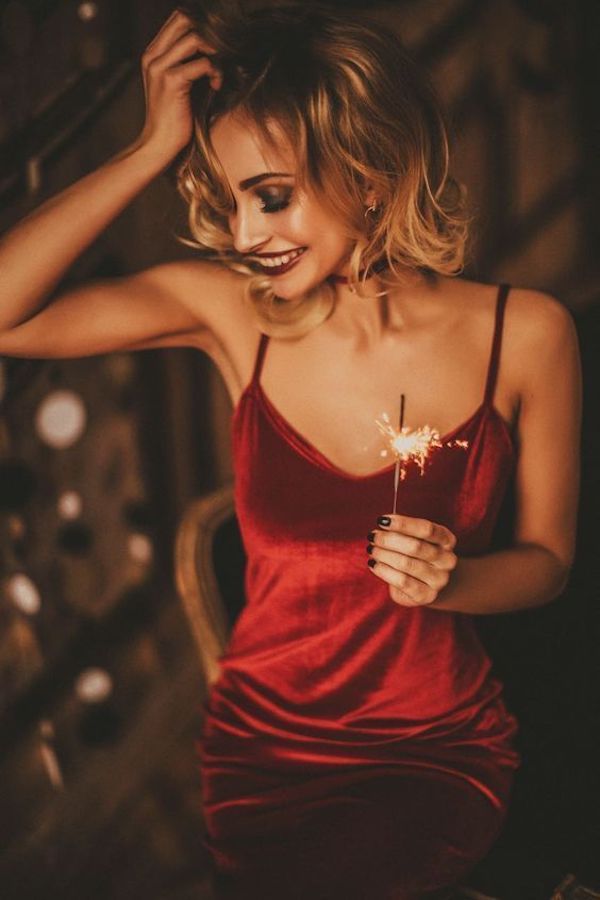 40th Birthday Photoshoot Ideas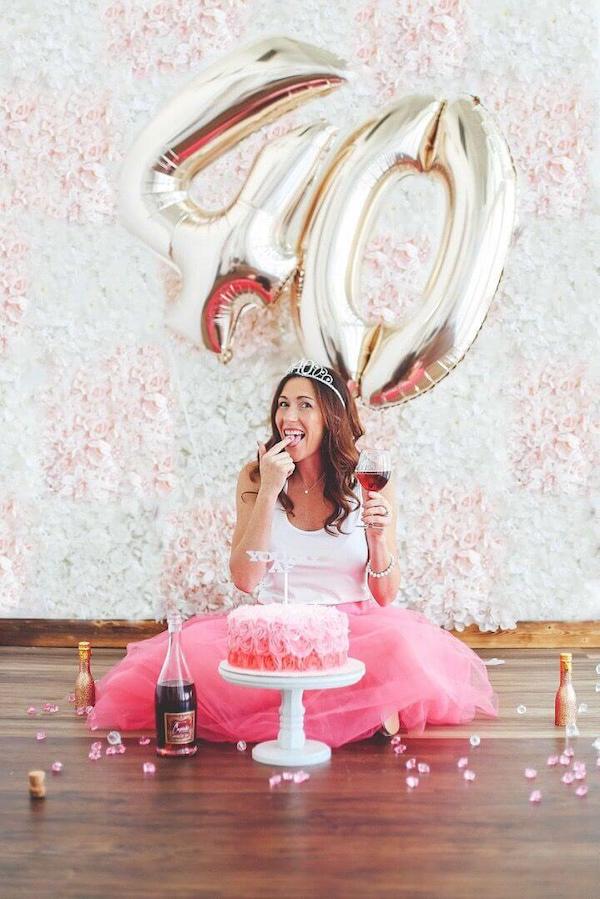 Creative Silhouette Photo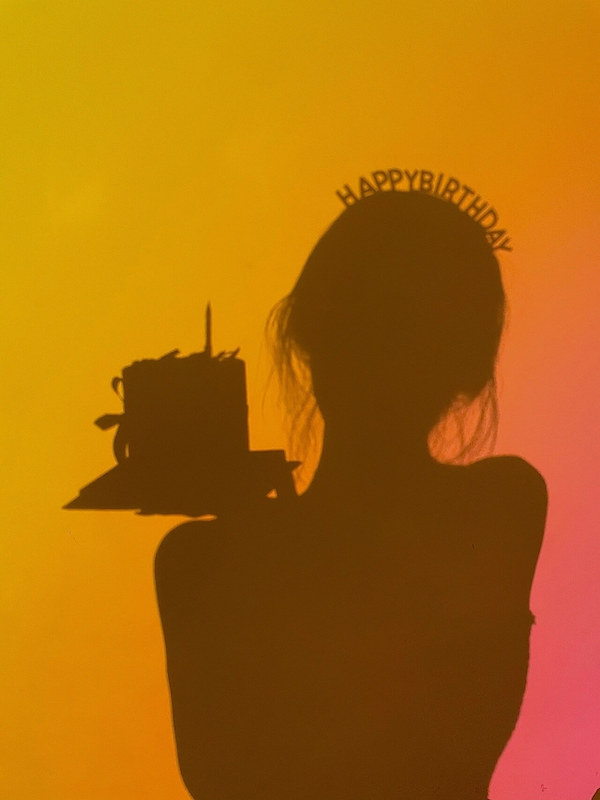 We highly recommend this sunset light to get this kind of photo.
Glam Birthday Photo Shoot Ideas
Put on your gorgeous dress, put on your beloved jewelry, and enjoy your birthday! The more dreamy and grand the color, the better.
To add a celebratory vibe, a perfect choice is to use your favorite filters.
Sprinkling confetti, popping champagne, or using sparklers are all ways to make your photos gorgeous.
You can look into the camera and show your charming eyes. Or you can bow your head and smile and let your clothes or poses be the focus of the photo.
Burnt Orange Birthday Photoshoot Ideas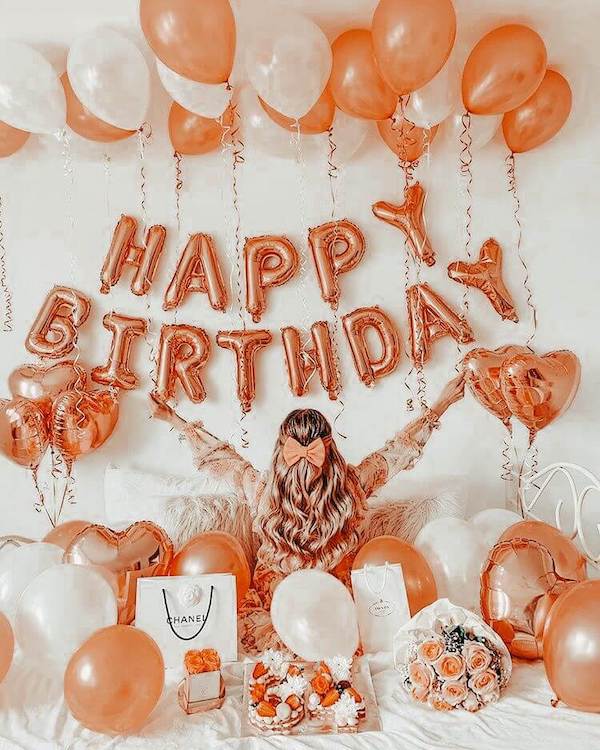 A Milestone Birthday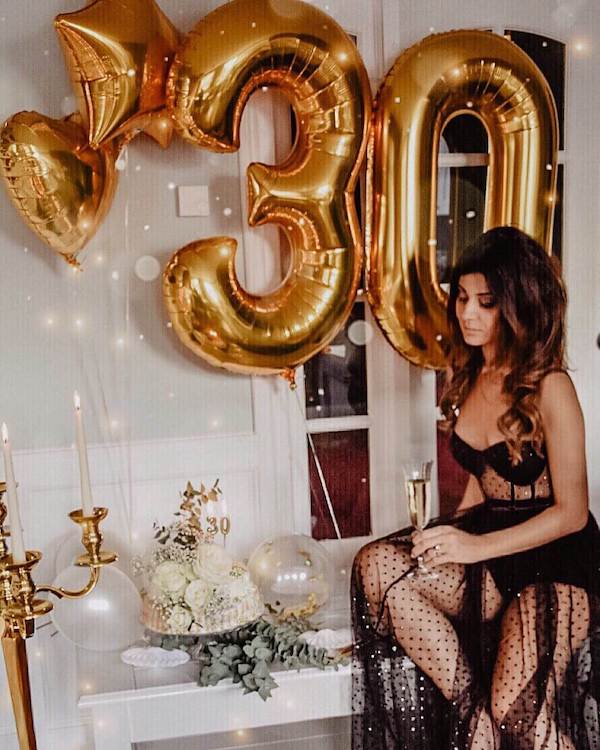 Happy My 30th Birthday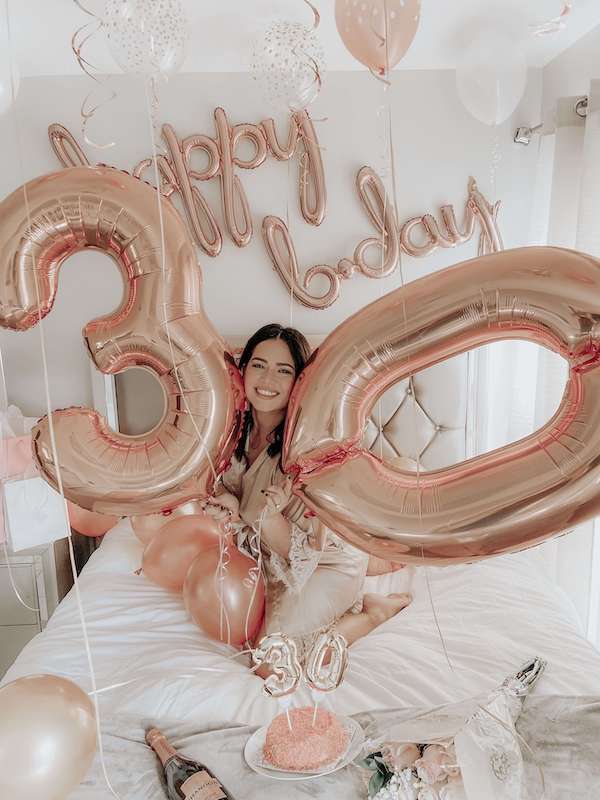 Creative 21st Birthday Photoshoot Ideas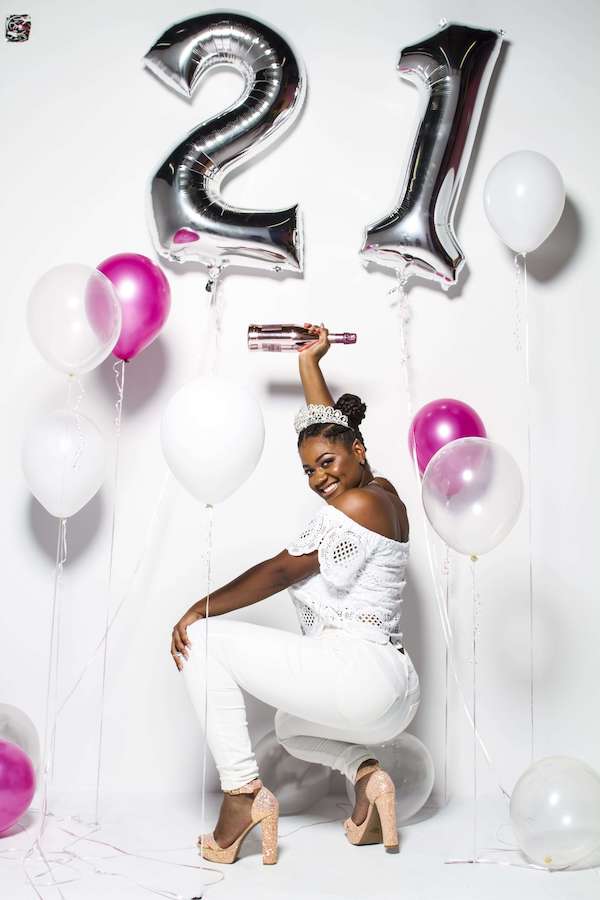 Open The Champagne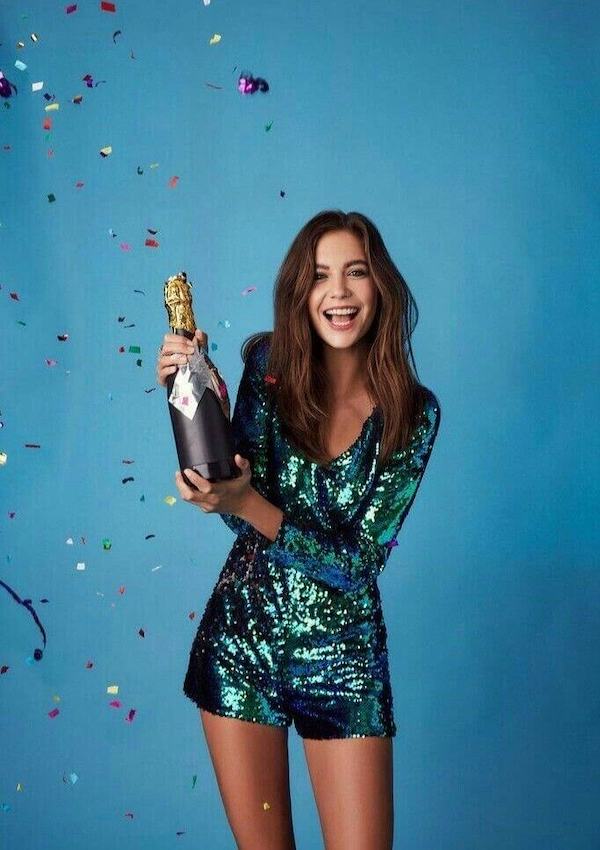 Baddie Birthday Photoshoot Ideas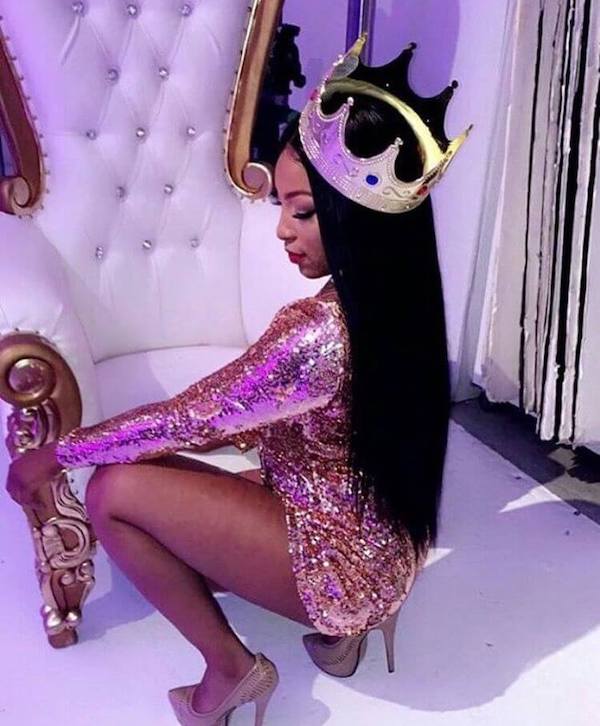 Cheers To Myself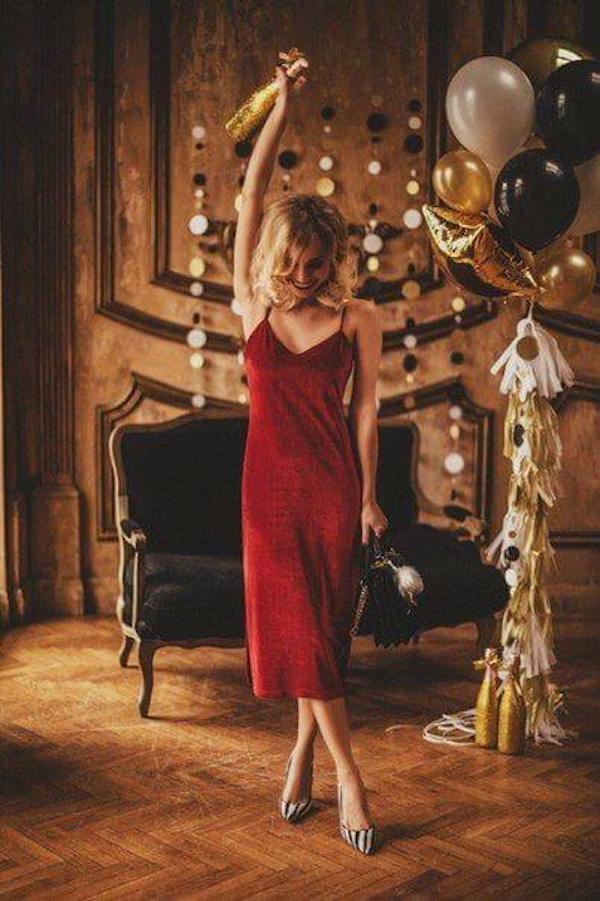 Set Up A Birthday Gift Area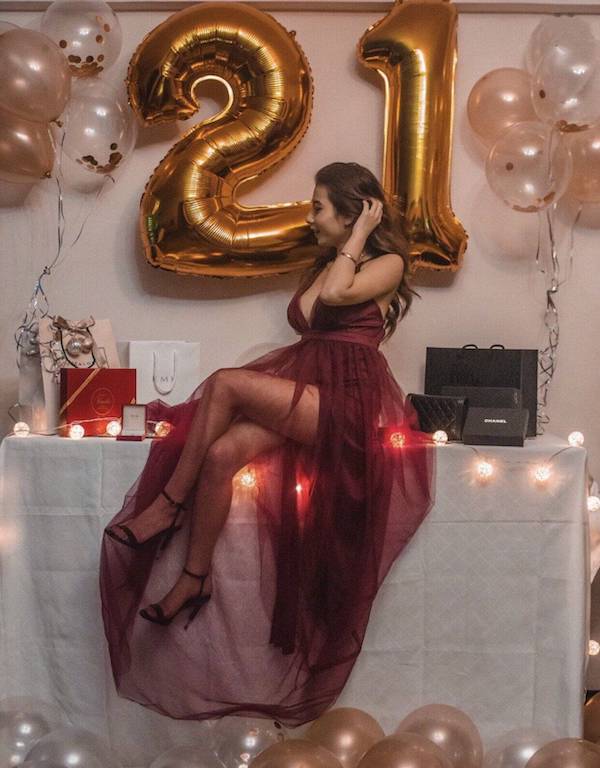 Fun Photo Ideas For Birthday parties
Prepare lots of quirky and funny costumes and props for your friends, family, and guests to join in! Let everyone participate and be sure to be creative!
Or do you try some exaggerated and cute clothes or hairstyles? Well, you must be very cute!
Birthday Photo With Friends In Similar Outfit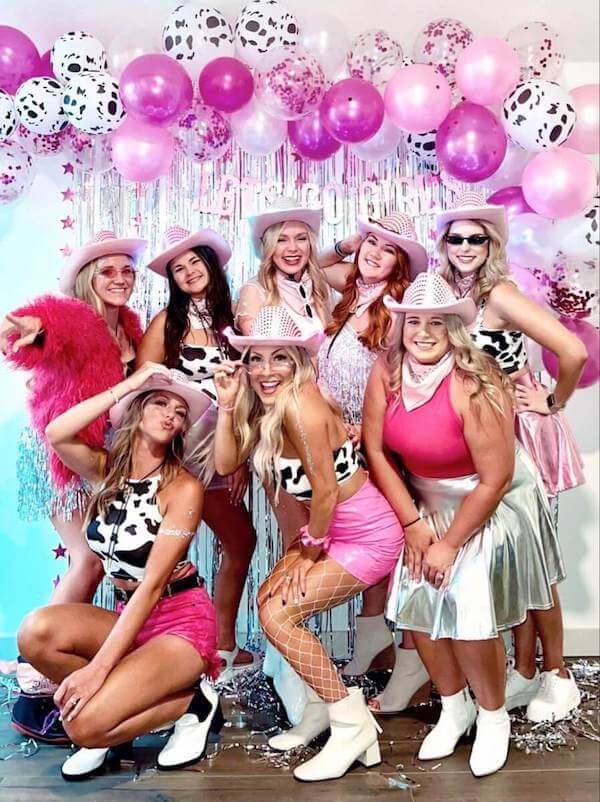 Makeup Artists?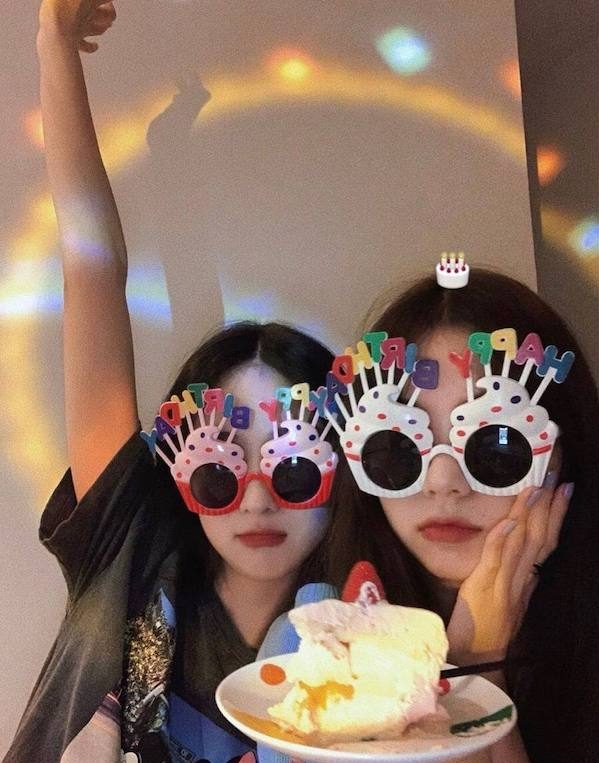 Happy Birthday Banners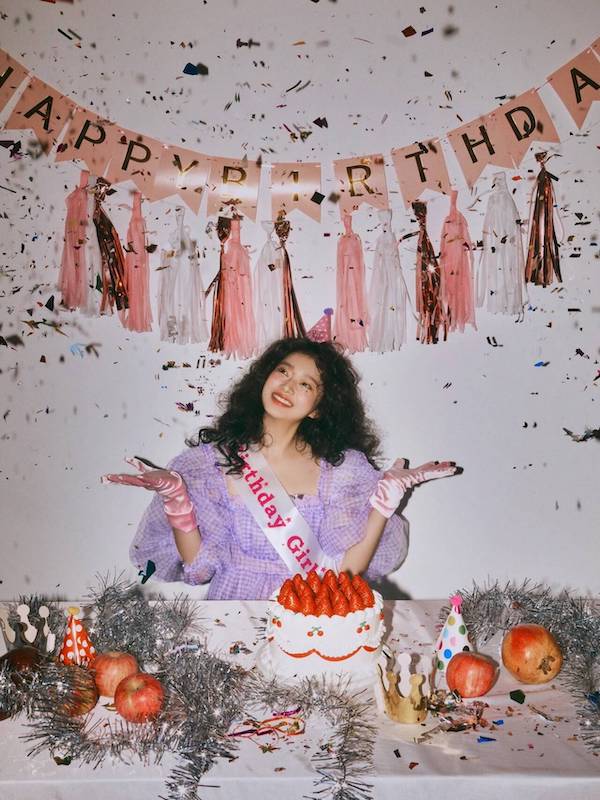 Birthday Celebration Photoshoot Ideas For Adults
Alcohol? Absolutely needed!
Flowers? Balloons? We highly recommend!
Make your birthday photos sexy and glamorous! Others will surely be fascinated by you when they see it.
Laughing is great and you can be a cool girl too!
Cute 18th Birthday Photoshoot Ideas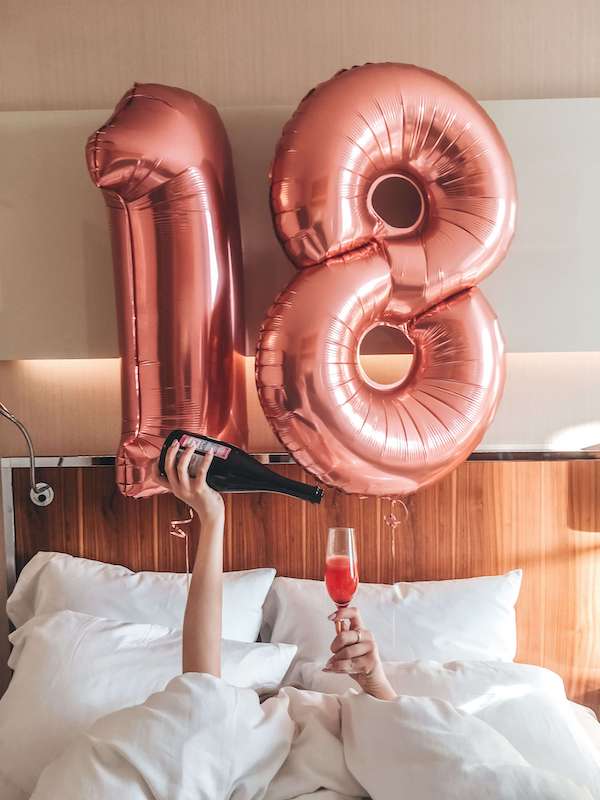 I am 35?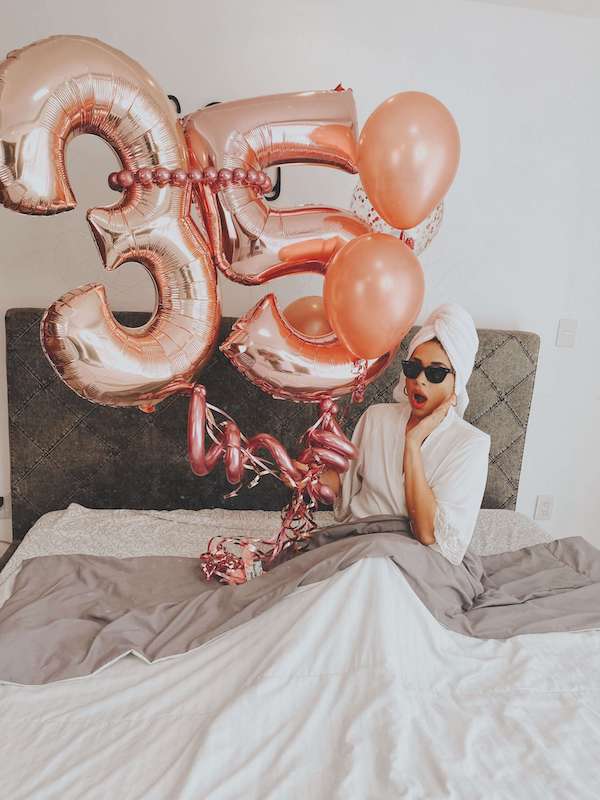 Cute Dreamy Balloon Bouquet Set Up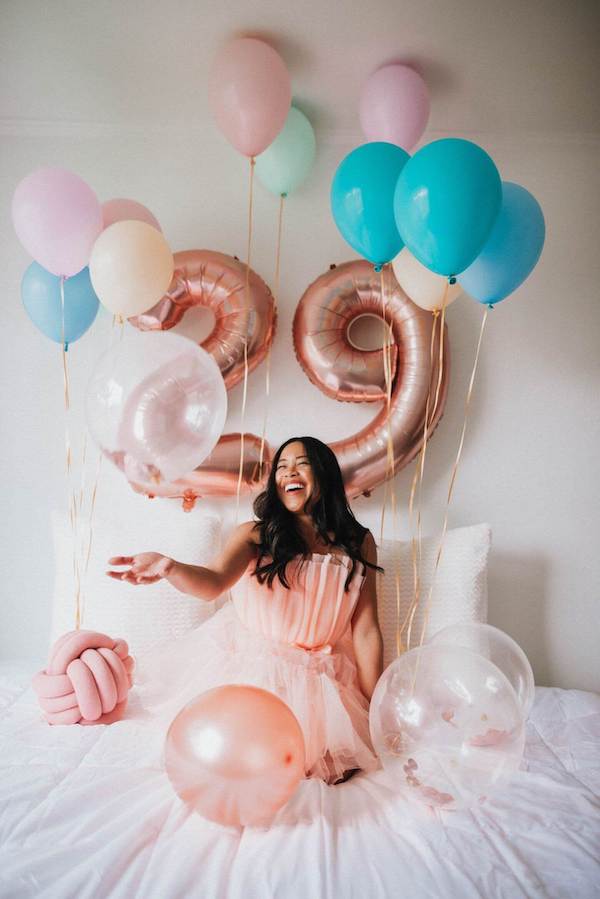 Nice Drink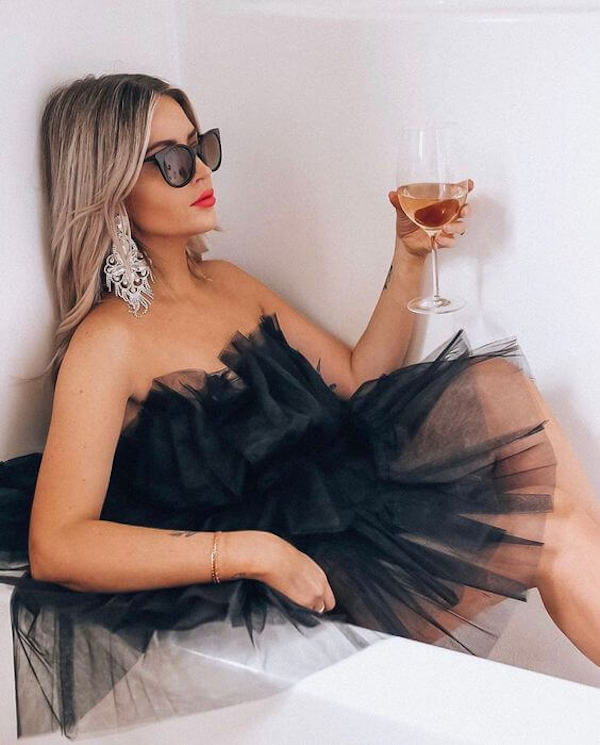 Kiss The Balloons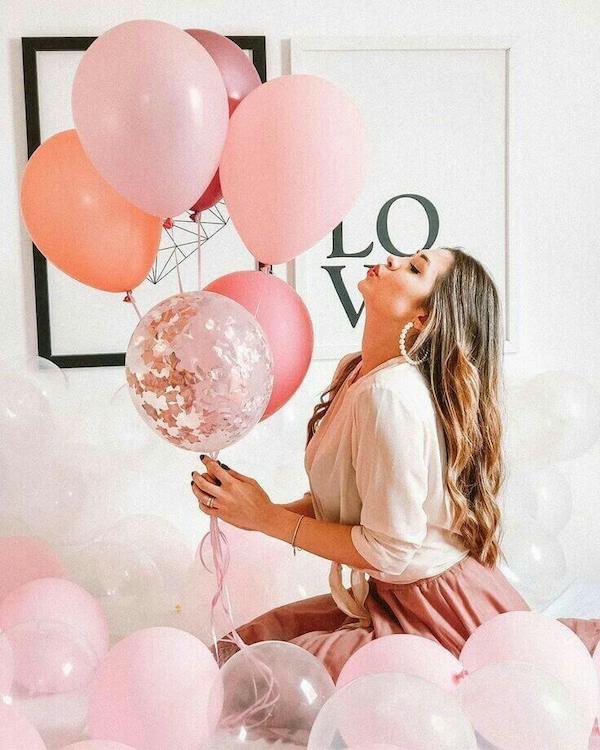 Real Flowers Top
Birthday Group Photo Ideas With Friends
If it's a party of 10 friends, you probably won't be able to get them all at once. what to do? Only take good photos of birthday stars, and you can take a few shots for the rest, so you don't need to care about people outside the camera.
Or, tell everyone, let everyone stand compactly and blow out the candles, this is a good way.
If the venue is relatively large, you can bring more environment into the lens. Don't just shoot around the birthday star alone.
Prepare some small props in advance, and it is also a big surprise to show up when taking pictures, and you will definitely get good pictures.
Swimming Pool And Pool Toys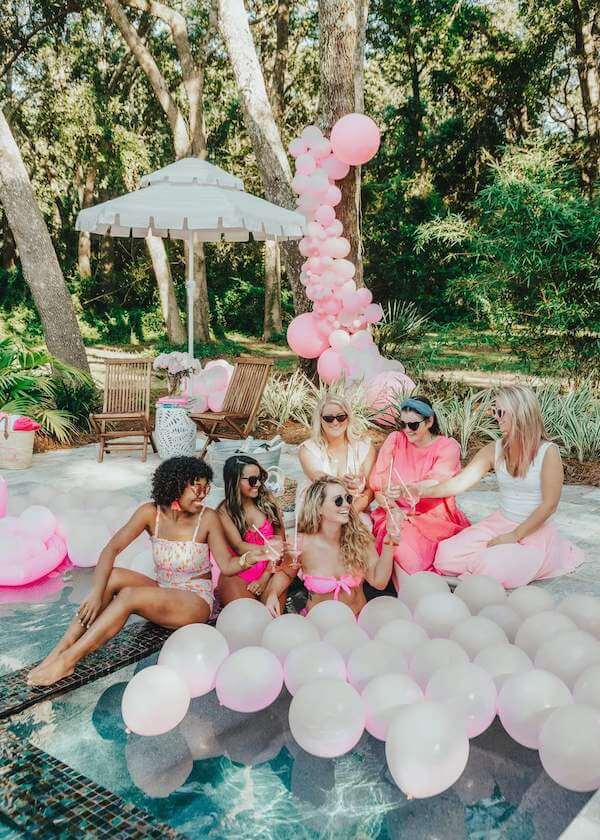 Huge Party Celebration Photo With Friends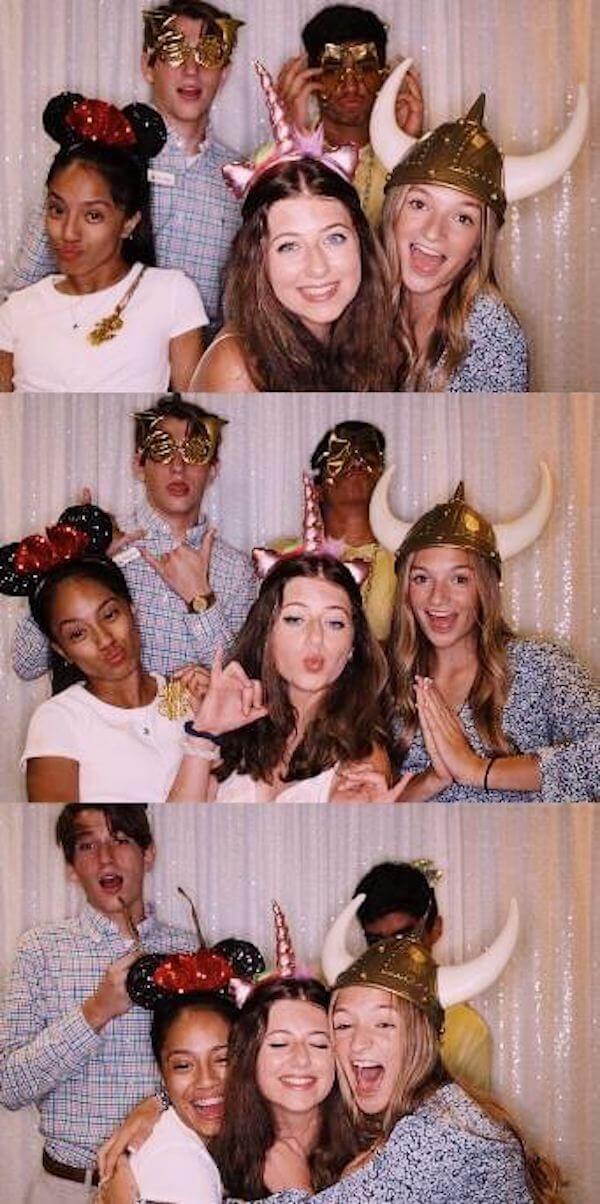 Birthday Pajama Party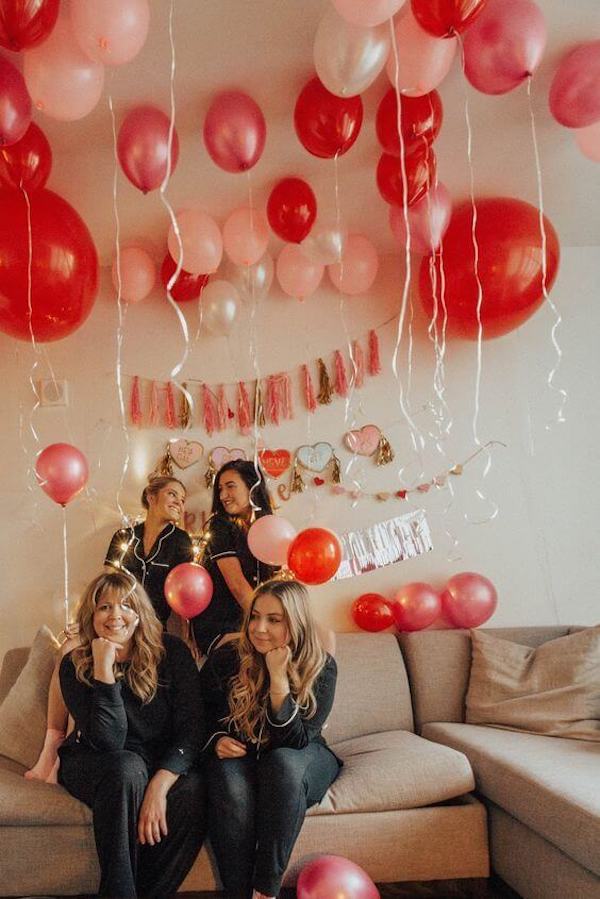 Birthday Photo With My Bestie
Hello Ladies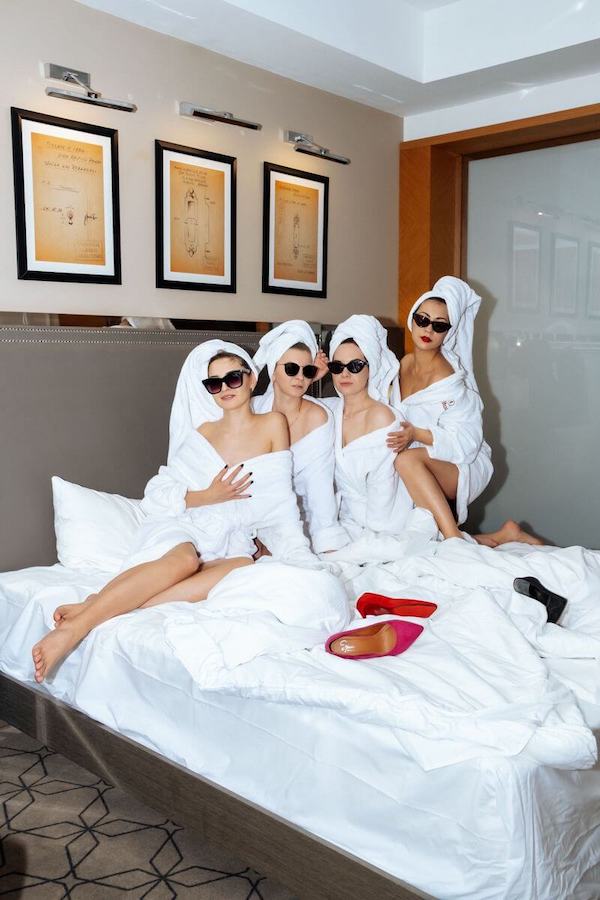 Terrific Birthday Photoshoot Ideas Outside
Posing photos are perfect for the album, but candid shots of characters are more narrative. Children laugh and play, adults gush about beautiful birthday cakes, and hosts hug new arrivals.
Use your camera to sneak around and find candid moments to capture. Get ready for a quick photo, because these moments are absolutely fleeting!
If you're taking pictures of yourself, you can easily do a sequence of actions, imagine yourself acting out a story, or be in the scene of your favorite movie. This way you are more likely to leave very natural and very surprising photos.
Don't forget the wonderful natural light. Morning or dusk is a better time to take natural and gentle photos.
However, the light is so different at every moment of every day. You don't have to only take photos on your birthday, thinking ahead of time about the vibe you need, choosing the weather you want, and getting outside at the perfect time will allow you to capture the most wonderful moments given to you.
There are two preconditions for this shot: the weather and the distance to the place, if it suits your mood best and you are within half an hour of the location, then feel free to go there!
No one but you will feel the depth of the idea of ​​such a photo.
Do you prefer cafes or the outdoors? Where did you first meet your first love? Be sure to go these perfect places (you can even go alone, but it's also nice to share moments like this with friends), have a great time, and take the best photos of this wonderful day.
Use The Natural Light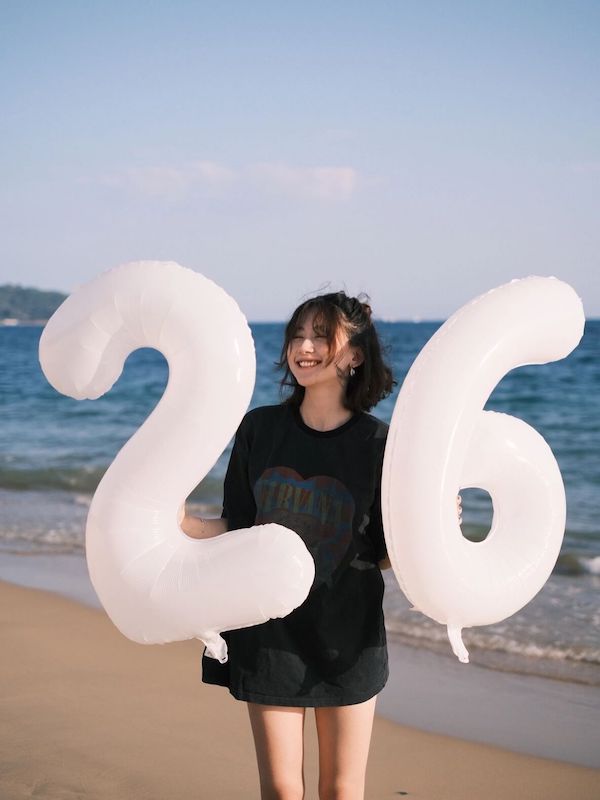 Sweet 16th Birthday Photoshoot Ideas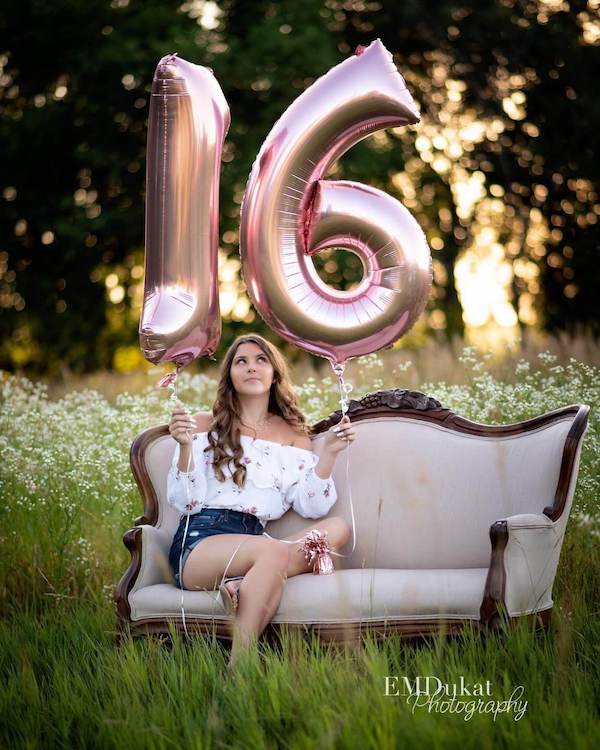 Black And Pink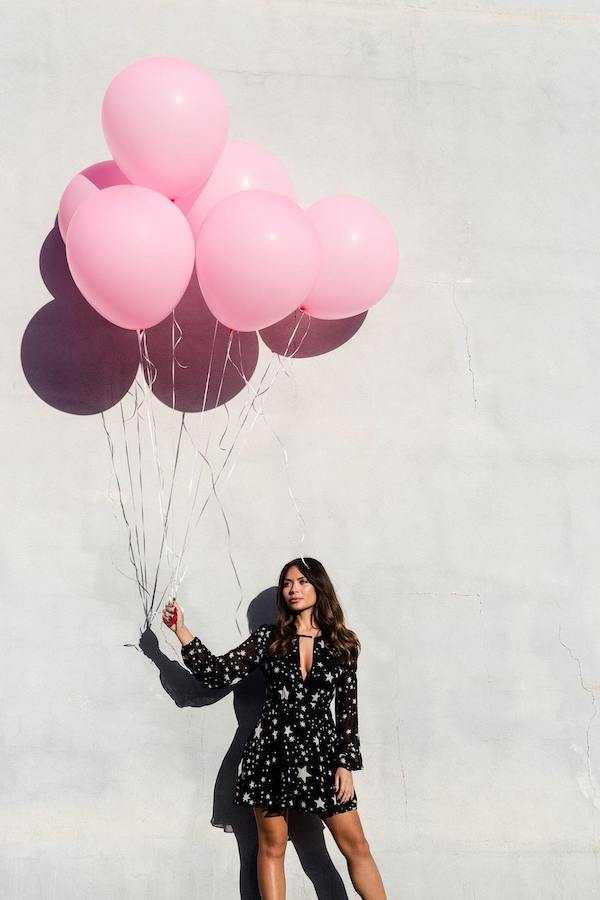 Sweet 16 Dream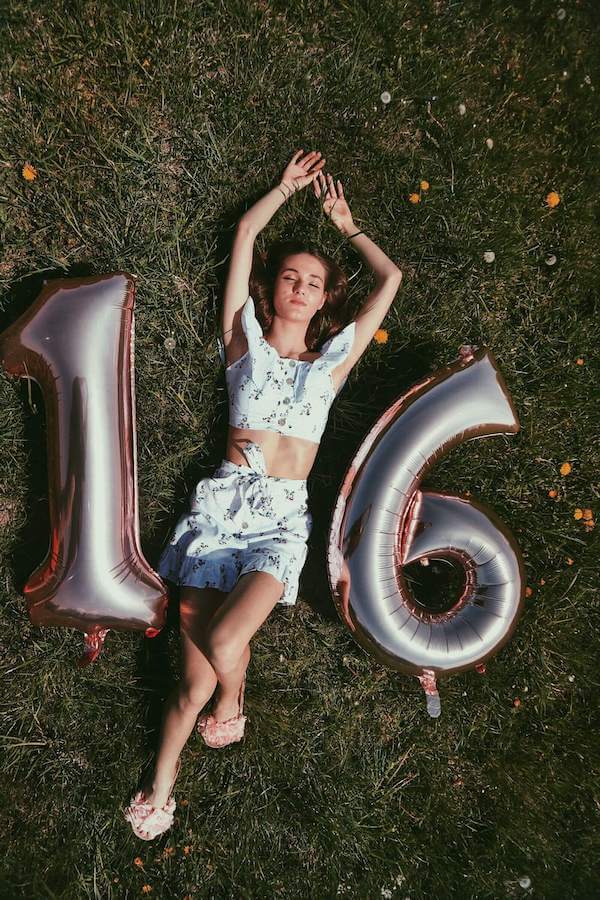 I am 20 Now!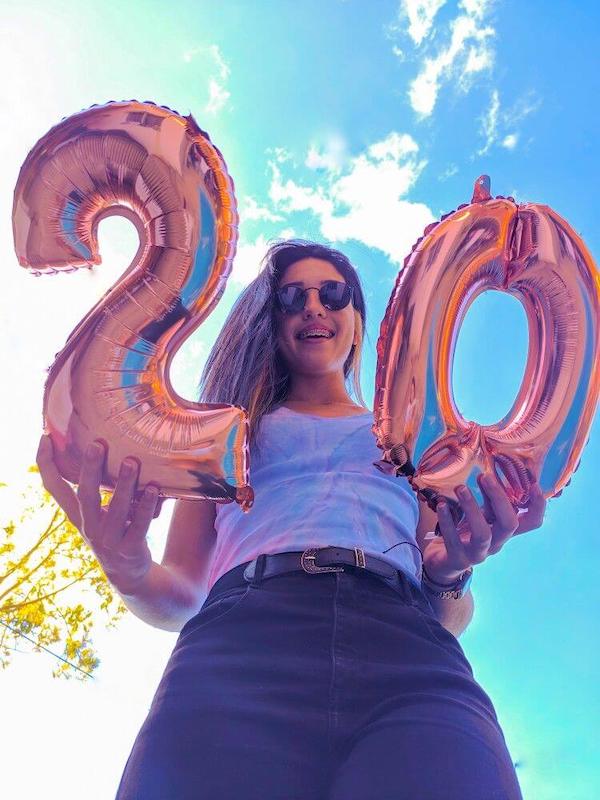 18th Birthday Number Balloons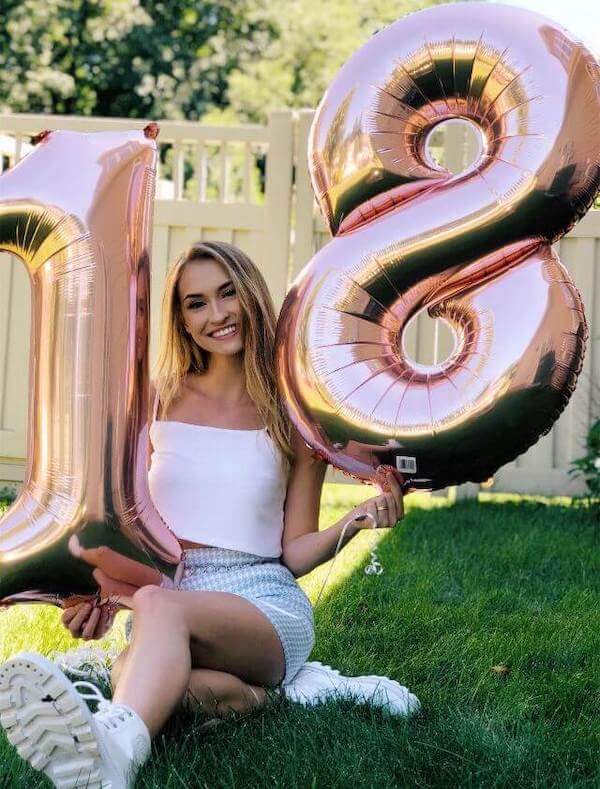 Glam 35th Birthday Photo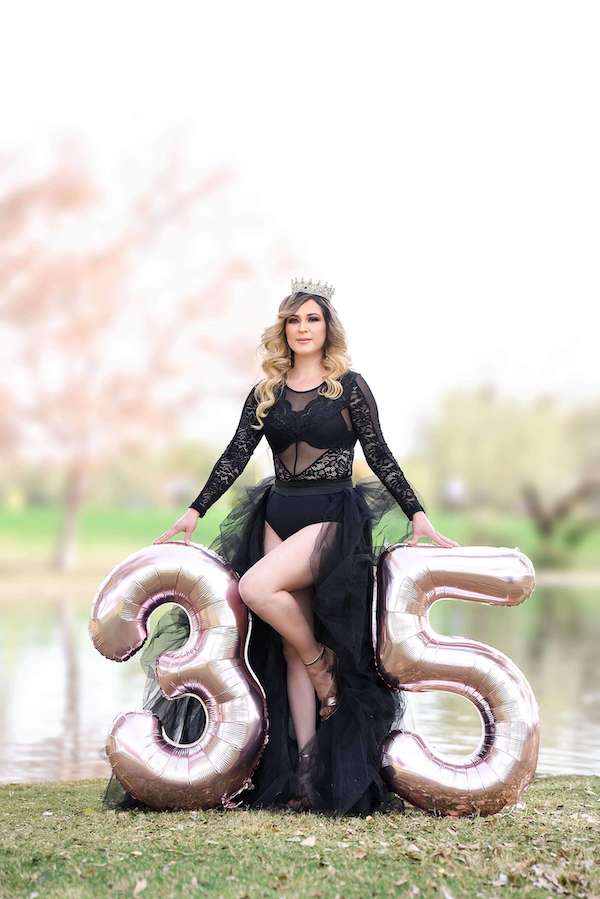 Child's First Birthday Family Photos & Cute First Birthday Photo Ideas
Your children's birthday is an ideal time and an excellent opportunity to take photos for your babies and your family portraits.
If you are going to take pictures for your baby's first birthday, below is our tips to have the best results for your little prince or princess.
Don't be afraid to shoot a lot at children's birthdays. Anytime a child or animal is photographed, the action is fast and unpredictable. Taking lots of photos helps ensure that you have at least a few good shots at every moment of the shoot.
Part of the beauty of digital shooting is that you can use burst mode at no extra cost. Take more photos than you think you need, especially as you learn the ins and outs of event photography.
You never know when someone blinking or talking can ruin an otherwise perfect shot!
While it's fun to have a group of people in each shot, getting up close makes the audience in front of the camera feel like they're there.
In the first birthday party, when it comes to lighting a candle on a cake, opening a gift, eating an ice cream, or playing a party game, young children make great expressions! Don't miss these moments to get the most beautiful images.
Angelic Look Of My Little Girl

Birthday Photo With Family Members

Cute Flower Crown And First Birthday Cake
This post was all about birthday photoshoot ideas.
Related Posts: