Looking for the best black Christmas nail ideas? Check this post for best Christmas nail ideas in black color and the cutest black Christmas nail designs to copy this year.
When Christmas comes around, I'm always thinking about what kind of Christmas nail designs to prepare for parties and dinners of all kinds.
Cute Christmas nail designs have become part of winter festive looks.
But aside from the classic traditional red, green, and emerging pink Christmas nail designs, what special designs can help us express our personal style?
Black Christmas nail designs are great options.
Whether it's a Christmas dinner, a Christmas party, or taking beautiful Christmas photos, black nail polish can create different styles of festive nail art according to your different needs, bringing your style to the next level.
If you are looking for the best black Christmas nail designs to copy directly this year, you've come to the right place.
In today's article, I am sharing with you our favorite black Christmas nails, including black Christmas acrylic nails, black and white Christmas nails, black and red Christmas nail ideas, black and green nails for Christmas, black and gold Christmas nails, and more.
I also include trendy black press on nails for the winter holidays to help you create perfect winter holiday nails easily.
So scroll down to check these beautiful nails with black nail polish for the coming Christmas, and don't hesitate to pin them to your Pinterest board, and share them on social media sites.
This post may contain affiliate links, which means I'll receive a commission if you purchase through my link, at no extra cost to you. Please read the full disclosure here.
This post is all about black Christmas nail ideas.
Is Black A Good Color For Christmas Nails?
Yes! Black is one of the best Christmas nail colors.
Black nail polish has actually always had a place in Christmas nail designs. You can see black nail polishes when the beauties paint Christmas elements.
But in recent years, more and more fashion people choose black as the protagonist of Christmas nail polish art.
Black shows a very unique fashion style.
Black Christmas nail designs can be elegant, special, ornate, or minimal.
When paired with other classic Christmas nail design colors, black can be perfectly combined with other colors for a more dazzling styles.
Want more inspiration? Scroll on to check our favorite black Christmas nails.
Black Christmas Nail Ideas
This year, add a unique personal touch to your Christmas look with a bold and creative use of black nail polish.
Rhinestone and glitter styles are also particularly popular this year, which will make your black nail designs more gorgeous and more attractive under the beautiful Christmas lights.
Black Minimalist Christmas Tree Nails
White nail art paints a fairytale scene like Christmas snow.
The minimalist pattern of black perfectly neutralizes the romance of white, showing a more fashionable feeling.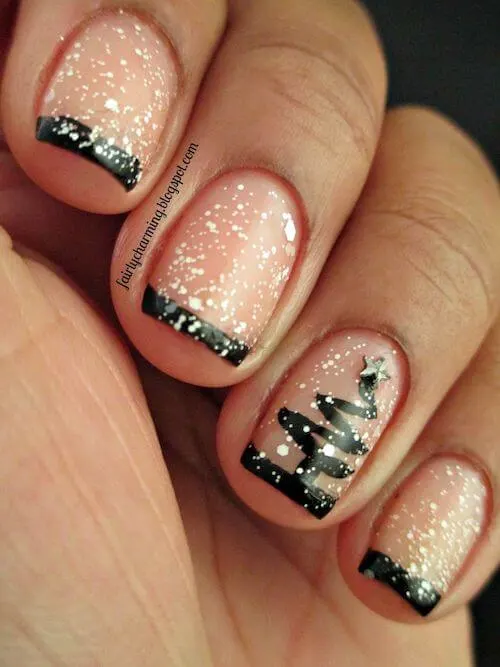 Matte Black and Rose Gold
Frosted textured nail designs are very popular this year.
When matte black nails are paired with golden sparkles, it has a mysterious aristocratic temperament, which is very moving in festivals.
Black, White, Gold Christmas Nails
The delicate lines of gold make this one of the most classic nail polish color combinations look more fashionable.
This combo is a perfect way to show the colorful festive vibe.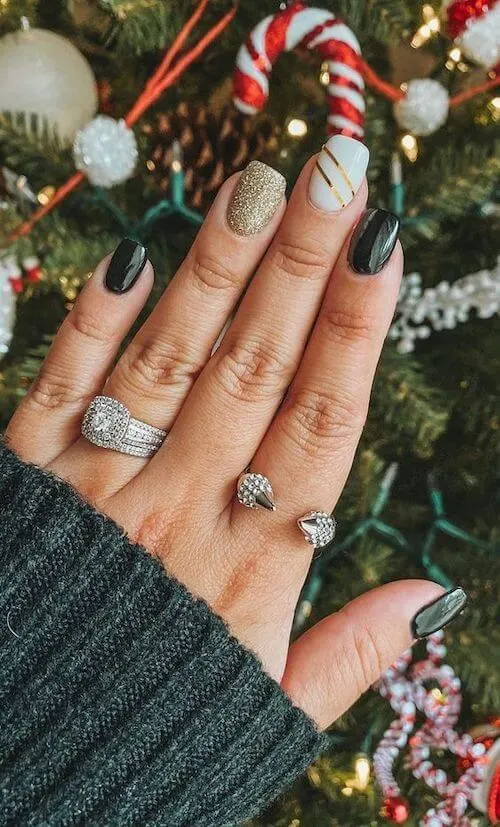 Black Animal Print And Love Word
Black and wild animal prints bring glamorous sexiness.
The chic love font adds a touch of elegance to the whole look.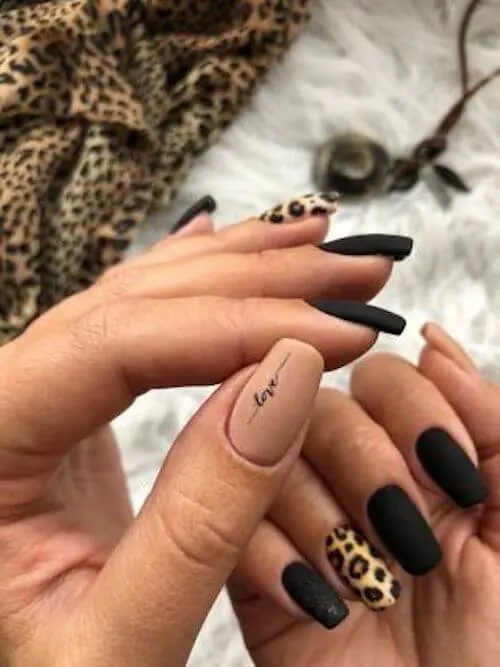 Black Chanel Luxury Brand Nails
Logos of luxury brands are also a perfect choice for festive nail designs.
Add some glitter nail polish to make the whole design more charming.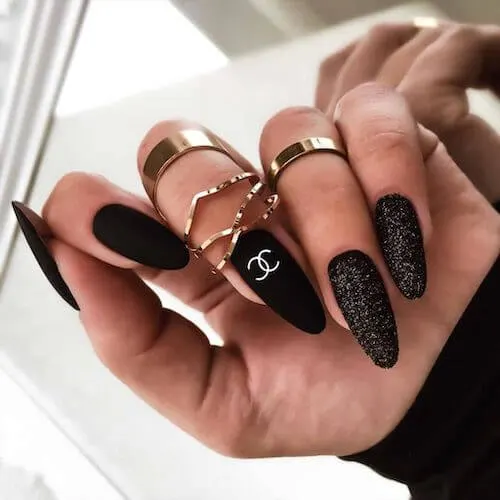 via Pinterest
Black And Gold Nails for Holiday Season
The stunning design is carefully depicted in gold, and the simplicity of black makes such a gorgeous design not tacky at all.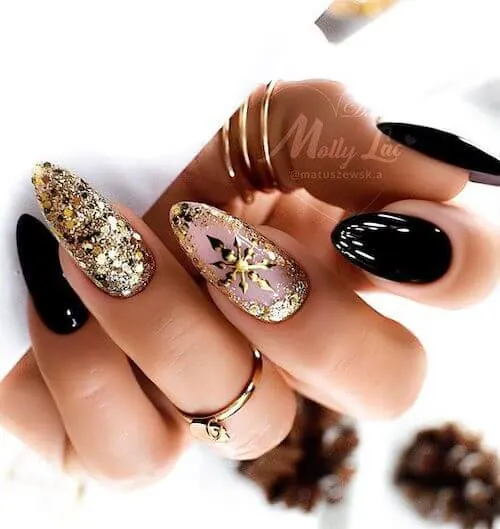 via Pinterest
Black Gold Christmas Tree and Snow Flakes Nails
You can choose a simple color and a simple pattern, then paint some nails with gorgeous gold.
This is a great way to instantly make this nail design festive.
via Pinterest
Black And White Colors Christmas Nails
The combination of black and white is one of the most classic color schemes in winter nail design.
To make a black and white Christmas nail design better, one easy way is to choose fine lines and minimalist patterns.
Black and Pink Glitter Nails For Christmas Season
Add sparkling pink to the white and black combo.
This nail design is perfect for Christmas parties and winter holiday date nights.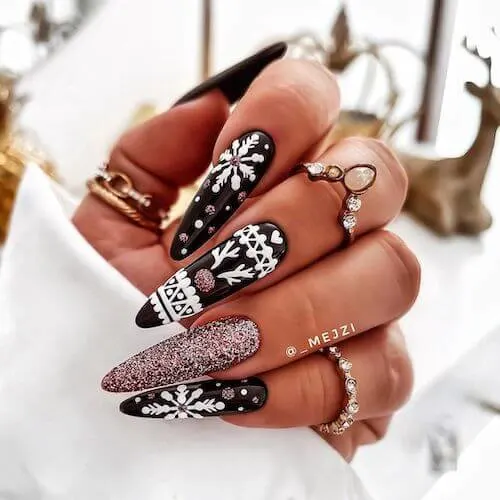 Black and White Festive Season Nail Ideas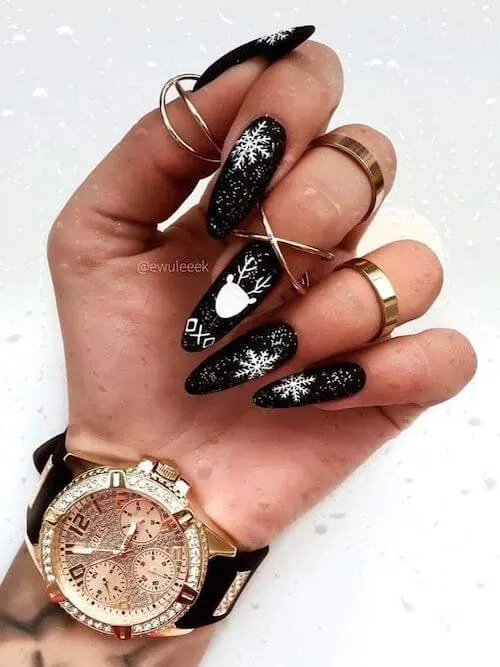 Black Sweater Matte Long Nails
This is a warm and sweet festive nail design. I especially love how it adds ingenious details to a classic design.
Black Pink White Polka Dots Nails
Add white polka dots to sweeten the classic black and pink color scheme.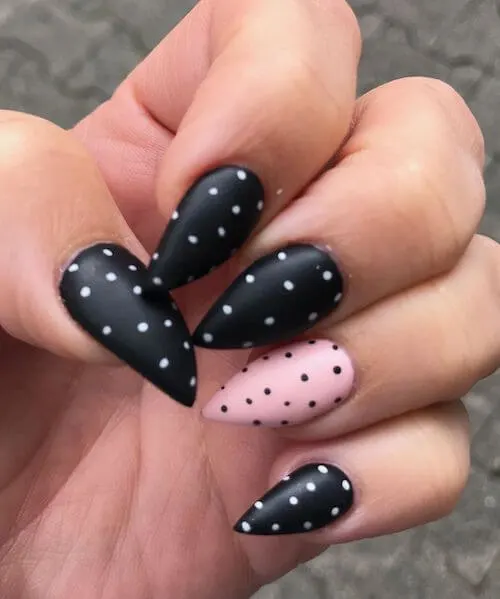 via Pinterest
Black And White Candy Canes
Black and white candy canes are very classic.
Adding glitter black nail polish adds a touch of glam to the perfect design.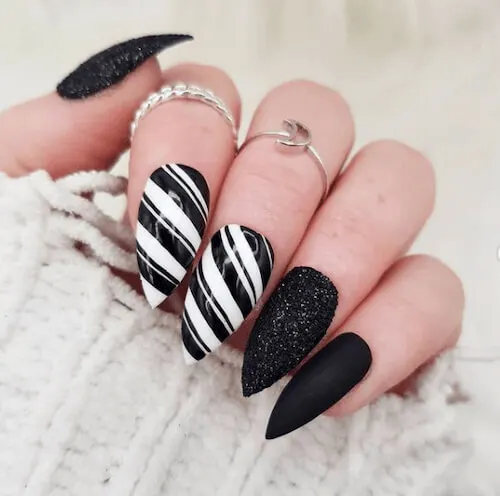 via Pinterest
Black And Red Glitter Nails For Christmas Party
Red, black, gold. These classic Christmas colors will keep you looking stunning in the parties.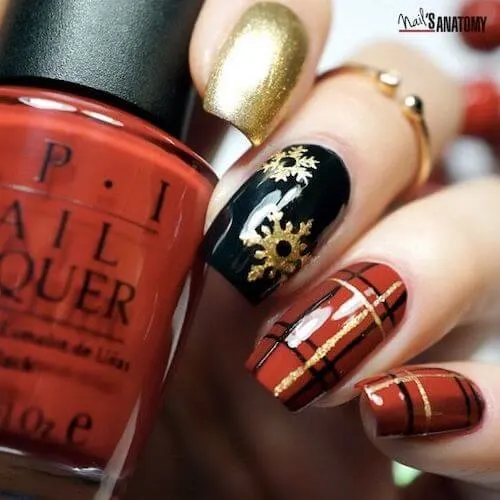 via Pinterest
Black And Silver Glitter Winter Holiday Nails
Silver nail polish is special.
Combine silver and black and you'll find the design is very elegant with just the right amount of personal style.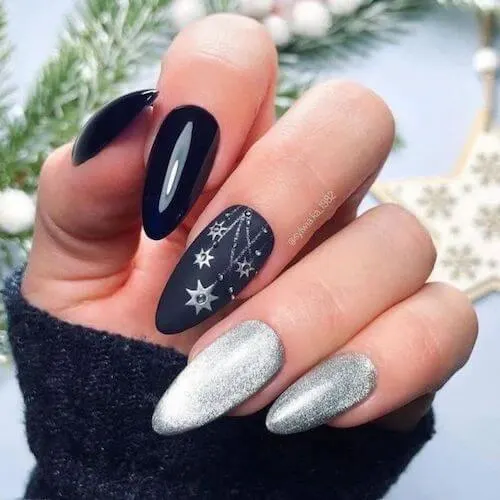 via Weheartit
Black, White And Pink Nails
I'm fascinated by designs like the one below.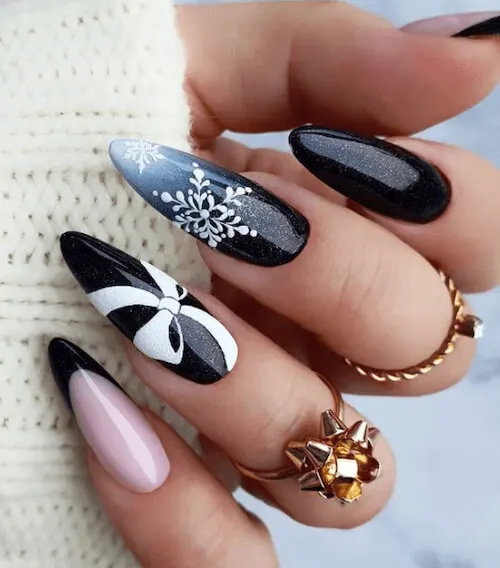 via Pinterest
Classy Simple Christmas Nails
Add a touch of rhinestone and combine with glitter's nail polish for the most stunning Christmas nail design.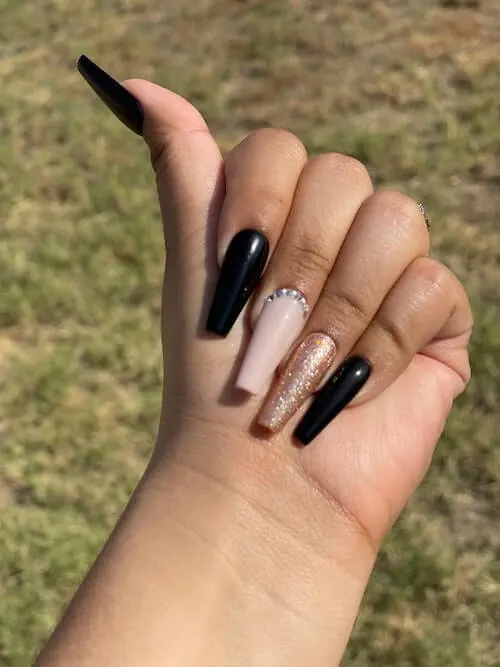 Best Christmas Nails With Black And Rhinestones
This design is very special.
You can pair it with a formal Christmas outfit.
You can also pair this nail design with a sexy club look. It's pretty good.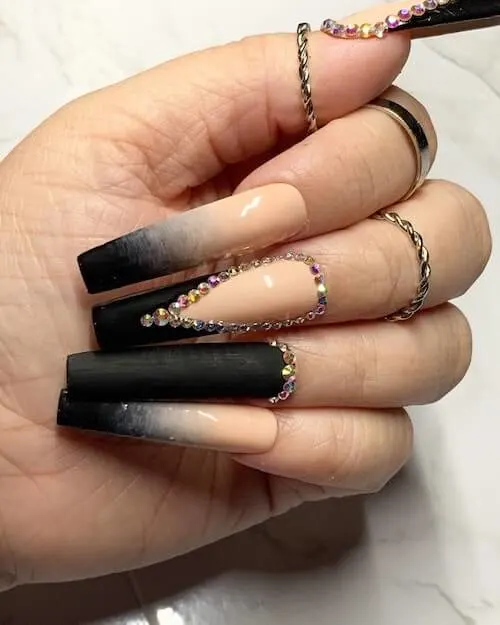 Cute Grey Reindeer Winter Holiday Nails
This is very simple very warm nail design, bringing a a cute moment to your winter life.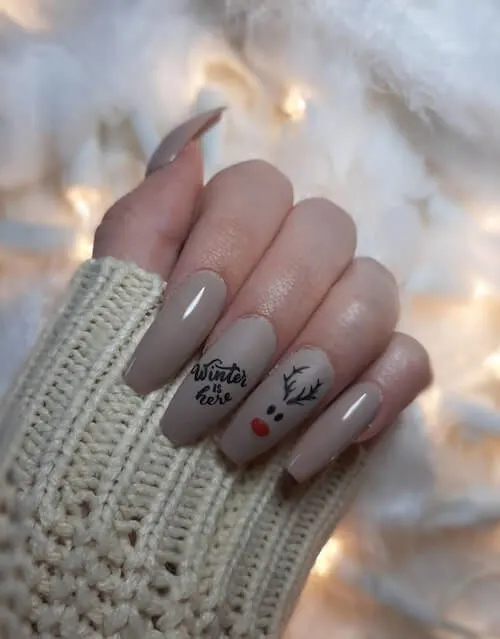 Black Nude Base Winter Season Nails
Finely paint black lines on a pink or nude nail base to make your fingers look longer.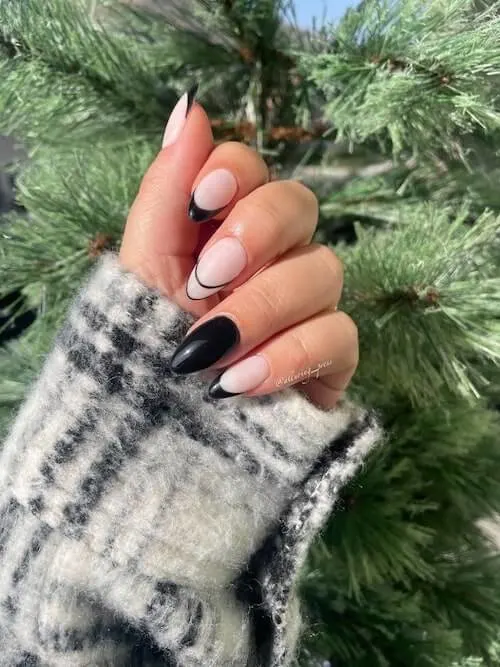 BLACK & WHITE Abstract Swirl Glossy Nails
Such a unique and artistic nail design, perfect for all kinds of occasions in winter.
Black And Silver Stars
Let such a beautiful design bring the stars in the sky and send you the most sincere wishes in the festival.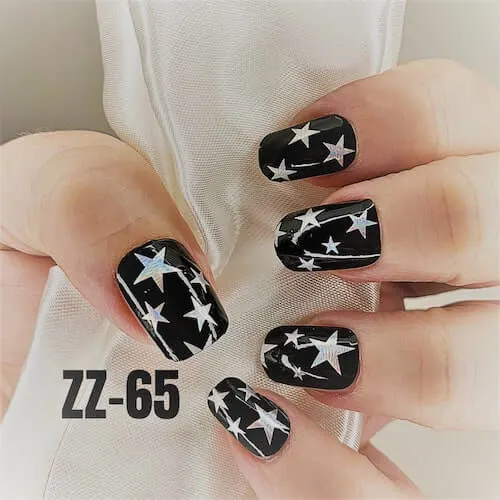 Black And Red Heart French Manicure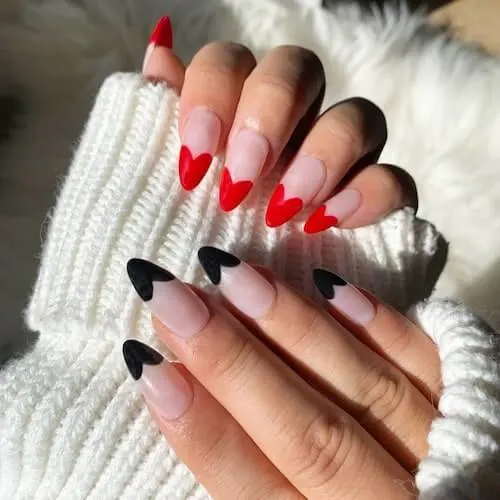 Confetti Black Color Holiday Nails
This kind of design has a good sense of art in the fairy tale dream.
I really can't wait to try it out.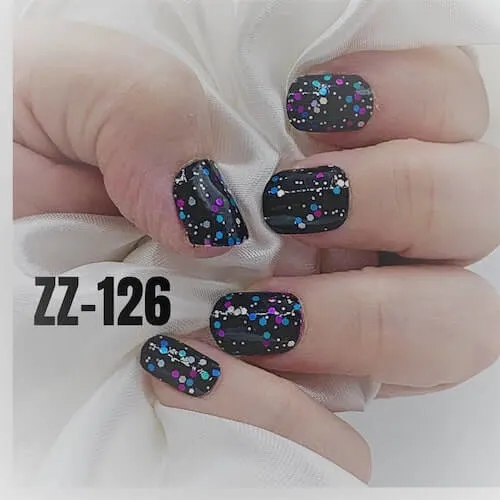 White Snowflakes And Black Color
Get creative and make the classic white snowflake pattern even more special and cuter.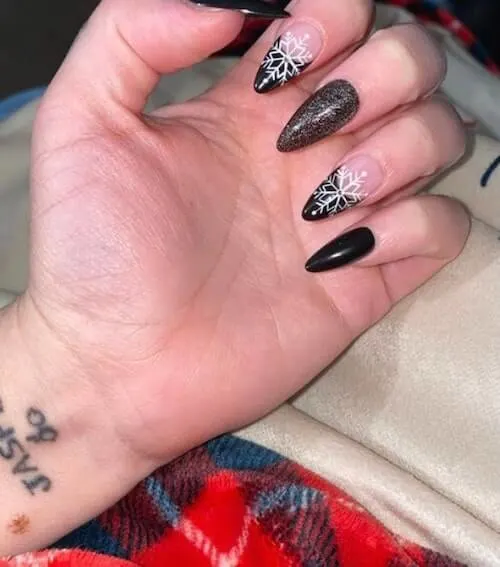 Black Brown White Nail Polish Chic Nails
This design looks simple, but it is a careful arrangement of classic patterns that will never look out of style.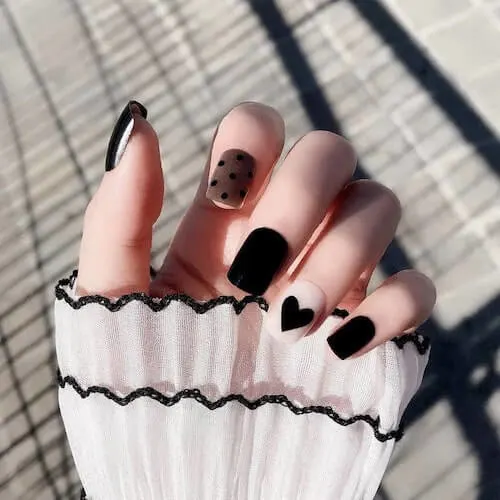 Black Gold Classic Red Plaid And Reindeer Nails
Add some clever white space to the nail design, making the nail design composed of classic patterns and classic elements more fashionable.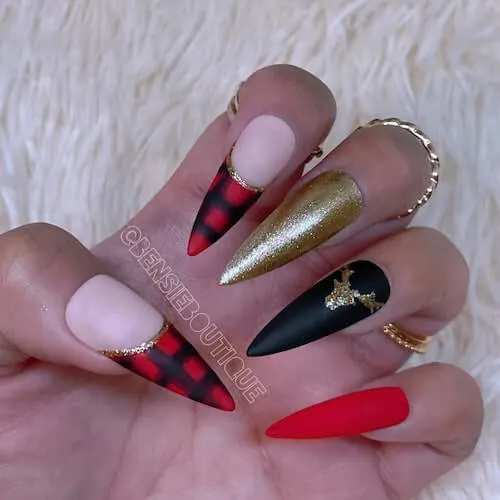 Black Nude Holiday Spirit Nails
This design is so gorgeous and trendy.
I can't wait to add nail designs like this to my Christmas party look.
Minimalist Black And White Nails
Short Cute Christmas Nails With Confetti
I love the casual funky feel in this design.
It can be suitable for dress up or dress down look.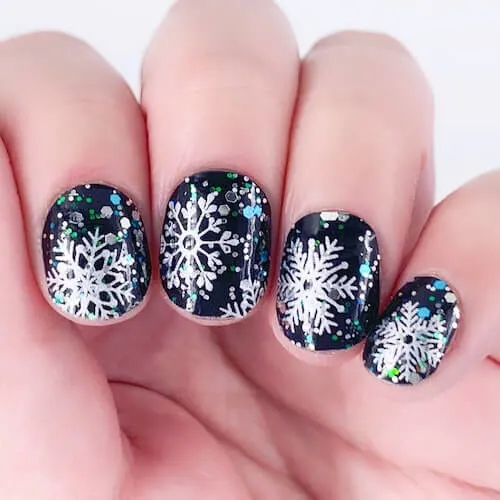 Cute Santa Claus Black Red Christmas Nails
If you really like the design below, but are worried that you can't draw such perfect patterns, you can click on the "Get The Nails" link below the image to purchase the press on nails of this design.
Black Gold Glitter Accent Nail Design
This design is very simple but very sweet.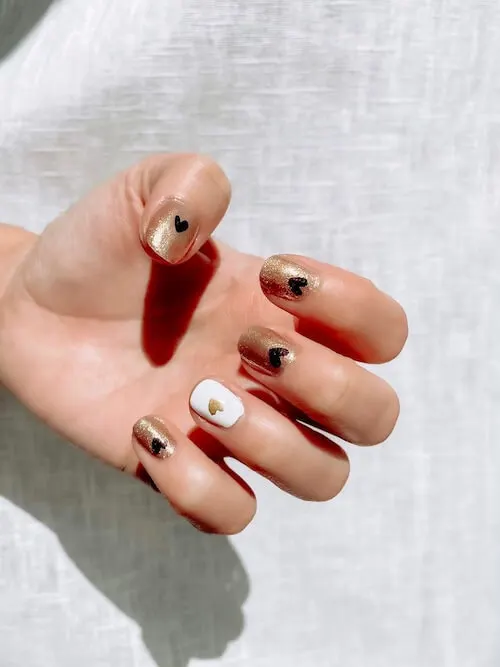 Black Gold Glitter Christmas Nail Art Idea
The addition of golden lines makes the classic plaid design more gorgeous and beautiful.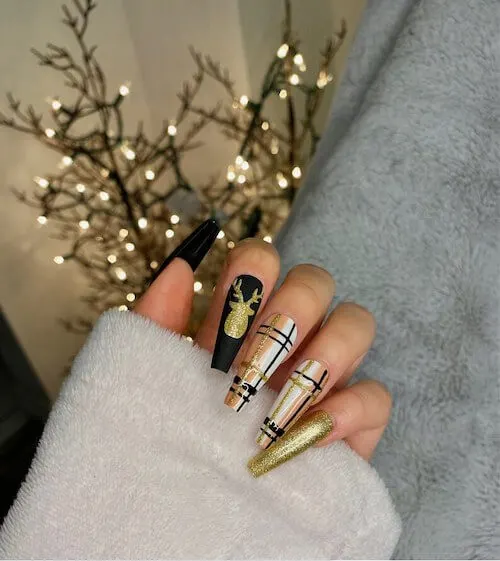 Unique Black White Snow Nails
The special design makes you stand out at the festival.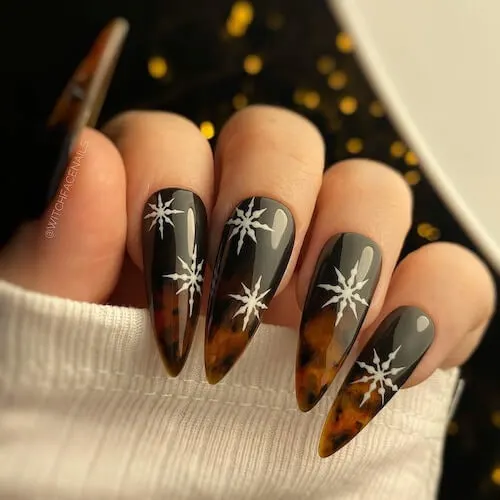 Black And White Christmas Nails
In winter, I always like to paint dreamy snowflakes at my fingertips to make my cold days feel more romantic.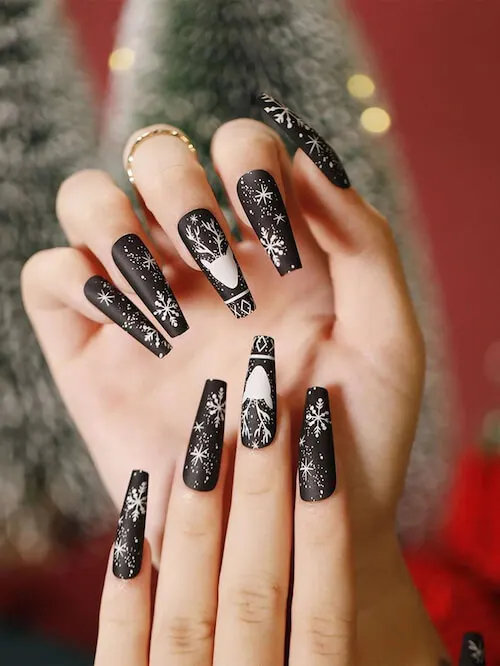 Black and Pink Color Christmas Spirit Nails
This design is like the sweetest candy you ever had in your childhood, making you enjoy the best time during the holidays.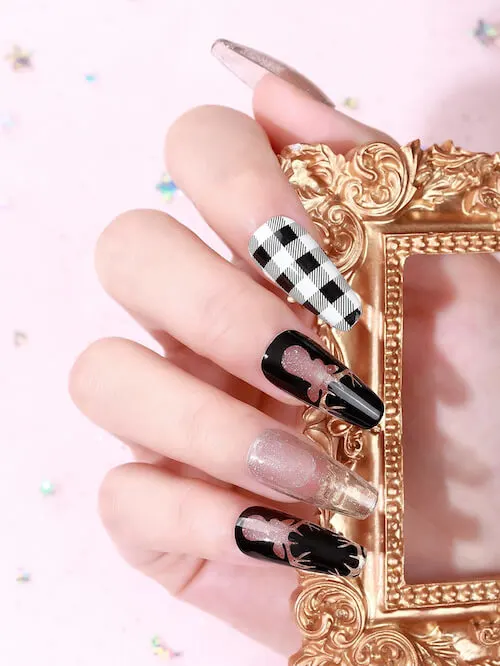 Black, Grey, and White Shades Snowman Nails
In winter, embrace a cute snowman pattern.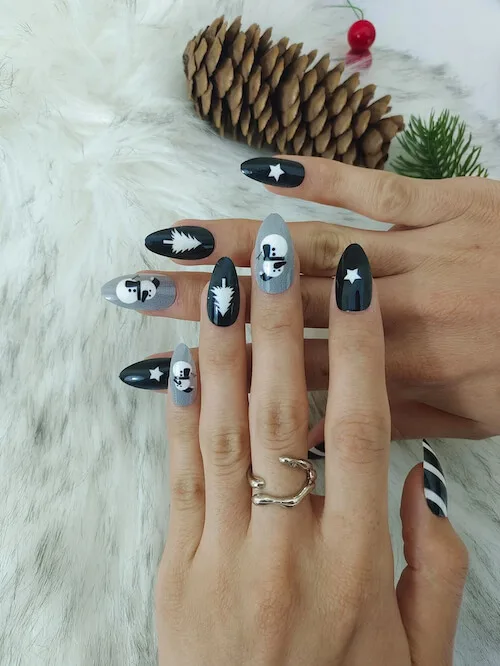 Black, Pink and Rose Gold Reindeer Christmas Nails
Pink and rose gold bring the most gentle fashion sense in winter.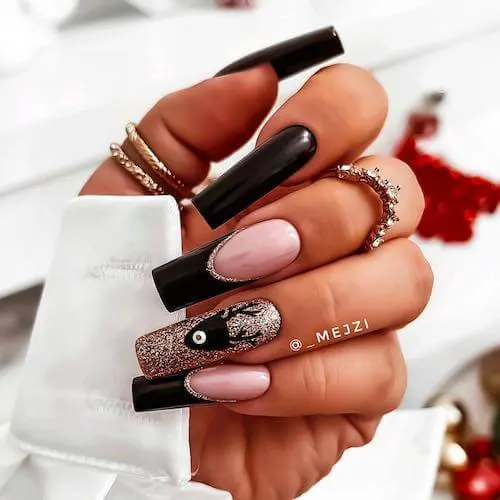 IG@_MEIJZI
Black and Pink Rhinestones Merry Manicure
The elegant combination of black and pink is made even more gorgeous with the addition of rhinestones.
Even if you are wearing the simplest little black dress, this nail design will still make you very charming.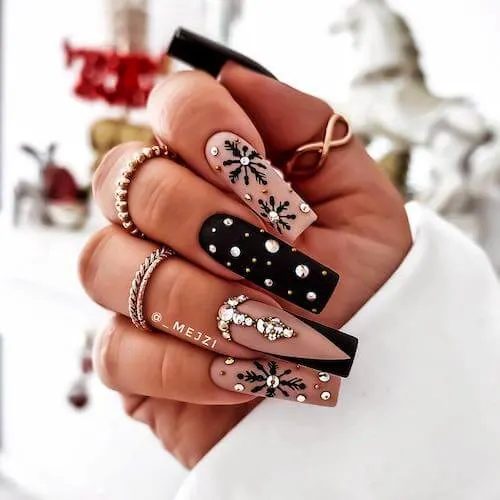 IG@_MEIJZI
Black White Polish Short Nails
A simple and classic white snowflake pattern makes short nail designs great.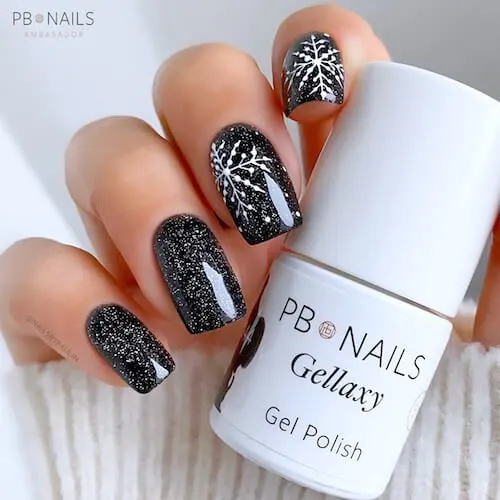 [email protected]_nails_poland
Black, Pink And White Festive Nail Art
This well-designed snowflake pattern has the effect of rhinestones, making your fingertips more dazzling and beautiful.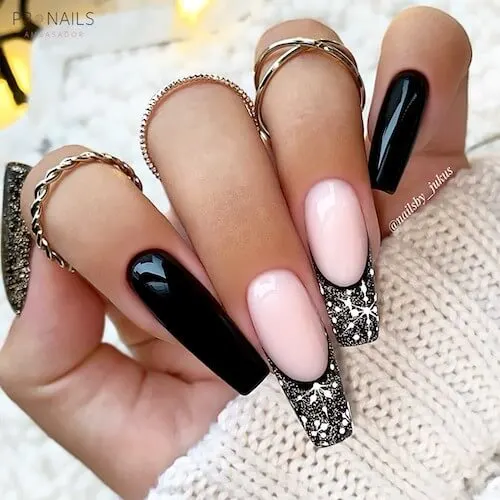 [email protected]_nails_poland
Cute Nude Color And Black Christmas Nail Art Ideas
I'm in love with such a sweet effect with such a cute design.
What could be better for a relaxed Christmas holiday than a nail design like this?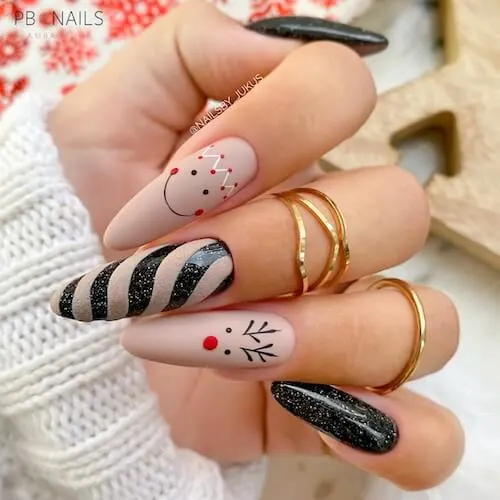 [email protected]_nails_poland
Black White Snowflake Nails
If you are looking for the simplest and most elegant nail designs, here is a great option.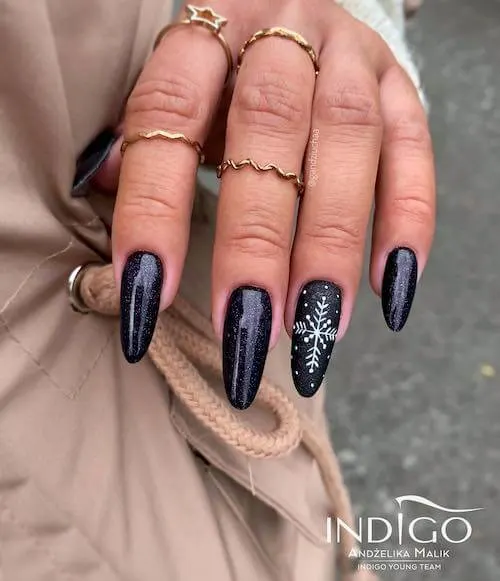 Snowflakes And Candy Cane Stripes
Classic patterns and classic nail colors, as well as changes and differences in details, make this design more fashionable.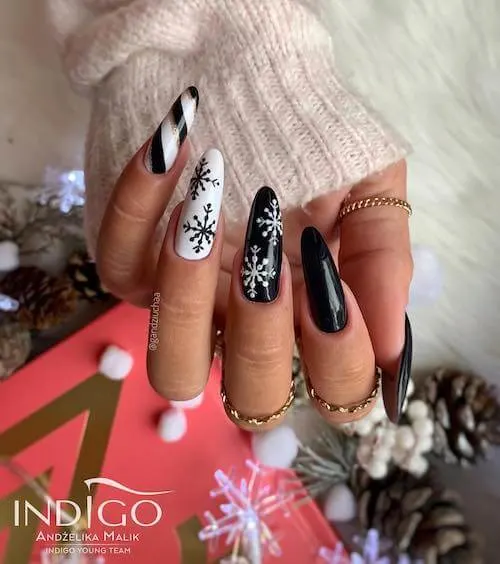 Black Christmas Sweater Nails For Christmas Holidays
The black Christmas sweater nail design is really cute, and there is a fresh and elegant feeling in addition to the warmth.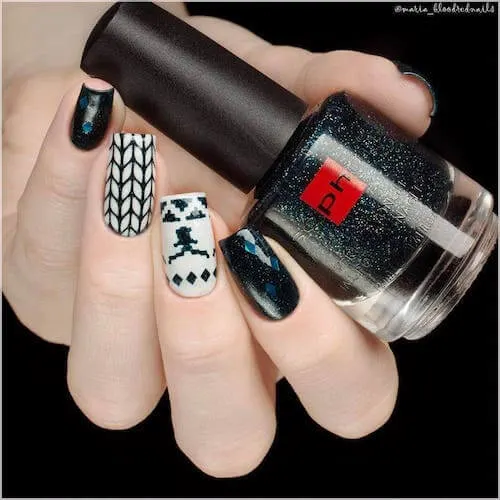 Black And White Winter Nails
This is a timeless winter holiday nail design that will accompany you every winter.
Black Nails With Candy Canes and Snowflakes
Really can't wait to paint these lovely Christmas elements on my nails.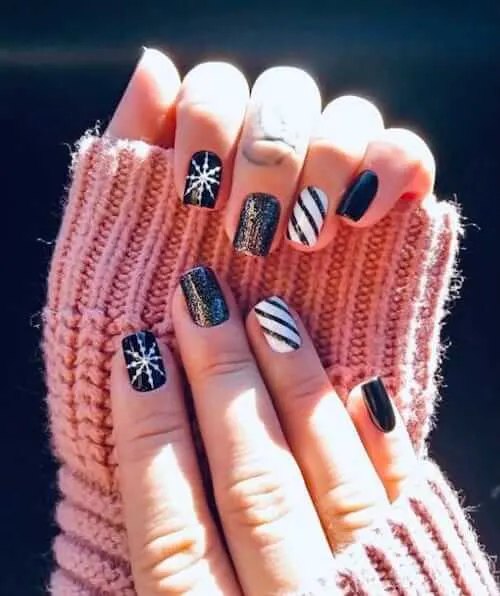 Black, White And Red Nail Ideas
What a cute Christmas cat nail idea, perfect for cat lovers.
Chic Holiday Party Look
Want to add a touch of romance and sweetness to your holiday manicure? Add the pink sheen.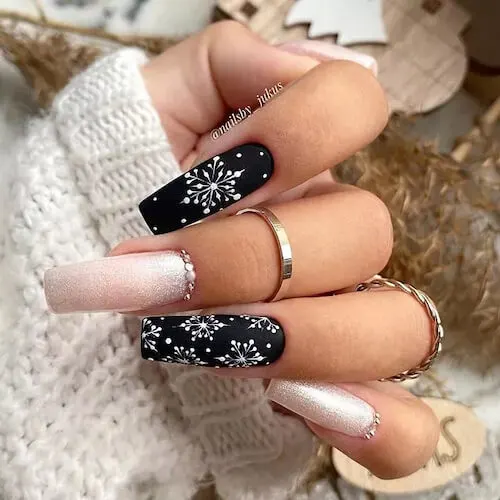 [email protected] jukus
Elegant Christmas Nail Art Designs
This is the fairy-like winter painted on the nails.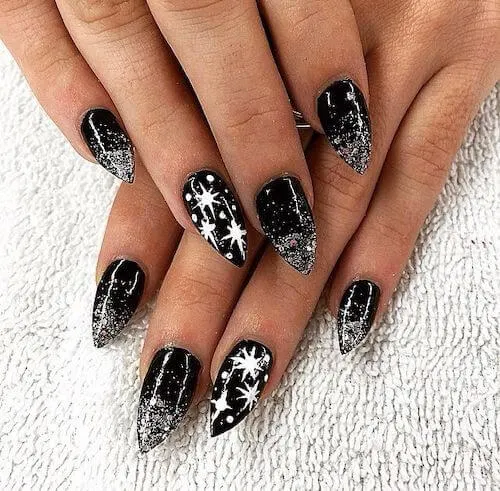 Black Color Snowflakes Gold Festive Mani
Gorgeous yet formal, this design is perfect for the formal occasions of Christmas.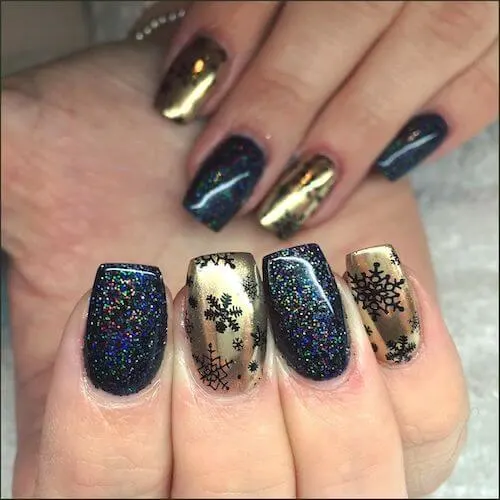 via Weheartit
Black Christmas Nails With Simple Designs
Paint cute Christmas decorations on your nails.
I suggest you opt for a glitter nail polish to make these decorative patterns even more sparkly.
via Pinterest
Classy Black And Green Color Christmas Manicure
Add shimmering green to an elegant black nail color for a festive and personal touch.
This post is all about black Christmas nail ideas.
Related Posts: