Looking for trendy winter blue nail designs? Check this post for the chicest 50+ blue winter nails, including navy blue winter nails, icy blue winter nails, baby blue winter nails, and more to copy directly.
Winter is a magical time of the year, and adding some sparkle to your nails can make the season even more special.
Are you looking for something that will express your individual style?
If so, winter blue nail designs might be just what you need! From subtle shades to bold blues, there are plenty of options when it comes to creating a fabulous nail look.
Whether you choose a classic French manicure with a twist or something more intricate, these winter blue nails will add a touch of glamour to any outfit.
This post may contain affiliate links, which means I'll receive a commission if you purchase through my link, at no extra cost to you. Please read the full disclosure here.
This post is all about winter blue nail designs.
Winter Blue Nail Designs
Dark Blue Winter Nail Design Ideas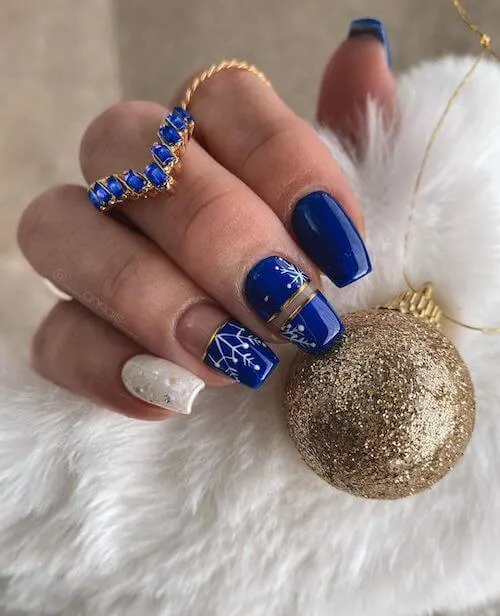 IG@____annails____
Are you looking to take your winter nail design game up a notch? Dark blue is the perfect color for feeling cozy and festive during the winter months.
Not only does it bring out any other colors used in an outfit, but it also looks great on its own.
Whether you want a subtle design or something bolder, here are some ideas on how to make a dark blue winter nail design.
A snowflake look is one way to allow you to show off your nails during the season, and stand out from the crowd.
You can start with two coats of dark blue polish as a base then use white nail polish to create snowflakes on each finger.
Once they have dried, you can use silver glitter polish to add sparkle over each snowflake. If you're feeling creative, try using different sizes and shapes of snowflakes for more impact!
Navy Blue Nail Ideas For Winter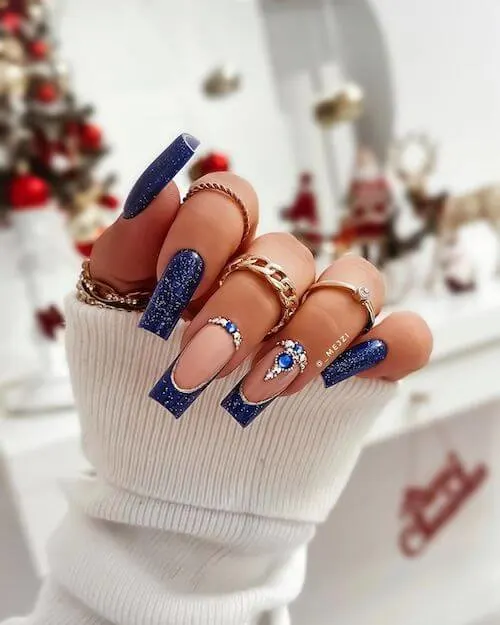 IG@_mejzi
Navy blue is a bold and timeless color that pairs well with every outfit, making it one of the most popular shades for winter nails.
For classic elegance, try a French manicure with a dark navy base.
Add some sparkle by applying silver glitter polish diagonally from the tips of each nail towards the center for an eye-catching look.
Or mix things up with an ombre effect – start off light at the cuticle and gradually go darker as you move towards the ends.
Getting your nails done by adding rhinestones along one side of each nail to achieve a unique yet sophisticated style.
Light Blue Winter Nail Design Ideas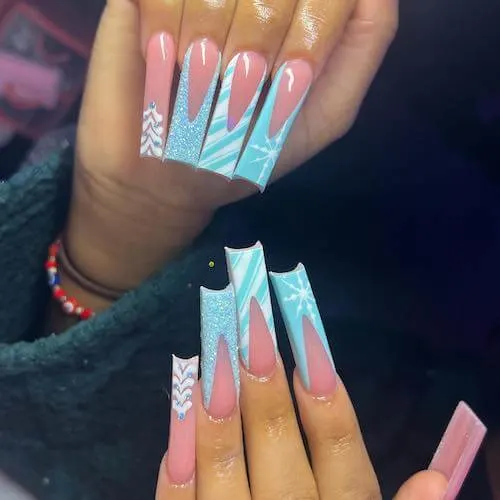 IG@lenaluxbeauty
Light blue nails are one of the trendiest colors for winter and can add a subtle pop of color to any look.
Start by gathering all the necessary materials, including a base coat and topcoat, light blue polish, and any other decorations or embellishments.
Make sure that all surfaces are clean before starting.
Apply the base coat as usual and let it dry completely, then apply two to three coats of light blue polish depending on the desired intensity of color.
Once dry, use small craft brushes or toothpicks dipped in white paint to create snowflakes or other wintery designs over the light blue background.
Blue And Gold Winter Nails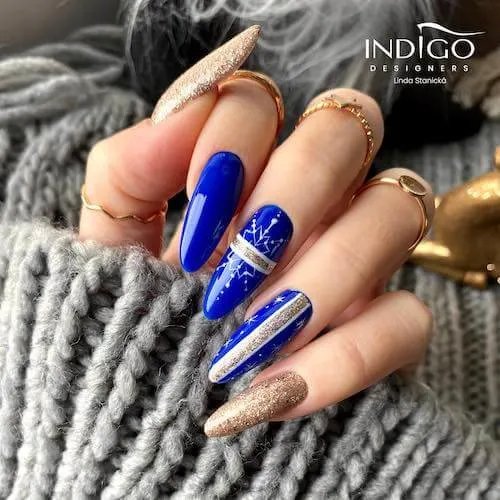 IG@linda_indigodesigner
Blue and gold winter nails are a classic combination that looks great on all skin tones.
The best way to achieve this look is by using two different shades of blue, one lighter and one slightly darker, combined with metallic gold accents.
Start off by filing the nails into the desired shape and buffing them lightly for a smooth even finish.
Then apply the base coat in your favorite blue shade to protect the natural nails from staining by any of the pigments used in later steps.
After letting it dry, go over each nail with two coats of the darker blue polish, then let this layer dry completely before adding any decorations or embellishments.
To add some sparkle to your design use small pieces of metallic gold glitter or sticker decals around each nail for an eye catching finish.
Blue And White Winter Nails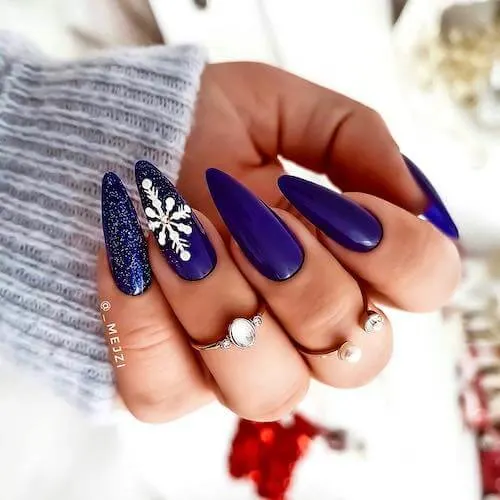 IG@_mejzi
The combination of blue and white makes for a classic yet stylish look that will be sure to impress.
To achieve this look, start by applying two coats of a blue polish to all nails.
Then use a white polish to paint the snowflakes on. You can either use dotting tools or toothpicks dipped in the white polish to draw different shapes and patterns – be creative!
Once done, let your nails dry completely before finishing off with a clear top coat for added shine.
Icy Blue Winter Nails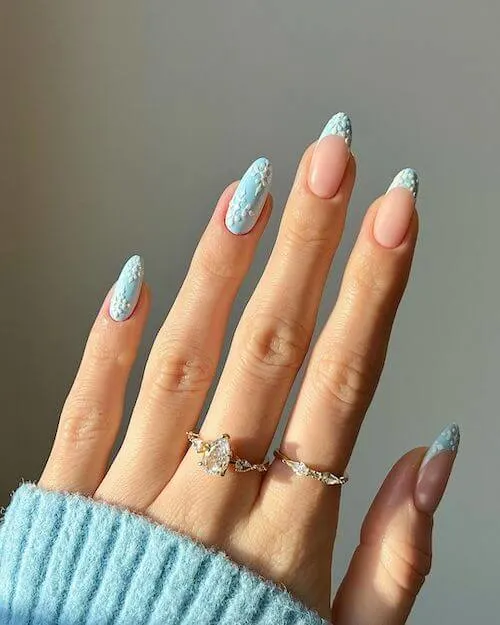 IG@thehotblend
Icy blue winter nail ideas are perfect for the coming chilly season.
To get started on creating a stunning icy blue manicure, it's important to first select the right polish.
A cool-toned hue like periwinkle or amethyst is ideal; look out for formulas that contain added shimmer or even a hint of holographic sparkles!
Once you have the perfect color picked out, consider adding some extra dimension with fun designs like snowflakes, stars and more – this will help give your nail art look an extra edge.
Baby Blue Winter Manicure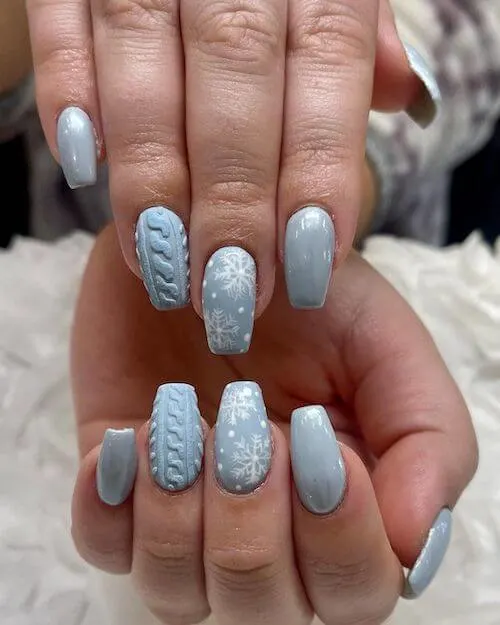 This winter, why not add some romance to your date night or casual time out with friends with a baby blue winter manicure?
Give your hands the perfect snow-inspired look and pair it with your favorite sweater. You can even add a bit of sparkle for extra flair!
For this romantic look, you'll need baby blue nail polish, an optional light glitter topcoat, white acrylic paint (or other colors if desired), and a thin brush.
To get started, apply two coats of the baby blue nail polish on all nails and let them dry completely before moving on.
If you want to add some subtle sparkle, go ahead and brush on one coat of the glitter topcoat over each nail.
Once both coats have dried completely you can begin painting subtle snowflakes onto each finger using the white acrylic paint and a thin brush.
Blue Frost Winter Nails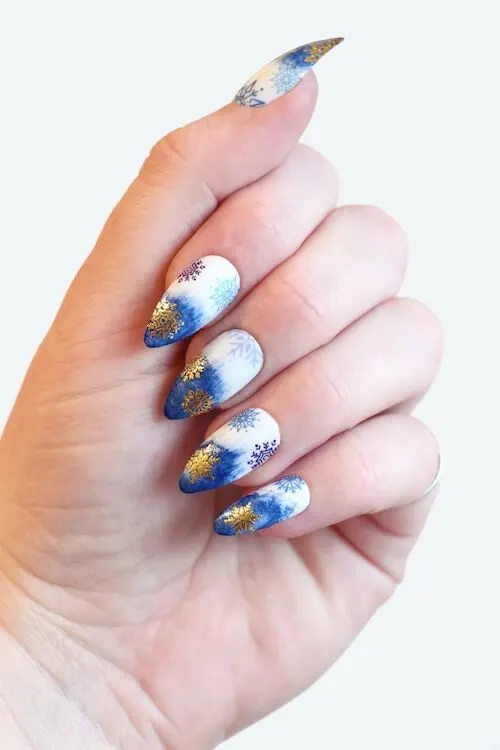 Blue frost winter nails are bold and beautiful, perfect for the holiday season.
Start by prepping your nails with a base coat to help protect them from any potential staining caused by the polish.
Then, apply two coats of light blue polish and allow it to dry completely. Next, use a dotting tool or toothpick dipped in white or silver glitter polish to create small dots around the edges of your nail.
Finish up with a topcoat sealant and let it dry completely before adding any jewelry or decorations.
Now you have fabulous blue frost winter nails!
Blue Ombre Nail Ideas For Winter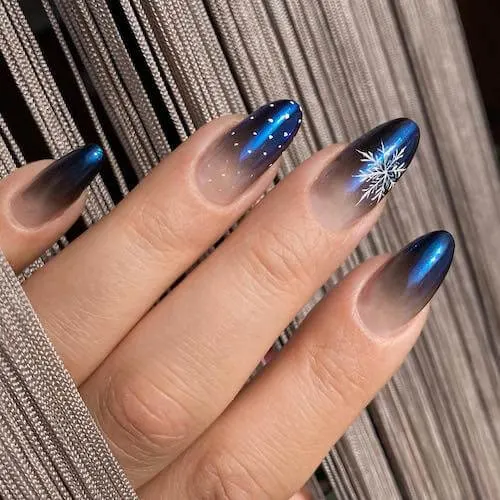 IG@artylooknails
Ombre nails are a great way to upgrade your look, no matter what the season.
These beautiful wintery shades of blue will make you feel like an ice princess!
Creating this look is easier than you think and can be accomplished in 5 simple steps.
First, start off by applying clear base coat on all 10 nails.
Next, paint each nail with a light sky blue polish making sure to leave the tips white.
Then add darker navy blue hues to the tips of each nail for contrast.
Finally use a foam brush dipped in white polish to lightly blend both colors together for a smooth transition from light to dark shades of blue.
Blue Winter French Manicure / French Tips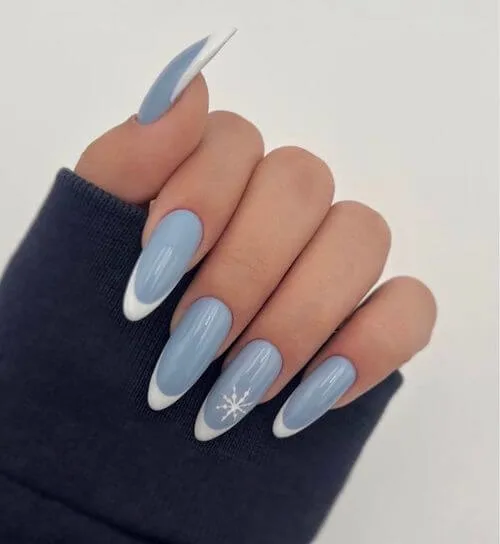 IG@msmanicurenyc
A French manicure is a classic look that never goes out of fashion.
It's timeless, classy and perfect for any occasion.
Firstly, start by preparing your nails with a cuticle pusher and filing them in the desired shape.
Once done, apply two coats of a light blue nail polish, making sure each coat dries before applying the next one.
After that's dry, take some white paint and draw two thin lines at the tips of each nail – this will be the French part of your winter design.
You may need several coats for an even finish.
Sparkly Blue Winter Nail Ideas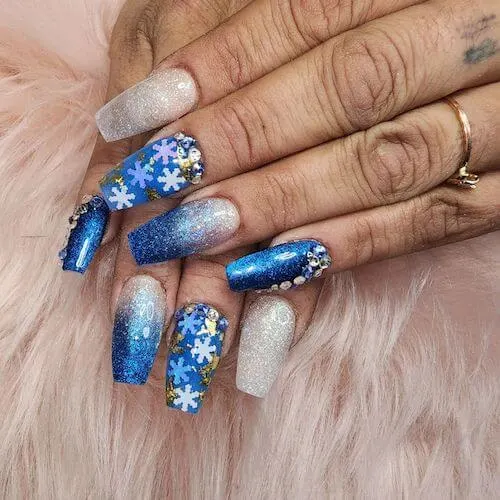 IG@nyashaz_nails
Winter is the perfect time to add some sparkle to your nails.
To start, opt for a base color that's neutral enough so that you can easily switch up the designs with different colors and textures.
Add glitter accents in tones of blue such as navy or baby blue for an extra bit of sparkle.
Or try a bolder design like ombré blues with hints of silver or gold glitter added throughout for more texture and dimension.
Blue Snowflake Nail Art Ideas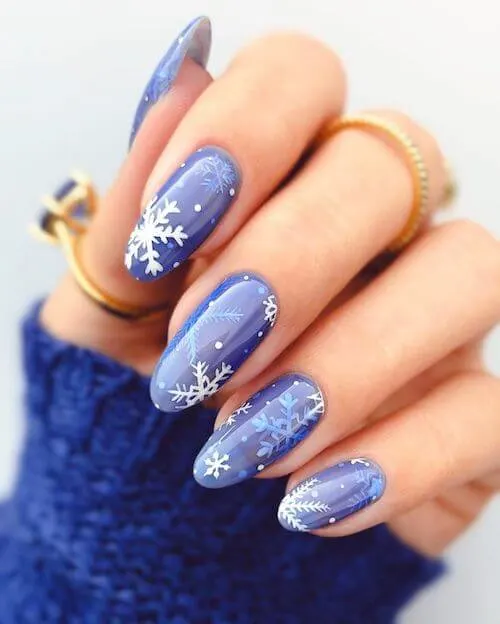 via Pinterest
Blue snowflake nail art is a fun and festive way to celebrate the winter holidays.
First, start by painting your nails with a light shade of blue polish. Allow them to dry completely before continuing.
Then use white nail art pens or brushes with white paint to draw intricate snowflake patterns onto each nail.
For added detail, use silver glitter pens or brush on silver glitter for extra sparkle.
Finally, apply a clear top coat for an extra glossy finish that will help keep your design looking great all season long!
Pink And Blue Nail Ideas For Winter Season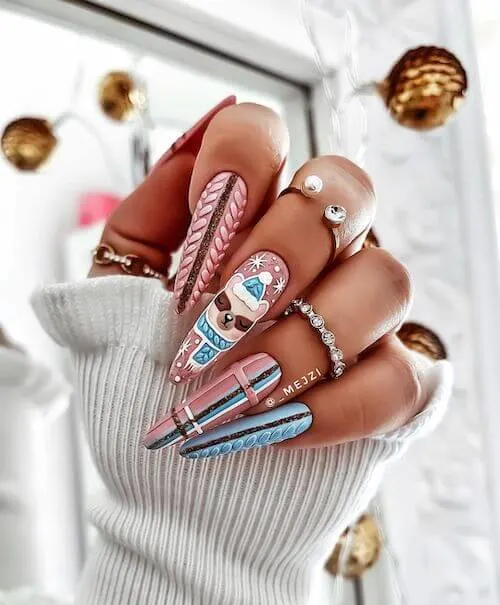 IG@_mejzi
A classic and eye-catching way to make a statement is by combining two of the most popular winter colors: pink and blue!
To start, choose two different shades of both pink and blue.
Begin by painting each nail in an alternating pattern using both colors; this will create a fun color block effect on the nails.
After the base coats are dry, use white or silver glitter polish to draw thin lines between each color on your nails.
This will add an extra level of sparkle and texture to your design while still highlighting each individual shade of color.
Finally, finish off with a clear top coat for added shine and protection from chipping or smudging!
Silver And Blue Wintery Nail Ideas
IG@rknails___
Silver and blue hues evoke a wintry, frosty aesthetic that is perfect for the holiday season.
If you're looking to get festive with your nail art this winter, silver and blue wintery nails are a great look to try!
To begin, start with a base coat of white polish and let it dry completely before moving on to the next step.
Once your base color is dry, use a thin brush dipped in light blue polish to draw wavy lines along each nail from one side to the other.
Allow this layer of paint to dry before adding in the silver accents.
Using a dotting tool or even just the end of an unused bobby pin, apply small dots randomly around each nail's surface area using silver polish.
Blue Winter Sweater Nails
IG@_mejzi
Winter is here which means that it's time to break out the sweaters! But why limit your love of winter fashion to just your wardrobe?
With some creative nail art, you can now show off a cozy and stylish look on your fingertips.
First, apply one coat of blue nail polish as your base.
Then take a small brush or dotting tool and create little loops in different colors that look like ribbing on an old-fashioned wool sweater.
You can also use glitter for extra sparkle. Once the design dries completely, add a glossy topcoat for protection and shine.
More Cool Blue Winter Nail Art Ideas
Want more inspiration? Scroll on for more blue nails for the cold weather that you'll want to try! Whether you are looking for long or short nails, we've got you covered!
Chic Blue French Nails
IG@thehotblend
Frosty Blue Nails For Winter Days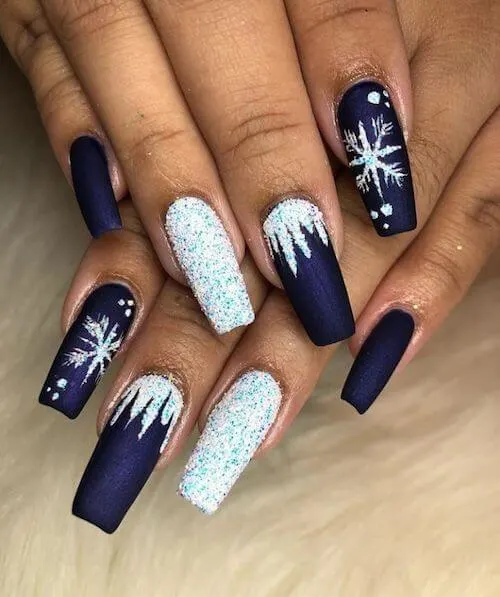 via Pinterest
Glitter Blue Acrylic Nails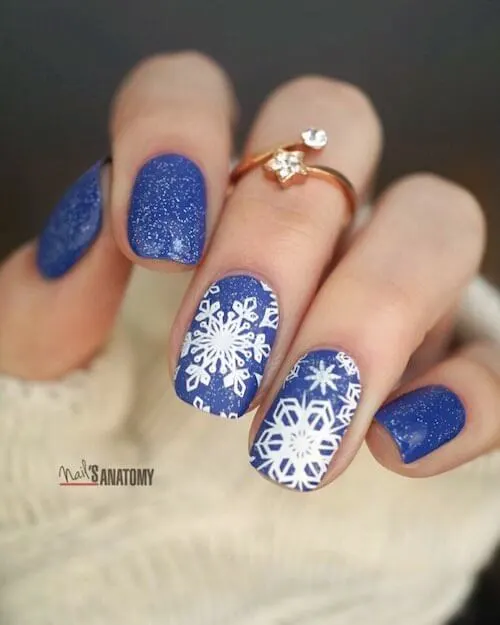 IG@nailsanatomy
Cute Blue Simple Nail Ideas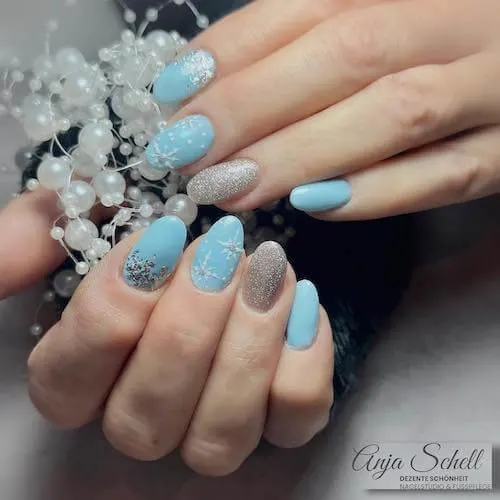 IG@dezente_schoenheit
Blue Nail Polish With Christmas Patterns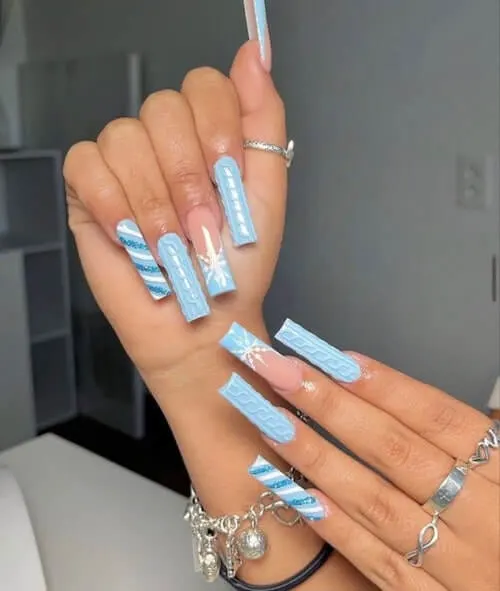 Frosted White And Blue Nail Art Design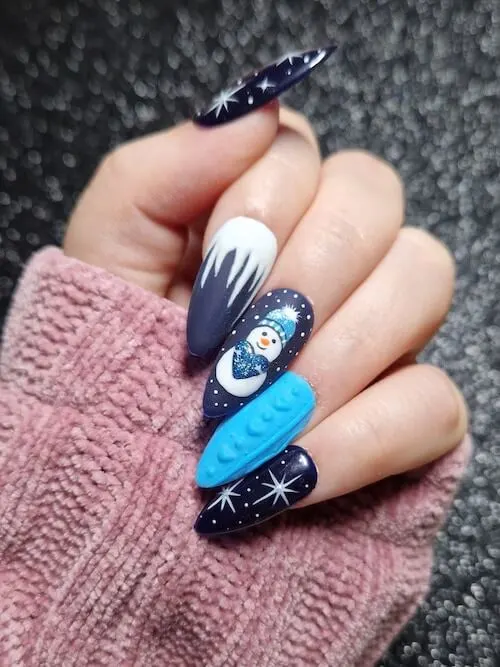 Stylish Blue Nail Ideas For Longer Nails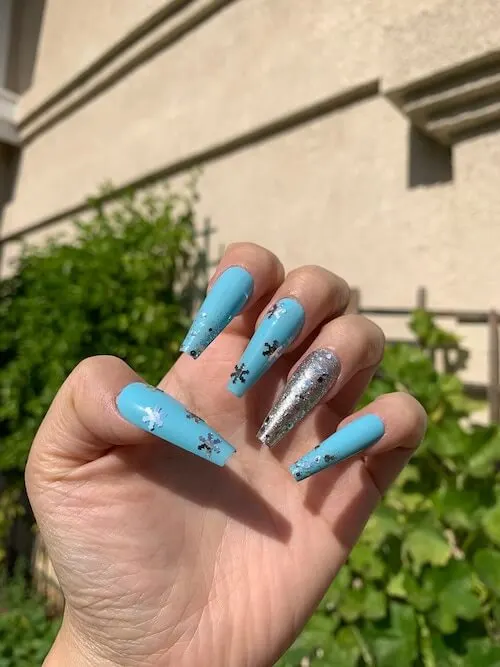 Simple Design With Cool Tones
IG@nailsbypaulin
Short Winter Blue Nail Designs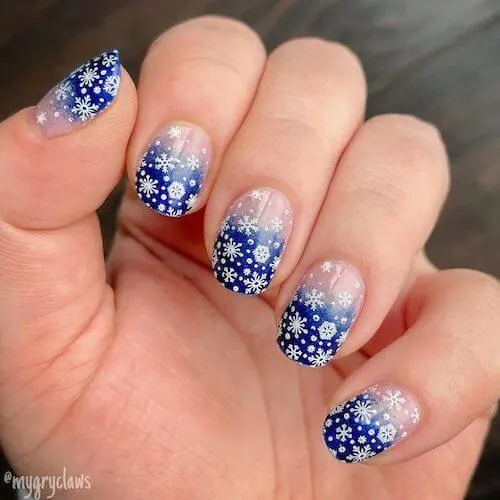 IG@mygryclaws
Cute Nail Using Blue Nail Polish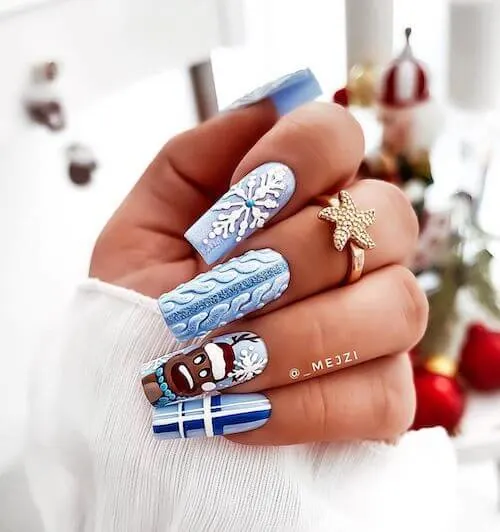 IG@_mejzi
Dark To Light Nail Art Design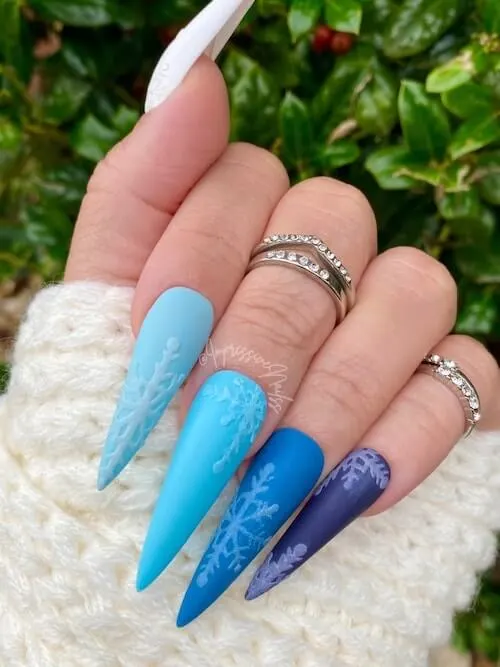 Add A Little Bit Of Difference
IG@nailsbypaulin
Blue Accent Winter Nails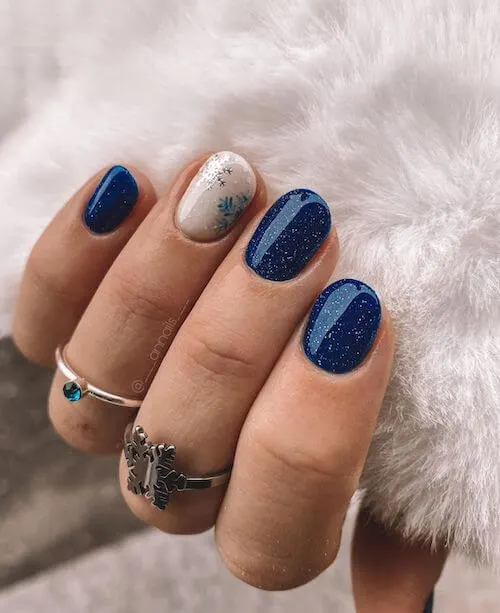 IG@____annails____
Blue Polish With Silver Decorations
IG@glossyglow_bycintia
Cute White Snowflake Nails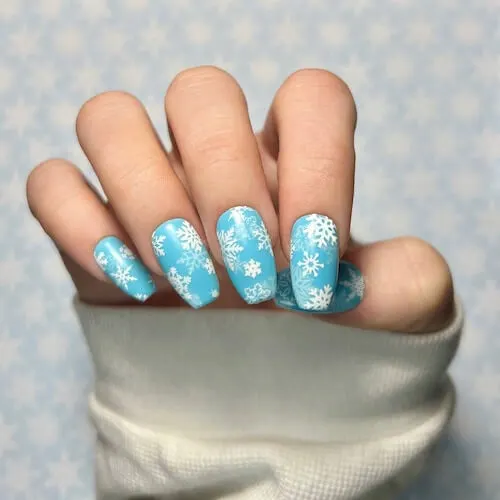 Midnight Blue Glossy Polish
IG@____annails____
Blue Almond Nails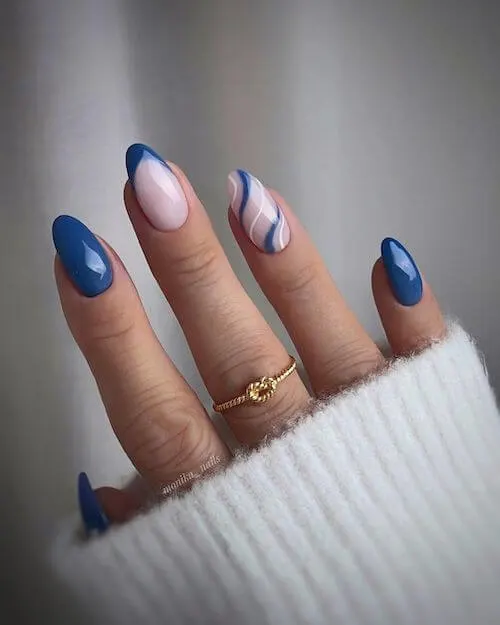 IG@monika__nails
Blue Marble Nails With Gold Flakes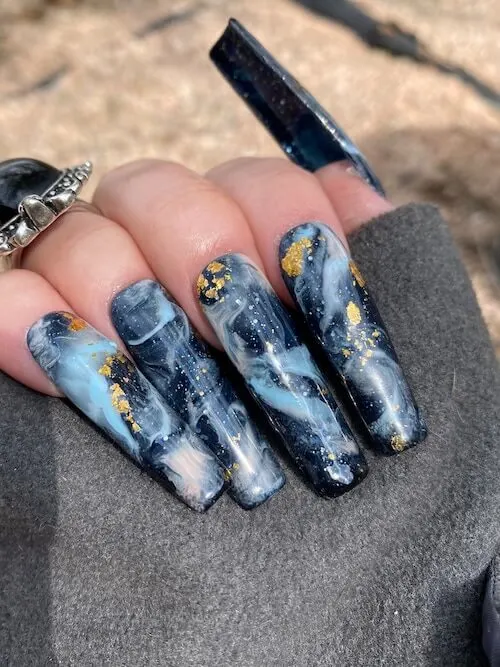 Denim Blue Winter Nail Art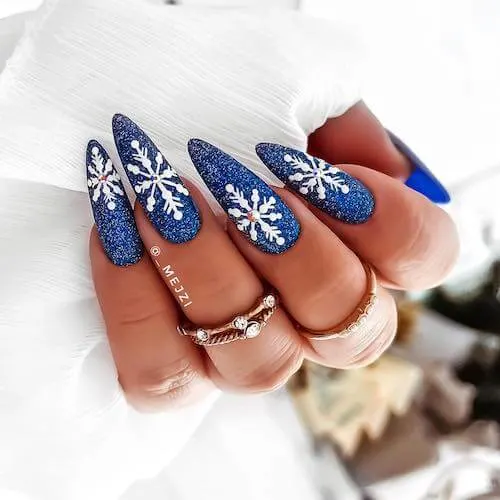 @_mejzi
Blue Abstract Nail Ideas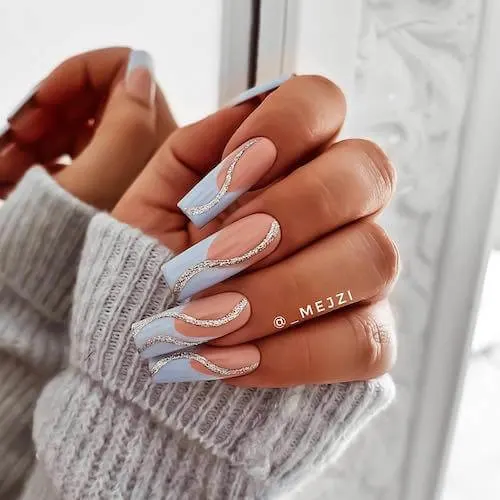 IG@_mejzi
More Blue Winter Nail Ideas To Copy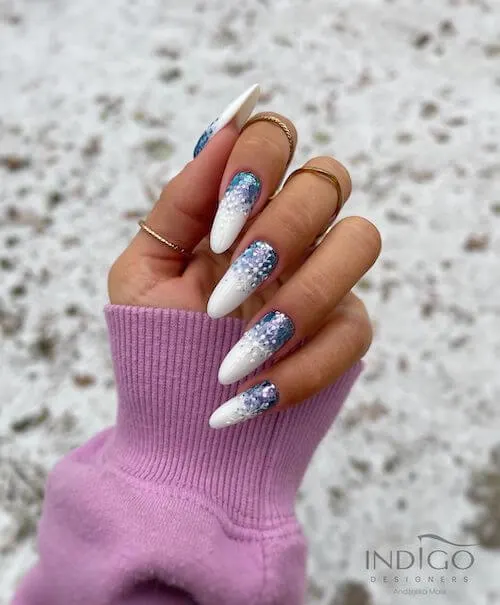 IG@gandziuchaa
IG@_mejzi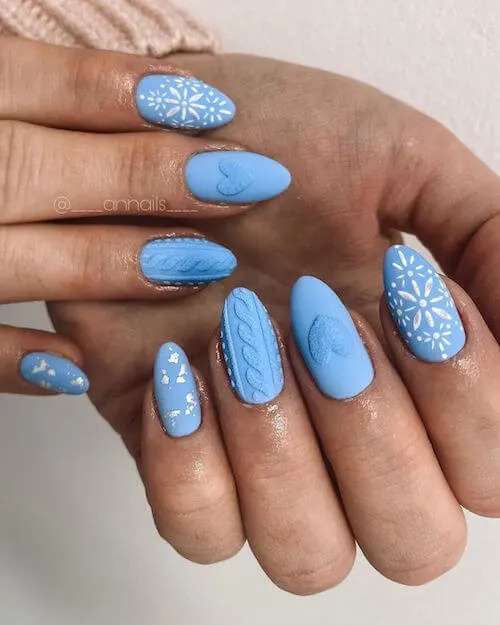 IG@____annails____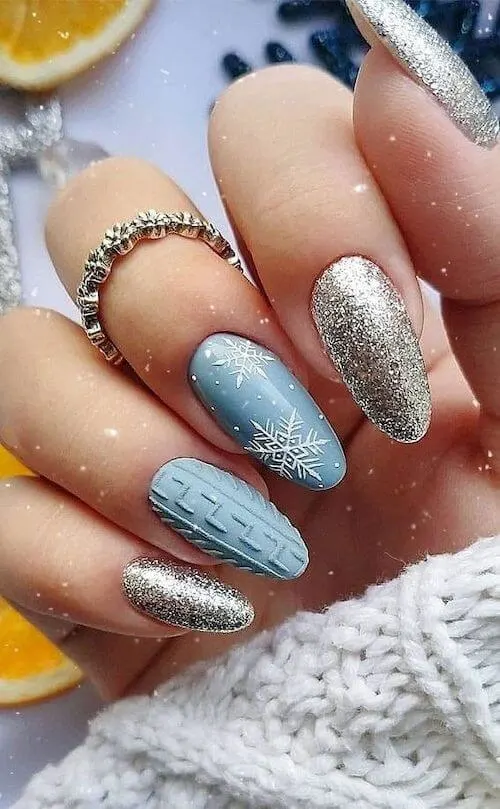 via Pinterest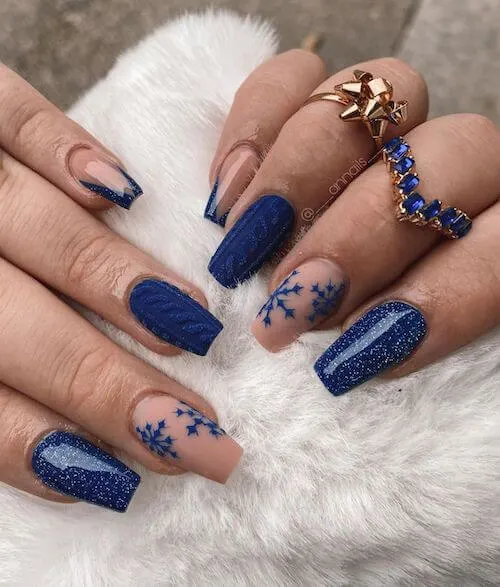 IG@____annails____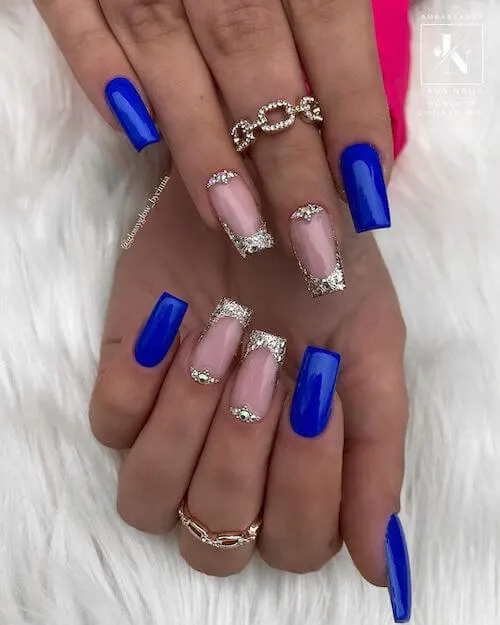 IG@glossyglow_bycintia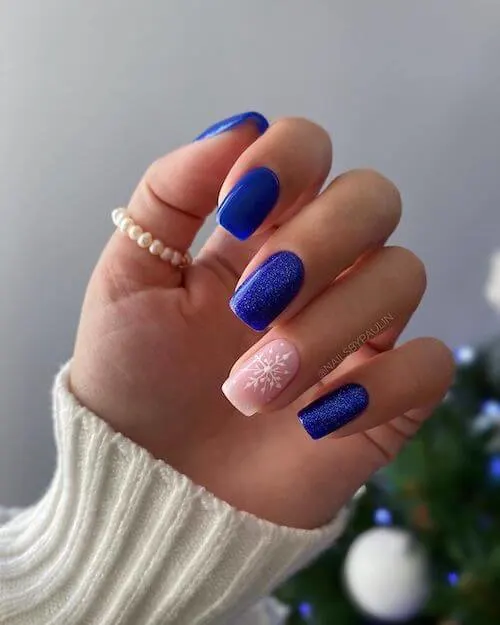 IG@nailsbypaulin
via Pinterest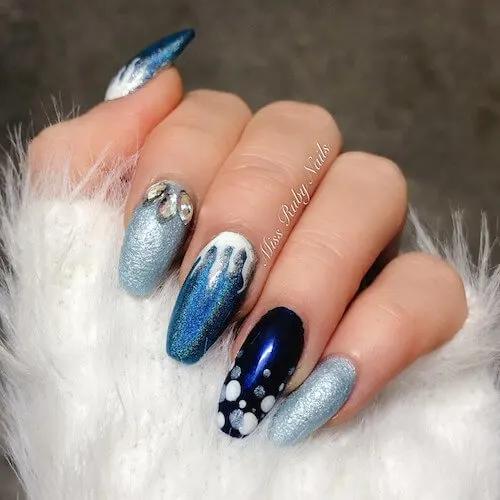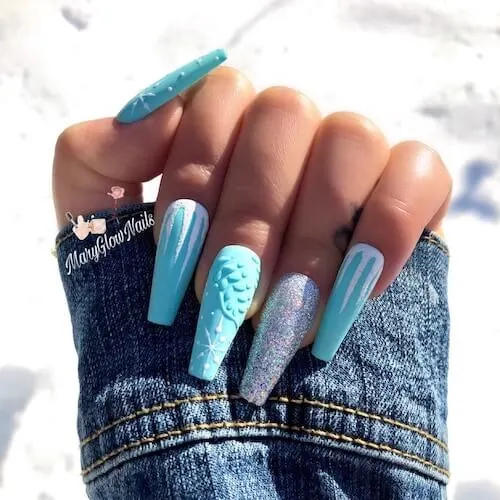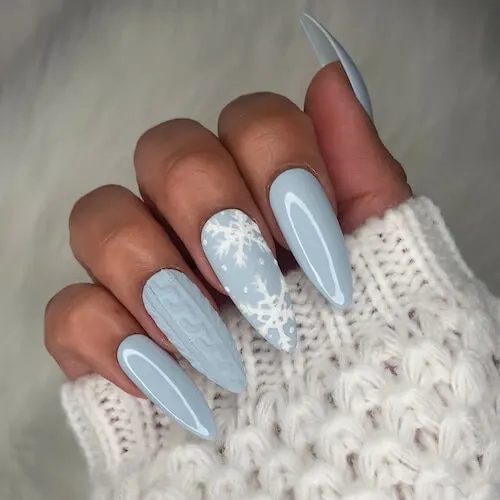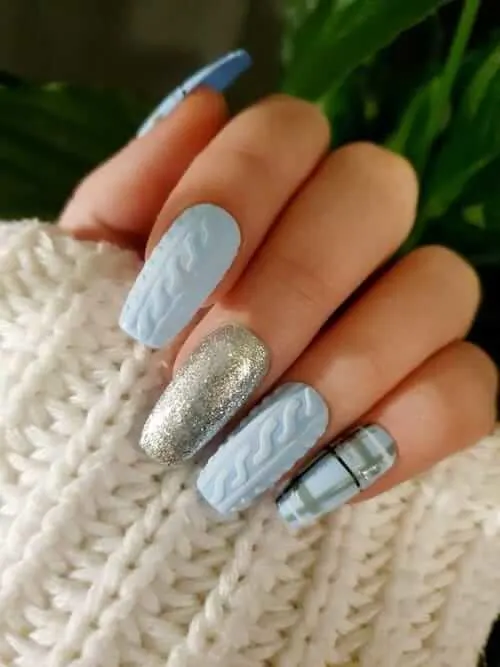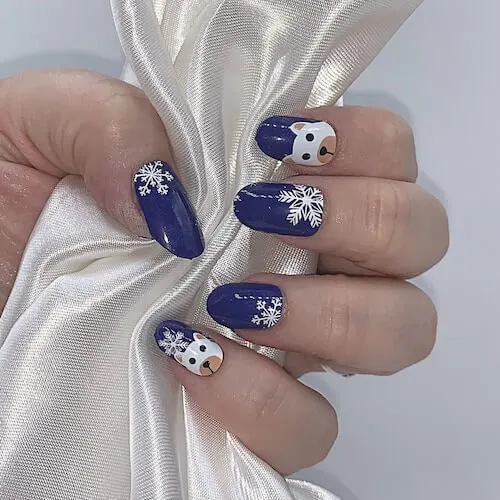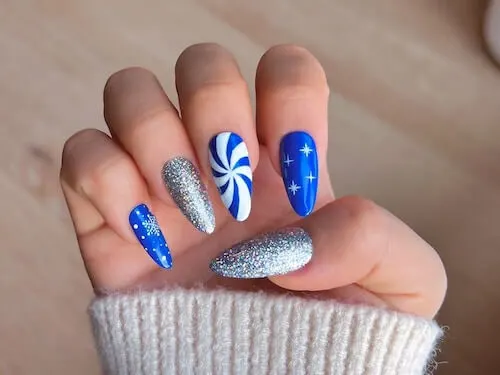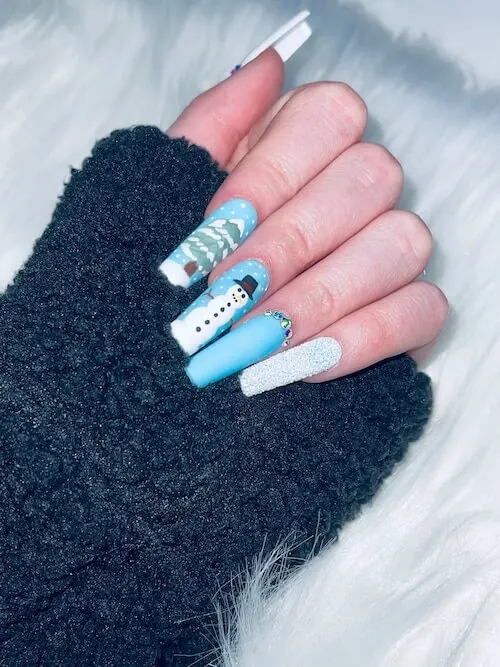 This post was all about winter blue nail designs.
About The Author
Tracy is an experienced personal stylist, shopping expert, and fashion & lifestyle blogger. She has been featured on Time Magazine, Bustle, Best Life, Glam, The Zoe Report, Mic, and GOBankingRates, for her insights on fashion, beauty, home decor, and lifestyle. Read More
Related Posts: