Looking for the best pink Christmas nail ideas? Check this post for cute, creative, and chic pink Christmas nails for a stylish and sweet mood this winter holiday season!
When the festive atmosphere of Christmas is getting stronger and stronger, in addition to what Christmas gifts to give to family members and friends, what kind of manicure to do during Christmas has become one of our most concerned topics.
A beautiful manicure can not only add color to our holiday look, but it can also put us in a better mood during the holiday season.
Although the traditional red, dark green, dark blue, and white are the most common nail colors for Christmas, now more and more girls also choose romantic pink to show their personal characteristics.
Pink Christmas nails are designed to match their various styles of festive outfits together, which is really charming.
If you are looking for the latest pink Christmas nail ideas for inspiration this coming holiday season, you've come to the the right place.
In today's article, I am sharing you our favorite pink color Christmas nails that we love so much from our favorite nail artists, and I am also sharing with you the best pink Christmas press on nails that you can use directly this year from our favorite online stores.
So scroll down to check these stunning Christmas nail designs with pink nail polish, and don't hesitate to pin them to your Pinterest board, and share them on social media sites.
This post may contain affiliate links, which means I'll receive a commission if you purchase through my link, at no extra cost to you. Please read the full disclosure here.
This post is all about pink Christmas nail ideas.
Is Pink A Good Color For Christmas Nails?
Yes! Pink represents romance, happiness and sweetness. In addition, hot pink and dark pink also represent a unique personal style.
Therefore, pink of different shades can be paired with different styles of Christmas outfits you like, bringing your style to the next level.
In addition, pink is also a very versatile nail color! They can be paired with any traditional color for Christmas season nails.
Red and pink, white and pink, green and pink, navy and pink, and even black and pink are all excellent festive color combinations.
Pink can also be paired with festive metallic hues including silver, gold and rose gold for a dreamy look.
So pink nail polishes are perfect for Christmas!
Can't wait to design your own pink Christmas nail art? Scroll on to check awesome pink Christmas nail art designs this Christmas.
Tips For Perfect Pink Christmas Nail Designs
Add snowflake pattern
If you also like a low-key and more attractive style, you may add a small three-dimensional snowflake pattern to the transparent nude nail, and you can add gold or glitter elements to the other nails.
In addition to the vivid snowflakes, if you want to be more stunning, you can use gold or silver snowflake stickers, and decorate with romantic small dots next to them.
Use three-dimensional patterns
There are many stories about Christmas.
How can adults who have not lost their childish innocence interpret childlikeness in a high-level manner?
This year, the three-dimensional cartoon image is super popular, just like creating a foldable three-dimensional fairy tale book at the fingertips.
In addition to those classic and well-known Christmas characters, the bear is always the number one popular nail art.
We can make some special changes according to Christmas, turn the bear into white, let it sit in the endless white snow, and only show a cute expression.
Add your favorite Christmas elements
In addition to those three-dimensional patterns, small Christmas symbols of snowflakes, reindeers and so on can also weave a romantic Christmas story.
Super mini holiday wreaths, stockings and gift boxes that infuse your nails with a festive feel without being too tacky or old-fashioned.
Different kinds of plaids
Fall and winter are really the season of plaids! Not only clothing and shoes, but even fingertips are full of plaid elements.
A variety of classic Christmas color plaids are very suitable for pink Christmas nails.
We can also creatively add white plaids, golden plaids and silver plaids, and even add rhinestones to the plaids to make our nail art more charming.
Sparkling Christmas trees
You can build a little Christmas tree out of sequins, it's so cute! With the mini Christmas gift boxes on other nails, it looks good and has a sense of design.
Want to be more luxurious and show off them at your Christmas party? Then use shining rhinestones instead of small sequins. It is a perfect way to make your fingertips more eye-catching!
You can also opt for a minimalist Christmas tree pattern. You can easily draw and refine your Christmas tree with just a Christmas tree nail stencil.
You can also choose a different color scheme for the Christmas tree. While a green Christmas tree is perfect for pink nails, gold and silver are also a great option to add a little bit personal touch to your holiday nail style.
Minimalist holiday style is also great
You can use a clean and simple nude pink as a base, and then use traditional Christmas colors such as red, green, blue, gold and silver for accents, lines or dots. This is very festive and chic.
Pink Christmas Nail Ideas
Want inspiration? Scroll on to check the best Christmas nails with pink nail polish this year, and pink press on Christmas nails to shop for directly.
Pink Gold Snow Nails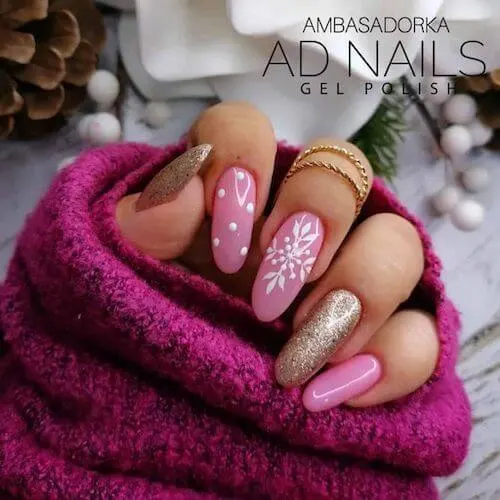 via Pinterest
If your Christmas whole look contains pink elements, then a pink Christmas nail design is a perfect choice.
In addition to adding white, you can add gold to make your nail design sparkle.
If you like to wear gold jewelry, then this nail design is more suitable for your style.
The Perfect Gold Foils For Christmas Season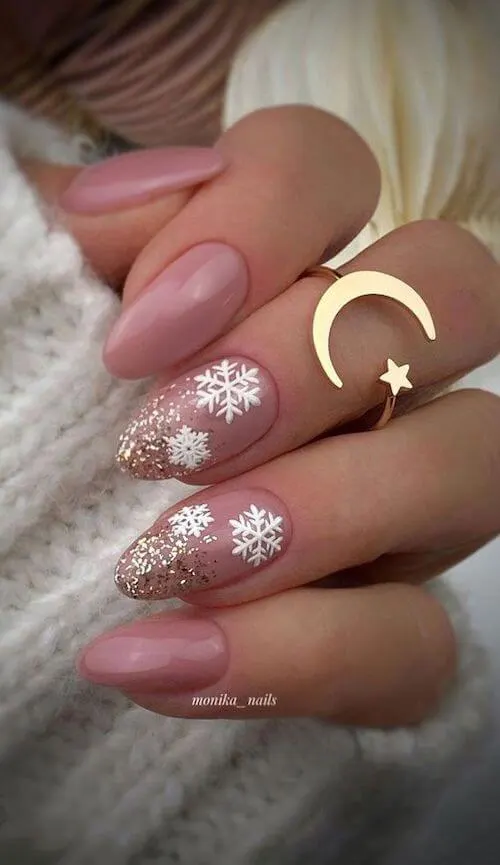 via Pinterest
The romantic gold leaf decoration makes this nail design look elegant and special.
Remember to make your fingers look more beautiful and elegant with a gold minimalist ring.
Pink, Gold, And White Color Palette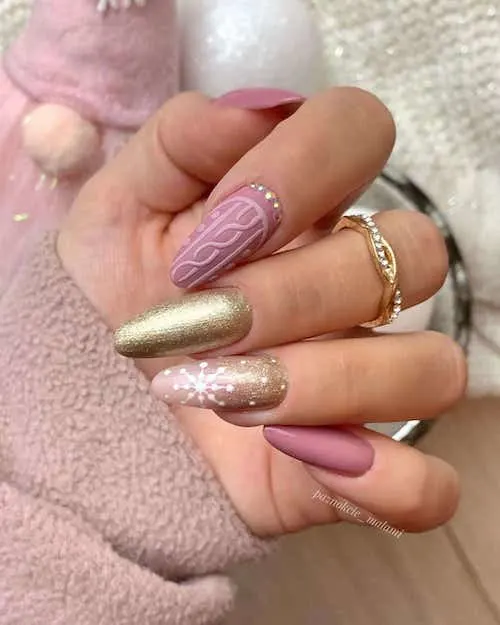 via Pinterest
The combination of gold and pink is timeless and very gentle. Go for a matte pink to make this nail design look extra special with a cozy holiday mood.
Bright Colors Pink Glitter Nails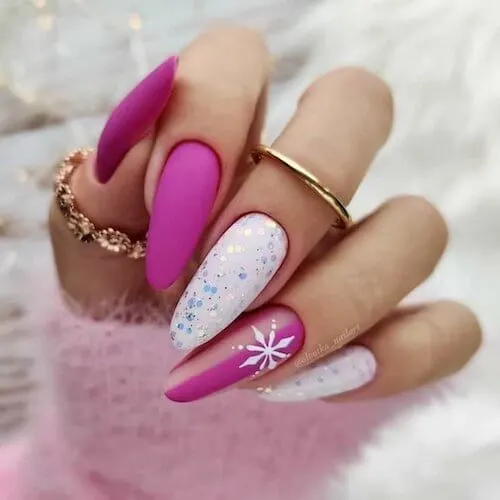 via Pinterest
Bright pinks make this festive look even more captivating with snow and Christmas lights.
I especially like the metallic sparkle it adds, which adds a touch of style to the white base.
Pink Gold Accent Nail
via Pinterest
Want an elegant pink and gold combo that instantly has a particularly cute vibe? Learn with nail polish designs like the one above!
Just add a simple reindeer pattern, a little white heart and a little white snowflake.
Everything is like a fairy tale.
Gold Details For The Winter Season
via Pinterest
Pink Christmas nail designs can also be very elegant.
Just simply add golden lines and your pink nails are instantly unique and very beautiful.
White, Pink And Gold Festive Season Nails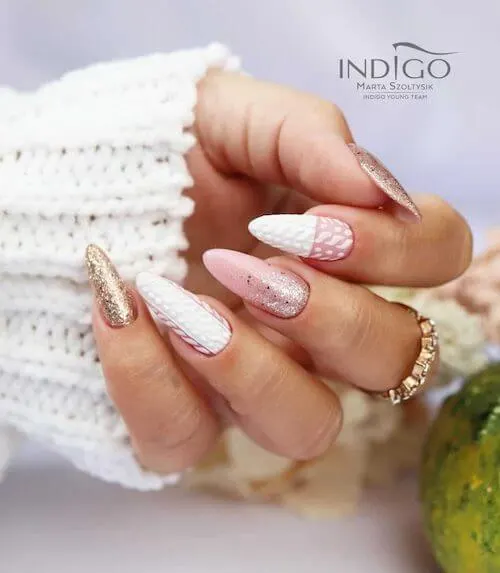 via Pinterest
Sweater nails are one of the ever-popular winter holiday nail designs.
I especially love the half white and half pink sweater nails in this nail design above. They are very unique and simple.
You see, it only takes a little change to have very unique holiday nails.
Simple Ombre Christmas Nails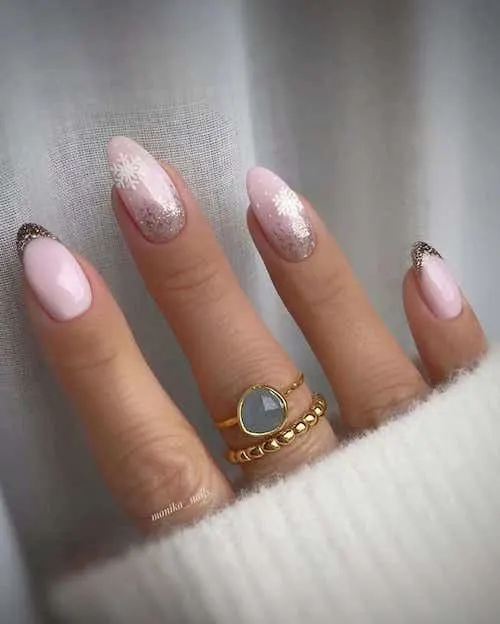 via Pinterest
The silver and pink combo is also great. A little black sequins are added to this nail design, which adds a layer of color to the whole nail design. This idea is so stylish.
Rose Gold And Pink Acrylic Nails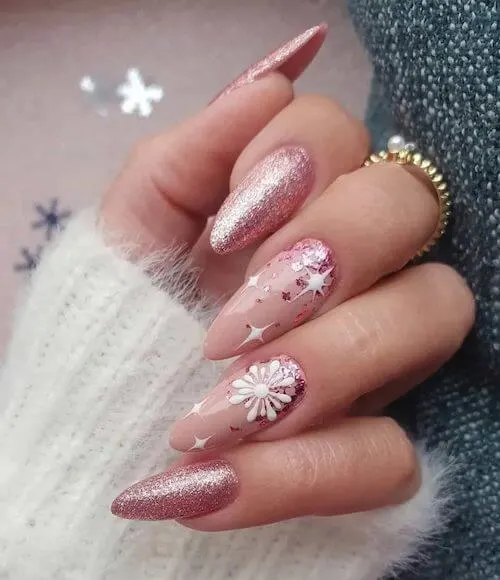 via Pinterest
If you usually use glitter color to adorn the tips of your nails, this time you might as well use it to adorn the bottom of your nails, which will make your nails look longer.
Pink Nails With Matte Top Coat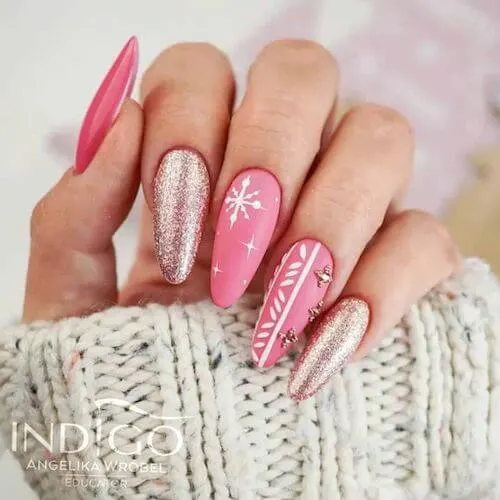 via Pinterest
Asymmetrical nail designs are fun and creative. You can choose one or two pieces of nails to experiment with asymmetrical designs. The easiest way is to draw half the pattern.
Pink, Gold and White Acrylic Christmas Nails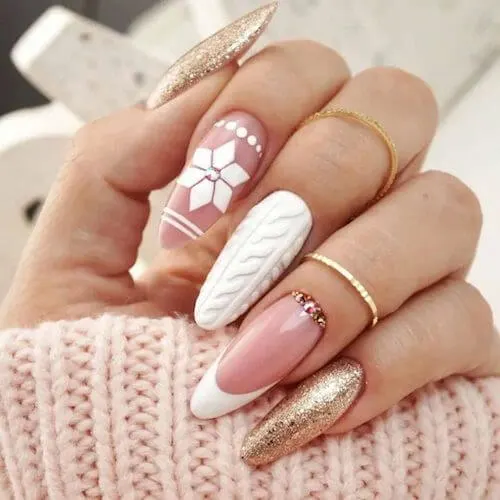 via Pinterest
This is one of my favorite sweater nail designs this year.
The addition of gold and rhinestones makes the pattern very vivid.
Pink, Silver, Snow Nails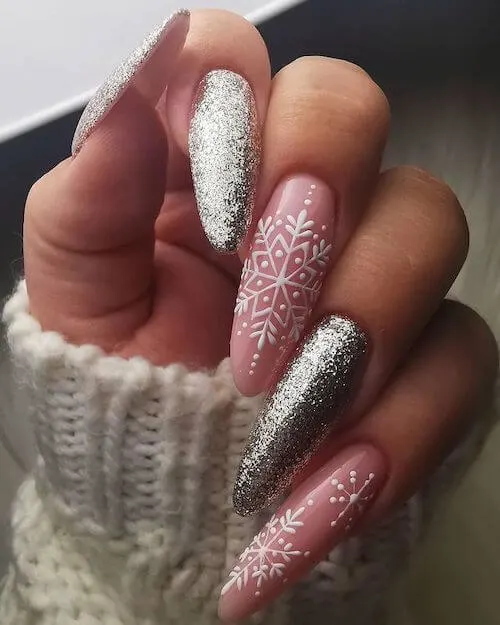 via Pinterest
Replacing gold with silver is a different feeling.
Candy Canes & Polka Dots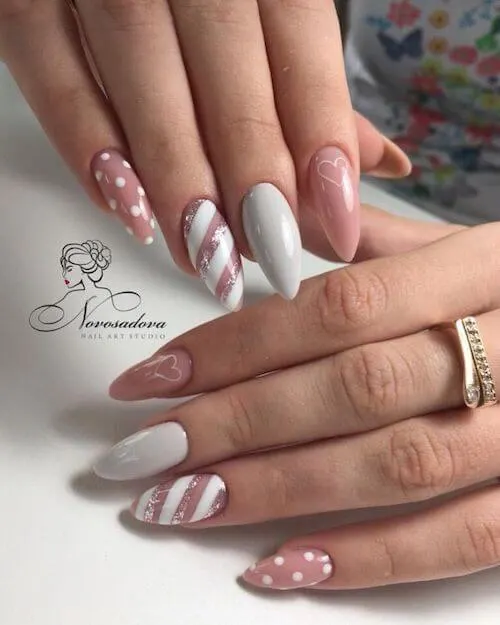 via Pinterest
Candy canes and polka dots are very common elements of Christmas.
I especially like the added small heart, which is very simple but successfully makes the common Christmas nail design immediately have a unique and fun visual detail.
Snow, Dots, and Candy Cane Stripes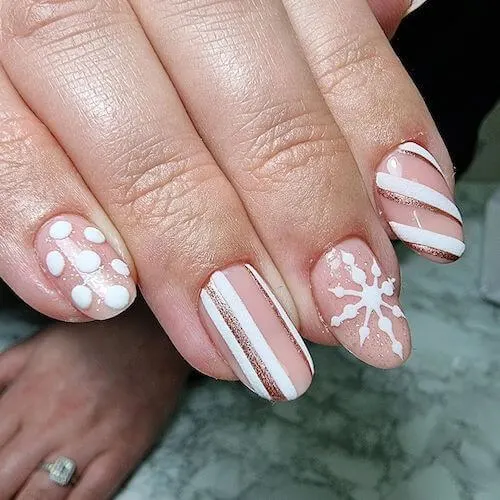 IG@botanico_salon
A simple but very classic pattern combination makes a great Christmas nail design.
Pink And White Shades Christmas Holiday Nails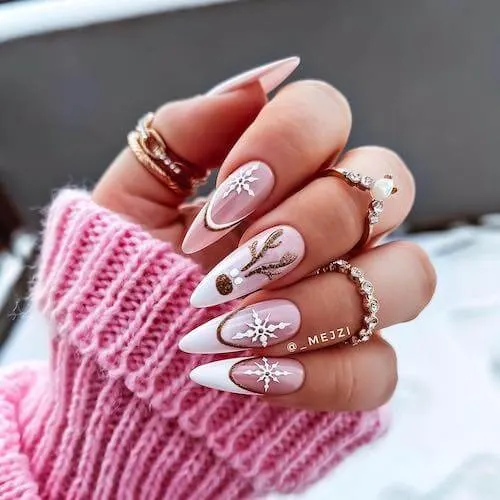 IG@_mejzi
If you want your Christmas nails to look classy yet cute, this design is the right choice for you.
The just-right depiction of white nail polish makes these nails look elegant and glamorous.
Whether it's a Christmas date, a Christmas party, or a Christmas dinner, this pink Christmas nail idea is perfect.
Pink Rhinestones Nails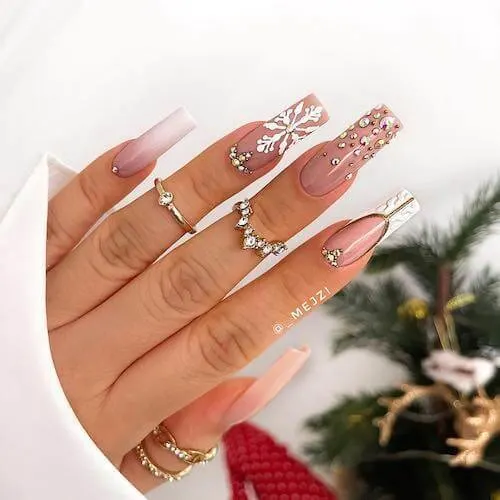 IG@_mejzi
These rhinestones are fascinating.
Pink And Dark Rose Gold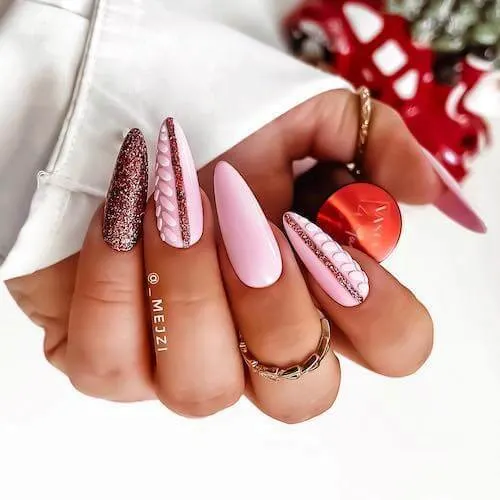 IG@_mejzi
Asymmetrical designs are really trending this year. Adding dark rose gold lines makes the design more lively and fun.
Elevated Pink Snowflakes French Manicure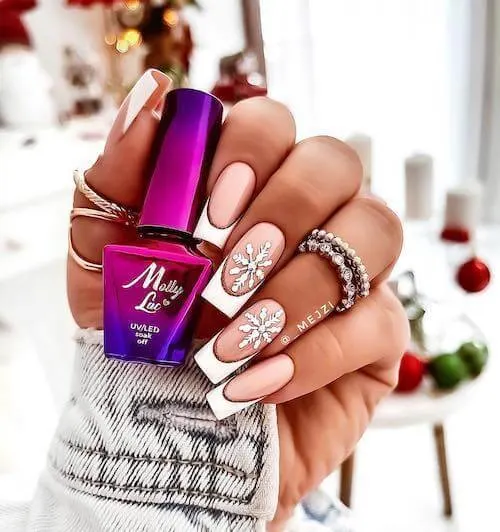 IG@_mejzi
I like the design above, it's simple and very stylish, and it goes well with a variety of rings and clothing styles, making it a very convenient choice for your festivals.
Hot Pink And White Nail Polish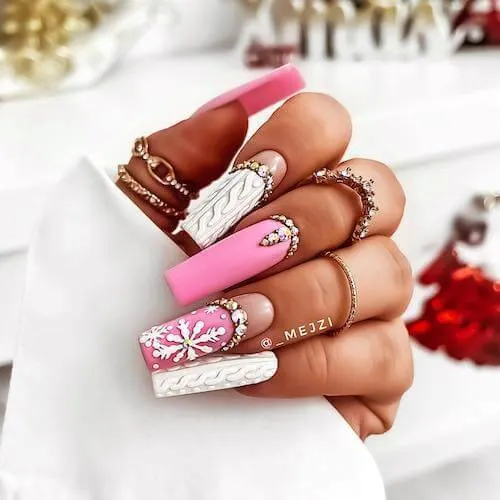 IG@_mejzi
Don't be stingy with using your rhinestones to decorate your nails for the holidays.
They echo your ring, creating a wonderful fairy tale world at your fingertips.
Simple Pink And Blue Christmas Nails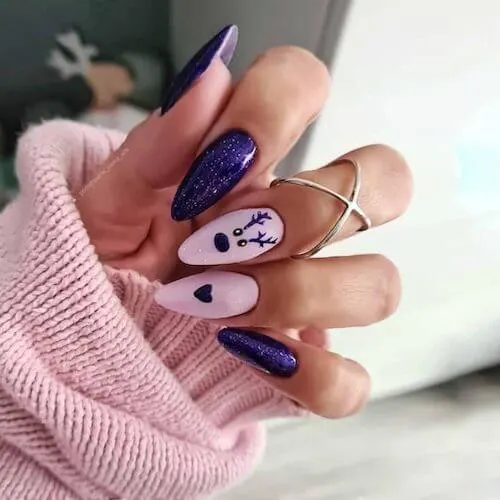 via Pinterest
This is fresh nail design full of Christmas vibe.
Cute Dog Lover Christmas Nails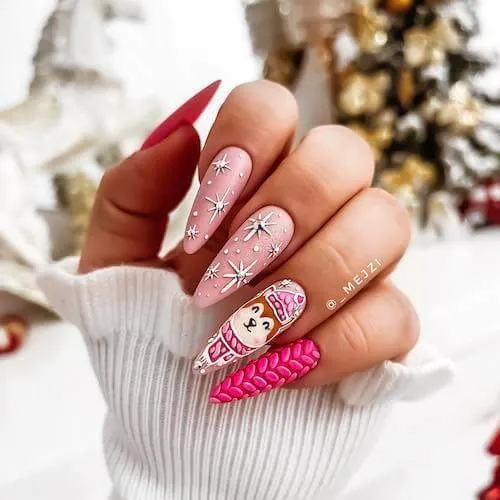 IG@_mejzi
If you have pets, a pink pet Christmas nail idea like this is a cute nail idea.
Pink, Plaid And Silver Christmas Spirit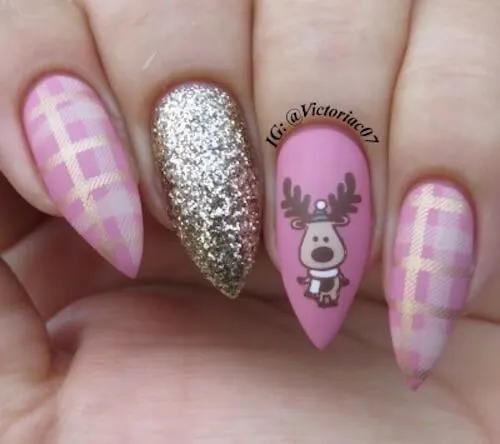 IG@Victorianc07
These plaids are unique.
Christmas Time Hot Pink Nails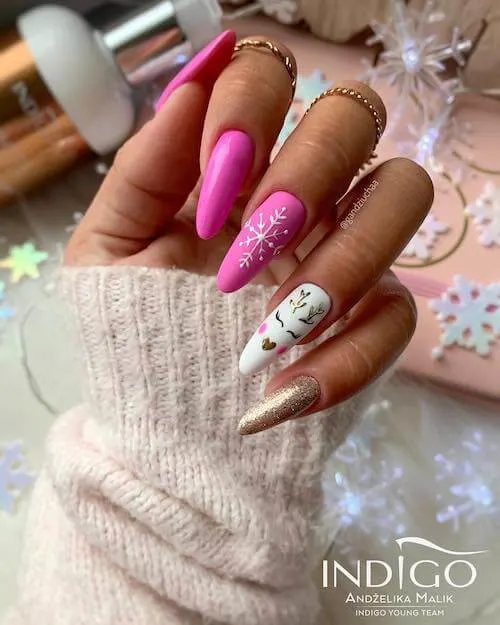 IG@gandziuchaa
OMG this deer is so fun.
Minimalist Black Lines Christmas Tree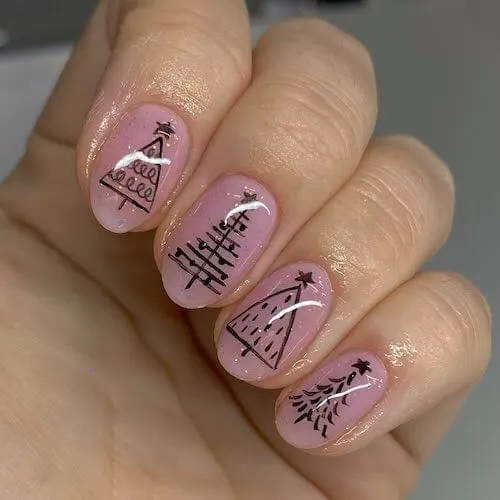 IG@katebonarnails
Love simple designs? The combination of pink and black also makes for a great minimalist Christmas nail design. And it's simple.
Pink Base White Nails
IG@nailsbyshena
This nail design uses traditional classic Christmas elements, but with a creative change.
If you want to have an easy and special nail design this Christmas, this easy-to-follow design is for you.
Rose Gold, White And Pink Christmas Nails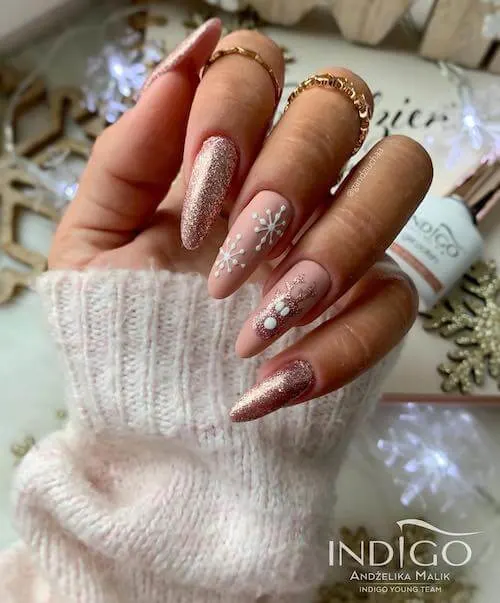 IG@gandziuchaa
You don't need to use a lot of color nail polishes to have a special Christmas nail pattern. Such a simple color combination is cute and elegant.
Simple Creative Nail Designs For Christmas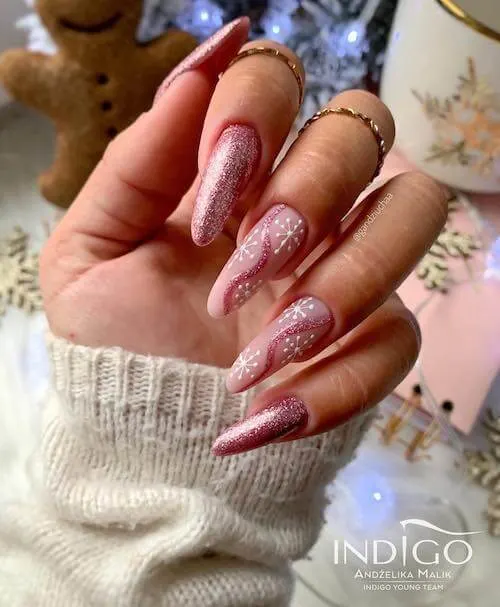 IG@gandziuchaa
Adding lines sweetens the traditional snowflake nail design.
Pink And Red Simple Christmas Nails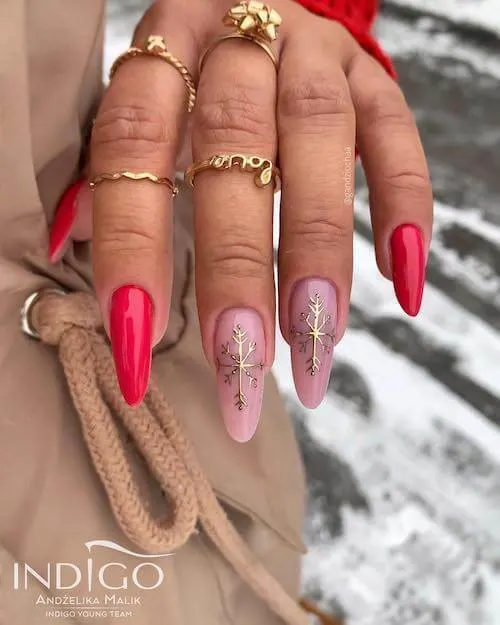 IG@gandziuchaa
Hot pink and pale pink, or red and pale pink, are great winter festive nail polish color combinations.
You don't need to draw a particularly complicated pattern, and your nails will look great.
Pink Festive Christmas Nail Art Designs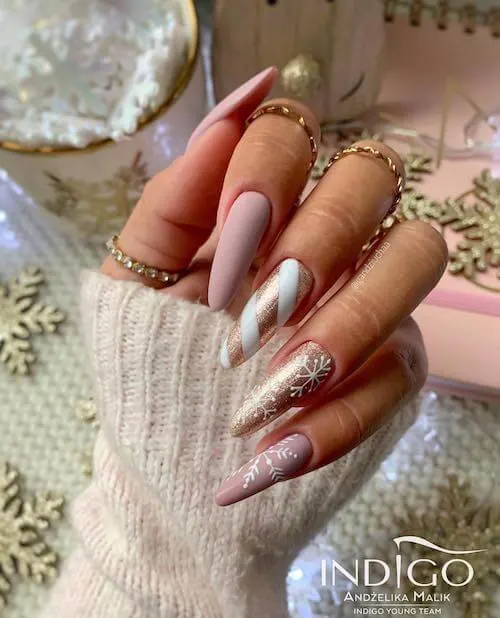 IG@gandziuchaa
The matte powder is gentle and low-key, perfect for holidays.
Paired with elegant rose gold and white colors, it has an excellent festive vibe without being tacky.
Gold And Pink Christmas Nail Art Ideas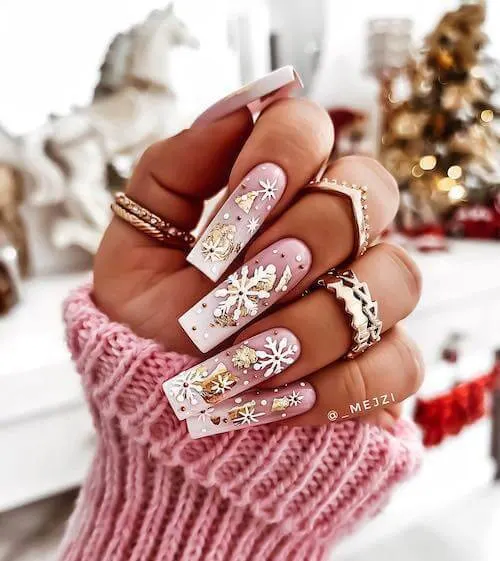 IG@_mejzi
Pink looks very nice with any gold decoration.
Glittering White Snowflake Christmas Nails
IG@gandziuchaa
You can also be creative and bold with special glittering decorations to make your Christmas nails stand out.
Pink and Rose Gold Holiday Spirit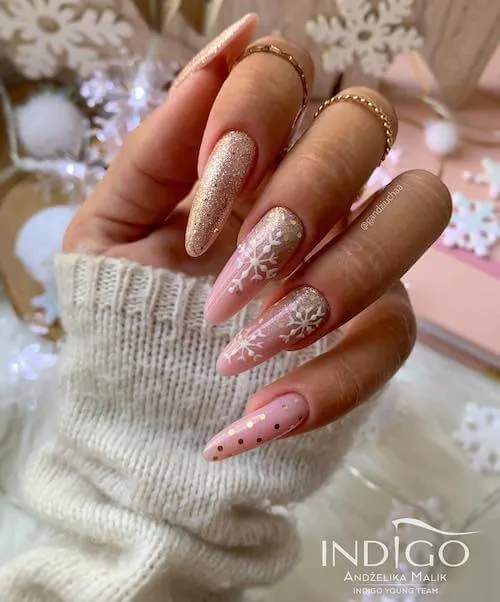 IG@gandziuchaa
The black and white polka dots are creatively painted here. Isn't it more lovely than simply painted in rose gold?
Black, Rose Gold And Green Colors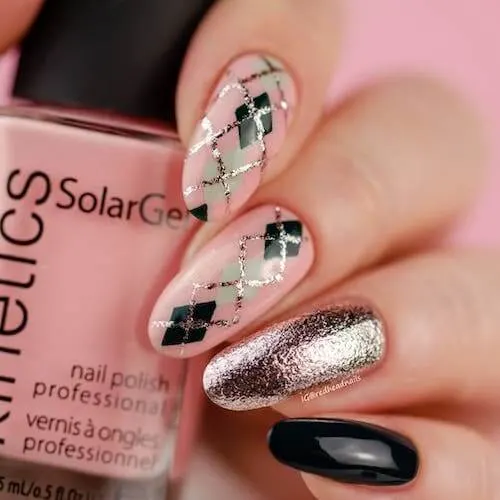 IG@redheadnails
If you're looking for a special sweater nail design, this one is great.
It has both a distinctive sweater pattern and a creative addition of black and light green nail polish, which is gentle with the right bit of personal touch.
Dark Pink Festive Mani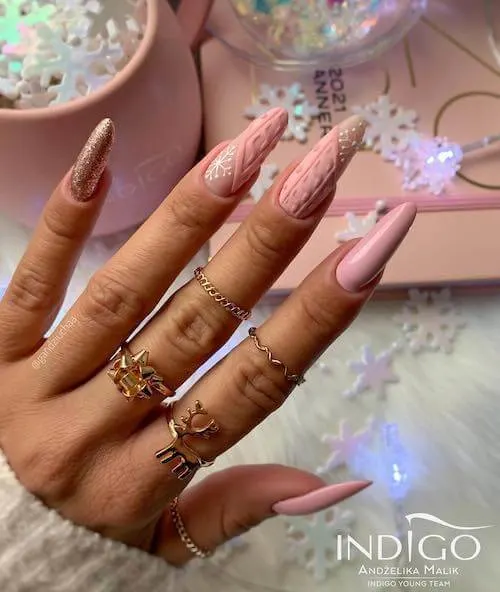 IG@gandziuchaa
Dark pink is perfect for creating cosy sweater nails for the winter holidays.
If you are looking for the best pink Christmas press on nails, nail stencils, and nail stickers for the coming holiday season, scroll on to check what we've found this year! They are cute and easy to use!
So don't hesitate to check them, and also you can copy their cute designs.
White And Nude Colors Christmas Coffin Nails
Nude Bling Christmas Nails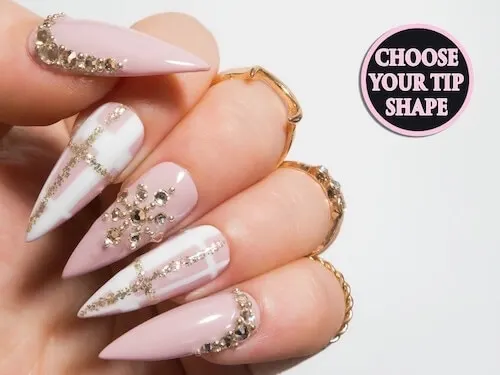 Pink And Black Snowflakes Short Nails
Pink and Silver Christmas Long Nails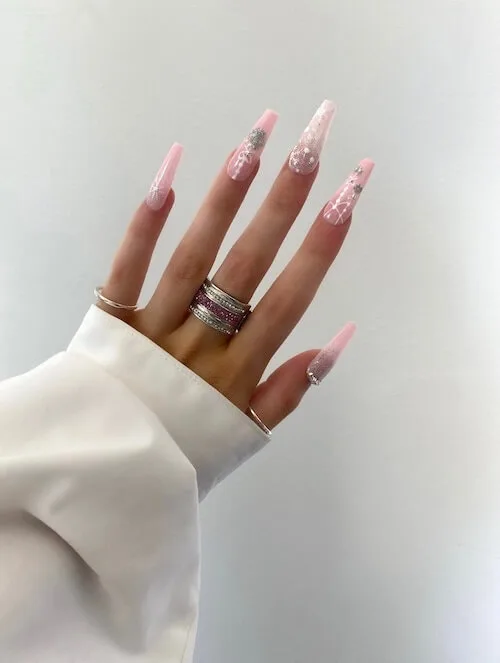 Cute Bear Snowman Accent Nails
Pink Unique Design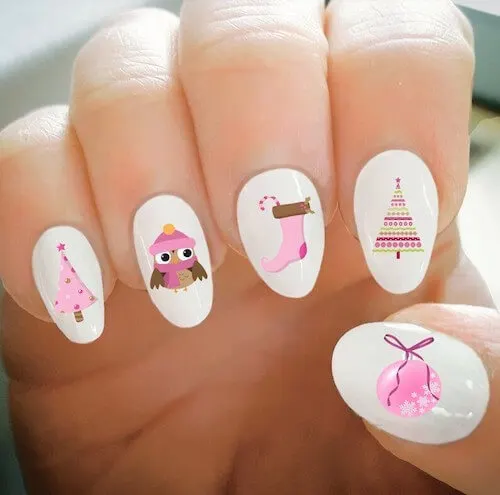 Reindeer Pink Glitter Heart Christmas Nails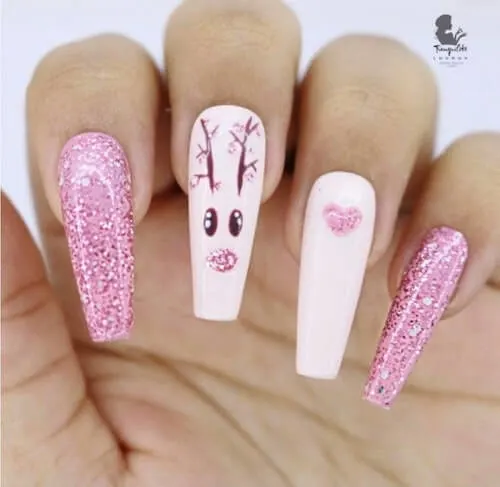 Sweet Pink Pastel Colors
Pale Pink Color Christmas Nail Ideas
Pink, Rose Gold, Black and White Polish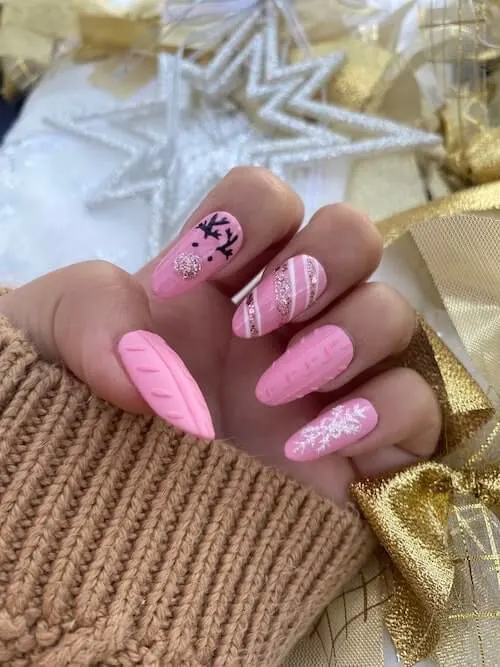 Elegant Festive Vibes
Dreamy Festive Design
Subtle Look Christmas Sweater Nails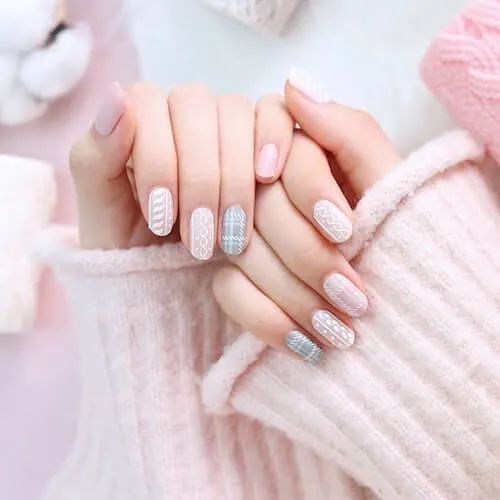 Chic Pink And Green Nails
Cute Santa Claus / Christmas Gonk
Pink Polar Bear And Snowflakes Nails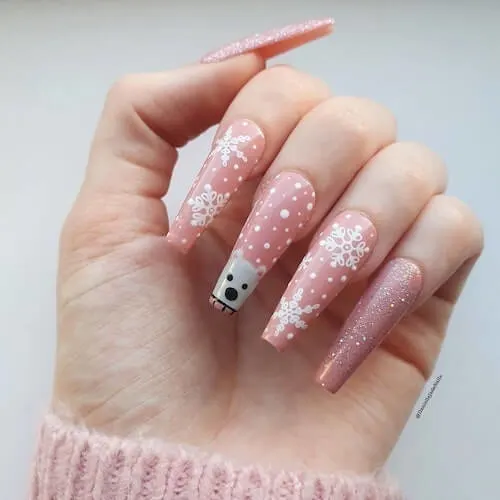 Cute Christmas Party Nail Designs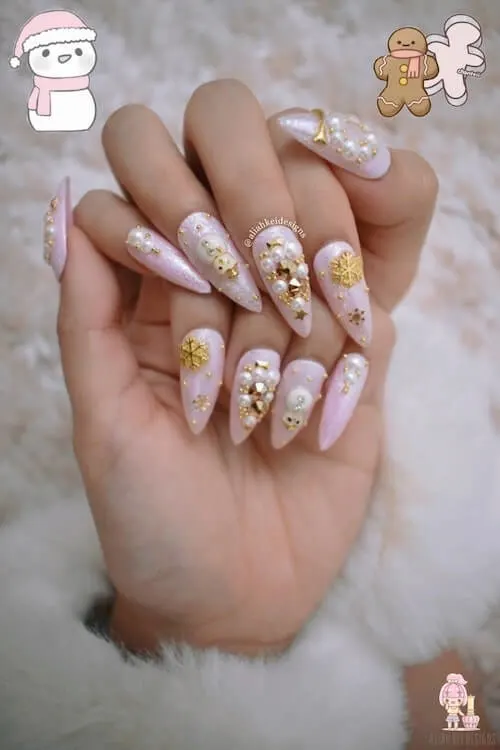 Festive Colors Pink Nails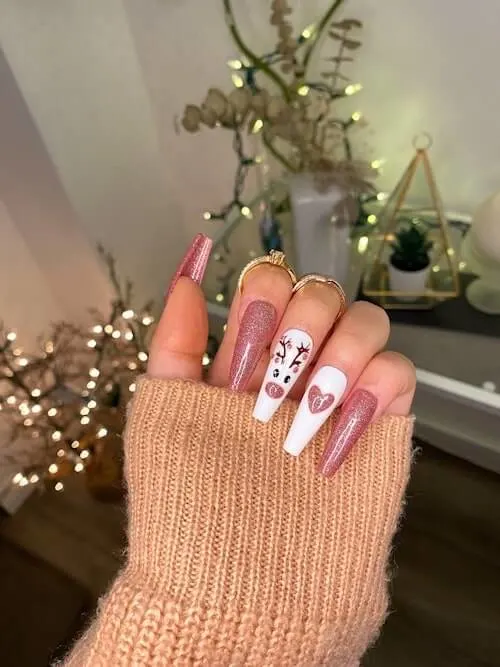 Pink Grinch Christmas Nails
Classic Baby Pink Dots Nails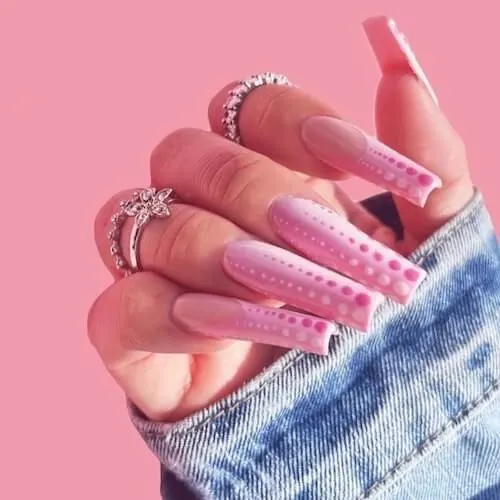 Pink Gingerbread Man Nails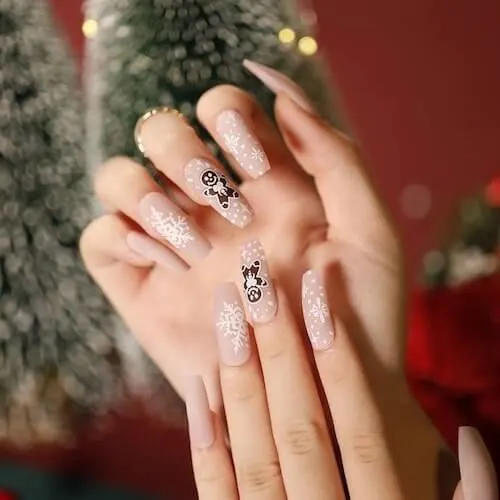 Simple White Colors And Pink Colors Nails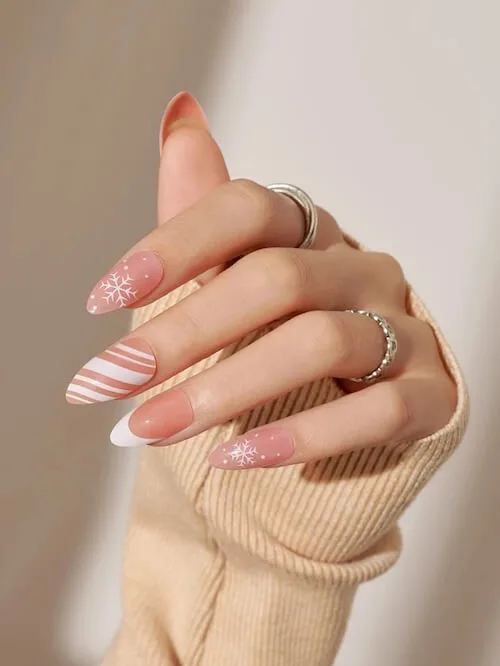 Minimal Pale Pink Christmas Tree Nail Ideas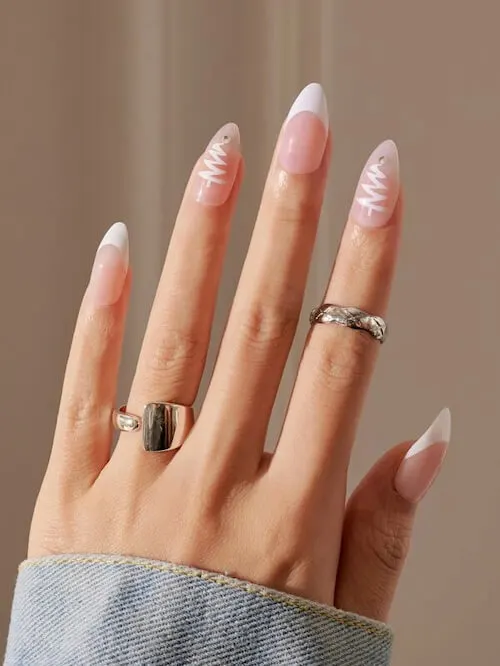 This post was all about pink Christmas nail ideas.
About The Author
Tracy is an experienced personal stylist, shopping expert, and fashion & lifestyle blogger. She has been featured on Time Magazine, Bustle, Best Life, Glam, The Zoe Report, Mic, and GOBankingRates, for her insights on fashion, beauty, home decor, and lifestyle. Read More
Related Posts: