Looking for the best green Christmas nail ideas? Check this post for the best green Christmas nails for different styles to copy directly for the coming holiday! From simple classy Christmas nails for a cozy holiday dinner to cute glitter nails for a Christmas party, we've got you covered!
Whether you're a seasoned nail art aficionado or simply looking for a fun way to embrace the spirit of the season, these gorgeous green Christmas nails are guaranteed to inspire your next manicure masterpiece.
From shimmering emerald glitters reminiscent of glistening pine trees to intricate holly leaf motifs that capture the essence of yuletide cheer, there's a green nail design for every style and preference.
This post may contain affiliate links, which means I'll receive a commission if you purchase through my link, at no extra cost to you. Please read the full disclosure here.
This post is all about green Christmas nail ideas.
Best Green Christmas Nails
Emerald Green Nail Designs
IG@gandziuchaa
Emerald green nail designs are the epitome of elegance and luxury, making them perfect for a festive holiday look.
This deep, rich shade of green instantly adds a touch of sophistication to any manicure.
Whether you opt for a sleek and shiny emerald green polish or incorporate the color into intricate nail art, this hue is sure to turn heads at any Christmas gathering.
One alluring design is an emerald green base adorned with shimmering gold accents, evoking visions of lush evergreen trees dusted with snow.
Alternatively, you can embrace the spirit of the season by incorporating delicate holly leaves or sparkling ornaments into your emerald green manicure.
Let your creativity run wild and explore various nail shapes and designs to find the perfect emerald green look that speaks to your unique style.
Red and Green Christmas Nail Art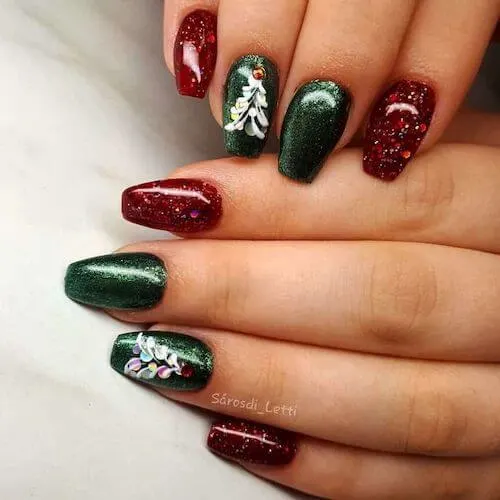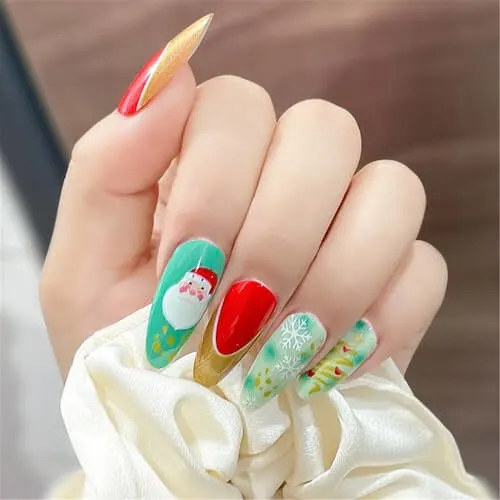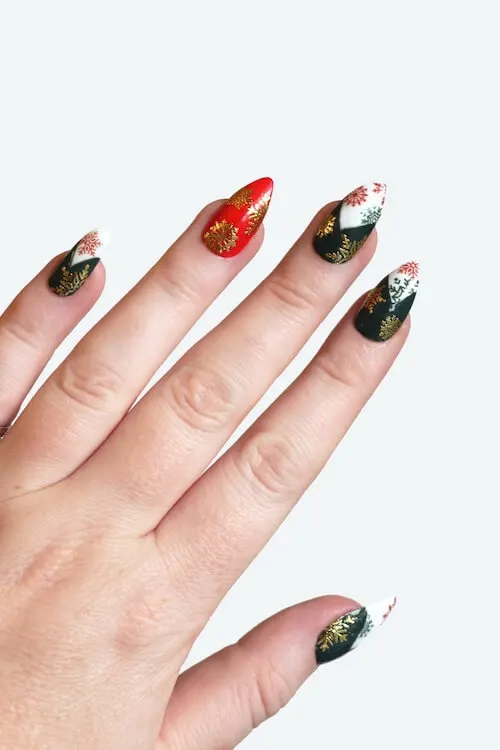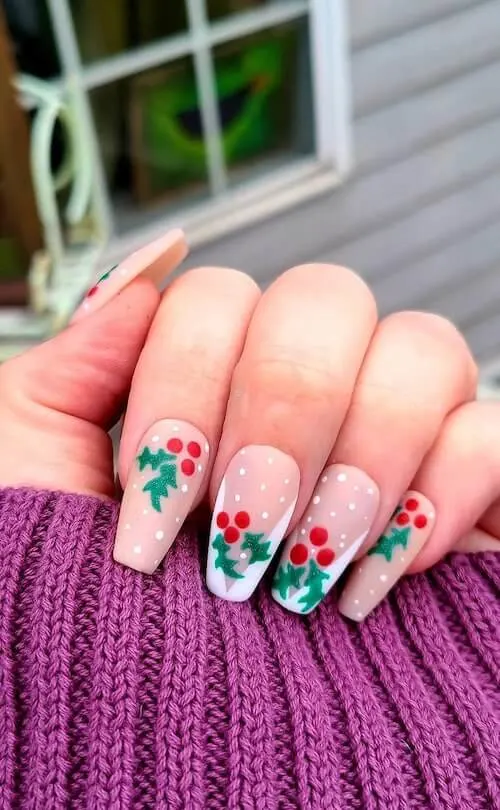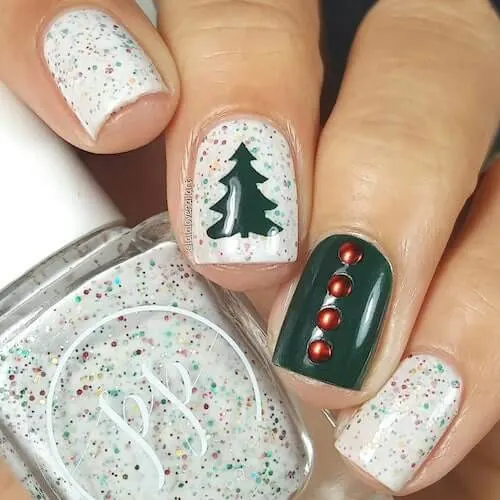 With Christmas just around the corner, it's time to get into the festive spirit with some stunning red and green Christmas nail art.
Embracing the classic holiday colors, red and green nail designs can add a touch of glamour and cheer to your overall look.
Whether you opt for traditional solid colors or playful patterns like candy canes or holly leaves, there's no limit to how creative you can get with these timeless hues.
One unique approach to red and green Christmas nail art is to create a stunning ombre effect that seamlessly blends the two colors together.
This creates a beautiful gradient that captures the essence of the holiday season.
Additionally, consider adding some glitter or shimmer accents to elevate your nail design and make it truly stand out during those festive gatherings.
If you're feeling extra adventurous, why not experiment with intricate designs such as plaid patterns or geometric shapes?
These eye-catching details will surely impress everyone at your next holiday party.
Christmas Green and Gold Nails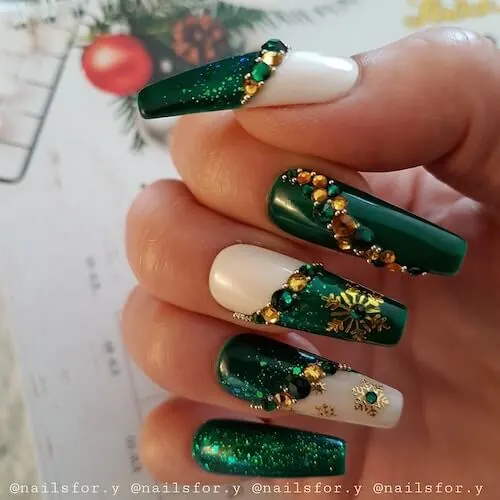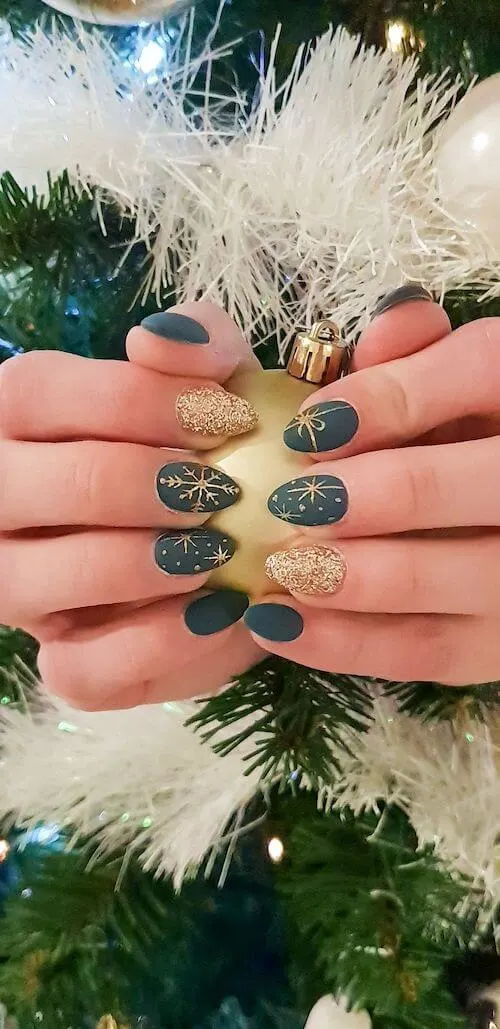 The combination of green and gold for Christmas nails is a timeless and elegant choice that never fails to make a statement.
The lush green shade evokes images of evergreen trees, symbolizing eternal life and renewal, while the dazzling gold adds a touch of opulence and luxury.
When these two colors come together on your nails, they create a stunning visual representation of the holiday season's festive spirit.
Opting for green and gold nails during the Christmas season allows you to channel nature's vibrant hues while incorporating a touch of glamour.
The lush green nail polish symbolizes growth, prosperity, and hope for the coming year, while the metallic gold glitter adds a hint of sophistication and sparkle.
With just these two shades, you can transform your nails into works of art that capture the essence of the holiday season in an utterly sophisticated way.
Festive Snowflake Nail Ideas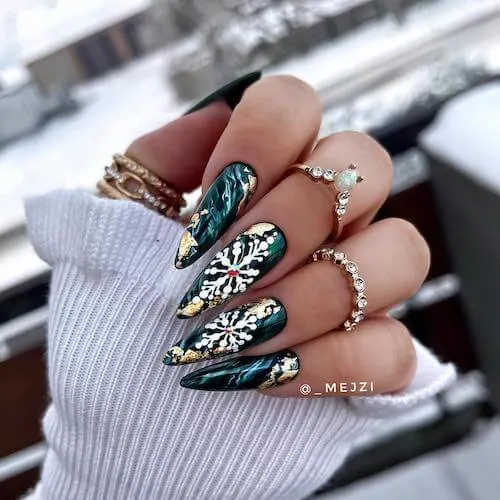 IG@_MEJZI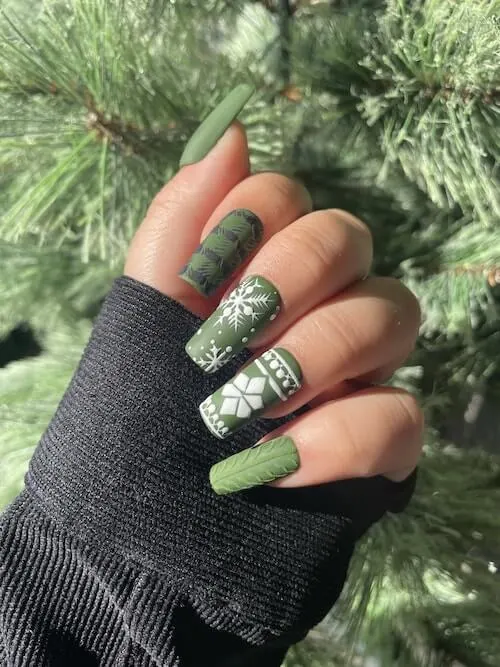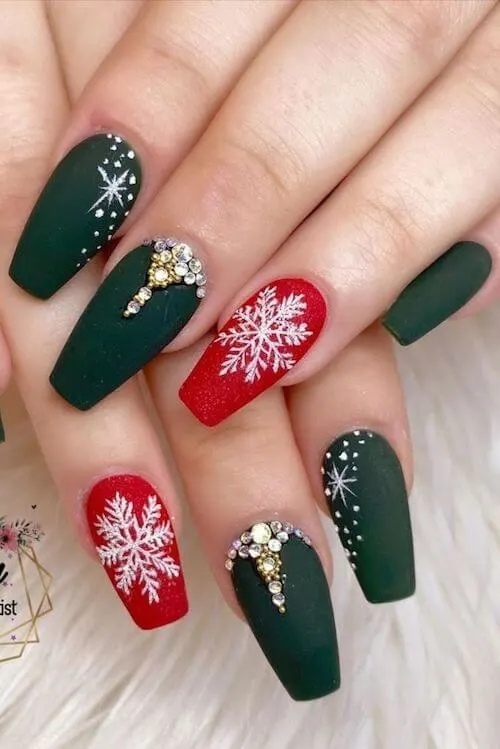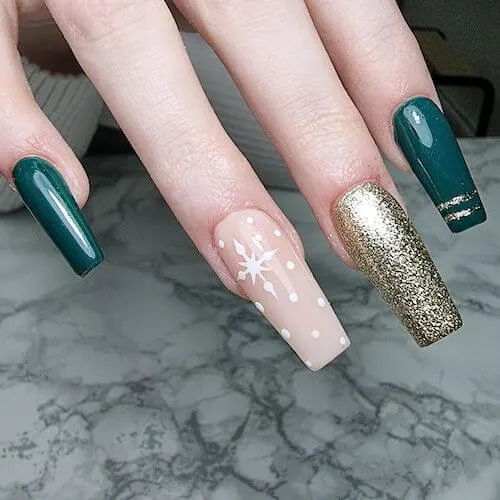 IG@botanico_salon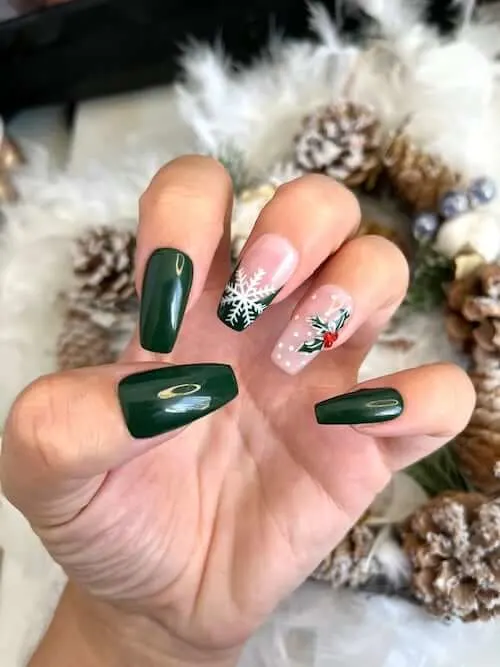 Snowflakes are a quintessential symbol of the winter season, and what better way to embrace their beauty than by incorporating them into your festive nail designs?
From delicate white snowflakes on a green base to intricate silver and gold accents, the options for snowflake nail ideas are endless.
Adding a touch of sparkle and shimmer with glitter or rhinestones can elevate your snowflake nails to a whole new level, creating a dazzling winter wonderland right at your fingertips.
When it comes to creating snowflake nail art, don't limit yourself to traditional designs.
Experiment with varying sizes, shapes, and placement of the snowflakes to achieve a unique and eye-catching look.
Whether you opt for an elegant and understated approach or go all out with bold and dramatic designs, snowflake nail ideas offer endless opportunities for expressing your festive spirit this holiday season.
Classic Christmas Tree Nail Designs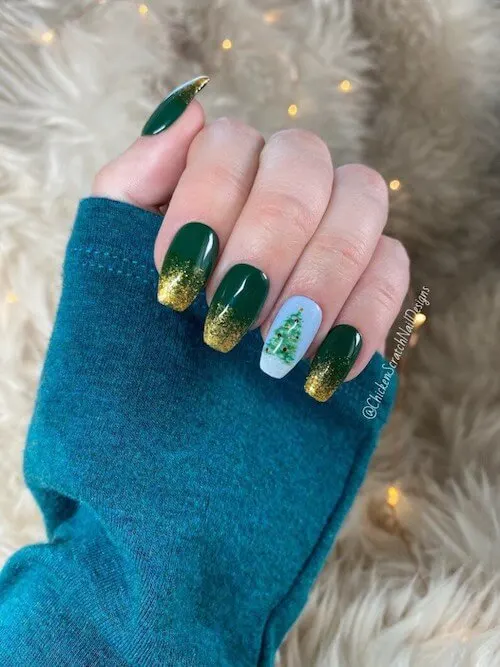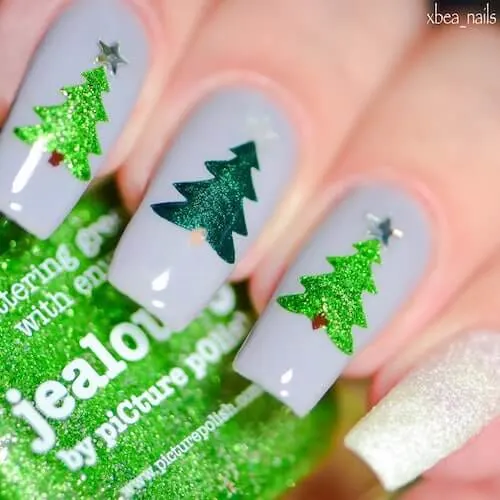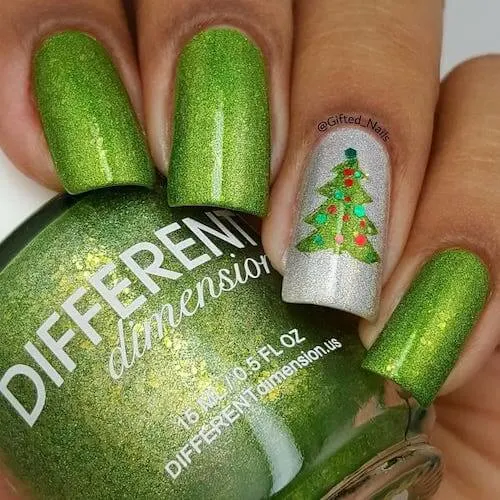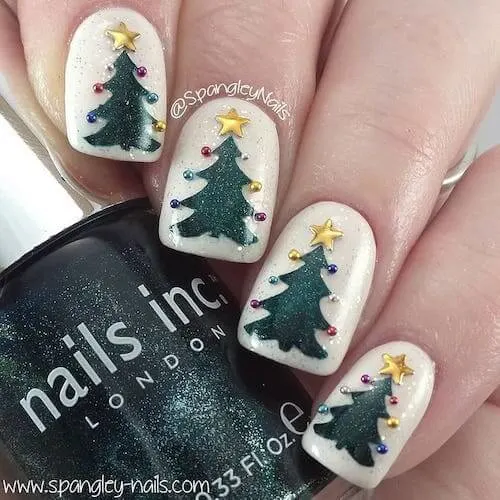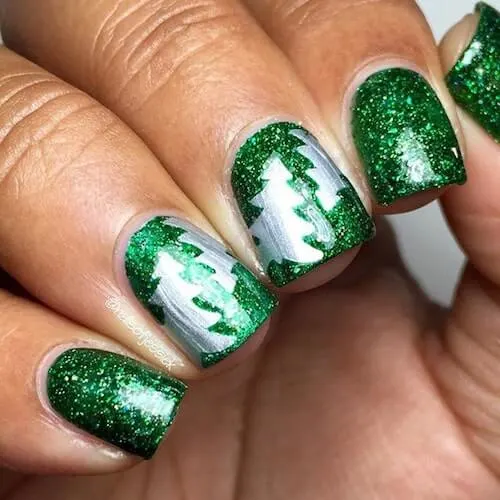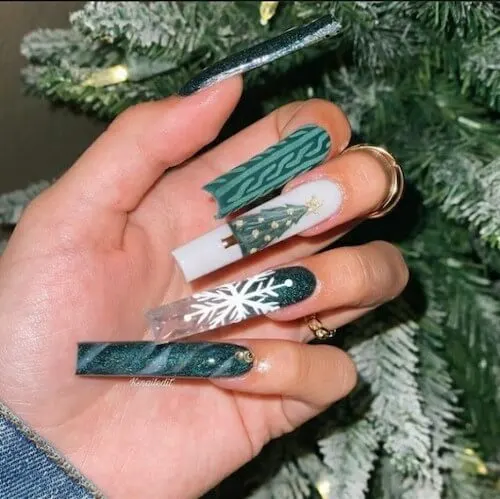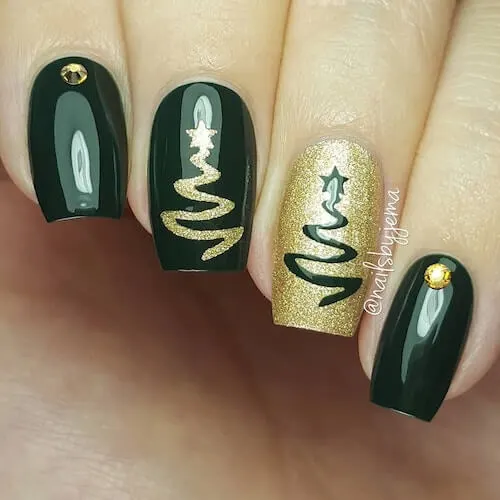 When it comes to classic Christmas nail designs, the traditional green Christmas tree is a timeless favorite.
There's a plethora of ways to depict this festive symbol on your nails, from simple and elegant to playful and whimsical.
Consider opting for an evergreen base and adding delicate gold or silver embellishments to evoke the spirit of the season.
Alternatively, you can go all out with intricate hand-painted Christmas tree designs complete with colorful ornaments and twinkling lights.
Whether you prefer a subtle nod to the classic tree or an elaborate statement piece, there are endless possibilities for incorporating this iconic image into your holiday manicure.
For those looking for a modern twist on the classic Christmas tree nail design, experimenting with different shades of green can offer a fresh approach.
Instead of sticking to traditional pine green, consider shades like sage or emerald for a sophisticated update.
Additionally, incorporating negative space techniques or minimalist line art can give the timeless Christmas tree motif a contemporary edge.
Using Glitter in Green Christmas Nail Art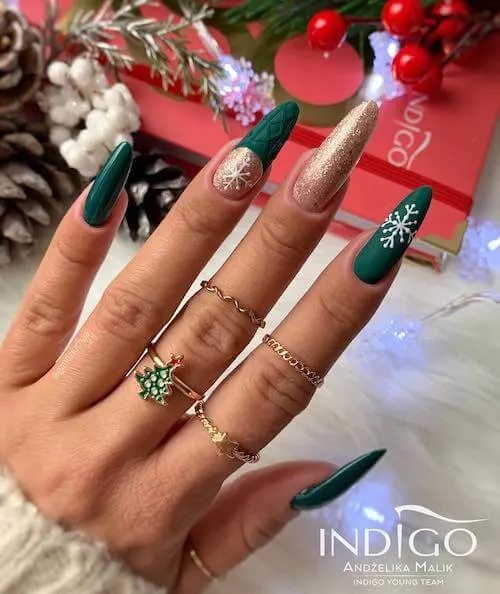 IG@gandziuchaa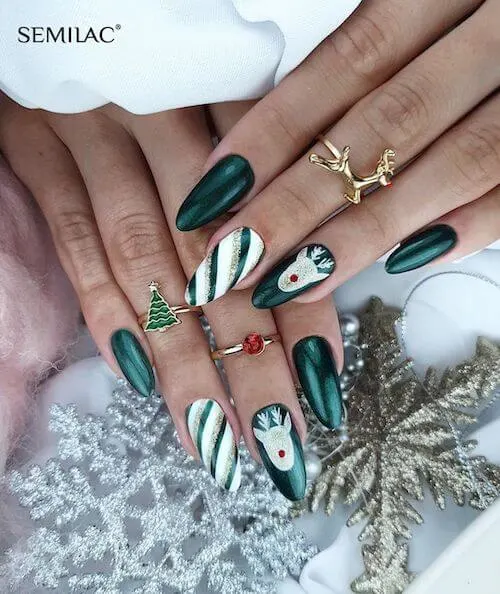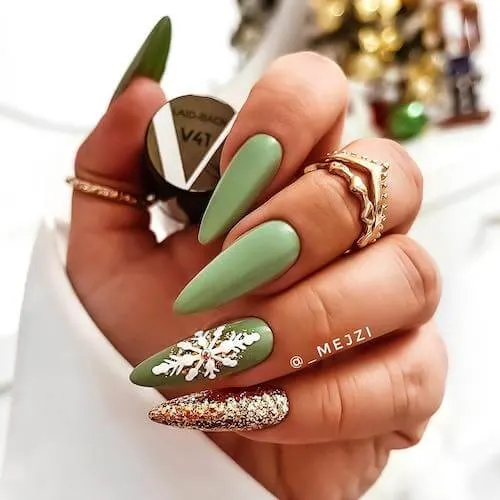 IG@_MEJZI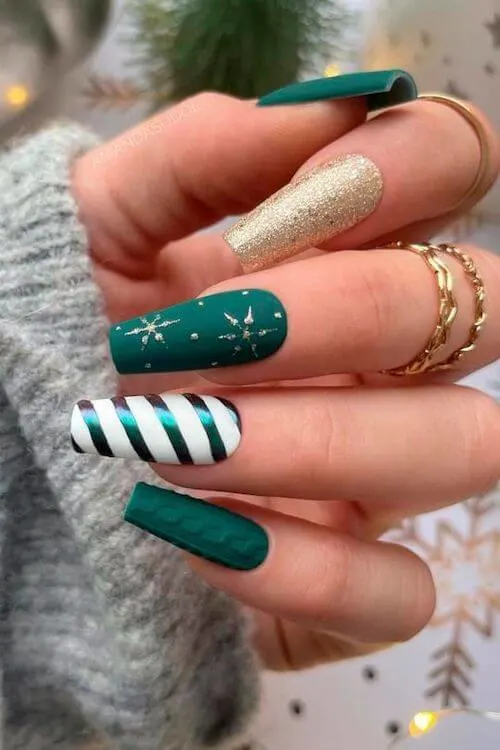 Using glitter in your green Christmas nail art can elevate your holiday manicure to a whole new level.
The sparkle and shine of glitter create an enchanting and festive look that is sure to turn heads at any holiday gathering.
By incorporating glitter into your green Christmas nail design, you can add dimension and texture, making your nails stand out from the crowd.
One way to use glitter in your green Christmas nails is by applying it as an accent.
You can add a touch of glitter to a single nail or create a gradient effect by fading the glitter from the tip of the nail toward the base.
This technique adds a pop of glamour while still keeping the overall look sophisticated and classy.
Additionally, consider using different shades of green glitter to create depth and interest in your design, adding visual appeal while maintaining the traditional holiday theme.
Festive French Tip Christmas Nail Ideas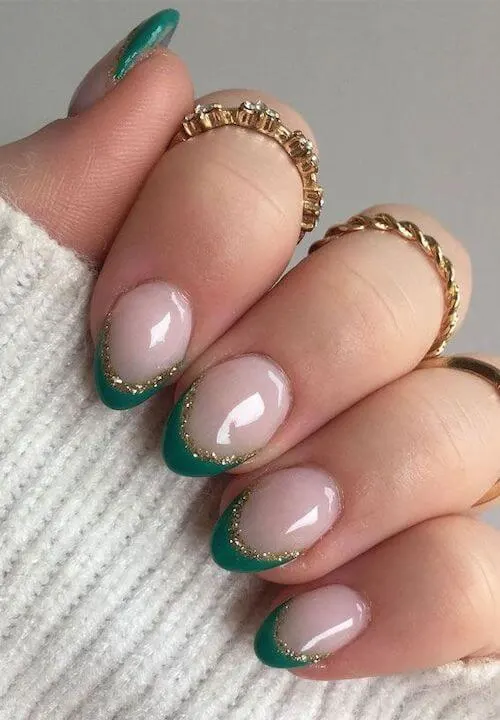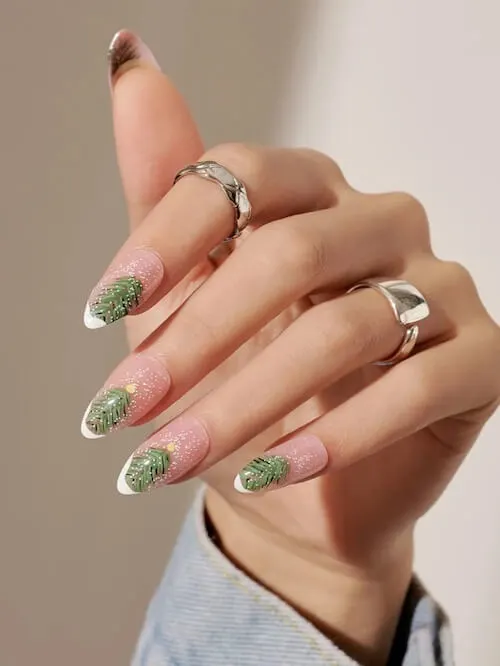 The timeless elegance of French tips meets the festive spirit of Christmas in these stunning nail art ideas.
Embrace the traditional red and green color scheme with a twist by adding delicate white French tips to your nails.
The classic combination of white and red can be complemented with subtle hints of glitter or shimmer, creating a glamorous yet sophisticated look.
For an extra touch of holiday flair, consider incorporating miniature holly leaves or snowflakes into your French tip designs.
These small details can instantly elevate your Christmas nail game while keeping the overall aesthetic chic and polished.
Whether you opt for a sleek almond shape or prefer a shorter square style, French tip Christmas nails are versatile enough to suit any preference.
With their timeless appeal and festive charm, these designs are sure to make a statement at any holiday gathering.
Adding Gold Accents to Green Christmas Nails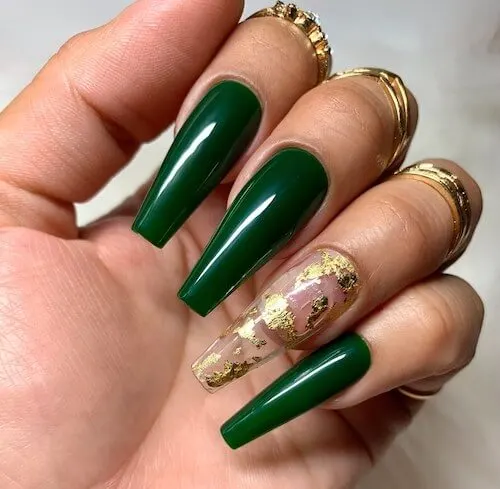 Adding gold accents to green Christmas nails can elevate your festive nail look to a whole new level.
The combination of the lush green hue with glistening gold creates a rich and luxurious aesthetic that exudes elegance and glamour.
Whether you opt for delicate gold foil detailing, chic metallic stripes, or dazzling glitter, the addition of gold accents can instantly transform your nails into a statement accessory for the holiday season.
With the right balance of green and gold, you can create a stunning visual contrast that captures the spirit of Christmas with a touch of sophistication.
The shimmering allure of gold against the vibrant backdrop of green evokes feelings of opulence and celebration, making it an ideal choice for those who want to make a bold yet refined style statement this festive season.
Embracing this trend allows you to infuse your manicure with a sophisticated sparkle that complements any holiday outfit or occasion, adding an extra layer of charm and allure to your overall look.
Chic Green And White Christmas Manicure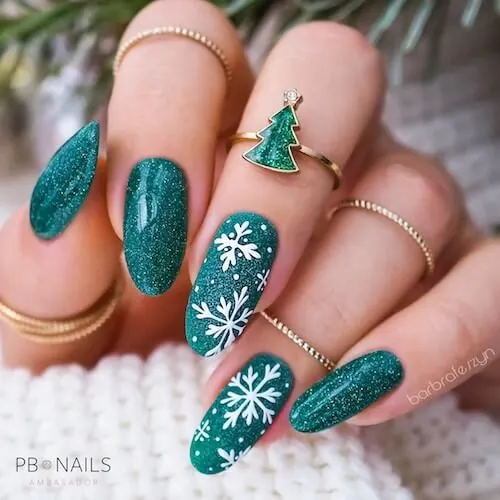 IG@pb_nails_poland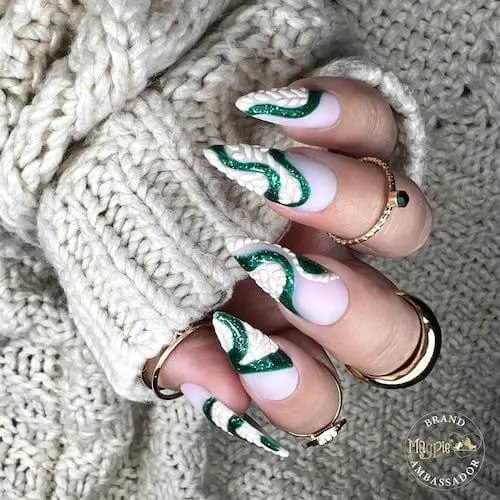 IG@redheadnails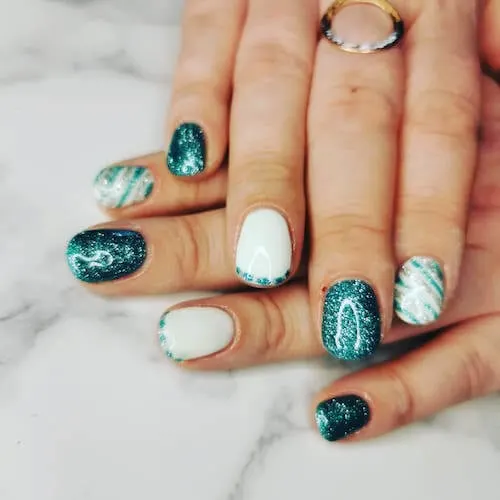 IG@nadesnailsandbeauty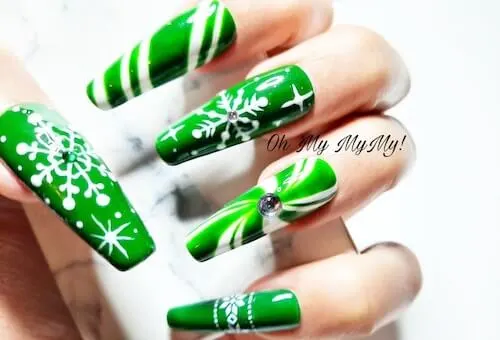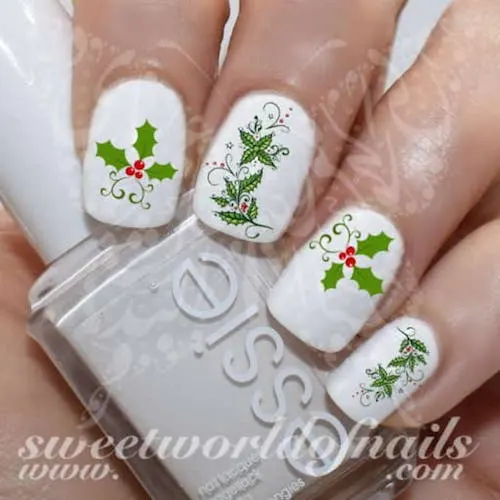 The chic combination of green and white for a Christmas manicure is the epitome of modern holiday elegance.
The timeless contrast of these two hues brings a refreshing and sophisticated touch to traditional festive nail designs.
Whether you opt for a subtle accent nail or a bold geometric pattern, the versatility of green and white allows for endless creativity in your holiday nail art.
From classic evergreen shades to minty pastels, the spectrum of green offers options to suit every taste and style.
Paired with crisp white accents, this color pairing exudes an air of serenity and simplicity that beautifully captures the essence of the season.
A minimalist approach with sleek lines or delicate snowflake details can add a touch of winter wonderland charm to your manicure, making it perfect for both casual gatherings and formal celebrations.
Embrace the chic allure of green and white this holiday season with a festive manicure that embodies understated sophistication and understated beauty.
Cute Christmas Sweater Nails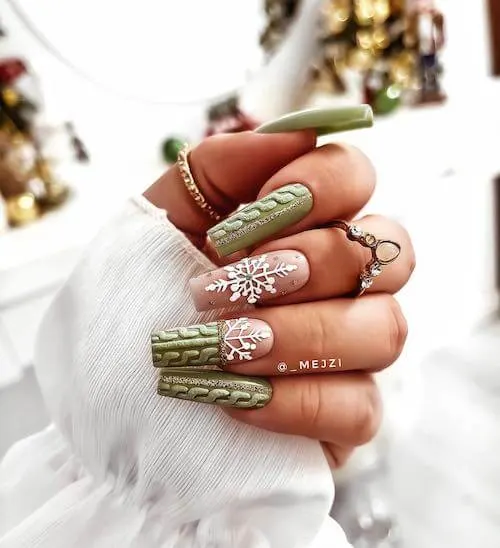 IG@_MEJZI
Deck the nails with boughs of holly! This holiday season, why not rock some adorable Christmas sweater nails to match the festive spirit?
These cute nail designs feature intricate patterns and motifs inspired by cozy winter sweaters, complete with tiny snowflakes, reindeer, or even jolly Santas.
Perfect for adding a touch of whimsy to your holiday ensemble, these nails are an instant conversation starter at any gathering.
Whether you opt for a classic red or green background or mix it up with some pastel hues, Christmas sweater nails are the ultimate way to showcase your seasonal style.
The best part about these charming nail designs is their versatility – they can be tailored to suit any personal style or nail length. From short and sweet manicures to long and dramatic talons, the options are as endless as Santa's gift sack.
Plus, don't forget the opportunity for creativity and self-expression that comes with experimenting with different color combinations and patterns.
Whether you're attending a family dinner or hitting up a festive soiree, sporting these delightful Christmas sweater nails is sure to spread joy wherever you go!
Festive Ornament Nail Art Inspirations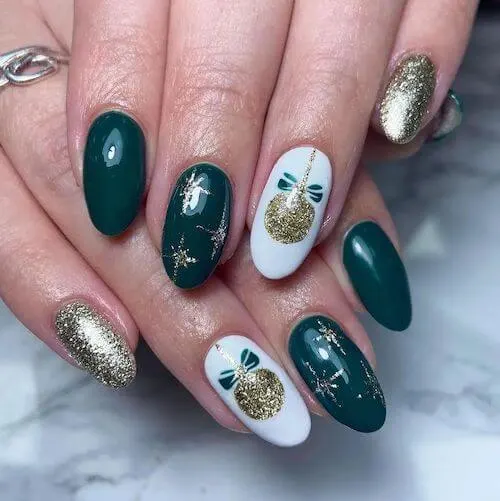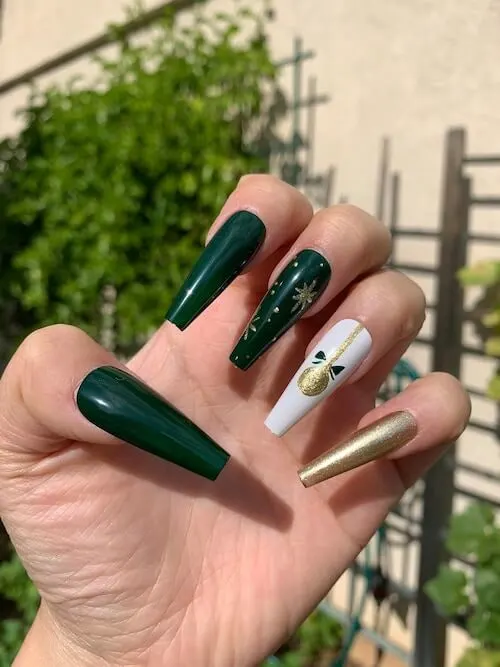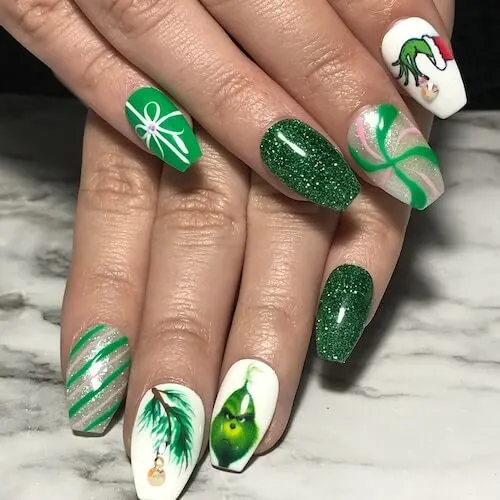 Get ready to add some festive flair to your holiday nail art with these stunning ornament-inspired designs.
From classic Christmas balls to intricate bauble patterns, there are endless ways to bring the spirit of the season to your fingertips.
Whether you're a fan of simple elegance or bold and bright colors, these nail art inspirations have something for everyone.
Embrace the magical charm of the holidays by incorporating shimmering metallics, glittery accents, and delicate hand-painted details into your nail ornaments.
Experiment with various shapes and sizes to create a personalized look that reflects your unique style.
From traditional red and green hues to sophisticated golds and silvers, there's no limit to the creativity you can unleash with these festive ornament nail art inspirations.
Let your nails become a canvas for celebrating the most wonderful time of the year in style!
Short Green Christmas Nail Designs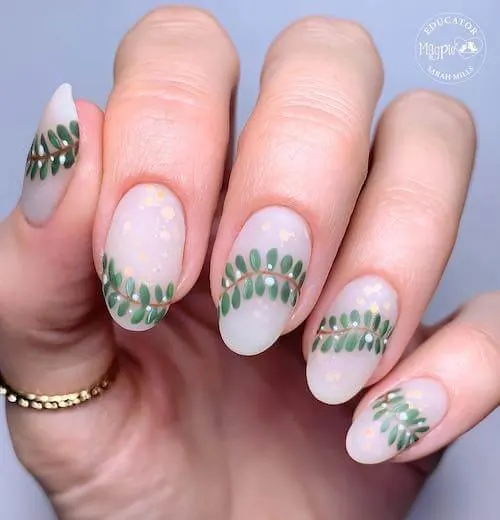 IG@bysarahnailartist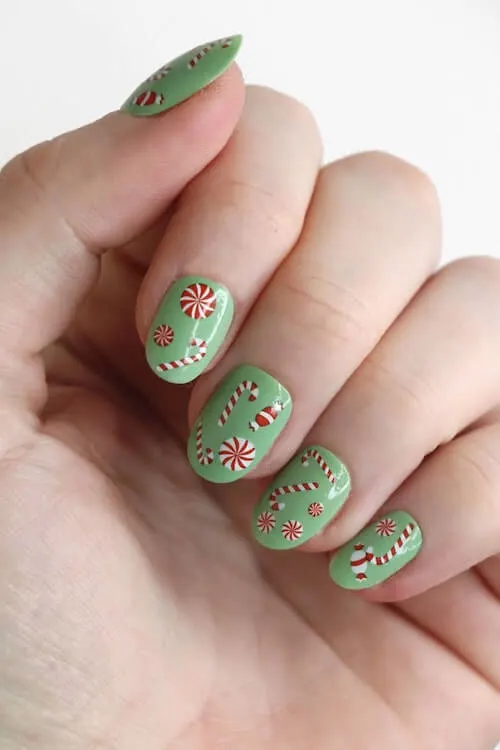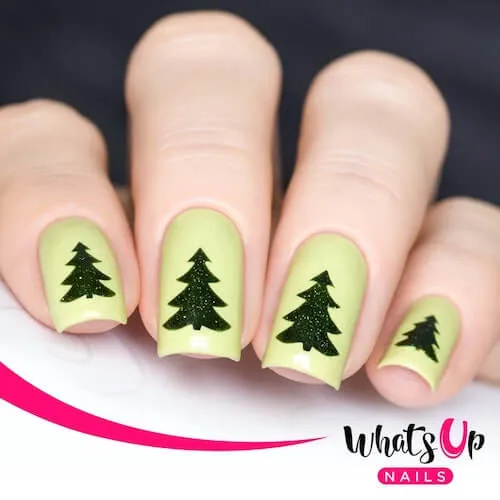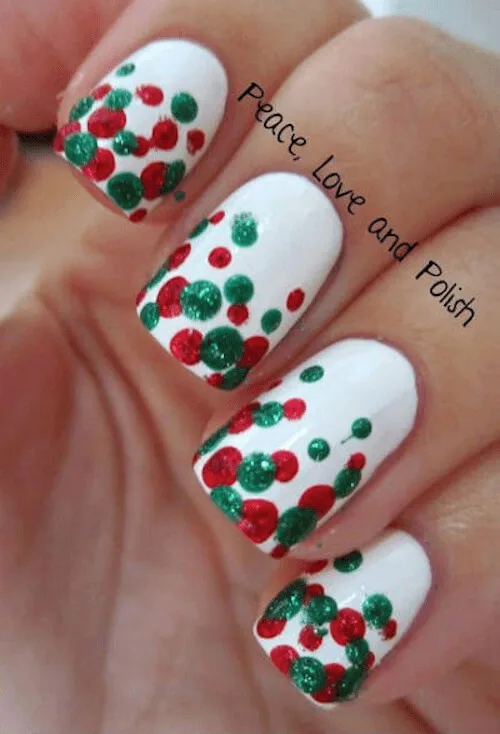 Deck the halls with boughs of holly and your nails with stunning short green Christmas designs! Embrace the festive spirit by adorning your nails with evergreen hues that capture the essence of the holiday season.
Short nail designs offer a perfect canvas to showcase intricate details and intricate patterns, allowing you to express your individual style and creativity during this merry time of year.
From classic shades of forest green to shimmering emerald accents, there's an array of possibilities to explore when it comes to bringing a touch of Christmas charm to your manicure.
One delightful option for short green Christmas nail designs is a minimalist approach using delicate snowflakes or twinkling stars on a pale green background, evoking the serene beauty of a winter wonderland.
Another enchanting choice is incorporating elegant holly leaf motifs paired with crimson berries for a timeless touch that pays homage to traditional holiday symbols.
Adding glittery touches or metallic accents can elevate these designs, creating an alluring sparkle reminiscent of the magic in the air during Christmastime.
Whether you prefer refined simplicity or bold glamour, short green Christmas nail designs provide endless opportunities for expressing seasonal cheer right at your fingertips.
Green Christmas Color Long Nails
IG@pb_nails_poland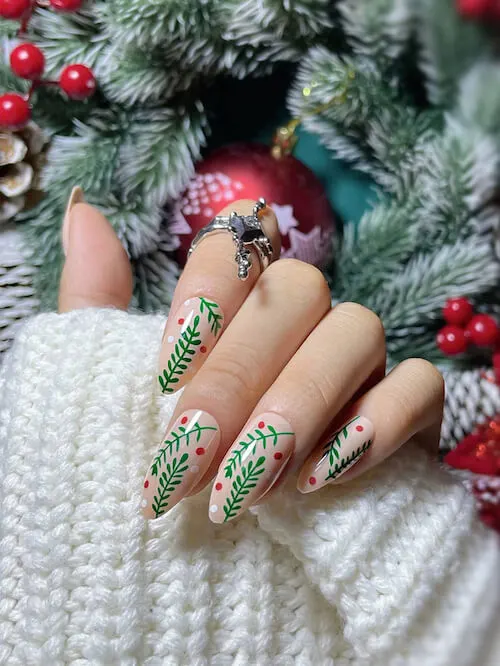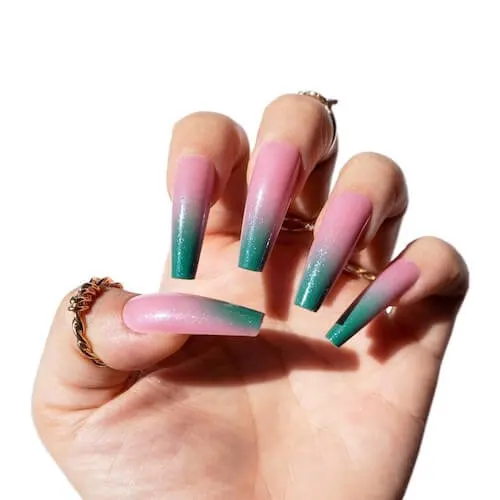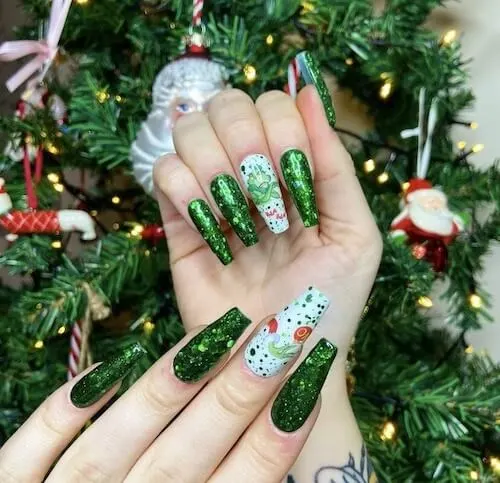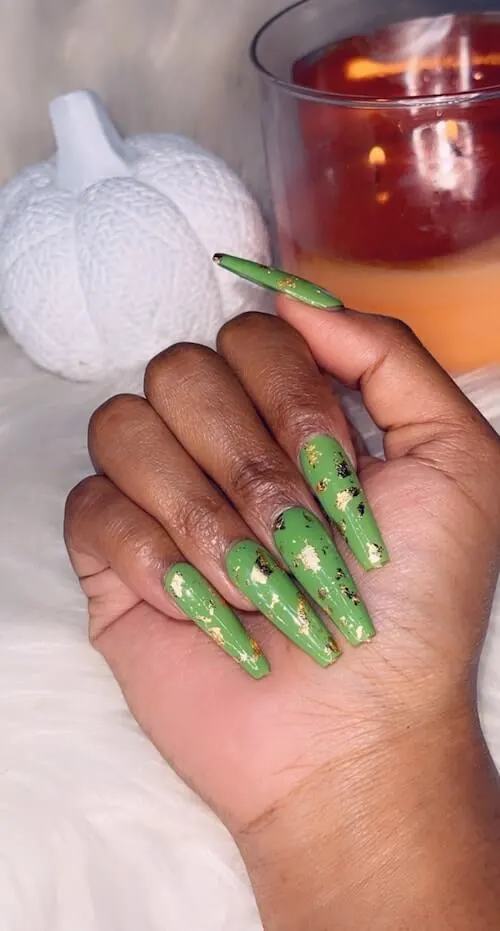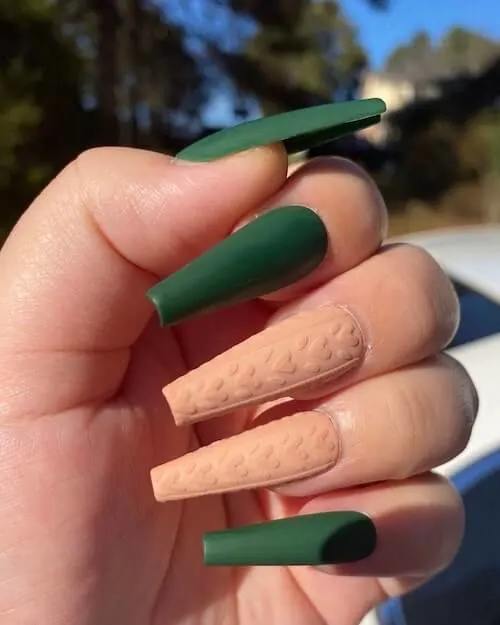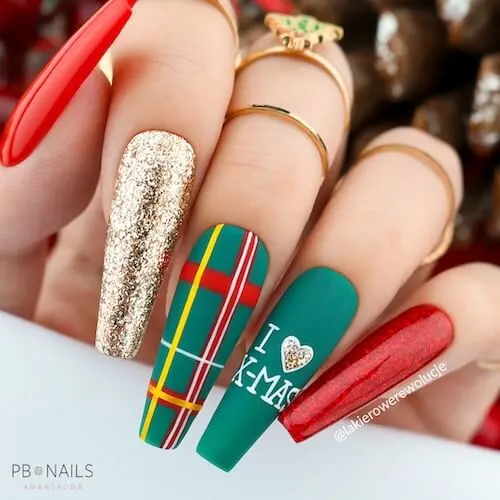 IG@lakierowerewolucje
When it comes to holiday nail designs, green is the ultimate color of the season.
And what better way to embrace the festive spirit than with long green nails that capture the essence of Christmas?
Long nails offer a perfect canvas for creating intricate and eye-catching designs, whether you opt for a shimmering emerald hue or a deep forest green.
From elegant and timeless looks to bold and creative patterns, there's no limit to the stunning nail art you can achieve with long green nails during the holiday season.
One exciting trend in green Christmas nail art is incorporating traditional symbols of the season, such as evergreen trees, holly leaves, and festive wreaths.
By blending these classic elements with modern nail techniques like 3D embellishments or ombre effects, you can elevate your manicure to a whole new level of sophistication.
Additionally, experimenting with different shades of green—from minty pastels to rich jewel tones—allows for endless possibilities in creating unique and personalized Christmas nail looks that are sure to dazzle throughout the holiday celebrations.
So this year, go beyond typical red and gold hues and embrace the enchanting allure of long green nails for an unforgettable Christmas manicure!
Best Tips For Perfect Green Christmas Manicure (with Videos)
If you're deciding between going to a nail salon or doing your own Christmas nails at home, both options are fantastic.
For those interested in creating their own festive nail designs, I recommend checking out two tutorial videos that I personally love.
These videos will guide you in choosing the best technique for achieving the perfect green Christmas nail design.
This post was all about green Christmas nail ideas.
About The Author
Tracy is an experienced personal stylist, shopping expert, and fashion & lifestyle blogger. She has been featured on Time Magazine, Bustle, Best Life, Glam, The Zoe Report, Mic, and GOBankingRates, for her insights on fashion, beauty, home decor, and lifestyle. Read More
Related Posts: