Looking for the best green Christmas nail ideas? Check this post for the best green Christmas nails for different styles to copy directly for the coming holiday!
Christmas is coming. It is the most wonderful time of the year.
Have you been carefully preparing Christmas gifts for family members and friends, carefully preparing Christmas dresses, and thinking about what cute clothes to wear on Christmas day?
If you want to dress up for Christmas, in addition to cute clothes, you must have a manicure that suits the Christmas mood. Beautiful Christmas nail designs can take your look to the next level.
Among the many beautiful nail polish colors for Christmas, green is a classic color. In addition to being perfect for painting Christmas classics like the Christmas tree, they can also be paired with other pretty nail polish colors for a colorful winter holiday nail design.
If you are looking for trendy green Christmas nail designs to copy this year, you've come to the right place!
In today' article, I am sharing with you perfect green nail polish Christmas nails that you can copy directly, and I am also sharing with you easy-to-use press on green Christmas nails and nail stickers with cute designs that to make it convenient for you.
So scroll on to check these best Christmas nail designs with green nail polish, and don't hesitate to pin them to your Pinterest board, and share them on social media sites.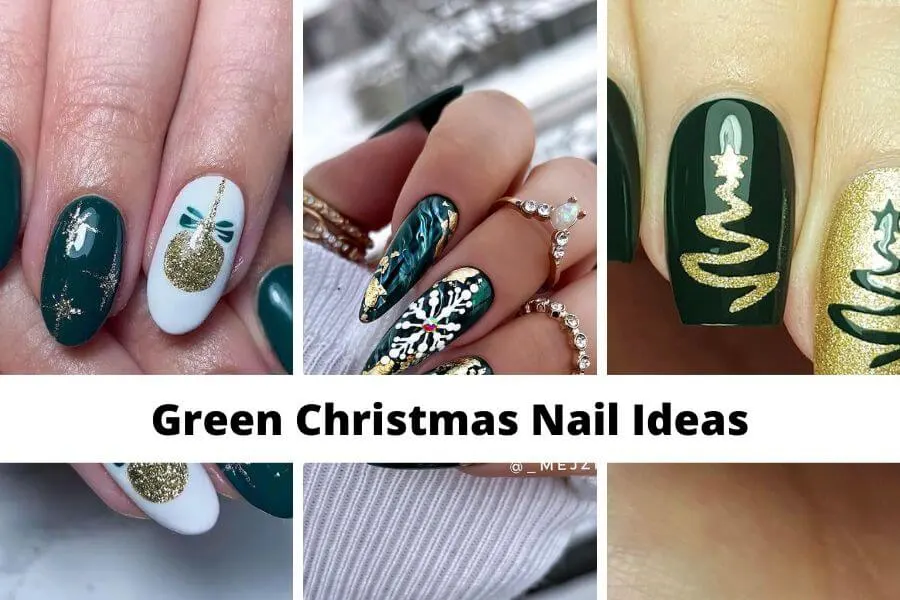 This post may contain affiliate links, which means I'll receive a commission if you purchase through my link, at no extra cost to you. Please read the full disclosure here.
This post is all about green Christmas nail ideas.
Is Green A Good Color For Christmas Nails?
Yes. You can never go wrong with a green nail design for Christmas. Green Christmas nails are so classic and timeless.
You can add more festive touches to your fingertips on Christmas Day with green nail polish.
You can also use green and other classic Christmas colors such as red, white and dark blue to add more beautiful visual details to your look.
It is also very popular to use gold foil and rhinestones to match green nail polish for your nails, so that the Christmas nail design will be more gorgeous.
If you like minimalist designs, green minimalist nail art can make a difference.
More importantly, there are so many different green shades to choose from for your holiday nails.
Light green, dark green, and neon green are all very fashionable and beautiful, bringing more good mood to your holiday time.
Best Green Christmas Nail Ideas
Choosing a beautiful green nail polish is a key step in creating a great Christmas nail design. So, how to draw the best green Christmas nail designs?
If you want a simple style, you can paint green nail polish on most of your nails, then choose one or two nails with a different color, such as red or gold. Such a color scheme is very elegant and has a strong festive vibe.
You can also paint your nails with classic Christmas elements, such as Christmas gift boxes, Christmas decorations, Santa Claus, reindeer, etc., to make your nail design even more adorable.
Going a step further, you can add decorations like rhinestones and gold foils. These awesome details will make your hands even more beautiful under the Christmas lights.
Want more inspiration? Scroll on to check our favorite green Christmas nail ideas.
Red And Green Christmas Nail Ideas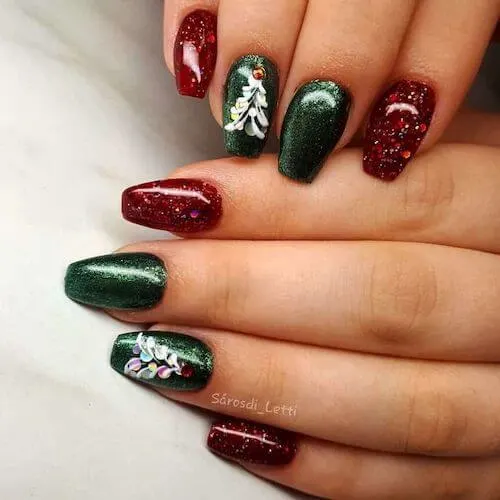 This nail design adds a white Christmas tree to the classic red and green Christmas nails.
When drawing the Christmas trees, remember not to repeat a certain line, so that the pattern drawn will be more clear and delicate.
Green And Gold Christmas Ornament Nails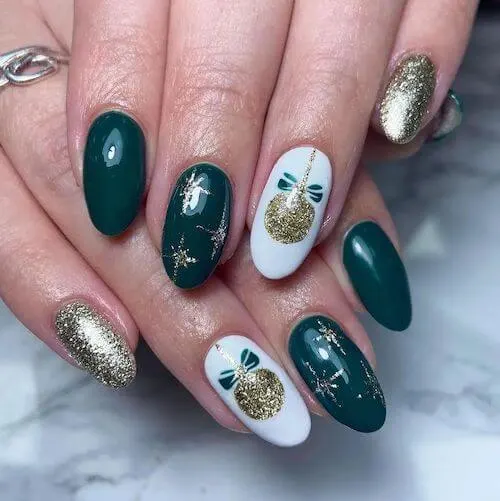 The pattern of this design is simple but classy. The white base makes the whole design look fresher.
Cute Little Reindeer and Candy Cane Stripes Nails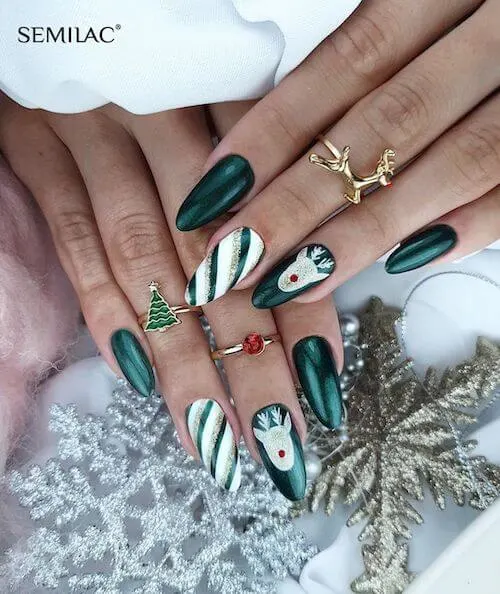 via Pinterest
This design has a hint of gold on green nail polish for a more festive look without being tacky.
Green Red Rhinestones Holiday Nail Art Designs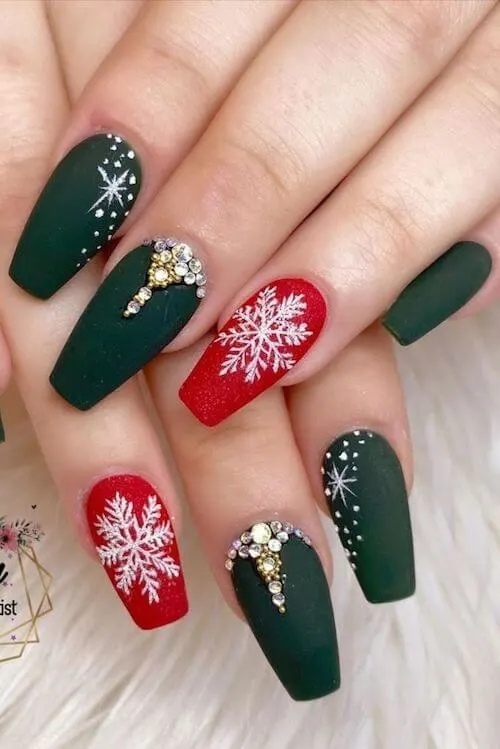 via Pinterest
The use of rhinestone makes the design look more sparkling.
Polka Dots Green Red White Nail Designs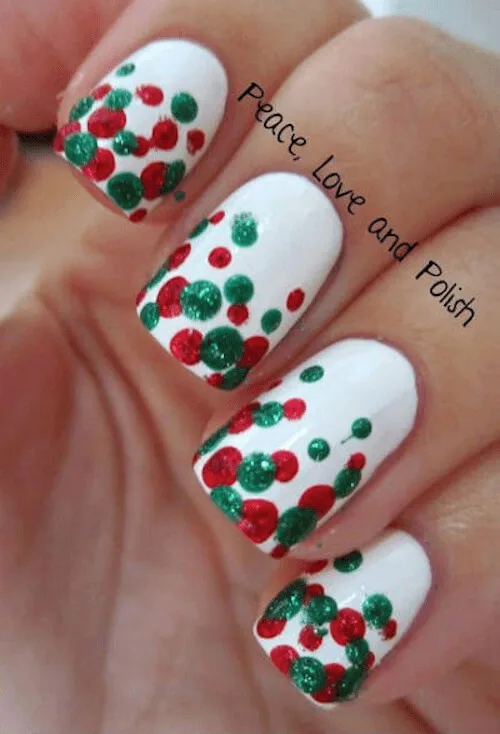 via tumblr
Gather the polka dots slightly towards the fingertips to make your fingers look longer.
Green and Gold Stars, Gift Box, and Gold Snowflakes Nails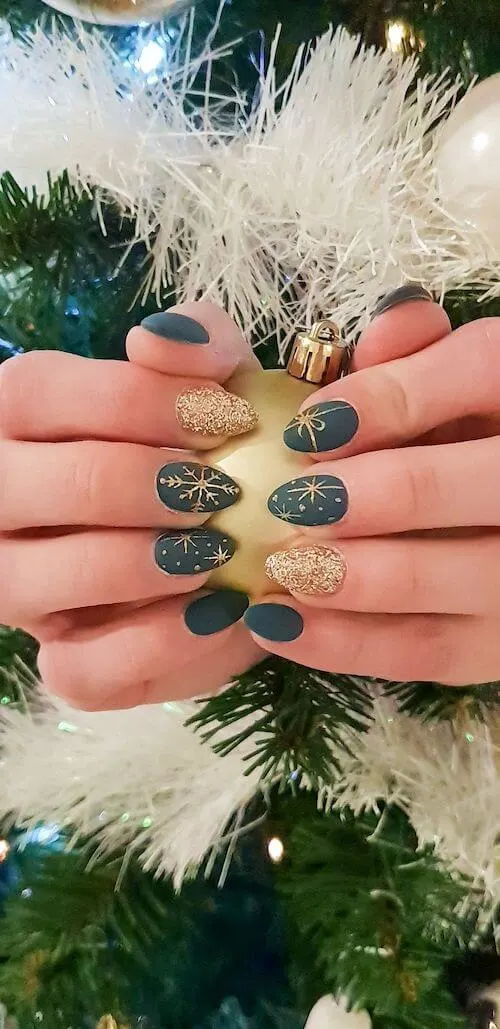 via Pinterest
Although this design includes many Christmas patterns, only two nail polish colors, gold and green, are selected, so the design does not look messy at all.
Green and White Christmas Nail Ideas With Polar Bear
This is such a cute holiday nail look!
Christmas Spirit Snowflakes Nails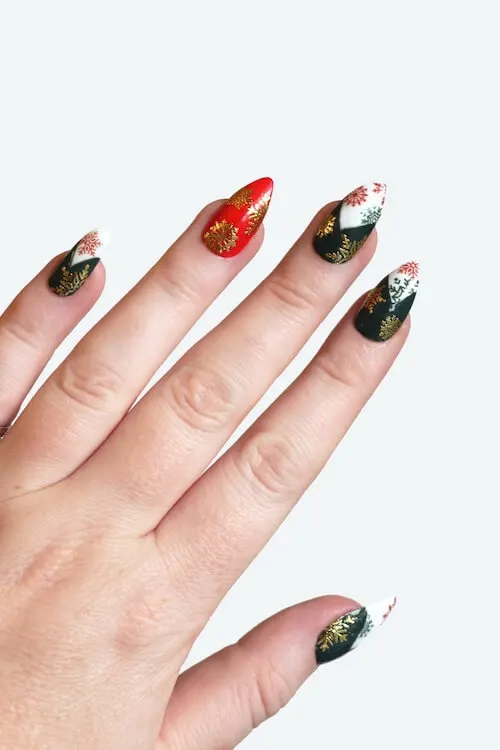 Snowflake patterns are one of the classic elements of winter festive nail designs. This nail design is very unique and beautiful.
Rhinestones Merry Manicure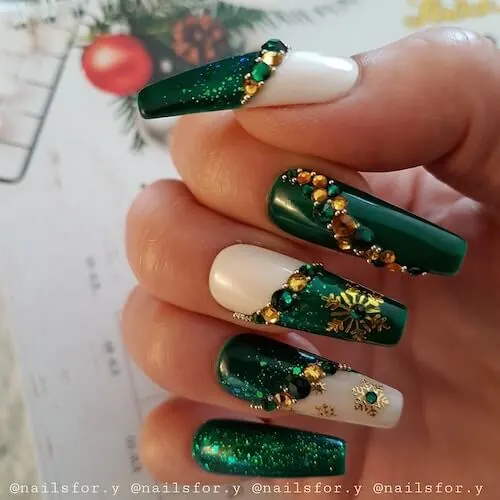 This is a stunning holiday nail idea perfect for Christmas parties.
Green Pink Color Nails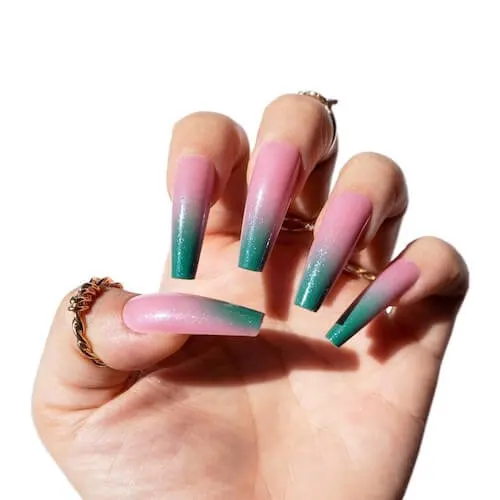 Looking for a romantic holiday nail idea? Try this one above.
Gold Foil Green Christmas Nail Art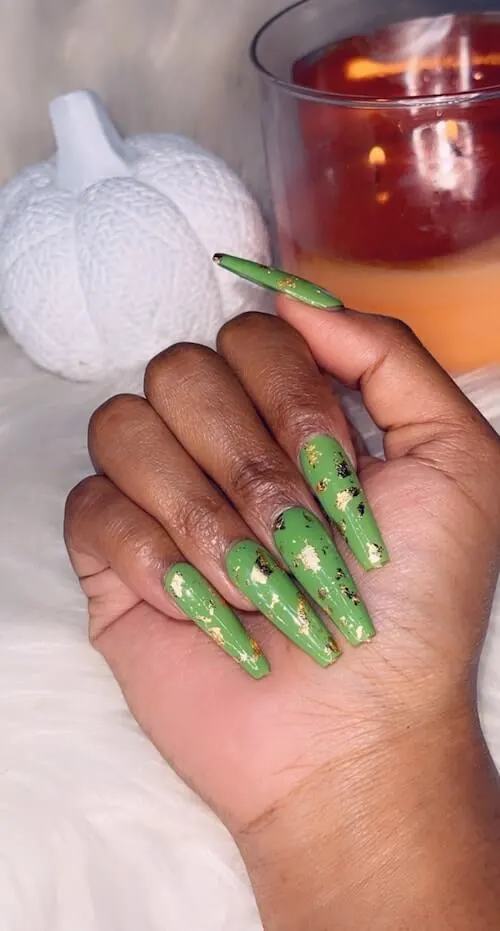 This nail design chooses a lighter green, with gold foils embellishment, which looks vivid and lovely.
Green Gold Gorgeous Christmas Nails
Looking for the simplest but gorgeous green and gold Christmas nails? This one above is perfect for you.
Santa Claus Almond Nails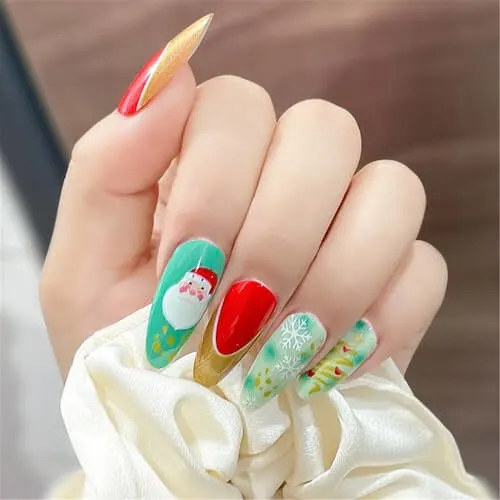 I absolutely love the design of this nail. It reminds me of happy childhood days.
Grinch Green Christmas Nail Designs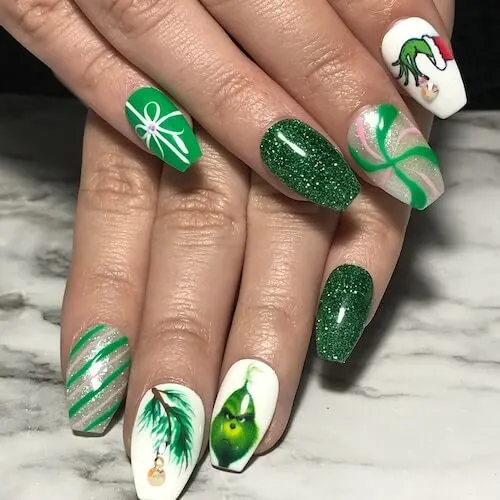 What a funny green Christmas nail idea!
Forest Green Ornament Nails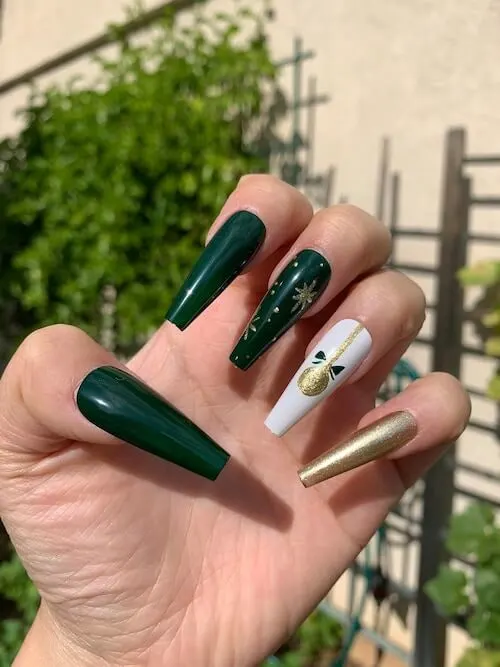 This is a perfect choice to pair with any Christmas outfit, from casual wear to formal attire.
Emerald Green Nude Christmas Sweater Nails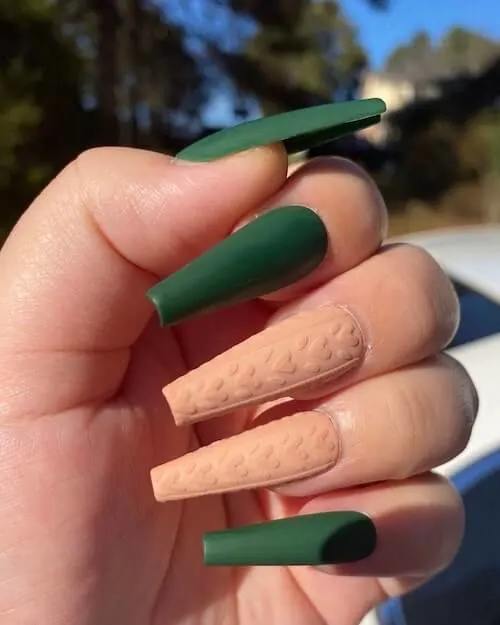 Sweater nails always make people feel very warm in the winter season. I love the matte designs, so chic.
Green & Gold Abstract Floral Nails
I love to add some spring mood to the holiday nails, like the one above.
Emerald Green Gold Nails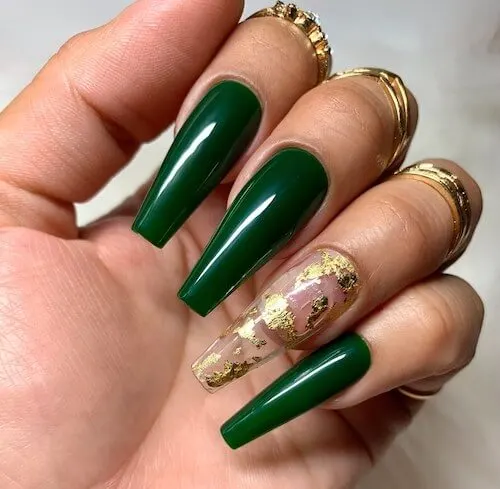 Nail designs that are elegant yet trendy are always a hit in holiday season. They make you look so good.
Emerald Green Foil Nails
Are you obsessed with emerald green nail designs this year? They are very popular now.
Add a touch of gold detailing to complement your gold rings even better.
Gold Green and White Christmas Nails
If you want to liven up the gold and dark green combination, the easiest way to do it is to add white.
Kiss Me Under the Mistletoe Matte Nails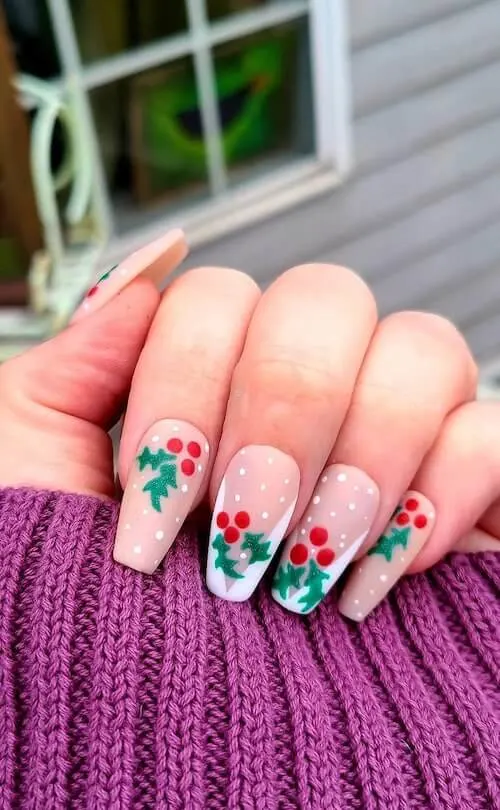 This idea is cute and romantic.
Classic Red, Gold And Green Nails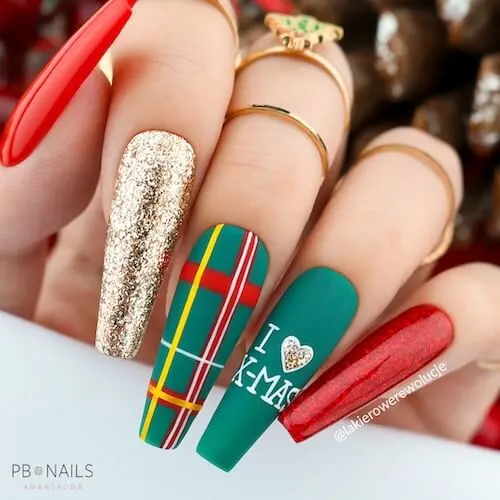 I love the plaids and I love X-MAS designs. And the perfect gold details bring the whole design to the next level.
Elevated French Tip Christmas Nails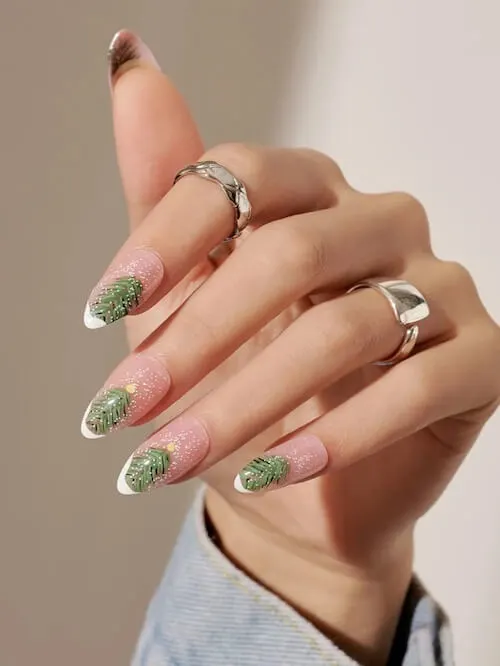 Don't you want to have a wonderful Christmas forest?
Emerald Green Christmas Nail Designs
Even on a dull winter day, Christmas nail designs can be playful.
Add a gradient of color, and it instantly makes a difference.
Green And Pink Leaf Pattern Christmas Nail Art Designs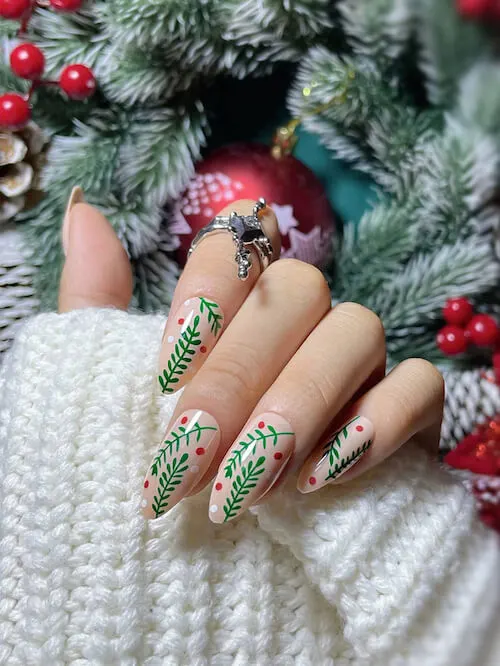 This pattern is really exquisite. Looks great with dark or light colored clothes.
Green Gold Nude Christmas Nails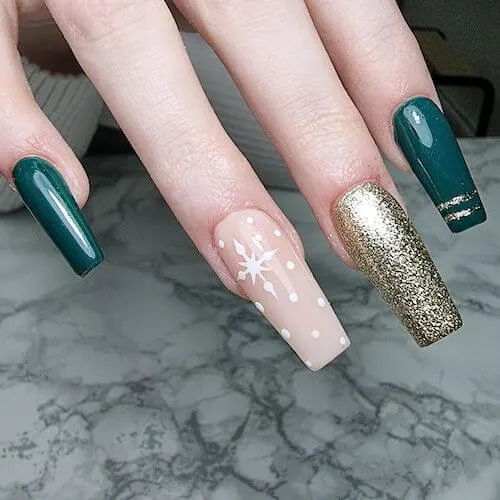 [email protected]_salon
Add a touch of nude to make you look very classy.
Short Green and White Acrylic Nails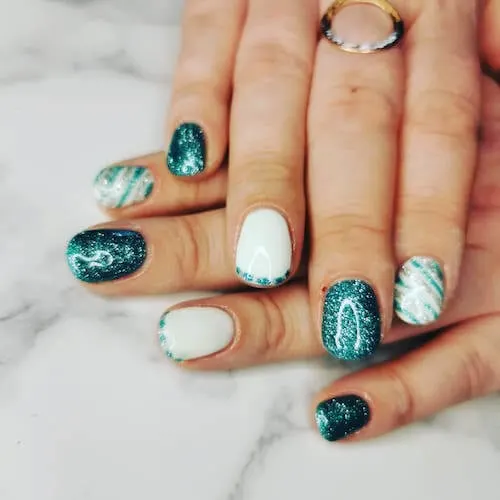 Looking for a stylish short Christmas nail design? The design above is simple but very stylish, perfect for short nails.
Cute Christmas Nails With Green, White and Gold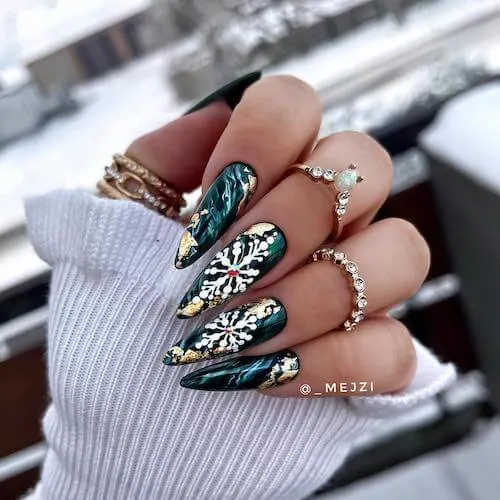 IG@_MEJZI
Green nail polish paints a marble-like feel and adds to the splendor of the nail design.
Light Green White Snowflake Glitter Nails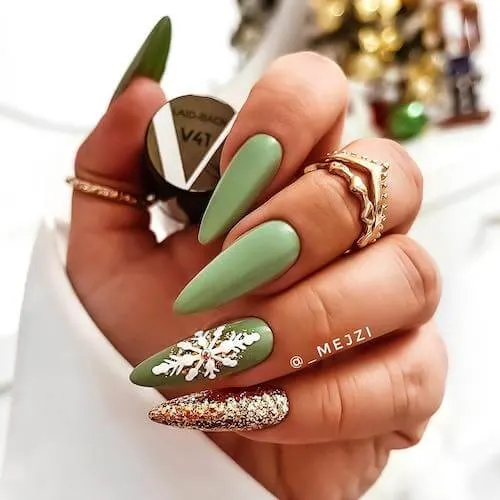 IG@_MEJZI
You can also choose just one nail with a snowflake look.
White Snow Green Sweater Nails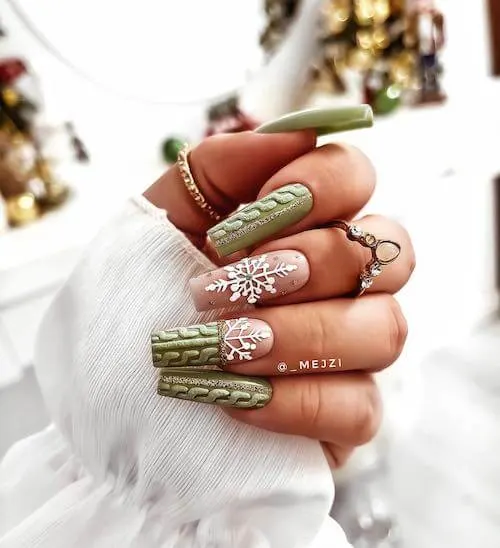 IG@_MEJZI
Add a little change to the classic Christmas sweater nails and combine with white snowflakes to create a beautiful Christmas nail design.
Dark Green Christmas Tree Snow Nails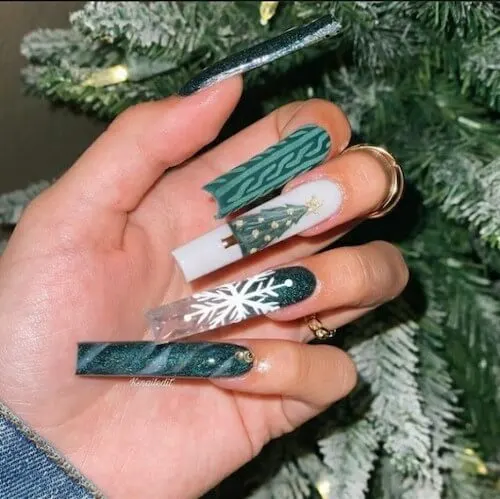 via Tumblr
If you want to many Christmas patterns to your nails, this one above is a great example.
Ho Ho Ho Unique Nails
via Tumblr
This is so cute.
Green White Snow Christmas Nail Ideas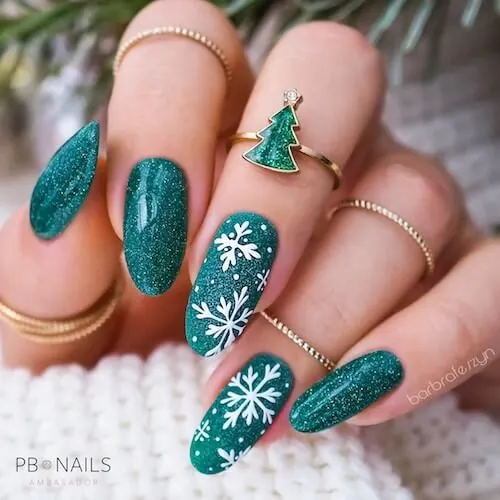 [email protected]_nails_poland
Arranging white snowflakes of different sizes together is very charming.
Gold and Rose Gold Festive Spirit Nails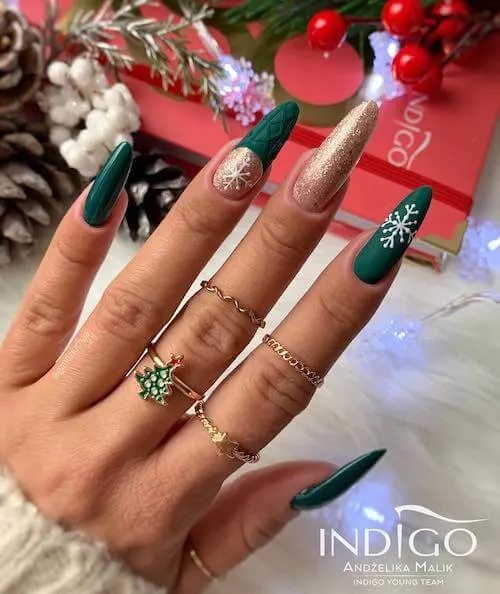 Add a gold base to the white snowflakes to give your nail design a luxurious festive look.
Dark Green Gingerbread Men Nails
[email protected]_nails_poland
Plaids, gingerbred man, and snowflake, these are what you will love.
Holiday Stars Green Christmas Nail Art Ideas
A little bit touch of gold is a great way to instantly give your simple nail design a festive party feel.
White Base Green Abstract Nails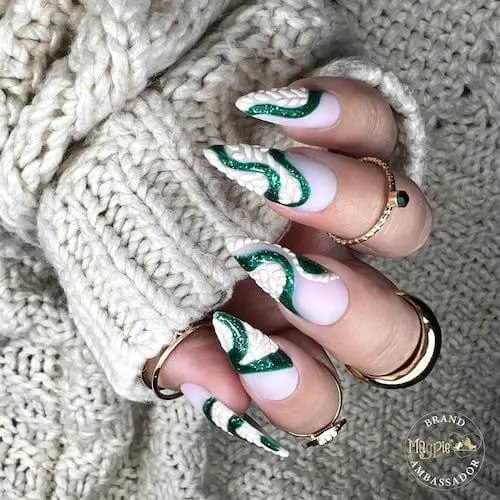 I absolutely love the fun way to pair a similar sweater with a nail design like this.
Leaves Christmas Themed Nails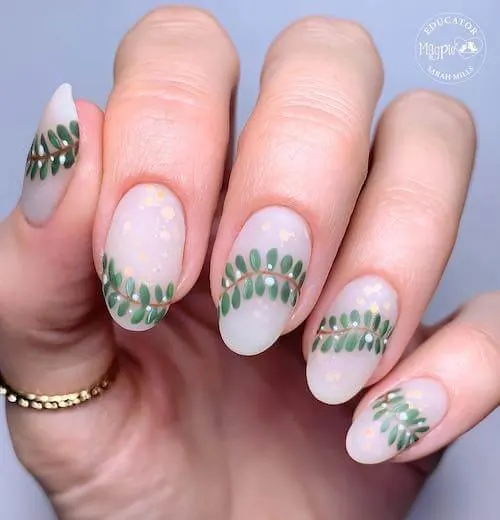 Each nail looks beautiful on its own, and together it makes a perfect design.
Green and Gold Christmas Tree Accent Nail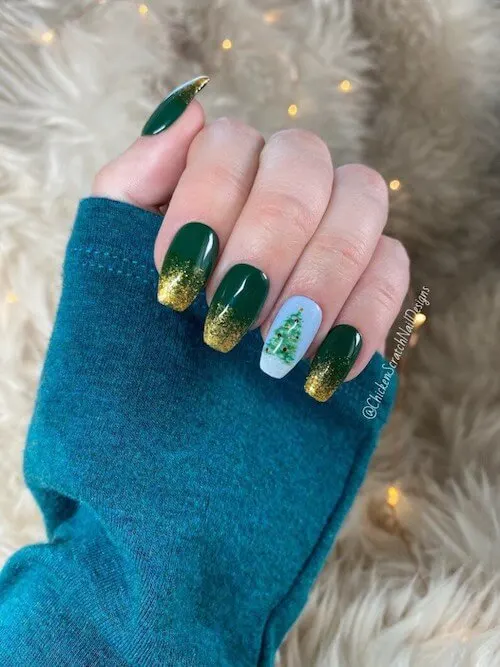 Add a touch of childishness to your gold and green nail designs.
Green Color Festive Design Christmas Nails
A low-key yet sophisticated design that adds interesting visual small details to your holiday look.
Green and Nude Pink Nails For Christmas Holidays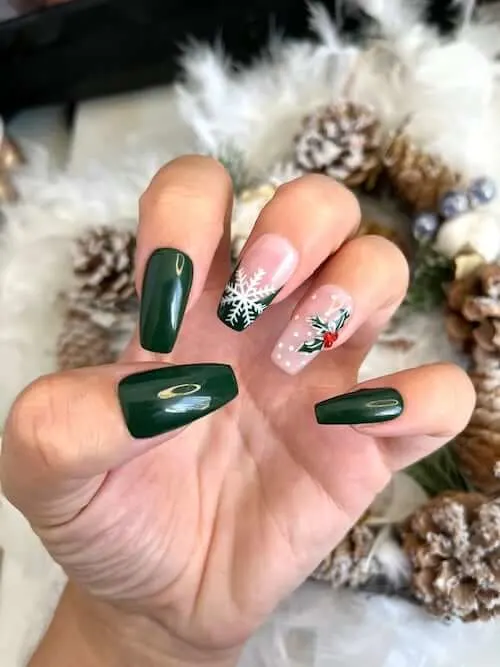 The right use of white and red polish colors makes the Christmas atmosphere soft and lovely.
Bright Green Snowflakes and Candy Cane Nails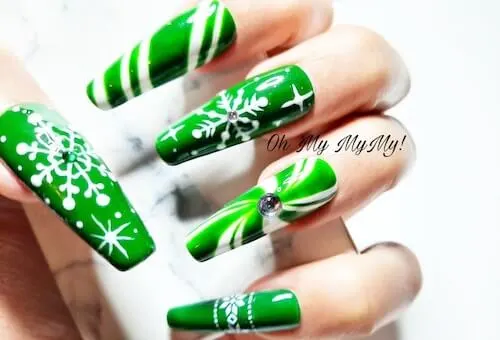 This is one of the best Christmas party nail designs I can think of.
Jolly Tunes Christmas Sweater Nails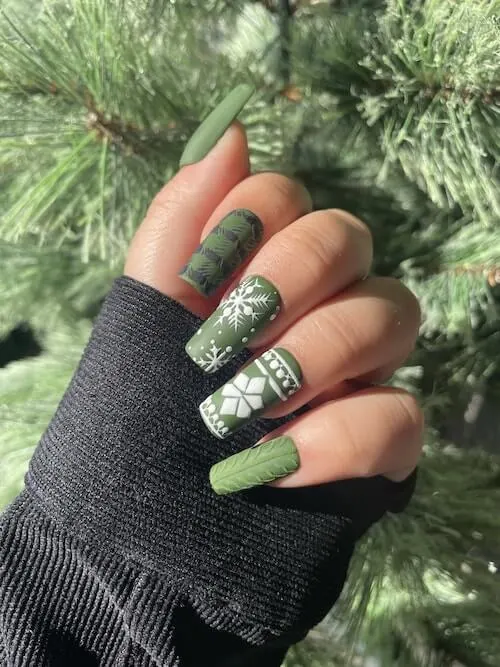 If you're worried that the use of sweater patterns and snowflakes will clutter your nails, use green to coordinate them.
Christmas Tree Nails With A Touch of Glitter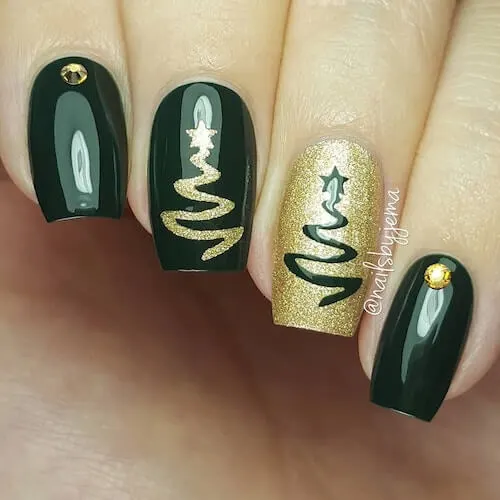 This nail idea is so chic. This green and gold combination is very heartwarming.
Dark Green Christmas Nail Designs With Christmas Tree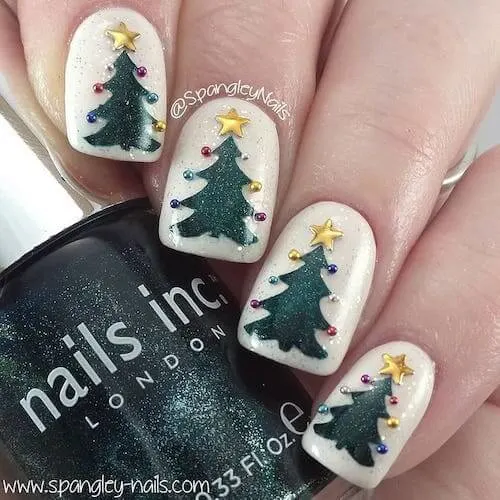 Another cute Christmas nail design full of childishness. Looks great day or night.
Light Green Glitter Festive Nails For Christmas Time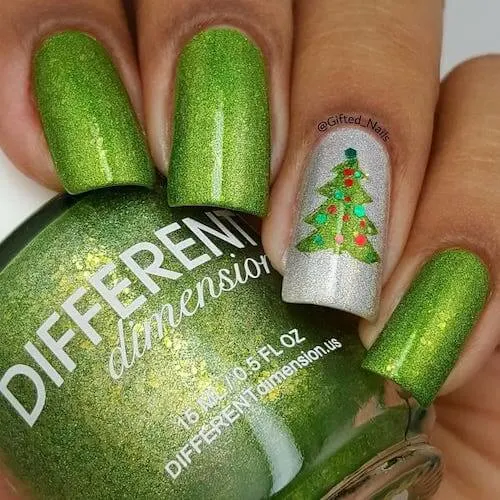 Switch to glitter green nail polish to make your look more stylish and special.
Christmas Trees Nails For Christmas Party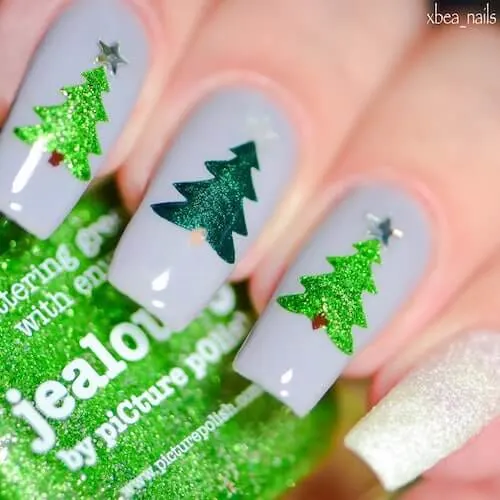 The combination of dark and light colors makes your fingertips seem to be jumping with varied and charming melodies.
Green Christmas Tree and Traditional Red Nails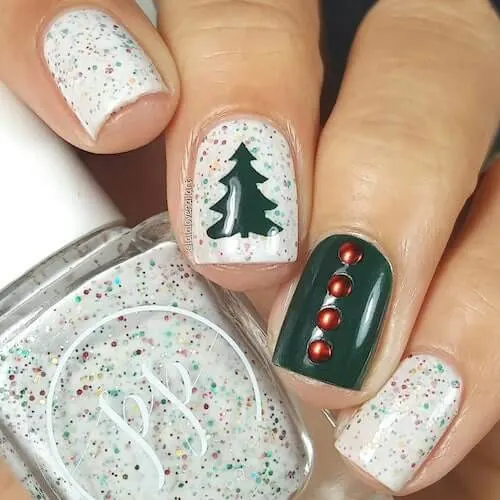 When it comes to the color selection of Christmas nails, the most common ones are red and green. But how to make them look good is not very simple.
If you want a simple and stylish idea to look outstanding, give this idea a try.
Green and Silver Glitter Simple Christmas Nails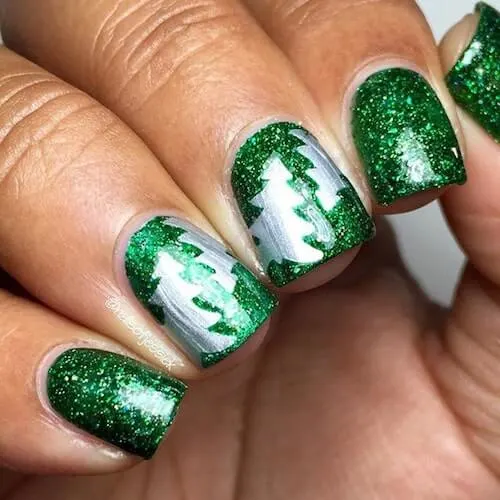 I really love this nail design. It neatly lines up simple Christmas tree patterns for a cute different look.
Neon Green Christmas Forest Nails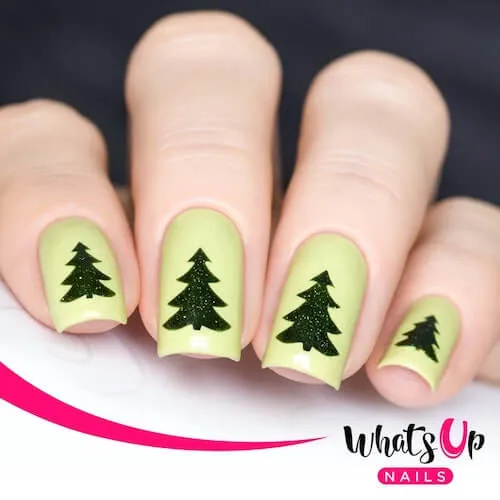 Changing to a unique nail polish color instantly brings a new feeling.
Christmas Holiday Mood Nails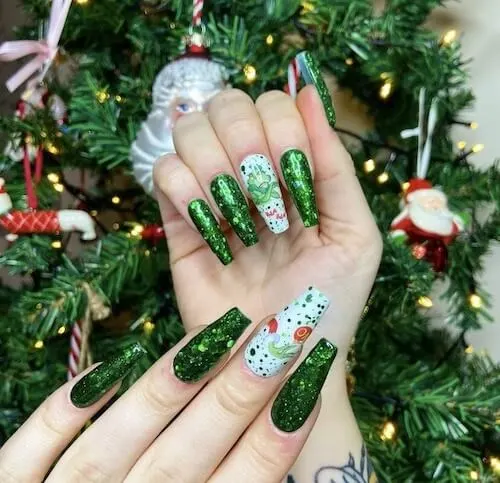 Do you also like this fun nail design?
Christmas Holly Nails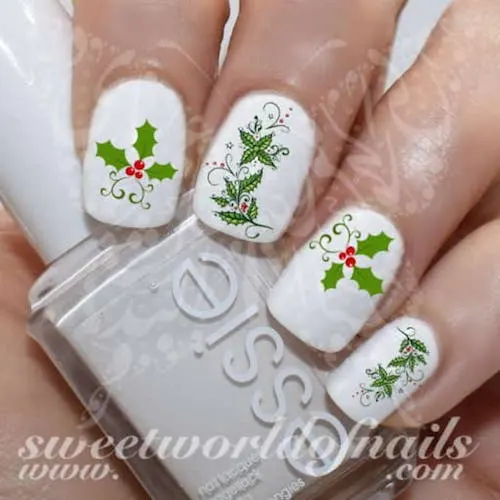 How is this design so delicate and beautiful?
Candy Cane Design Short Nails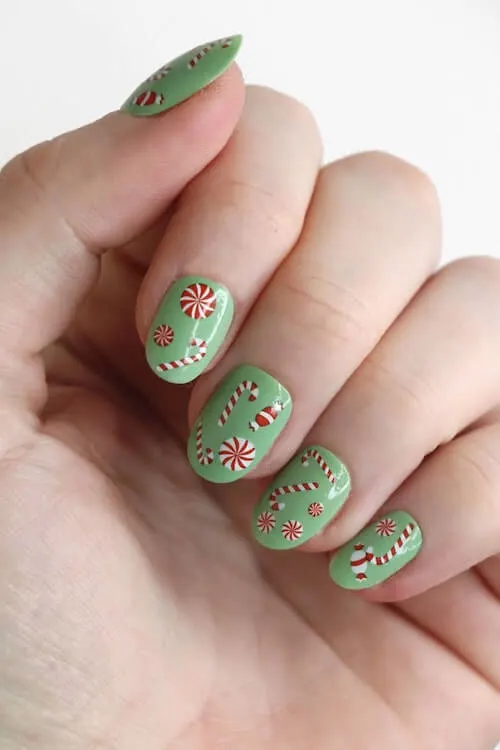 This design reminds me of all things good about Christmas.
Green Stars Holiday Spirit Nails
Starlight paired with shimmering green nail polish is very classy. Proper white space makes the whole design full of artistry and good taste.
Green Gold Candy Canes Nails For Festive Season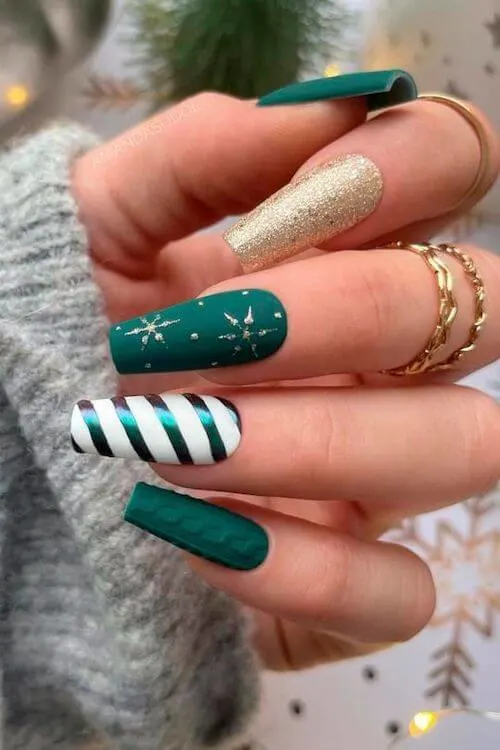 via Pinterest
Try to choose a darker green, and then match it with some metallic decorations, the overall feeling is very Christmas.
Green Holly Accents French Manicure For Christmas Season
via Pinterest
The traditional French manicure is to use white nail polish to draw an arc area on the front of the nail, which will make the fingers look longer.
In Christmas, use this green French tips to make a bold statement.
Green French Tips Nails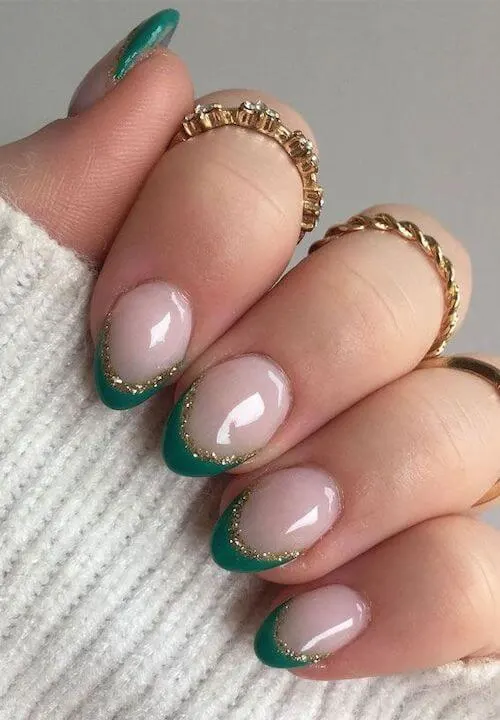 via Pinterest
Another very beautiful French manicure with added gold that makes you look like a princess.
Best Tips For Perfect Green Christmas Manicure (with Videos)
Whether you're going to the nail salon to paint your nails or doing your own at home for this year's Christmas nails, it's a great choice.
If you're ready to do your own Christmas nails, here are two of my favorite tutorial videos on how to draw great Christmas nails to help you choose the right technique to better draw your ideal green Christmas nail design.
This post was all about green Christmas nail ideas.
About The Author
Tracy is an experienced personal stylist, shopping expert, and fashion & lifestyle blogger. She has been featured on Bustle, Best Life, Glam, The Zoe Report, Mic, and GoBankingRates, for her insights on fashion, beauty, home decor, and lifestyle. Read More
Related Posts: