Looking for black spring nail designs? Check this post for 30+ chic black nail designs for the coming spring to copy. From long black spring manicures to short black spring nail art, we've got you covered!
As the days begin to get warmer, it's time to start thinking about ways to freshen up your look for spring.
One way to do that is by switching out your winter nails for some of the hottest new black spring nail designs.
From bold, statement-making looks, to subtle and chic touches, there are a lot of options when it comes to getting in on the trendiest manicures this season.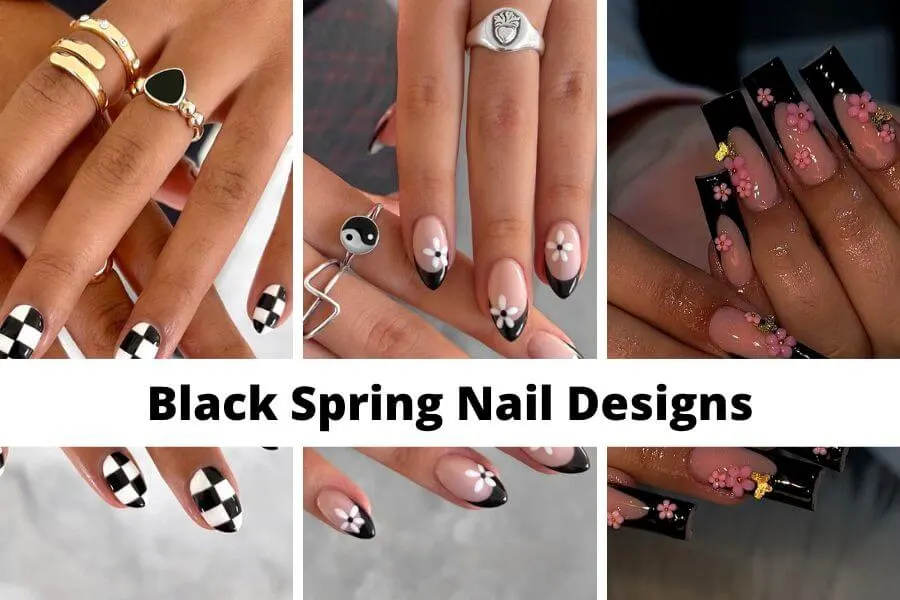 This post may contain affiliate links, which means I'll receive a commission if you purchase through my link, at no extra cost to you. Please read the full disclosure here.
This post is all about black spring nail designs.
Why are black nails popular this spring?
This spring, black nails are the hottest trend. Seen on celebrities, models and everyday people alike, it's no surprise that this classic shade is having a major moment.
Whether you're into bold colors or want something subtler, black nail polish makes for an easy-to-style look this season.
Black nail polish has been around for decades — it's timeless and chic and can be worn with nearly any outfit in your wardrobe!
You can go subtle with a sheer finish or make a statement with a glossy lacquer; either way, your manicure will look exquisite.
It also looks great paired with subtle colors like pinks and pastels – perfect for the upcoming warmer months!
Best Black Spring Nail Designs
If you're looking for new nail ideas to stay on-trend and make a statement, these black spring nail designs are perfect for you.
Whether you prefer bold patterns or subtle designs, there's something here for everyone.
These looks range from abstract art pieces to simple glossy nails with accents of glitter – all in shades of black. Get ready to turn heads this season with these amazing black spring nail designs!
From minimalist monochrome manicures to intricate marble art pieces, we've got plenty of ideas below which will inspire your next mani.
These beautiful looks have been created by some of the best manicurists around the world, so get ready to be inspired and create something unique!
Black French Tip Nails
Black French tip nails are the perfect way to spice up your spring look this season!
The classic combination of black and white is always a winner, and with the addition of a modern touch, you can make your manicure stand out.
This versatile nail art design is perfect for any occasion, whether you're dressing up or keeping it casual – it will be sure to get heads turning.
Use glitters or rhinestones for an added sparkle or keep it simple with just the standard black and white colors.
Whichever way you decide to go, Black French tip nails are sure to be an eye-catching accessory this spring!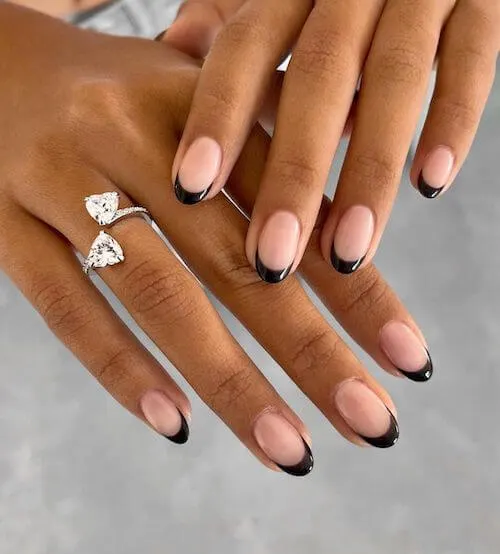 @peachinails
Chic French Manicure With Black Nail Polish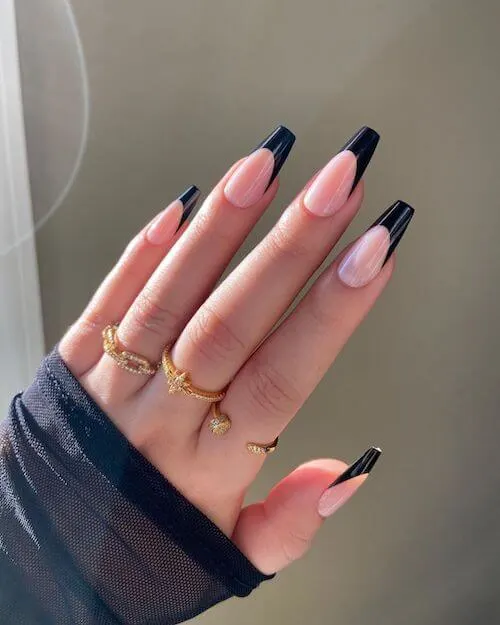 @jadeandpolished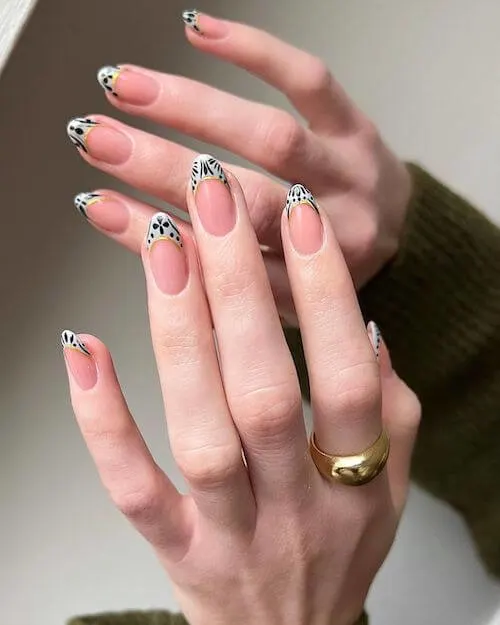 @beautyworksbyamy
Classy Spring Nails With Black Tips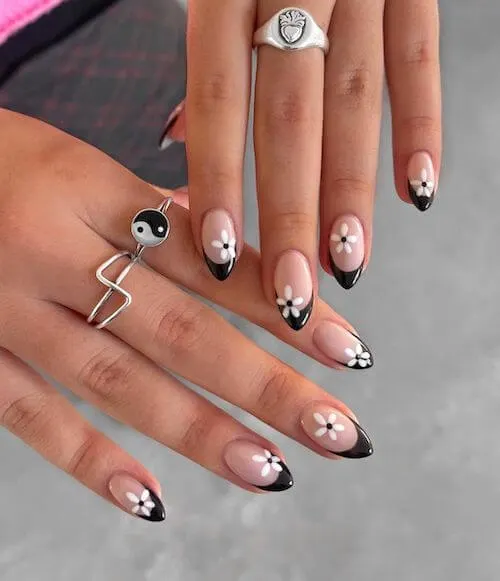 @peachinails
Black Ombre Nails
Black ombre nails are surprisingly easy to achieve and you can find tons of tutorials online that will walk you through each step.
Your base color should be a solid black, preferably gel or acrylic as this will ensure it lasts longer.
Once that's done, you can start creating your unique ombre look by adding lighter shades of gray and even hints of white at the tips for extra dimension.
Not only are black ombre nails super stylish but they also require minimal effort – just make sure to properly seal it in with a top coat for maximum longevity!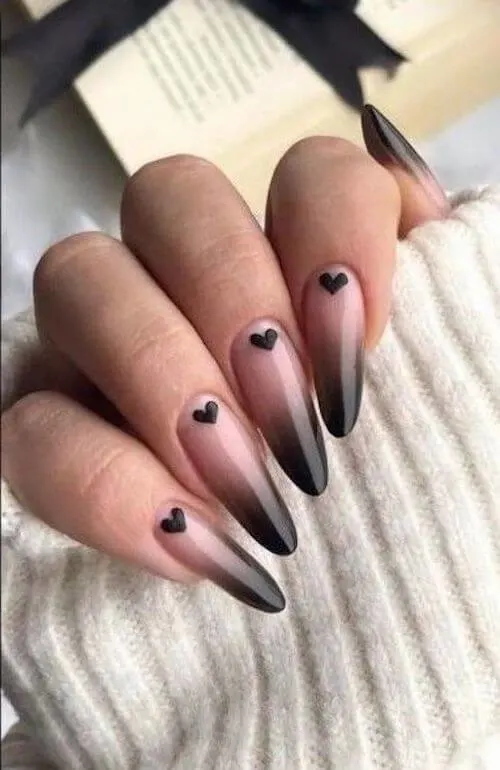 via Tumblr
Black And White Nail Designs
One of the hottest trends for this season is black and white nail art.
With its simple yet timeless look, this classic duo can be used to create artful patterns and abstract designs that will take your nails to the next level.
Whether you're looking for an edgy manicure or something a bit more subtle, there are endless possibilities when it comes to creating black and white nail art.
From dainty stripes to intricate floral motifs, you can mix and match these two shades in any way you like.
Plus, both colors are flattering on all skin tones – so everyone can get in on the fun!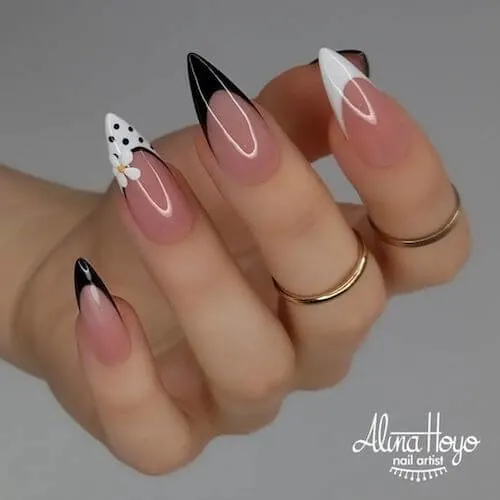 @alinahoyonailartist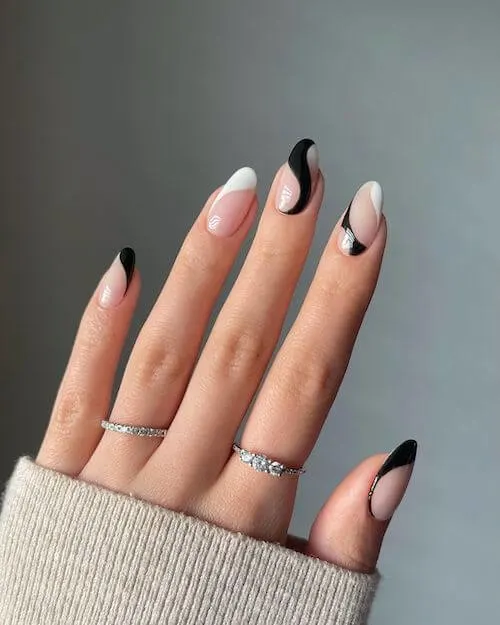 @heluviee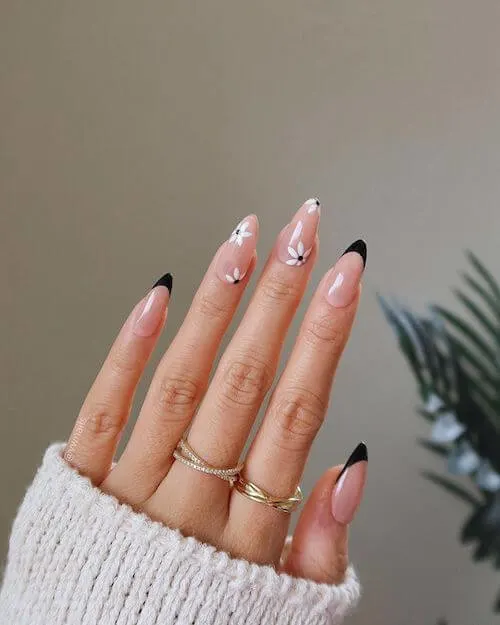 @vivianmariewong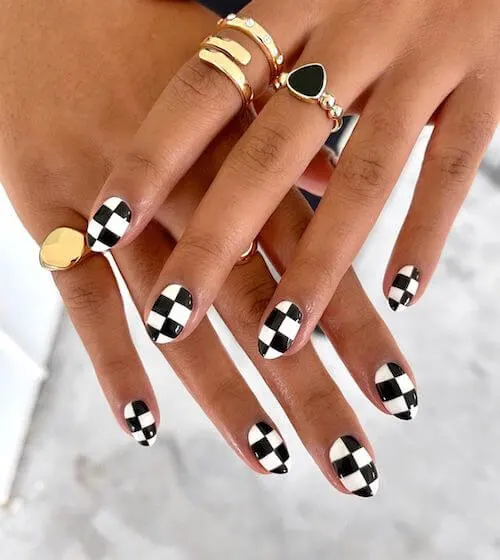 @peachinails
Matte Black Nail Art
Matte black nail art is having a moment this spring and it's easy to see why.
It's the perfect way to make a bold statement, while still keeping your look minimalistic and chic.
Whether you're out for drinks with friends or headed to an important event, matte black nails will add a subtle yet powerful touch to any outfit.
This season, matte black looks great by itself as an allover color, or it can be used in combination with other colors for an extra pop of style.
If you're looking for something more colorful, try adding sparkly rhinestones or glittery accents – these will add an unexpected element of glamour that will catch everyone's attention.
For those who like their nails simple but still stylish, try using one metallic accent nail along with your matte black manicure.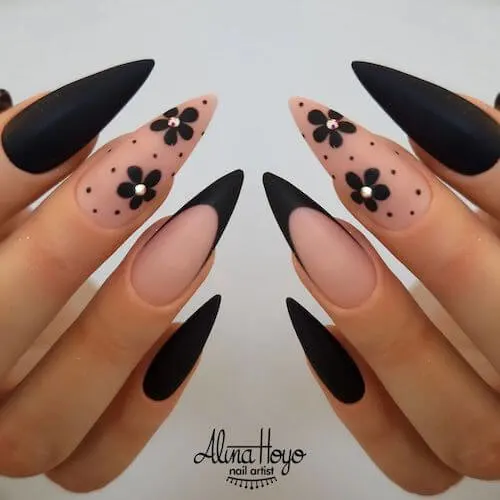 @alinahoyonailartist
Black Stiletto Nails
This year, stiletto pointy nails are making quite a statement for those daring enough to give them a try.
With their bold and edgy shape, black stiletto nails are proving popular amongst fashionistas this season.
From glittery accents to full-on designs, there are plenty of ways you can play around with these pointed talons.
A matte black finish is perfect for those who prefer a more subtle look or for those who don't have time to invest in intricate designs—it looks just as chic as any patterned nail art.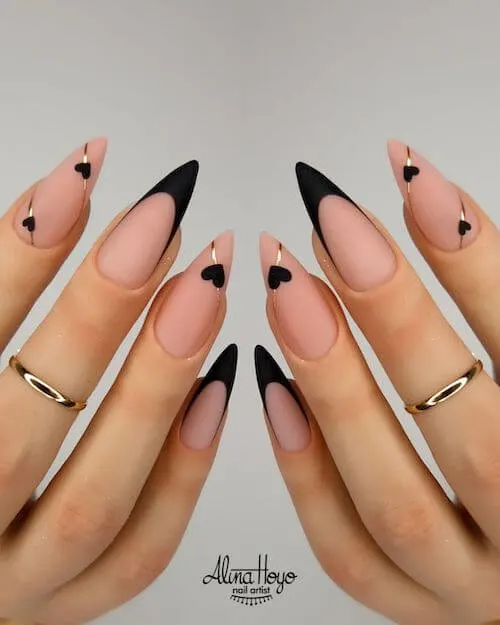 @alinahoyonailartist
Black Animal Print Nails
Black animal print nails are a must-have for the upcoming spring season.
Whether you prefer cheetah, zebra, or leopard prints, there is no better way to add an edge to your look than with these unique nail designs.
Not only do they make a bold statement, but they also add an element of fun and whimsy to your overall look.
This eye-catching trend isn't just limited to traditional black and white either – trendsetters can play up their style with bright neon colors for something unexpected, or go for a classic take with subtle metallic hues like gold and silver.
Plus, if going all out isn't your thing, you can still join in on the trend by adding one accent nail featuring one of these prints – it's always nice to have options!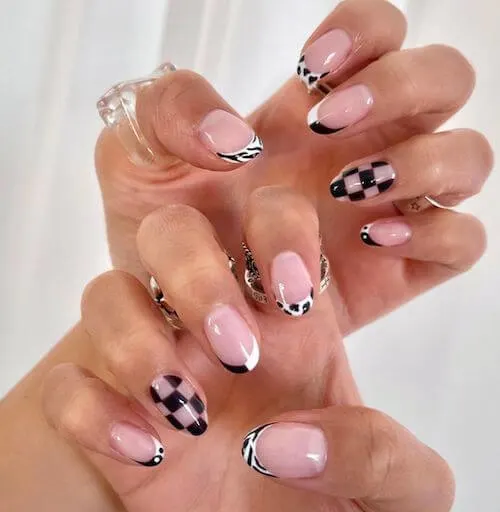 @peachinails
@alinahoyonailartist
Black Nails With Gold Glitter
This spring, nail art fanatics can celebrate with the hottest trend of the season: black nails with gold glitter.
This daring style is perfect for making a statement and is sure to turn heads at any event.
Whether you're headed to a wedding or on an evening out, black and gold is the ideal choice for your nails.
Black polish paired with gold glitter offers a timeless look that pairs well with nearly any outfit.
Create a subtle hint of sparkle by using tiny flecks of glitter or go bold by combining chunky pieces of golden shimmer.
Either way, this combination will guarantee your manicure stands out in a crowd – no matter what color dress you choose!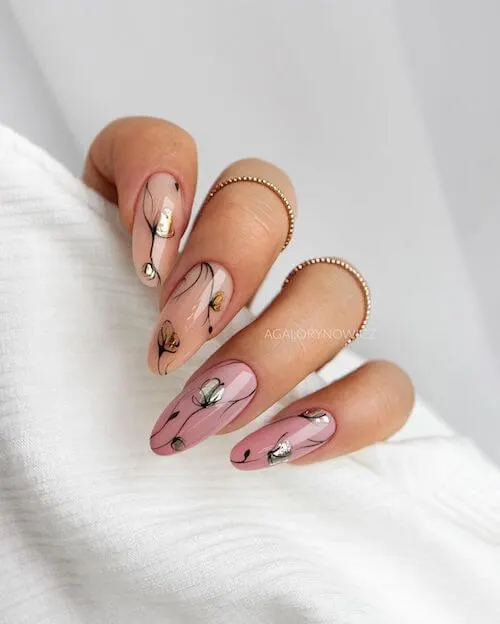 @alinahoyonailartist
Black And Gold Nail Color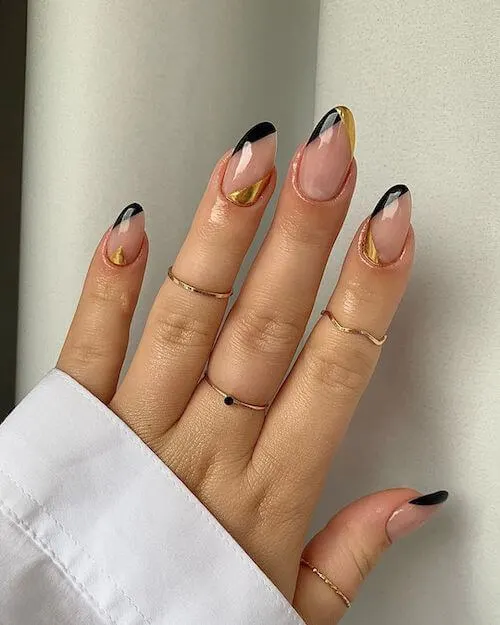 @alinahoyonailartist
Black Accent Nail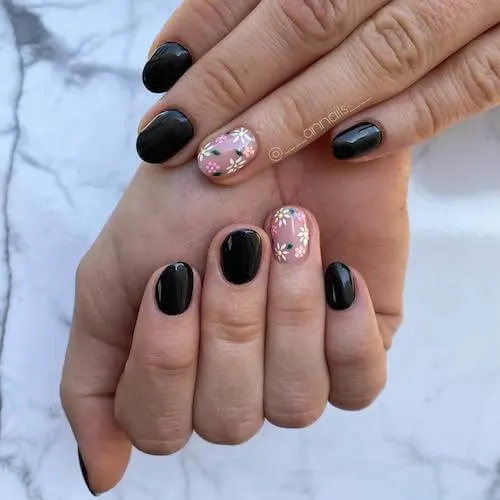 @____annails____
Black And Nude Nail Ideas
For the spring season, why not try something a little different with your nails?
Black and nude nail designs are the perfect way to go if you're looking for a unique, modern manicure.
These colors can easily be mixed and matched in either subtle or bold patterns, allowing you to create a look that is both stylish and on-trend.
To keep things simple, start off by using two coats of black polish as your base.
Once this has dried completely, it's time to get creative with some nude accents.
Choose from intricate details like small dots or thin stripes for an edgy look.
Alternatively, opt for something more classic such as alternating black and nude french tips or even a full-on ombré effect from dark to light at the tips of your nails.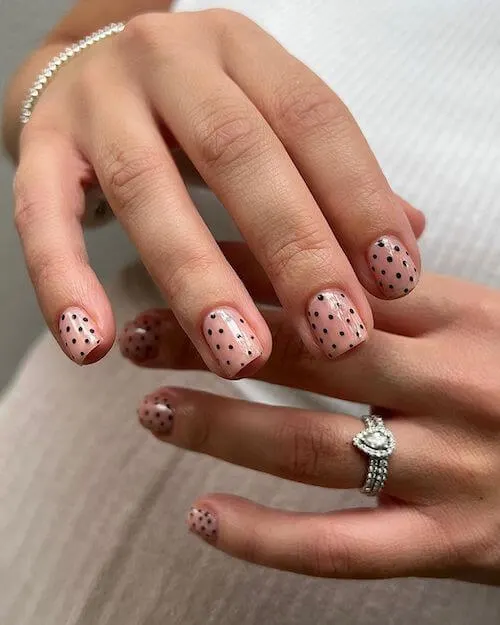 @beautyworksbyamy
Classy Black Minimalist Nail Art
For the fashion forward, nothing speaks springtime like black nail art!
Black minimalist nail art is the perfect look for someone who wants to make a statement without being too over-the-top.
This style looks chic and stylish while still giving off a natural vibe.
This season, take your nails up a notch with some of these classy black minimalist nail art designs.
Whether you're looking for something subtle or something more daring, there are plenty of options available to suit your individual taste.
From shiny metallic accents to playful dotted patterns, you can create an on-trend look in no time at all.
Best of all, this style is timeless enough that you can wear it year after year!
For those seeking out an effortless way to dress up their nails this spring season, black minimalist nail art is a perfect choice.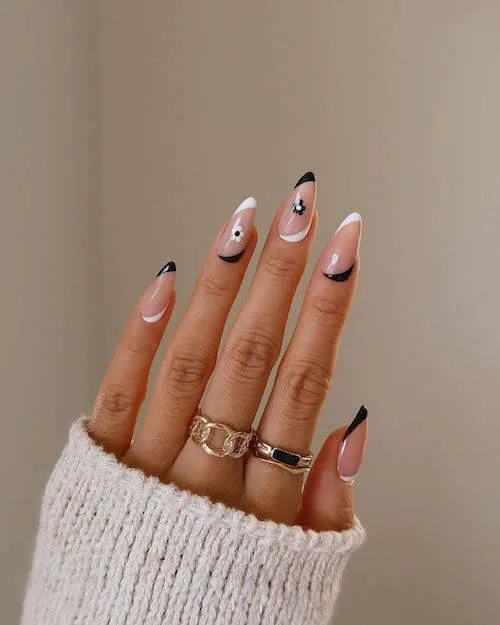 @vivianmariewong
Black Natural Nails With Geometric Design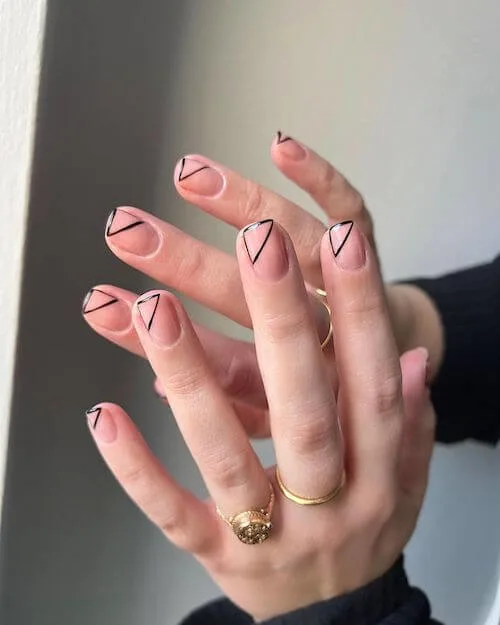 @beautyworksbyamy
Simple Black Manicure With Abstract Pattern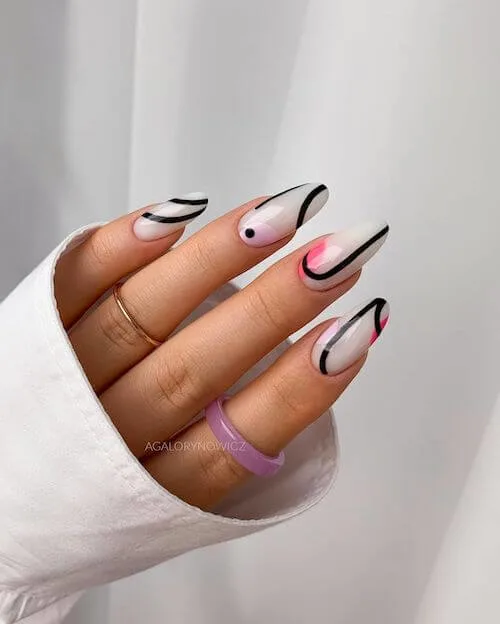 @agalorynowicz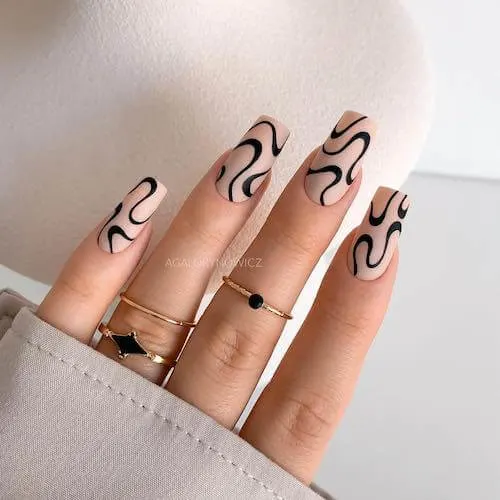 @agalorynowicz
Cute Black And Green Nails
Nail art has been gaining popularity for years, and it's no wonder why!
Nail art is a fun and easy way to express yourself and add a bit of flair to your look.
This spring, the hottest nail trend is combining black and green for cute designs that you can wear any time of year.
Whether you prefer simple yet chic styles or more extravagant looks, here are some ideas for how to rock black and green nails this season.
The simplest take on this look involves painting all ten nails with alternating colors – five in black polish and five in green.
To give your manicure an extra boost, add rhinestones or studs around the cuticles or along one side of each nail.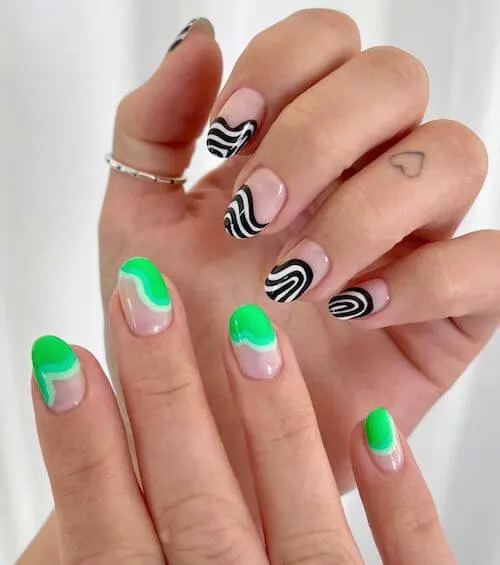 @peachinails
Bold Black Acrylic Nails
Spring is the perfect time to make a bold fashion statement and what better way to do that than with black acrylic nails?
This season, instead of going for traditional colors like pastel pinks and blues, opt for an edgy yet chic look with black acrylics.
Whether you're heading to the beach or a night out on the town, your new fingernails will be sure to turn heads.
Black nails are often seen as intimidating but can actually be quite versatile depending on how you style them.
If you want something subtle and classic try nude nail art with small black accents.
Or if you're feeling daring, go all out with unique designs like rhinestones or intricate patterns in multiple layers of polish.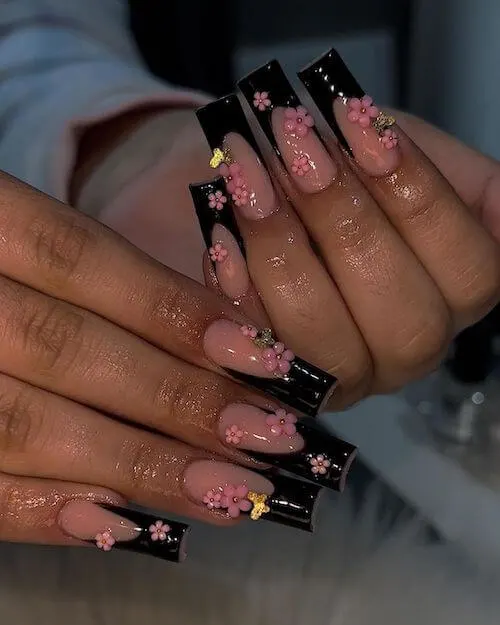 @beautywithbabylay
Yellow And Black Nail Ideas
Why not mix things up with a bright and bold nail look?
Yellow and black nail ideas are perfect for those who want to add some sunshine to their wardrobe this season.
Whether you're looking for a subtle pop of color or something a bit more daring, yellow and black make an ideal combination for sprucing up your nails in time for warmer weather.
The beauty behind this particular nail color combo is that it can be interpreted in many ways depending on the level of vibrancy you prefer.
For instance, if you're going for a more natural look, opt for muted shades of mustard yellow and charcoal gray.
Or if you're looking to stand out from the crowd try neon yellow with jet black accents.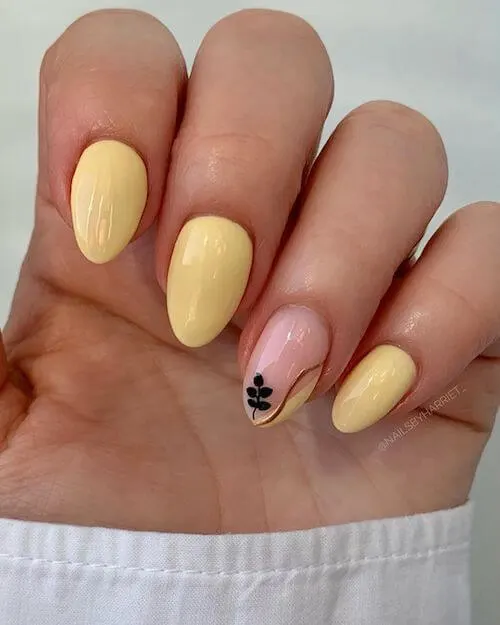 @nailsbyharriet_
Pink And Black Nail Designs
This year, one of the top trends in nail art is pink and black designs.
Whether you want to go for a subtle look or something more bold and daring, there are plenty of fun options to choose from.
If you're looking for something light and flirty, try a soft pink base coat with delicate black detailing.
You can also add floral accents or patterns like polka dots or stripes in either color.
For a bolder statement, opt for an all-black manicure with pops of hot pink—think glittery stars and shapes!
Or try an ombre design where the colors gradually fade together—it's unexpected yet still feminine.
No matter which look you choose, these pink and black combinations will have your nails standing out this spring!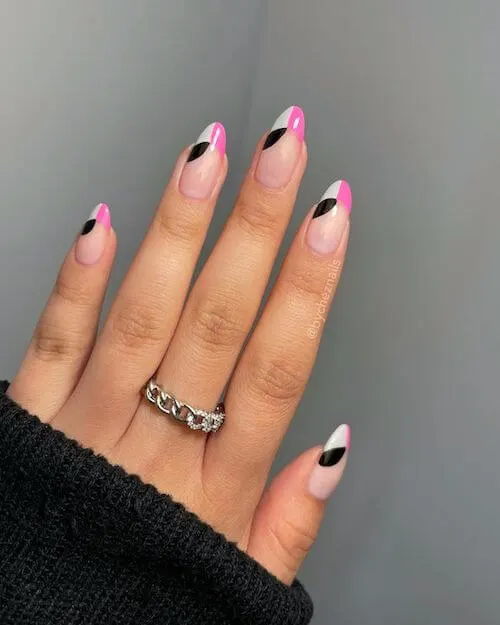 @bycheznails
Beautiful Black Floral Nails
Spring is the season for blooming flowers and beautiful colors.
These striking nails combine delicate florals with bold black tones, creating an elegant yet edgy look perfect for any occasion.
Whether you're looking to make a statement at a special event or just add some flair to your daily look, these stunning nails will have you feeling like your best self all season long.
The combination of soft pastel petals and deep hues of black create an eye-catching contrast that looks amazing on all skin tones.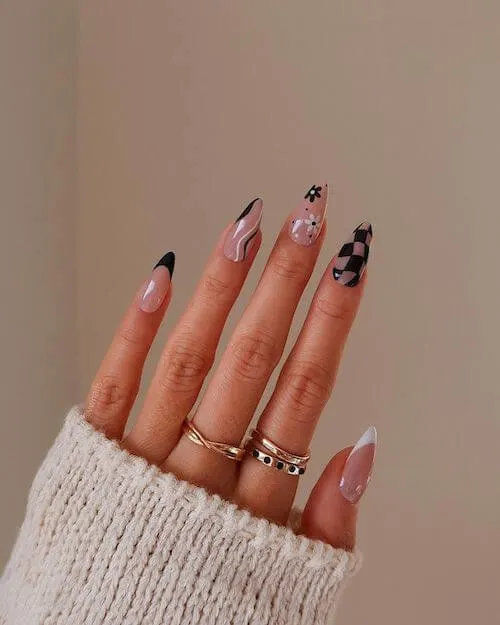 @vivianmariewong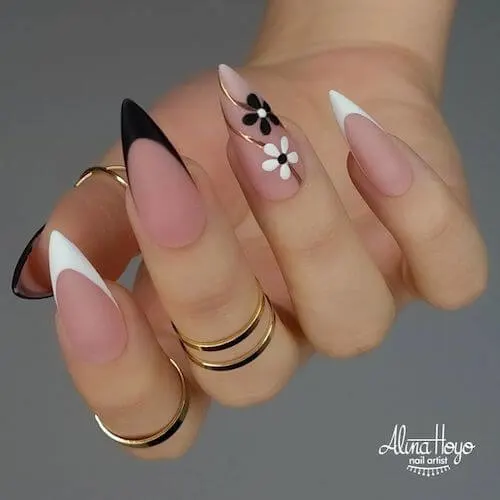 @alinahoyonailartist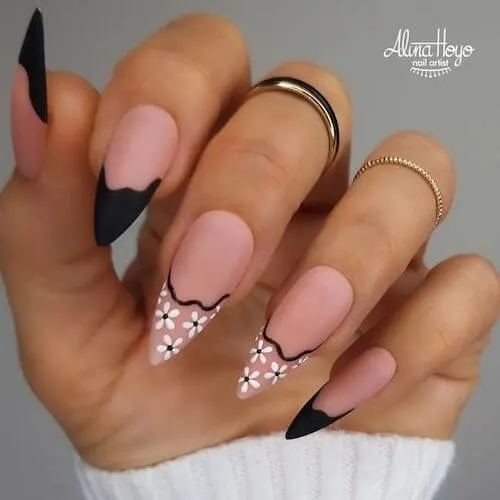 @alinahoyonailartist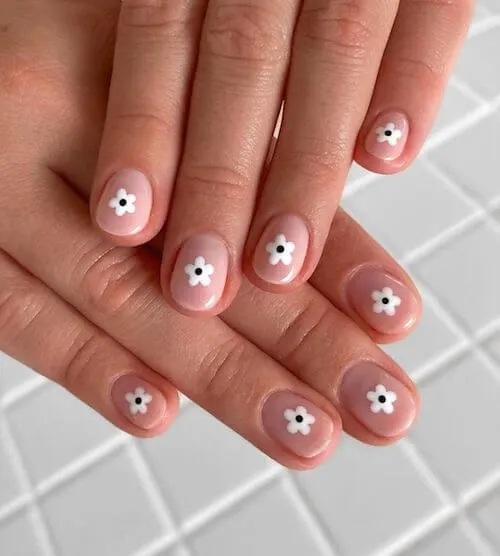 @peachinails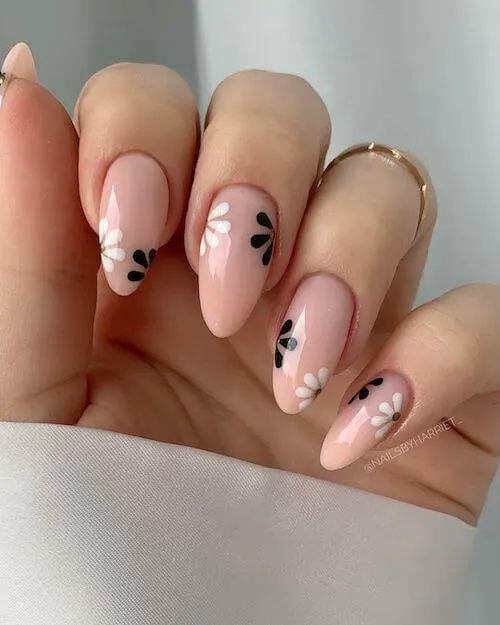 @nailsbyharriet_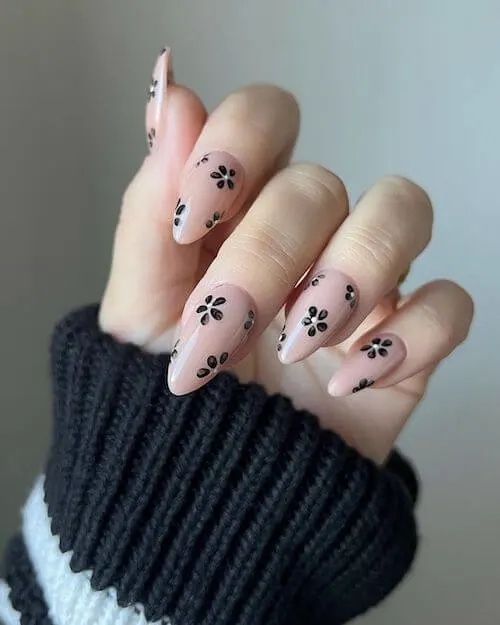 @beautyworksbyamy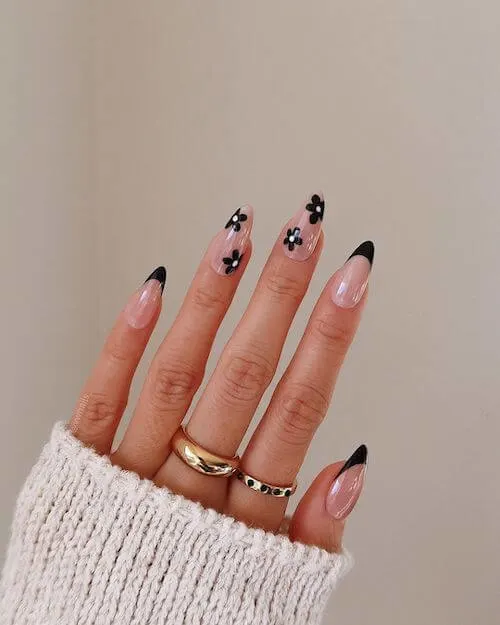 @vivianmariewong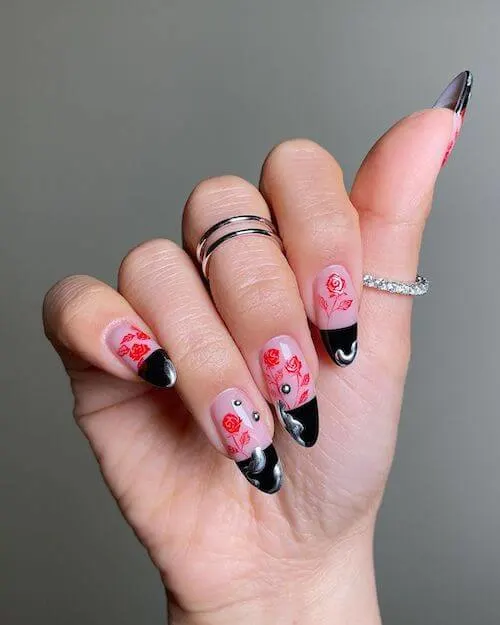 @sansungnails
This post was all about black spring nail designs.
About The Author
Tracy is an experienced personal stylist, shopping expert, and fashion & lifestyle blogger. She has been featured on Time Magazine, Bustle, Best Life, Glam, The Zoe Report, Mic, and GOBankingRates, for her insights on fashion, beauty, home decor, and lifestyle. Read More
Related Posts: