Spice up your winter months with these cozy and fun winter date night ideas for couples. From snowy strolls to indoor picnics, there's something for everyone!
Winter can be a magical time for couples, with holiday festivities, cozy indoor activities, and adventurous outdoor escapades to enjoy.
With the chilly weather, it can be challenging to find ways to spark romance, but fear not!
In this article, we've curated a list of the 50 best winter date night ideas that will keep you warm and entertained all season long.
This post may contain affiliate links, which means I'll receive a commission if you purchase through my link, at no extra cost to you. Please read the full disclosure here.
This post is all about winter date night ideas.
Indoor Date Night Ideas
Don't let the chilly weather put a damper on your romance.
Our list of indoor date night ideas will help you create memorable moments with your loved one, all while staying warm and cozy.
Here are some of our favorite romantic indoor activities:
Game Night:
Get competitive and have a blast with a game night.
From classic board games like Monopoly to card games like Go Fish, there's something for everyone.
Make a cozy night of it by lighting candles and enjoying some snacks.
Cooking Together:
Turn up the heat and cook a delicious meal together.
Try out new recipes and make it a fun experience by recreating your favorite restaurant dish or baking a dessert.
DIY Project:
Get creative and work on a DIY project together.
Whether it's a craft or fixing something around the house, it's a great way to bond and see what you can accomplish as a team.
Movie Night:
Snuggle up with your loved one and enjoy a cozy movie night.
Choose a heartwarming romantic movie and create the perfect ambiance with dimmed lights, blankets, and popcorn.
Wine Tasting:
Get fancy and host a wine tasting at home.
Choose a few different types of wine and pair them with some delicious cheeses and crackers.
Book Club:
Start a book club with just the two of you.
Choose a book that you both like and read it on your own time.
Then, get together and discuss your thoughts and feelings about the book over a glass of wine.
No matter what activity you choose, the most important thing is that you're spending quality time together.
These indoor date night ideas will help you create a romantic and memorable experience without ever having to leave the warmth and comfort of your home.
Outdoor Date Night Ideas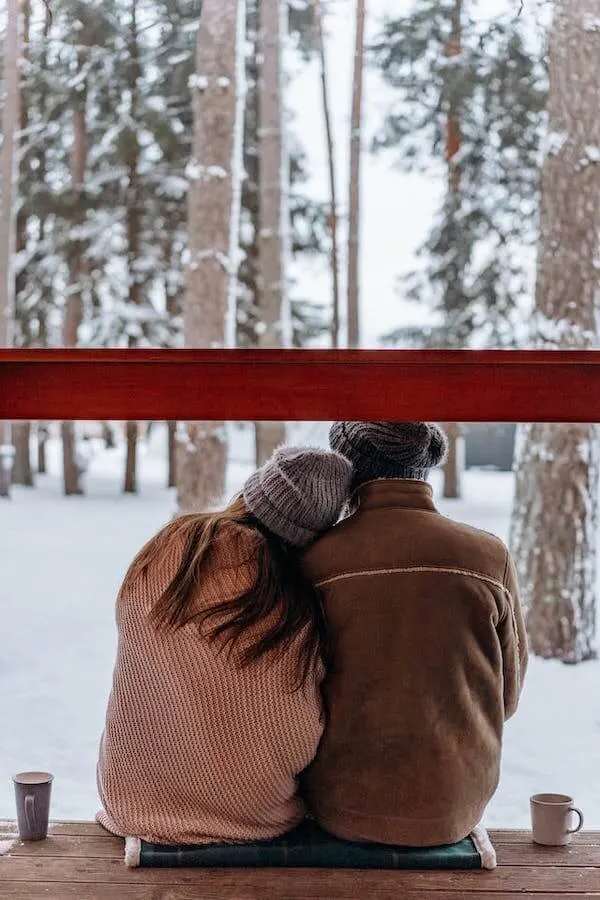 Winter shouldn't limit your sense of adventure and romance.
In fact, some of the most magical moments can be created outdoors. Here are some outdoor date ideas that will make your heart skip a beat:
Ice Skating:
Glide across the ice with your partner, hand in hand, and enjoy the crisp winter air.
Many cities have outdoor rinks, but you can also find indoor rinks if it's too chilly outside.
Snowshoeing:
Explore the winter landscape with snowshoes, making your way through snowy trails and secluded paths.
You'll get a workout in and create unforgettable memories.
Go Sledding:
Who says sledding is just for kids?
Grab a sled and head to the nearest hill for some heart-pumping fun with your significant other.
Winter Hike:
If you live in an area with scenic hiking trails, layer up and hit the trails with your partner.
The lack of foliage during the winter months will provide stunning views of the landscape.
Star Gazing and Sip Hot Cocoa:
Bundle up and lay out a blanket, and a thermos of hot cocoa, and enjoy the beauty of the night sky together.
Constellations and shooting stars make for a romantic winter activity.
These outdoor date night ideas are perfect for couples looking to embrace the beauty of winter while creating unforgettable memories.
Venture out of your comfort zone and try something new with your loved one.
It's a great way to bond and connect, all while enjoying romantic winter activities.
Cozy Movie Nights At Home
What's better than snuggling up with your loved one and enjoying a cozy movie night?
Not much! Here are some movie night ideas to create the perfect ambiance for a romantic evening at home.
Movie marathon:
Pick your favorite romantic movie franchise, like "The Notebook" or "Twilight," and make a night of it by watching all the movies back-to-back.
Comfy seating:
Make sure you have plenty of soft blankets and pillows to create a cozy and comfortable seating area.
Themed snacks:
Get creative with your snacks and come up with a theme that matches the movie you're watching.
For example, if you're watching "Ratatouille," make some French cuisine or if you're watching "Harry Potter," create some magical-themed treats.
Surround sound:
For a more immersive movie experience, invest in a surround sound system.
You'll feel like you're right in the middle of the action!
Classic movies:
If you're in the mood for something timeless, go for classic romantic movies like "Gone with the Wind" or "Breakfast at Tiffany's."
No matter what movie you choose, a cozy movie night is the perfect way to snuggle up with your loved one at home. Don't forget the popcorn!
Try A Drive-In Movie
One unique and nostalgic winter date night idea for couples is to try a drive-in movie.
While traditional cinemas have their charm, there's something special about snuggling up in the warmth of your car while watching a film under the starry sky.
It's a cozy and intimate experience that allows you to enjoy the movie without any distractions, immersing yourselves fully in the storyline.
Additionally, drive-in movies provide an opportunity to bring along your own snacks and drinks, creating a personalized cinema experience tailored to your preferences.
Whether it's setting up a makeshift popcorn station or bringing hot chocolate in thermoses, you can elevate your movie night with customized treats.
The novelty of watching a film from the comfort of your own vehicle combined with the freedom to create your own snack bar makes for an unforgettable and charming date night experience.
Winter Picnic Ideas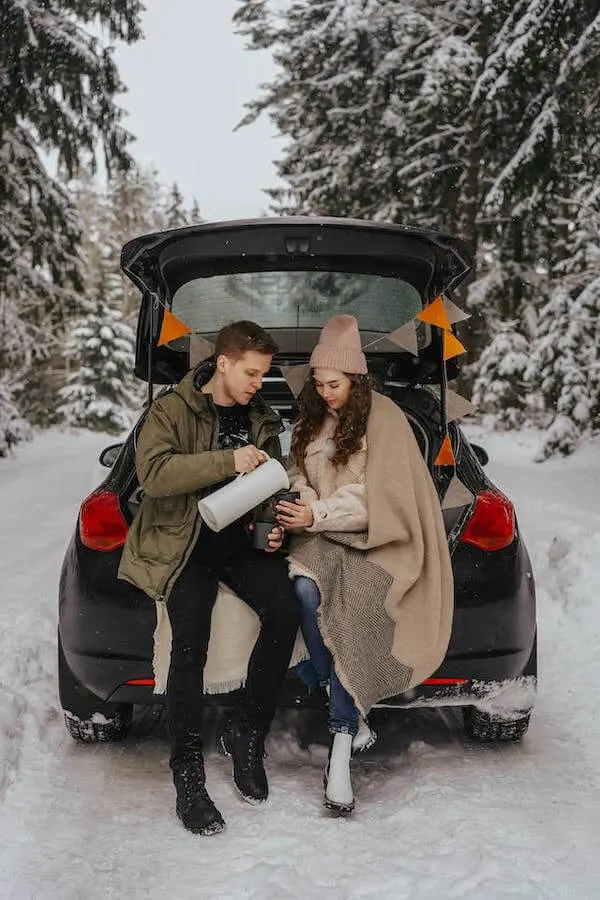 Winter doesn't have to mean the end of outdoor dates!
With a little preparation and creativity, you can have a cozy and romantic picnic in the cool crisp air.
Here are some winter picnic ideas that will keep you and your loved one warm and happy:
What to Pack:
Thermos of hot cocoa or tea
Warm blankets or throws
Portable picnic basket
Non-perishable snacks like nuts, fruits, and cheese
Reusable plates, cups, and utensils
Cozy Up
Layer up with warm clothing, including hats and gloves
Use a waterproof picnic blanket to sit on
Bring extra blankets for added warmth
Use a portable outdoor heater, if available
Cuddle close to stay warm and cozy
Where to Go
A quiet spot in a park near a lake or river
A scenic hiking trail with a view
A peaceful spot in your own backyard
A cozy cabin or cottage fireplace
A rooftop with a view of the city
Remember to dress appropriately, pack warm drinks, and choose a location that offers protection from the wind and snow.
With these winter picnic ideas, you'll have a memorable date and enjoy the fresh air and beauty of the winter season. Happy cuddling!
Fun Indoor Picnic
Transform your living room into a whimsical indoor picnic spot for you and your significant other.
Lay down a cozy blanket, scatter some throw pillows, and set up a low table with an array of delicious finger foods.
Get creative with the menu by including gourmet cheeses, charcuterie, fresh fruits, and artisanal bread.
Add some sparkling drinks or mulled wine to elevate the experience.
To enhance the ambiance, dim the lights and set up some string lights or candles to create a warm and intimate atmosphere.
Play some soft music in the background to set the mood for a romantic evening.
And don't forget to bring out board games or card games to keep the fun going throughout the picnic.
This unique twist on traditional dining will leave you both feeling like kids again while enjoying each other's company in a relaxed setting.
Try Indoor Skydiving
Looking for an adrenaline-pumping experience without braving the chilly winter weather?
Look no further than indoor skydiving! This thrilling activity offers all the excitement of traditional skydiving, but in a controlled and climate-controlled environment.
Whether you're a seasoned thrill-seeker or someone looking to try something new, indoor skydiving is a fantastic way to bond with your partner and create unforgettable memories.
Indoor skydiving also provides an opportunity for couples to challenge themselves and conquer fears together.
As you step into the vertical wind tunnel, there's a rush of anticipation before soaring into the air, creating a shared sense of accomplishment and mutual support.
Additionally, the safety measures in place allow couples to feel secure as they embark on this exhilarating adventure.
So why not step out of your comfort zone and add some heart-pounding excitement to your next date night with indoor skydiving?
Volunteer Together
Volunteering together can be a heartwarming and meaningful way to spend time as a couple during the winter season.
Whether it's serving meals at a local shelter or participating in a beach clean-up, the act of giving back can strengthen your bond and create lasting memories.
Not only does volunteering together allow you to make a positive impact on your community, but it also provides an opportunity to see each other's compassionate side in action.
Engaging in acts of service as a couple can also foster deeper communication and empathy, as you work together towards a common goal outside of your relationship.
Additionally, the experience of volunteer work may open your eyes to new perspectives and challenges, ultimately bringing you closer together by overcoming obstacles as a team.
So, consider spending one of your winter date nights volunteering together – it's an unconventional yet rewarding way to connect with each other while making the world just a little brighter.
See A Comedy Show
Step out of the winter chill and into a world of laughter by attending a comedy show for your next date night.
Laughter is not only good for the soul, but it's also a fantastic way to bond with your partner.
Whether you prefer stand-up, improv, or sketch comedy, there's something undeniably exhilarating about sharing in the experience of live entertainment.
Plus, many comedy clubs offer cozy seating and intimate atmospheres perfect for getting close to your significant other while enjoying some much-needed humor.
Attending a comedy show on a date night can be a refreshing departure from the ordinary dinner-and-a-movie routine.
It provides an opportunity to let loose and enjoy an evening filled with lighthearted entertainment.
To make this outing even more special, consider researching local comedians or themed shows that pique both yours and your partner's interests.
By immersing yourselves in laughter together, you'll create lasting memories and strengthen your connection through shared joy.
Snowball Fight
As the winter chill sets in, there's nothing quite as exhilarating as a good old-fashioned snowball fight to ignite some playful competition and bonding.
Picture this: the soft crunch of freshly fallen snow underfoot, the cold air invigorating your lungs, and the thrill of dodging incoming snowballs.
It's an opportunity to let go of adult responsibilities and embrace your inner child with your partner by your side.
Engaging in a snowball fight can also bring out your creativity as you strategize and build forts or find clever hiding spots.
The rush of adrenaline from chasing and being chased adds an element of excitement that can reignite the spark in any relationship.
Plus, it's a great workout that gets your blood pumping and releases those happy endorphins, leaving you both feeling invigorated and connected after an afternoon of frolicking in the snow together.
Winter Short Getaway
Escape the hustle and bustle of everyday life with a winter short getaway.
Whether it's a charming cabin nestled in the snowy mountains or a quaint bed and breakfast in a picturesque town, taking a break from routine and immersing yourself in a new environment can rekindle your spirits.
Embrace the opportunity to connect with your partner amidst stunning winter landscapes, whether you're sipping hot cocoa by a crackling fireplace or taking romantic moonlit walks through frosted woods.
A change of scenery can invigorate your relationship and create cherished memories that last long after the snow has melted.
A winter short getaway also presents an ideal opportunity to indulge in winter activities together.
From skiing and snowboarding to ice skating and sleigh rides, there's no shortage of exhilarating experiences to bond over.
Even if you prefer something more low-key, like visiting local art galleries or tasting seasonal delicacies at nearby eateries, exploring new hobbies as a couple can deepen your connection and infuse warmth into the chilly season.
So pack your bags, leave behind the routine, and embark on an unforgettable winter adventure with your beloved – it's sure to reignite the spark in your relationship.
Leave The House and Go Antiquing
Step outside and immerse yourself in the world of antiques for a unique and cozy winter date. Explore hidden treasures, vintage finds, and one-of-a-kind pieces as you stroll through charming antique shops.
Discover the stories behind each item – from classic furniture to retro trinkets – and bond over your shared appreciation for history and craftsmanship.
Antiquing is not just about shopping; it's an adventure that sparks curiosity and creates lasting memories.
Take your time browsing through different eras, styles, and cultures represented in the antiques on display.
From ornate picture frames to rustic kitchenware, you'll find plenty to marvel at and discuss together.
Embrace the thrill of stumbling upon unexpected gems while enjoying quality time with your partner in a nostalgic atmosphere that brings warmth to even the chilliest winter day.
Attend A Cooking Class Together
Attend a cooking class and heat up your winter nights with some culinary fun!
There's nothing more intimate and exhilarating than learning to create a delicious meal together.
Whether you're mastering the art of pasta making or experimenting with exotic flavors, a cooking class provides an opportunity to bond over food in a creative and interactive way.
Plus, it's a chance to laugh at kitchen mishaps and savor the satisfaction of enjoying the fruits of your labor together.
Additionally, taking a cooking class can introduce you to new cuisines and techniques that can spice up your home-cooked meals during those wintry evenings.
From Thai curry to French pastries, exploring different flavors will not only ignite your taste buds but also inspire future date night creations.
And who knows, you might uncover hidden culinary talents or discover a shared passion for gourmet delights that could become an ongoing romantic adventure in the kitchen.
So why not take the leap into this delectable experience?
Culinary Adventures And Dinner At Home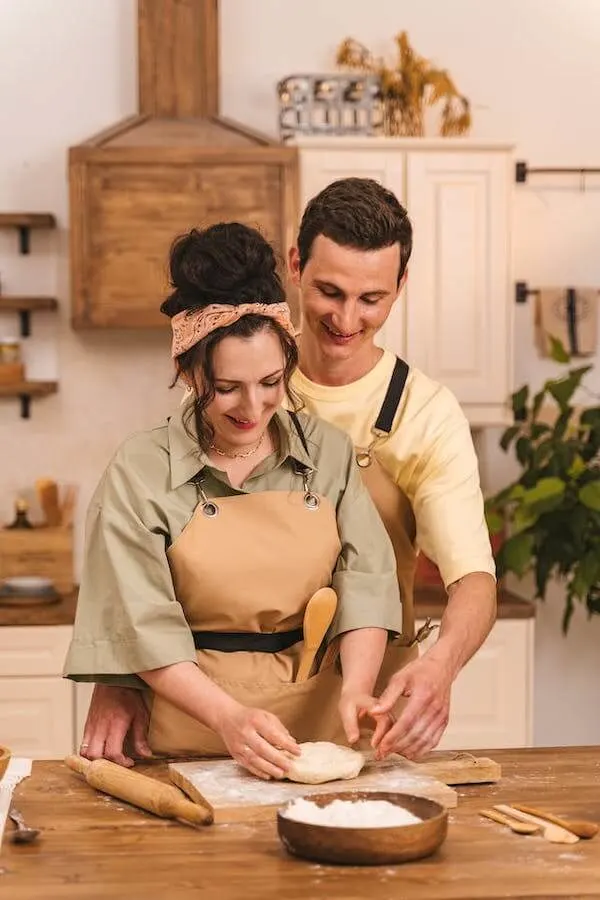 Cooking together is a great way to bond and create delicious memories.
Winter recipes are perfect for comforting meals that will warm up your heart and soul.
Here are some romantic dinner ideas to inspire your culinary adventures:
Beef Bourguignon
Tender beef stewed with vegetables in a red wine sauce
Roasted Butternut Squash Soup
Creamy and savory soup with a hint of sweetness from the squash
Chicken Pot Pie
Flaky crust filled with comforting chicken and vegetable filling
Coq Au Vin
Chicken braised in red wine with mushrooms and bacon
Don't forget to set the mood with some soft music, candles, and a bottle of wine. Bon appétit!
Winter Wonderland Walks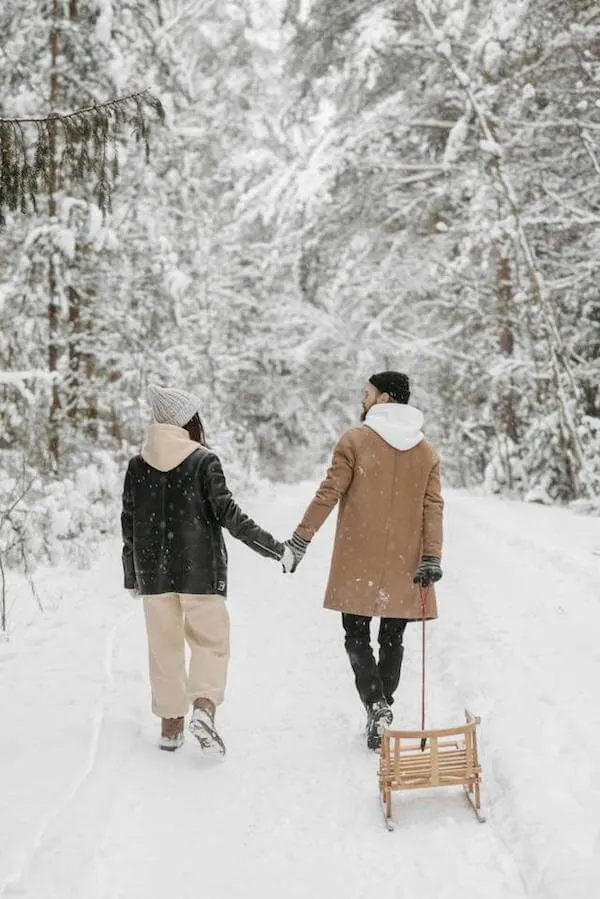 Stroll hand in hand with your loved one through a romantic winter wonderland.
The snowy landscapes provide the perfect backdrop for a cozy and intimate walk, and the fresh air will do you both good.
Here are some winter walk ideas to inspire you:
Local Nature Trail
Explore the scenic path of a nearby nature trail and enjoy the serene beauty of winter.
City Park
Take a leisurely stroll through a park adorned with festive lights and decorations to get in the holiday spirit.
Winter Beach Walk
Admire the snow-covered beach and watch the waves crash from a safe distance for a romantic and peaceful walk.
Don't forget to bundle up with warm coats, hats, gloves, and scarves to keep yourselves toasty during your winter walk.
And if the weather conditions are too harsh, opt for an indoor botanical garden or greenhouse for a change of scenery.
At-Home Hot Cocoa Date Nights
Nothing beats the chilly winter nights like indulging in a warm and cozy cup of hot cocoa.
Take your love for this delicious drink to the next level with these hot cocoa date night ideas.
Homemade Hot Cocoa Recipes
Impress your significant other with your culinary skills by making homemade hot cocoa from scratch. Here are some ideas to get you started:
| Recipe | Ingredients |
| --- | --- |
| Classic Hot Cocoa | Milk, Cocoa Powder, Sugar, Vanilla |
| Peppermint Hot Cocoa | Milk, Cocoa Powder, Sugar, Peppermint Extract |
| Spiced Hot Cocoa | Milk, Cocoa Powder, Sugar, Cinnamon, Nutmeg, Cayenne Pepper |
Experiment with different ingredients and create your own unique hot cocoa recipe.
Cozy Drink Ideas
If you're looking for hot cocoa alternatives, try these cozy drink ideas:
Chai Latte
Mulled Cider
Hot Apple Cider with Rum
Hot Toddy
Warm Spiced Wine
Top them off with whipped cream and your favorite garnishes for an added touch of indulgence.
Hot Chocolate Date
Take your hot cocoa date to the next level by visiting a local chocolatier or a specialty cafe that offers unique hot chocolate flavors.
Treat yourselves to delicious drinks and sweet treats while enjoying each other's company.
These hot cocoa date night ideas are perfect for warming up your winter evenings and creating lasting memories with your loved one.
Winter Game Nights
When the weather outside is frightful, game nights can be oh-so delightful!
Embrace the cozy indoors and set the stage for some friendly competition with these winter game night ideas.
Board Games Galore
Break out the board games and let the fun begin!
From classic games like Monopoly and Scrabble to newer favorites like Settlers of Catan and Ticket to Ride, board games offer hours of entertainment for two.
Create a fun and cozy game night atmosphere by dimming the lights, lighting candles, and sipping on your favorite warm beverages.
Card Game Crazy
If you're a fan of cards, there are endless possibilities for game night excitement.
Try your hand at classic card games like Poker or Rummy, or mix things up with newer games like Exploding Kittens or Cards Against Humanity.
For an extra romantic touch, consider playing a game of strip poker or creating your own game with personalized rules.
Trivia Time
Show off your knowledge and have a blast with a trivia night date.
Choose a theme that interests you both, such as pop culture, history, or sports, and create a list of questions to quiz each other.
Make things interesting by adding a prize for the winner, like a massage or a home-cooked meal.
Minute to Win It
For a high-energy game night, have a go at Minute to Win It challenges.
These quick and quirky games involve using household items to complete mini-challenges, like stacking cups or popping balloons.
Set a timer for one minute and get ready to compete!
With these game night ideas, you're sure to have a cozy and fun-filled winter date night.
So gather your snacks, turn off your phones, and let the games begin!
Winter Spa Retreats To Bring You Closer
Winter can be stressful, but it doesn't have to be!
Take some time to unwind with a winter spa date or couples spa retreat.
These relaxing winter activities are the perfect way to rejuvenate and reconnect with your loved one.
Winter Spa Date
Indulge in a luxurious spa experience with your partner.
Treat yourselves to a couples massage, facial, or body wrap.
Many spas offer winter-themed treatments like peppermint scrubs or hot stone massages that are sure to warm you up on a chilly winter day.
Tip: Create an at-home spa experience by lighting candles, dimming the lights, and using essential oils or bath bombs for a relaxing soak.
Couples Spa Retreat
Plan a weekend getaway to a cozy spa resort or hotel.
Many destinations offer couples packages that include massages, facials, and other spa treatments.
Take advantage of the resort's amenities like hot tubs, saunas, and steam rooms.
Tip: Book your couples spa retreat during the week to avoid crowds and save money on rates.
No matter which winter spa retreat you choose, these relaxing activities are the perfect way to escape the hustle and bustle of everyday life and focus on each other.
So go ahead, pamper yourselves and enjoy the winter season to the fullest!
Holiday Festivities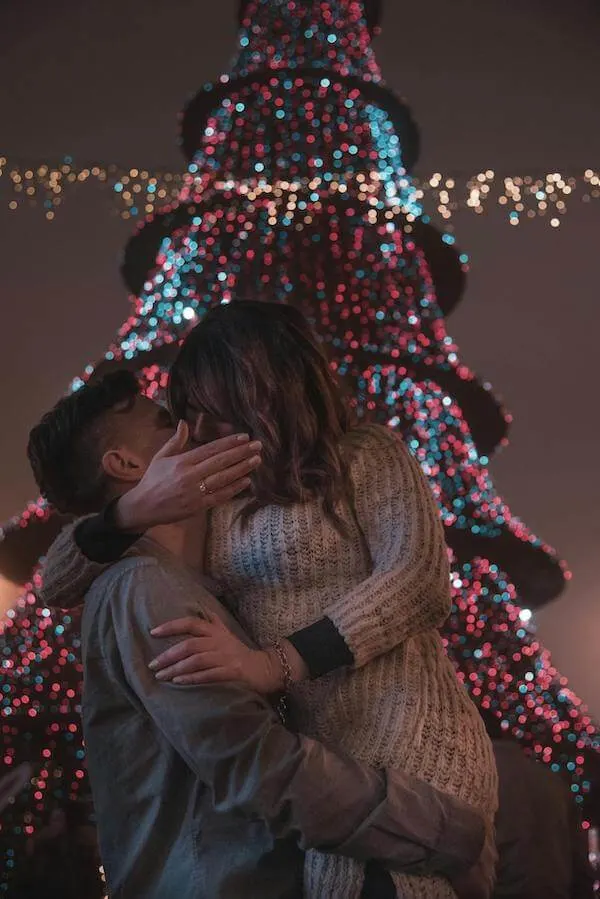 Winter is not just a season; it's a time for celebration and spreading joy with your loved ones.
Here are some holiday date ideas to make your winter nights memorable:
1. Go Ice Skating
Under twinkling lights and surrounded by festive decor, ice skating with your significant other is a classic winter date idea.
Whether you're skating hand in hand or trying to outdo each other with your moves, ice skating promises to be a fun and romantic experience.
2. Attend a Holiday Concert
From symphonies to local bands, there are plenty of holiday concerts to choose from.
Listening to live music, singing along to carols, and sipping hot cocoa together makes for a perfect winter date night.
3. Visit a Winter Wonderland
Take a stroll through a winter wonderland – a park or an attraction that's decorated with millions of sparkling lights and festive decorations.
You'll be mesmerized by the beauty of it all and can even snap some photos together.
4. Attend a Holiday Market
Browse through the unique gifts and trinkets at a holiday market, while sipping on spiced cider and nibbling on a festive treat.
It's a great way to find some one-of-a-kind gifts for your family and friends.
5. Have a Gingerbread House Contest
Get creative and have some fun by making gingerbread houses together.
Set up a contest and see who can make the most creative, delicious-looking house.
Don't forget to sample some candy along the way!
6. Watch a Winter Production
From The Nutcracker to A Christmas Carol, there are plenty of winter productions to choose from.
So, dress up, grab some popcorn, and enjoy the show.
Winter celebrations are all about love, joy, and spending time with your loved ones.
What are you waiting for? Choose a holiday date idea and make it a night to remember!
7. Look at Holiday Lights and Decorations
As the winter nights grow longer and the air grows chillier, there's no better way to lift your spirits than by taking a leisurely stroll through neighborhoods adorned with holiday lights and decorations.
The twinkling lights, elaborate displays, and festive adornments create an enchanting ambiance that is sure to ignite a sense of wonder and joy.
From classic white string lights to quirky inflatable characters, each house tells its own unique story, making for an immersive and magical experience.
There's something undeniably heartwarming about witnessing the creativity and effort that goes into decorating homes during the holiday season.
Whether you're admiring a simple yet elegant display or reveling in a technicolor extravaganza, the sight of twinkling lights against the night sky is bound to elicit feelings of warmth and nostalgia.
Walking among these splendid spectacles can evoke a shared sense of childlike wonder, making it an ideal setting for couples looking to create lasting memories together during this festive time of year.
What are some fun winter first date ideas?
Looking for some exciting winter first date ideas to sweep your potential partner off their feet?
How about heading to a local ice skating rink and gliding hand in hand under the twinkling lights?
The adrenaline rush from trying something new together will create an instant bond, and the opportunity for playful falls and catching each other will definitely lead to laughter and memorable moments.
If outdoor activities are not your cup of tea, consider a cozy movie night at home with a twist – instead of just watching a movie, why not pick a theme and dress up as characters from the film?
This fun idea adds an element of creativity and playfulness to your date, leading to plenty of laughs while forging deeper connections.
Plus, sharing your favorite films with each other can reveal a lot about your personalities and interests, sparking thoughtful conversations.
Lastly, if you both love nature, go on a winter hike or snowshoeing adventure.
There's something magical about walking through snowy landscapes while engaging in deep conversations.
The peaceful surroundings can serve as the perfect backdrop for getting to know each other better while enjoying the beauty of wintertime.
So embrace the chill and let nature set the stage for romance on this unforgettable first date!
Conclusion
Winter may be cold and dark, but it also provides the perfect opportunity to enjoy cozy and romantic moments with your loved one.
We hope this list of 50+ best winter date night ideas has inspired you to explore and experience all that the season has to offer.
Whether you prefer indoor activities like snuggling up for a movie night or outdoor adventures like ice skating, there's something for everyone to enjoy during the winter season.
So, what are you waiting for?
Grab your significant other and start planning your next winter date night.
Whether you choose to embark on a culinary adventure, take a romantic stroll through a winter wonderland, or indulge in a cozy night in with a hot cup of cocoa, these ideas are sure to help you create lasting memories together.
Remember, the most important thing is to have fun and cherish each other's company.
Happy winter dating!
FAQ
What are some romantic indoor date night ideas?
Some romantic indoor date night ideas include cooking a special meal together, having a cozy movie night at home, or creating an indoor picnic with blankets and candles.
What are some adventurous outdoor date night ideas for winter?
Some adventurous outdoor date night ideas for winter include ice skating, snowshoeing, or going on a winter hike to admire the snowy landscapes.
What are some cozy movie night ideas for a date?
Some cozy movie night ideas for a date include creating a fort with blankets, pillows, and fairy lights, or having a themed movie night with snacks and drinks inspired by the movie genre.
How can I have a romantic picnic during winter?
You can have a romantic picnic during winter by choosing a cozy location such as a park with fire pits or setting up a picnic in your living room.
ack warm and delicious meals, and don't forget to bring blankets and hot drinks to stay cozy.
What are some culinary adventures for a winter date night?
Some culinary adventures for a winter date night include cooking together and trying new winter recipes, having a themed dinner night where you explore a different cuisine, or creating a DIY hot chocolate bar with various toppings and flavors.
What are some romantic winter walk ideas?
Some romantic winter walk ideas include exploring snowy landscapes together, visiting a winter market and sipping on hot drinks, or going for a nighttime walk to admire the twinkling holiday lights.
How can I have a hot cocoa date night?
You can have a hot cocoa date night by trying different homemade hot cocoa recipes, or by visiting a local cafe that offers unique hot chocolate flavors.
Don't forget to snuggle up with blankets and enjoy your cozy drinks together.
What are some fun game night ideas for winter?
Some fun game night ideas for winter include playing classic board games, trying out new card games, or hosting a virtual game night with friends and family.
How can I create a relaxing winter spa retreat at home?
You can create a relaxing winter spa retreat at home by setting up a warm and cozy ambiance with scented candles and soft music. Treat yourselves to massages, facials, or hot baths with essential oils.
What are some festive holiday date night ideas?
Some festive holiday date night ideas include ice skating under twinkling lights, attending holiday markets, or decorating a gingerbread house together.
↓ Save This Post To Pinterest ↓
This post was all about winter date night ideas.
About The Author
Tracy is an experienced personal stylist, shopping expert, and fashion & lifestyle blogger. She has been featured on Time Magazine, Bustle, Best Life, Glam, The Zoe Report, Mic, and GOBankingRates, for her insights on fashion, beauty, home decor, and lifestyle. Read More
Related Posts: