Want to copy the best summer work outfits? Check this post for the trendiest outfit ideas and wardrobe essentials tips for work this year.
What to wear to work in hot summer days is a tricky question. We want to be able to wear fresh and breathable fabric at this time of the year, but also to look professional. At the same time, we don't want to wear the same as other people. We need to have our characteristics.
So how do you dress stylishly and coolly in summer? Moreover, summer clothes are changed and washed very frequently. So do we need to buy many clothes to meet the needs of working in the summer?
No.
Firstly, we suggest that everyone pay attention to the investment in shoes and shirts in the summer. You will find that a suitable pair of shoes can make your overall outfits look very professional at once and can turn many items in your summer wardrobe into very ideal for work.
In addition, shirts are the best items for work in summer. A well-made shirt can match almost all the bottoms in your summer wardrobe to make casual-looking bottoms suitable for work office dress codes.
So in this post, we will share more than 70 summer work outfits looks of different styles. These collocations can inspire you and allow you to create many fashionable summer outfits for professional setting through a minimal investment in a single product.
Want some creativity? We also curated the trendiest items from our favorite retailers this season to help you level up your summer wardrobe immediately and get your ideal casual summer work outfit!
So scroll down to check these ideas, and don't hesitate to pin the ideas you like and share them on social media!
This post may contain affiliate links, which means I'll receive a commission if you purchase through my link, at no extra cost to you. Please read the full disclosure here.
This post is all about summer work outfits.
Summer Work Outfits: Best Shoes To Wear For Work Casual Looks
The choice of shoes is undoubtedly the critical part of the outfits. A pair of comfortable, practical, and eye-catching shoes can not only help your look expensive but also can be neat and chic for work in the warmer months.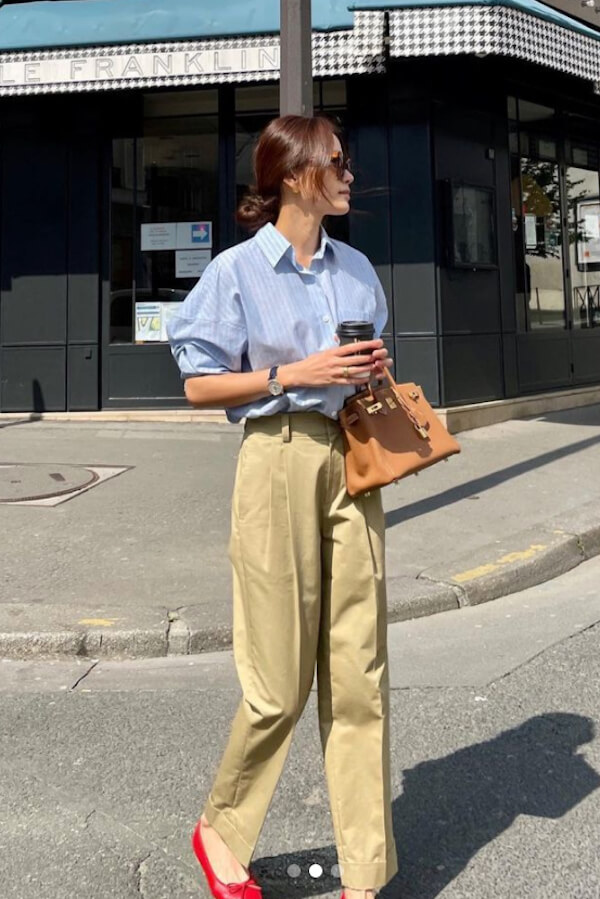 via WeHeartIt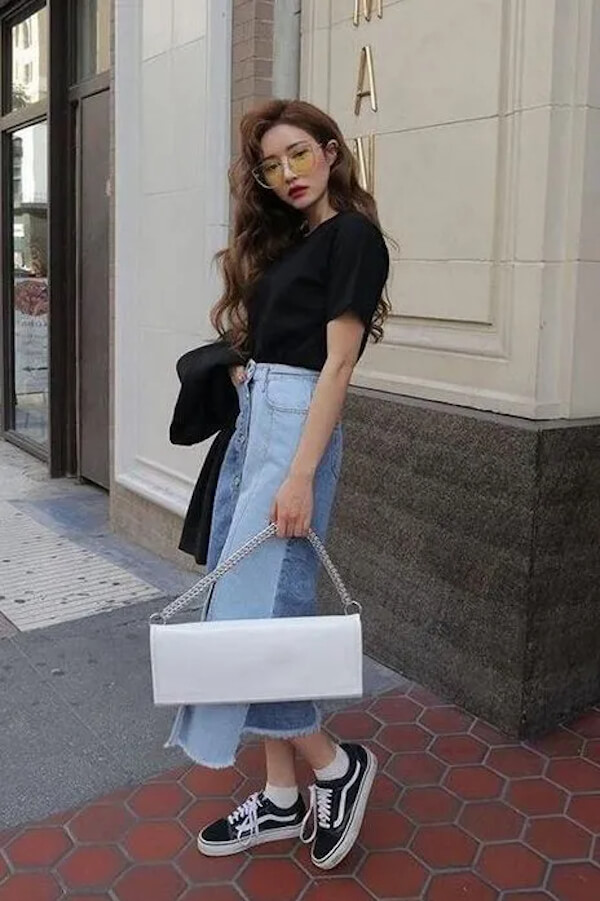 via WeHeartIt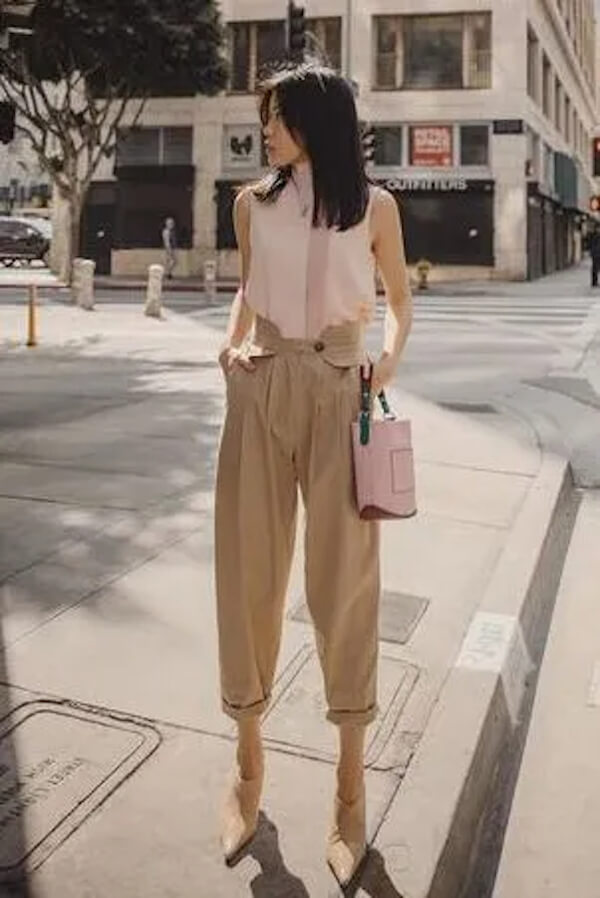 via WeHeartIt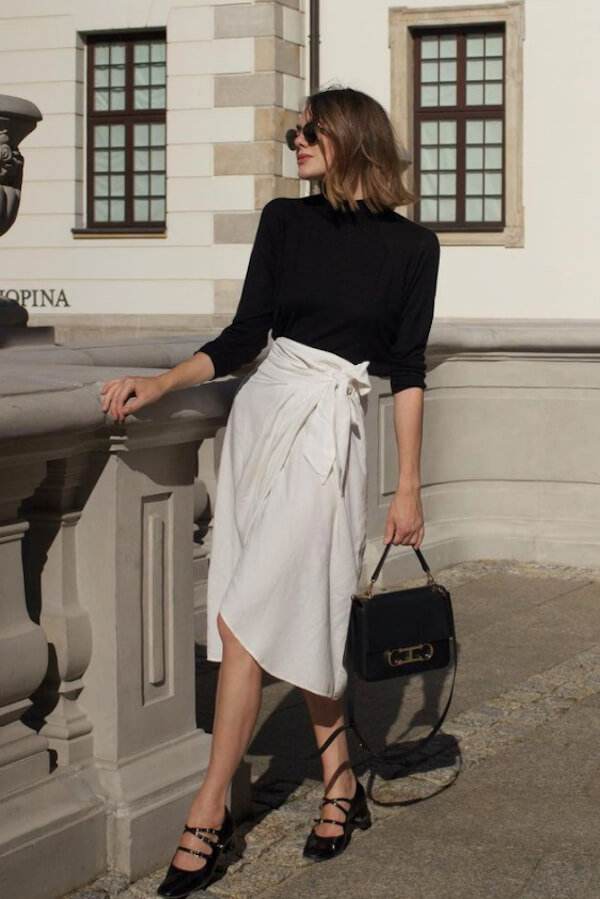 via Pinterest
Summer Work Outfits With Ballet Flats
The ballet flat shoes have undoubtedly successfully unlocked many stylish outfits, classic, comfortable, and elegant fashion styles for the warmer weather.
Whether they are matched with short skirts or trousers, the simple and light design of ballet shoes will be able to bring more summer coolness in the warm weather.
When wearing ballet shoes, it is recommended that the colors of the tops and bottoms are relatively simple, and avoid wearing too fancy clothes, These workwear ideas can look more expensive and professional, and more suitable for work environment.
You can also try a pair of red ballet flats to add a pop of color to your office wear. Red is usually an unexpected colors for office wear but a small area of bright color is super stylish.
If you prefer a black pair, another way to add a personal touch to your perfect summer work outfit is to tie a silk scarf to your handbag.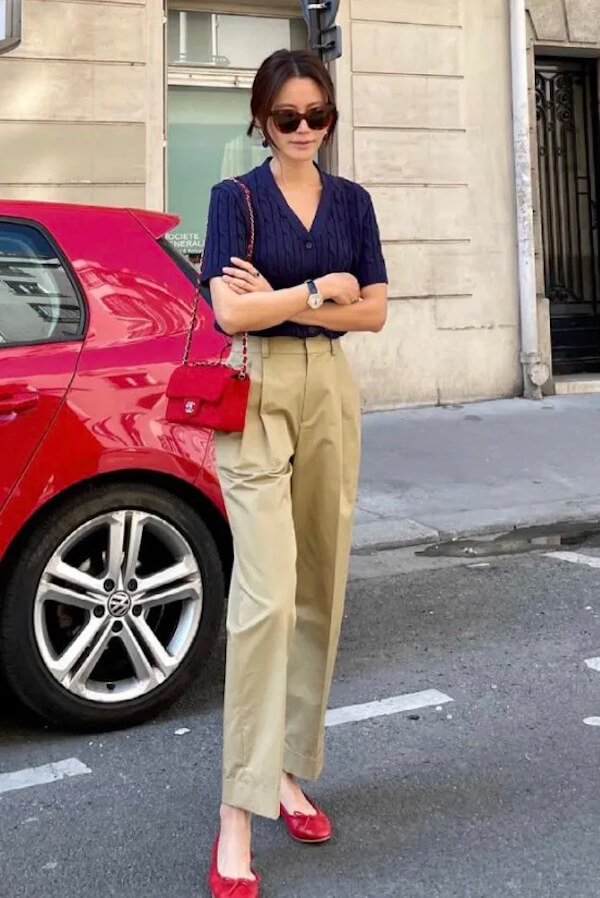 via WeHeartIt
via Pinterest
via Pinterest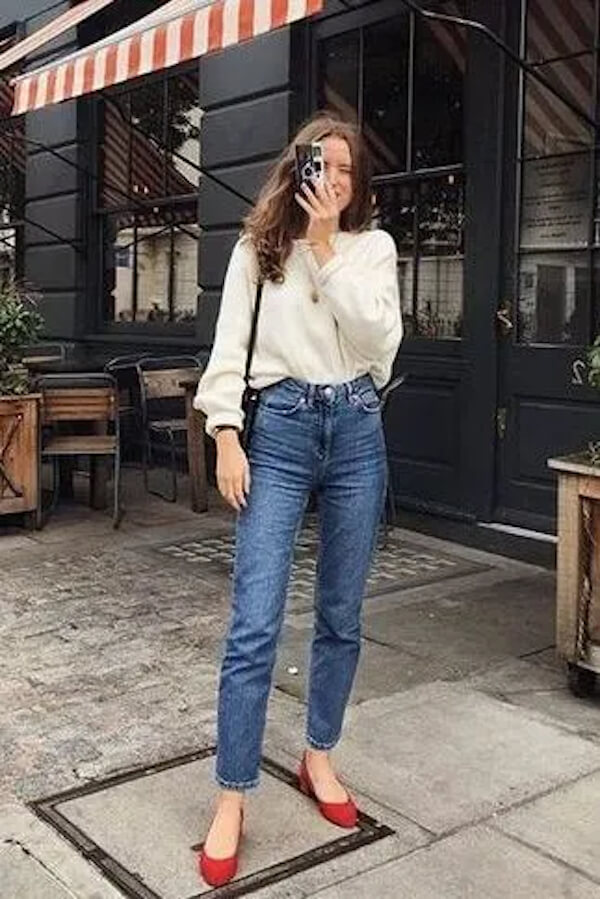 via Pinterest
Copy The Looks:
Summer Work Outfits With Strap Sandals
How can summer fashion wear lack sandals? Flip flops are not suitable for work so a pair of chic sandals are the must-haves.
If you are wearing it for work, it is recommended to choose high-heeled sandals with thin straps, which look elegant and charming without looking bulky. This kind of sandals has a sort of magic power, can make the wide pants very fashionable.
If you are preferring a less formal look, choose flat sandals.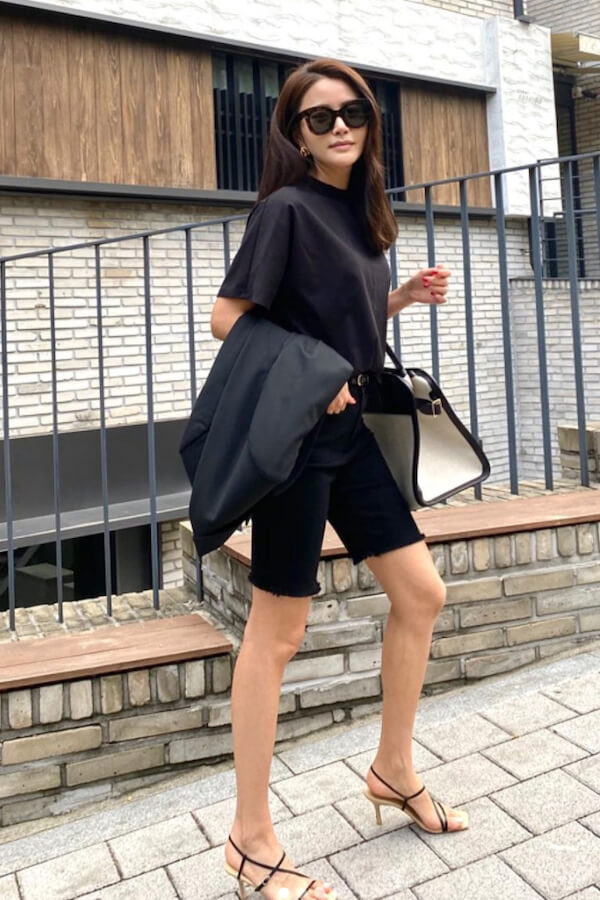 via Pinterest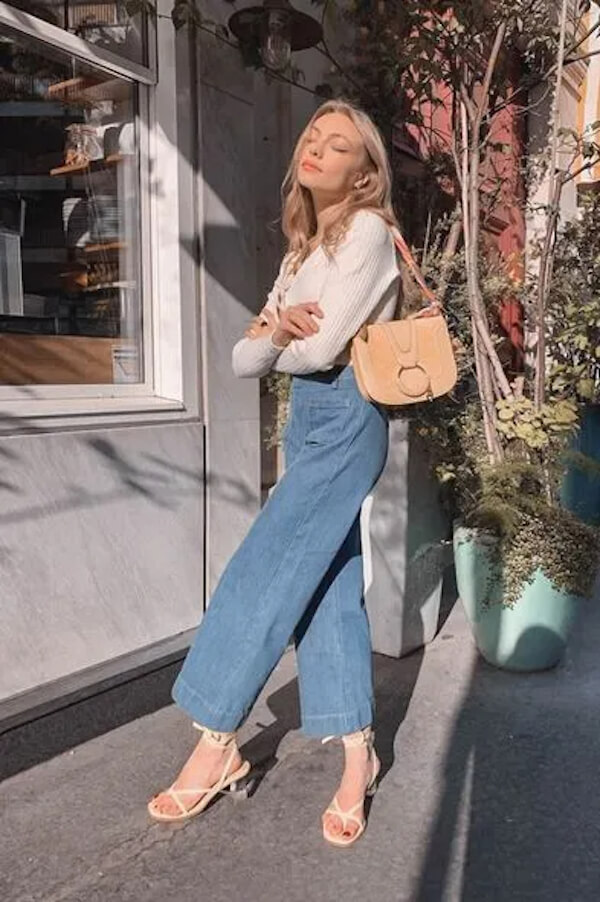 via Pinterest
via Pinterest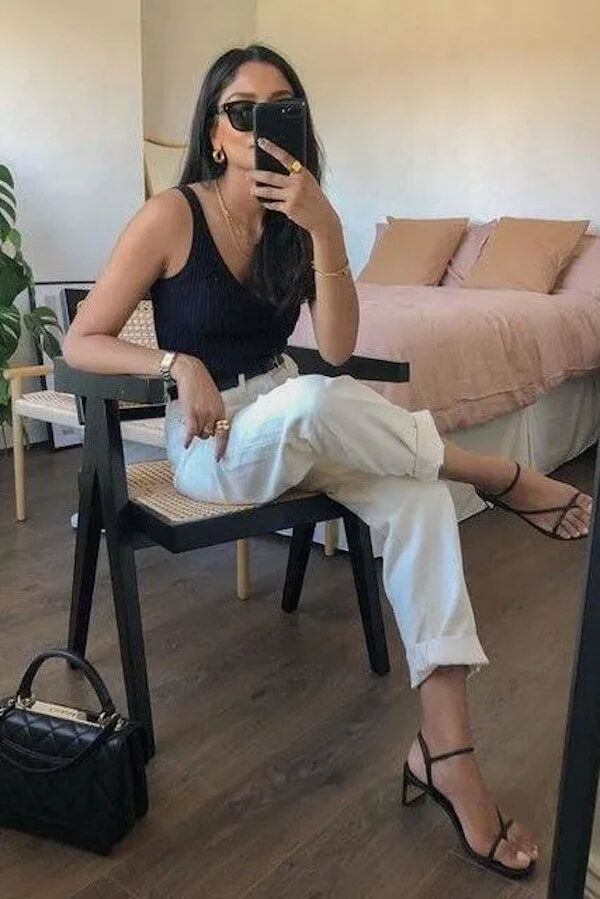 via Pinterest
Copy The Looks:
Summer Work Outfits With Mules
Mules can bring retro and fashionable highlights to your outfit in the hot days, and they are very comfortable to wear, so please include them in your office-appropriate outfit ideas.
I especially recommend the combo of wearing a shirt + high-waist pants + mules, which makes you look excellent in proportion with long legs.
In addition, mules are also very suitable for matching with the trendy shirt dress recently. This is a great way to make you look very neat, very ideal for work.
via Pinterest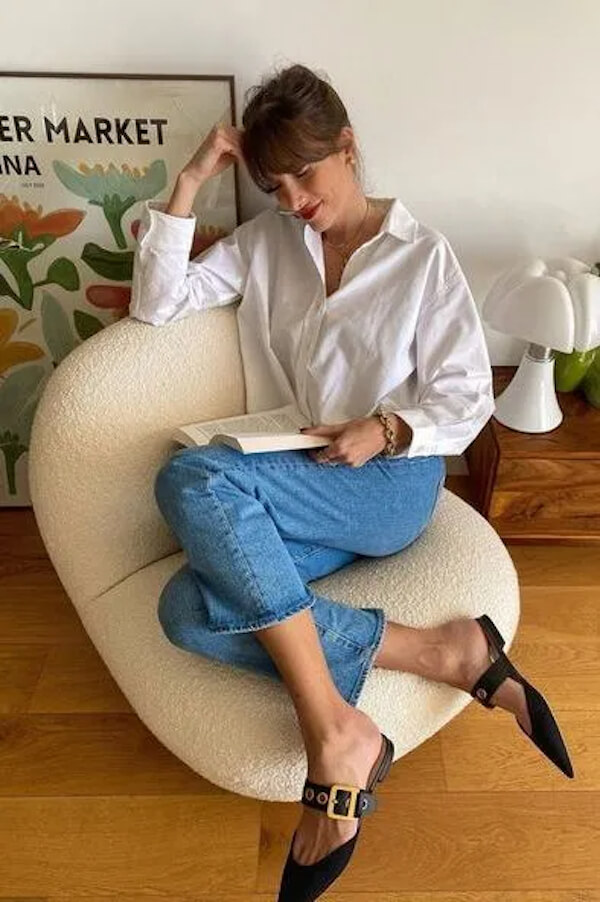 via Hola.com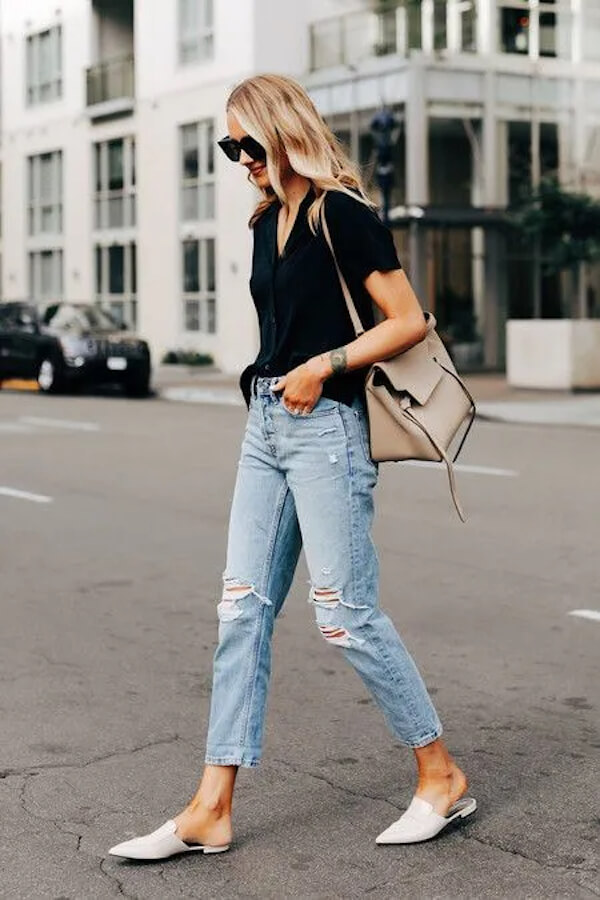 via Tumblr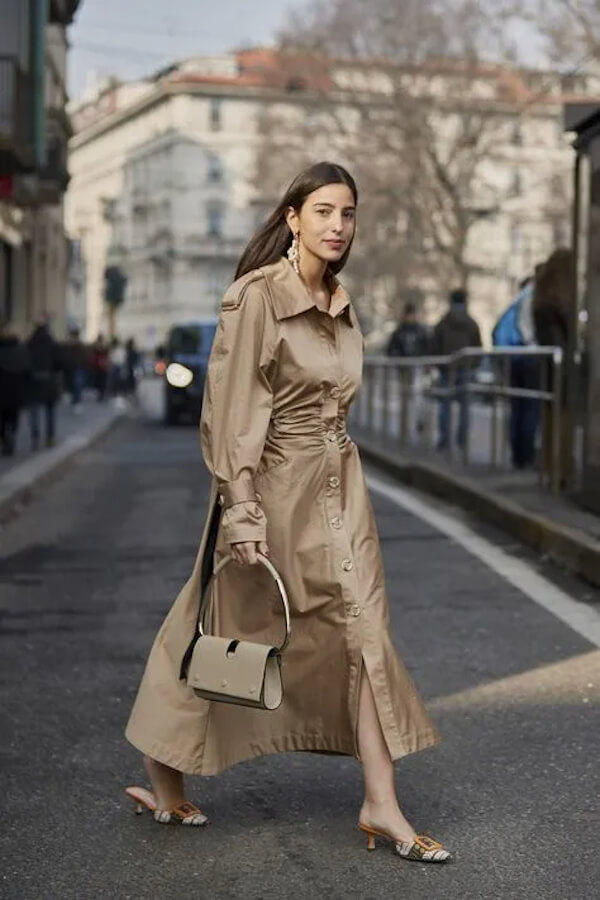 via Tumblr
Copy The Looks:
Summer Work Outfits With Loafers
As a single shoe that combines strength and beauty, Loafers can be said to be the most versatile and effortless chic shoes.
I recommend you the combo of loafers + cropped pants. The outfit looks handsome and elegant.
If you want more femininity, choose the combo of loafers + skirts to create a cute summer style with the perfect balance of tomboy style and femininity.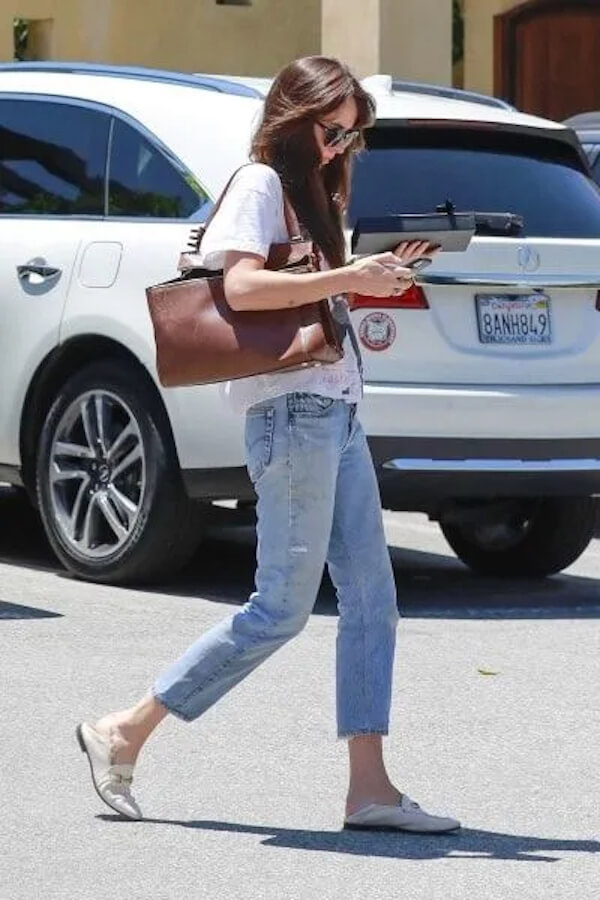 via Pinterest
via Tumblr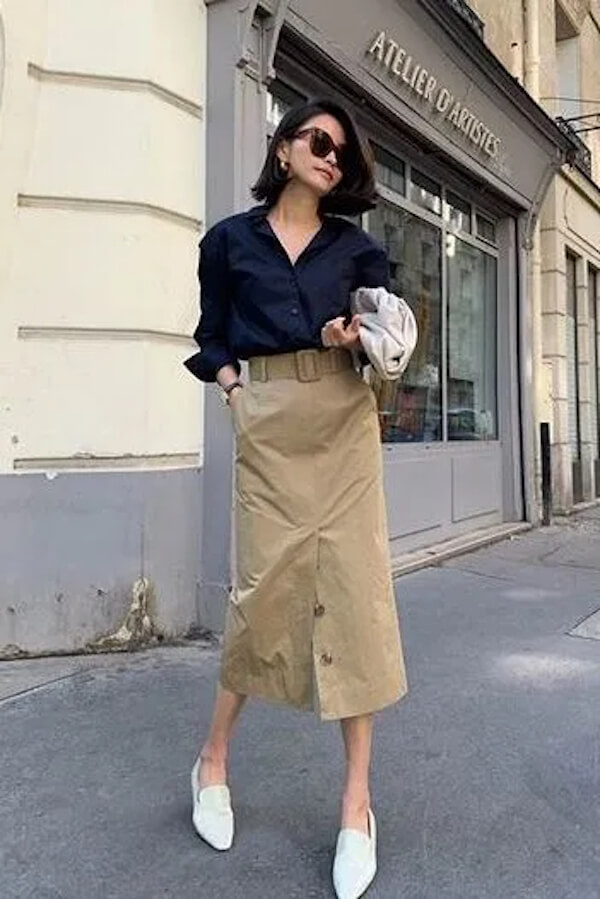 via Pinterest
via Tumblr
Copy The Looks:
Summer Work Outfits With Canvas Shoes Or Sneakers
Can canvas shoes popular in summer come to work? If your working environment does not have a strict dress code, you can wear canvas shoes to work.
It is recommended to choose canvas shoes with a relatively simple style, and at the exact time match with neutral-colored clothes. In addition, select oversized styles or longer maxi length skirts. They look fashionable and add a mature temperament, making your work outfits look even more professional.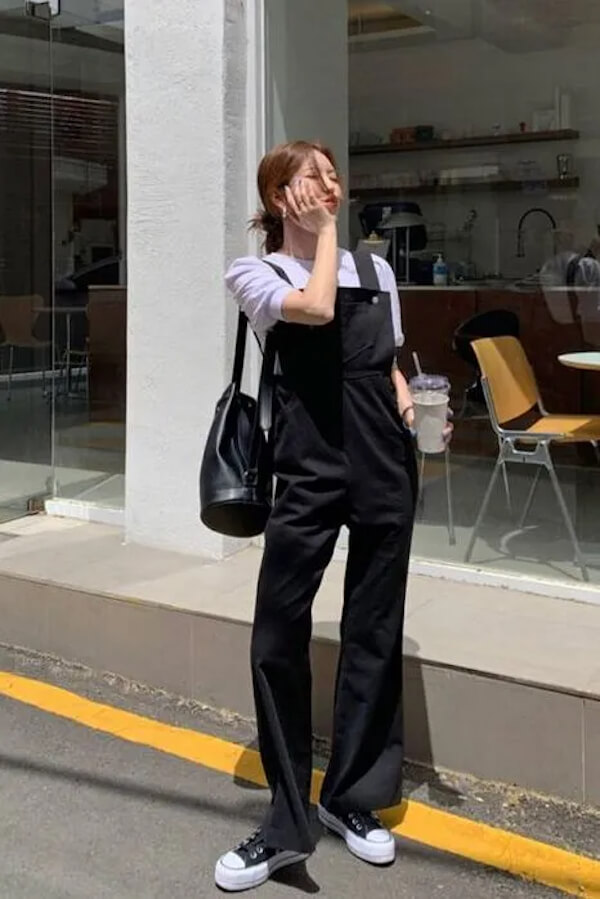 via WeHeartIt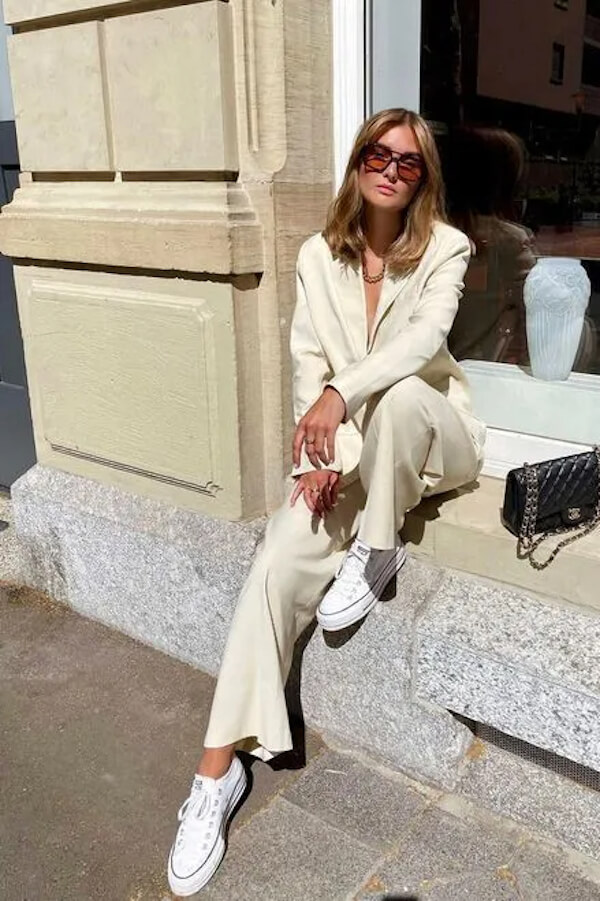 via Pinterest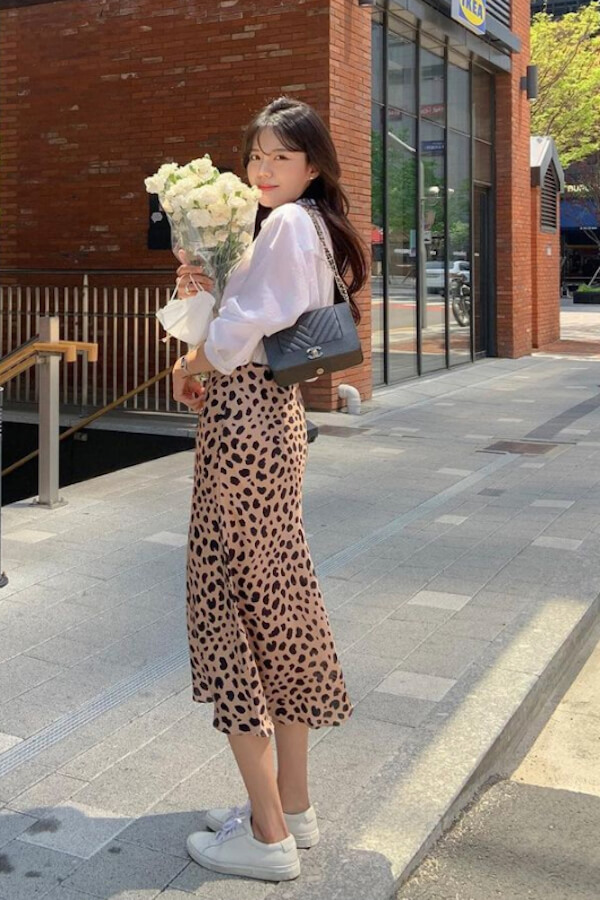 via Tumblr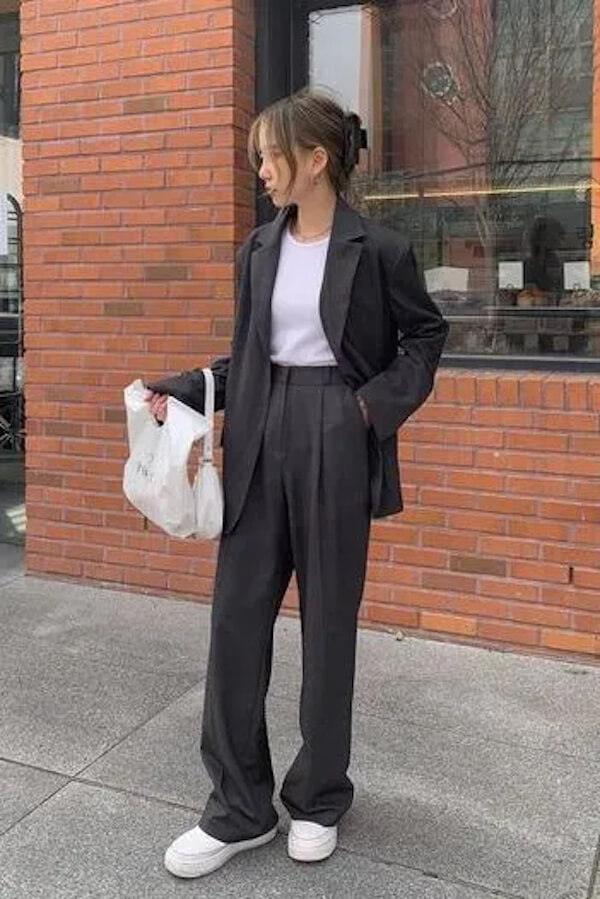 via WeHeartIt
Copy The Looks:
Summer Work Outfits With Shirts
No matter what kind of clothes are popular in summer, I highly recommend that you prepare a few more shirts if you go to work. They are the best items you use to create work outfits.
Not only button-up shirts are suitable. There are many shirts to choose from. As long as the shirts are fine materials and finely cut, you can wear them boldly to go to work. Prepare one nice white button down as your basic top for summer, and gradually try many more colors and styles.
You can use well-made shirts to match almost all the bottoms, and matched with the shoes we introduced above, can make you look professional and fashionable.
I recommend you to prepare a nice-made silk blouse or blouse of other natural fabrics to reduce the summer heat, which is a great piece for summer workwear and even after work happy hour.
Moreover, shirts are work wardrobe staples that we can wear almost all year round. When the weather is cold, it can also look elegant with a jacket or coat outside.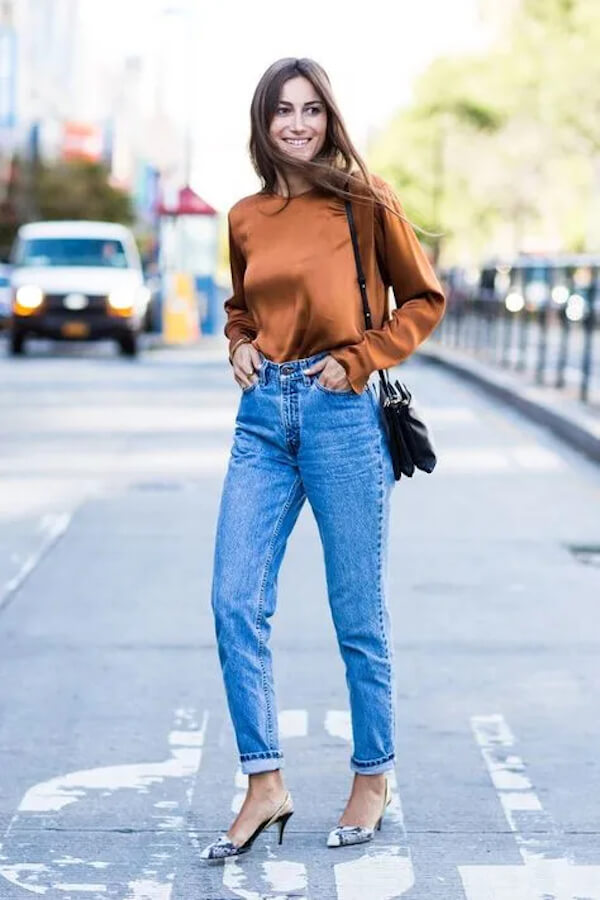 via Tumblr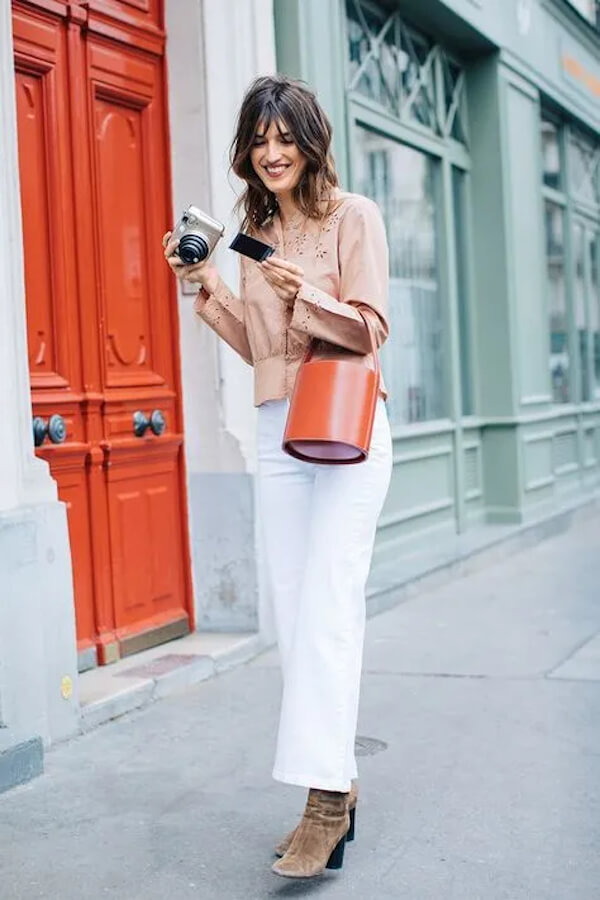 via Tumblr
via Pinterest
via Pinterest
Shirt + Jeans
A pair of jeans is a common item in spring and summer. If you wear them at work, we recommend that you use them to match shirts. Shirts can weaken the casual style of jeans.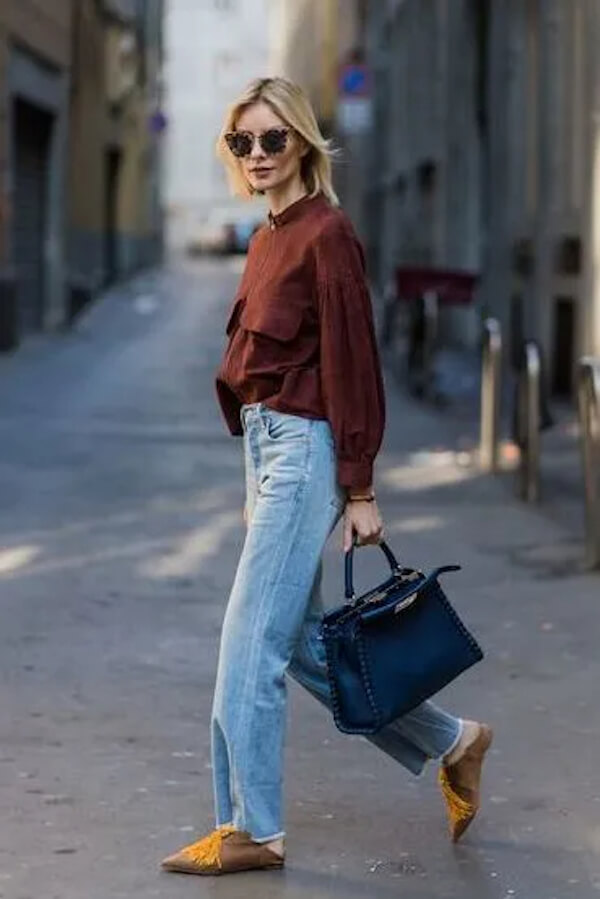 via Pinterest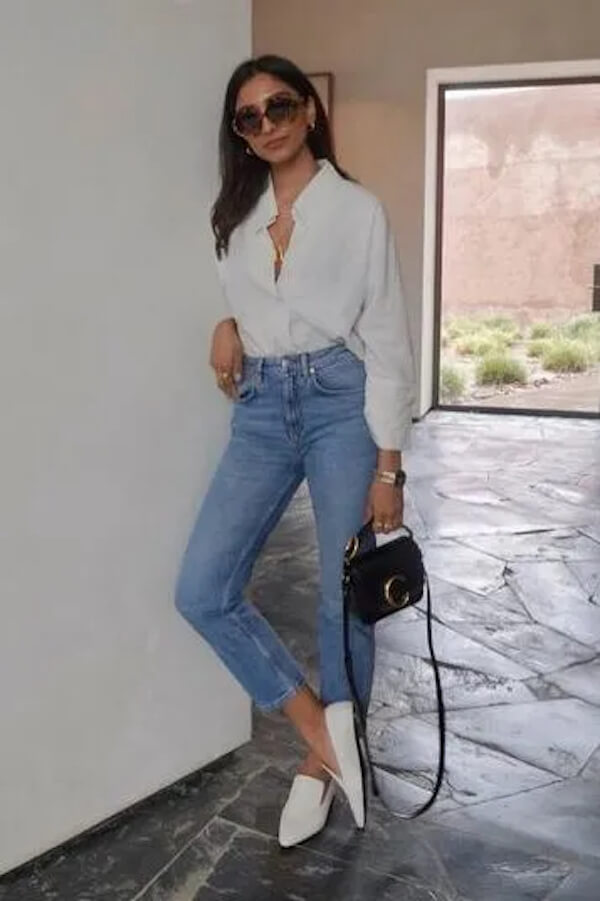 via Tumblr
It is recommended to choose a simple and low-key style for jeans, and not be too loose. Instead, use your shirt to express the elegance and looseness of the whole tone so that the overall look will look elegant and capable.
via Pinterest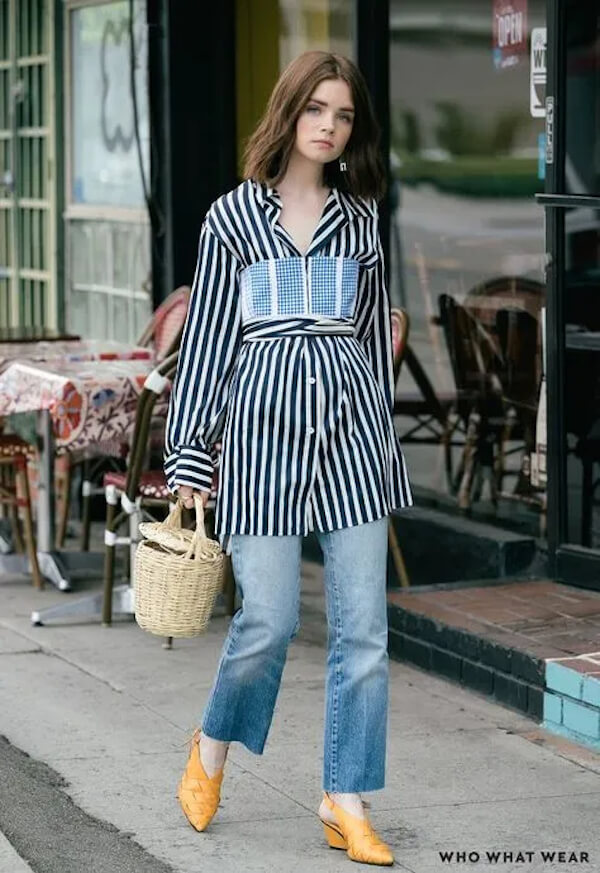 via who what wear
Shirt + Pants
As long as you choose suitable trousers, your pants can match almost any shirt in summer.
Unlike jeans, you can choose the wide leg style that is very popular recently, but you must choose the lighter fabrics that are not easy to wrinkle, and the drape of the material should be better so that it will look more energetic. A nice pair of wide leg pants would be your best friend for your summer work wardrobe.
In addition, in addition to the typical white pants and black pants, if you can find shirts of the same color to match, you can boldly try other shades of pants to add more highlights and fun to your summer wear.
via Tumblr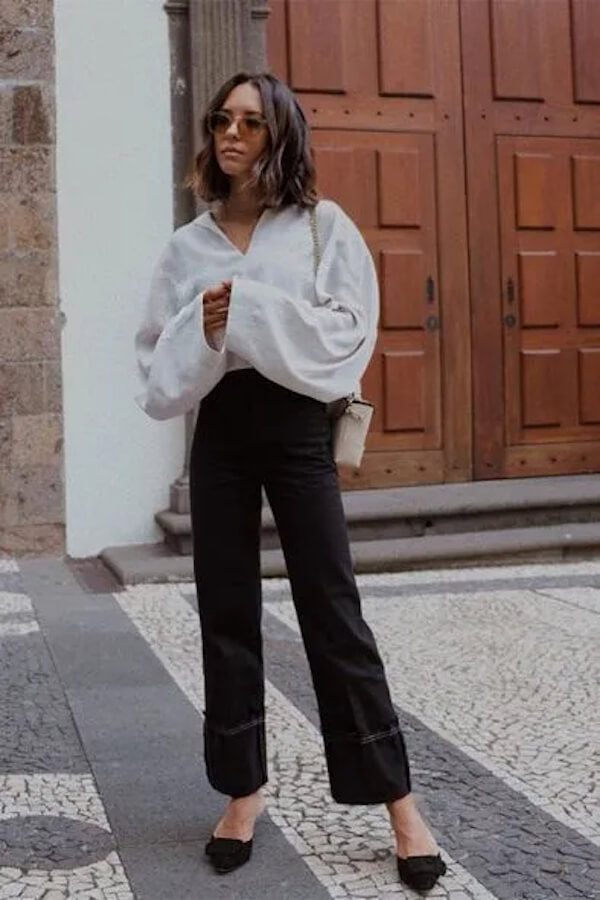 via Pinterest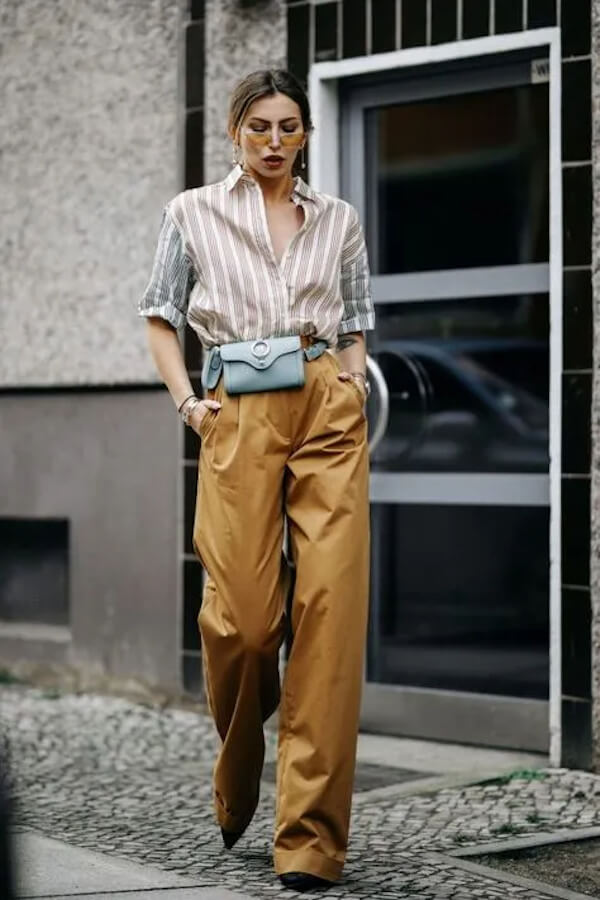 via WeHeartIt
via Pinterest
Shirt + Slip Skirt / Pleated Skirt
If you want to wear a skirt to the office in the summer and don't want to wear an ordinary boring pencil skirt, choose a more oversized or midi skirt. You can match it with an oversized shirt.
The oversized shirts and skirts can dilute the original two items' too gentle and feminine side, and they make you look powerful in your workplace.
But don't forget to expose or strengthen your waistline so that you will not look shorter.
If the waist of your skirt itself is not apparent, don't forget to tie a knot with the hem of your shirt.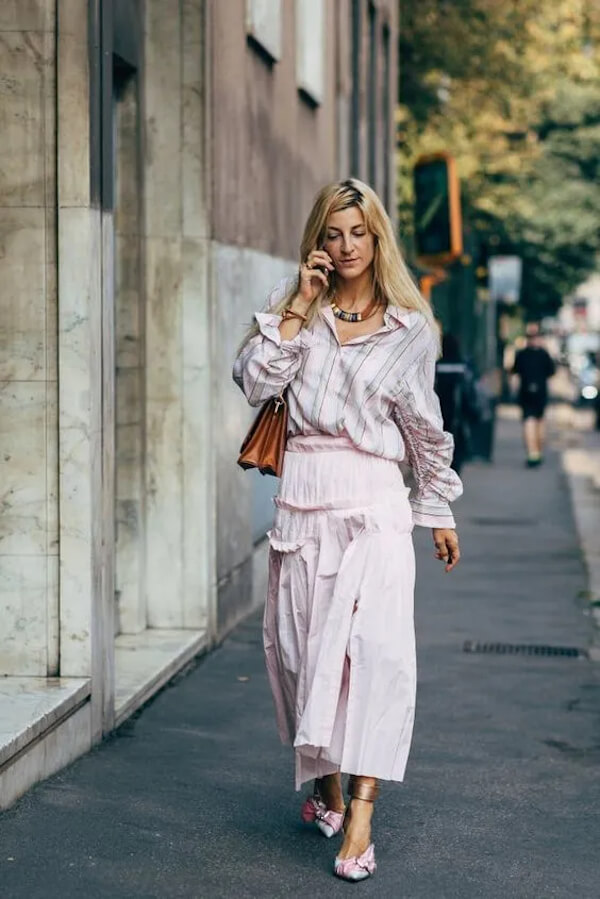 via Pinterest
via Pinterest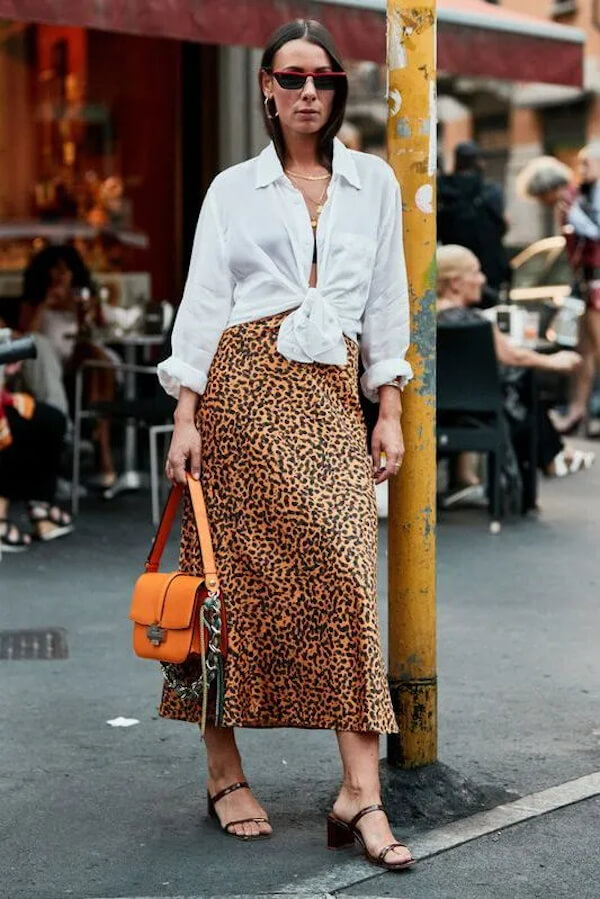 via Pinterest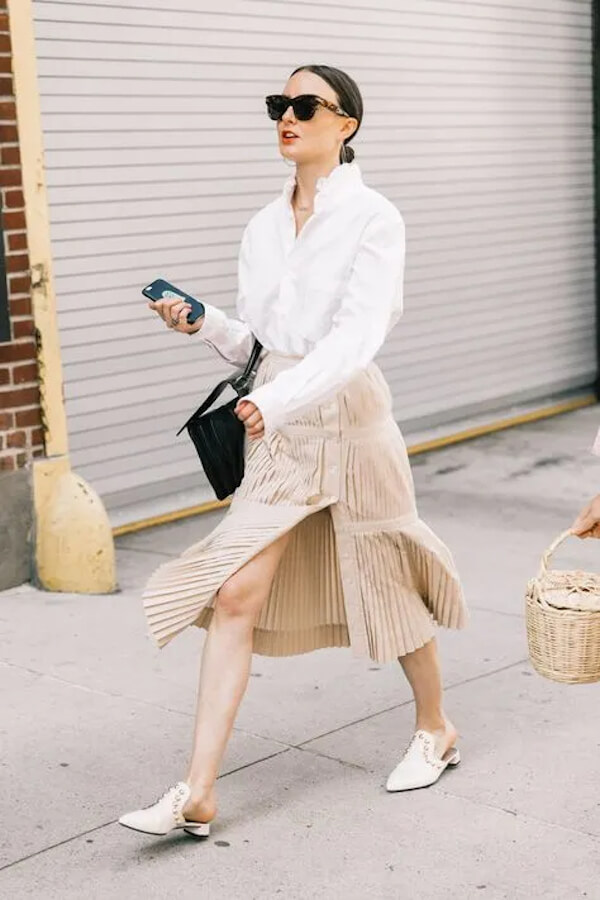 via Pinterest
Copy The Looks:
Trendy Summer Business Casual Outfits For Women: Outfit Formulas
Want more inspiration? Check the below ideas to copy directly to get your own chic looks!
White Oversized Blazer + Crop Jeans + Sandals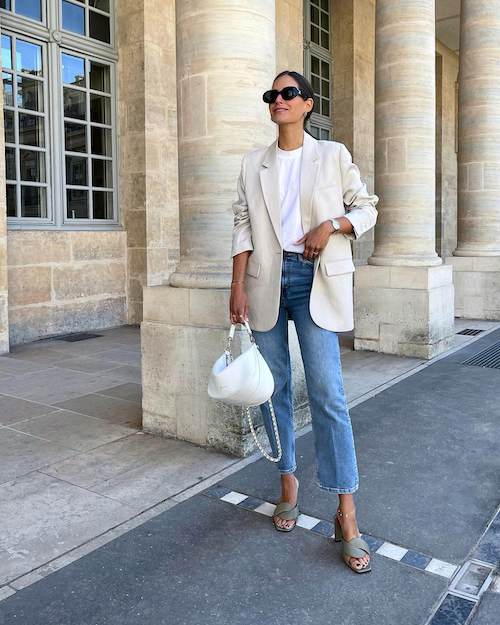 @ariviere
White Button Up Shirt + Black Pants + Sneakers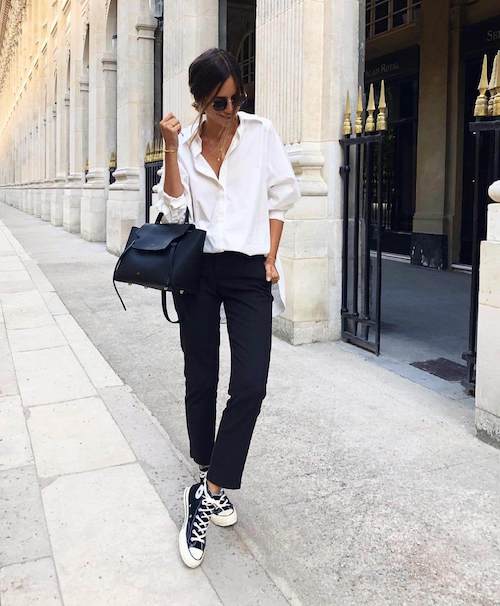 @lglora
White Tshirt + Blue Jeans + Black High Heels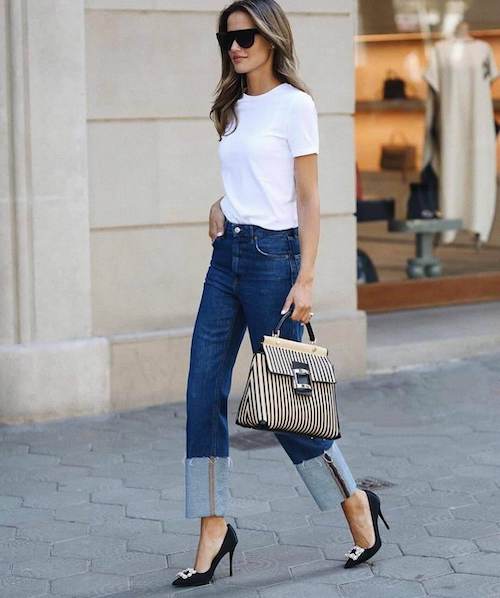 @ariviere
Monochromatic Looks: Long Sleeves White Tops + Cream Pants + White Sneakers
@cocobeautea
Black Sleeveless Top + Jean Skirt + High Heels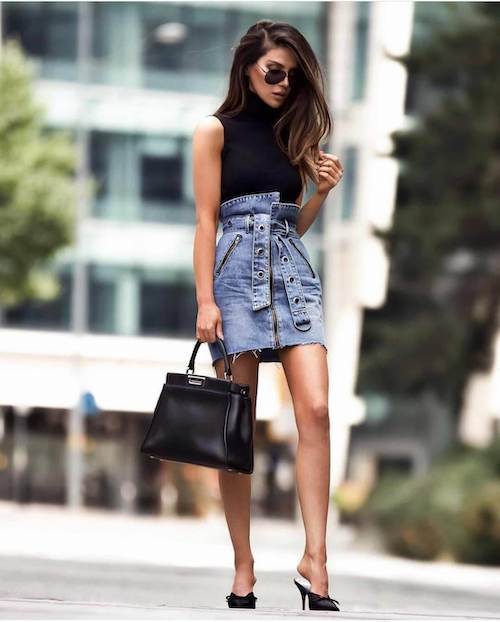 @modeison_
Plain White Tee + Grey Good Power Suit Blazer + A Pair Of Shorts + Platform Sandals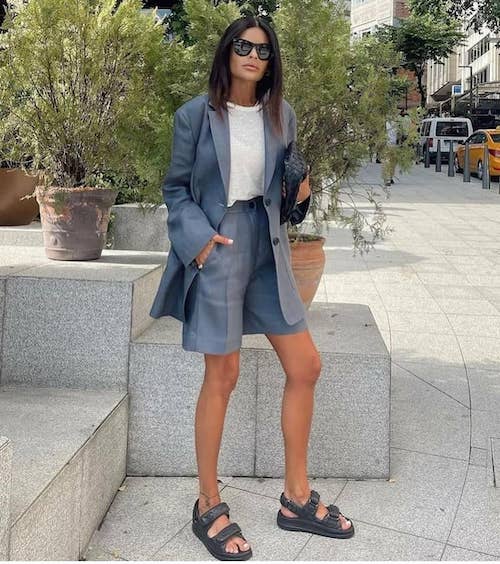 @nazifeeozcan
White Button Down Shirt + Grey Wide-Leg Pants + Sneakers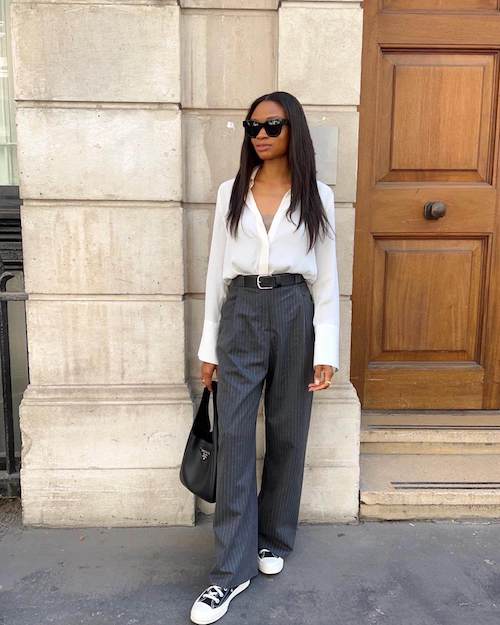 @symphonyofsilk
White Shirt + Black Skinnies + Black High Heels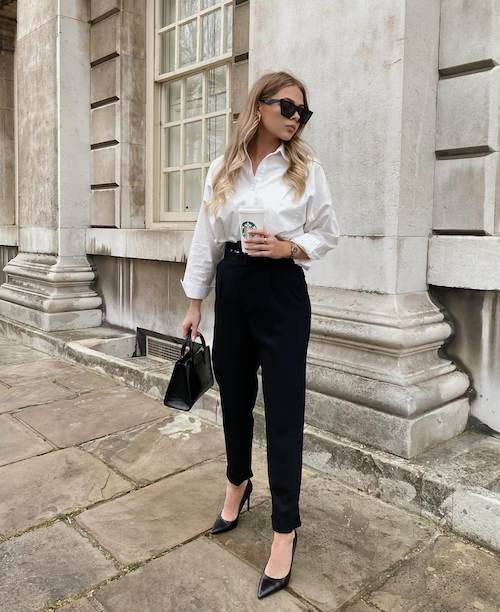 @mildagud
Simple White T-shirt + Blue Skinny Jeans + Loafers

@ariviere
Blue Blouse + White Pants + White High Heels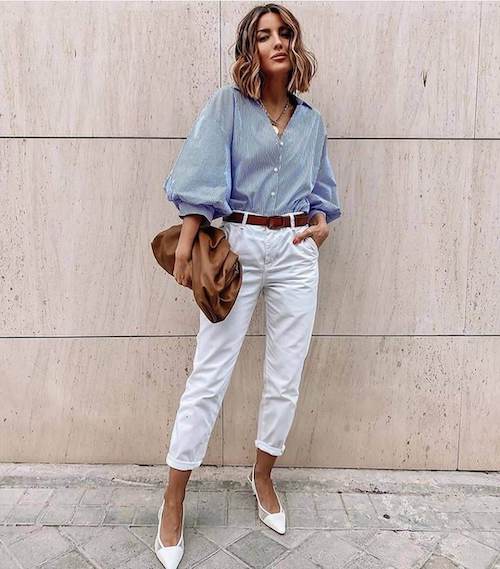 @alexandrapereira
Green Shirt + White Jeans + Sandals
@lilyisabellaclark
Black Shirt + Khaki Pants + White Sneakers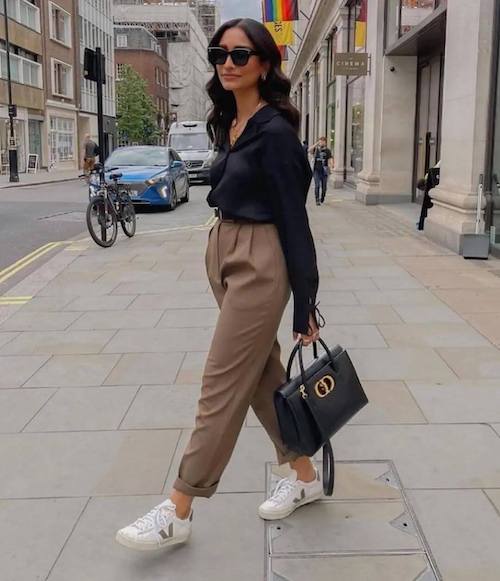 @cocobeautea
White Top + Khaki Suit Set

@irinstylin
Cute Summer Office Outfits To Shop Directly
Check the below summer work outfit ideas we've found from our favorite retailers this season!
Ivory Pleated High-Waisted Trouser Pants White Outfit
White Blouse
Oval Pearl Decor Cutout Satin Shirt in White Look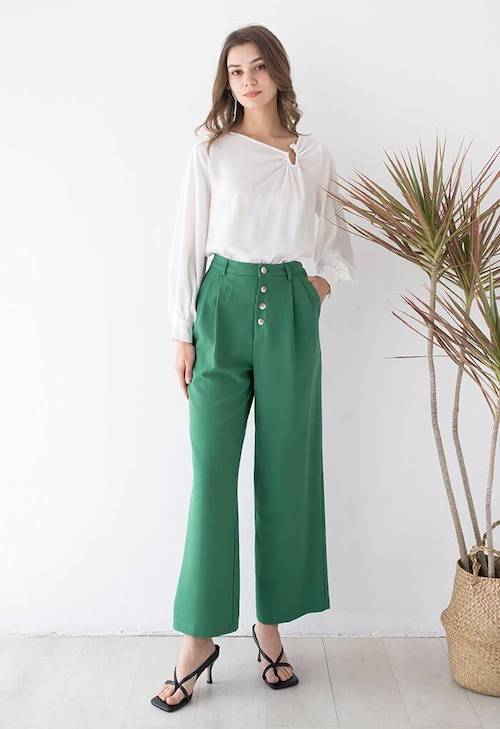 Buttons Closure Straight-Leg Pants in Brown
Khaki Wide Leg Pants
Grey Wide-Leg Trousers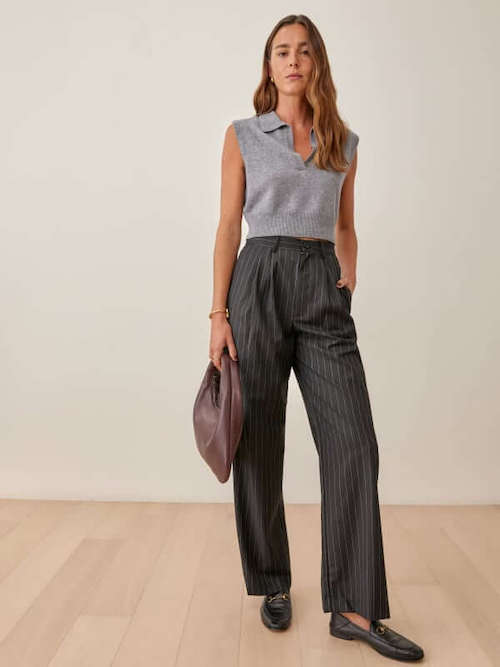 Simplicity Solid Color Textured Skirt in Mustard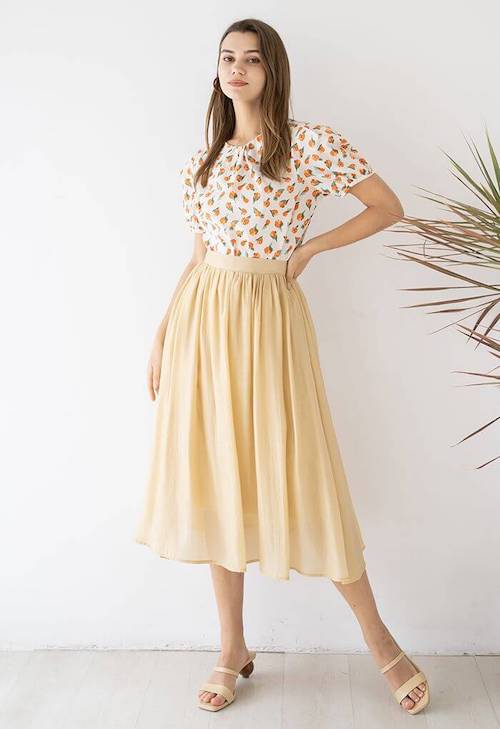 Linen Mini Skirt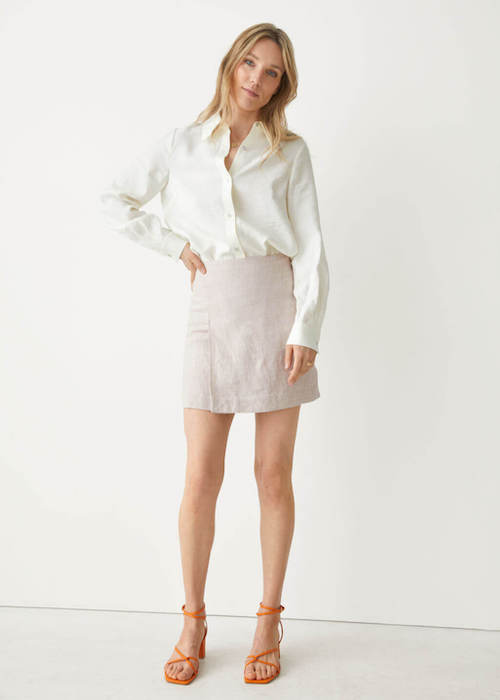 High-Rise Skinny Jeans in Carbondale Wash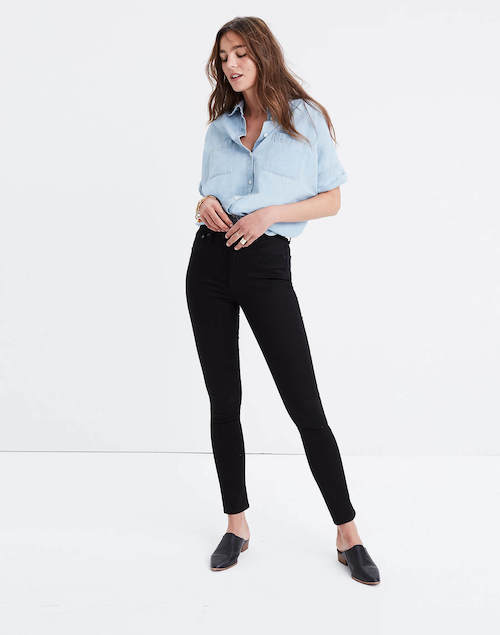 Leather Mini Skirt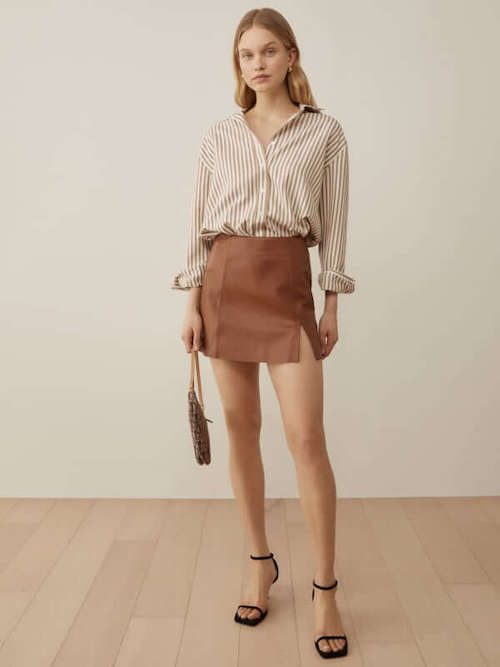 Blue Relaxed Fit Butterfly Sleeve Top
VISCOSE BOXY CROPPED BLAZER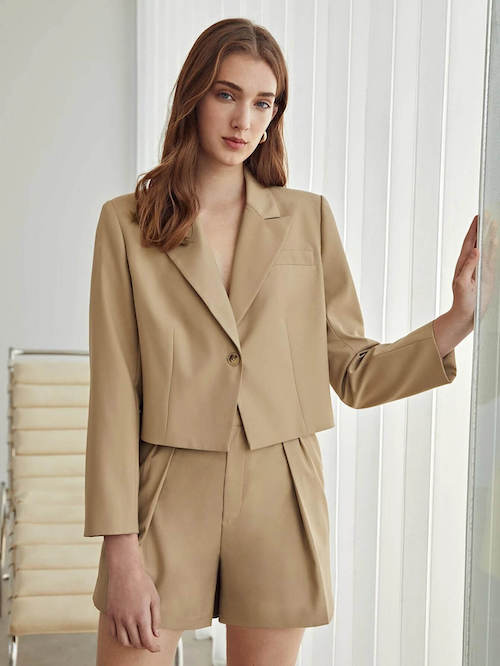 Black Sleeveless Button Up Blouse
Solid Button-Front Drop Shoulder Shirt
COTTON BLEND SLIT TOP & PANTS SET
Khaki Shirt Mini Dress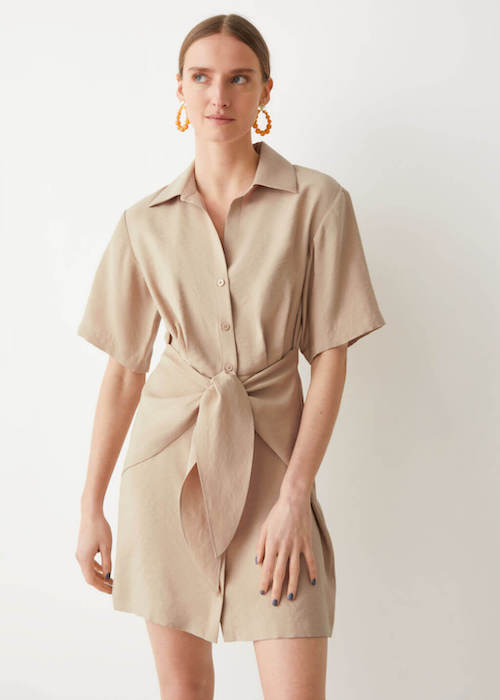 Flutter Sleeve Midi Dress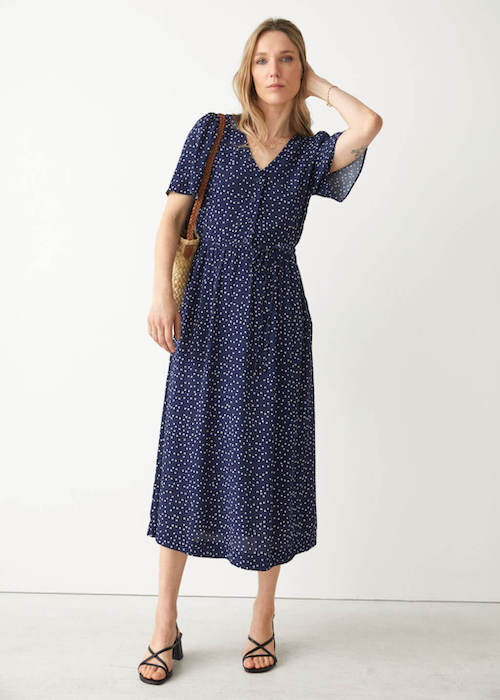 Twist Front Sleeveless Blouse
Beige Wide-Leg Linen Button-Front Trouser Pants
Little Black Dress: Black Linen Dresses
M-SLIT TAILORED PANTS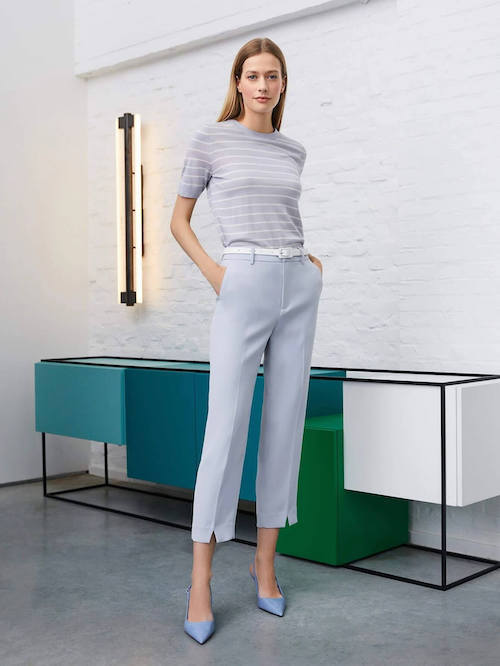 RECYCLE POLYESTER DRAPED NECK TOP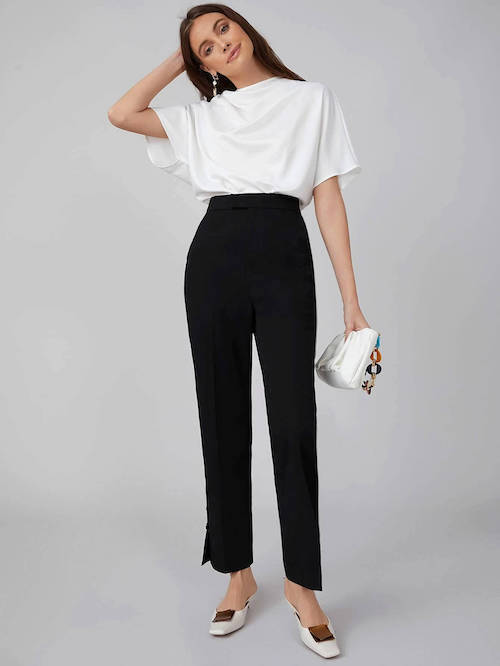 SLEEVELESS BELTED JUMPSUIT
Cropped button pants
This post was all about summer work outfits.
Related Posts: