Want to know how to get a boy to like you? You must read this post. All the tricks listed in this post are proven great and helpful!
It is not easy to get a boy to like you back. However, there are actually tricks that would work and help you a lot! Why not try them today?
This post may contain affiliate links, which means I'll receive a commission if you purchase through my link, at no extra cost to you. Please read the full disclosure here.
This post is all about how to get a boy to like you.
How To Get A Boy To Like You
1. Become friends and create more time to spend together
Hanging out with a group of friends is a good idea if you are not familiar with each other at the beginning or if you are too shy.
You can arrange a movie night, a party, or a game night with friends, and send him a message inviting him and his friends to join you.
Be yourself in the hanging out and let him notice you in a casual setting.
2. Remember his important details and show your care for him
A kind reminder, every girl chasing him would remember his birthday or his zodiac sign. To show your difference, remember some other important dates in his life.
For example, an important exam, an important job interview, an important context.
Send him some encouraging message, or if you can, go to watch his context.
3. Stare at the most attractive place on his face
Boys are all visual animals, and their appearance is a stepping stone to boys.
In the process of dating a boy, you have to have intensive and even threatening eye contact with him, which is an important factor for him to fall in love with you.
When chatting with a boy, stare at the most attractive part of his face so that your pupils will automatically dilate, and your eyes will become attractive.
Simultaneously, thinking about beautiful and lovely things, such as focusing on how attractive the person you want is, how comfortable you are with him, or how happy it is to eat with him.
4. Imply that you are interested in everything about him
Lovers hope that there are some different characteristics between the two.
They choose those who can bring themselves new experiences, contain new perspectives, learn new technologies, enrich their lives, and make up for their deficiencies.
When you first fell in love, you knew very little about the boys, and you didn't know the other's values, attitudes to life, or hobbies.
But you can suggest to him that you are interested in everything about him, and you like it.
Listen carefully to what he is talking about, choose the words you want, and repeat them repeatedly.
If during the chat, you find that his body is leaning back slightly, or starting to lean slightly, or even a little restless, it means that his interest in you is declining, and he is not interested in the topic.
At this time, you have to take action immediately.
You can suddenly stop the topic and call out his name, then bring the focus of the conversation back to him.
For example, you can suddenly stop and look into his eyes and say gently: I remember you just said that you want to travel.
The speed of speaking here must be slow, and the eyes must be focused on him with love. The advantage of this is to bring his attention back quickly.
And if your tone and eyes are gentle enough, it will bring new passion to your date.
How To Get A Boy To Like You Back
5. Never give up self-development
Your knowledge, taste, and personalities are all your great assets.
Never stop learning, never give up self-development, and strive to cultivate your social skills and other skills.
All these will make you more self-confident and no one does not like a confident and independent girl.
6. Make the boy think that he is in love with you
You can ask the boy to do you a little favor, ask him to give you a gift, and then thank him.
But be careful, don't be particularly grateful, and act as if he worked hard for you is completely reasonable.
Human beings all have the tendency to achieve the consistency of thoughts and actions.
When the boy is doing things for you and feels that you think his help reasonable, he will make himself believe that he must fall in love with you before he is willing to do these things for you.
How To Get A Guy To Like You
7. Learn to develop his self-esteem
A boy's ideal self-image is the key to nourish his self-esteem and gain his love.
Let the boy feel that you are the person with a unique vision, and the reward you get is to make him fall in love with you convincingly.
You can make your boy feel that you can give him unconditional love.
But you have to do it subtly; rushing or improper praise will only make the boy hate it.
Remember the below four steps:
First, you have to let the boy know that you are attracted to him;
Then in the process of your conversation, you must let the boy feel the infinite understanding and recognition that you truly express;
Third, you should throw out implicit compliments in return. In the process, you can find private words and use other techniques to make him feel unique.
Finally, it feels like you have fully understood how unique he is.
8. Learn some of the boys' language
Normally, women talk about people and feelings, men talk about things and skills.
Boys like to talk about cars, gadgets, and tools.
When men communicate, they are like playing cards. They like to play the game of "who can win." Men's talk is competitive, and girls are not recommended to imitate them.
But if girls can learn more about sports, politics, cars, and computers, your chances of having a good chat with men will increase.
How To Get A Guy To Like You Back
9. Make the boy feel that he is controlling the relationship
Men are never willing to lose control.
Unless your relationship has been strong enough, don't persistently ask him how he feels about the relationship between you.
If you get lost on a date with him, you must not advise him to ask for directions and not ask strangers for directions on your own terms. This makes him feel like a fool.
If your boyfriend is in a bad mood because of something unrelated to you, don't force him out of the cave, and don't let him feel guilty because he doesn't want to talk to you.
You have to let him know that if he is willing to talk, you are willing to listen at any time, but give him the freedom to hide in the safe cave until he willingly crawls out.
Be a clever girl. You can use strategies to lead the relationship direction, but make the guy think that he is controlling the whole thing.
10. Flirting and body touch is correct
Give him compliments on his intelligence, personality, and even look.
Then you can try body touches on him and see what his response is. Small and proper physical contacts can help you two become closer.
If you are dating each other, you can ask him some imitate questions and listen carefully.
You can tell him shyly and mysteriously how you view sexual fantasies and describe the pictures in your imagination.
Then asked him some imitate questions.
When he talks about sex, you can have a lovely shy smile.
You have to guide him to predict and keep speaking.
When he talks to you about his desires, you have to listen carefully.
How To Get A Boy Like You: Bonus Tips
11. Develop some details that belong to you two
A cute nickname, a thoughtful gift, an unforgettable experience… All these can help him remember you better and make you special to him.
A boy is more likely to like a special girl.
You can send him a message after you meet mentioning some details. And you can also mention the cute details again and again while you are talking with him later.
12. Be patient and never stop seeing other guys
Making a boy you like to like you back is not easy and sometimes you need prentice.
Never lose your temper and be angry in front of him if things don't happen as you expect.
Meanwhile, it is suggested that never stop seeing other guys unless you are finally in a relationship with him.
Never be committed before he admits that you are his girlfriend.
Men are easy to lose interest in the people or things that they already easily get.
Seeing other guys help you be more confident and relaxed, so you will be less nervous when you are seeing the boy you like.
Other Posts You May Like:
HOW TO GET A BOY TO NOTICE YOU AND ASK YOU OUT: 5 SIMPLE GENIUS TRICKS
Find this post helpful? We'd love it if you shared it on Pinterest!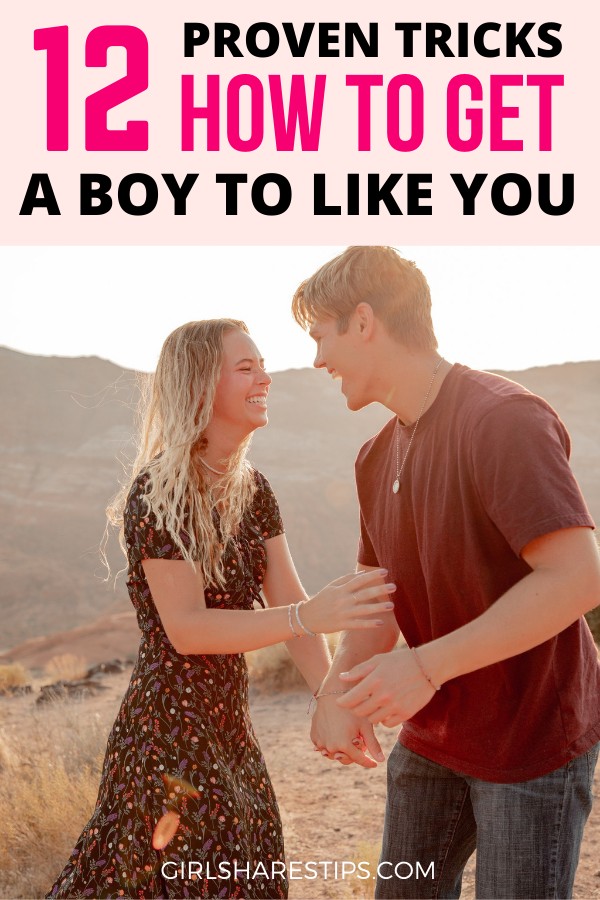 This post was all about how to get a boy to like you.
About The Author
Tracy is an experienced personal stylist, shopping expert, and fashion & lifestyle blogger. She has been featured on Time Magazine, Bustle, Best Life, Glam, The Zoe Report, Mic, and GOBankingRates, for her insights on fashion, beauty, home decor, and lifestyle. Read More