Are you wondering how to wear Crocs in the trendiest ways? Check this post for the best style tips on how to style Crocs, what to wear with Crocs, and the most stylish Crocs outfit ideas to wear this trendy footwear this year!
Crocs have become a staple in the footwear fashion world with increasing popularity in recent years, loved by many for their comfortable and versatile design.
Despite their popularity, some still struggle with how to incorporate Crocs into their outfits.
That's why we've put together this comprehensive guide on how to wear Crocs.
In this article, we'll provide you with 70+ outfit ideas and stylish ways to wear these versatile shoes that will make you stand out from the crowd.
Whether you're looking for inspiration for your everyday casual wear or want to dress up your Crocs for a special occasion, we've got you covered.
So let's dive in and discover the countless possibilities of styling these beloved shoes.
This post may contain affiliate links, which means I'll receive a commission if you purchase through my link, at no extra cost to you. Please read the full disclosure here.
This post is all about how to wear Crocs.
What are Crocs and How to Style Them?
What are Crocs?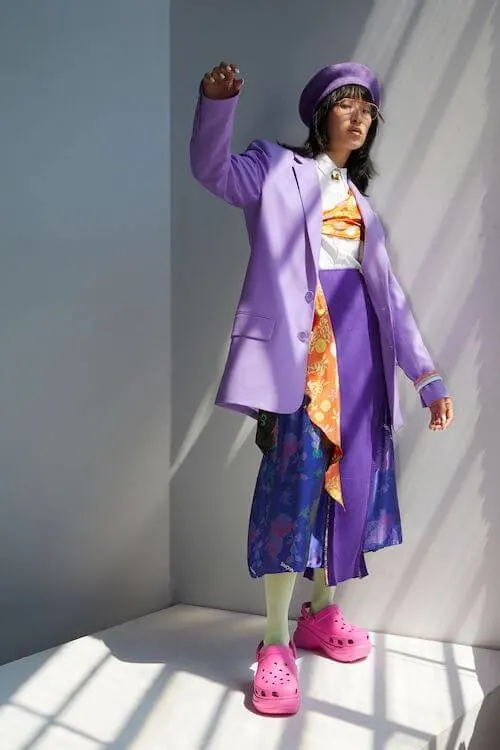 Crocs are a type of clog-like footwear that has been around since 2002.
Crocs were originally designed as boating shoe.
They are made of a foam resin called Croslite which is soft, lightweight, and odor-resistant.
They come in a wide variety of colors and styles with perforated holes on the upper part of the shoe.
Crocs are considered very comfortable due to their softness and lightness, and they are also very popular among healthcare workers and people who spend a lot of time on their feet.
Are Crocs Still In As Trendy Footwear?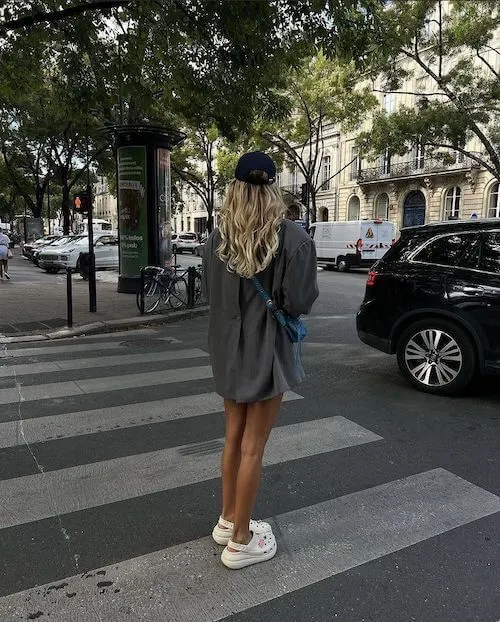 Crocs have become trendier over the years, with more and more people embracing them as a fashion statement.
Some of the biggest fashion houses have even collaborated with Crocs, including Balenciaga and Christopher Kane.
Additionally, Crocs continues to be popular among celebrities such as Post Malone, Justin Bieber, and Bad Bunny.
Moreover, Crocs offer a wide range of styles that cater to different tastes and preferences.
From classic clogs to sandals and boots in various colors and patterns, there is something for everyone.
How to Style Your Crocs?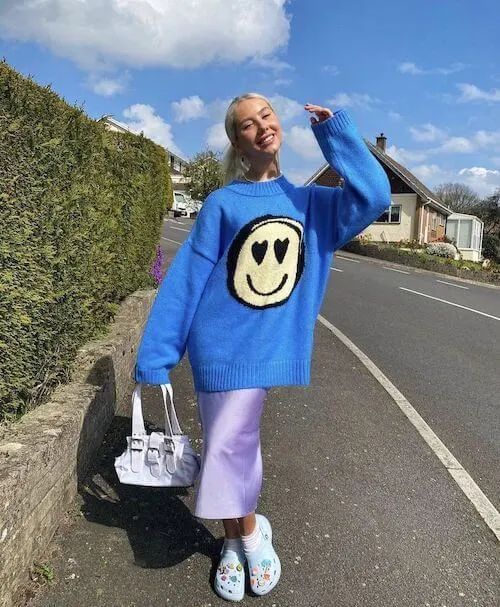 Styling Crocs can be quite challenging as they are considered 'cool' or 'ugly' depending on who you ask.
However, there are ways to make them look stylish.
The key to styling Crocs is to balance the 'uncool' aspect of the shoes with the rest of your outfit.
One of the best ways to style your Crocs is by pairing them with contrasting outfits.
For example, if you're wearing a dress, consider pairing it with white Crocs for a chic look.
Alternatively, you can match them with a pair of jeans or shorts, or a skirt for a more casual look.
Scroll on to check out more styling tips and outfit ideas with Crocs.
How To Wear Crocs With Socks
Can You Wear Crocs With Socks?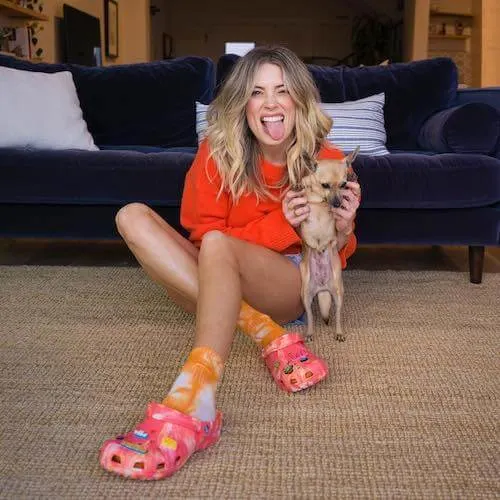 Yes, you can wear a pair of socks with your Crocs.
Whether you're wearing them for fashion or practicality, crocs and socks work well together.
Crocs provide the perfect space for socks to shine and add a stylish twist to your overall look.
Wearing socks with Crocs can also protect your feet from blisters and rubbing.
What Are The Best Socks to Wear with Crocs?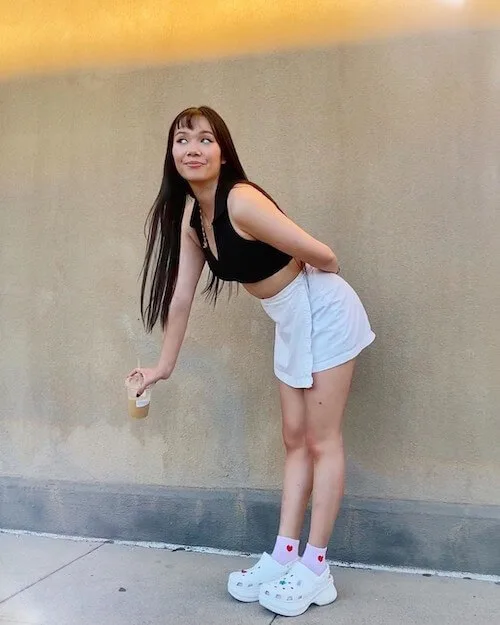 When it comes to wearing socks with your Crocs, there are a few things to keep in mind.
You want to avoid wearing thick socks as they can make your feet sweat and become uncomfortable.
Opt for thin, breathable socks instead.
If you want to make a fashion statement, you can wear colorful, patterned socks.
Alternatively, you can wear neutral-colored socks to keep it simple.
Can I Wear Ankle Socks With Crocs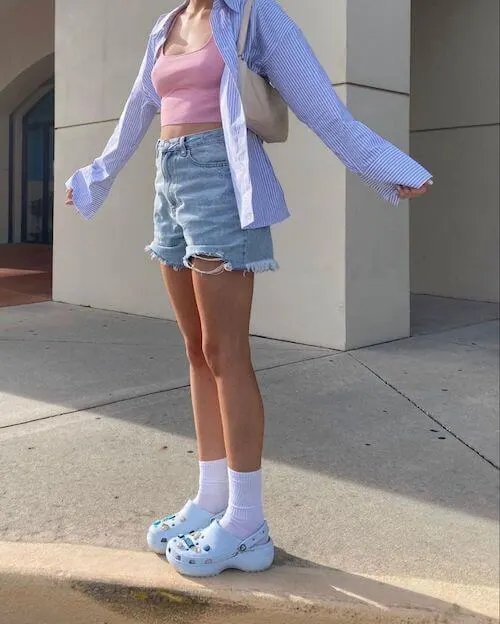 When it comes to pairing ankle socks with Crocs, the answer is simple: it depends on the style of Crocs you are wearing.
If you are sporting classic clogs or slides, then ankle socks may not be the best choice as they may detract from the overall look and feel of the shoe.
However, if you have opted for a more unique style of Crocs such as those with straps or embellishments, then ankle socks can add an extra element of fun and playfulness to your outfit.
Are You Supposed To Wear Socks with Crocs in Winter?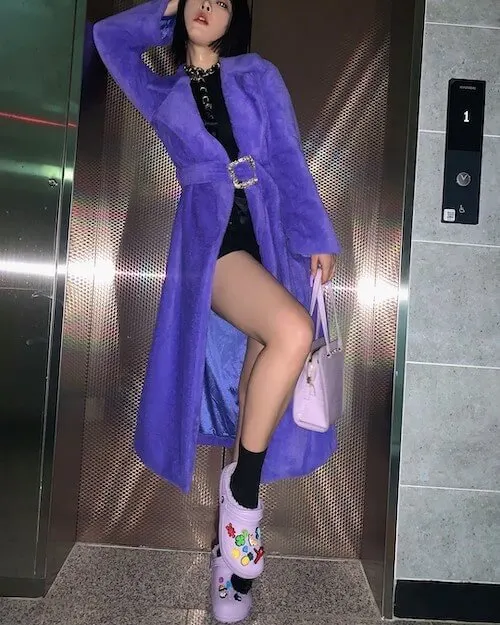 Wearing socks with Crocs in winter is a great way to keep your feet warm and cozy.
You can opt for woolen socks or thicker socks to keep your feet warm.
You can also wear Crocs with fuzzy socks to create a fashionable winter look.
Trendy Crocs Outfit Ideas
Black Crocs Outfit Ideas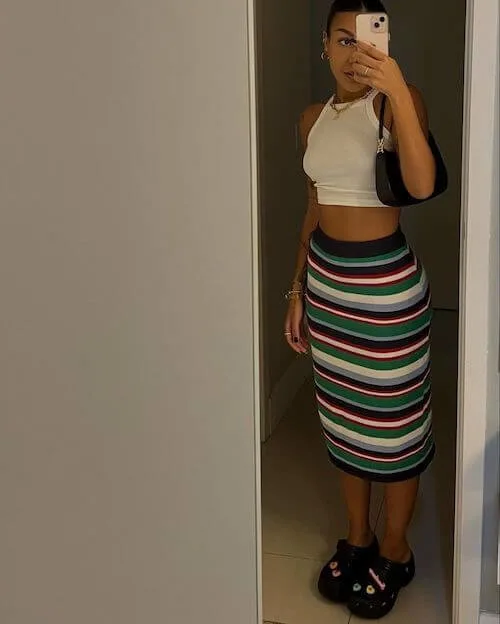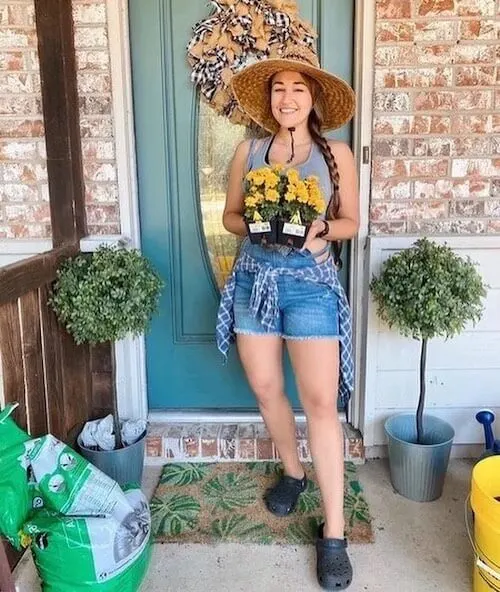 Black Crocs are a versatile and comfortable footwear option that can be paired with a range of outfit choices.
For a casual look, pair black Crocs with denim shorts or jeans, and a basic t-shirt or tank top.
Adding a denim jacket or cardigan can also make this outfit more elevated.
For those looking for something more trendy, try pairing black Crocs with an oversized blazer and tailored pants in neutral colors.
This combination is perfect for both work and play, as it exudes sophistication while still remaining comfortable.
Finally, for those who love to mix patterns and textures, try pairing black Crocs with a printed midi dress or skirt.
This playful look is perfect for the warmer months and can be accessorized with statement jewelry or sunglasses to complete the look.
White Crocs Outfit Ideas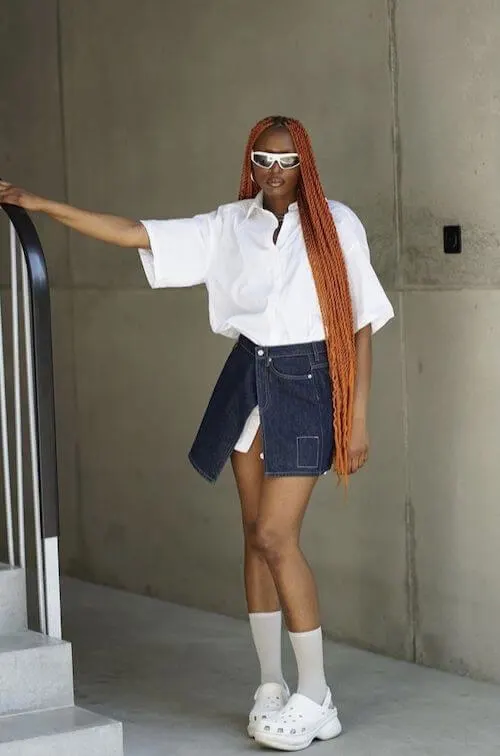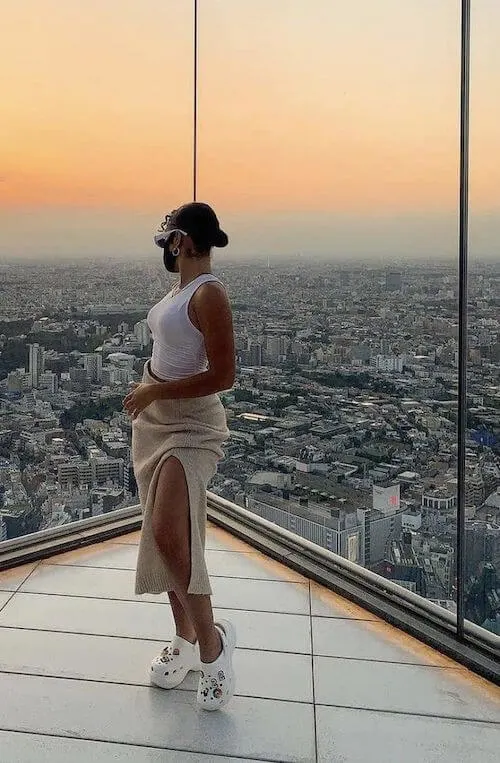 White Crocs are a versatile addition to any wardrobe, making them the perfect shoe for every occasion.
Pair your white Crocs with a sundress or denim shorts and a tank top for an effortless summer look.
If you want to wear a more polished outfit, wear a pair of white Crocs with a midi skirt and blouse or trousers and a blazer.
If you're looking to add some edge to your outfit, throw on some distressed jeans and an oversized graphic tee with your white Crocs.
For a sporty look, pair them with leggings and an athletic top or joggers and a hoodie.
Accessories can also elevate your white Crocs outfit – try adding statement jewelry or a trendy handbag to make it pop.
Style Crocs With Dresses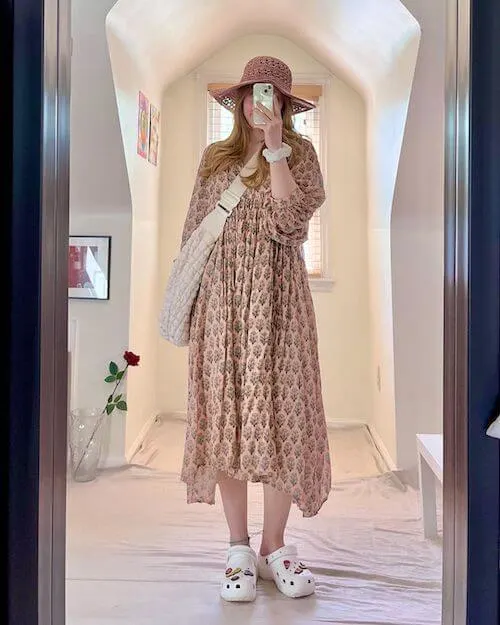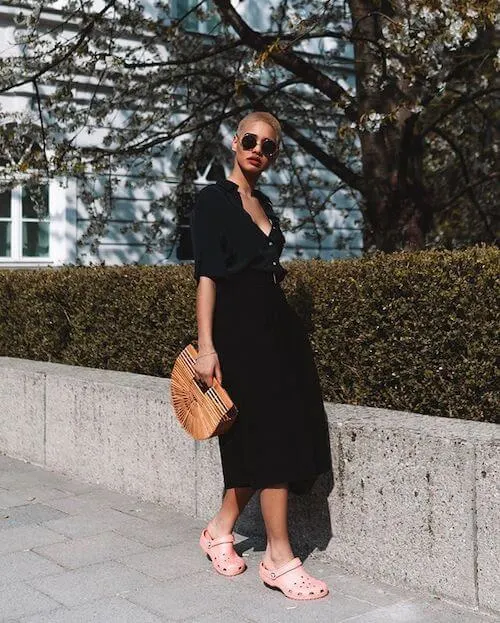 For a more feminine look, pair a flowy sundress with a simple pair of Crocs in a neutral color like black or white.
This will balance out the boldness of the dress and create an effortless yet chic look.
If you want to experiment with prints and patterns, go for a patterned dress paired with solid-colored Crocs to keep the focus on the dress while still adding some fun elements to your outfit.
You can also try wearing Crocs with midi dresses for a relaxed yet put-together look.
When it comes to accessories, keep it minimalistic but playful by adding a statement necklace or earrings that complement your dress and Crocs combination.
A small crossbody bag or tote completes this easy-going summer outfit that's perfect for running errands or meeting friends for lunch.
So don't hesitate to experiment and have fun styling your Crocs with dresses!
A Bucket Hat And A Pair of Crocs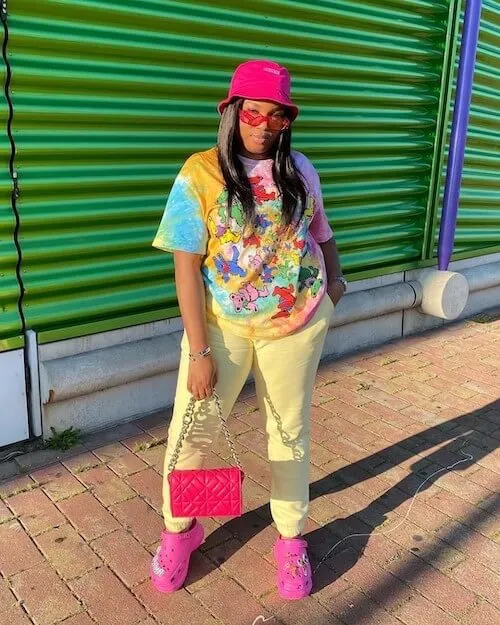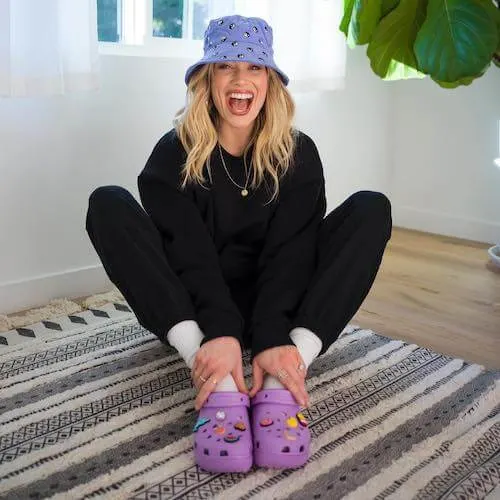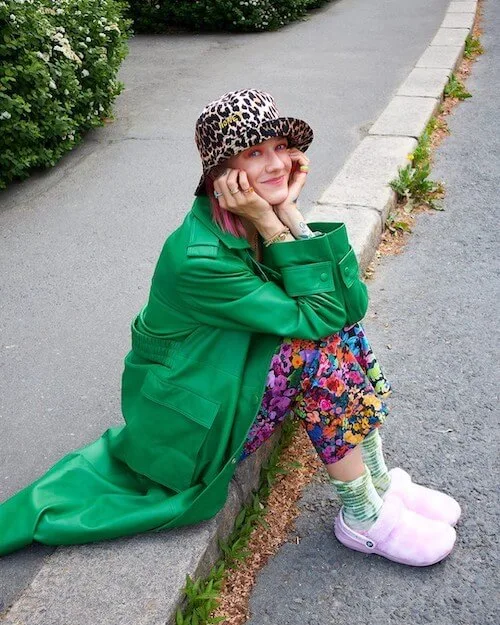 One way to elevate your Crocs look is by wearing them with a trendy bucket hat.
Bucket hats have made a comeback recently and can add an instant cool factor to any outfit.
Whether you opt for a classic plain black or white bucket hat or choose one in a fun print or bright color, it's sure to complement your Crocs perfectly.
To complete the look, keep your outfit casual and relaxed.
A simple t-shirt or tank top paired with shorts or cropped pants is a great option.
Don't forget to accessorize with some statement sunglasses or jewelry for an extra touch of style.
Wear Shorts or A Skirt With Crocs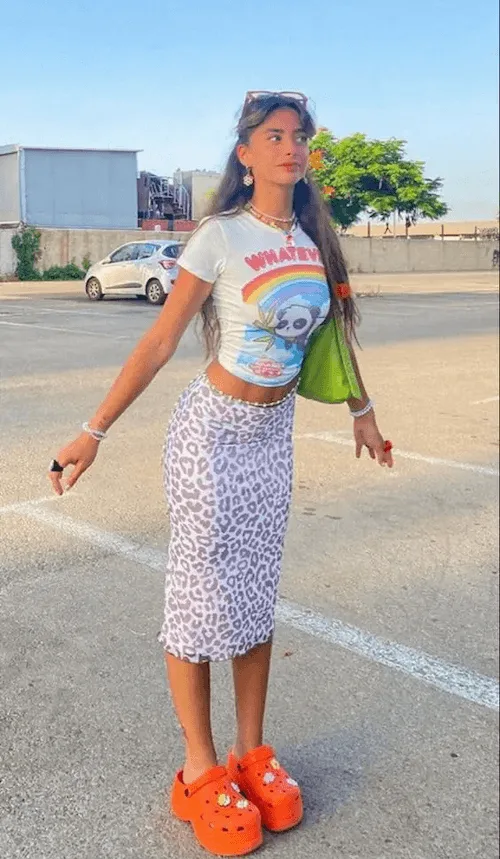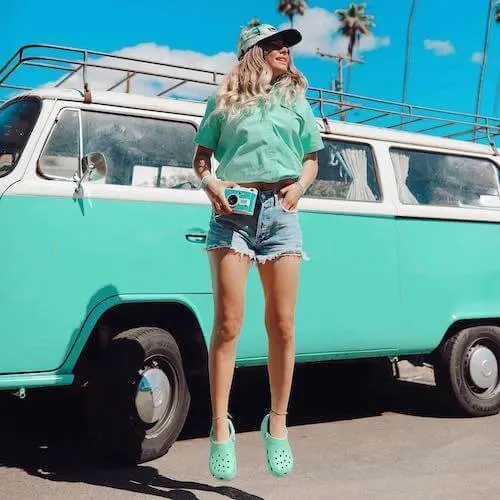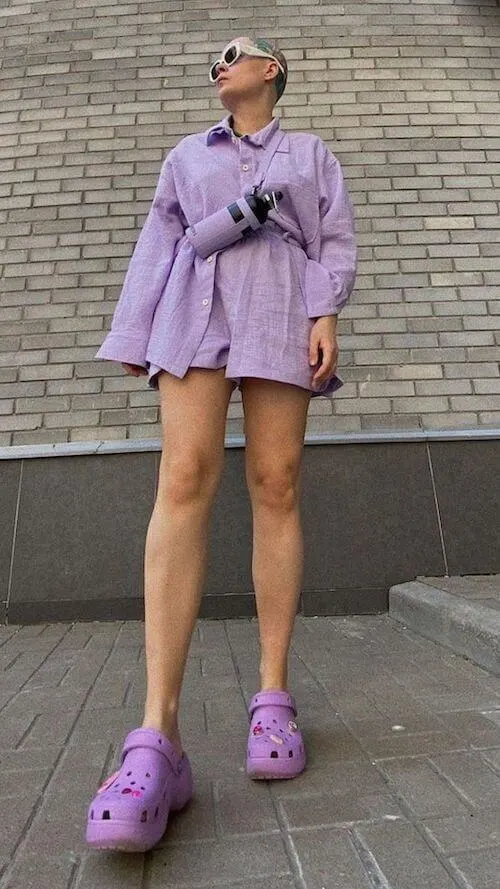 One of the most popular choices for women is pairing Crocs with either shorts or a skirt.
This creates a fun and playful look that is perfect for summer.
If you decide to wear Crocs with shorts, opt for a pair of shorts that hits mid-thigh or higher.
This will balance out the chunkiness of the shoe and create a more streamlined silhouette.
Pair your shorts with a simple t-shirt or tank top and add some accessories like sunglasses or a statement necklace to complete the look.
Alternatively, if you prefer skirts, try pairing your Crocs with a flowy midi skirt.
The length of the skirt will help elongate your legs while still allowing you to show off your favorite pair of shoes.
A basic tee or crop top would work well as an accompaniment, but don't be afraid to mix patterns by adding in some stripes or florals.
How To Wear Brightly-Colored Crocs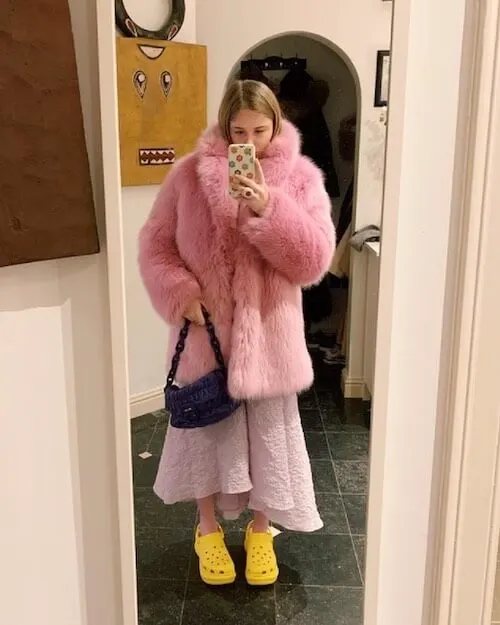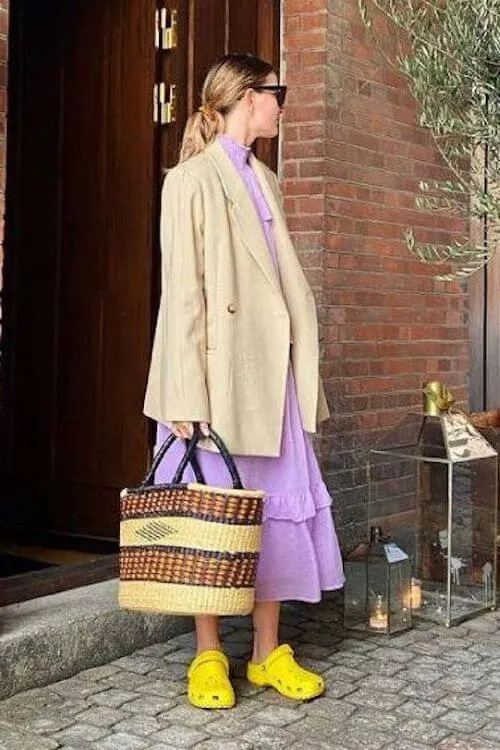 Brightly-colored Crocs can be a fun addition to any outfit, but it's important to style them appropriately.
One option is to pair the Crocs with an all-white outfit, allowing the shoes to serve as a pop of color.
Another idea is to wear them with denim shorts and a graphic T-shirt for a casual, playful look.
For those who want to dress up their Crocs, pairing them with a sundress or maxi skirt can create an unexpected but stylish combination.
Additionally, layering colorful socks underneath the Crocs can add another element of fun and personality to the overall look.
How To Wear Crocs With Leggings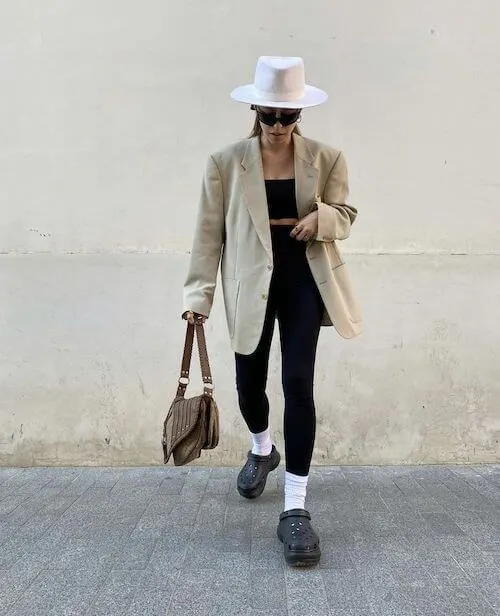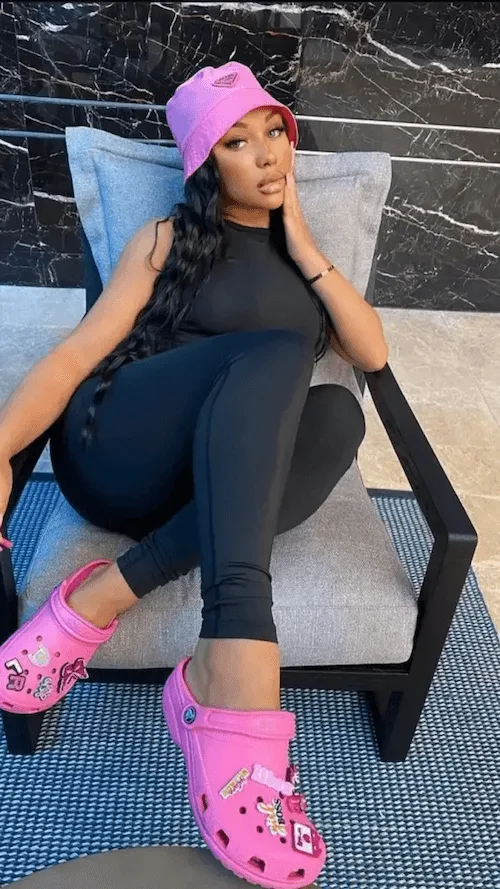 When it comes to wearing Crocs with leggings, there are a few key things to keep in mind.
First of all, consider the length and style of your leggings.
Capri or ankle-length leggings can be a great choice for pairing with Crocs, as they allow for plenty of space to show off your shoes.
Additionally, consider the color and print of both your leggings and your Crocs – try experimenting with bold patterns or contrasting colors to make a statement.
Another important aspect to consider is the rest of your outfit.
Since Crocs are often seen as casual footwear, try pairing them with similarly laid-back pieces like oversized t-shirts or oversized jackets.
Accessorize with simple jewelry or a bucket hat to complete the look.
How To Wear Crocs With Jeans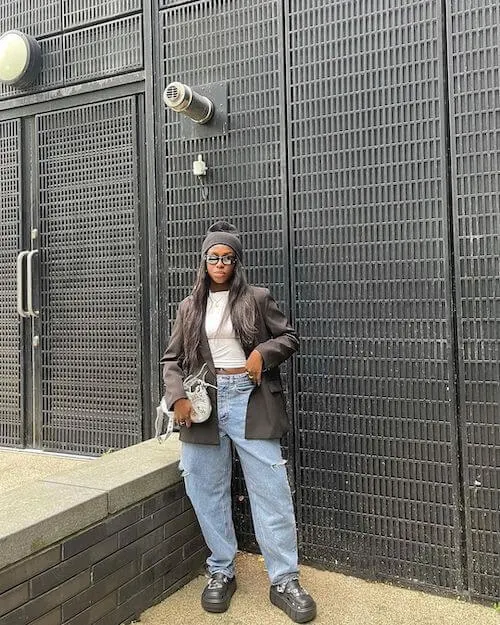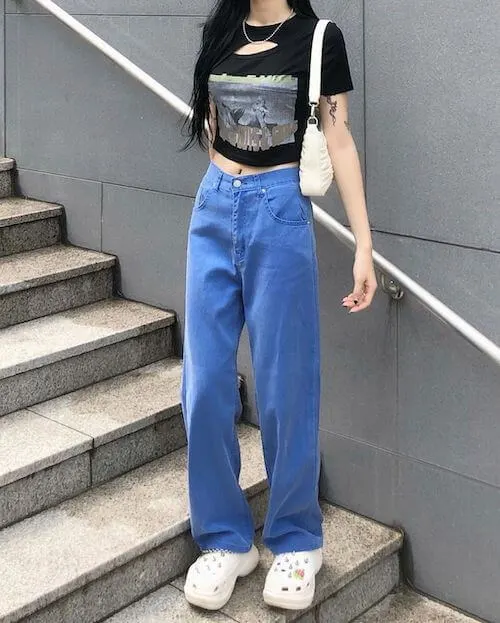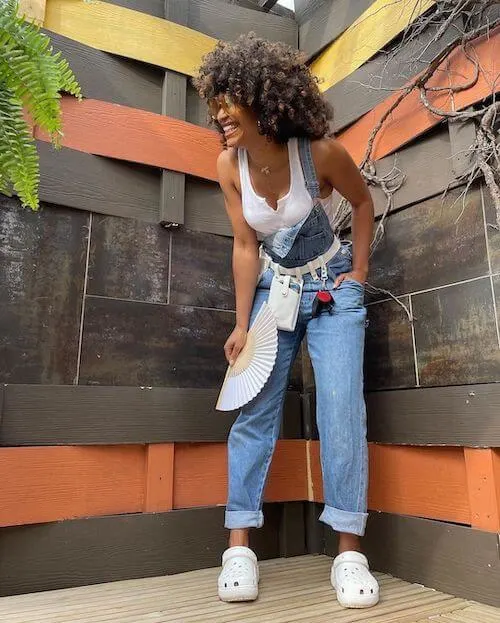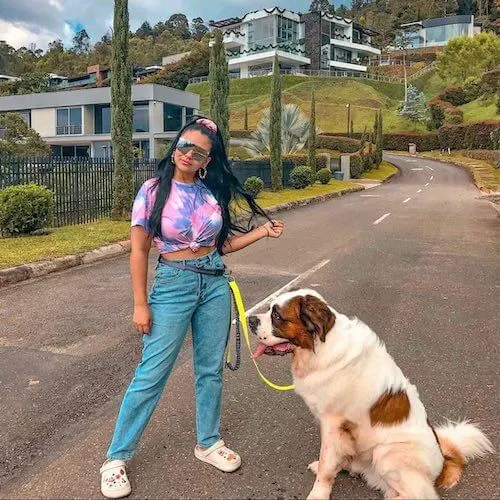 If you're wondering how to wear Crocs with jeans, don't worry – it's easier than you think.
One way to style this combo is by pairing your classic blue jeans with a simple white t-shirt and a denim jacket, then adding your favorite pair of Crocs.
This look is perfect for casual outings and can be dressed up or down depending on the occasion.
Another option when wearing Crocs with jeans is to opt for a more colorful approach.
Choose bright-colored Crocs and pair them with cropped or cuffed jeans in a complementary shade.
Add a graphic tee or patterned blouse, and accessorize with statement jewelry for an eye-catching look that's sure to turn heads.
How To Wear Crocs With Flare Jeans
Flare jeans are a timeless fashion staple that has made a comeback in recent years.
They are versatile and can be paired with almost anything, including Crocs.
To rock this trend, choose a pair of flare jeans that fit well and complement your body shape.
A high-waisted style is ideal for creating the illusion of longer legs.
When it comes to pairing Crocs with flare jeans, opt for a simple top such as a basic t-shirt or blouse.
This will keep the attention on your statement shoes while still looking put together.
Match The Colors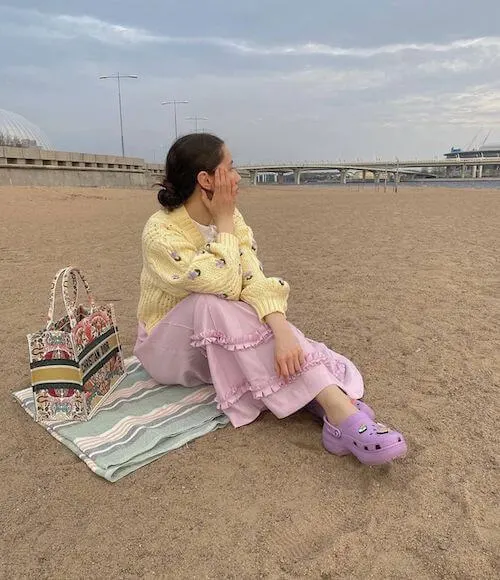 One of the easiest ways to wear Crocs is by matching the colors of your shoes with the rest of your outfit.
This can create a cohesive and put-together look that is both fun and stylish.
For example, if you are wearing a purple dress, consider pairing it with purple Crocs for a monochromatic look.
Alternatively, if you are wearing a multicolored top, choose one of the colors in the pattern and match your Crocs to that specific shade.
Another option for matching colors when wearing Crocs is to opt for complementary shades.
For example, if you are wearing a yellow sundress, consider pairing it with purple or green Crocs for a bright and cheerful summer look.
Additionally, neutral-colored Crocs such as black or white can be paired with any outfit color for an understated yet chic effect.
Additional Crocs Styling Tips and Tricks
Crocs as Sandals: The Perfect Summer Look
Crocs make great sandals, and they're perfect for summertime.
You can pair them with a cute summer dress, shorts, or a swimsuit for a fun, casual look.
You can also match them with a pair of sunglasses and a sunhat to complete your summer outfit.
How to Accessorize Your Crocs?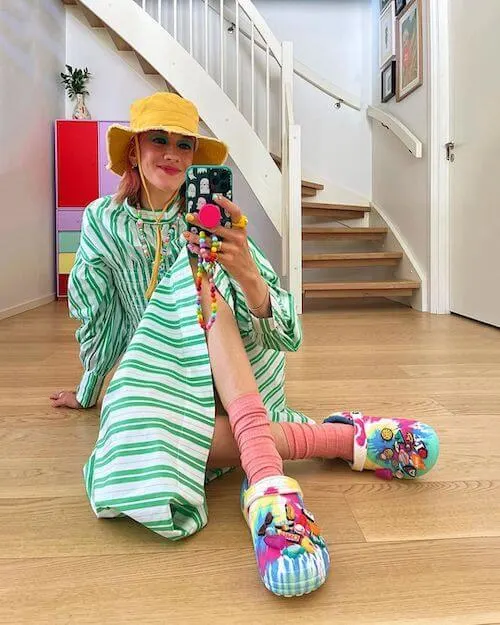 Accessorizing your Crocs can add a stylish twist to your outfit.
You can add charms to your Crocs to make them more personalized.
You can also add Jibbitz charms to your Crocs to create a fun, unique look.
Jibbitz are small, plastic ornaments that you can attach to the holes on the upper part of the Crocs.
Cute Outfits With Crocs
Want more inspiration? Scroll on to check out more looks!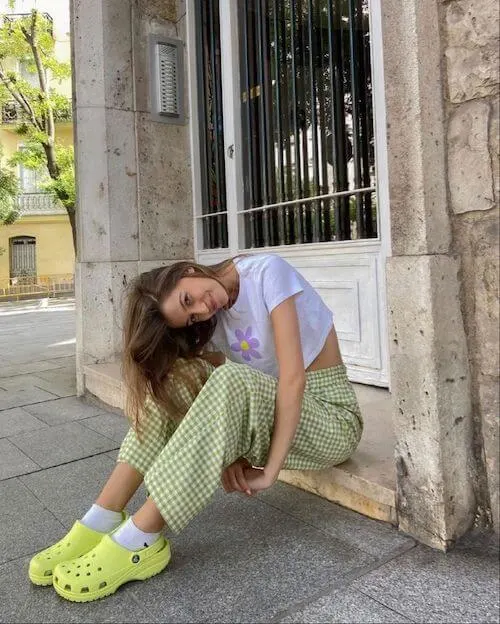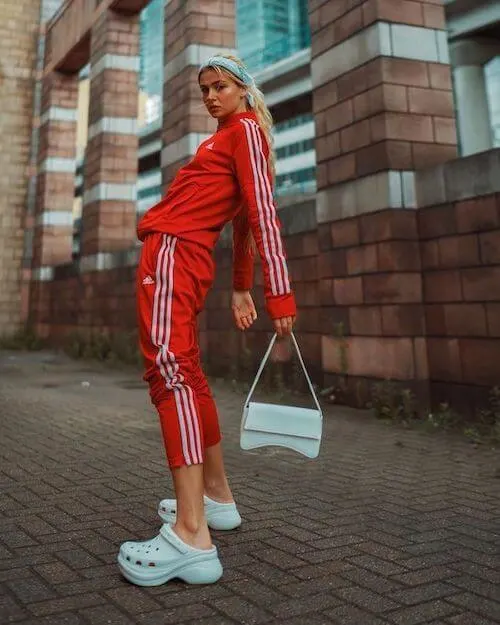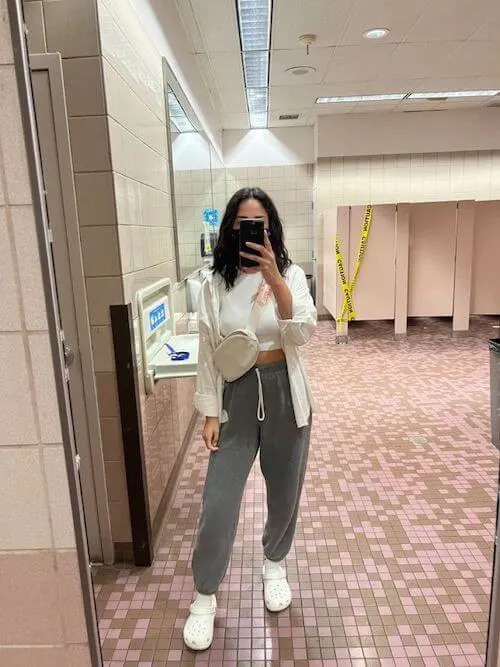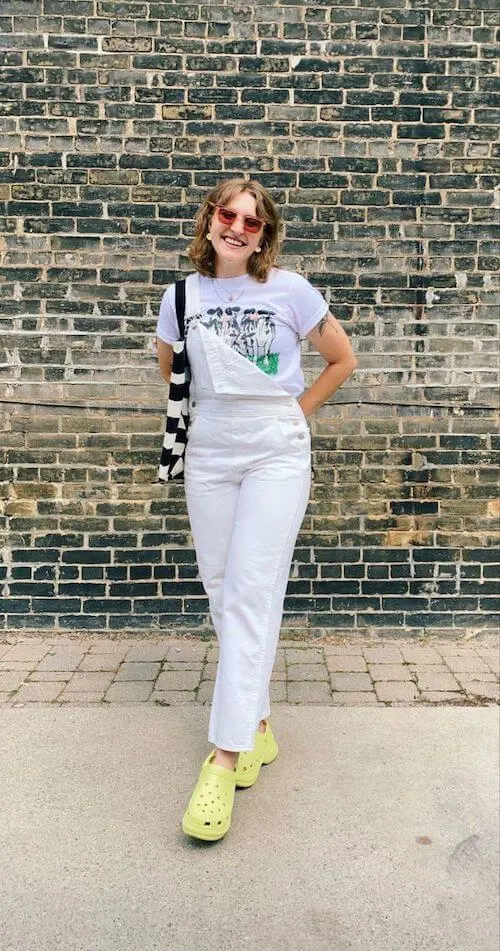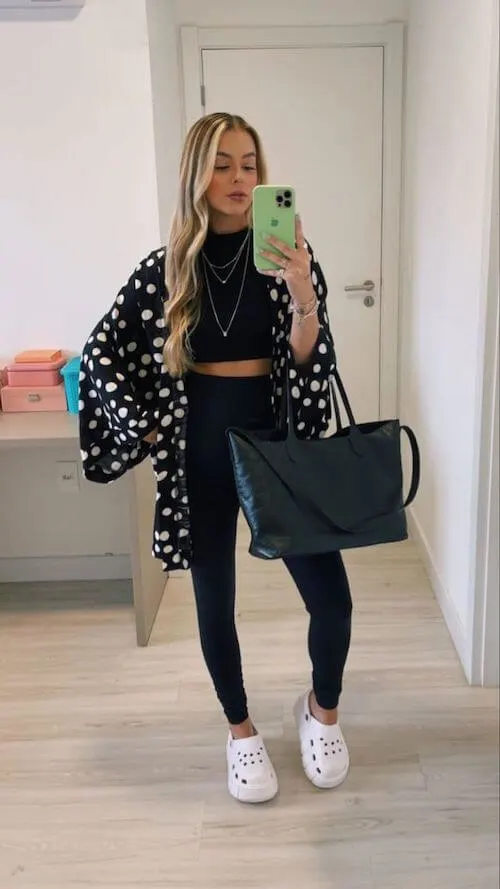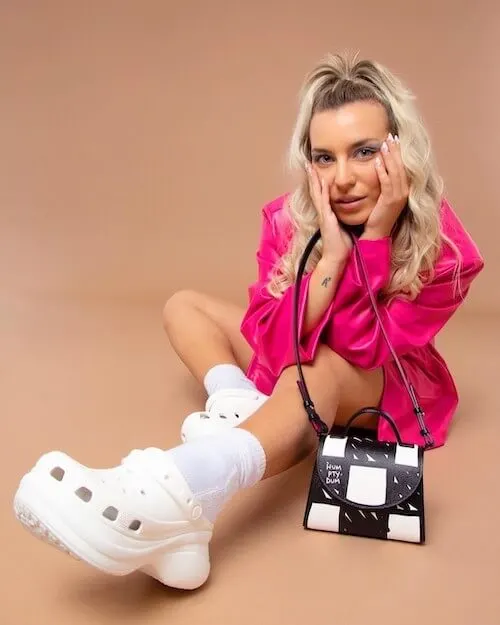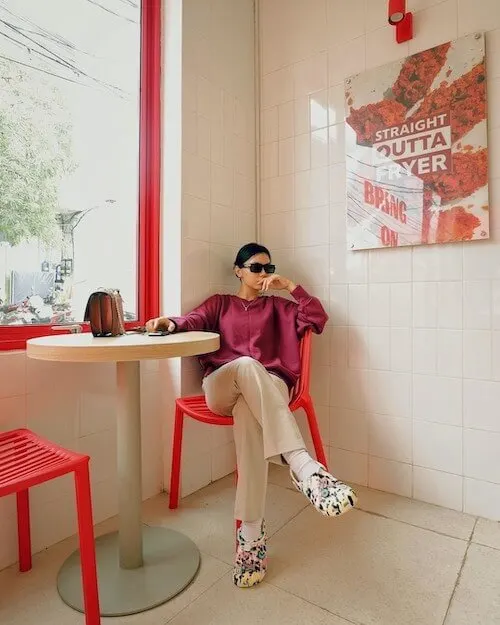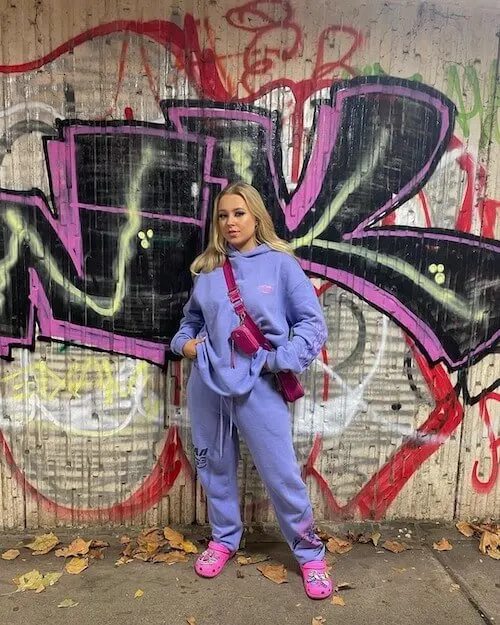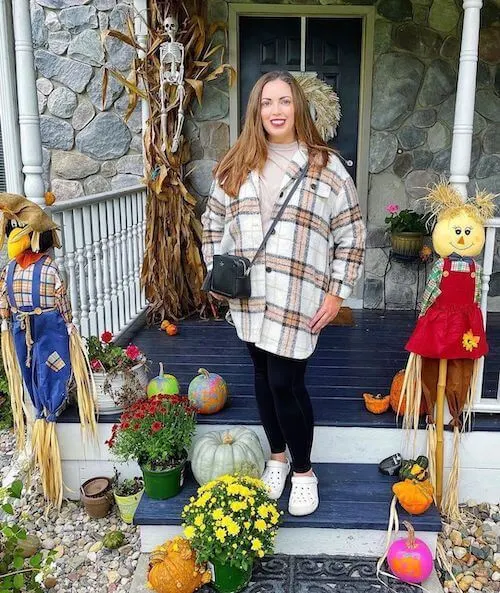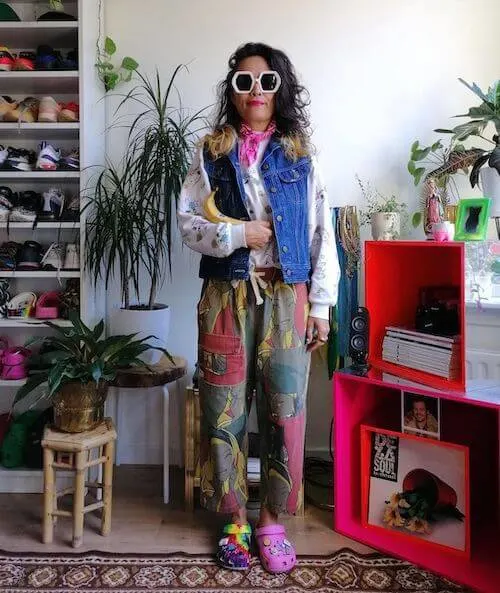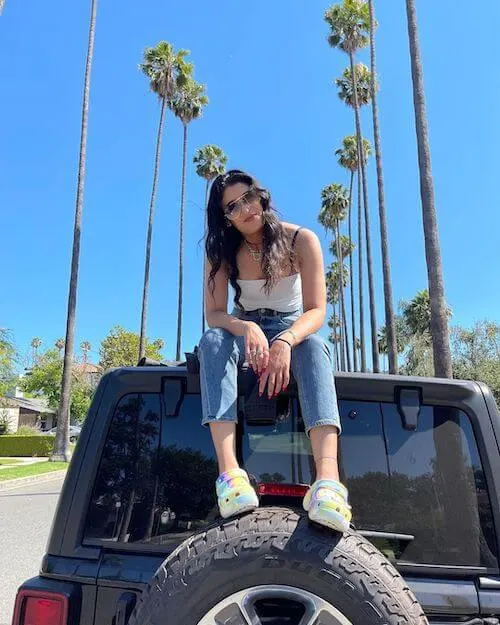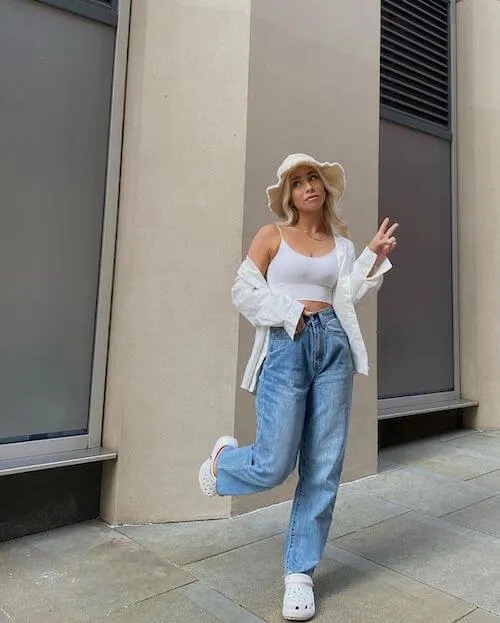 More Stylish Ways To Wear Crocs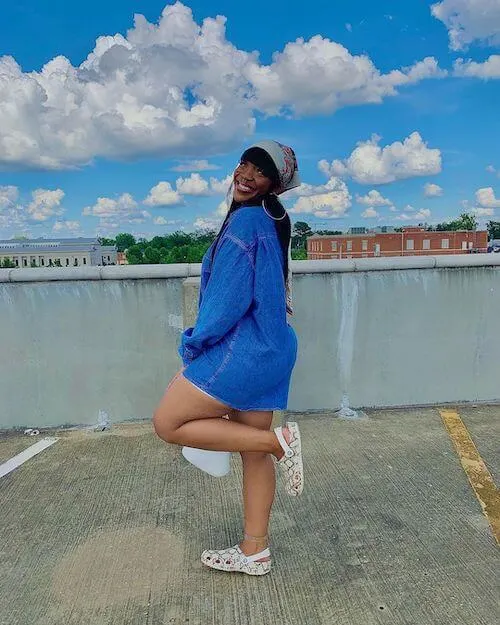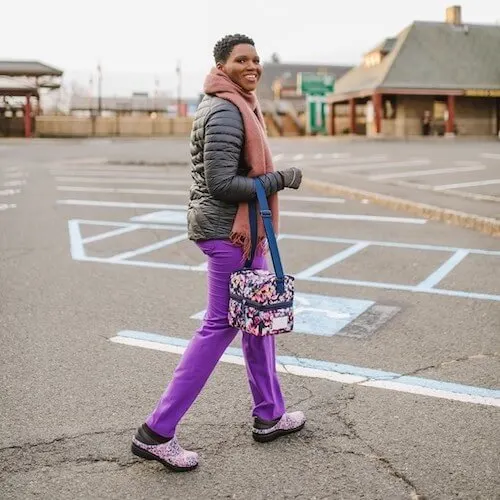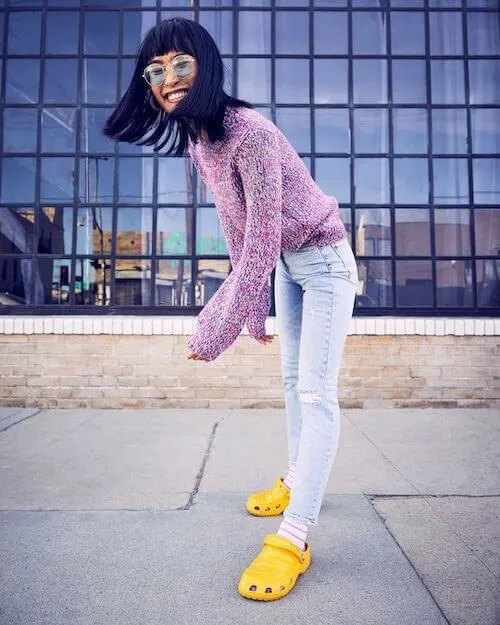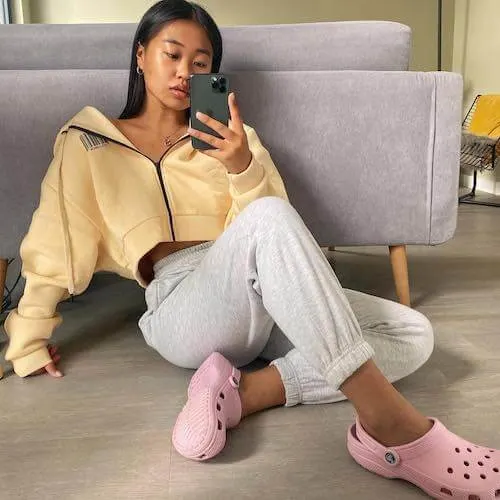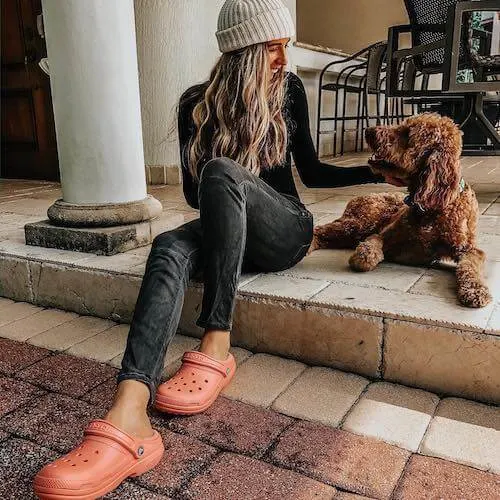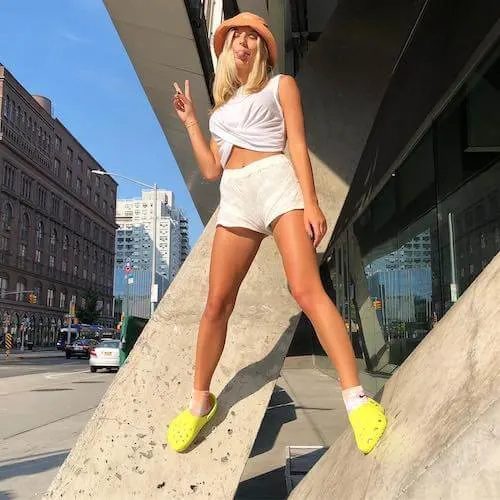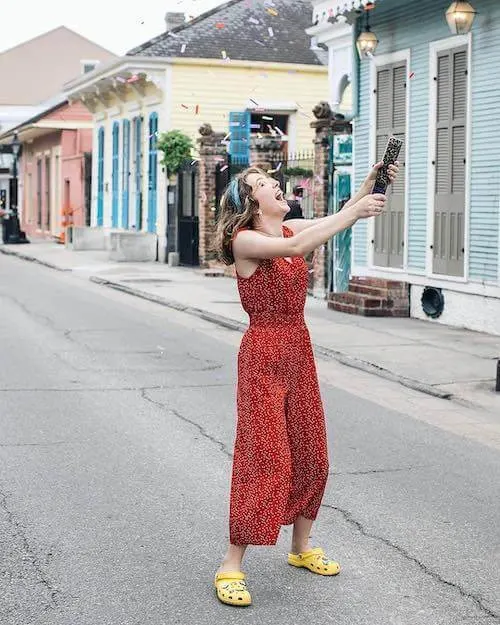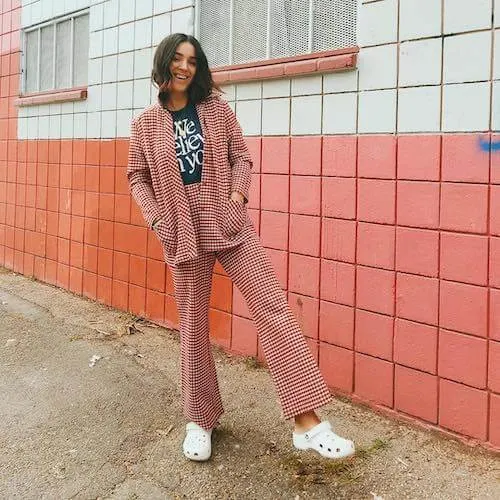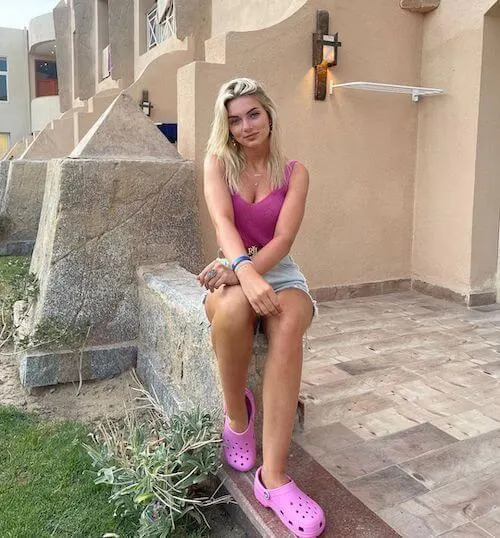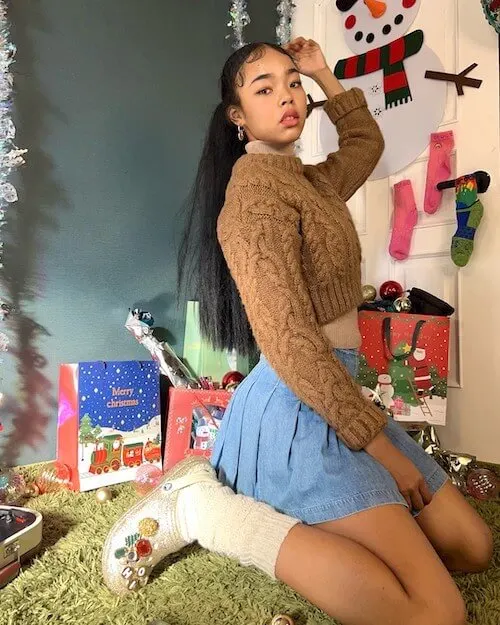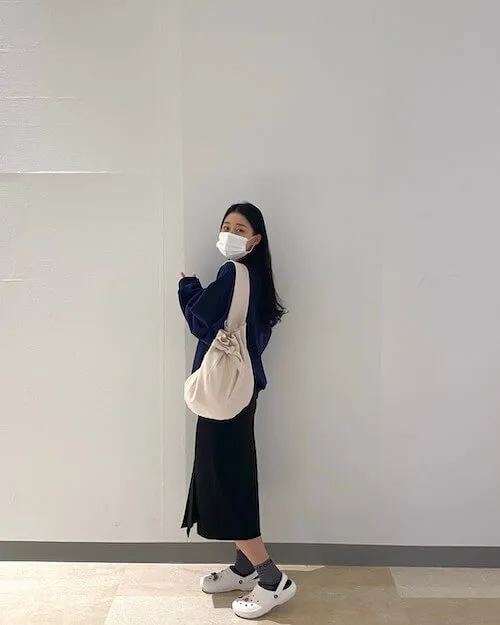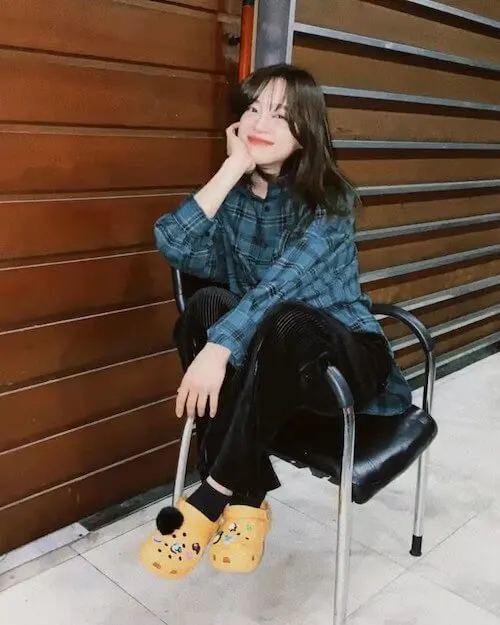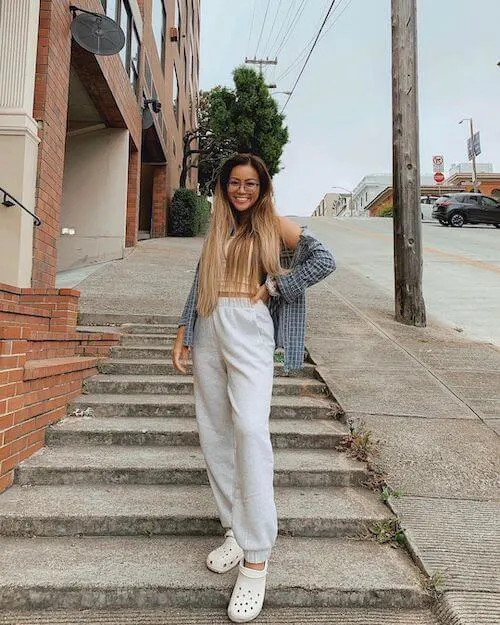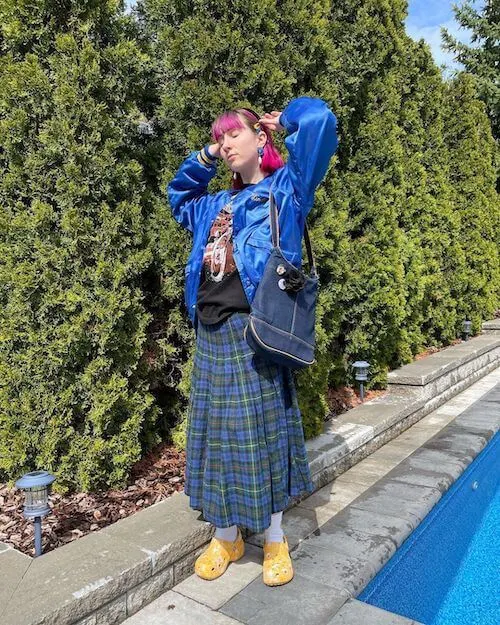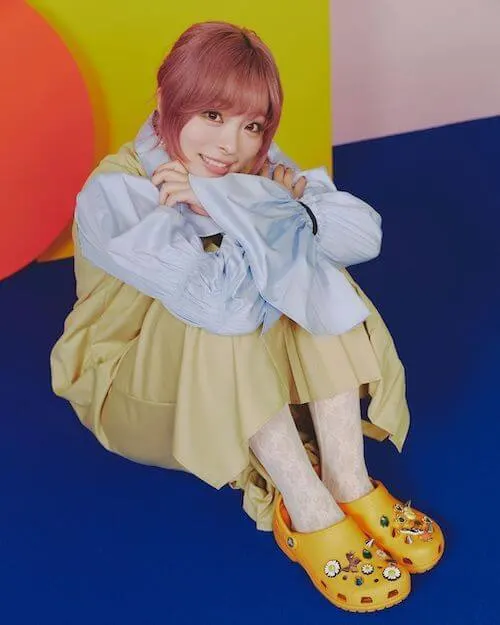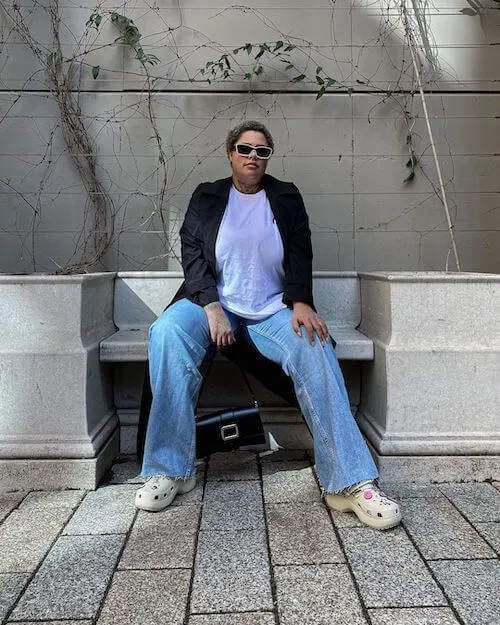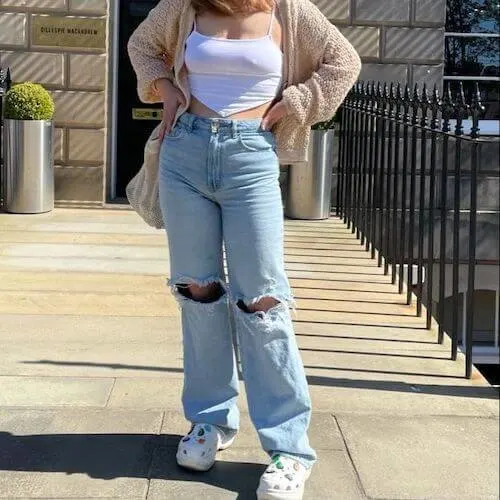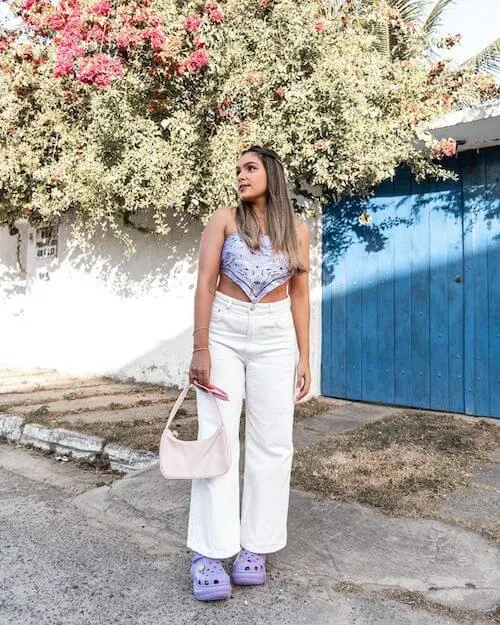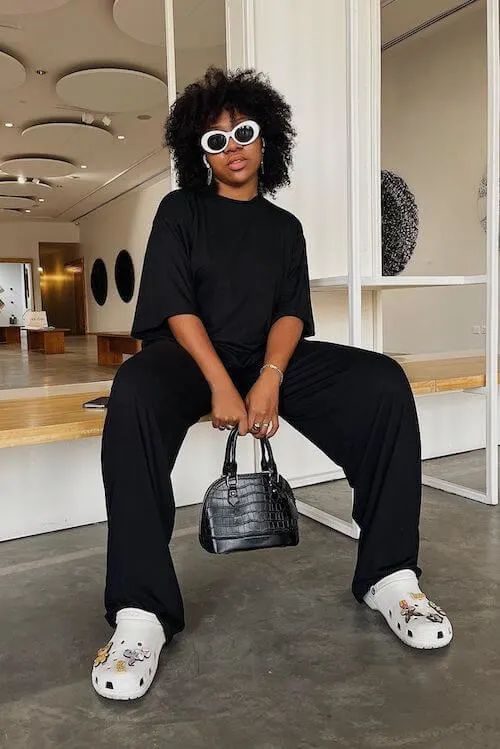 What are the most stylish Crocs for females?
When it comes to finding the most stylish Crocs for females, there are several options that can elevate any outfit.
How To Choose The Right Size Crocs
Crocs are a popular choice of footwear for many people, thanks to their comfort and versatility.
However, choosing the right size can make all the difference when it comes to comfort and style.
The first step in choosing the right size Crocs is to measure your feet accurately.
You can do this by using a tape measure or by tracing your feet on a piece of paper.
Once you have your foot measurements, you should refer to the Crocs sizing chart before making a purchase.
It's important to note that Crocs tend to fit differently from other types of shoes, so you may need to go up or down a size depending on your foot width and arch height.
Another important factor to consider when choosing the right size Crocs is how you plan on wearing them.
If you're planning on using your Crocs as water shoes, then you may want to go up a size to accommodate for any swelling in your feet due to water retention.
Lastly, it's important to consider the type of activity you'll be doing while wearing your Crocs.
If you plan on being active and walking long distances in them, then it's best to choose a pair that fits snugly without being too tight so as not to cause discomfort or blisters.
FAQs
Q: How To Wear Crocs Strap
A: Crocs come in a variety of styles, some with straps and some without.
If your Crocs come with a strap, the fastest way to fasten them is by using the back strap.
Start by loosening the strap, then slide your foot into the Crocs.
Finally, push the back strap forward and adjust the strap tightness according to your comfort level.
Q: Can I wear Crocs in the rain?
A: Yes, you can. Crocs are meant to be worn in any weather condition.
They are made of foam clog material that is easy to slip on and off and dry quickly.
However, if you prefer something more covered, you can try Crocs rain boots.
Q: How do I not overdo my Crocs outfit?
A: You can keep it simple by pairing your Crocs with basic colors like black, white, or gray.
You can also balance out the outfit by adding colors that complement your Crocs.
However you like to wear your Crocs, just remember to keep it comfortable and stylish.
Q: Are Crocs a popular shoe option?
A: Yes, crocs have become a popular shoe option, especially in recent years.
They are seen as fashionable and comfortable shoes that can be worn in many situations.
Q: What Kind of Outfit Goes with Crocs?
A: When it comes to pairing your Crocs with an outfit, the possibilities are endless.
You can wear your Crocs with a sundress, maxi dress, rompers, jumpsuits, denim shorts, or even leggings.
The easiest way to make a perfect outfit with Crocs is to keep it simple and let the footwear speak for itself.
You can even match them with a cute Crocs outfit for a fun, unique look.
This post was all about how to wear Crocs.
About The Author
Tracy is an experienced personal stylist, shopping expert, and fashion & lifestyle blogger. She has been featured on Time Magazine, Bustle, Best Life, Glam, The Zoe Report, Mic, and GOBankingRates, for her insights on fashion, beauty, home decor, and lifestyle. Read More
Related Posts: