Looking for the best Adidas Samba outfit ideas to copy? Check this post for stylish and chic Adidas Samba outfit ideas for women and the best tips to style the It sneakers this year.
Adidas Sambas are iconic, stylish sneakers that will never go out of style.
This iconic Adidas sneaker has been around for over 60 years, and it has become increasingly popular among stylish women in recent times.
They are versatile shoes that can be styled with a variety of looks and outfits.
Whether you're looking for an outfit for the gym or something to wear to brunch, Adidas Sambas can take your look to the next level.
From sporty to sophisticated, they are sure to make a statement wherever you go.
Are you ready to step up your style game with a classic Adidas Samba outfit? Look no further.
In this article, I am sharing with you the best Adidas Samba outfit ideas for women to copy directly, to help you put together a fashionable outfit with Adidas Samba shoes.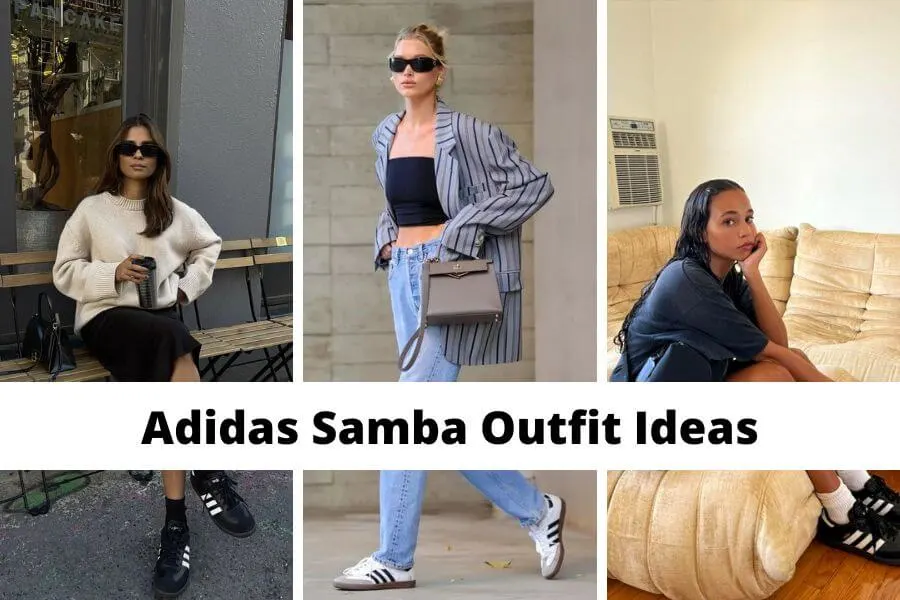 This post may contain affiliate links, which means I'll receive a commission if you purchase through my link, at no extra cost to you. Please read the full disclosure here.
This post is all about Adidas Samba outfit ideas for women.
What are Adidas Sambas good for?
The Adidas Samba provides great cushioning and support for any activity.
They provide ample cushioning and support which helps reduce foot fatigue during long games or training sessions.
It has a low-cut design that gives an extra range of motion in the ankles and feet, making it perfect for running or playing soccer.
Additionally, the rubber sole helps provide maximum grip on any surface so athletes can stay safe during practices or games.
The durable materials also make it an ideal choice for everyday use too; the outsole is designed to be resistant to wear and tear so your shoes will last through your day-to-day activities.
The classic look also lends itself well to everyday wear; its low profile design makes it surprisingly versatile and easy to style with just about any outfit.
Are Adidas Samba still in style?
Yes.
The Adidas Samba is a favorite amongst both athletes and fashionistas alike.
With its simple yet stylish design, no matter your personal style the Adidas Samba will fit right into your daily wardrobe rotation.
Whether you're looking to make a statement with some old-school swag or add some vintage vibe to your wardrobe, the Adidas Samba is always sure to turn heads.
Plus, with so many colors available there's sure to be one that works for you!
Why are Adidas Samba so popular?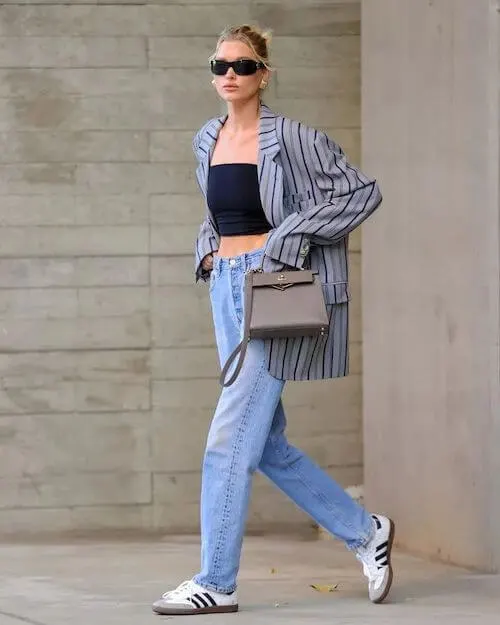 The Adidas Samba is a timeless classic, and one of the most iconic shoes ever made.
Since its inception in 1950, the Samba has remained a popular choice for casual wear, everyday activities and competitive sports.
Adidas Samba's have been around for decades, with some models being re-released multiple times due to their immense popularity.
This is mainly due to their comfortable fit, fashionable design, and durable construction that allows them to last for years without showing signs of wear or tear.
The shoes are also known for their affordable price tag; making them accessible to everyone regardless of budget range.
Apart from this, Adidas Samba offers a variety of color choices that can be used to create unique styles suited to individual preferences.
Who wears Adidas Sambas?
The Adidas Sambas have been a wardrobe staple for decades.
This iconic sneaker has been seen on the feet of male and female celebrities alike, making them a versatile go-to shoe.
Female celebrities in particular have made the most of this classic style.
From Gigi Hadid to Kendall Jenner, some of the biggest names have been spotted in these timeless shoes.
Often seen paired with stylish streetwear looks, Adidas Sambas are an ideal choice for any fashionista looking to add some vintage edge to their wardrobe.
Both Gigi and Kendall have shown off their sporty side by pairing the shoes with everything from tracksuits to distressed jeans.
Other stars like Hailey Bieber, Kaia Gerber, Elsa Hosk, and Cara Delevingne also love rocking this comfy staple as part of their everyday look.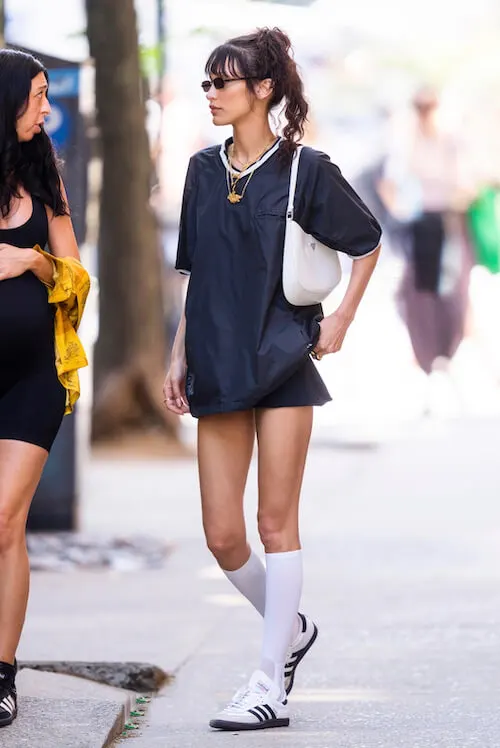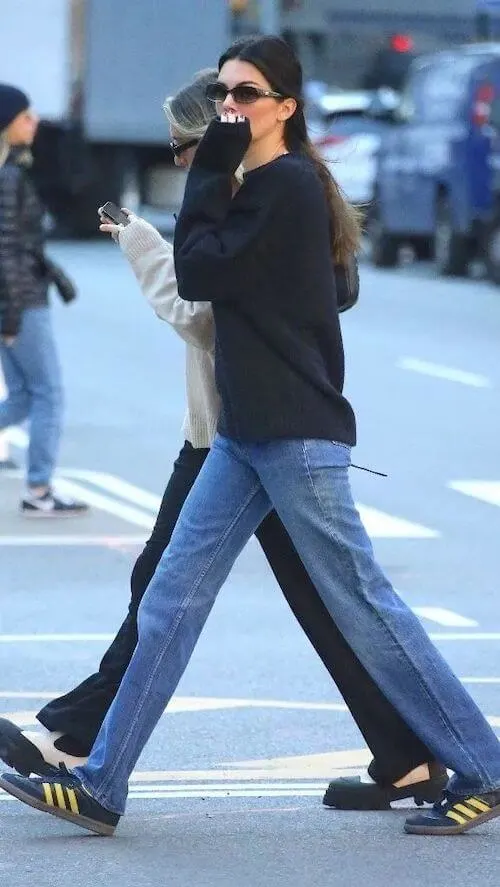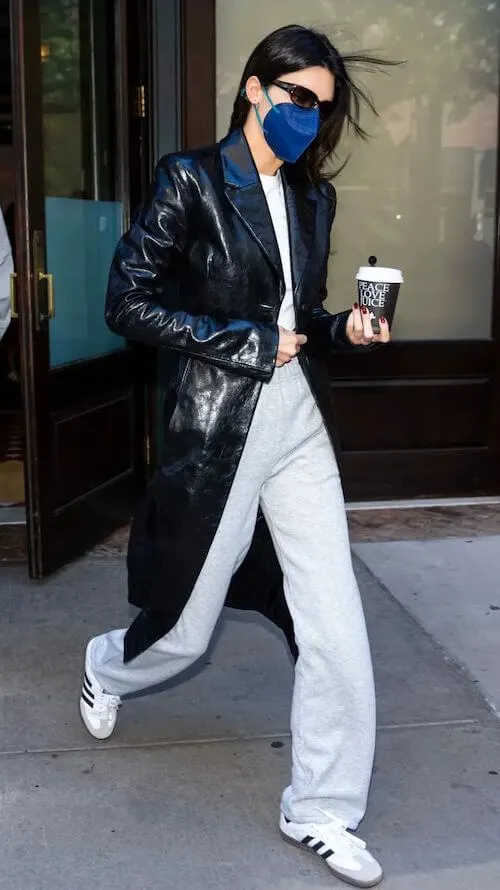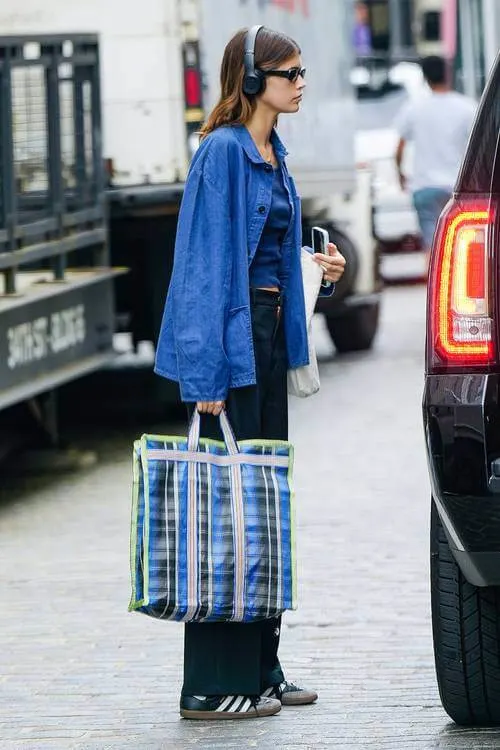 What Sambas does Bella Hadid wear?
Bella has been spotted wearing classic white or black Sambas.
She also loves pairing them with other stylish pieces such as crop tops, preppy style tops, and baggy jeans.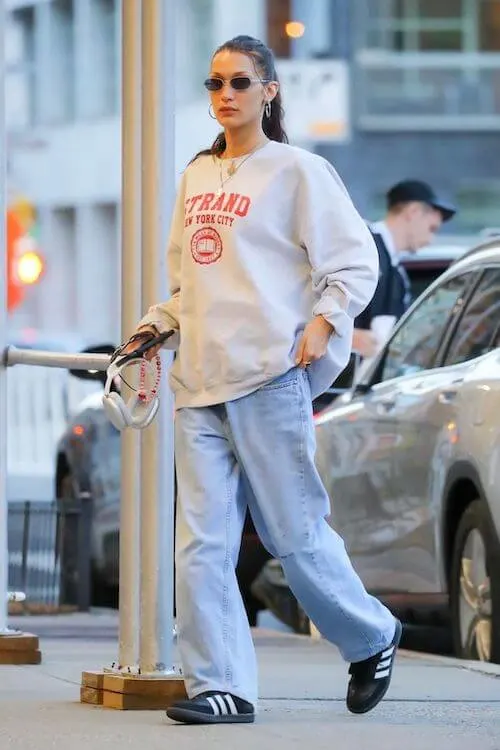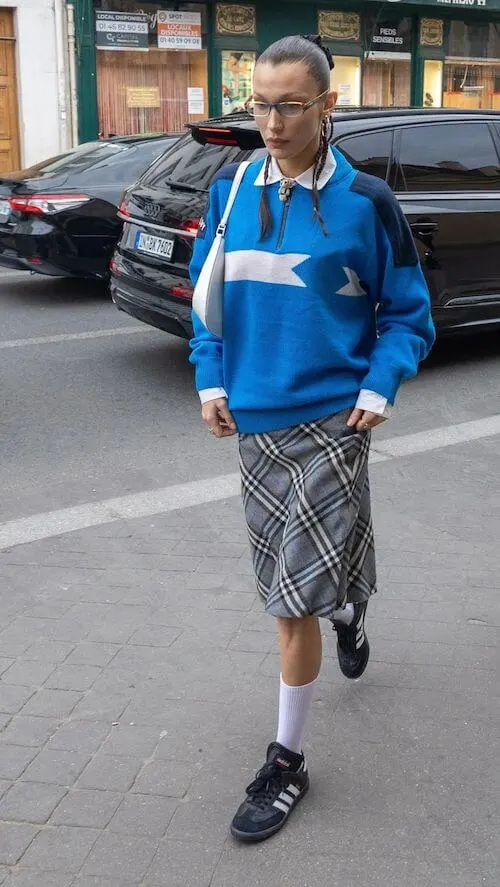 Coolest Adidas Samba Outfit Ideas For Women
Adidas Samba has been a staple in streetwear fashion since the 1950s.
But today, modern women are taking the classic sneaker look and giving it a stylish twist.
Whether you're gearing up for a night out or just looking to add some flair to your everyday wardrobe, an Adidas Samba outfit can be a perfect choice.
Want more inspiration? Scroll on to check our favorite Adidas Samba outfit ideas.
Classic White Adidas Samba + Blazer + Maxi Dress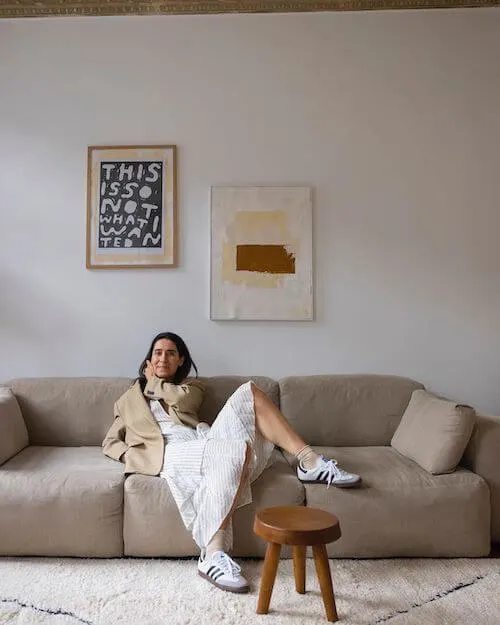 IG@mia_loves_things
The classic white Adidas Samba sneakers are a versatile option that can be paired with various outfits.
One great combination is with a blazer and a maxi dress.
The outfit is perfect for both casual and semi-formal occasions.
The white sneakers add a sporty touch to the otherwise classy look.
The blazer adds structure to the dress, making it more appropriate for work or events where a dress alone might be too casual.
Plus, it adds an extra layer of warmth during cooler seasons. The maxi dress provides comfort while still giving off an elegant vibe; it's also perfect if you want to show off your favorite pair of shoes.
A Pair of White Adidas Samba Sneakers + Oversized Blazer
IG@camillecharriere
Pairing these sneakers with an oversized blazer can elevate any outfit to create a chic look.
For women who love streetwear fashion, pairing these sneakers with black shorts and an oversized blazer can create a casual yet elevated look.
A plain t-shirt or crop top underneath the blazer will complete this outfit effortlessly.
For those who prefer a more feminine look, pairing the shoes with a floral midi dress and an oversized blazer creates an effortless yet stylish outfit that is perfect for brunch or lunch dates.
Black Adidas Samba Sneakers + Oversized Sweater + Black Skirt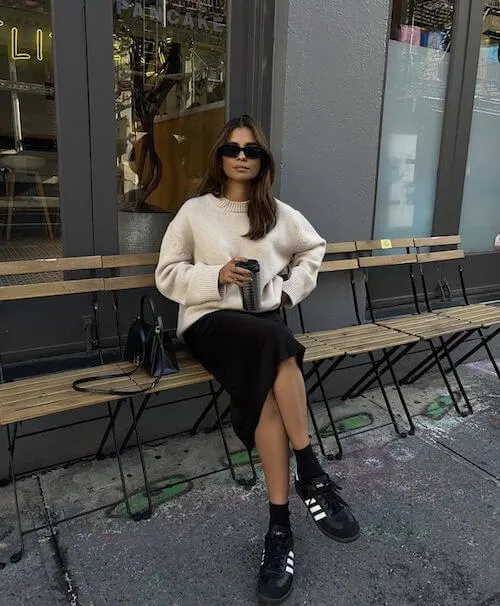 IG@emitaz
Pair your black Adidas Samba with an oversized sweater in a neutral color like white or beige for a cozy yet elegant look.
You can then balance out the volume of your top by pairing it with a fitted black skirt.
The skirt's sleek silhouette will help accentuate your curves while keeping the overall outfit streamlined.
For a more edgy vibe, consider pairing your black Adidas Samba sneakers with an oversized sweater featuring bold prints or graphics.
Pair this with a black leather mini skirt or pleated midi-skirt to add texture to your ensemble.
This outfit idea is perfect for those looking for something trendy yet timeless as it combines classic pieces with modern elements effortlessly.
Chic Street Style With Long Winter Coat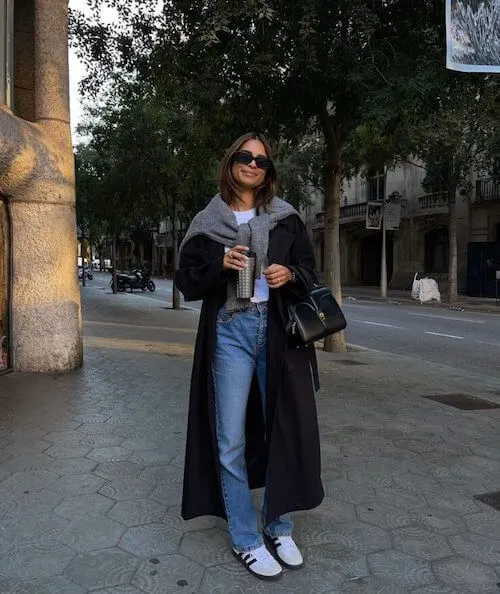 IG@emitaz
When paired with Adidas Samba sneakers, long winter coats create a chic street-style look that is perfect for running errands or attending casual events.
One way to rock this stylish look is by pairing an oversized long coat with ripped jeans and a white t-shirt.
This outfit can be completed with white Adidas Samba sneakers, adding a sporty touch to an otherwise classic ensemble.
The key is to keep the overall look simple and effortless.
Another great option is to pair a fitted long coat with leggings and a crop top.
This creates an edgier vibe while still maintaining the chic street-style aesthetic.
Complete the outfit with white Adidas Samba sneakers for an eye-catching contrast against the darker colors of the coat and leggings.
With Vintage-Inspired Leather Jacket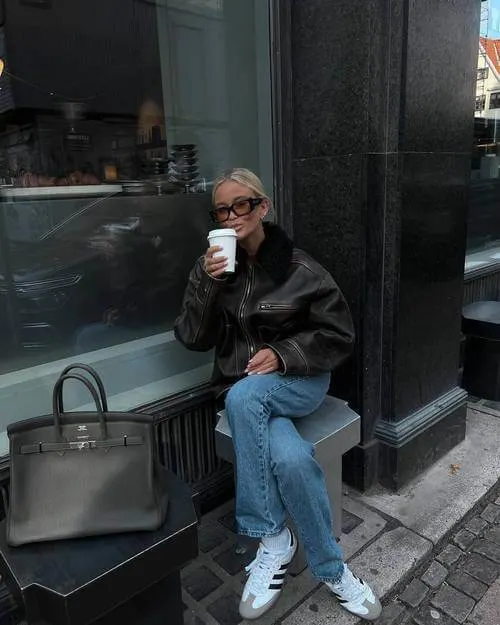 IG@JOSEFINEHJ
A vintage-inspired leather jacket is perfect for adding some edge to any outfit, especially when paired with an iconic pair of Adidas Samba sneakers.
For those who prefer a more casual look, pair the jacket with a simple t-shirt or tank top and distressed jeans.
Accessorize with aviator sunglasses and statement jewelry to complete the look.
For those who want to take their outfit up a notch, try layering the leather jacket over a slip dress or midi skirt.
This combination creates an effortlessly chic ensemble that can go from day to night with just a change of shoes.
Pair it with some classic white Adidas Samba sneakers for comfort during the day or switch it up with some heeled boots for a night out on the town.
Elevated Sportswear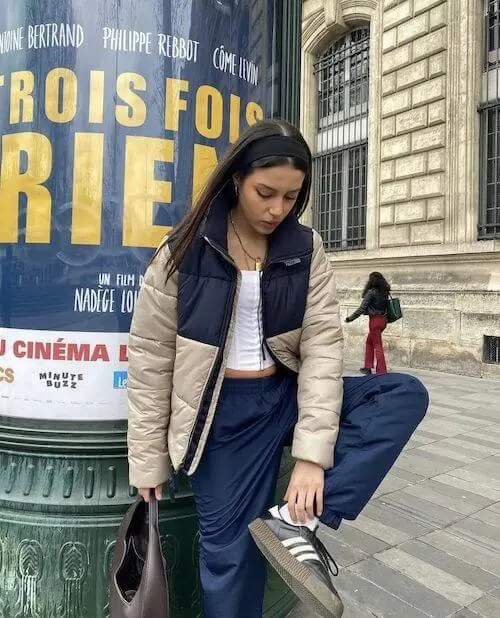 via Pinterest
Elevated sportswear has become a trend among fashion enthusiasts and athletes alike.
This type of clothing combines the comfort and functionality of activewear with the style and sophistication of high-end fashion brands.
The Adidas Samba is one classic silhouette that embodies this fusion perfectly.
It's a versatile shoe that can be dressed up or down, making it an ideal choice for creating elevated sportswear outfits.
For women who want to incorporate Adidas Samba into their wardrobe, there are many stylish outfit ideas to choose from.
For a casual yet chic look, pair the sneakers with leggings or joggers and a cropped sweatshirt.
To dress it up, opt for a midi skirt or tailored pants with a blouse or blazer.
The key is to mix elements of athletic wear with more formal pieces to create an effortless balance between comfort and sophistication.
With Maxi Dress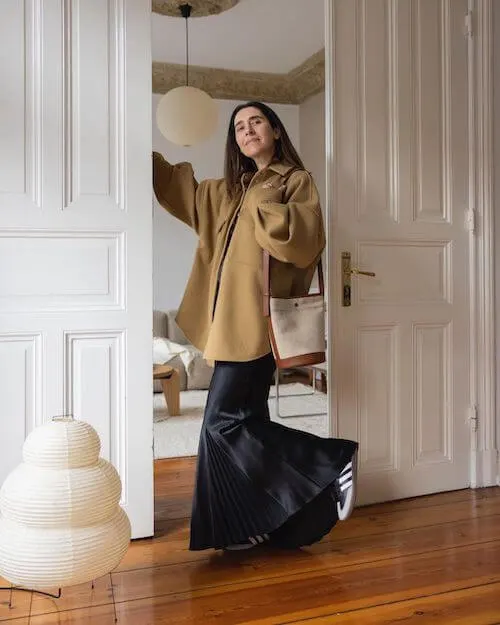 IG@mia_loves_things
Pairing a maxi dress with Adidas Samba shoes adds a touch of sportiness to the outfit while maintaining its chic look.
For a casual outing, throw on an oversized denim jacket and accessorize with a crossbody bag to complete the look.
For dressier occasions, opt for a fitted maxi dress and add some statement earrings or bangles to elevate the outfit.
The Samba shoes add just the right amount of edginess to balance out the feminine silhouette of the dress.
Finish off the look with a sleek clutch or small purse.
With Neutral Color Knitwear And Black Pants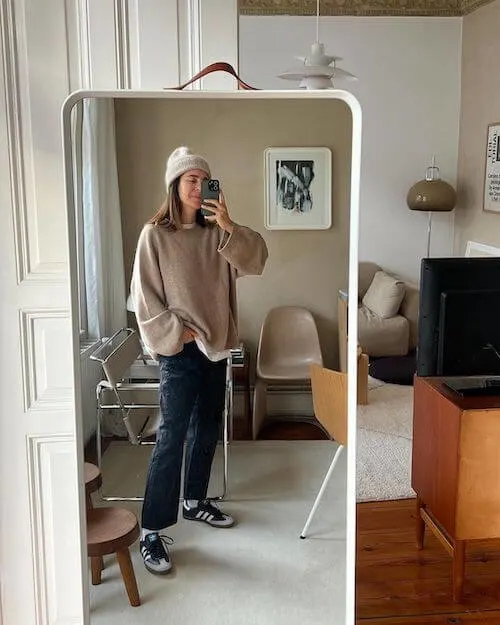 IG@mia_loves_things
One of the most versatile outfits you can wear with your Adidas Samba sneakers is a combination of neutral color knitwear and black pants.
This classic and timeless look is perfect for any occasion, whether you're running errands, going out for brunch with friends, or even attending a casual work meeting.
The key to pulling off this look is to choose pieces that complement each other well.
For example, if you're wearing a chunky knit sweater in beige or cream, pair it with sleek black skinny jeans or tailored trousers.
Alternatively, if you opt for a more fitted knit top in camel or gray, balance it out with looser-fitting black joggers or culottes.
Accessorize your outfit with minimalistic jewelry such as simple stud earrings and delicate necklaces to keep the focus on your chic ensemble.
Lastly, complete the look by slipping into your favorite pair of Adidas Samba sneakers for an effortless yet stylish finish.
With Chunky Sweater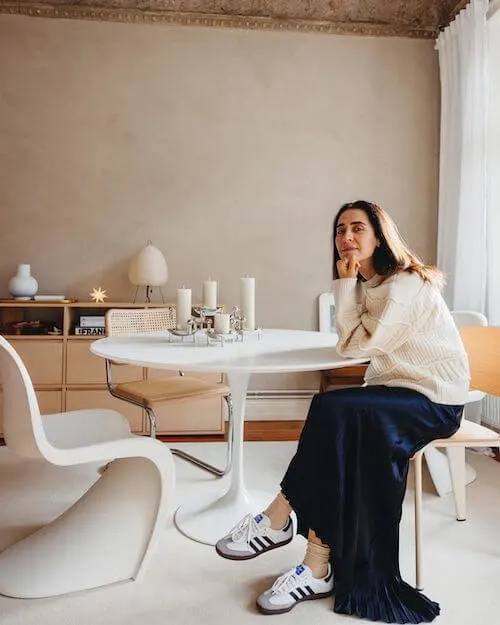 IG@mia_loves_things
If you're looking for a cozy and chic look this fall, pair your Adidas Samba sneakers with a chunky sweater.
This combination offers the perfect mix of comfort and style. The key to nailing this look is to find the right balance between your top and bottom.
For a casual daytime outfit, opt for high-waisted jeans or leggings paired with an oversized chunky sweater.
Add some accessories like a statement necklace or scarf for a pop of color. To complete the look, slip on your favorite pair of Adidas Samba sneakers.
To dress up this combo for a night out, swap out the jeans or leggings for a sleek skirt in leather, silk, or suede material.
You can also tuck in your sweater to show off your waistline and elongate your legs.
Keep jewelry minimalistic so that all attention remains on the boldness of your chunky knit sweater and iconic Adidas shoes.
With Black Coat And Gray Pants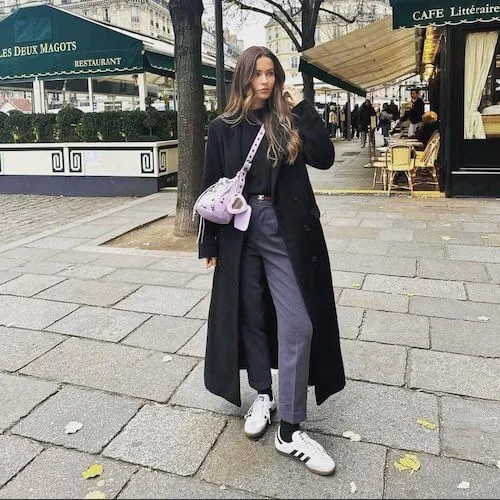 via Pinterest
One of the most timeless color combinations is black and gray, making it a great choice for any occasion.
When paired with the iconic Adidas Samba sneaker, this combination exudes a sleek and stylish look perfect for women on the go.
A black coat can provide warmth during colder months while also adding an edgy touch to your outfit.
For a more sophisticated look, opt for a long black trench coat that falls just above your knees.
To balance out the dark hues of your coat, pair it with gray pants in a neutral shade such as charcoal or light gray.
These colors not only complement each other but also create an elegant monochromatic ensemble that never goes out of style.
The Adidas Samba sneakers offer an athletic element to the outfit while providing all-day comfort and support.
With Beige Coat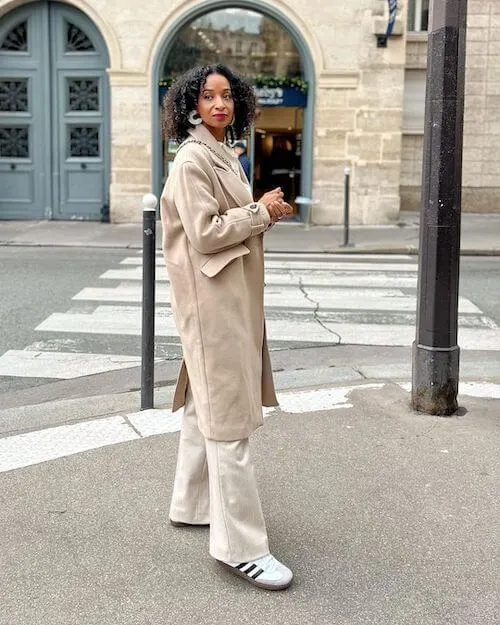 IG@sam_sarah
Pairing a beige coat with Adidas Samba sneakers is a perfect way to create a casual yet stylish outfit.
The neutral color of the coat can easily match any color of the shoes, giving you endless options for creating unique looks.
For example, you can wear a pair of black leggings or jeans with an oversized beige coat and white Adidas Samba sneakers for a chic and effortless look.
If you want to add some edge to your outfit, try wearing your beige coat with distressed denim shorts and black Adidas Samba sneakers.
This combination is perfect for warmer weather when you still want to stay comfortable but also look fashionable.
Additionally, accessorizing with a trendy hat or sunglasses can complete this look.
With Black Bomber Jacket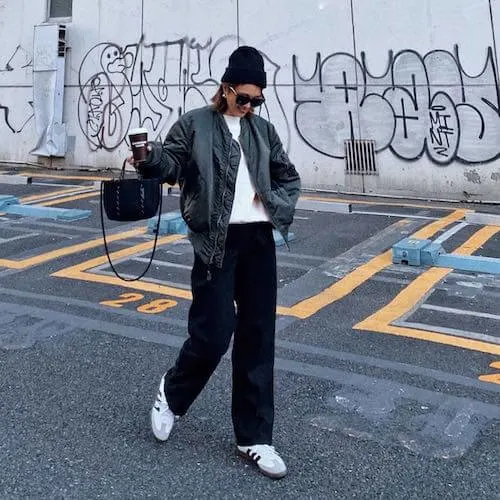 IG@yucarinsta
A black bomber jacket is a versatile piece that can elevate any outfit, and pairing it with Adidas Samba sneakers is a perfect combination.
For a casual look, pair your black bomber jacket with light-wash denim jeans and white Adidas Samba sneakers.
Throw on some sunglasses to complete the look.
For a more edgy look, go for an all-black outfit by pairing your black bomber jacket with black pants and black Adidas Samba sneakers.
Add some silver jewelry or hoop earrings to add a touch of glam to this street-style inspired ensemble.
Lastly, if you're going for a sporty chic vibe, wear your black bomber jacket over an oversized sweater paired with joggers and white Adidas Samba sneakers.
This effortlessly cool outfit is perfect for running errands or grabbing coffee with friends while still looking stylish and put together.
With Simple White Tee And White Joggers
IG@my_nice_sunshine
Looking for a comfortable yet stylish outfit? Pairing a simple white tee with white joggers is the perfect solution.
To elevate this look, add a pair of Adidas Samba sneakers.
The classic black stripes on the side add just the right amount of detail to make your outfit stand out.
For a sporty look, go for a cropped white tee paired with high-waisted joggers.
This combination will show off your figure while keeping you comfortable during any activity.
Add some accessories like a black baseball cap and sunglasses to complete the sporty vibe.
If you're looking for something more casual, opt for an oversized white tee tucked into your joggers.
Roll up the sleeves and cuff the bottom of your pants to create some dimension in your outfit.
Finish off with some hoop earrings and layered necklaces for an effortless yet stylish ensemble that you can wear all day long!
With Red Leather Jacket And Denim Maxi Skirt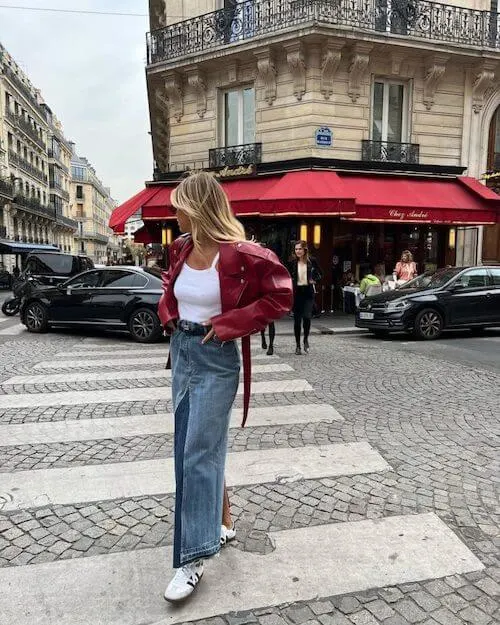 IG@audreyafs
Pairing a red leather jacket with a denim maxi skirt is an edgy and trendy look that can elevate any outfit.
To achieve this look, start by selecting a fitted or cropped red leather jacket to balance out the length of the maxi skirt.
Alternatively, you can opt for a more casual street-style by wearing the denim maxi skirt with an oversized graphic tee and white sneakers.
Accessorize with sunglasses and a cross-body bag for effortless cool-girl vibes.
With White Oversized Button Up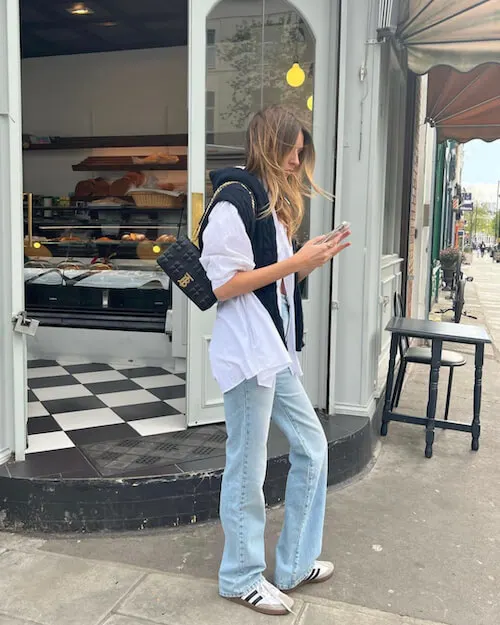 IG@camillecharriere
Looking for a versatile staple to add to your wardrobe? Look no further than the white oversized button-up shirt.
This classic piece can be dressed up or down and pairs perfectly with a variety of outfits, including Adidas Samba sneakers.
Try pairing your oversized shirt with jeans and Samba sneakers for a casual daytime look, or dress it up by tucking it into a midi skirt and adding some statement jewelry.
For an edgier twist on this classic look, try layering your oversized shirt over a graphic tee and pairing it with high-waisted pants and Adidas Samber sneakers.
Or go for a monochromatic vibe by pairing your white shirt with matching white Adidas Samba sneakers and light-wash denim shorts.
More Stylish Adidas Samba Aesthetic Looks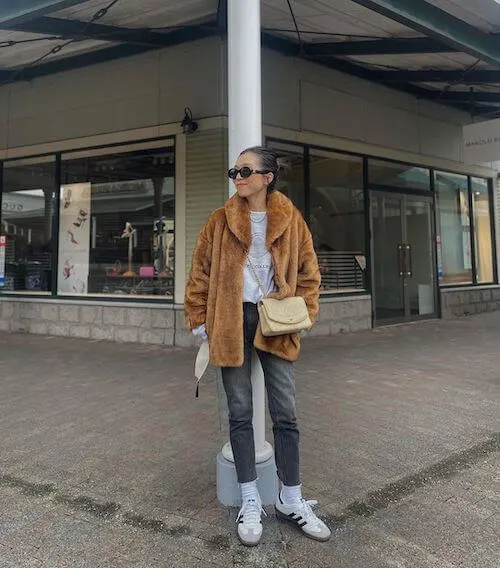 IG@xo._glitter._xo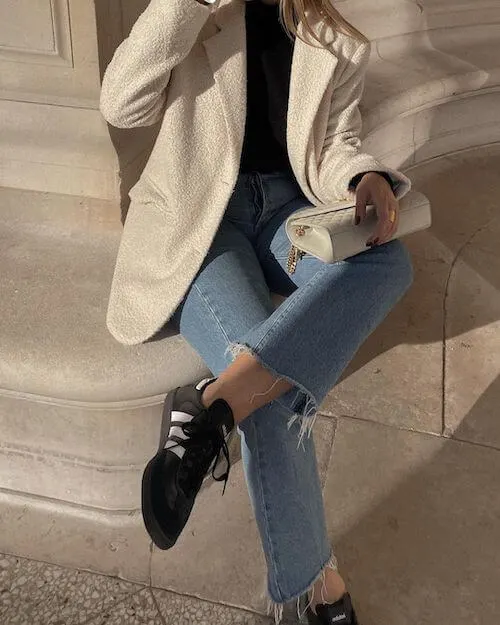 IG@luteceetmoi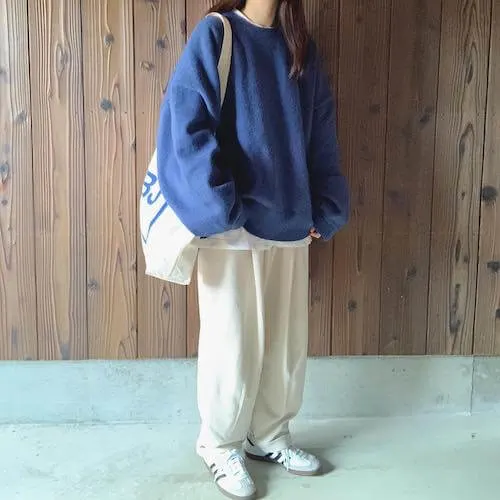 [email protected]_____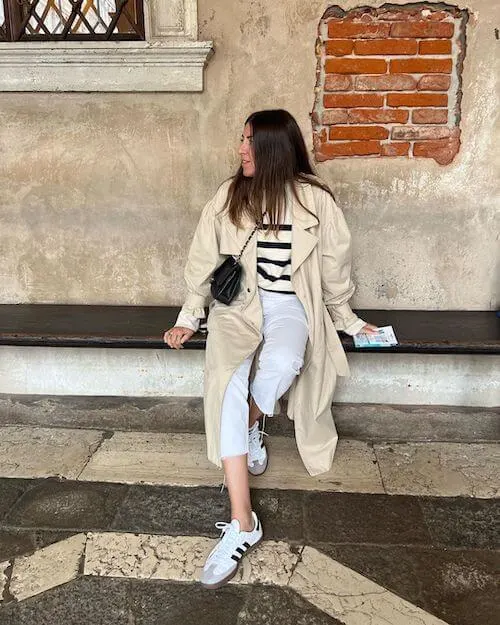 IG@my_nice_sunshine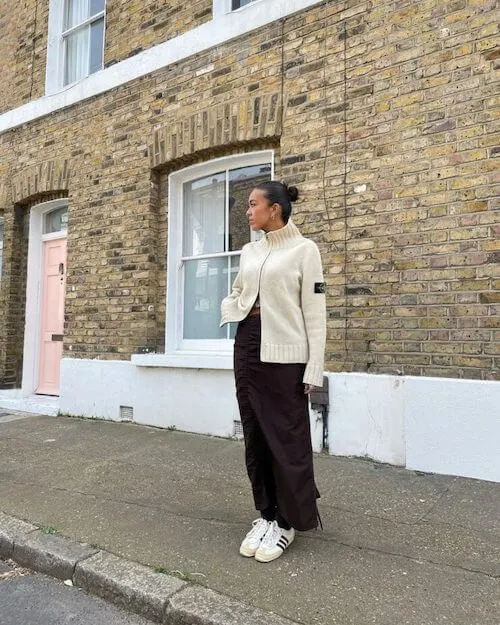 IG@whymarj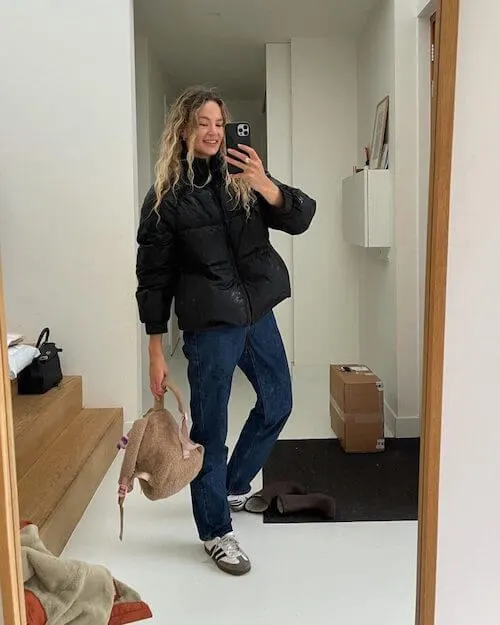 IG@anoukyve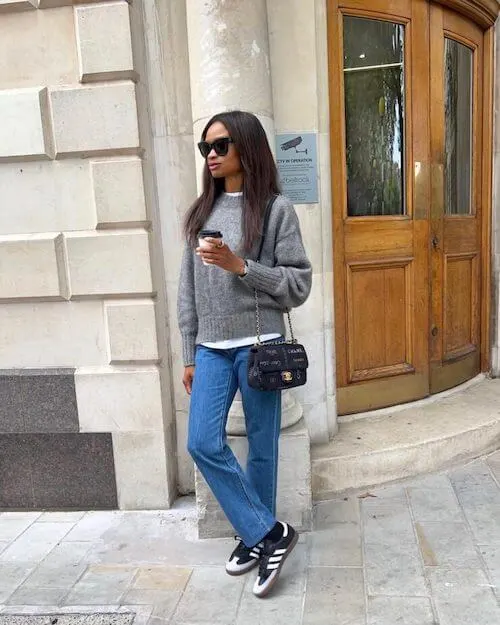 IG@symphonyofsilk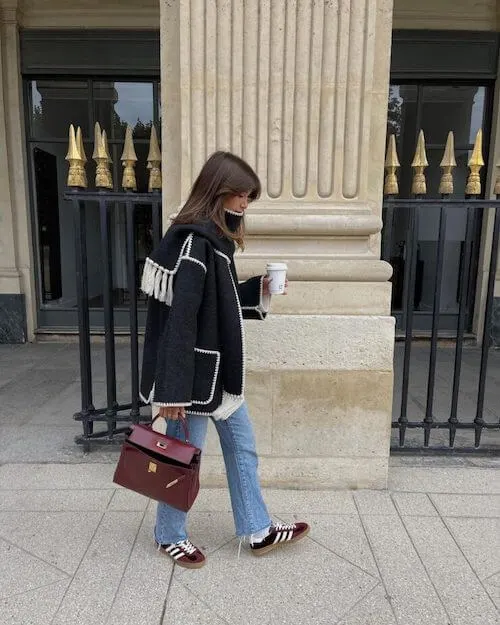 IG@lisonseb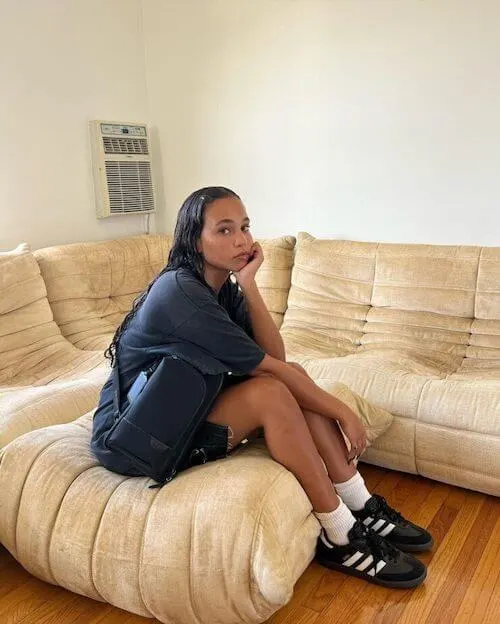 IG@mariaisabel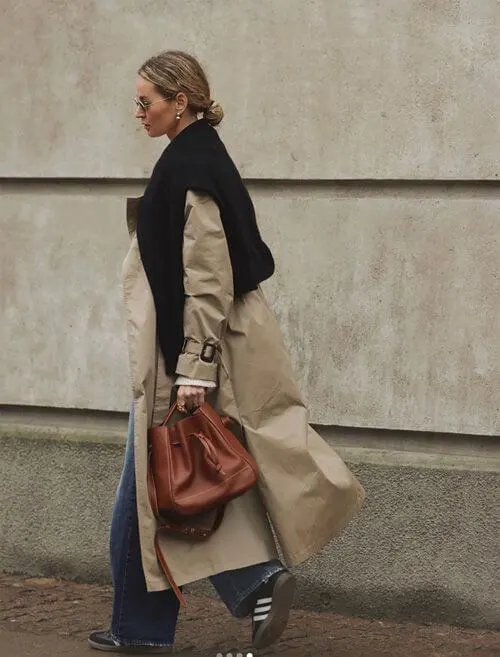 IG@ANOUKYVE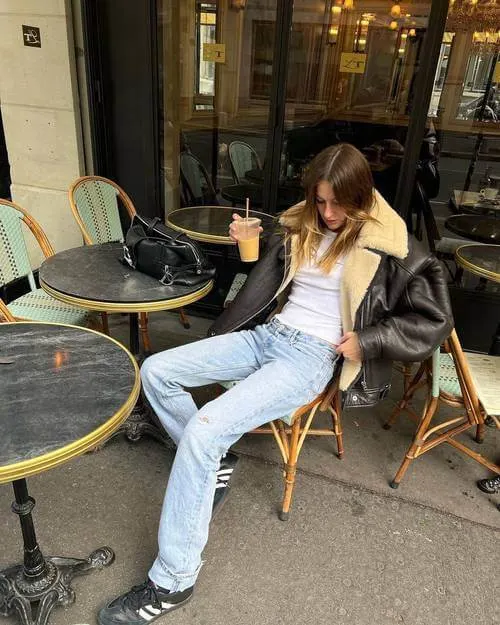 IG@CAMILLECHARRIERE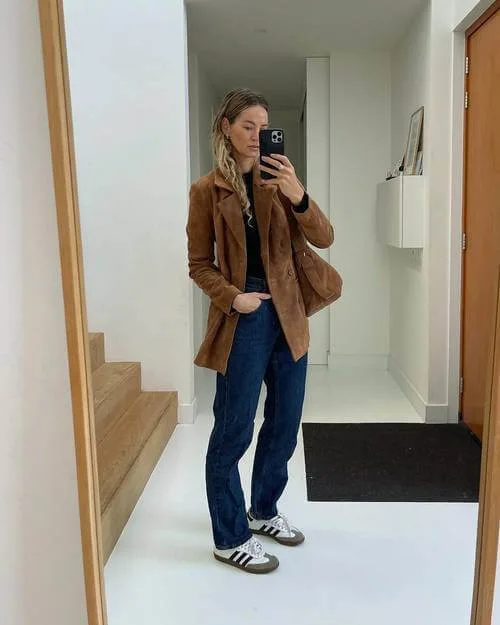 IG@ANOUKYVE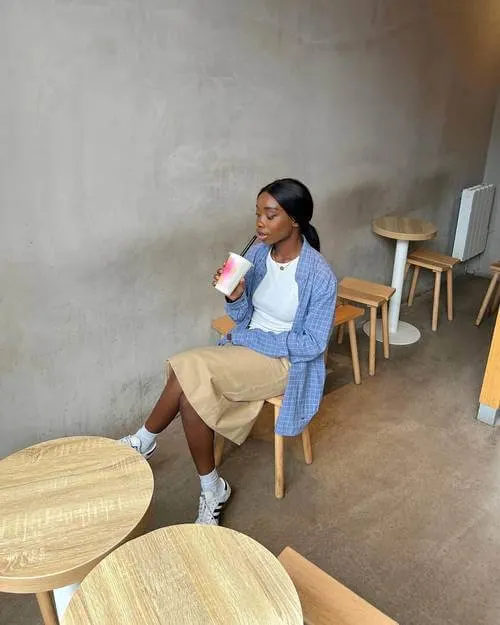 IG@AUDE_JULIE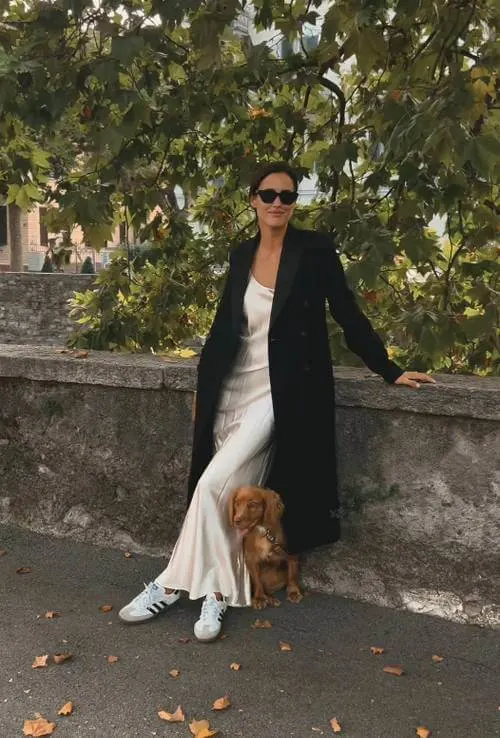 via Pinterest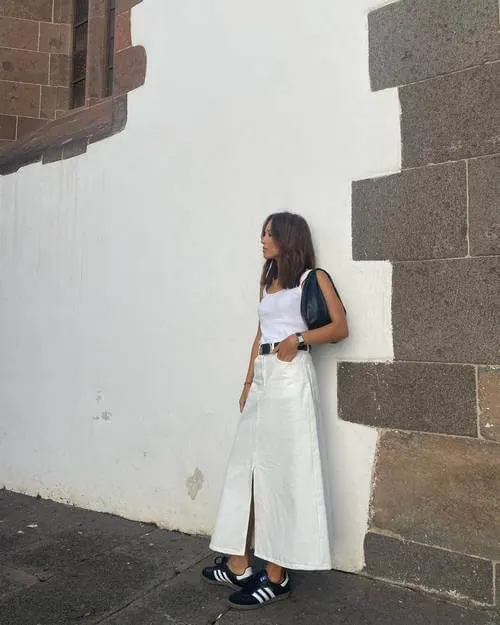 IG@DEBORABROSA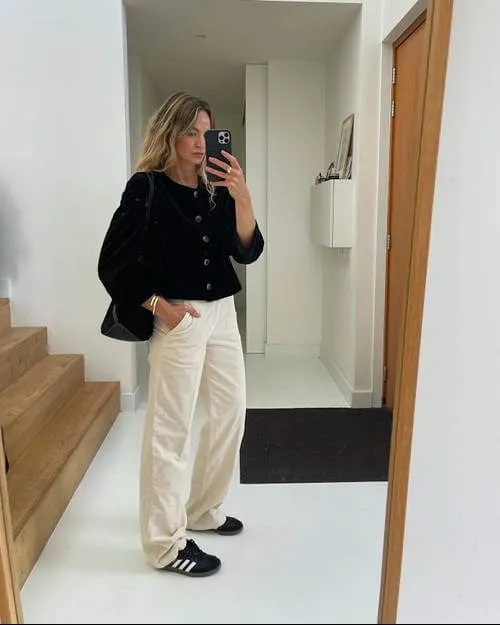 IG@ANOUKYVE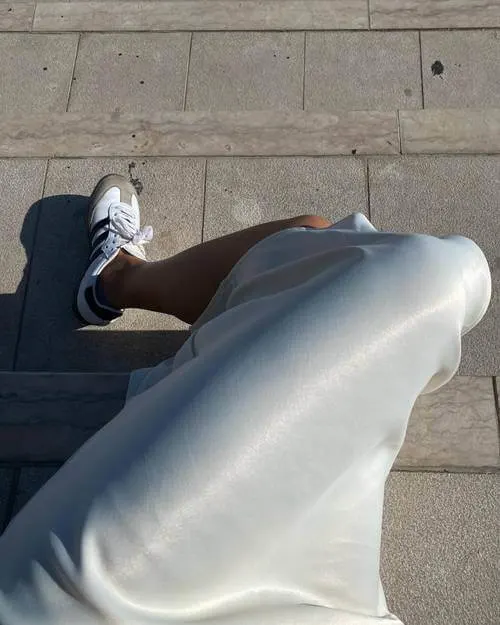 IG@DEBORABROSA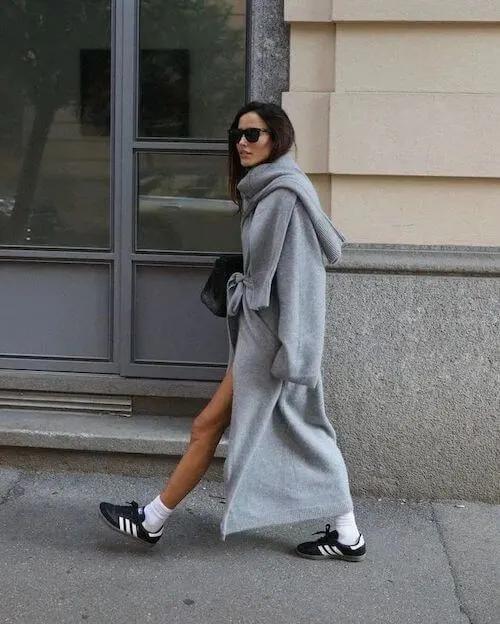 IG@ariviere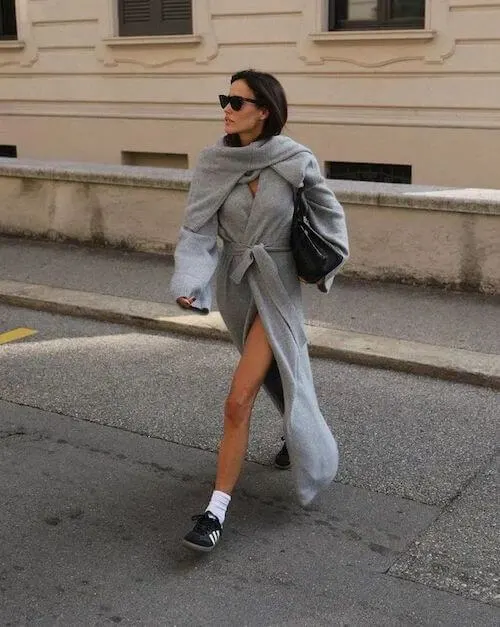 IG@ariviere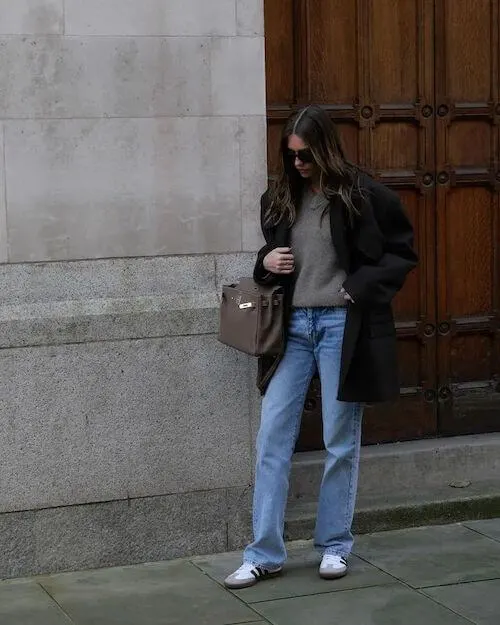 IG@sophielsmith
IG@luciacuesta_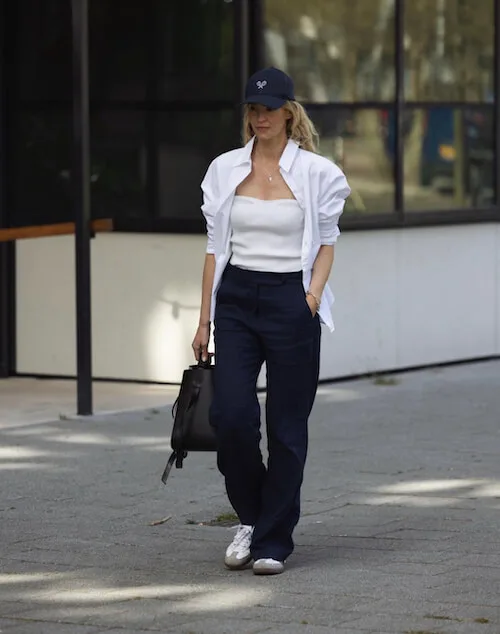 IG@anoukyve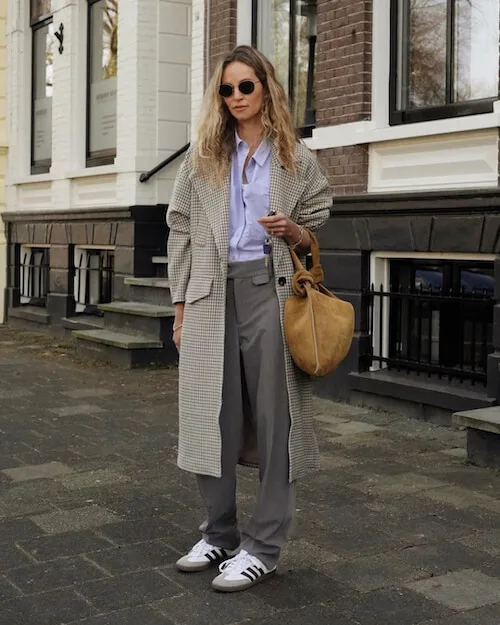 IG@anoukyve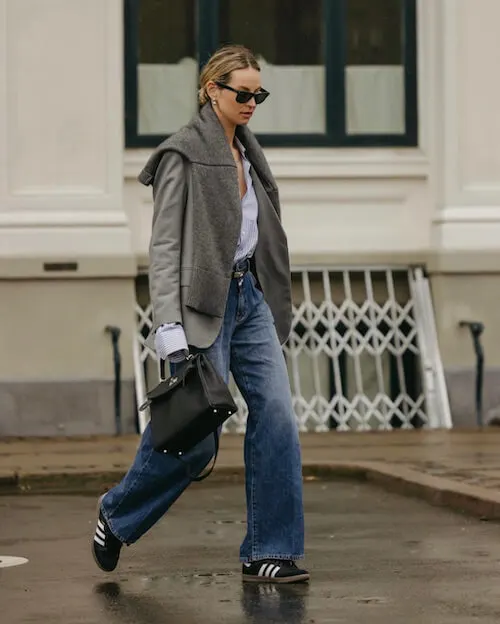 IG@anoukyve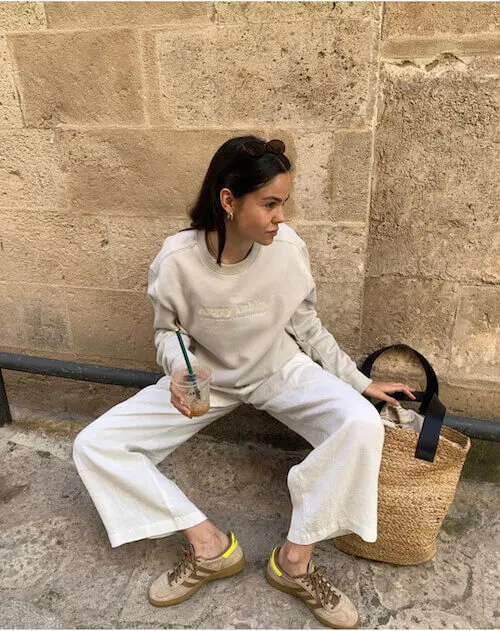 IG@carlanicieza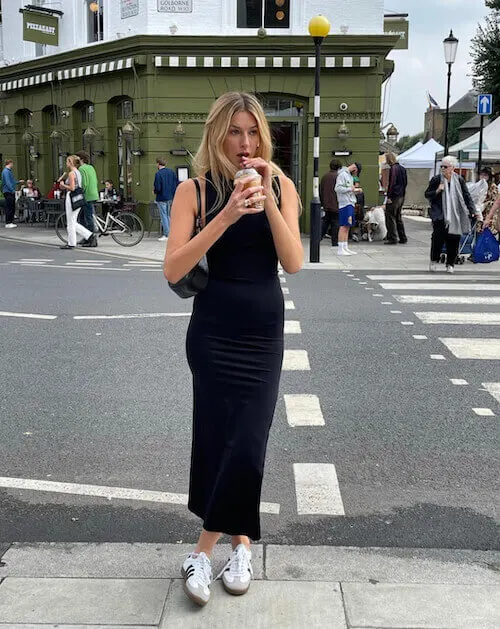 IG@camillecharriere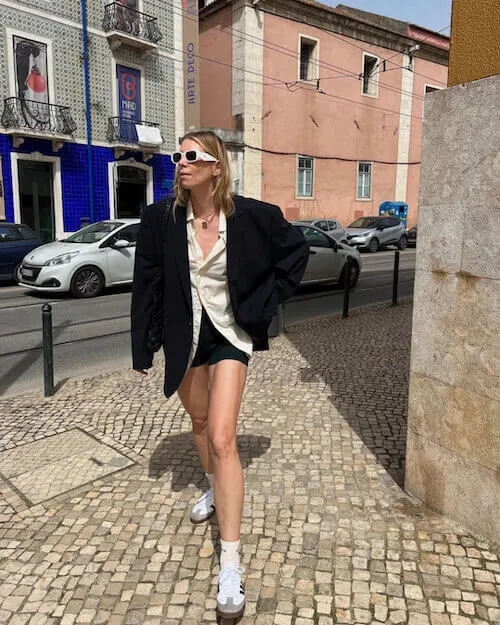 IG@lindseyholland_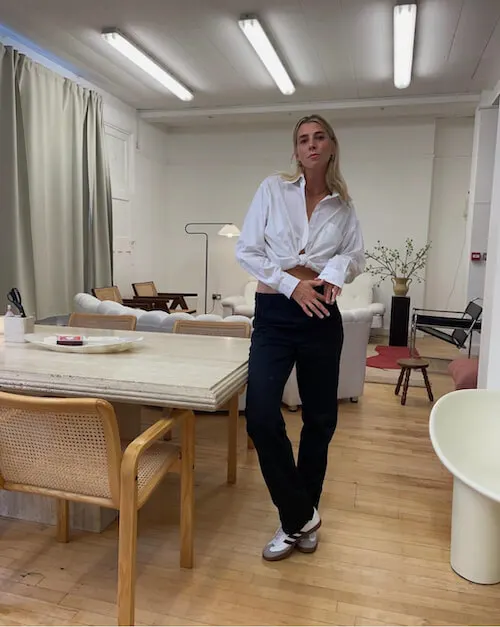 IG@lindseyholland_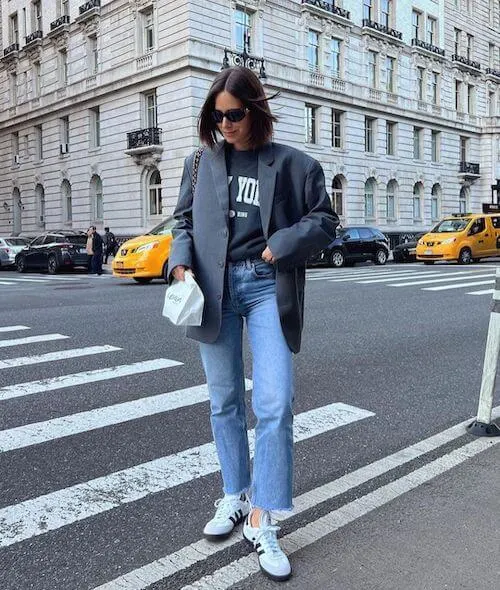 IG@lglora
How To Wear This Adidas Samba Trend In Winter
When winter comes, it's time to break out the boots and warm outerwear.
But don't forget to keep your Adidas Sambas in rotation throughout the cold months!
This versatile sneaker is a great way for women to stay stylish while also staying warm.
Start with basics like jeans or leggings for an everyday look – skinny or mom jeans work great with Adidas Sambas!
For extra warmth, layer over tights or coordinating socks that peek out from the top of your shoe.
Don't be afraid to go bold by pairing your sneakers with a midi skirt, or sweater dress for a more elevated ensemble.
How To Wear This Adidas Samba Trend In Summer
Summer is the perfect season to try out new fashion trends, and one of the most stylish looks this year is rocking a pair of Adidas Sambas.
For a laid-back look, try pairing your Adidas Sambas with cropped jeans and an oversized t-shirt for an effortless street style vibe.
If you want something with more edge, team them with ripped wide leg jeans and a trendy oversized button-down shirt for a look that will definitely turn heads.
This post was all about Adidas Samba outfit ideas for women.
About The Author
Tracy is an experienced personal stylist, shopping expert, and fashion & lifestyle blogger. She has been featured on Time Magazine, Bustle, Best Life, Glam, The Zoe Report, Mic, and GOBankingRates, for her insights on fashion, beauty, home decor, and lifestyle. Read More
Related Posts: