Looking for the best outfits to wear ice skating? Check this post for the best fashion tips and cute outfit ideas to wear ice skating for practice and look cute!
In winter, one sport that attracts me is ice skating.
Since learning to skate, every winter, I go to the local rink with my friends to go ice skating. I even meet friends and go ice skating in other parts of the United States and experience the fun of different ice rinks. Some of my friends also go skating on the indoor ice rink during the summer.
For us, skating is more than the gold medals and dazzling performances by the famous figure skaters we see at the Winter Olympics figure skating programs. Skating has become a part of our daily life during the ice and snow season.
If you are going ice skating for the first time or if you are an ice skating fan and are looking for the best outfits to wear next time, you've come to the right place.
In today's article, I am sharing with you our favorite style tips on what to wear ice skating, and the cutest ice skating outfits for different styles to copy directly.
So scroll down to check these ice skating outfit ideas and don't hesitate to pin them to your Pinterest board, and share them on social media sites.
This post may contain affiliate links, which means I'll receive a commission if you purchase through my link, at no extra cost to you. Please read the full disclosure here.
This post is all about outfits to wear ice skating.
What to Wear and Bring With You When You Go Ice Skating
When skating, wearing the right clothing can help you better practice your skating skills and have a good time on the ice. So, what are some common and must-have skating costume pieces?
You probably don't need to stand on the ice rink at the Winter Olympics to win a gold medal, and you don't need to prepare fancy skating costumes like a figure skater. So here are the items we highly recommend for common skating practice.
Long Pants, Leggings, or Yoga Pants Made of Stretchy Fabrics
Wearing long pants can prevent your legs from being scratched by the ice due to a fall.
I recommend wearing a pair of pants with stretchy fabric or leggings, they will help you move freely on the ice and perform free-range movements.
Comfortable jeans are fine if you don't need to do a lot of movement.
Long-Sleeved Shirt, Light Sweater, or Sweatshirt
Also, to avoid scratches, long-sleeved tops will be more suitable for ice.
And in winter, you can choose a lighter top, which is convenient to create layers of clothing and is also suitable for wearing under a coat.
Jacket or Coat
When the weather is cold, a light and warm jacket will keep you protected from the wind.
You should choose a jacket that allows you to move freely, and that the jacket is not too long, which is not conducive to your movement.
Warm Hat, Scarf, or Earmuffs
Warm and cute accessories like hats, scarves, and earmuffs can add a pop of color to your look while helping maintain your body heat.
Thin Socks
The right socks can make your feet more comfortable when moving inside the skates. A pair of thin socks is usually the best option.
If you are using rental skates, I recommend that you choose a pair of socks that are relatively thicker to prevent your feet from being chafed by the skates and causing pain.
A Pair of Gloves or Mittens
It's cold on the ice, and a pair of gloves will keep your hands from freezing.
Your Own Ice Skates (If You Have Them)
I bring my own ice skates. I also recommend you use your own skates, which are safer on the one hand and more comfortable on the other.
If you don't have your own skates, you can use rental skates, and make sure you choose the right size.
Boot Covers
Ice skate boot covers are stretchy pieces of fabric that go over ice skates. Clips at the bottom secure around the blade and keep the cover in place.
What should a beginner wear for ice skating?
Before skating, you must wear protective gear, including helmets, knee pads, elbow pads, gloves, etc. The protective gear can not only protect the skater but most importantly, he or she can feel safe and move more confidently and don't be afraid of failing, and learn bravely and quickly.
If you are going to start your first lesson, the following equipment I strongly recommend you need to protect yourself from injury.
Knee Pads
In the process of skating, it is easy for people to fall to the ground uncoordinated with their legs, which can easily hurt their knees. Wear knee pads.
Elbow Pads and Wrist Protectors
There are many postures to fall while skating. Some people are prone to roll over, and roll over can hurt the elbow and wrist and need to wear elbow and wrist protectors.
A Pair of Gloves
Many falls are on the ground, so it is easy to rub and injure the palms, so you need to protect your hands with gloves.
Helmet
Beginners who don't have enough skating skills should wear a helmet to prevent head injuries after a fall. Make sure you've bought a high-quality product.
What kind of pants should I wear for ice skating?
Comfortable stretch trousers for skating. You can choose sweatpants or leggings. They wrap your whole leg completely while allowing you to complete a full range of motion.
What Should You Wear Ice Skating In An Indoor Rink:
Compared with skating in an outdoor rink, indoor ice rinks have more comfortable temperatures and better ice conditions.
When skating on the indoor rink, it is a good idea to avoid carrying hard objects, and it is recommended to wear light gloves, long sleeves tops, and long pants or leggings to prevent cuts from the skates.
When skating, be sure to wear skates that fit your feet, and their tightness should be appropriate. If the skates are loose, sprains are prone to occur, and even severe fractures may occur.
What To Wear Ice Skating In Summer?
In summer, the ice rink is still relatively cool. You can wear long-sleeved or short-sleeved tops with shorts or trousers.
My favorite way is to wear a short sleeve t-shirt or tank top inside a loose and thin sweatshirt. In this way, I wear a long-sleeved sweatshirt for the first five or six minutes, and after the warm-up, I usually take off the sweatshirt and only wear a short-sleeved top.
What should you not wear while skating?
Beginners tend to wear too heavy clothing or tight clothing, and thick socks because they are afraid of cold or fall pain, which often hinders exercise.
In fact, skating is also a relatively physically consuming sport, so you don't have to worry about standing on the ice and it will be cold.
For beginners, it is also recommended not to wear long dresses when you are ice skating. Wear them when you are well-practiced and prepared. And when you are wearing a dress or skirt, wear a pair of leggings as well.
In addition, don't bring hard objects, such as keys, knives, etc., when skating, so as not to hurt yourself when you fall.
Cute Outfits To Wear Ice Skating
Want more inspiration? Check the below ice skating outfit ideas for different styles and different occasions, including outfit ideas for ice skating with friends, and outfit ideas on what to wear to an ice skating date.
Easy Cute Ice Skating Outfit Idea: Red Knit Hat + Loose Sweater + Jeans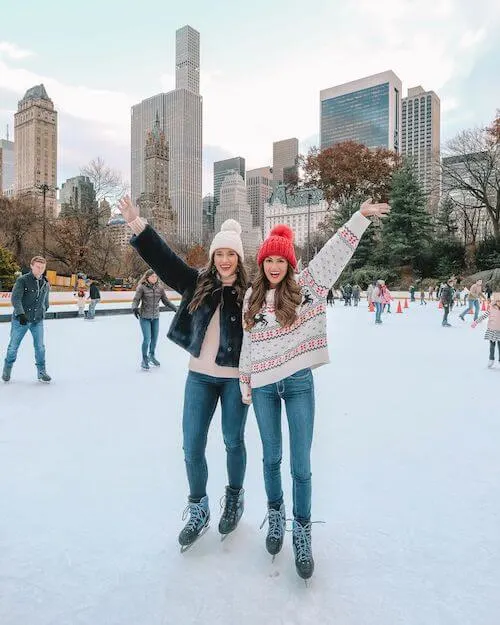 Classy Ice Skating Outfit: Beanie + Fur Coat + A Pair of Leggings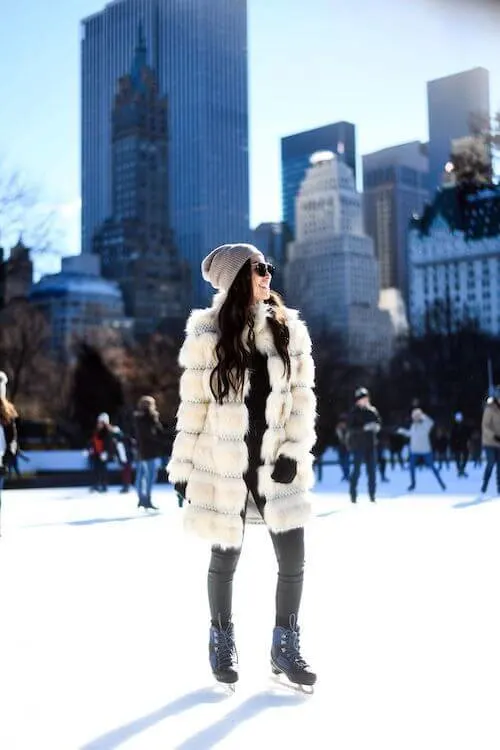 What To Wear To Ice Skating With Friends: Denim, Grey, And Black
Black And Jeans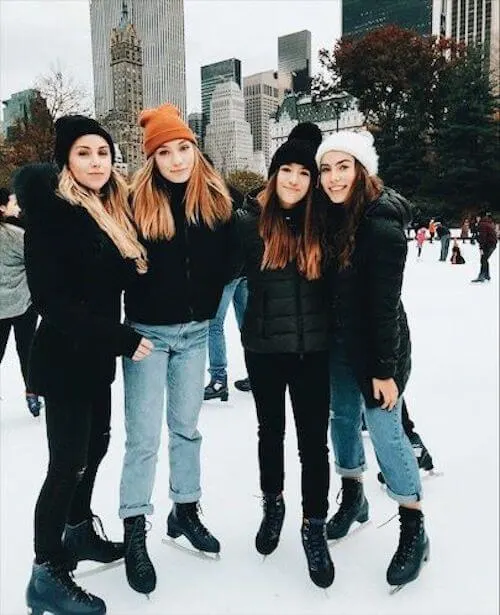 Chic Outdoor Ice Skating Outfit: Plaid Coat + Black Leggings + Knit Hat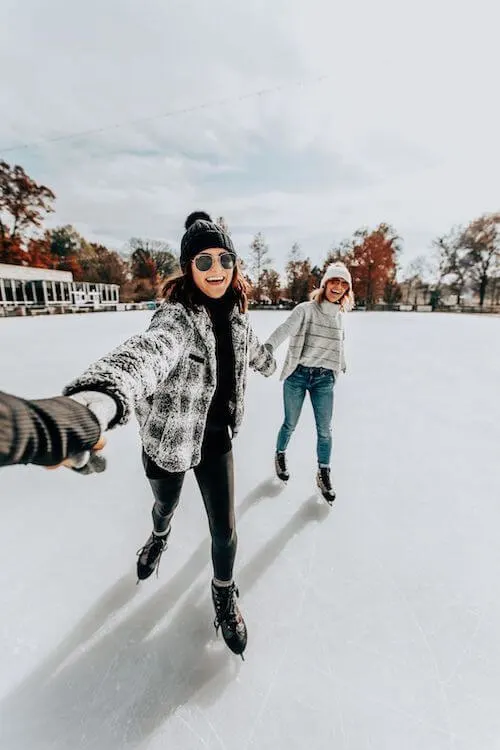 Outfits To Wear Ice Skating Indoors: Short Jackets and Leggings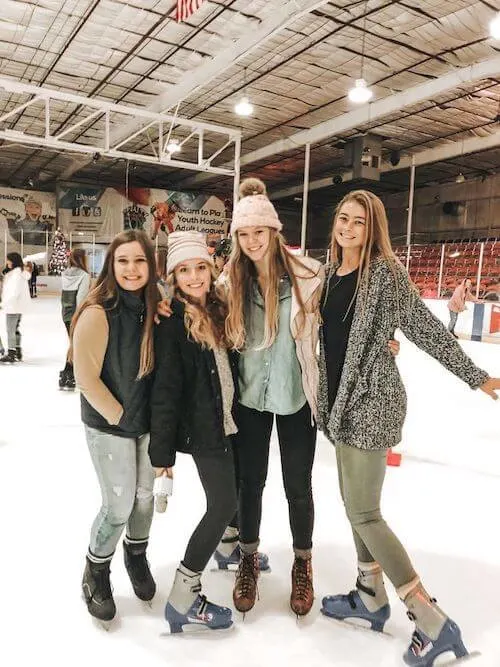 A Pop of Color & A Pair of Jeans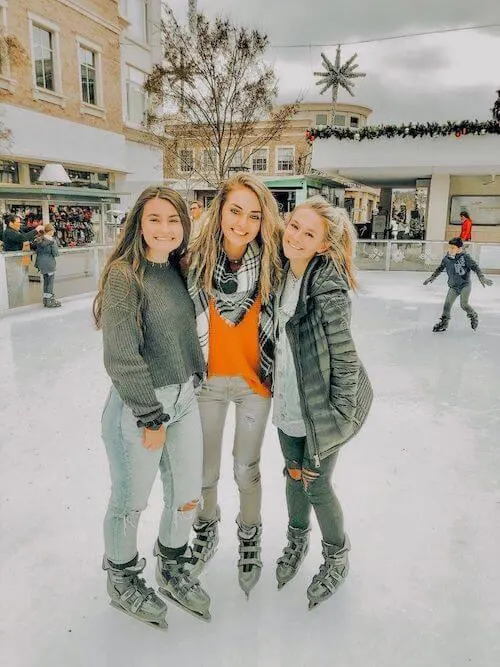 White Long Sleeved Shirt And Short Coat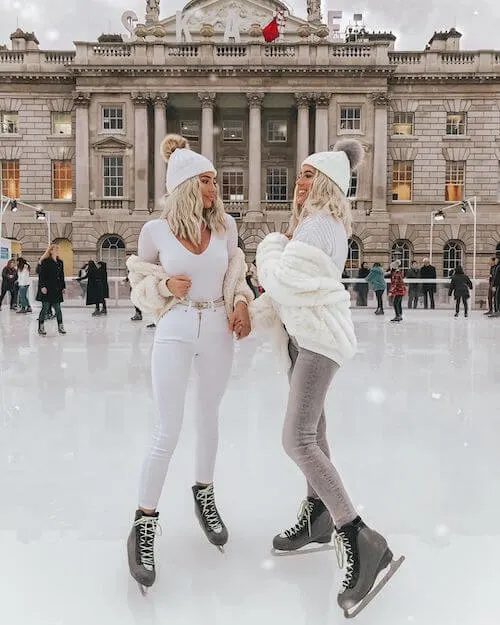 What To Wear To Ice Skating With Best Friend: Cozy Fur Coat and Earmuffs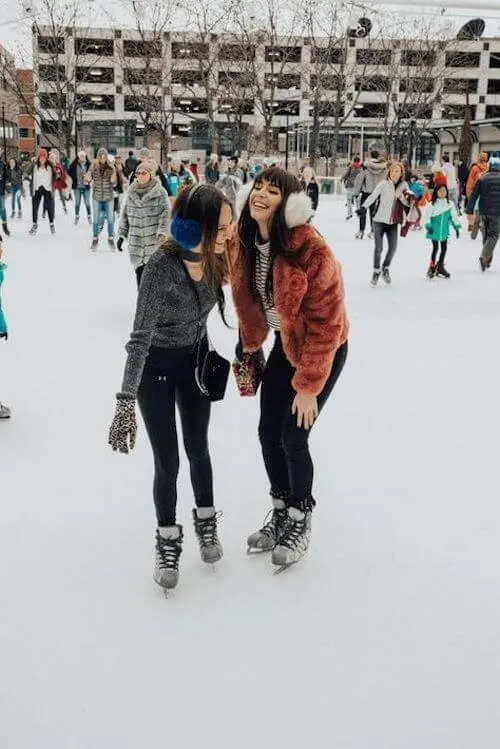 Shades of Pink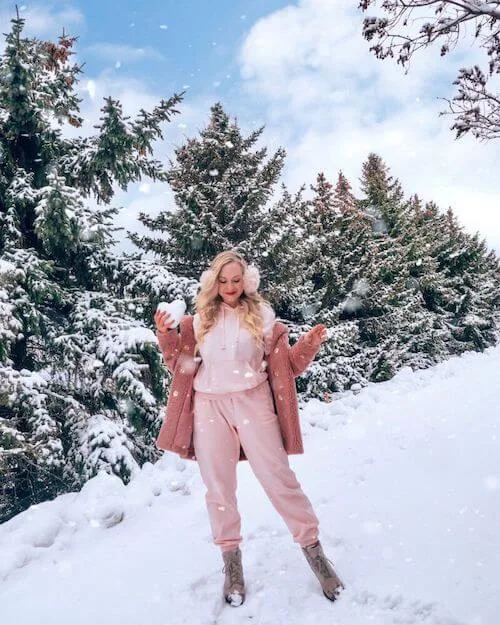 Tan And Blush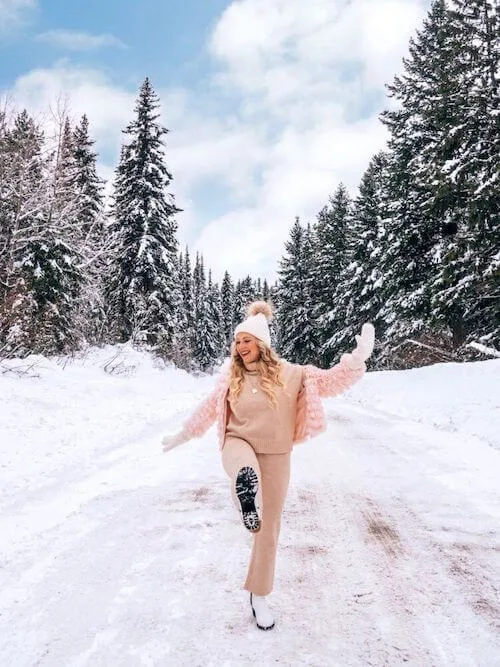 How To Look Cute White Ice Skating: Add Lovely Festive Patterns
via Pinterest
Beige And Black Patterns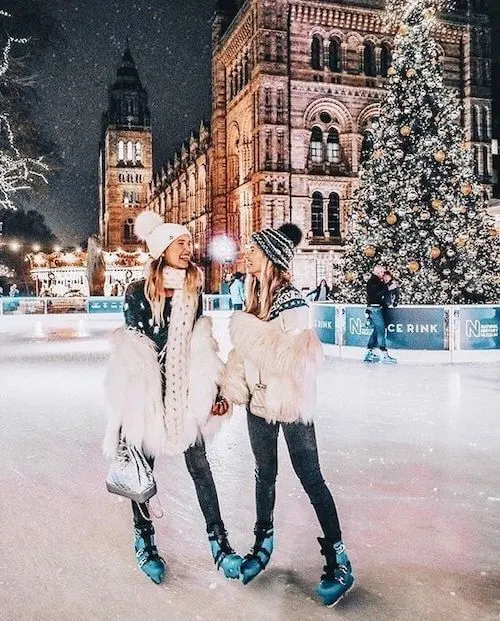 Black Puffer Jacket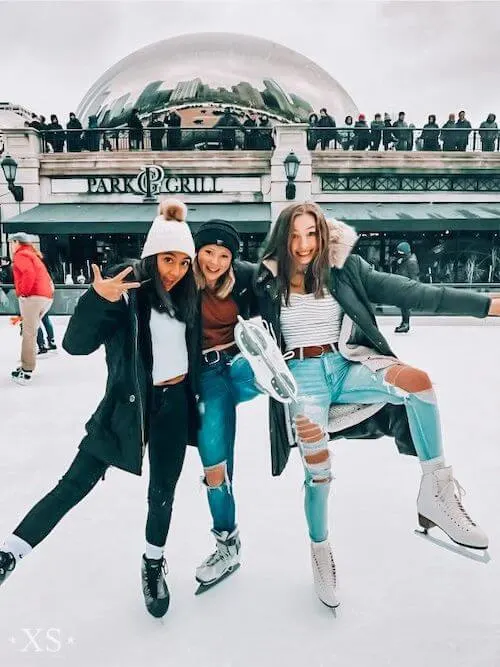 Outfits To Wear Ice Skating In Spring Summer: Sweatshirts And Cargo Pants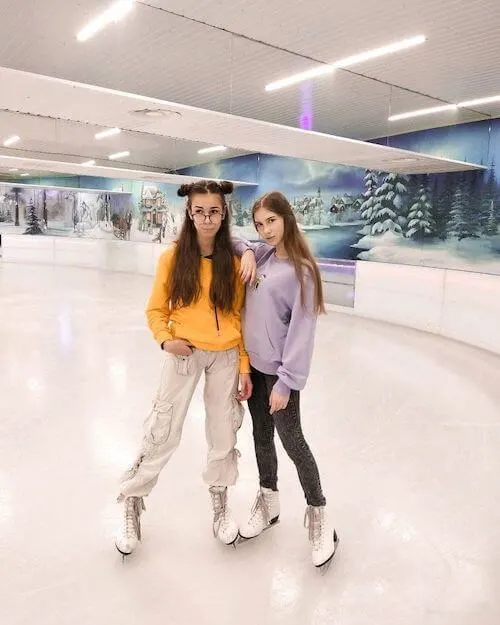 via Pinterest
Fuzzy Tops
Faux Fur Coat + Warm Hat
Perfect Outfit For Winter Holiday Ice Skating: Yellow Top + Black Long Sleeve Shirt + Black Pants
Grey Sweater + Plaid Skirt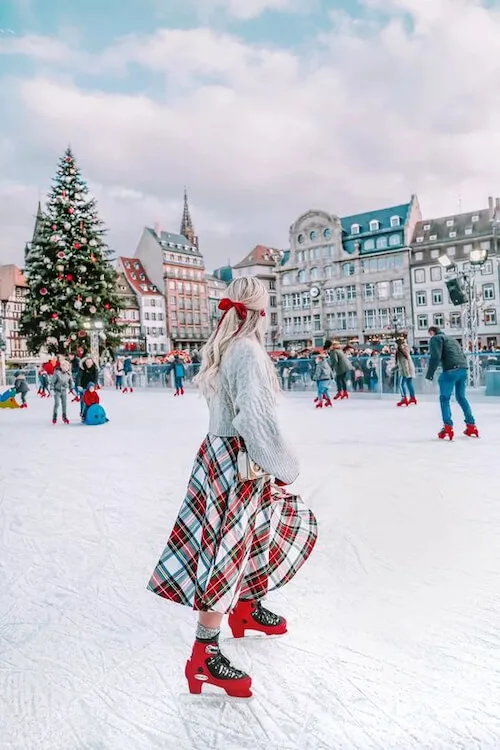 Tan Coat + Blue Skinny Jeans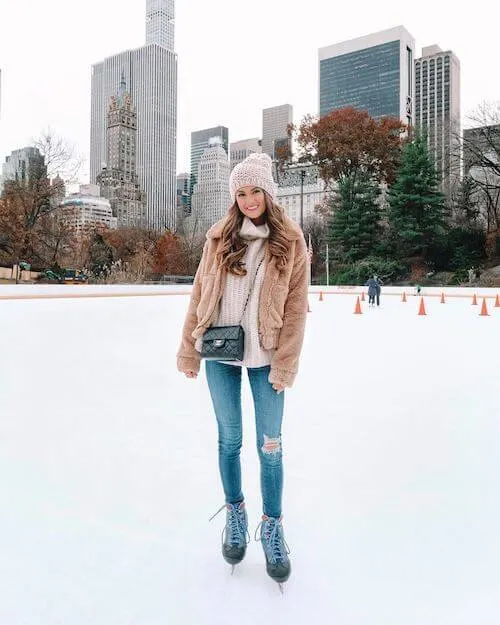 Teddy Coat + Plaid Mini Skirt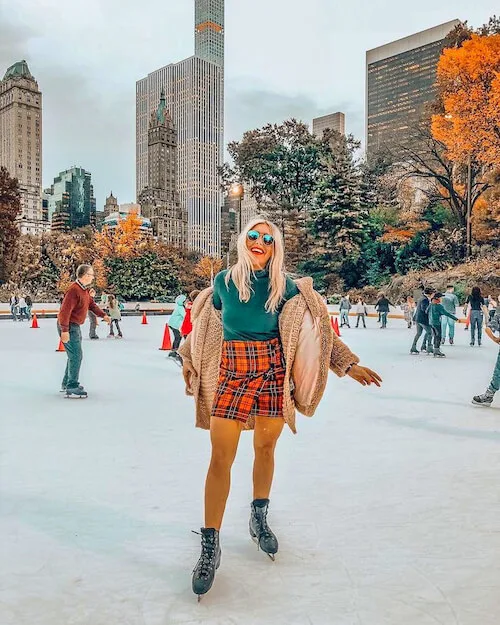 Red Details
Fuzzy Coat + Tulle Skirt + White Tights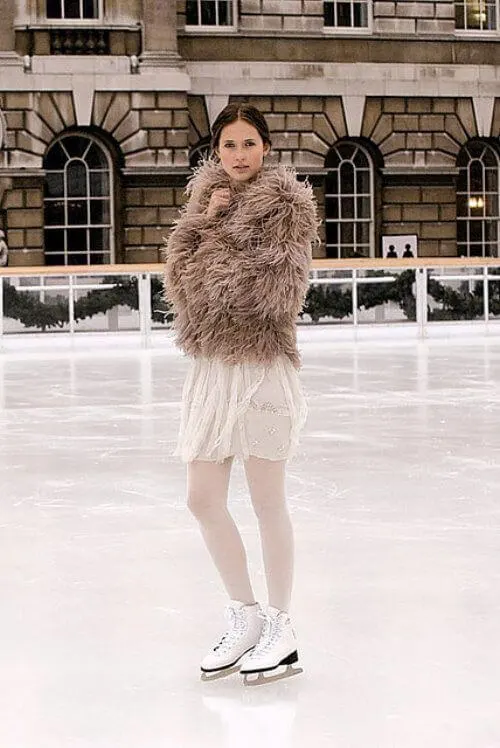 via Pinterest
All White And Blush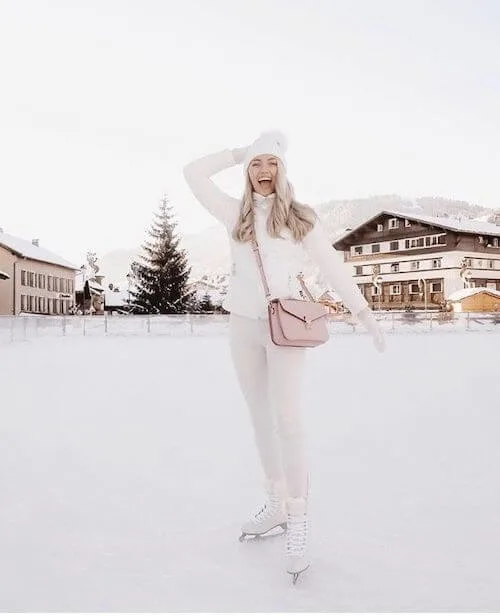 White And Pink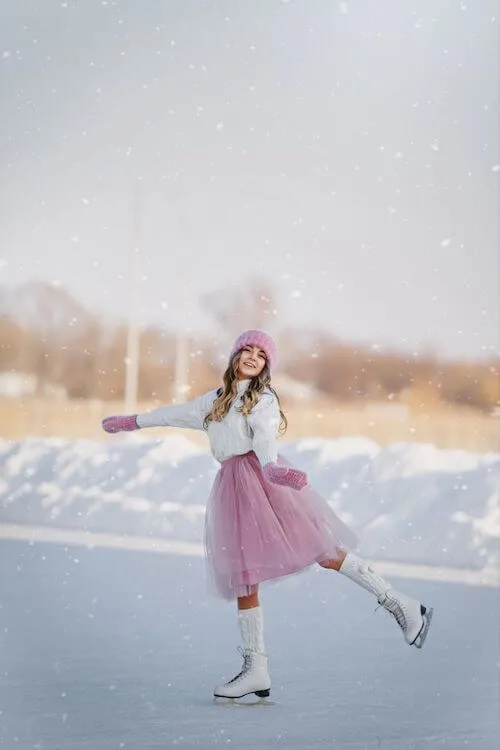 via Pinterest
Maroon Dress + Burgundy Leggings + Light Grey Coat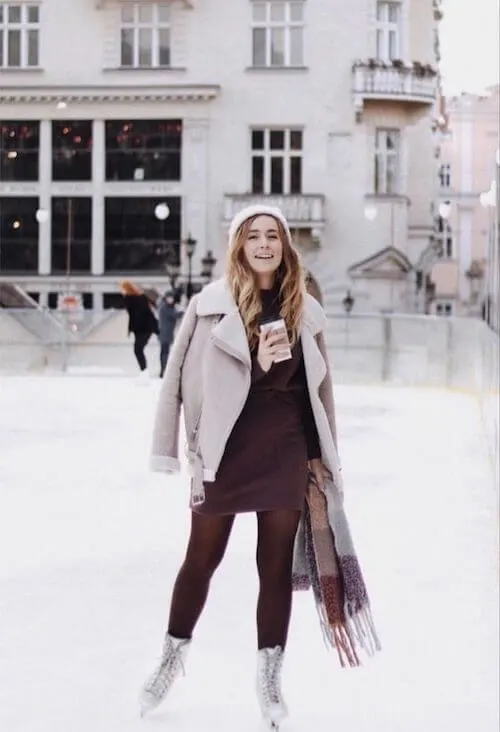 via Pinterest
Earmuffs + Knit Top + Tulle Skirt + Leggings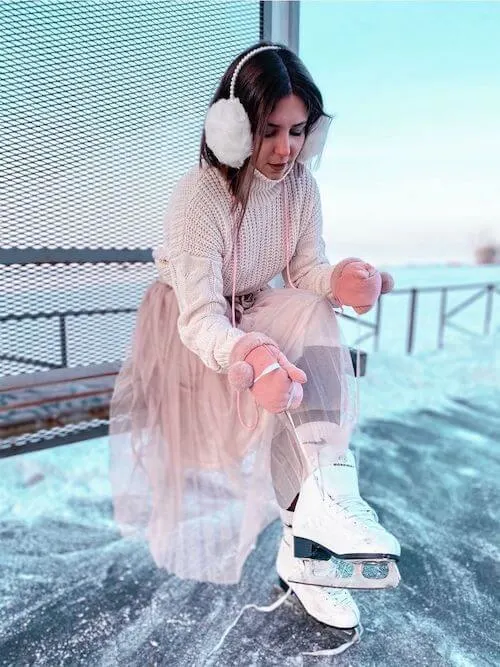 via Pinterest
White Puffer Jacket + Beanie + Jeans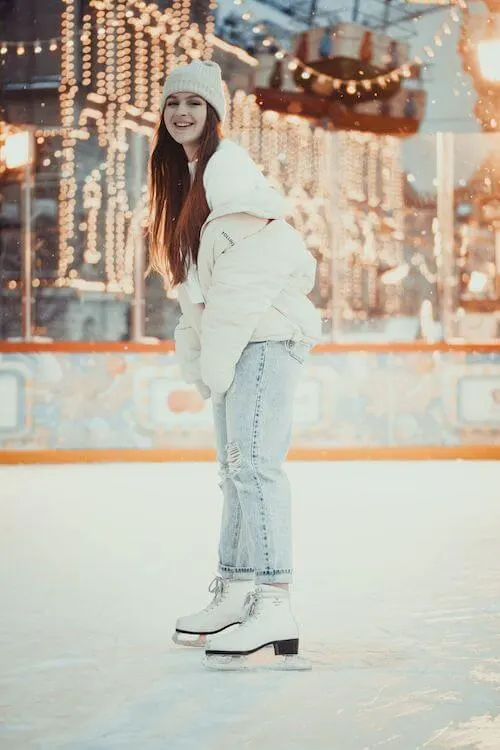 via Pinterest
Teddy Coat & Denim Jacket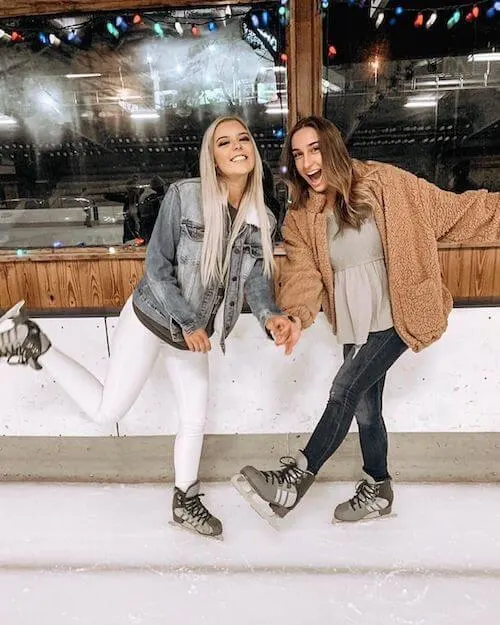 Coffee Hat + Blush Tulle Skirt + Gloves + Long Scarf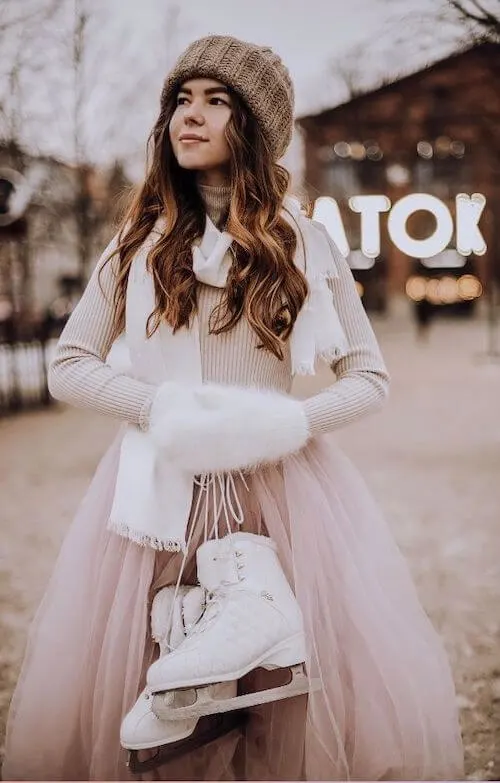 via Pinterest
Crop Top + Long Coat + Leggings
via Pinterest
Neutral Colors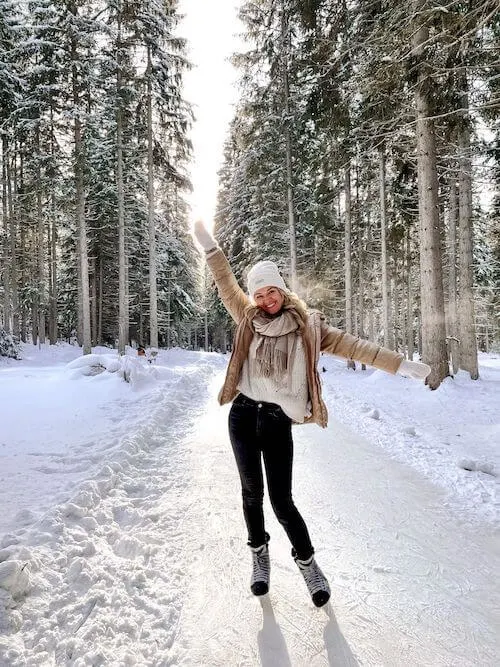 Tan And Grey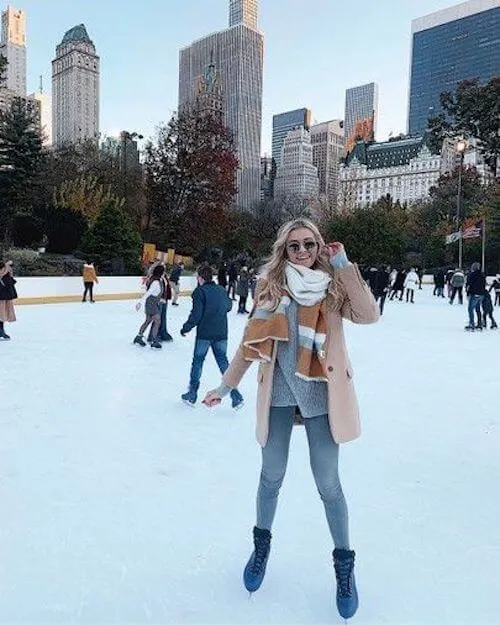 White Sweaters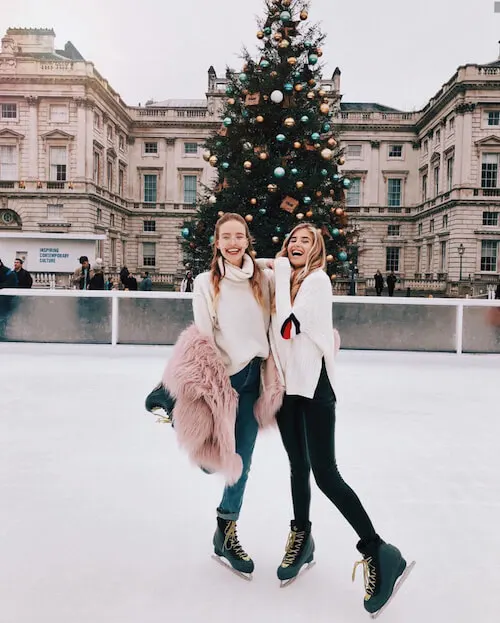 Cozy Red Sweater + Blue Jeans
via Pinterest
Beige, Dark Grey and Black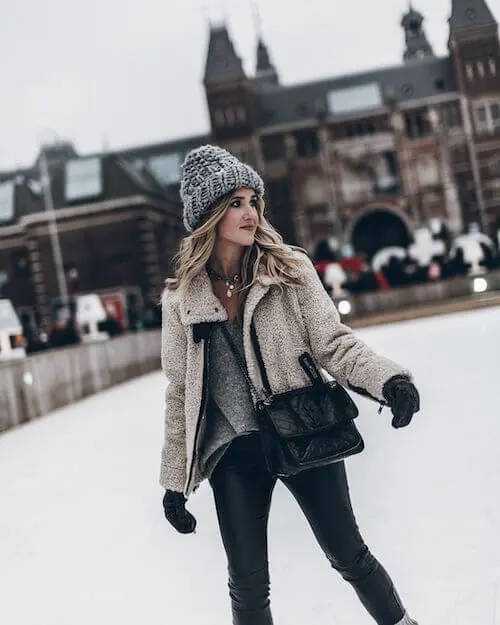 via Pinterest
Brown Tank Top + Puffer Coat + Cream Pants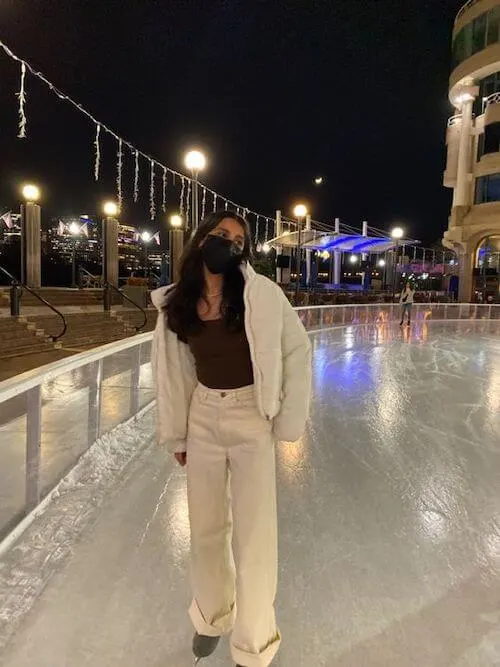 via Pinterest
Crop Tank + Leggings + Knit Hat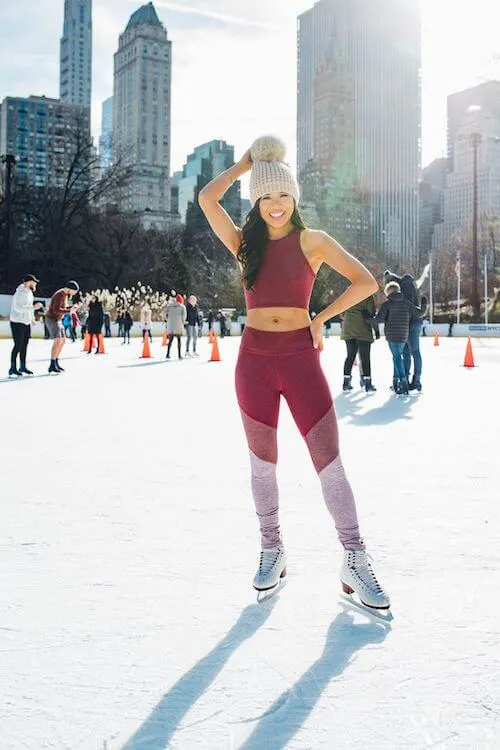 via Pinterest
Outfits To Wear Ice Skating Date: Black And White
via Pinterest
What To Wear To Ice Skating Date: Puffer Jacket And Long Coat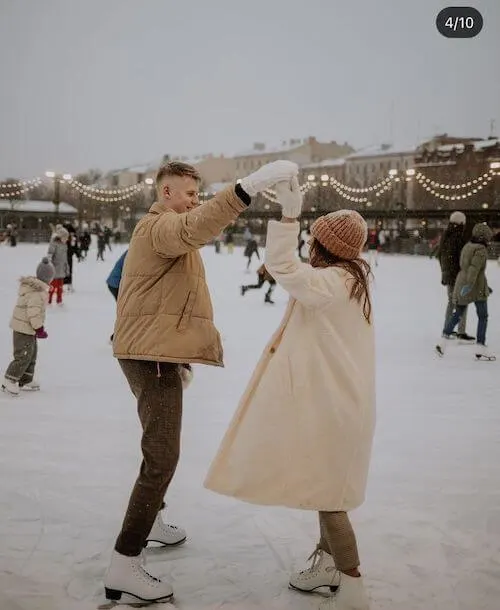 via Pinterest
Cute Ice Skating Date Outfit Ideas: Mini Skirt + Knit Top + Earmuffs + Leggings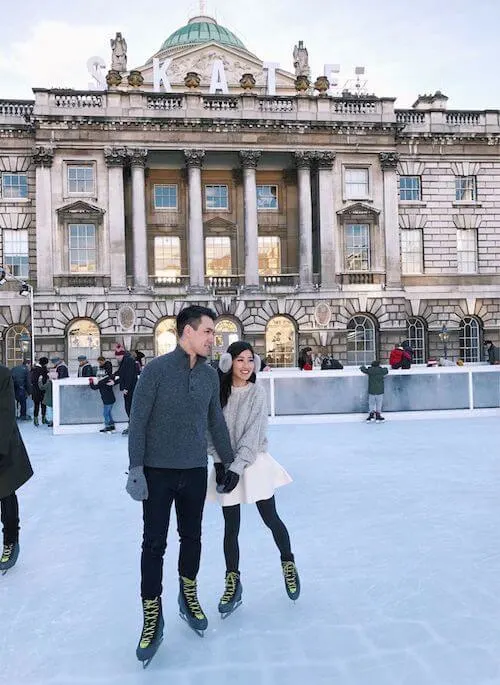 via Pinterest
Best Outfits To Wear Ice Skating To Shop For Directly
Want to level up your ice skating wardrobe? Below are our favorite picks to shop for directly.
Cream Knit with Faux Fur + White Shirt + Jeans + Earmuffs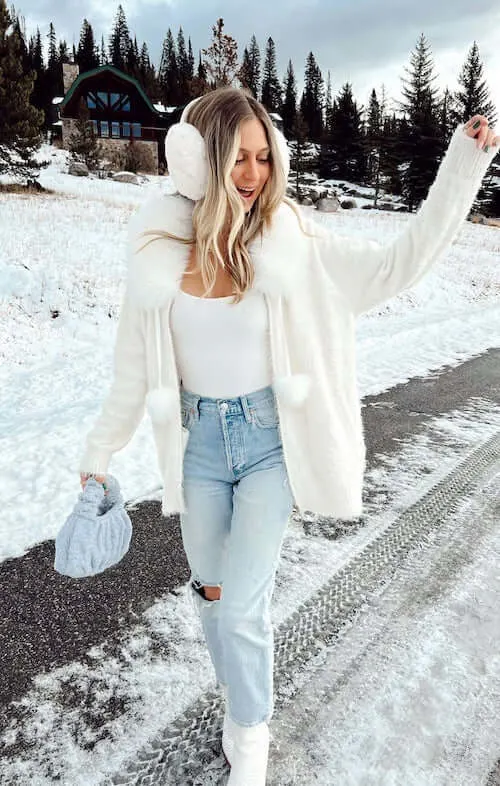 Pink Puffer Jacket with Faux Fur + Leggings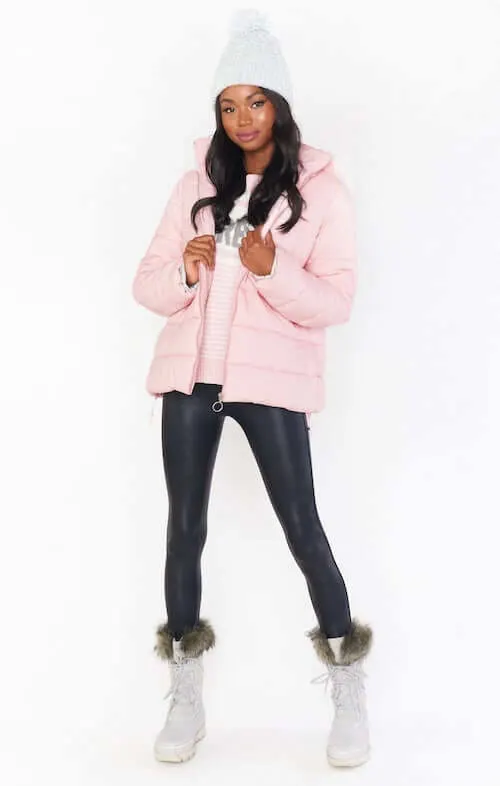 Cream Teddy Bomber + Black Leggings
Ivory Hooded Puffer Jacket + Leggings + Hat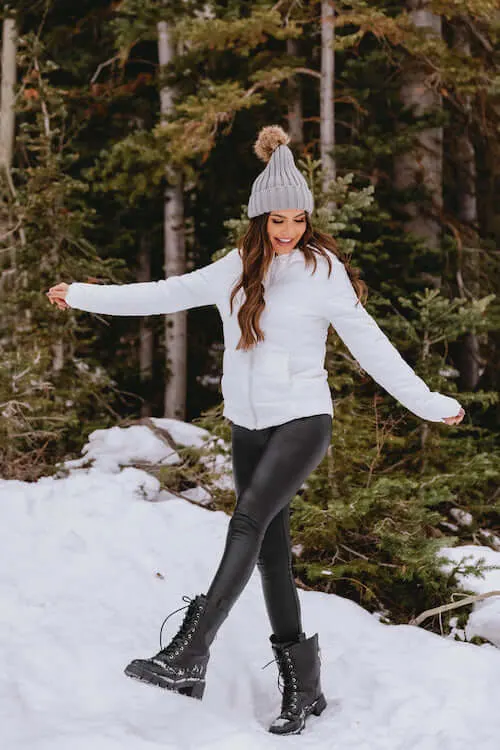 This post was all about outfits to wear ice skating.
About The Author
Tracy is an experienced personal stylist, shopping expert, and fashion & lifestyle blogger. She has been featured on Time Magazine, Bustle, Best Life, Glam, The Zoe Report, Mic, and GOBankingRates, for her insights on fashion, beauty, home decor, and lifestyle. Read More
Related Posts: