Want to know what to wear roller skating? Check this post for the best expert tips, fashion guide and the 60+ best roller skating outfits for any style to copy directly.
My interest in this fun activity started when I was invited to a roller skate party, and I didn't like the idea of renting skates, so I bought a pair myself. Of course, I could only pose in the shoes for photographs that day, because I couldn't skate at all.
But that day I witnessed so many cute skating outfits and found so many beautiful skates. Yes, it was the colorful skates that got me interested in the sport.
Then one time I went to New York City and I brought my roller skates because I learned that Wollman Rink in New York was great. It is a perfect place! There is great disco music, great lighting, retro disco ball and performance, the atmosphere is superb! I had so much fun skating that time, I mean, I was really skating while dancing!
And that day, I also met a lot of girls dressed great. I'm not a very skilled skater yet. But the interest in skating wear is getting stronger.
And I'm also happy to find that with the popularity of the retro style, roller skating fashion is once again breaking into the limelight. The best temptation for everyone is to wear roller skates with flared pants or super short Tees.
So, if you are looking for the cutest roller skating outfits to copy for your next skating session, you've come to the right place.
In today's article, I am sharing what to wear for the first-time skater, helpful tips, and the 60+ best roller skates outfits of different styles, so you can copy what you like for your indoor or outdoor roller skating, and even for your retro roller skating party next time.
So scroll down to check these roller skating outfit ideas, and don't hesitate to pin them to your Pinterest board, and share them on social media sites.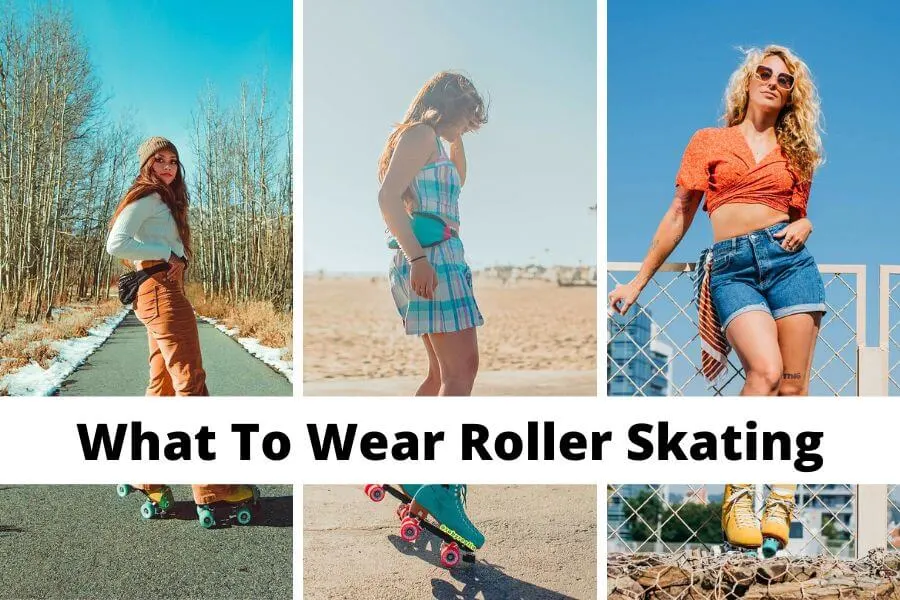 This post may contain affiliate links, which means I'll receive a commission if you purchase through my link, at no extra cost to you. Please read the full disclosure here.
This post is all about what to wear roller skating.
What To Wear Roller Skating For First-Time Skaters
If you are a first time roller skater, if you're not just there to take pictures, I recommend wearing good protective gear as well as choosing a good pair of skates.
Why Do You Need Protective Gear?
In the learning process of roller skating, you should pay close attention to your protective gear.
In the case of not wearing safety gear, if you fall, there may be different degrees of physical contusions, leading you to lack confidence in the sport, or even give up.
The sport of roller skating itself is not dangerous, it is the failure to establish the correct sense of self-protection and protective gear wearing habits that is the cause of serious injury.
Different protective gear will protect various parts of the body, especially for novices and when performing difficult movements, the protective gear will provide adequate protection for the head, wrists, palms, elbows, knees, and other parts of the body, effectively improving safety.
The use of some protective gear can play a supporting role in practice, such as knee pads, which can help you have a great exercise.
How To Choose The Right Protective Gear?
Quality roller skate protective gear should be sturdy, shock absorbing, well wrapped and not easily displaced.
Quality protective gear surface is sturdy, impact-resistant, large area, can withstand stronger impact and spread the impact force.
The protective gear has a thicker cushion built in to make it comfortable to wear, and it provides a cushion and reduces the impact when you fall.
Elbow Pads
Protects the elbow joints of both arms during sports, generally with hard shells and soft inner padding.
There are two ways to wear elbow pads.
The first way: untie the straps, pass the arm through the elastic sleeve, adjust the brace to the position of the elbow guard, and then secure it with the straps. This way is more firmly fixed and less likely to fall off. It is recommended to use this way of wearing.
The second way is to untie the straps, place the brace in the elbow brace position, and fix it directly with the straps.
This way is more convenient to wear, but not as strong as the first one. And the straps will have direct body contact, not suitable for use in summer when wearing short sleeves.
Knee Pads
It protects the knee joints of the legs during skating from knee injuries and is also a hard surface on the outside and a soft cushion on the inside.
Knee pads are also worn in two ways, the same as elbow pads. Again, the hardest part of the surface of the knee pads should be against the joint of the knees.
Wrist Guards
Wrist guards can protect both the wrist and the palm; they are used to protect and prevent sprains of the wrist or abrasions of the palm.
Generally, elbow pads and knee pads are not divided into left and right, but palm pads are divided into left and right hand and front and back.
The palm guard mainly protects the palm of the hand, so the side of the palm guard with strong material protects the palm of the hand.
Before putting on the elbow pads, separate the left and right hands and the front and back, and put on the elbow pads with your thumbs through the thumb holes, so that all your fingers are exposed, and then stick the Velcro.
A Pair Of Skates: Quads vs. Inlines
Quad skates are classic skates. Generally, a pair of quad skates is a good option for beginners, especially when you are heading to a party for fun and wearing the skates for the first time.
I bought this pair of rose gold quad skates as my first pair and I love my skates!
Inline skates are the types of skates with roller skate wheels in a straight line.
Inline skating offers more ankle support, but in my opinion, inline skates are more suitable for people who have a few skating skills already, or who want to have plenty of movement for long distances, and also great options for outdoor use.
Among inline skates, hybrid inline skates and hardboot inline skates with good support and stability are the most suitable for beginners.
What To Wear For Roller Skating?
Many people may think that sportswear is just a few things: tank tops, leggings, sports shorts, etc. But people who play roller skating are definitely fashion lovers! Many roller skating outfits are so cute and trendy.
Loose tie front top, short skirt, high socks, and high-waisted jeans …… highlights the body and do not bind the movement, in short, is all sexy, free, youthful, show personality clothing pieces.
When you gradually master the sport, or you want to take more good-looking photos, the following are my favorite roller skating outfits for your reference.
Casual Cute Roller Skating Outfits
Rollerblading itself carries a youthful and fashionable atmosphere, so a few simple pieces can be combined into lovely outfits.
I recommend solid-colored pieces the most. Because you may be wearing brightly colored roller skates, simple solid color clothing pieces can facilitate your color matching.
Comfortable clothing is your first choice. You can choose short denim shorts or even a pair of white stockings that look very full of vintage sexiness. A pair of leggings for sports is also a good idea for you.
You can also choose a bit of retro style brown pants, with a simple white top to show your good fashion sense.
Besides, give full play to your imagination and combine your closet pieces. Lovely violation of denim straps, sexy bikini bottoms, and oversized shirts, all can make your looks very attractive.
Sports Bra Top + Sports Shorts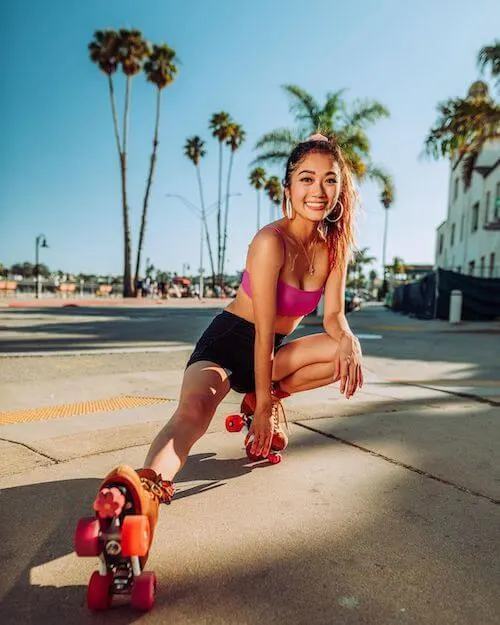 Sports Bra + Wide Leg Pants + Bucket Hat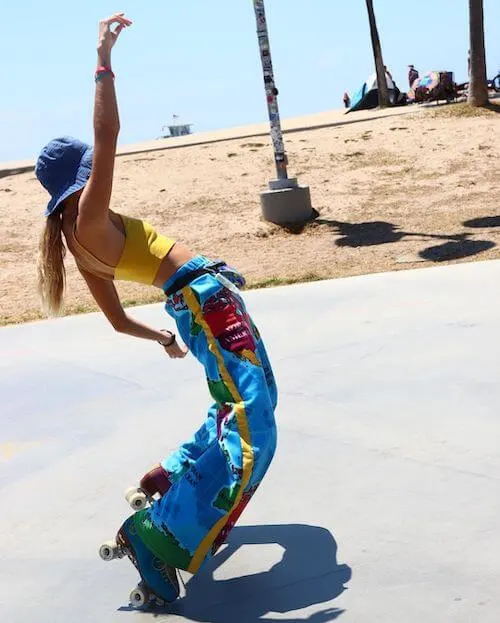 Bra Top + Carrot Pans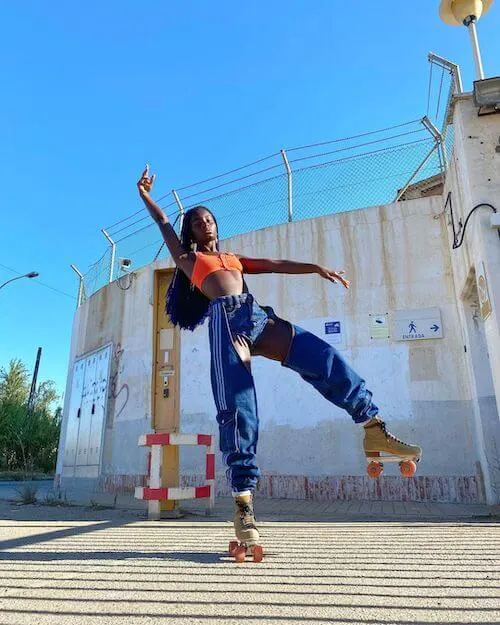 White Off-The-Shoulder Top + Tight Jeans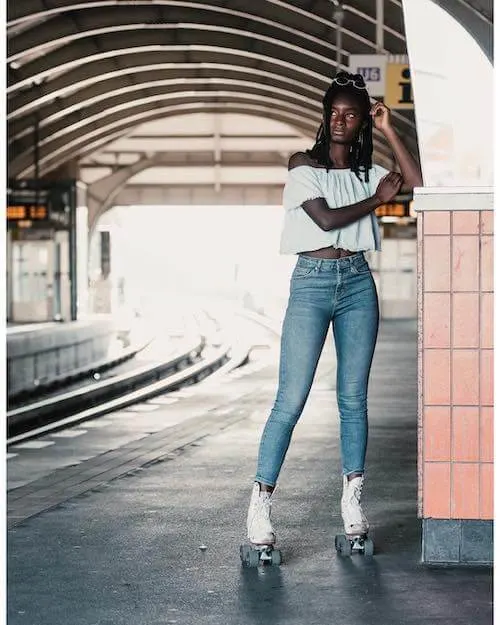 Tube Top + Denim Shorts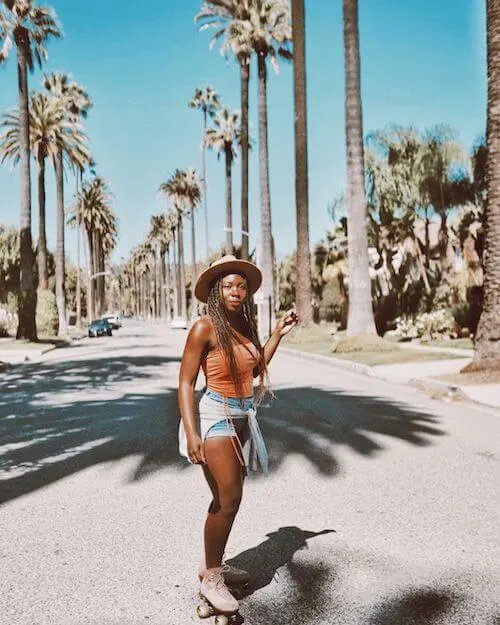 Crop Top + A Pair Of Shorts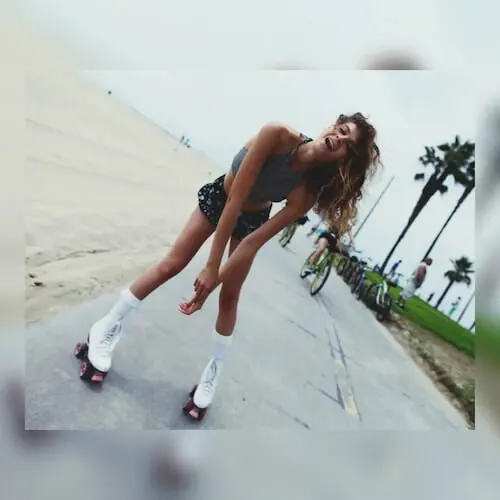 White Tee + Denim Shorts + Pink Long Socks
If there is an important item for quad roller skating, it is definitely different colors of long socks.
They protect the ankle from being abraded by the skate boots, and they also protect the legs so that in case of a fall, the knees don't have to suffer.
Another important reason is that long socks are a fashionable and figure-flattering piece. The legs look tighter and more proportionate under the socks, and the striped design is youthful and lively.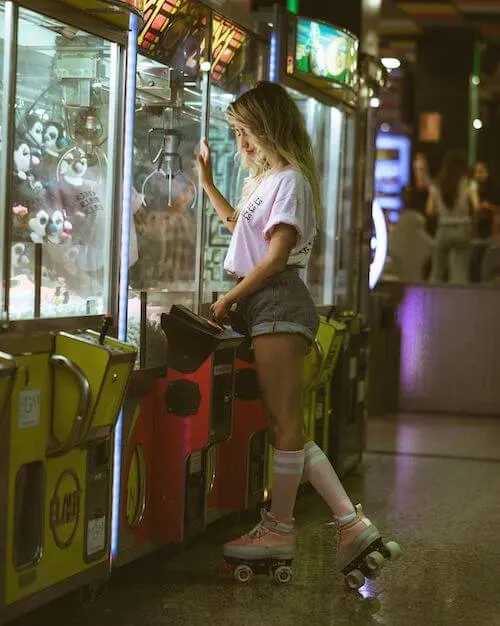 White Tee + Jean Shorts + Long Socks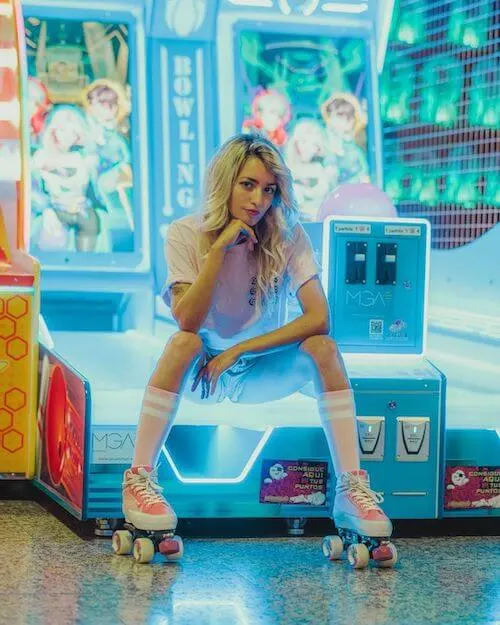 Short Sleeves Crop Top + Denim Shorts + Socks
High-waisted denim shorts are also amazing to show leg length, instantly improve the waistline, showing two beautiful legs, plus the height of the roller skates, so you can easily have long legs.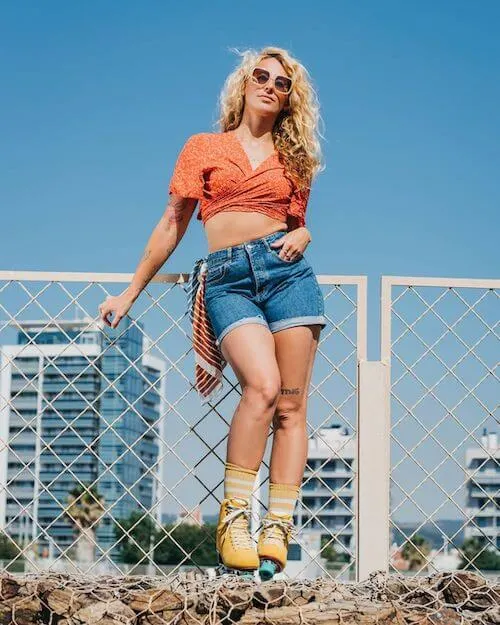 White Tee + Brown Pants
Both shorts and pants look great, but the best option is the high waist design.
For the top, a simple short tee is a good idea, or you can wear the same color silk blouse, easy to have a retro-chic style.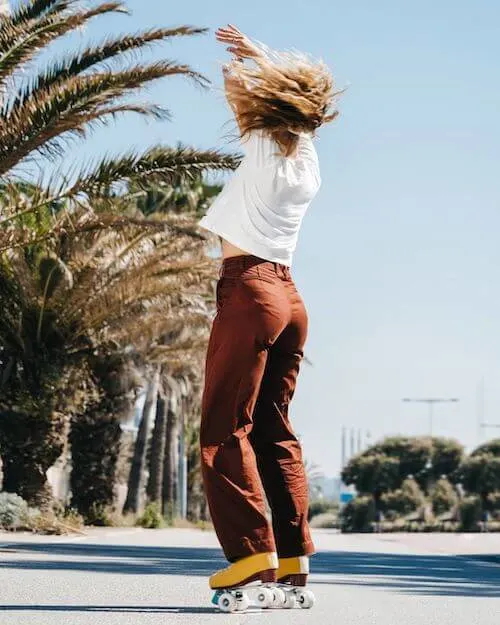 Tank Tops + Brown Pants + Socks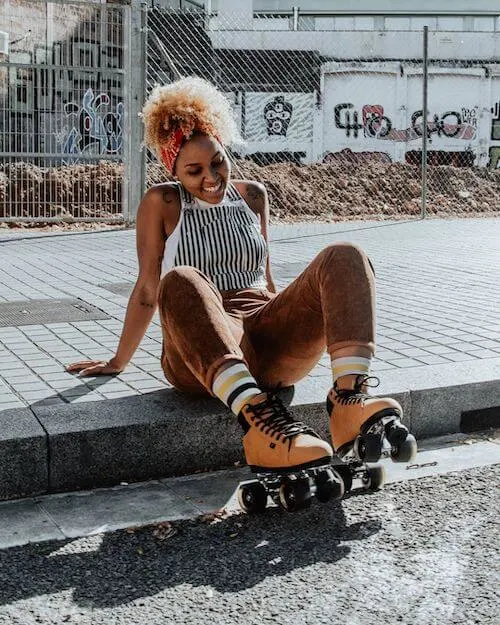 Black One-Shoulder Top + Black Joggers
In addition to high-rise shorts, these joggers are also my favorite choice.
Just wearing a tight top or crop top can help you look very sexy and cute, and you can add a baseball cap or bucket cap to embrace the perfect hippie style.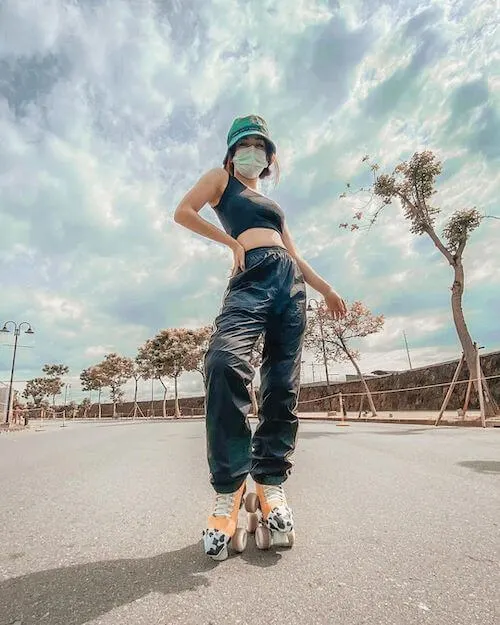 Red Crop Cami + Jean Shorts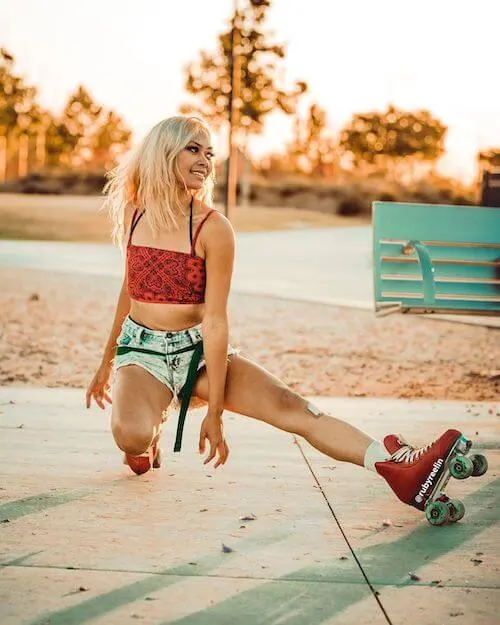 White Cami + Jean Shorts + Baseball Cap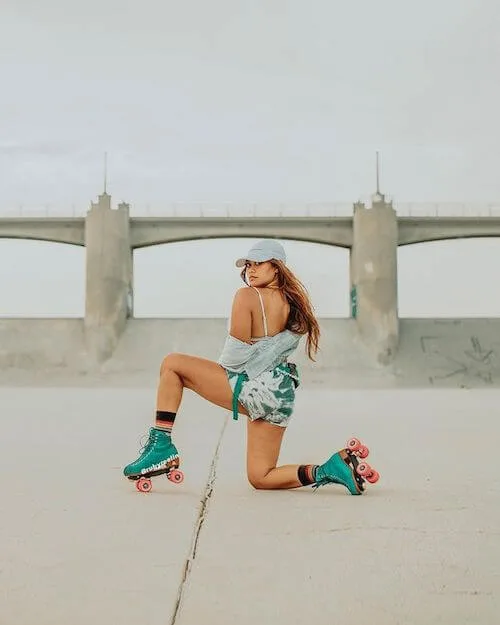 Blue Sports Top + Plaid Skirt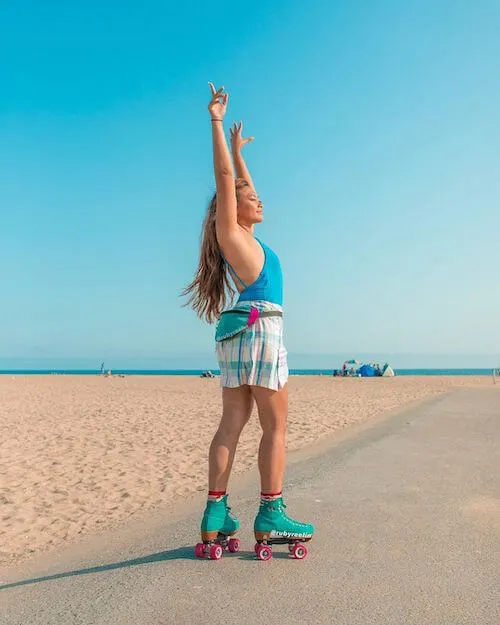 Black Jumpsuit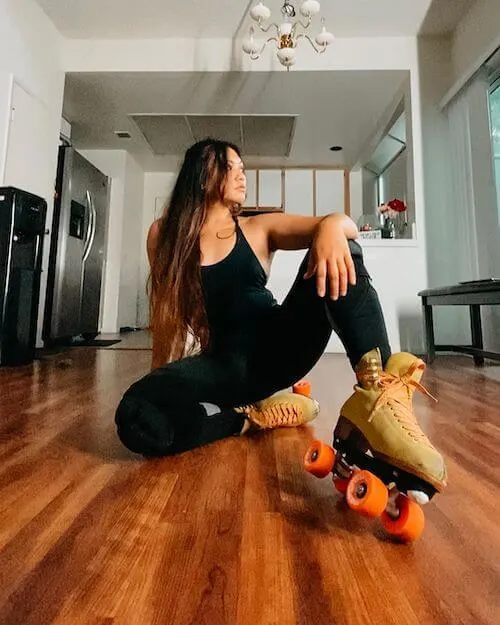 White Tank + Denim Shorts + Black Long Socks + Baseball Cap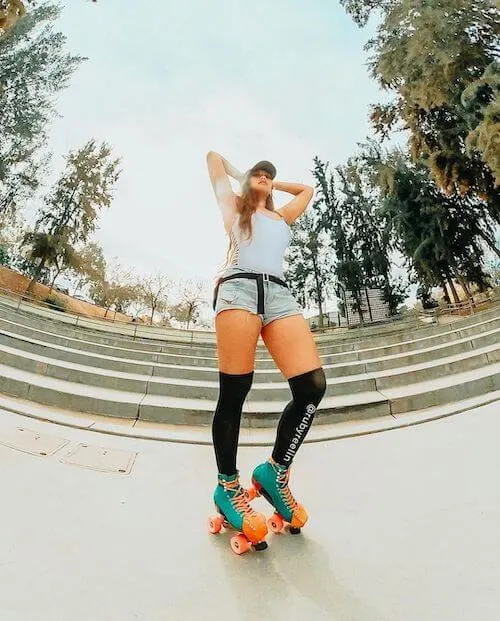 Black Tank + Tan Pants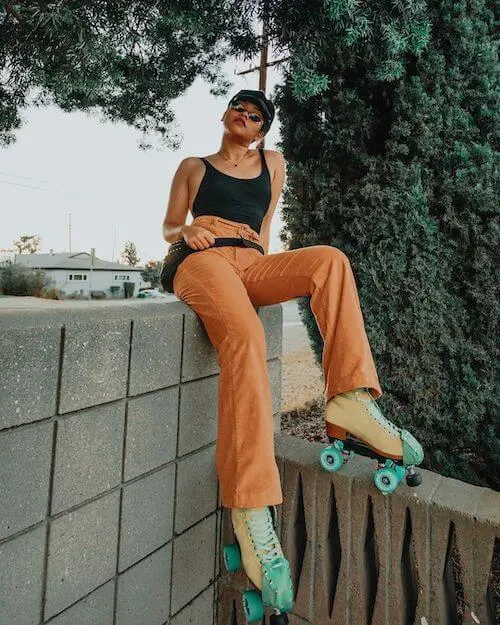 White Top + Shorts + White Socks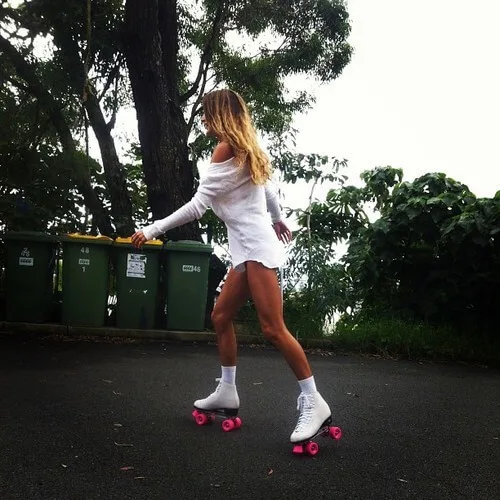 Red Tank + Red Shorts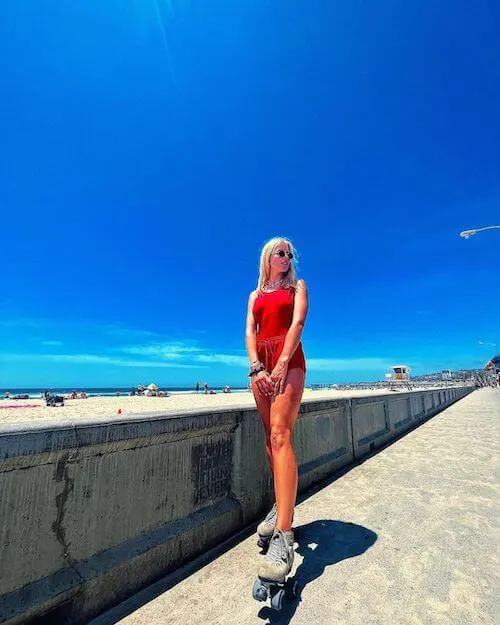 Hugger Dress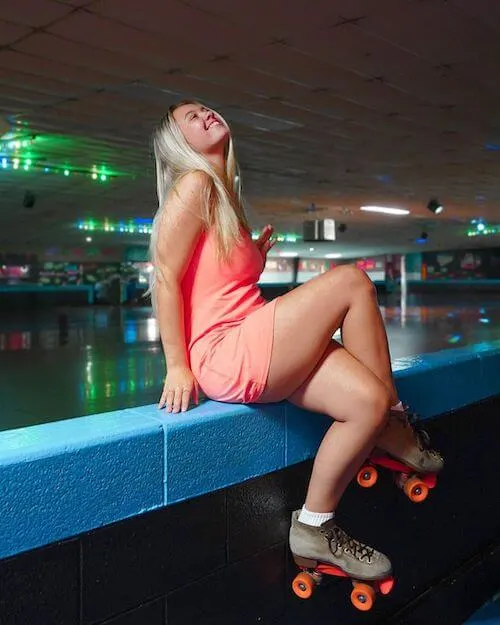 White Sports Bra + Denim Jeans
Pink Tee + Bikini Bottom + White Socks
If you go to the beach you can be a little sexier!
The sun is shining, wear a fancy short shirt and bright bikini like a magazine cover girl, get on a pair of roller skates, and you're the best view on the beach!
White Tee + Ripped Jeans + Belt Bag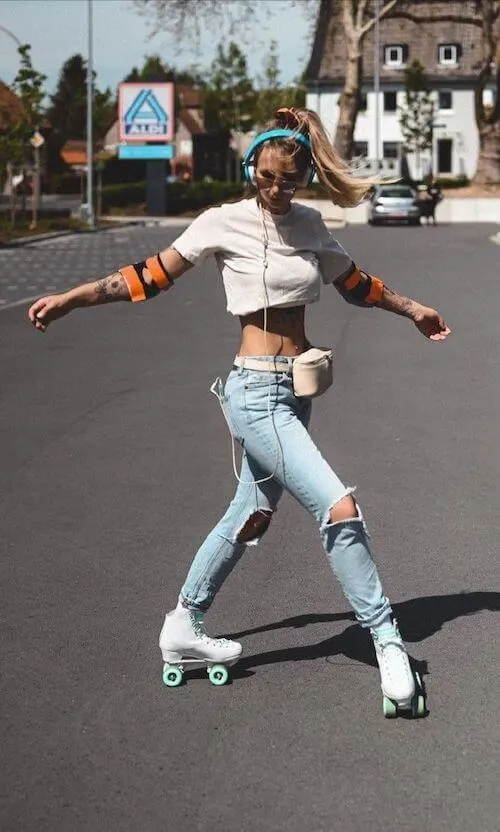 White Letter Tee + Denim Overalls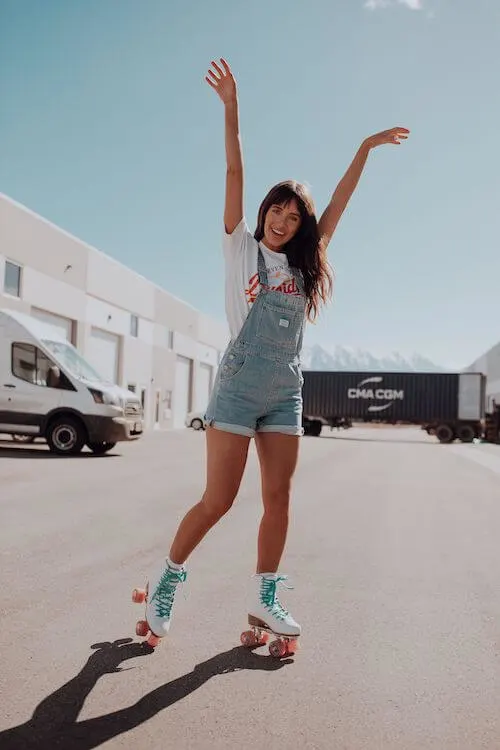 Green Top + Denim Shorts + Green Socks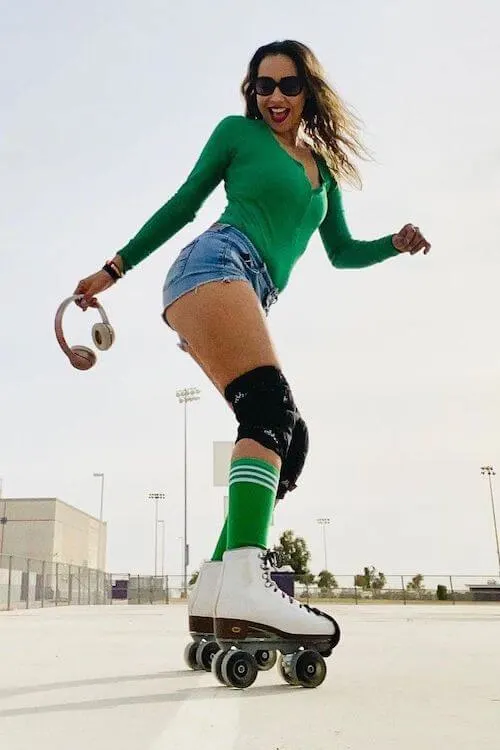 White Tee + Teal Pants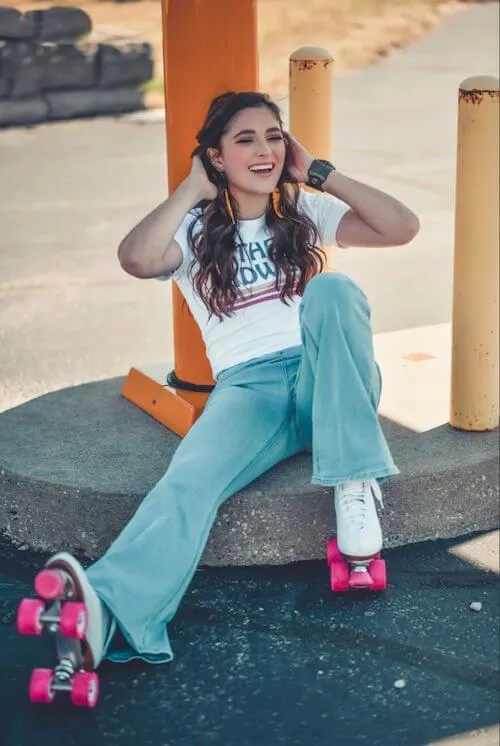 Oversized T-Shirt
White Short Sleeves + Overalls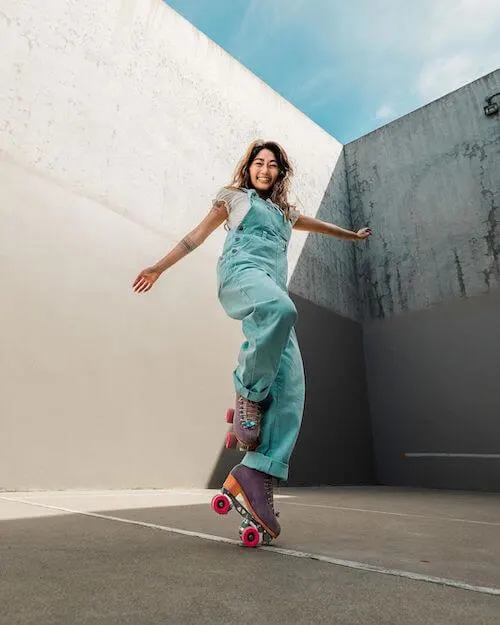 Leggings Set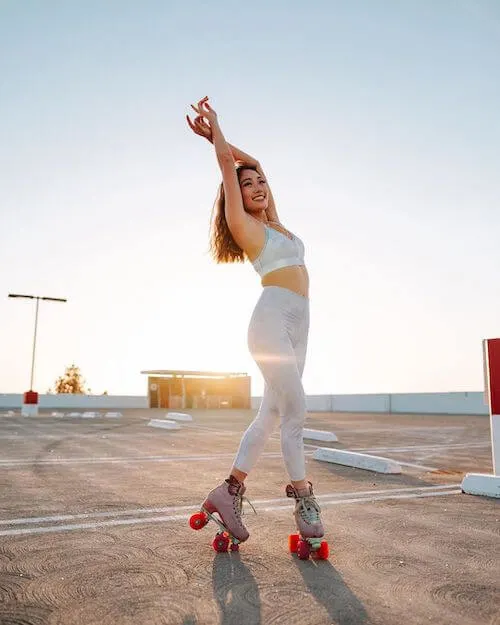 Sports Top + Floral Pants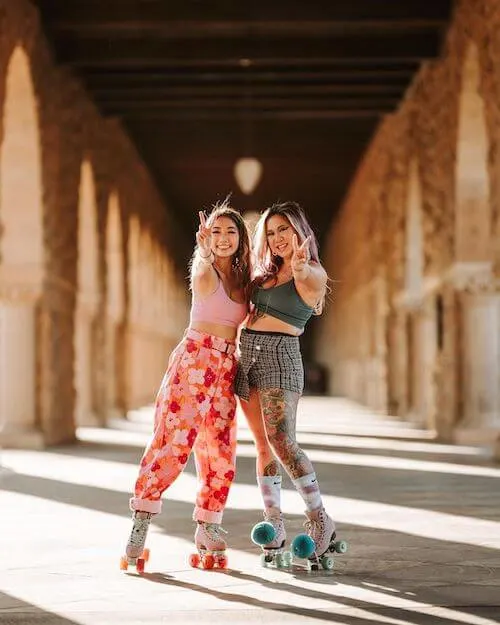 Aesthetic Roller Skating Outfits
The free-spirited style of roller skates is perfect for colliding with feminine pieces. The result is the most extreme and high-class sexiness.
Look through your closet and pick out your cutest and sexiest short pieces, such as short dresses, crop camis with lots of cute details, pieces with laces or ruffles, or sweet prints.
These outfits make you look great both outdoors and indoors.
There is no sport as great as roller skating! As long as you like, skate parks, roads, a parking lot …… everywhere is your stage to show off and have a great time.
Casual Dress + Socks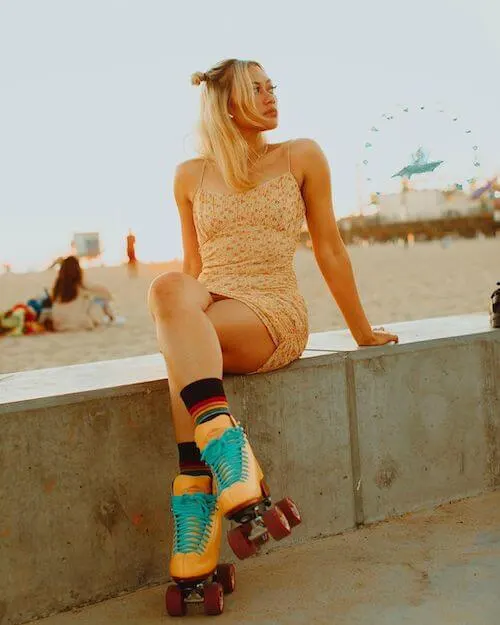 Cute Cami Top + Blue Skinny Jeans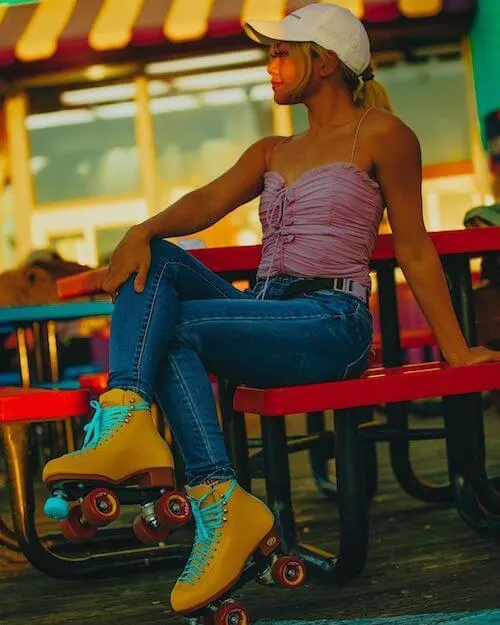 White Tee + Teal Pants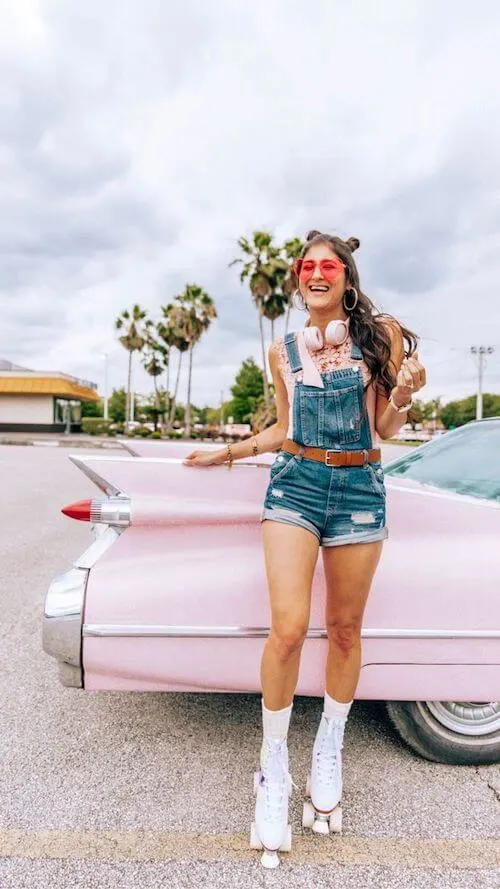 Tube Top + Pink Shorts + Retro Pink Sunglasses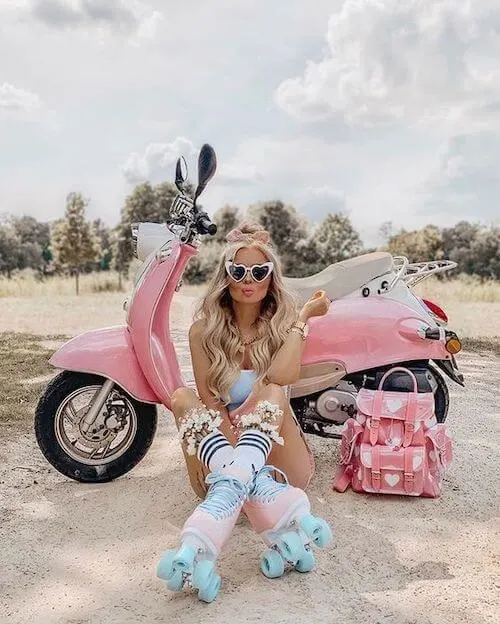 Red Top + Floral Mini Skirt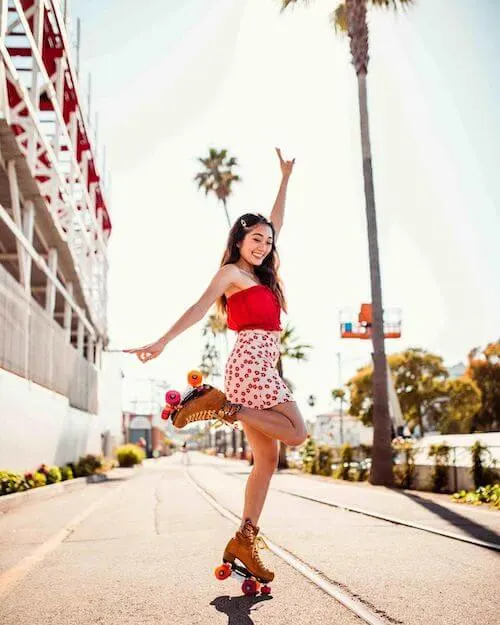 Graphic Tee + + Bomber Jacket + Checker Board Pattern Bottom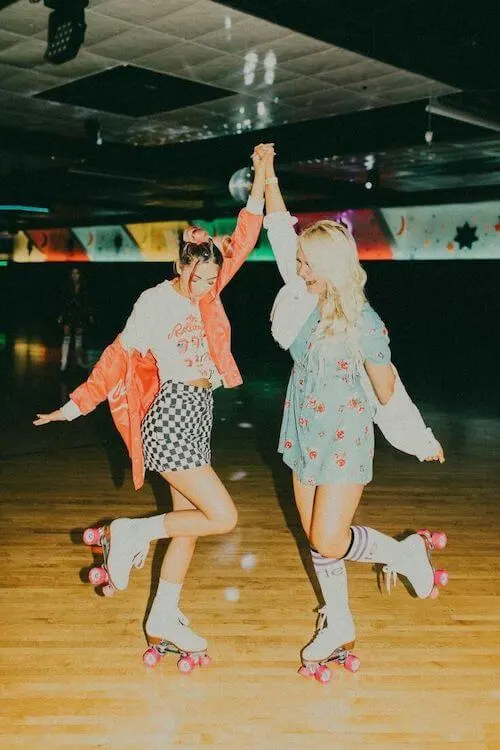 Cold Shoulder top + Floral Skirt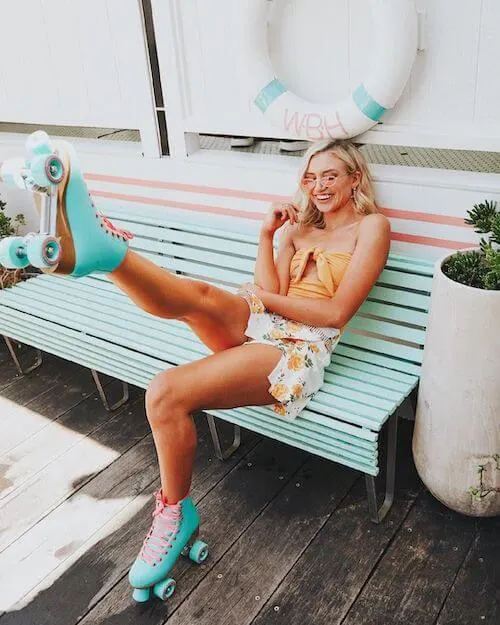 Plaid Skirt Set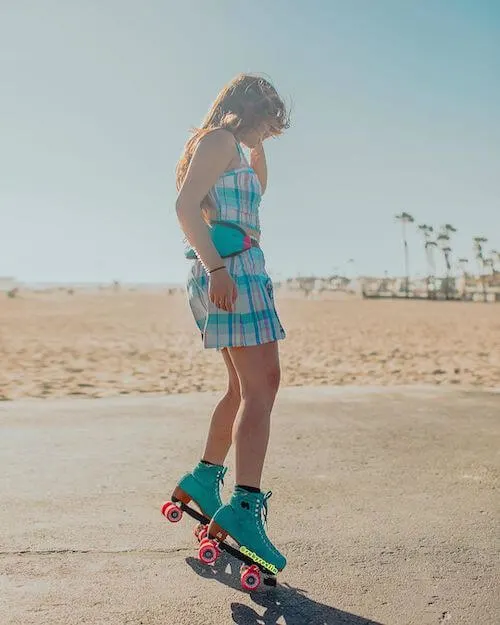 Bra Top + Bikini Bottom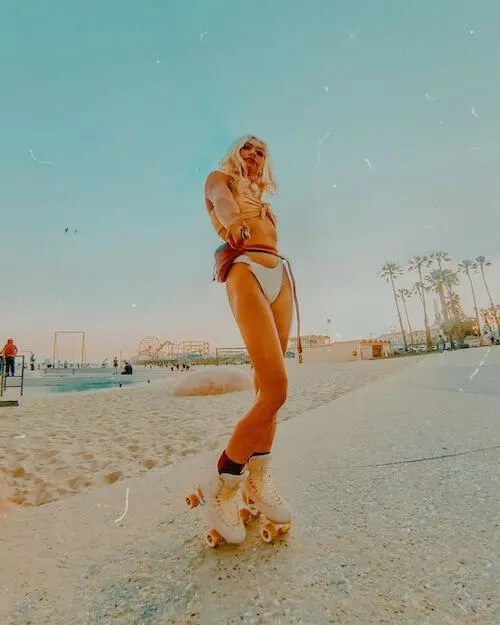 Bikini Bottom + Joggers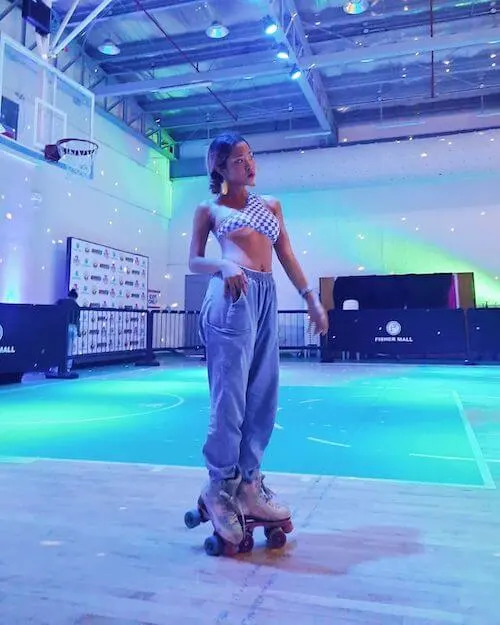 Bikini Top + Jean Shorts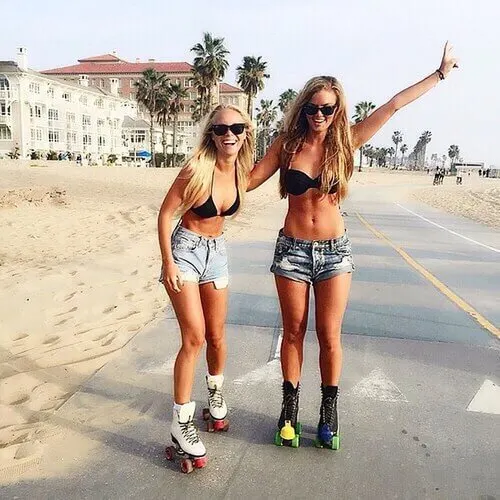 Retro Roller Skating Outfits
Like the retro style? Love wearing 80s or 70s roller skating style? Then add a pair of roller skates to your wardrobe!
Once popular in the 70s and 80s, they are simply one of the representatives of vintage style!
To easily add a vintage touch, I suggest you choose high saturated colors, velvet materials, crop tops, and fabulous flared trouser designs. They make your outfits look fabulous and glamorous, yet sporty on the skating rink.
Bright Colors Crop Tops + Shorts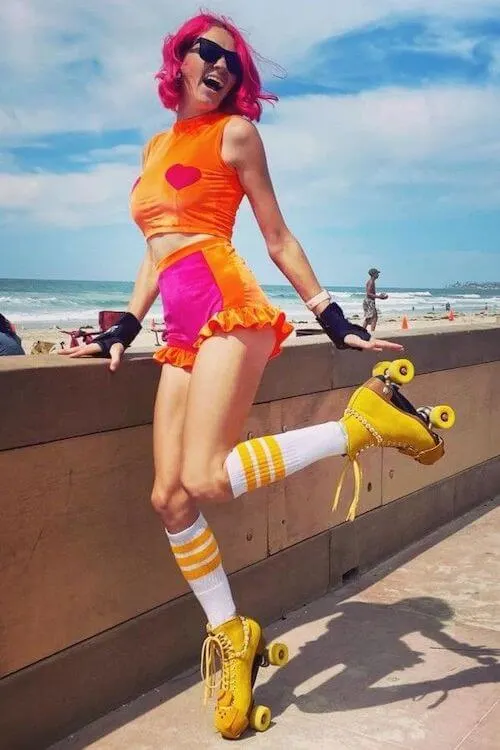 Catsuit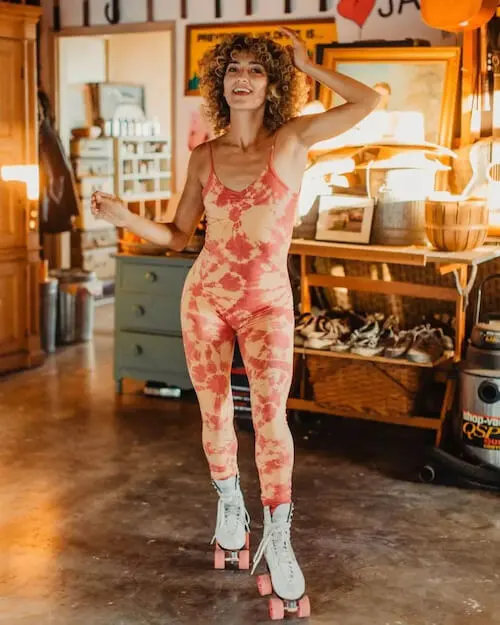 Velvet Set
Black Bikini Top + Bell Bottoms
The history of roller skating has been hundreds of years, and as time passes, its charm remains.
For us, the most glorious 70s and 80s have passed, but it is still a sport that brings infinite joy, but also strength and beauty of the sport, where the fashion elements and popular style have become the classic of the classics, and now seem not at all out of date.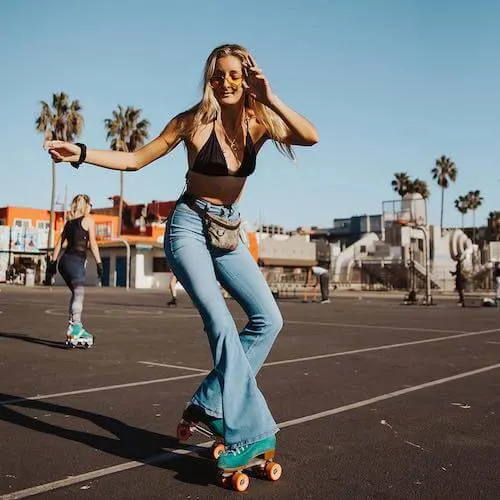 Tube Top + Flared Pants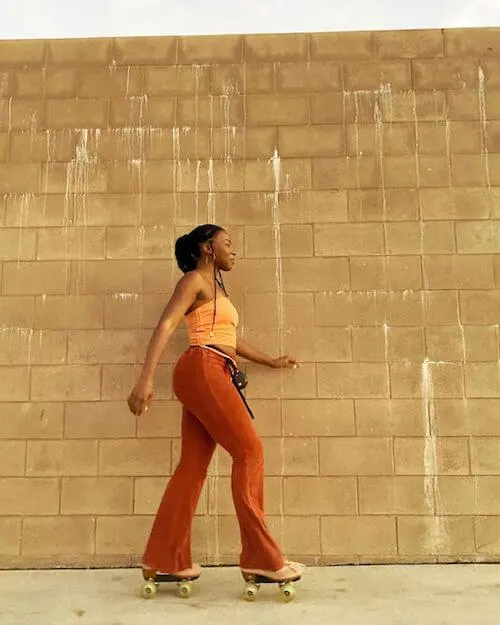 Pink Outfit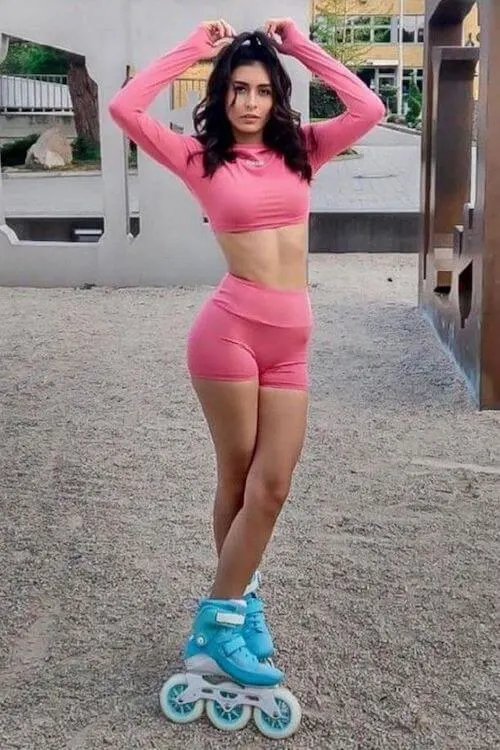 Cami Top + Retro Pattern Pants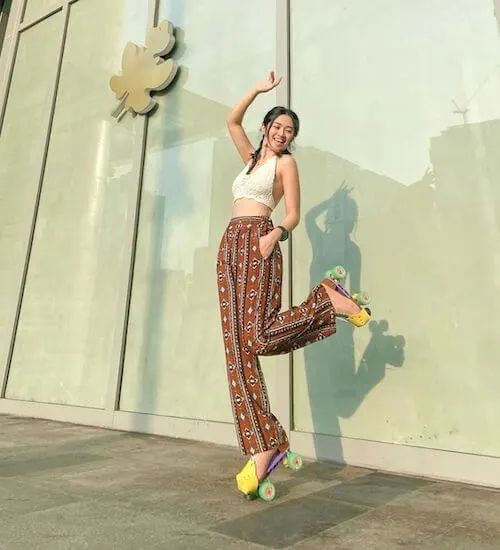 Crop Top + Green Flared Pants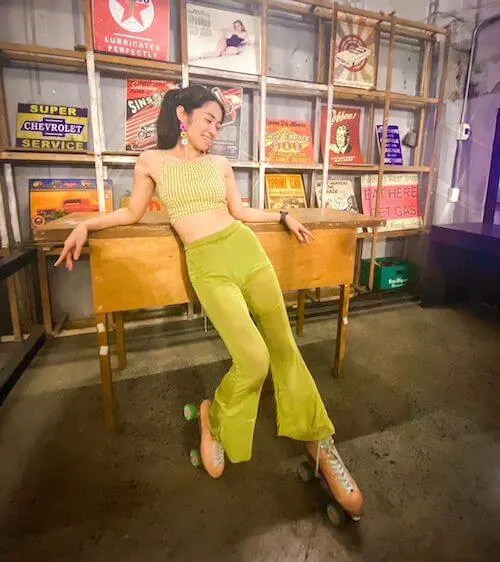 Floral Pants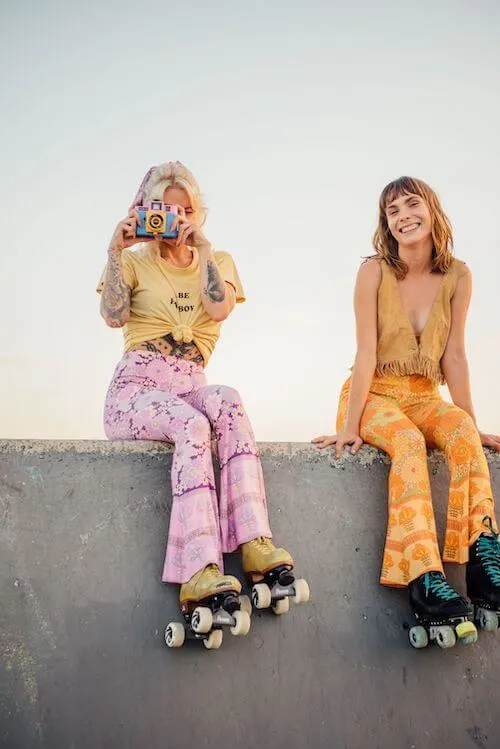 What To Wear For Roller Skating In The Cold Weather
In the cold winter months, a cozy sweater and a pair of comfortable pants are the best roller skating outfits. you can also add a cute beanie.
When it's not so cold, you can even try your layering skills, and be brave enough to try those long sleeves in charming colors that keep you warm and add your own personal touch.
White Long Sleeves + Brown Pants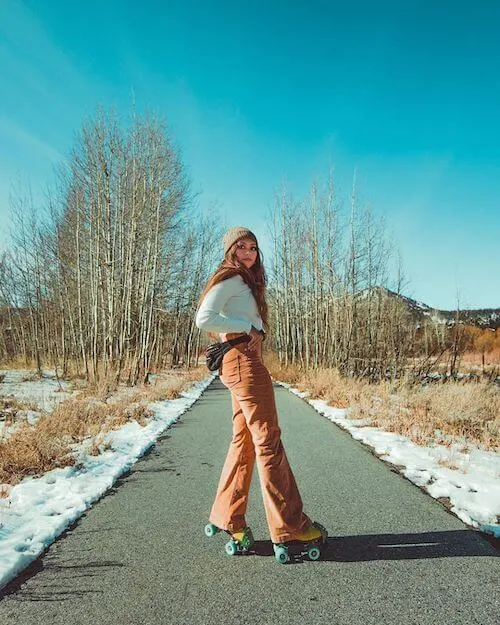 Hot Pink Sweater + Jeans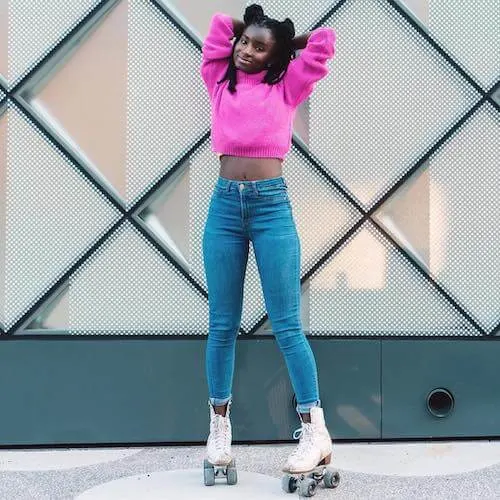 Shacket + Orange Pants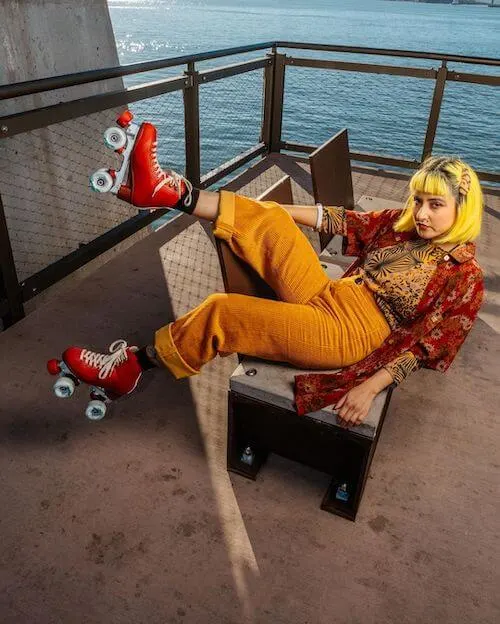 Denim Jacket / Black Leather Jacket + Jeans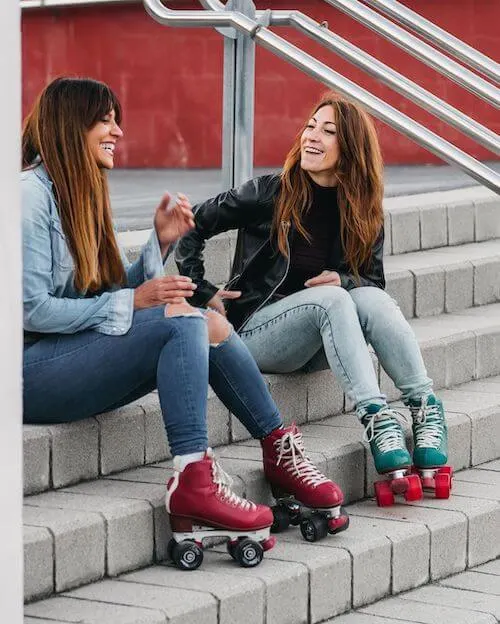 Sweater + White Jeans + Beanie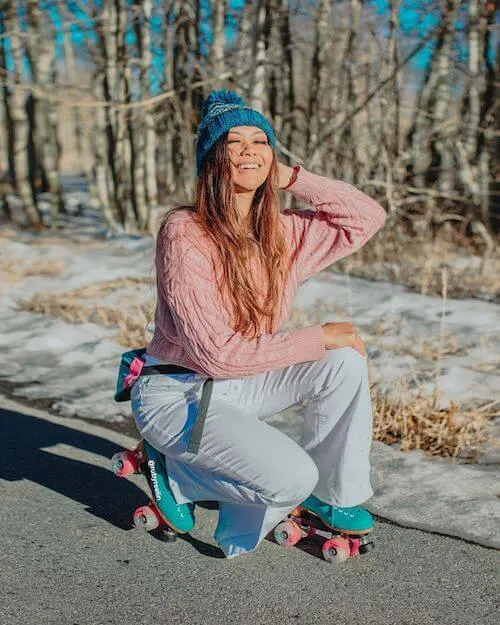 What To Wear To A Roller Disco Party
Go and join a roller skating competition in the local roller rink, feel the speed of your feet leaving the ground, enjoy the flashing neon lights in front of you, and touch the countless smiling faces that are both familiar and unfamiliar.
Listening and standing here, you will feel that time begins to have visibility. You see me and them as the most avant-garde group of explorers, you can show off your proud skill level, wear the most fashionable outfits, talk with new friends, and feel the climax of the joy that never falls
Retro-style outfits are of course the most suitable for retro disco roller skating parties. All you need is a pair of flared pants to get a great figure and it's perfect for the party atmosphere.
You can also add a few more fashionable details to make your party moments even better. For example, you can choose sequined pieces, use fringes to accompany your free-spirited skating, or add a bandana headpiece to make you look really cute.
White Tank Top + Red Flared Pants + Bandana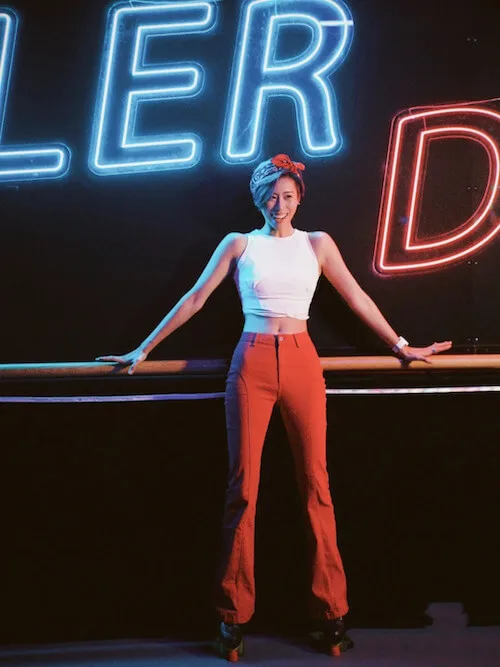 White Crop Top + White Fringe Pants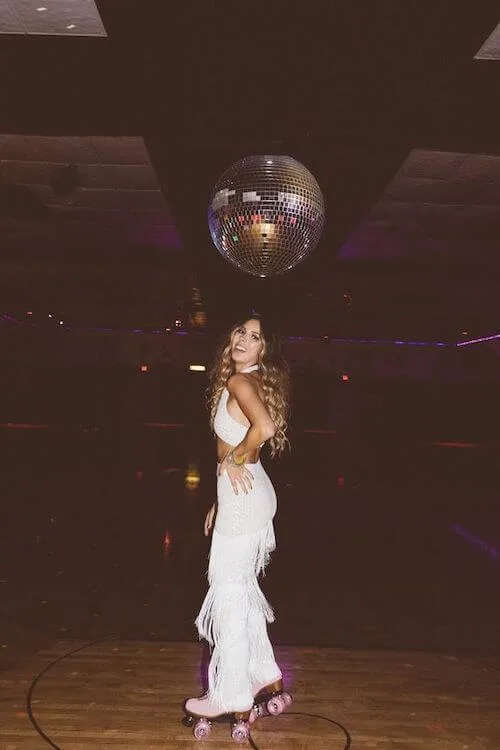 Sequin Outfit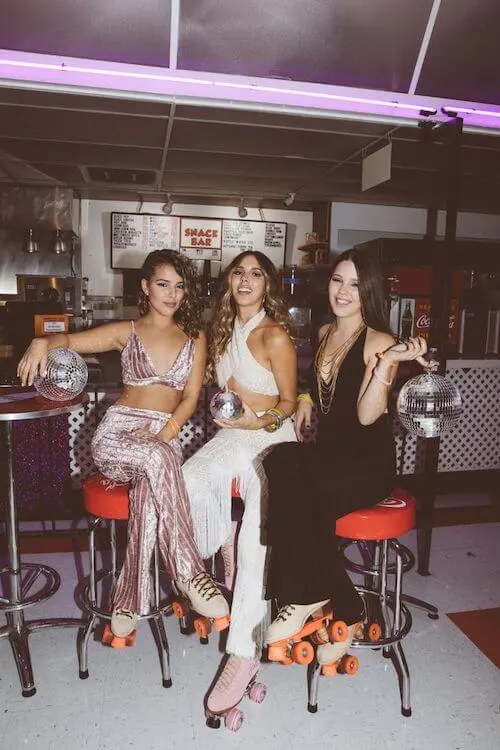 This post was all about what to wear roller skating.
About The Author
Tracy is an experienced personal stylist, shopping expert, and fashion & lifestyle blogger. She has been featured on Bustle, Best Life, Glam, The Zoe Report, Mic, and GoBankingRates, for her insights on fashion, beauty, home decor, and lifestyle. Read More
Related Posts: