Looking for the best New Year's Eve party ideas? Check this post for the best NYE party ideas to celebrate the holidays and start your sparkly new year!
An NYE party is a great way to say goodbye to the past year, say happy new year to your loved ones, and embrace the next year in a happy mood.
In this post, we share our favorite new year's eve party ideas this year to help you to enjoy new years eve with your friends or family members.
No matter whether you are having the new year's eve parties with a few closest friends or larger groups, whether you are hosting a themed party, a big new year's eve party, or a small gathering when enjoying the comfort of your own home, you can find fun ideas and creative ways to create a perfect time.
So scroll down to check these ideas and don't hesitate to pin the ideas you like.
This post may contain affiliate links, which means I'll receive a commission if you purchase through my link, at no extra cost to you. Please read the full disclosure here.
This post is all about New Year's Eve party ideas.
Fun New Year's Eve Party Ideas: Theme Ideas
Start With A Sparkly Invitation
You can send out traditional invites or you can use mobile invitations this year.
Shop The Editable Mobile Invitation
A Gatsby-themed NYE Party
A Roaring 20s Great Gatsby-themed NYE party is a fun way to celebrate the holidays! You can easily transform your space into a glamorous and old-fashioned space with feathered decorations, gold foil backdrops, warm lighting, classic cocktails, and retro style jazz and dance songs.
Invite guests to join the party with 20s-style outfits. You can also use a sophisticated black tie dress code instead.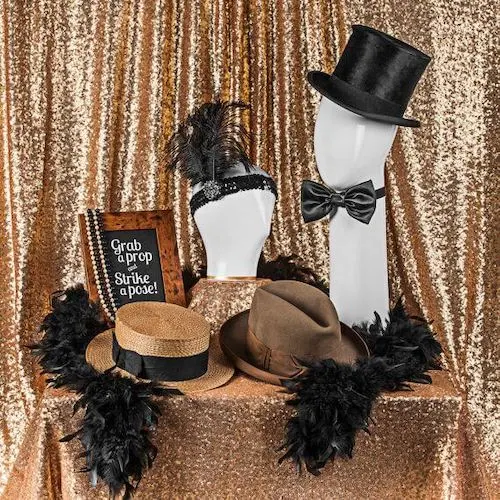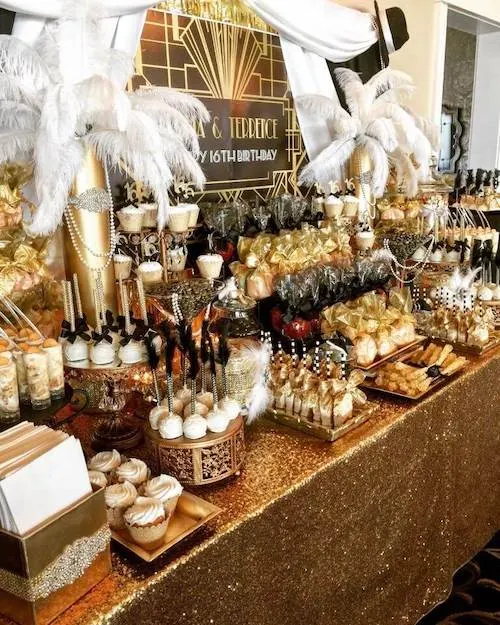 Brunch At Midnight
Everyone loves brunch and you can sure host a new year's day brunch at midnight for your NYE party.
Serve your guests with freshly squeezed juice, fruity cocktails, pastries, champagne cupcakes, fruit centerpieces. It would be a cozy and casual party that every guest would love.
Pajama Party
If you are going to stay at home for the coming year, have a cozy Pajama Party to celebrate the New Year!
You can invite your closest friends over to enjoy comfort food, warm movies, cozy blankets, yummy snacks, soft holiday PJs and slippers. You can also serve them hot chocolate and confetti poppers for the New Year.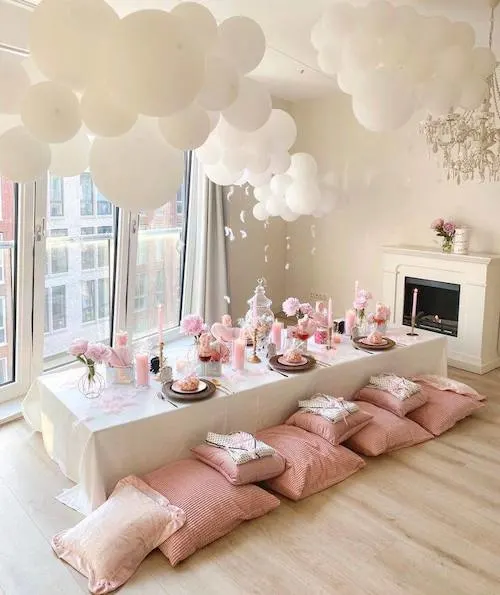 A Gold And Black Party
Have the chicest New Year's Eve party ever!
Fill your space and your dining table with elegant and festive gold and black decorations. You can easily get them at dollar store or Amazon, or you can make use some of your favorite Christmas decorations or DIY your own.
Even for a formal dinner party, these decorations will also look expensive and fancy.
Holiday Movie Marathon Party Theme
Love movies? Enjoy holiday movies in your NYE party! This is a perfect way to gather with your loved ones. Get prepared with a list of your favorite holiday classics. You can also ask your guests to name their favorite before the party and make it a fabulous Movie Marathon Night with your cozy PJs, popcorns, sweet drinks. This is also a lovely idea for a whole family.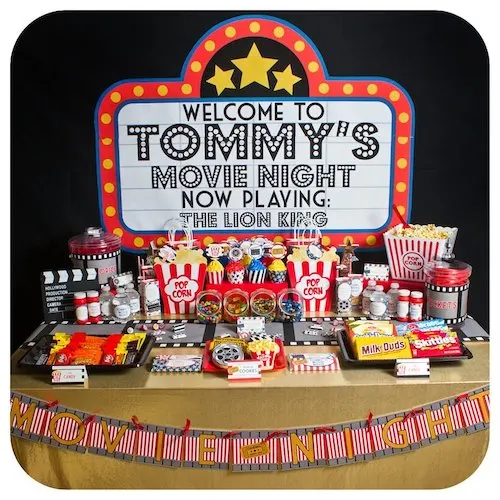 Shop Movie Night Party Package
Backyard Fire Pit Party Theme
Want a special party night? Take the party outside. Decorate your backyard with cute and cozy blankets, marshmallows, and hot toddies. And don't forget to take cute photos with the beautiful sparklers at the stroke of midnight! Enjoy the night with your entire family or best friends. You can also enjoy movies outside!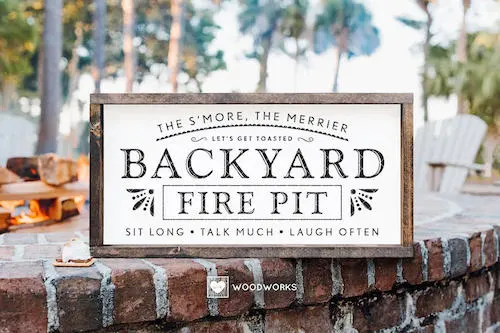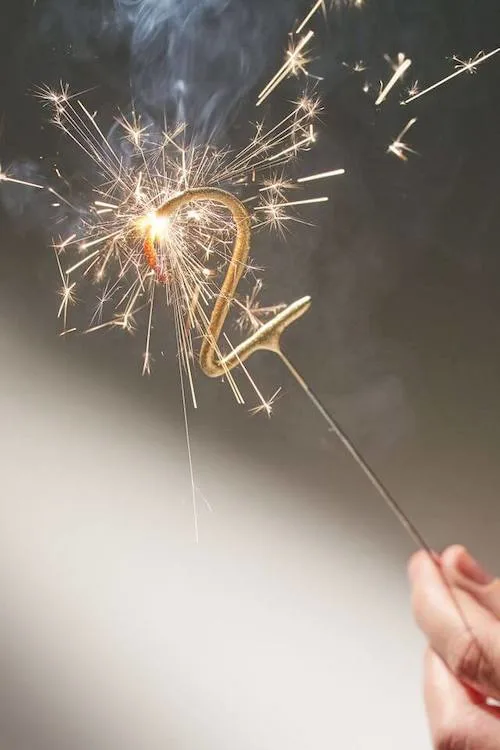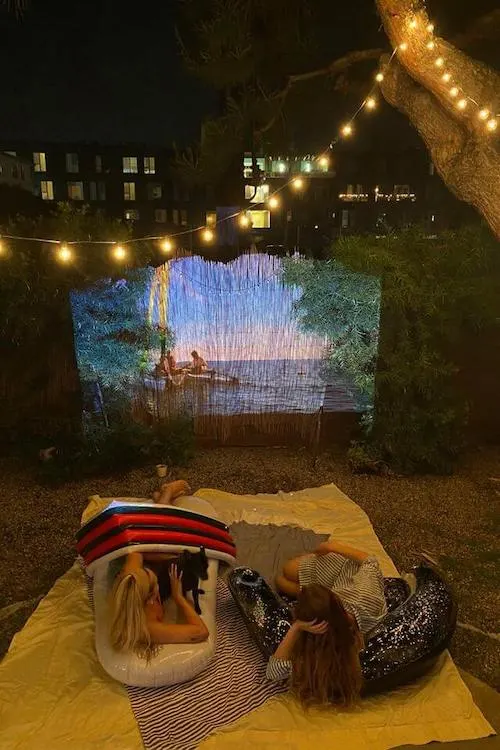 Shop Home Theater Projector And Screen

Watch The Ball Drop
The Times Square ball drop is almost a must have for a NYE party. You can play the ball drop videos from Youtube before this year's ball drop moment. And when midnight approaches, and ask everyone to celebrate together as the clock strikes midnight. Prepare enough noisemakers and confetti poppers for your guests to welcome the new beginnings!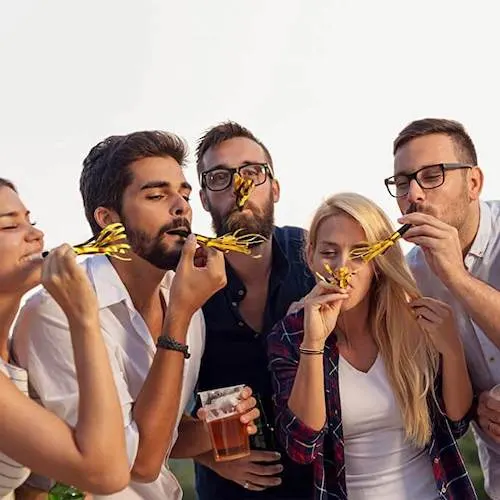 Shop Glitter Fringed Noise Makers
Set Up A New Year's Photo Booth
People love to catch up with each other at New Year's Eve parties and take photos! Set up cute photo booths for them.
You can easily set up a glitzy backdrop with festive decorations, gold colors, glitter balloons and other creative photo booth props. And you can also add an instant camera to your party to capture the hilarious moments for your guests.
Shop Photo Frame Shaped Balloon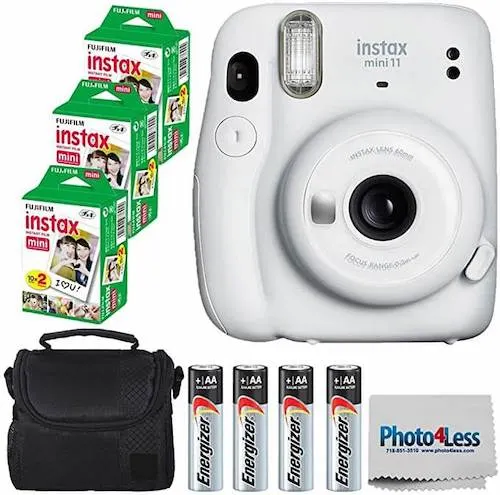 A Year Review To Recap The Year
Say goodbye to the last year with a year review. Recap the year and talk about the highlights to share with your loved ones.
It could be a casual talk or a video format. You can prepare the topics and ask your party guests to get prepared beforehand.
Or you can throw all the topi cards in a jar and ask your guests to pull one topic out and share their highlight of the year the card describes.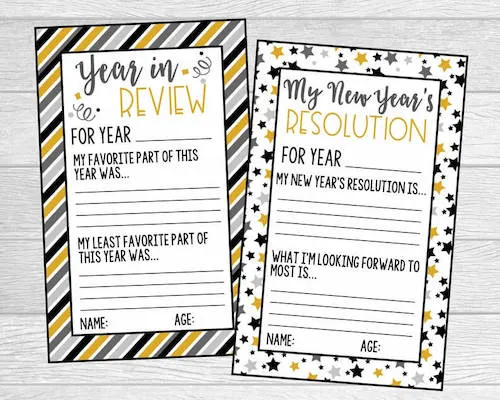 Shop Printable New Year's Resolution Cards and Year in Review Cards
Two Resolutions & One Lie
It is a fun game for a NYE party and help your guests get to know each other better. Ask your guests to think of two real resolutions they want for themselves and one that they don't.
And in the party, each guest will go up and the group will have to guess which resolutions are true and which one is the lie.
Shop Printable New Years Resolutions
Write New Year's Resolutions Or Wishes
Encourage your guests to think about their new year's resolutions and write down their goals. You can prepare a jar with wish cards so everyone can pull out one card from the jar, write their resolutions on the cards, and keep them in their pocket or purse.
Shop Resolutions Mugshot Photo Booth Props
Midnight Kisses
You need a plan for when the clock strikes midnight and prepare midnight kisses is easy and fun. And this ideas also guarantee a midnight kiss to every single in the party. You just need some Hershey's kisses and a small decorated bowl to DIY it.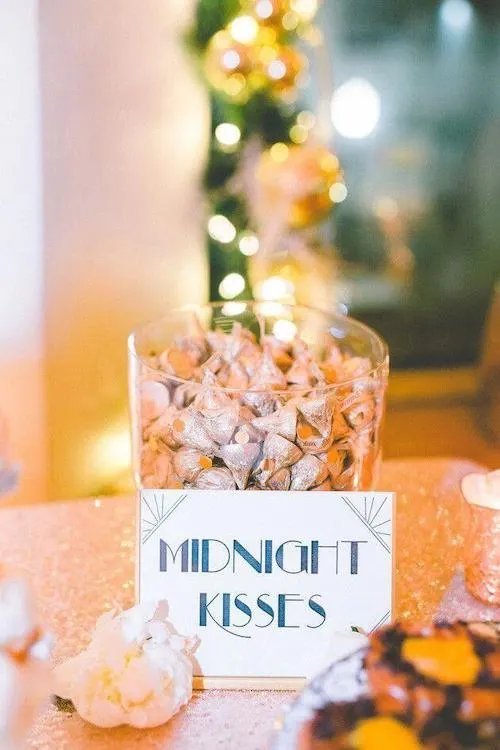 Shop Hershey's Kisses Chocolate
A Fun Fondue Party
A fun and cozy fondue add so much warmth to your New Year's Eve. A cheesy feast or a chocolate one would both be lovely.
Prepare plenty of bread, fruits and vegetables to enjoy with your hot fondue.
A Wine Tasting Party
Prepare your favorite wines, wonderful cheese board, and New Year's appetizers for your guests.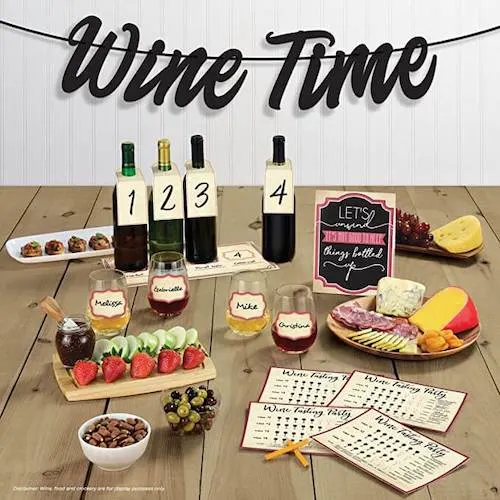 Shop Wine Party Decorations Kit
Cocktail Mixology Bartender Theme Party
Ask your guests to bring their favorite drinks. Or you can take an online mixology class with your friends and then enjoy the expertly crafted cocktails to toast the new year!
A Karaoke Night
Sing and dance with your friends. Use a karaoke machine to quickly set up an 80s or 90s karaoke party.
Shop Checkerboard Karaoke Microphone
Decorate your room with cute disco lighting and mini dancefloor. And you can also display some retro style decorations or bluetooth speakers.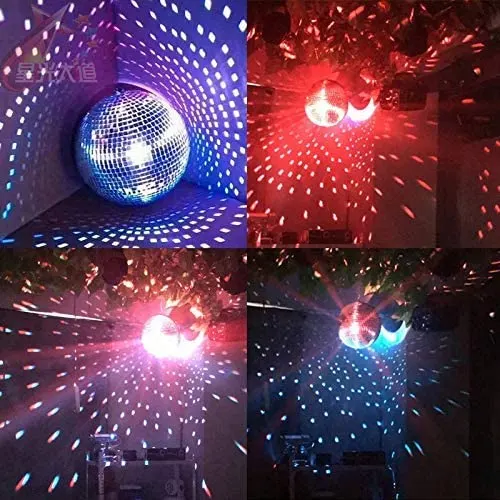 An Indoor Camping
Set up a real camping tent in the living room and enjoy a cozy good time!
Prepare sleeping bags, bedsheets, snacks, games, movies, drinks, musics for the entire party to make the camping unforgettable.
A Glow Dance Party
Edit a playlist with your guests by asking them to add their favorite song in.
Shop Light-Up Party Bluetooth Speaker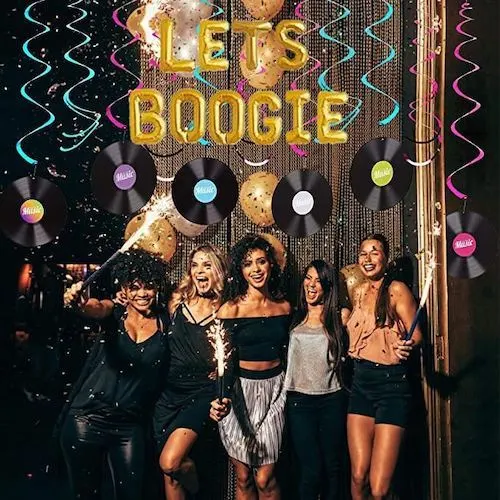 Shop Dance Party Decorations Set
A Party Game Night
You can prepare old-fashioned board games or active games. Or you can find many fun New Year's Eve Party games on Amazon. A new year's eve bingo or Scavenger hunt is also a good idea.
Prepare finger foods together with your new year's eve party games.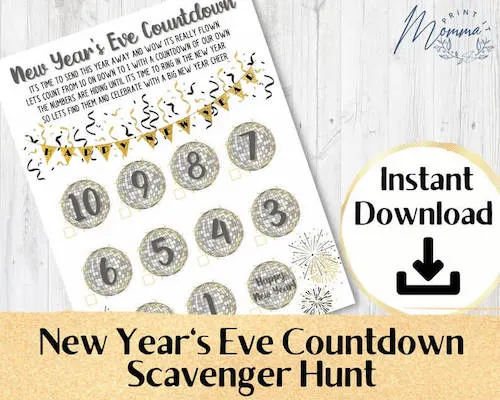 Shop Printable Scavenger Hunt Kit
Around The World Dinner Party
Experiment with cuisines from around the world. Explore your favorite recipes or you can invite your guests to add their favorite ideas in the menu. And this may have been on your New Year Resolution list for a long time so start it out from the NYE party.
A Decades Party
Celebrate with your friends wearing outfits from your favorite decade. This costume party is lovely and full of fun. Take photos and play the musics from the decade as well. Those photos may be super hilarious.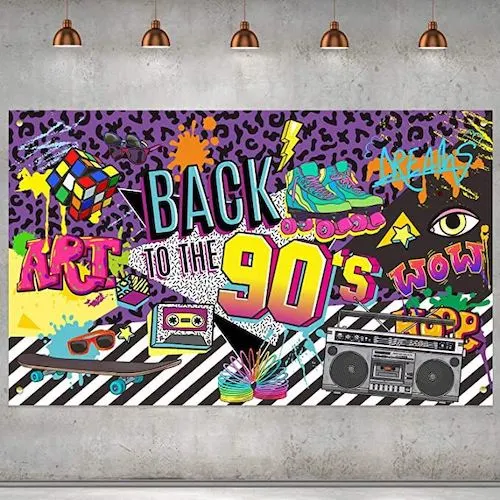 A Masquerade Party
Want a unique and clam New Year's Party? Try a masquerade party. You can provide beautifully sequined masks for your guests or DIY some by yourself. If you have young kids in your party, you can prepare some extra materials for them and ask them to decorate their own.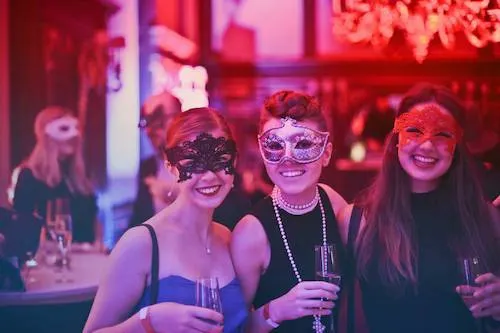 Organize A Classy Elegant Dinner
This is always a good idea for a NYE party. You can host one at home or order from a nice restaurant.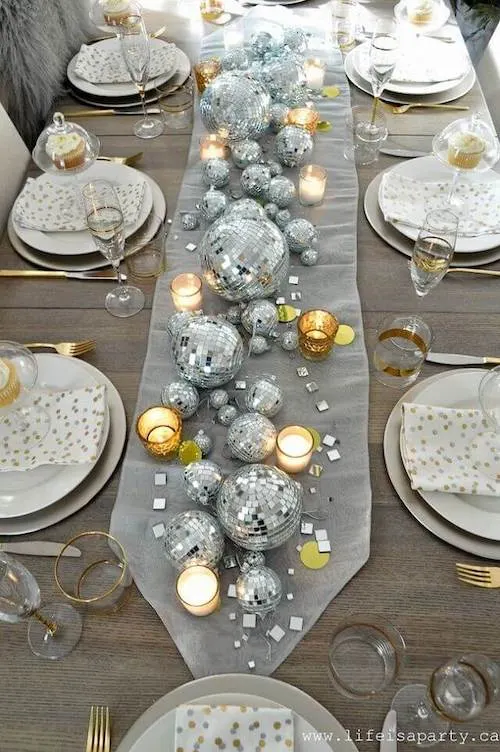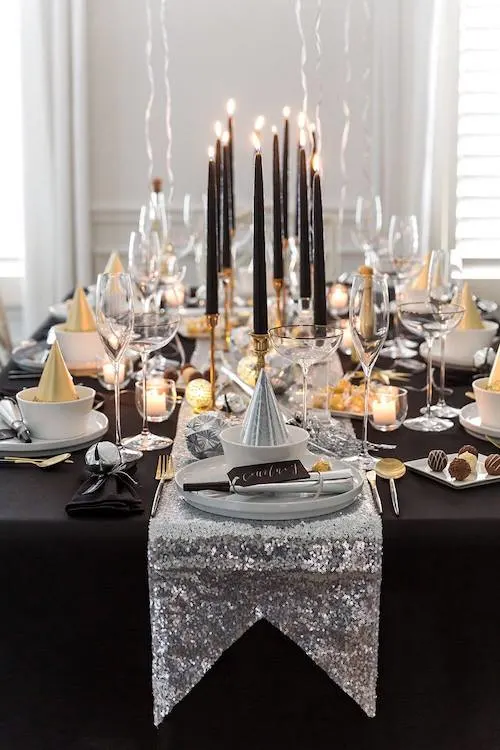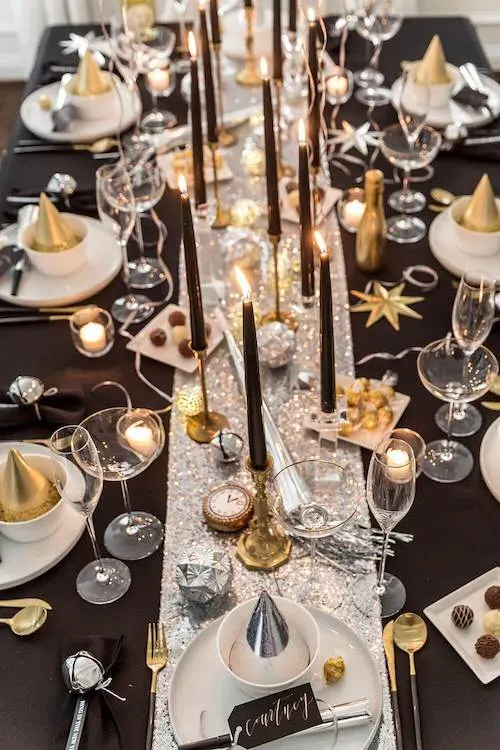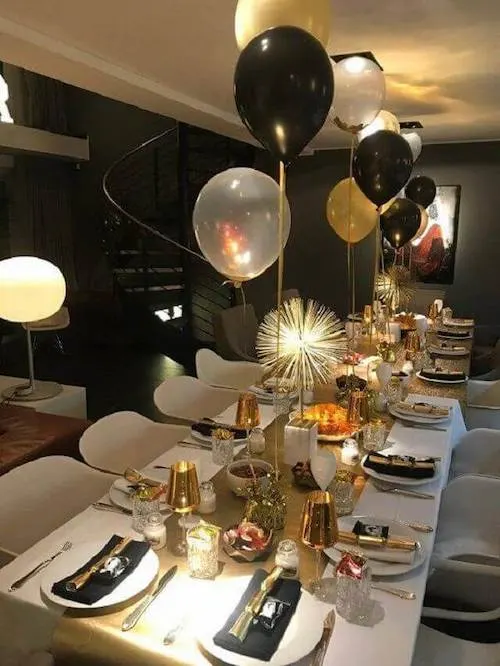 Or a simply sequin table runner with cute small decorative star balloons would make a huge difference!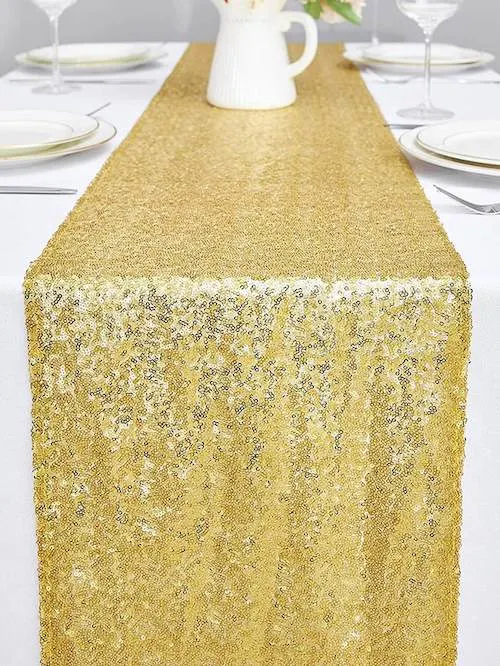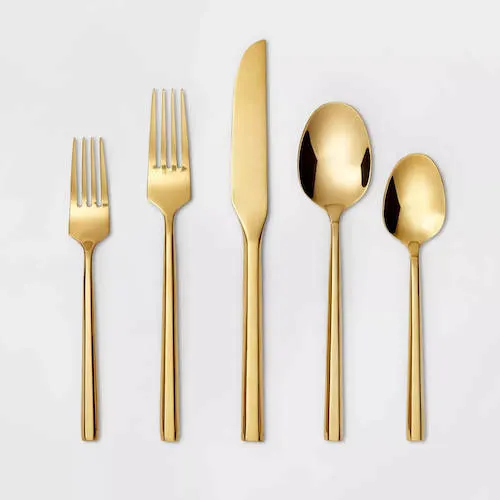 Shop Stainless Steel Flatware Set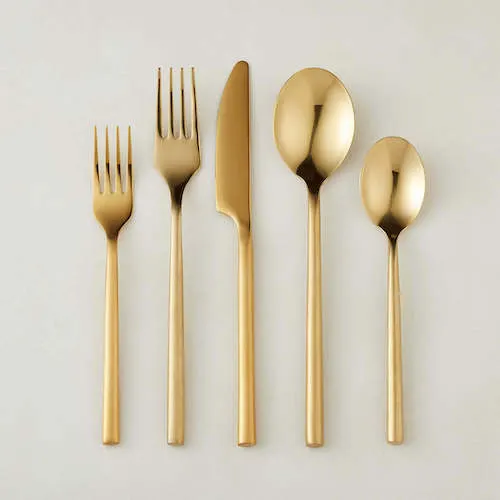 Shop Rush Brushed Gold Flatware Set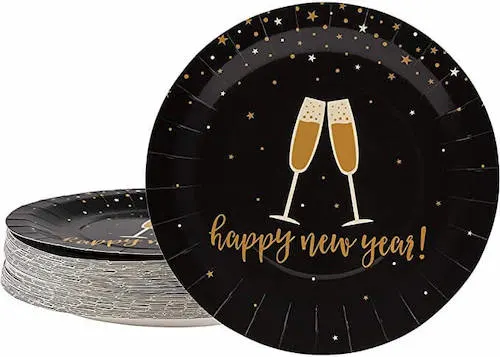 Happy New Year Tattoos
This is a super unique and fun idea! Provide sparkly temporary tattoos for your guests!
Best New Year's Eve Party Ideas: Decorations & Party Supplies
Turn Your Christmas Tree Into A New Year Tree
You can easily turn your lovely Christmas tree into a stunning New Year Tree by adding the year numbers, black and gold decorations, clocks, New Year wishes quotes, New Year resolution cards, and more.
You can also set up a balloon wall behind the New Year Tree to make it an excellent photo booth at the party.
Deck Out A Champagne Bar
Prepare excellent midnight toast for your guests. Prepare fun decorations for your guests to deck out their drink.
Decor your bar with festive banners, confetti, metallic accents, chic silver or gold colors, glow sticks.
Season cocktails and hot chocolate would also be lovely ideas.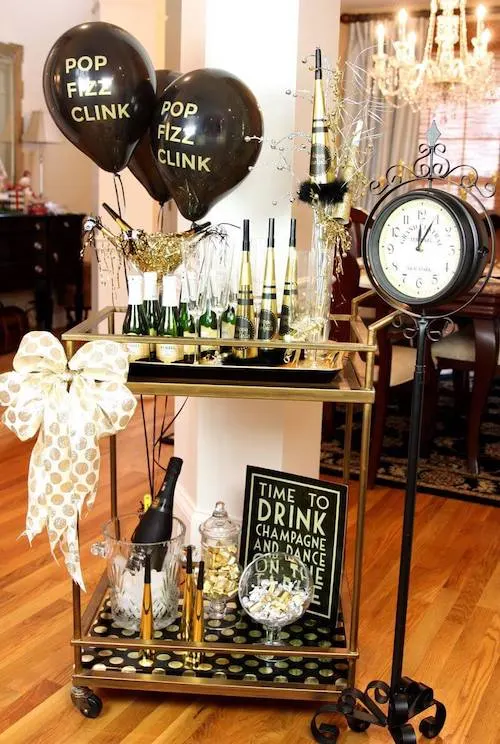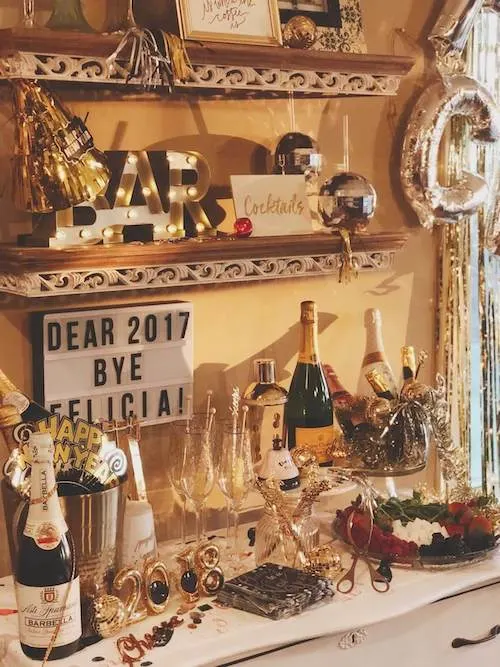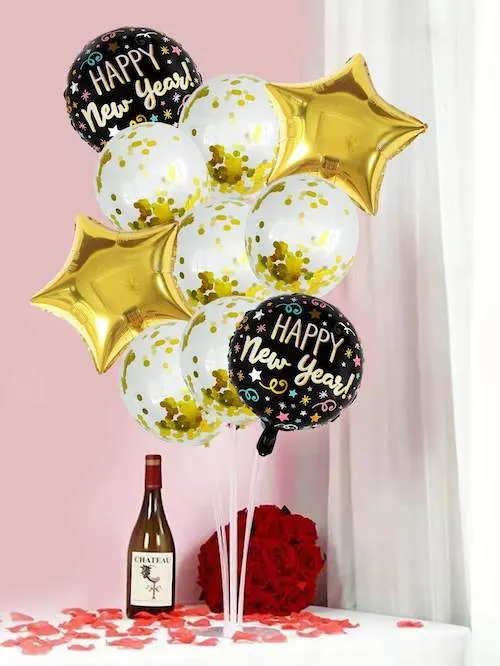 Create A Sangria Bar
Skip the champagne and set up a sangria bar to dream of the summer beach vacation with your guests.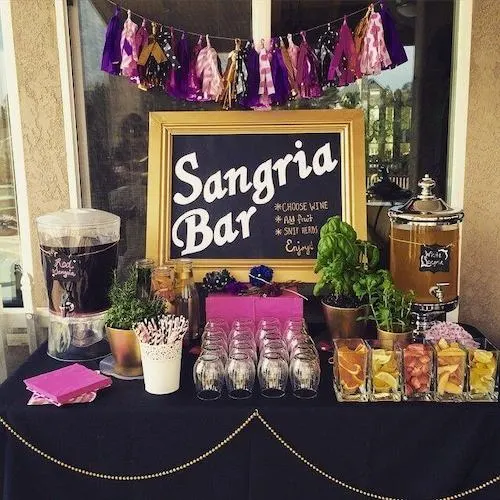 Have A Countdown Wall
This is a totally Instagram worthy photo wall idea! And this is easy to make.
Build A Disco Wall
A trending photo wall that can easily and quickly transform your room into a cool disco room. Set up a silver or gold fringe backdrop and add some pops of color to it, and they look amazing!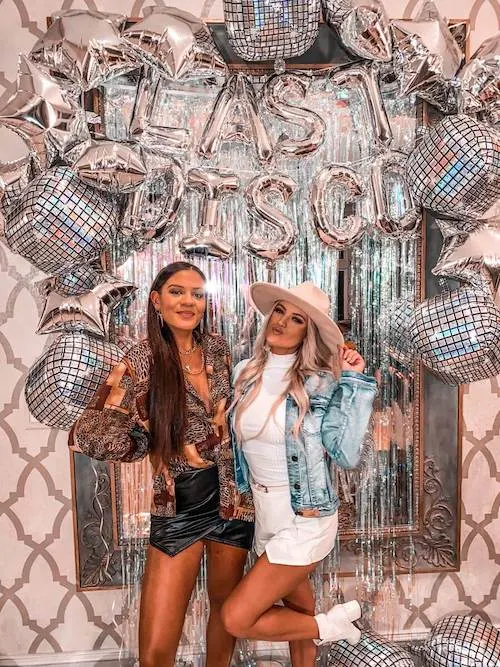 Get A Balloon Wall
Use cute holiday balloons of stars or letters to spell out the New Year wishes or inspirational phrases on the wall. They are easy to set up but good for photos.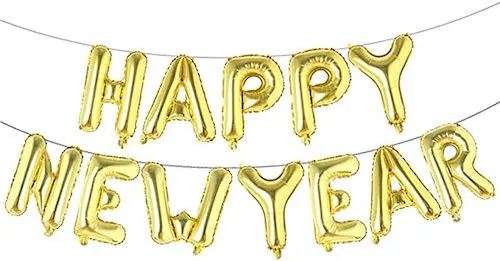 Curled Ribbon Accents
Add more color pops and more fun to your party space.
Candles & String Lights & LED Lights
Lighting is critical for a successful New Year's Eve party and be creative to use plenty of candles, string lights, LED lights to set up a party mood for your room.
Mini Champagne Bottle Labels Or Tags
Want to have more personalized and special decorations? You can easily turn ordinary drinks into a NYE vibe one by these cute mini bottle labels.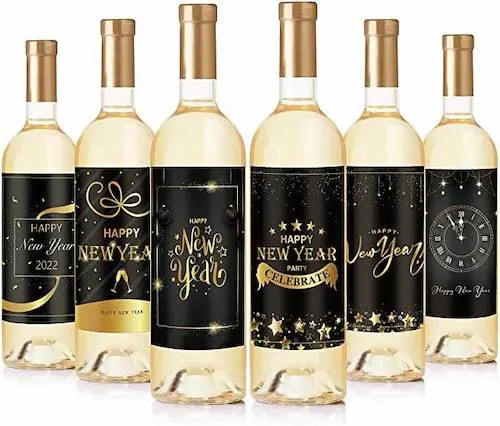 Shop Wine Bottle Label Stickers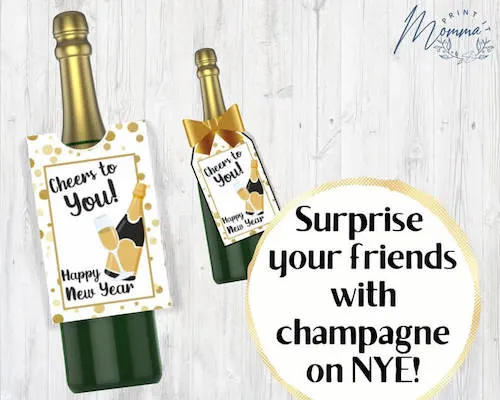 New Year's Eve Noisemakers
Prepare some glitter infused bells for shaking for a New Year's Eve countdown.
Budget Friendly New Year's Eve Party Ideas
Paper Snowflakes, Paper Stars Or Garlands
They are festive and affordable, and you can also DIY yourselves, or make use your Christmas decorations again to decorate your room.
You can also prepare a confetti bar to invite your guests to decor the room with you.
Make A Holographic Balloon Wall
This holographic balloon wall is cool and your guests will love it so much! And it is totally affordable too!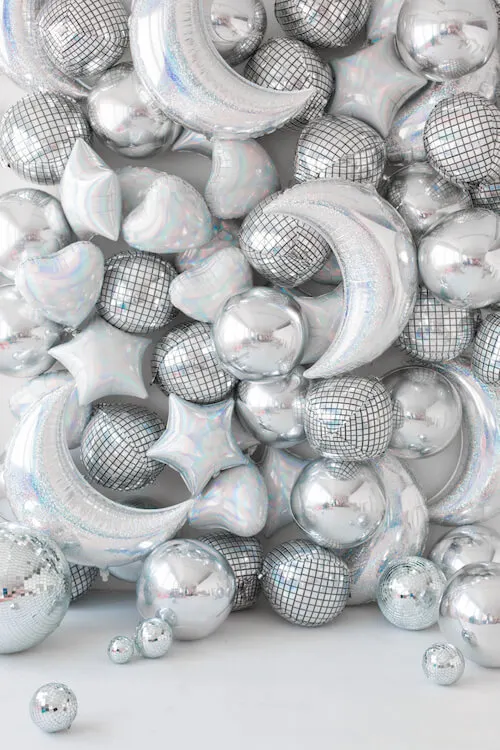 Add Sparkle To Your Champagne
Use sparkly plastic flutes for your champagne this year. They will make your party fancier a lot. And you don't have to worry about breaking your expensive champagne glasses.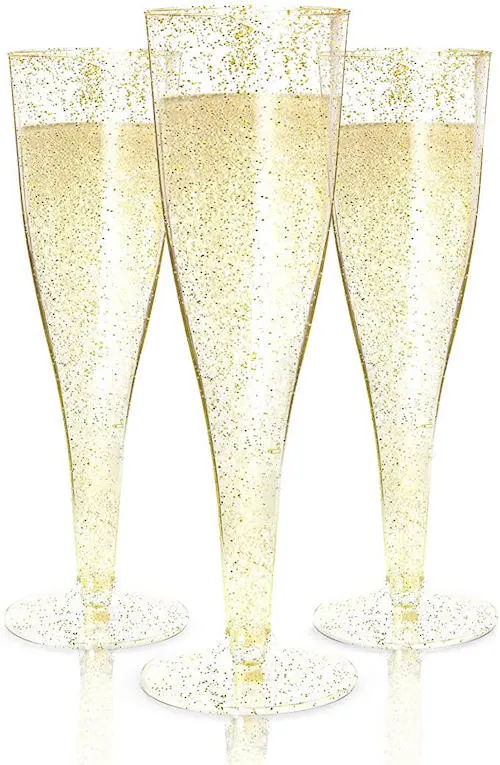 Crowns Or Party Hats
These are affordable and super fun. You can also DIY your own crowns, and prepare some star pieces for the kids in the party.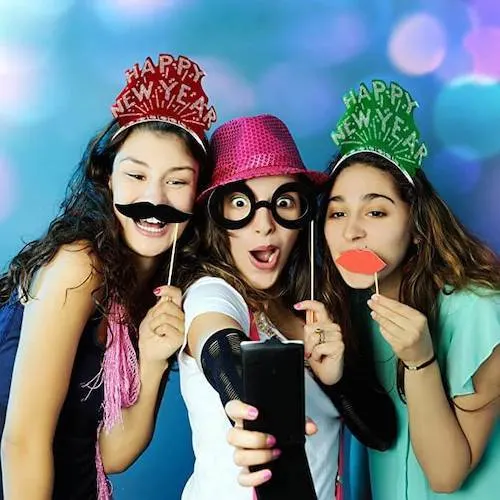 Shop Leaf & Flower Decor Headband
DIY Your Confetti Poppers & Use Confetti Balloons
You can make cute confetti poppers for the party by using tissue paper and cake pop shooters.
Or you can fill out your room with festive confetti balloons or print balloons! Your guests would love them!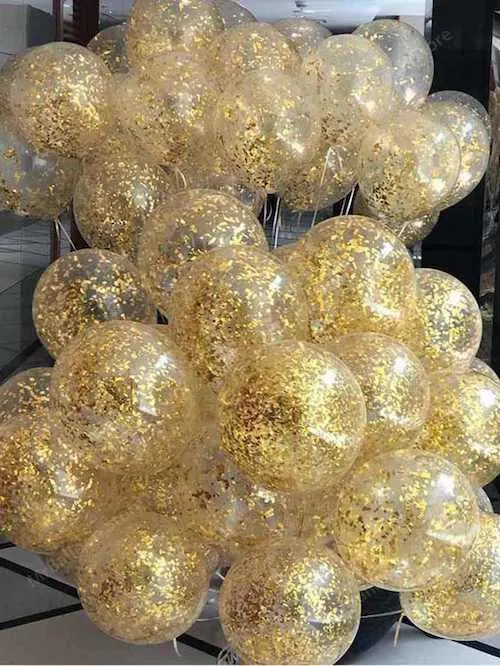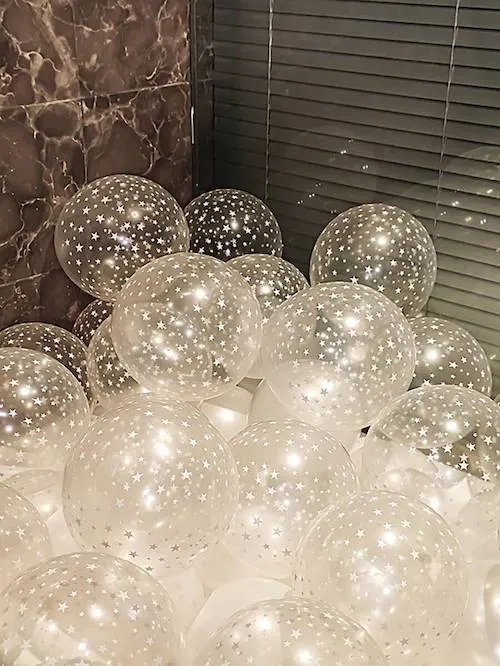 Best New Year's Eve Party Ideas: Food Ideas
Want more creative ideas for your party food? Below are what we think are easy to prepare and would add so much fun to your NYE parties!
Glitzy Cocktails
Adding edible glitter to your party drinks is a smart way to make your drinks look amazing under the light! You can also decorate your drinks with colorful cocktail umbrellas, stirrers, and fresh fruit.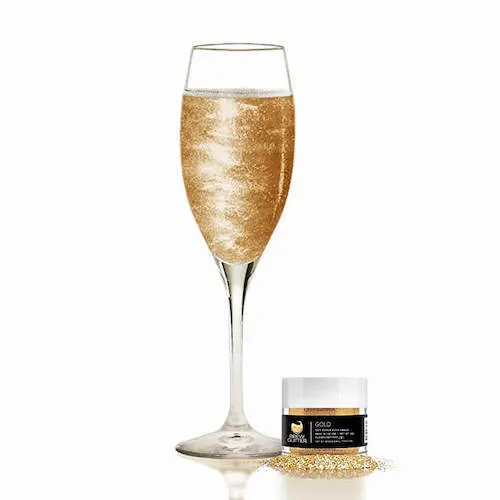 Glitter Good Fortune Cookies
Decorate your fortune cookies with glitter this year to surprise your guests.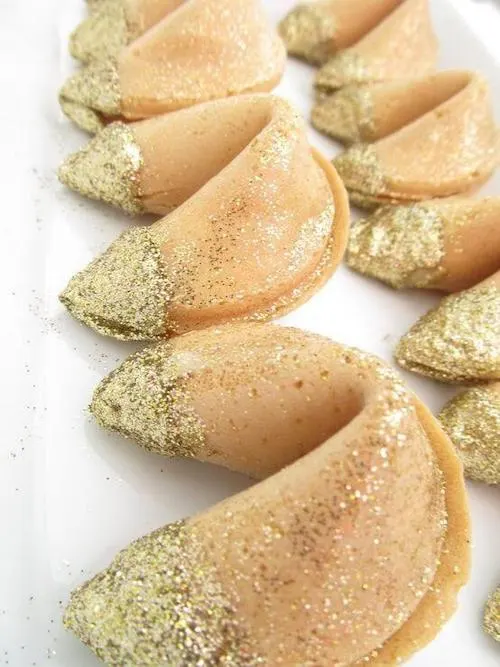 Gold Marshmallow Pops
These gold marshmallow pops look amazing in a party and easy to make. Or you can decorate them with whatever color you love.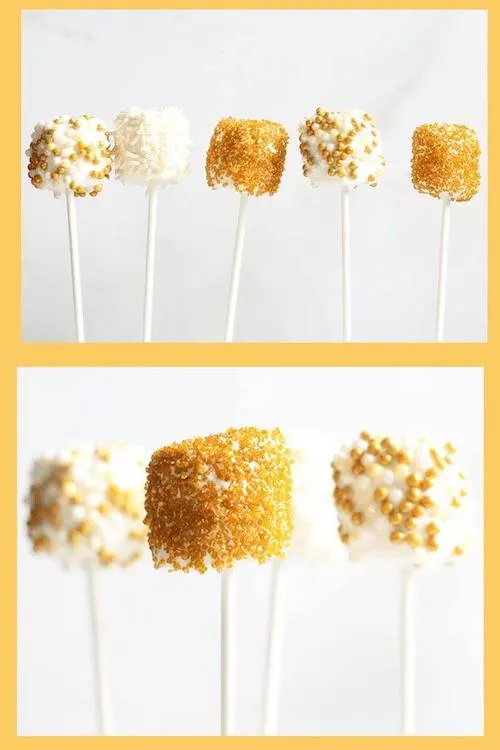 Below is a tutorial from Lady Behind The Curtain.
No-Bake Strawberry Champagne Cheesecake
I love anything no-bake for preparing a party.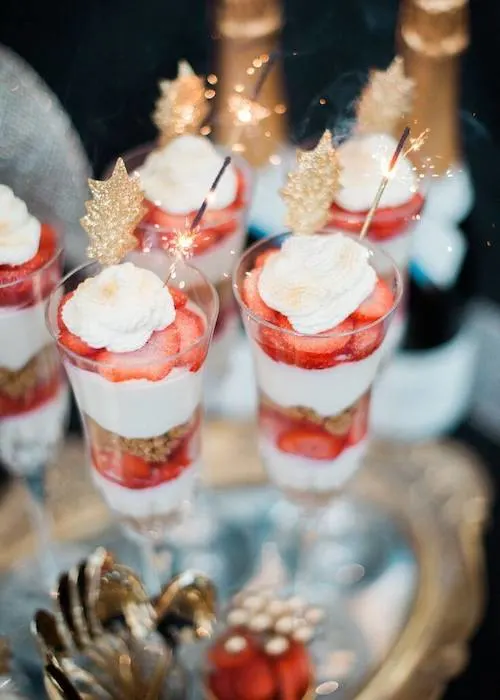 Mini Wine Bottles
Anything mini-sized automatically makes it cuter. And the cuter something is, the better in my book! Your guests will go crazy for these cute mini wine bottles.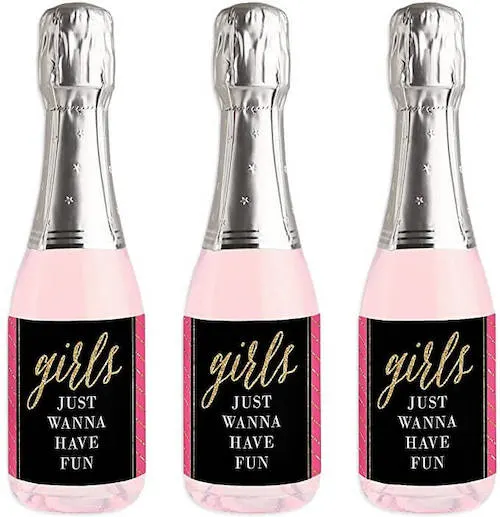 Comfort Food
Prepare cozy comfort food for your closest friends.
Charcuterie Board
You can fill the board with all your favorite meats and cheeses. And they look good on photos!
This post was all about New Year's Eve party ideas.
About The Author
Tracy is an experienced personal stylist, shopping expert, and fashion & lifestyle blogger. She has been featured on Bustle, Best Life, Glam, The Zoe Report, Mic, and GoBankingRates, for her insights on fashion, beauty, home decor, and lifestyle. Read More
Related Posts: