Looking for the best Coachella outfits for inspiration? Check this post for the best tips on what to wear to Coachella Music Festival and the most stylish Coachella outfit ideas from influencers and celebrity Coachella outfits for you to copy! From sexy boho style to simple cute looks, we've got you covered! At the end of the post, I am also sharing our favorite fashion stores to buy trendy Coachella outfits, so don't miss that part!
Every year fashionistas look for the best Coachella outfit inspiration and this article is here to help.
Whether you're attending as a spectator or performer, you'll want to make sure your style stands out from the crowd.
From leather jackets and statement accessories to bright colors and daring patterns – there are many options to choose from when it comes to what to wear at the Coachella festival.
In this article, we've put together the hottest looks featuring the most fashionable trends of the season!
This post may contain affiliate links, which means I'll receive a commission if you purchase through my link, at no extra cost to you. Please read the full disclosure here.
This post is all about what to wear to Coachella.
Is there a dress code at Coachella?
Coachella is known for its eclectic mix of fashion and style that has become iconic with the Coachella brand.
But what are the rules when it comes to dressing for Coachella? Is there an unofficial dress code?
When it comes to wardrobe choices, there's no hard and fast rule at Coachella but there are certain trends that have emerged over time.
Typically, attendees opt for boho-inspired looks with lots of light colors and loose silhouettes.
Think flowy dresses, colors, denim shorts, or skirts paired with boots or sneakers. But don't feel limited by these options!
What is Coachella Fashion?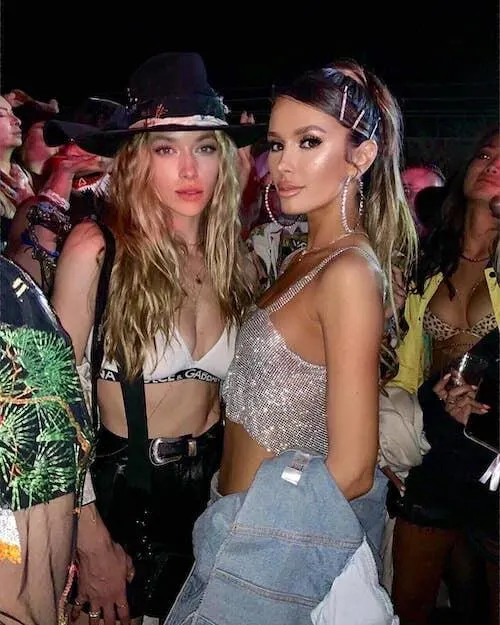 Coachella is an annual music and arts festival held in Indio, California.
Since its inception in 1999, the event has grown to become a major cultural touchstone for many people around the world.
Along with the amazing lineup of artists and performances, Coachella also has its own distinct fashion style.
Coachella fashion typically consists of bright colors, bold prints, lots of layers, and statement pieces.
Whether it's fringe shorts, neon crop tops, or over-the-top hats – anything goes at this festival!
It is also common to see attendees accessorizing with flowers or wild makeup looks to complete their look.
The overall aesthetic focuses on freedom of expression and comfortability.
The idea is for everyone attending Coachella to feel free to express themselves through their personal style in whatever way they choose – no matter how outrageous that might be!
What Should I Wear to Coachella?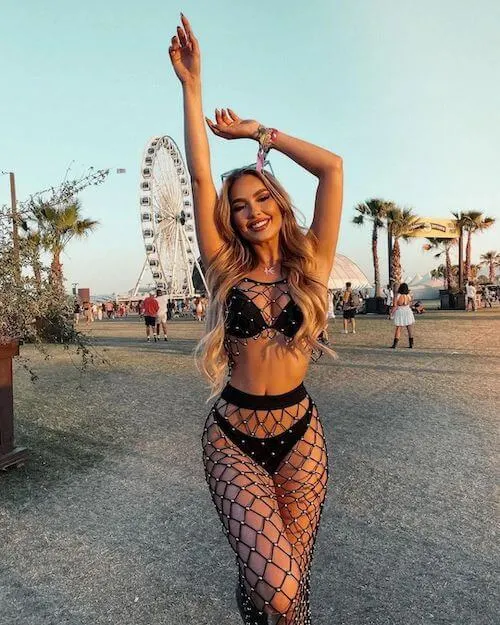 With an abundance of music, art, and fashion – you'll want to make sure that you dress to impress!
But what should you wear? Here are some top tips for creating the perfect Coachella outfit.
Firstly, preparation is key when planning your look for the event.
You'll need clothing that can be layered due to the desert heat during the day and colder temperatures at night.
Think about taking items with sequins, chiffon, and vibrant colors or patterns which will stand out in crowd shots!
When it comes to shoes, comfort is essential as there will be lots of walking involved during the weekend.
Opt for stylish trainers, comfortable cowboy boots, or ankle boots that won't cause blisters after hours on your feet.
Scroll on to check out more style tips and outfit ideas for Coachella!
What Shoes to Wear to Coachella?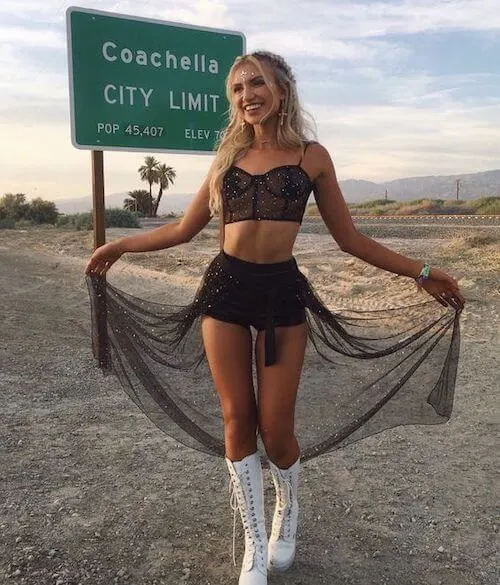 via tumblr
When it comes to packing for the iconic music festival Coachella, shoes are a major concern.
You'll want to bring along shoes that are stylish and comfortable enough to handle long days of standing and dancing in the desert.
Fortunately, there are plenty of options available!
Platform sandals are an excellent choice because they provide cushioning and support while elevating your look with their high heels.
Cowboy boots also make for an eye-catching ensemble, especially when paired with some cut-off shorts or a flowy dress.
Combat boots offer durability and protection against the elements while still looking fashionable.
For those who prefer something more casual, sneakers always come in handy – just add bright colors or flashy pattern pieces to your whole look to give your outfit an extra pop!
What should you NOT wear to Coachella?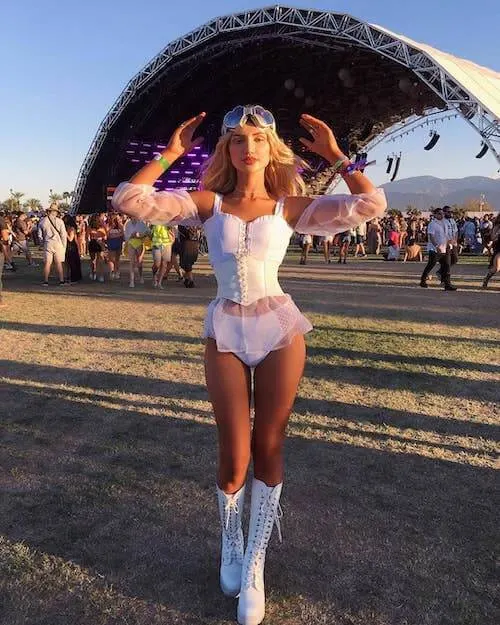 Despite the wide array of fashion trends that Coachella is known for, there are certain items that all attendees should avoid wearing during their time at the festival.
Women attending Coachella should be aware of a few key style "no-nos" to ensure they look fashionable and stay comfortable throughout the event.
First, it is important to skip wearing any type of high heel; not only will they make walking and standing difficult in crowds, but you may find yourself sinking into grassy fields or getting stuck in the sand.
Additionally, while many people gravitate towards flower crowns and other bright accessories, these can often obstruct your vision or become uncomfortable after long hours of wear.
So please choose accessories that are comfortable to wear.
Furthermore, some tight clothing can leave you feeling constricted or too warm on days with high temperatures.
Best Coachella Outfits To Copy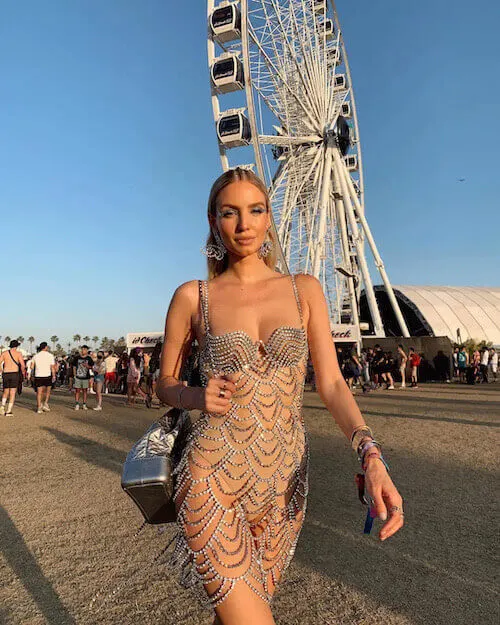 If you're looking to turn heads at Coachella this year, look no further than these trendy outfits!
With a lineup of top performers, the world-famous festival is sure to bring an eclectic mix of styles and fashion trends.
To stand out from the crowd and make your look memorable, consider some of these iconic pieces for the ultimate festival experience.
The classic denim shorts and tank top remain a staple for those spending days under the hot California sun.
But why not spruce it up with a pair of statement sunglasses or bright neon accessories?
A light kimono can add a touch of Bohemian flair while still staying on trend.
Or if you're feeling bolder, try an eye-catching jumpsuit with intricate embroidery or beaded detailing.
Scroll on to check more stunning Coachella looks:
Crop Top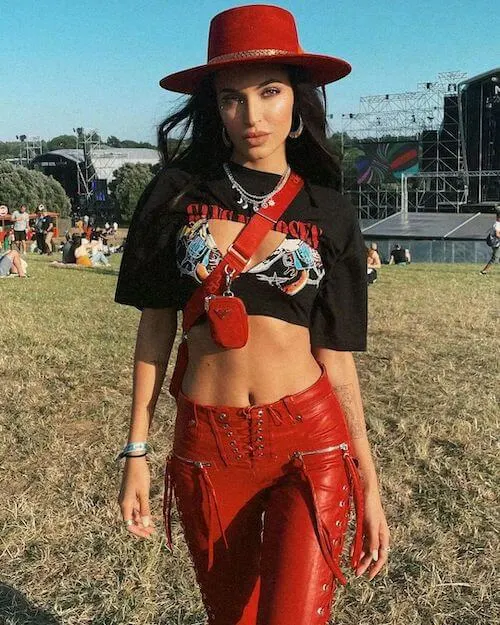 This year, get ready to show off your midriff with a crop top!
First and foremost, make sure that the bottom half of your look is balanced out.
Choose high-waisted bottoms or shorts to offset the revealing nature of the crop top — think jean shorts or even mom jeans.
You can also wear an oversized shirt around your waist for extra coverage if you don't feel confident enough to bare it all.
Accessorize with bandanas, dainty necklaces, and chunky bracelets for added flair and confidence!
Bohemian Style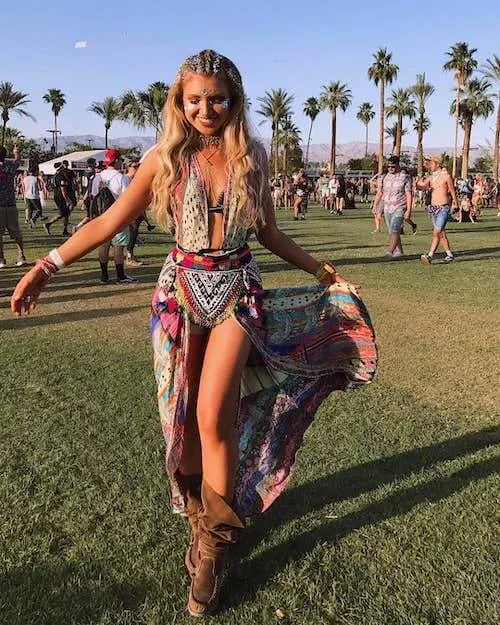 This year's festival fashion is all about embracing your inner boho-chic with bright colors, flowery patterns, and fringed accessories.
From statement headpieces to flowy skirts, here are some essential pieces you'll need for a killer Coachella outfit.
Festival goers can start off with a basic t-shirt or tank top as the foundation of their look.
The key to rocking this style is incorporating eye-catching details like embroidery, fringe, and crochet materials that will give your ensemble an effortless, yet eclectic vibe.
Pair your tee with bold printed shorts or a flowing maxi skirt in any color imaginable.
Denim Shorts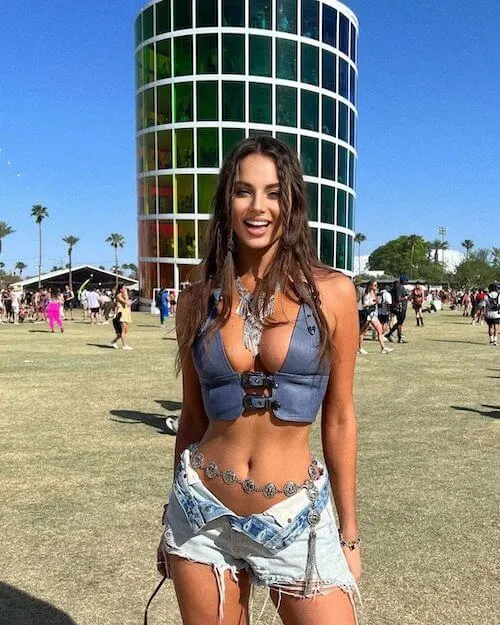 Denim shorts remain a staple for any desert getaway, and this year's Coachella is no exception.
Whether you opt for a frayed hem or distressed details, there are plenty of simple ways to rock denim shorts at the festival.
Going for an effortless boho vibe?
Pair your favorite denim shorts with a lightweight tank top and ankle boots.
Throw on some delicate jewelry, some chunky bangles, and aviator sunglasses to top off the look.
If you want something more flirty and fun, try teaming your shorts with an off-the-shoulder or backless crop top in a bright hue such as pink or orange.
Crochet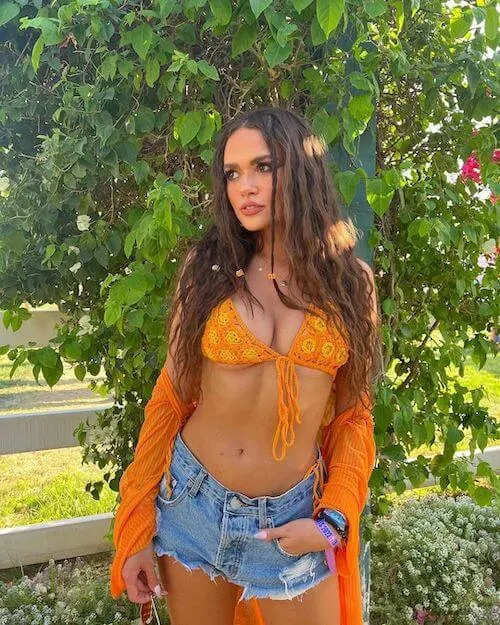 For those who want a unique and creative look, crochet Coachella outfit ideas are an excellent option.
Crochet clothing has been trending in recent years and there are no limits when it comes to creating your own custom creations.
From crochet crop tops and shorts to skirts, kimonos, and even full-length dresses – there are tons of options for putting together a stunning ensemble that will have everyone talking!
Maxi Dress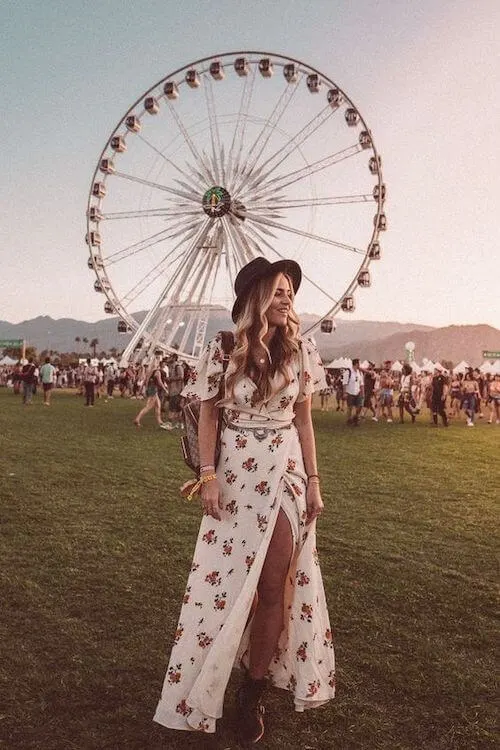 via tumblr
Maxi dresses are one of the most iconic and stylish pieces for a summer festival.
Maxi dresses offer comfort and style with their lightweight material, easy-to-style designs, and effortless silhouettes.
Whether you choose a flowy boho look or something more structured, there's a maxi dress that can fit your personal style preferences.
To top it off, styling around your dress is simple – all you need is some jewelry or accessories to complete the look!
Mini Skirt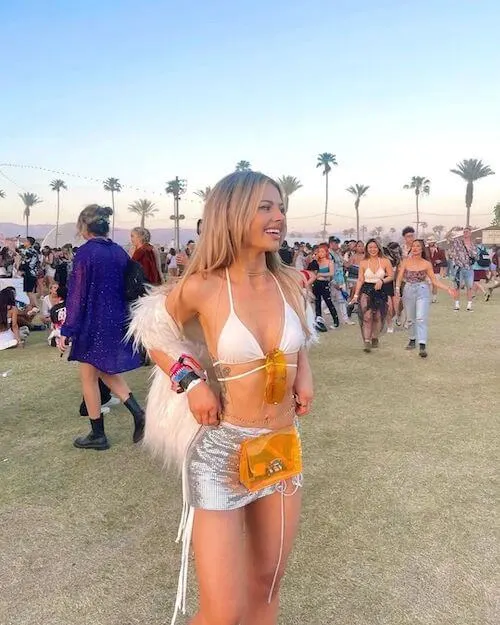 Mini skirts are a great way to show off your style while still being comfortable and cool in the desert heat.
Choose something that fits you well and is made from lightweight fabrics like cotton or linen so you don't get too hot.
Pick something with lots of bold colors and interesting patterns that will really pop when paired with your favorite top or crop top.
Layer up with some accessories like statement jewelry and hats to add an extra layer of personality to your mini skirt look.
Mini Dress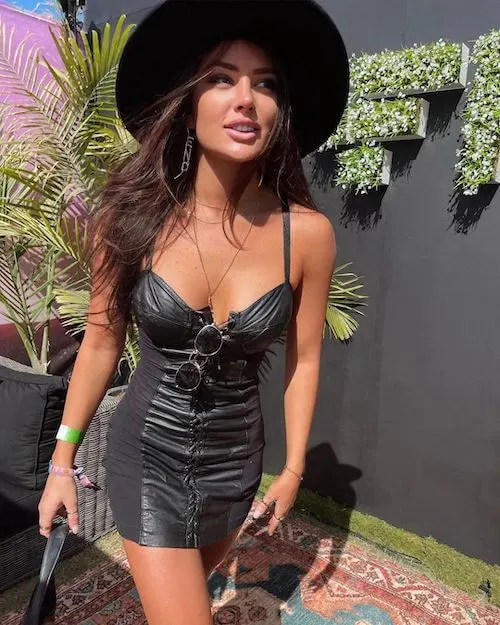 A mini dress is a great option for the Coachella festival.
It gives off a fun and carefree vibe while still looking stylish and on-trend.
To make sure your mini dress stands out at the festival, there are some important tips to keep in mind.
First, choose a bold print or patterned style that will really get noticed in the crowd.
You could also accessorize with statement accessories such as chunky jewelry, beaded necklaces, and layered bracelets to add an edgy touch.
Don't forget a pair of stylish sandals or boots too – they'll give your look extra flair!
Cowboy Boots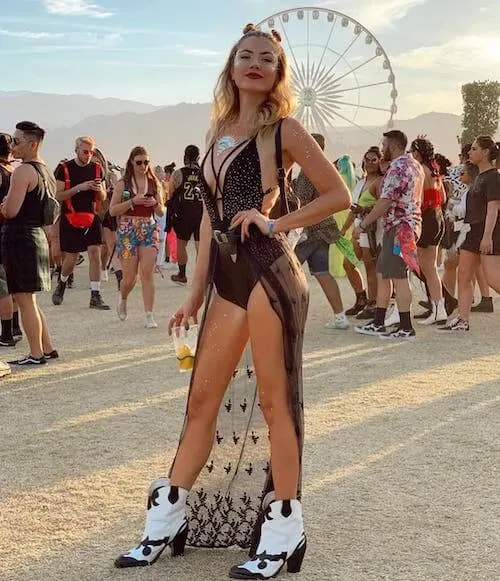 Boho Chic Looks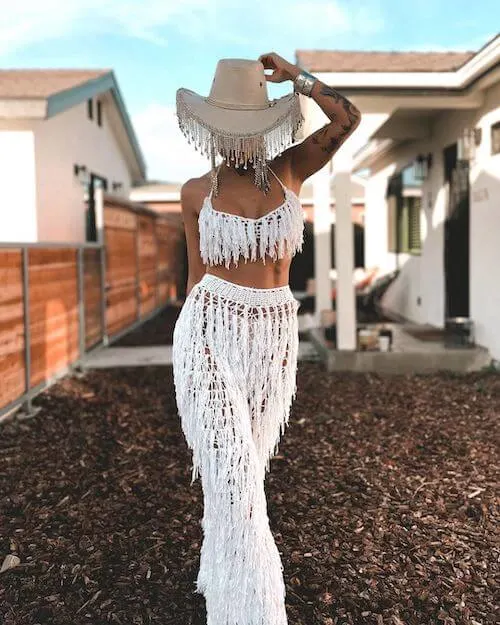 Simple Sexy Look For Festival Season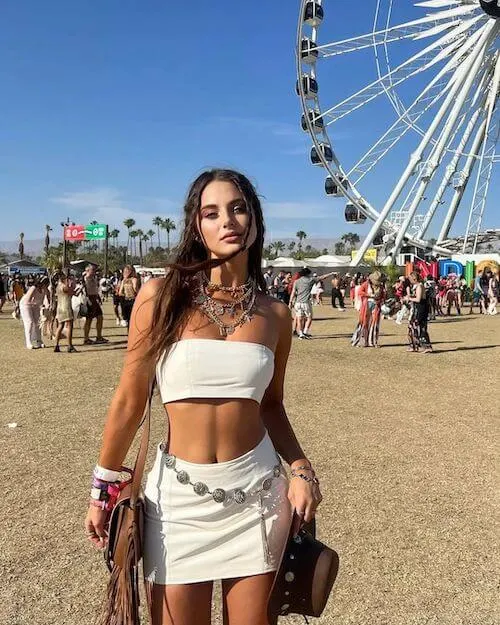 Edgy Festival Style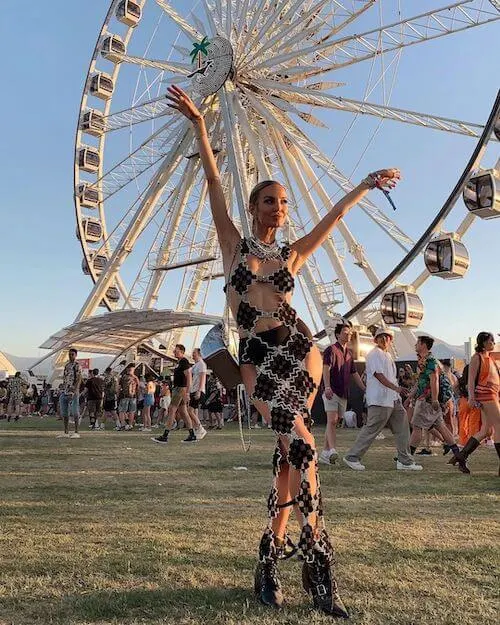 Coachella Season Cowgirl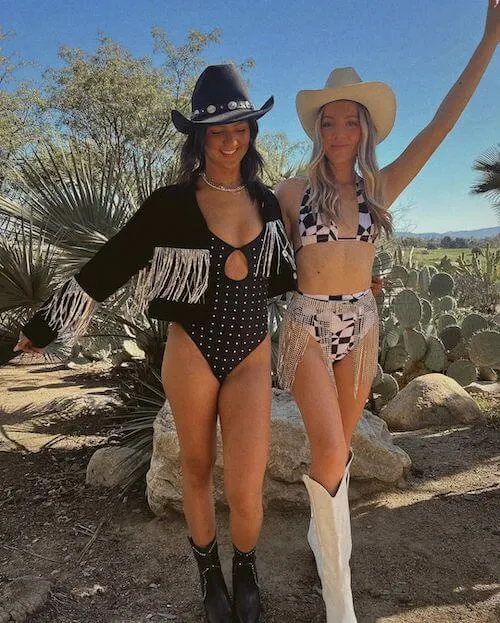 Stylish Black Coachella Outfit Ideas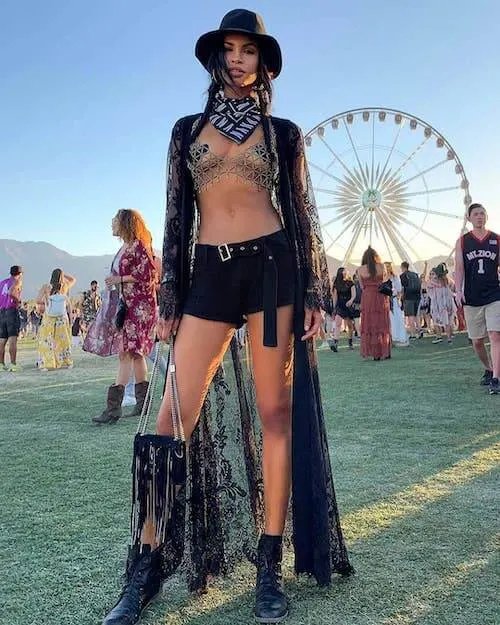 More Coachella Music Festival Looks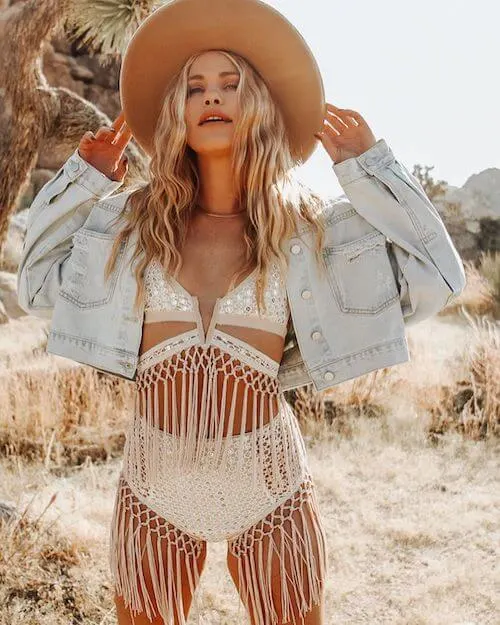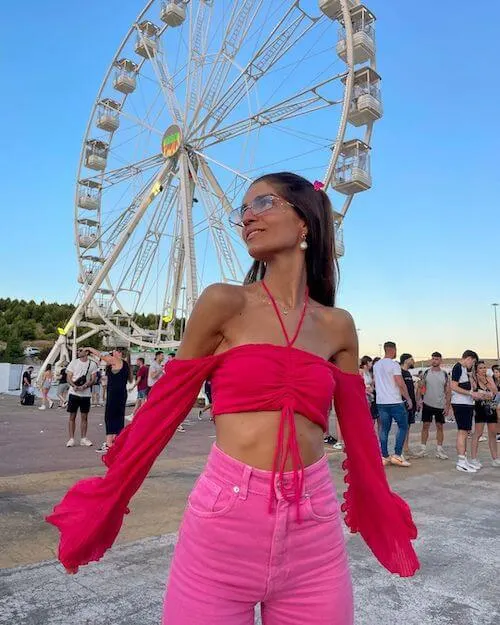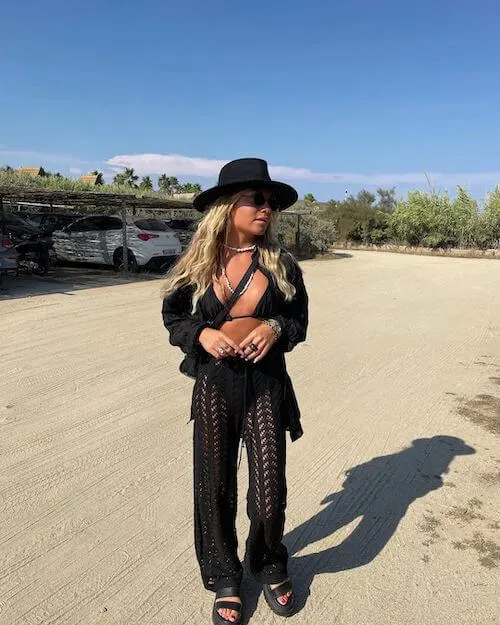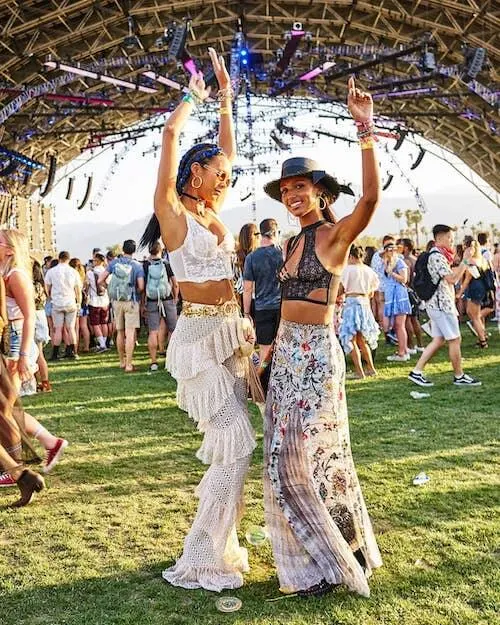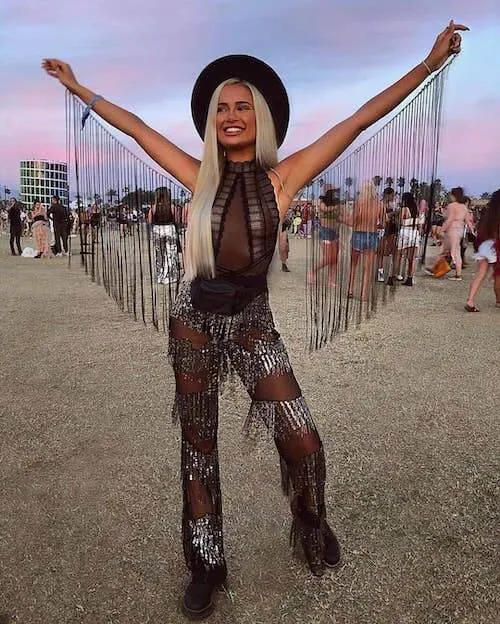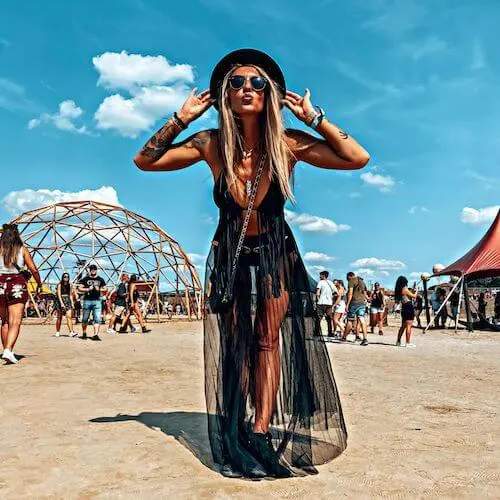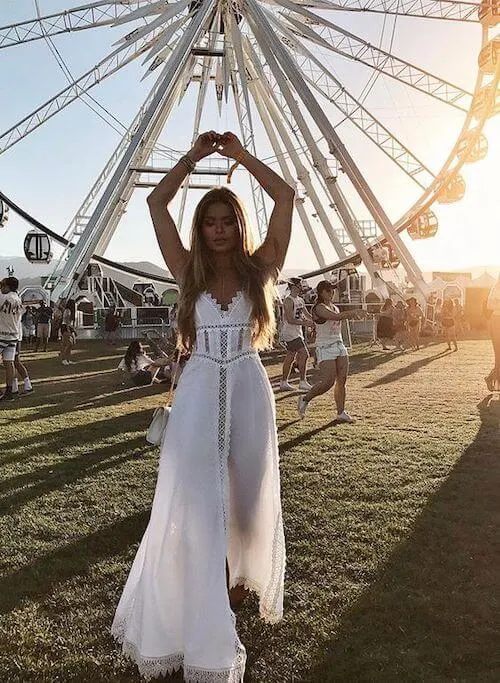 via Pinterest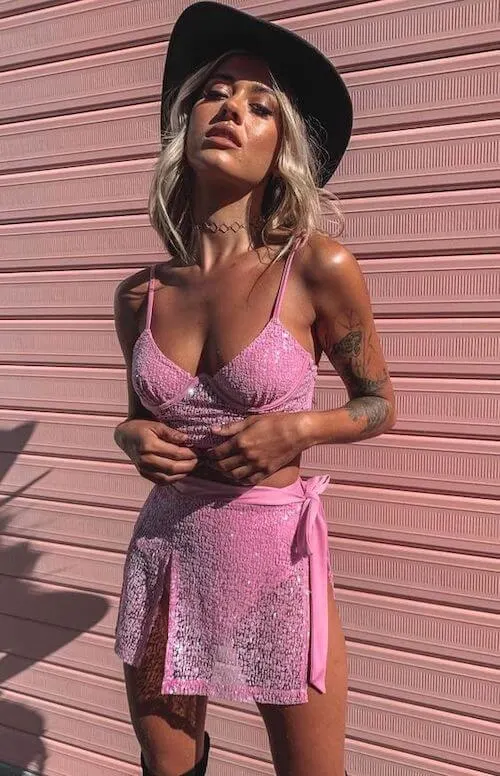 via weheartit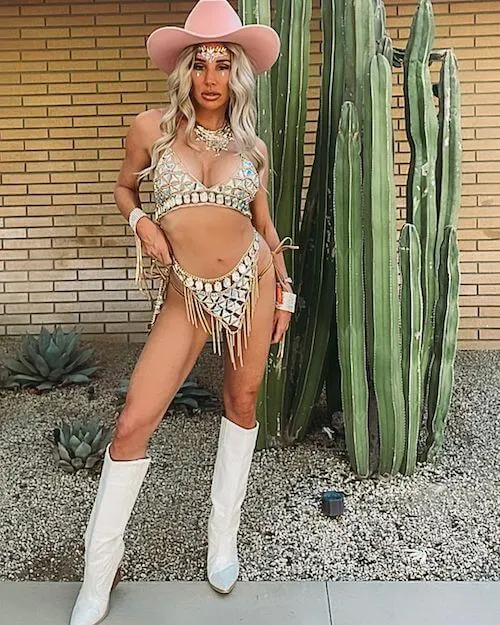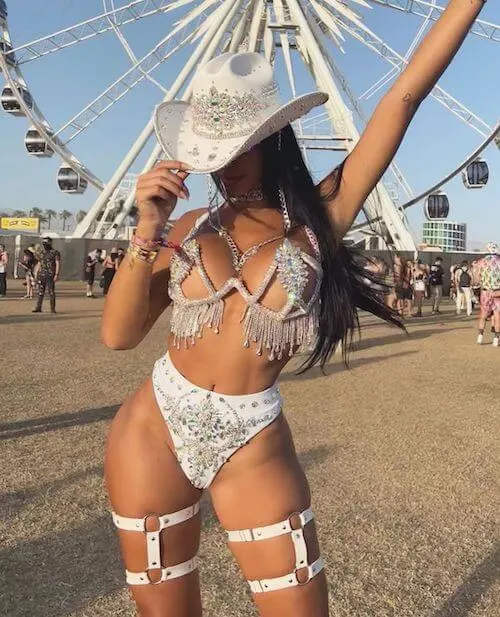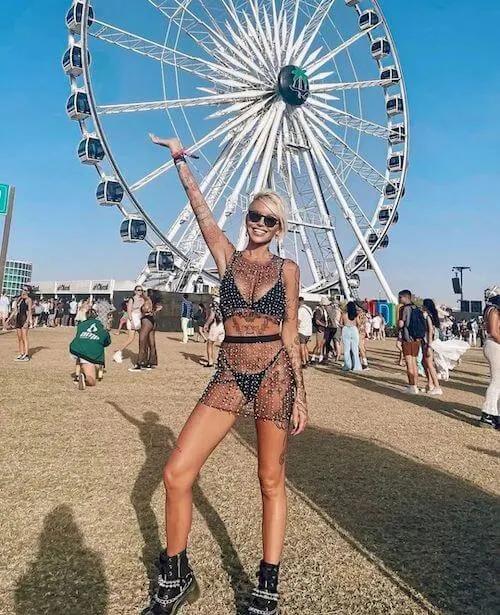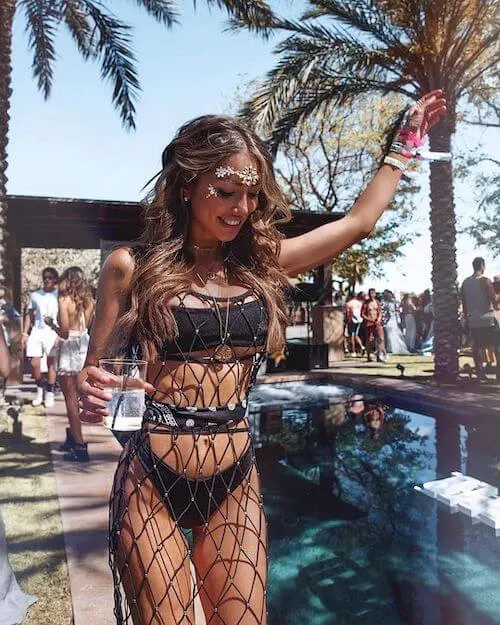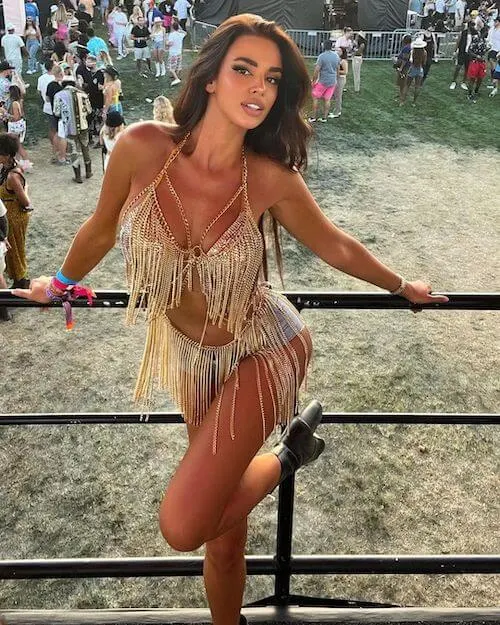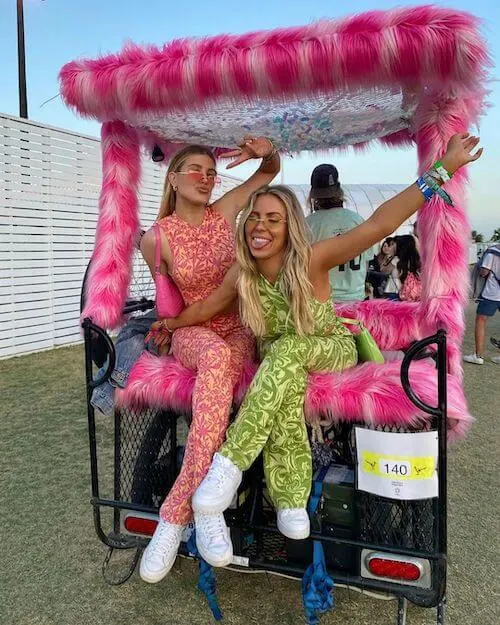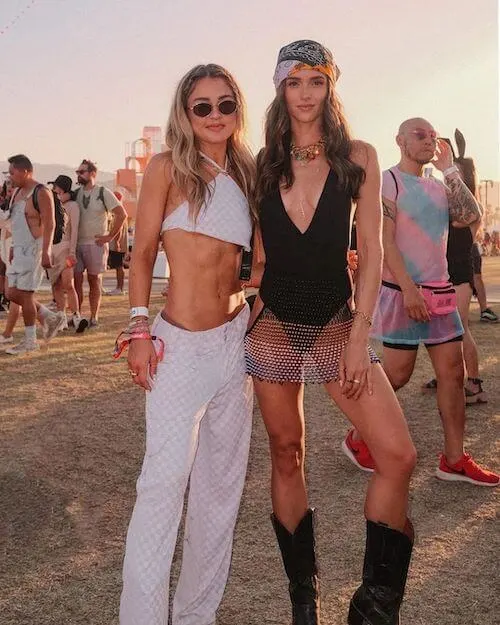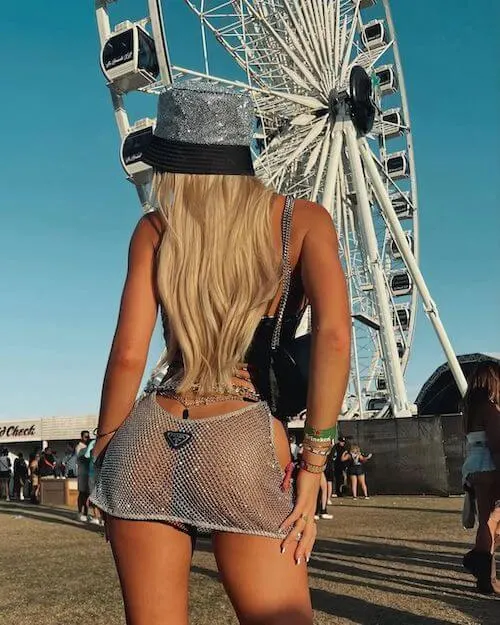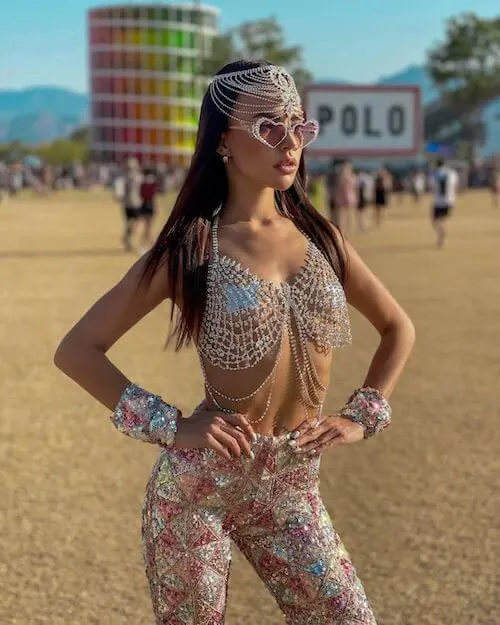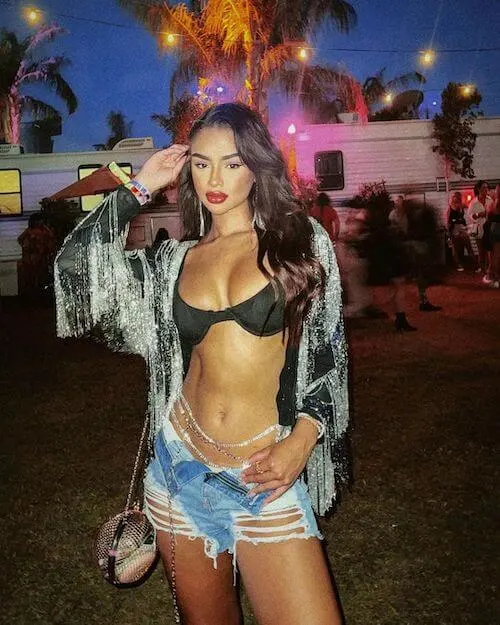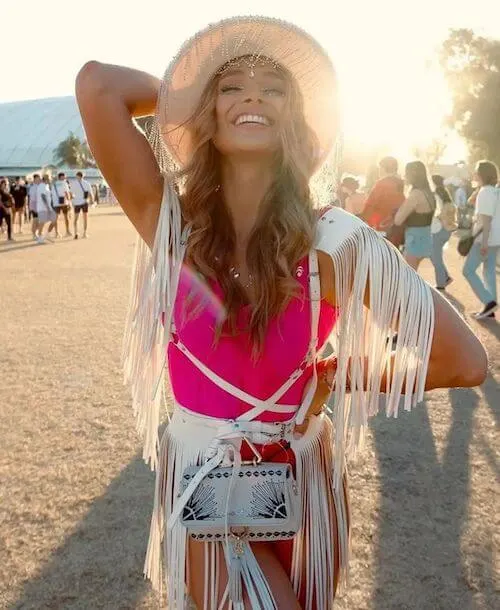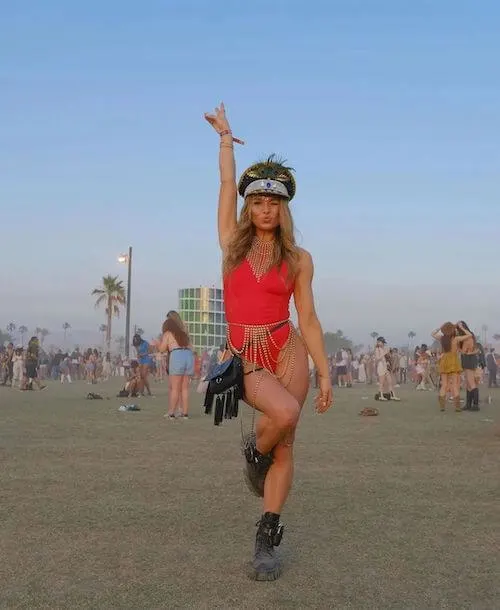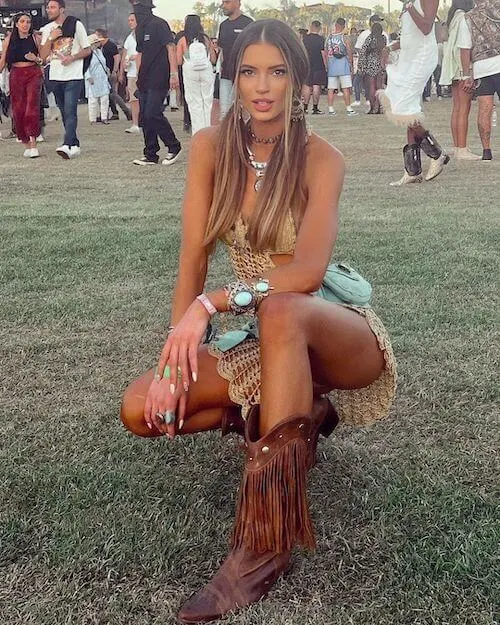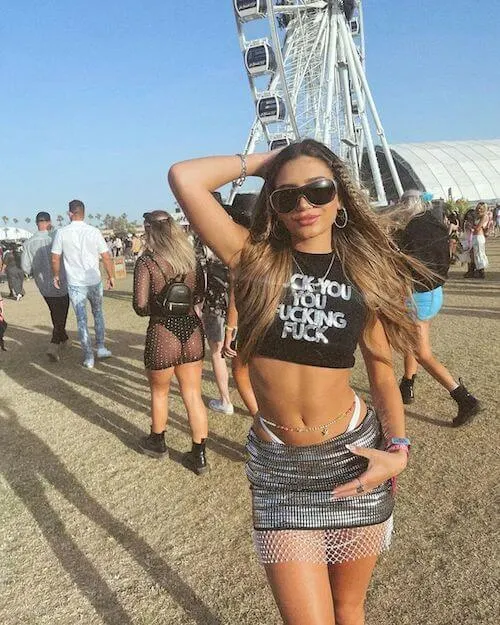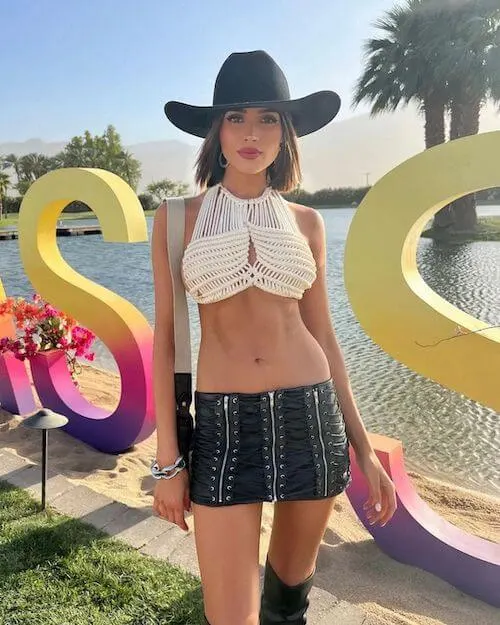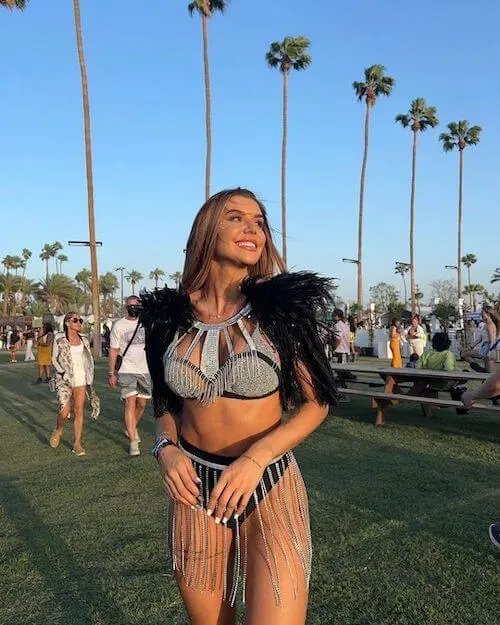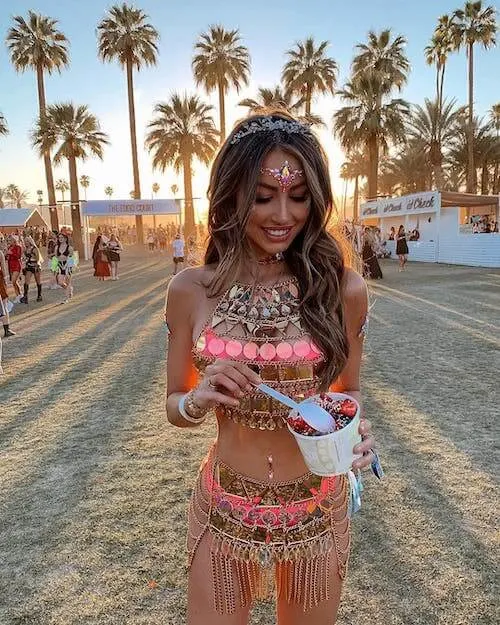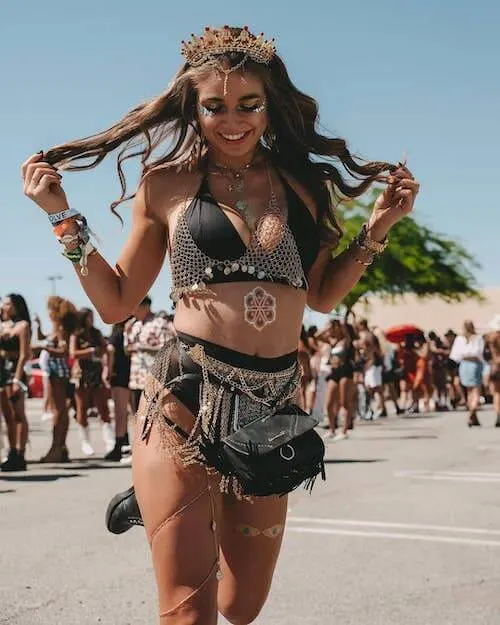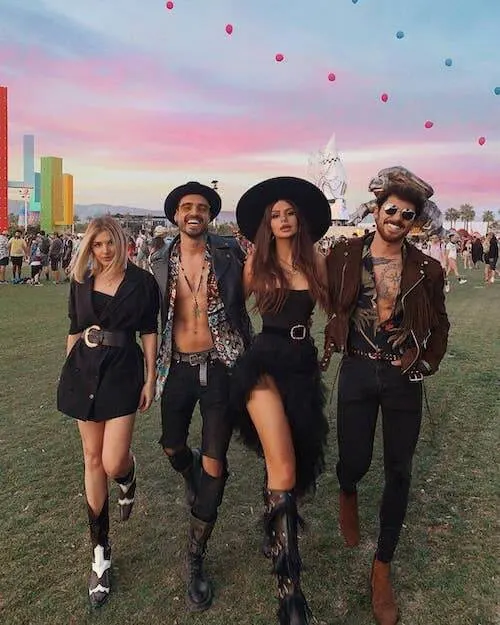 via Pinterest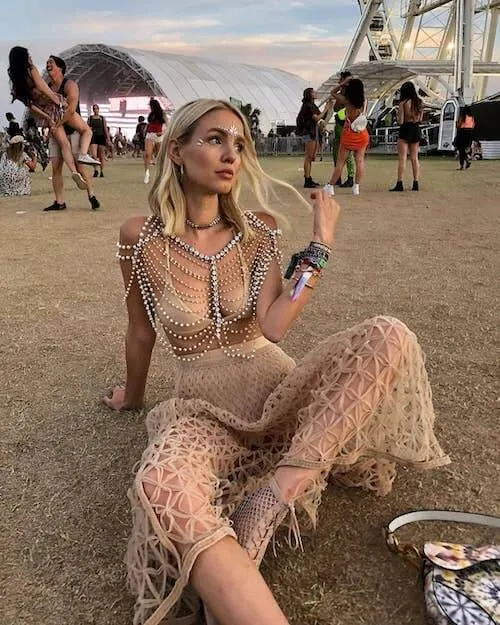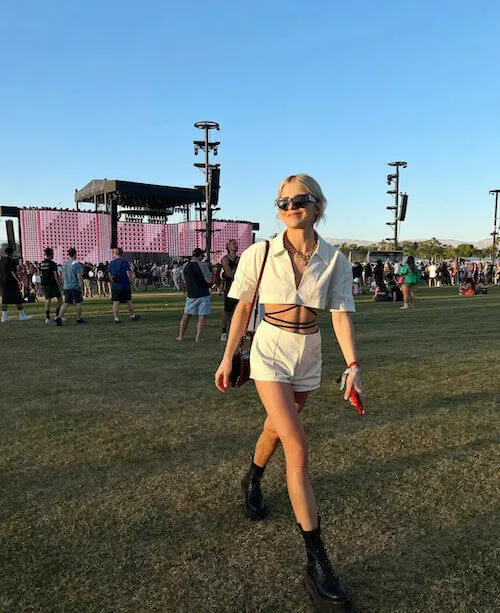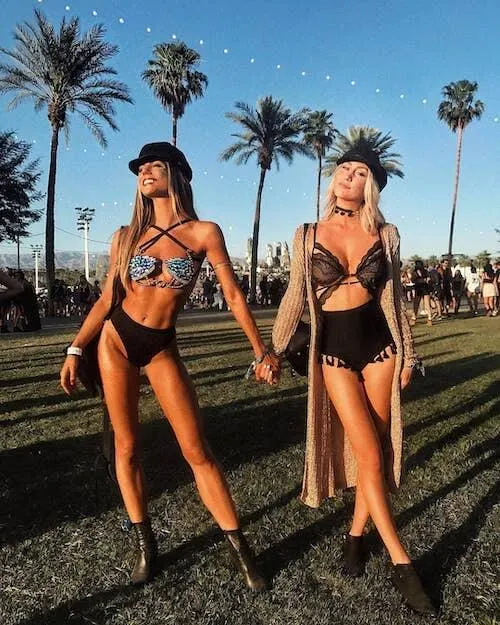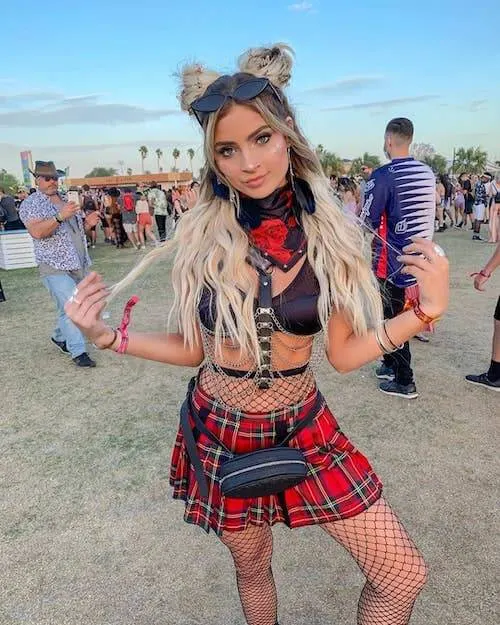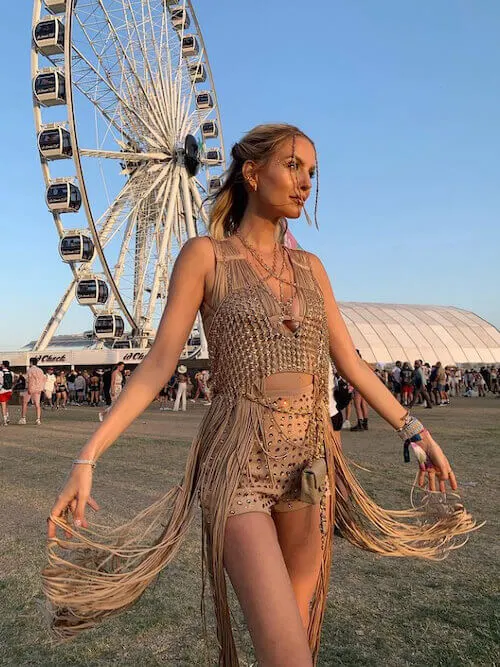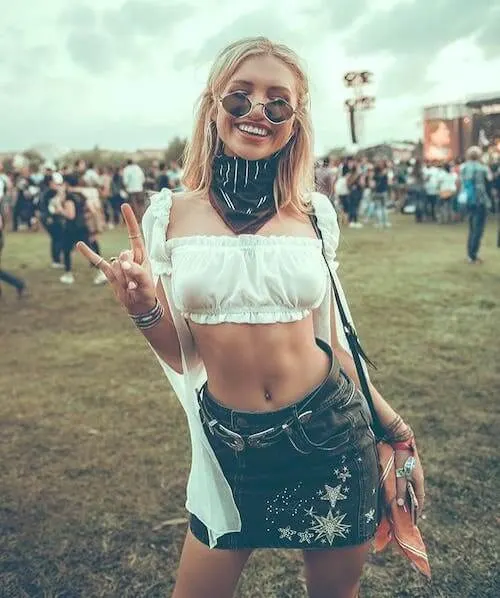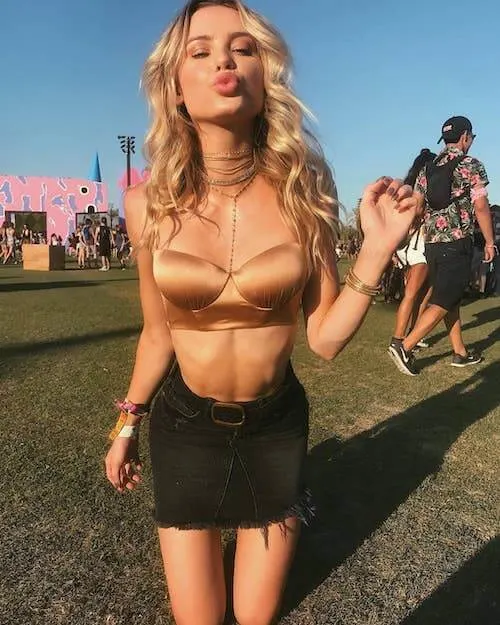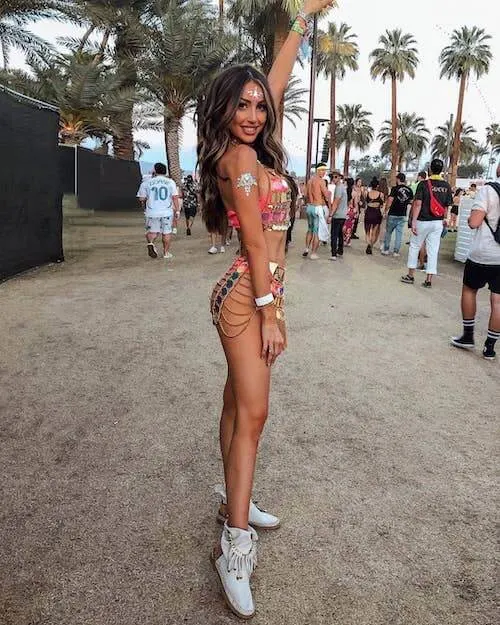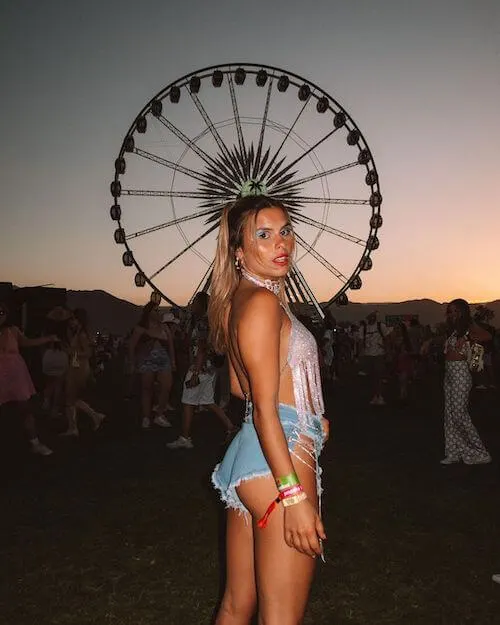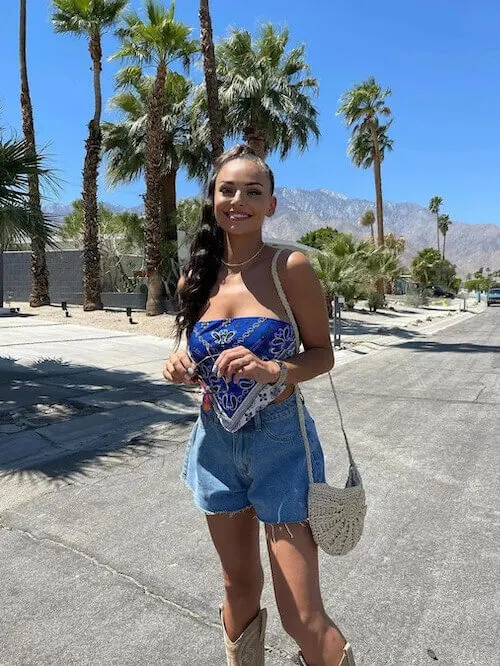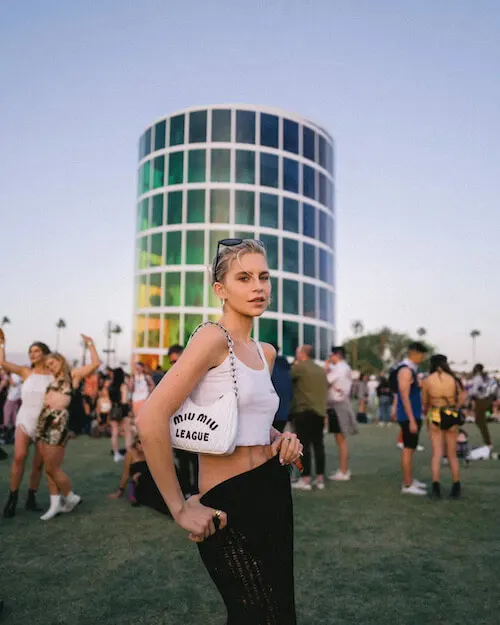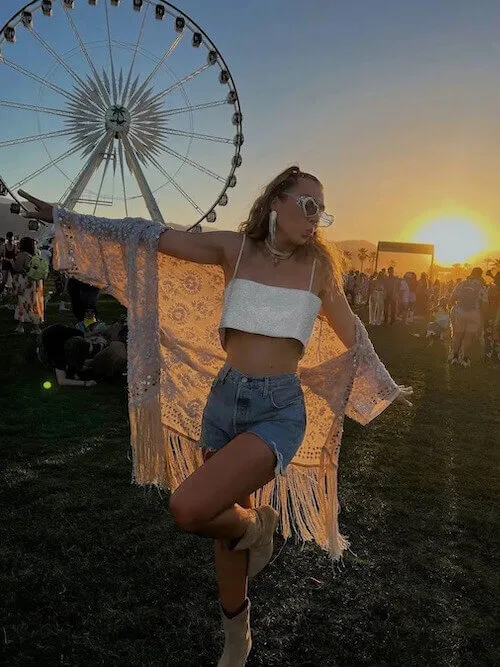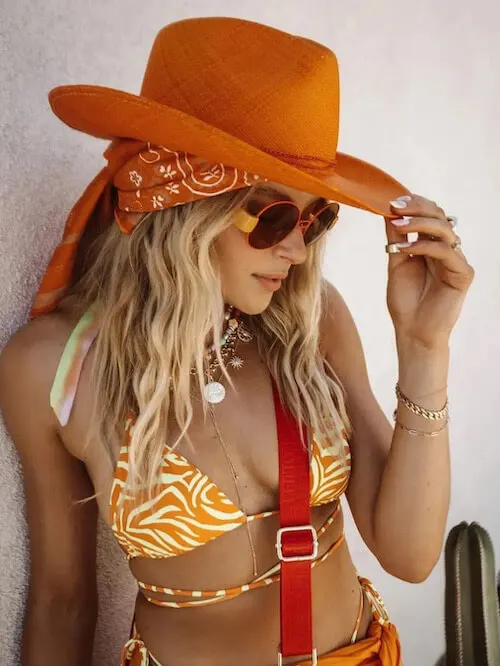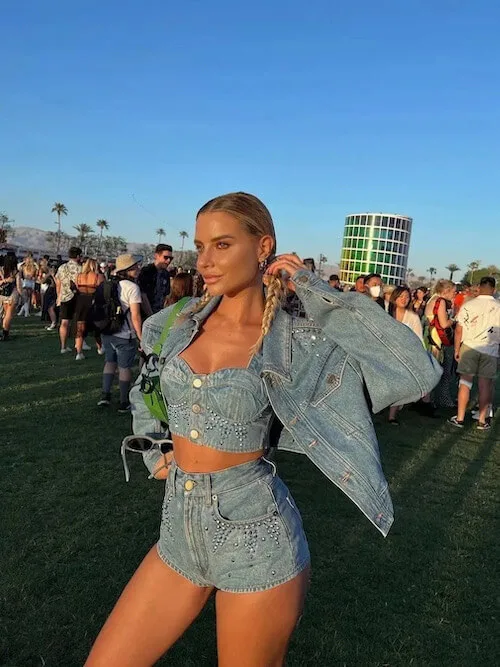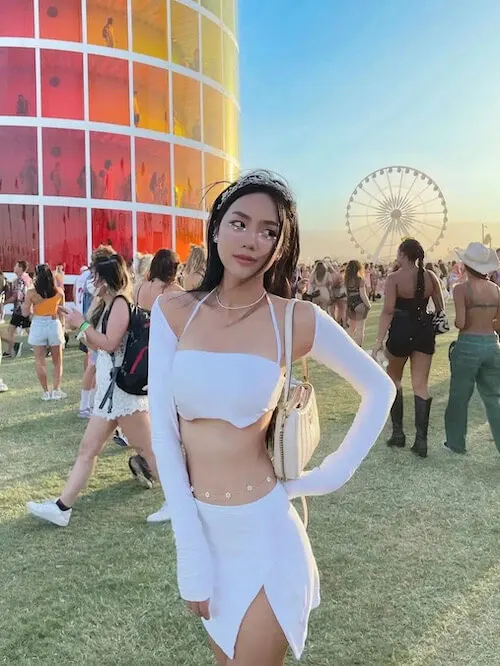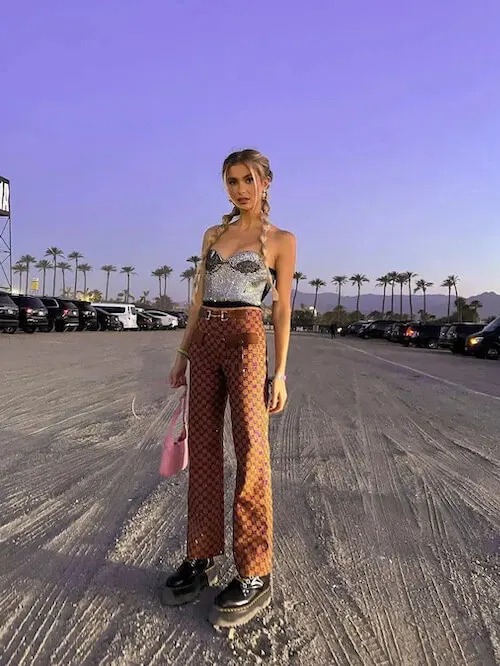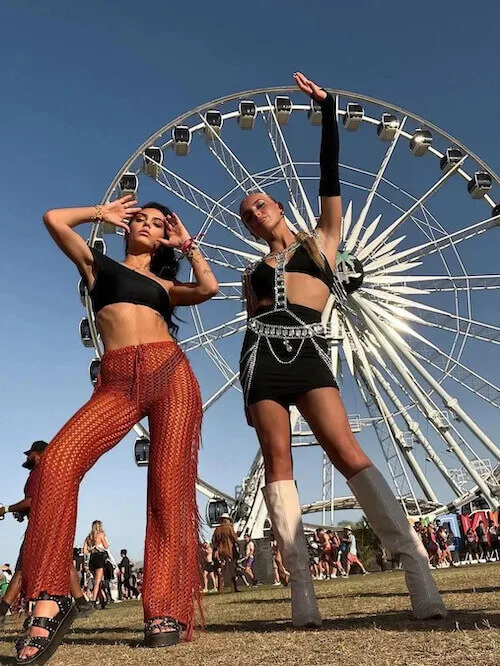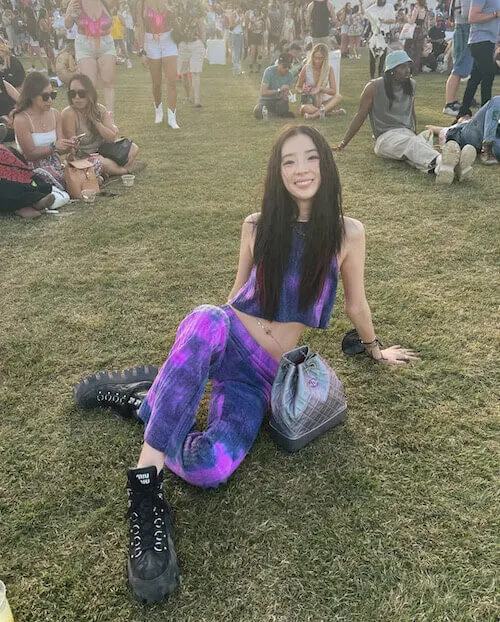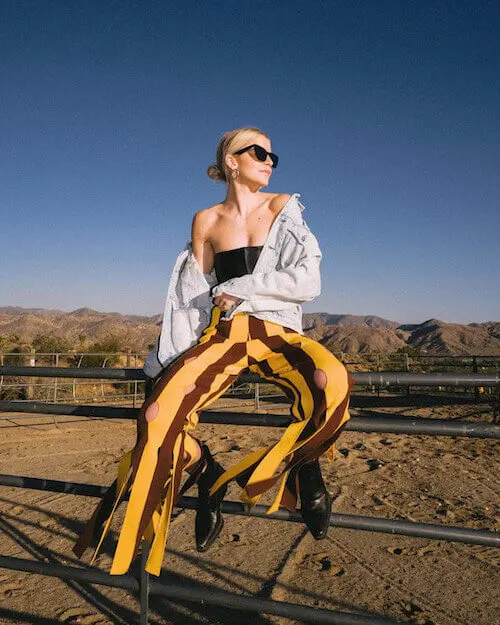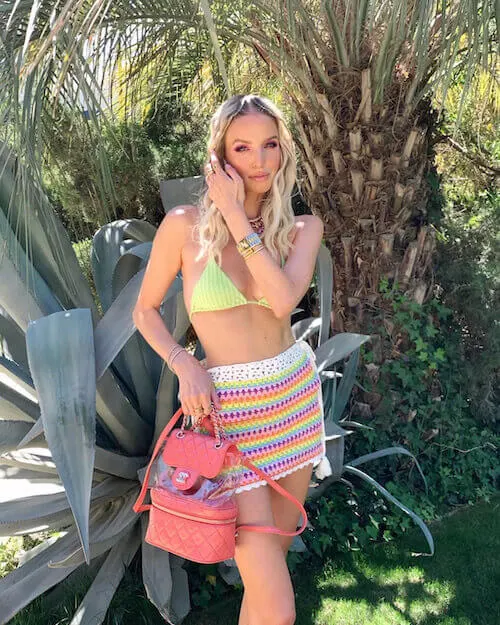 Best Celebrity Outfits For Inspiration
Below we curated some of our favorite Celebrity outfits from years past.
Jasmine Tookes & Shanina Shaik
Pris Hilton
Sydney Sweeney
Elsa Hosk
Coachella Packing List: Festival Essentials
Heading to Coachella this year?
Get ready for an unforgettable experience with these essential items!
Besides cute outfits, it's important to make sure you pack everything you need for the festival, including some key items like earplugs, a tent, and sunglasses.
Sunblock and hats should also be included in your packing list so that you can protect yourself from the sun's rays.
Other items that can come in handy include hand sanitizer to keep your hands clean after using public bathrooms or shaking hands with others, body glitter that will add some sparkle to any outfit and a cozy blanket which are perfect when you're sitting on the grass.
With these essential items packed up and ready to go, you'll be able to have an amazing time at Coachella!
Where to buy Coachella outfits
If you're looking for the perfect Coachella outfit, below are our favorite online fashion stores:
Shop Our Picks
This post is all about what to wear to Coachella.