Looking for chic and casual New Years Eve outfits to copy? Check this post for 50+ NYE outfit ideas for inspiration to create a stylish outfit for the ball drop!
As the end of the year approaches, it's time to start planning out what you'll be wearing for New Year's Eve.
Whether you've got big plans for this best night on the town or a small gathering of friends and family, it's important to look and feel your best when ringing in the new year.
If you're looking for some chic and casual New Year's Eve outfit inspiration, then this article is just what you need.
From cozy sweaters paired with dressy trousers or skirts to house party ready cocktail dresses and jumpsuits, these looks will help you embrace the new year in style.
Not a sparkle outfit fan? Thankfully, it doesn't have to be all sequins and glitter – you can still look chic and feel comfortable in more casual looks!
Whether you're planning to hit up a cozy house party or an outdoor celebration, there are plenty of stylish outfit ideas that will keep you warm and looking your best.
So scroll down to check these New Year's Eve outfit ideas.
No matter where you're headed this December 31st, choose one of these festive ensembles and look your best as you celebrate another successful year!
This post is about casual New Year's Eve outfits.
What should I wear to a New Year's Eve party?
It's that time of year again — the New Year is fast approaching, and you need to find an outfit for your New Year's Eve party.
Whatever the theme of your event may be, there are a few key elements to consider when selecting an ensemble.
Start with a standout piece like a sequined top or bold print dress.
These pieces will help you shine on the dance floor and give you some edge in any crowd.
For those who prefer something more subtle, try opting for neutral colors like black or white — both are timeless classics that can be easily accessorized to fit any look.
You may also want to add a pair of statement earrings or shoes for extra flair; metallic accents can also give your outfit just enough sparkle without going overboard!
What do you wear to a house party on New Year's Eve?
On New Year's Eve, a house party can be a great way to celebrate the end of one year and the beginning of the next.
When deciding what to wear to a house party on New Year's Eve, it's important to consider the type of party you are attending.
If it's a bit more casual affair, then comfy jeans or slacks with a nice top would be appropriate.
For a more formal celebration, you might opt for dressy trousers or a skirt with an eye-catching blouse or dress shirt.
Women could pair their outfits with high heels and accessories such as statement earrings or necklaces.
Men might want to go for something like crisp slacks and a jacket with an interesting pocket square or patterned tie.
A coat is also essential for warmth and added style in cooler climates.
Whether you decide on something festive and fun or elegant and sophisticated, make sure your outfit reflects who you are so you can ring in the New Year in style!
What to wear to a casual New Years Eve party
No matter what kind of casual New Year's Eve party you're attending, you want to make sure that your look is fun and festive.
From a cozy night in with friends to a laid-back outdoor gathering, there are plenty of stylish and appropriate options for everyone.
To help you choose the perfect ensemble, here are some essential tips on what to wear to a casual New Year's Eve party.
Start by selecting a showstopping top or dress as the foundation of your outfit.
Choose something that's comfortable yet still speaks volumes – think sequins, bold prints, or even something sparkly!
If it's cold outside, layer up with an edgy leather jacket or keep it cozy with an oversized cardigan – just be sure not to let these items overpower your look.
Chic and Casual New Year's Eve Outfits
We can try out a chic and casual style with this year's trends that will keep us looking fashionable and feeling comfortable.
Whether you're going for an evening out or staying in, here are some ideas for outfits that will make you stand out.
The best part? You can shop for these outfits directly from our favorite online fashion stores.
Looking for a festive casual outfit other than formal party dresses? We've also got you covered.
So scroll on and you will surely find out a cute outfit that you will love.
Metallic Knit Top + Leather Pants
This outfit combination is all about keeping it stylishly edgy.
Metallic knit tops and leather pants are a classic combination for those who want to make a statement.
Silky Two-Piece Pajamas
For the fashionista who craves comfort, a two-piece pajama set is a perfect way to relax in style. Silky two-piece pajamas are ultra soft and lightweight, making them ideal for those cozy nights.
Satin Midi Skirt + Turtleneck Sweater
If you're looking for a way to give your wardrobe an upgrade, consider rocking the classic combination of a satin midi skirt and a turtleneck sweater.
This chic pairing is perfect for daytime or evening looks, making it a go-to in any fashionista's closet.
The sleek texture of the satin skirt will create an eye-catching contrast against the chunky sweater, ensuring you have all eyes on you!
Black Cozy Sweater + Nice Pants + Booties
Create a cozy, yet stylish ensemble with the classic black sweater, nice pants and booties combination.
This outfit provides an effortless way to look put together and will keep you warm all night long.
To complete the look and add a special touch, opt for leather ankle boots that have both style and comfort to your overall appearance.
Fuzzy Sweater Dress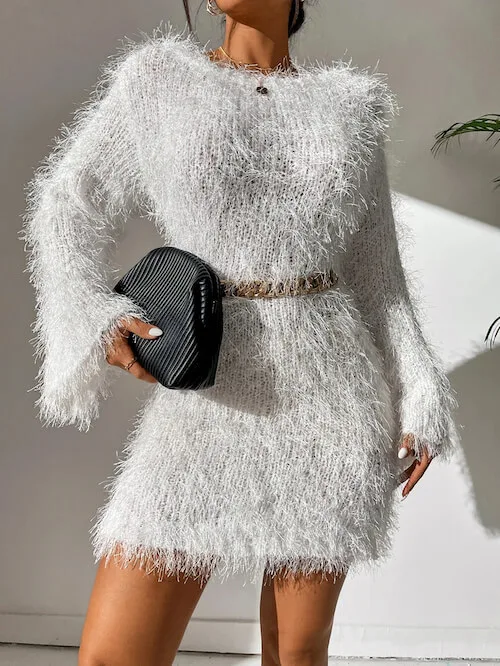 This chic, warm and cozy look is sure to turn heads as you enter the room.
Complete the look with chic leather boots for an added touch of sophistication that will last until midnight strikes.
Sweater Dress + Knee High Boots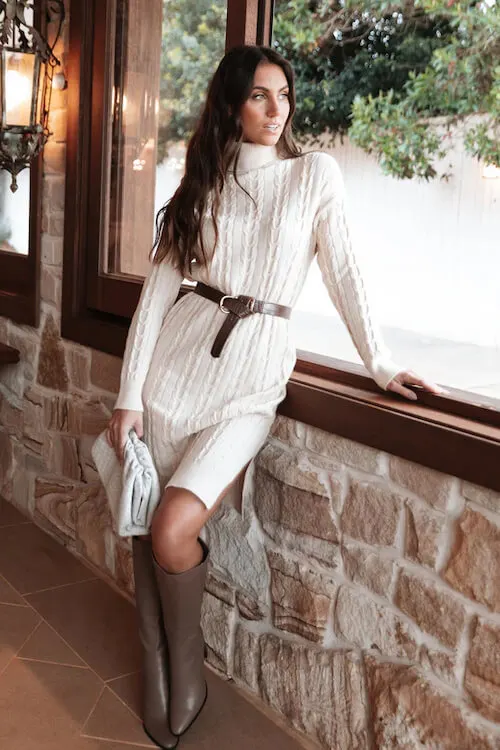 A sweater dress is an instant classic and perfect for the cooler months of fall and winter.
Add knee high boots and you'll have a look that's stylish yet snug enough to keep out the chill.
Oversized Sweater + Black Pants / Skinny Jeans
The combination of an oversized sweater and black pants is a great way to make a statement in any wardrobe.
The relaxed fit of the sweater will give you an effortless yet chic look that can be dressed up or down depending on the occasion.
You can even add some accessories such as jewelry or a hat for an extra touch of style.
Thick Long Cardigan + Tank Top + Black Jeans
A warm yet still flattering ensemble, this look will keep you comfortable while still making a statement.
The cardigan adds visual appeal by providing extra coverage without compromising on style and allows you to dress up or down depending on your needs.
Blue Knit Sweater + Leather Shorts + Black Tights
Add accessories like statement jewelry and a cross body bag for an extra flair to your look.
Gold Pleated Skirt + Cami Top
A gold pleated skirt and cami top is the ultimate party look for any special occasion.
The softness of the pleated skirt's gold fabric will perfectly highlight any figure while its high-waisted cut adds sophistication.
Cheer Knit Sweater + Mini Skirt
The cozy feel of the knit sweater will keep you warm and comfortable all day long, while the mini skirt adds a touch of glamour to your look.
Style it up even further with some fun accessories like jewelry, scarves, and more!
Faux Fur Coat + Jumpsuit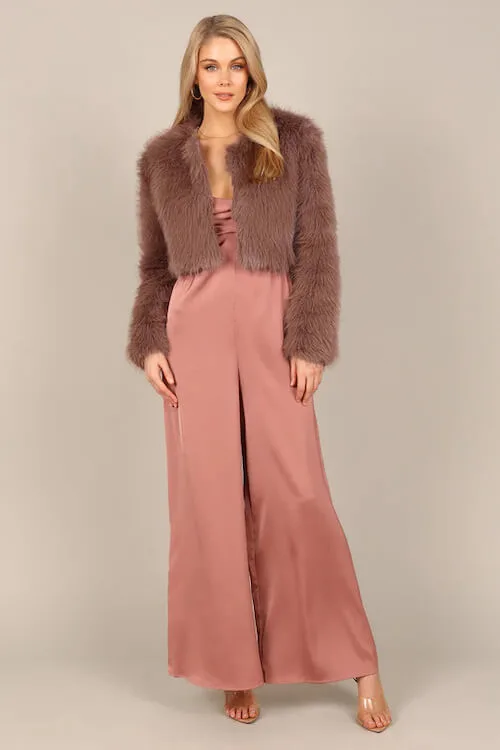 For a bold and daring look, consider pairing a faux fur coat with a jumpsuit.
This unexpected look is sure to draw attention on any night out.
The cozy texture of the faux fur and the sleek silhouette of the jumpsuit will create an interesting contrast and make for an unforgettable outfit.
Satin Blazer + Mini Dress + Black Tights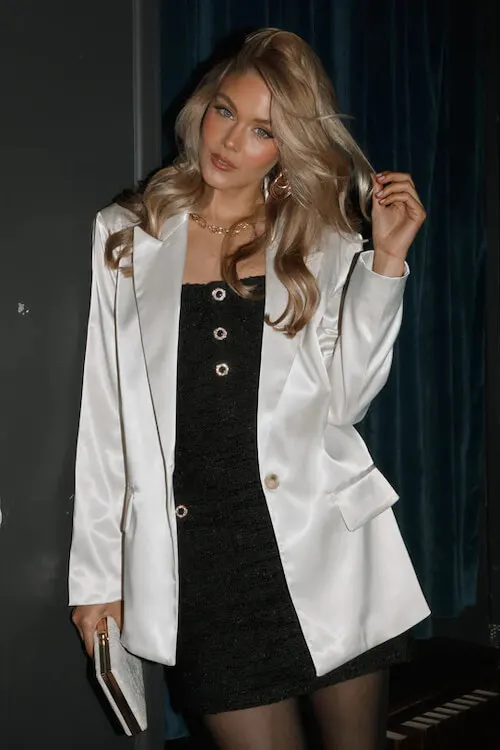 Whether it's dressed up with dark ankle boots or given an edge with biker boots, this outfit will be sure to turn heads wherever you go.
And for those chilly days, finish off your ensemble with some opaque black tights for extra warmth and comfort.
Black Midi Dress + Strappy Sandals
Whether you choose to go bold with bright accessories or keep it subtle and simple, a black midi dress is sure to make a chic statement that will take you through New Year's celebrations year after year.
Silky Jumpsuit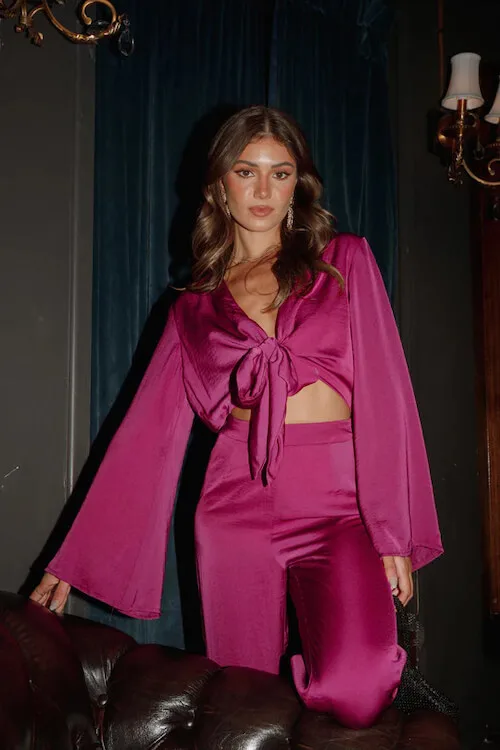 Whether you're having an intimate dinner or heading out to the hottest party in town, there's no better way to stand out from the crowd than with a stylish and comfortable jumpsuit.
Look for one made from luxe fabrics like satin, silk, or even velvet, and team it with some standout accessories for an unforgettable holiday evening.
Crop Top and Palazzo Pant Set
A crop top and palazzo pant set is a stylish and comfortable way to start the year off right.
This outfit is perfect for an evening of fun with friends or family, or for a night out on the town.
Mini Tulle Dress
This light and cute ensemble is flattering on all body types, making it an easy go-to when you want to look effortlessly stylish while ringing in the new year.
Champagne One Shoulder Top + Black Leather Pants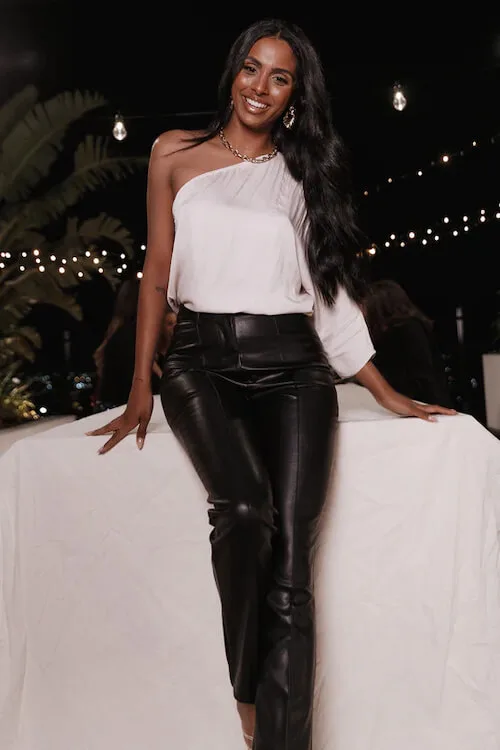 The beautiful hue of the top adds a glamorous touch and pairs perfectly with the edginess of the pants.
Velvet Jumpsuit + Slingbacks
The best part about these pieces is that they can be dressed up or down depending on the occasion.
For more formal events try pairing your jumpsuit with sparkly jewelry and metallic heels for extra glamour.
On the other hand, if you're attending something more casual like a barbeque or bonfire, wear your velvet jumpsuit with some comfy sneakers and minimal accessories.
Peplum Top + Leggings + Pumps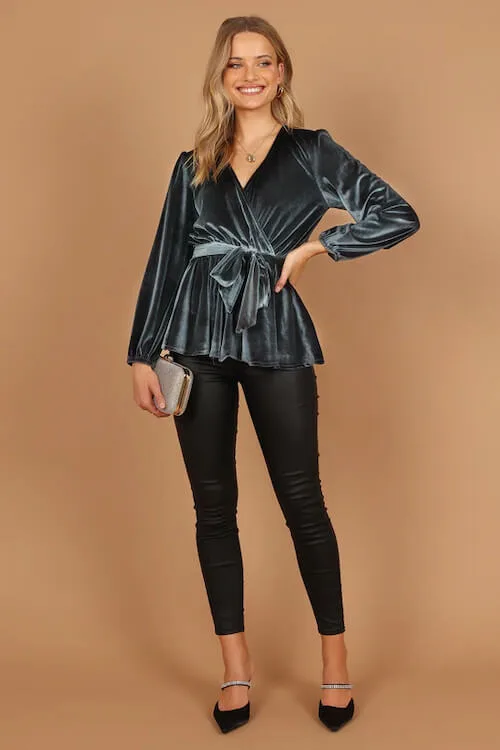 This classic combination of items gives you a put-together look that won't leave you feeling overdressed or underdressed.
The fitted peplum top defines your waist, while the leggings offer comfort and style.
Paired with a pair of statement pumps.
Blush Plaid Mini Skirt + Long Sleeves Top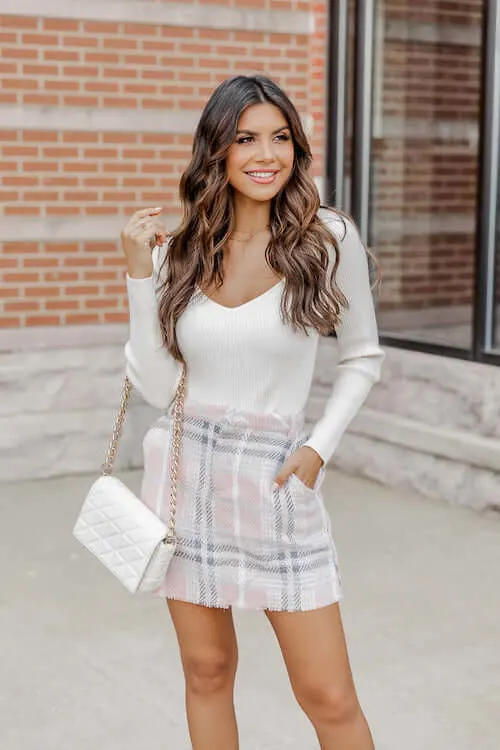 The blush color of this outfit gives it a dreamy, romantic feel that will be sure to turn heads when you walk into the room.
Midi Sweater Skirt Set + Black Boots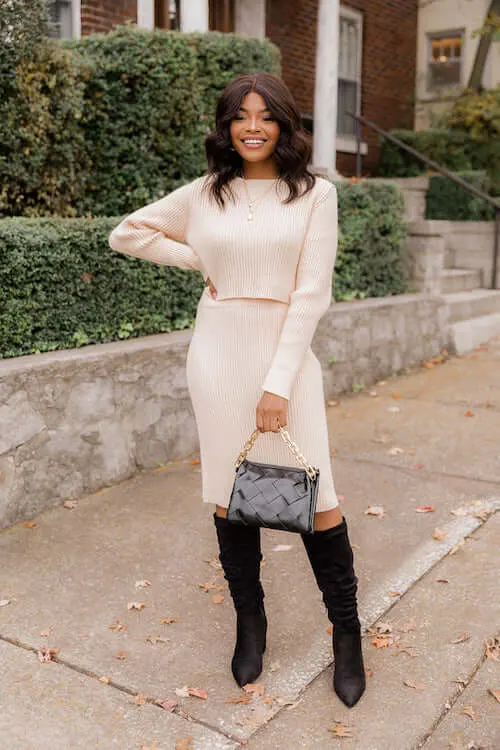 A midi sweater skirt set paired with black boots is a great way to look stylish while keeping it cozy.
Leopard Velvet Top + Casual Jeans
Black Crop Top + Leather Straight Pants
Cutout Midi Dress + Coat
Statement Top + Leather Pants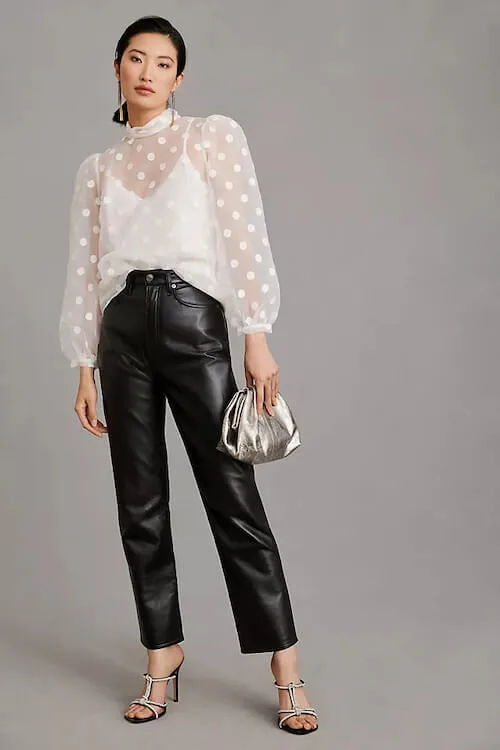 Half-Zip Sweater + Shorts + Over-The-Knee Boots
Fringe Sweater + Leather Pants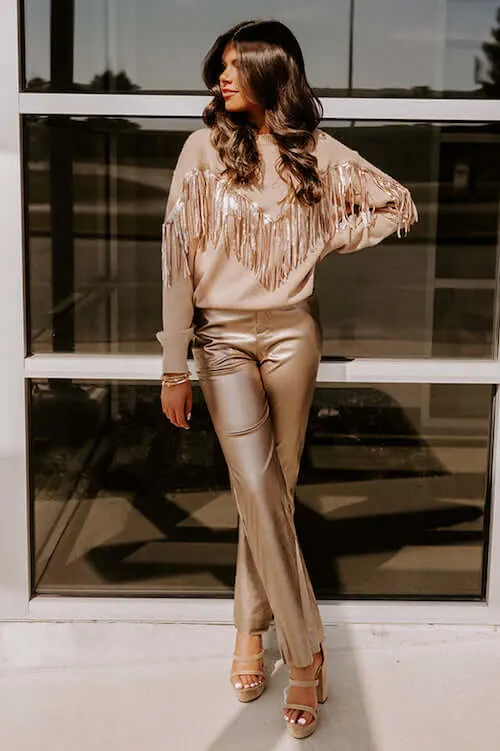 Cream Sweater + Jeans + Pink Beanie
Hot Pink Sweater + Leather Shorts + White Boots
Cable Knit Sweater + Mini Skirt + White Boots
Shift Sweater + Black Leather Pants + Black Hat
Crop Sweater + Mini Skirt + Short Boots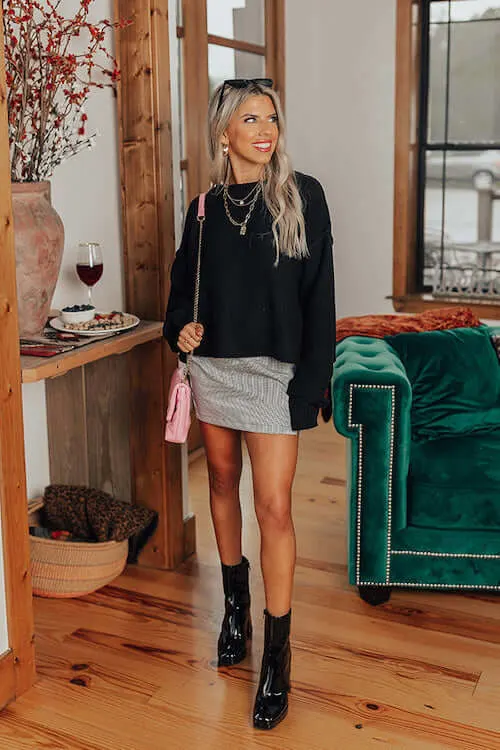 Chunky Turtleneck Sweater + Leather Skirt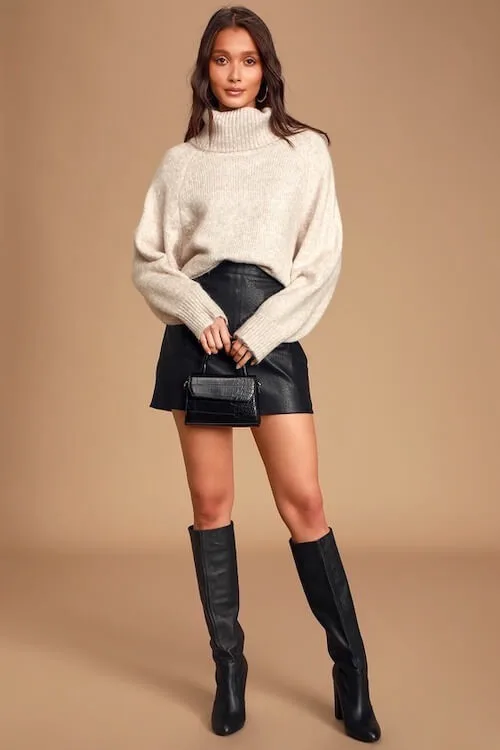 Animal Print Wrap Midi Skirt + Simple Top + Ankle Boots
Burgundy Velvet Blazer + White Jumpsuit
Velvet Top + Velvet Pants
Pink Sweater + Black Skirt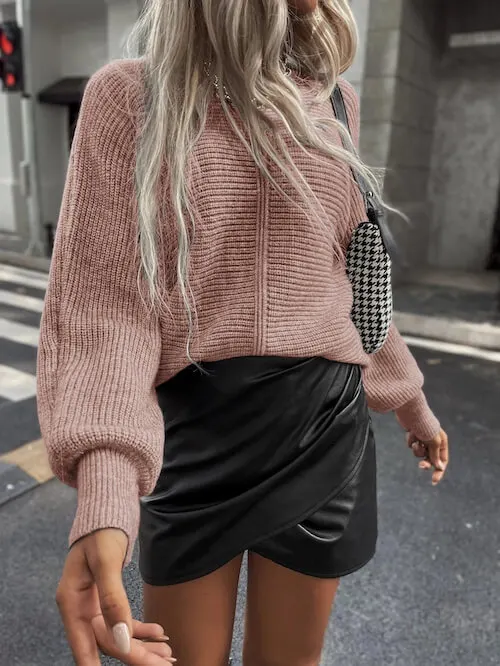 Tweed Button-Up Top & Skirt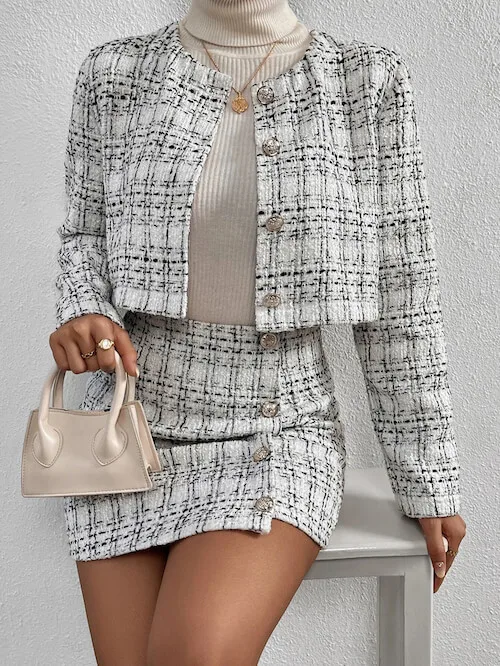 Cable Knit Belted Dress
Casual New Years Eve Outfits With Some Glitter
This New Year's Eve, ditch the sparkly cocktail dresses and opt for something more casual, yet still festive.
There's something here for everyone. From flowing midi skirts to cozy knit sweaters, each ensemble is comfortable and stylish.
Plus they all feature some subtle glittery elements that will add a little extra sparkle to your New Year's celebration.
So go ahead and check out these chic-casual looks that combine comfort and glamour.
Sequin Little Black Dress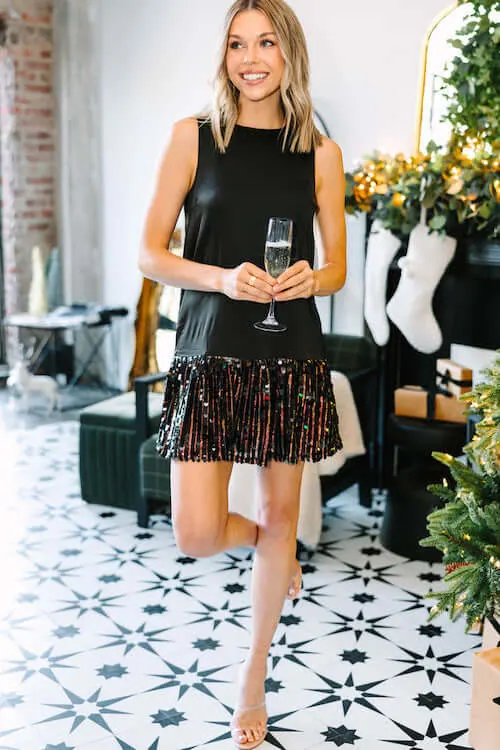 Sequins Outfit Look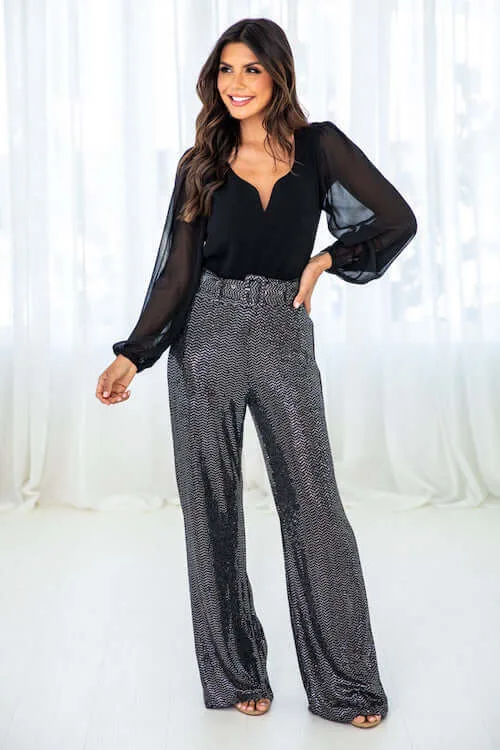 Gold Sequin Pants + White Sweater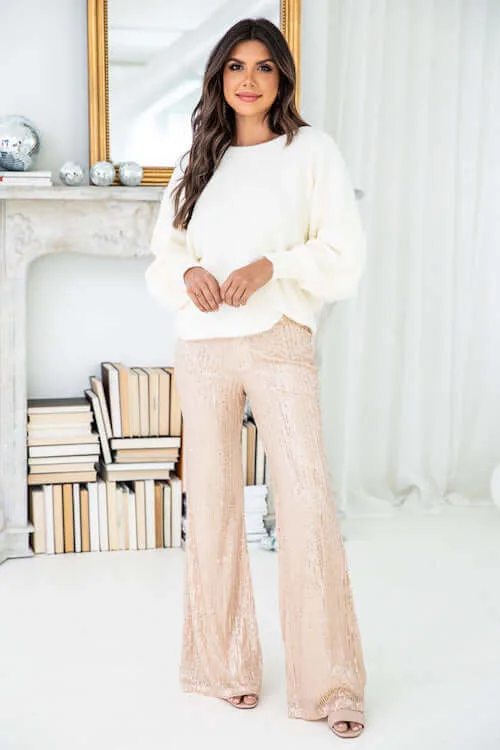 Plus Size Sequined Outfit Ideas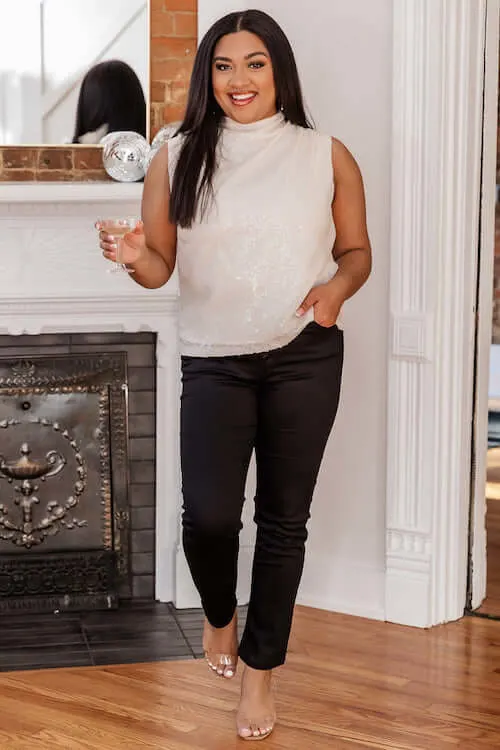 Flowy Giltter Top + Black Pants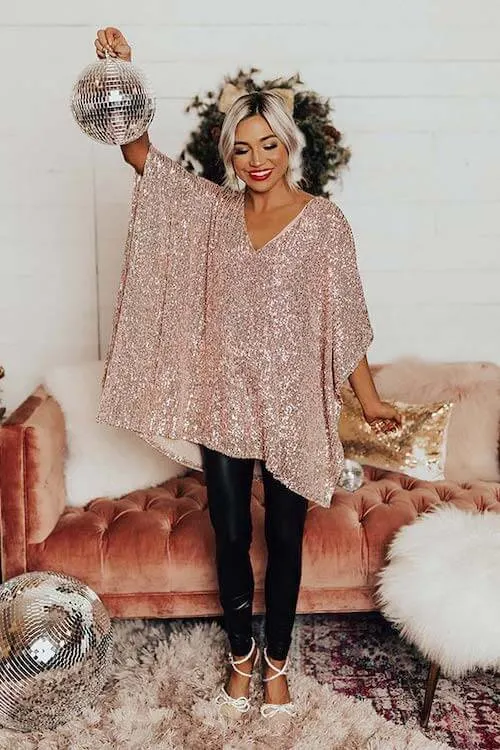 Sequin Overlay + Jeans + Heels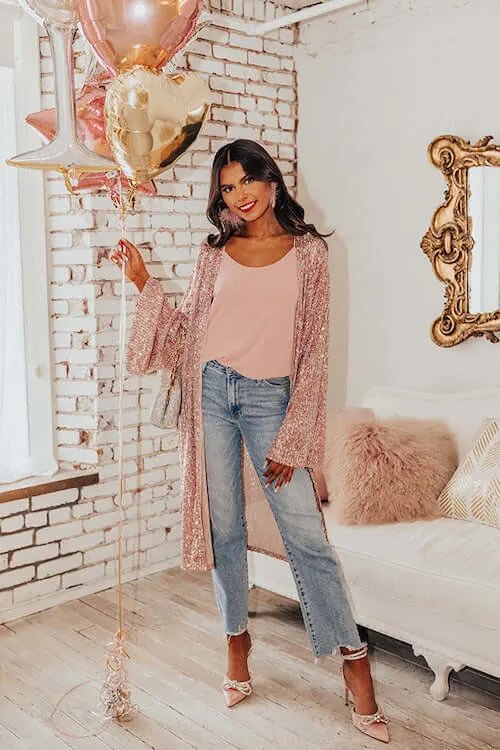 Shift Top + Crop Jeans + Pumps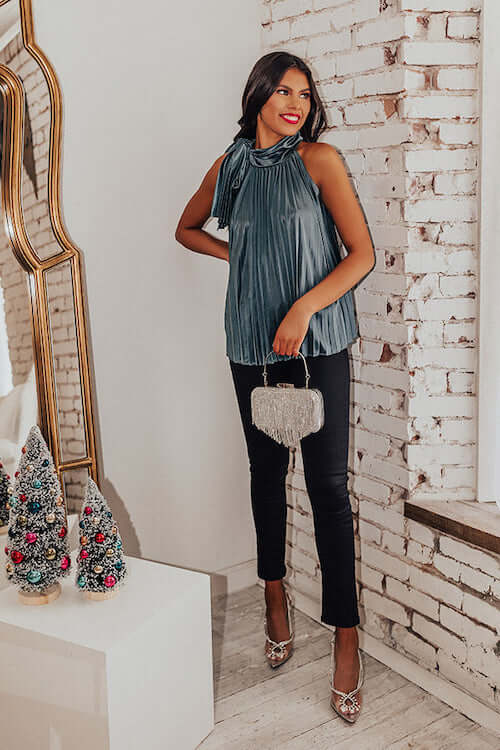 Pleated Shirt Dress + Gold Bag
Sparkle NYE Outfit Ideas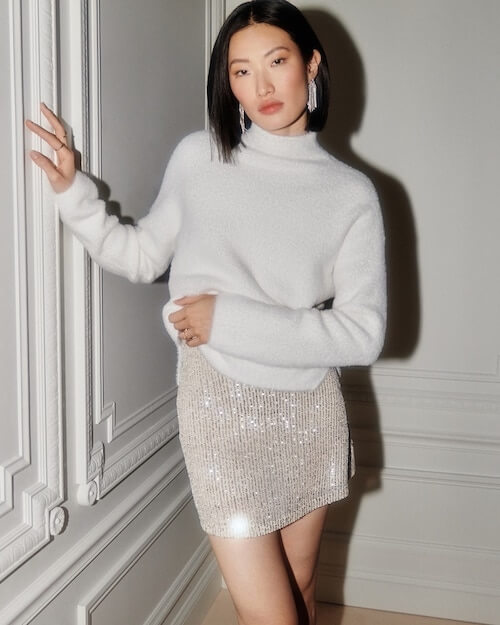 Rose Gold Sequin Midi Skirt + Knit Top
Black Sequin Beaded Wide-Leg Jumpsuit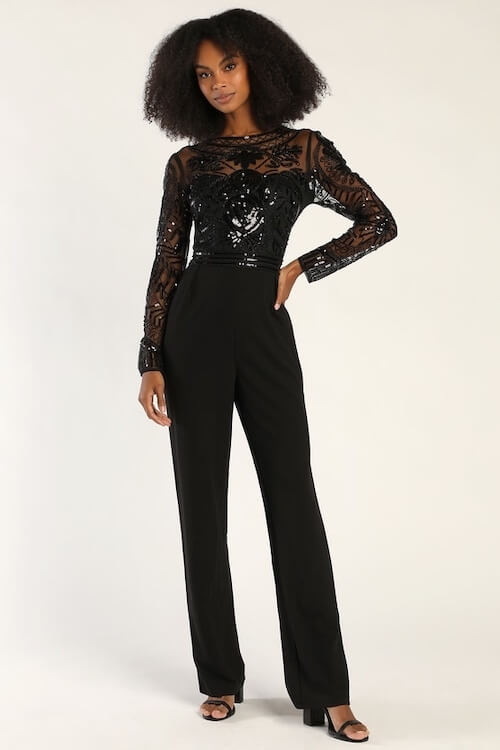 Glam New Years Eve Outfit Ideas
Shine bright in an all-over glitter jumpsuit paired with metallic heels for an eye-catching ensemble that will make sure all eyes are on you come the new year.
For those who prefer something more lowkey, opt for an embellished sweater matched with skinny jeans and statement earrings for a sophisticated take on comfort dressing.
House Party Casual New Years Eve Outfits
A classic yet comfortable look can be achieved with a simple cardigan.
Choose a light-weight cardigan in either black or brown, depending on your preference.
Layer it over a basic top like a white t-shirt for an effortless yet chic finish.
For those that want something dressier, opt for satin pants instead of jeans.
Style them with heels and sparkly jewelry pieces for an eye-catching silhouette.
Winter Casual New Years Eve Outfits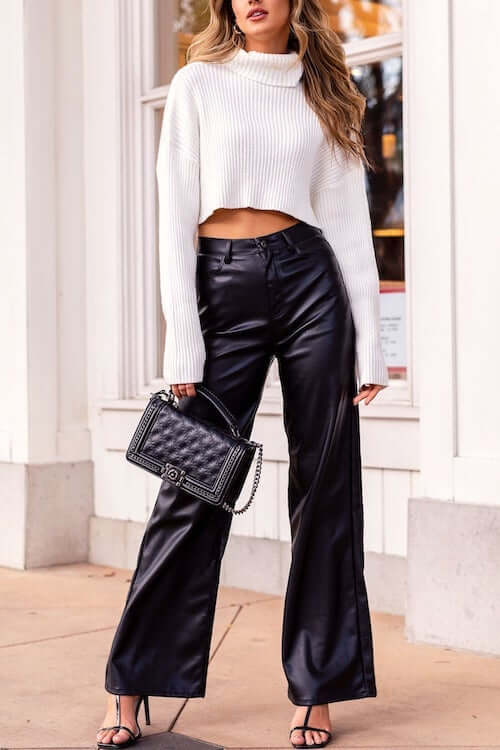 What To Wear On NYE In Cold Weather?
When it comes to ringing in the new year in cold weather, there are a variety of chic and casual styles that can keep you warm while looking stylish.
To create an effortless look for your night out, start with a pair of tights or skinny jeans, then pick one statement piece such as a long coat or chunky sweater.
Complete your outfit with black booties and accessorize with statement jewelry pieces like oversized earrings and bracelets.
For added warmth and style, layer a faux fur shawl over your ensemble.
Finish off the look with a bold lip color or smoky eye and you'll be ready for anything the new year brings!
What do you wear when it's cold on New Year's Eve?
If you're looking for the perfect outfit to wear on New Year's Eve, but don't want to be too fancy, then a casual look is a way to go.
Whether you plan on staying in with your family or going out with friends, there are plenty of stylish options for keeping warm and cozy when temperatures drop.
Start off by layering up with a lightweight turtleneck sweater and an overcoat.
This will provide insulation so that you can enjoy time outdoors without feeling chilly.
Add some texture with a pair of corduroy trousers that come in all sorts of colors and styles.
For extra warmth, choose boots made from waterproof materials like suede or leather, which will help keep your feet dry while adding some flair to your ensemble.
What color should I wear on New Year's Eve 2023?
One of the best options is metallic colors – silver, gold, and champagne are always popular choices.
For those looking for something a bit different for their New Year's outfit, why not try sequined metallic blue or pink?
Or for a more subtle look, go for purple, gray, or black.
If you want something really special, ivory is a great choice too! No matter which color you pick, you'll be sure to find out a great outfit to shine on New Year's Eve.
This post was about casual New Year's Eve outfits.
Related Posts: