Looking for tips for Parisian style? Check this post for the wardrobe staples that every Parisian girl has to create a Parisian chic look.
As a classic style, the Parisian style has always been liked by many people. The leisure, casual, and ease conveyed in the French style of wearing is also a kind of life we ​​yearn for.
Today I recommend to you several simple and beautiful Parisian dressing formulas. These single products and dressing formulas are very classic, allowing you to create your Parisian style effortlessly.
This post may contain affiliate links, which means I'll receive a commission if you purchase through my link, at no extra cost to you. Please read the full disclosure here.
This post is all about Parisian style.
6 Classic Formulas To Get Parisian Style
1. Open-toed sandals + White Pants
Girls who often pay attention to Parisian street style photography must be very familiar with open-toed sandals. These sandals are a must-have item for French wear. Countless bloggers have interpreted it.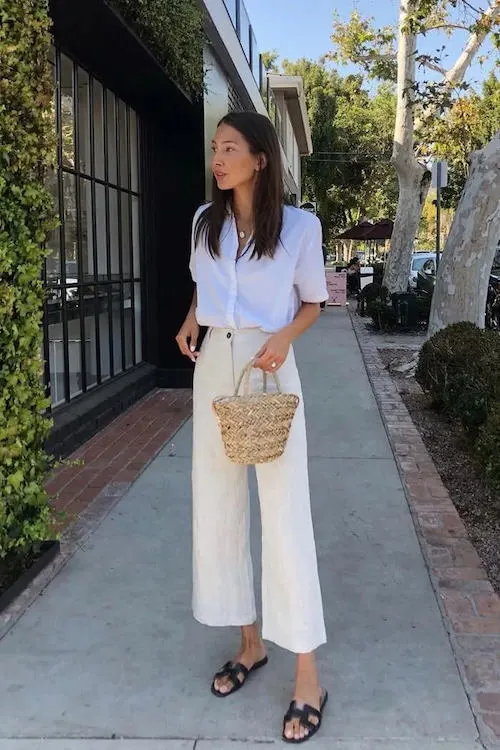 A pair of simple and comfortable open-toed slippers, or low-heeled sandals that add a little elegance, paired with crop white jeans, is romantic.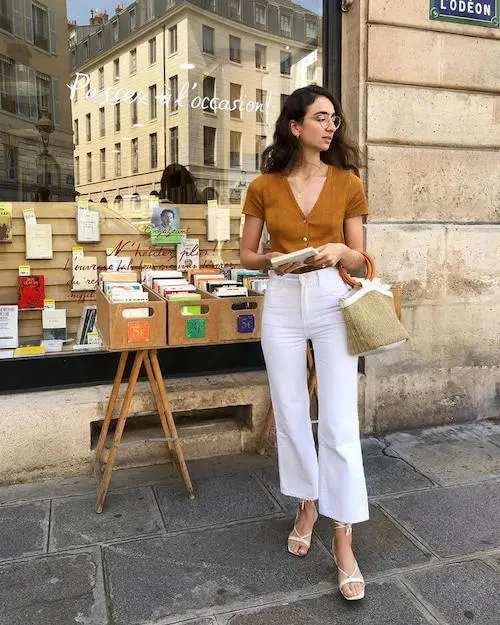 The open-toed leather sandals seem to have magical power. Although the style is simple, it does not make people feel sloppy or rude.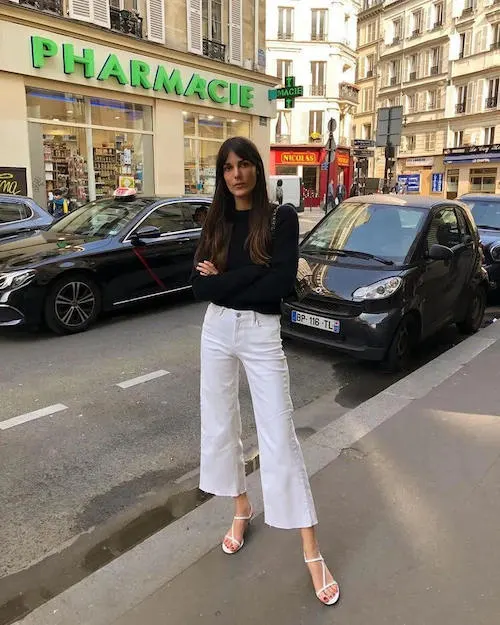 2. Floral Dress + Woven Bag
In addition to white or brown open-toed sandals, this woven bag is also a must-have for Parisian girls' wardrobe.
In the street style photos, we found that the appearance rate of this woven bag is very high, and the Parisian girl almost goes wherever he goes.
A floral dress is a common item in the Parisian style. The most suitable single product with the woven bag is the tiny floral dress with V-neck. It feels like a vacation.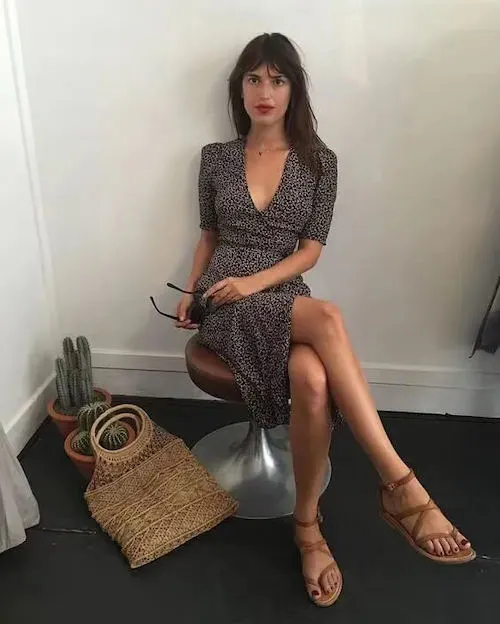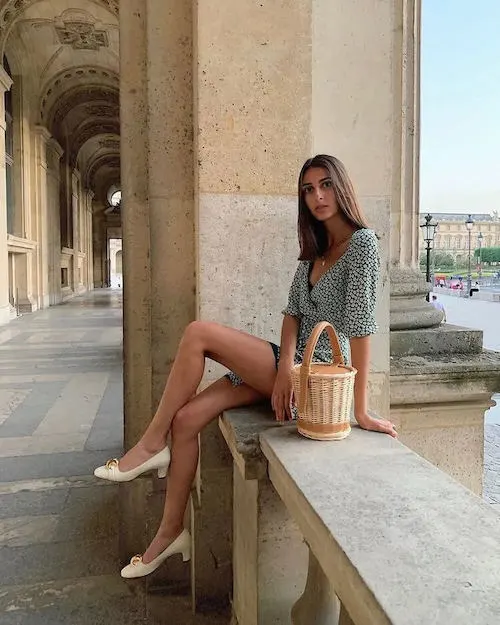 When matching the cami dresses, let the hair fall loosely to create a more casual and chic style.
3. Striped T-shirt + Silk Scarf
The lively and bright navy striped shirt is an essential style for all ages.
If you want to wear it out of Parisian style, you need to choose a simple T-shirt.
The navy striped T-shirt paired with an elegant small silk scarf is an extra playful and chic way to wear.
Elegant, playful, and full of vitality, these are also the keywords of French style.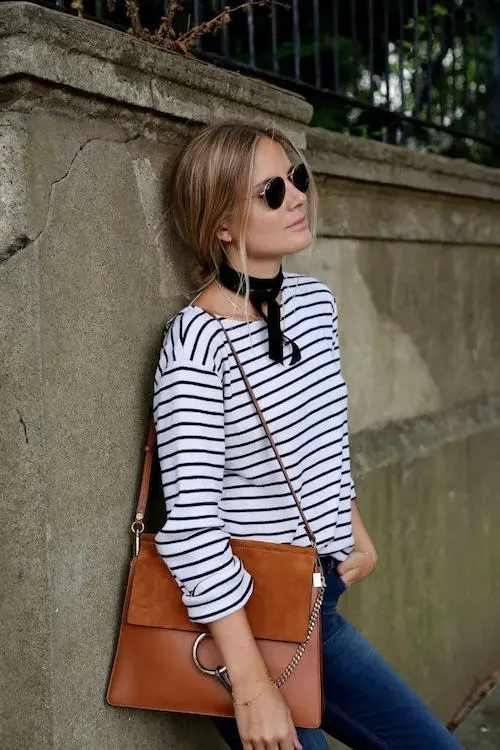 In slightly cold weather, you can put a black jacket over the T-shirt. A black blazer or a black leather jacket are both excellent choices.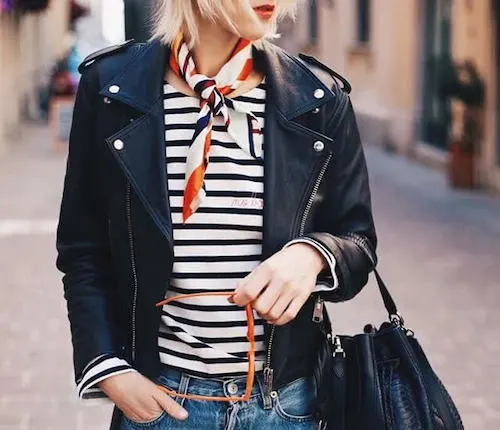 4. Light blue shirt + Dark Blue Pants Or Jeans
Blue has always been one of the favorite colors of the French, especially blue button-down shirts.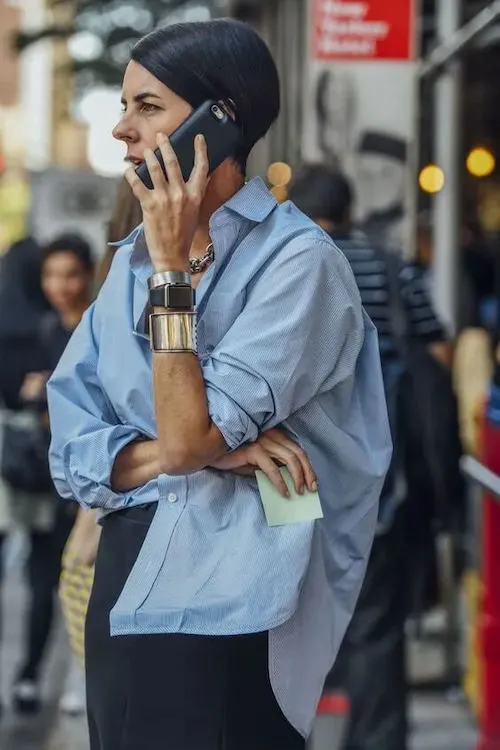 Its clean, lively, and excellent texture is in line with the French architectural style.
If the V-neck printed dress is the romantic side of the Parisian style, then the blue shirt with pants represents Parisian taste and elegance.
This combo is also very suitable for work outfits, looks elegant and professional.
Simply paired with blue jeans is showing laziness, relaxation, and fashion.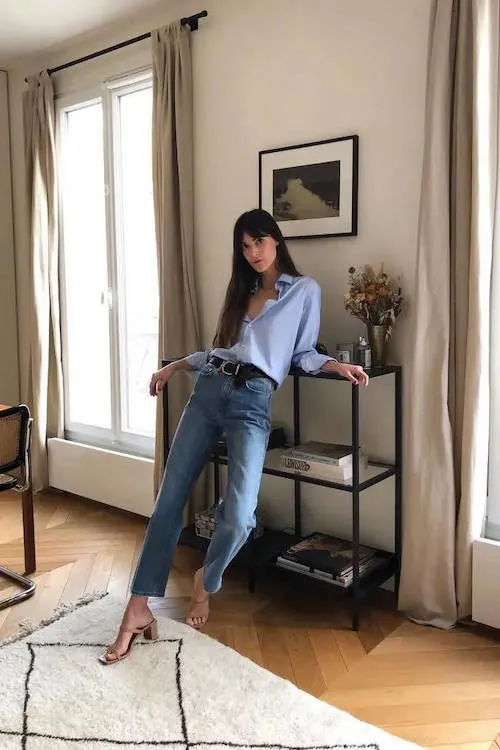 5. Knitwear + Skirt
A knit sweater with fine texture and simple style is also a must-have item for Parisian girls' wardrobe.
You can pair it with any item.
But the idea of ​​a knit sweater with a beautiful skirt is especially suitable for most girls.
A knitted cardigan is also a perfect item. Fasten the buttons of the knitted cardigan to reveal your beautiful neck.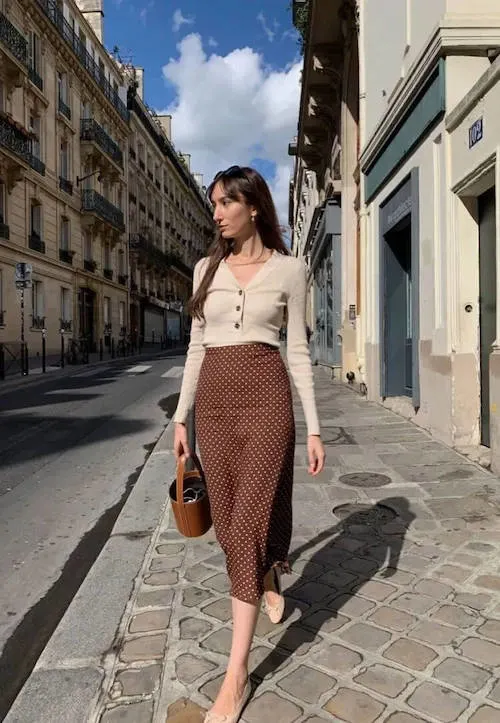 6. Classic Khaki Trenchcoat + White Pants
A classic khaki trench coat is an item that girls like Parisian style should prepare as soon as possible.
If you compare clothes to people, the khaki trench coat should be the "loveliest person in the crowd."
The khaki trenchcoat itself is a beauty. And when paired with other items, it can be well-coordinated with other items so that the overall fashion and elegance of the outfit are raised to another level.
The trench coat can be matched with almost all items, but if you want to wear a bright feeling, it is recommended that you wear a pair of white jeans.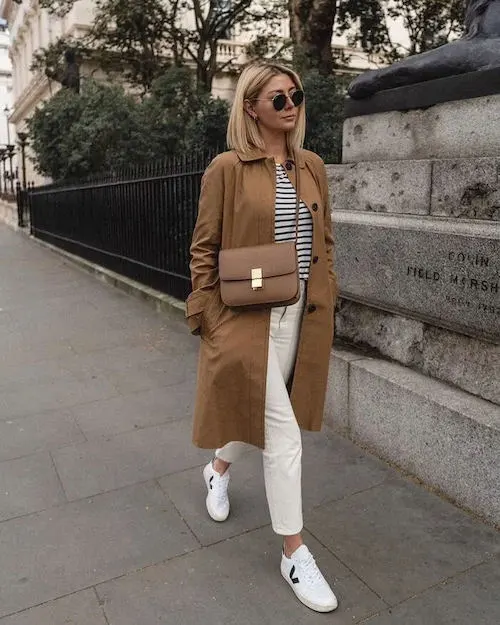 To emphasize the casual and cozy temperament, the texture of the windbreaker should be good enough.
In this way, even the simplest and ordinary Tee in the trench coat will not make the overall outfit feel cheap.
While learning to dress more elegantly and relaxedly from Parisian girls, don't forget to cultivate an excellent attitude towards life.
The outfits should be to please yourself, appreciate yourself, and love yourself. The joyful spirit of Parisian girls is equally worthy of our learning.
This post was all about Parisian style.
About The Author
Tracy is an experienced personal stylist, shopping expert, and fashion & lifestyle blogger. She has been featured on Time Magazine, Bustle, Best Life, Glam, The Zoe Report, Mic, and GOBankingRates, for her insights on fashion, beauty, home decor, and lifestyle. Read More
Related Post: