Looking for tips on how to get Parisian summer style? Check this post for the trendiest outfit ideas of French style to level up your look this year!
There is one style that is always repeatedly mentioned in the summer months, and that is the Parisian style.
In today's post, we are sharing the easy-to-copy formulas to wear Parisian women style this summer. These tips can help you create a French style that is lazy and casual and has a retro romantic feeling, popular on the streets of Paris. French bloggers and some fashion bloggers who love French fashion style also make their effortless look in these ways for the hot days.
And I am also sharing with you what classic items are in every French woman's wardrobe, what are the travel essentials for your perfect Paris packing list, and the most important rules for chic Paris outfits in the summer season.
So scroll down to check these ideas to help you get your own French girl style, and don't hesitate to pin the ideas and share them on social media.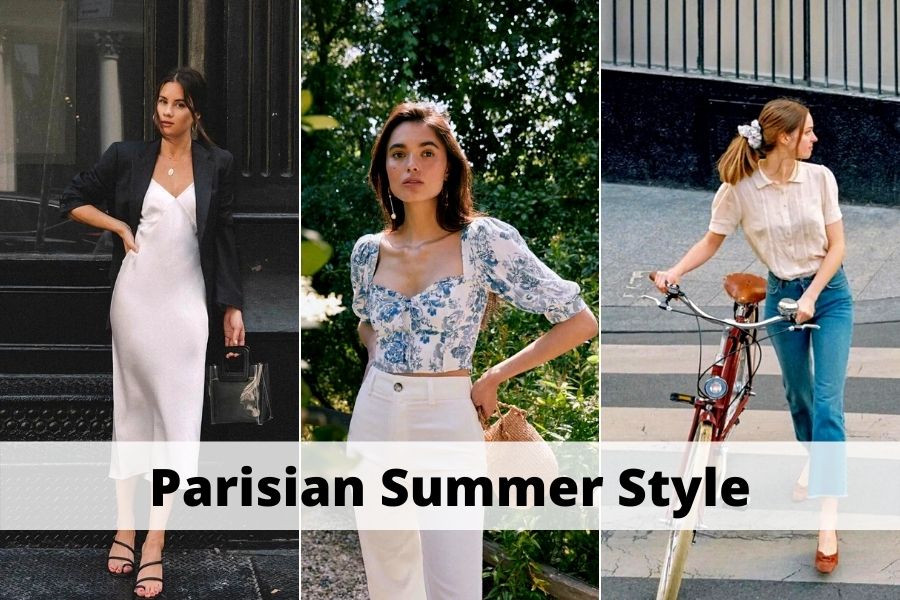 This post may contain affiliate links, which means I'll receive a commission if you purchase through my link, at no extra cost to you. Please read the full disclosure here.
This post is all about Parisian summer style.
How To Get Parisian Summer Style: What To Wear In Paris Summer
Parisian Summer Style 1: Collar Blouse + Jeans
Collar blouse + jeans is one of the most classic French combos. The representative of French style Jane Birkin wore it like this in the last century.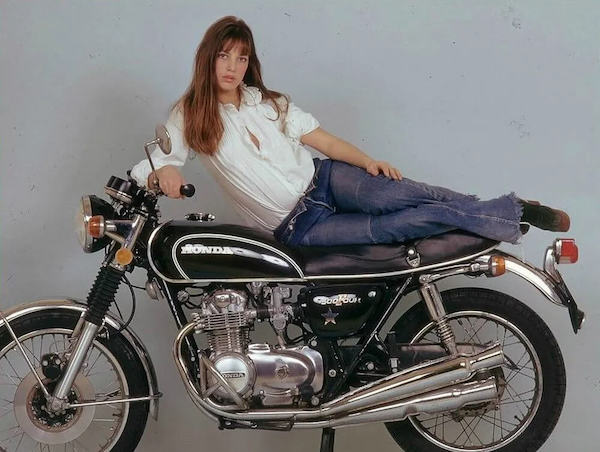 via Pinterest
Although this dressing formula is not as popular as "oversize shirt + jeans," the popularity is not low, and it has become more and more popular in the past two years.
Rouje used several sets of collar blouse + jeans in Lookbook.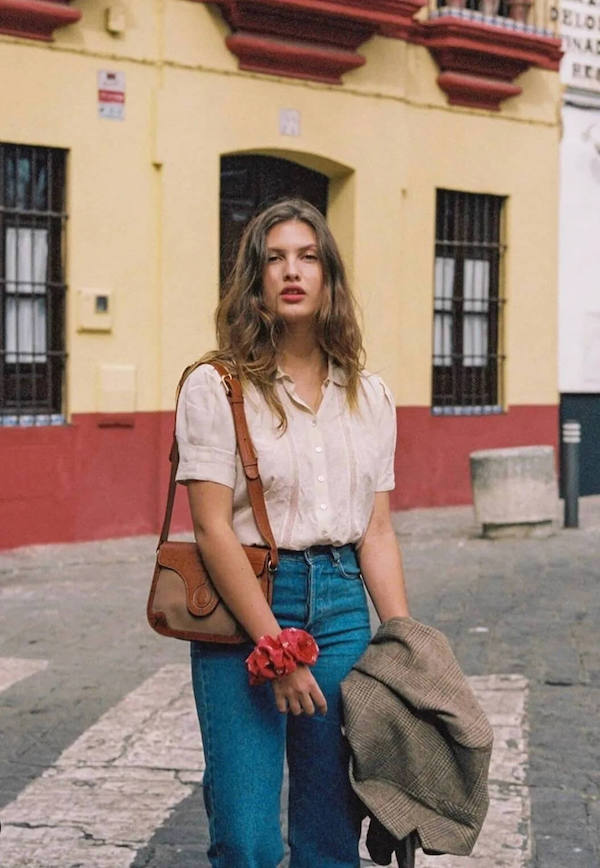 via Rouje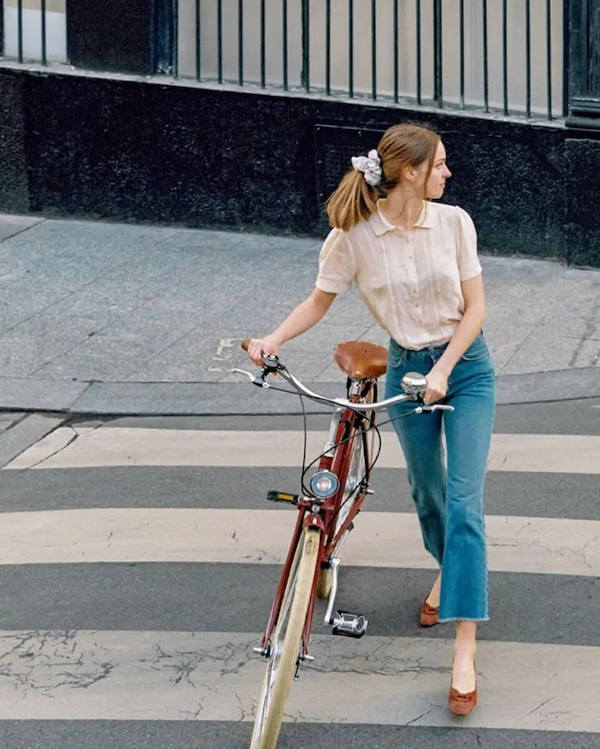 via Rouje
Many fashion magazines also love this style.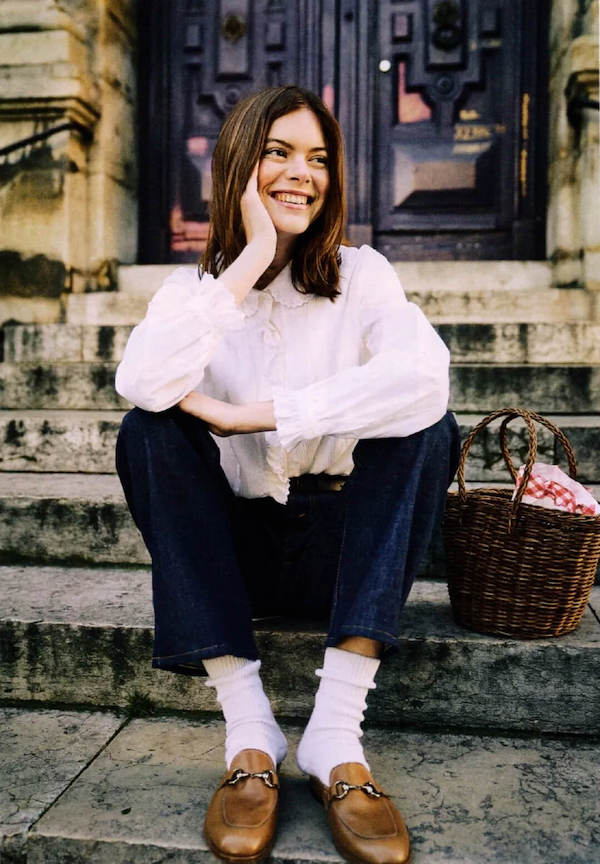 via Pinterest
Compared with the Oversize shirt + jeans, collar blouse + jeans are more retro and romantic.
However, collar blouses are more attractive than oversize shirts. Just remember one thing: choose a style with a simple design.
The collared blouses have complicated designs, including ruffled collars, puff sleeves, and other elements. But after evolution, most of them now only retain one or two design elements.
French bloggers also prefer to wear simple blouses with statement collars, which are gorgeous but suitable for daily wear. Blogger Constance Arnoult.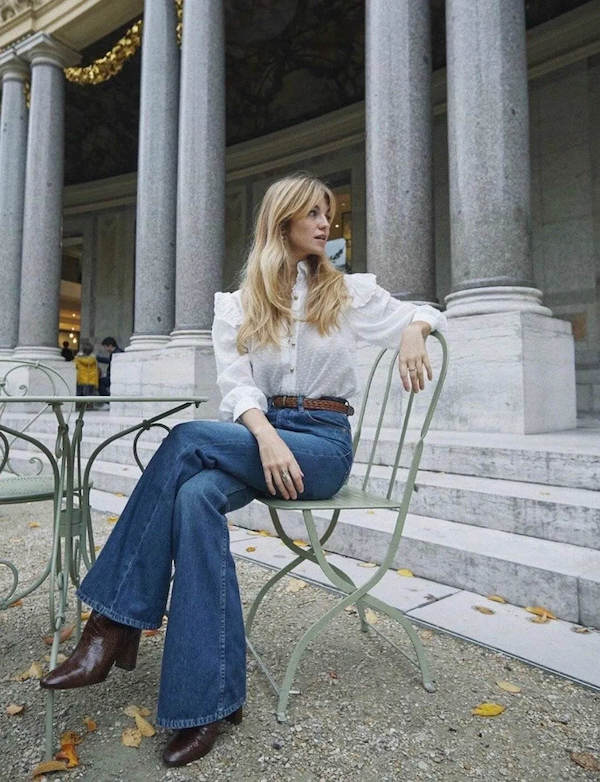 via Pinterest
Women with a thick upper body should not choose the neckline and shoulders that are too complicated.
Women with a thin upper body can try the collars and sleeves that are more exaggerated. This year's super-popular oversized V-neck collar blouses are pretty good-looking. Blogger Ines Heli.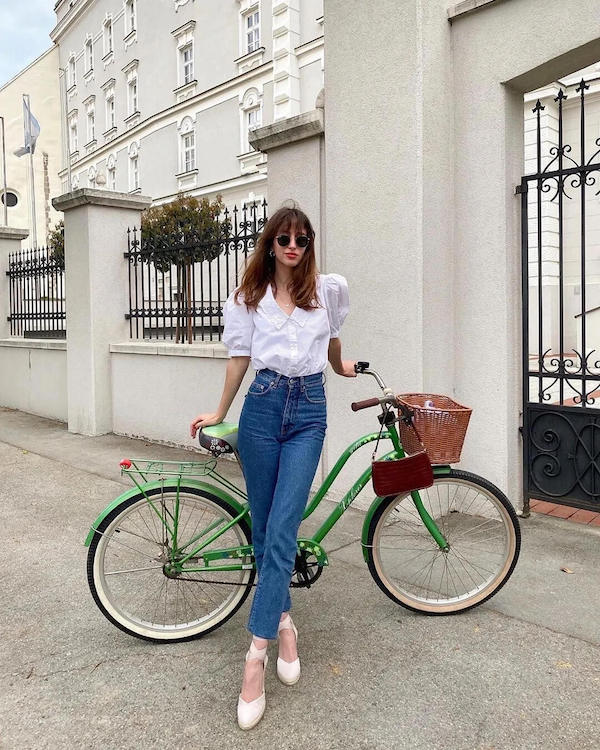 via Pinterest
The choice of jeans is relatively simple, don't choose tight-fitting models. Instead, slim-fit straight-leg jeans are the most recommended, and they look chic.
I also recommend flared pants. I like the Celine spring and summer show. There are many combinations of collar blouses and flared pants, romantic and in style.
The color of the pants is more recommended to be light-colored, which looks more refreshing. The combo of black pants + white collar blouse is also gorgeous.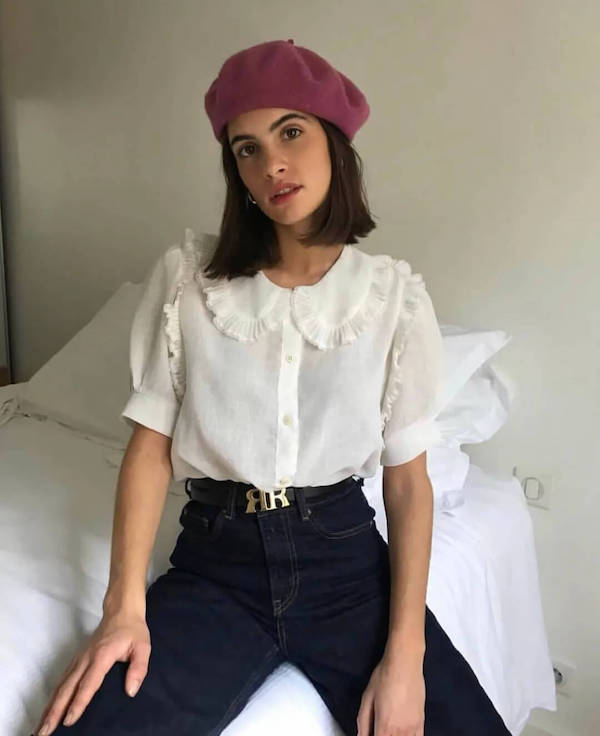 Parisian Summer Style 2: Slip Dress + Blazer
The slip dress is also a must-have item for French girls. Especially the silk slip dress, which can be worn directly alone to bring out a graceful figure.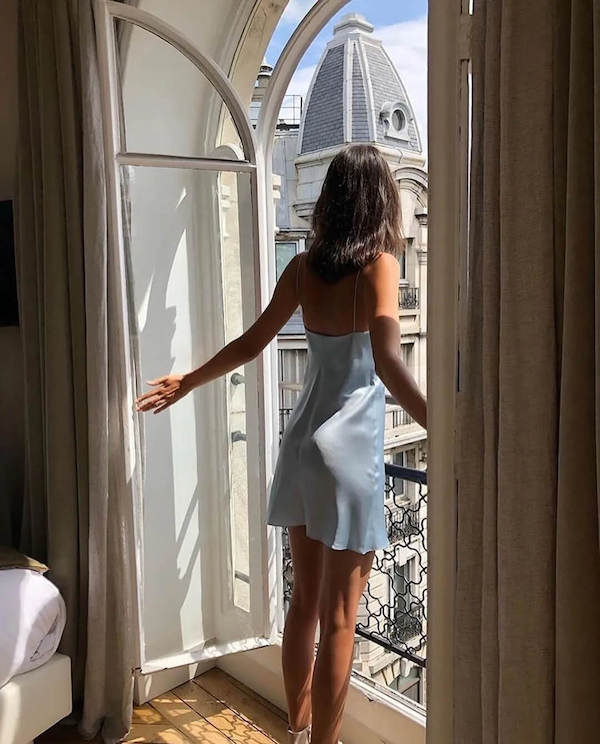 via Pinterest
For everyday wear, they usually choose canvas shoes or vintage shoes with medium and thick heels. Don't choose pointed-toe and thin-heeled shoes. They may not be daily enough.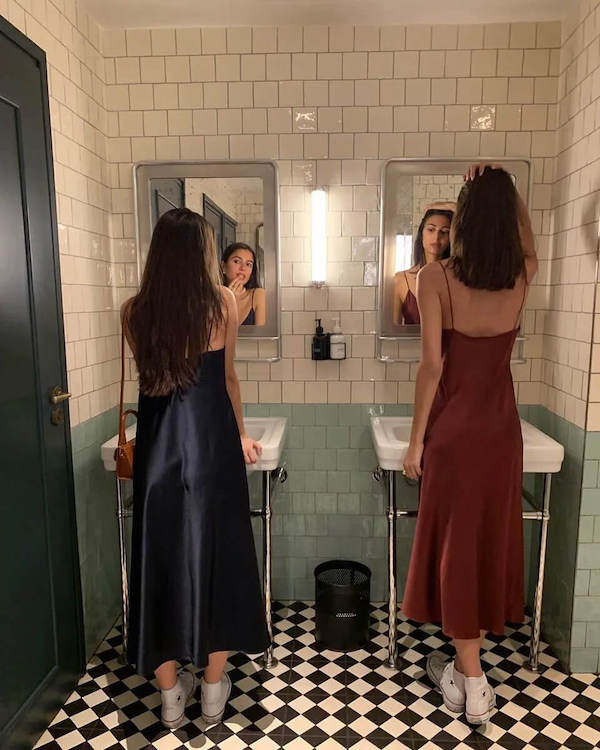 via Pinterest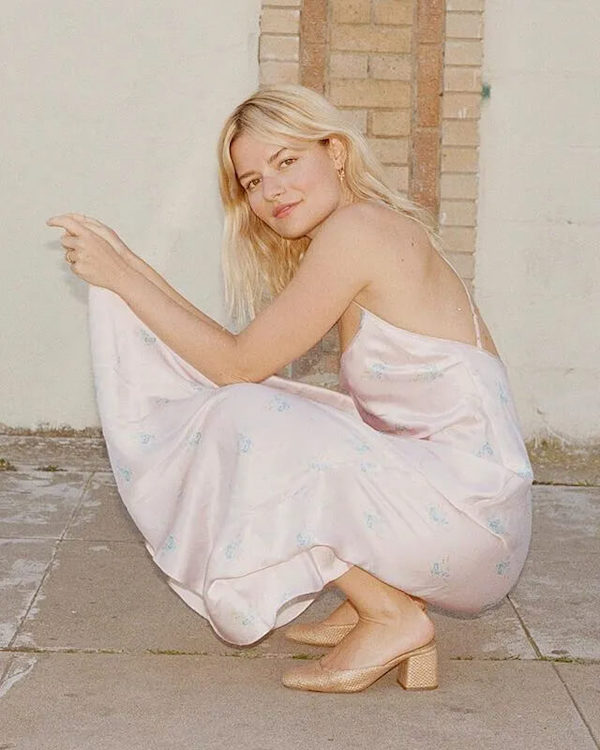 However, many girls are not used to dressing like this. Moreover, it is easy to expose the shortcomings of the figure directly by wearing it alone. Then try adding a loose blazer over the slip dress. It will help make your look better.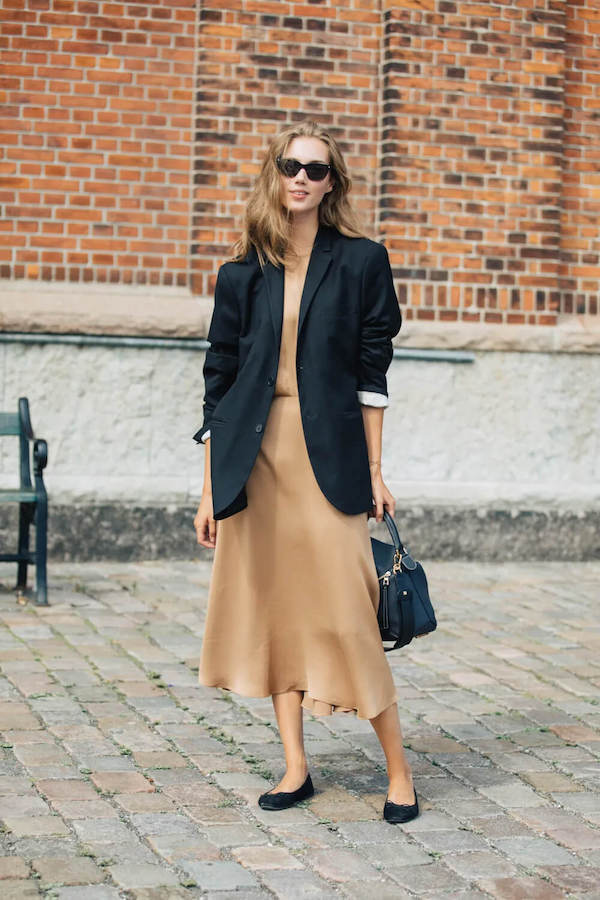 via Pinterest
After adding a suit, you add a touch of handsomeness to the sexy slip dresses, and they are not exaggerated for daily wear.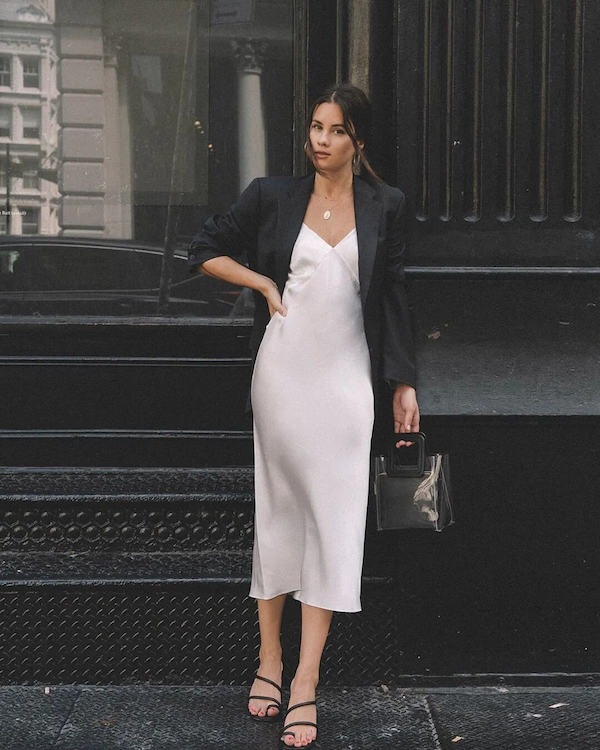 via WeHeartIt
The slip dress is refreshing and elegant. Remember to choose a blazer with a thin fabric. It will not be that hot and will be more visually refreshing.
Generally, the slip dresses are floral styles or solid-color satin styles, and floral styles are fresher.
However, I would recommend the satin or silk ones, which look more feminine and expensive.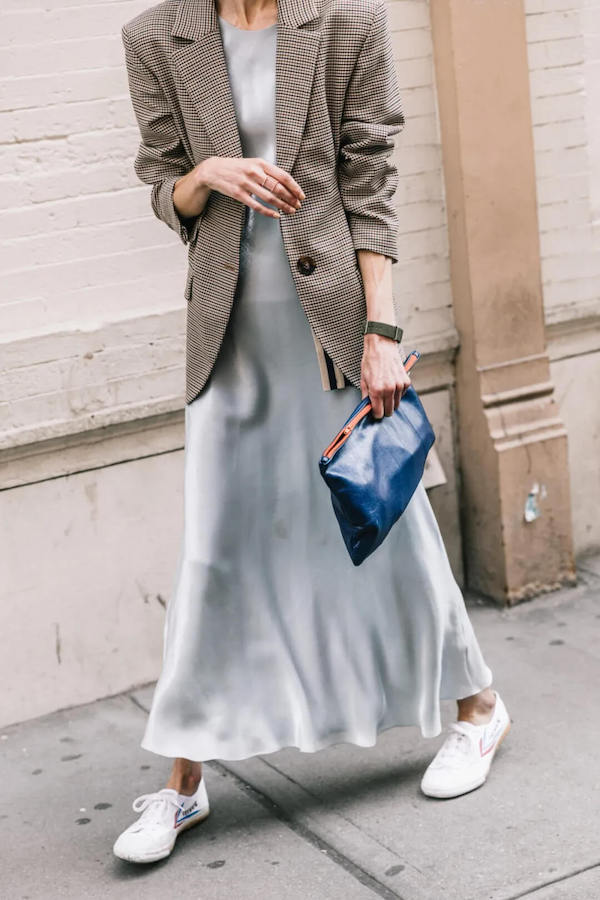 via WeHeartIt
The dresses have two styles: short and long. The short style will be sexier, and the long style will be more elegant. It is recommended to start with a long dress, which is suitable for more occasions and you can wear them more often.
In terms of color, both blazers and slip dresses can be neutral colors, which will be more elegant.
Elborn, a Korean fashion blogger based in Paris, had an all-black look, which is quite stylish. She wears almost all neutral colors. These outfits are suitable for work outfits as well.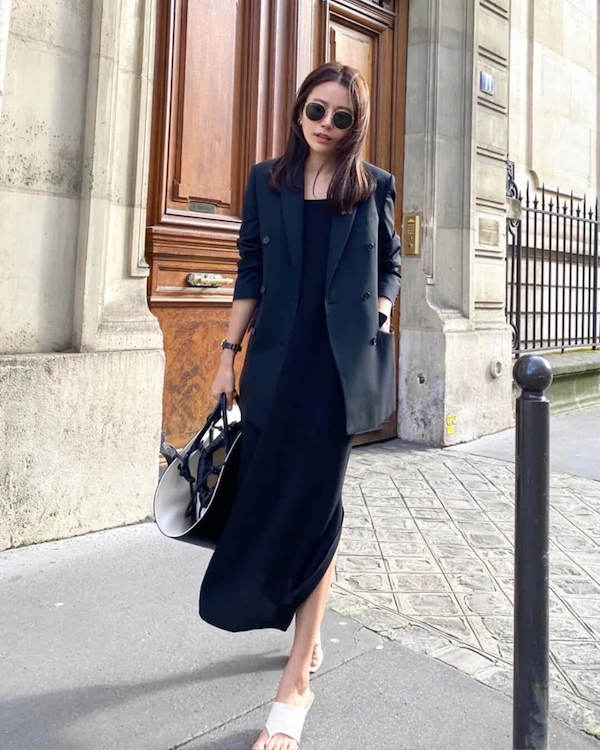 This combo of the same color looks very fashionable.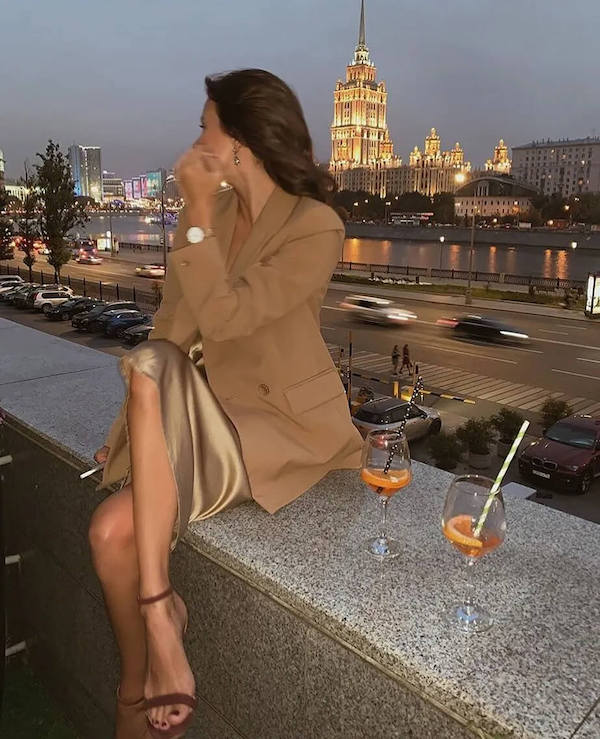 via Pinterest
Be bold and try a leopard-print silk dress, cool and stylish, when paired with a black blazer.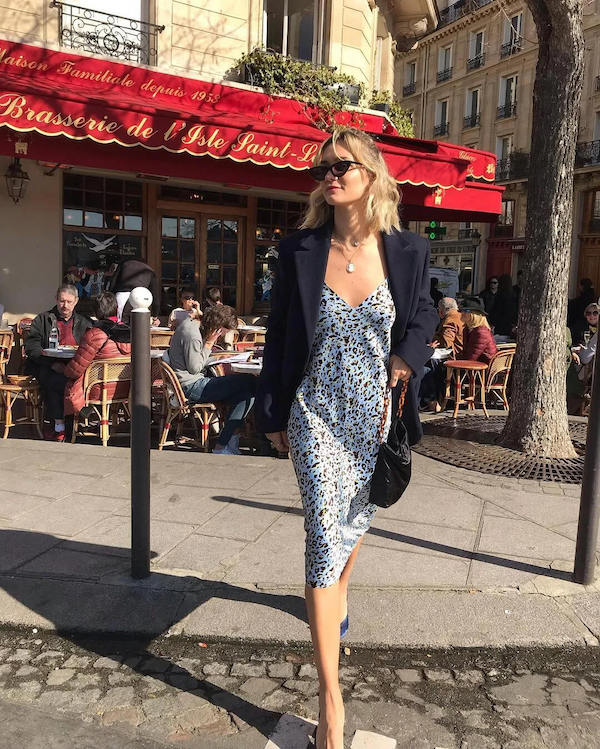 via Pinterest
Parisian Summer Style 3: Milkmaid Top + White Pants
The milkmaid tops are still very trendy feminine tops this year, and French-style bloggers love them.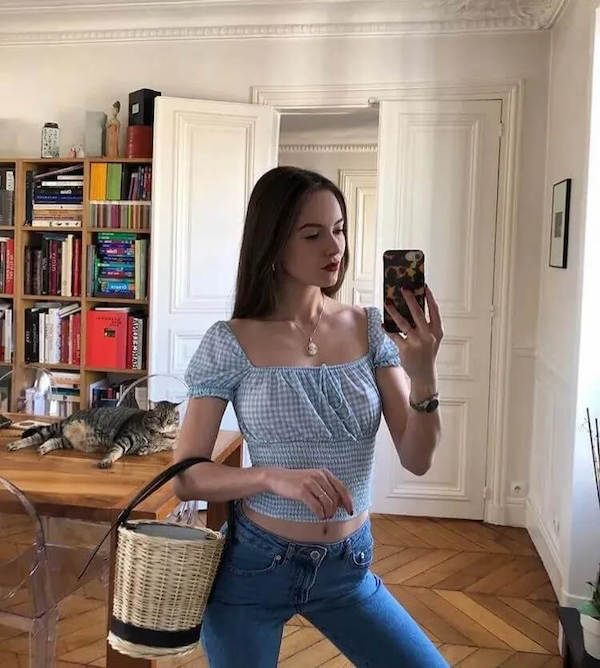 via Pinterest
Milkmaid top was developed from the work clothes worn by milkmaids in Europe in the 16th century.
Its characteristics are apparent: a large neckline, a tight waist, and a slight puff sleeve design on the sleeves, with a strong retro flavor.
This unique design shows my figure. Every time I wear it, I feel a lot thinner.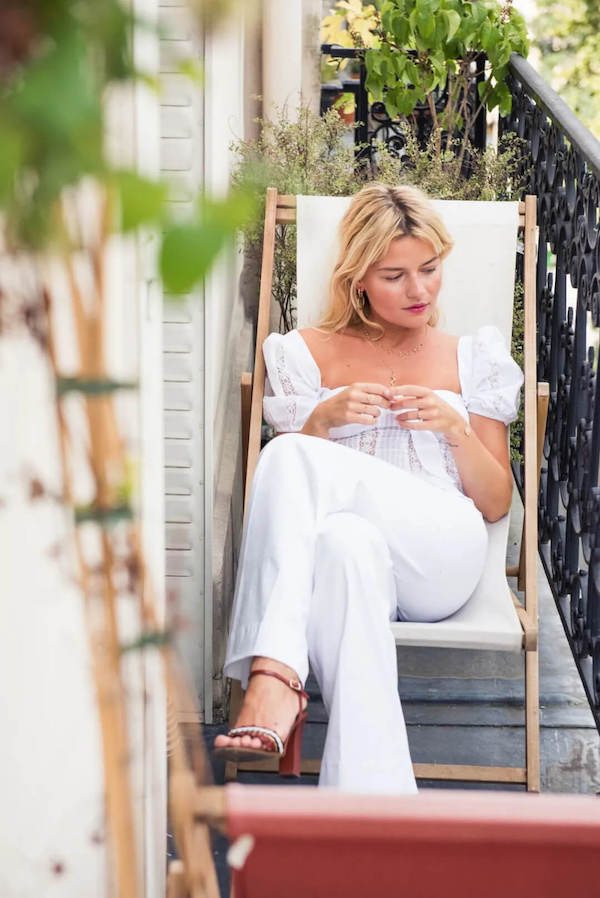 Remember not to choose loose tops for this type of top. Instead, it should be fitted or smaller in size to look good. Otherwise, the sleeves will easily fall all the time.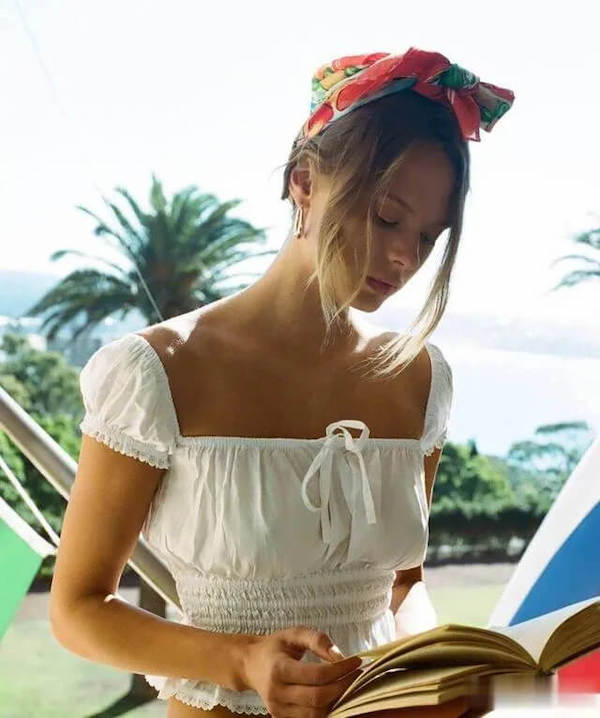 via Pinterest
The milkmaid tops are suitable matches to almost all your bottoms in your summer wardrobe, and they look good with skirts and pants. But, of course, the favorite of French bloggers is white pants, which are full of refreshingness.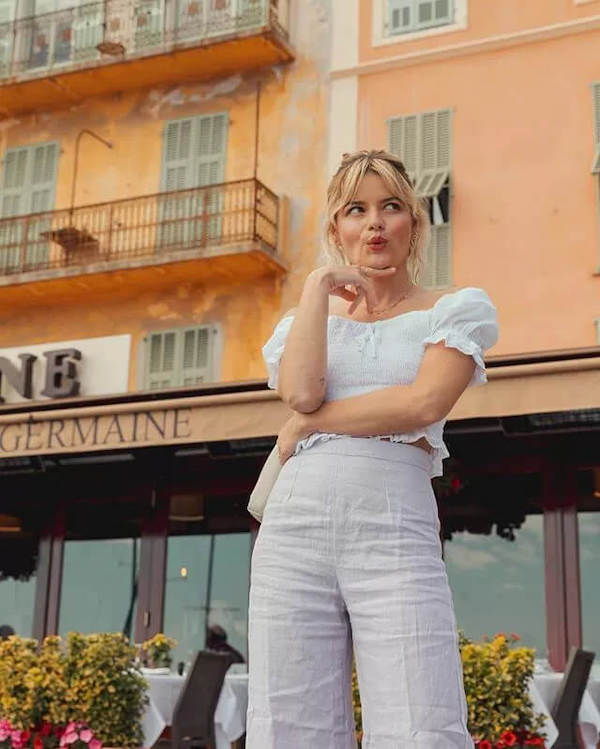 A milkmaid top with a Vichy check pattern is full of summer vibe and paired with white pants. It is perfect to wear for a picnic.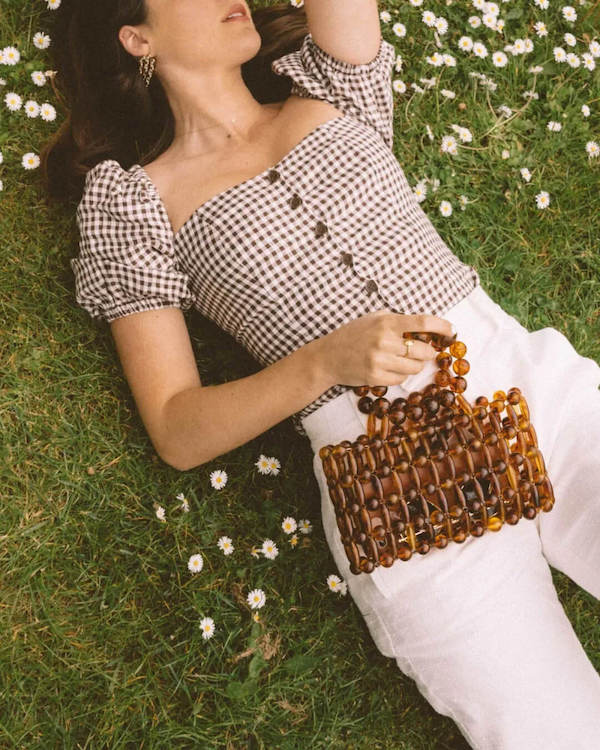 via WeHeartIt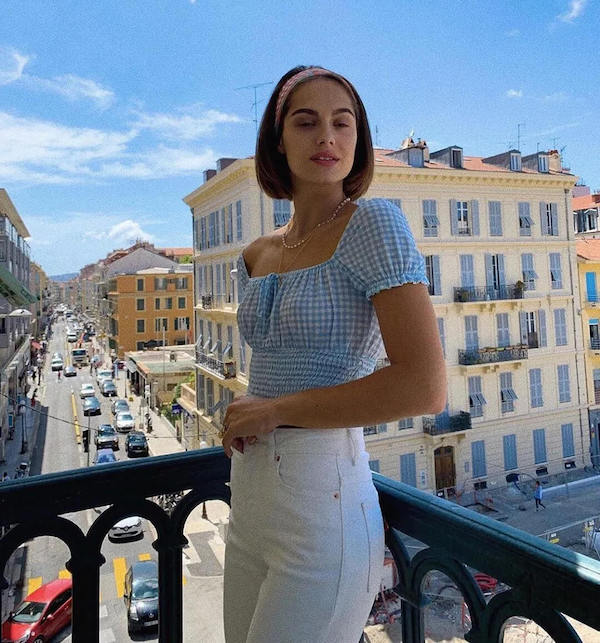 via Pinterest
I also recommend the floral version, which looks more attractive. Many French-style brands have this kind of tops, usually with straw woven bags.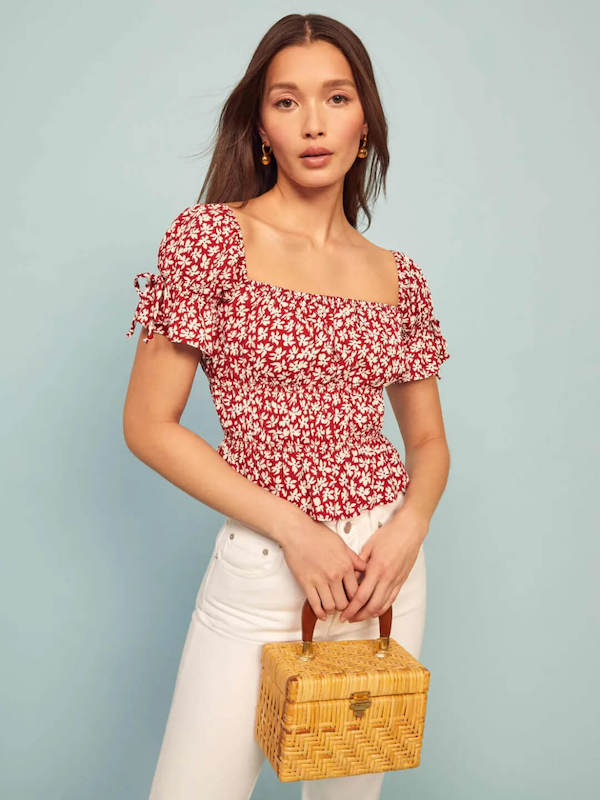 via Pinterest
These tops are also very photogenic in summer. Below is the photo from the French model Solange Smith.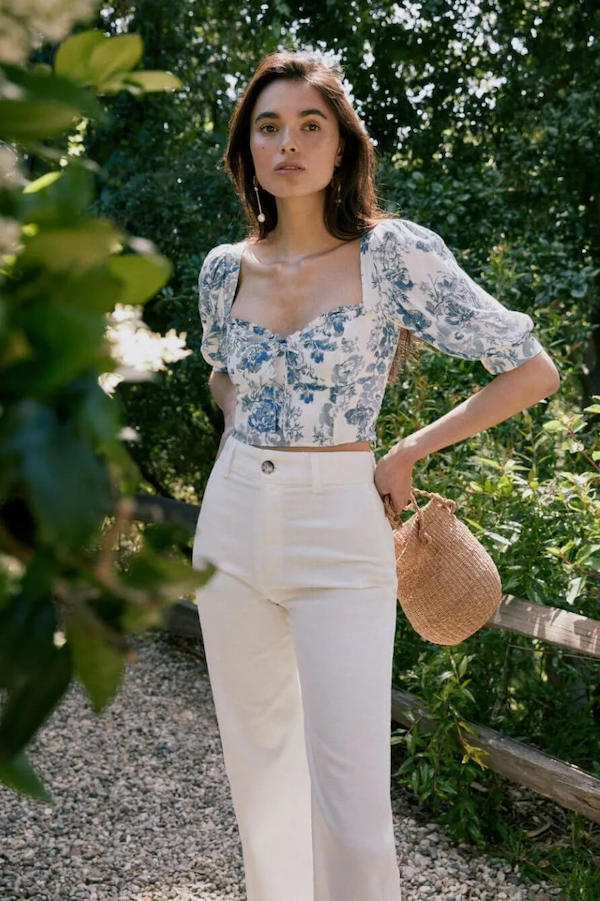 And you can get her top on the photo from Reformation.
Victoria Petersen, a fashion reporter based in Paris, had matched plaid and floral styles. So isn't it a perfect vacation outfit?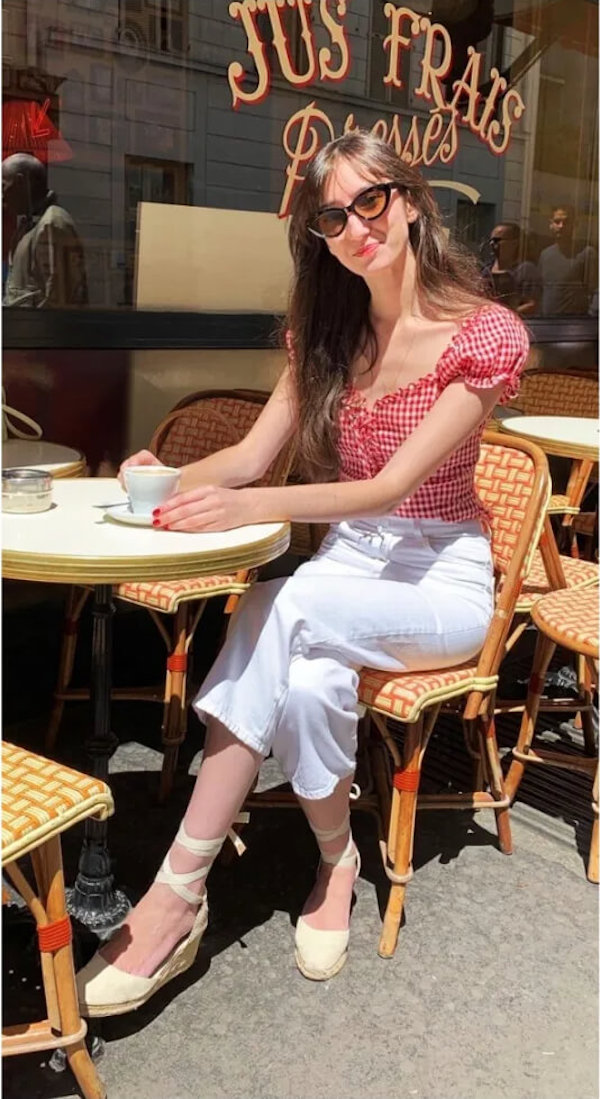 Many people do not wear the long-sleeved milkmaid top, but it is more formal than short-sleeved.
Remember to choose loose-fitting white pants, straight-leg pants, flared pants, and wide-leg pants to pair them.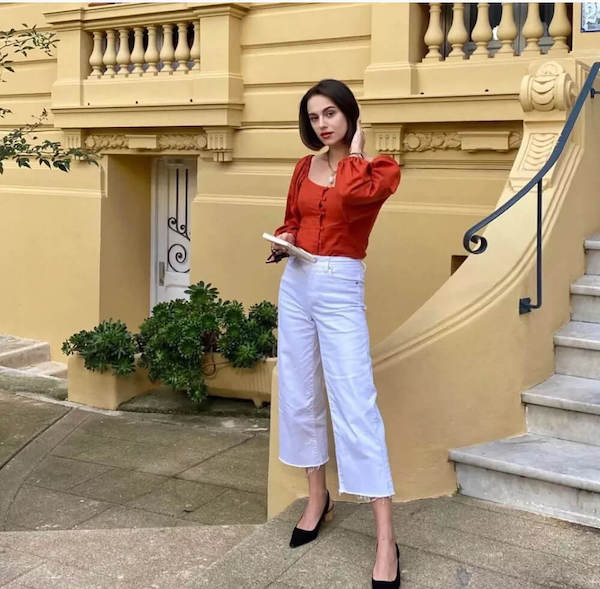 via Pinterest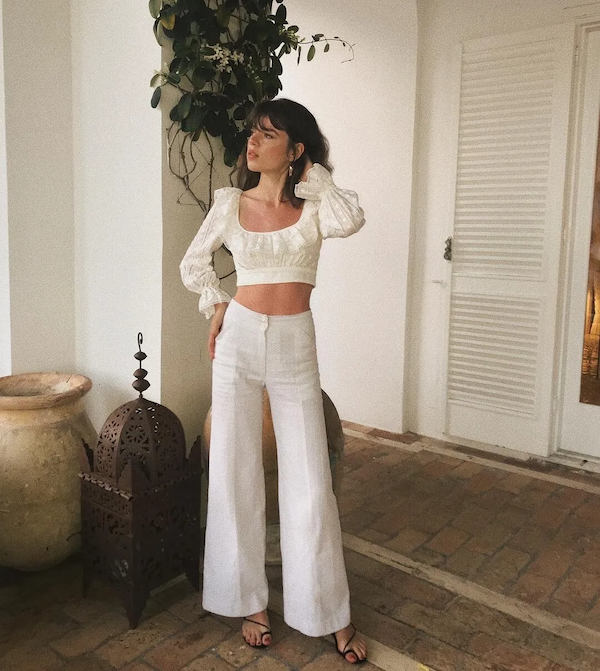 via Pinterest
Parisian Summer Style 4: Floral Skirt + White Top
Although there is a saying in the French style called "Less Is More," French women still can't escape their love for floral elements. The floral skirts are the staples in their wardrobe!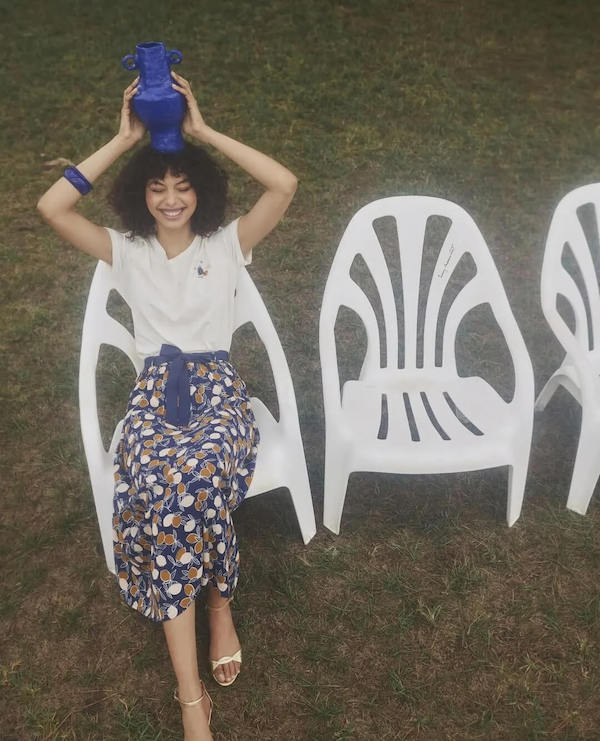 via Pinterest
Regardless of the color of the floral skirt, the most effortless combo is to choose a simple white T-shirt. You will look relaxed and comfortable in the hot weather.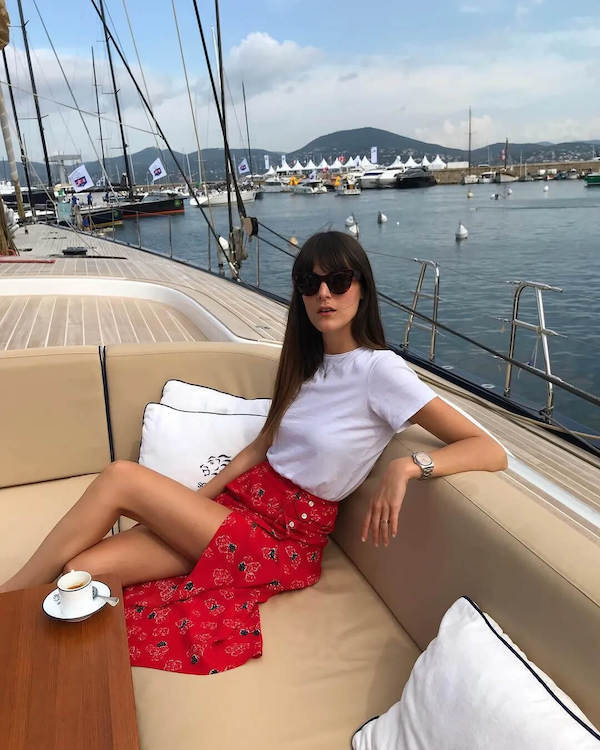 via Pinterest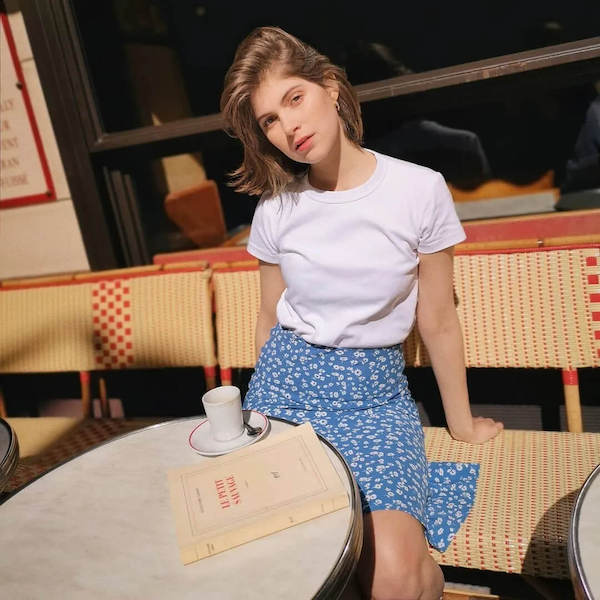 via WeHeartIt
In addition to sandals, I also recommend canvas sneakers. Copy this look immediately to take photos on the grass next time!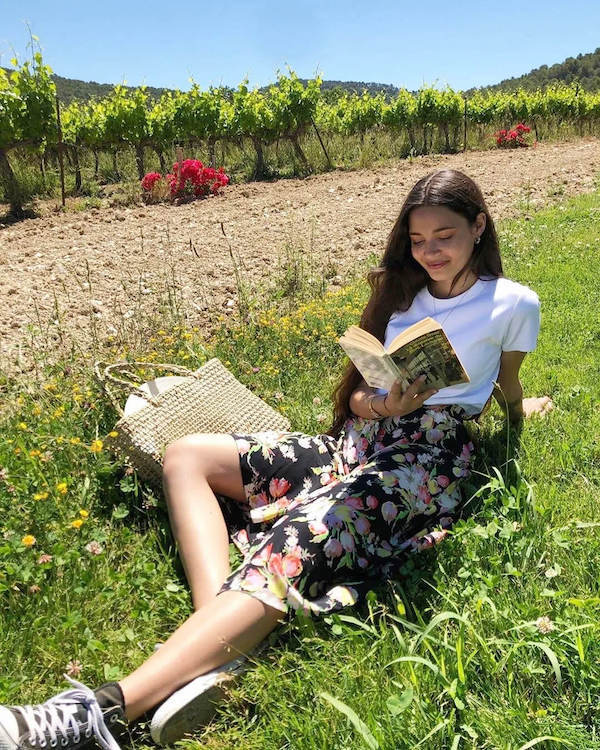 via Pinterest
It doesn't matter if you don't have a solid white T-shirt. You can also wear a patterned T-shirt with a skirt.
However, the primary color on the T-shirt is best to echo the skirt. As the words on the white T echo the skirt color, the overall look will be elegant.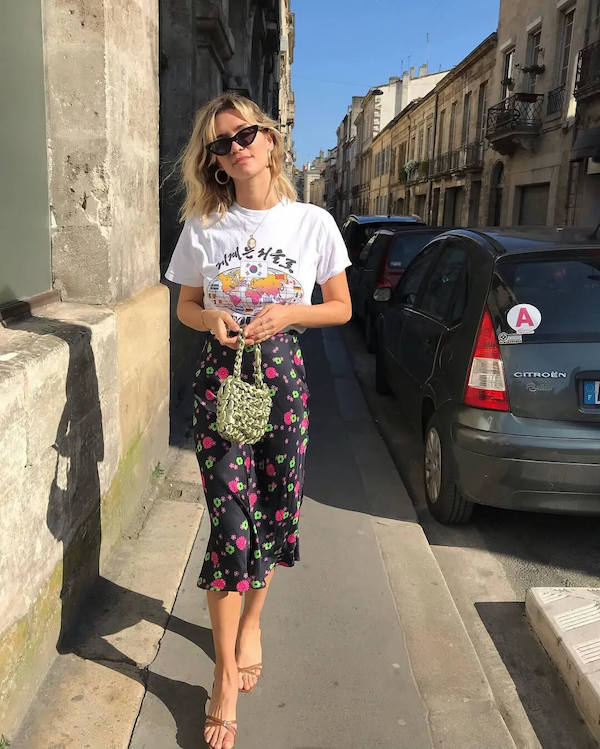 via Pinterest
In addition to matching T-shirts, many French girls wear a tank top or a cami, which are more feminine.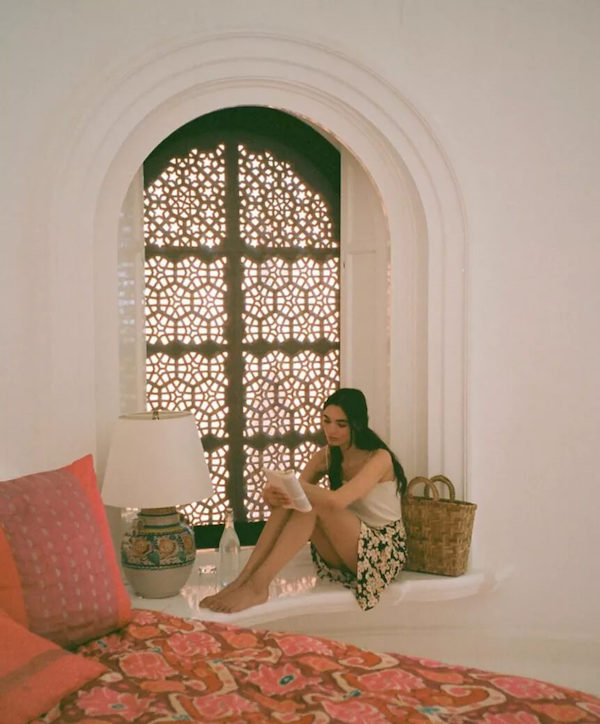 via Pinterest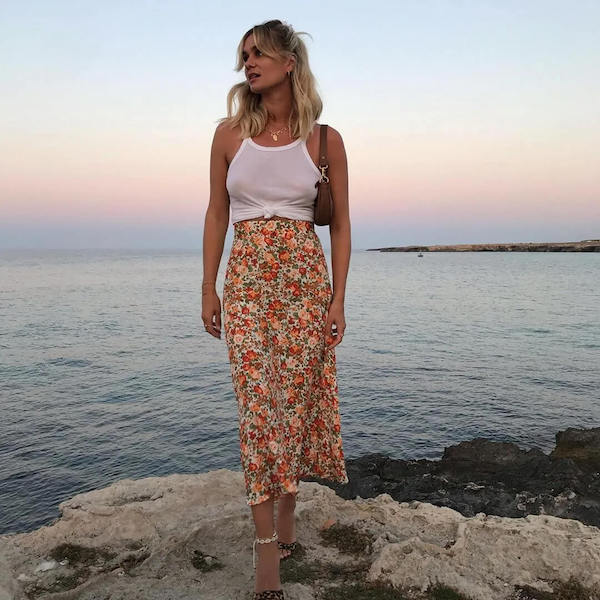 via WeHeartIt
It is recommended to choose this kind of cute white tanks. Ivana Gibson, a blogger living in France, looks very exquisite with it.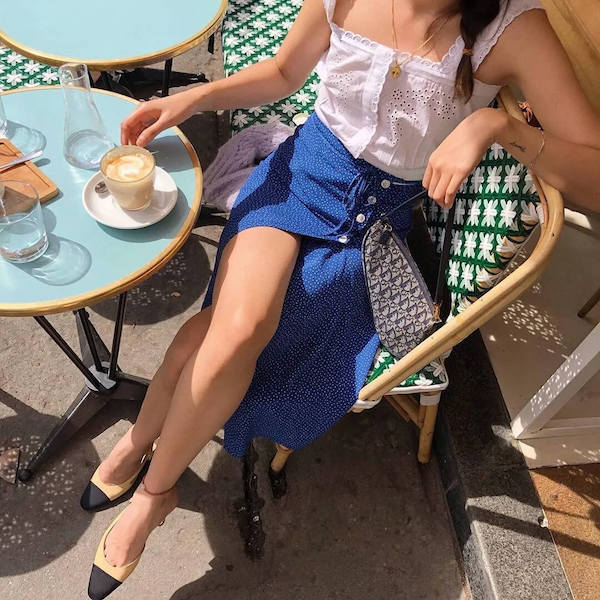 Knitted tops are also trendy this year. Choose a simple white one that will make your outfit look more expensive.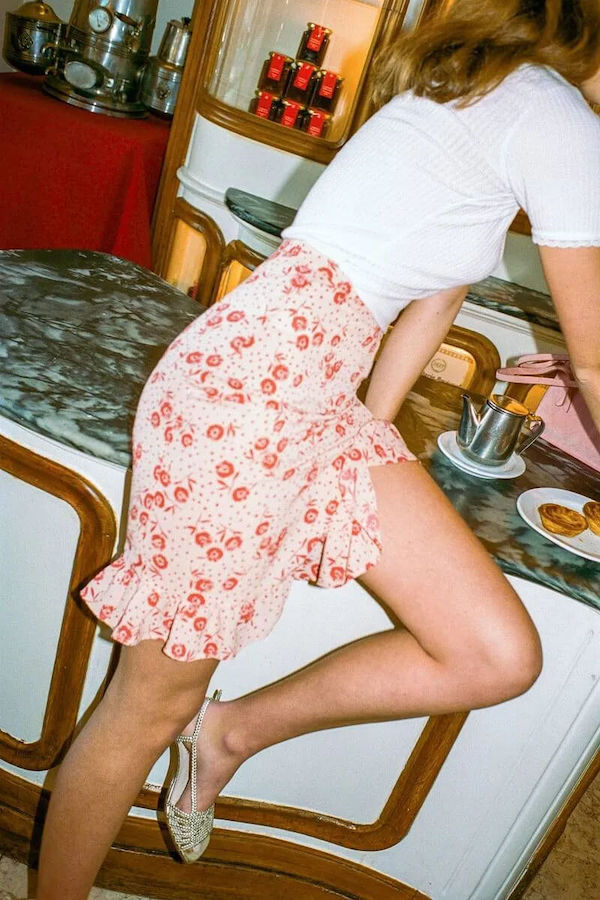 via Pinterest
In addition to the floral skirt, the leopard skirt is also a favorite of many French bloggers, and the styling method is the same.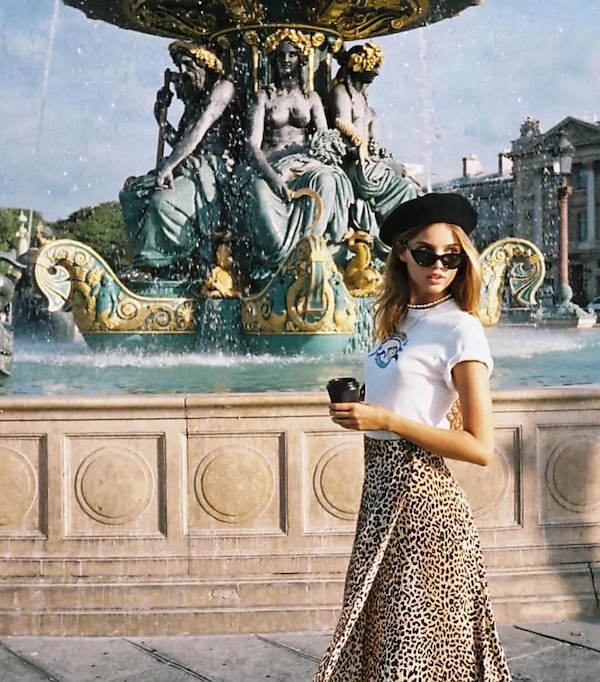 via WeHeartIt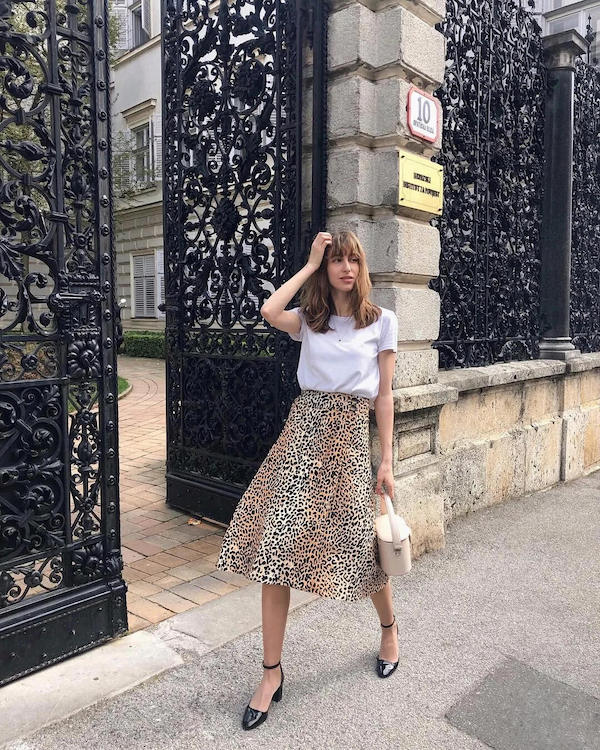 via WeHeartIt
Summer Parisian Staples: Classic Pieces To Create The Perfect Parisian Style
What chic fashion staples to add to your your French style wardrobe or your packing list for the Paris summer? Below are what I recommend that should be in a French capsule wardrobe for the summer season:
Light Weight and Soft Outwear: Oversized White shirt / Trench Coat / Cropped Cardigan / Denim Shirt Or Soft Denim Jacket
A soft and casual light weight jacket is perfect for a French girl summer style, especially for the transition days.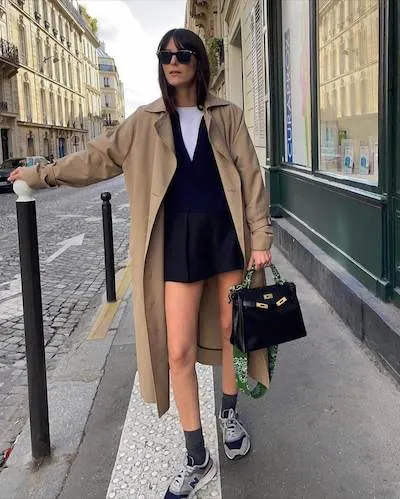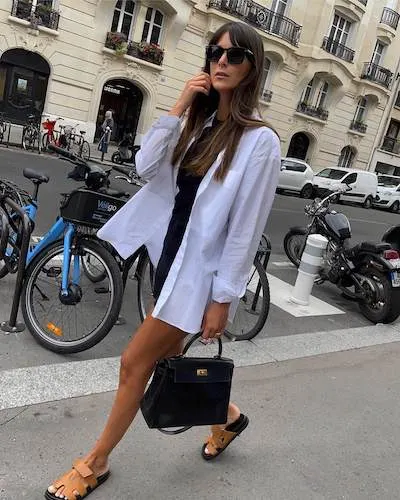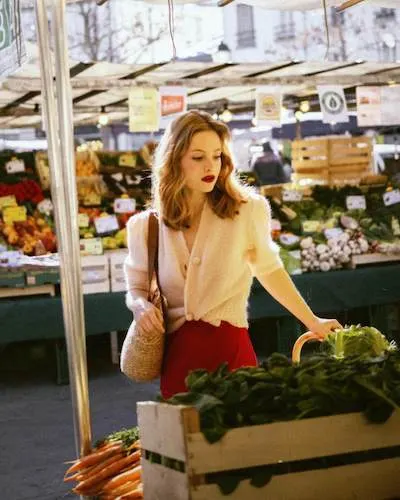 @camilleyolaine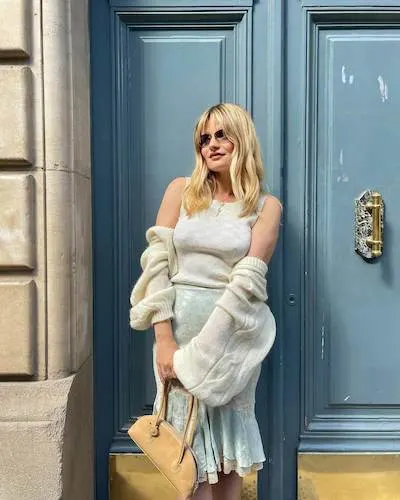 Slip Skirt
A key piece in the hot summer days. Perfect for work, casual weekends, date night, vacation. The slip skirt can be paired with any feminine top or a simple white shirt, adding all the feminine style you need in summer.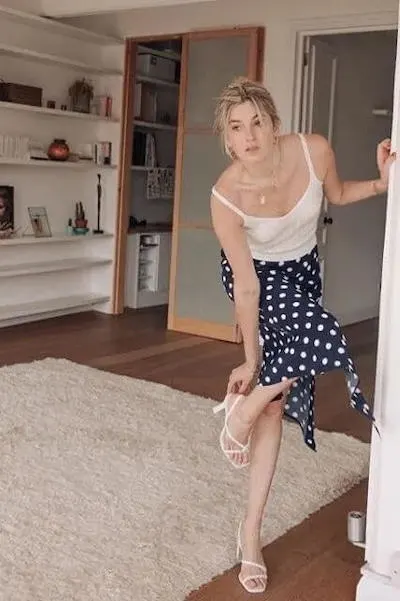 Black Blazer
A great option to add a semi formal touch to your casual look.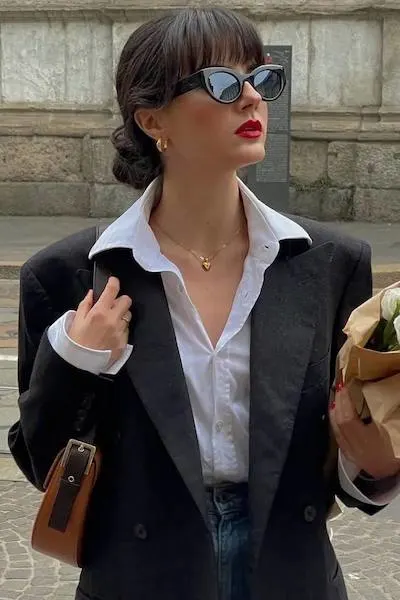 via pinterest
Slip Dress / Little Black Dress
Your go-to summer date night classic style at the end of the day in Paris. Have a great time with the Eiffel Tower in the summer city of lights.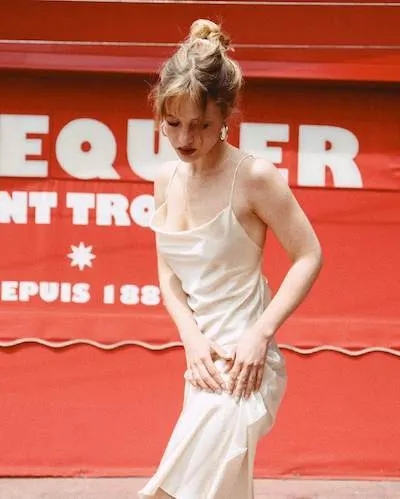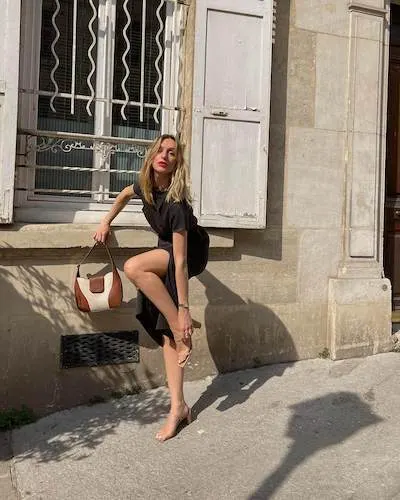 via pinterest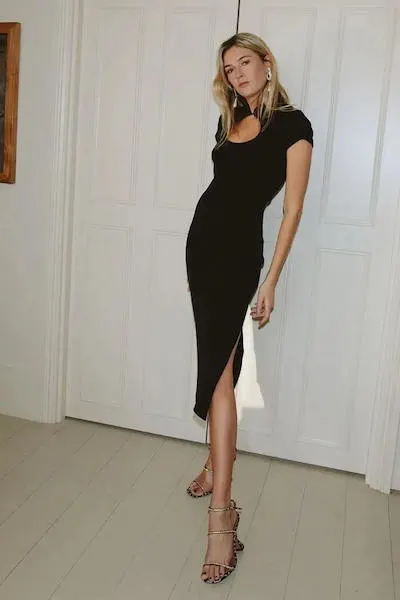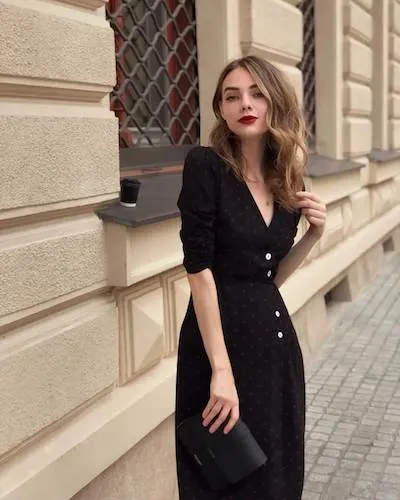 via pinterest
Low Heels / Flat Shoes / Ballet Flats
A good idea to make your summer travel chic and comfortable on the city streets. Much better than high heels.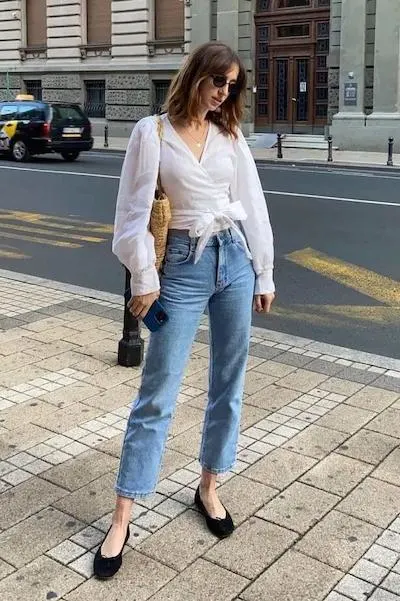 via pinterest
A Nice Pair Of Jeans : High Waist Relax Blue Color Jeans / White Jeans
Choosing the high waist design is one of the best ways to make your body proportion perfect. Instead of slim jeans, stick to a little bit loose leg designs to make you relaxed.
When you come across the most suitable pair of jeans, you can actually find a tailor to change the shape and size of the legs.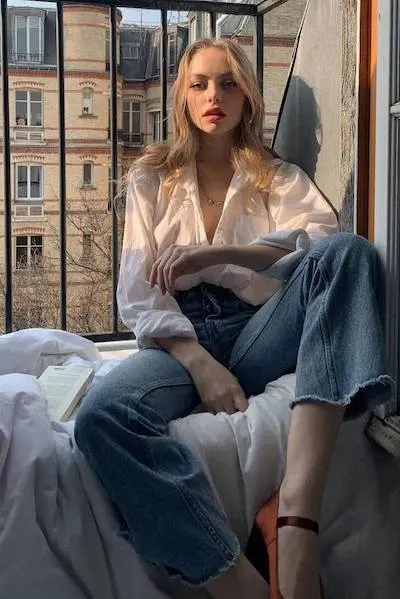 via pinterest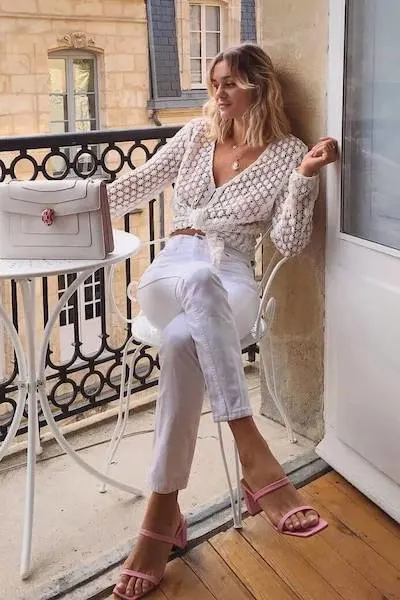 via tumblr
Relaxed Summer Dress
Choose the designs that you can be confidently wearing anytime. Avoid revealing a lot of skin or wearing maxi dresses. Choose elegant styles with midi length.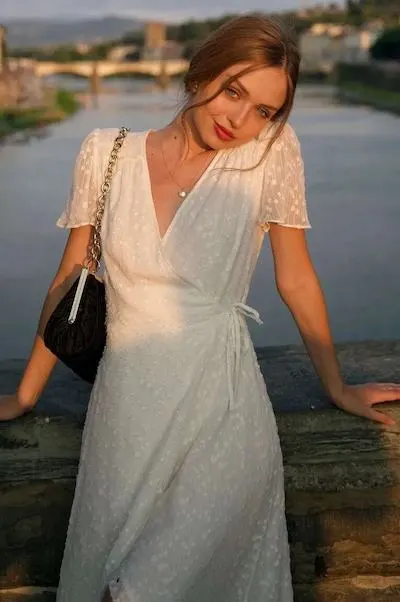 via tumblr
White Short Shorts
Perfect paired with your oversized knit tops or shirts, making you elegant and sexy. They are also ideal for the rainy days when you may feel inconvenient to wear skirts or dresses.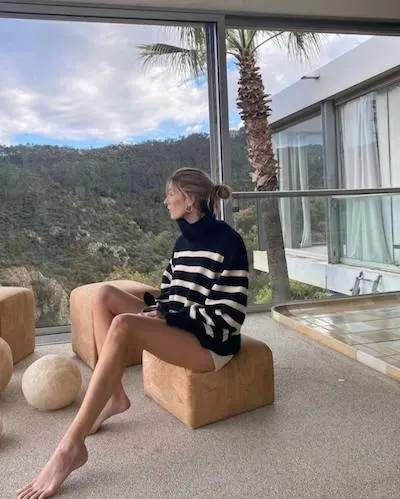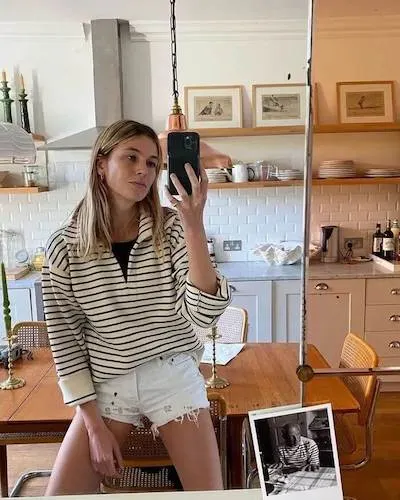 Simple Accessories: Gold Jewelry, Straw Bag, Basket Bag, Small Purse, Beret Hat
In French fashion, fashionistas especially love various delicate and small accessories as the finishing touch, so that even if the same tops and skirts are repeatedly matched, they can show different styles.
via tumblr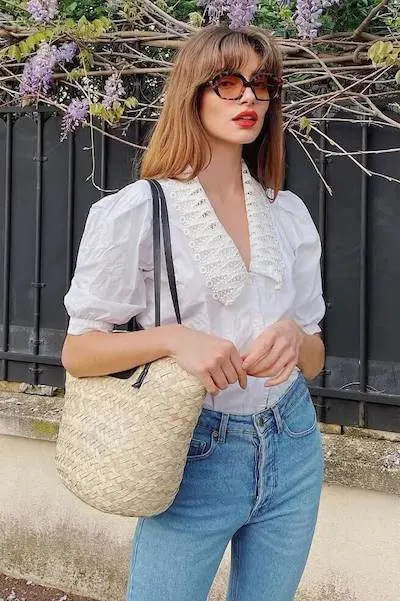 via tumblr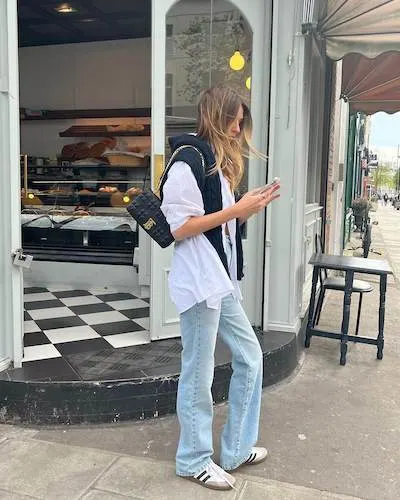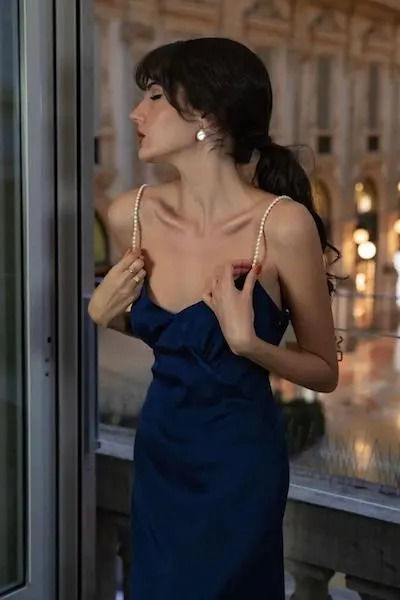 via tumblr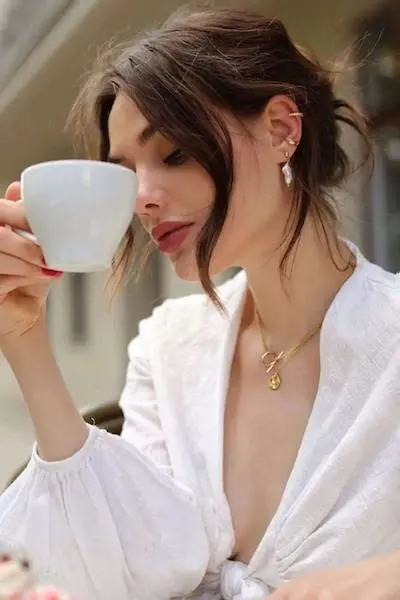 via tumblr
The Makeup: Red Lipstick
A red lipstick will never be wrong for a French summer style chic look.
Summer French Fashion Rules: Dos and Don'ts In French Summer Style
The French style is gentle and elegant, but it does not lose its personality and freedom.
It always gives people a sense of just the right amount of delicacy. There is no excessive feminine, but just the right mix of feminine and leisure.
Dressing in French style is the same as the feeling presented by French women.
Their expressions are extremely elegant, they are also casual, and every behavior is not deliberate.
Exploring the French fashion bloggers, it is not difficult to find that each of their styles only through every basic item from head to toe to enhance elegance and personality.
Rule No. 1: Loose, not tight
Looseness is the first thing in French style.
In French-style outfits, the suffocating slim fit is rare.
Instead, some line designs are integrated into the looseness, which can properly allow women to reveal their soft lines, giving the overall feeling of relaxation.
Regarding dresses, in addition to the popular slip dresses, puff sleeves and lantern sleeve dresses are the main designs.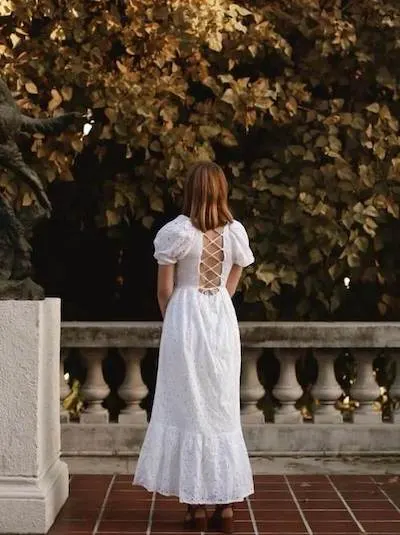 via tumblr
The French style, which is good at creating a sense of space through sleeves, always makes the French people feel relaxed and comfortable in every gesture.
When it comes to shirts, sophistication almost doesn't exist.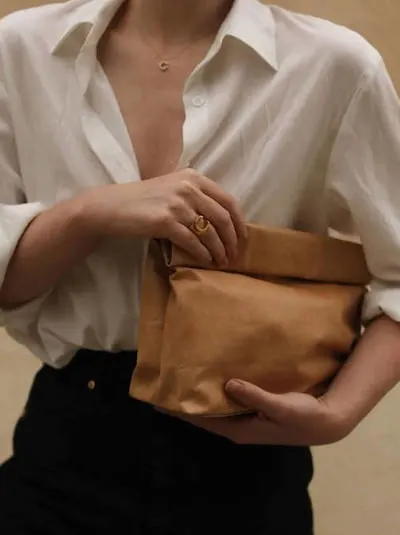 via tumblr
The way to wear a shirt with one button unbuttoned not only dilutes the formality and seriousness inherent in the shirt but also adds a bit of comfort to the overall look.
Rule No. 2: Simple and elegant, not fancy
Simple and elegant, it is the highlight of French style wear.
In my opinion, the colors in Parisian fashion outfits are both calm and enthusiastic.
It is said to be calm because it is dominated by a large number of neutral colors, with white, gray, or black color as the main tone, without any publicity.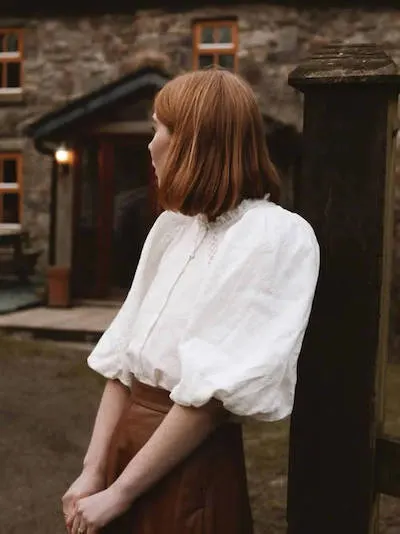 via tumblr
Speaking of its enthusiasm, I have seen its warm side, such as off-white, khaki, wine red, etc., which always give people a seductive and natural feeling.
There are no high-saturation bright colors or eye-catching patterns. The clean colors and the purity of the colors are the charms of the French style.
Rule No. 3: Soft, not tough
Softness is the important thing in the Parisian look.
In the French style, almost all the materials of the clothes are soft and transparent, as if adding a bit of casualness and laziness to the chic.
It seems that every garment allows the wearer to stretch naturally in the space created by the fabric.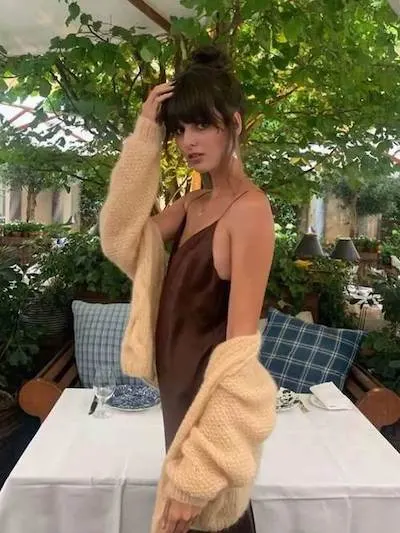 via Pinterest
The drape of silk fabrics can inadvertently reveal the graceful curves unique to women.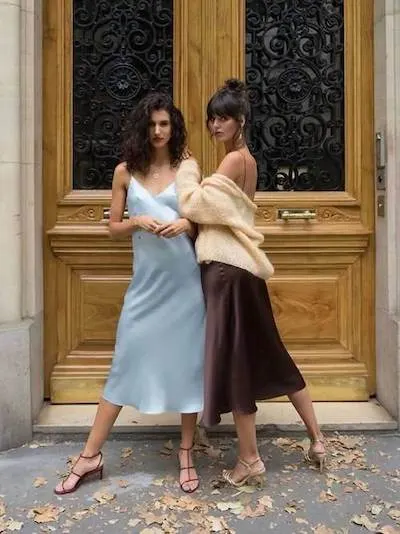 via Pinterest
The lightness of linen fabrics can show the gentleness and calmness hidden in femininity and help hide from the heat of summer.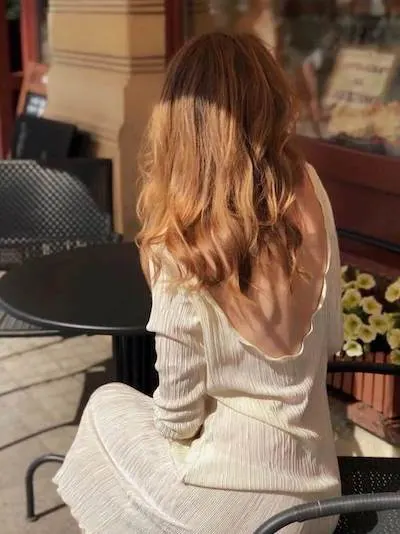 via Pinterest
Soft fabrics, comfortable fit, and pure colors, this is probably the Effortless Chic that the French style emphasizes.
Rule No. 4: Delicate, not too casual
Delicate accessories, it is the embellishment of French style wear.
French women are good at using accessories to add movement and glamour to their overall look.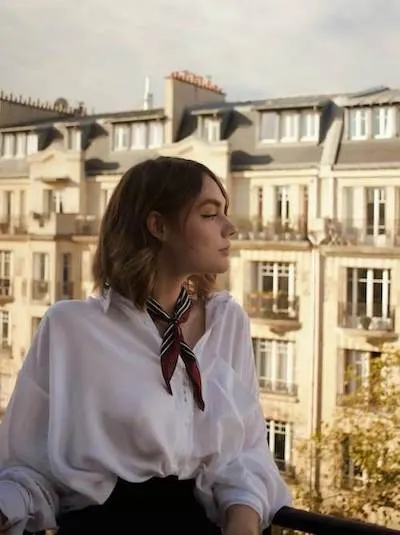 via Pinterest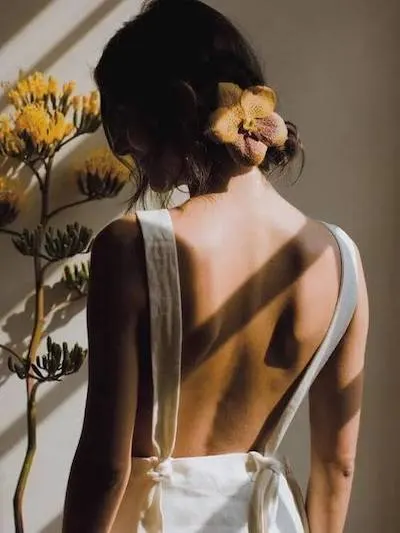 via Pinterest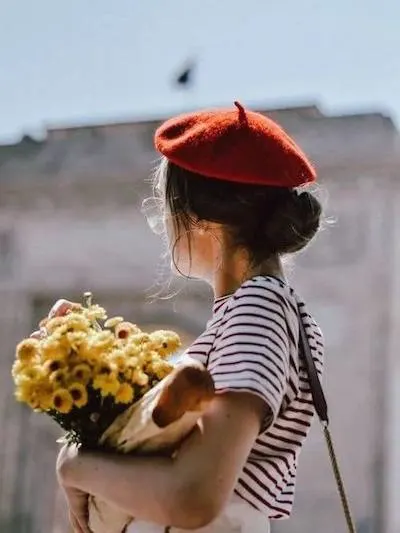 via tumblr
Loose, elegant, soft, and delicate is the visual comfort brought by the French style.
What is presented is not tight, not fancy, not tough and not casual, but it directly touches the heart from the visual level.
When you are confident and casual and have a perfect balance, even if you don't use accessories to dress yourself up, just in the basics, you can portray an elegant you.
Shop Parisian Style Picks:
This post was all about Parisian summer style.
About The Author
Tracy is an experienced personal stylist, shopping expert, and fashion & lifestyle blogger. She has been featured on Time Magazine, Bustle, Best Life, Glam, The Zoe Report, Mic, and GOBankingRates, for her insights on fashion, beauty, home decor, and lifestyle. Read More
Related Posts