Looking for cute airport outfit ideas for your next wonderful trip? Want to know what to wear to the airport? Check this post for stylish and comfy airport outfit ideas, chic airport essentials, and the best travel tips to help you stay comfortable during the travel.
Traveling can be stressful, especially when it comes to deciding what to wear for your flight.
The last thing you want is to be uncomfortable and look out of style during your travels.
That's why having stylish yet comfortable airplane outfits is so important.
Here we'll discuss some cute comfy airport outfit ideas that are perfect for any traveler needing a bit of fashion inspiration.
At the end of this post, we are also sharing the best airplane travel outfits to shop directly from our favorite retailers.
So scroll down to check these ideas and don't hesitate to pin the airport fashion ideas you like!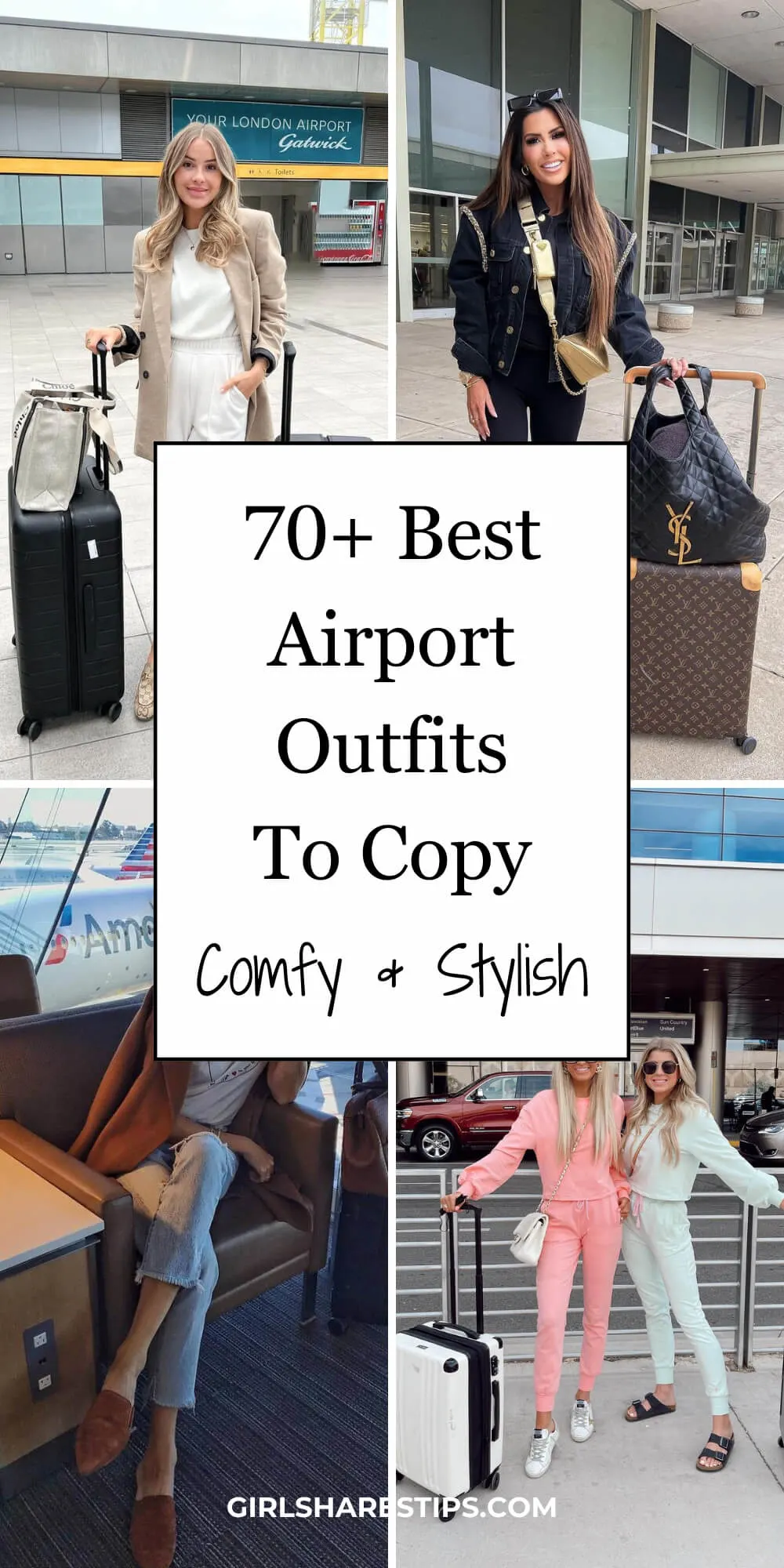 This post may contain affiliate links, which means I'll receive a commission if you purchase through my link, at no extra cost to you. Please read the full disclosure here.
This post is all about cute and comfy airport outfit ideas.
Best Airport Outfit Ideas And Styling Tips
1. Wear comfortable and breathable clothing
Whether you're jetting off on a long-haul flight or just taking a quick trip, the right clothing can make all the difference.
Opt for comfortable and breathable clothing that allows you to move freely without feeling restricted.
Loose-fitting tops, stretchy pants or leggings, and lightweight jackets are all great options.
In addition to being comfortable, your airport outfit should also be practical.
Choose pieces that are easy to layer and remove as needed, as airports and planes can have varying temperatures.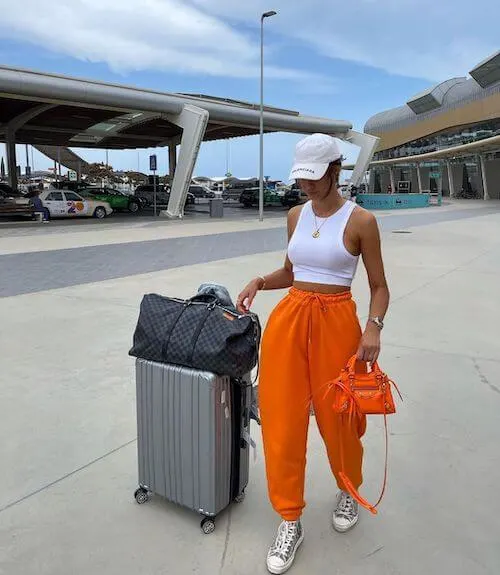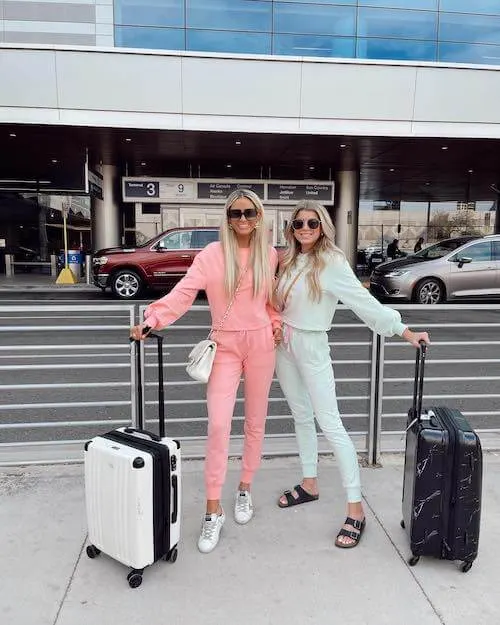 2. Choose the right pants.
Firstly, consider the material of the pants or leggings.
Opt for breathable and comfortable fabrics such as cotton, rayon, or spandex. You want something that will keep you cool and comfortable on a long flight.
Secondly, think about the style of pants that suits your body type.
If you're tall, go for wide-legged pants as they make your legs look slimmer and longer.
If you're petite, opt for cropped leggings that make your legs appear longer than they actually are.
Lastly, consider versatility when choosing an airport outfit.
Go for neutral colors like black or grey that can pair with different tops and shoes to create multiple outfits during your trip.
3. When in doubt, choose a neutral color look.
When it comes to airport outfits, choosing neutral colors can be a great way to ensure comfort and style.
Neutral shades such as beige, white, gray, and black are versatile and easy to mix-and-match with other pieces in your wardrobe.
A simple outfit consisting of a pair of black leggings or jeans paired with a white or beige t-shirt is not only comfortable but also chic.
Neutral colors also provide the perfect backdrop for statement accessories such as scarves or hats.
By keeping the color palette simple, you can elevate your outfit with eye-catching pieces that will make you stand out from the crowd.
Additionally, neutral colors are less likely to show stains or wrinkles during travel, making them an ideal choice for long journeys.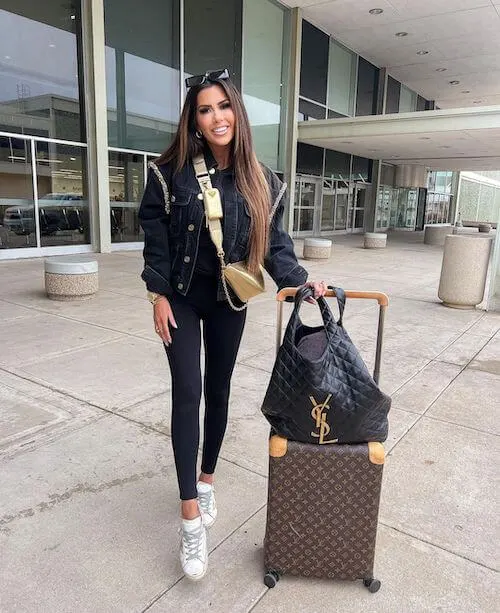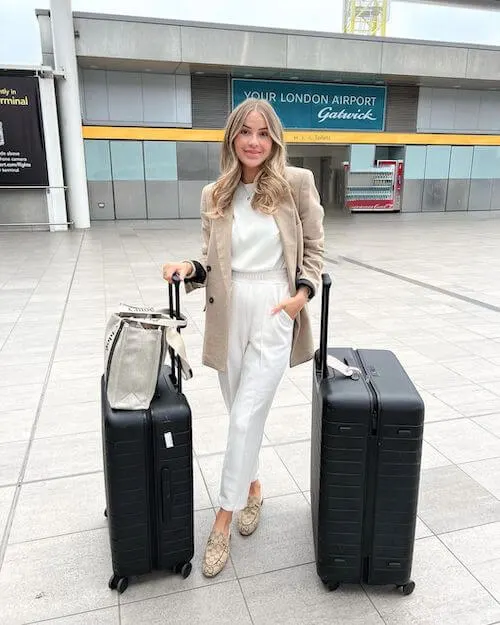 4. Wear a pair of flat shoes that are easy to put on and take off
Choosing the right footwear for airport travel is essential, and nothing beats a pair of comfortable flats that are quick to put on and take off.
Consider opting for slip-on sneakers or loafers that don't require laces, making it easier to breeze through security checkpoints.
Moreover, choose shoes with a cushioned sole as they will provide better shock absorption during long walks in the airport terminal.
When it comes to flat shoes options, there are several styles you can choose from depending on your preference.
For instance, ballet flats are a classic option that adds some sophistication to your outfit while keeping you comfortable.
Alternatively, opt for espadrilles or sandals with straps for maximum breathability and comfort during hot weather.
Remember to consider the color of your shoes carefully so that they match your outfit seamlessly.
Overall, wearing flat shoes when traveling is key if you want comfort without sacrificing style.
It's an excellent way to keep yourself feeling fresh throughout the journey while ensuring easy access at all times from check-in counters to boarding gates and beyond.
5. Wear comfortable accessories
Accessories can be a great way to add some personality and flair to your airport outfit, but too many can become overwhelming.
It's important to remember that you'll likely have to take off or remove any accessories during the security screening process,
which can be time-consuming and stressful.
Stick to one or two statement pieces, like a bold necklace or oversized sunglasses, and keep the rest minimal.
If you do choose to wear jewelry or other accessories, make sure they're comfortable and won't get in the way during your travels.
Avoid anything bulky or heavy that could weigh you down or cause discomfort over long periods of time.
Opt for lightweight scarves or simple stud earrings instead.
Ultimately, the key is balance – you want enough accessories to add interest without overdoing it.
Remember that comfort should always come first when it comes to travel outfits, so choose wisely and don't be afraid to pare back if necessary.
Pro Tip: sunglasses are a must-have!
They are your best friend, especially during long-distance flights.
You can use sunglasses to hide dark circles and they also bring your stylish looks to the next level.
A pretty hat is also a good option for a perfect airport outfit.
6. Bring a handbag that is light and big enough.
Traveling can be a hassle, especially when it comes to carrying your belongings.
A large and light handbag is essential for airport travel as it not only fits all your essentials but also makes the journey comfortable.
Here are some tips for choosing the perfect handbag for your next flight.
Firstly, opt for a lightweight leather or even nylon or canvas that won't weigh you down.
These materials are also durable, ensuring that your belongings stay safe during transit.
Secondly, choose a bag with multiple compartments to keep everything organized and easy to access.
You don't want to be rummaging through your bag at security checkpoints!
Thirdly, consider the size of the bag – it should be big enough to hold all your essentials such as passport, boarding pass, wallet, phone charger, snacks etc., without being too bulky or heavy.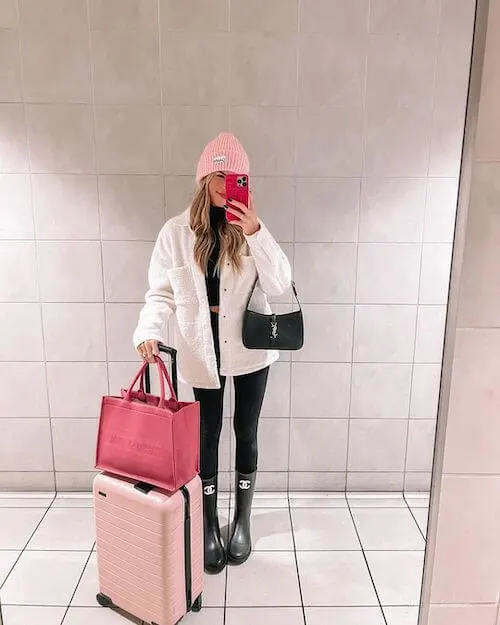 7. Bring a big shawl or a light coat
Bringing a big shawl or light coat with you can make all the difference.
Not only will it keep you warm, but it also doubles as a versatile accessory that can elevate any outfit.
A big shawl can add some color or texture to a plain outfit, while a light coat gives off a more polished look without being too heavy or bulky.
Plus, having something warm and comfortable during long flights or layovers will help ease any travel stress.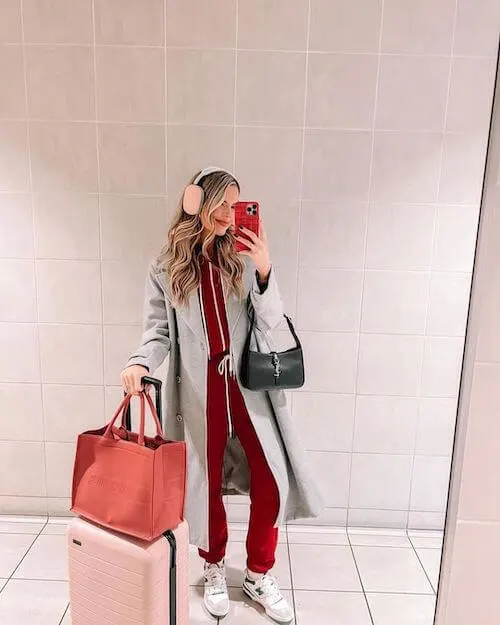 Cute Airport Outfit Ideas To Copy
Chic Airport Outfit Ideas Spring And Summer: Oversized Tee + Carrot Trousers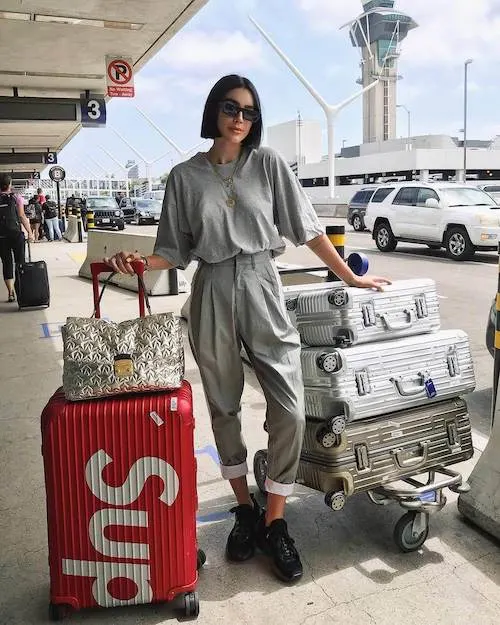 Graphic Tee + Jeans + Flat Shoes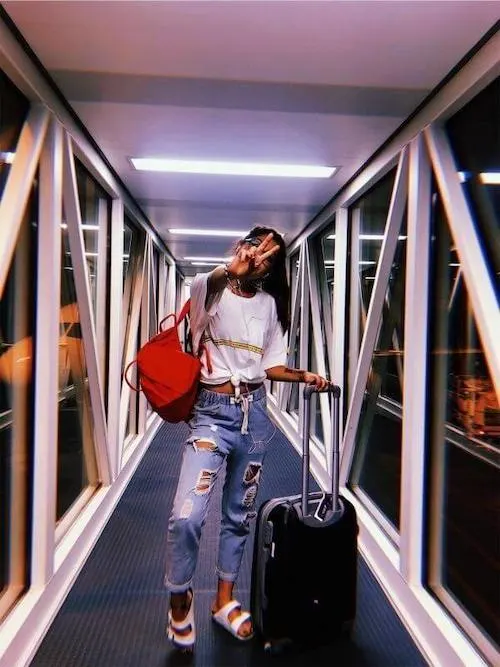 Tee + Black Skinny Jeans + Denim Jacket + Ankle Boots
White Top + Skinny Jeans + White Sneakers + Shirt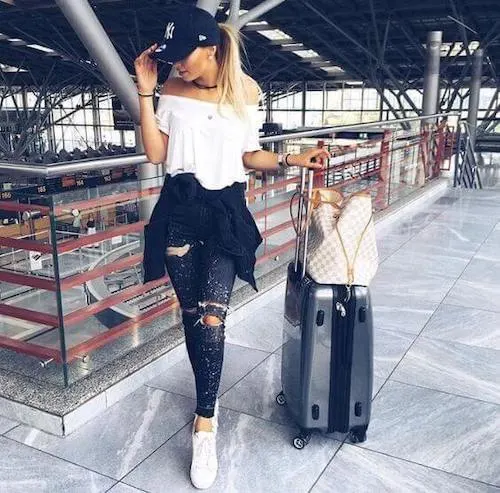 Blue Button Down + Black Leggings + Comfortable Shoes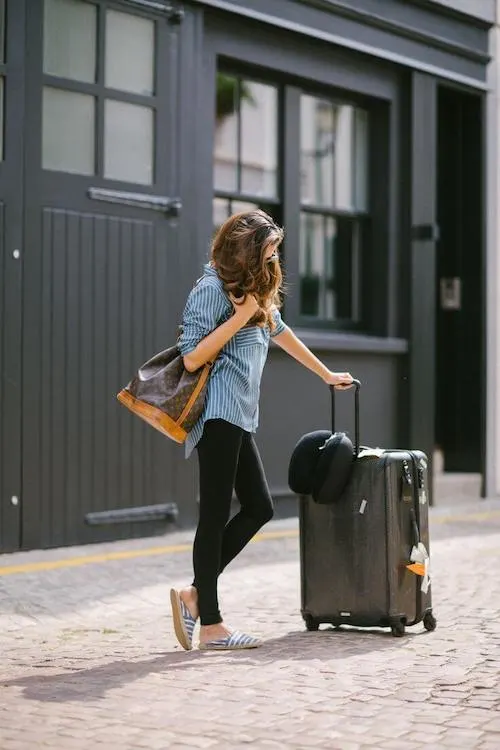 White Long Sleeves Top + Blue Skinny Jeans + Flat Shoes
Oversized Tee + Black Skinny Jeans + Sandals + Sunglasses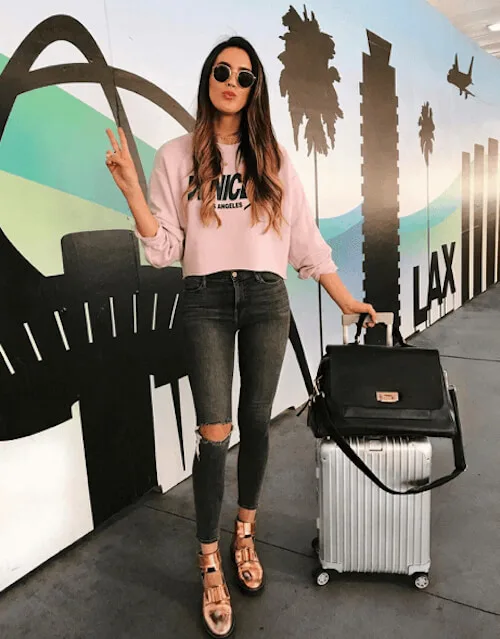 Graphic Shirt + White Denim Jacket + Denim Shorts + Sneakers + Baseball Cap
Black Tee + Black Leggings + Blue Denim Jacket + White Sneakers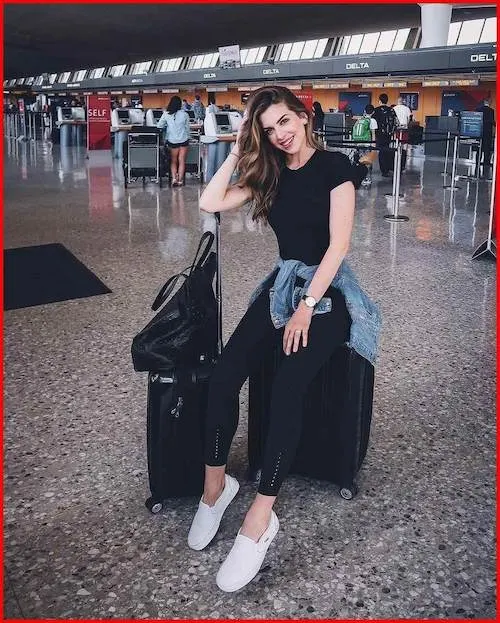 Best Airplane Travel Outfits
White Sleeveless Top + White Cardigan + Jeans + Chunky Sneakers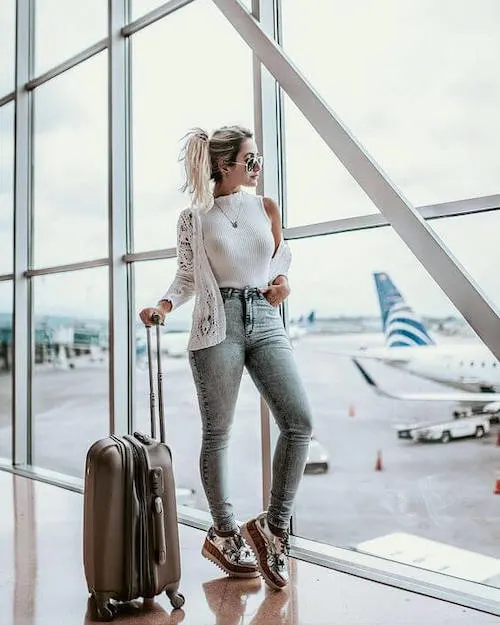 Crop Top + Skinny Joggers + White Sneakers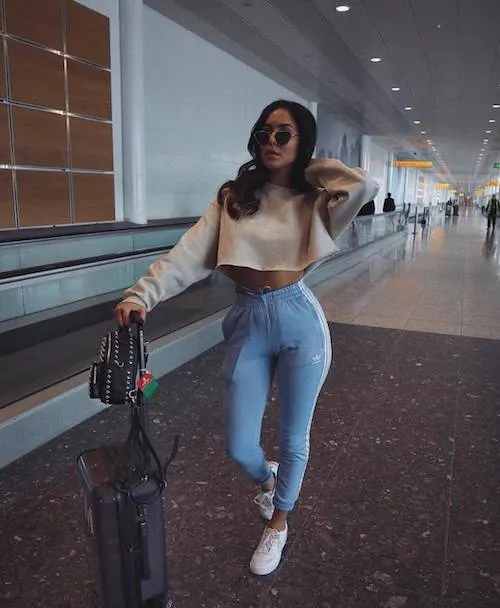 White Tee + Black Skinny Jeans + Comfortable Shoes + Denim Shirt + Straw Hat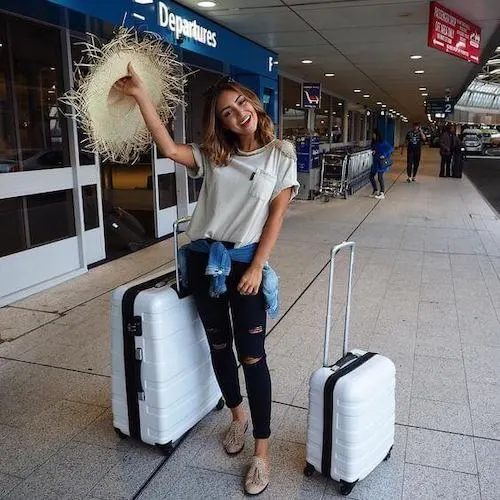 Graphic Top + Blue Jeans + Denim Jacket + Chunky Sneakers
Tank Top + Black Leggings + Black Cardigan + Baseball Cap + Sneakers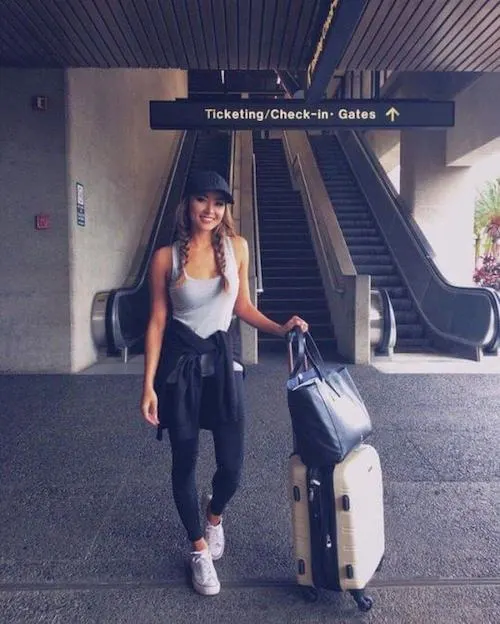 White Top + Black Skinny Jeans + Denim Jacket + Black Shoes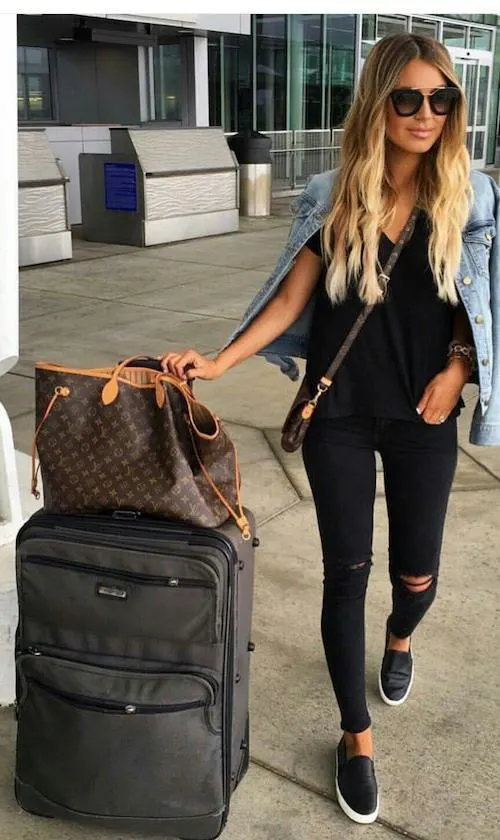 Sweatshirt Set + White Sneakers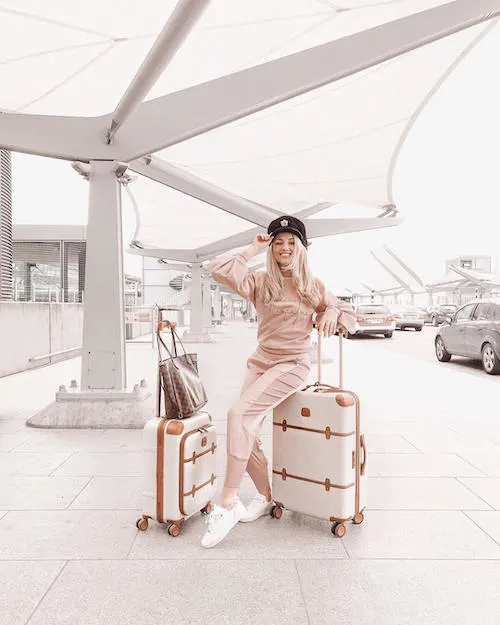 Striped Tee + White Pants + White Sneakers + Sunnies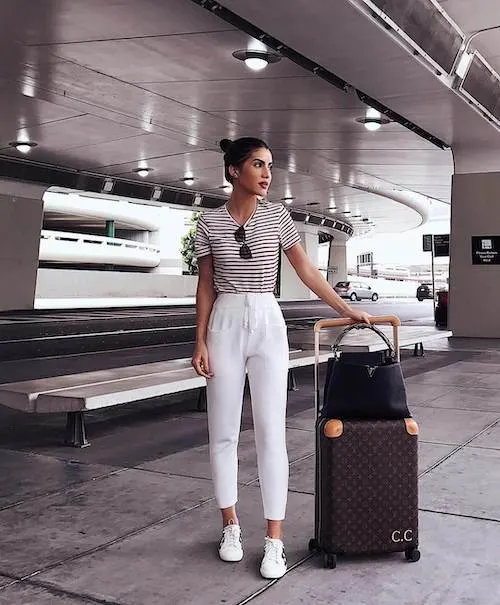 Trendy Airplane Outfit Ideas
White Tank + Loose Pants + Baseball Cap + Sneakers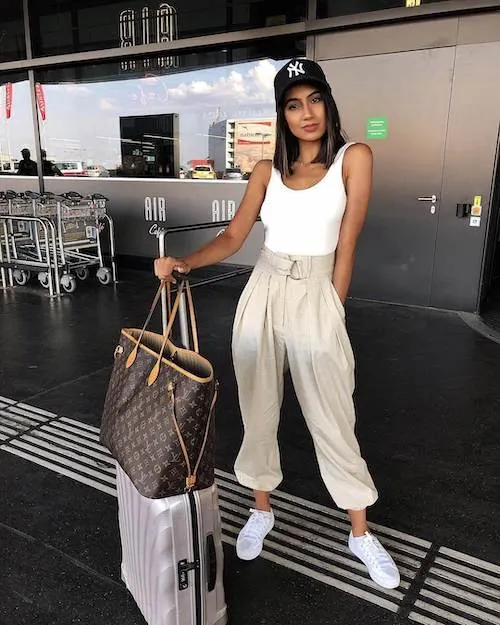 Denim Oversized Shirts + Blue Jeans + Big Bag + Platform Shoes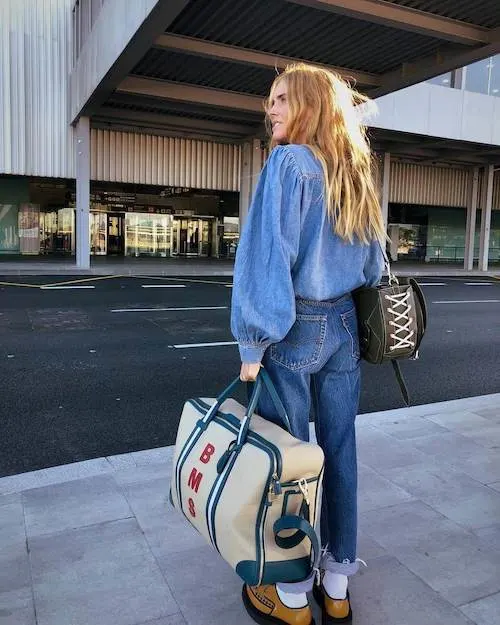 Stylish Airport Look For Fall And Winter: Light Jacket + Black Top + Black Leggings + White Sneakers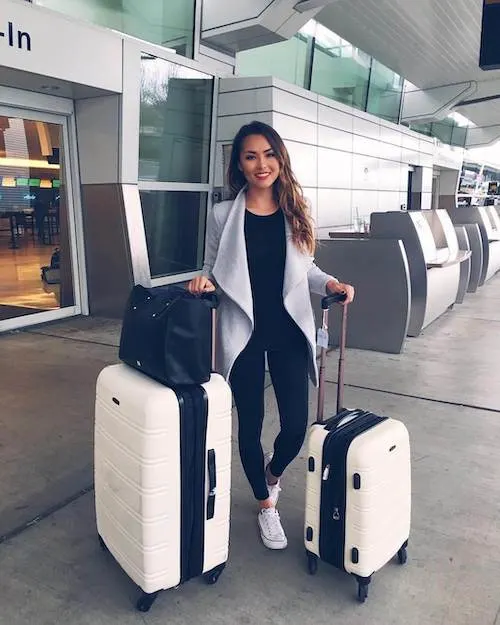 Loungewear Matching Set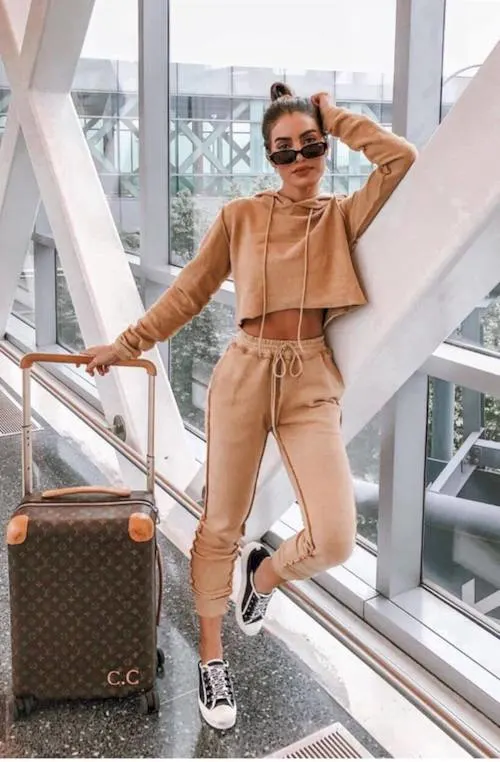 White Top + Shacket + Skinny Jeans + Sneakers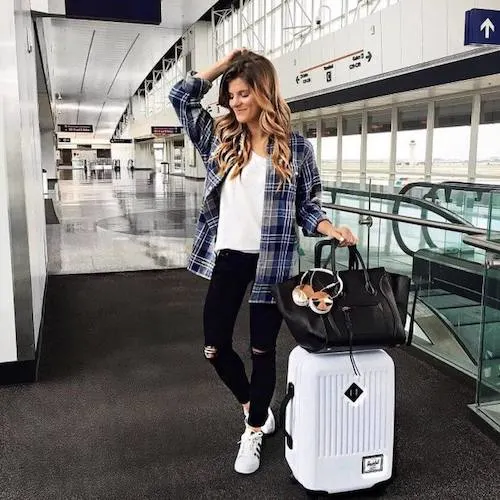 Bright Color Top + Comfy Sweatpants + Combat Boots + Black Hat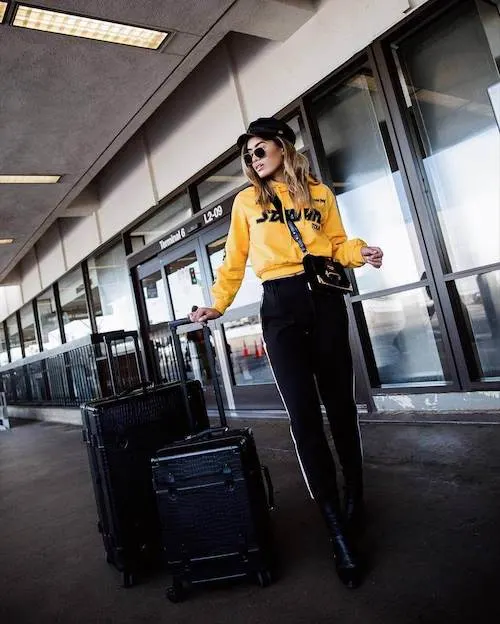 Oversized Hoodie + Blue Jeans + White Sneakers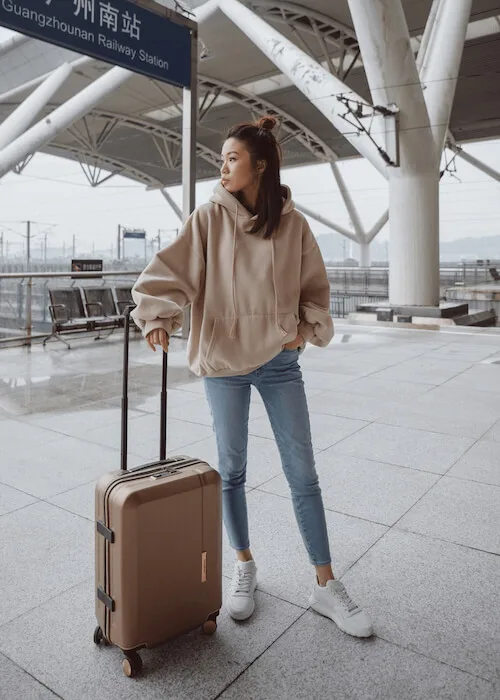 White Shirt + Black Blazer + Skinny Jeans + Sandals + Bucket Hat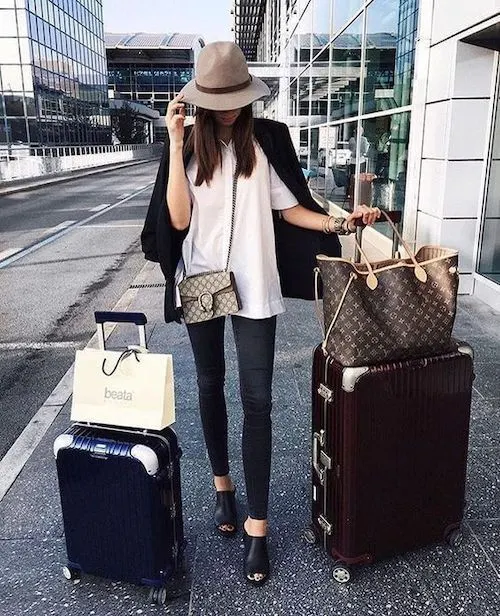 White Hoodie + Denim Jacket + Blue Jeans + White Sneakers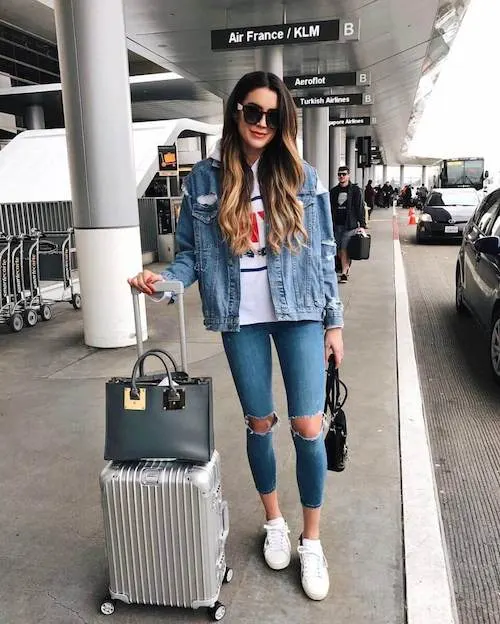 Striped Shirt + Leather Jacket + Big Shawl + Jeans + Sneakers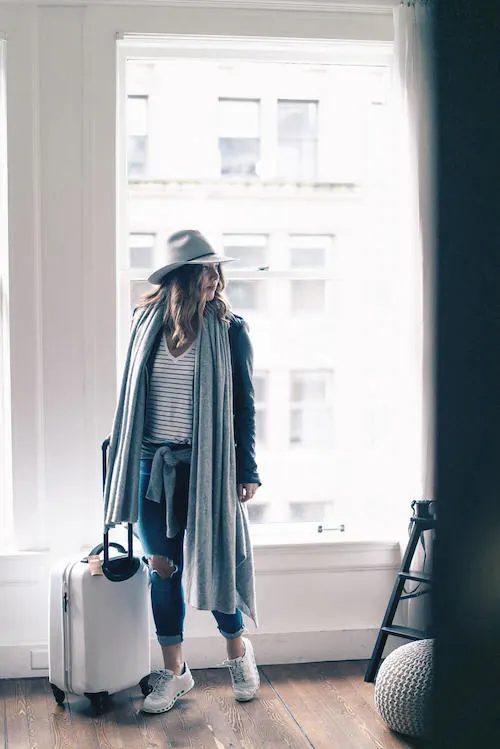 Stylish Casual Airport Outfit Ideas For Fall And Winter
White Shirt + Crop Jeans + Flat Shoes + Coat + Hat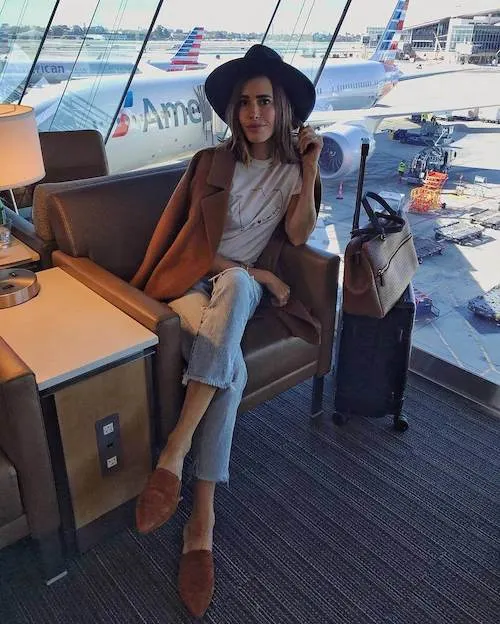 Black Tank Top + Black Joggers + Long Cardigan + White Sneakers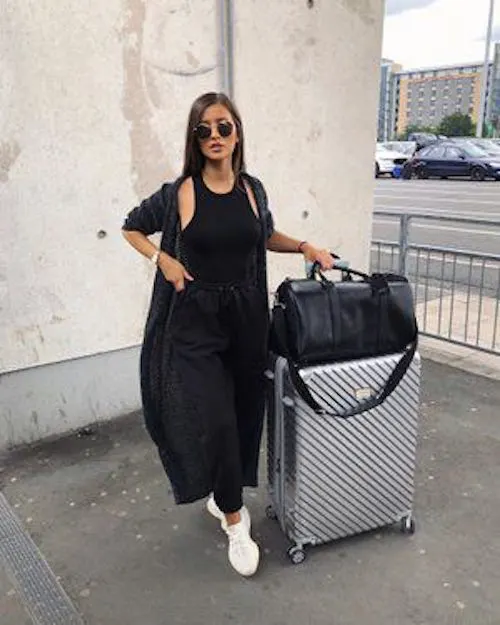 Oversized Sweaters + Faux Leather Leggings + Sneakers + Chunky Earrings
Leather Jacket + Black Jeans + Blanket Scarf + Sneakers
Teddy Coat + Crop Top + Joggers + Sneakers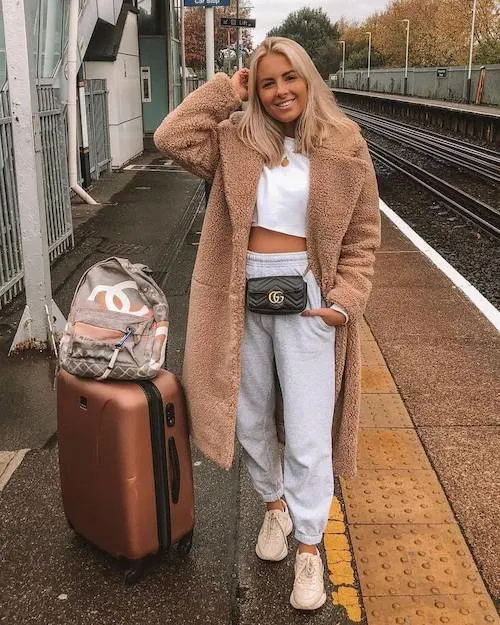 Comfy Airport Outfits For Spring And Summer
White Long Sleeved Top + Wide-Leg Pants / Midi Skirt + Loafers
Denim Jacket + Black Crop Top + Black Leggings + White Sneakers
Black Bra Top + Black Jacket + Black Biker Shorts + Belt Bag + Sneakers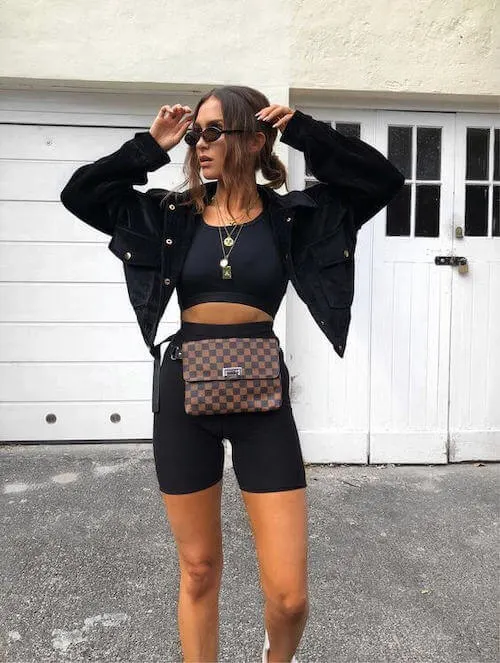 Maxi Dresses
Crop Sweatshirt + Shorts + Sneakers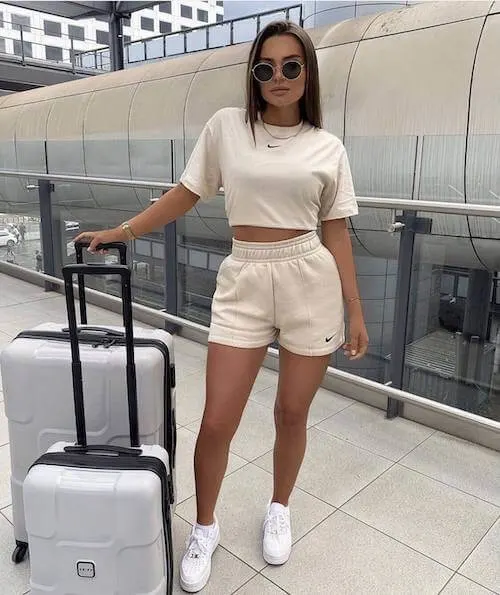 Bra Top + Cream Coat + Black Biker Shorts + White Sneakers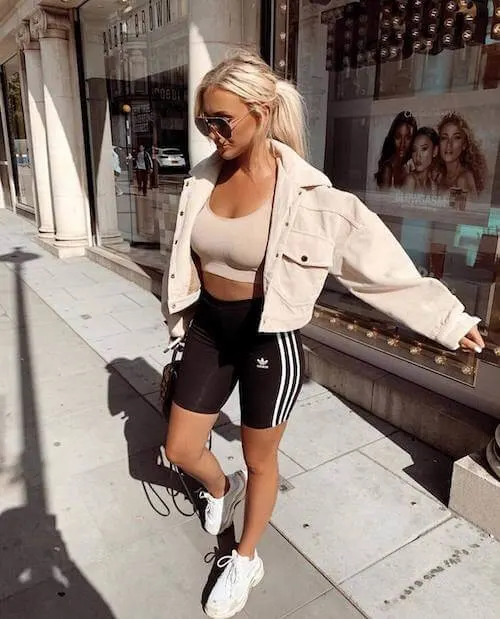 More Cute And Comfy Airport Outfit Ideas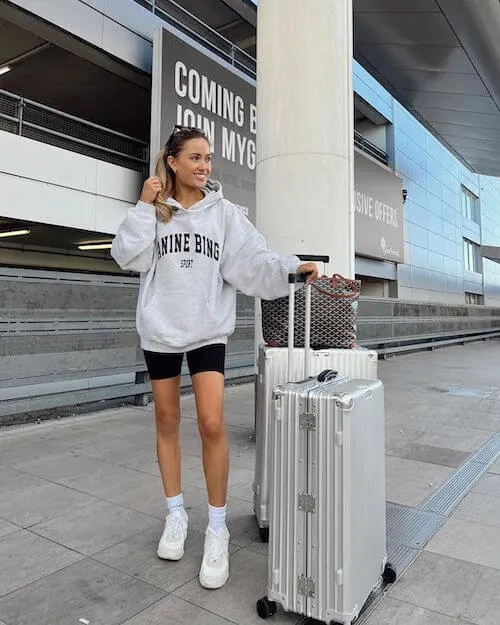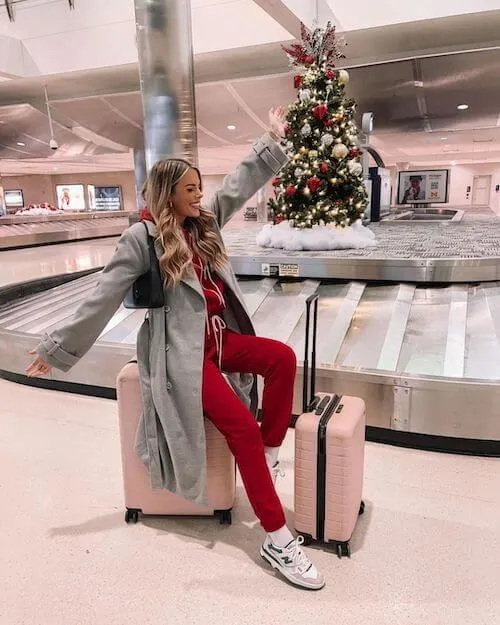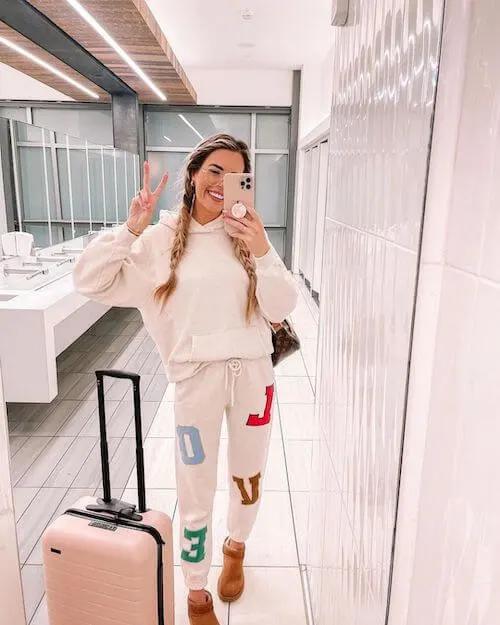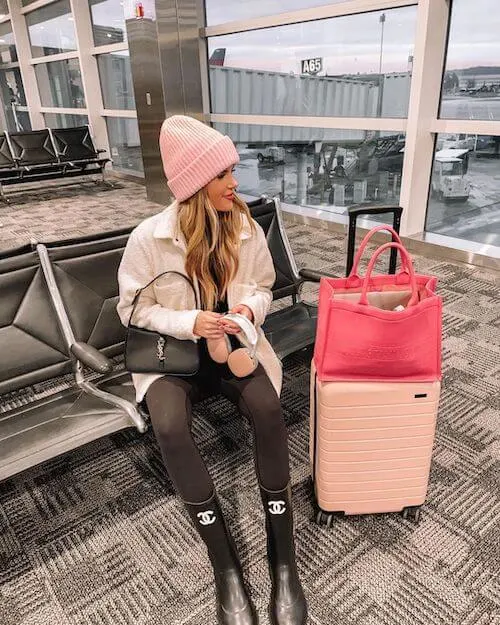 What is the best outfit to wear to the airport?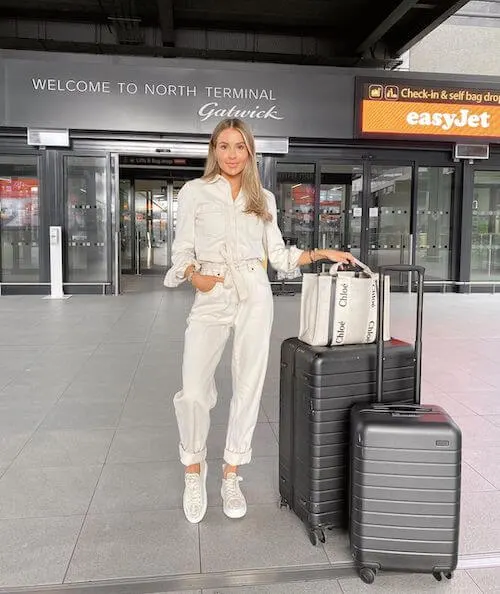 Comfort should be your top priority when selecting an airport outfit.
Opt for breathable fabrics like cotton, linen, or silk that will keep you cool during long hours of travel.
Avoid tight-fitting clothes that can restrict movement or cause discomforts such as skinny jeans or bodycon dresses.
Additionally, wearing layers is essential for any woman traveling through airports.
Airplanes are notorious for being too cold or too hot so make sure you have a light jacket or cardigan with you.
Layers also help to create versatility within one outfit allowing you to transform from warm weather outside the plane to cooler temperatures on board.
Is it a good idea to wear a dress to the airport?
Dresses can be comfortable and breathable, but they can also be restrictive if they are too tight or if they have a lot of fabric.
Another factor to consider is security checkpoints at the airport.
Wearing a dress with lots of embellishments could create issues during security checks as these items may set off metal detectors or raise suspicion.
It's best to keep your outfit simple and streamlined for easy passage through security.
How can I look stylish on a plane?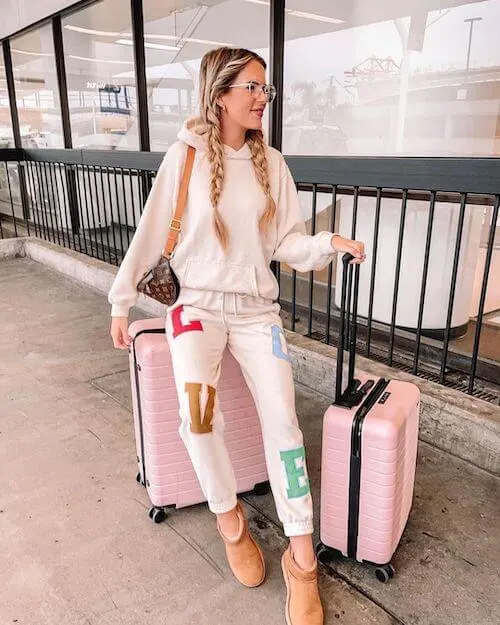 Traveling can be exhausting, especially when you have a long flight ahead.
Being comfortable is key, but that doesn't mean you have to sacrifice style.
A comfortable pair of leggings or joggers paired with a loose-fitting top can make all the difference in how you feel during your travels. Accessorize your outfit with a stylish scarf or hat to add some flair.
When it comes to footwear, opt for slip-on shoes that are easy to take off during security checks and won't put too much pressure on your feet during the flight.
Sneakers can also be a great option for both comfort and style.
Finally, don't forget about the importance of layering.
Airplanes can get chilly, so bring along a cozy cardigan or jacket that can easily be removed if necessary.
With these tips in mind, you'll be able to look stylish while remaining comfortable throughout your travels.
What are the best clothes to wear on a long haul flight?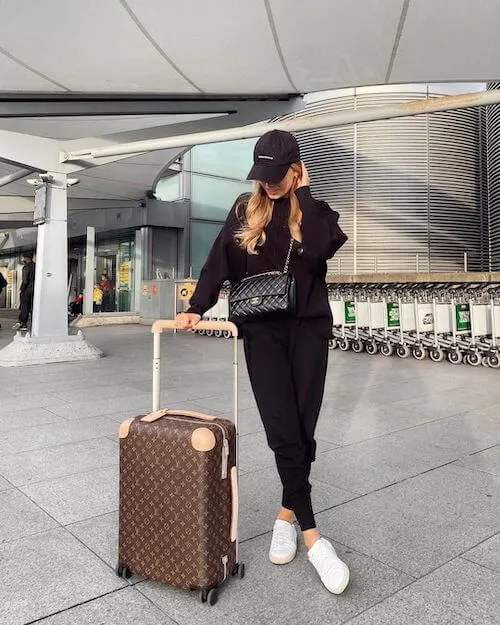 For a long-haul flight, choosing the right clothes can make all the difference in ensuring a comfortable journey.
The key is to find clothing that strikes a balance between comfort and style.
Here are some tips on what to wear for a long-haul flight.
Firstly, opt for loose-fitting clothes made from breathable fabrics such as cotton or linen.
These materials allow air to circulate and prevent you from feeling too hot or sweaty during the flight.
Additionally, choose items with stretchy waistbands or elasticated cuffs to avoid restrictive clothing that can be uncomfortable after hours of sitting in one position.
Another important consideration is layering. Airplanes can be notoriously hot or cold, depending on the airline's climate control system and whether you're seated by a window or aisle seat.
To avoid the risk of feeling too hot or cold, take a few thin layers and layer them on depending on your mood.
If you're traveling in winter, choose thermal underwear and wool layers that can be worn under a pair of trousers and a sweater for extra warmth.
What should you not wear at the airport?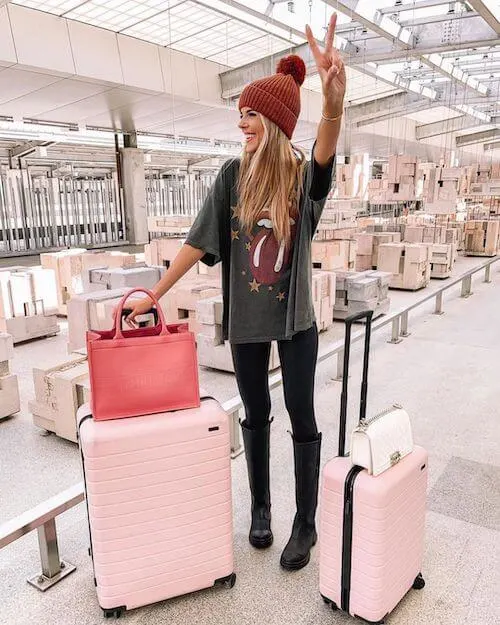 When it comes to dressing for the airport, there are certain things that you should avoid wearing.
Firstly, leave your high heels at home! They might look fabulous on the runway or in a magazine, but they are not practical for walking long distances through the airport terminal.
Instead, opt for comfortable shoes that are easy to slip on and off during security checks.
Another item of clothing that you should avoid wearing at the airport is anything with too many zips or buttons.
While these may be fashionable additions to your outfit, they can cause delays and inconvenience when going through security checks.
Choose simpler outfits instead that will make getting through security much easier.
Finally, try to avoid wearing too much jewelry or accessories at the airport.
Wearing large amounts of metal can set off metal detectors and hold up queues during security checks.
Keep it simple with minimalistic accessories that won't cause any issues during your travels.
Remember: comfort and ease are key when traveling so keep this in mind when deciding what to wear on your next flight!
Best Things To Bring For Long Distance Flights
1. Multifunctional Luggage Tag
I just found this amazing thing recently and I totally fell in love with it!
It is not only a luggage tag, but also a hat holder!
It can attach to your suitcase and carry your hat!
So it helps save space and make you look stylish at the same time.
This brand has many other tag designs and colors, so do check their store!
2. Travel Wash Bag
This simple item can make all the difference when it comes to feeling refreshed and relaxed during your flight.
A good wash bag should contain all of the essentials that you need for freshening up during your journey.
This includes items such as toothpaste, toothbrush, deodorant, face wipes, hand sanitizers, and moisturizers.
By having these items readily available in your wash bag, you can refresh yourself quickly and easily whenever you need to – whether it's before takeoff or during a long-haul flight.
3. Slippers For Long Fights
Long flights can be tiring, and there's nothing better than taking off your shoes to let your feet breathe.
Slippers are a great option for those who want to free their feet during long flights.
Not only do they provide comfort, but they also keep your feet warm on cold planes.
When it comes to choosing the perfect pair of slippers for long flights, opt for lightweight and easy-to-pack options.
Slip-on slippers made with soft materials like plush or fleece are recommended as they don't take up much space in your carry-on bag.
Some slippers even come with anti-slip soles that prevent slips and falls while walking around the plane.
Wearing comfy slippers during long flights not only helps improve blood circulation in your legs but also reduces swelling caused by prolonged sitting.
So why not choose a cute and stylish pair of slippers that will make you feel comfortable and relaxed throughout your journey?
3. Eye Mask And Travel Pillow To Make Your Long Haul Flights More Comfortable
Long-haul flights can be extremely uncomfortable, especially when you're trying to sleep in a cramped space.
However, with the help of an eye mask and travel pillow, you can make your flight experience much more comfortable.
Eye masks are great for blocking out light and helping you to fall asleep faster.
They also provide a sense of privacy in case you don't want others to see that you're sleeping.
Travel pillows are another must-have item for long-haul flights.
They give your neck the support it needs and prevent stiffness or soreness from sitting in one place for too long.
You'll find different types of travel pillows such as inflatable ones which take up less space or memory foam ones that mold according to the shape of your head and neck.
What to avoid bringing on a plane?
When packing for a flight, it's important to remember that there are certain items that are not allowed on board.
For example, any type of weapon or explosive is strictly prohibited and can result in serious consequences if found in your luggage.
Additionally, liquids over 3.4 ounces (100 milliliters) are not allowed in carry-on bags and must be placed in checked baggage.
It's also important to avoid bringing any perishable foods or drinks on the plane.
Not only do they have the potential to spoil during the flight, but the strong odors can be unpleasant for other passengers.
Similarly, it's best to leave any large bulky items at home as they may not fit in the overhead compartments or under the seats.
Overall, when packing for a flight, it's important to review and follow all airline regulations regarding what is allowed on board.
By doing so, you can ensure a smooth and stress-free travel experience while keeping yourself and others safe.
Shop Our Favorite Airport Outfits:

↓ Save This Post To Pinterest ↓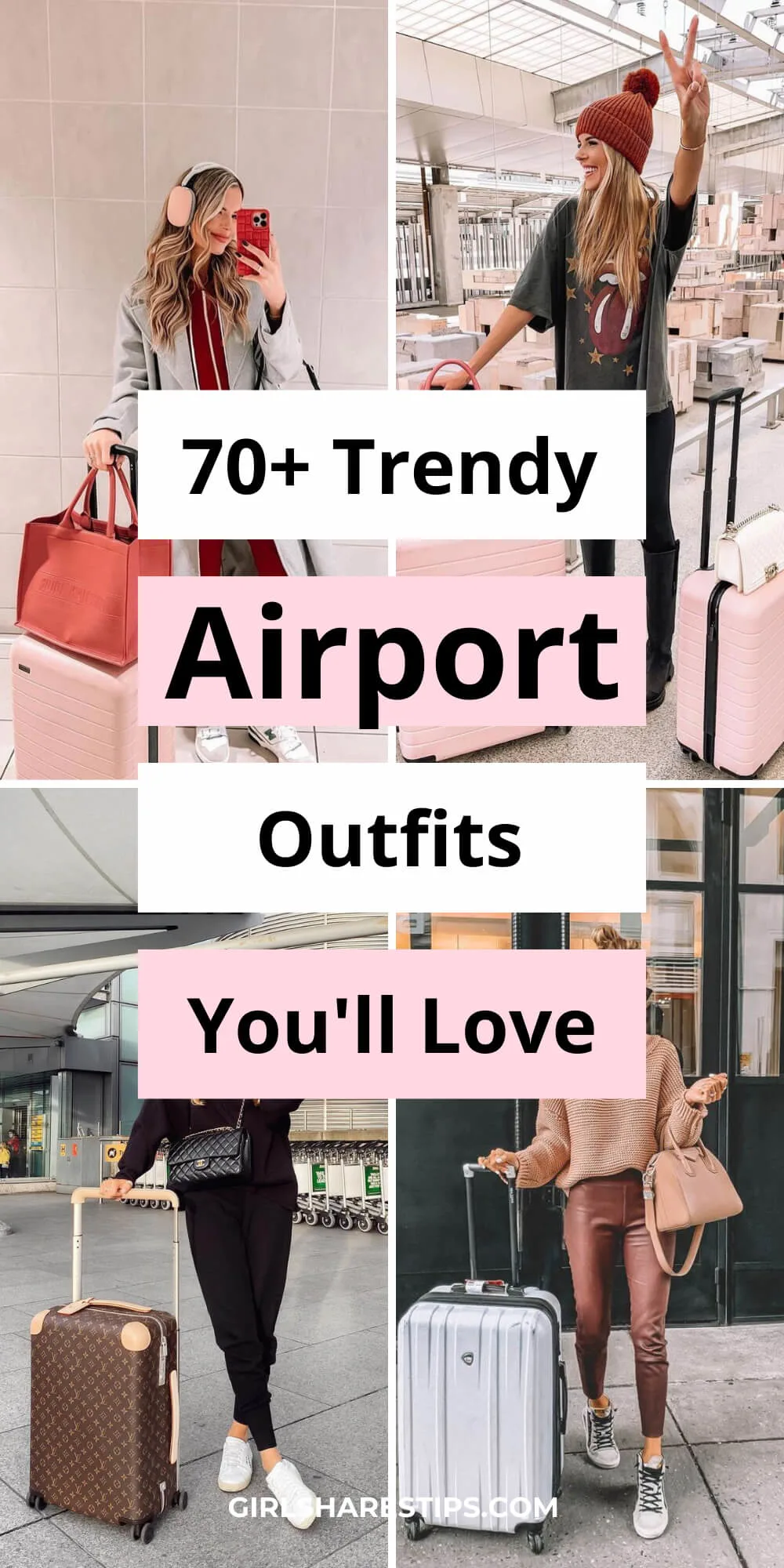 This post was all about cute and comfy airport outfit ideas.
About The Author
Tracy is an experienced personal stylist, shopping expert, and fashion & lifestyle blogger. She has been featured on Time Magazine, Bustle, Best Life, Glam, The Zoe Report, Mic, and GOBankingRates, for her insights on fashion, beauty, home decor, and lifestyle. Read More
Like this post? You may also like our web story about cute airport outfits!
Other Travel Outfit Ideas: