Want to know what to wear in Vegas? Check this post for the fashion guide for your Vegas trip and the 50+ trendy Las Vegas outfit ideas to copy directly.
Las Vegas is the largest city in Nevada, famous for its huge tourism, shopping, and resort industry centered on the gambling industry, and is one of the world's most famous vacation destinations.
The unimaginable number of large casinos decorate the facade of Las Vegas, the sightseeing helicopters are forever cruising in the sky of the sin city, and the pervasive huge billboard light boxes fill the casino-lined Las Vegas Boulevard with temptation, rendering the place into a bright, colorful, and vivid to the extreme city that never sleeps anymore.
If you are looking for the best outfit ideas for your next Vegas trip for the first time, you've come to the right place.
In today's article, I am sharing with you my style tips and favorite Vegas outfits for your entire Las Vegas packing list. So you can copy and shop the outfits from our favorite retailers directly for your coming Las Vegas trip.
So scroll down to check these Vegas outfits, and don't hesitate to pin them to your Pinterest board and share them on social media sites.
This post may contain affiliate links, which means I'll receive a commission if you purchase through my link, at no extra cost to you. Please read the full disclosure here.
This post is all about what to wear in Vegas.
What is the dress code in Las Vegas?
There is no strict Las Vegas dress code, usually casual and chic outfits are the most appropriate ideas, but of course, you can check with the place you are going to in advance if there are official dress codes.
In the meantime, I suggest you get a few fine statement accessories to give your normal casual outfits a quick style boost.
Vegas Outdoor Activities: Casual Outfit Ideas For Summer Months
During the summer, Las Vegas has hot weather and strong sunshine during the day, so I recommend cool, breathable clothing such as linen or cotton short sleeves and shorts for casual wear, and a sun hat for sun protection.
There is also a large average temperature difference between morning and evening, so it is a good idea to prepare comfortable clothing such as long-sleeved T-shirts or casual clothing for your casual stroll.
In terms of dressing style, I recommend a funky or even edgy casual look that will be more in tune with the Vegas vibe and the environment of the places you're about to visit.
For example, you can venture into fun tops, bright colors, glossy accessories, etc., all of which will make your outfits look more in-style.
In addition, you also need to prepare at least one pair of light and comfortable shoes. Especially if you have a lot of walking to explore Las Vegas, a pair of good walking shoes will make your trip more relaxed and happy.
Pink Drop Shoulder Blouse + White Shorts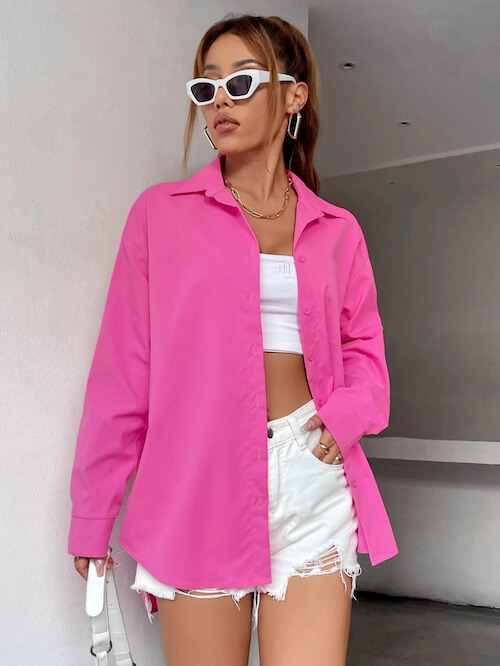 Tank Tops + Denim Shorts + Tennis Shoes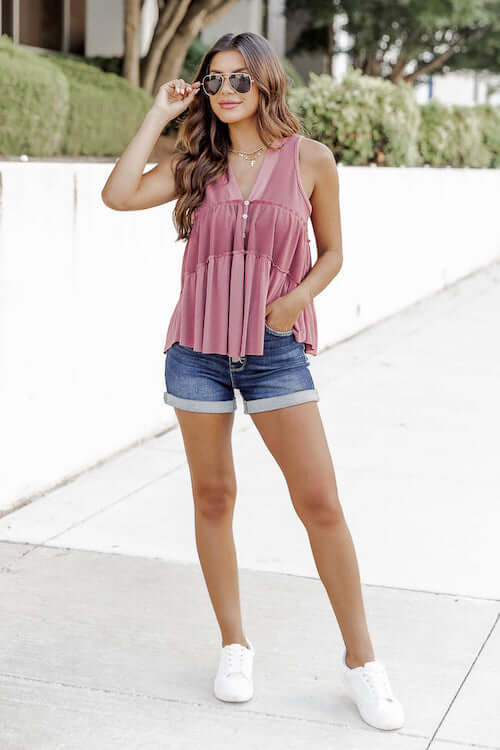 Long Sleeves Knot Back Top + A Pair Of Jeans + Flip Flops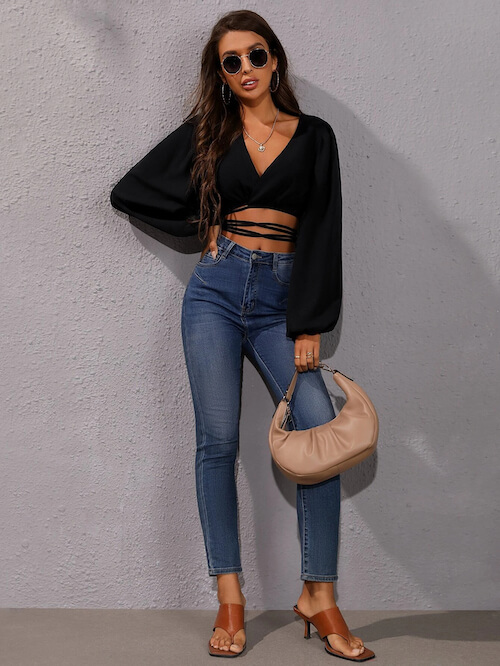 White Oversized Shirt + Black Shorts + Comfortable Shoes
Cute Top + Satin Pants
Lantern Sleeve Belted Swiss Dot Chiffon Romper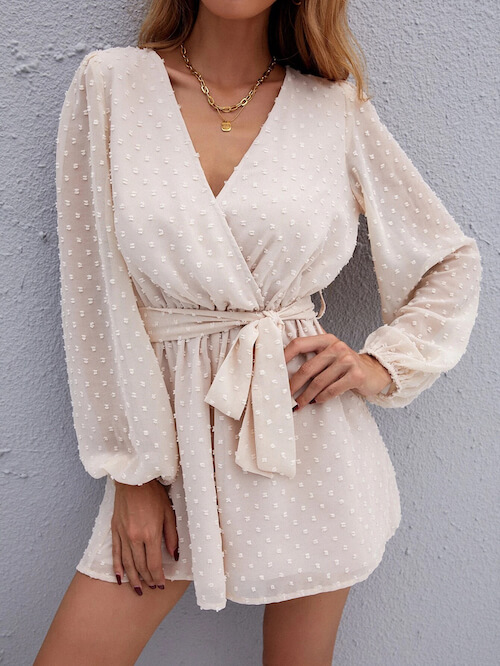 High Split Allover Skirt + Black Top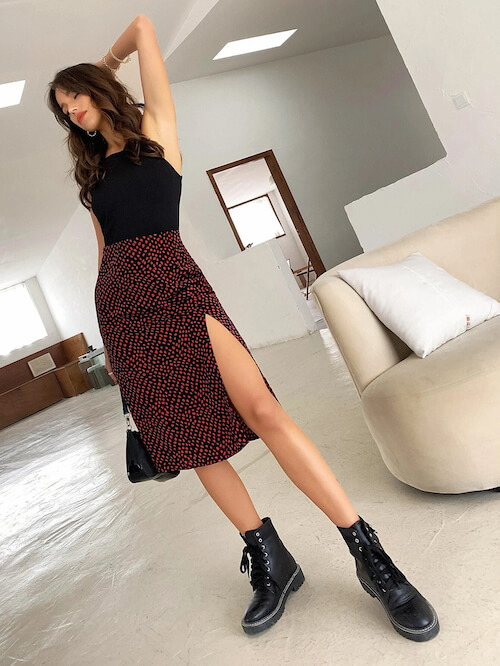 Black Pants + White Top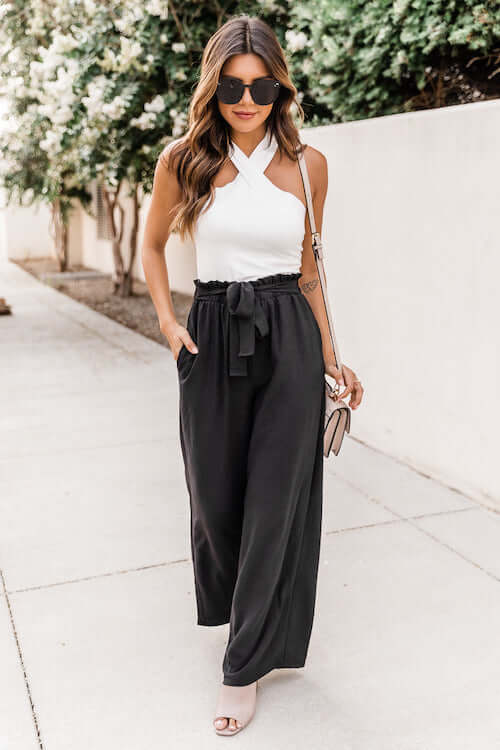 White Casual Button-Up Top + Jean Shorts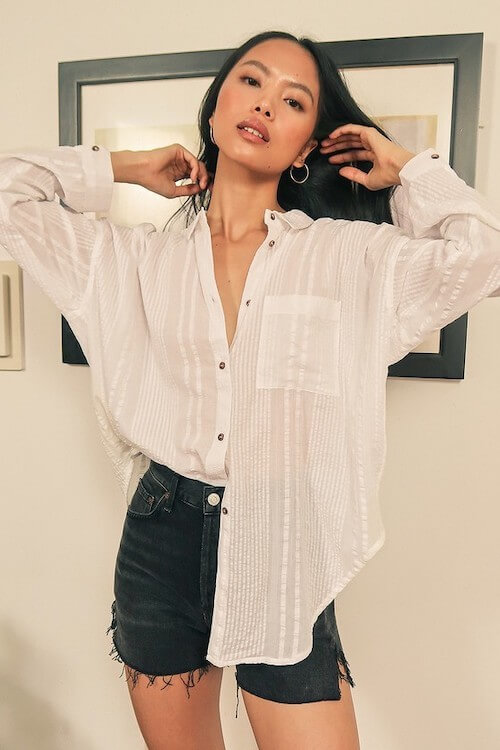 Black Romper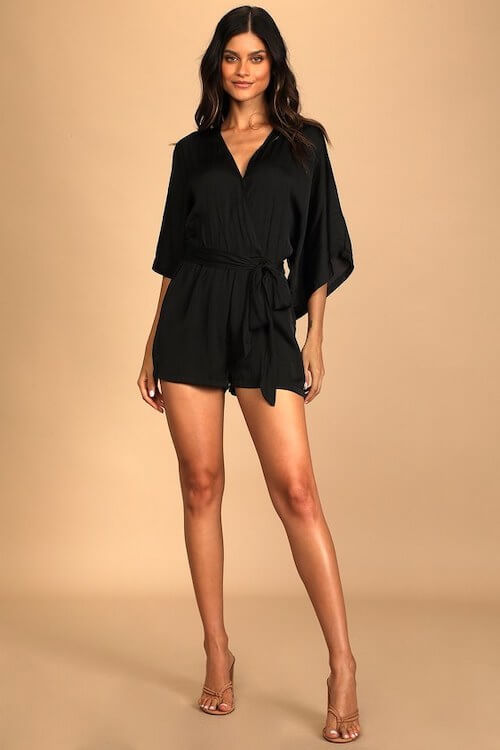 Off-the-Shoulder Crop Top + Wide Leg Pants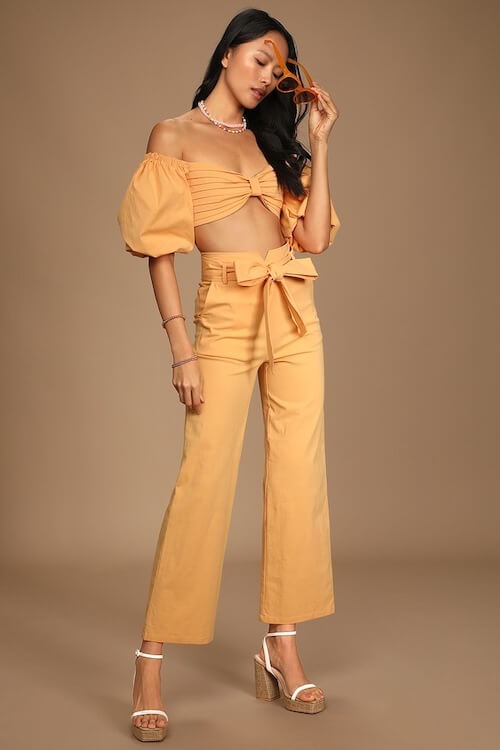 Rusty Rose Midi Skirt + Tight Top + A Pair Of Flats Or Low Heels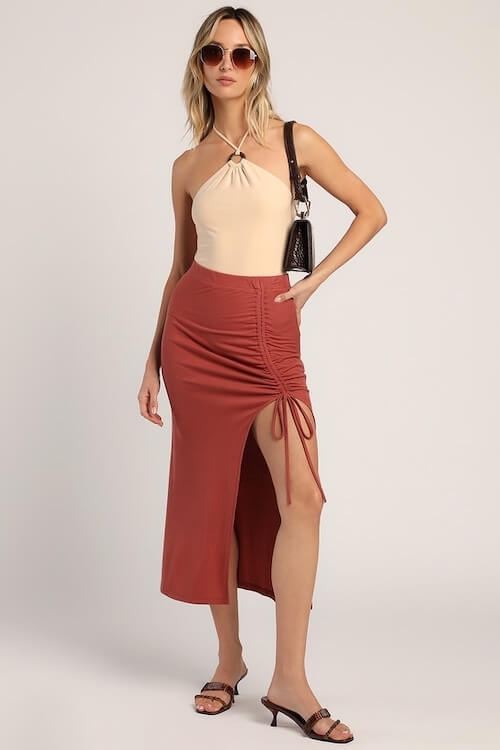 Long Sleeve Casual Dress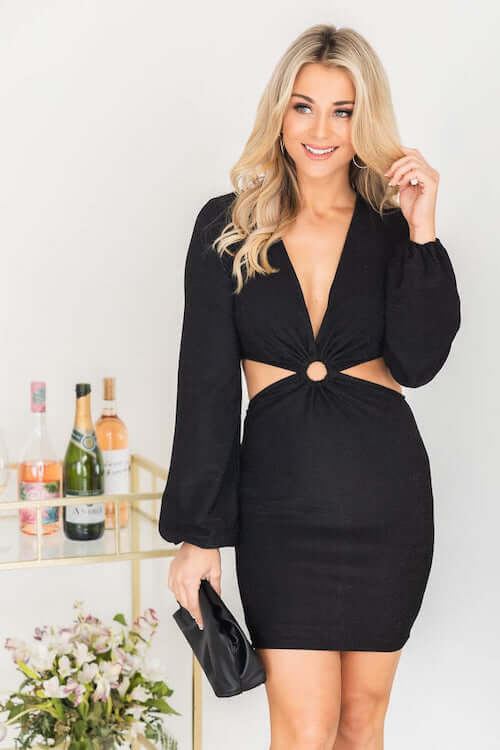 Dusty Blue Tie-Front Long Sleeve Crop Top + A Pair Of Shorts
Taupe Lace Cami Bodysuit + Nice Jeans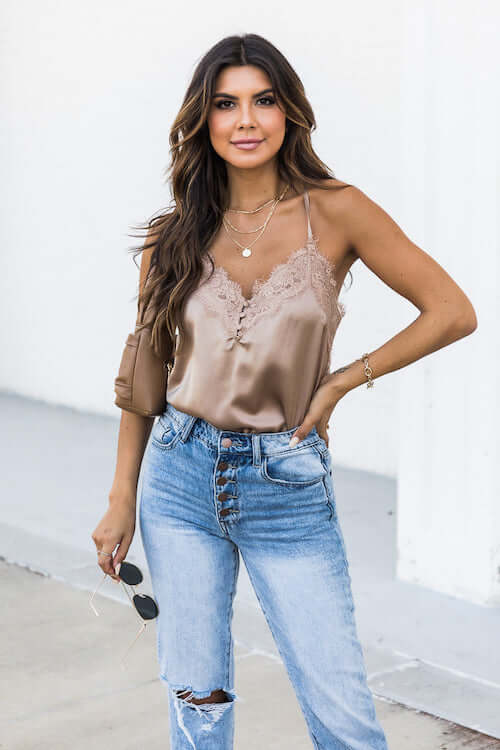 Cute Las Vegas Outfits For Fall And Winter
If you go to Vegas in the early fall, you can wear light jackets, long sleeves shirts, and long pants.
For the low temperatures in the winter time, you need to bring thick sweaters, thick pants, jeans, thick shirts, and thick jackets for that time of year.
In the winter months, there is very little rainfall so you don't need to bring an umbrella.
I especially recommend leather pants and leather skirts, which are both warm and stylish and will allow you to confidently handle any work or casual occasion.
Cream Shearling Jacket + Black Leather Pants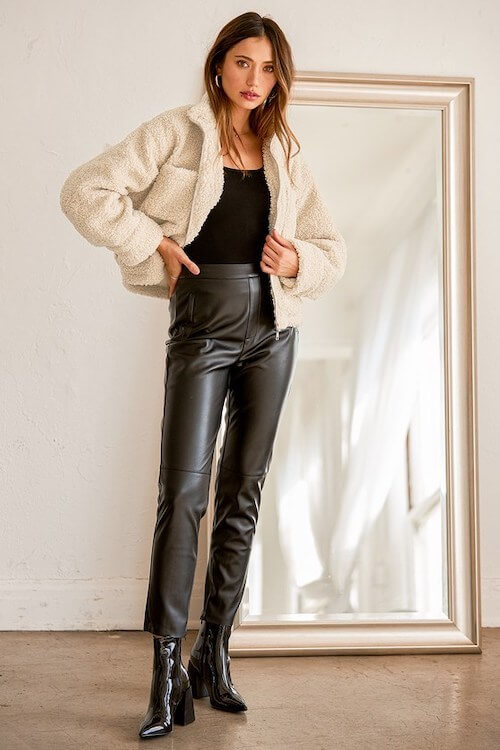 Oversized Light Jacket + Lace Top + Mini Skirt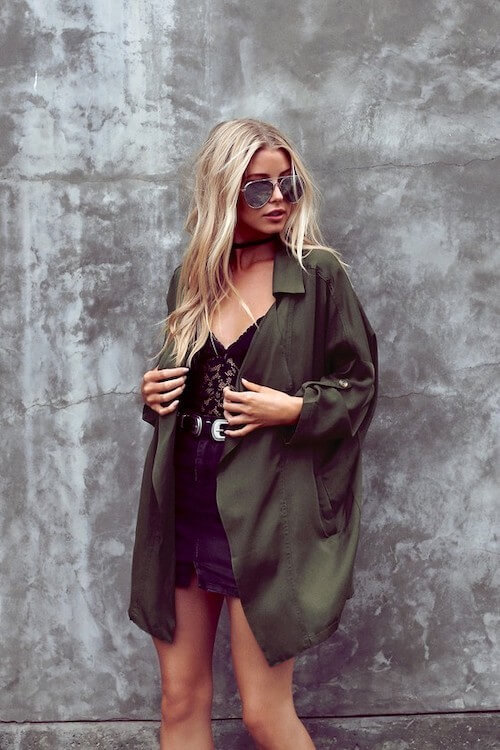 High Waist Faux Leather Skirt + Black Top + Boots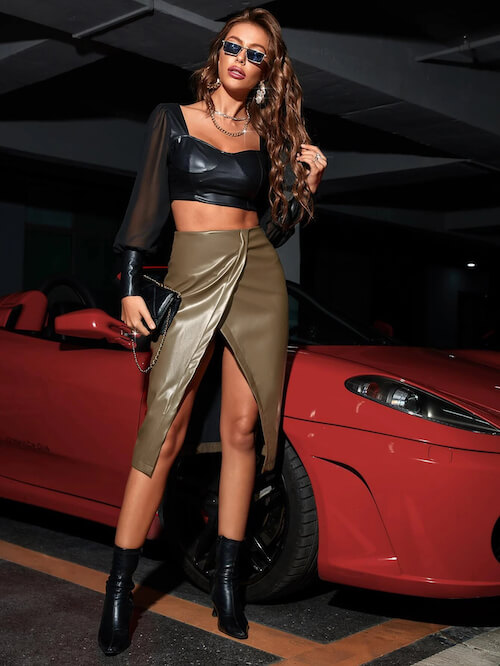 Button Front Sheer Shirt + White Wide Leg Pants + Sandals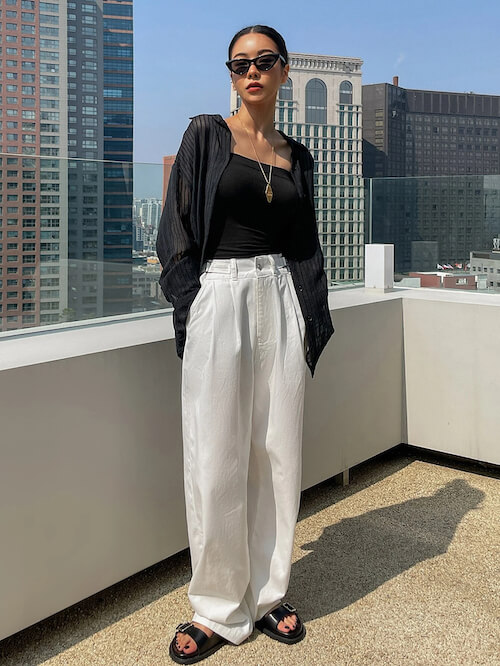 What To Wear In Las Vegas Casinos
The good news is that in most Las Vegas casinos there is no strict dress code, unless the casino is frequented by celebrities, you can wear more casual clothes, including a pair of nice jeans and a cute top, or a more casual dress.
But either way, to make your trip more enjoyable and to get the most out of the city's unique style, I suggest you dress up rather than dress down.
This way you will be able to handle it whether you are playing a serious game of chance or enjoying an unimaginative show.
So, go for the sequined embellishments, the sophisticated and sexy cuts, and the good-quality jumpsuits. For the choice of shoes, a great pair of high heels will be your best choice.
Of course, if you want to walk more comfortably, a pair of low-heeled or pointed flat shoes is also a very great option.
Red Sequin Dress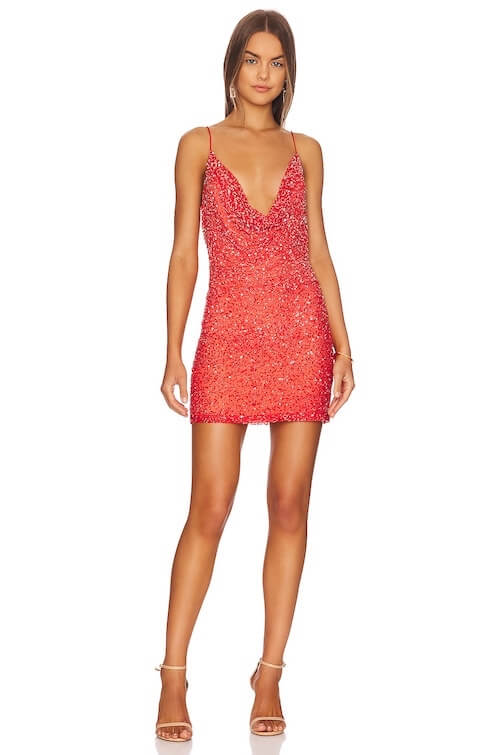 Black Satin Sleeveless Cowl Neck Bodysuit + Black Jeans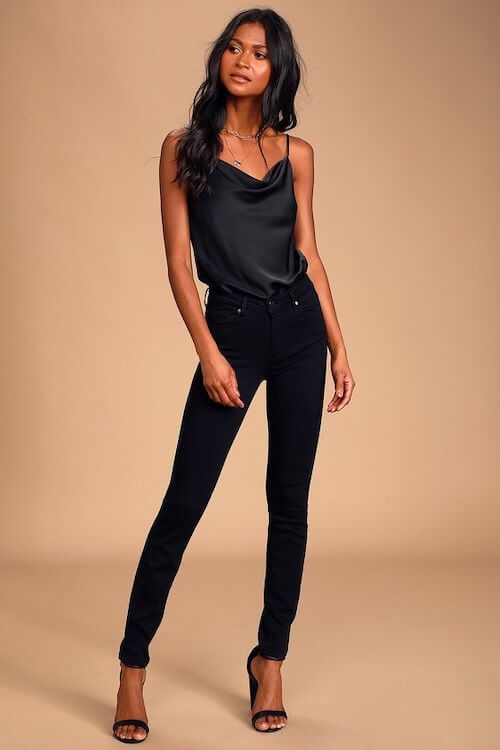 Blue Satin Halter Crop Top + Flare Jeans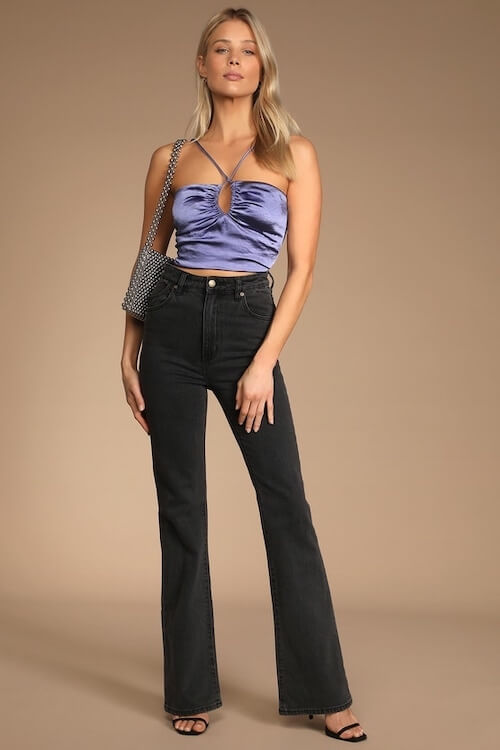 Black Mesh Lace Long Sleeve Bodysuit + High Rise Jeans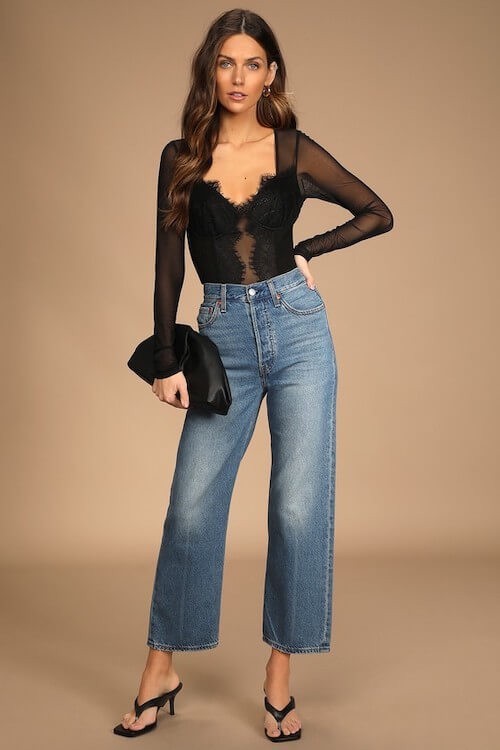 Rusty Rose Satin Asymmetrical Wide-Leg Jumpsuit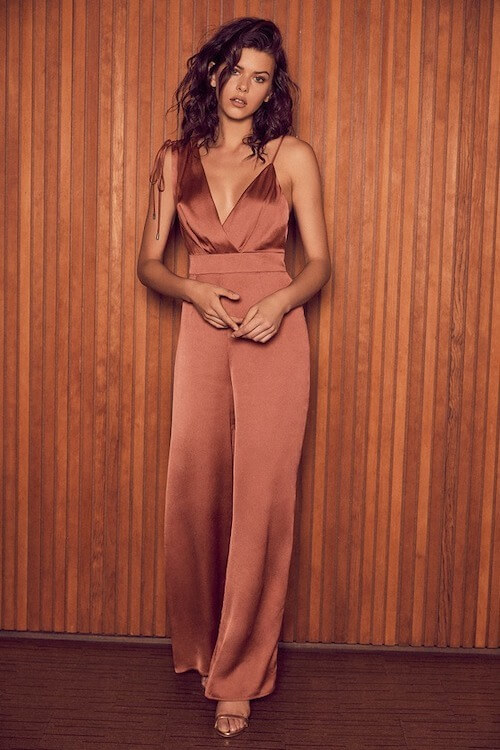 Blue Zebra Print Faux Wrap Mini Dress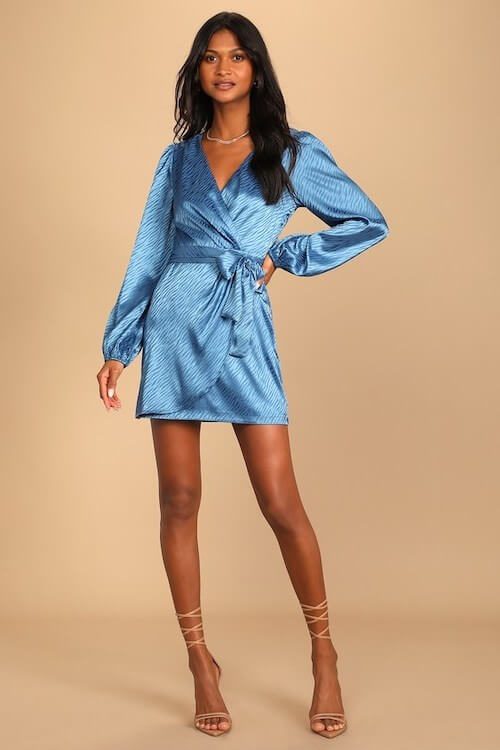 Pink Belted Blazer Dress
Sequin Little Black Dress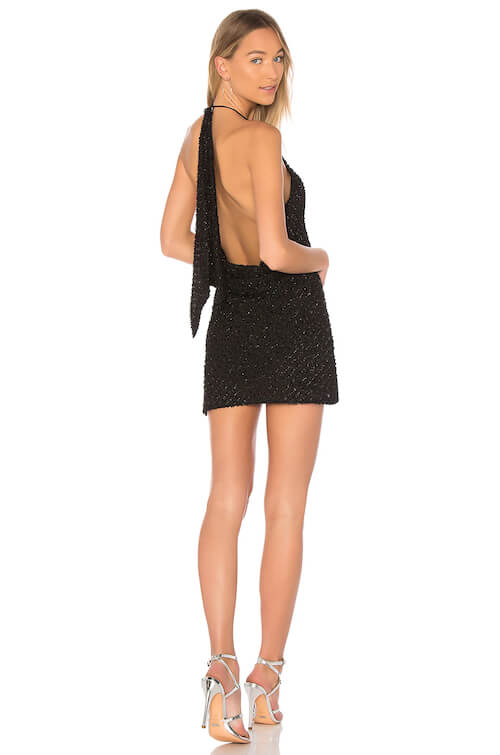 Midnight Top + Jeans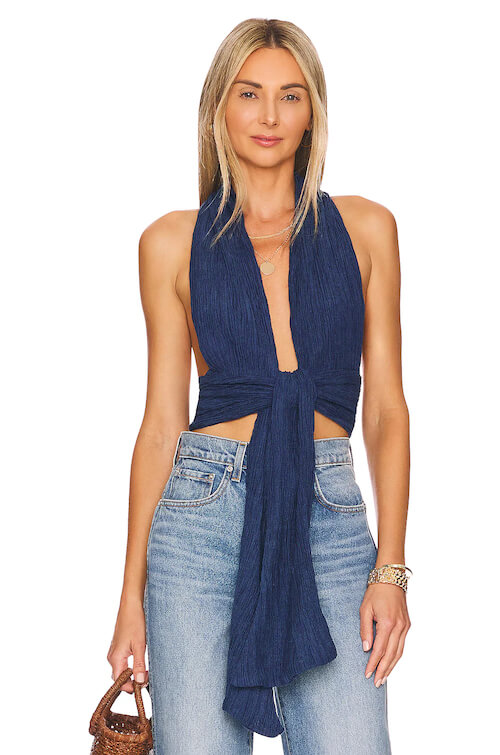 Ruffle Hem Crop Sequin Cami Top + Cropped Jeans
What To Wear In Las Vegas Nightclubs
In Las Vegas, the entertainment capital of the world, how can you visit this glamorous city without going to a Vegas club?
"What happens in Vegas, stays in Vegas." Like gambling, clubbing may not be everyone's favorite part, but it is definitely one of the most memorable experiences in Vegas: cool lighting effects, awesome DJs, and sweating on the dance floor!
Almost every major hotel on the street has a different type of club, ranging from glamorous and dazzling to outdoor pools, which will definitely leave a memorable impression on visitors to the city.
For women, the dress code is relatively less strict, just a little dress-up, for example, a dress with high heels or sandals is a great choice.
Of course, you can also choose a pair of dress pants or the combo of a cute skirt and a sexy top.
However, if you are dressed too casually, such as wearing normal slippers, you may be stopped by the door staff and refused entry.
One pro tip: using retro style accessories such as pearl chocker, retro style purse, and platform sandals, can make your style quickly stand out and make you become the most charming focus in the crowd.
Disc Chainmail Sequin Halter Mini Dress + High Boots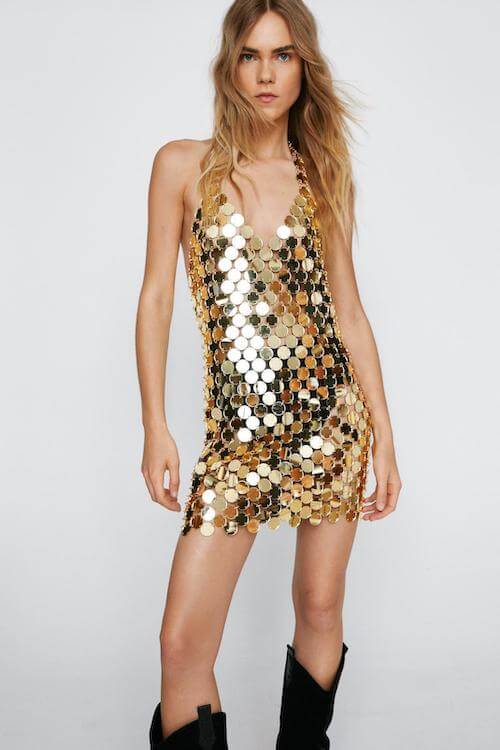 Ruched Asymmetrical Ruffle Hem Satin Skirt + Black Satin Blouse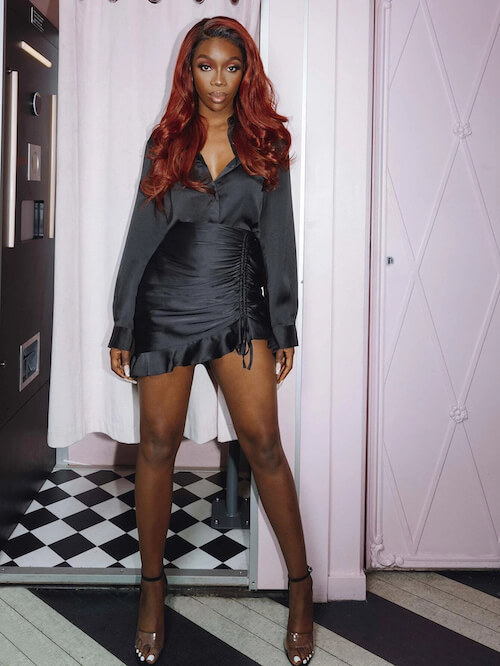 Feather Bandeau Top + Sequin Pants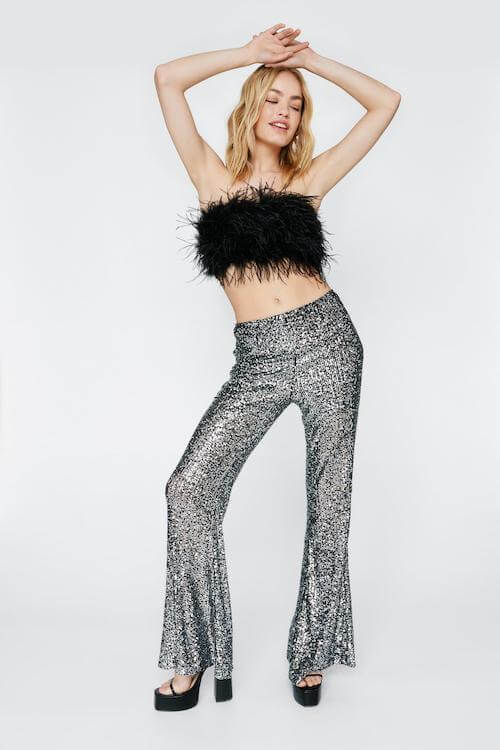 Layered Pearl Choker
Feather Mini Skirt + Sequin Crop Top
Black Crop Top + Animal Print Mini Skirt
Black Sequin Bodycon Dress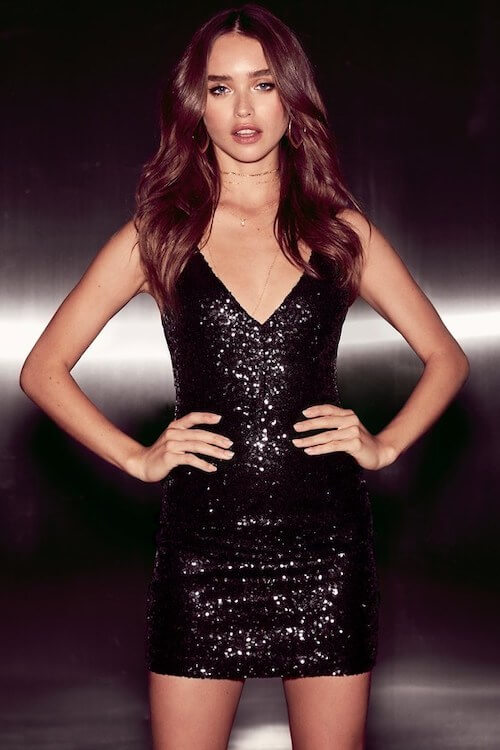 High Waist Satin Dress Pants + Black Cami Top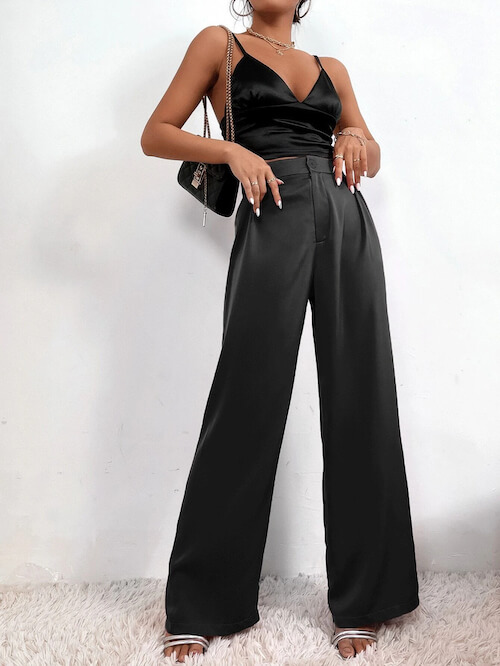 High Waist Wide Leg Pants + White Crop Top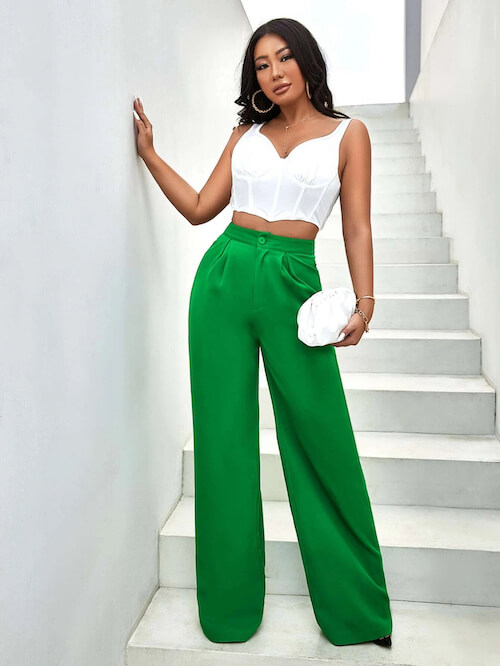 Exaggerate Layered Mesh Ruffle Trim Bardot Top + Leather Leggings
Red Tie-Back Faux Wrap Skort Romper
Black Lace Sleeveless Bodysuit + Mini Leather Skirt
Flared Pants With Feather Trims + Black Blazer + High Heels
Black and Tan Dot Print Puff Sleeve Top + Leather Shorts + Ankle Boots
What To Wear To Pool Parties In Vegas
Some people may not like the nightclub vibes, or just want to enjoy a nice sleep time in your hotel room, but in Las Vegas, if you still want to find some fun, I highly recommend the pool parties.
Generally speaking, pool parties are held in the same venues as nightclubs, and the way to purchase tickets is similar, and you can also get free tickets to the hotel pool parties when you stay at some hotels.
So listen to music, drink cocktails, enjoy a cool dip in the pool with your buddies and have fun!
Bathing Suit
At the Vegas pool party, you can wear a nice swimsuit, but remember to prepare a cute cover-up or some light layers to wear out of the pool.
Bikini Top + Black Tropical Print Lightweight Blazer & Shorts Set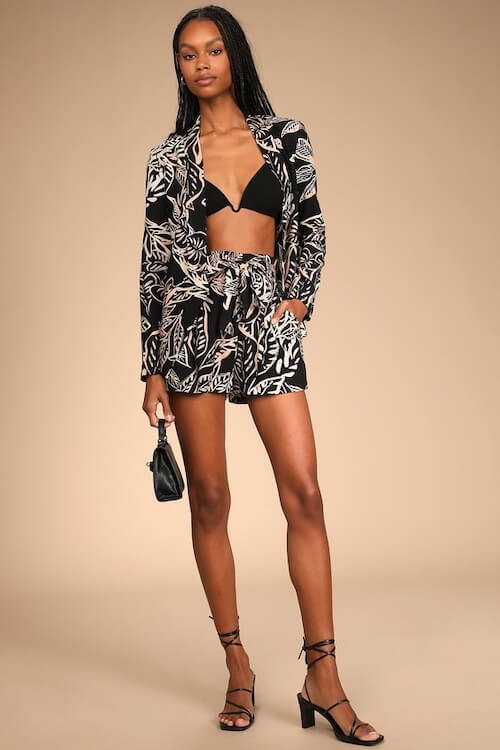 Fuzzy Trim Bodycon Dress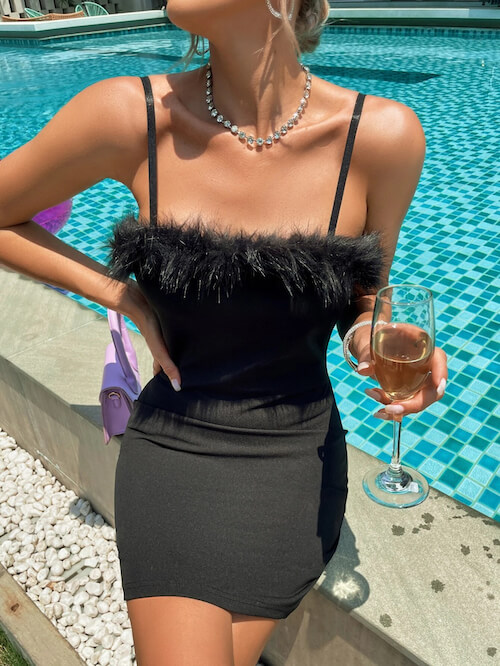 What To Wear To A Nice Dinner In Vegas: Formal Wear Ideas
In some of the fancy night clubs in Las Vegas, there will be a fancy restaurant where you can enjoy excellent dinners.
In fact, most Las Vegas dinners do not have a dress code. To be on the safe side for a nice restaurant, you just need to avoid wearing casual flip-flops, shorts, ripped jeans, sweatshirts, and sneakers.
Of course, if you enjoy a great dinner at a fine dining restaurant, then you need to wear formal attire such as a nice cocktail dress or jumpsuit, dress pants outfit, and if the weather is colder, you can put on a smart-cut blazer outside.
I especially recommend that you try bolder and more dazzling colors, such as bright yellow, blue, pink, and green, when enjoying dinner in Las Vegas. They can add more fun memories to your trip to Las Vegas.
Navy Lace Dress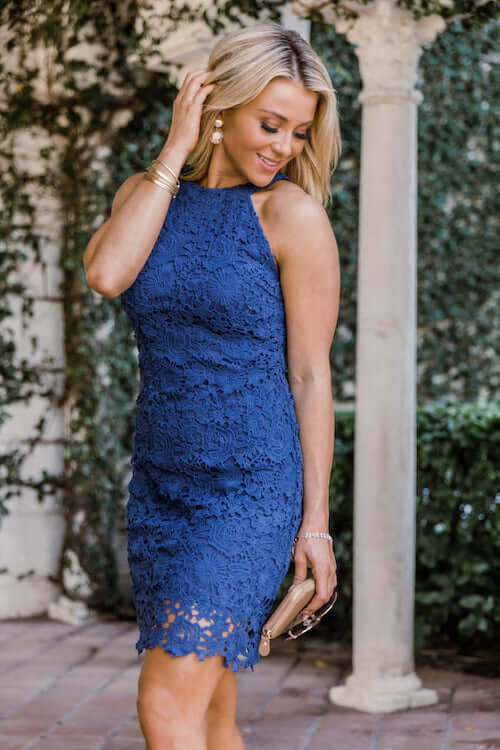 Green Double-Breasted Blazer Top + Yellow Satin Dress
Cream Cheetah Print Midi Skirt + Cold Shoulder Top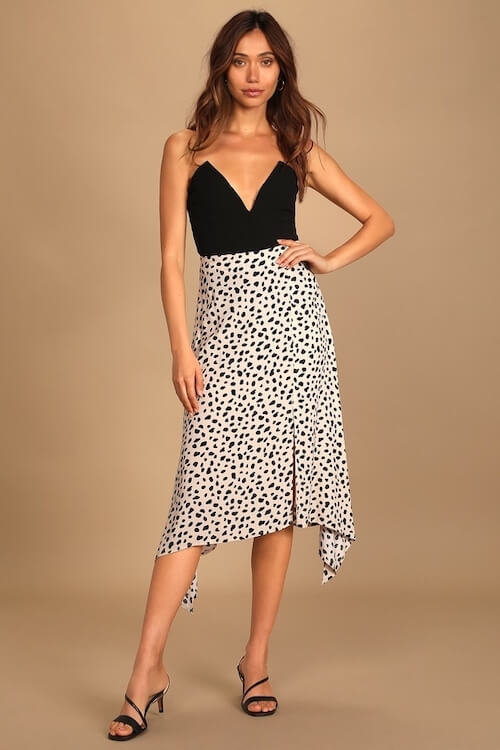 Black Silk Cocktail Dress
Green Split Hem Cami Bodycon Dress
White Wide Leg Sequins Cami Jumpsuit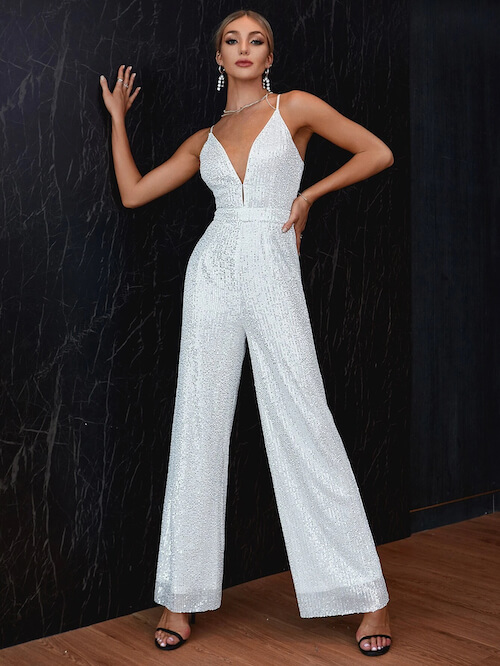 Ruched Cami Bodycon Dress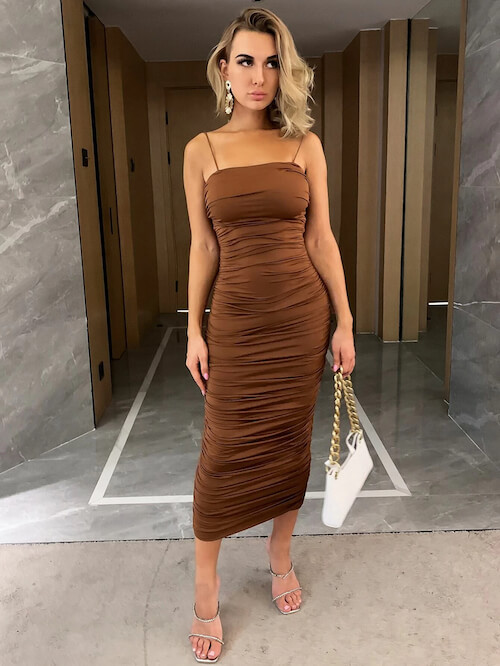 What To Wear For A Work Trip In Vegas
If you're traveling to Las Vegas on business, I recommend a pair or two of silk or satin button-down shirts that will make your Vegas business casual wear look expensive and can easily be transformed into the best tops for the club after work, just by an easy way of tying a knot in front of them.
A chic all-black blazer set is also what I highly recommend. It makes you look very professional.
Bring your dazzling statement jewelry to add the right personal touch to your chic outfits for a fancy dinner or a Las Vegas night club.
Satin Collared Shirt + Faux Leather Midi Skirt + A Pair Of Heels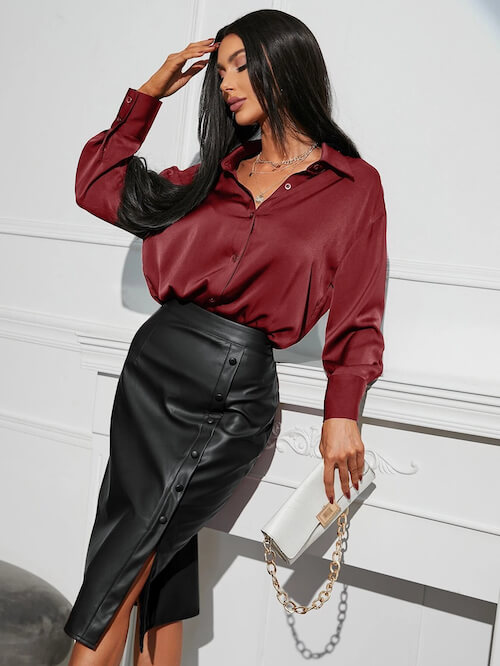 Animal Print Blouse + Faux Leather Skirt
Black Cropped Short Sleeve Blazer Set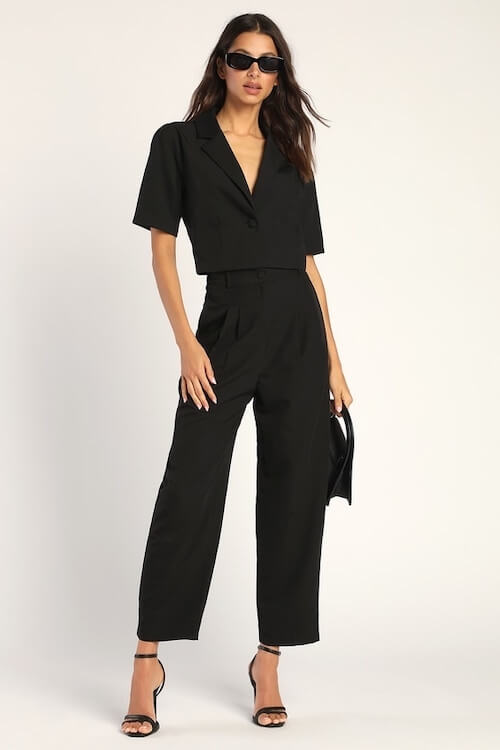 What should you not wear in Vegas?
First, you have to determine what not to wear based on the weather. For example, in the summer, you should avoid clothes that are not breathable and stuffy. In winter, the weather will be colder, so you should avoid clothing that is too thin.
Secondly, you need to arrange the appropriate style of clothing according to the occasion you are planning. For example, in a fancy hotel or for any other formal look, you should avoid baddy outfits or torn pieces
Also, in most nightclubs, fancy restaurants, and casinos, you should avoid wearing normal casual shorts, sneakers, flip-flops, sportswear like yoga pants, and torn clothing.
This post was all about what to wear in Vegas.
Related Posts: