Looking for saving money tips for teens? Want to have your first $1000 without a job? Check out our post for genius tips!
You know what, you don't even need a serious job to get your first $1000! Using some genius and easy to follow tips, you can reach that goal veryyyyyy soon!
Let's start today!
This post may contain affiliate links, which means I'll receive a commission if you purchase through my link, at no extra cost to you. Please read the full disclosure here.
This post is all about saving money tips for teens.
Best Saving Money Tips For Teens
Develop Good Habits
1.Set a goal of saving money, and share it with at least 3 people around you. That would help you to stick to the goal.
2. Try to use the cash more often. So you will have a stronger feeling that you are actually spending money out.
3. When you see something you like to buy, give yourself two minutes to think about it and ask yourself if you need to buy it.
4. Use coupons in supermarkets and restaurants. You can consult the clerk when you are there.
5. The annual package is not necessarily more cost-effective! Be sure to try the product or service before paying for the annual package.
6. Learn to find dupes of designer clothes and popular styles of the season.
7. In terms of skincare products, buy skincare products suitable for your age and skin type.
When you are young, you don't need to use too expensive and nutritious skincare products. Just pay attention to cleaning, moisturizing, and sun protection.
8. Learn to cook by yourself and reduce eating out.
9. Learn to make healthy fruit and vegetable drinks and salads yourself.
10. Eat fewer snacks and sweets, which are not suitable for health and skin
11. Learn to keep accounts. In the beginning, write down every expenditure regardless of the amount, record the amount and purpose, and make a weekly summary.
12. Learn to set a budget for every important expense and type of payment.
For example, it is assumed that a specific type of consumption can only cost $50 US per month, and stop buying anything of that type once the expense reaches $50.
13. Learn delay gratification.
Saving money is to live better in the future, start your own business, and other things you are really interested in, and to have more choices in your life. Don't use irrational impulse consumption to satisfy your current desires.
14. Plan in advance for large expenses and large-scale projects, such as travel, and for large-value items to be purchased. Learn more about the information in advance, pay attention to price changes, and buy when the price is right.
15. Ask and learn from others' experiences.
For example, when you are going to a new city, participating in the events you haven't participated in, going to college, etc, before that, you can first ask others if they have any money-saving tips if they regret buying something. Many mistakes can be avoided.
Practical Saving Money Tips For Teens
Find Discounts
16. Don't forget to make the most of your student status and ask carefully if there is a student discount when spending money and shopping.
17. Pay attention to the school's bulletin boards. Many local community stores will launch discounts for local students.
How To Buy Cheaper Products
18.If you don't want to buy things in a hurry, write them down and buy them when the discount season comes.
19. Money-saving websites you must know. For example, for clothing, I strongly recommend you check the below sites:
20. You can buy a lot of cheap and good-quality goods in second-hand stores.
Learn How To Earn Money Without A Job
21. Scholarship: One of the best ways for students to make money is through scholarships! Find more scholarship programs.
22. Sell items that are no longer used, such as stationery, books, toys, clothes, shoes, etc. They can be sorted out and sold for money.
23. Go to second-hand stores for inspiration, see what second-hand goods others are selling and whether you have similar second-hand goods that can also be used to get money.
24. Sell your skills for money, such as drawing, editing articles, etc.
25. Don't limit yourself to the United States, and see if other countries have opportunities to make money.
26. On holidays, ask your parents, relatives, neighbors, and schools if there is a temporary task that needs your help, and you can exchange money.
27. Ask your classmates and friends. Exchange information with them. In many cases, several people make money together faster than one person makes money.
Simple Saving Money Tips For Teens
Reduce Expenses
28. Learn DIY skills.
Turn used things into new things, such as gifts, school supplies, storage boxes, and so on. You can find a lot of videos telling you how to do DIY projects online.
29. Before throwing things away, think about whether they have other uses.
30. Learn how to match old clothes. It is not necessary to buy the latest styles of dresses every time the season changes. Sort out your old clothes and see if there are any new matching methods you can try.
31. Learn how to wash, organize, and preserve clothes to extend the life of clothes.
32. Cosmetics and skincare products should be marked with expiration dates to prevent them from being wasted.
33. Exercise, and don't get sick! It costs money to be sick! Many exercise methods are free.
34. Relax, reduce stress. People eat more under pressure. And once you eat more, you will look for methods of losing weight and sometimes that would cost your money to buy tools or medicines.
35. If you want to travel, you can participate in volunteer activities and travel while volunteering.
36. Find some cheap date ideas! You don't have to spend a lot on a romantic date!
37. DIY your home decoration for a romantic date night!
Find Free Learning Resources
38. Sometimes, the best learning resources do not have to be paid for. Look for free online courses.
39. Make full use of the school and community libraries. You can save a lot of money.
40. The paper version is more expensive than the electronic version. Try to use the electronic versions if you can.
41. Share learning materials with classmates and friends to save money
42. Fully understand and use the refund policy.
For example, if there is a free refund policy within 30 days, you must make good use of the 30 days to understand whether the product is suitable for you fully. If it is not suitable, make a decisive refund decision. Don't forget to get a refund!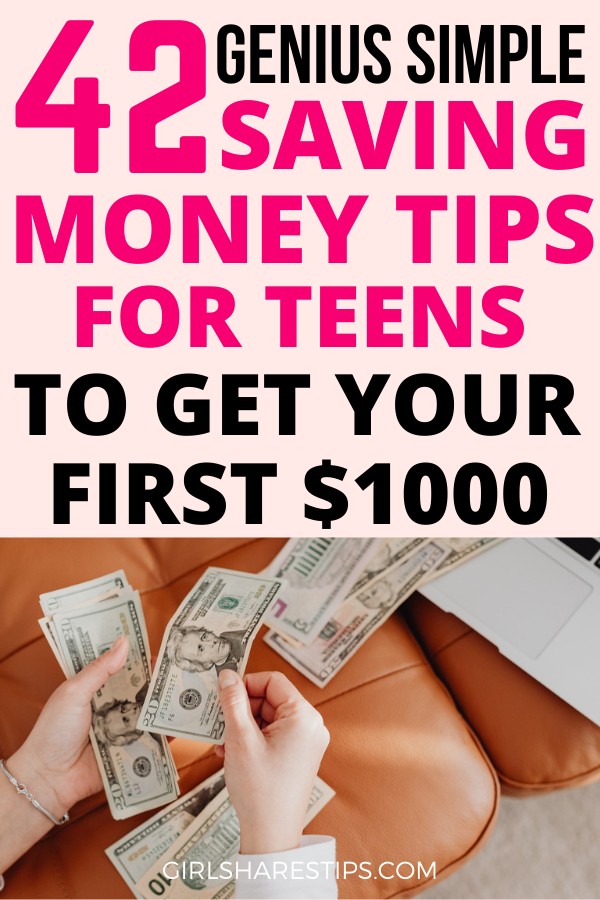 This post was all about saving money tips for teens.
About The Author
Tracy is an experienced personal stylist, shopping expert, and fashion & lifestyle blogger. She has been featured on Time Magazine, Bustle, Best Life, Glam, The Zoe Report, Mic, and GOBankingRates, for her insights on fashion, beauty, home decor, and lifestyle. Read More