Looking for amazing summer nail designs? Check this post for 40+ creative and stunning designs that you will absolutely love so much!
Can't wait to try new summer nail designs!
The beautiful weather, rich colors, delicious fruits, beautiful beaches, and lovely clothes in summer can always inspire our endless imagination and creativity, right?
In the summer, we are going to try these creative nail ideas. Some of them depict the cute things that appear in summer, some provide the bright colors of summer, and some express the leisurely and happy mood of a summer beach vacation. How beautiful these nails are.
Regardless of whether you have time to go on vacation in the summer, we recommend that you boldly try some exciting nails. Make them part of your summer outfits.
Let us embrace the beautiful summer together!
In this post, you will find summer vacation nails, blue summer nail designs, summer nail ideas for dark skin, cactus summer nail designs, lemon nails, purple summer nail ideas, and so many more!
This post may contain affiliate links, which means I'll receive a commission if you purchase through my link, at no extra cost to you. Please read the full disclosure here.
This post is all about summer nail designs.
BEST SUMMER NAIL DESIGNS
Blue Summer Nail
Baby blue is really a must-have nail color in summer. I especially like the above design, it looks less monotonous after adding gold. Whether it is in the sun during the day or in the light at night, it is shining and beautiful.
And I think you can expand your thinking and add other colors that echo your own outfit colors on the main blue color to make your whole look more fashionable.
Smily Face Nail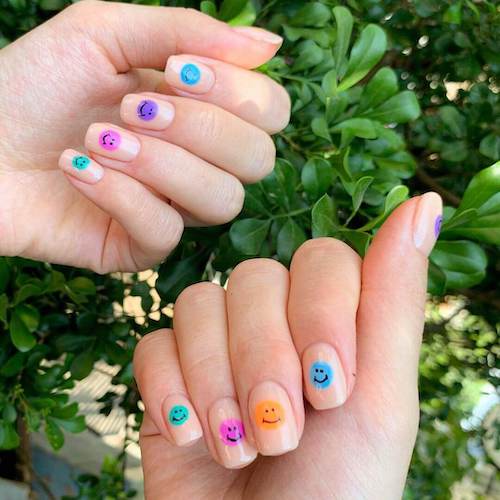 This design has a small proportion of color and is very suitable for most skin tones and clothing combinations. And if you don't know how to paint nails, you can buy cute nail stickers to realize this design.
Baby Blue Vacation Nail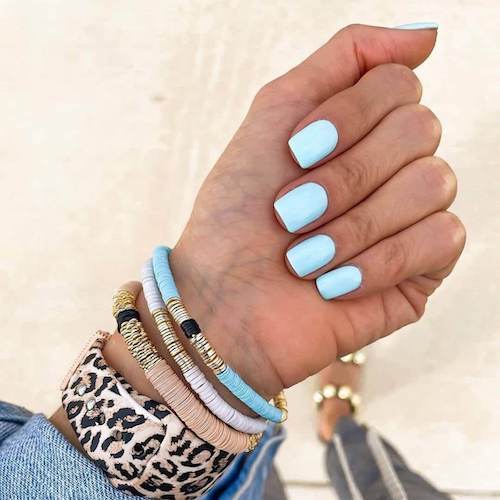 This design is also very beautiful, and I especially like her bracelets. It seems to be full of a holiday atmosphere.
Colorful And Fun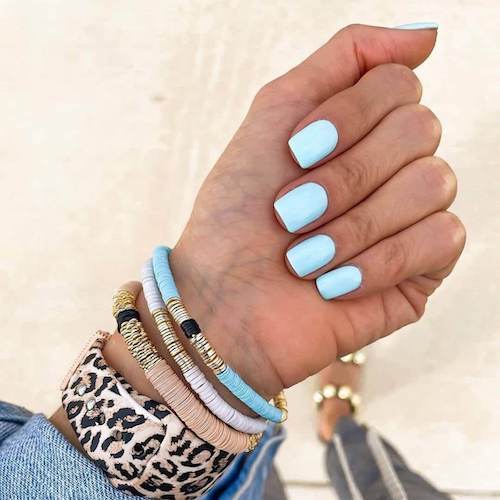 t is a good idea to combine many popular elements of summer nail design. At this time, the pattern can be drawn more abstractly, which is more childlike.
Coffin Flower Nail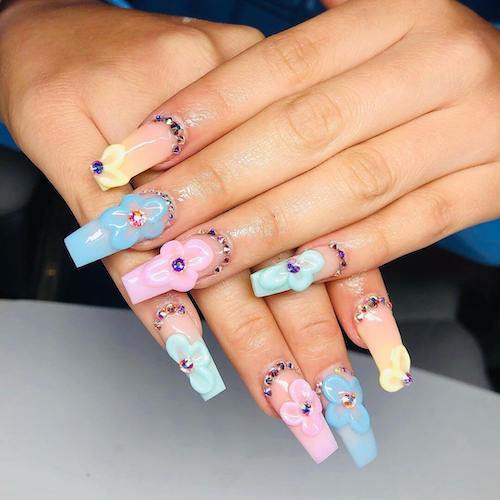 A very popular design element this year is to add rhinestone elements to the nails, which look very gorgeous and romantic, very suitable for parties and dates.
Red Tropical Nail
How can the design of coconut trees be lacking in summer? This is a very suitable design for dark skin beauties. I really love those gradient details.
Yellow And Black Tropical Summer Nail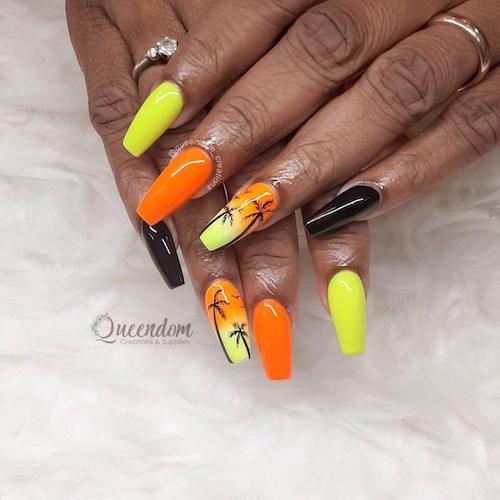 The nail design of this leaf tree is also very unique. If you are unwilling or lazy to paint all the trees, you can follow her example, just paint a few trees, and then paint the other nails with simple nail polishes.
Cool Bright Rainbow Nail
This design is very simple but the effect is very unique and fashionable. Even painting this nail design for work is suitable.
Multicolored Marble Nail
The Marble element has always been a favorite element in the fashion industry, and it is also enduring in nail design. The unique point of this design is that it uses a variety of colors to paint marble, which is full of a sexy and hot summer atmosphere.
Color Fire Nail
Fire nails are also super popular designs recently. Won't you try it?
Tie & Dye Bandana Vacation Nail
I like the exquisite and beautiful patterns of this design very much. It is very suitable for jeans or beautiful holiday dresses.
Simple Bright Summer Nail
Sometimes the simple one-color nail design is very charming. Using strong contrasting colors, such as red and green, can make the whole design more lovely at once.
Fun Animal Print Nail
Animal print has always been an indispensable and important element in summer dresses. In addition to experimenting with animal patterns on your clothing, you can also paint them on your nails.
Similarly, if you are too lazy to draw, you can try stickers.
Hot Pink Art Nail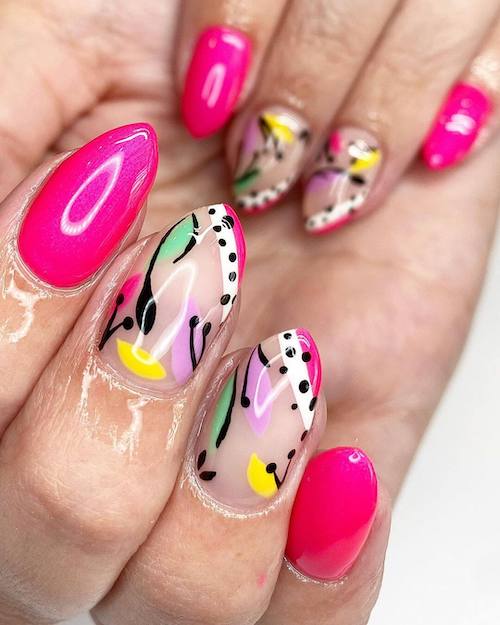 Abstract patterns are also very popular this year. Boldly use bright colors to enhance the artistic sense of nail design.
In fact, abstract patterns are not difficult to draw, and it doesn't matter if you copy them even if they are not very similar. Abstract patterns are very easy to express a sense of fashion, as long as the colors are used well.
Bright Coffin Nail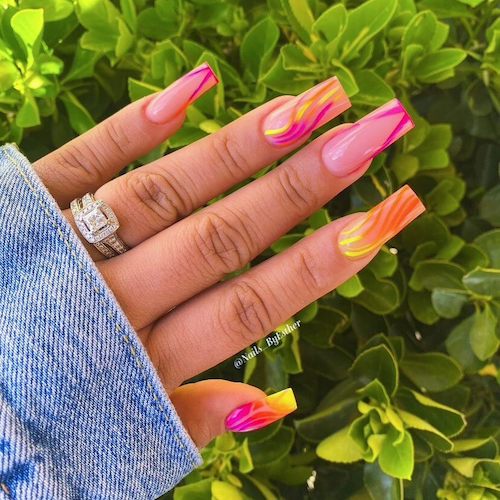 The combination of twisting and flame pattern elements is warm and gentle.
Colorful Tie Dye Bright Nail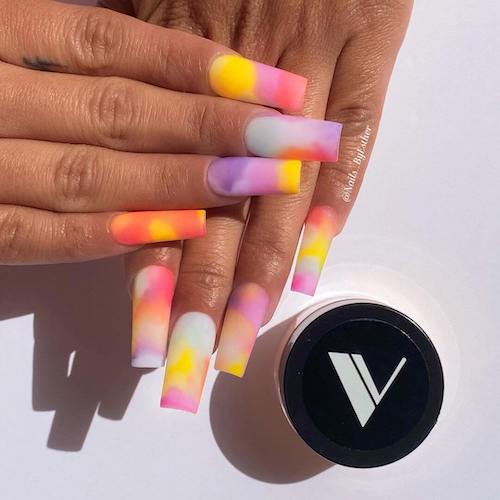 The tie dye design is also super popular this year, from clothing to nail design, which can be seen frequently.
Cute Smily Face Nail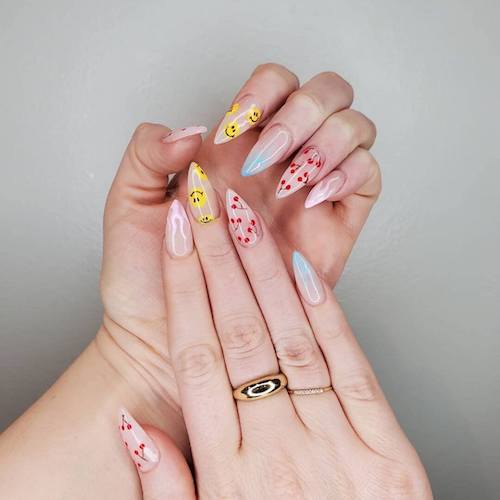 This design is really playful and gentle. Small and lovely cherry elements decorate it, subtly increasing a graceful summer vibe.
Juicy Orange Nail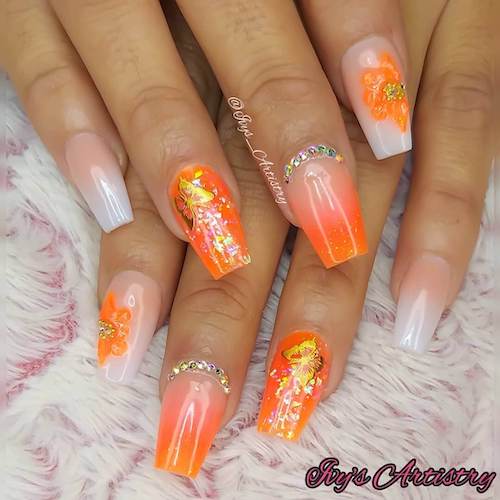 Meeting with gold and rhinestone is really a very popular design. If you don't know how to draw detailed golden butterfly patterns, I think simply adding a few golden dots or lines will also make the design beautiful.
Blue Vacation Nail
Usually summer coconut tree nail designs are warm colors, this blue cold color design is not common, but it is amazing. Very suitable for evening beach dates and drinking.
Bright Summer Blue Vacation Nail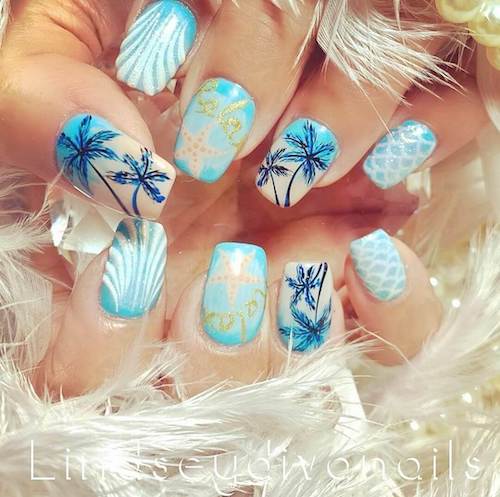 The same is the blue palm tree bracket design, this design shows a lively and lovely feeling. The white details above are the focus of the entire design, as if lace details are added.
Pink Vacation Nail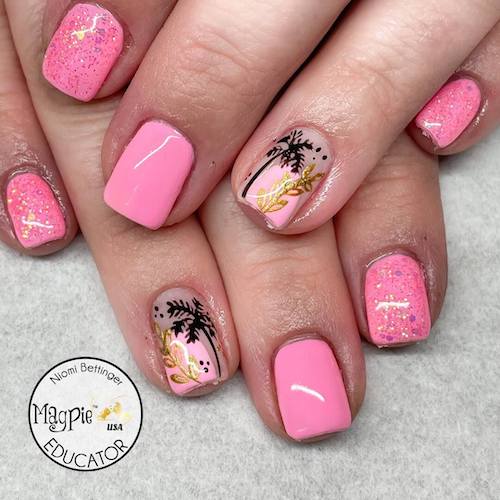 Pink palm tree designs are rare, but they are really cute and refreshing. When everyone draws palm tree nail designs on the beach side of the holiday, using pink will make you stand out.
Pineapple & Flamingo BeachNail
This design is also very lovely. Flamingo and pine apple are the cutest combinations in summer.
Bright Simple Color Summer Nail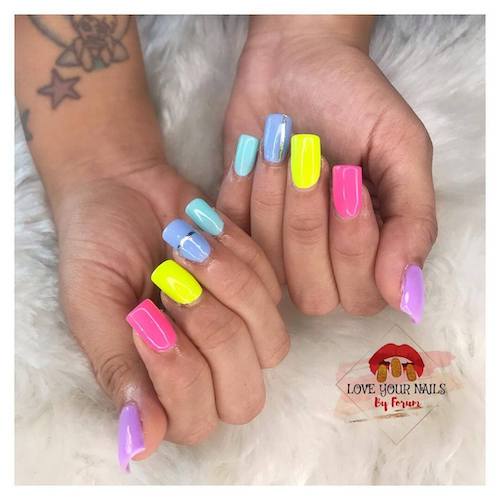 One of the tips to make a good nail design based on color alone is to have a natural transition between colors. For example, in the above design, the transition from blue and green, yellow in the middle, to red and purple, seems very natural, and the whole design looks very clean.
Abstract Lightning Bright Summer Nail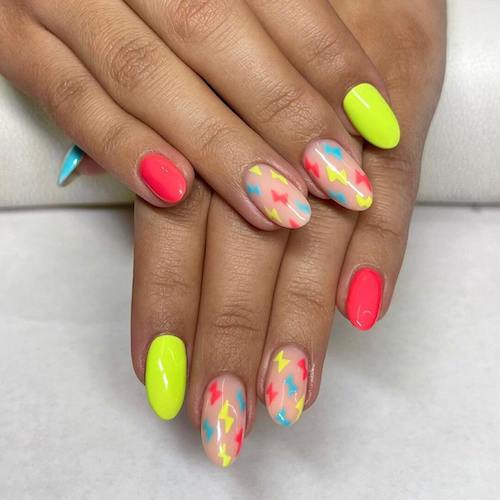 It is the design of abstract painting again! The abstract design is really popular this year. If you can't draw such a small pattern, try this sticker below.
Glitter Pineapple Summer Nail
This design draws pineapple directly with golden elements! It's really pretty. I can't wait to try it.
Bright Vacation Vibe Nail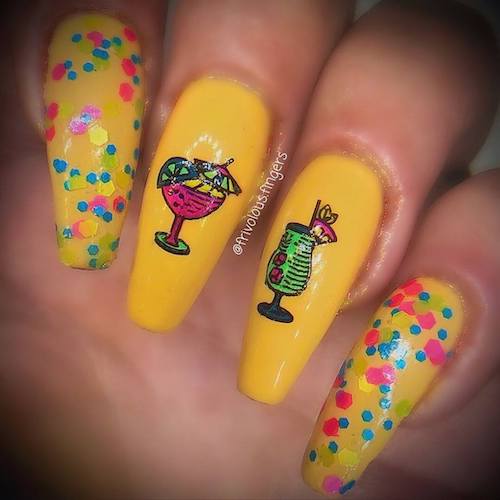 This design is really suitable for vacation! Isn't it? Can't draw? do not worry! We helped you find a similar nail sticker.
Lovely Smily Face Summer Nail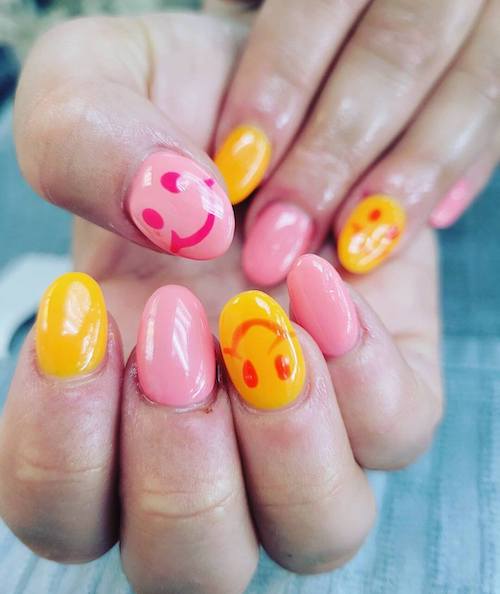 If you think the face nail design mentioned earlier is too difficult to draw, I think this one is more suitable for beginners. And the color scheme is quite gentle, I really like it very much. If you want to make your nail design unique and time is short, you can try this one.
Bright Orange Nail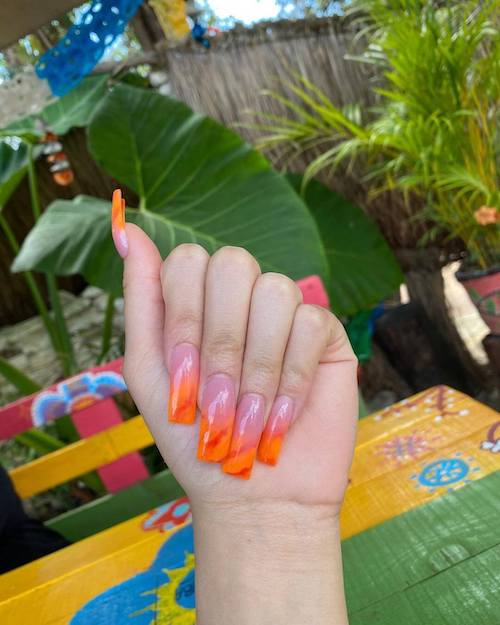 This design really looks like the juice you eat in summer. One tip I learned from this design is that you can make the color transition not so clean, you can blur it a bit and then brush the nail polish a bit thicker so that it looks a bit more juicy.
Glitter Orange And Green Mismatched Nail
The mismatched design is one of the representatives of fashion.
Sunflower Summer Nail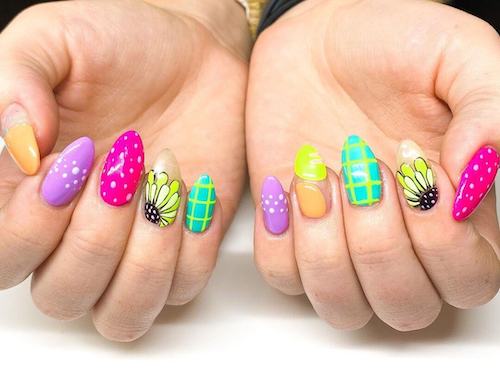 Lovely Summer Vacation Beach Nail
Sunset Blue Beach Nail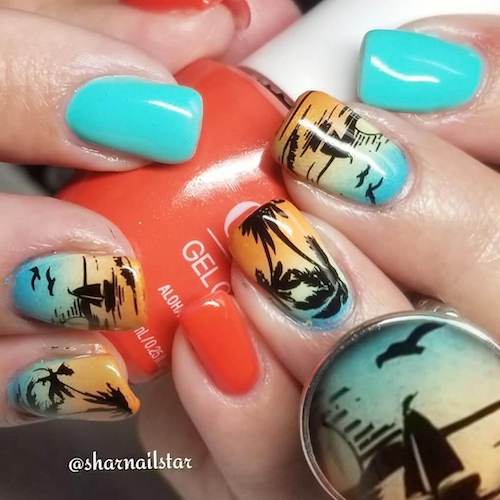 This color scheme is really beautiful.
Glitter Blue Beach Nail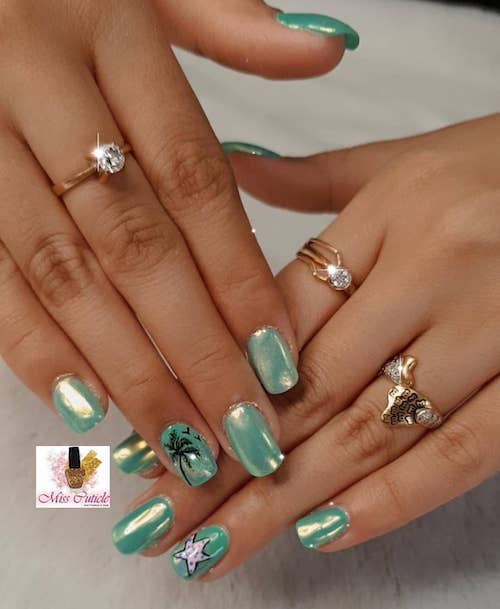 Change the color of the nail polish, and the similar patterns can show different styles. In addition, don't forget to pair with shiny accessories.
Summer Vibe Beach Nail
Glitter Summer Color Nail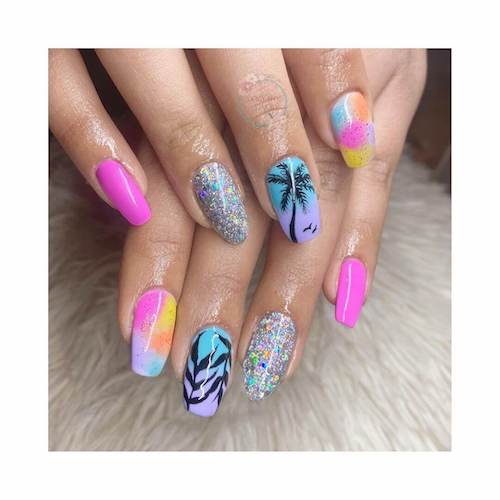 If you don't know how to add sparkling designs to each nail, it's also a great idea to just put glittering nail polish on one nail!
Summer Fruit Nail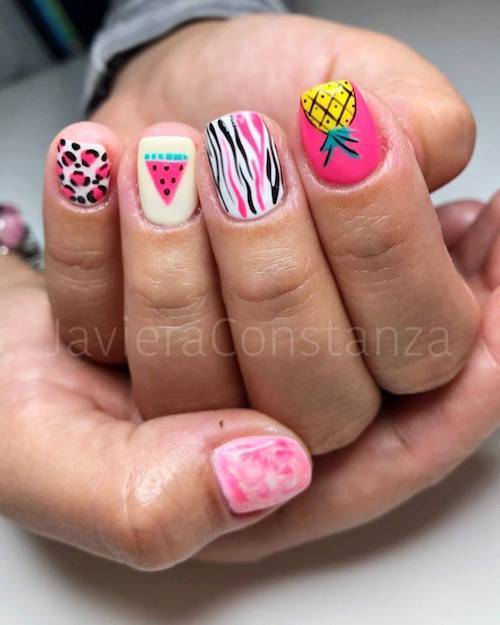 This design is very cute. The pink on each nail echoes each other, giving the design a sense of change and design.
Dreamy Summer Nail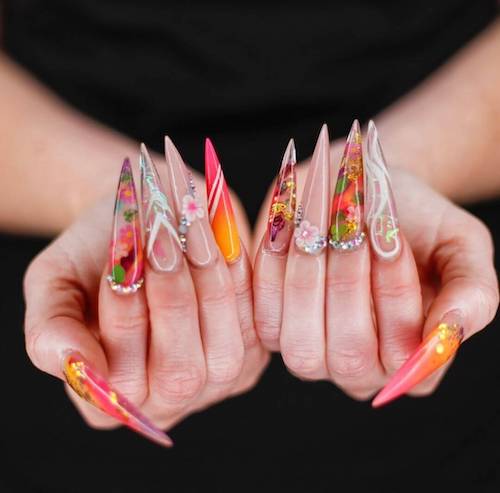 Summer Lemon Nail
Summer fruit-themed nail designs are also very popular. Next, we will show you our favorite fruit nail designs to make our summer full of more sweetness.
Blue Summer Lemon Short Nail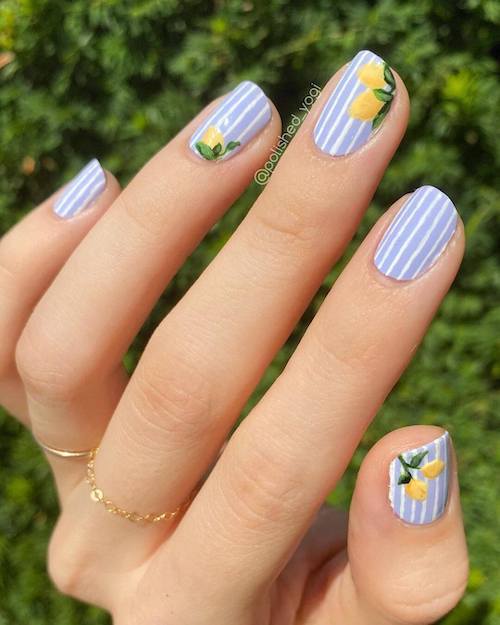 This design is very unique. If you don't know how to paint the background color, it's nice to leave it empty.
Cute Summer Lemon Nail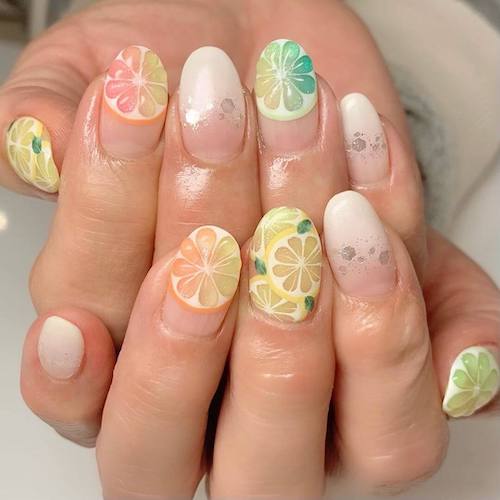 Babyblue Summer Lemon Short Nail
The combination of blue and lemon yellow is really cool and charming in summer!
Coral Summer Nail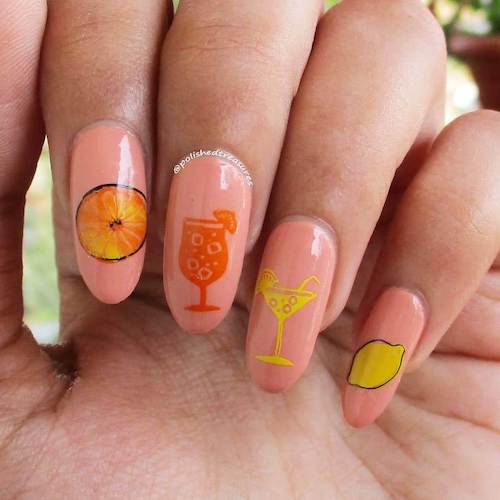 This is a more simplified version of the stand design for summer drinks. It's also very good-looking. I suggest that you can not only try the pink in this design, you can also try other background colors, which should also look very good.
Lemon Summer Vibe Nail
Look, this is a simple lemon nail design with a background color. Isn't it cute? I really recommend that you try lemon nail design in summer. If you really can't paint, the following stickers can help you!
Blue Cactus Nail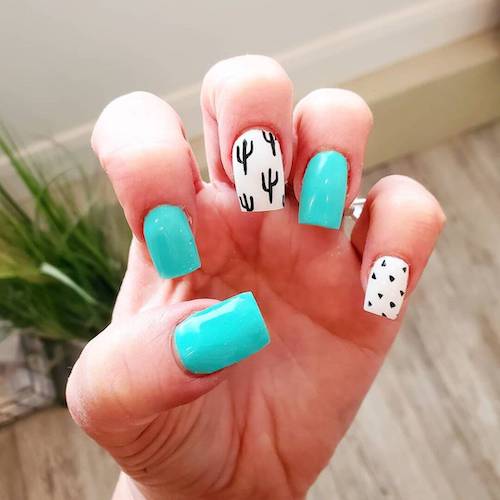 This design is minimalist and cute. Appropriate white space in nail design is an excellent way to make the design refreshing and stylish.
Light Purple Cactus Summer Nail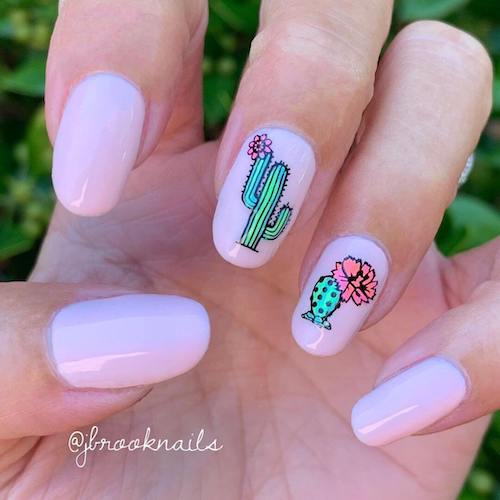 Cactus Neon Green Summer Nail
Neon nail design is trendy. Using neon nail polish as background color is also very special and beautiful.
Glitter Purple Summer Nail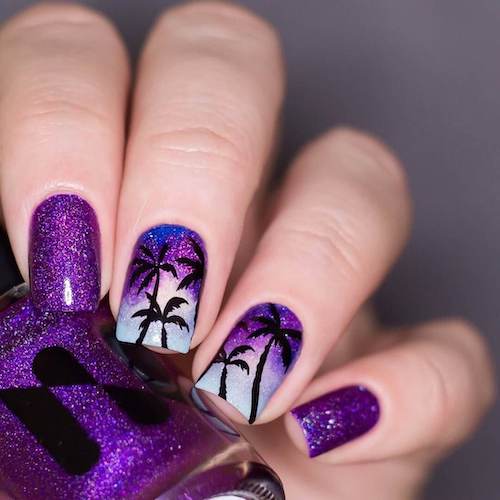 This post was all about cute summer nail designs.
Related Posts: