Looking for the best pink spring nail designs? Check this post for 60+ cute and sweet pink nail art designs for the coming spring season that you will love! From hot pink nail designs to pastel pink manicures, we've got you covered!
Spring is upon us and with it comes the opportunity to show off some beautiful nail designs.
Whether you're looking for something bold, bright, or subtle there's a perfect pink spring nail design out there for you.
Today's article will explore 60+ stunning pink nail designs that are sure to make your digits stand out this season.
From soft pastels to vibrant magentas and everything in between, these looks will keep your mani game on point all season long.
This post may contain affiliate links, which means I'll receive a commission if you purchase through my link, at no extra cost to you. Please read the full disclosure here.
This post is all about pink spring nail designs.
What Are Popular Spring Nail Colors?
Pastel tones are always popular as soon as spring arrives, and this year is no exception.
Soft shades such as lavender, mint green, baby blue, and powder pink make for a romantic manicure that will transition perfectly into the summer months.
For a more subtle look that still adds a splash of color try shades like pale rose or dusty mauve.
For those who prefer bolder looks, there are plenty of vibrant options too!
Bright yellow is making its grand entrance this season with sunny oranges and hot pinks not far behind.
Cute & Sweet Pink Spring Nail Designs
From candy-colored polishes to abstract florals, there are so many options when it comes to cute and sweet pink spring nail designs.
Pink French Tips
These pink French tips are a classic style that will bring a touch of elegance and femininity to any outfit, making them the perfect addition to your beauty routine this season.
The pink French tip design is easy to achieve with just a few tools.
Start by applying two coats of white polish, then choose your favorite pastel pink shade for the tips.
Using a small brush or nail art pen, paint along the top edge of each nail before sealing it with a clear topcoat.
This simple style looks best on long nails and can be jazzed up with other designs such as floral patterns or rhinestones for an extra special touch.
You'll be sure to turn heads wherever you go with these trendy pink French tips!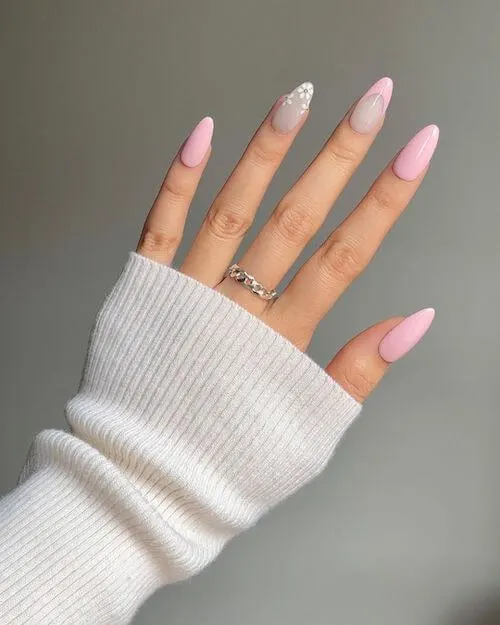 @nailsbyalsn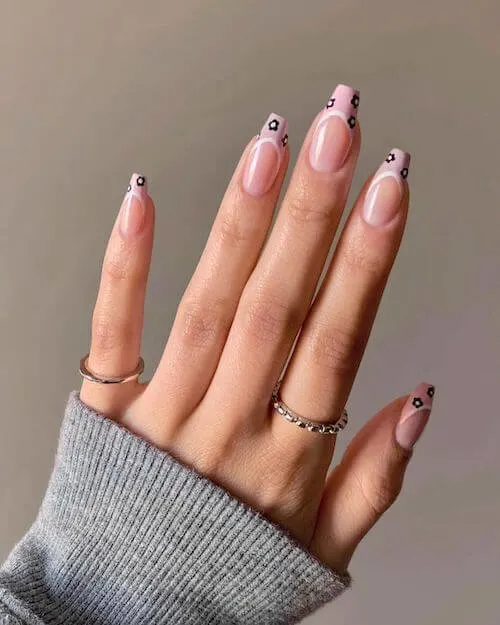 @glossytipped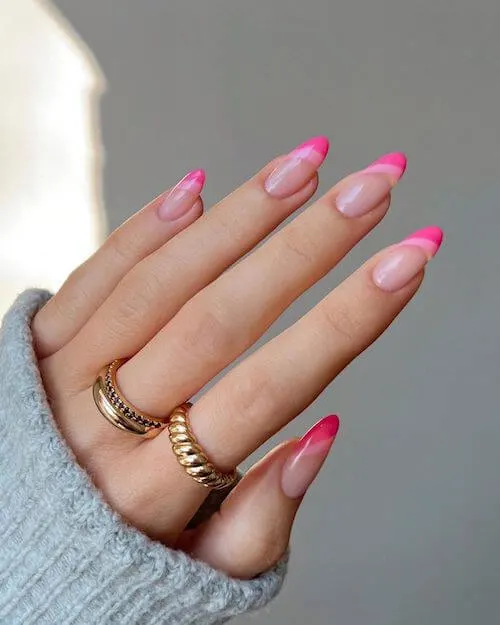 @amberjhnails
Pastel Pink Nail Art
Welcome the warmer weather with this colorful and fun nail art trend: pastel pink nails!
Perfect for anyone who loves a girly look, this soft shade of pink is just right for spring.
Whether you're looking to go all out with intricate designs or want something simpler and more subtle, there are plenty of ways to rock this look.
From minimalist monochrome manicures to artistic 3D designs, here's how to achieve the perfect pastel pink nail art for spring.
To start off your design, you'll need some quality pastel pink polish in varying shades and finishes.
Choose between matte finishes or glossy polishes that have a little shimmer so that your nails will give off an extra sparkle when they catch the light.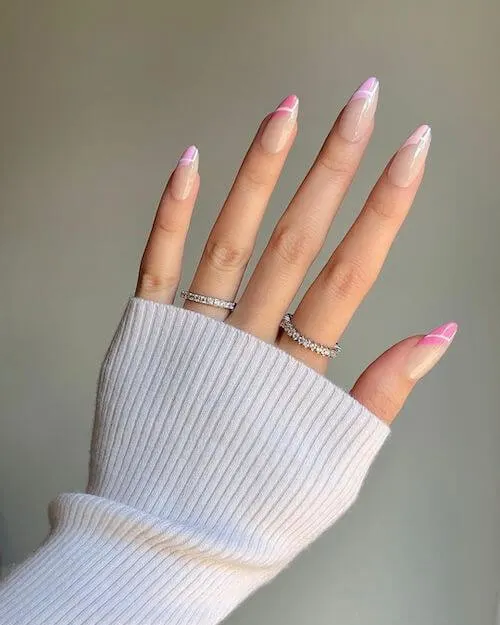 @nailsbyalsn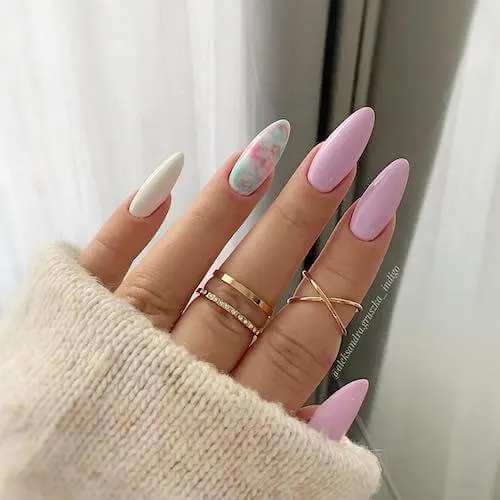 @aleksandra.gruszka.educator
Pink And White Nails
Nothing says springtime like fresh blooms and a vibrant color palette.
You can bring the beauty of the season to your fingertips with a stunning pink and white nail art design.
This dainty floral look is perfect for special occasions or everyday wear alike, making it an ideal way to stay on trend this season.
To create this look, start by applying two coats of opaque pink polish to all fingers.
Then use white nail art paint (or a small brush and white polish) to add intricate details such as flower petals, dots, lines, and other shapes.
If desired, you can also add sparkle using glitter polishes in shades that coordinate with the overall color scheme.
Finish off the design with one coat of glossy topcoat for extra shine and protection!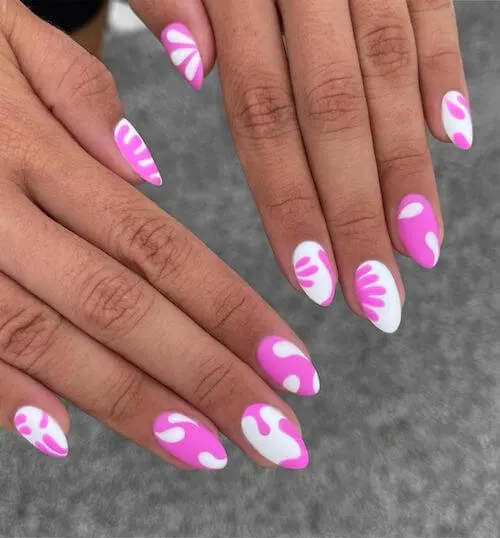 @peachinails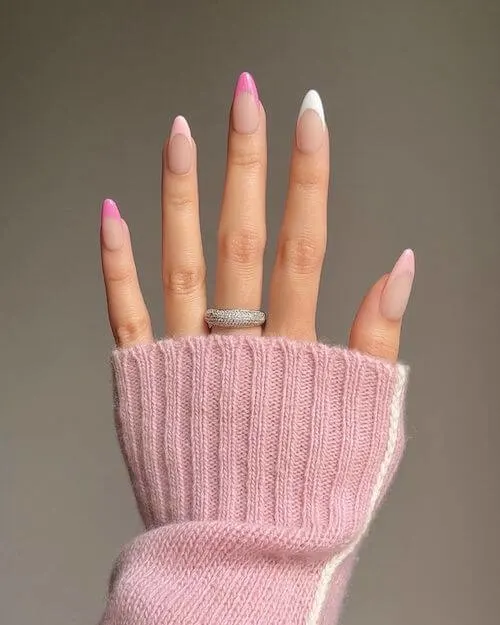 @nailsbyalsn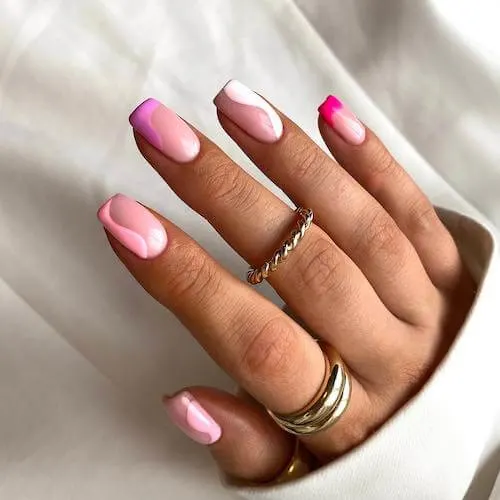 @annagracenails_
Pink And Green Spring Nails
It's officially spring, and what better way to celebrate the season than with a bright, beautiful manicure?
Pink and green are two colors that scream "spring," and when paired together they create a fun, eye-catching look.
Whether you opt for an ombré design or prefer your nails to be equally divided, these two hues can easily turn any basic mani into something absolutely stunning.
To get started on your own pink and green spring nail look, begin with a base coat of light pink polish.
Choose something subtle yet vibrant like pale peach or baby pink for an effortless approach to the trend.
Then add in some subtle green accents or go bold with a full-on emerald hue – either option will leave you in awe of how great these two colors look together.
Top it all off with a glossy top coat and show off your new style!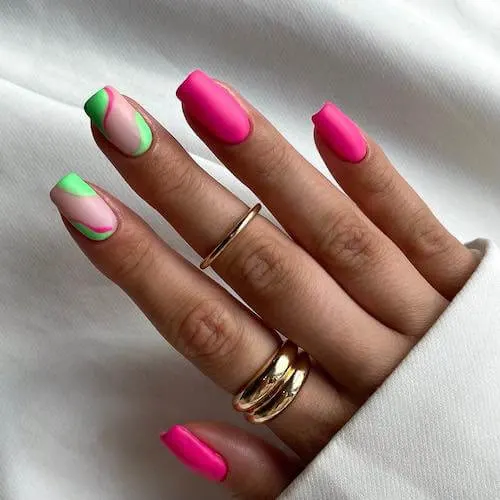 @annagracenails_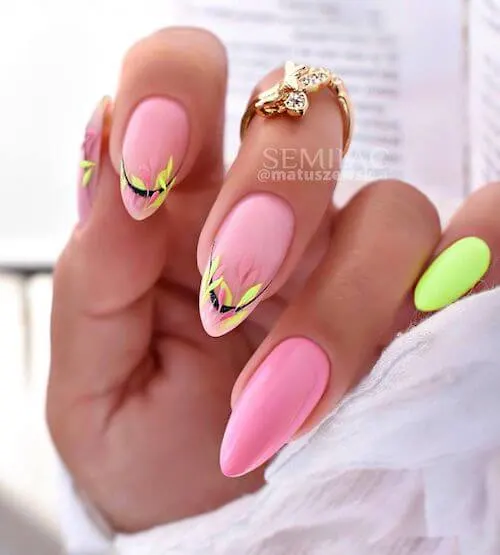 @matuszewsk.a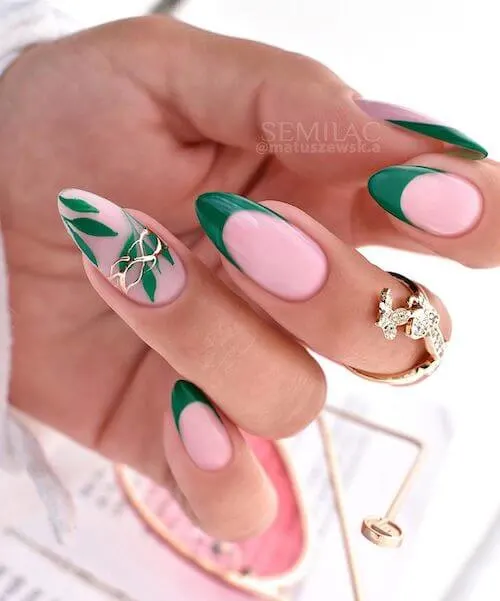 @matuszewsk.a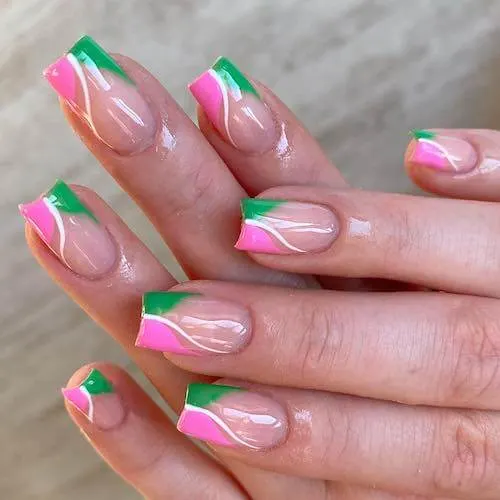 @get_nailed321
Pink And Purple Spring Nails
This season, pink and purple nail designs are taking center stage in the beauty world, with bright shades that instantly put you in a good mood.
From holographic glitter to fun patterns, these two hues are everything you need for your upcoming spring look.
Whether you're going for a monochromatic statement or mixing pink and purple together for something extraordinary, there are plenty of ways to make use of this dynamic duo.
For classic glamour, opt for simple pastel shades on almond-shaped nails and add tiny crystals near the cuticles as an extra touch of sparkle.
If you want something more daring, create ombre nails using both colors or get creative with polka dots, abstract shapes or even animal print designs!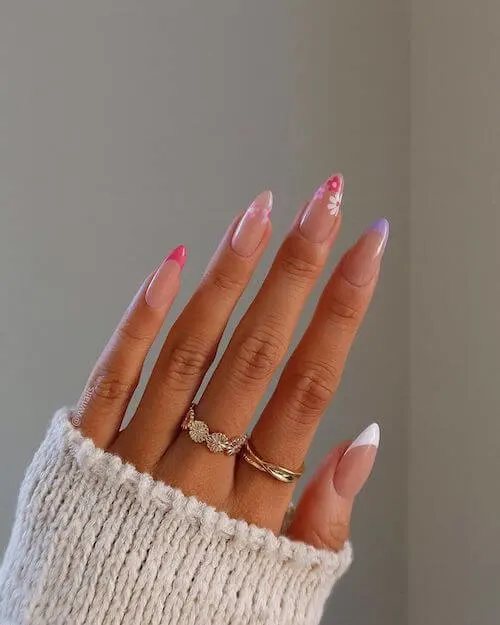 @vivianmariewong
Cute Spring Light Pink Nail Art Design
Light pink nails are a classic springtime look — they're light, feminine, and beautiful.
Whether you prefer glossy or matte, light pink nails are the perfect way to express your inner girly girl this season.
This year, get creative with your nail art to add some fun and personality to your look.
For a subtle statement, try a pastel pink with white tips for an effortless manicure.
To make it more interesting, opt for a glittery topcoat for extra shimmer and shine.
If you're feeling daring, go bold with an ombré design featuring different shades of pink from softest to brightest for maximum impact.
For the ultimate glamour girl look, add on some small crystals or rhinestones along the edges of each nail for added sparkle and dimension.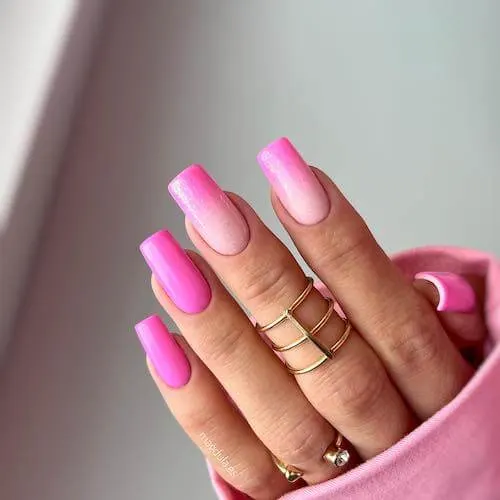 @magdula.es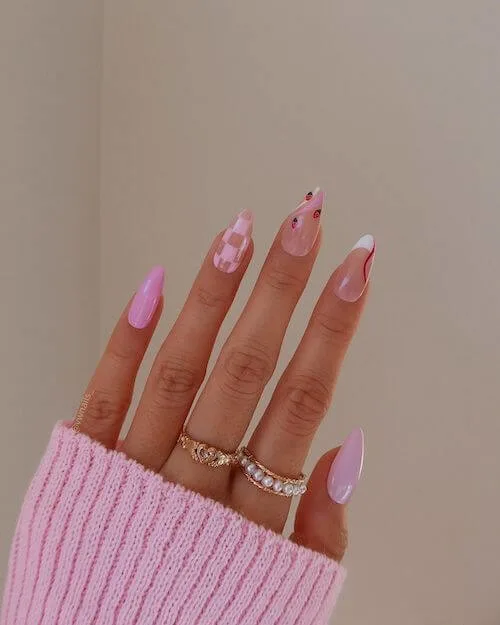 @vivianmariewong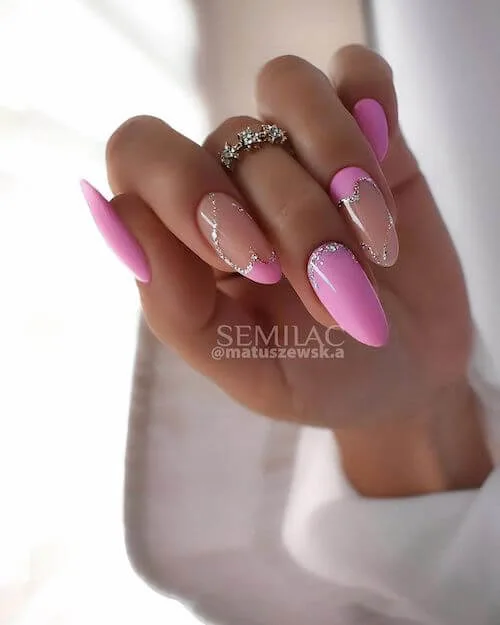 @matuszewsk.a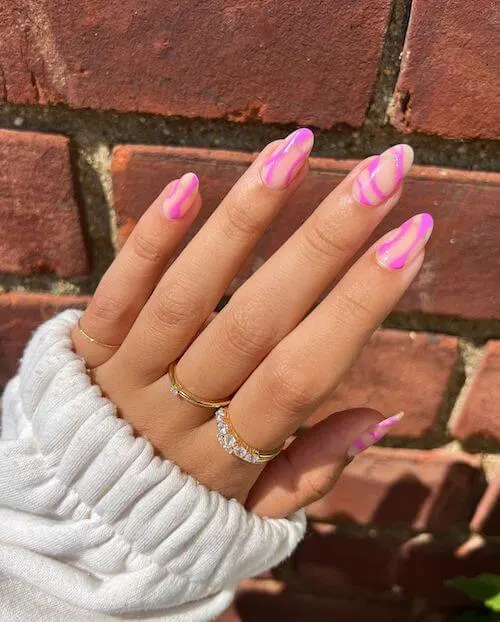 @samrosenails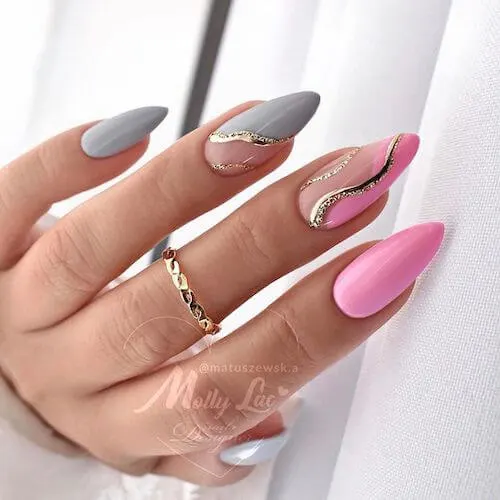 @matuszewsk.a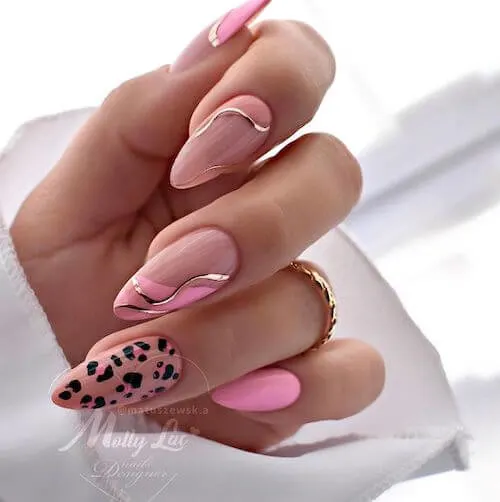 @matuszewsk.a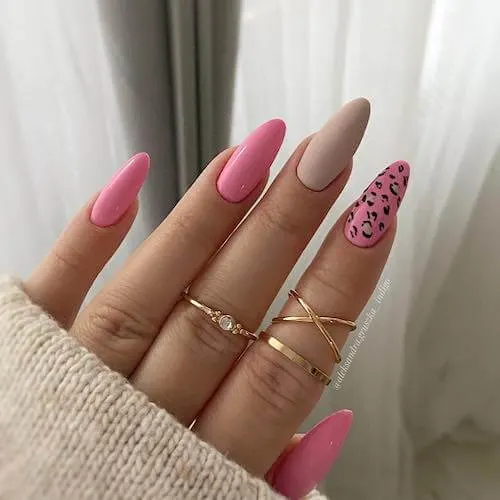 @aleksandra.gruszka.educator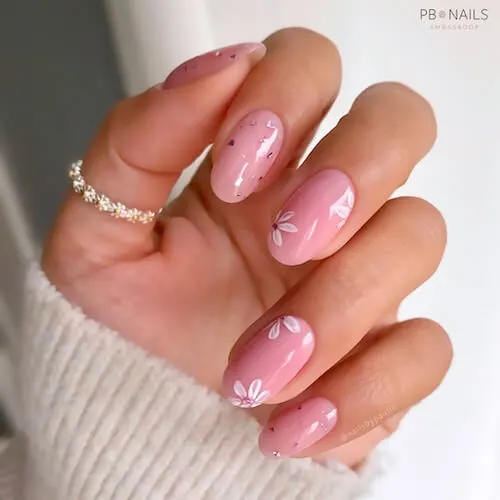 @pb_nails_poland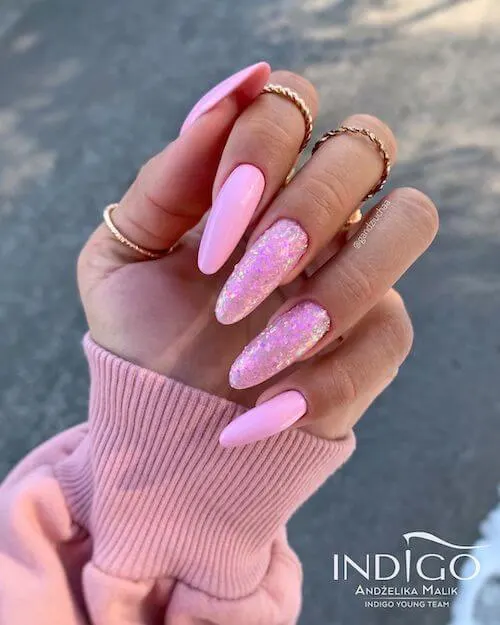 @gandziuchaa
@magdula.es
Pretty Pink Floral Spring Nail Ideas
Pretty pink floral nail art ideas are the perfect way to celebrate the season with a modern twist.
This femininity and vibrant color combination creates beautiful results that will have you feeling like you're in a blooming garden!
Whether you're looking for minimalistic designs or something more elaborate, there are plenty of ideas out there that can be tailored to fit any style.
Take advantage of spring hues and let your nails be inspired by petals, florals and vines – add some sparkle with glitter details or even 3D accents to really amplify your look.
With so many options available, these pretty pink floral nail designs are sure to be a hit!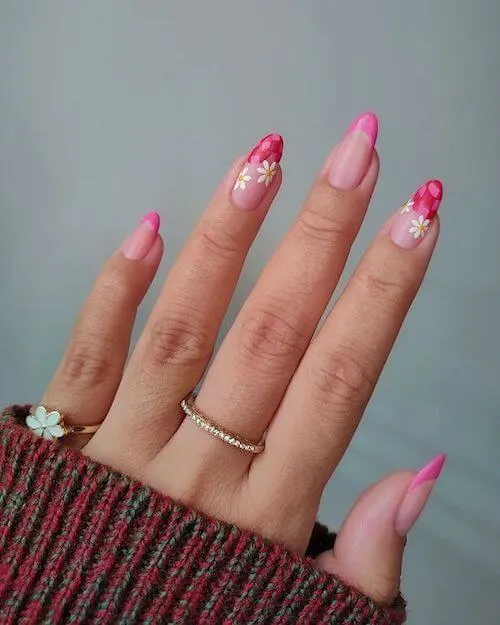 @ingridraiana_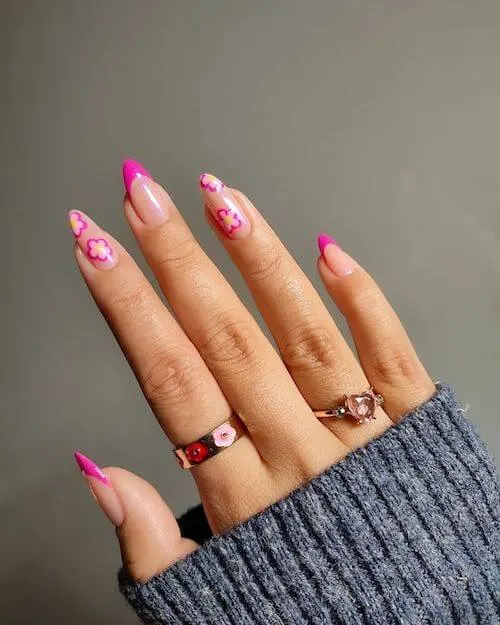 @ingridraiana_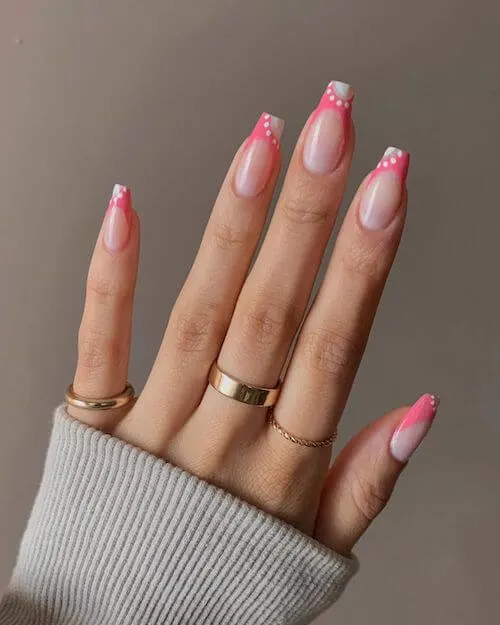 @glossytipped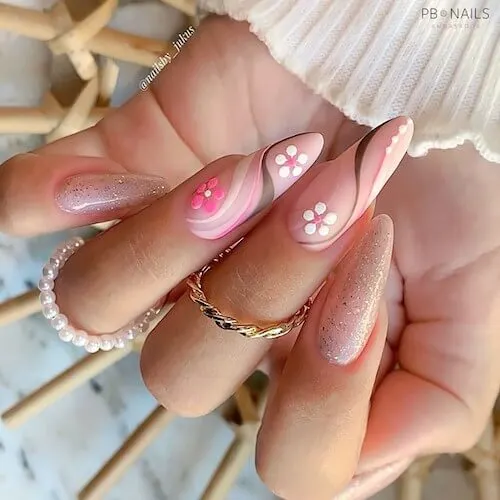 @pb_nails_poland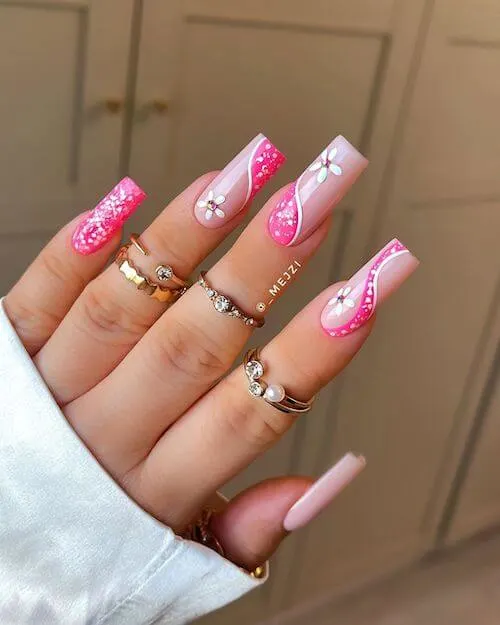 @_mejzi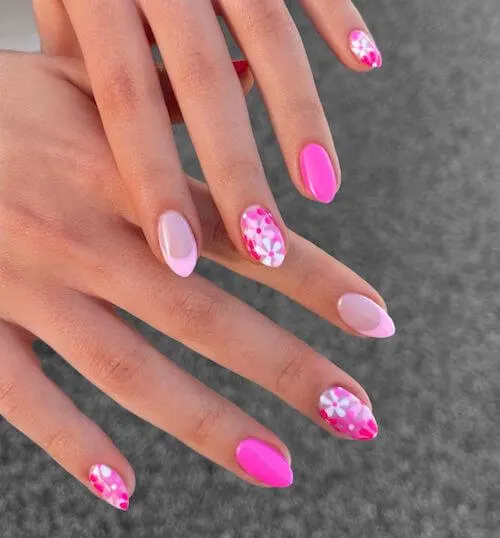 @peachinails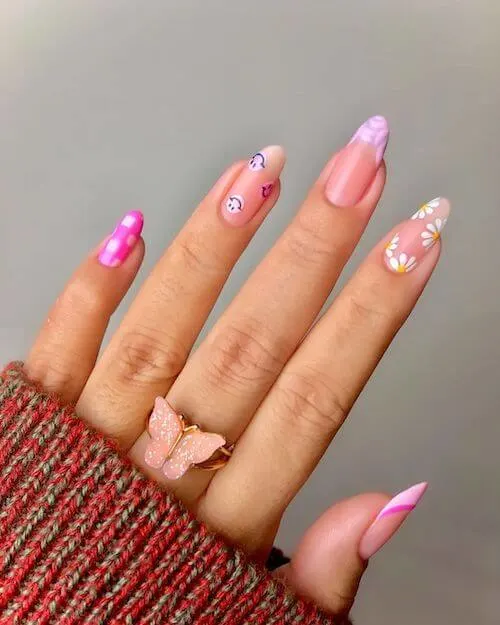 @ingridraiana_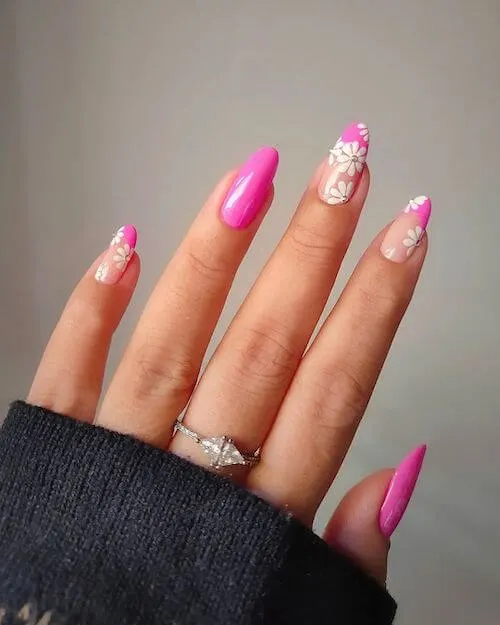 @ingridraiana_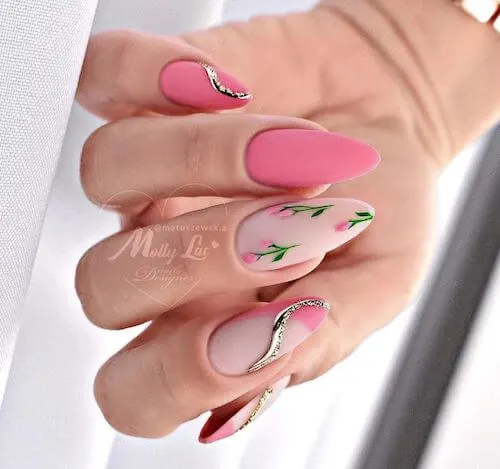 @matuszewsk.a
Best Spring Nails With Hot Pink Polish
This spring, colorful nails are all the rage! Hot pink is a hue that will add an instant pop of color to any look.
It's eye-catching and flirty, and it can be worn in a variety of ways.
From minimalist designs to more intricate nail art, hot pink is a great way to kick off your warm-weather wardrobe this season.
For added pizzazz, consider adding rhinestones or glitter along with white accents for contrast.
Whether you're headed to brunch with friends or out on a romantic date night, these hot pink nails are sure to make a statement wherever you go!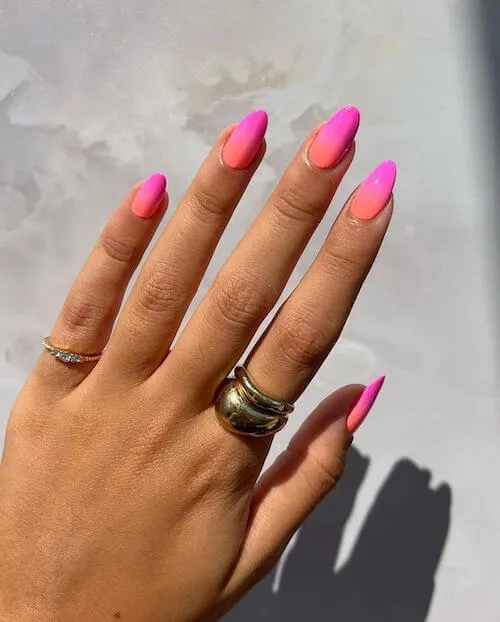 @samrosenails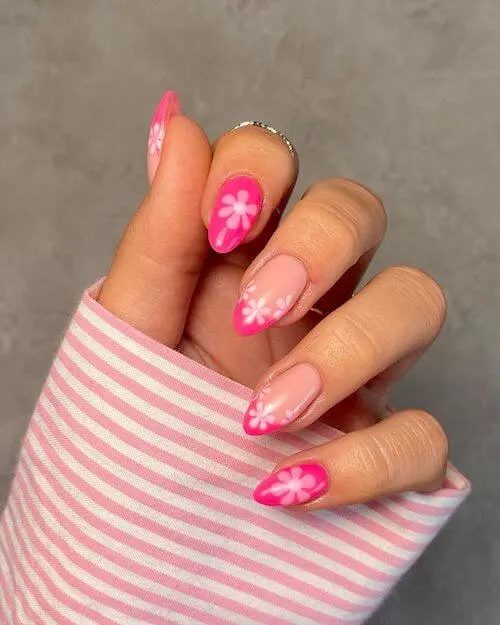 @leannehaycock_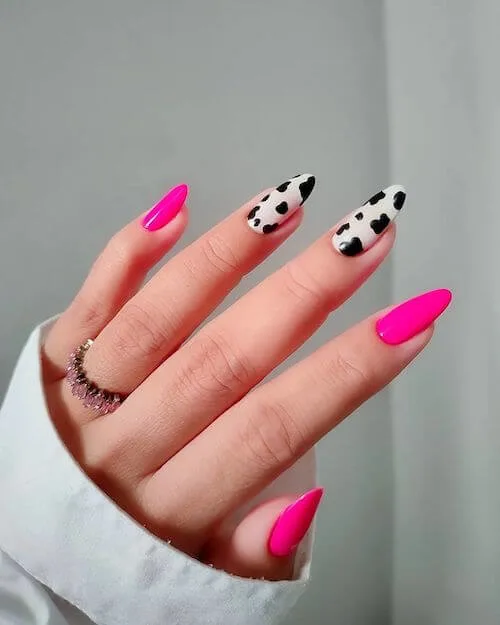 @ingridraiana_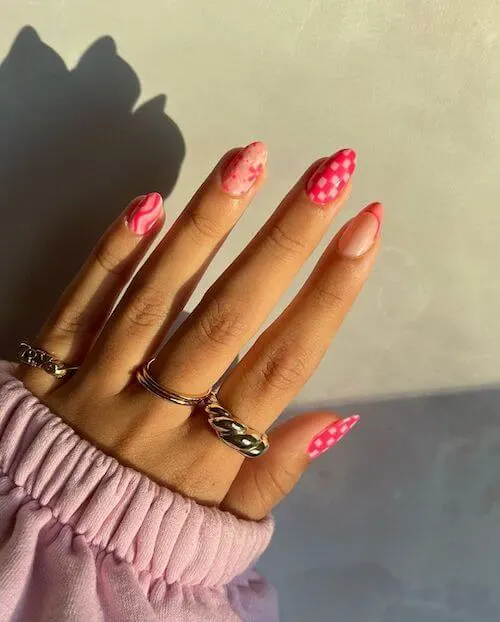 @samrosenails
Pink Short Nails For Spring
Pink short nails are a great way to show off your spring style.
Not only is pink a color of femininity and grace, but it also has the ability to make any outfit look a little more fun and flirty.
Perfect for the upcoming season, here's how you can create your own stylish look with pink short nails.
If you're looking for something subtle, try adding just a hint of light pink on your natural nail length.
A few coats of sheer polish will give you an effortlessly chic look that works with all kinds of ensembles.
Or if you want something with more oomph, go for an eye-catching design like rhinestones or tiny flowers in shades of pastel pinks and whites.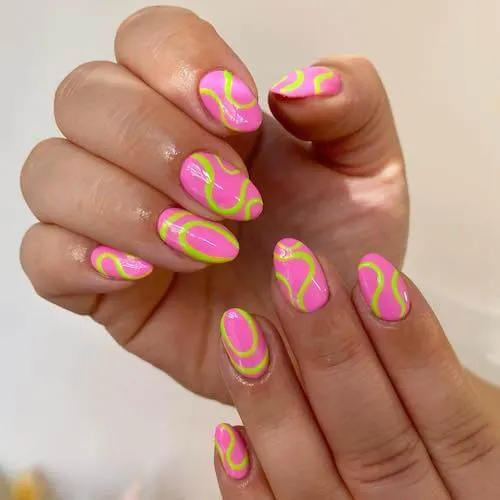 @get_nailed321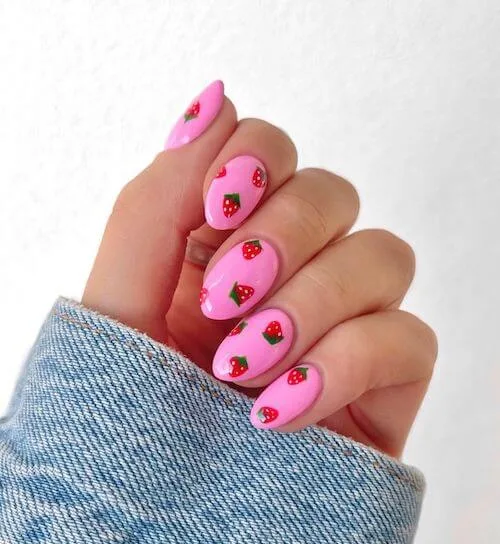 @peachinails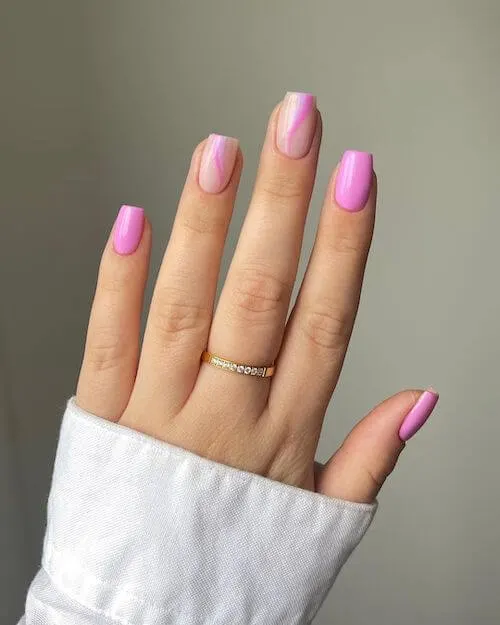 @byleah.x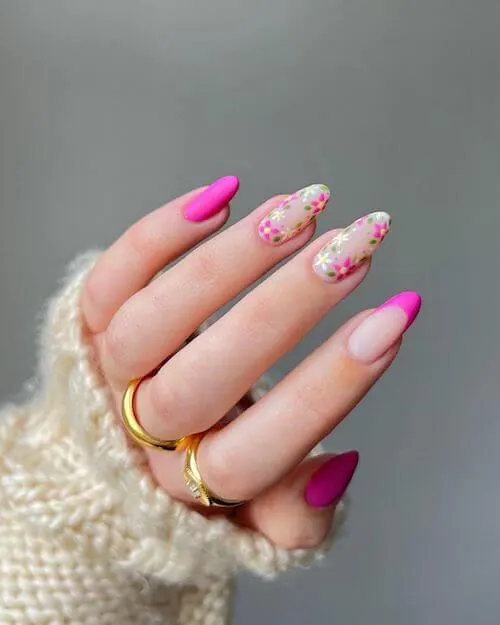 @amberjhnails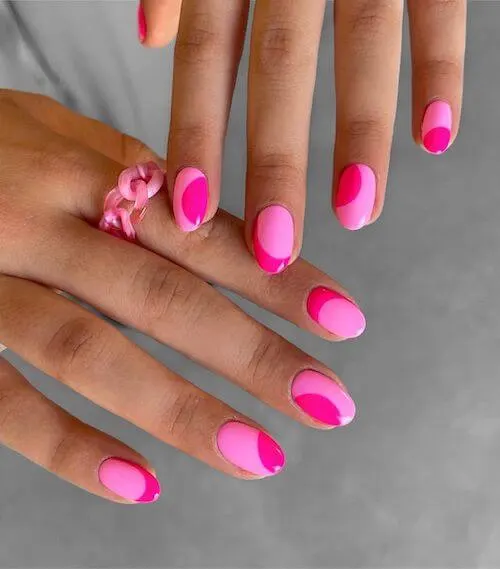 @peachinails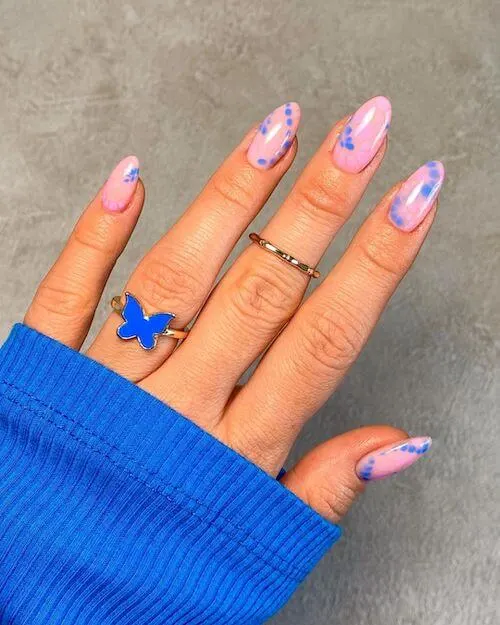 @leannehaycock_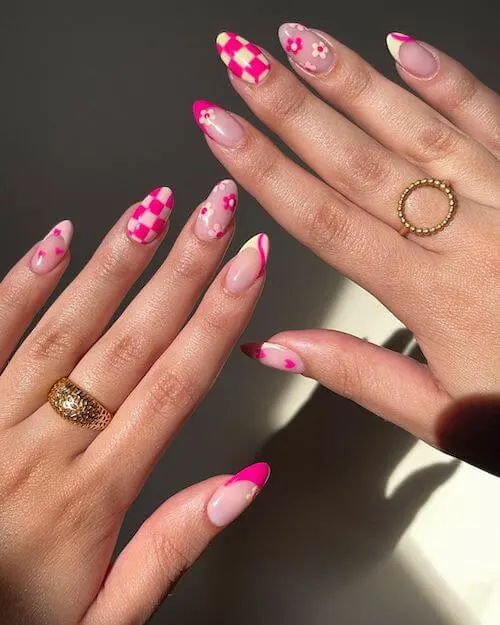 @kuypernailart
Beautiful Pink Long Nails For Spring
Looking to make a statement this spring? Brighten up your look with beautiful long pink nails.
Not only will your fingers look fabulous, but the color is sure to draw attention and admiration from everyone around you.
Whether you're looking for a subtle or bold nail design, the possibilities are endless when it comes to creating stunning looks using this trendy hue.
For those who want something classic and elegant, try adding a few sparkly rhinestones or small flower decals in varying shades of pink.
To add even more drama, go with an ombre design that fades from light to dark pink while incorporating complementary colors like white and gold accents.
If you're feeling extra daring, why not opt for a rainbow-colored manicure featuring all different shades of pink?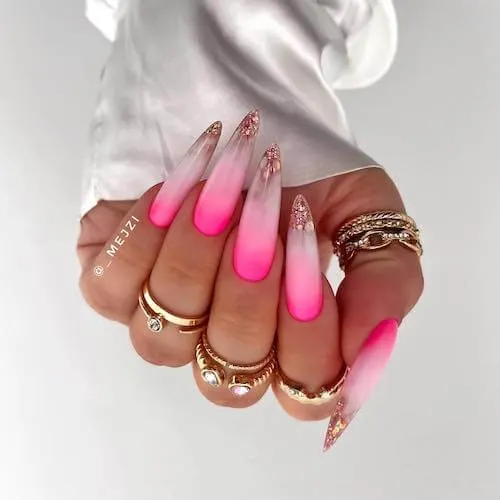 @_mejzi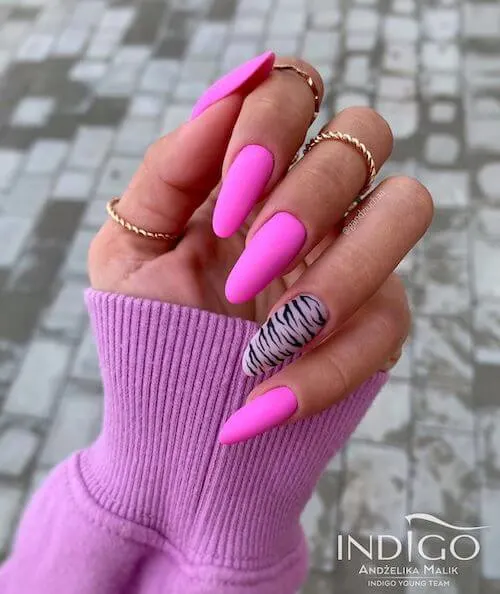 @gandziuchaa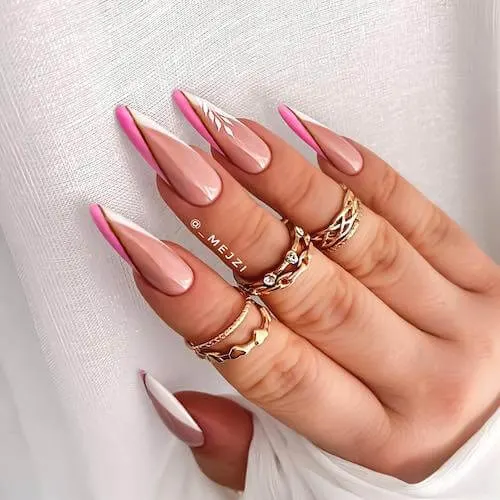 @_mejzi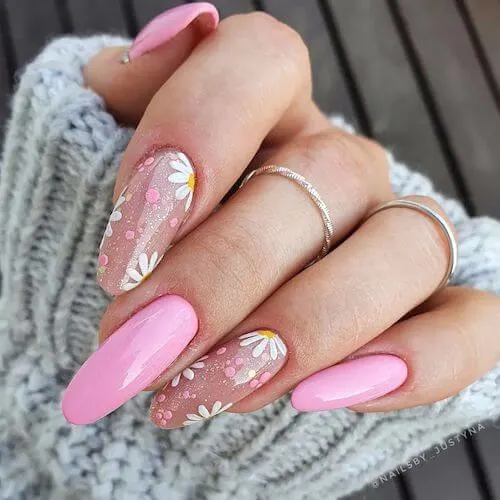 @nailsby_justyna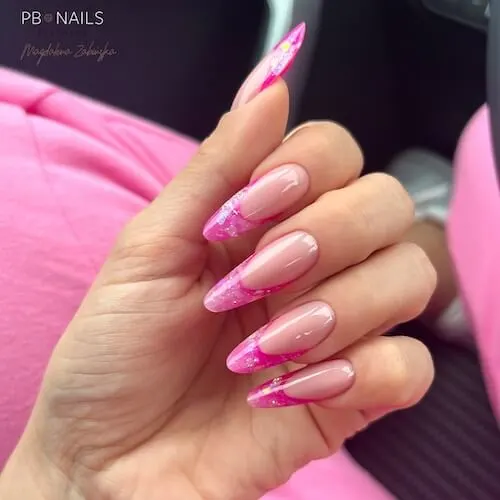 @pb_nails_poland
Cute Pink And Yellow Spring Nail Art
This year, why not go bold with some beautiful pink and yellow tones? Not only will they look gorgeous but they'll also bring a splash of joy and sunshine into your life.
From pale pastel shades to vibrant neons, there are lots of options available when it comes to pink and yellow nail ideas for springtime.
If you're feeling daring, why not try a fun ombre design?
Paint each finger a different shade for an eye-catching look that will guarantee compliments from friends and strangers alike.
Alternatively, opt for subtle French tips in a pale lemon or subtle pink shade – perfect for adding elegance to any outfit.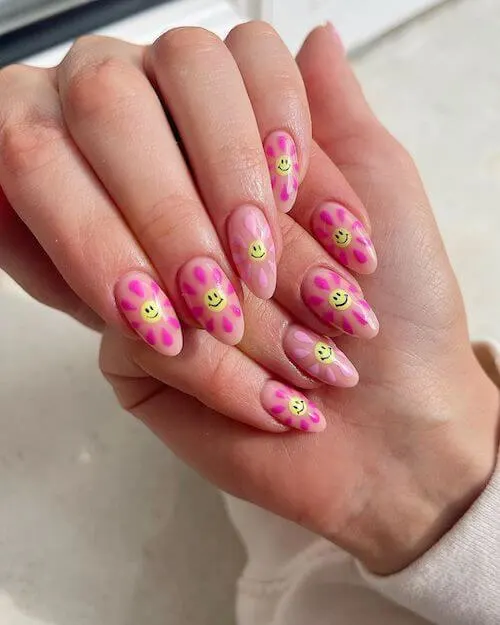 @nailsbycaroline_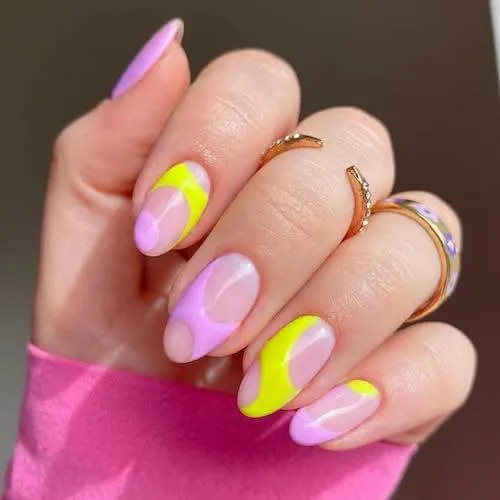 @get_nailed321
Stunning Spring Pink Butterfly Nail Design
A Stunning Spring Pink Butterfly Nail Design is sure to make heads turn.
Not only is this design visually appealing but also easy to do at home.
All you will need is a few simple products like nail polish, glitter, and some tweezers.
To get started with the design, you will first want to paint your nails in a bright pink color.
Once the base layer has dried, it's time to add on the details of the butterfly using tweezers and glitter.
To give your nails that extra sparkle and shine, finish off the look with multiple coats of clear top coat.
The result is an eye-catching butterfly design that stands out from all other manicures!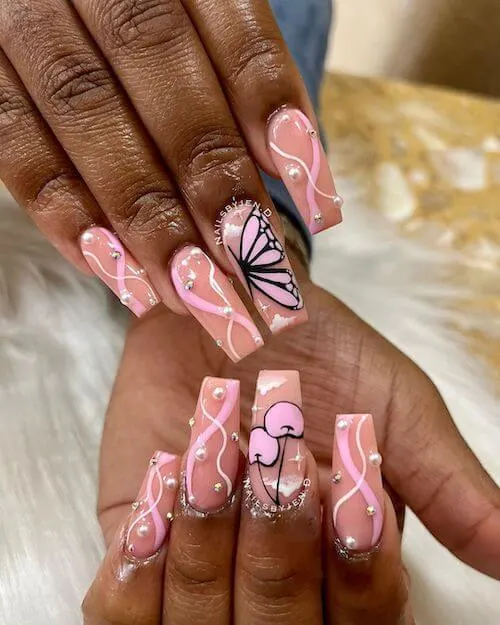 @nailsbyjen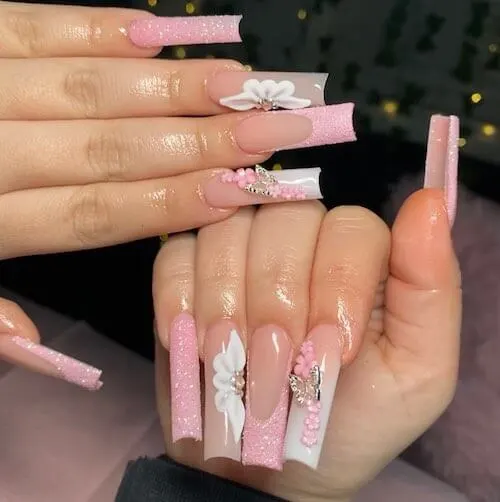 @nails.by.evelynnn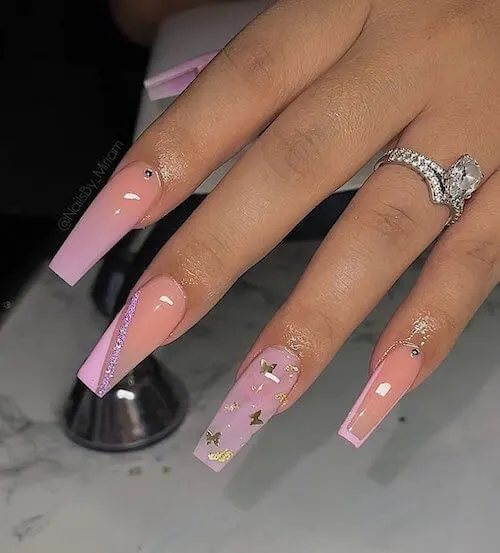 @_magnifiquenails_
Sweet Baby Pink Nail Ideas For Spring
Spring is the time to let go of the darker winter shades and embrace something a little lighter.
Sweet baby pink nail ideas are perfect for expressing your playful and romantic side during this season of growth and new beginnings.
This light hue can be used in endless combinations, from ultra-feminine monochromatic looks to more daring contrast designs.
Whether you're looking for an extra dose of cuteness or something more sophisticated, these sweet baby pink nail ideas will give you plenty of springtime inspiration.
Soften up your style with these chic mani ideas that feature classic French tips, dainty rose petals, subtle sparkles and pastel accents.
You can also add some edge with a vampy dark pink combination that compliments this sweet shade perfectly.
Get ready to soak up the sunshine while showing off your fresh manicure!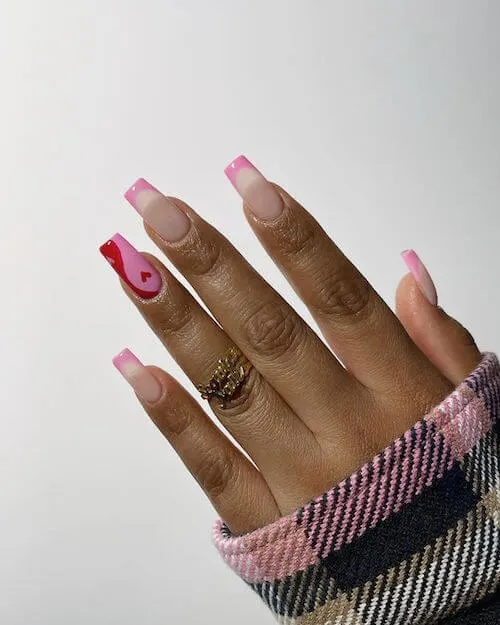 @scaviar.nails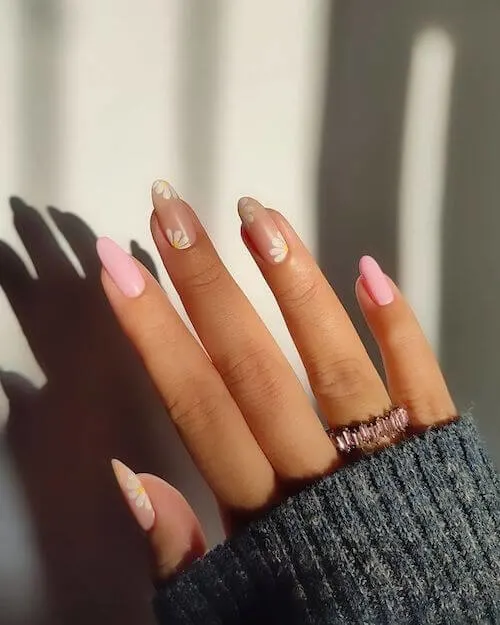 @ingridraiana_
More Spring Cute Nails With A Shade of Pink
Simple Pink Nail Manicure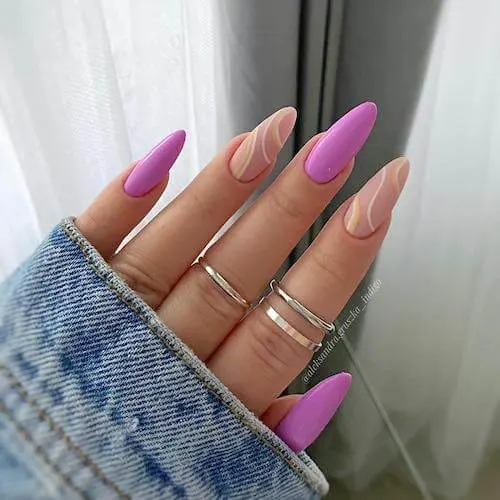 @aleksandra.gruszka.educator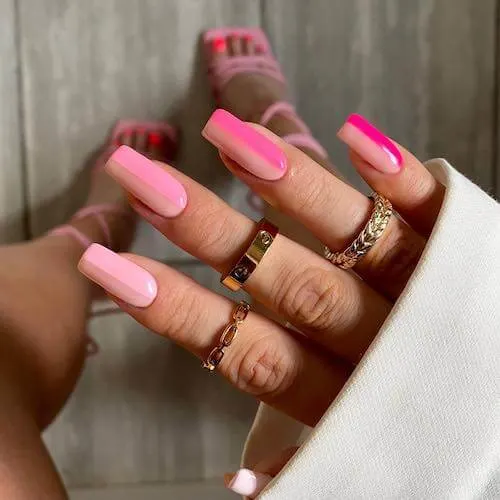 @annagracenails_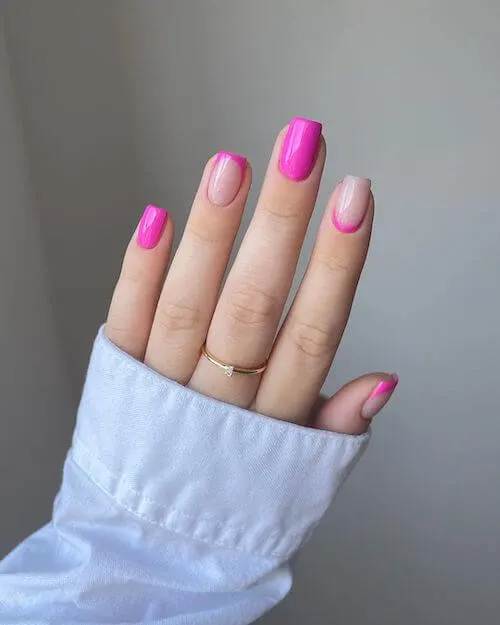 @byleah.x
Lovely Pink Hearts Spring Nail Design Ideas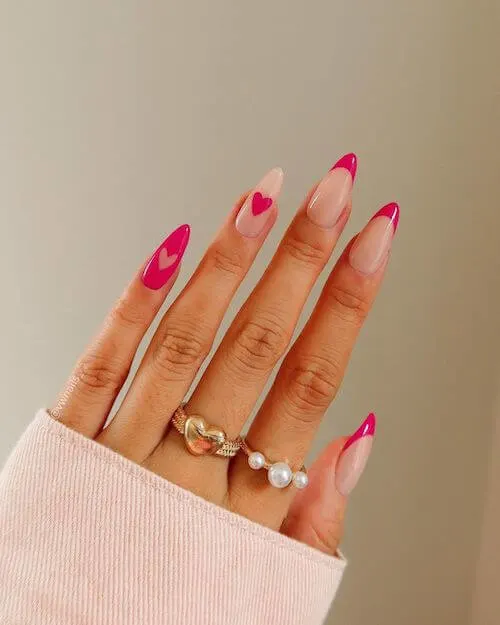 @vivianmariewong
Pink Nail Design For Easter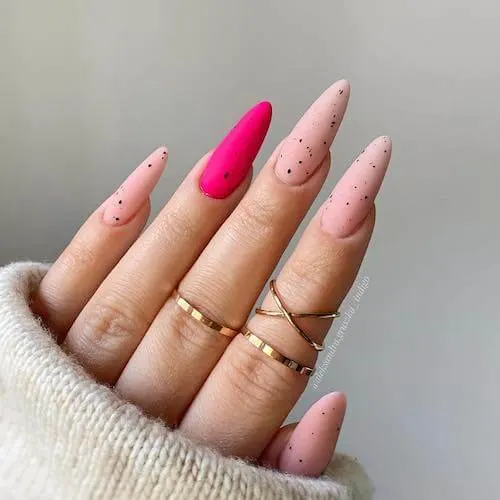 @aleksandra.gruszka.educator
This post was all about pink spring nail designs.
About The Author
Tracy is an experienced personal stylist, shopping expert, and fashion & lifestyle blogger. She has been featured on Time Magazine, Bustle, Best Life, Glam, The Zoe Report, Mic, and GOBankingRates, for her insights on fashion, beauty, home decor, and lifestyle. Read More
Related Posts: