Looking for bright summer nails? Summer is so great for us to try those cute bright nail ideas! Check this post for all the fabulous nail designs we collected for you!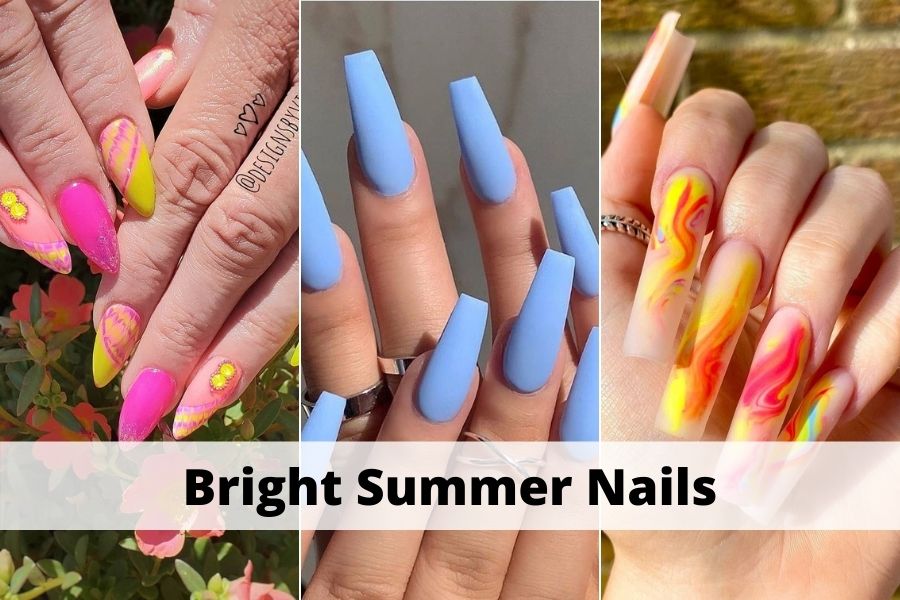 What does summer mean to you? For me, summer means brighter sunshine, more gorgeous flowers, a blue sky, more dazzling stars, and sexier beaches!
I can't wait to put all my imagination and love of summer on my nails! It's the same with you.
Here, we have collected and sorted out these bright summer nail designs that fascinated us.
In this post, you'll find long summer nails, short summer nails, acrylic summer nails, gel summer nails, coffin summer nails, and so many more summer nail ideas! Hope you like them too! And don't forget to pin the ones you like!
This post may contain affiliate links, which means I'll receive a commission if you purchase through my link, at no extra cost to you. Please read the full disclosure here.
This post is all about bright summer nails.
BEST BRIGHT SUMMER NAILS
Using Bright Colors
The first step in designing the simplest bright summer nails is to choose beautiful bright color nail polishes. Then it looks good with any combination.
This year's most popular colors are blue, green, orange, bright yellow, and hot pink. In addition, neon color has not gone out of fashion.
Bright Color Abstract Nail Designs
Furthermore, you can try abstract art nail designs. The reason for recommending this type of design is that you can draw beautifully quickly if you are not very good at drawing. Also, because this kind of design usually wins in color matching first, even if the patterns are not the same, they look very artistic and expensive.
Even simple straight lines, curved lines, dotted patterns, etc., will look very beautiful.
Double Neon Frenchies
Neon Waves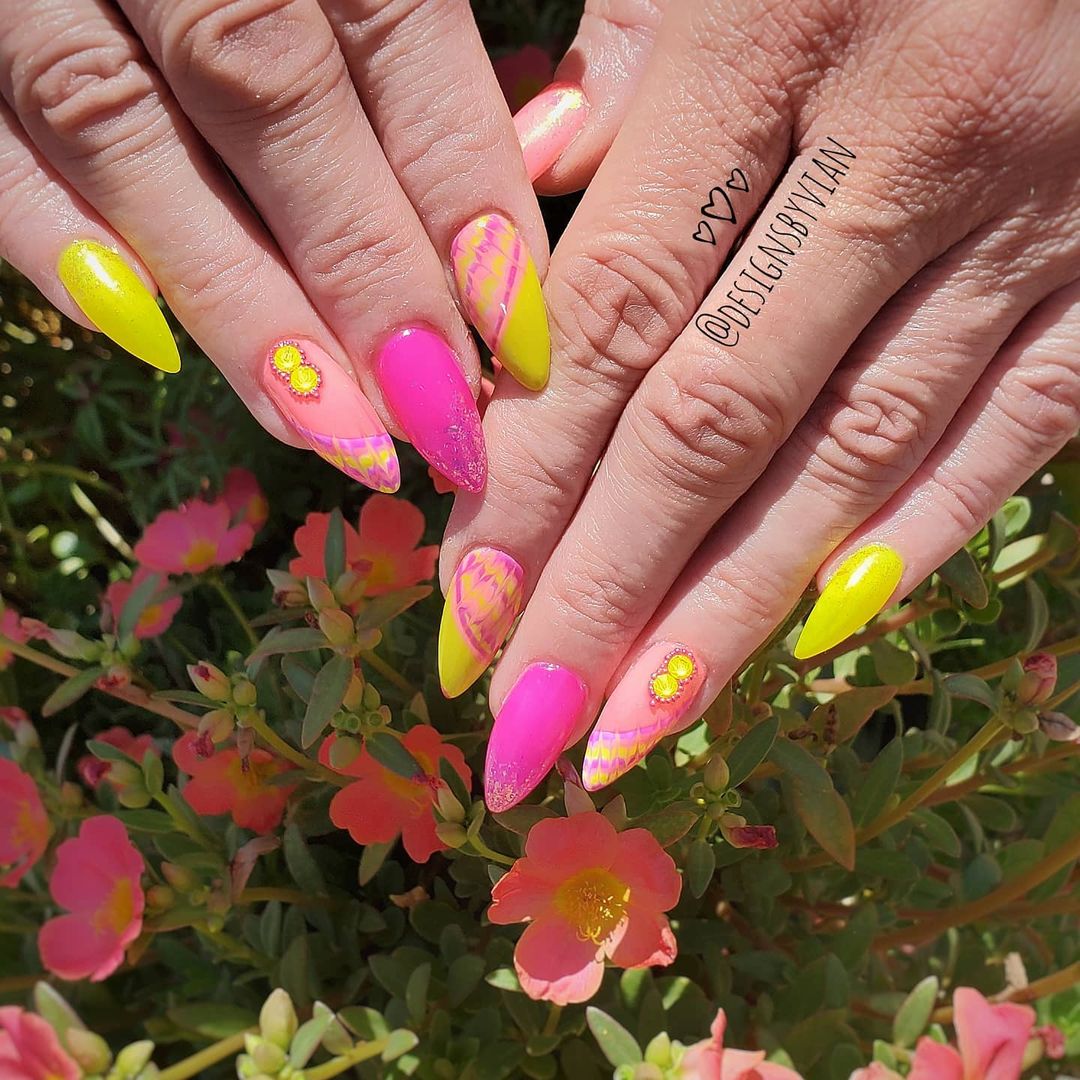 Bright Letter And Logo Nail Designs
The nail design of the letter or luxury brand logo is also trendy this year. It looks unique and not difficult to draw. It is recommended to try bold colors and then decorate with rhinestones, etc., it will look more fashionable.
Ride The Wave!
Fun Bright Animal Print Summer Nails
Animal patterns are suitable for summer! In addition to adding animal patterns to your clothes, don't forget to paint sexy and cute animal patterns on your nails. The more popular colors are pink and red. In addition, some designs add glittering elements to make them look more charming.
Based on animal patterns, flames and other patterns are added, which burns the enthusiasm of summer to the climax!
Bright Tie-Dye Nail Art
Tie-dye design is trendy from the fashion world to nail design. You will find that more and more color combinations are pretty suitable for tie-dye design to express.
Or, if you don't want to use all tie-dye designs, use a little tie-dye design in abstract art or other nail design patterns, which will make your entire nail design look more dazzling and full of artistry.
Bright Fruity And Floral Summer Nails
In summer, fruit nail designs and floral nail designs are trendy. However, using bright and lovely colors can make your patterns more fashionable.
Pastels & Leaves
Mix & Match Art
The easiest and most convenient way to design fruits and flowers is to use nail stickers. We recommend the following types.
Summer Bright Colorful Nail Designs
In addition to these popular designs above, the following designs are also stunning and worth a try. For example, star nail design, cloud nail design, palm tree nail design are all very suitable for the summer atmosphere.
I especially recommend the last cloud nail design, which is very popular recently. You can buy press-on nails to decorate your nails.
The beach vibe
The clouds
>>> Click the banner below to shop summer nail polishes

More Summer Nail Ideas:
√ 47 Stunning Summer Nail Designs To Shine Your Summer 2022
√ 37 Gorgeous Cute Summer Nail Ideas To Try For 2022
This post was all about bright summer nails.