Looking for stunning yellow spring nail designs? Check this post for the cutest yellow nail designs for the spring season for a sunny mood! From neon yellow nail art designs to pastel yellow manicures, we've got you covered!
As the weather begins to warm up and spring approaches, it's time to get creative with your nail looks.
Spring is a great season for experimenting with the latest trends, and this year one of the biggest trends in nail art is yellow!
It's time to embrace bold colors and switch up your routine by trying some of these stunning yellow spring nail designs.
From simple accents to full-on neon creations, there are tons of ways to bring some sunshine into your look.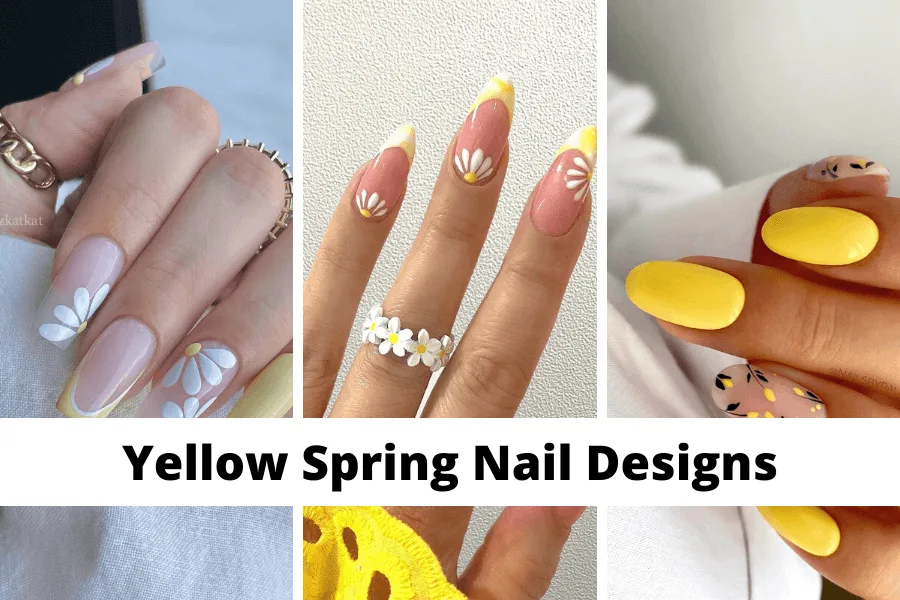 This post may contain affiliate links, which means I'll receive a commission if you purchase through my link, at no extra cost to you. Please read the full disclosure here.
This post is all about yellow spring nail designs.
Gorgeous Yellow Spring Nail Designs
Classic Yellow Manicure
This spring, give your nails the perfect pop of color with a classic yellow manicure.
With its bright and cheerful hue, it's no surprise that yellow is the go-to for imparting a sense of joy and optimism.
Whether you're going for an edgy look or an understated finish, this sunny shade is sure to add a refreshing touch to any outfit.
Adding a twist to this classic style can be easy – all you need are some nail art supplies like sequins or rhinestones, glitter polish, and even paint pens!
You can also add texture with sparkly top coats and 3D detailing like flowers or bows.
And if you're in the mood for something more subtle, opt for a creamy nude shade with hints of yellow.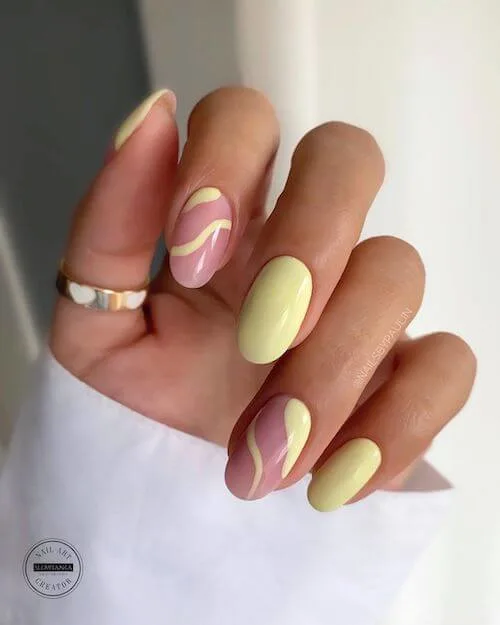 @nailsbypaulin
@nailsbypaulin
Yellow Ombre Nails
Spring is here and the trendiest new fashion statement just may be yellow ombre nails.
This bright and sunny look is sure to add some cheer to even the grayest of days.
The key to achieving this look is starting with a clean base coat and gradually layering yellows ranging from creamy shades to deep-hued mustards.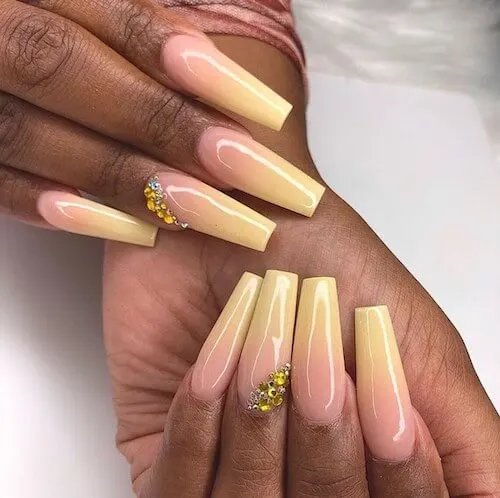 Pastel Yellow Nails
When it comes to the spring season, pastel yellow nails are an absolute must-have.
This gently warm hue can offer a feminine and delicate touch to any manicure that is sure to look perfect no matter what your style preference might be.
Perfect for Easter Sunday celebrations or just a day out in the sun, pastel yellow nails are always on trend.
To truly rock this look well, consider adding accents of white or light green for some extra pizzazz.
White daisy decals can add a playful edge while enhancing the natural beauty of your nails.
For those feeling particularly adventurous, think about incorporating some glitter into your mani as well!
A hint of gold will turn those soft pastel yellows into something far more exciting and unique – ideal for days when you want to stand out from the crowd without going overboard.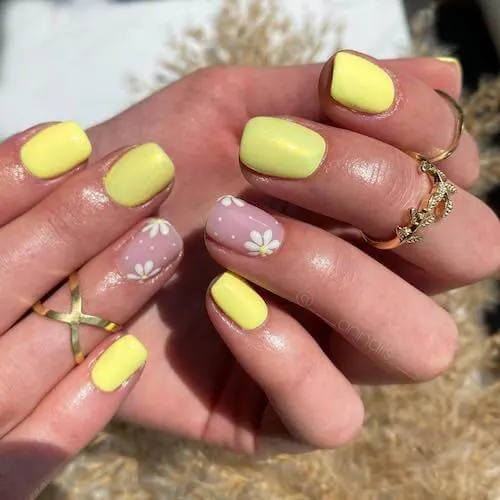 @____annails____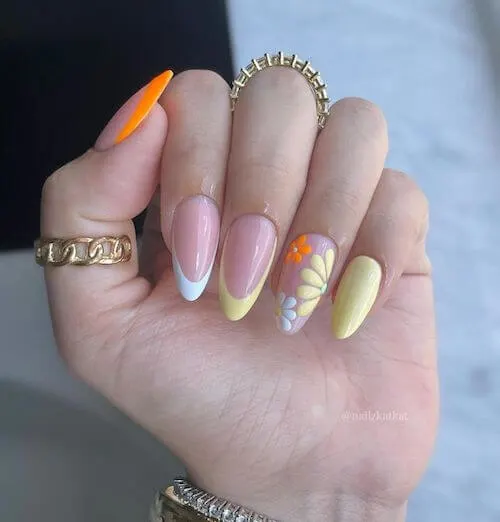 @nailzkatkat
Yellow French Manicure
The yellow French manicure is making its debut this spring.
It's a modern twist on the classic white-tipped look and it adds a pop of color to your nails.
If you're looking for something different than your typical pinks and purples, why not try out this sunny hue?
This trend is surprisingly easy to achieve, even if you've never done a French manicure before.
All you need is a bright yellow nail polish, some tape or stickers to help you create the tip shape, and a top coat to seal in the design.
You can also use white or nude nail polish for the tips if you want more subtle contrast with the yellow base.
With careful application, anyone can get their own fun version of this manicure at home!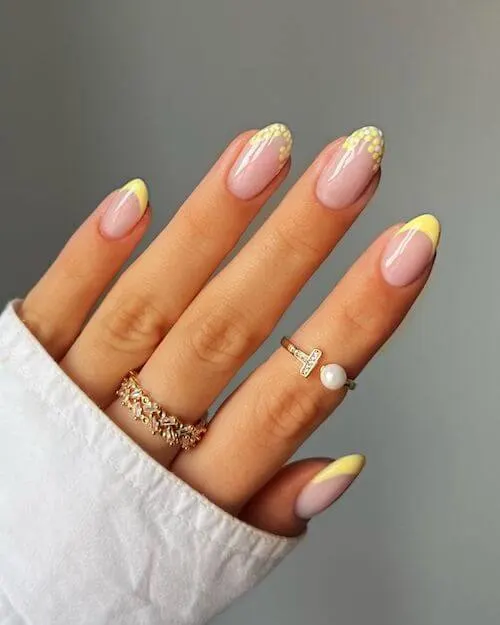 @allnailss._
Yellow and Black Nail Ideas
Nothing says spring like bright and cheerful colors!
Yellow and black nail ideas are perfect for adding a touch of warmth to your look.
Whether you're looking for something subtle or bold, there are plenty of options to choose from.
If you want to go with a classic combination, try yellow and black French tips – the contrast between the two vibrant hues will make your nails stand out!
Or if you'd like something more daring, go for an all-black manicure with a single yellow accent nail.
You can also mix and match designs by creating different looks on each finger.
For example, alternate black stripes with sunshine-yellow polka dots or combine bright yellow flowers with jet black leaves.
The possibilities are endless!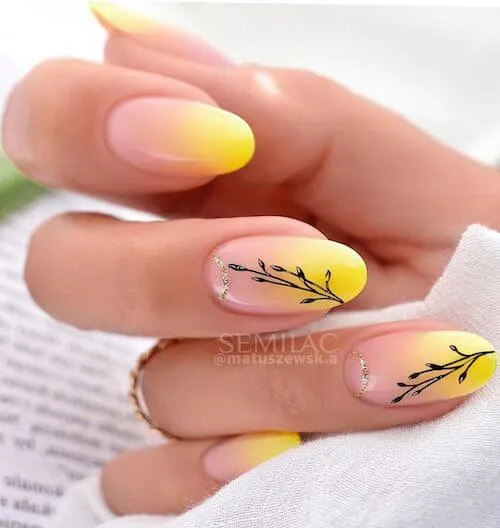 @matuszewsk.a
Easter Egg Pastel Spring Nails With Yellow Nail Polish
Springtime is here and Easter is just around the corner!
Celebrate the season with a festive manicure of pastel yellow nails.
With just a few simple steps, you can create an eye-catching look that's sure to get noticed.
Begin by prepping your nails; shape them, push back your cuticles, and buff lightly to remove any ridges.
Then apply a base coat of clear polish and let it dry.
Follow up with two coats of pastel yellow nail polish to cover evenly.
Once it's completely dry, grab some white nail polish and draw small circles on each nail for an egg-like effect.
Finish off the look by adding fun Easter accents like flowers or bunny faces in coordinating colors from your favorite nail art kit.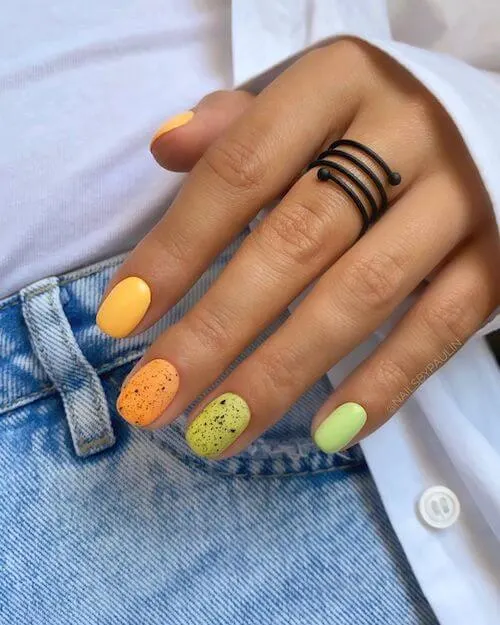 @nailsbypaulin
Yellow Flower Spring Nails
Yellow flower spring nails are all the rage this season!
From buttercups to daffodils, manicurists have been getting creative in their designs and bringing the beauty of nature onto our fingertips.
Not sure where to start?
A yellow background adorned with vibrant flowers is an easy way to get into the spirit of spring.
For a more subtle approach, consider using sheer pastel shades with subtle hints of daisies or tulips for an eye-catching effect.
If you're feeling daring, why not try some 3D embellishments?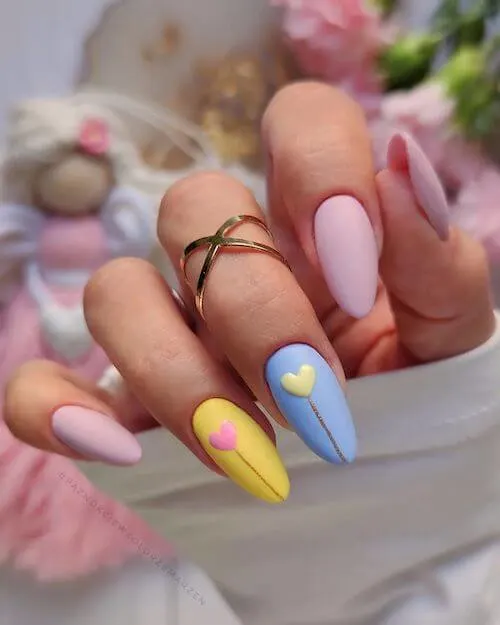 @paznokciewkolorzemarzen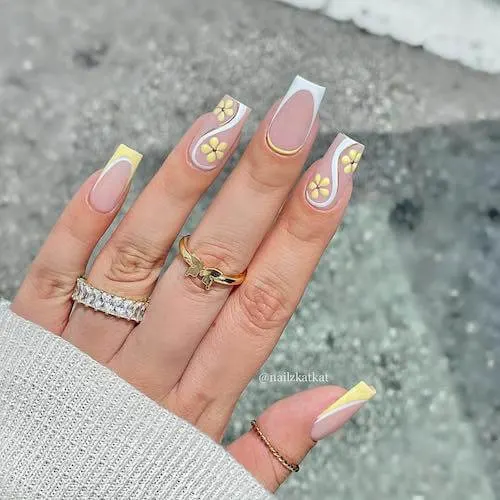 @nailzkatkat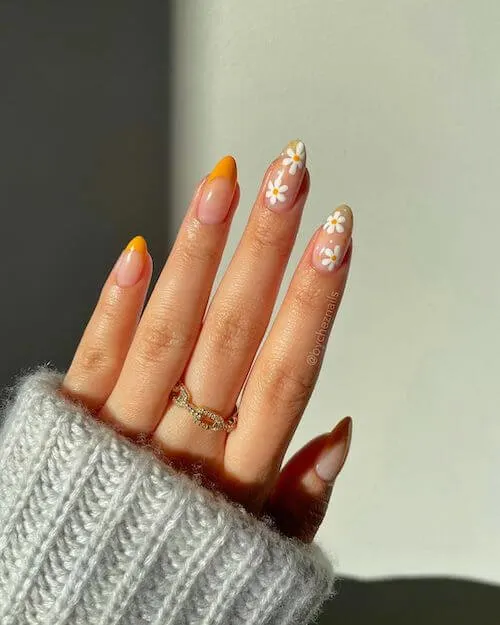 @heluviee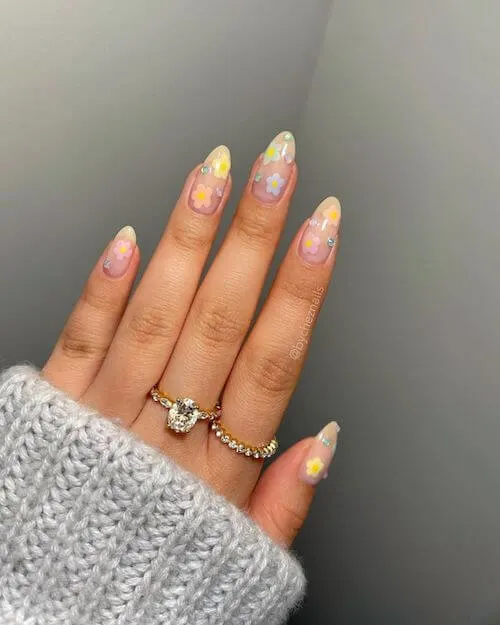 @bycheznails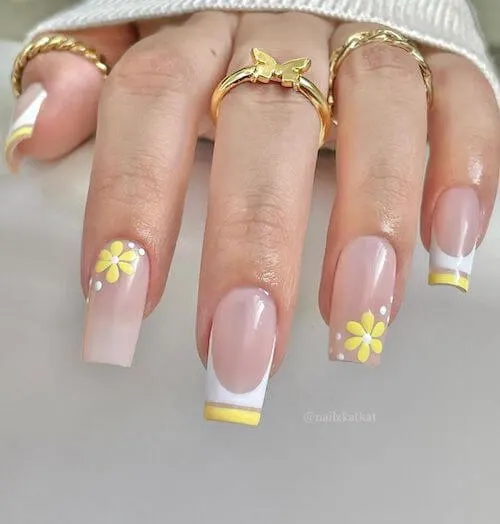 @nailzkatkat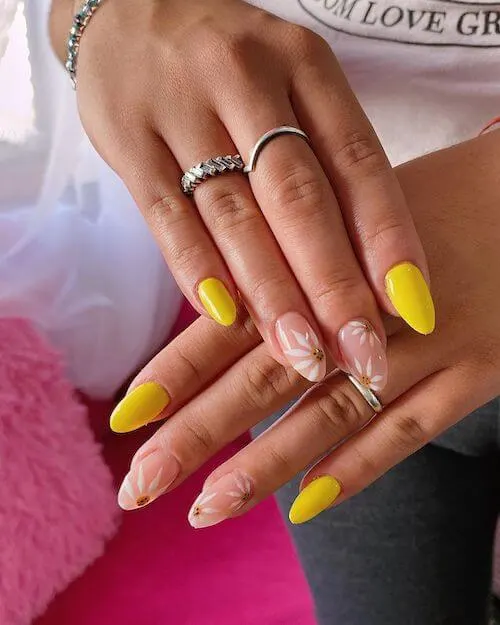 @tus.manos.hablan
@paznokciewkolorzemarzen
Green and Yellow Nail Ideas For Spring
Spring is all about bright colors and flowers blooming, so why not add a pop of color to your nails with yellow and green hues?
From classic French tips to trendy negative space designs, these nail ideas will have your mani looking fresh for the new season.
Whether you're feeling bold or subtle, there's an easy way to incorporate this cheerful combination into any look.
For a quick fix, choose a muted green shade as a base coat and paint thin yellow stripes across the top for an unexpected twist on the traditional French manicure.
Or for something more adventurous, layer thin strips of foil in shades of apple green and lime yellow over white polish for a modern take on chic art deco style.
Add geometric shapes like triangles or rectangles in different sizes to create playful patterns that will surely turn heads this spring.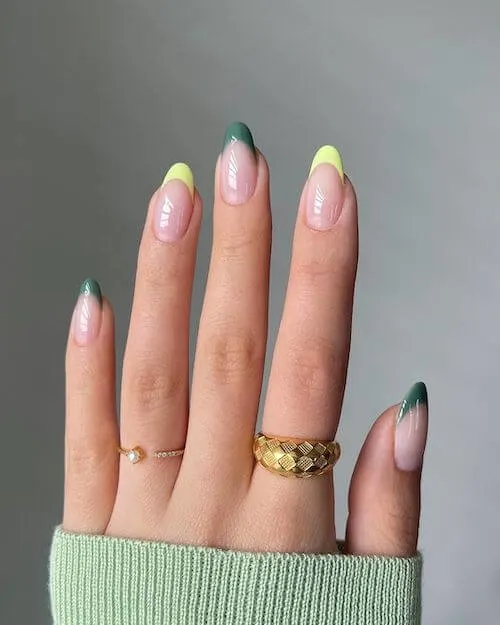 @heluviee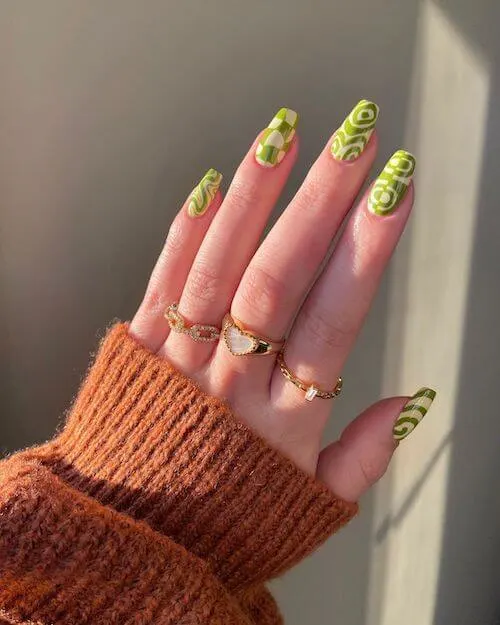 @jadeandpolished
Yellow and White Spring Nails
When the spring season begins, it's the perfect time to show off your personality with a stunning manicure.
Yellow and white are two of the hottest colors for this season, so why not combine them for a perfect spring nail look?
Whether you're attending a special event or just want to add some cheer to your day, yellow and white nails will make you feel confident and beautiful.
Creating this look is easier than ever with the help of modern nail art products.
Start by applying two layers of a light yellow nail color as the base color.
Once dry, use thin brushes or dotting tools to draw small white flowers in different sizes on each nail.
Add some leaves if desired, then apply one more layer of clear top coat for extra protection and shine.
Finish off with cuticle oil to keep your nails healthy and looking their best!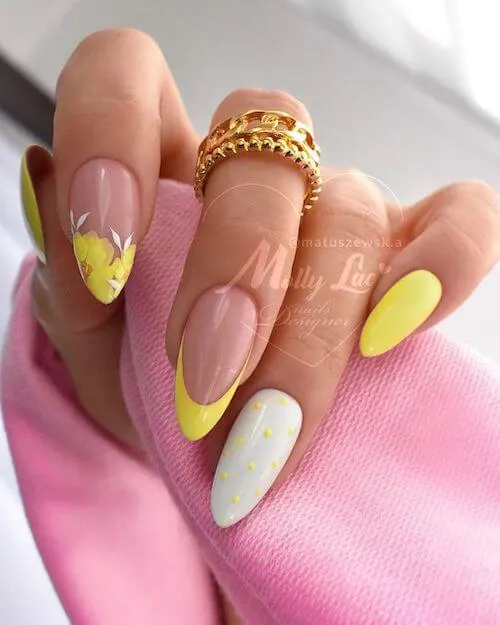 @matuszewsk.a
Neon Yellow Nails
Neon yellow nails are the latest trend that beauty bloggers and celebrities alike are sporting this season.
The vibrant hue looks great on any skin tone and can be dressed up or down depending on your outfit choice.
If you're looking for an easy way to add some fun to your spring wardrobe, neon yellow nails may just be the accessory you need.
This season, try adding a pop of color to your otherwise neutral outfits by applying one coat of fluorescent yellow nail varnish.
You can even opt for a full set of candy-colored talons if you feel so inclined!
To make sure that the color stands out, use a white base coat before applying the neon hue – this will help enhance its vibrancy while making it appear more glossy.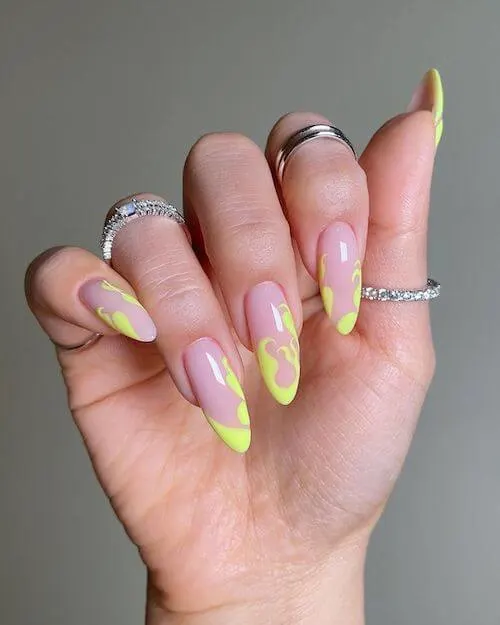 via Pinterest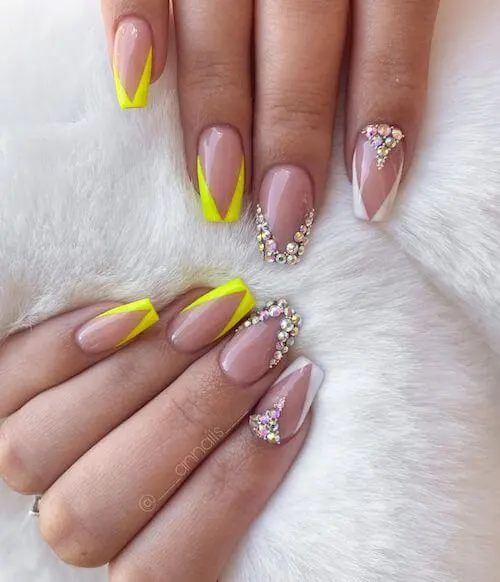 @____annails____
Yellow Coffin Nails
Spring is the perfect time to mix up your beauty routine and try something new.
Coffin nails, a trendy nail style that features elongated almond-shaped tips, have been making a major come back this season.
For those looking for an eye-catching new look for their manicure, yellow coffin nails are the perfect option.
These sunny yellow nails are ideal for spring because they bring a touch of vibrance to any look.
Whether you're planning an outdoor picnic or just want to add some color to your everyday wardrobe, these cheerful nails are guaranteed to brighten up your day.
The great thing about yellow coffin nails is that they're both subtle and bold at the same time – depending on how you style them!
Choose from plain colors or intricate designs with accents like rhinestones and glitter for an extra pop of glamour.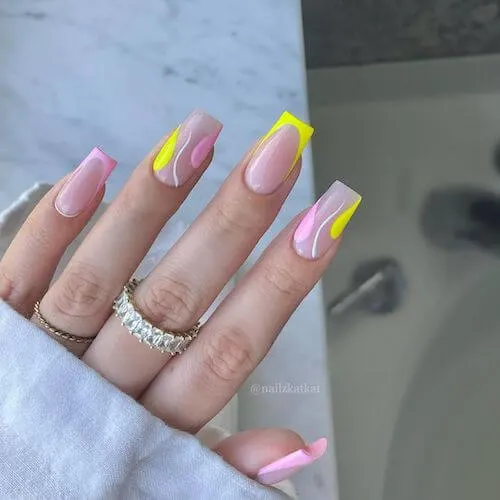 @nailzkatkat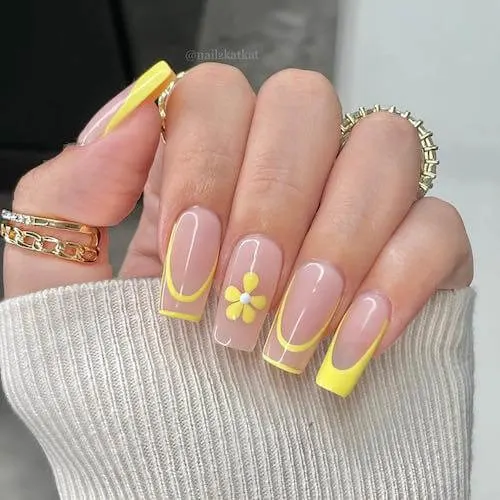 @nailzkatkat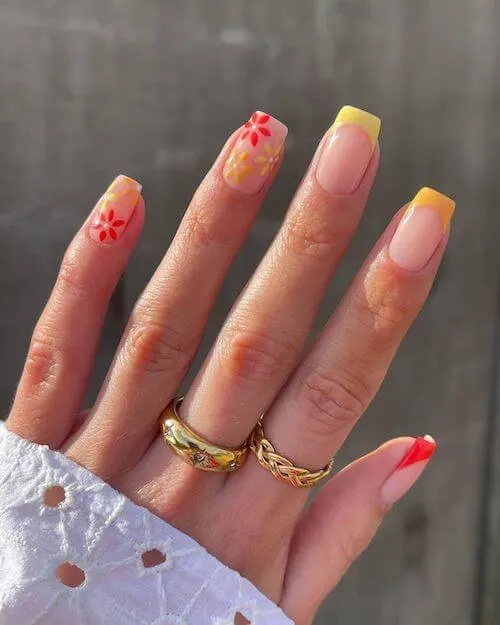 @gelsbybry
Nude and Yellow Nail Art Ideas
Nude and yellow look great together and can make for a subtle yet vibrant combination for your nails this season.
For those who want something simple and chic, plain nude nails with an accent of bright yellow will do the job.
With just one stroke of polish over each finger, you'll create a soft yet eye-catching design that will last all throughout spring.
If you're looking for something more detailed, try combining nude tones with various shades of yellow in different patterns such as stripes or polka dots.
To add even more drama to your manicure, consider adding touches of glitter or metallic accents in between the two colors.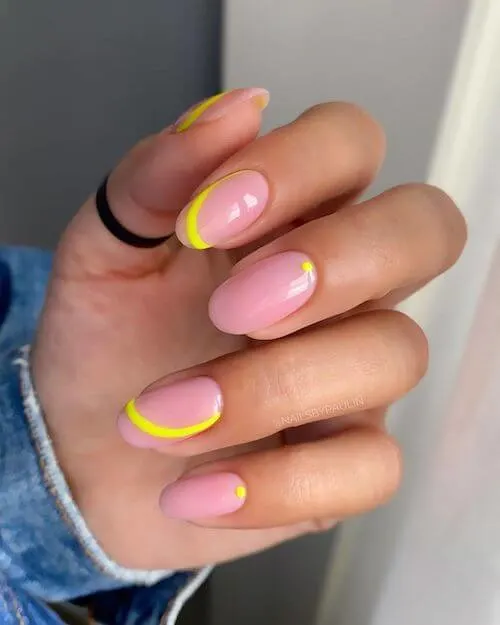 @nailsbypaulin
More Vibrant Yellow Nails
If you're looking for a fun, versatile and vibrant nail color to rock this spring, look no further than the classic yellow.
This timeless hue is making a huge comeback this season and is perfect for any event from laid-back brunch dates to outdoor music festivals.
Not only does it instantly give your outfit an edgy pop of color but it also looks fantastic for any skin tone.
This loud shade can be styled in multiple ways depending on the occasion.
For more formal events, opt for a muted mustard yellow with either a matte or glossy finish.
If you're heading out to a sunny day festival, paint each nail in different shades of bright lemon yellows or even bold neons – perfect for turning heads!
Don't forget to add some shimmering glitter or crystals if you're feeling extra glam!
Mustard Yellow Nails
Mustard yellow nails are the perfect way to spice up your look this Spring!
This eye-catching hue has been popping up on runways and Instagram feeds, providing a vibrant touch of color to any look.
The interesting shade can be worn anywhere from a casual day out with friends to an elegant evening event.
The key to wearing mustard yellow nails is keeping your outfit simple so that the bright hue stands out.
A pair of jeans and a white t-shirt will allow the color to take center stage, while pairing it with more neutral colors such as beige or grey creates an effortless minimalistic look.
If you want something bolder, try wearing it with black – sophisticated and daring!
No matter what outfit you choose, you're sure to turn heads everywhere you go as mustard yellow nails are guaranteed statement makers.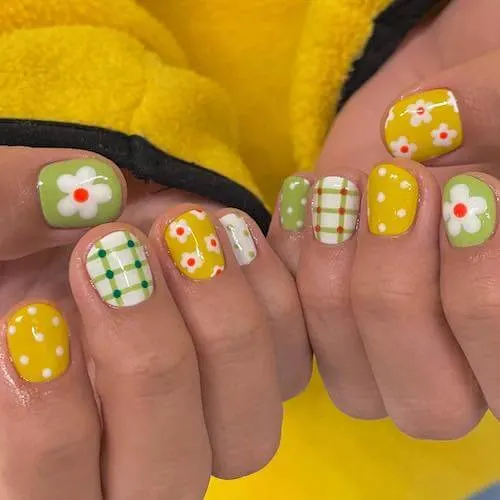 @kana_lien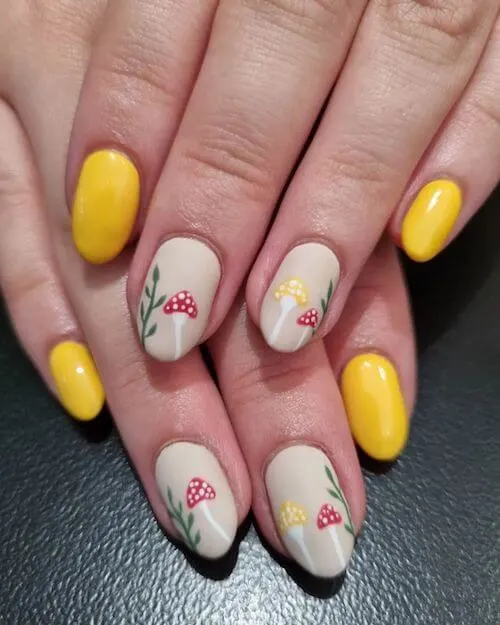 @nails_bykirst
Short Yellow Nails
Short yellow nails are surprisingly easy to wear, as they work with both casual and formal looks alike.
Whether you're going for an edgy street style or something more sophisticated, these sunny shades will add a fun pop of color in no time.
On top of that, there's no need to worry about chipped polish; since shorter nails require less maintenance and upkeep than longer ones, you can enjoy your look without dedicating too much time or effort into it!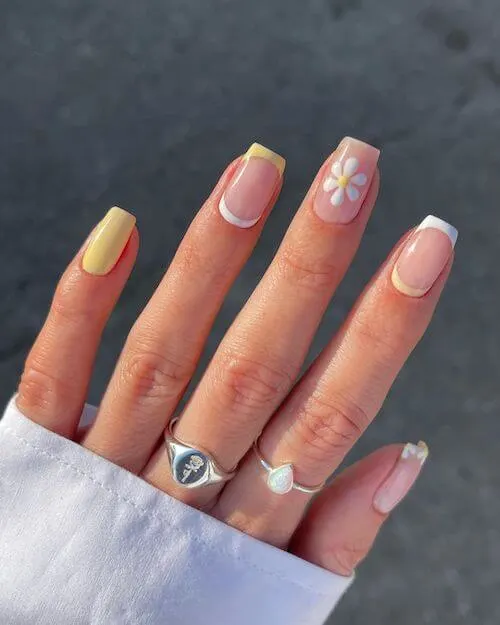 @gelsbybry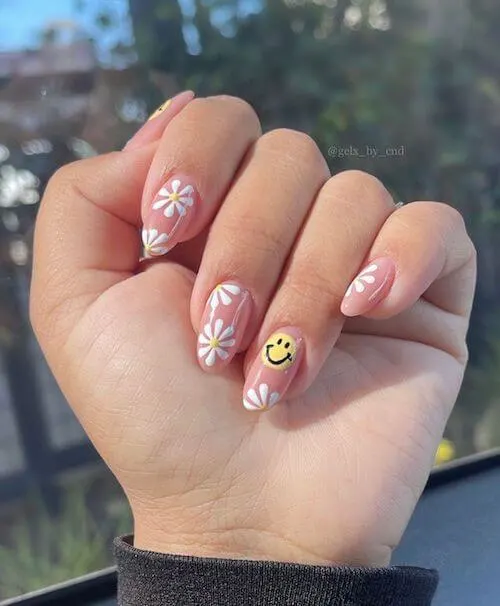 @nailzkatkat
Yellow Glitter Nail Art
Yellow is a hot color for spring, so why not show it off with some sparkly glitter nail art?
Whether you're looking for an easy way to add some extra glamour to your manicure or just want to show off your sunny side this season, yellow glitter nails can be the perfect way to do it.
From subtle accents and high-shine finishes to intricate patterns and French tips, there are plenty of ways to use this eye-catching hue.
For those who like minimalism, try a simple coat of yellow glitter polish on each nail.
To make a bold statement, adorn one or two accent nails with shimmering stones in different sizes.
If you're feeling extra creative, paint tiny flowers onto the base coat before applying small pieces of yellow glitter as the petals.
No matter which look you choose, get ready to turn heads all season long!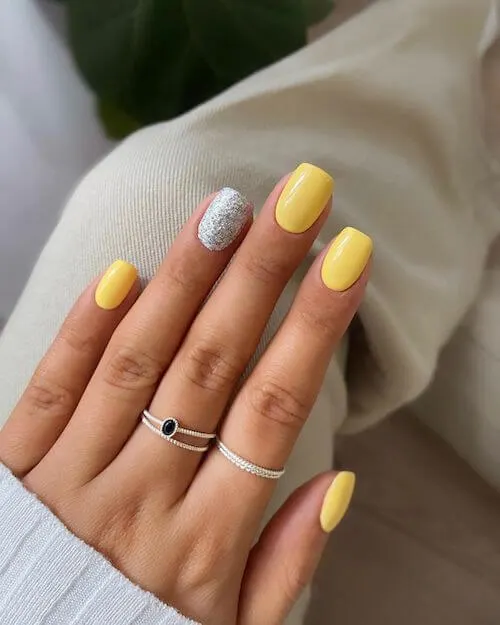 @nailsbypaulin
Yellow Abstract Nails
This spring, experiment with a trendy new look – yellow abstract nails.
Abstract nail art is quickly becoming a go-to fashion statement for many style-savvy women.
This season, add bright yellow to the mix to bring some sunshine into your life and stand out from the crowd.
Yellow is a cheerful colour that looks great on any skin tone and can be paired with other shades such as white and black or pastels like pink, blue and green.
Use an array of techniques to create interesting designs – consider striping, ombre fading or geometric shapes for maximum impact!
To complete the look, don't forget to add a few 3D embellishments like tiny studs or holographic decals.
Whether you opt for full coverage or just an accent nail design, you'll be sure to turn heads this season with your bold manicure choice!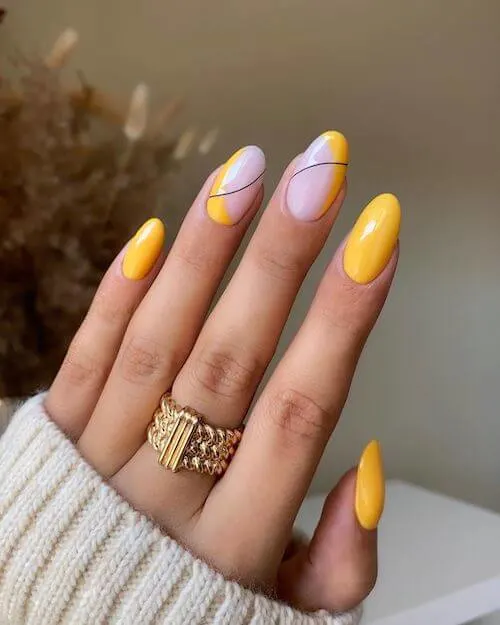 @nailsbypaulin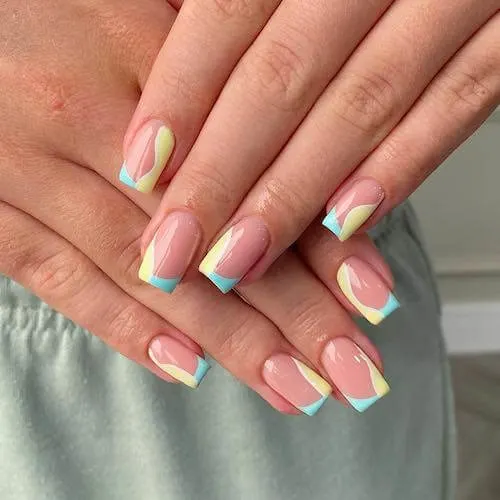 @_nailsbybethany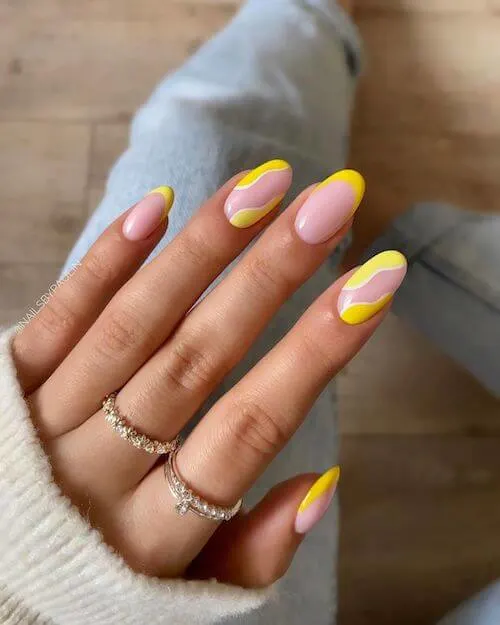 @nailsbypaulin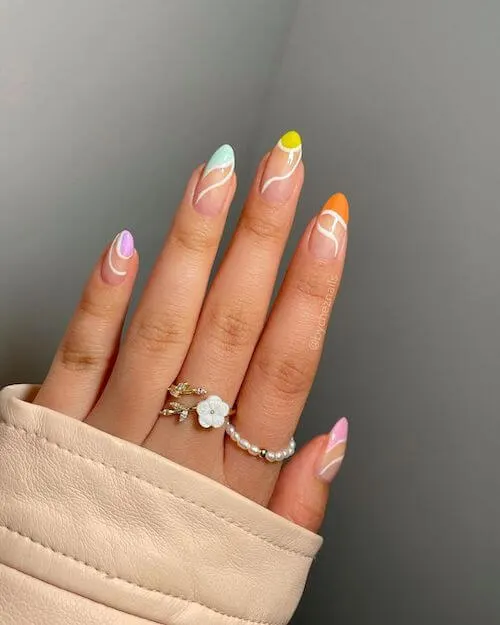 @bycheznails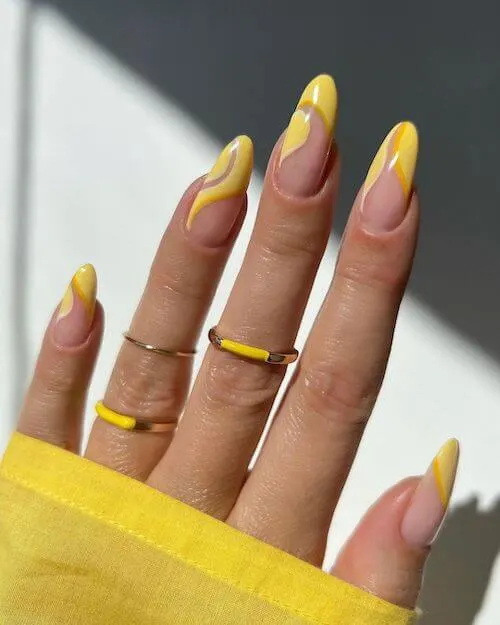 @artdecom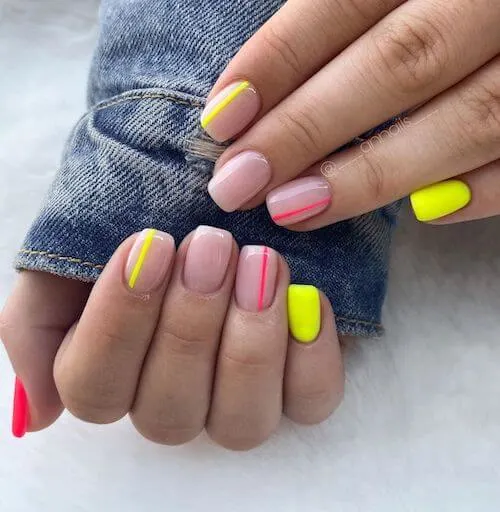 @____annails____
Daisy Design With Yellow Tips
Daisy designs are a perfect way to bring some sunshine and fun into your springtime nails.
These designs can easily be achieved at home with a few simple items – all you need is a white polish, yellow polish, top coat, and dotting tools.
Begin by applying two coats of white polish onto each nail and let dry.
Next use the dotting tools to create five small dots around one larger center dot that resembles a daisy flower shape.
Finally apply the yellow color onto the tips of each nail and finish off with top coat sealer for extra shine and protection against chipping.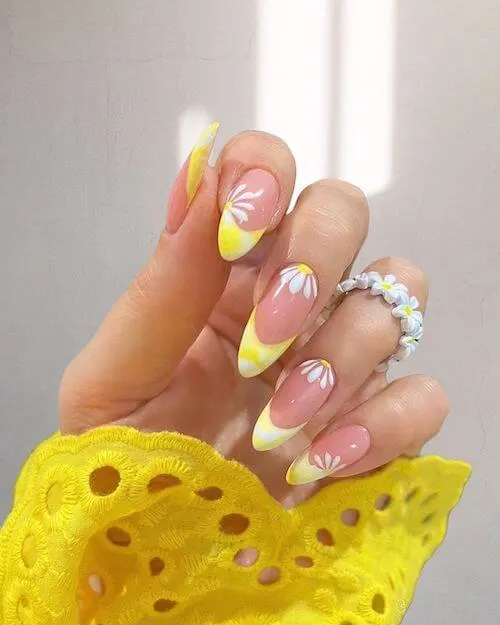 @artdecom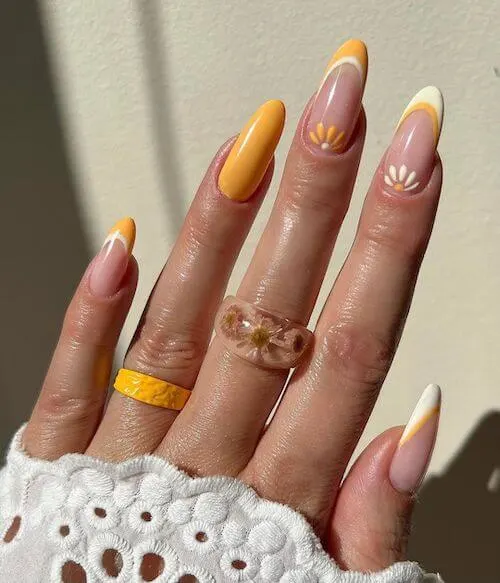 @artdecom
@artdecom
Stunning Yellow Butterfly Nails
This spring, step up your nail game with stunning yellow butterfly nails.
Show off your sense of style and creativity with these unique, cheerful looks that you can easily create at home.
Get ready to be inspired!
The beauty of this look is the creative combination of color and design.
Start by painting your nails a vibrant yellow hue.
Once the base coat is dry, add a few accent nails with a light grey background for a subtle contrast.
Next, draw delicate black lines on each nail to make the shape of butterflies fluttering across your digits.
Lastly, top it off with some tiny sparkles for an extra special touch!
These sunny yellow butterfly nails will be sure to brighten up any outfit – perfect for wearing when you want to show off your fresh look this springtime!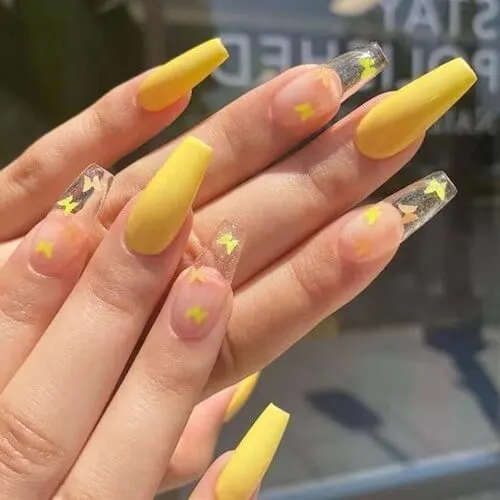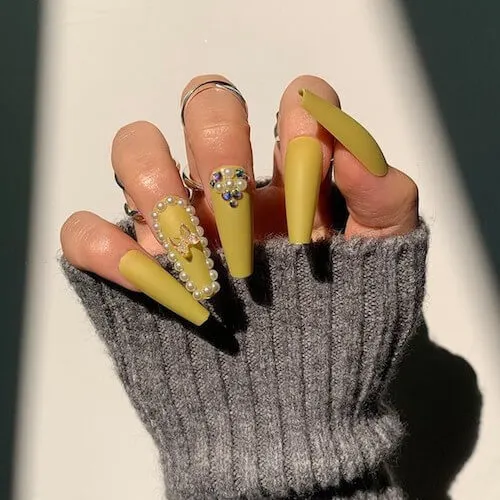 More Bright Yellow Nail Art Designs
Best Yellow Nail Design Ideas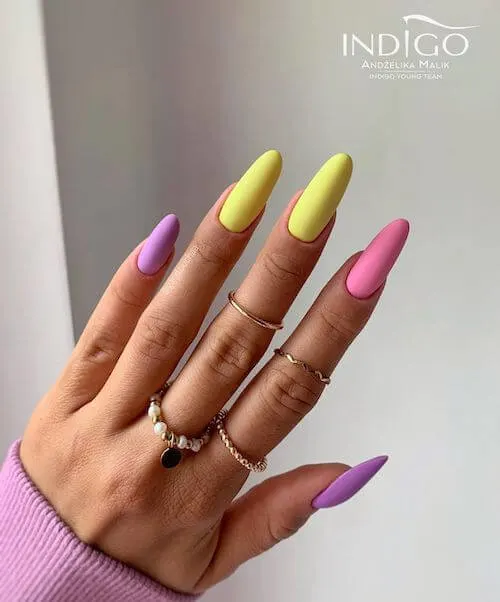 @gandziuchaa
Black And Yellow Color Nail Design Ideas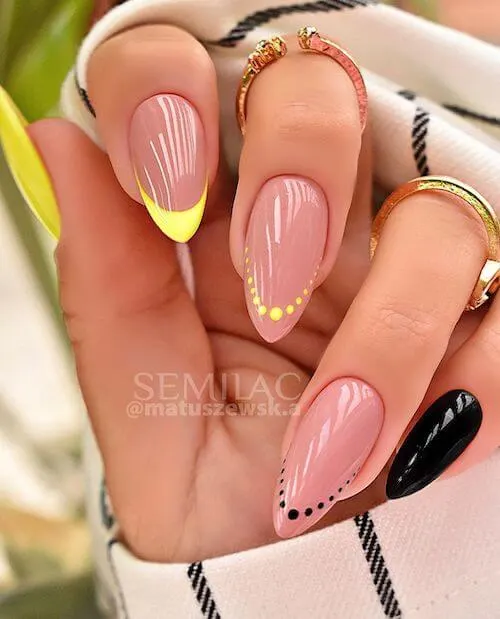 @matuszewsk.a
Chic Yellow French Tips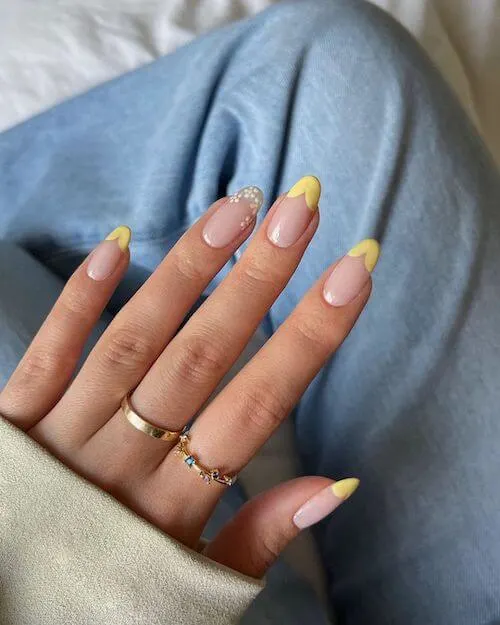 @heluviee
White And Yellow Nail Color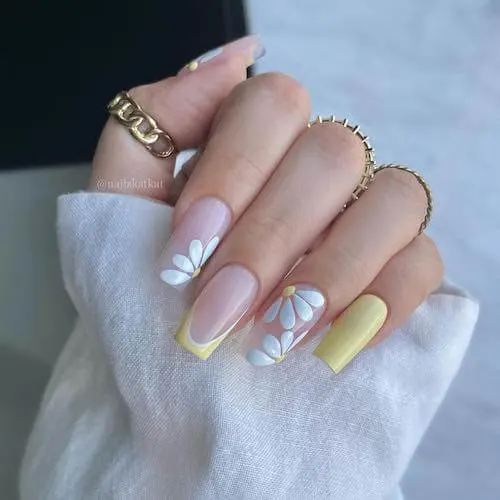 @nailzkatkat
Spring Nail Art With Shade of Yellow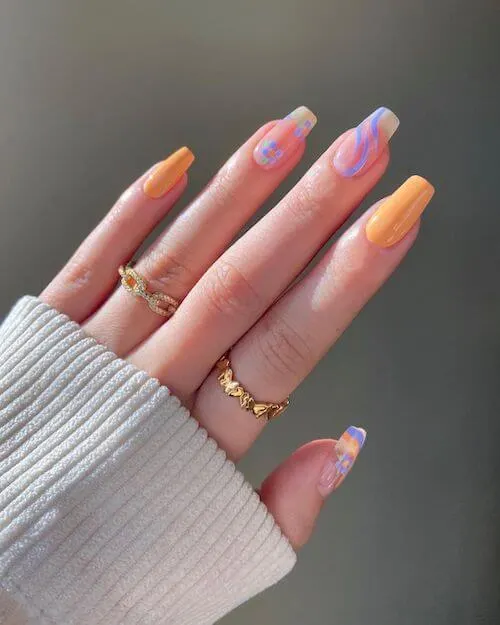 @jadeandpolished
Cute Yellow Short Nails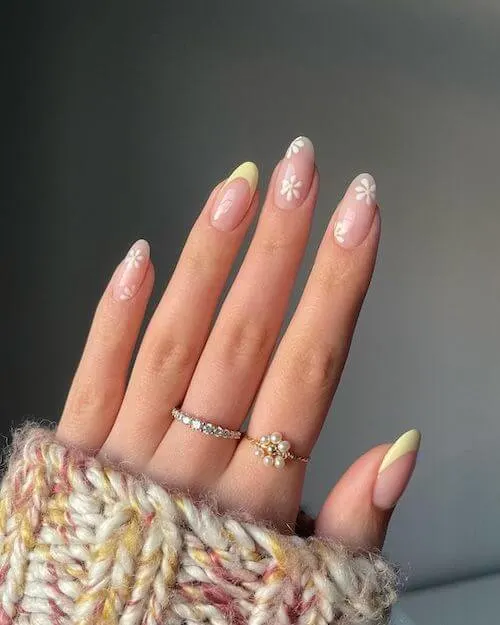 @heluviee
Ombre Yellow Nails / Yellow Ombre Nail Designs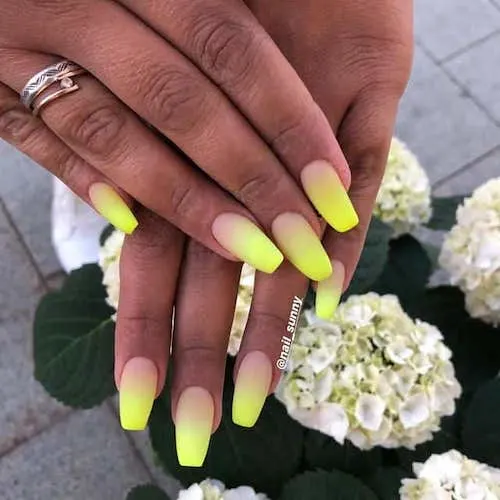 via Pinterest
Elegant Spring Yellow Mani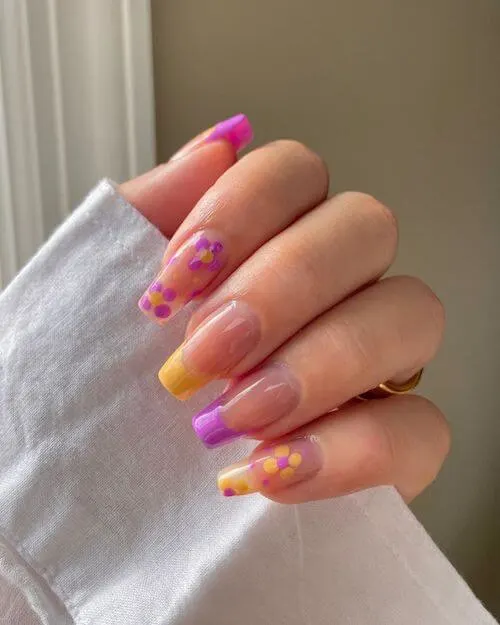 @jadeandpolished
With A Touch of Yellow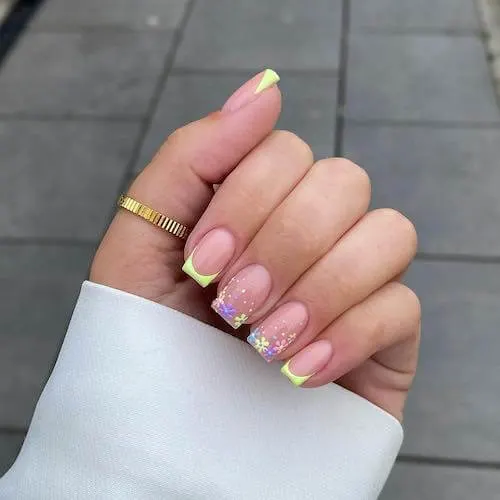 @_nailsbybethany
Yellow And Nude Nail Ideas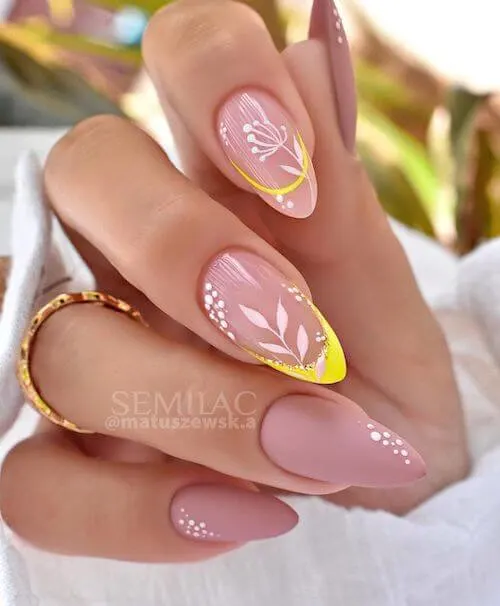 @matuszewsk.a
Yellow Stiletto Nails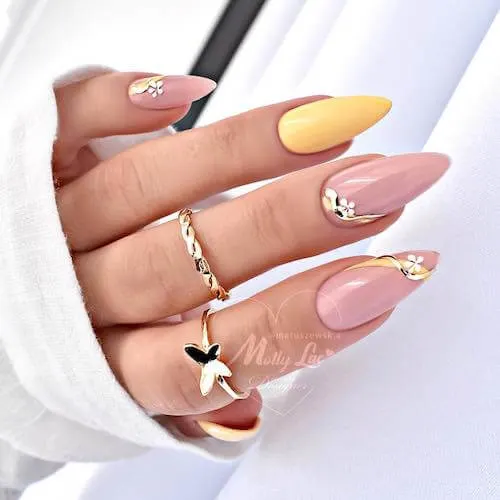 @matuszewsk.a
Pink And Yellow Nails For Spring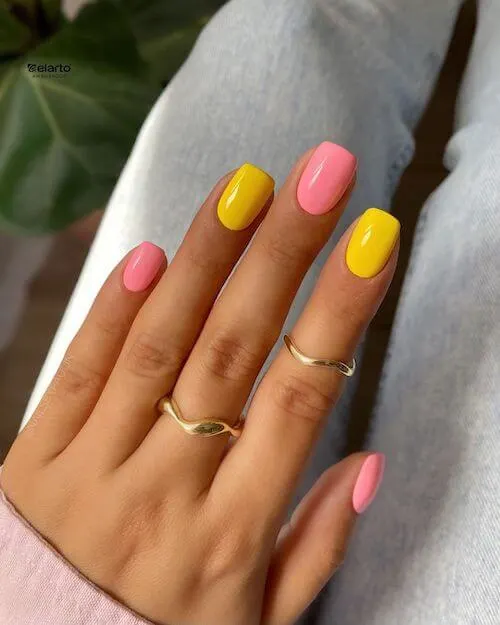 @nailsbypaulin
Yellow and Blue Spring Nails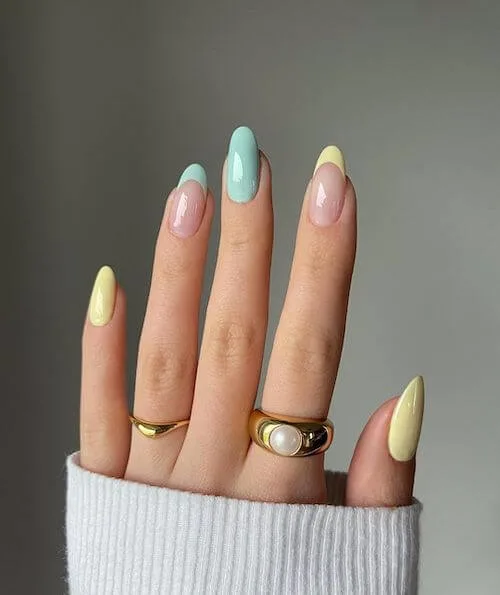 @heluviee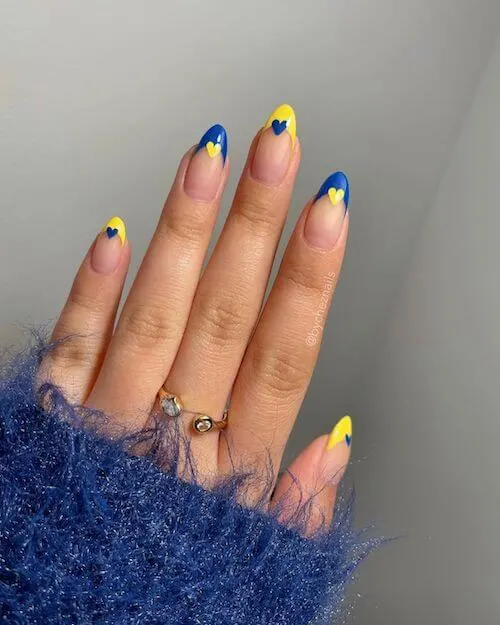 @bycheznails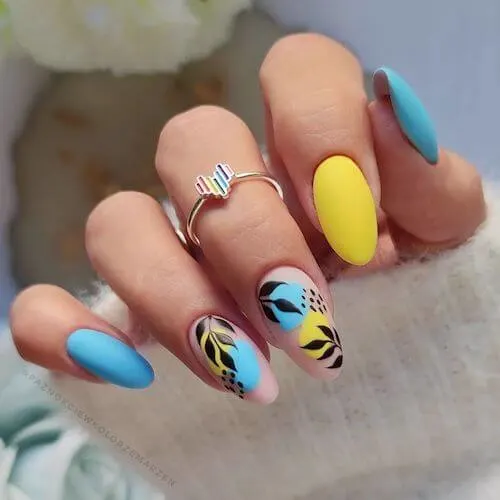 @paznokciewkolorzemarzen
Purple and Yellow Nail Art For Spring
@_nailsbybethany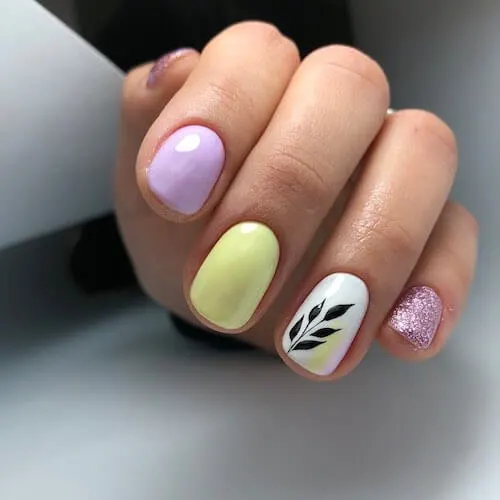 @victoriabustosnails
With A Pop of Yellow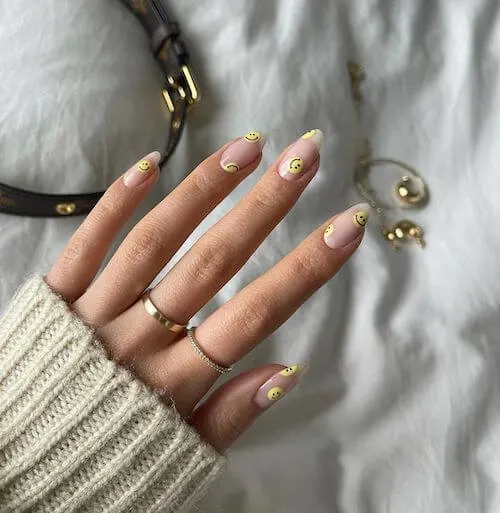 @heluviee
Yellow Natural Nails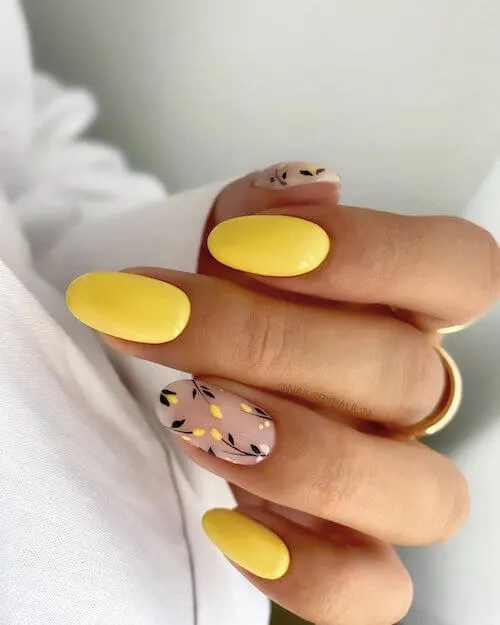 @nailsbypaulin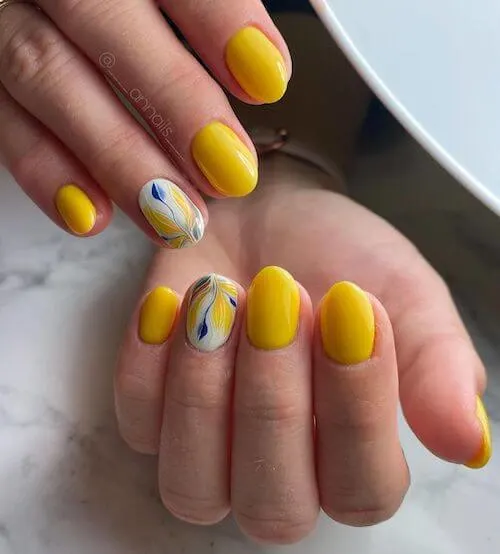 @____annails____
What color looks good with yellow nails design for spring?
The best way to brighten up your yellow nails is to pair them with other pastel shades such as baby pink, light blue or peach.
These colors will add an extra dimension to your look while still keeping your manicure looking light and refreshing.
For those wanting something bolder, opt for classic monochrome combinations like black and white or red and black – they never fail!
This post was all about yellow spring nail designs.
About The Author
Tracy is an experienced personal stylist, shopping expert, and fashion & lifestyle blogger. She has been featured on Time Magazine, Bustle, Best Life, Glam, The Zoe Report, Mic, and GOBankingRates, for her insights on fashion, beauty, home decor, and lifestyle. Read More
Related Posts: