Want to know what to wear on a first date to dinner? Check this post for expert tips and 60+ best outfit ideas to copy directly.
Compared with the daytime date or a coffee date, it would be harder for us to choose the right outfit for the first date to dinner.
The important thing is to get the perfect balance between sexiness and elegance, with the right proportion of personal style to express the best self.
If you are tired of wearing a little black dress to a dinner date, in this post, we are sharing with you the dress code advice, style tips, style formulas, and the best outfit ideas for a first date to dinner to copy directly.
No matter whether you are going to a casual dinner date or an elevated fancy dinner date, you will find a perfect outfit formula and a great option for inspiration.
And all the outfits in the post below are shoppable. So don't hesitate to check the "Shop The Look" link below each first date outfit idea and don't hesitate to pin the ideas you like.
So scroll down to check these first date night outfit ideas and good luck!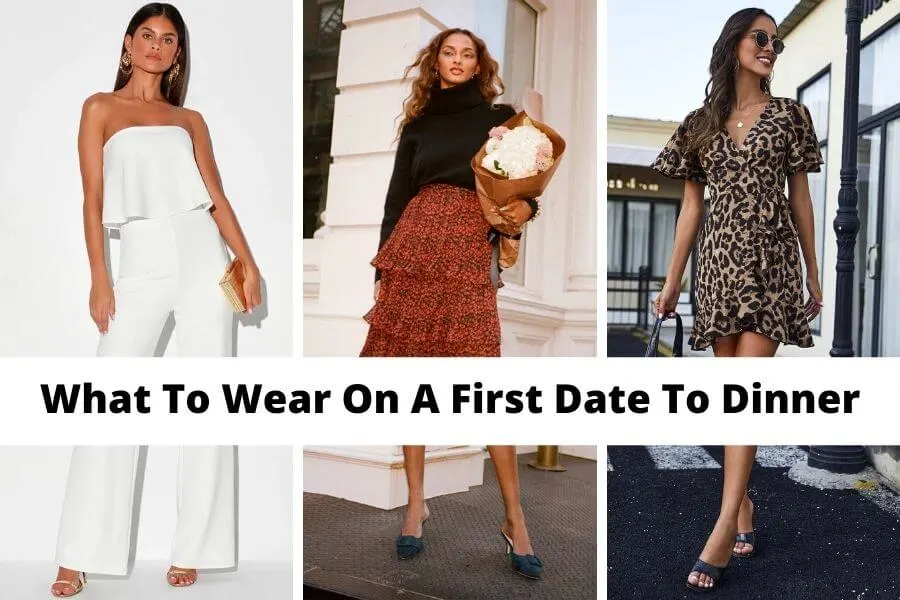 This post may contain affiliate links, which means I'll receive a commission if you purchase through my link, at no extra cost to you. Please read the full disclosure here.
This post is all about what to wear on a first date to dinner.
What To Wear On A First Date To Dinner: Casual First Date Dinner
Even it is a casual first date dinner, the rule is the same: avoid showing too much skin and keep a sense of mystery. And even the dress code is casual, it doesn't mean that you can wear flip flops or too-loose outfits. Your date still wants to see that you take it seriously and your feminine and attractive side.
So how to make your first date successful to get your second date? There are simple rules to achieve the right balance and easily make a perfect first date outfit for a casual dinner.
If you want to show your beautiful long legs, wear clothes such as a mini skirt, mini dress, or romper, then wear a long sleeve top. If you want to show your beautiful necklines and shoulders, choose a cami top or an off shoulder top, then wear a midi skirt, midi dress, or long pants.
These will help modify your body shape, show your good assets, but still, make you more attractive and chic on your evening dates.
Want more ideas? Try some brighter and warmer colors for a different look, especially for a date with someone you know for a long time but start dating for the first time.
The first date would be a perfect opportunity to show your different side and personality to know each other better and make your date want to know you more. Red, orange, and tan are our favorite colors.
But if your skin tone is suitable for the warm colors, a black or navy dress or top with small dots or subtle print is perfect for a chic look with a casual outfit.
Black and Gold Dot Long Sleeve Romper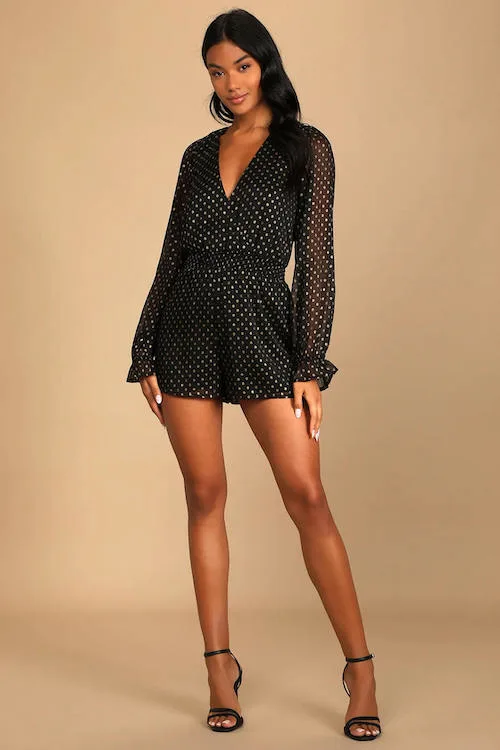 Black and Red Floral Print Pleated Tiered Midi Skirt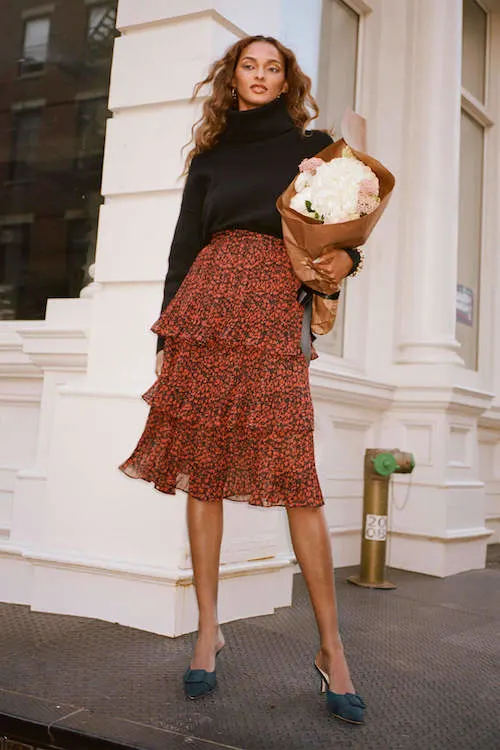 Magenta Pleated Long Sleeve Romper
Lace Cami Top + Flared Jeans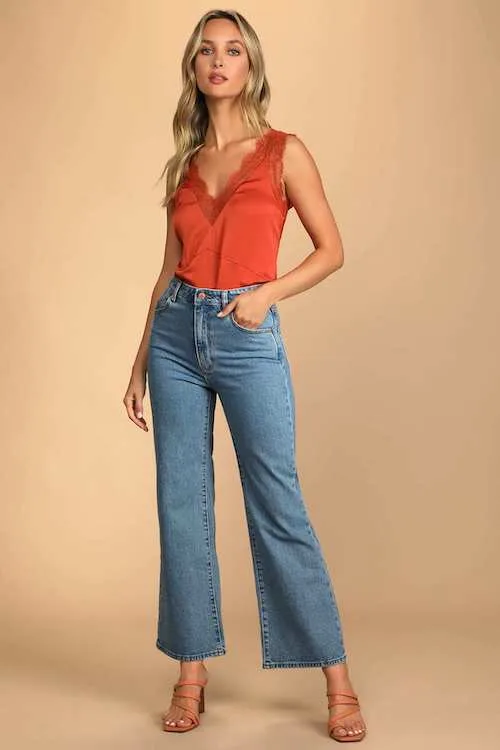 Polka Dot Cold Shoulder A-line Dress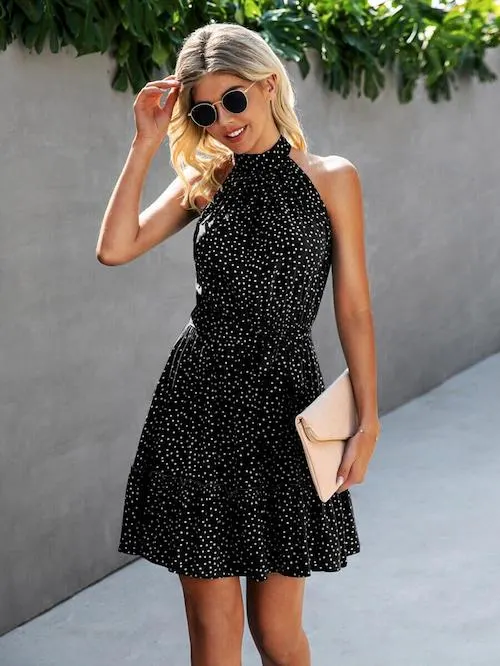 Black Leather Biker Jacket + Graphic Tee + Midi Skirt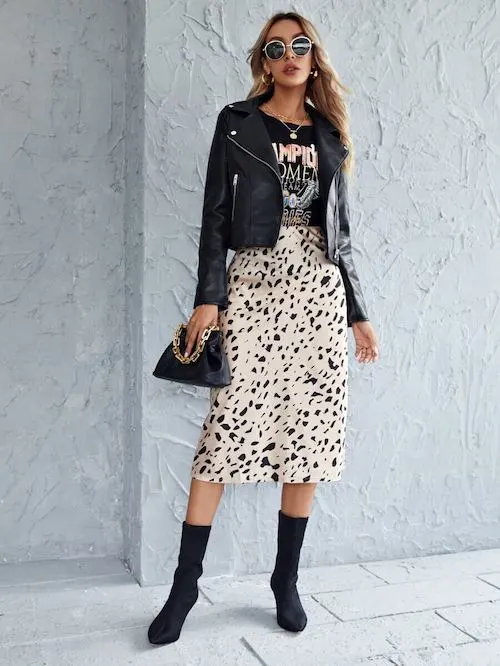 Allover Print Self Tie Split Thigh Cami Dress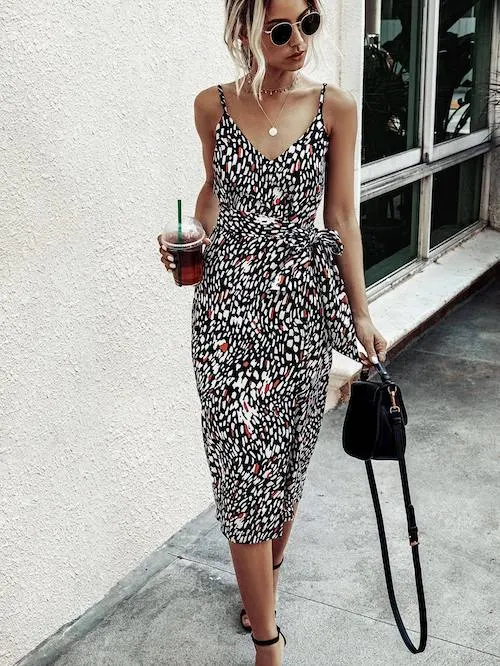 Graphic Print Split Thigh Belted Cami Dress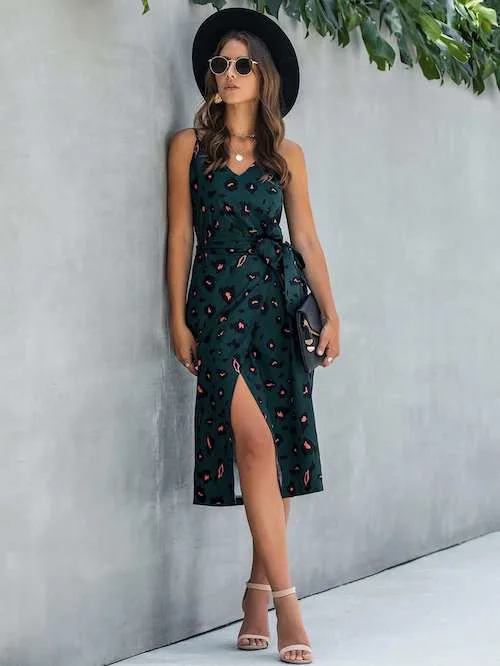 Ditsy Floral One Shoulder Layered Ruffle Dress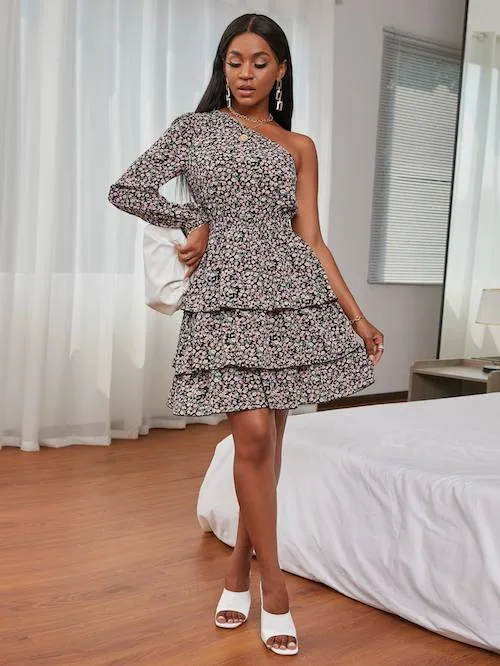 Red Ditsy Floral Puff Sleeve Belted Dress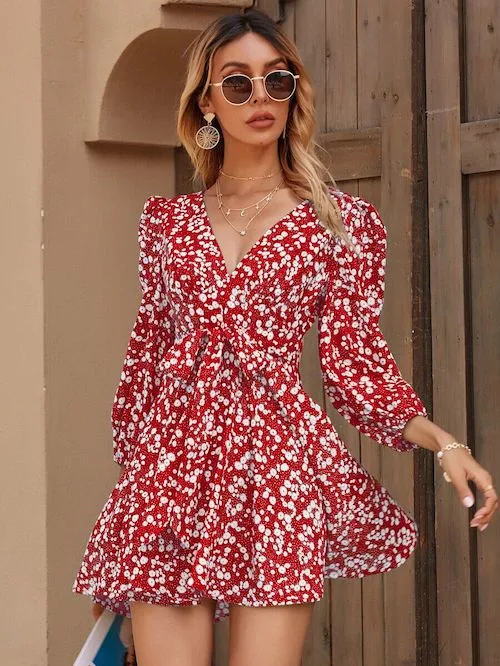 Ruched Bust Split Thigh Polka Dot Dress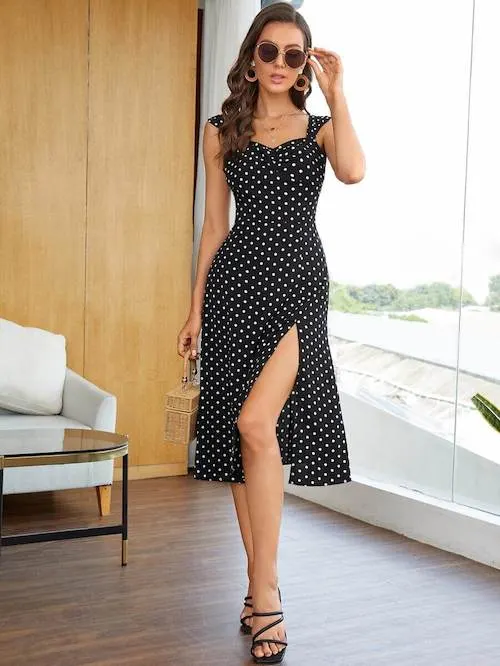 Brown Ruched Bust Mini Dress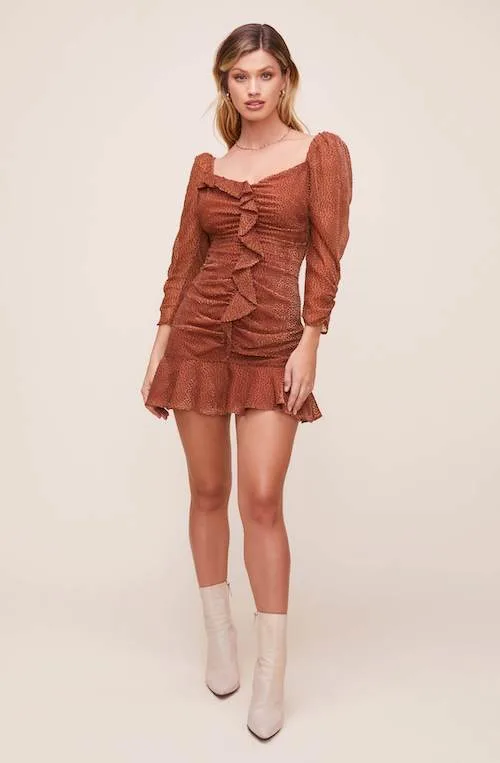 Red One Shoulder Belted Sweater Dress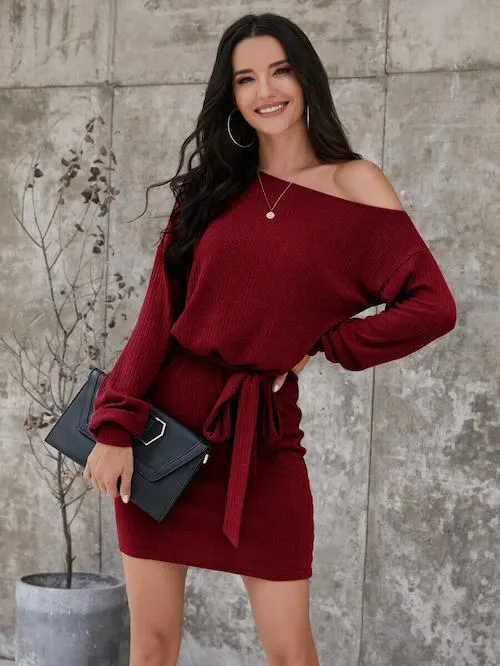 Animal Print Cami Top + Black Long Skirt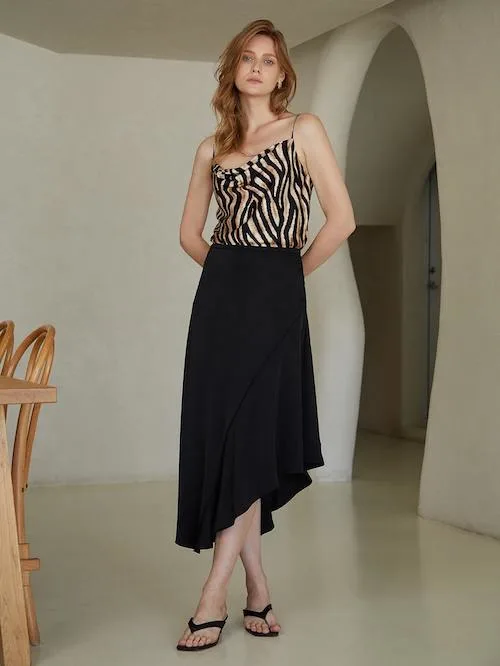 Split Tube Top + Jeans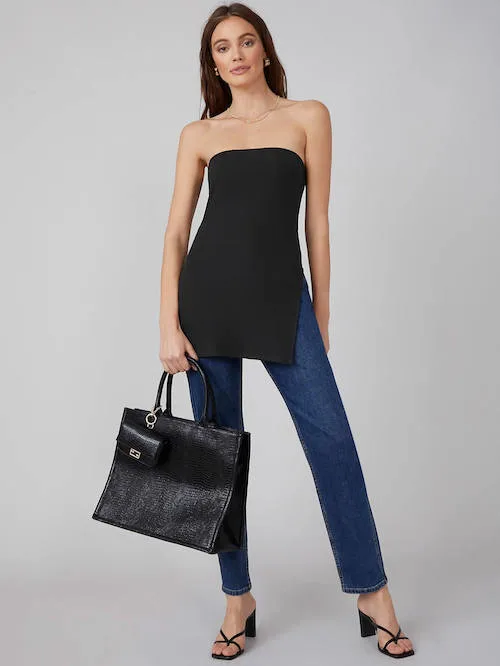 Knotted Short Sleeve Top + Wide Leg Pants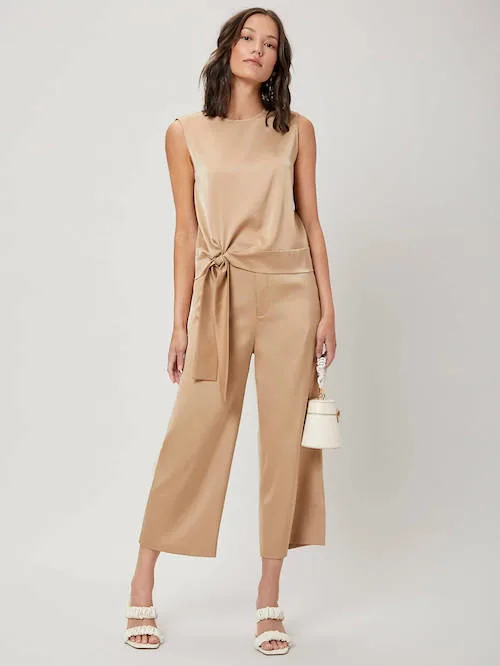 Velvet Top + Straight Leg Jeans
What To Wear On A First Date To Dinner: Casual Restaurant
The best option to wear on a first date to a casual restaurant is a cute casual dress. To make a good first impression, choose classic-cut designs with a solid neutral color, or animal print, or subtle print.
Can you wear white sneakers for a casual dinner date? Yes or no.
If your date is familiar with the fashion trend, the combo of a cute dress with a pair of white sneakers is stylish. But many people may not be so familiar with the fashion trend and understand this combo, so a safer option is to wear your favorite pair of comfortable flats if you are not feeling confident with high heels or want more casual vibe.
Besides a cute dress, the combo of a cute top with a pair of jeans, skinny pants, leather pants, or midi skirt is a great choice for a casual date.
Add a leather jacket, a chic trench coat, or a pair of knee high boots to be cozy and stylish.
Black Ruched Sweetheart Neck Bodysuit + Straight Leg Cropped Pants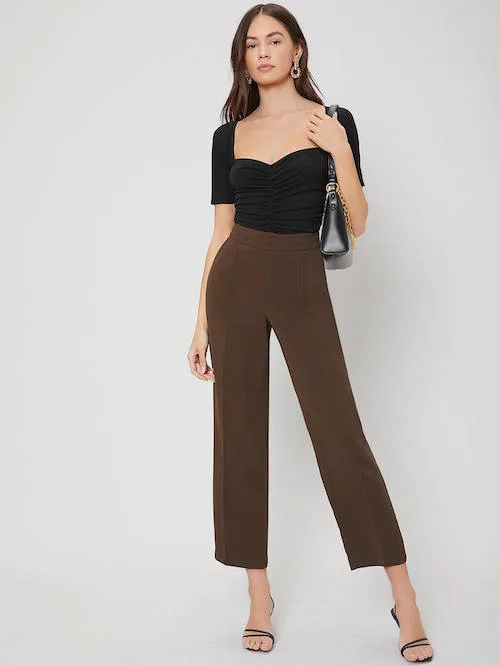 Black Biker Jacket + Leopard Print Satin Pleated Midi Skirt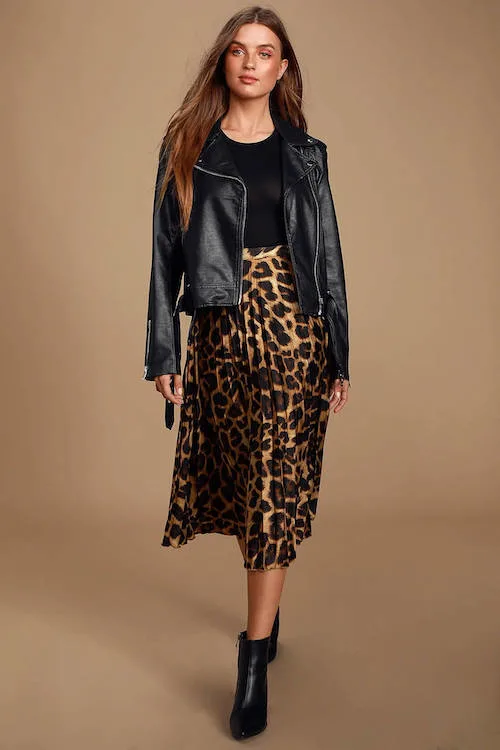 Burgundy Vegan Leather Pants + Black Blazer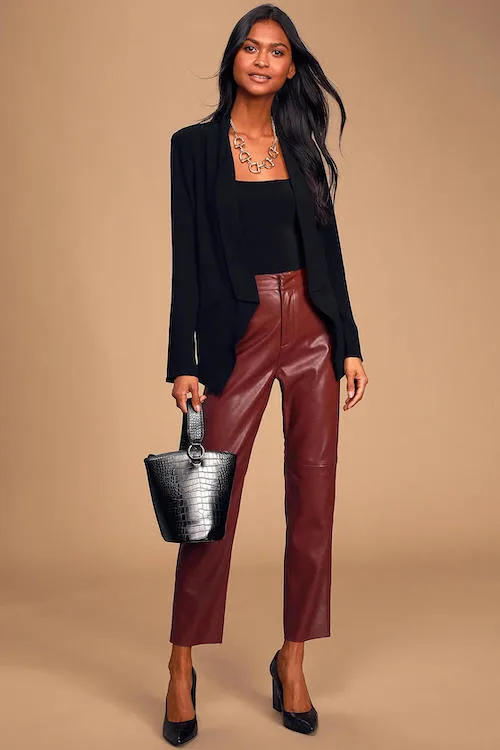 Button-Down Shirt + Tan Leather Skirt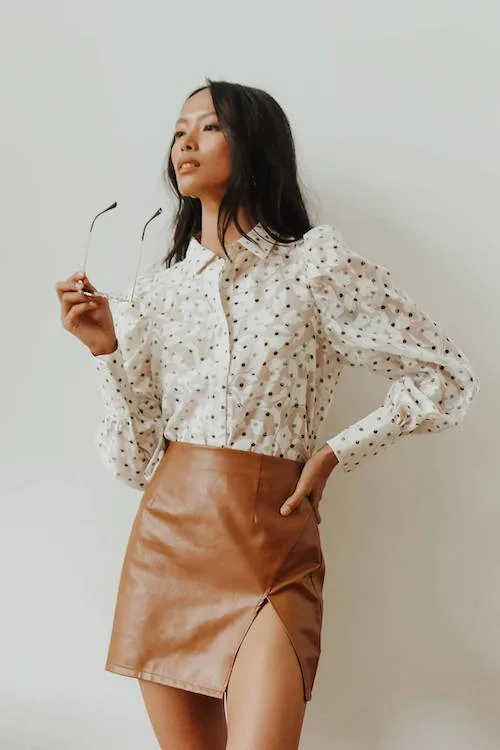 Tan Top + Black Leather Skirt + Black Knee High Boots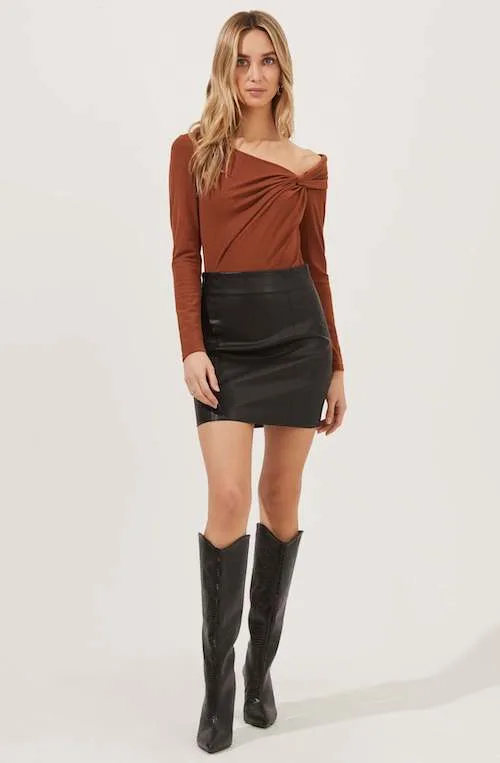 Floral Square Neck Top + Black Pants + High Heels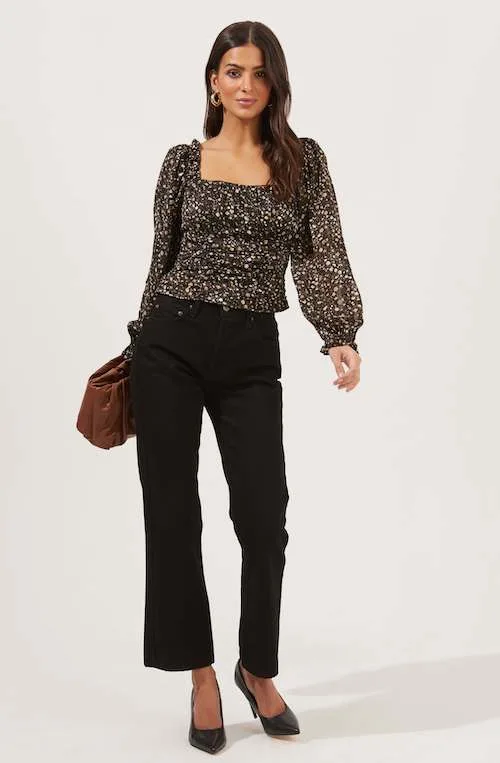 White Sweater + Brown Leather Skirt + Strappy Heels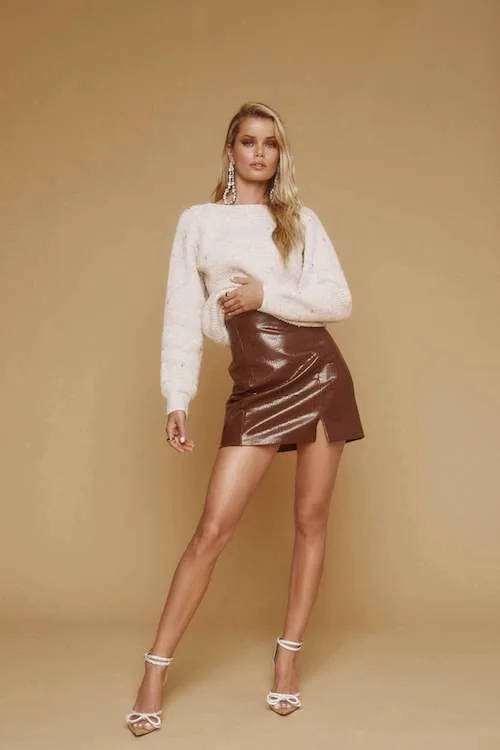 Solid Off Shoulder Dress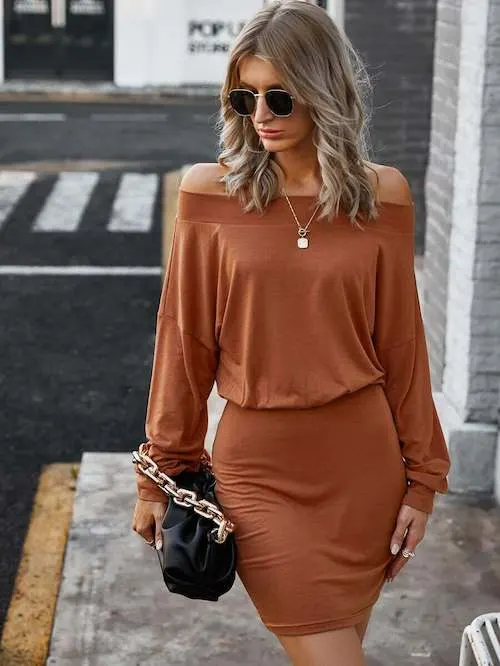 Leopard Print Mini Wrap Dress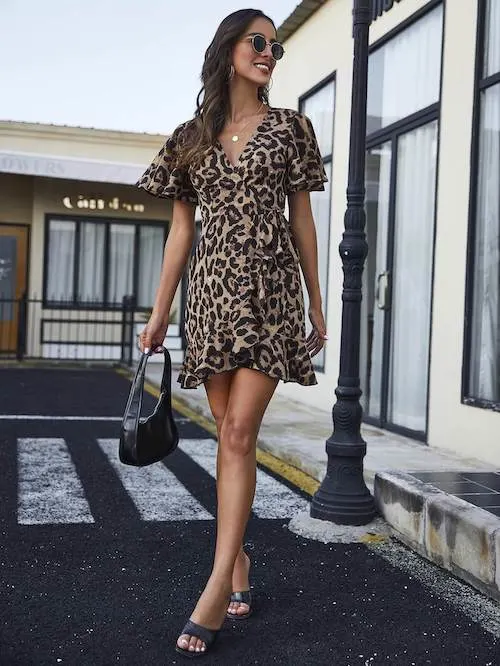 Snakeskin Print Belted A-line Dress + Knee-High Boots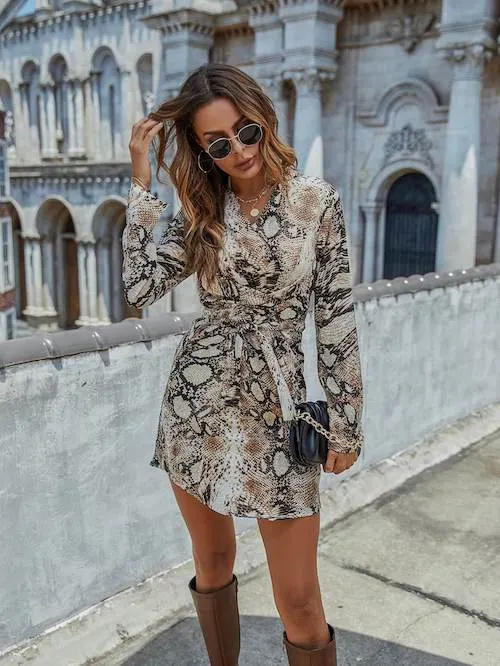 Off Shoulder Polka Dot Peplum Blouse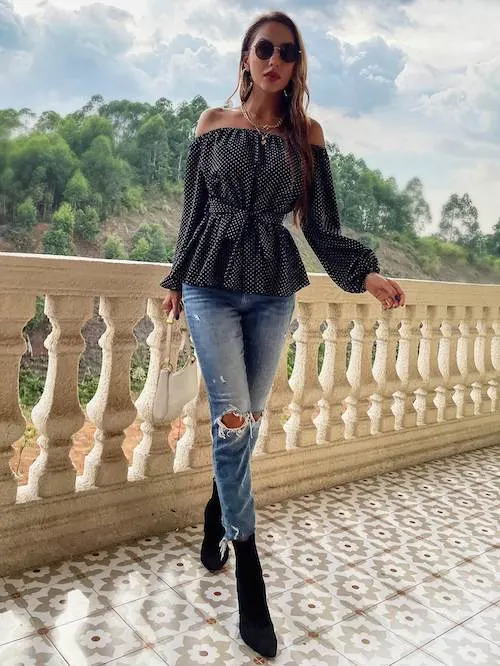 Black Chain Cold Shoulder Solid Blouse + Skinny Jeans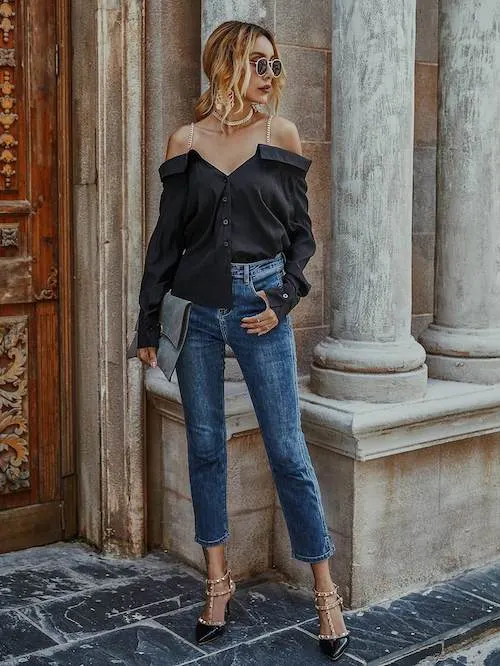 Black Satin Cami Top + Animal Print Satin Midi Skirt
What To Wear On A First Date To Dinner: Formal Dinner
Midi dresses and jumpsuits in solid colors are the simplest options for the first date to a formal dinner. Black, red, and white are among the best choices.
Want a more refreshed look and a little bit creativity for a summer dinner date? Try a light green dress! This color looks expensive and stylish in the hot weather and is a good idea to make your date outfit super impressive!
Prefer pants for a formal date? we also round up great date outfit ideas suitable for a formal first date dinner, including outfits with leather pants, black pants and white pants.
For an outfit with pants, choosing a nice top for this nice dinner is a smart choice. We strongly recommend the tops with an off-shoulder design, a sweetheart neck, ruched bust, and laces. These are beautifully feminine details, suitable for almost all body shapes, and even you pair them with low heel shoes, they still make you so cute.
Can you wear a short or mini dress for a formal first date dinner date? Absolutely yes! But we suggest wearing long sleeves or a halter mini dress. They are sexy in a more elegant way and suitable for a first meeting.
Off-shoulder Leopard Print High Low Blouse + Black Leather Pants
Solid Button Up Satin Blouse & Skirt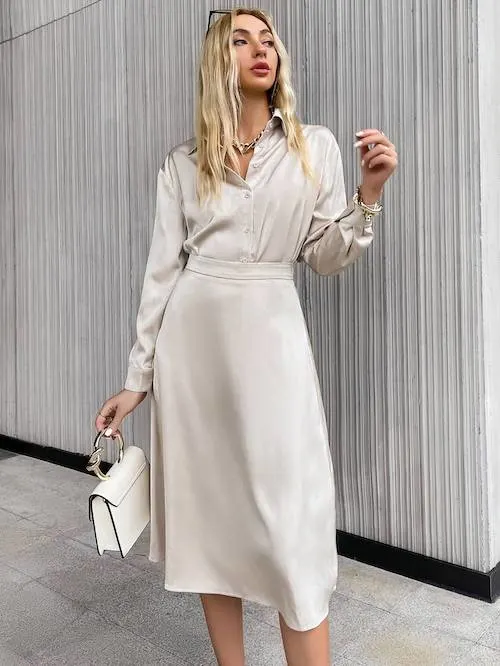 Love Song Floral Ruched Puff Sleeve Top + Black Jeans + Knee Boots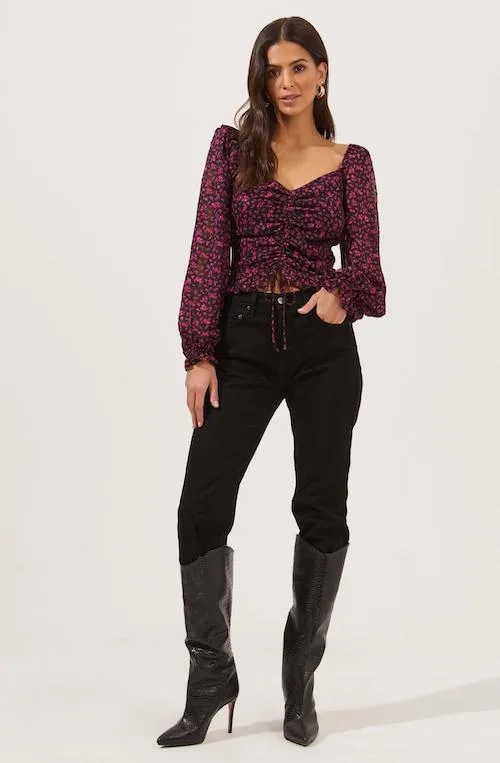 Wrap Front Top + Black Jeans + High Heels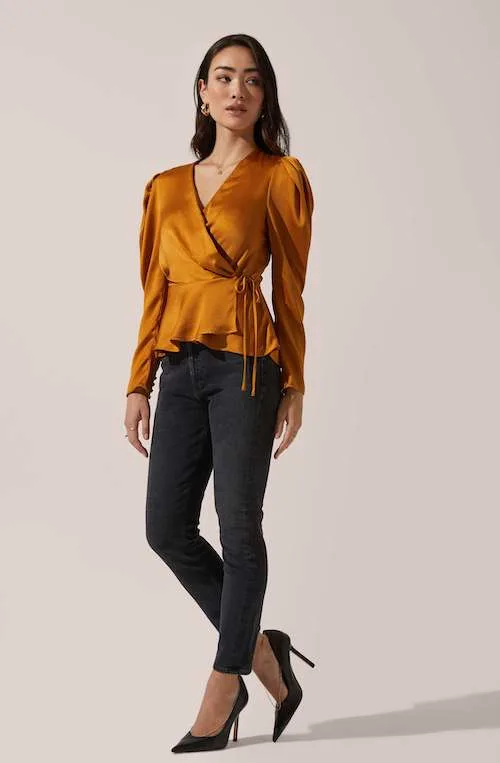 Light Green Slip Dress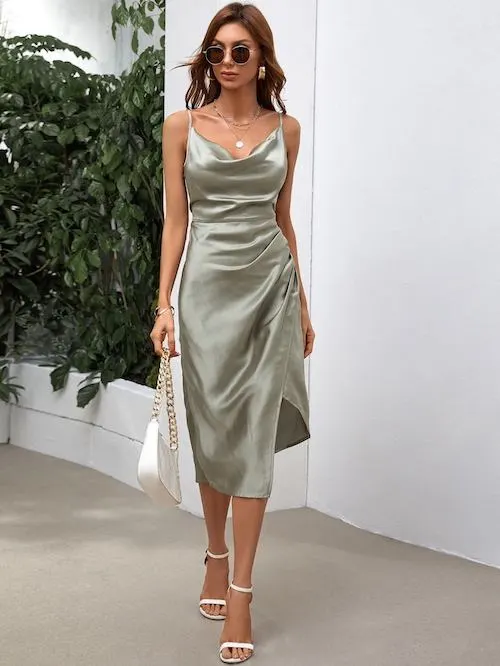 Orange Long Sleeve Bodysuit + Black Pants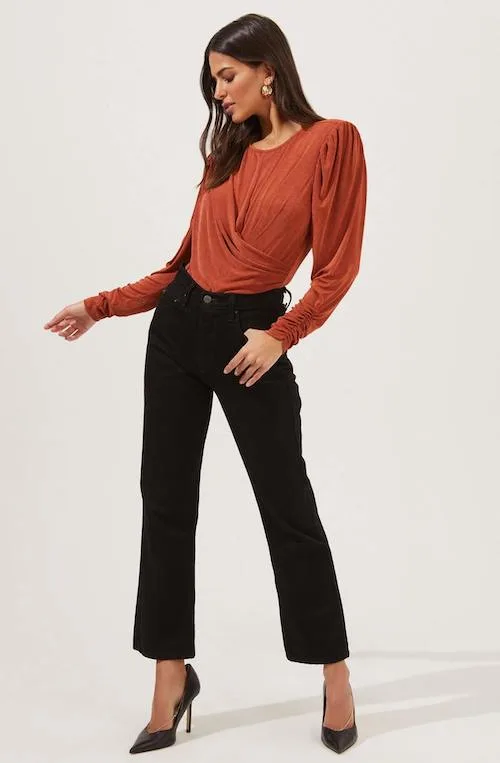 Black Drawstring Split Cami Dress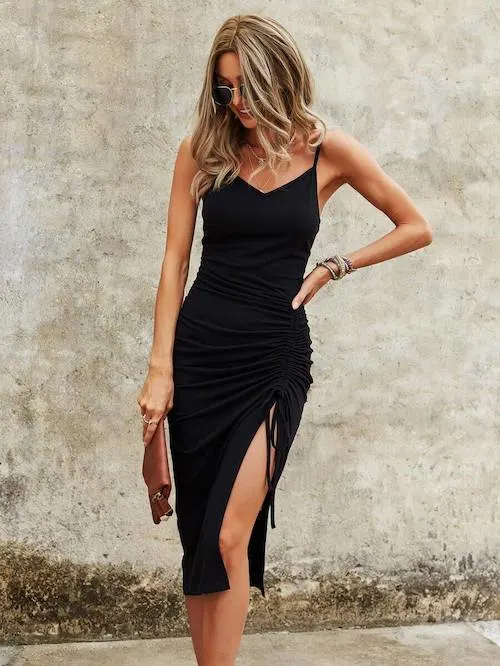 Polka Dot Bishop Sleeve Dress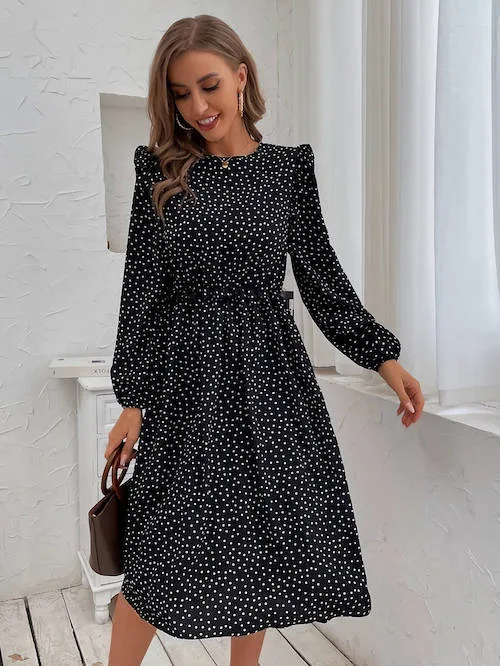 Red Polka Dot Mini Dress
Blue Halter Belted Ruffle Hem Dress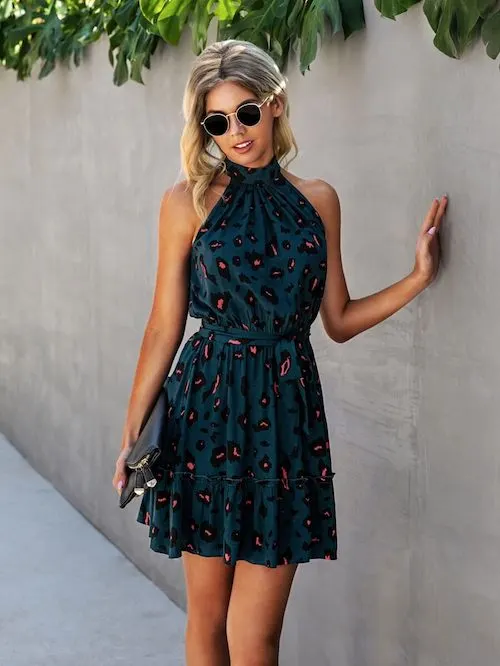 White Half Sleeve Sheath Dress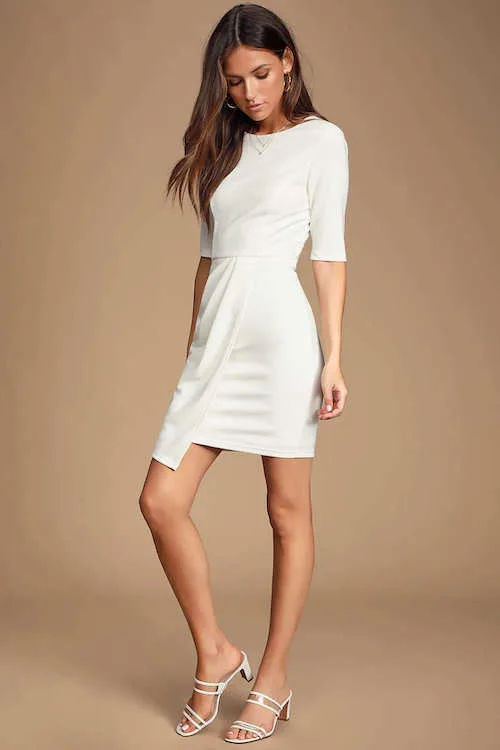 Red Lace Short Sleeve Dress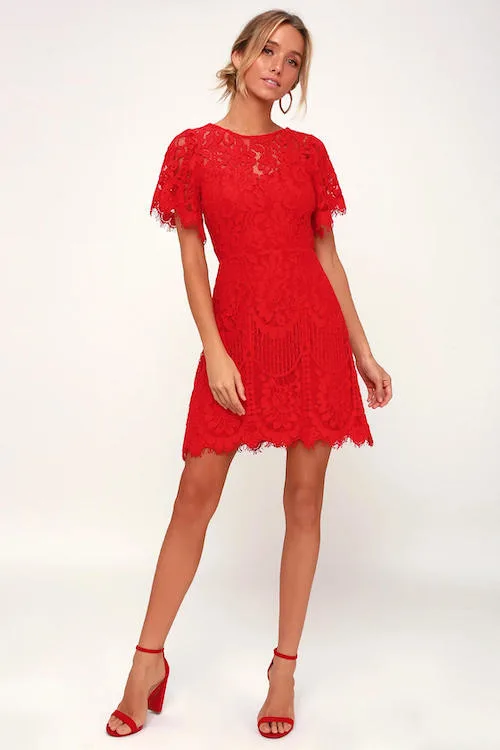 Black Lace Dress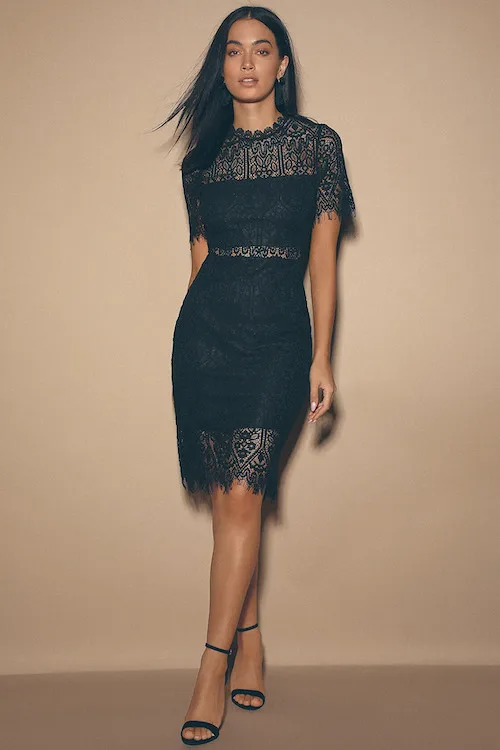 Champagne Satin Surplice Peplum Cami Top + Black Pants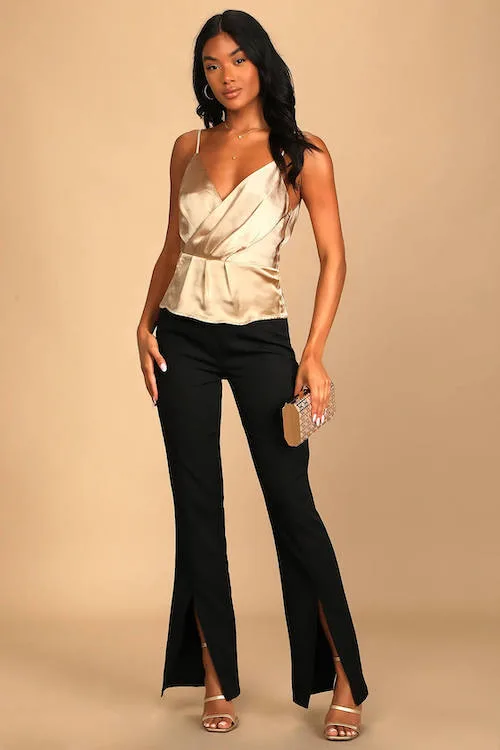 White Strapless Wide-Leg Jumpsuit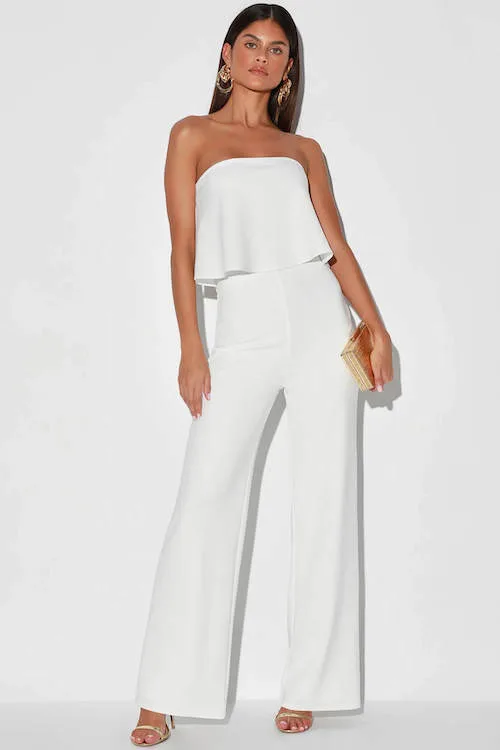 Black Backless Sweetheart Neck Bodycon Dress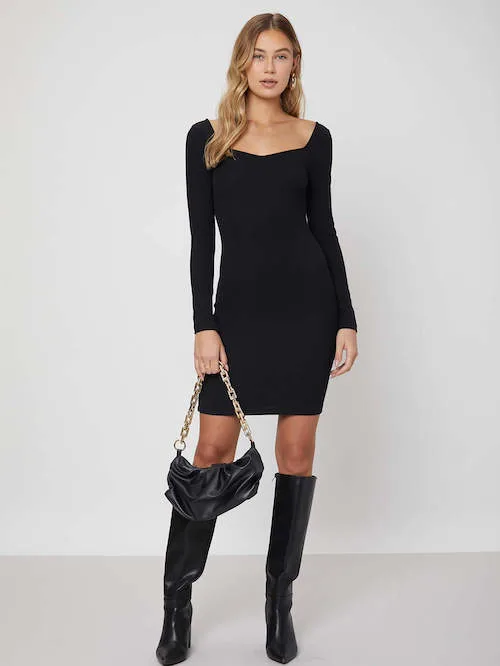 Gardenia Faux Wrap Jumpsuit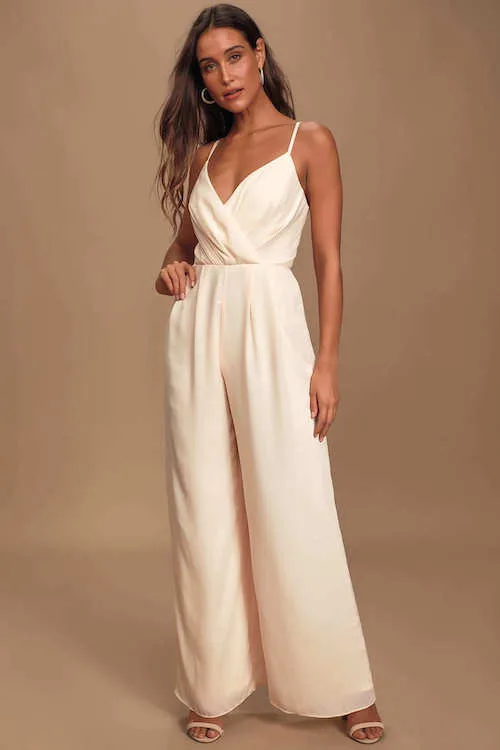 What To Wear On A First Date To Dinner: Fancy Restaurant
Going to a fancy restaurant? Great, then choose a two-tone outfit or a cute dress with unique designed details to show your good fashion taste.
Or a nice jumpsuit, and pair it with a different color purse or bright color comfortable shoes. These accessories make you stand out in a minute.
Go on an after-work date but are afraid that you don't have enough time to change to a fancy look? Don't worry. You can wear a simple black dress inside of your outerwear while at work, and wear a pair of snakeskin print shoes. The shoes are perfect for a work outfit but still amazing for a dinner date.
Or you can choose a short top or tie up the front of your satin collared shirt to make it a shorter top, then put on your red lipstick and hoop earrings, and you are set to go!
Black Silk Halter Top + Red Silk Midi Skirt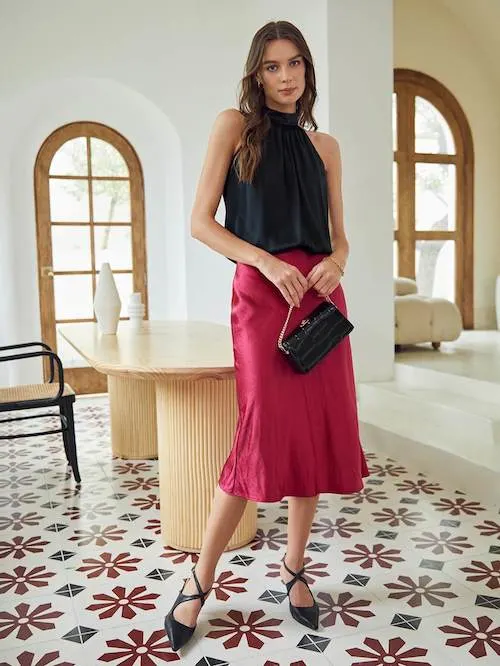 Yellow Linen Belted Dress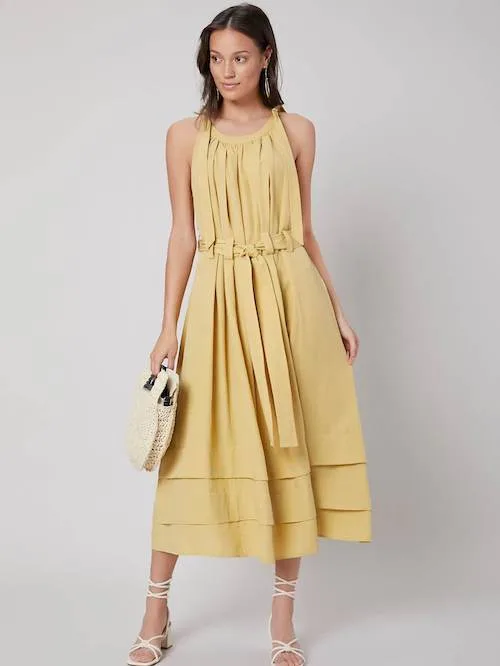 Black Slim Tee Bodysuit + Midi Skirt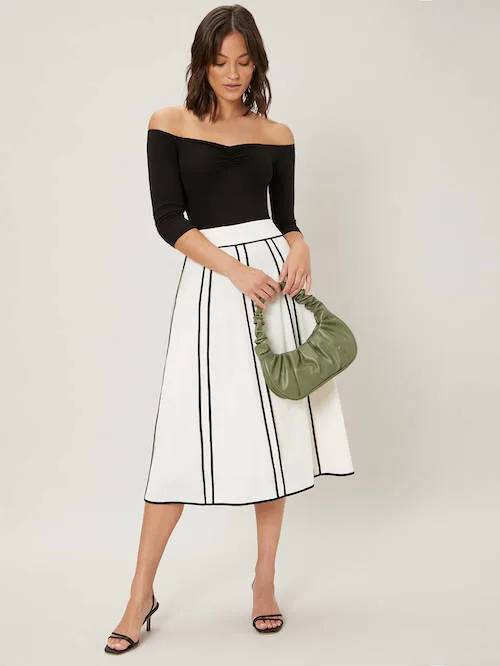 Light Grey Sleeveless Belted Jumpsuit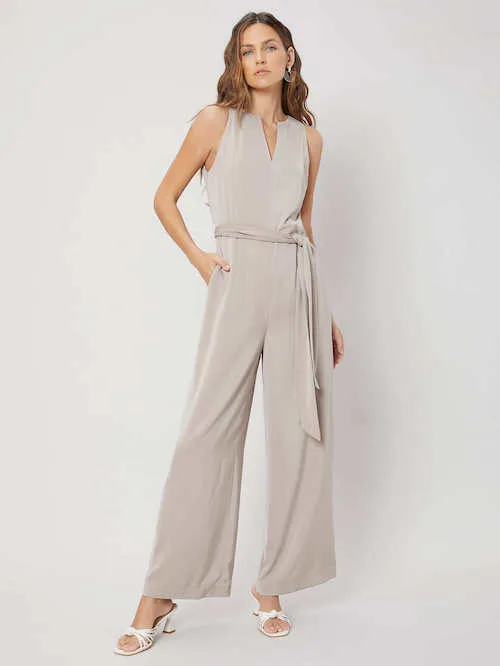 Black Tie Side Wrap Sleeveless Jumpsuit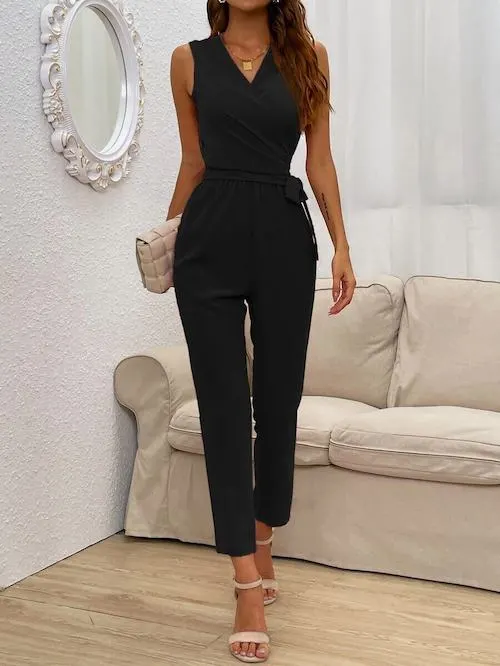 Lantern Sleeve Self Belted Chain Print Jumpsuit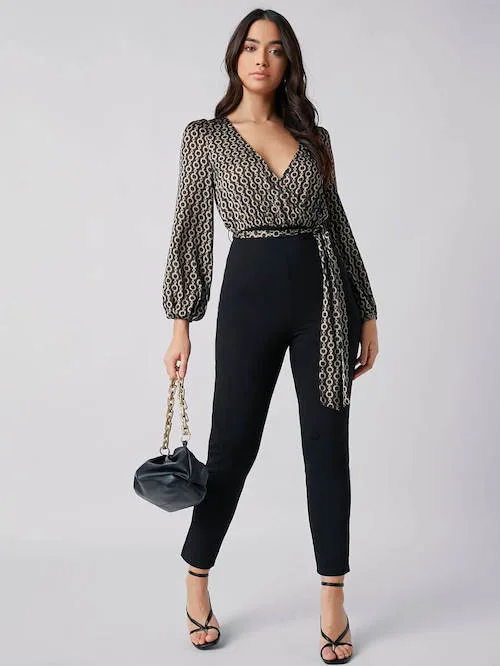 Black Top + Rust Orange Satin Twist Front Midi Skirt + Snakeskin Boots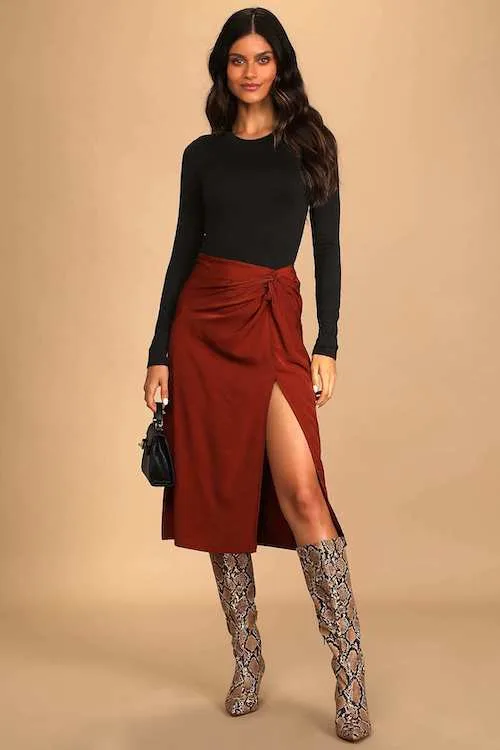 Rust Red Floral Print Smocked Long Sleeve Mini Dress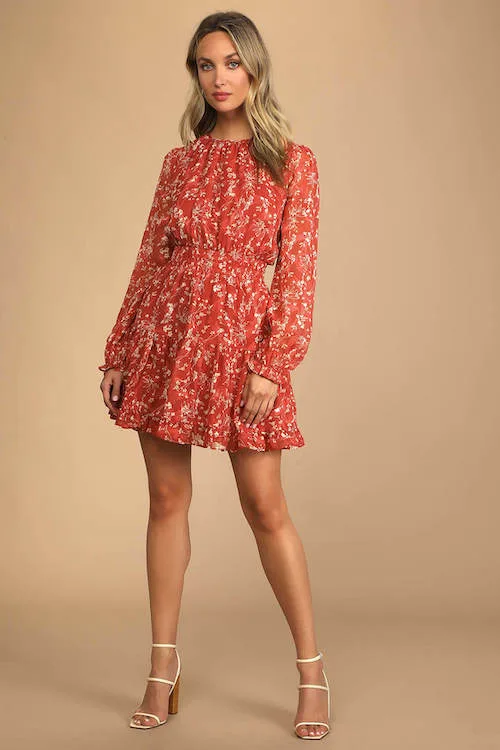 Black Sleeveless Bodycon Midi Dress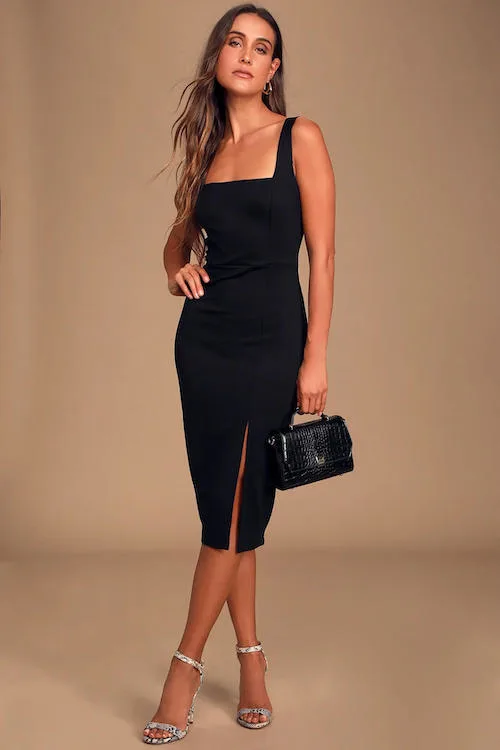 Green Cowl Neck Slip Dress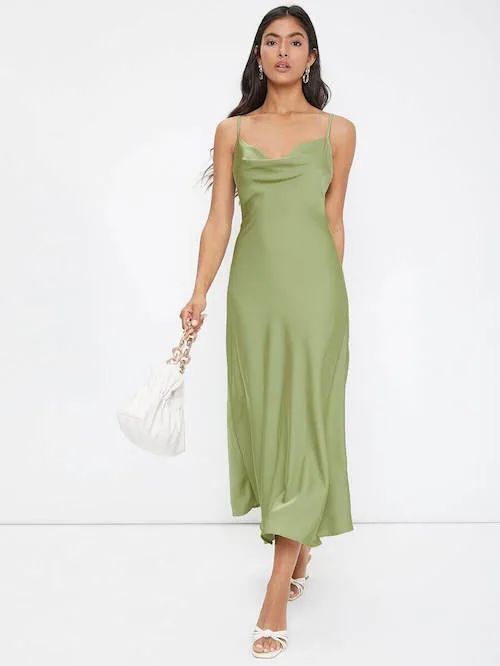 Black Off Shoulder Jumpsuit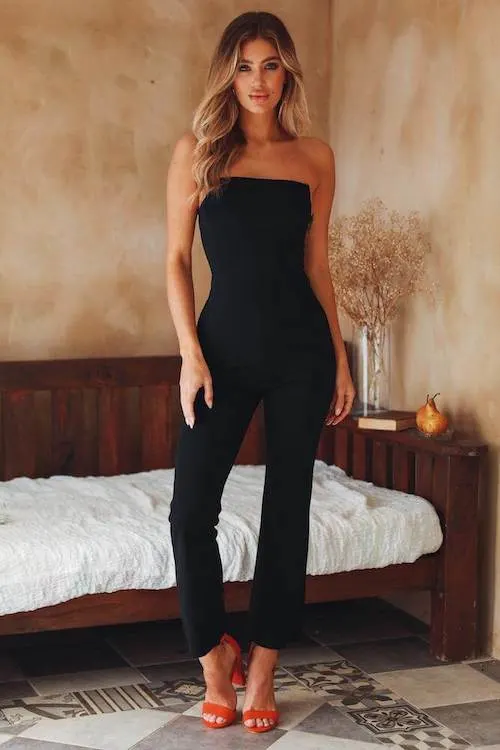 Black Off Shoulder Split Hem Dress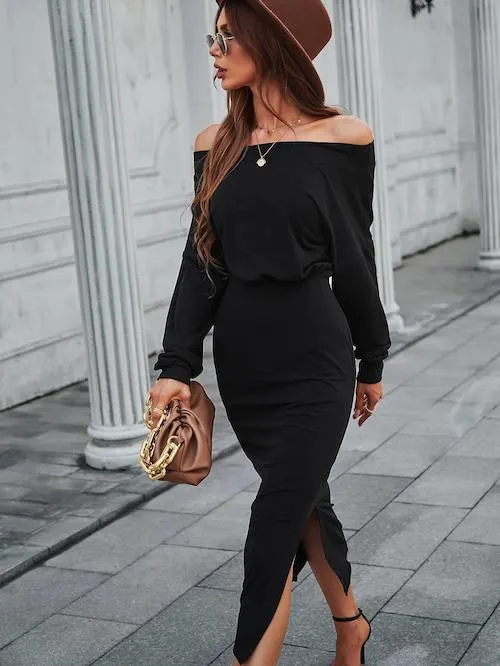 Button Front Satin Top + Black Pants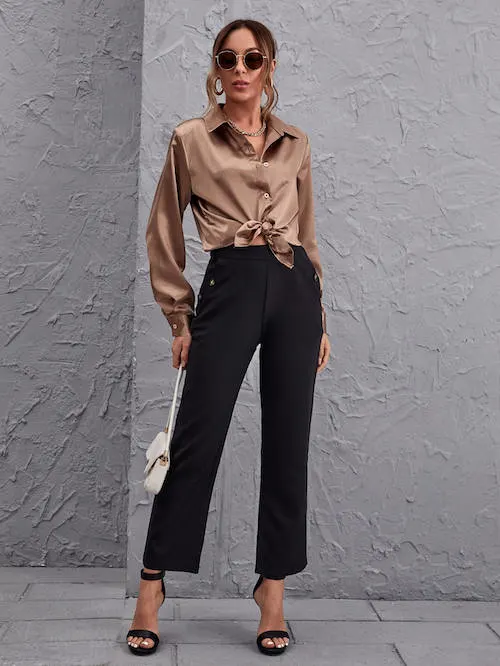 White Crop Top + Black Wide Leg Pants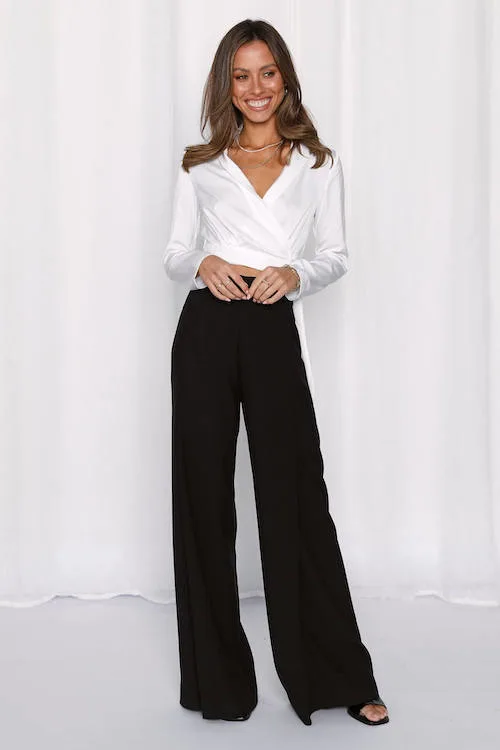 This post was all about what to wear on a first date to dinner.
About The Author
Tracy is an experienced personal stylist, shopping expert, and fashion & lifestyle blogger. She has been featured on Time Magazine, Bustle, Best Life, Glam, The Zoe Report, Mic, and GOBankingRates, for her insights on fashion, beauty, home decor, and lifestyle. Read More
Related Posts: