Looking for the best casual date night outfits? Check this post for expert style tips and ideas on casual date night outfit ideas for different occasions, including first date night, summer date night, winter date night, and more!
Whether you're going on a first date or reuniting with an old flame, it's important to make a lasting impression.
Looking great is the best way to do that!
The right outfit for a casual date night can help you feel more confident and show off your personality.
From romantic maxi dresses to printed jumpsuits, there are plenty of fun outfit ideas to choose from.
This post may contain affiliate links, which means I'll receive a commission if you purchase through my link, at no extra cost to you. Please read the full disclosure here.
This post is all about date night outfits ideas.
Fashion Tips for Casual Date Nights
A. Comfort is Key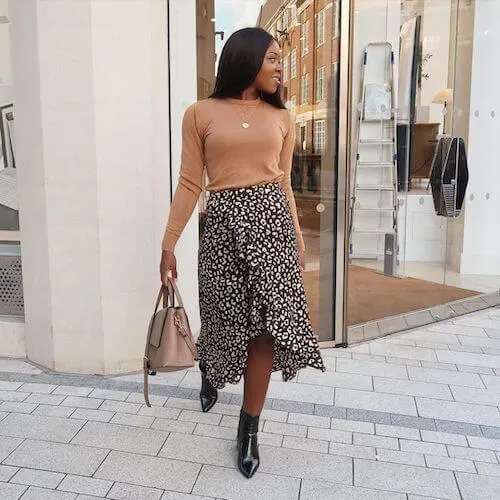 When it comes to dressing up for a casual date night, comfort is key.
You want to look stylish and put together, but you also want to feel at ease in your outfit.
Remember that confidence is the most attractive accessory, so choose clothing that makes you feel good about yourself.
One way to stay comfortable on a casual date night is by choosing loose-fitting clothing.
Opt for flowy tops, wide-leg pants, or long skirts that will allow you to move freely without feeling constricted.
Additionally, choosing soft fabrics such as cotton or silk can help keep you comfortable throughout the evening.
Another way to prioritize comfort on a casual date night is by wearing shoes that won't leave your feet hurting at the end of the night.
Choose flats or low heels instead of stilettos or platforms which could be difficult to walk in and might leave your feet sore after just a few hours.
Ultimately, when it comes down to it, dressing comfortably for a casual date night doesn't mean sacrificing style – with some thoughtful consideration and creativity, you can have both!
B. Add a Pop of Color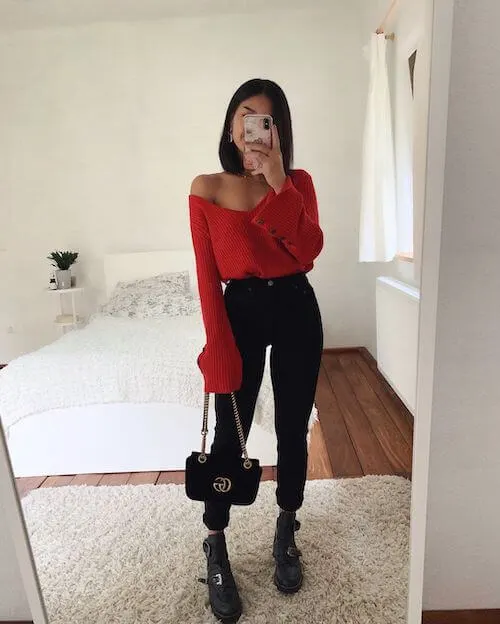 Adding a pop of color to your date night outfit can make you stand out from the crowd.
Consider incorporating a bold hue in your accessories like a bright red clutch or electric blue statement earrings.
You can also play with color blocking by pairing complementary shades such as pink and red or yellow and green.
For those who are not comfortable with going all out with bright colors, wearing a neutral outfit and adding pops of color through shoes or jewelry is another option.
A pair of fuchsia heels or turquoise drop earrings can add just enough color to elevate an otherwise simple outfit.
Remember, adding a pop of color doesn't necessarily mean going overboard with neon shades.
A subtle touch of pastel hues like lavender or mint can also provide an interesting contrast against classic black or white outfits.
Ultimately, the key is to have fun and experiment until you find the perfect balance that works for you!
C. Accessorize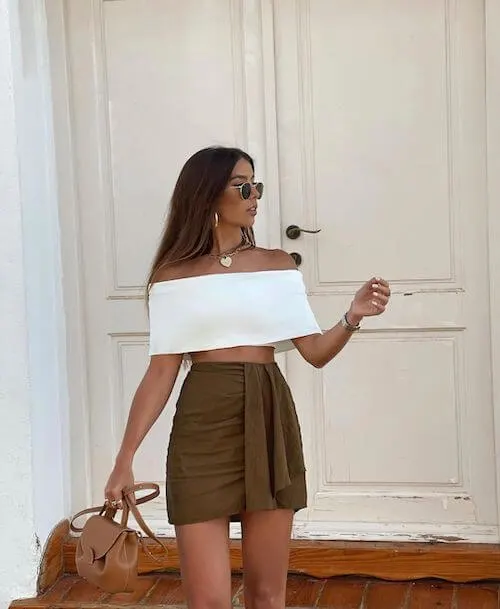 Accessorizing plays a crucial role in elevating an outfit from dull to exciting.
A simple shift dress can be made more interesting with the right jewelry, shoes, and bag.
For a casual date night look, add a pop of color to your outfit with some statement earrings or a bold necklace.
Experimenting with different styles of jewelry can help you find what works best for you and your personal taste.
Shoes are another essential accessory when it comes to completing your look.
Depending on the occasion, opt for comfortable yet stylish sneakers or chic ankle boots.
If you're feeling adventurous, try pairing your outfit with printed or brightly colored pumps to make a statement.
Finally, don't forget about bags!
A sleek clutch or shoulder bag can elevate any outfit while keeping all of your essentials close by.
However, if comfort is more important to you than style, opt for a crossbody bag that allows you to move freely without having to worry about carrying anything around all night long.
Casual Date Night Outfit Ideas for Different Occasions
First Date Outfit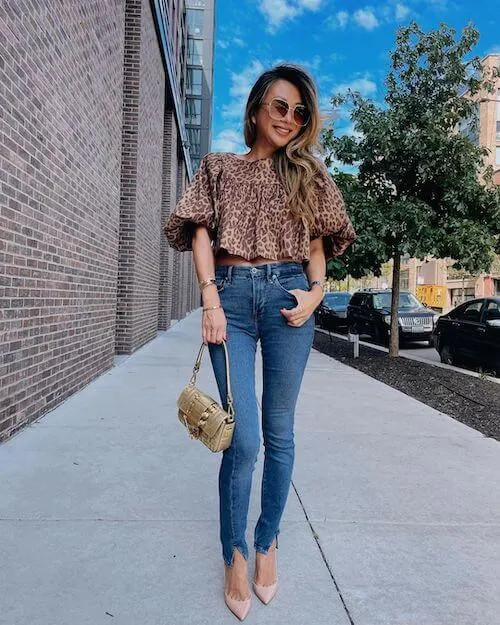 The first date can be nerve-wracking, but choosing what to wear shouldn't be.
Dressing appropriately for the occasion is key, whether you're heading out for drinks or a casual dinner.
A chic casual outfit can leave a lasting impression and make you feel confident throughout the evening.
Consider pairing a classic pair of jeans with a stylish blouse for a comfortable yet put-together look.
Or try wearing your favorite sundress with cute sandals or white sneakers for a more feminine vibe.
Accessorize with jewelry that complements your outfit, and don't forget to bring along a jacket or scarf in case it gets chilly.
Ultimately, the most important thing is to wear something that makes you feel comfortable and confident.
Don't be afraid to show off your personal style and let your personality shine through your outfit choice.
A chic casual look will ensure that you make an unforgettable first impression on your date!
Movie Night Casual Date Outfit Ideas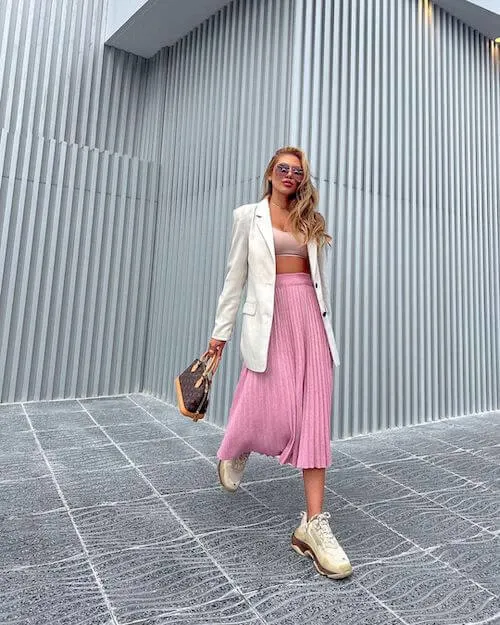 Movie nights are a classic date idea that never gets old.
If you're planning to go on one, dressing up is essential so you can impress your date while feeling comfortable at the same time.
Choose an outfit that will make you feel confident and stylish, but also appropriate for a casual night out.
You can opt for a pair of jeans and a sweater or dress it up with a cute skirt and blouse.
For those who want to keep it simple yet sophisticated, high-waisted jeans paired with heels and a tucked-in blouse would be perfect.
This creates an effortless look that exudes confidence without trying too hard.
Accessorize with statement earrings or bracelets to add more flair to your outfit.
If you prefer something more feminine, then try wearing dresses or skirts in soft pastel colors such as pink, lavender, or mint green.
Pair them with strappy sandals or flats for added comfort during the movie marathon.
Don't forget to bring along a light jacket in case the theater gets chilly!
Whatever outfit you choose, make sure it's comfortable enough so that you can enjoy your night without any discomfort or distractions from your clothes.
Dinner Date Outfit Ideas
If you're heading out on a casual dinner date, there are plenty of outfit options that will keep you looking chic and stylish.
Consider pairing a simple white blouse with high-waisted pants or a denim skirt for an effortless yet put-together look.
Accessorize with statement earrings or a bold necklace to add some personality to your ensemble.
For those looking for something slightly more dressed up, opt for a midi or maxi dress in a fun print or bold color.
Paired with strappy sandals or block heels, this look is perfect for warmer weather date nights.
Alternatively, try styling classic black skinny jeans with a silk camisole and blazer for an elevated take on the ever-popular jeans-and-a-top combo.
Casual Winter Date Night Outfits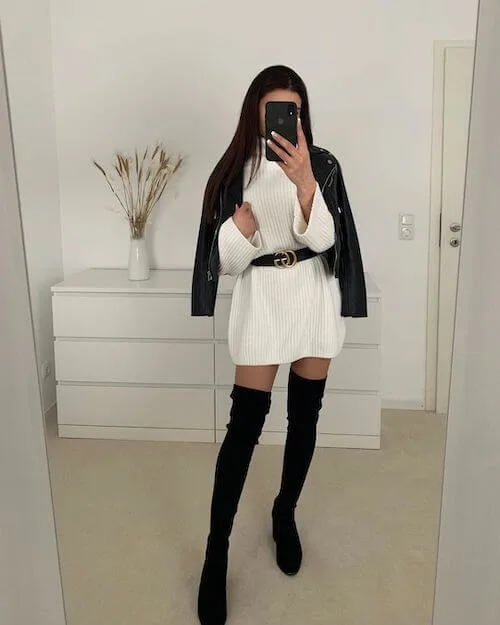 A casual winter date night outfit can be both cozy and stylish.
A popular option is to pair jeans with a cozy sweater or cardigan, and complete the look with ankle boots or sneakers.
This combination provides warmth while also fitting in with a relaxed atmosphere.
Another alternative is to wear a dress paired with tights and knee-high boots for added warmth.
A sweater dress or a long-sleeved midi dress are great options for a more formal occasion, while an oversized shirt dress is perfect for those looking for something more laid-back.
Accessories like scarves, hats, and gloves can add extra layers of warmth to any outfit while also adding personality and style.
Plaid scarves are particularly popular during the winter months and can provide a pop of color to an otherwise neutral outfit.
Summer Date Night Outfits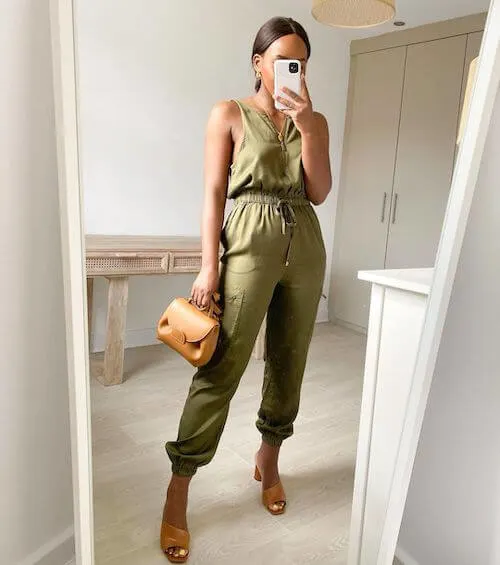 Summer date nights are the perfect opportunity to show off your chic and stylish outfits.
Whether you're going on a romantic dinner date or spending time at an outdoor concert, choosing the right outfit is crucial.
A great way to beat the heat while still looking fashionable is by opting for breezy sundresses in bright colors or bold prints.
Pair them with strappy sandals and statement jewelry to complete your look.
If you prefer something more casual, opt for high-waisted denim shorts paired with a crop top or a flowy blouse.
This effortless yet trendy outfit will keep you comfortable and cool all night long.
Add some personality to your outfit by accessorizing with layered necklaces or colorful earrings.
For those who want to dress up a bit more, jumpsuits are always a great option for summer date nights.
Choose one in light fabric like cotton or linen and pair it with heels for an elegant touch.
Alternatively, go for a midi skirt paired with a fitted tank top tucked in at the waist – another classic but sophisticated option that never goes out of style!
Stylish Casual Date Night Looks
Leather Pants + Sleeveless Top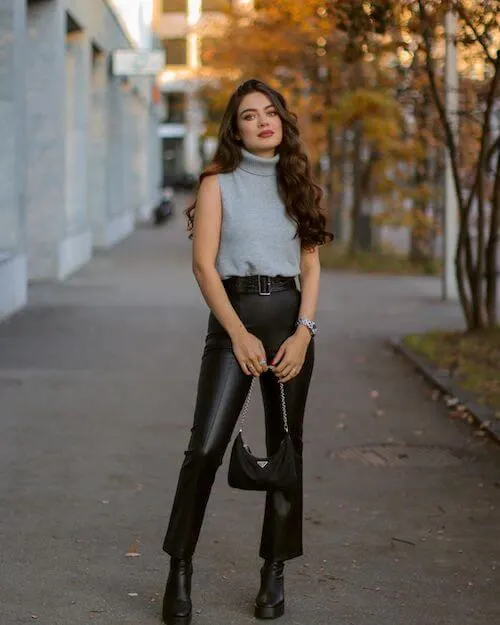 Copy The Look

Leather pants and a sleeveless top are the perfect combination for a chic casual date night outfit.
The contrast between the sleek and sexy leather pants and the laid-back vibe of a sleeveless top creates an effortless yet edgy look.
A pair of strappy heels or ankle boots can elevate this outfit even further.
When choosing leather pants, opt for a high-waisted style that flatters your figure and accentuates your waistline.
A cropped sleeveless top is also ideal for showing off your midriff without revealing too much skin.
To complete the look, add some statement jewelry or a clutch bag to make it more glamorous.
If you're going out on a cooler evening, you could layer up by adding an oversized blazer or denim jacket over your sleeveless top.
This will create depth to your outfit while still keeping it casual and cool.
With this combination, you'll be sure to make a lasting impression on your date while feeling confident and stylish all night long!
Midi Dress + Leather Jacket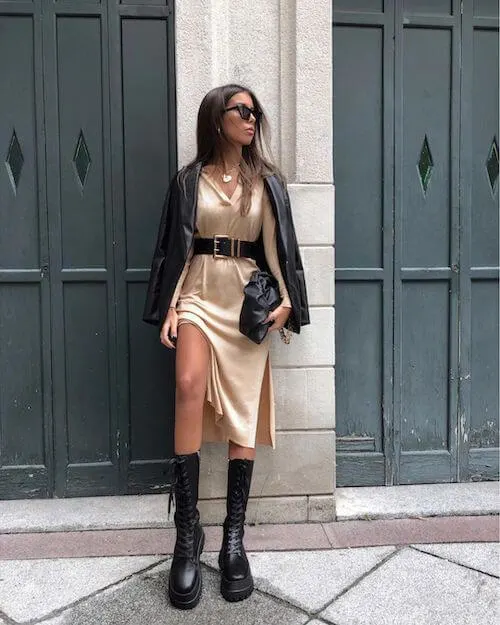 Copy The Look

Pairing a midi dress with a leather jacket is the perfect way to create a casual yet chic look for your next date night.
The length of the midi dress falls between the knee and ankle, providing ample coverage while still allowing you to show off your legs.
Depending on the occasion, choose from flowy or fitted midi dresses in solid colors or bold prints.
Adding a leather jacket to your outfit will give it an edgy and cool vibe.
Opt for a black or brown leather jacket that complements the color of your dress.
If you're feeling daring, try playing with textures by pairing a suede or velvet midi dress with a leather jacket.
Complete this outfit by accessorizing with ankle boots and minimal jewelry.
This effortless ensemble will leave you feeling confident and comfortable all night long!
Blazer + Midi Skirt + Sneakers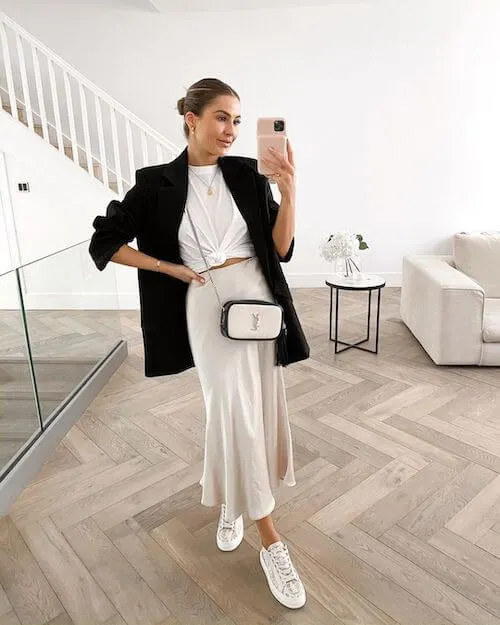 Copy The Look

A blazer, midi skirt and sneakers combo is the perfect way to achieve a chic yet casual look for date night.
The blazer adds structure and sophistication while the midi skirt brings a touch of femininity.
The sneakers provide comfort and practicality for an evening out.
When it comes to selecting the right pieces, opt for a fitted blazer with a classic design – black or navy are always safe choices.
A midi skirt in a neutral color (such as beige or gray) will allow your blazer to stand out while still maintaining balance in your outfit.
Sneakers can be white or any color that complements your overall look.
To complete this ensemble, accessorize with subtle jewelry such as stud earrings or dainty necklaces.
For makeup, keep it simple with natural-looking foundation and a pop of color on the lips.
This outfit is perfect if you're looking for something comfortable yet stylish for an intimate dinner date or even just a casual night out with friends.
Denim Jacket + Denim Shorts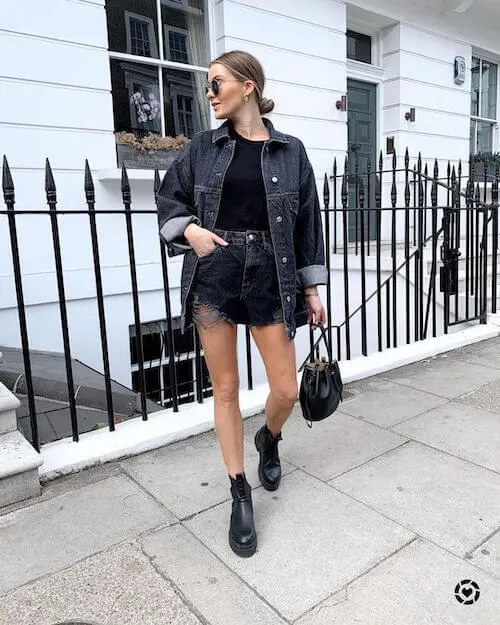 Copy The Look

This combination provides an effortless yet stylish appeal that can be dressed up or down depending on the occasion.
Choose a slightly oversized denim jacket to and pair it with high-waisted denim shorts for a streamlined effect.
To elevate this classic look, accessorize with statement jewelry such as oversized earrings or layered necklaces.
Complete the outfit with a pair of strappy heels or ankle booties for added height and sophistication.
For a more laid-back vibe, opt for white sneakers instead.
When it comes to styling your hair and makeup, keep it simple yet polished.
Go for loose waves or a sleek ponytail and add a pop of color on your lips with a bold lipstick shade.
Crop Top + High-Waisted Pants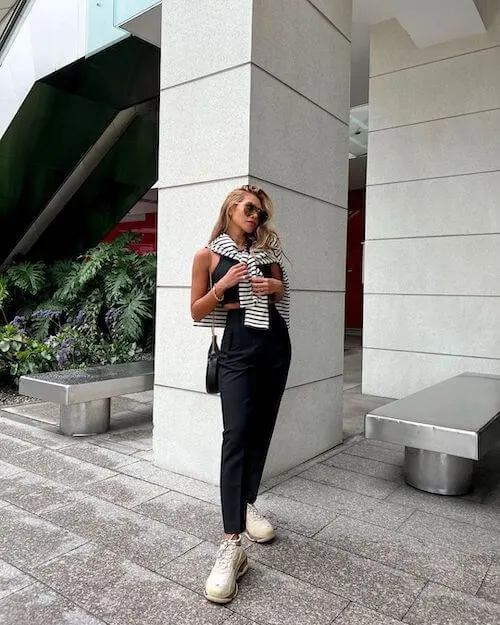 Copy The Look

Crop tops and high-waisted pants are a match made in heaven, especially for those who want to achieve a chic and trendy look.
This combination is perfect for casual date nights, as it is comfortable yet stylish.
The key to pulling off this outfit is finding the right balance between showing some skin with the crop top and maintaining a modest look with high-waisted pants.
To complete the look, you can choose from various options such as sneakers or heels depending on your personal preference.
Adding layers such as a denim jacket or blazer can also elevate the outfit even more.
Accessorizing with statement pieces like earrings or bracelets can add that extra touch of glam.
Overall, crop tops and high-waisted pants make for a versatile and effortless outfit choice that will surely impress on any casual date night occasion.
With the right combination of pieces and accessories, anyone can rock this trend and feel confident while doing so.
Sweater Dress + Long Coat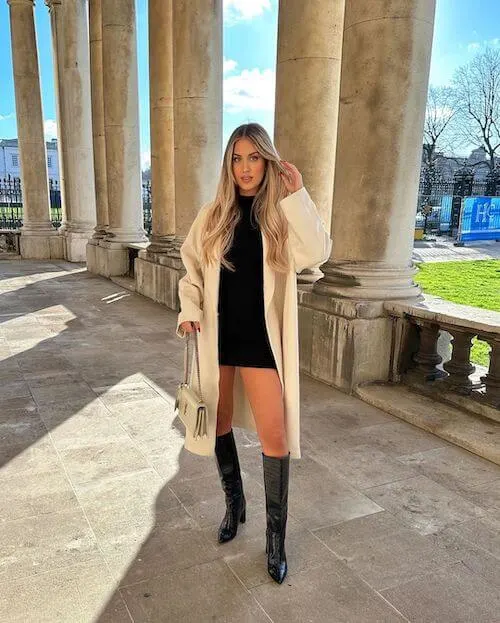 Copy The Look

The sweater dress provides warmth while still appearing chic and flirty.
Choose a form-fitting style that shows off your curves or opt for a looser fit for a more relaxed vibe.
Pairing the sweater dress with a long coat adds an extra layer of sophistication to the ensemble.
A classic trench coat or wool overcoat can elevate the look from casual to elegant without being too overdressed.
Don't be afraid to play with textures and colors when choosing your coat, as it can add depth and personality to your overall outfit.
Bodysuit + White Jeans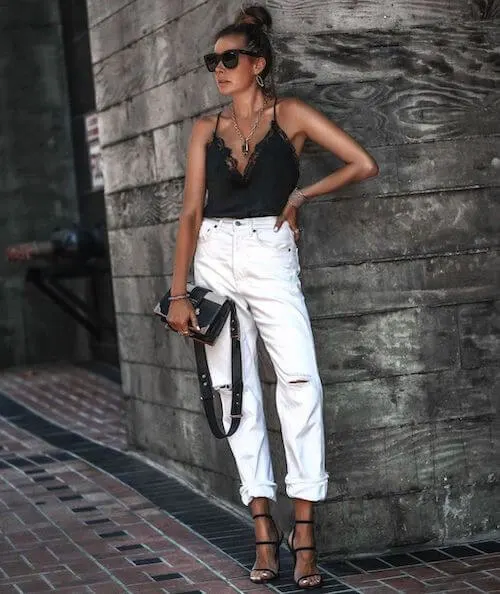 Copy The Look

Opt for a form-fitting bodysuit in a neutral color such as black, beige or white to create a sleek silhouette.
White jeans are versatile and can be paired with almost any top, making them the perfect base for creating a variety of outfits.
To dress up this look, pair your bodysuit and white jeans with some strappy heels and statement jewelry like chunky hoop earrings or layered necklaces.
For a more laid-back vibe, opt for sneakers or sandals and accessorize with simple pieces like stud earrings or delicate bracelets.
A denim jacket thrown over your shoulders completes the look while adding an extra layer of warmth if needed.
Camisole + Cardigan + Jeans
Copy The Look

One of the most popular and timeless casual date night outfits is pairing a camisole with a cardigan and jeans.
This combination allows for both comfort and style, making it perfect for a relaxed yet chic evening out.
A patterned or colorful camisole can add some fun to the outfit, while a neutral-colored cardigan complements the look without being too overpowering.
When choosing jeans for this outfit, opt for a dark wash or black denim to elevate the overall look.
Skinny or straight leg jeans work well with this ensemble, as they provide a streamlined silhouette that balances out the flowy nature of the camisole and cardigan.
Complete the outfit with some statement jewelry and comfortable yet stylish shoes such as ankle boots or strappy sandals.
Turtleneck Sweater Dress + Black Tights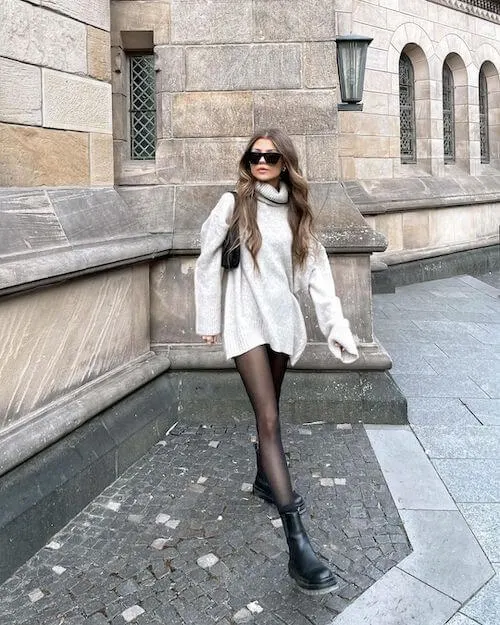 Copy The Look

A turtleneck sweater dress is a versatile piece that can be worn in various ways, making it perfect for any season.
For cooler weather, pair your turtleneck sweater dress with black opaque tights and knee-high boots, creating a sleek and sophisticated ensemble. Add some statement earrings to complete the look.
For a more relaxed vibe, wear your sweater dress with black leggings and ankle boots, pairing it with minimalistic jewelry to keep things simple yet stylish.
To make this outfit work for colder months, layering is key.
Try adding an oversized coat or jacket over your ensemble for extra warmth and style points.
Accessorize with a scarf or hat to add an element of coziness while staying fashionable all at once.
Whether you're heading out on a first date or enjoying time alone with your significant other, this outfit will have you looking confident and fabulous all evening long!
Satin Midi Skirt Matching Set + Strappy Sandals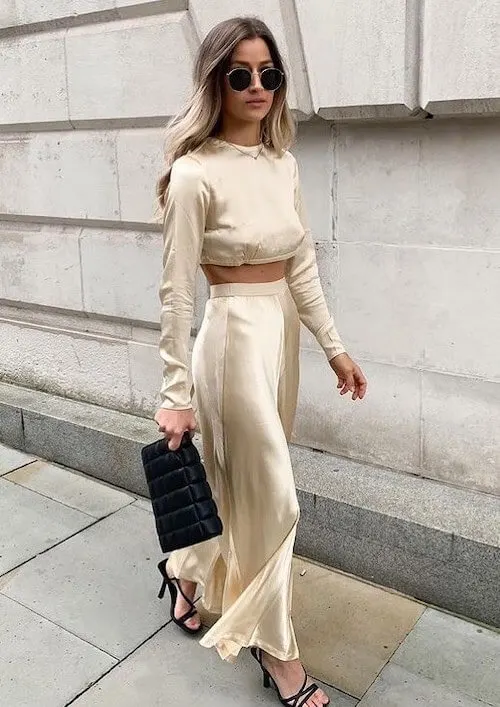 Copy The Look

A satin midi skirt matching set paired with strappy sandals is the perfect chic casual date night outfit.
The satin material of the skirt elevates the look and gives off an air of sophistication, while the matching top completes the ensemble with a cohesive and put-together vibe.
The midi length of the skirt is also great for balance and proportion, making it flattering on many body types.
Date Night Dresses
Copy The Look

Whether you're going to a fancy restaurant or just grabbing drinks at a local bar, finding the perfect date night dress can make all the difference.
When it comes to choosing a dress for your night out, it's important to consider the occasion, location and your personal style.
For an elegant dinner date, try opting for a classic little black dress with some statement jewelry or heels.
A sleek midi-length bodycon dress in neutral colors like black, white or nude can also be versatile and flattering on any body type.
If you prefer something more playful and flirty, try a brightly colored wrap dress with ruffle details or florals that will accentuate your curves and add some personality to your outfit.
More Perfect Date Night Outfits
Scroll on to check more casual date night outfit ideas you'll love!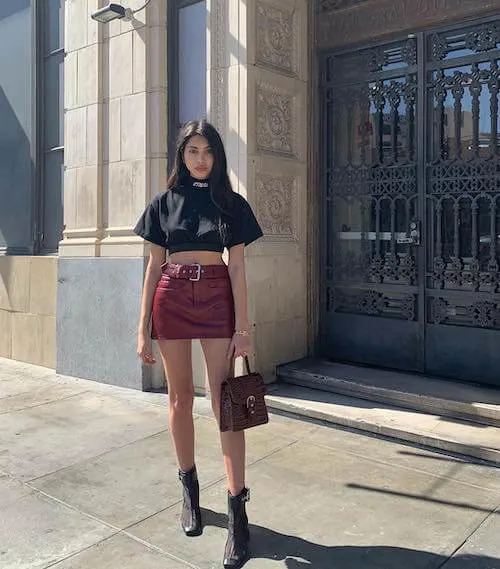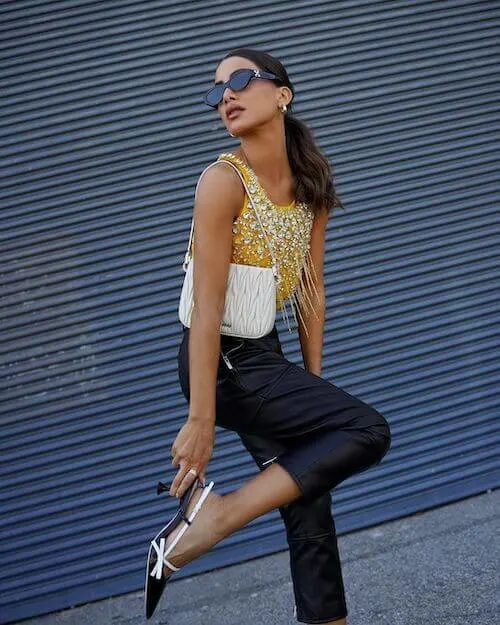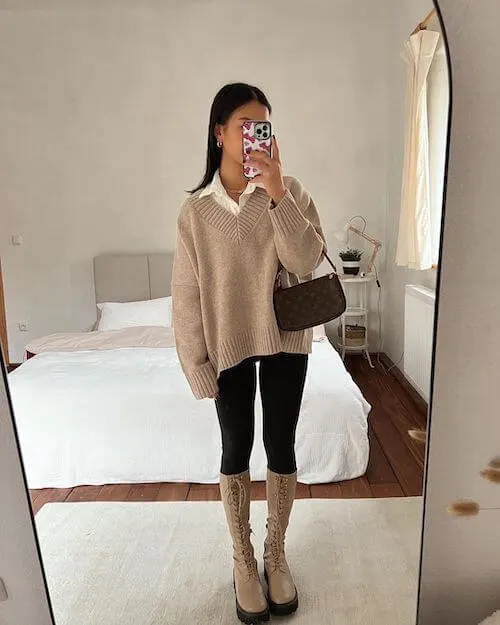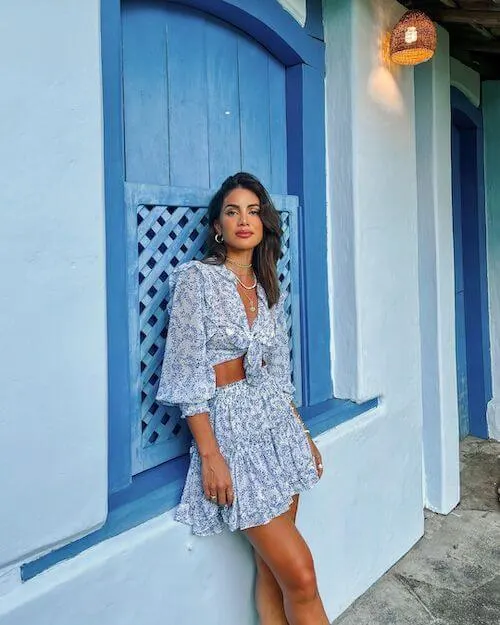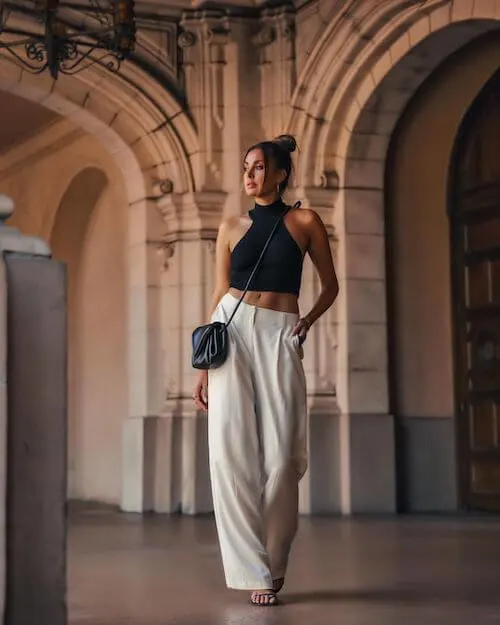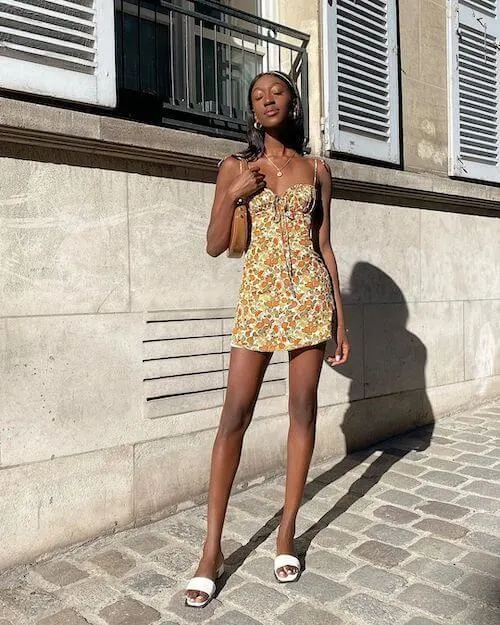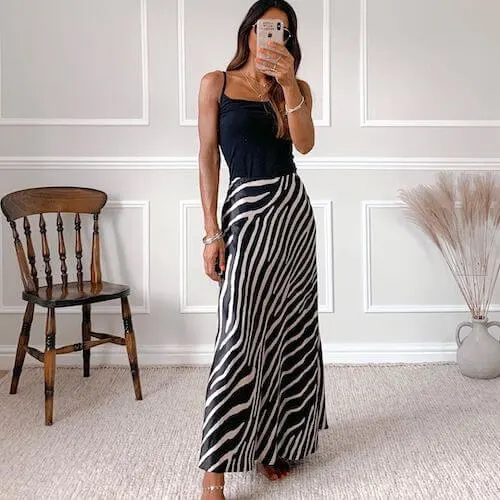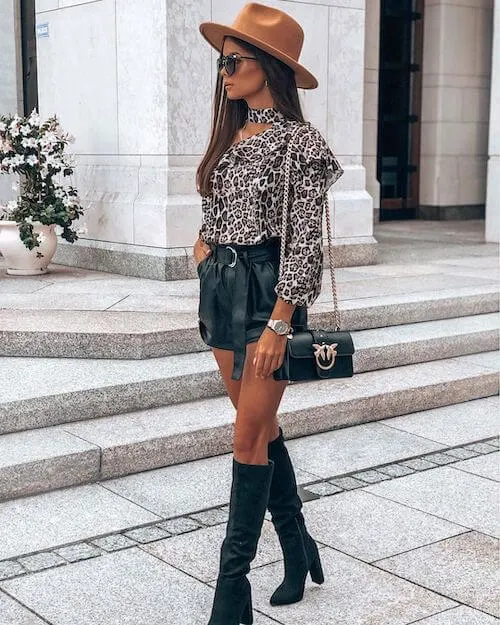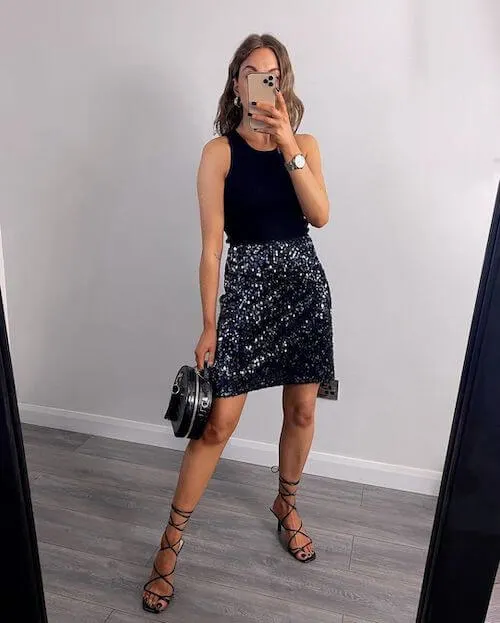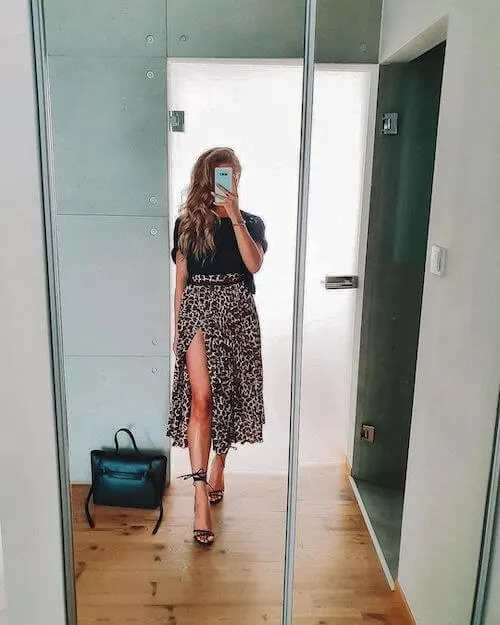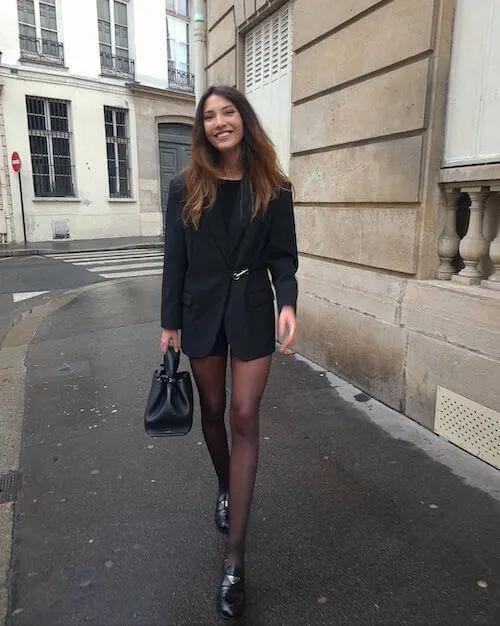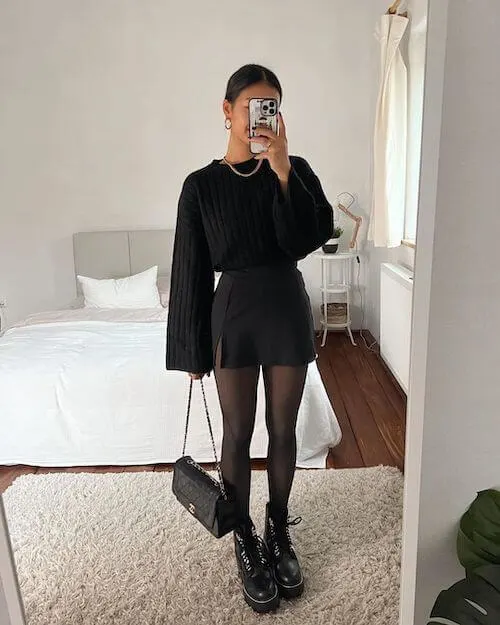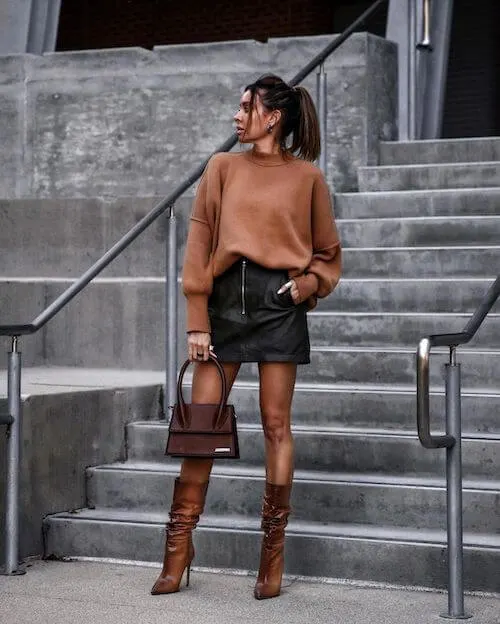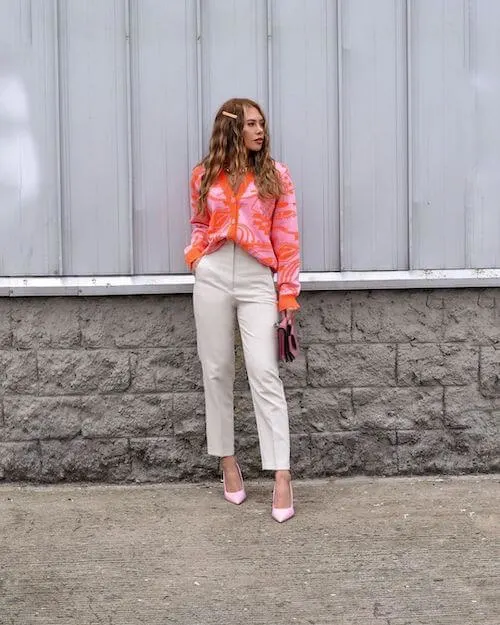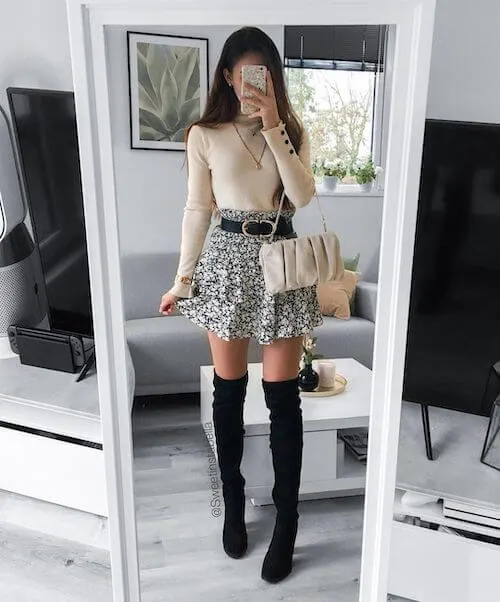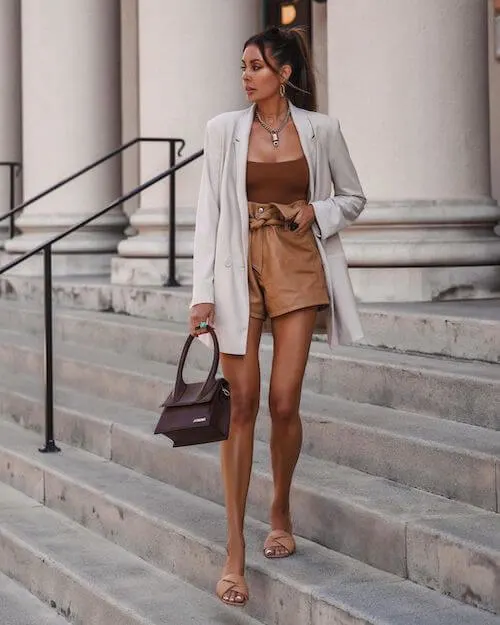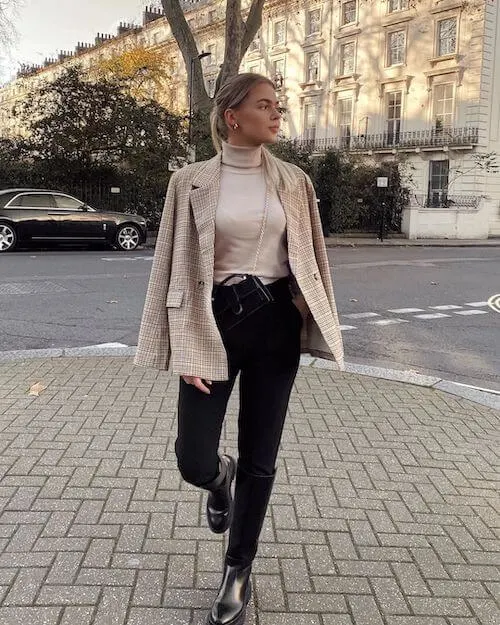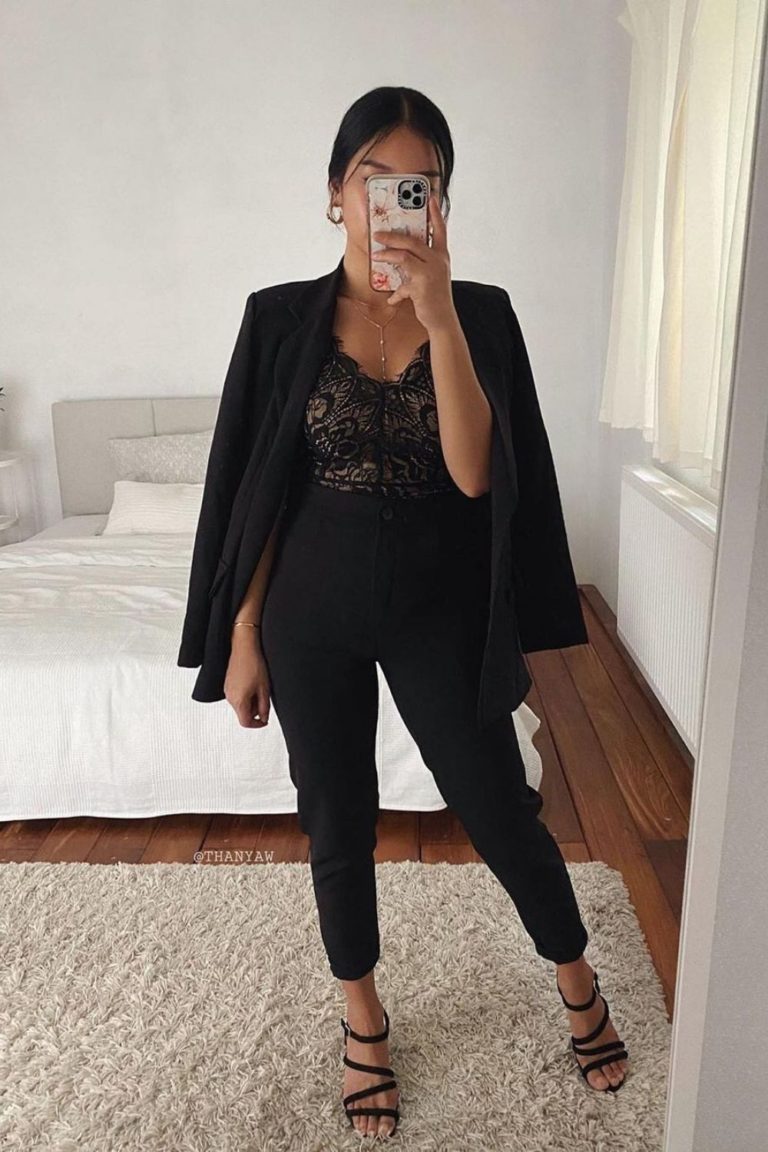 This post was all about date night outfits ideas.
About The Author
Tracy is an experienced personal stylist, shopping expert, and fashion & lifestyle blogger. She has been featured on Time Magazine, Bustle, Best Life, Glam, The Zoe Report, Mic, and GOBankingRates, for her insights on fashion, beauty, home decor, and lifestyle. Read More
Related Posts