Looking for trendy cute date night outfits ideas? In this post, we list the 17 best date night outfits we obsess over this year. They are easy to copy! Check them today.
Photos above: @thanyaw, @juliadamon, @pheebslfashion
Featured photo of this post: @leylaell_
This post may contain affiliate links, which means I'll receive a commission if you purchase through my link, at no extra cost to you. Please read the full disclosure here.
This post is all about date night outfits ideas.
BEST DATE NIGHT OUTFITS WE LOVE THIS YEAR
1. Camisole + Cardigan + Jeans
This is a cute date night outfits idea for almost all the seasons. In the cold weather, you can wear a coat oufside.
With different colors of camisoles, cardigans, and jeans, you can actually create different styles.
@thanyaw
@leylaell_
2. Off Shoulder/ Cold Shoulder Top And Skinny Jeans
Choose a statement top for your date night is always a perfect idea. A well designed off shoulder top or cold shoulder top make you sexy and cute.
Don't forget to choose delicate jewelry for this outlook.
@leylaell_
3. Black Blazer And Denim Shorts
Denim shorts are always sexy to guys, and with a black blazer, it makes the whole look chic and elegant.
@freyakillin
4. Black Blazer + Black Camisole + Black Skinny
This is cool and stylish. Don't forget to show your personality on your date night.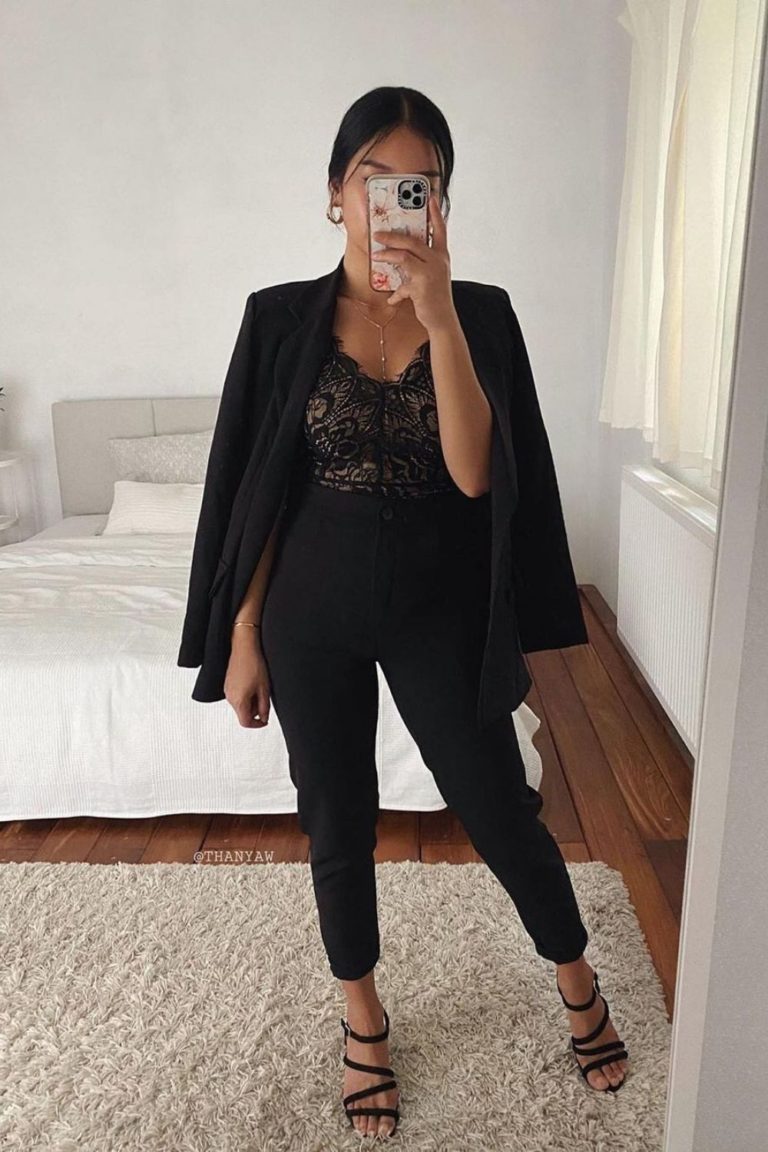 @thanyaw
5. White Blouse + Black Tapered Pants
Another chic look. Choose a white blouse with some cute and delicate details, and minimal jewelry.
@thanyaw
6. Black Slim Tank + tapered pants
It is a perfect effortless date night outfit.
When making a date night outfit, choose either a top with details or a button with details.
Never wear too many details for a single look.
@thanyaw
7. Slim V Neck Top And Elegant Trousers
It is a casual yet sexy date night outfit idea.
The same color top, button, bag make the whole look put together and elegant. The sneaker perfectly add cute elements to the look finally.
@lisarosii
8. One-Piece Dress With Delicate Accessories
When wearing one-piece dress, choose delicate or minimal accessories to make them look more expensive.
@pheebslfashion
9. Black Slim Jacket + Fishnet Stockings + Combat Boots
Fishnet stockings sometimes seem too sexy. However, the cool black jacket and combat boots add a neutral style to the whole look.
@sjjdavidsen
10. Sweater + Slim Long Skirt + Points Ankle Boots
Isn't it gentle and classy?
@juliadamon
11. Sweater + Skinny Jeans
When you have a well-designed sweater, just choose a simple skinny and you are ready to go!
@lena.summer.fashion
12. Tube top + Long Loose pants or Long Skirt
A romantic and chic look.
@lena.summer.fashion
13. Slim Knee Length Dress
The slim cut and the knee length design are already hot enough, so choose simple color to create an expensive look.
@fashioninflux
14. Sweater And High Weist Short Skirt
It is a perfectly cute date night outfit in spring and fall.
@freyakillin
15. Sweatshirt And Mini Skirt
Isn't this cute? Make the whole date casual and lovely.
@fashioninflux
16. V Neck Long Sleeve Blouse + Mini Skirt
@fashioninflux
17. Sweater + Mini Skirt
Didn't you see that? Miniskirt is really useful for creating a date night outfit! So choose some with nice materials and perfect cuts!
@juliadamon
MORE TIPS TO MAKE YOUR WHOLE LOOK STUNNING
Tip 1: Choose a hairstyle that matches your outfits. Keep your hair clean.
Tip 2: Choose the bags that can keep all the small things you need for your date, like perfumes, lipsticks, gums, etc.
Tip 3: Don't forget to use body lotion and hand cream.
Tip 4: Be Confident and Don't Forget Your Smile!
Other Posts You May Like:
This post was all about date night outfits ideas.