Looking for cute date outfit ideas? Check this post for the 60+ best date outfits for any occasions to copy directly.
Choosing a date outfit is not an easy task. A cute enough and right outfit can level up your look immediately and add more sparks to your love life. And that is why we recommend outfits that catch fashion trends but also show your personal style to make you look attractive and confident, and successfully get your next date night.
Additionally, feel confident to show your style that is suitable for the dating environment and mood, and play around with eye-catching pieces, bold print items, and fun accessories to impress your date. Though skinny jeans, pretty graphic Tee or cami top, cute mini dress are our date staples, there are surly more stunning ideas and outfit formulas to create your best ever date outfit, every single time!
Want easy to copy ideas and more style tips? In this post, you can find the best date outfit ideas for any occasions, any type of date, and any style, including cute date night outfit, casual date outfit, coffee date outfit, dinner date outfit, first date outfit, and more.
All the outfits are shoppable from our favorite retailers. So you can find your favorite date outfit ideas for your next date easily.
So scroll down to check these date outfit ideas and don't hesitate to shop the looks and pin the images you like.
This post may contain affiliate links, which means I'll receive a commission if you purchase through my link, at no extra cost to you. Please read the full disclosure here.
This post is all about cute date outfit ideas.
Cute Date Outfit Ideas
Upgrade your wardrobe basics with a stylish leather skirt, a trending cute top. or a sexy off shoulder top. Those magical items will make you look so much cuter and more attractive in a minute.
You can go easily with the monochrome style and add simple chic gold chain necklace or gold hoops to steer the date outfit in a dressier direction while maintaining ease.
Or you can pair the dark color pieces with dreamy light colors including light denim blue to enjoy the relaxed first meeting-up moment with confidence and pleasure.
Black Sweater + Black Leather Skirt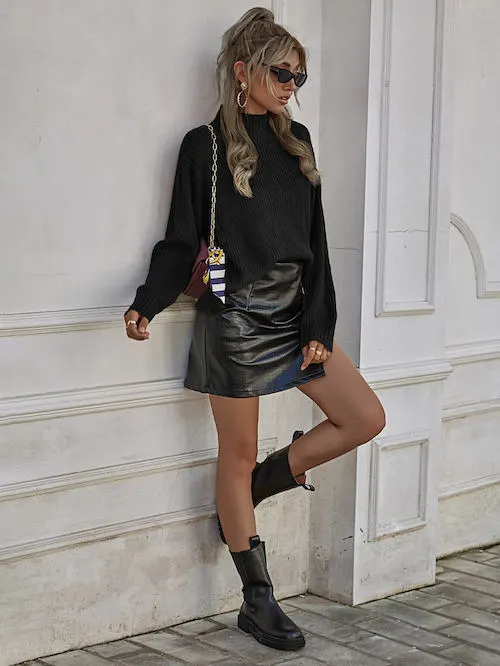 V Neck Long Sleeves Top + Pink Mini Skirt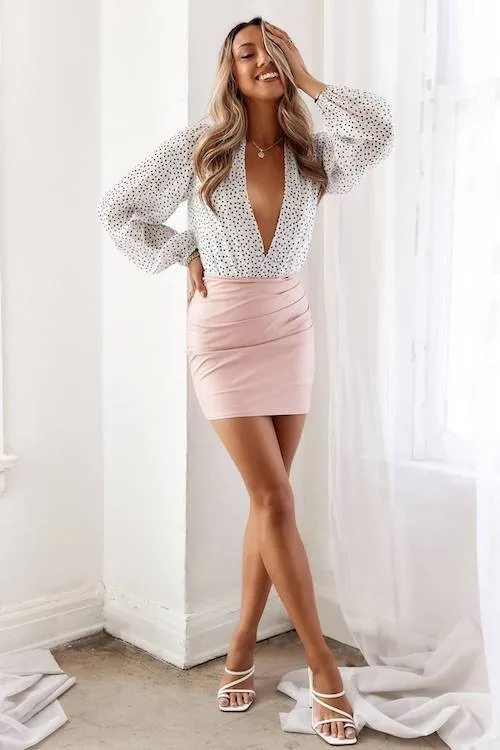 Batwing Sleeve Longline Sweater + Knee-High Boots
Lace Satin Cami Top + Skinny Jeans
Black Off-the-Shoulder Top + Leopard Print Mini Skirt
Red Off Shoulder Sweater + Skinny Jeans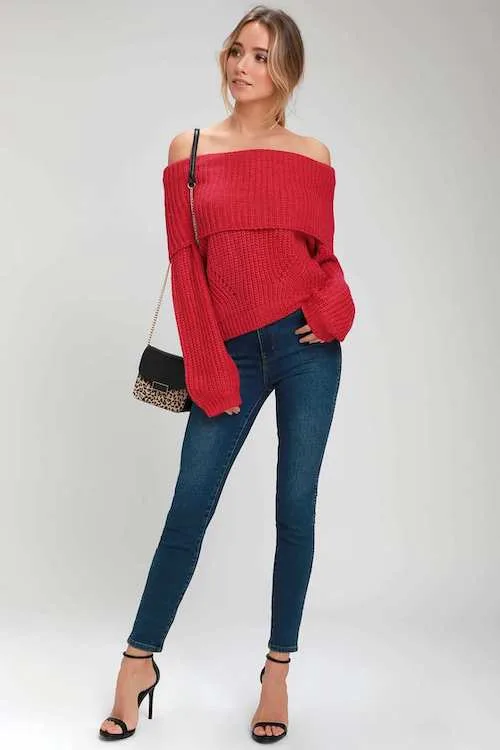 Pink Oversized Sweater + Black Leather Mini Skirt + Black Boots
Solid Crop Tank Top & Twist Front Split Thigh Skirt Set
Black Crop Top + Jeans
Cute Spring Summer Date Outfit Ideas
Enhance the fresh vibe with the white and denim blue colors. Change your bottoms into white pants or denim shorts, or try simple cute white tops including a nice white blouse or a lace white crop top, or a denim jacket, to pair with a pair of chic boots or strappy sandals.
You don't have to stick to the rules just because you care the date so much. Embrace boldly with statement earrings, a little color pop up, and cute tie-fronts or ruffles to exude easy romance.
Channel your inner creativity to your date. Change your strappy sandals to short boots to add more personal style to your ideal sexy summer date outfits and complete the whole look!
Plunging Neck Tie Back Shirred Crop Top + White Pants + Strappy Sandals
White Crop Top + White Mini Skirt
Denim Puff Sleeve Top + Denim Shorts
Tie Front Satin Top + Denim Shorts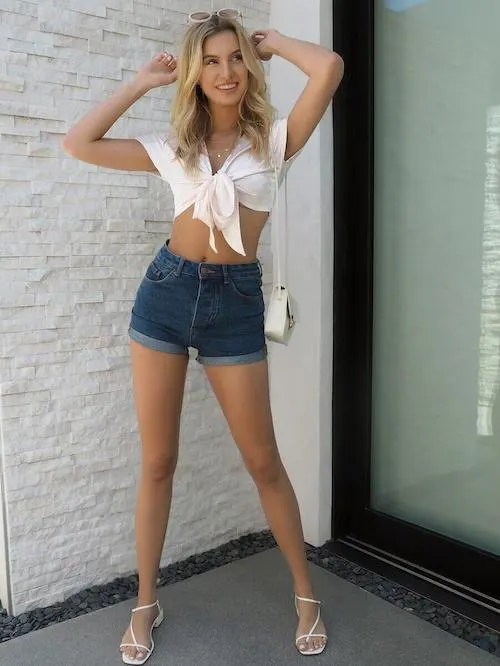 Black Crop Cami + Houndstooth Mini Skirt
Pink Crop Top + Denim Shorts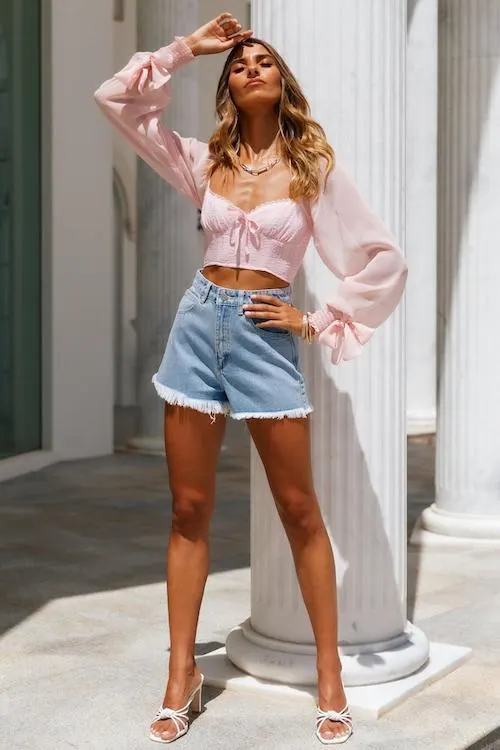 Graphic Tee + Denim Jacket + Olive Green Vegan Leather Mini Skirt + Tan Boots
Cute Fall Date Night Outfits
Add a little bit cozy fall colors to your favorite date night outfits. A great way is to wear an earthy tone sweater or animal print pieces, they are all cozy and sexy, suitable for a fall date casual look. Animal prints and cozy pieces are your go-to items for a date in the cooler months.
And you can also look for some beautifully prints with the romantic fall colors that can be dressed up or down easily. Step on a chic looking tall boots to be warmer and also help modify your body shape. Complete your look with a pair of classic hoop earrings to level up your style.
Warp Batwing Sleeve Rib-knit Sweater + Black Skirt + Black Knee Boots
White top + Black Shorts + Black Cardigan + Snakeskin Knee High Boots
Black Long Sleeve Bodycon Dress + Black Thigh High Boots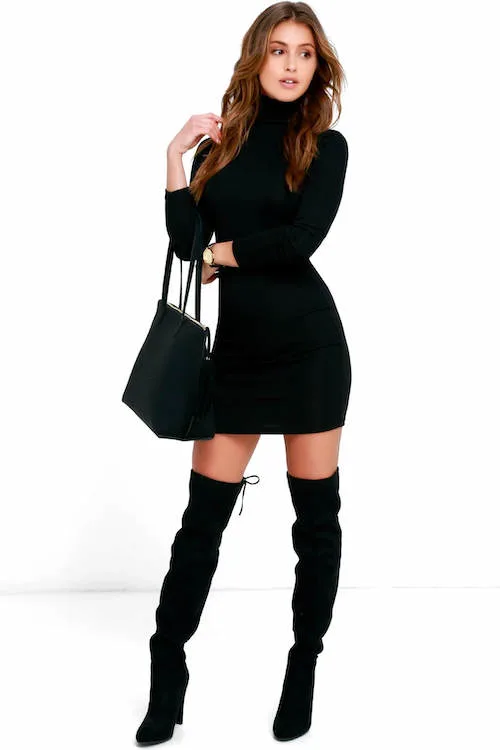 Black Top + Black Leather Blazer + Zebra Print Skirt
Purple Floral Dress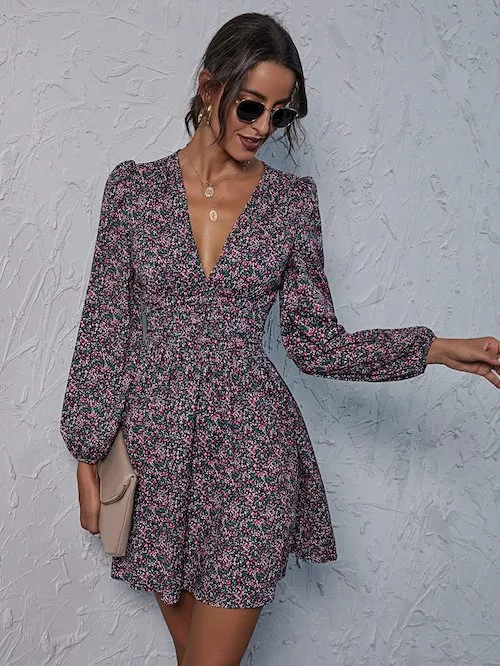 One Shoulder Dalmatian Print Top + Black Leather Shorts + Knee High Boots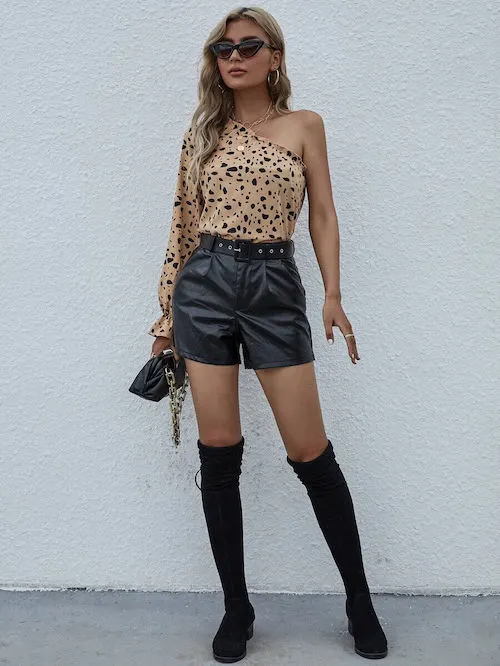 Sage Green Dolman Sleeve Bodycon Sweater Dress + Black Ankle Boots
Cute Winter Date Night Outfit Ideas
Show your passion and romance with bright color pieces, cozy sweaters, and red dresses. Add a black leather jacket or thick denim jacket in the cool months is a great choice. They look still amazing underneath a cozy long coat.
You don't have to go with black boots on every date. Try the trending white boots and pair them with a same color cozy knit wear to add more relaxed vibe.
Pink Midi Sweater Dress + Black Moto Jacket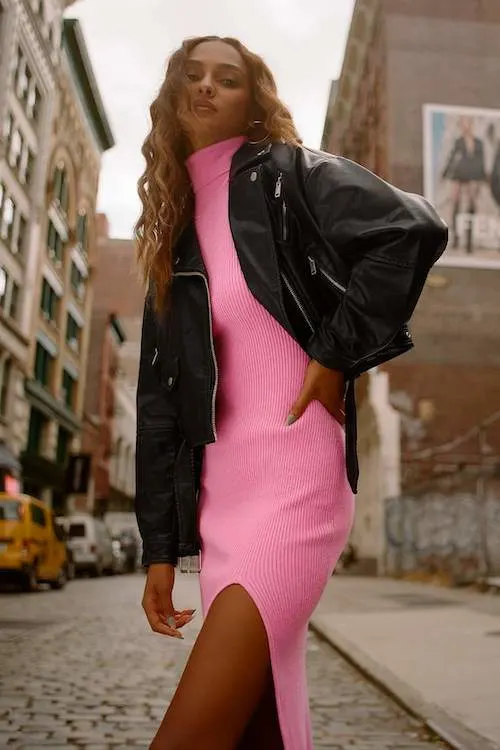 White Sweater + Black Midi Skirt + White Boots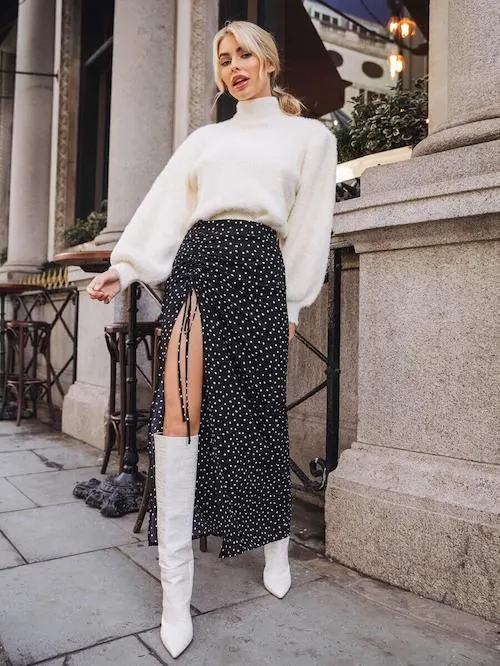 Red One Shoulder Sweater Dress
Leather Jacket + Black Leather Pants + Black Boots
Denim Jacket + Black Flared Jeans
Cold Weather Date Outfit Ideas
Want to keep warm but still make a good first impression in your winter date? Check the below ideas.
It is worthy investing in a good coat a jacket for the cold weather, which would be the boost of confidence for your date. If moto jackets are not warm enough, a faux fur jacket is also a good idea.
But one important thing is please keep the colors and patterns as simple as possible to make your look neat with an excellent fashion taste.
White Fuzzy Jacket + Maxi Dress
Pink Plaid Long Coat + Beige Skirt + Beige Boots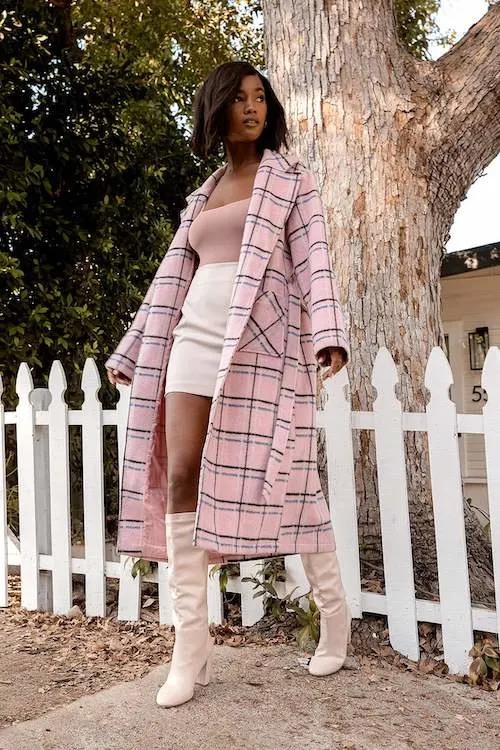 Fuzzy Trim Hooded Thermal Parka Coat + Black Leather Skirt + White Boots
Black Faux Fur Coat + Black Leather Skirt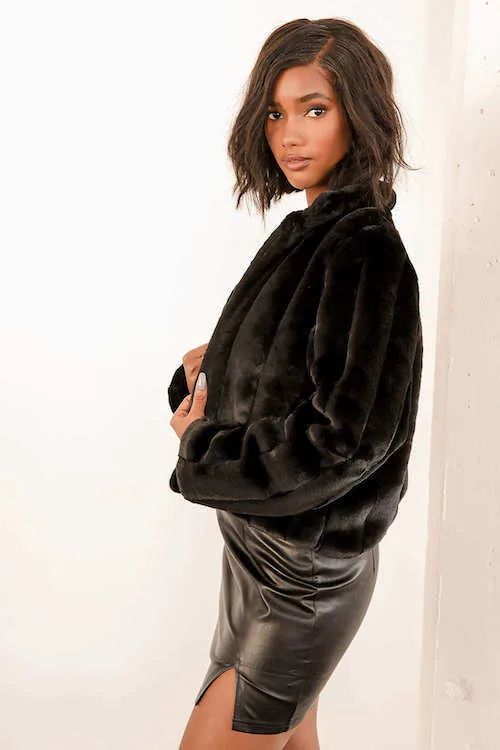 Cute First Date Outfit Ideas
Make a good impression for your first date with an effortless chic look. Show your good assets with a cute mini skirt or an off shoulder top. These are our favorite looks for the first date.
They are sexy but polished at the same time. And they all help modify your body shape and increase the romantic vibe for your first date in a modest way, which will make your date to be attracted by you and eager to know you more.
Black Top + Cheetah Print Skirt + Thigh High Boots
Lace Cami + Sweater + Black Skinny Jeans
Cute White Sweater + Pink Skirt
White Tee + Brown Vegan Leather Mini Skirt
White Off Shoulder Top + Blue Skinny Jeans
Cute Date Outfit Ideas For A Picnic Date
Enjoy a good time together wearing your romantic dresses or floral print tops. The subtle print would be a better idea with a casual feel and make you two feel relaxed and closer during the date.
For a casual date, style them out with a pair of comfortable sneakers. You'll look chic and you still feel so confident even after a long walk outside.
Floral Print Flounce Sleeve Dress + Black Boots
Ivory Floral Print Long Sleeve Babydoll Dress
Tied Backless Floral Crop Top + White Shorts
Coffee Date Outfit Ideas
Wear a chic casual and effortless look to the coffee shop. A coffee color or any other neutral color pieces are your best choices to meet with the warm coffee shop vibe and feel less pressure.
You can pair up your wardrobe basis like skinny jeans, oversized tops, or a midi skirt with the elevated seasonal staples to make them the cutest coffee date outfits instantly.
Show your attractiveness with a mini skirt, one shoulder top, or a V neck design sweater. Wear smaller sized and simple accessories to achieve a perfect balance between elegance and relaxation.
In the cold weather, wear over a thick neutral color shacket or a short coat and a cute scarf to avoid being over-dressed but still keep warm enough.
Solid Mock Neck Drop Shoulder Sweater + Black Skirt
Asymmetrical Neck Top + Plaid Midi Skirt
White Color Surplice Neck Sweater + Skinny Jeans + Tan Boots
Casual Date Outfit Ideas
Wear some items or some combos that you normally don't wear too much to surprise your date.
Pair a casual dress with a pair of sneakers if you usually wear high heels or boots, wear a sexy satin animal print skirt or cardigan if solid color is always a great option, put on an off shoulder top or crop top to be sexier in a good-taste way, or try a trending two piece set.
These casual outfit ideas are easy to copy but will definitely add more sparks to your date!
Even you are dating at home, make your outfit cuter and refreshed by trying some different shade you've never worn before. One style tip we strongly recommend is to try dark green and flush pink pieces to make you look cuter and romantic even wearing the simplest flat sandals or sneakers.
Dark Green Ribbed Sweater Dress + White Sneakers
Solid Draped Crop Cami Top + Animal Print Midi Skirt
Black Two-Piece Dress
Black Tan Top + High Split Allover Skirt + Combat Boots
Drop Shoulder Open Front Longline Cardigan & Sweater Dress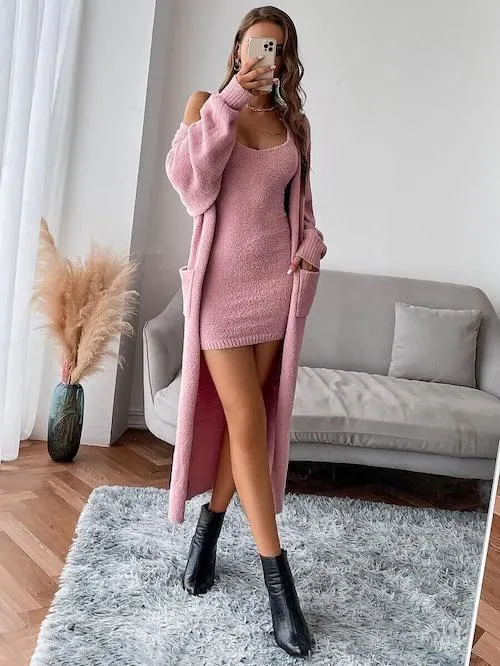 Black Crop Top + White Pants
Chain Cold Shoulder Blouse + Blue Jeans + High Heels
Leopard Cardigan + Black Tube Top + Black Skirt + Black Knee High Boots
Daytime Date Outfit Ideas
White, red and light denim blue are our best choices for a daytime date outfit. They will help modify your skin tone and make you look light and refreshed, and so much more beautiful under the sunshine!
A pair of nice jeans or denim shorts and cute mini skirts have been our daytime date staples. And you can upgrade their style by simply wearing more details like cute drop earrings, retro sun glasses, cute straw hats, laying necklaces, 90s style purse, or a retro inspired graphic T-shirt.
Burgundy Satin Cami Top + Denim Shorts
Red Sweater + Black Leather Skirt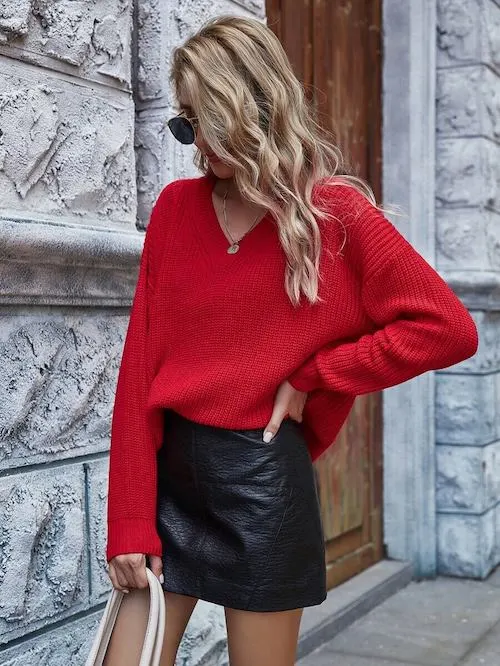 Black Top + Light Blue Jeans
Little White Dress
White Crop top + Jean Skirt
White Graphic Tee + Boyfriend Jeans
Dinner Date Outfit Ideas
If you are tired of a simple little black dress or elegant midi dresses for your next dinner date, go out of your comfort zone and try a cute off shoulder design, or a sexy outfit with a nice cami instead.
The combo of a nice cami and skinny jeans or black pants are your effortless dinner date outfit suitable for any season, especially for a post-office dinner date. Since you're coming to dinner straight from the office, this formula ensures that you look still perfect in the work environment. All you need is just a blazer or a cardigan or a long coat to wear over the cami.
A beautiful two piece set with a neutral color midi or long skirt is also a fantastic idea for a nice dinner in a new restaurant. Easily put on a pair of creative earrings to strike the balance between sexiness and fun.
Love pants? Go for the classic animal prints pieces. Wear a nice pair of leather pants with an animal print top to be sexy full of mystery and show your best self!
Off Shoulder Little Black Dress
Red Satin Cami Top + Black Skinny Jeans
Surplice Neck Lantern Sleeve Crop Top & Wrap Skirt
Off-shoulder Leopard Print Blouse + Black Leather Pants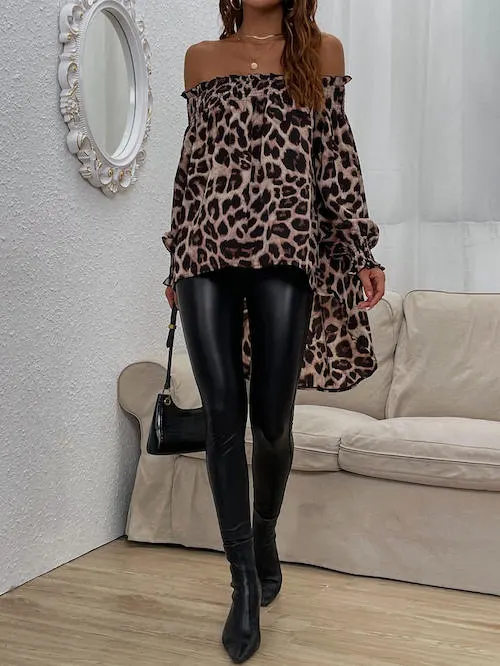 This post was all about cute date outfit ideas.
About The Author
Tracy is an experienced personal stylist, shopping expert, and fashion & lifestyle blogger. She has been featured on Time Magazine, Bustle, Best Life, Glam, The Zoe Report, Mic, and GOBankingRates, for her insights on fashion, beauty, home decor, and lifestyle. Read More
Related Posts: