Looking for classy first date outfits? Check this post for the best outfit ideas that are chic and elevated to wear on the first date for different styles, from a casual coffee date to a fancy date night!
The pressure of creating a lasting impression on a first date can be overwhelming.
The outfit you choose can often set the tone for the entire night, so it's important to pick something that not only looks good, but also feels comfortable and expresses your individual style.
Whether your ideal first date is a romantic dinner or a casual drinks outing or a cute daytime date, this article will provide you with inspiration for classy first date outfits that are sure to make you look and feel your best and gain your next date!
So scroll down to check these first date tips and first-date outfit ideas to help you win your second date, and don't hesitate to pin them to your Pinterest board, and share them on social media sites.
This post may contain affiliate links, which means I'll receive a commission if you purchase through my link, at no extra cost to you. Please read the full disclosure here.
This post is all about classy first date outfits.
What to wear to your first date to look classy?
Trying to figure out what to wear on your first date can be a daunting task.
You want to look classy, but also not too dressed up.
For women, the trick is finding the perfect balance of looking stylish without compromising comfort and confidence.
Here are some tips for crafting the perfect first date outfit that will make you look and feel amazing.
When deciding what to wear on a first date it's important not to overthink it.
A classic pair of dark wash jeans or nice pants or a simple midi skirt with a blouse is always a safe choice.
A neutral color simple dress is also a great option.
To add an extra bit of style, consider wearing heels or wedges or adding some delicate jewelry such as earrings and a bracelet or necklace.
Layering with jackets like leather moto jackets or blazers are also great ways to bring together your outfit while giving off the impression of polished sophistication.
What should you not wear on a first date?
When it comes to first dates, the first impression is important.
As a woman, you want to make sure that your outfit gives off the right message and reflects your personality without going too far.
Here are some tips on what not to wear on a first date for women.
Firstly, it's best to stay away from overly revealing clothing as this can give off the wrong impression and make you seem desperate or easy-going.
You also should avoid wearing clothes that are too tight as these may be uncomfortable and distract from getting to know each other.
Furthermore, avoid wearing anything with strong scents such as perfume or lotion.
It's best to keep your fragrance light and natural so as not overwhelm your date.
Should you wear shorts on a first date?
When it comes to first date outfits, it can be tricky to decide what to wear.
Many women are torn between wanting to look their best and worrying that they're dressed too formally or too casually.
One popular option is wearing shorts on a first date, but should you choose this route?
Shorts can be a great choice for a first date if the weather is warm and the venue lends itself well to casual attire.
For example, if you're going out for ice cream in the summertime, shorts might be perfectly acceptable.
However, shorts may not work as well if you're meeting up for dinner at an upscale restaurant or attending a show.
In these cases, pants may make more sense since they could give off the impression that you put thought into your outfit and took the night seriously.
Should I dress fancy on a first date?
Dressing for a first date can be a tricky affair, especially for women.
After all, you don't want to come across as overdressed or desperate but at the same time, you also want to make sure that your date knows you took the effort to dress up.
So what should a woman wear on her first date?
There are two key points to keep in mind: pick something flattering and comfortable while still looking polished and put together.
You won't look like you tried too hard but at the same time make an impression with your outfit.
A simple dress in neutral colors is always a classic choice; add some statement jewelry or shoes if you want to take it up a notch.
Also, when considering whether or not to dress up for a first date, ask yourself what kind of atmosphere the two of you will be meeting in and decide accordingly.
If the plans involve dinner at an expensive restaurant then dressing up is usually recommended.
However, if the plan involves catching up over coffee at a local cafe then something more casual may suffice.
What should I wear for a classy first date?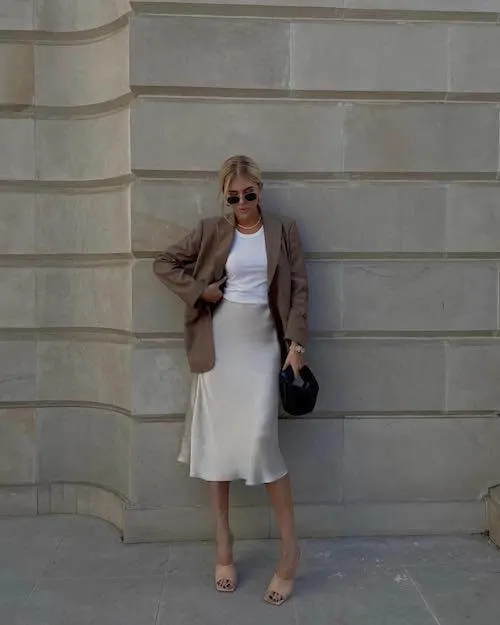 IG@lilysloanes
A classy first date requires an outfit that is appropriate, but also flattering and stylish.
For women, chic dresses or skirts are great choices for a classic romantic look.
Go with something elegant like a midi dress or skirt that has a subtle pattern or texture to it.
It should be tasteful, so avoid anything too revealing.
Team up the dress with some statement jewelry and heels for an extra touch of glamour – these will draw attention to your best features without being over the top!
Other options include tailored trousers teamed with tops in muted colors such as navy blue, grey or black; just make sure they fit well and don't crease easily.
How do you look elegant on a date?
Start with clothing that fits well and suits you, highlighting your favorite features.
Make sure whatever you choose is flattering and appropriate for the occasion – dressy but not too flashy.
Opt for classic accessories like stud earrings, one simple bracelet, a delicate necklace and/or watch.
Add an elegant dress coat or wrap over your outfit if needed during chilly evenings.
It also helps to consider comfort when shopping as this will help you feel more relaxed when out with your date!
Classy First Date Outfits for Any Kind of Date
Looking for inspiration? Check the below chic and stylish first date outfit ideas to copy.
For A Fancy Dinner Date
Oversized Blazer + Slip Dress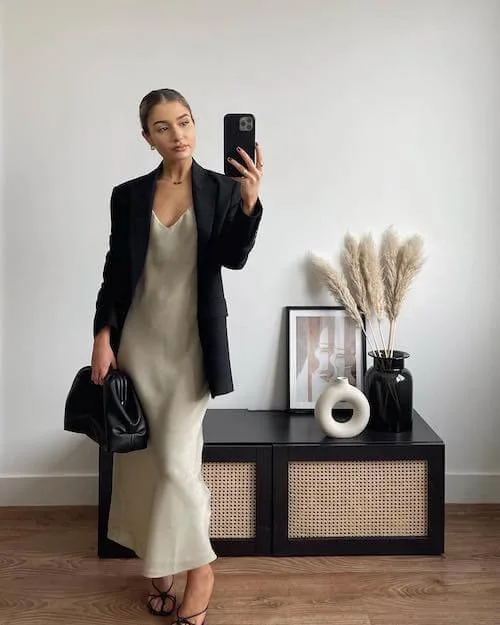 IG@lilyisabellaclark
Going on a first date can be both exciting and nerve-wracking, especially if you're going out for a fancy dinner.
It is highly suggested that when dressing for the occasion, one should opt for something slightly more formal than typical everyday attire.
However, it is important not to overdo it by wearing something too stuffy or uncomfortable.
Look for pieces that give off an elegant yet relaxed vibe such as a midi length dress with fantastic fabrics or dark wash jeans paired with a tailored blazer or chic top.
For A Casual Dinner Date
Cute Top + Jeans + High Heels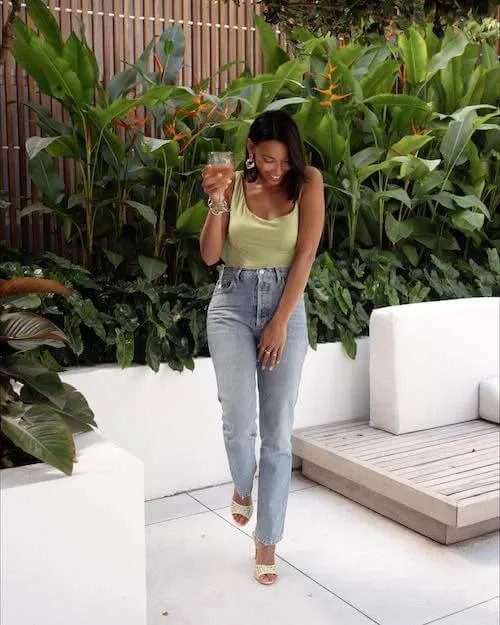 IG@lovefashionfriends
For a casual dinner date, it's best to keep your look relaxed and elegant.
To do this, opt for classic pieces that will flatter your figure and make you feel confident.
A stylish pair of jeans is always a good choice – try ripped or boyfriend-style jeans paired with a fitted top or tank.
Balance out your silhouette with wedges or heeled sandals, and add a light jacket if desired for extra warmth on chillier nights.
Sweater Dress + Tall Boots + Belt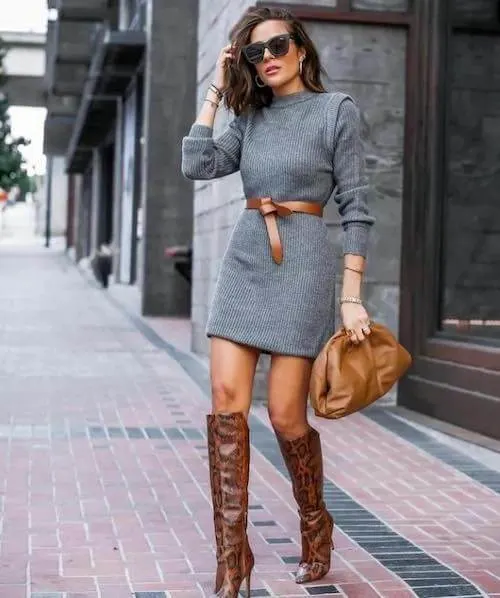 IG@lucyswhims
You can also choose a chic sweater dress for a casual date in the cool months.
Layer on a long coat when it is very cold.
To complete the look, top off the sweater dress with your favorite pair of boots; whether you prefer ankle or knee high styles, you'll be sure to turn heads while still feeling comfortable in your attire.
For An Outdoor Lunch / Outdoor Date
Light Jacket + Tank Top / Bodysuit + Shorts + Strappy Sandals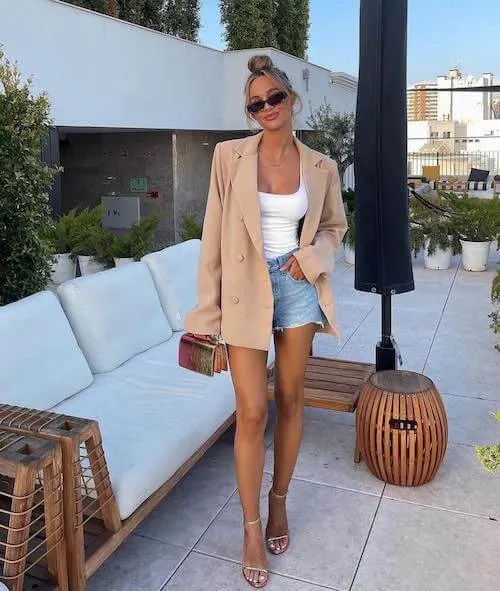 IG@sensof_style
A first date is a time for fun, excitement and making a good impression.
Whether it's an outdoor lunch date or just coffee, making sure your outfit conveys the right message can be tricky.
Shorts are the perfect way to dress casually while still looking put together and stylish.
Start with comfy but cute shorts in a neutral color like tan or navy blue or nice denim shorts that will go with anything.
Choose something high waisted that hits right at your belly button and add a blouse with puff sleeves or tiered ruffles in bright colors or a chic blazer that bring life to any outfit.
For A Picnic Date
Flowy Mini Dress + Sandals + Sun Hat + Straw Bag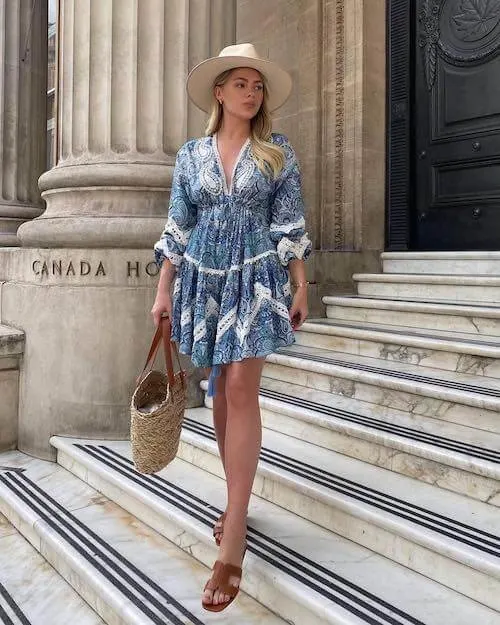 IG@mildagud
When it comes to a picnic date, comfort is key.
A breezy dress with sandals or sneakers is just the thing for this casual affair – you want something comfortable enough to play frisbee in but stylish enough that your date won't forget you.
To tie your look together, accessorize with a straw bag for an on-trend touch of summer style.
For a classic yet modern look, opt for an olive green or blue dress with contrasting buttons down the front and an adjustable waist belt to define your silhouette.
Team it with white or nude sandals or sneakers depending on how active you plan on getting during your picnic.
For A Chill Coffee Date
Tan Dress + Beige Coat + Boots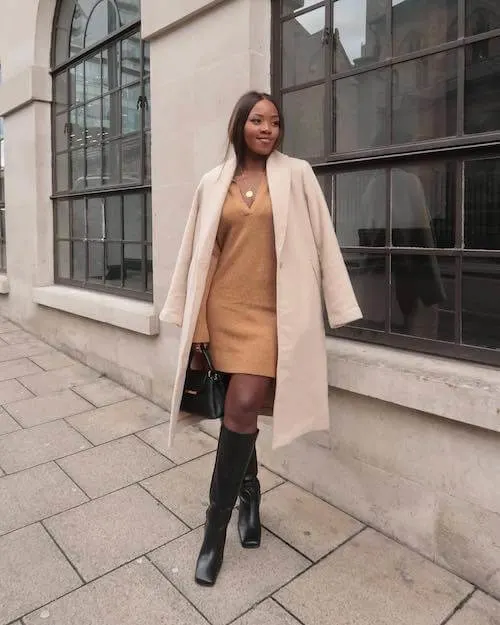 IG@josephineslooks
When it comes to coffee dates, there's no need to overthink your outfit.
Opt for a look that feels like you: an oversized sweater with jeans can make for an effortless yet stylish ensemble.
For a dressier option, try pairing a satin top with wide leg trousers and strappy heels.
If the weather is chilly outside, layer up with a leather jacket or a long coat over a midi dress, and wear your favorite heeled boots.
Add some extra sparkle by accessorizing with hoop earrings and layered necklaces.
For A Concert Date
One Shoulder Top + Leather Pants + Pumps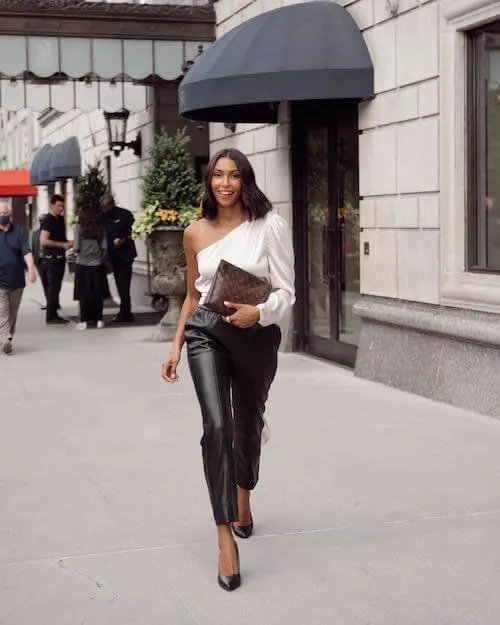 IG@lovefashionfriends
When selecting an outfit for a first concert date, keep in mind that comfort and style should go hand in hand.
The goal should be to find something that will make you feel confident, attractive, and ready to rock out.
Start with the basics such as jeans or leather pants paired with a graphic tee or a nice blouse and blazer combo.
Add some spice with some statement accessories like bold earrings or heels for an added boost of confidence.
Maxi Skirt + Chic Jacket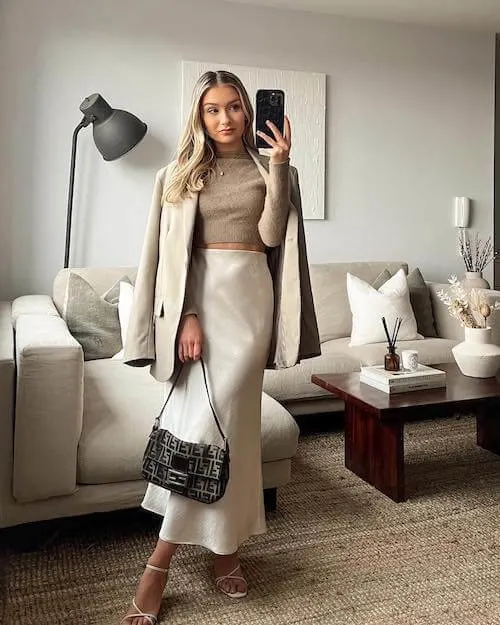 IG@lilyisabellaclark
Going to a classical concert?
A dressier option could be a midi or maxi-length skirt, with a blouse or elegant top, and a cardigan or lightweight jacket to complete the outfit.
To add some extra pizazz, accessories such as statement earrings and necklaces are great ways to make your outfit stand out while still keeping it classy.
For A Beach Date
Simple White Top + Maxi Skirt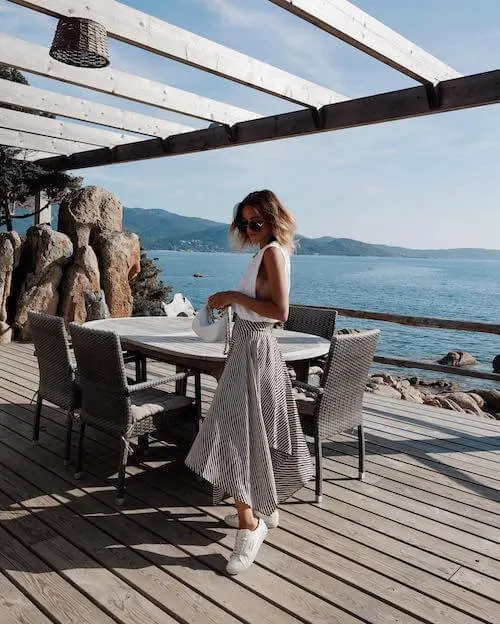 IG@babiolesdezoe
To start off, find a breathable dress or skirt that will keep you cool in hot weather while still looking fabulous.
A maxi dress or skirt works well for this situation as it can easily transition from day to night if the evening calls for some drinks or dinner afterwards.
Pair with sandals or flip-flops or simple white sneakers and accessorize with delicate jewelry pieces like necklaces or earrings and you'll have an effortlessly chic look ready in no time!
What to wear on the movie date?
Mini Skirt + Denim Jacket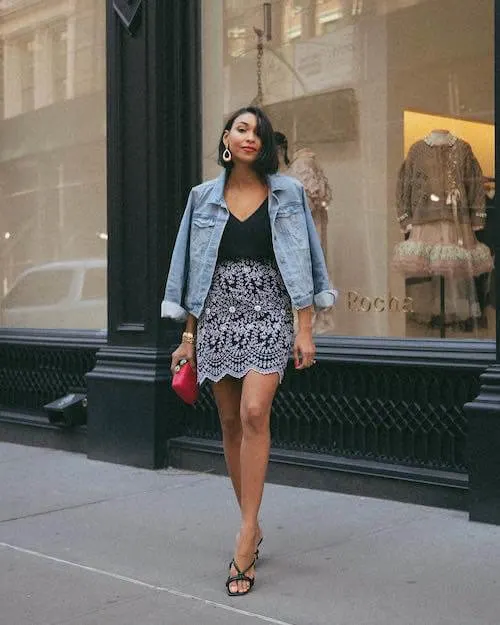 IG@lovefashionfriends
One of the best looks for a movie date is something casual but still stylish.
A great option is a denim jacket paired with your favorite flirty dress or skirt.
The denim adds an effortlessly cool vibe that's perfect for the movies.
Finish off your look with some statement earrings or heels – both will help you stand out from the crowd!
What to wear on a first date for drinks
Crop Top + Midi Skirt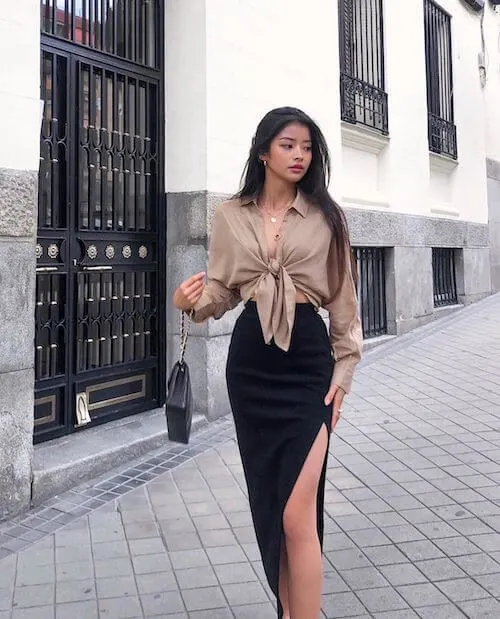 IG@caroline_hu
A midi skirt is a perfect option for a first date for drinks, as it will show off her curves in all the right places while also keeping things classy and tasteful.
To pull off this look, start with a comfortable fitted top that complements your body shape.
Choose something that's unique but still flatters your figure to give your ensemble an extra special touch.
Pair this with a solid or patterned midi skirt – anything with flowy pleats or satin finish will do just fine!
Add some classic black heels and accessorize minimally; statement earrings and an elegant clutch bag are all you need to complete the look.
For Spring Date
Dressy Blouse + Little Black Dress + Sneakers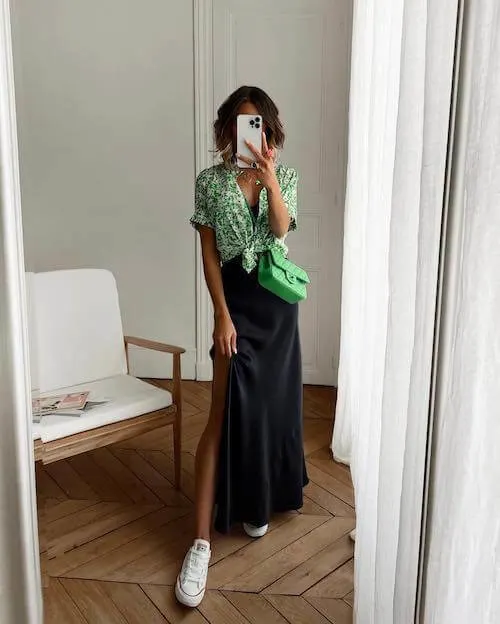 IG@babiolesdezoe
A long skirt is always a great choice for any season because they're so versatile; they create an effortlessly put together look that is both feminine and fun.
Consider pairing one with an off-the-shoulder top or a cute blouse that shows just enough skin to keep things flirty without being too revealing.
Finish off the look with bright accessories such as a statement necklace or earrings to bring out your personality.
With this ensemble you'll be sure to impress on your date!
For Summer Date
Cami Top + Black Jeans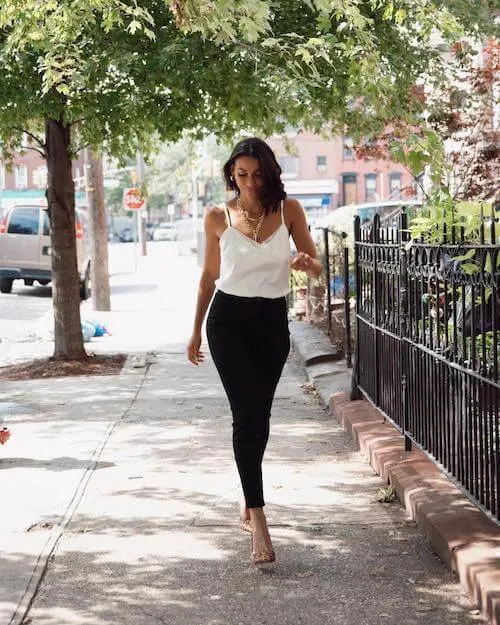 IG@lovefashionfriends
When heading out for a summer date, look no further than the classic cami top.
This timeless piece of clothing can be dressed up or down to create the perfect first date outfit.
A lightweight satin or silk cami will provide just the right amount of coverage while still being comfortable in the heat.
Pair it with skinny pants for a more sophisticated look.
For Fall Date
Heading out for a fall date? Let us help you with some tips for putting together the perfect ensemble.
Black Fitted Top + Pleated Midi Skirt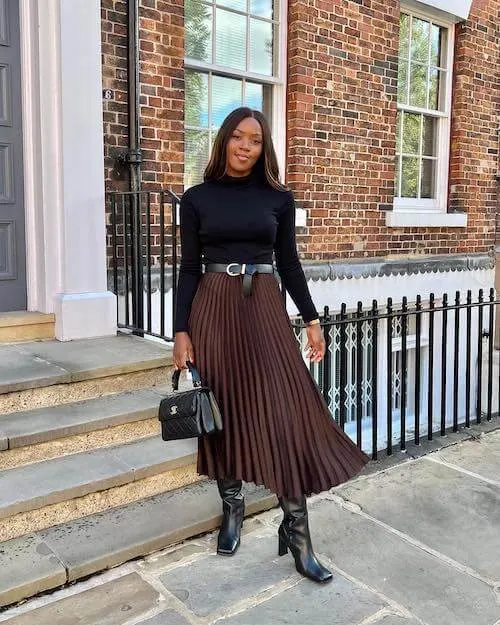 IG@josephineslooks
If a midi skirt is your go-to, pair it up with a knitted sweater or a button down blouse in muted hues or neutral colors.
Choose skirts of fall colors like deep berry hues, khaki greens, and cozy browns that are ideal for the fall season's cooler temperatures.
A tailored coat in navy blue would be the ideal choice to layer up your look if needed.
Finish off your look with some suede ankle boots and statement earrings.
Floral Print Dress + Knee High Boots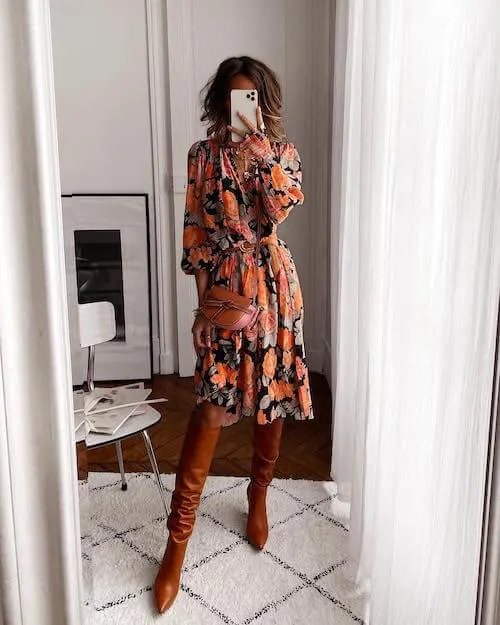 IG@babiolesdezoe
Another great option is a floral dress paired with heeled boots.
The beauty of this combo is that it's versatile enough to take you from day to night.
Pairing a floral dress with heeled boots allows you to create different looks depending on where you're going – whether it's a cozy café or an upscale restaurant, this combination will have your date swooning in no time!
For Winter Cold Date Night
Turtleneck Sweater Dress + Long Coat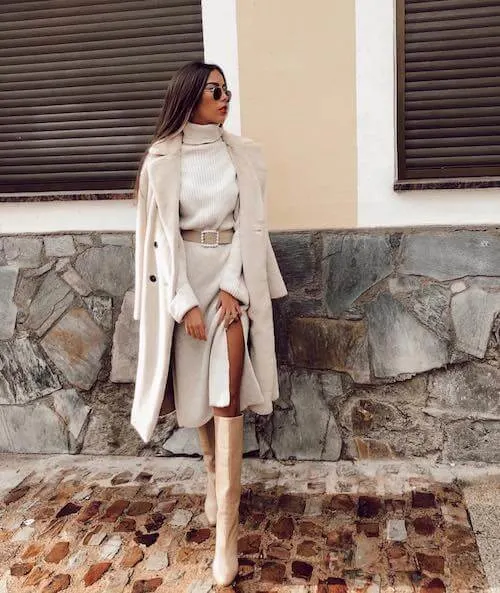 IG@isabelcamposr
Mini Skirt + Black Boots + Long Winter Coat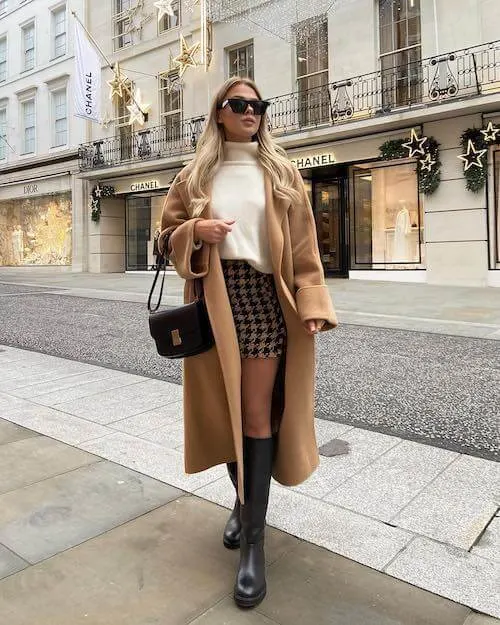 IG@mildagud
For a winter cold night, you can't go wrong with boots, a skirt or dress, and a long coat.
The combination of these three items will not only keep you warm but also set the tone for an attractive yet comfortable look.
Choose boots sturdy that will give you support while walking but still looks stylish.
Then choose either a skirt or dress depending on how formal or casual you would like the date to be; both options can be paired with tights if needed for an extra layer of warmth in colder temperatures.
Classy And Sexy Date Night Outfit
Dressy Button Down + A Pop of Color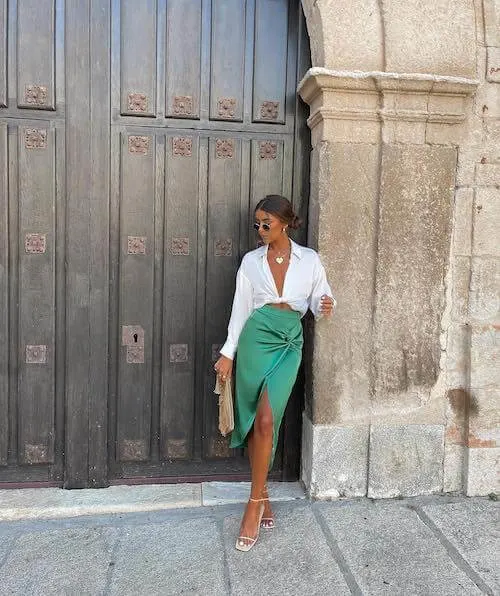 IG@isabelcamposr
A classy and sexy date night outfit for women starts with a simple button down shirt.
Choose from different colors, patterns and fabrications such as chiffon or silk to find the perfect top for your look.
To complete the outfit, add a midi skirt that flatters your figure.
The midi length is great for creating an elegant silhouette while still showing off some leg.
Choose from different materials like leather, velvet or silk depending on what fits your style best.
Finish off this classy yet sexy look with heels or booties in either nude tones or black leather to make sure you turn heads all night long!
Chic Date Night Outfit
Midi Dress + Tweed Coat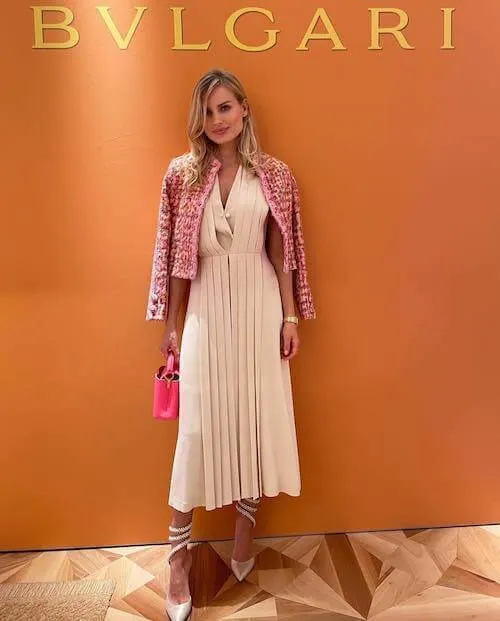 IG@@helena.schaw
Satin Slip Skirt + Long Coat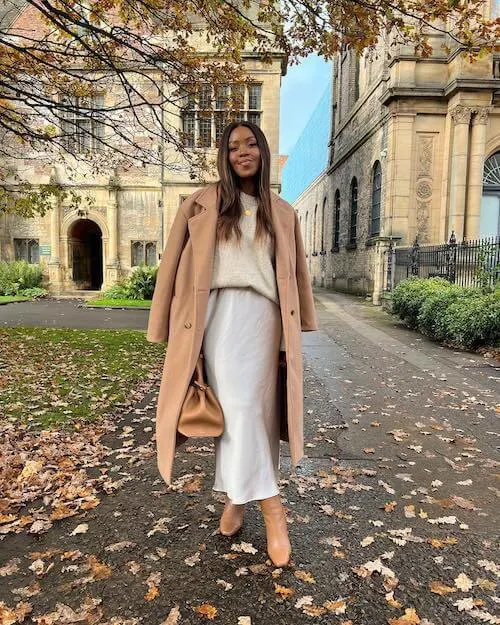 IG@josephineslooks
For women looking for a chic date night outfit, there are countless options to choose from.
The best approach is to select a timeless yet fashionable look that won't go out of style and can be worn year-round.
A good starting point is to opt for an elegant dress or skirt paired with a trendy top and stylish accessories.
To create the perfect ensemble, consider selecting pieces in neutral colors like black, white and navy so they can easily be mixed and matched.
To make sure the look is not overly formal, add in some fun statement jewelry or even bold makeup accents like red lipstick.
Finally, opt for comfortable shoes like sandals or block heels so you'll be able to dance the night away without any discomfort!
With these tips in mind, you're sure to find the perfect chic date night outfit that will leave you feeling confident and beautiful all evening long!
First date outfit with jeans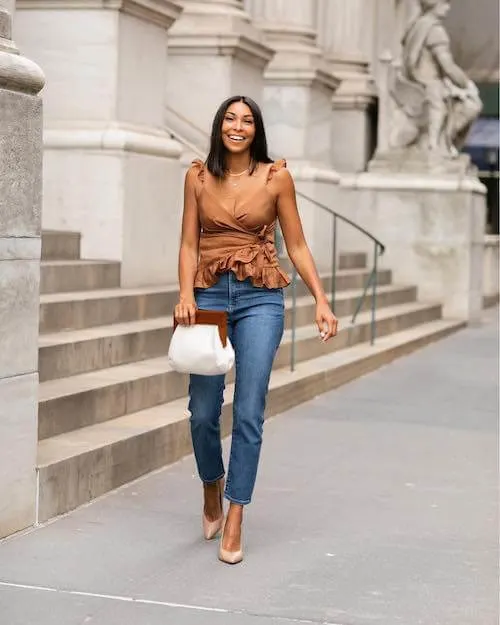 IG@lovefashionfriends
Jeans can be dressed up or down depending on the occasion, making them ideal for a first date.
Whether you're meeting for drinks at a cozy bar, going for dinner and a movie or having a picnic in the park, there's an appropriate way to style denim to ensure you look your best.
To start off, it's important to select jeans that fit well and flatter your body shape.
Skinny jeans are great for showing off curves while bootcut jeans pair nicely with wedges or heels if you want to add some extra height.
If the weather is warm, consider opting for white jeggings or distressed boyfriend jeans as they provide more breathability than traditional fabrics.
First Date Outfit with Sneakers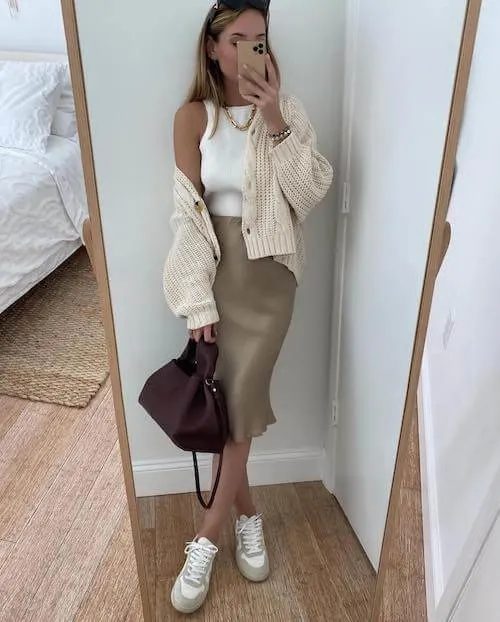 IG@la_nadia
One of the best ways to dress up while still looking laid-back is with sneakers.
They're comfortable and stylish, so you can make a great impression on your date without feeling uncomfortable in sky-high heels.
Start by choosing comfortable but stylish sneakers that go with everything.
Wear a simple top and a chic midi skirt for a feminine touch.
Complete your look with stylish accessories to elevate your style to the next level.
What To Wear For A Casual First Date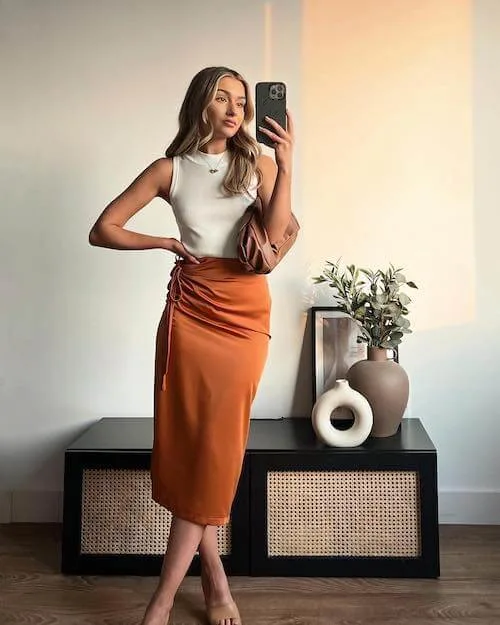 IG@lilyisabellaclark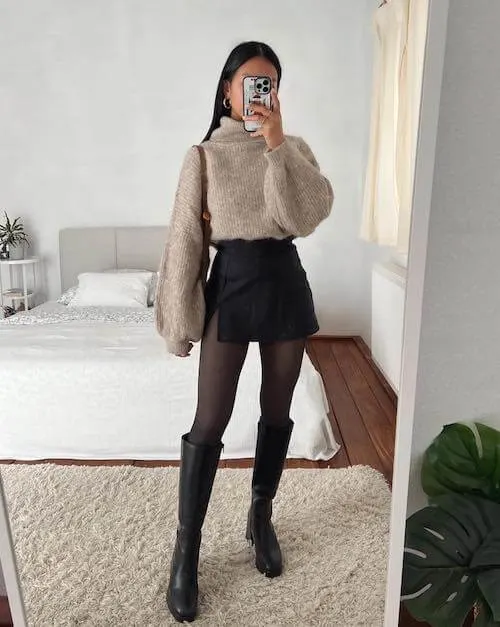 IG@thanyaw
To make a great first impression, consider wearing a midi skirt with an off-the-shoulder top or sleeveless top.
This look provides the perfect balance of comfort and style – perfect for any low-key setting.
If you're feeling more daring, opt for a mini skirt teamed with a dressy blouse or a cozy oversized knit top for cooler months, then finish it off with a pair of stylish boots.
The added height will show off your legs while keeping things chic and relaxed.
Whatever you choose to wear on your casual first date, ensure that it shows off who you really are – confident, fun, and ready to take on the world!
What To Wear On A First Date In Your 40s
For women in their 40s, a first date can be an intimidating prospect.
But for those looking to make a good impression, finding the right outfit is key.
The right look will leave you feeling confident and stylish on your special night out.
Here are some tips on what to wear on a first date in your 40s as a woman:
Choose something timeless.
A well-cut pair of jeans or trousers teamed with a blouse or simple sweater can never go wrong.
Accessorize with stylish jewelry pieces that add subtle glitz and glamour; think delicate earrings, bracelets and statement necklaces but avoid anything too over the top.
For footwear, opt for classic heels or wedges; they'll give you the necessary height boost while still remaining comfortable enough for the evening ahead.
Conclusion: Classy First Date Outfit Ideas For Women
In conclusion, finding the right outfit for a first date can be challenging but also fun.
With these tips, you can easily create an outfit that's fashionable and chic.
Remember to choose something comfortable and unique that reflects your style and personality.
Don't forget to add the perfect accessories to complete your look!
The most important thing is that you feel confident and beautiful in what you wear – so go out there and enjoy your date!
This post was all about classy first date outfits.
About The Author
Tracy is an experienced personal stylist, shopping expert, and fashion & lifestyle blogger. She has been featured on Time Magazine, Bustle, Best Life, Glam, The Zoe Report, Mic, and GOBankingRates, for her insights on fashion, beauty, home decor, and lifestyle. Read More
Related Posts: