Looking for the trendiest wide leg pants outfits to copy directly? Check this post for the expert style tips and 100+ best wide leg pants outfits you can't miss this year!
At this time of year, what I think about the most is which items from the previous season can continue to be worn into the next season?
Skinny jeans are great, but what if I am bored of them and want to try some different styles?
From spring to winter, nothing is more perfect than wide-leg pants!
No matter whether you like a casual look or a feminine look for a romantic dinner date, a pair of wide-leg pants is a great option to create your next trendy look.
So in this post, we are sharing the best style tips and 100+ trendy wide leg pants outfits for you to copy directly. So scroll down to check these ideas and don't hesitate to pin the ideas you like!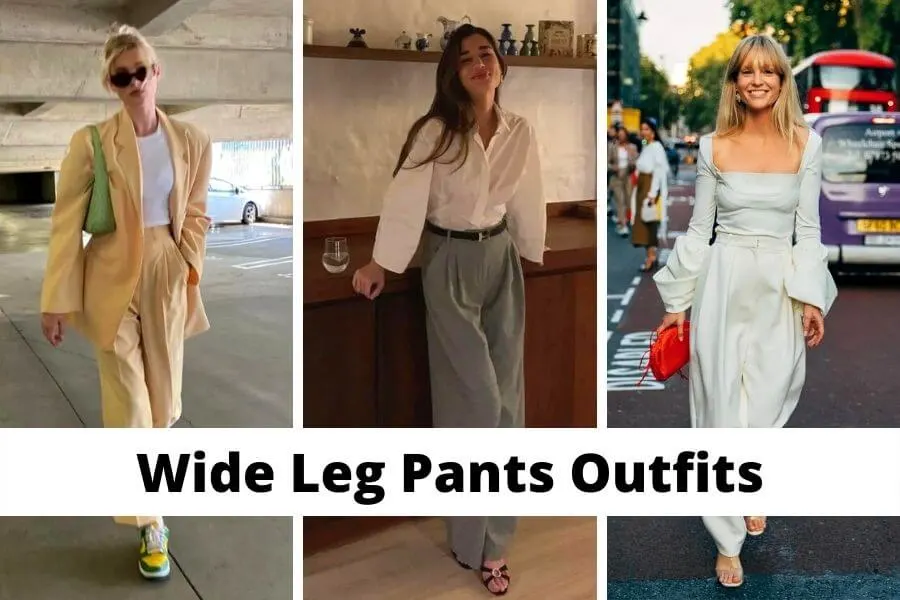 This post may contain affiliate links, which means I'll receive a commission if you purchase through my link, at no extra cost to you. Please read the full disclosure here.
This post is all about wide leg pants outfits.
What Kind Of Wide-Leg Pants You Need To Have?
There are so many kinds of wider leg pants, and there are quite a variety of types – denim, silk satin, corduroy, chiffon, linen…
Some are handsome, some are romantic, some are suitable for work, and some can only be worn for vacations, and they all seem to perform their duties.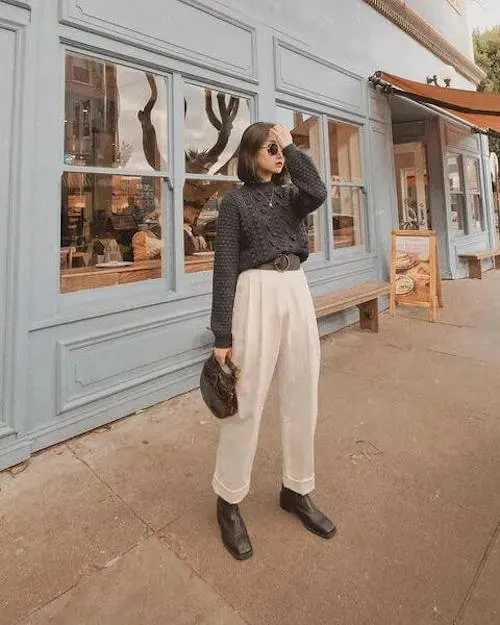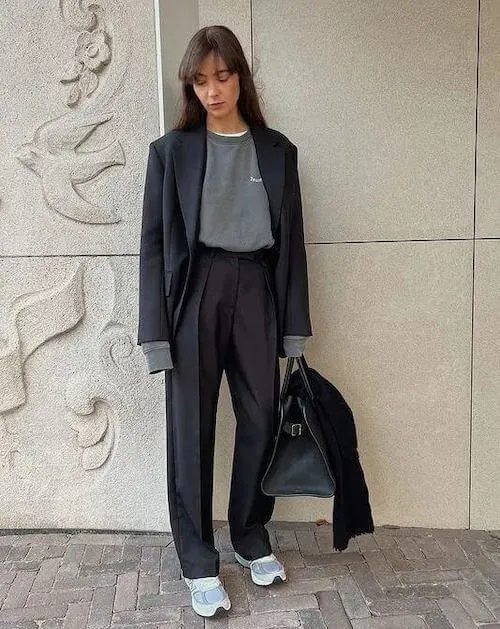 Does that mean buying a lot of wide-leg pants for different styles and occasions?
NO! There is a certain wide-leg pants that can be handsome or elegant, work outfit or casual. The point is, almost everyone can wear it, regardless of body shape and temperament!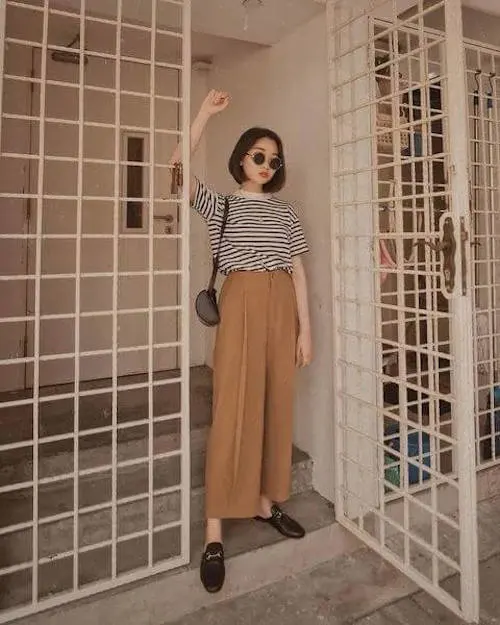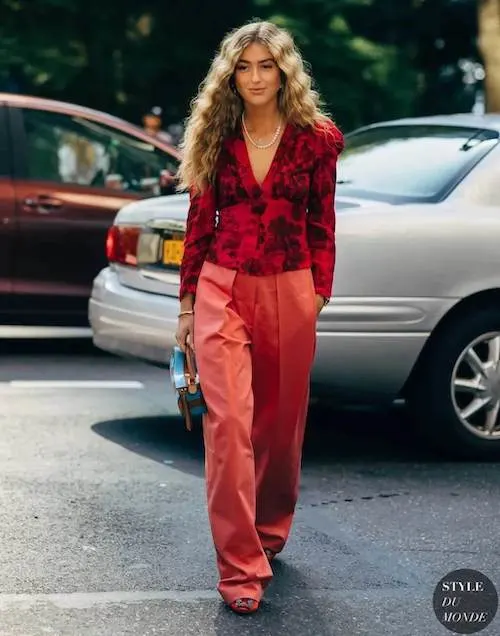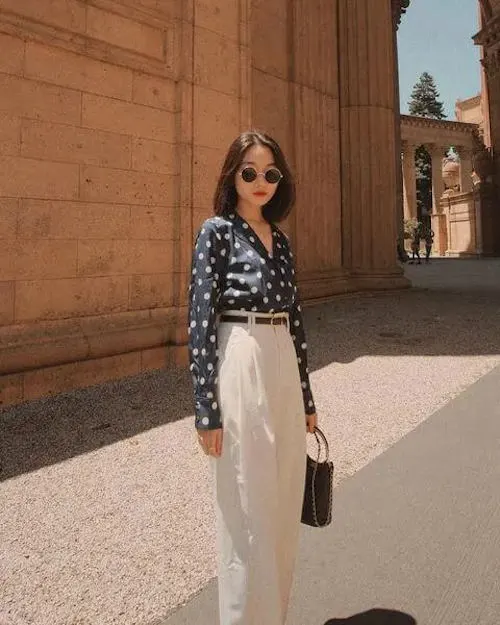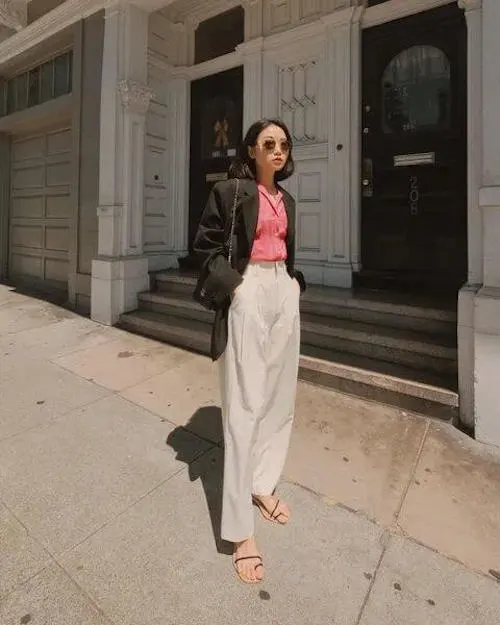 It has been the favorite of many fashion bloggers now, but it was rarely mentioned in particular in the fashion world:
Wide leg suit pants!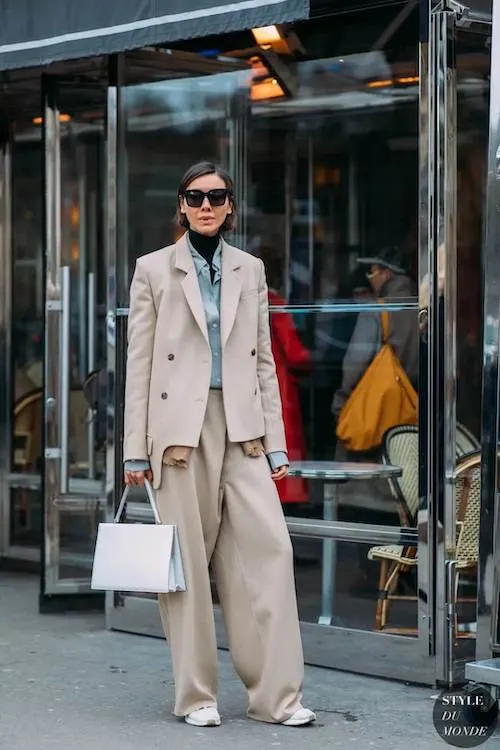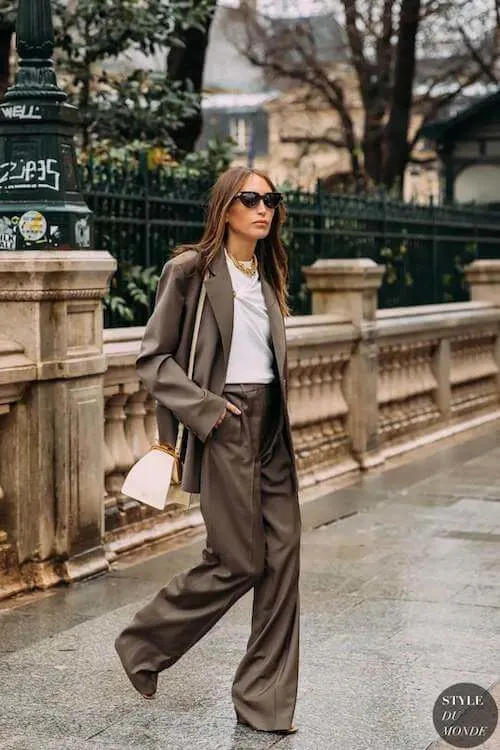 Which Body Shape Are The Wide Leg Suit Pants Most Suitable For?
Pear body type.
No matter what season, buying trousers is always a "nightmare" for a pear-shaped body. Why can't the leg circumference and waist circumference always be accommodated in a pair of pants?"
Looking at the outfits of bloggers recently, I found that no matter how keen they are to interpret fashion trends, there will always be a few days when they need to change into these wide leg suit pants, which is both fashionable and comfortable.
These pants have "swaying" legs and the just right waist, aren't these trousers perfect for pear body type?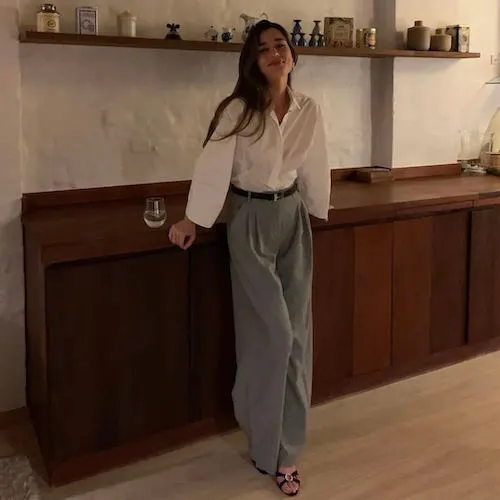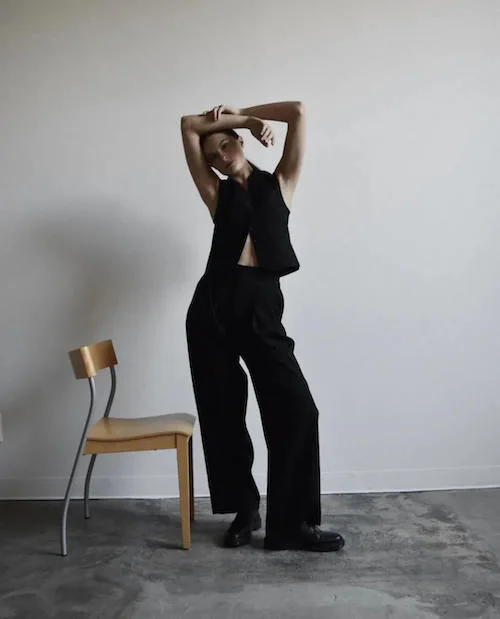 Are Wide Leg Suit Pants In Style Now?
Yes!
Why are they so popular?
My definition of suit wide-leg pants is simple: wide-leg pants that can be worn with a formal suit.
Its fabrics are often the same as suits, and are dominated by ultra-fine worsted wool, polyester fibers , and blended fabrics.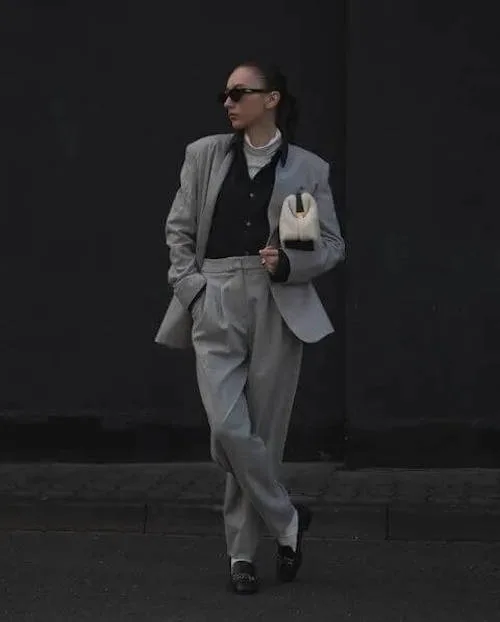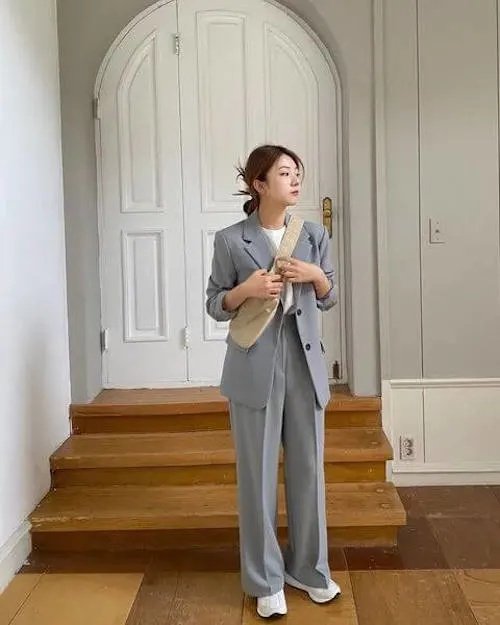 From this point alone, you can see the difference between it and chiffon, denim, silk, and khaki wide-leg pants.
The style is semi-formal and neutral.
There is no luster and a low sense of presence, so it is more versatile for any occasion.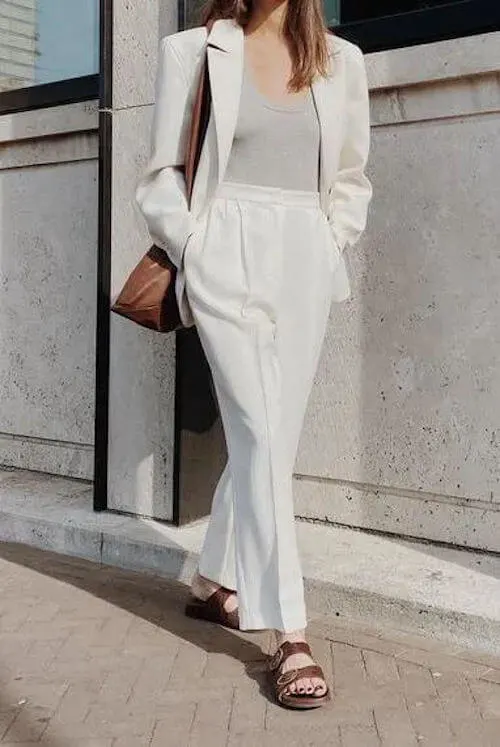 Fit more body types.
Wool and polyester have a certain drape without being too light. It can not only hide the body, but also give the flat body a sense of weight.
In terms of details, the wide-leg suit pants follow some designs of traditional suits.
It has a certain practicality. It does not strangle the stomach when sitting down to increase the comfort; at the same time, it hides the belly, and the I-shaped wear can also have a crotch and a curve.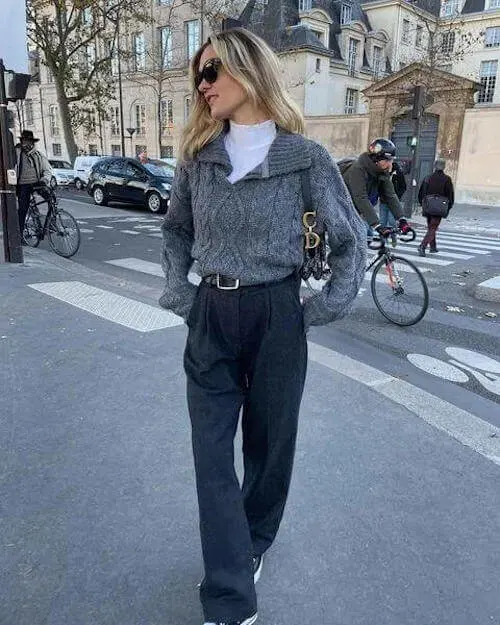 There are also two ironed, vertically running midlines, making the trousers neat to wear.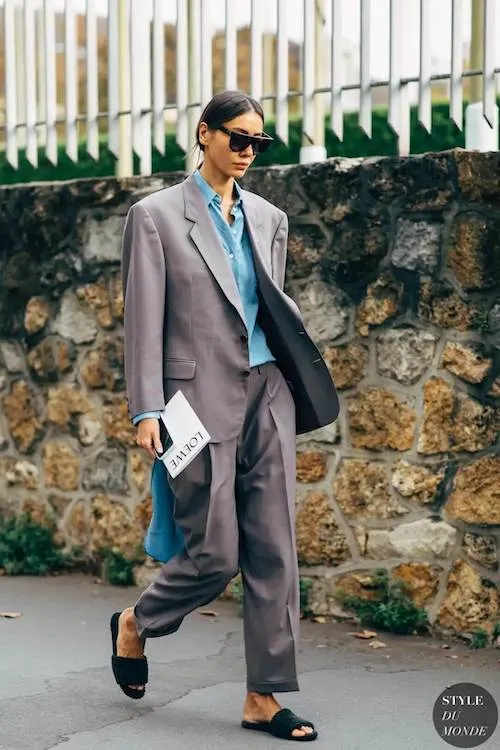 In addition, most suit pants have higher waistlines, which can optimize the proportion.
In short, they are classic and trendy, serious and comfortable, stylish and elegant. It is because of this "fluidity and uncertainty" that it can become an important item of athflow style.
Could be dressed up or down.
Taking the trousers out of the suit alone, while weakening it, also extracts its own sense of formality, thus giving us enough space to dress up or dress down.
Probably every girl goes through this stage, right? When I was young, I liked the girly feeling that I want to show off, but when I matured, I became obsessed with exploring myself in a more comfortable and casual clothing language.
If you also start a journey of exploration, wearing suit pants is a great way to lead you to a classic look.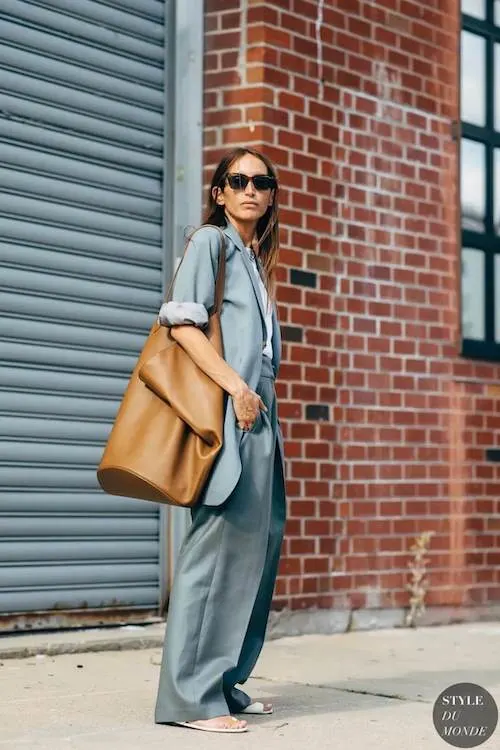 What Tops To Wear With Wide Leg Suit Pants?
The biggest charm of basic and classic items is that their style is ultimately determined by the person who wears them.
As an item that is "a little more than the basic model", the wide-leg suit pants are both modern and timeless.
Wide Leg Pants + Knit Top + Trench Coat
It has the old-fashioned elegance of traditional suit pants and is suitable for all kinds of formal occasions and can be worn as a formal wear.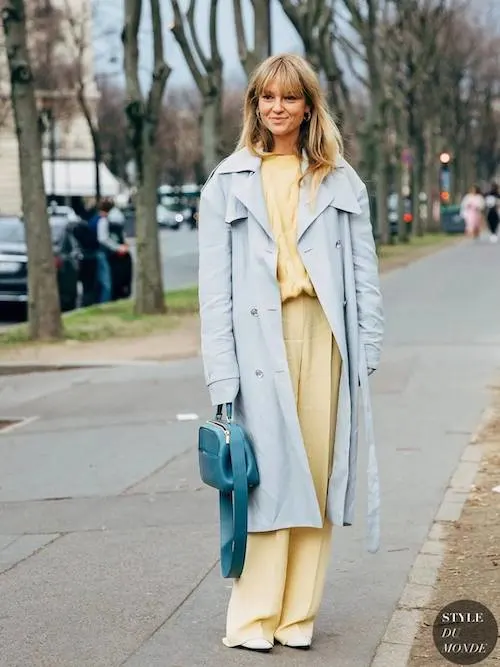 Wide Leg Pants + T-shirt + Sweater
At the same time, thanks to the characteristics of wide-leg pants, they look so relaxed and natural, which is very suitable for casual time, and is also a must-have item for creating the trending athflow and athleisure styles!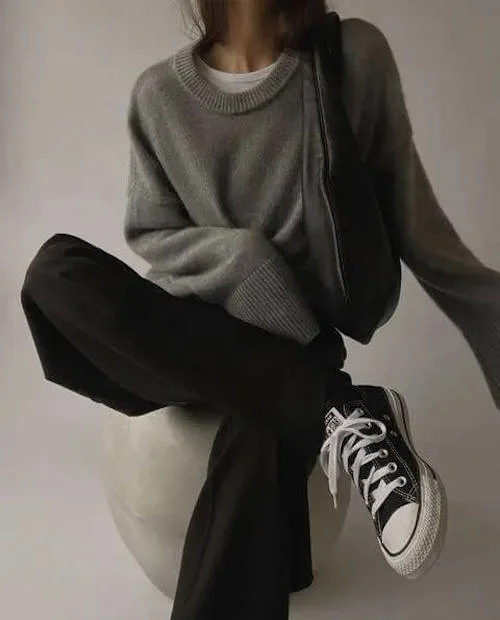 Wide Leg Pants + Crop Top/ Shorter Top
Pairing your black wide-leg pants with a cute crop top is one best style tip to level up your look in a minute this year.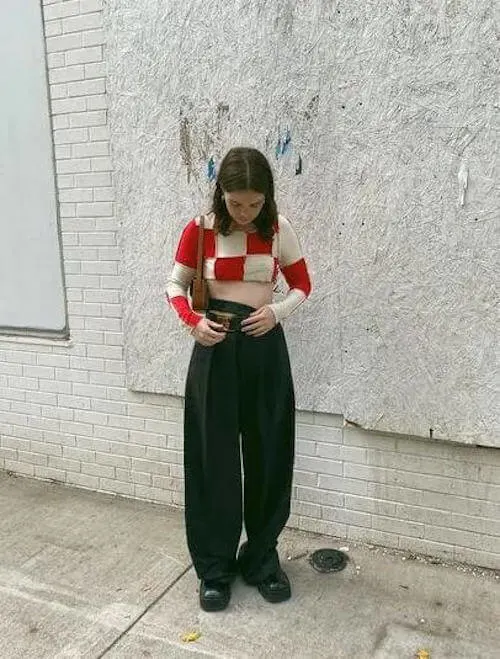 What Are The Best Shoes To Wear With Wide Leg Pants?
Even this change of style and occasion does not require a lot of effort, sometimes just a pair of shoes can create any style you want.
What kind of shoes go well with wide leg trousers?
Choose loafers for elegance, choose pointed shoes for feminine style, choose ankle boots for French style, choose combat boots for boyish look, choose sneakers or white shoes for a casual vibe.. A pair of good wide leg dress pants is your go-to for every single occasion!
Wide Leg Pants + Chunky Sneakers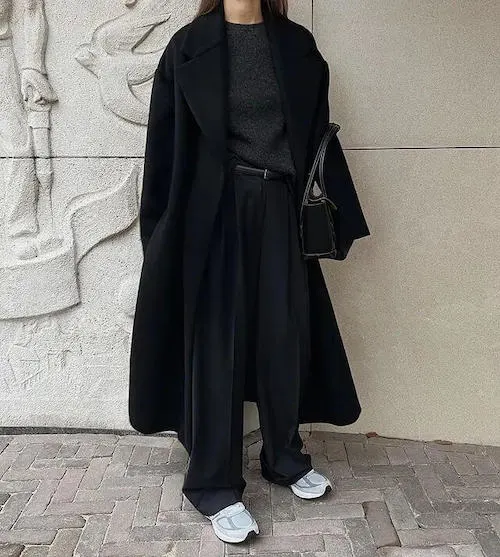 Wide Leg Pants + Loafers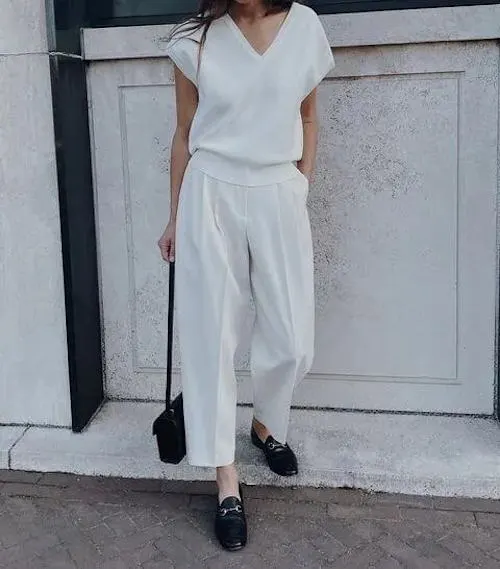 Wide Leg Pants + Combat Boots/ Platform Shoe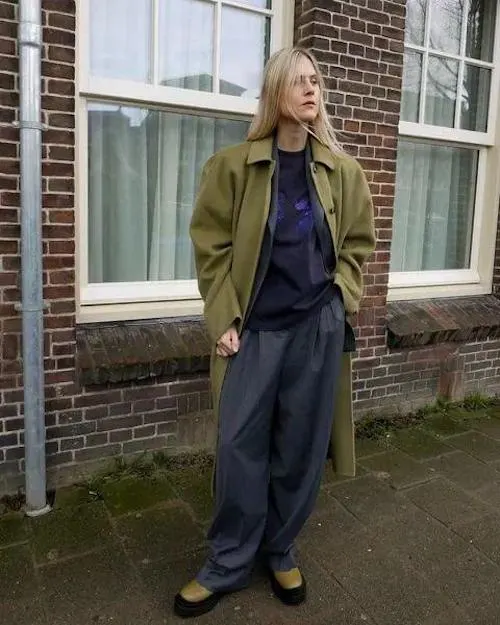 Haven't decide your style yet? Scroll down to check different ways to dress the wide leg pants for different styles.
How Do You Wear Wide Leg Pants For An Elegant Look?
A Suit Set
Returning suit pants to suit sets creates the most common and straightforward elegant women style.
A well-tailored suit is the easiest and perfect match to write about the sophistication and elegance of mature women.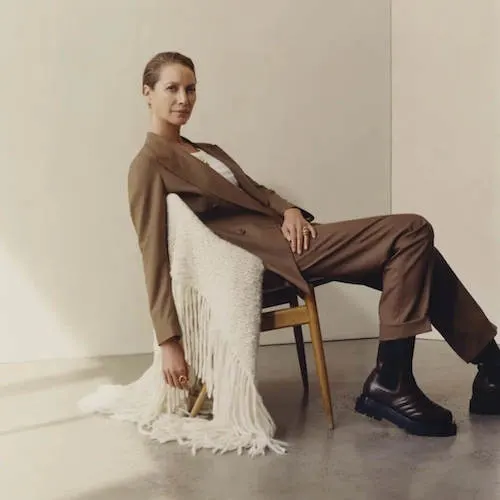 Wide Leg Pants + Button Down Shirt
If the suit is a little rigid for you, try a shirt.
These two looks below both use the formula of shirts and suit pants, but she is more loose in the choice of suit pants, and only a few buttons are buttoned at will.
It seems a casual wear but everywhere reveals the chic and comfortable style of a confident woman, even perfect for formal occasions.
@anoukyve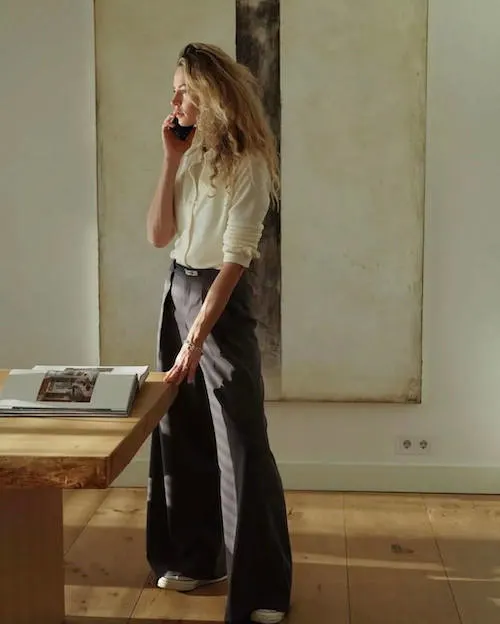 @anoukyve
In transitional seasons, the temperature fluctuates greatly, and the idea of ​​stacking a sweater + shirt is very interesting, and the deep V neck is clever and sexy.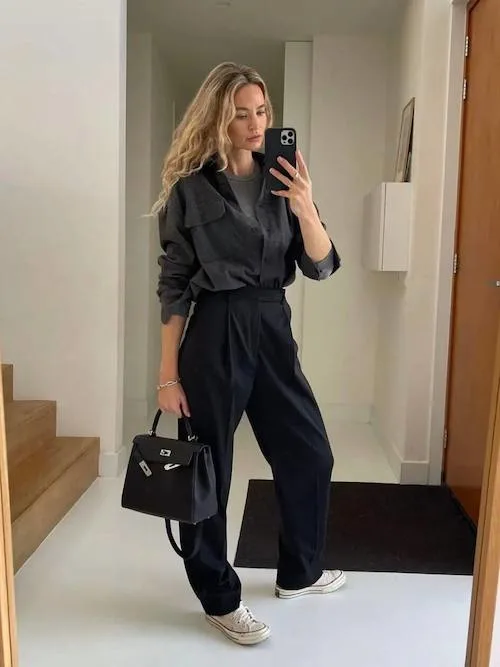 @anoukyve
@anoukyve
Change the color of the shirt to add a playful touch. Annemiek Kessels is keen to interpret neutral outfits dominated by black and gray tones, and occasionally changes the color of shirts to make them stand out.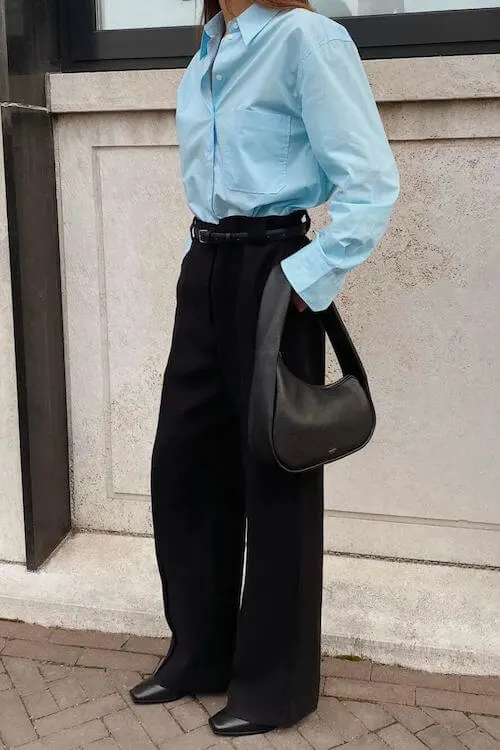 @modedamour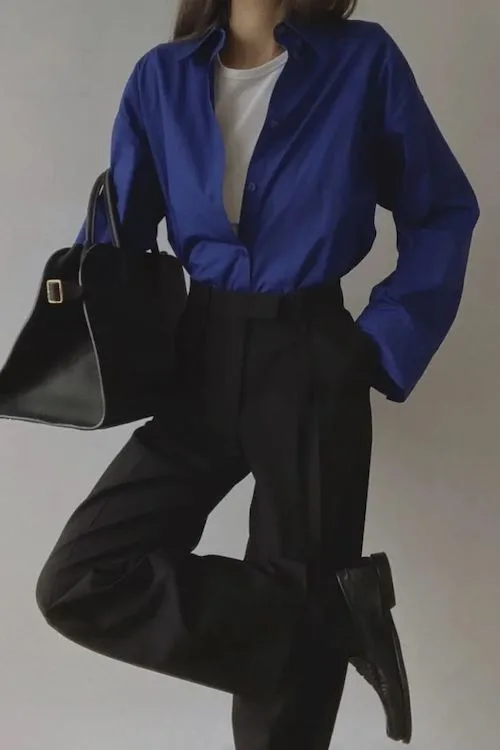 @modedamour
Wide Leg Pants + Suit Vest + High Heels + Hoop Earrings
The vest is also the best item to help create a sense of classy and elegant woman.
Liza Rudkevich's all white outfit is refreshing and high-end. The pointed toe shoes and the high heels elongate the legs, very provocative and sexy. Add hoop earrings or dazzling statement earrings. This is a right fit for a dinner date.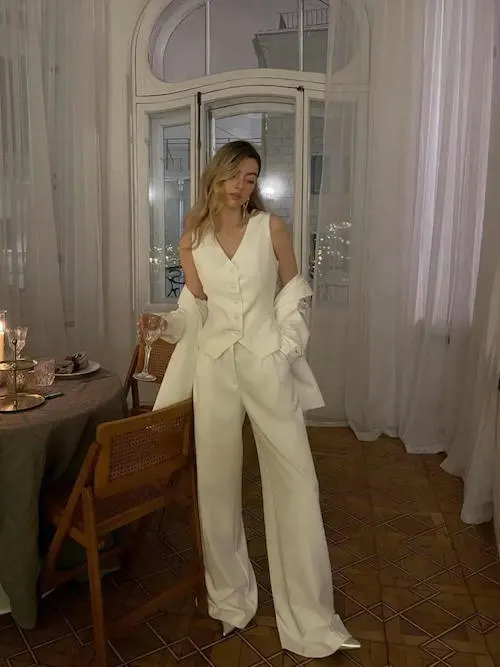 @lizarudkevich
Wide Leg Pants + Tweed Cropped Jacket / Coat
The following whole look of suit pants and a tweed coat is more feminine and can tilt the balance to the "Woman" side. The pointed high heels with black and white color matching echo the overall tone, which is ingenious and harmonious.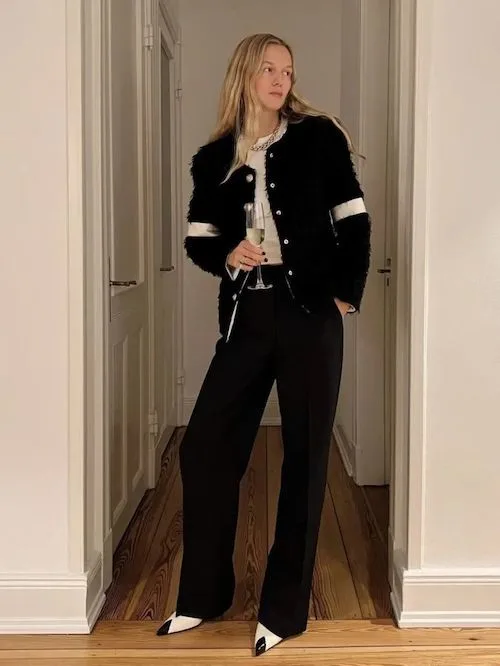 @mvb
How Do You Wear Wide Leg Pants For Tomboy Chic Style?
Wide Leg Pants + Shirt + Vest + Matching Blazer
If you like Tomboy style, you can wear the shirts, vests and other items mentioned above in a more old fashion way. This monochromatic look is a fun trend.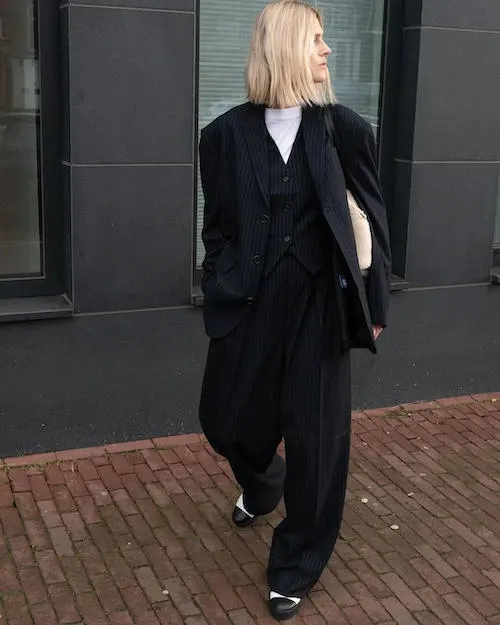 @lindatol
Wide Leg Pants + Leather Jacket / Denim Jacket
In addition to matching shirts and vests, I recently found that the combo of leather jackets and suit pants is also very interesting, and it has an ideal "exquisite boyfriend feeling".
I especially like this set below. The watery texture of the leather moto jacket breaks the dullness of the black. The light-colored cotton vest increases the level. The wide belt with the big lock is used as a small embellishment and increases the integrity of the shape. It is very suitable for transitional seasons.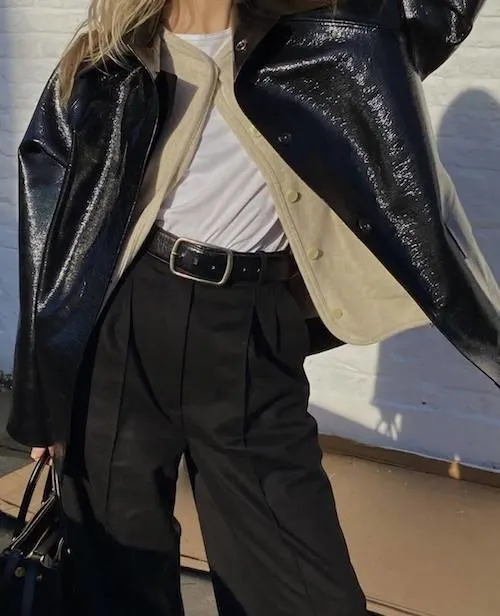 @lucywilliams02
How Do You Wear Wide Leg Pants For Sporty Style?
Choose a pair of suit pants with a loose fit close to sweatpants , you can wear a very Sporty feeling. But this Sporty is not as casual as the pure sports set, more like a bit of rebellion in the formal.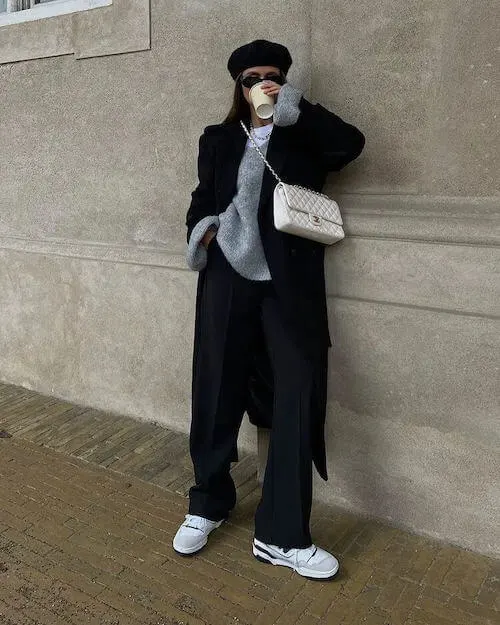 Wide Leg Pants + Loose Knitted Sweater
The essence of Sporty lies in being loose and casual. We can enlarge the silhouette of the pants and at the same time make the upper body wider. A loose knitted sweater is a good choice in the early spring .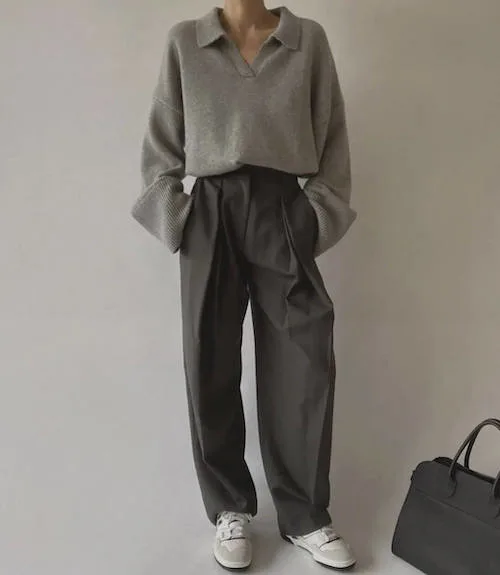 Wide Leg Pants + Baseball Cap + Sneakers
You can also add a very sporty item.
Check the great look below: although the suit + vest is a very formal combination, but with the orange baseball cap and chunky sneakers, the formal style is easily weakened.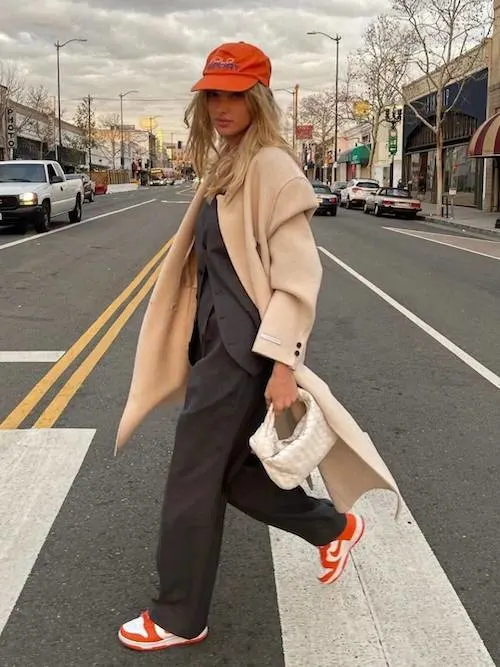 @hoskelsa
Wide Leg Pants + Blazer + White T-shirt + Chunky Sneakers
Another easy to follow formula to wear the sporty style with wide leg trousers. Wear your Air Jordan with your wide pants next time!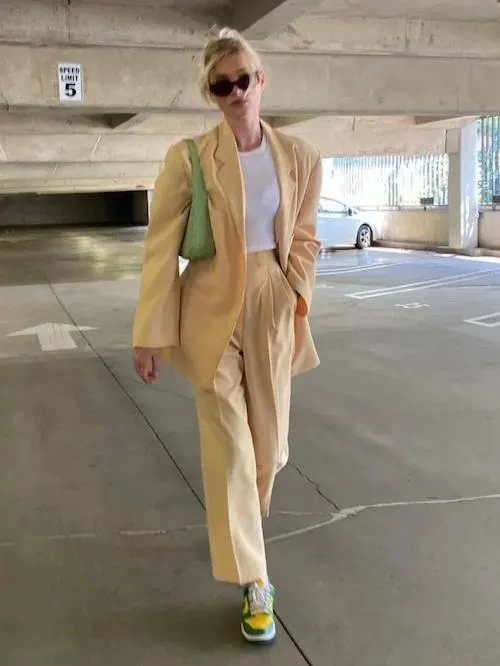 @hoskelsa
How Do You Wear Wide Leg Pants For Retro Style?
The straight and slightly wide suit pants have a retro feel, and choosing colors with lower brightness and higher saturation can better create a timeless look.
Mag Ryan in the 90s
Wide Leg Pants + Retro Color Knitted Vest + White Shirt + Loafers
Kendall Jenner's look below is worthy of reference. The green suit pants are very retro, and a knitted vest and dark red-brown loafers enhance this retro vibe.
Wide Leg Pants + Cardigan + Plaid Blazer
The brown color creates a strong retro tone. The camel cardigan is layered with a plaid blazer. What an effortless chic look!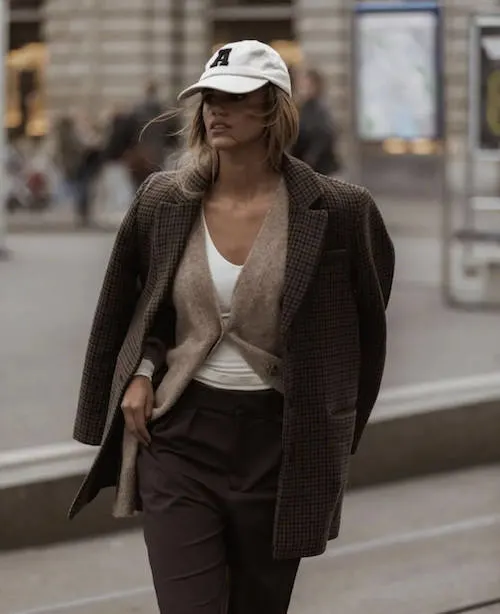 @l.kiassumbua
Wide Leg Pants + Suede Or Corduroy Items
With suede or corduroy items, you can also deduce a strong retro flavor. Of course, the small detail of the wide belt also adds a lot fun.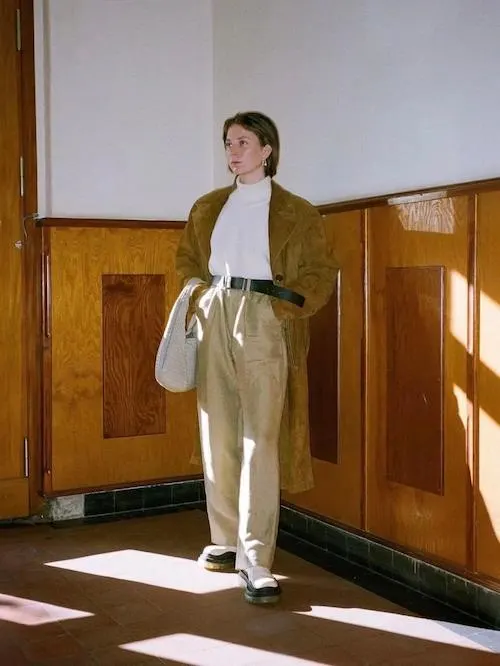 @sthlmeyes
Suit pants are such a magical item. The appropriate restraint allows it to easily construct different styles of wear, so that everyone can easily fall in love with it.
Below, I am sharing with you the trendiest wide leg pants outfits and style tips for different seasons.
How To Style Wide Leg Pants For Spring?
Wide Leg Pants + White/ Bright Color Long Sleeve Shirt
This combo is great for work! But this is also suitable for travel, shopping, or even a date by wearing different shoes.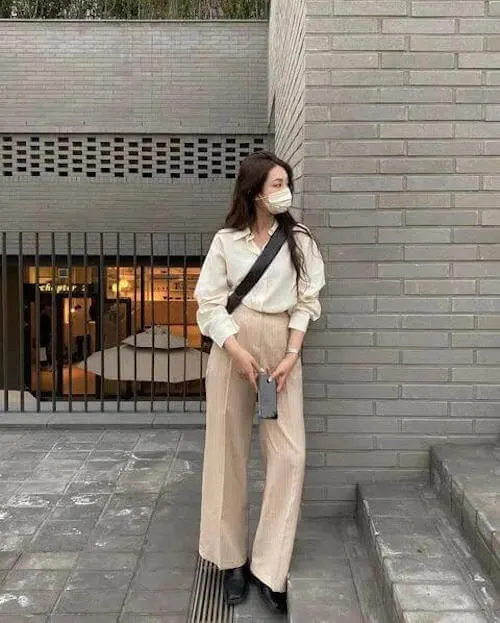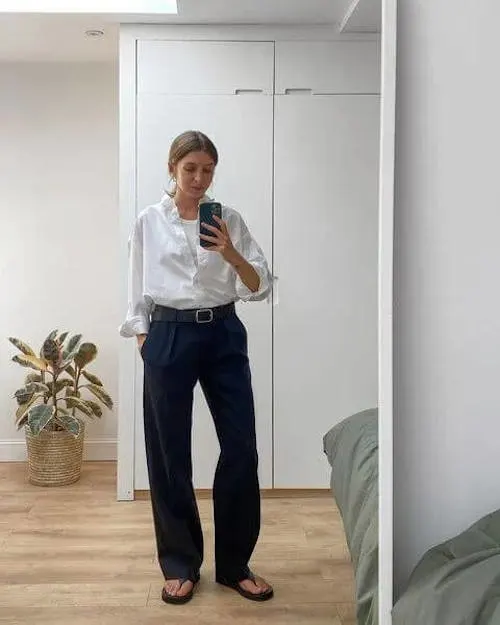 Roll up the cuffs and unbutton a few buttons to accentuate the slender collarbones and forearms. And don't forget to add some accessories to make the outfit perfect!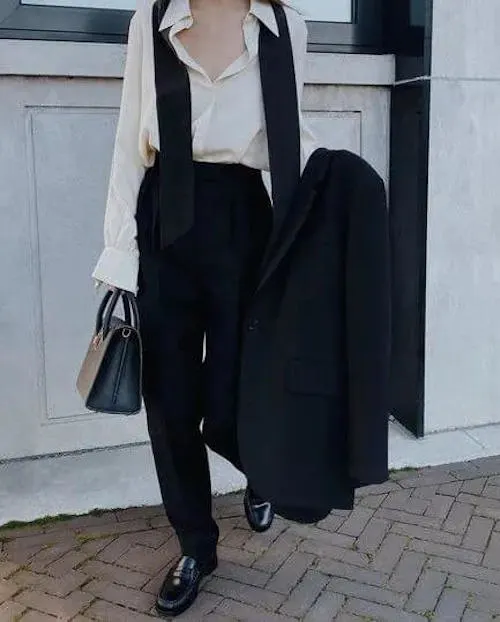 If you are worried about being serious and boring, you might as well learn from blogger Vivid Wu to wear basic color pants + colorful/flowery shirts! Full of spring vibes!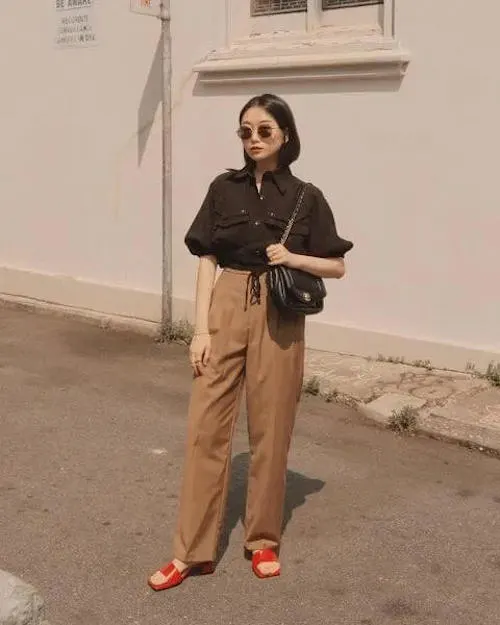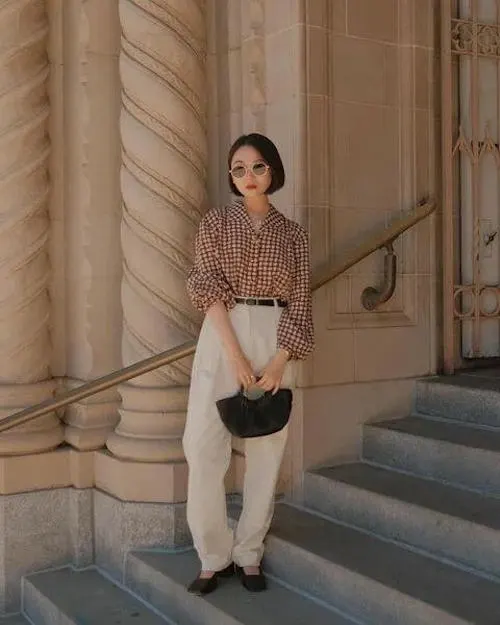 Wide Leg Pants + White T + White Button Down Shirt
Pair your wide leg pants with the trendy oversized shirt. A great idea of wearing the basics but full of chic vibes.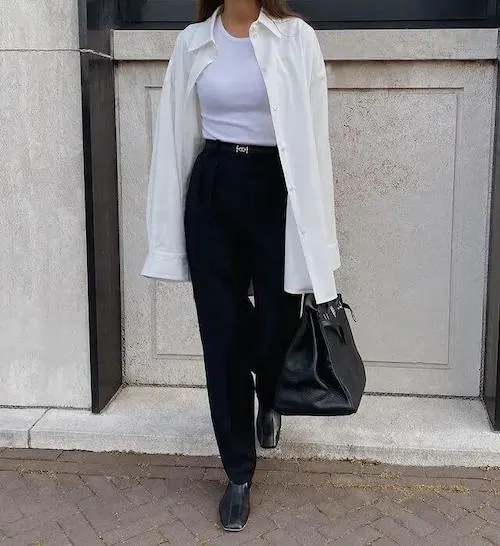 Wide Leg Pants + Silk Blouse/ White Blouse
Balance the femininity perfectly.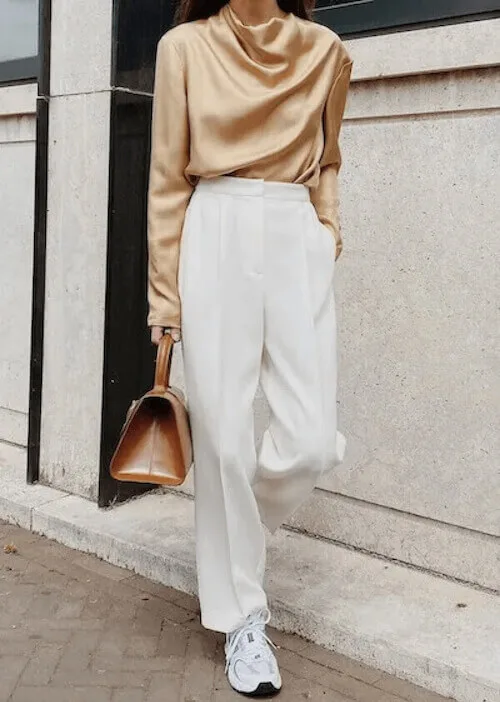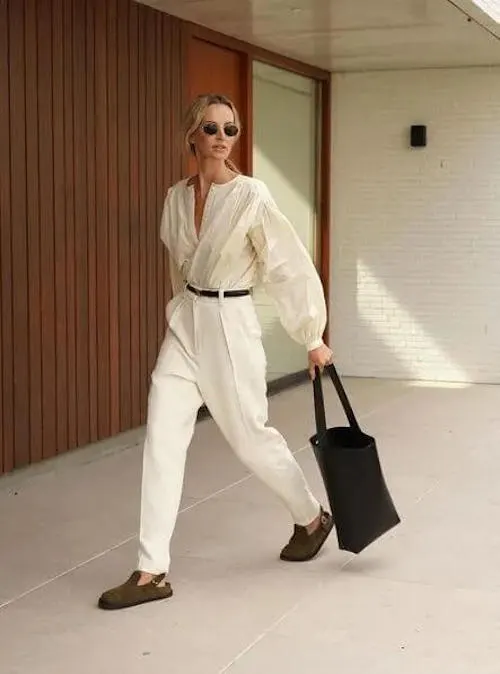 Wide Leg Pants + Striped Top
If you like French style, try to match your striped shirt with your wide leg suit pants. It has the taste of Coco Chanel, casual and chic.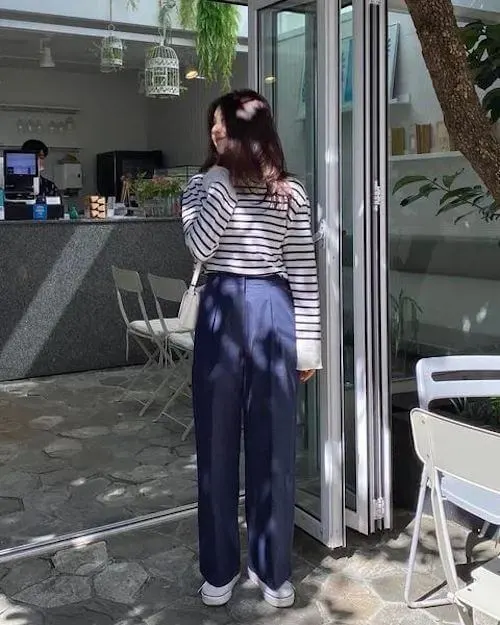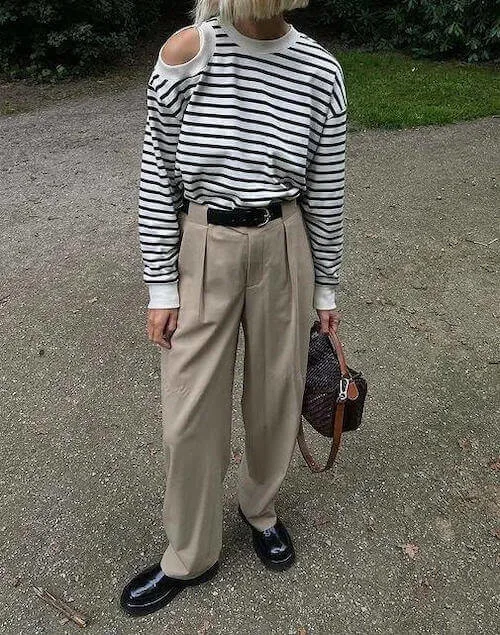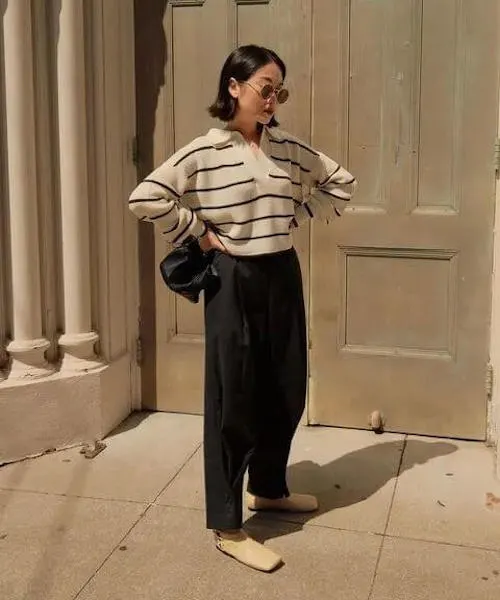 How To Style Wide Leg Pants For Summer Season?
Wide Leg Pants + Fitted Top
I am a person who loves to wear trousers in summer, and the combo of wide-leg pants + a skin-exposed fitted top just achieve a balance between nudity and gender.
From sexy cut-out, deep V, white tank top, suspenders, to off shoulders and open back, a pair of wide leg pants can solve everything.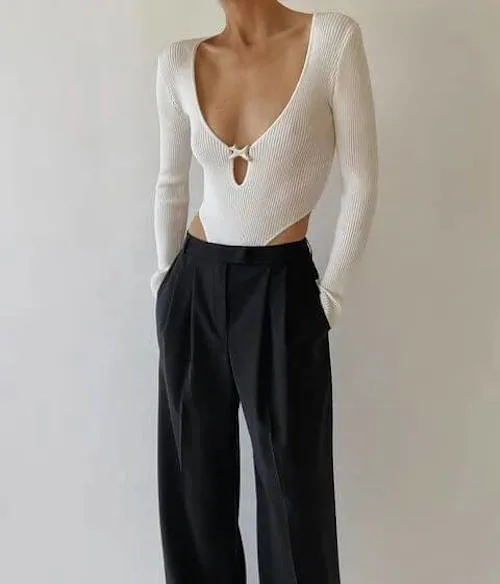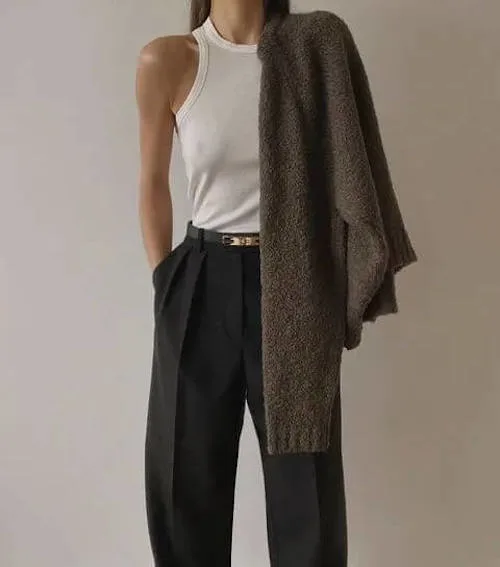 Wide Leg Pants + Tank Top/ Crop Top
One of the best and quickest way to turn fashionable in summer!
Wide Leg Pants + Sleeveless Top
Simple and gentle. As for shoes, Muller, strappy sandals, platform shoes… almost every kind of shoes can be perfectly matched with this set.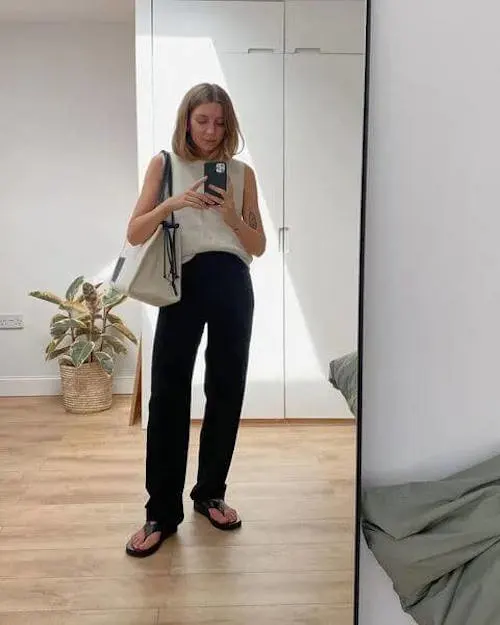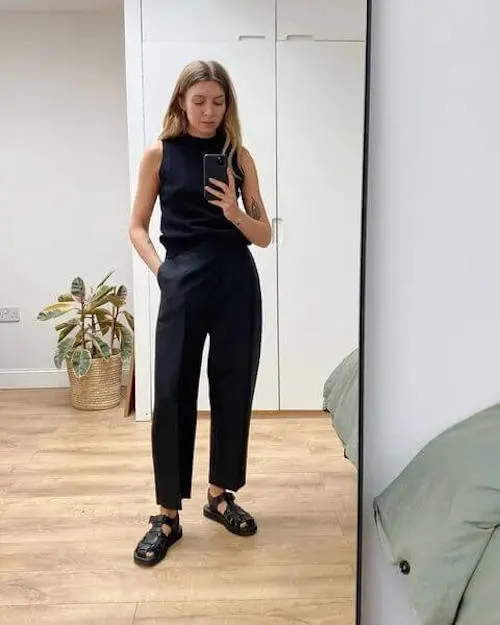 Wide Leg Pants + Short-sleeved Shirt + Cardigan/ Jacket
An elegant and feminine style in summer.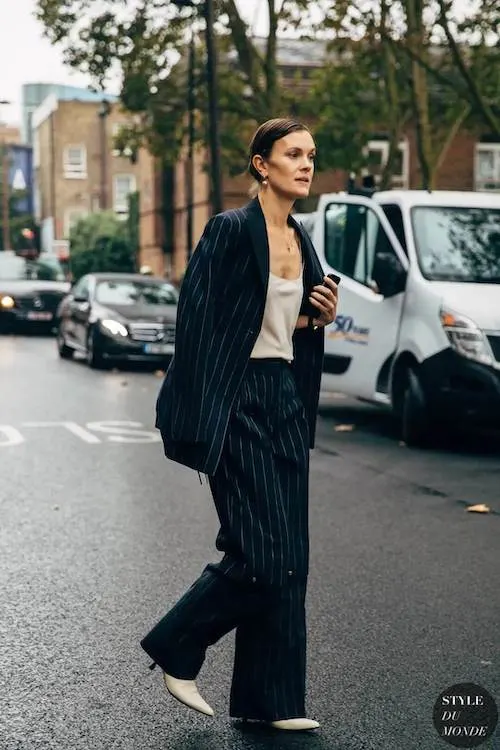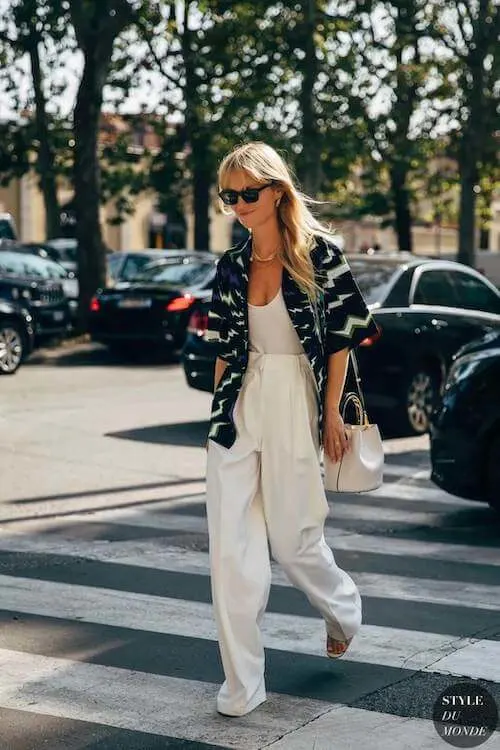 Wide Leg Pants + White Top + Vest
A chic look perfect for spring and summer.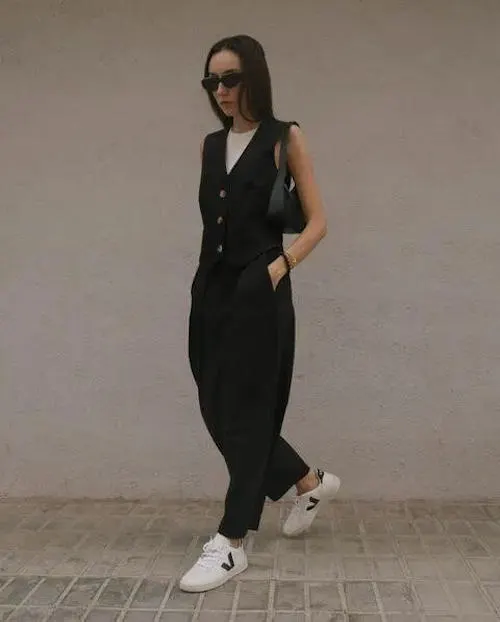 Wide Leg Pants + Black Top + Belt
Wearing a pair of wide-leg suit pants and a belt is a very chic detail! It not only optimizes the upper and lower proportions, but also shows a thin waist, suitable for all types of body types.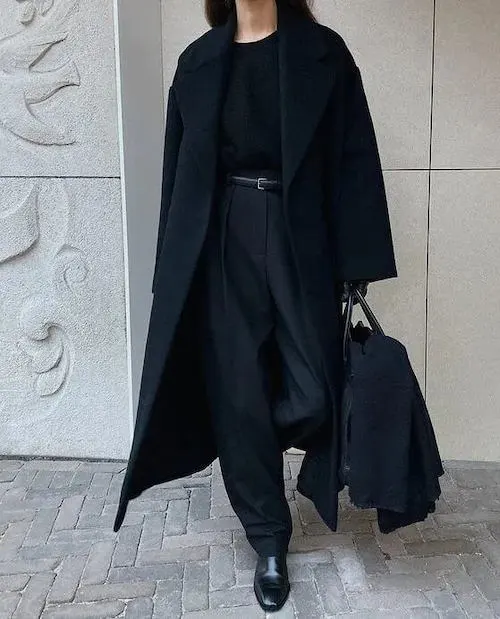 How To Style Wide Leg Pants For Fall?
Wide Leg Pants + Jacket
All kinds of jackets (denim/leather…) that are common in autumn can be matched with wide-leg suit pants.
The warmth of wool is neutralized by the coldness of leather, and a pair of sneakers add a bit of leisure, which is also an ideal business casual outfit.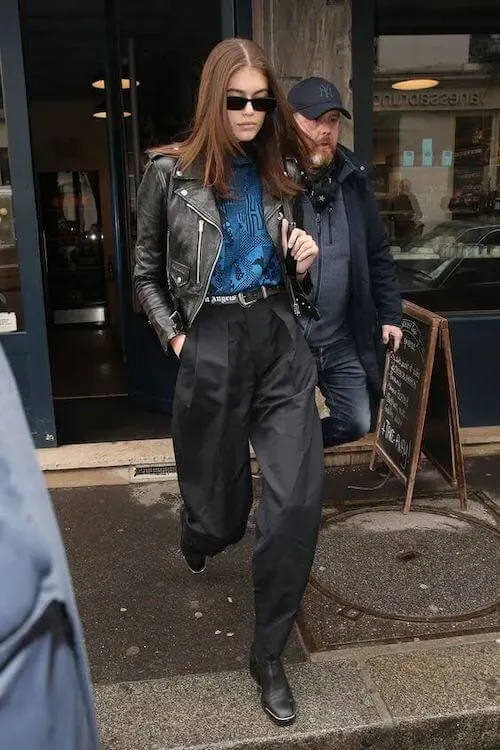 Wide Leg Pants + Long Trench Coat
It is suitable for the cooler late fall or early spring. You can choose the inner layer according to the temperature.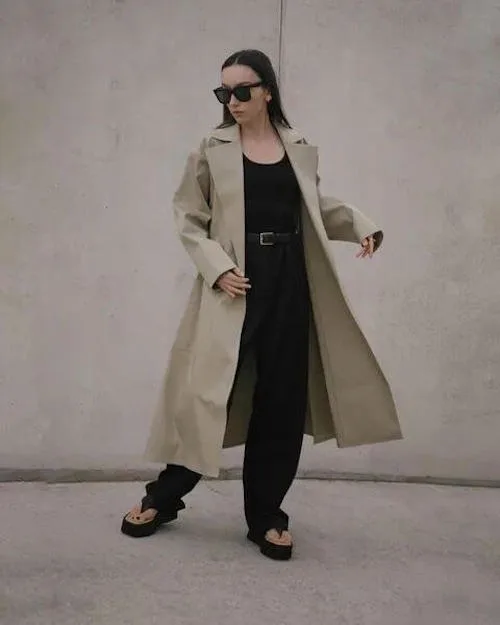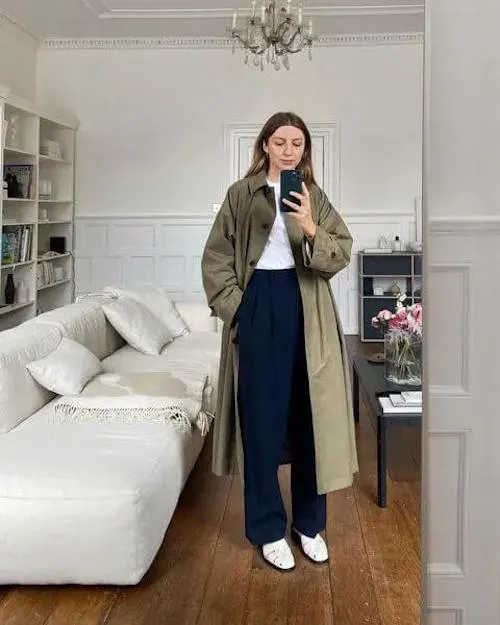 Wide Leg Pants + Blazer
This perfect fit is suitable for serious workplaces, and it is also suitable for urban beauties who pursue fashion. It looks more casual than ordinary suits.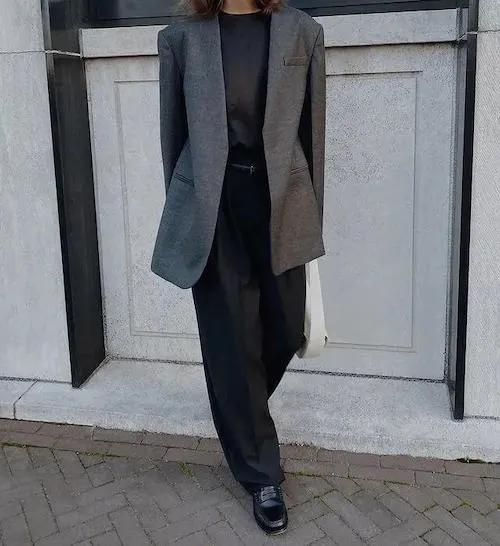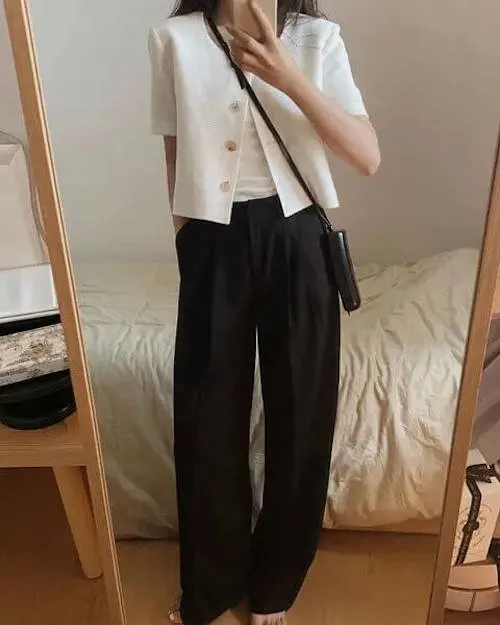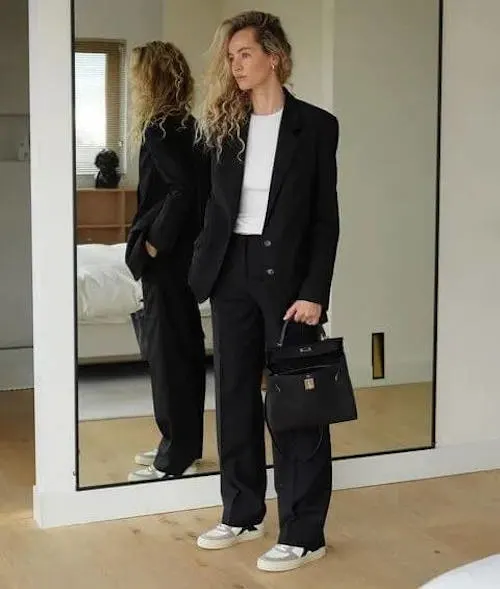 Wide Leg Pants + Sweater/ Sweatshirt
In addition, if the weather is warm, you can also directly wear a sweater/thick sweater , which is enough to cope with the temperature difference between morning and evening.
The sweater is a casual item, and the wide-leg pants with a formal suit just create an athflow style. Remember to stack a white T , revealing a little white neckline or hem, brightening and enriching the layers.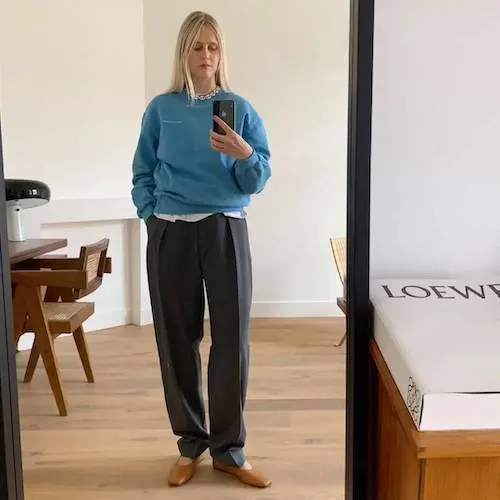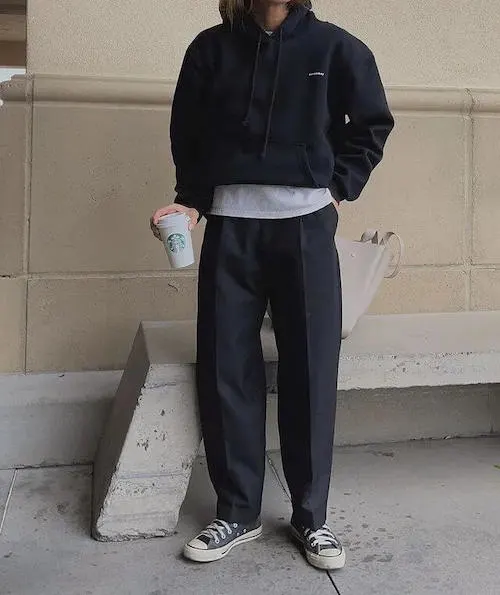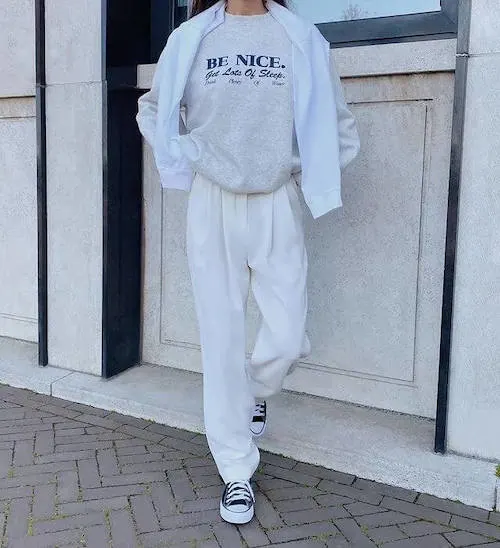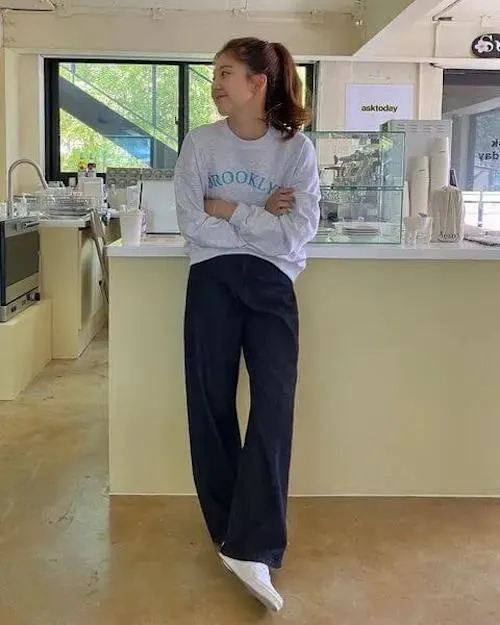 Sweaters and wide-leg pants can be combined at will to create the sassy and gentle feminine style of old CELINE .
Basics, zippers, polo… Looks great stacked or worn alone.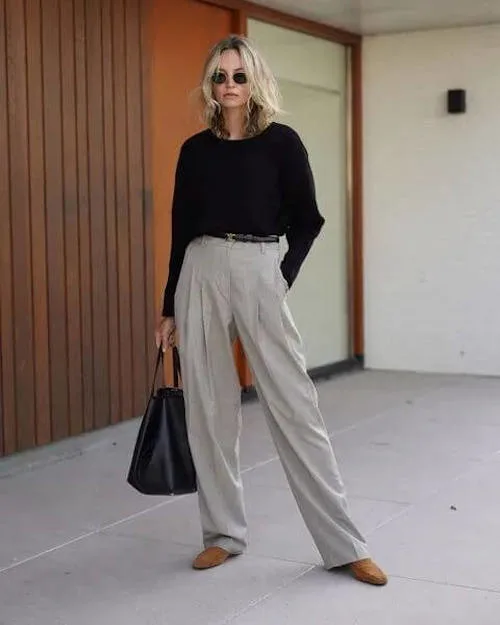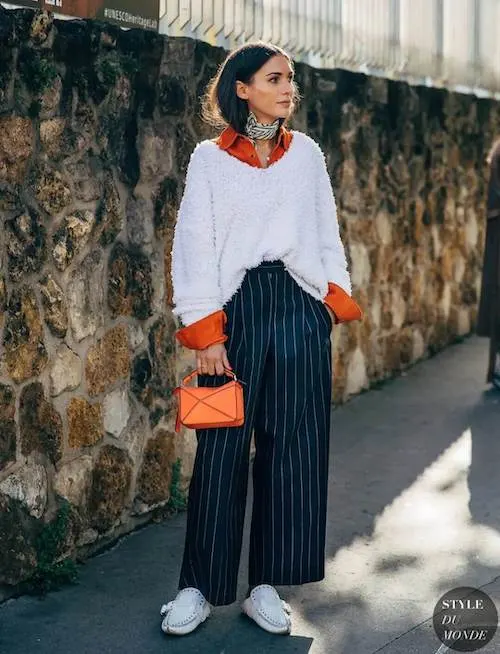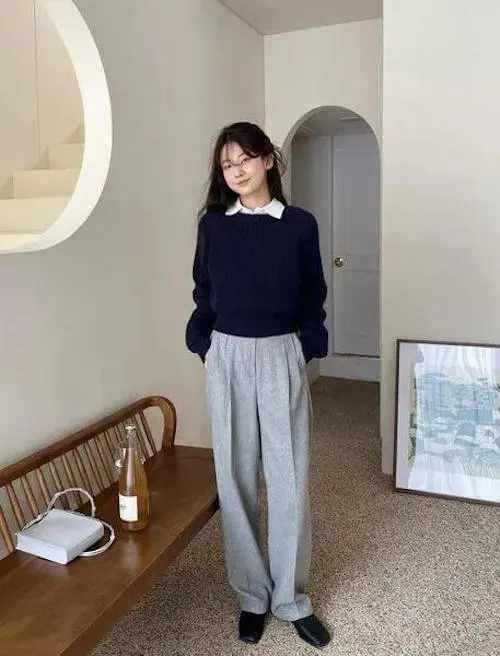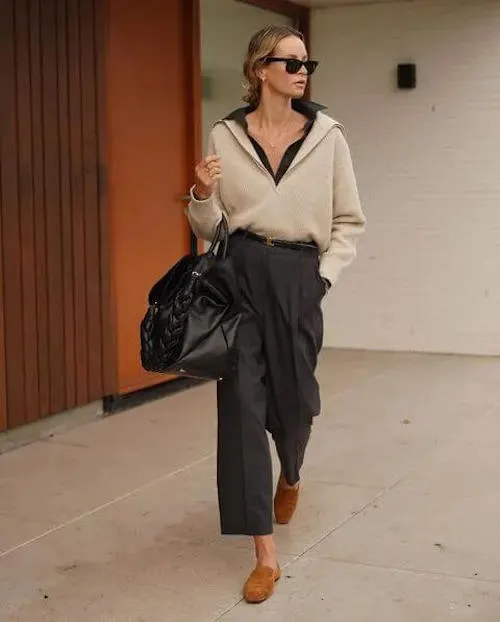 How to make this formula more fashionable? Below are our tips:
Petite girls: Tuck the hem of the sweater into the trousers so that the waistline is not bulging.
Tall girls: stack shirts and T-shirts can add more chic details to the overall look.
Pear body shape: a tight-fitting bottoming sweater + a wide-leg suit pants are full of femininity.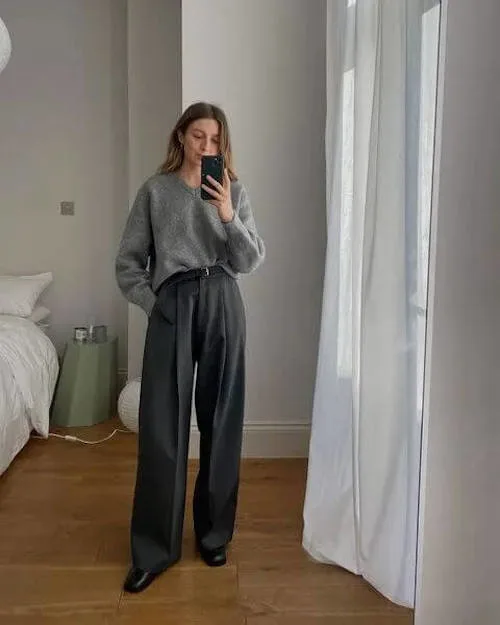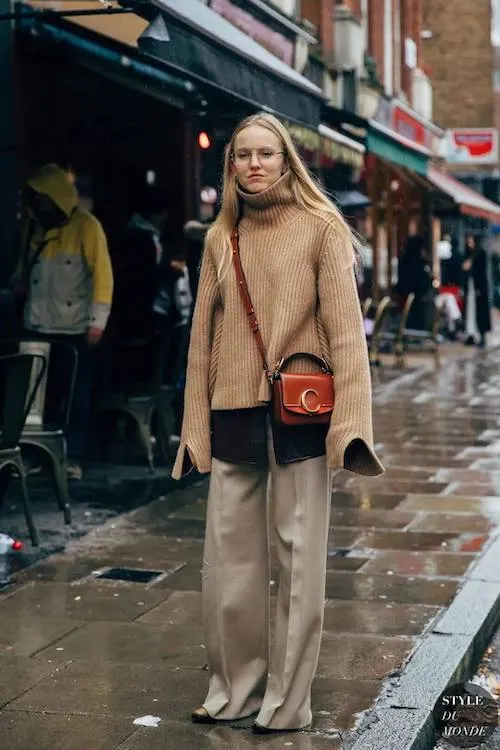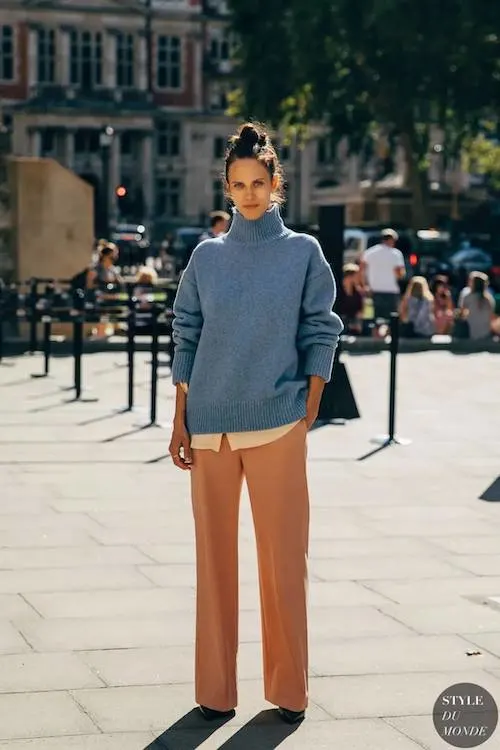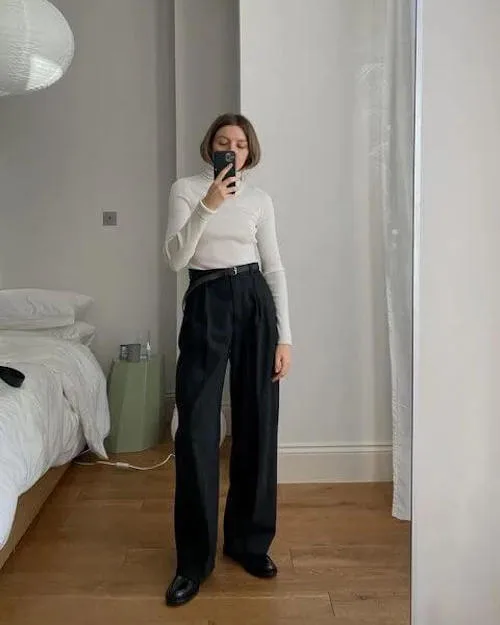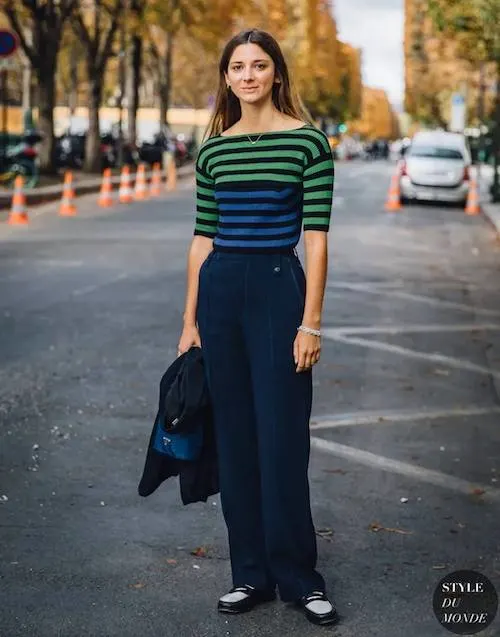 How To Style Wide Leg Pants In Winter Seasons?
Wide Leg Pants + Long Coat
The long coat + wide-leg pants is my favorite combo for the cold weather. By changing to different shoes, you can freely transfer between work and casual occasions.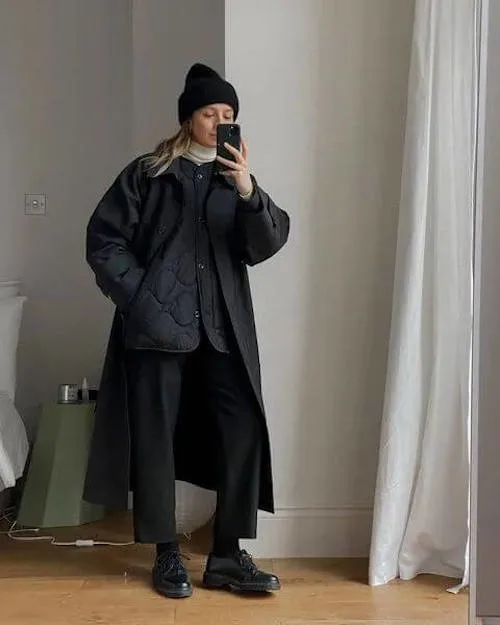 For petities, it is recommended that the top should not be too heavy, and at the same time create a high waist to highlight the body proportion.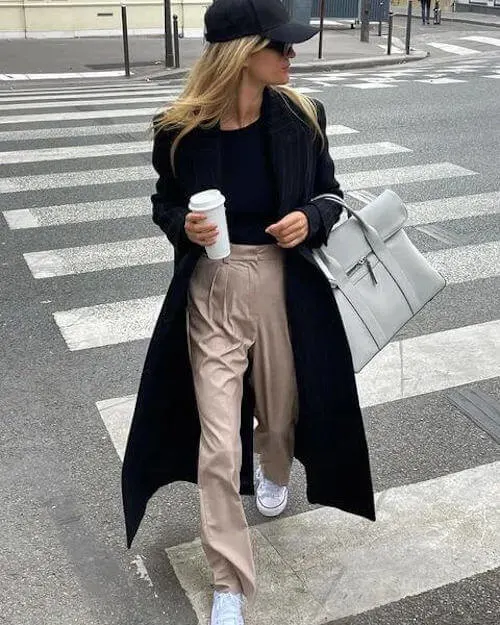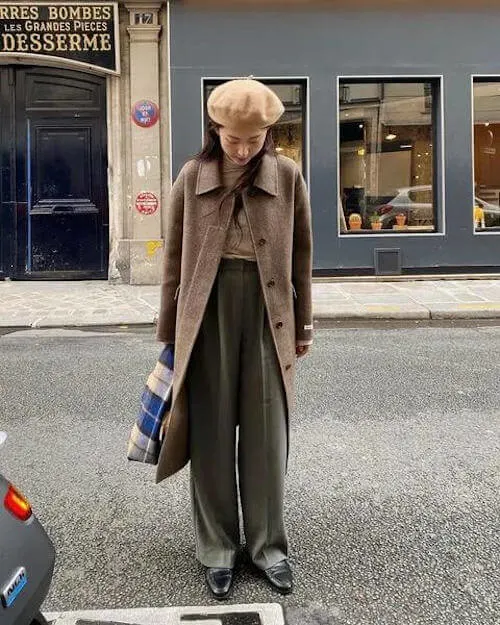 Wide Leg Pants + Short Coat
With a short coat and wide-leg pants, it is more handsome and advanced than any other outfit ideas!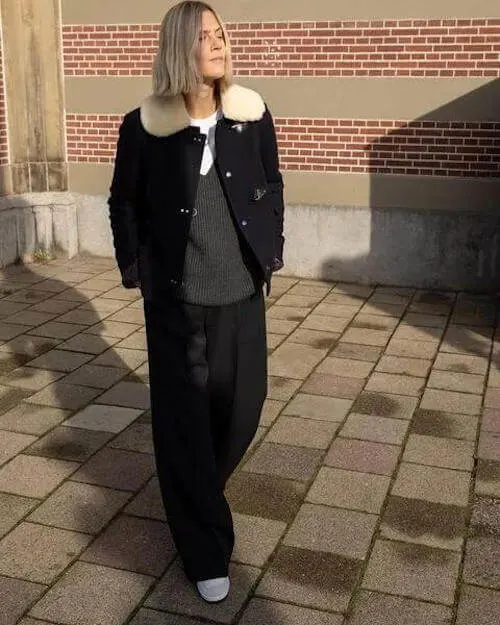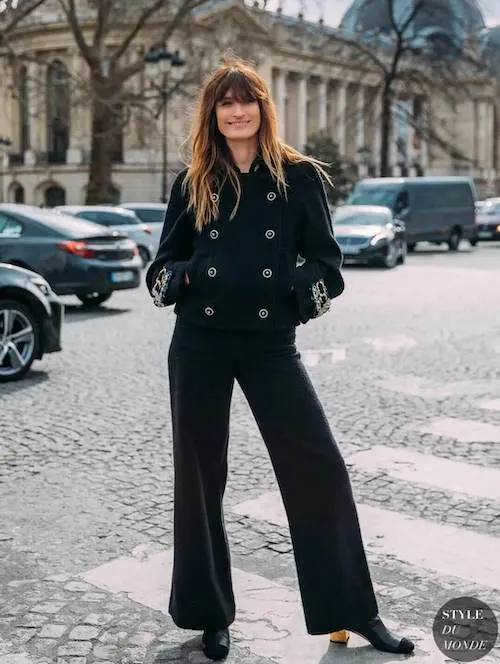 How To Choose A Perfect Pair Of Wide Leg Pants?
Want to add wide leg pants to your own closet? Below are our best tips on how to choose your perfect wide leg pants.
1. How to choose the pants' length?
The cropped wide-leg trousers are neat, and the right shoes with exposed ankles look especially slender.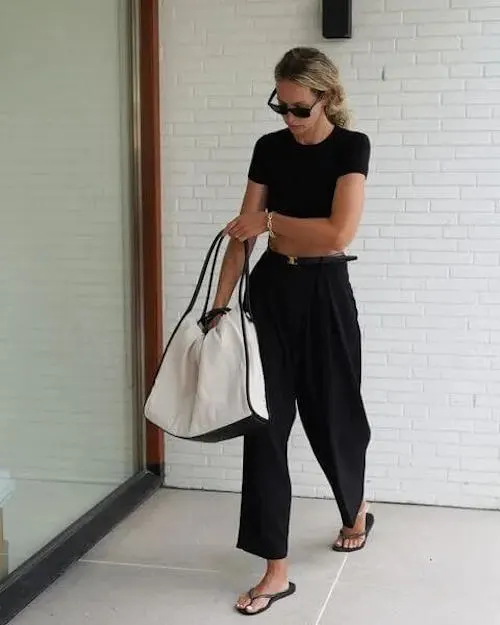 If you prefer a cool style, a longer wide leg pants is a good idea. You can pair them with ankle boots, pointed shoes, sneakers, etc.
However, the fabric of longer length pants must have a weight , otherwise it will appear sloppy when piled up on the feet.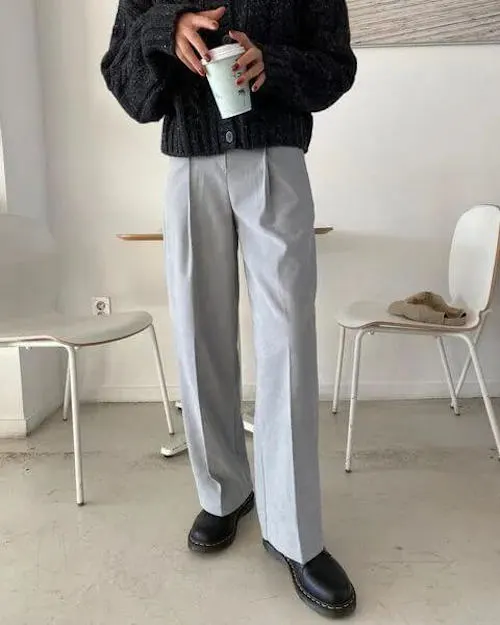 2. How to choose waist fold pleats' style?
When choosing, pear-shaped and round figures with a thick waist and crotch are recommended to choose pants with small folds/no folds. Otherwise, it is easy to deform the pleats / folds and enlarge the shortcomings.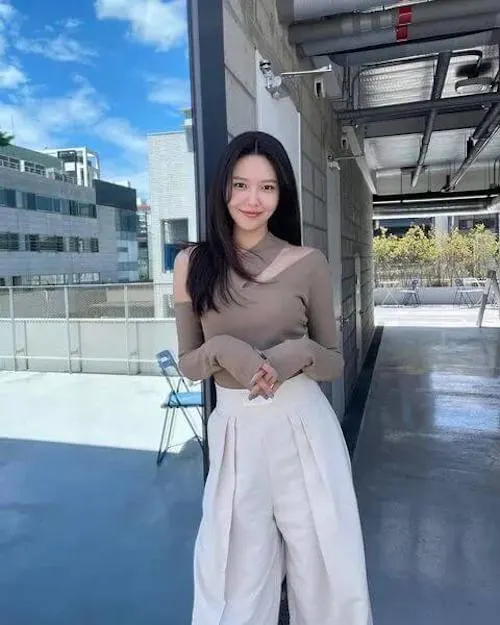 If you have a flat body, one best choice is the slightly stiff material, and the size of the folds is not too limited.
A typical example is Roseanne Park, who looks good in wide leg pants with large pleats, pairing the pants with a cropped top, her thin and flat body looks so great immediately.
3. How to choose the silhouette?
Choose a higher waist style to look thinner and taller.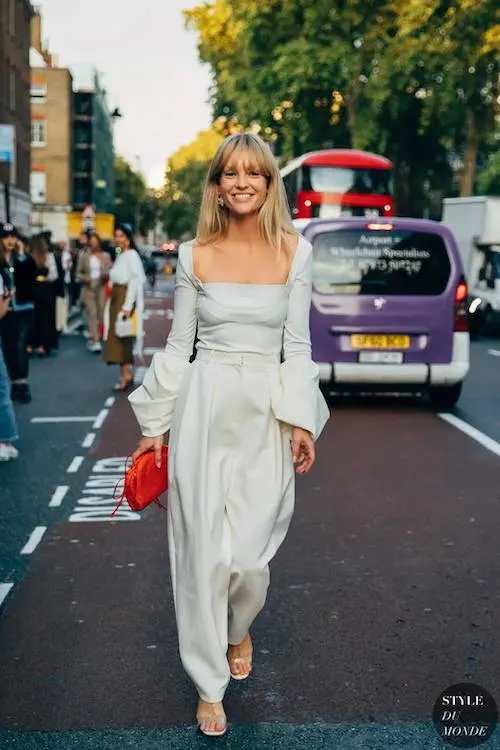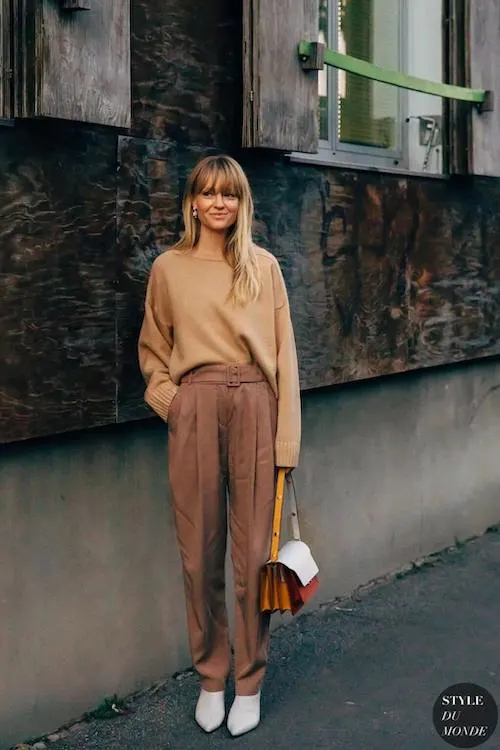 4. How to choose the color of pants?
Many bloggers are wearing black wide leg pants or gray wide leg pants, or other neutral color wide leg pants, and some also bring a little blues, which can be matched with both colorful tops and basic styles.
Though monochrome look is chic, in spring or summer, I also recommend white wide leg pants, a great choice to create clean and refreshing looks in the warm weather.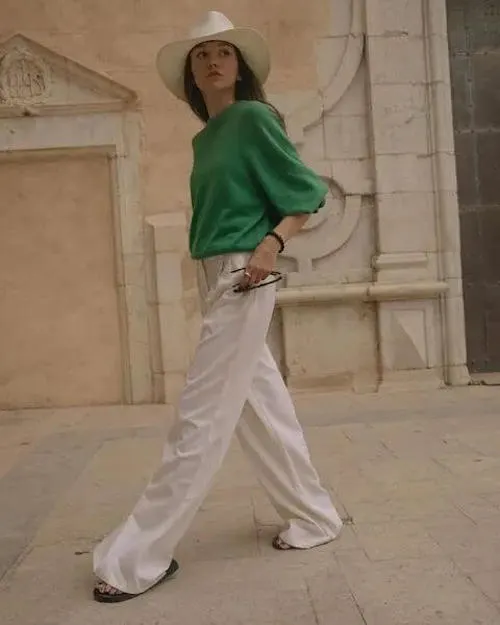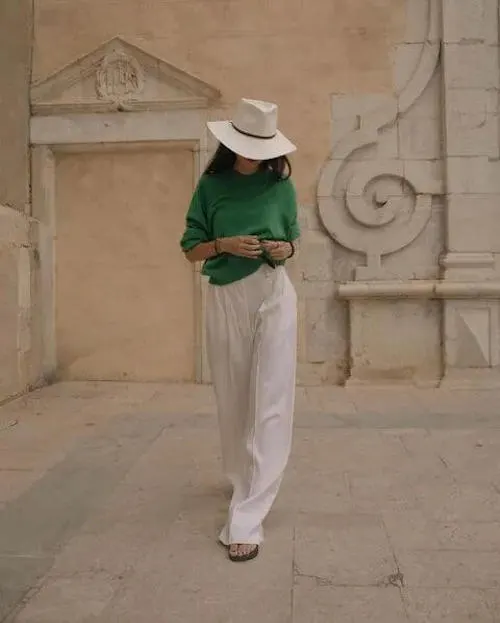 Shop Our Favorite Wide Leg Pants:
This post was all about wide leg pants outfits.
About The Author
Tracy is an experienced personal stylist, shopping expert, and fashion & lifestyle blogger. She has been featured on Bustle, Best Life, Glam, The Zoe Report, Mic, and GoBankingRates, for her insights on fashion, beauty, home decor, and lifestyle. Read More
Related Posts: