Looking for the trendiest parachute pants outfit ideas to copy? Check this post for the best style tips and outfits, and the best brands to shop for.
You may have seen numerous celebrities and fashion bloggers wearing a type of baggy pants called parachute pants (or hammer pants) for a long time. The trending pants combined with the right dressing skills make them look very stylish and sexy.
If you are looking for the best ways to style parachute pants, and you are looking for the best brands to shop for this trend, you've come to the right place.
In today's article, I am sharing why this style of pants is so in right now, and different ways to wear parachute pants for you to copy directly. At the end of the article, I am also sharing our favorite places to shop for parachute pants.
So scroll down to check these parachute pants outfits and shopping tips, and don't hesitate to pin them to your Pinterest board, and share them on the social media platform.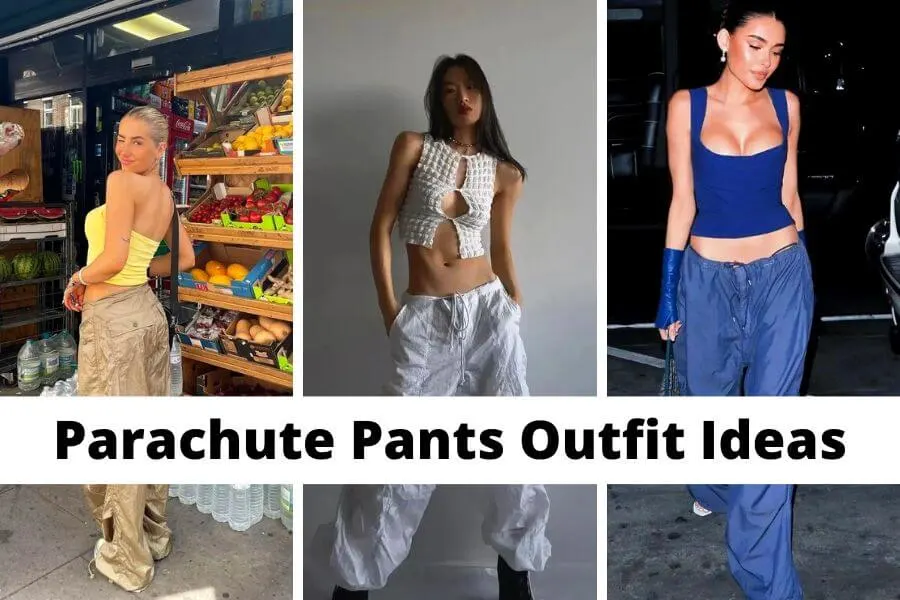 This post may contain affiliate links, which means I'll receive a commission if you purchase through my link, at no extra cost to you. Please read the full disclosure here.
This post is all about parachute pants outfit.
What Are Parachute Pants?
Parachute Pants are called "parachute" pants, partly because of their relaxed vibe and partly because they are made of synthetic nylon, just like the material used to make parachutes.
They can be worn in hot weather because of the light and airy functional synthetic fabric used.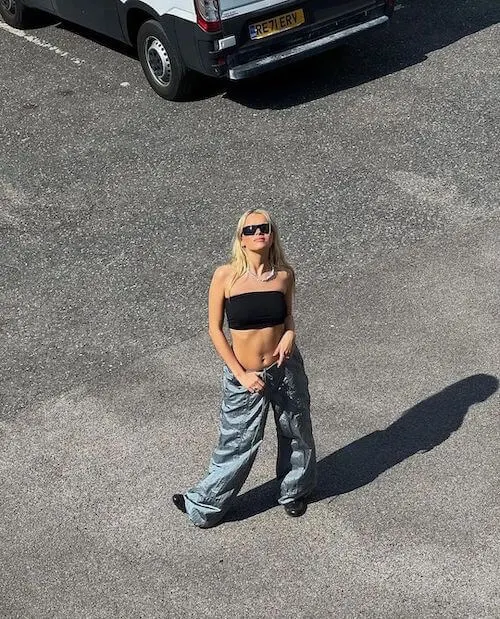 Despite looking a bit like a variety of pants, parachute pants have distinctive features of their own.
The majority of parachute pants with a modern design are not the same as regular harem pants. They have a similar style, but there are distinct differences in the cut of the pants.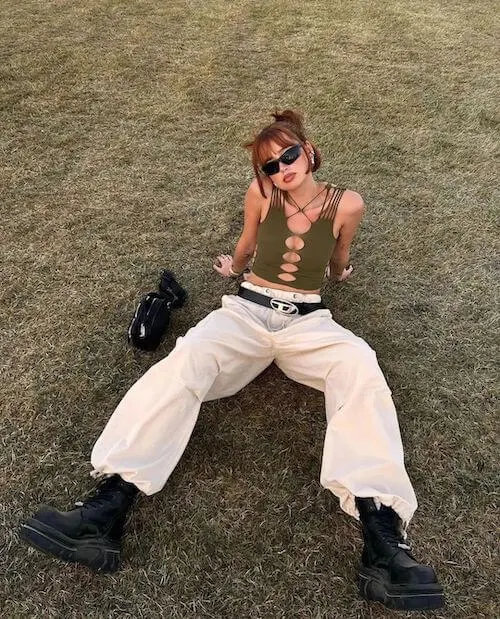 Harem pants usually have a consistent width down the leg, but gather at the ankle. Parachute pants, on the other hand, maintain a consistent width at both thigh areas at the ankle, only adding a gathering at the ankle.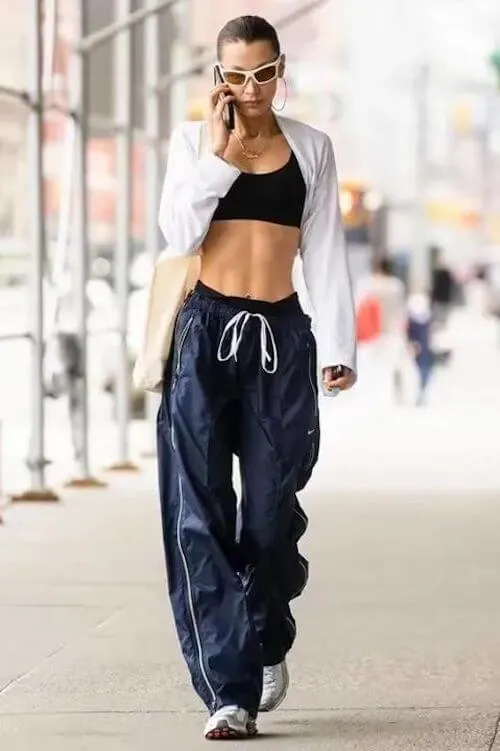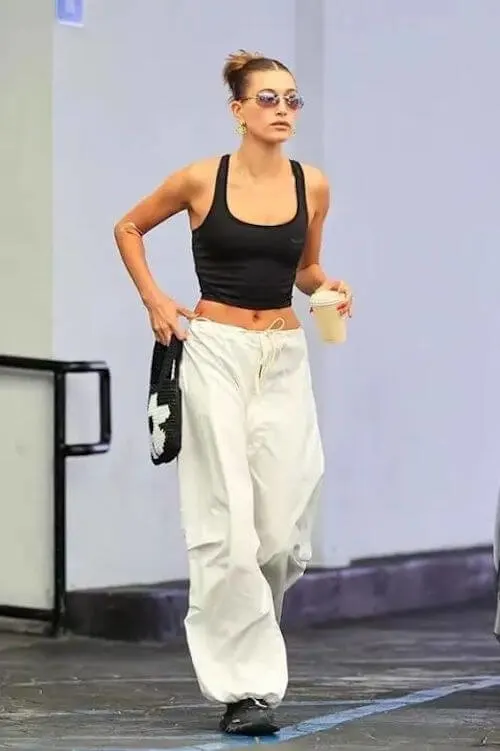 At the same time, the shape of the parachute pants is similar to the wide leg pants, except that the drawstring fit at the waist and ankle give it a more masculine look, and the style is like a combination of sweatpants and cargo pants.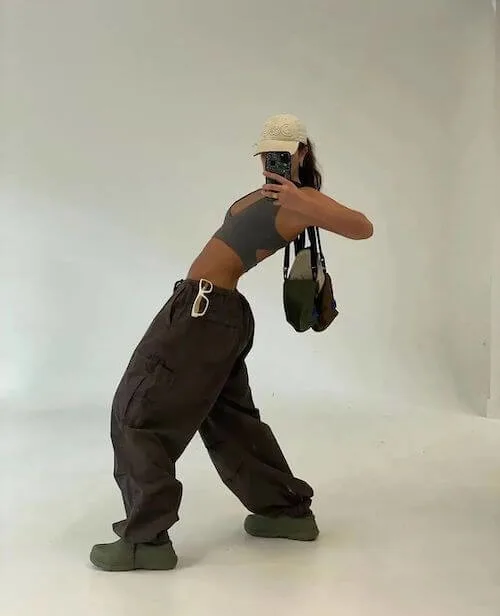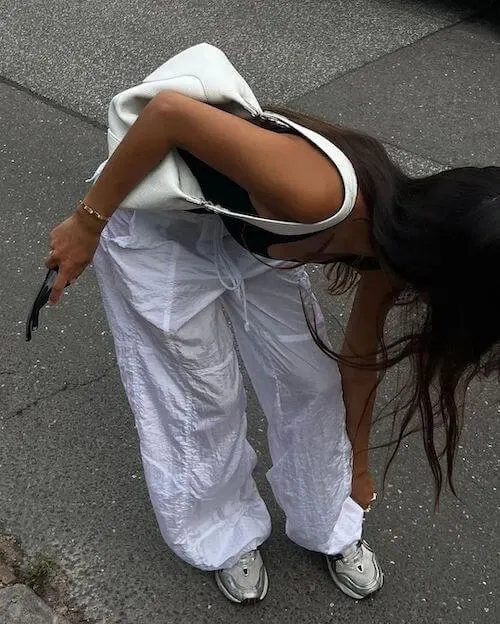 Parachute pants were very popular in the 1980s. More and more break dancers and entertainers helped popularize the style.
The Parachute Pants Trend: Why Parachute Pants Are In Style?
The hot trend of low-rise pants and exaggerated drop crotch
It may seem unreasonable to wear pants on a hot day, but it makes sense to put it in this year's low-rise, loose pants and lazy day trend.
The large bare waist and belly are sexy, and the hardcore pants are responsible for pulling it back from the edge of being too sexy and vulgar.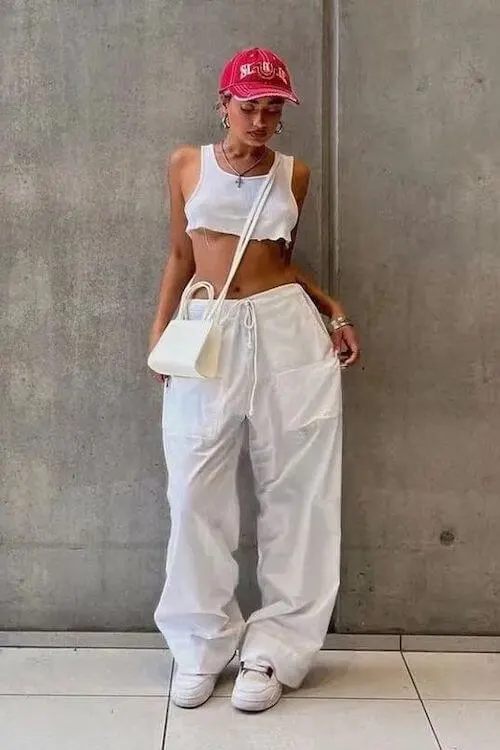 The overall popularity of retro style and Y2K trend
Many celebrities even buy parachute pants from vintage stores.
With retro dressing coming back in full force, it's time to shop for these pants!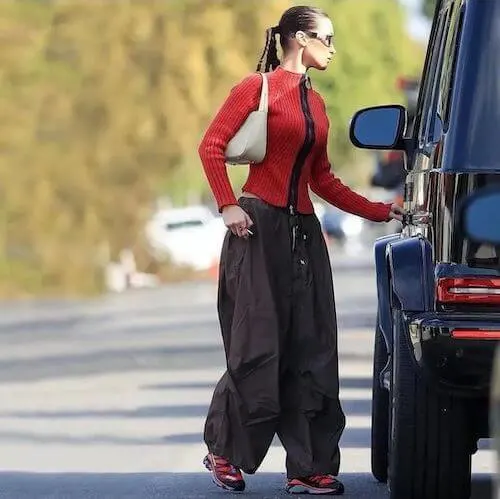 Best Parachute Pants Outfit Ideas: How To Style Parachute Pants
Parachute pants fit perfectly with the current popular style and aesthetics. People are tired of the hot girl style that simply shows the body line, we need to see a more diverse interpretation of sexiness.
Parachute Pants + Black Leather Jacket
Parachute Pants + Black Jacket + Crop Top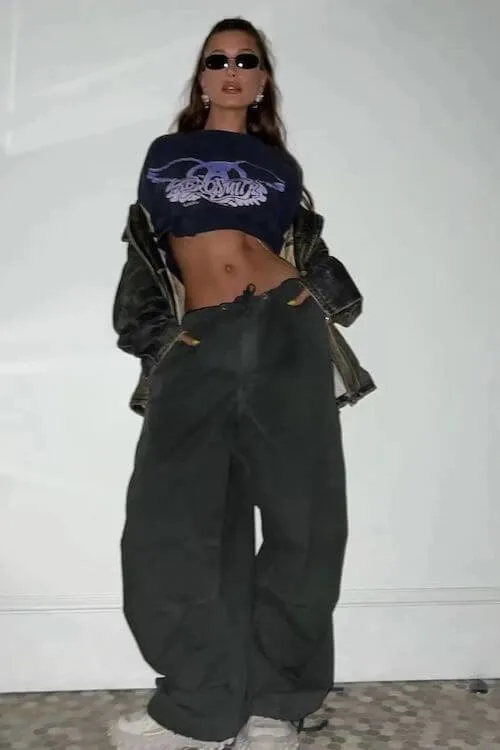 Parachute Pants + Cold Shoulder Top
The bloggers Sofia Coelho and Ines Silva, who insist on cool and hot style all year round, have been wearing parachute pants many times recently.
The whole outfits look like dashing and comfortable street style girls, and know how to show sexy style.
Parachute Pants + Cardigan + White Crop Tank Top + Lightweight Bucket Hat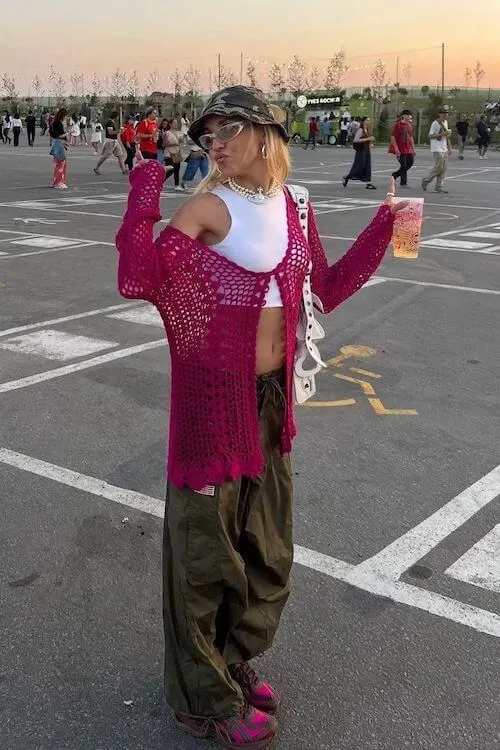 Parachute Pants + Crop Top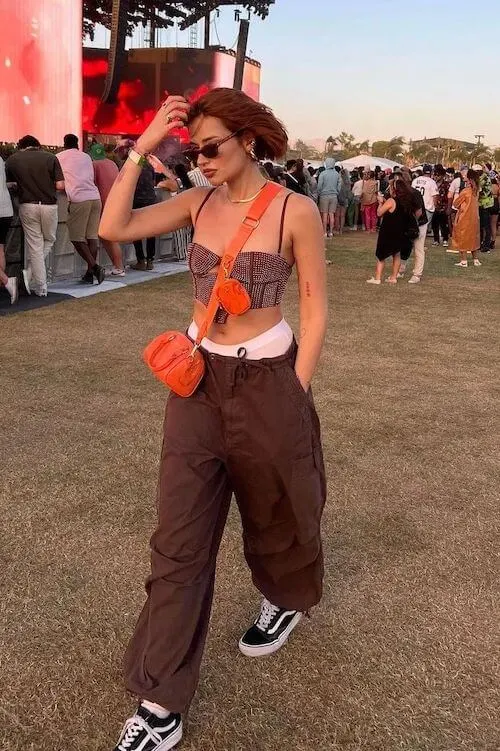 The reason why parachute pants are rapidly becoming popular among the hot girls is that this is a clever and advanced way to show sexiness.
Parachute Pants + White Bikinis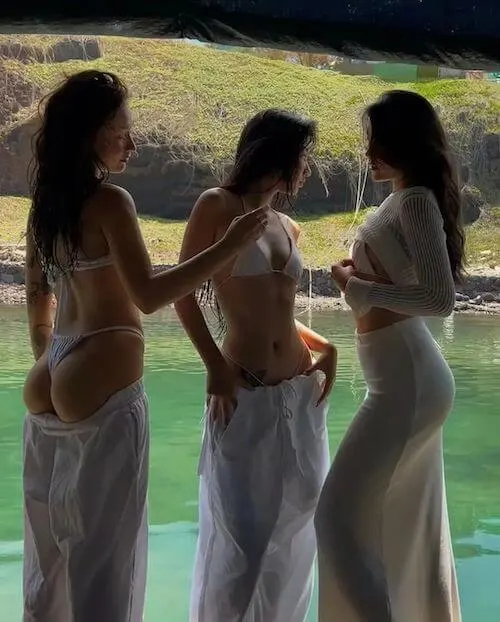 Sweet girls can also tap into their cool and spicy style through parachute pants, creating an extra cute outfit this year.
Parachute Pants + White Corset Top
Parachute Pants + Crop Cami + Open Toe Black Heels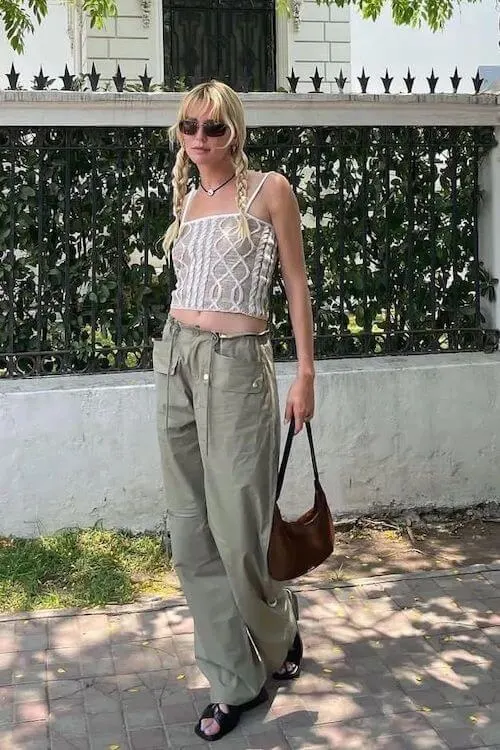 Boyish girls who want to try a little bit of the hot girl style, just slouch the waist of the pants stuck on the crotch, looking both cool and sexy.
White Parachute Pants + Crop Vest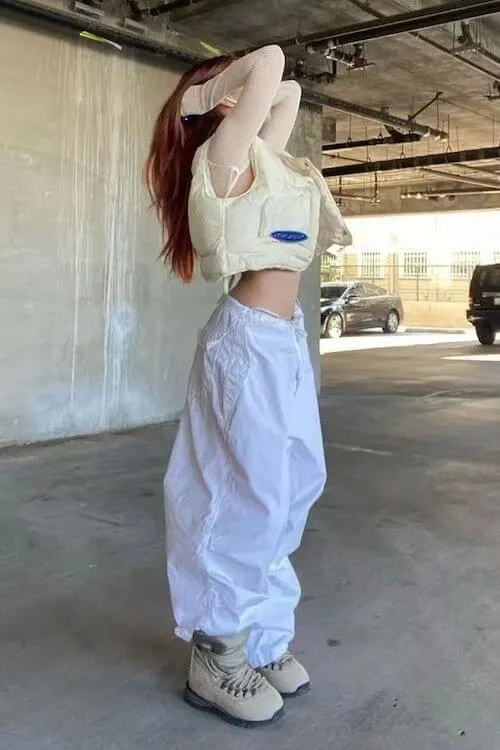 White Parachute Pants + Black Cami
Parachute Pants + Black Corset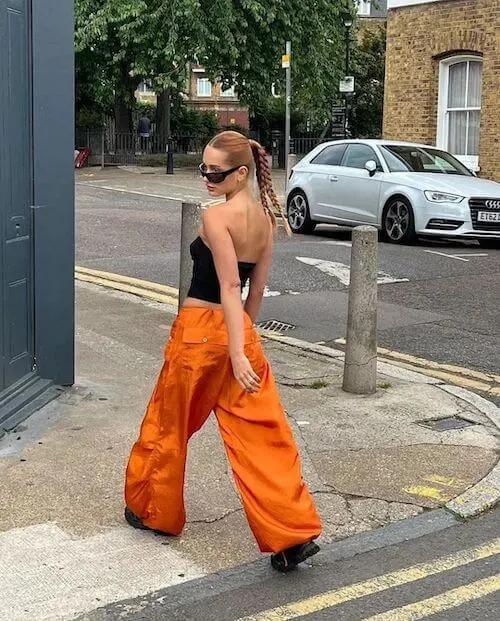 Rather than emphasizing the chic look, you can also show the relaxed ease of wearing parachute pants.
Parachute Pants + Cream Corset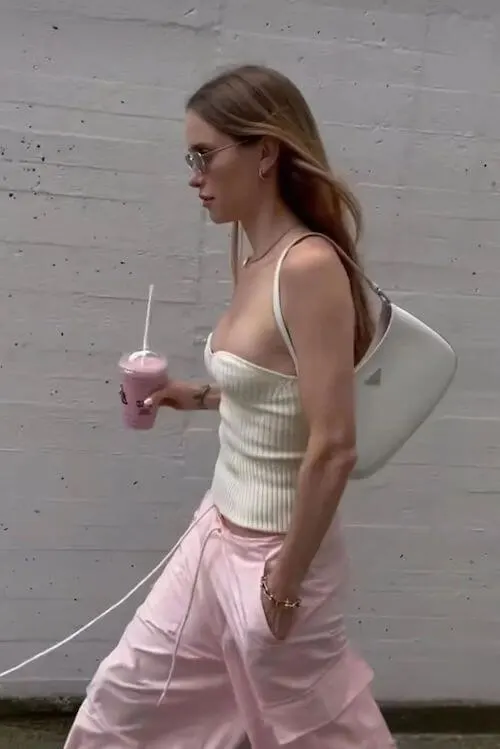 Parachute Pants + White Crop Top + Sweater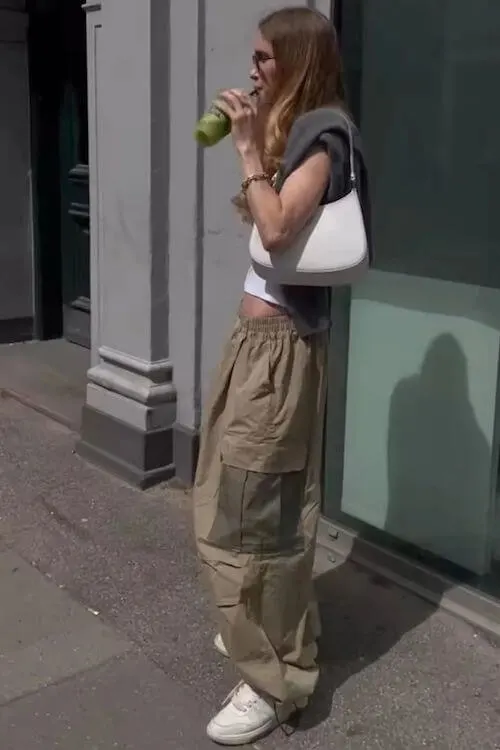 In terms of matching, parachute pants are undoubtedly one of the best items to interpret the hot girl style.
The parachute pants are easy to wear, just put on a sexy top and you're done.
Parachute Pants + White Crop Vest
For something a little different, you can add little details like a waist chain to create a contrasting beauty of ruggedness and sophistication.
Parachute Pants + Bra Top + Waist Chain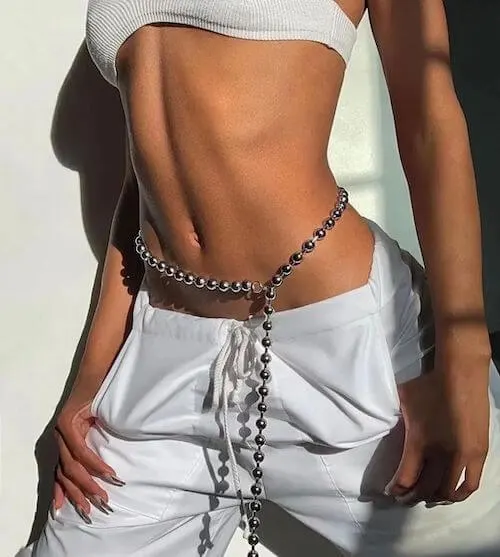 Parachute Pants + Brown Vest + Waist Chain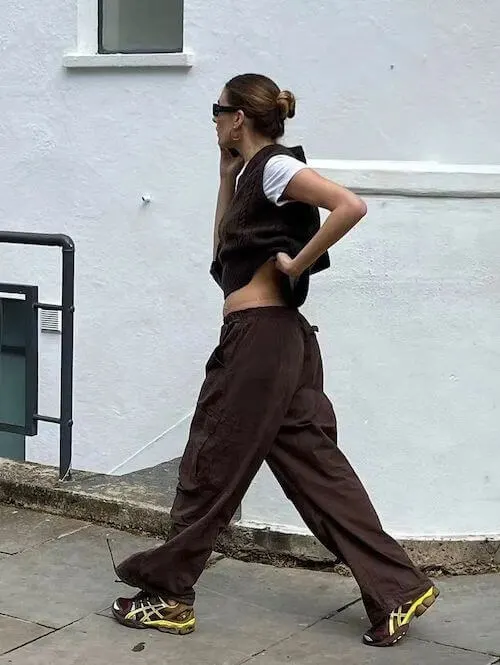 An equally clever technique is to show the hem of your panties, one of the favorite ways to wear a low-rise outfit.
Parachute Pants + Tube Top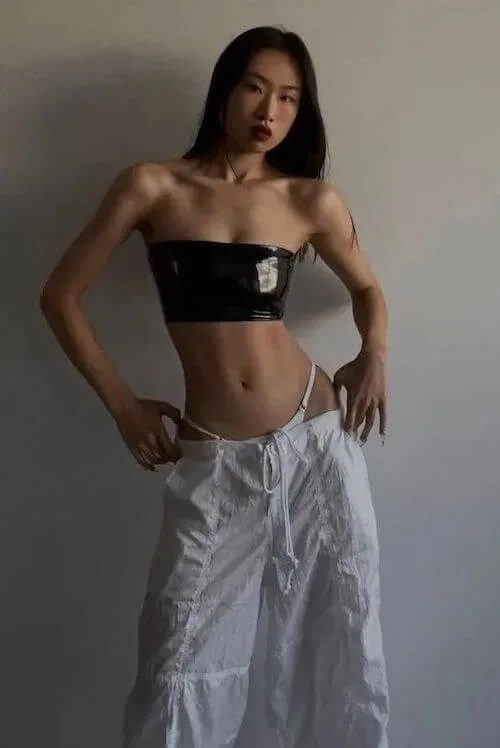 Black Parachute Pants + Black Bikinis
Bra tops have also become the most popular choice of tops.
Parachute Pants + White Bikini Top + Chain Necklaces
Parachute Pants + Knit Bikini Top
This combo is perfectly appropriate for wearing from the beach to music festivals.
White Parachute Pants + Black Bikinis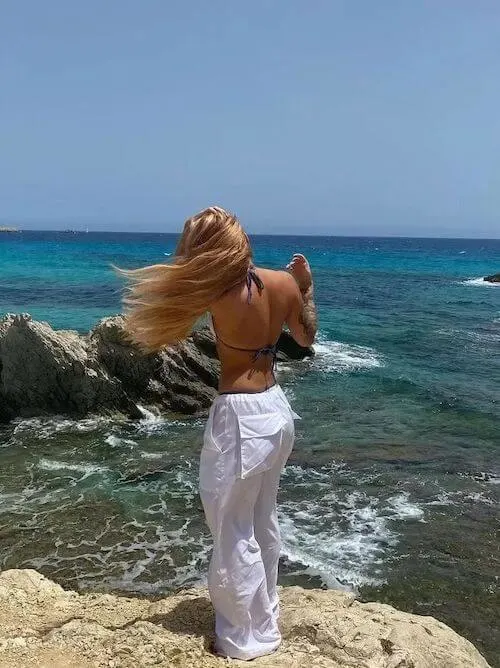 Green Parachute Pants + Yellow Bra Top + Yellow Sneakers
I love the added pop of color.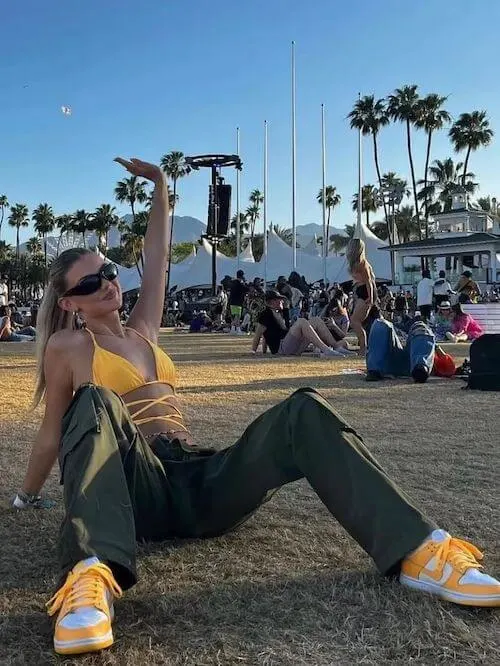 Parachute pants have also become the first choice of the hot girls on vacation at sea!
They are paired with swimsuit sets, so much sexier than any sexy dresses.
Parachute Pants + Green Bikinis
White Parachute Pants + Black Bikini Set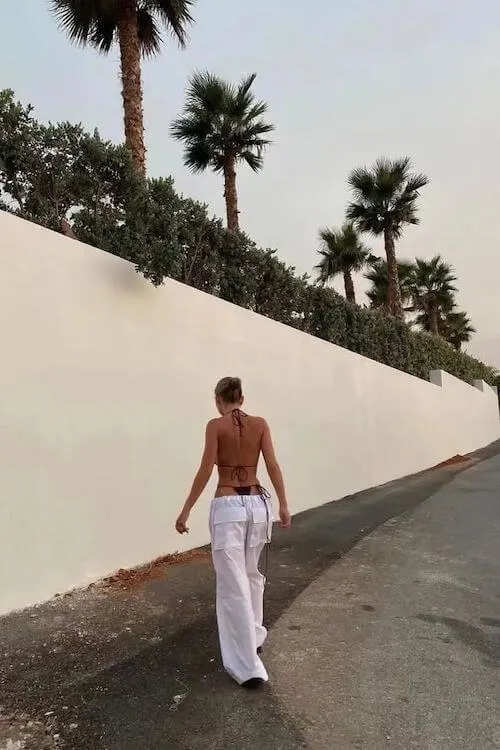 In addition, parachute pants are also a good helper to modify your figure, making you look like you have a thin waist and wide crotch.
White Parachute Pants + White Top + Blue Baseball Cap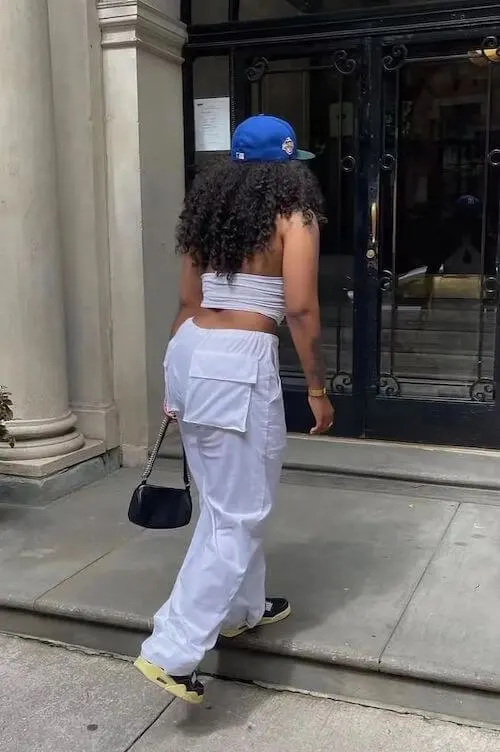 Parachute Pants + Yellow Tube Top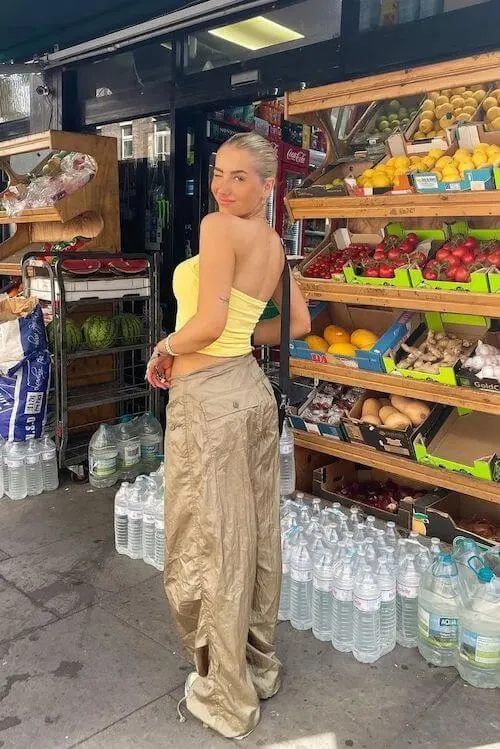 If you are a petite person it is recommended to stop wearing loose T-shirts.
I suggest you switch to a simple outfit with a short fit top, and it will make you look taller.
Parachute Pants + Oversized Tee
Parachute Pants + Crop Short-Sleeved Shirt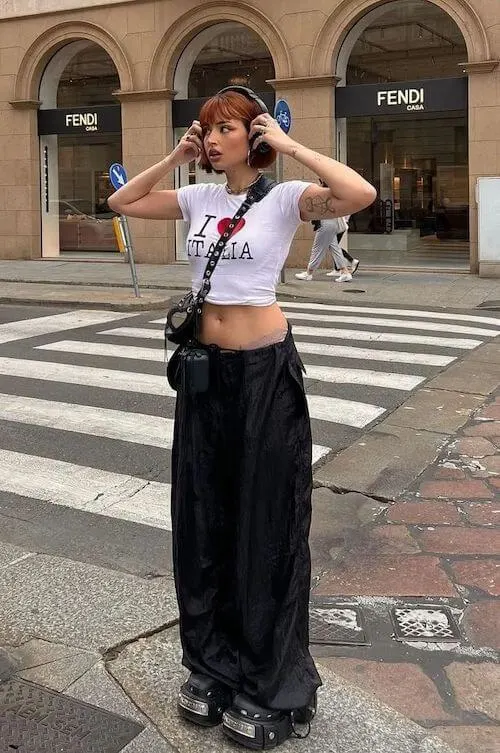 If you are not too happy with your upper body shape, you don't need to reveal too much in your top, just the part that you are most satisfied with.
Parachute Pants + Cute Top + Long Necklace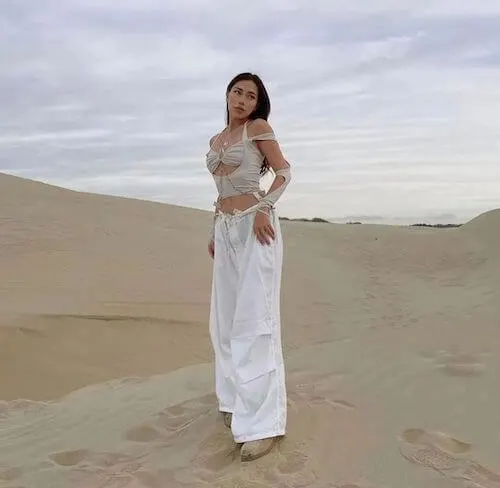 If your belly is flat enough, you can pull the hemline up as high as you want.
Parachute Pants + Crop Shirt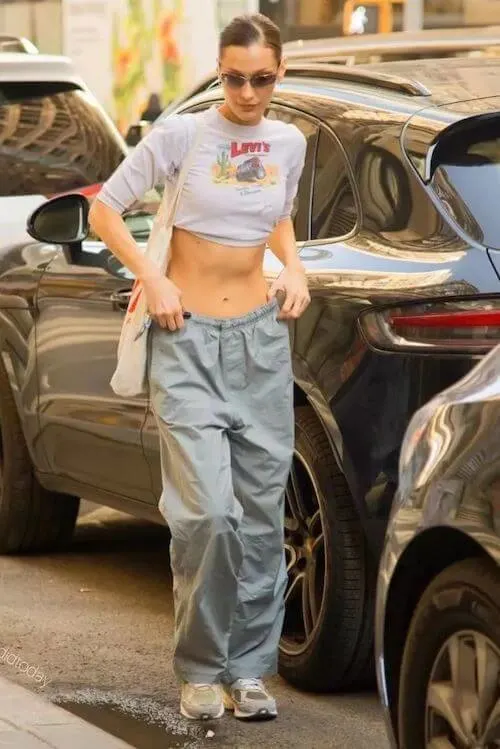 If you want to hide your belly, you can switch to a large neckline top to show the collarbone.
Parachute Pants + Crop Tank Top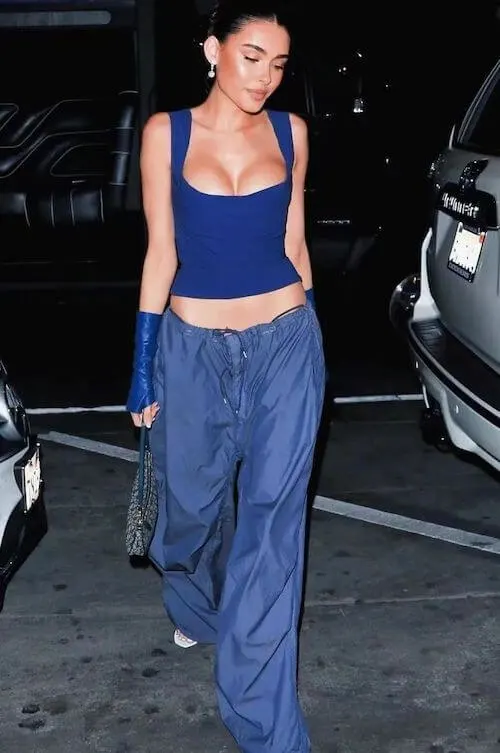 These masculine pants are not only suitable for casual outfits, but also perfectly suited to a sophisticated look. Complete your look with a pair of strappy sandals or high heeled sandals.
Parachute Pants + White Shirt + Cream Sweater
If you like American sports style, you can add a ponytail and retro style sneakers or technical shoes to complete the whole look.
Parachute Pants + Oversized Jacket + Chunky Sneakers
Parachute Pants + Slim Knit Top + Advanced Sneakers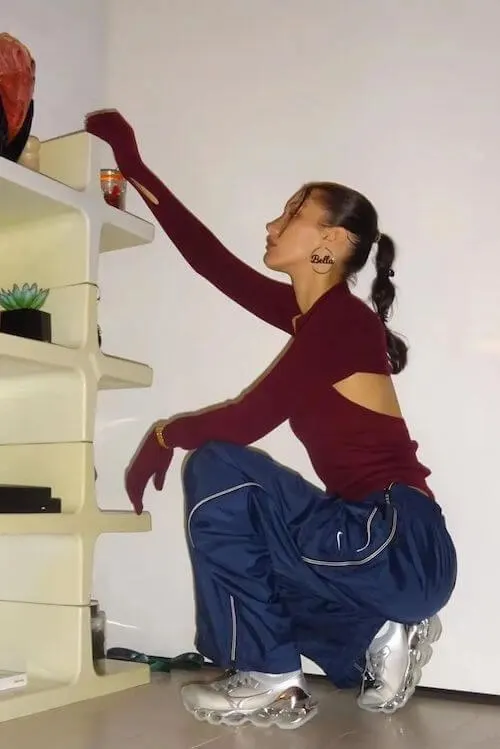 If you like street style, you can wear headphones like blogger Sofia Coelho.
Parachute Pants + Long Sleeves Knit Top + Sneakers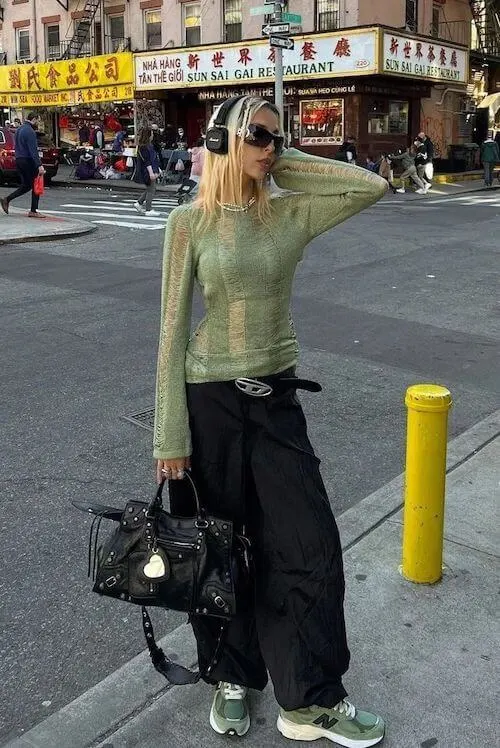 Parachute Pants + Retro Style Jacket + Chunky Sneakers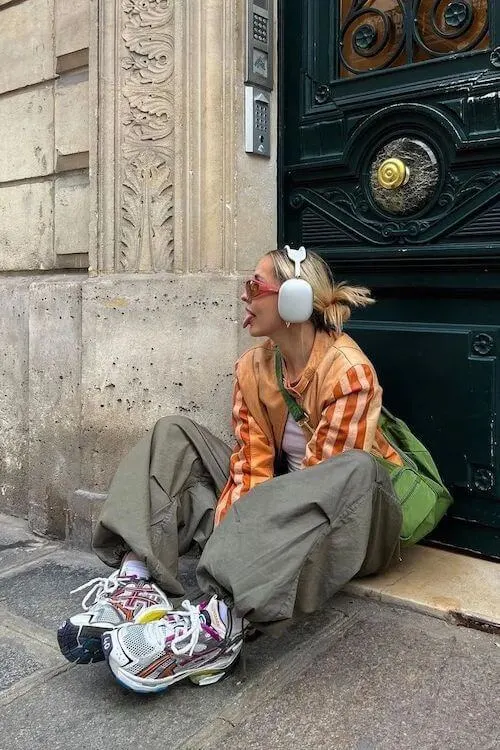 The perfect use of nylon make those pants chic even in cooler weather paired with long sleeves tops. Add a cute touch to the outfits by wearing a pair of high heels or bright color details
Parachute Pants + White Hoodie + White High Heels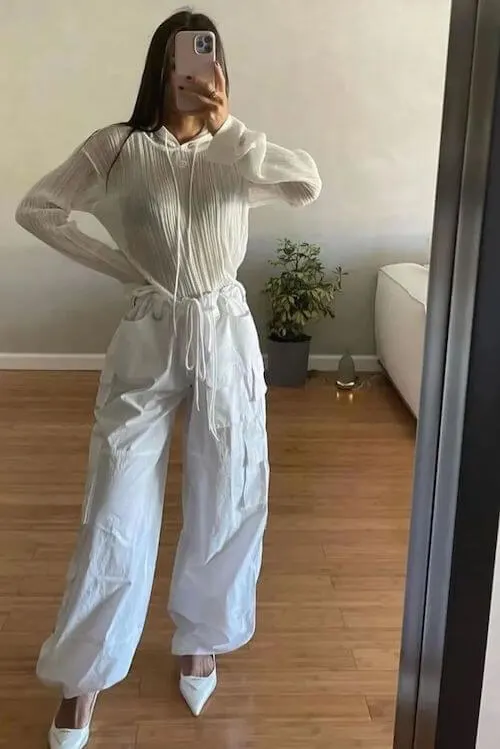 Black Parachute Pants + Black Long Sleeved Top + Blue Shoes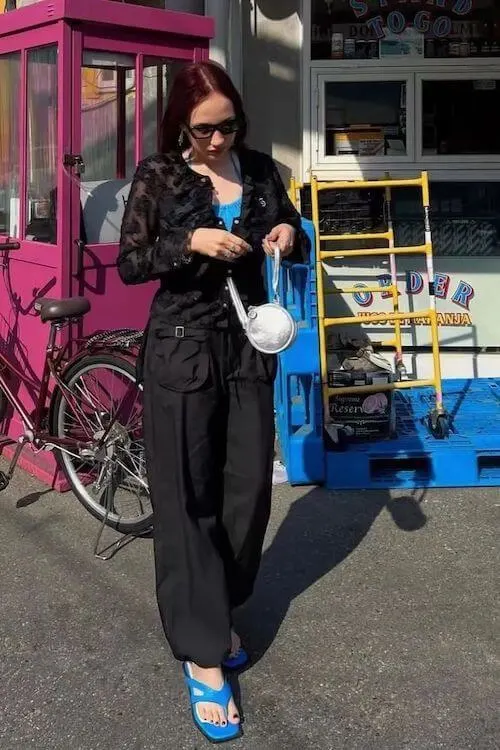 Even if you don't have a clear preference in terms of style, choosing a pair of white parachute pants is perfect for summer for create a chic simple fit.
You can even try an all white outfit for a fresh vibe.
Parachute Pants + Crop White Shirt + Sneakers + Black Purse
White Parachute Pants + Simple White Tank Top
Where To Buy Parachute Pants: Best Brands & Stores
Motel Rocks
Fabric is the soul of parachute pants. The lighter the fabric, the more you can highlight its dashing style.
I especially like the paper-like fabric texture of Motel Rocks. The fabric is densely woven and has a certain sense of three-dimensionality, so the legs will not look sloppy even if they are wide.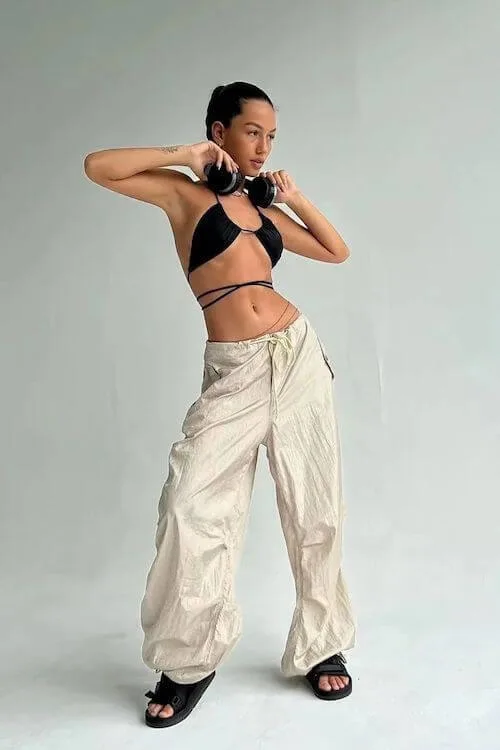 Hailey Bieber is very fond of wearing its parachute pants.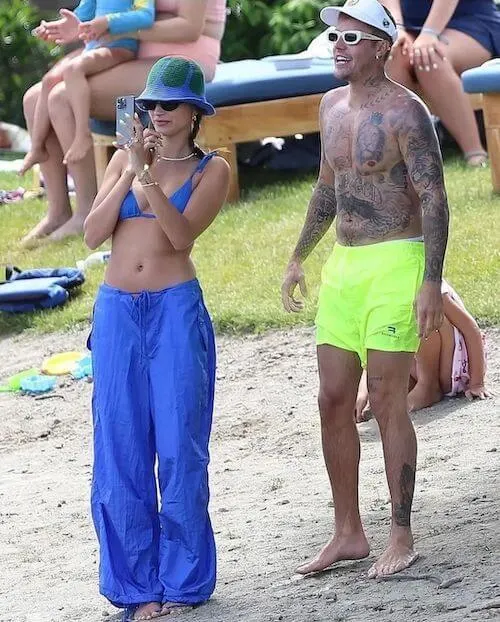 Girls who want to buy white pants must try this one. Its light texture combined with the cool bright white brings a high degree of freshness, making it popular with many bloggers at the same time.
Jaded London
The Y2K style brand Jaded London's parachute pants are rebellious and wild.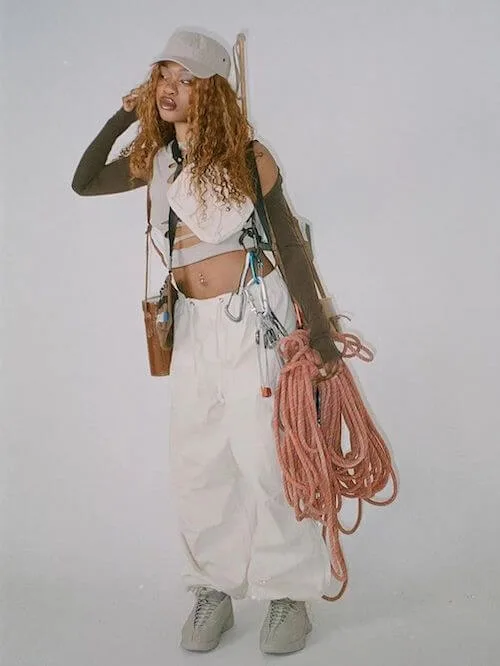 Bold colors are the core of Jaded London's brand, and unisex items like parachute pants can be found here in a variety of youthful and beautiful solid colors.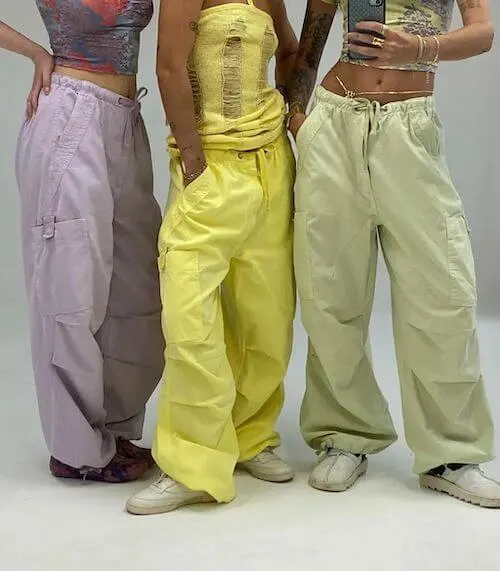 The parachute pants from Dion Lee, a brand with a minimalist personality, are understated and functional.
Dion Lee's latest drop are cut with a smooth architectural silhouette and have wide but not collapsed legs, making them sharp and smart.
And the color choice is very classic, very easy to match with other clothing pieces.
Hailey Bieber also wore this parachute pants.
Free People Movement is now one of my favorite places to shop for stylish athletic pieces including parachute pants.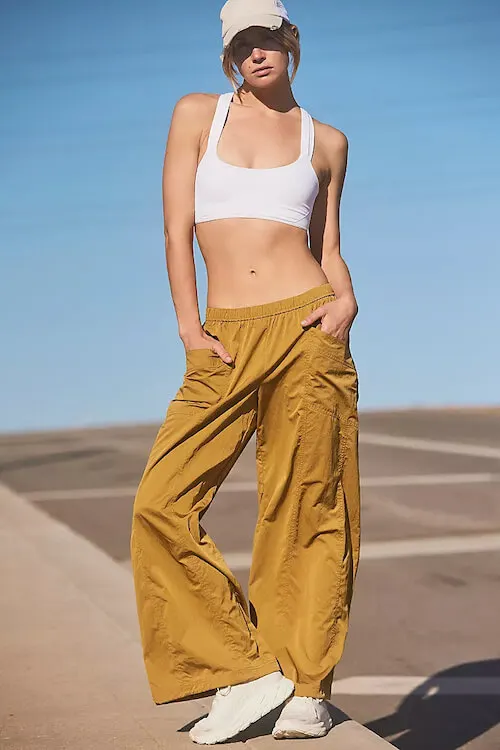 How can you miss the perfect parachute pant designs from Urban Outfitters? Check them out and you can match them with almost any cute tops there.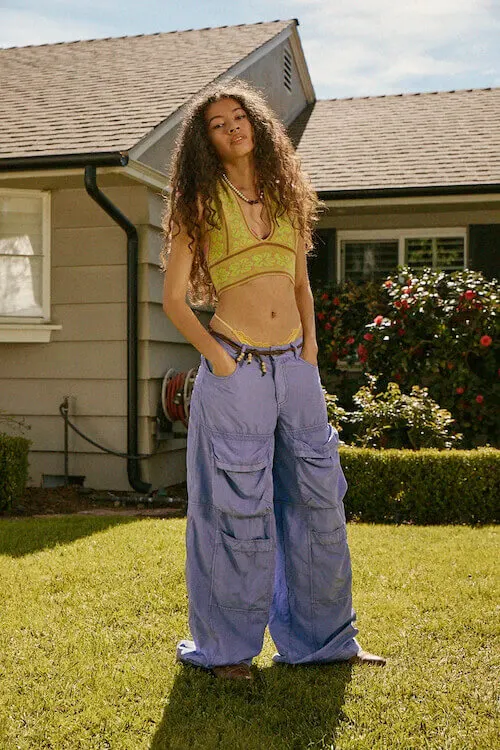 I am obsessed with the pair below!
These two are freaking cute!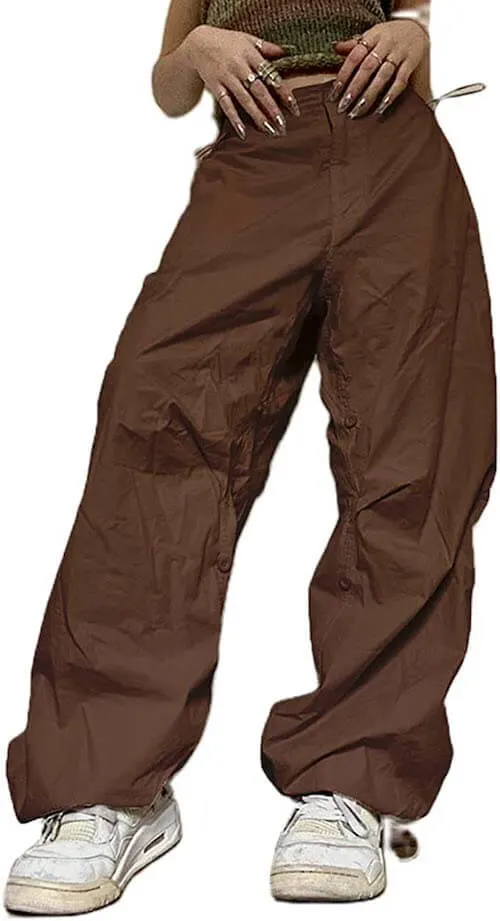 You can always find any trending clothing pieces at SHEIN at affordable prices.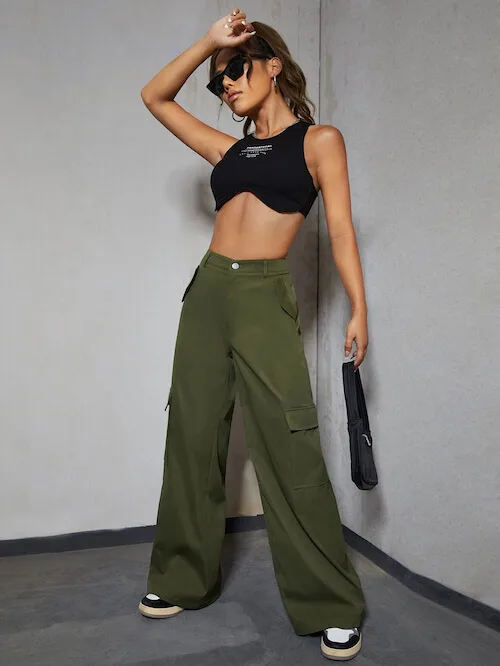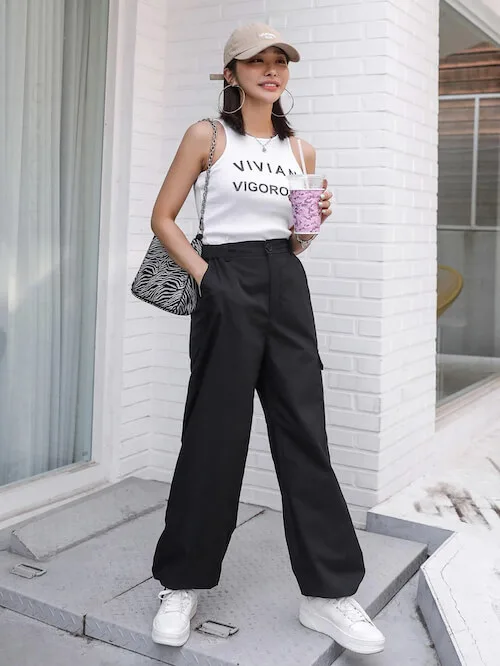 A lovely store where you can find the best affordable Y2K style designs.
You can also go to vintage stores to buy pants with retro style like parachute pants.
The brick-and-mortar store, 194Local, located in East London, England, specializes in designer pieces from the mid-1980s to the late 2000s, so you can go up there and find retro parachute pants you like.
Hailey Bieber and Bella Hadid often buy clothes from this store. Several of the parachute pants that worn on them were purchased here.
This post was all about parachute pants outfit.
About The Author
Tracy is an experienced personal stylist, shopping expert, and fashion & lifestyle blogger. She has been featured on Time Magazine, Bustle, Best Life, Glam, The Zoe Report, Mic, and GOBankingRates, for her insights on fashion, beauty, home decor, and lifestyle. Read More
Related Posts: