What to wear in Nashville? Check this post for expert style tips and the best fashion picks to shop directly.
You're going to be spending a lot of time on the road when you're traveling around in this fun city, the capital of Tennessee. Make sure you have everything you need to stay comfortable while you're out there!
If you are looking for dress code tips and great outfits for your next trip to Nashville, you've come to the right place.
In this article, we include the best outfit ideas inspired by the Nashville locals, from a casual drink in the coffee shop to a night out, from a perfect live music tour to a lovely rodeo tour, or even for a work trip, you can find the best Nashville outfit ideas for every single moment in your travel plan there.
Check out these awesome Nashville outfit ideas to shop from our favorite retailers, and copy directly to take you from day to night instyle.
This post may contain affiliate links, which means I'll receive a commission if you purchase through my link, at no extra cost to you. Please read the full disclosure here.
This post is all about what to wear in Nashville.
What To Wear In Nashville: Best Nashville Outfit Ideas
The dress code of Nashville is a mix of casual country style and rock-and-roll vibe.
But instead of adding these strong style details from head to toe, a mix of your current wardrobe basics and the Nashville style pieces would be a better idea.
You can wear the strong style to add so much fun to your Music City tour or rodeo tours or any tourist attraction, but a less-tourist style for the rest of the moments to make your hanging out with the Nashville natives more comfortable.
Want more outfit inspiration?
Check the below list. From denim to dresses, we've got you covered! These must haves are perfect for any occasion.
You don't have to spend thousands on an outfit when you can buy these items at affordable prices. Find out what they are and why you should own them!
Black and White Plaid Shirt / Flannel Shirt + Skinny Jeans + Ankle Booties
A comfortable outfit that you can wear for many season and many occasions. Add a hat and a belt if you want an extra country vibe.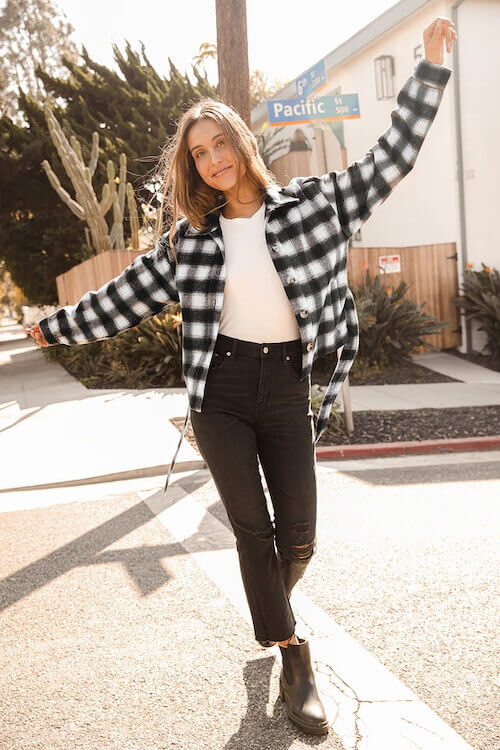 Black Vegan Leather Jacket + Mini Dress
A perfect look for country music girls. Pair it with with you favorite boots.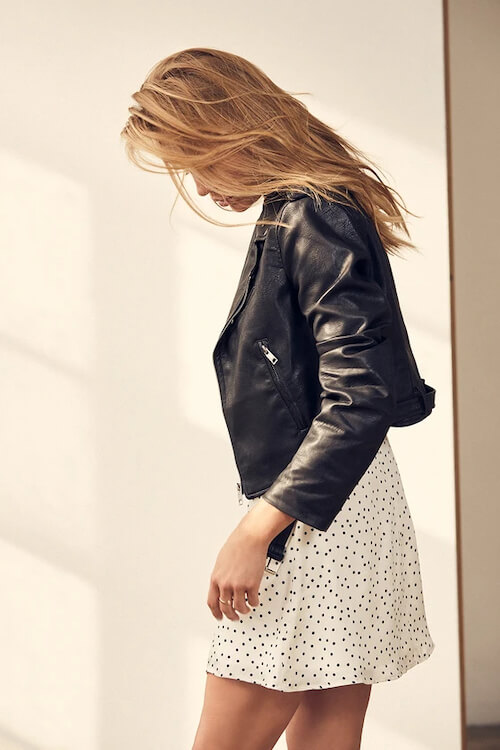 Black Vegan Leather Skort + Blouse + Ankle Boots
Whether you are going to a dinner or a concert or casual long days, this outfit is one of your ideal outfits.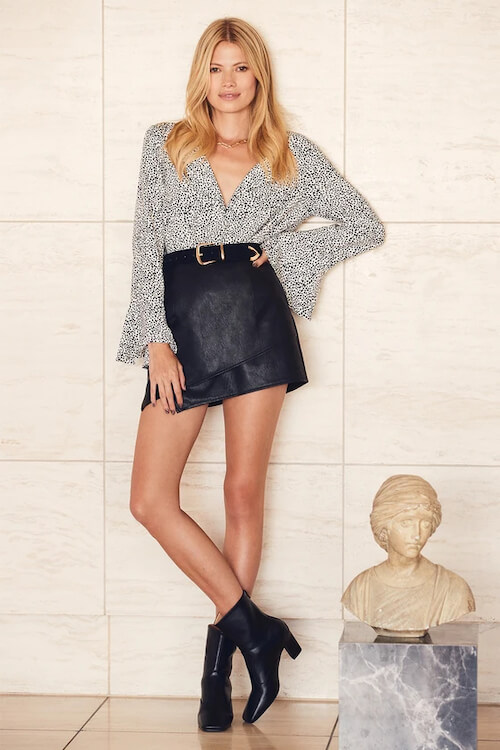 White Polka Dot Satin Cowl Neck Mini Dress + Boots
Wear the dress alone in the summer, and add any of your jacket for the colder weather.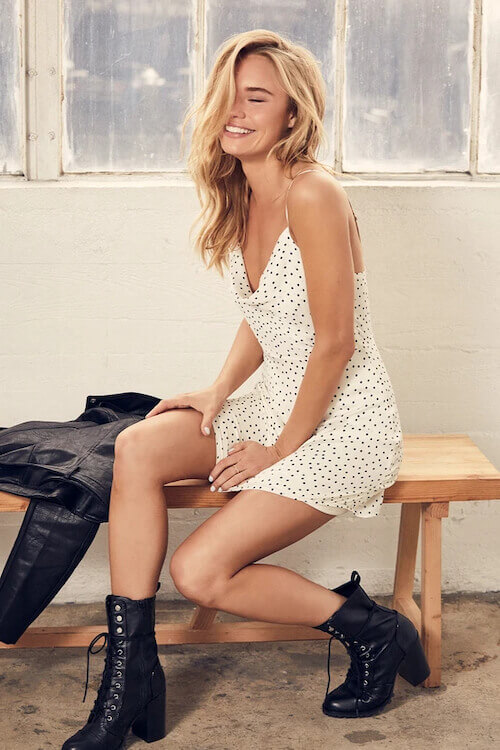 Pink Gingham Tie-Front Puff Sleeve Top + Denim Shorts + Cowgirl Boots
Gingham is perfect for a country vibe and this top is just so cute!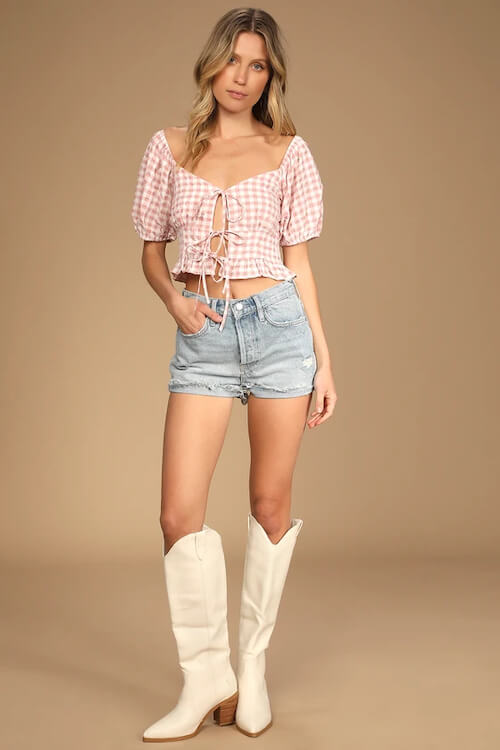 Light Wash Distressed Cutoff Short Overalls
Sexy and cute.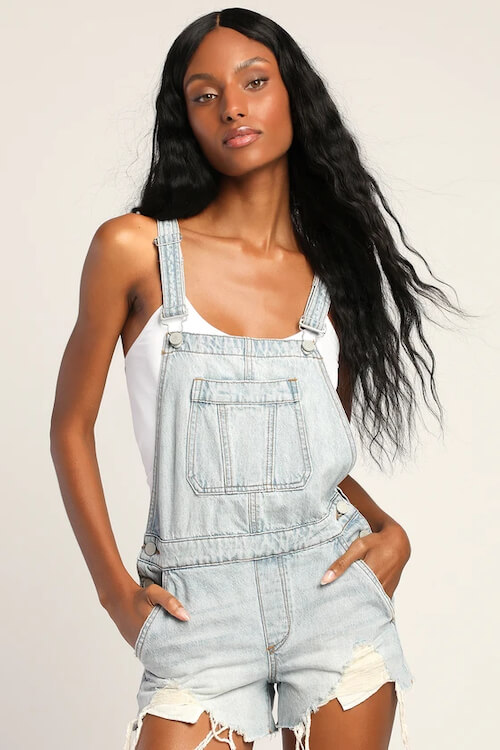 Dusty Sage Floral Print Ruched Long Sleeve Top + Denim Shorts + Long Boots
Add a floral pattern piece to your Nashville's style packing list, and bring out its wilder style with a pair of denim shorts and boots.
Mustard Yellow Floral Print Twist-Front Top + Flare Jeans
The country floral print and the flare style jeans, what a great combo!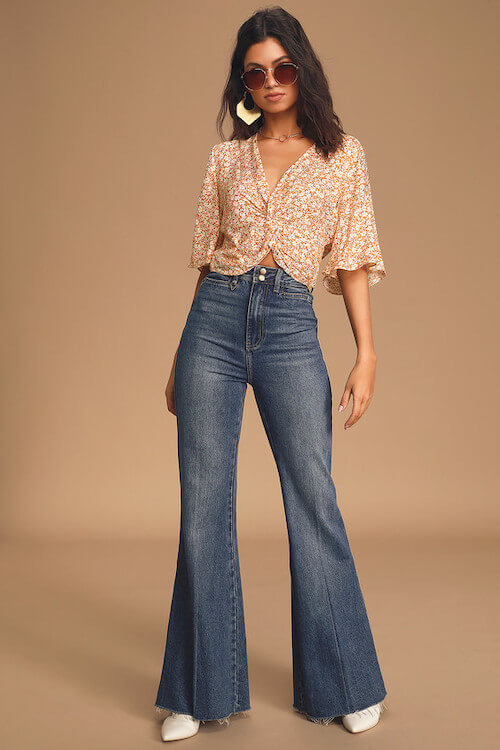 Officer Grunge Vest + Shorts
Get this cute vest to create your uniquely perfect Nashville outfit in a great way.
One Shoulder Tee + Denim Shorts + Brown Accessories
I am obsessed with the Tee's color and design.
Vegan Bonded Heavy Coats + Denim Shorts + Black Cowgirl Boots
A perfect heavy coat for the cold months.
Ditsy Denim Vest + Blue Jeans
If you are looking for a unique top for your next Nashville travel, buy this!
Fringe Detail Snap Button Front Suede Vest Jacket + White Tube Top + Denim Shorts
This cute suede jacket can turn any single simple outfit into a perfect country music style fit.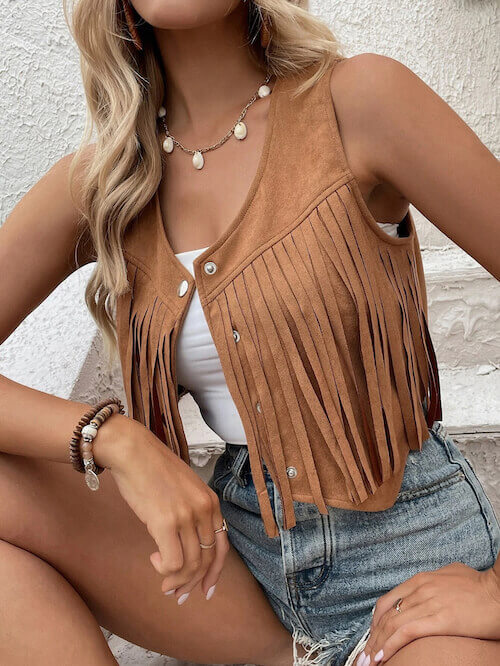 Suede Pearls Beaded Fringe Hem Coat + Tank Top + Denim Shorts + Black Booties
Another perfect suede coat.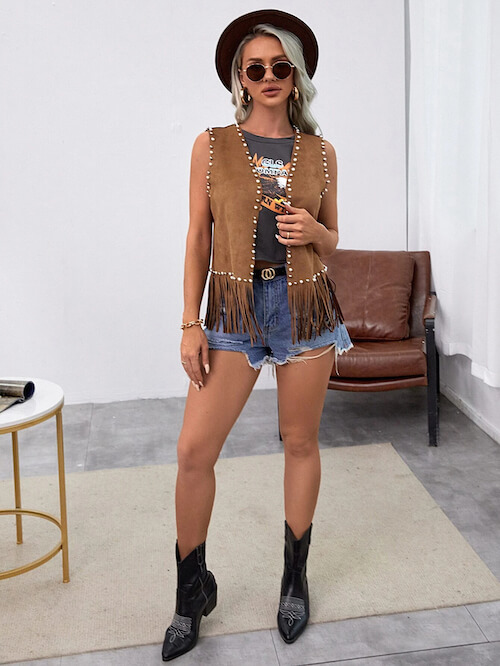 Crochet Crop Top + Denim Jacket + Midi Skirt + Black Boots
This crochet crop top is sexy and instyle, pair it with animal print midi skirt like this outfit below, or a flare jeans for your sexy night out look.
Light Wash Denim Skirt + White Long Sleeves Top
If you are tired of denim shorts, try a denim skirt instead for the summer time.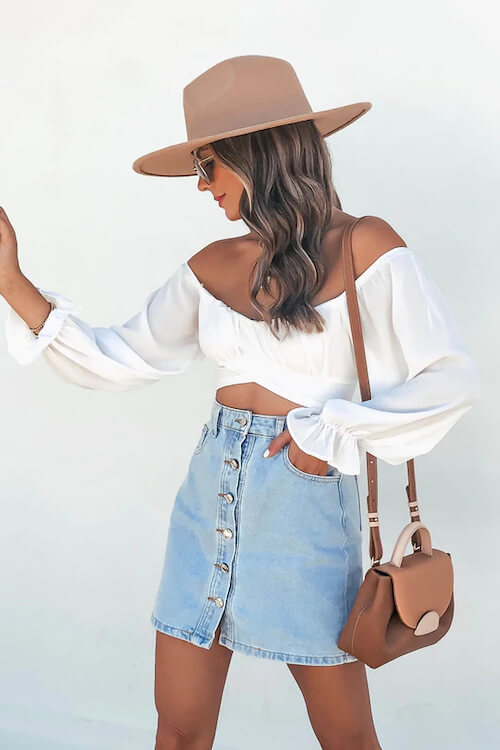 Leopard And Letter Graphic Tee + Denim Shorts
A perfect casual rock-and-roll outfit.
Fringe Trim Solid Tee + Denim Shorts + Black Belts
This Tee is so cute to pair with any of your jeans or jean shorts.
Solid Racer Back Fringe Tank Top + Midi Skirt
Don't want to wear a simple tank top for your great trip, try this cute fringe tank top instead, so special and expensive looking!
Solid Fringe Trim Cami Top + Denim Shorts
A cute outfit for your Saturday night there.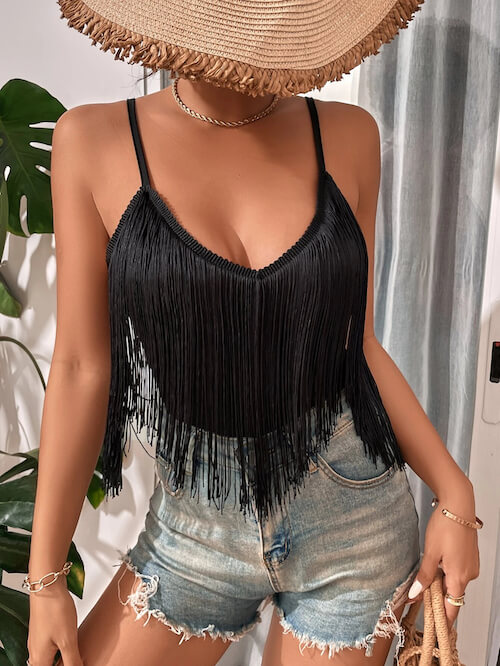 Lace Panel Off Shoulder Peplum Crop Blouse + Jean Shorts
This blouse is pretty and can be sexy with denim shorts. or country style feminine with a skirt.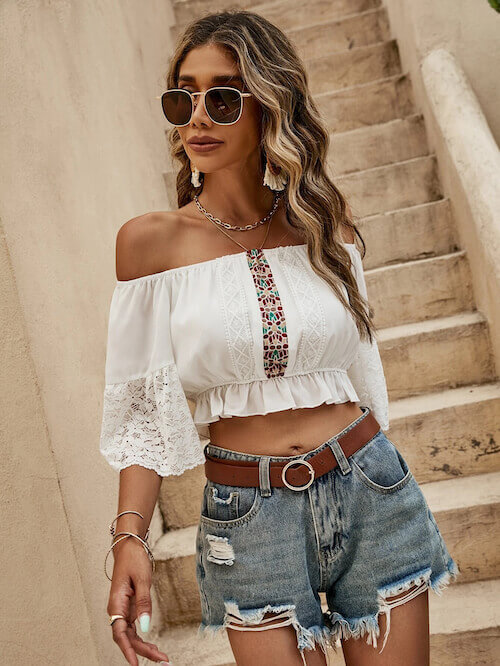 Chevron Fringe Trim Long-Sleeved Shirts + Jean Shorts
I fall in love with the fringes.
Short Dresses + White Cowgirl Boots + Cowboy Hat
This dress has the prettiest print for a cowgirl fit.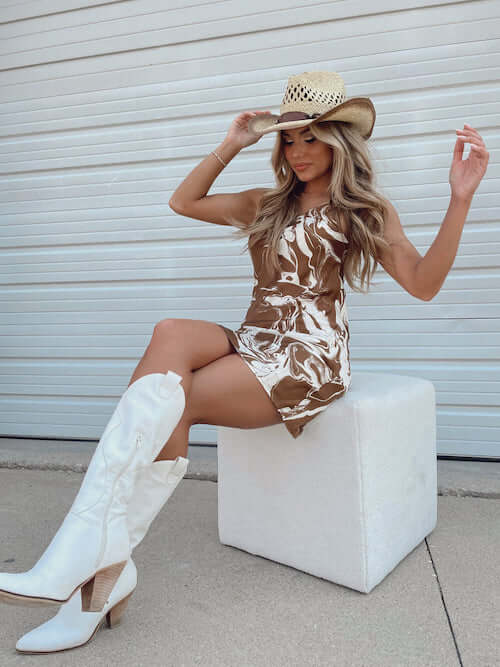 Bow Top + A Pair Of Quality Denim Shorts + White Cowboy Boots
This top balances sexiness and cuteness perfectly that I can't wait to add it to my packing list. And you can also wear it a lot after your Nashville travel.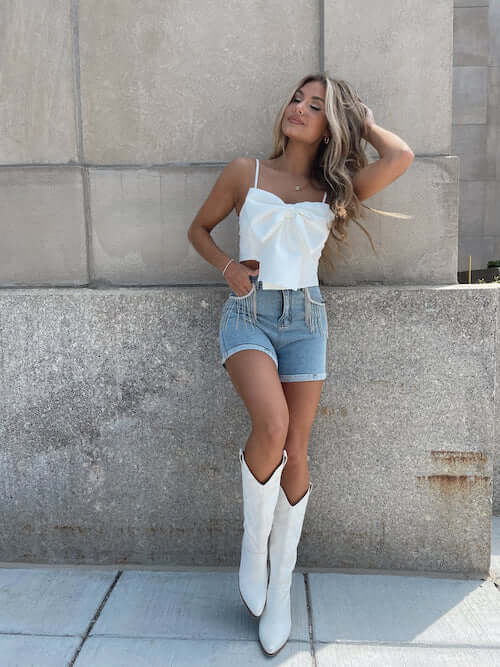 Polka Dot Tank Top + Denim Shorts
A tank top featuring a perfect color and perfect print.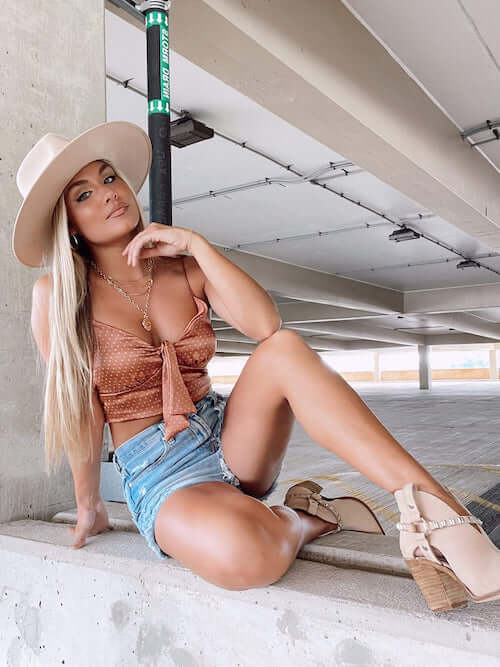 Cow Print Shorts + Tank Top
Farm animal print will never be wrong in Nashville.
Like A Rock Star Denim Shorts + Scarf Top
This pair of cute shorts will bring your Nashville mood to the next level.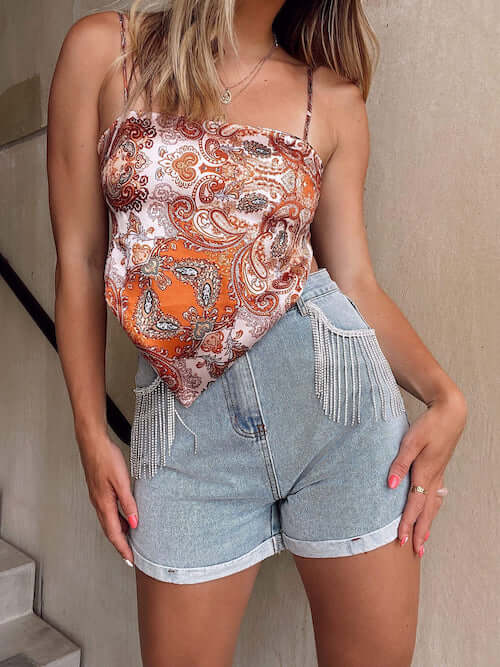 Denim Tank + White Denim Skirt
Obsessed with the combo of denim blue and white.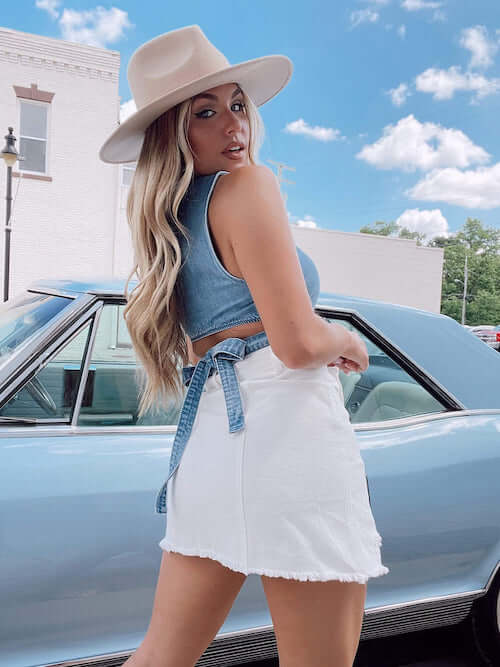 Sweet And Spice Tank + Rhinestone Fringe Denim Shorts
This tank can be dressed up or down perfectly.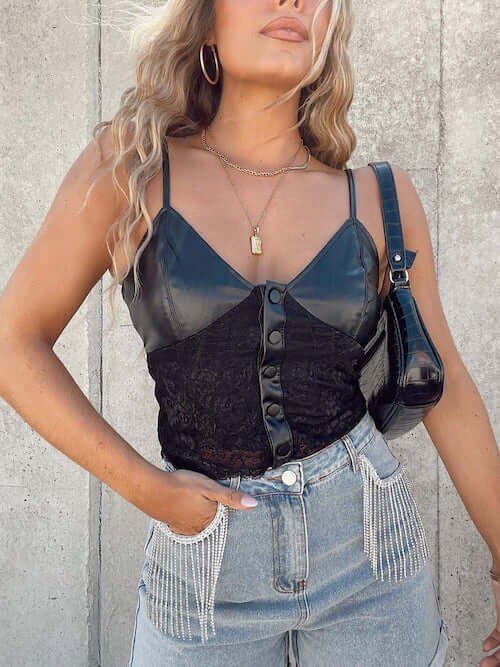 Rhinestone Fringe Denim Jacket + Blue Denim Shorts
Denim on denim is one perfect outfit for your Nashville trip.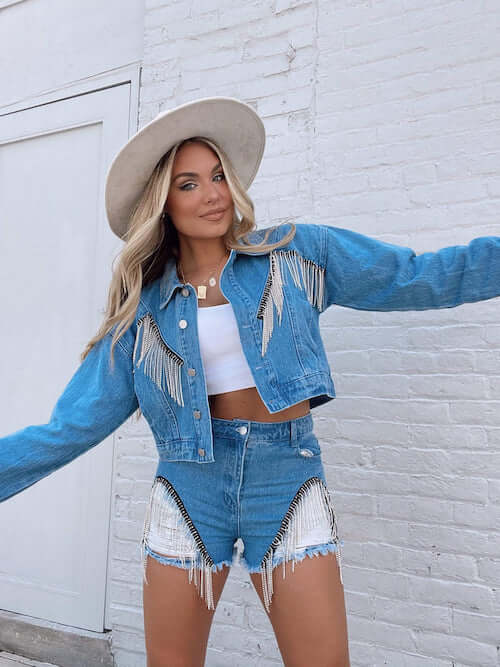 Cute White Crop Top + Jean Shorts + Cream Boots
This crop is so sweet that you will love it when wearing it with denim shorts or a long skirt.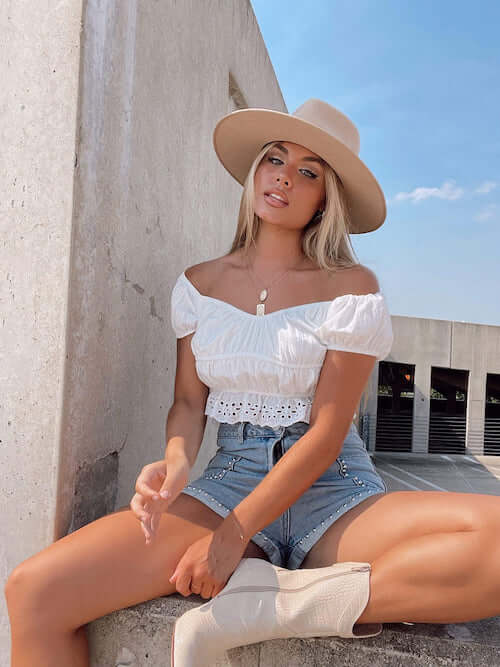 Fringe Denim Skirt + Blue Corset
If you are looking for a unique denim skirt, add this to your Nashville packing list.
Rhinestone Decor Denim Jacket + Dark Denim Shorts
This jacket can be worn for many occasions in the cooler weather.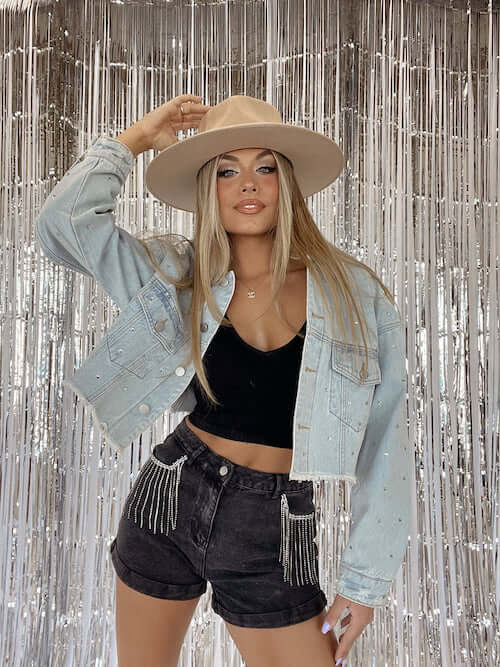 Crop Top + Blue Denim Jeans
Cami crop top is one of the best partners for a pair of flare jeans, and this top may be the best one.
Mini Dress + Suede Boots
A pretty dress reminds you off all the day dreams you have in Nashville.
White Mini Dress + Black Cowgirl Boots + Jean Jacket
Be the cutest girl in this white mini dress.
Red Backless Mini Dress + Black Boots + Black Hat
This is a perfect look for the Nashville nights.
Denim Belt Dress + White Cowgirl Boots + White Hat
This belt dress is so versatile that you can wear if alone or wear if as an outerwear.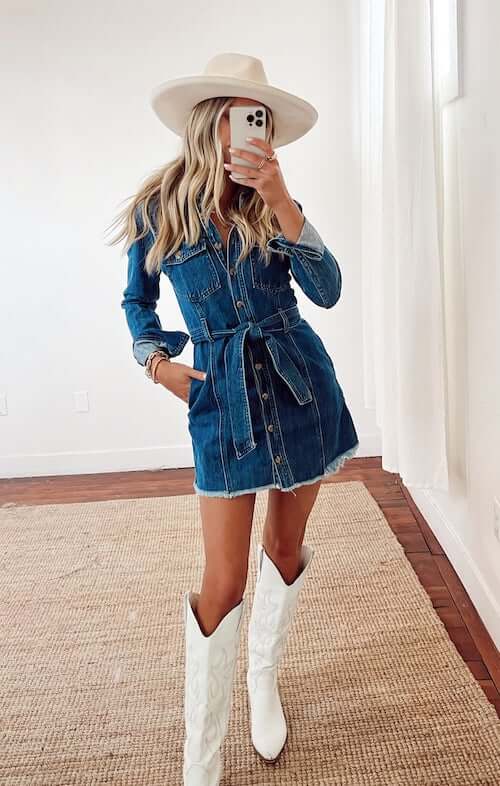 Cream Sweater + Denim Shorts + White Boots
An instyle and easy to wear outfit idea to put together.
Blue Ribbed Striped Halter Blouse + Mini Skirt
This combo can provide you with the best body proportion.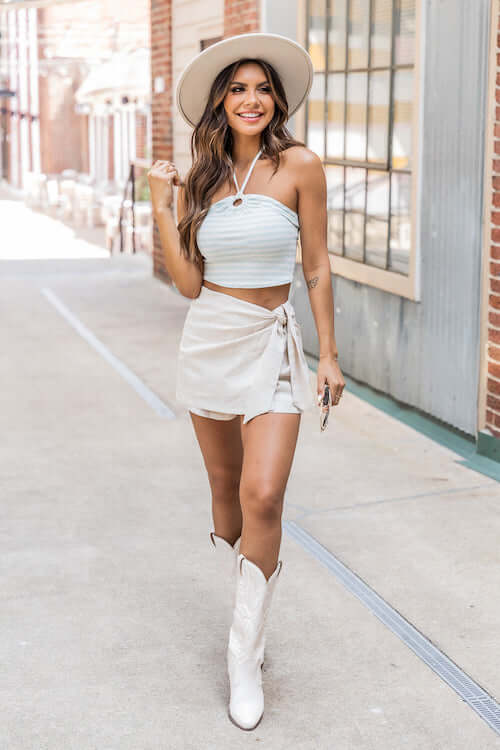 Mauve Distressed Oversized Jacket + Denim Shorts + White Boots
I love the cute color of the jacket, and it is so comfortable, too.
Charcoal Denim Jacket + Bra Top + Shorts + Booties
If you need a unique and chic denim jacket, this one is a must-have.
Black Babydoll Knit Tank Dress + Black Suede Boots + Jean Jacket
This tank dress can be dressed up and down. Add brown country style accessories to it to complete the whole look.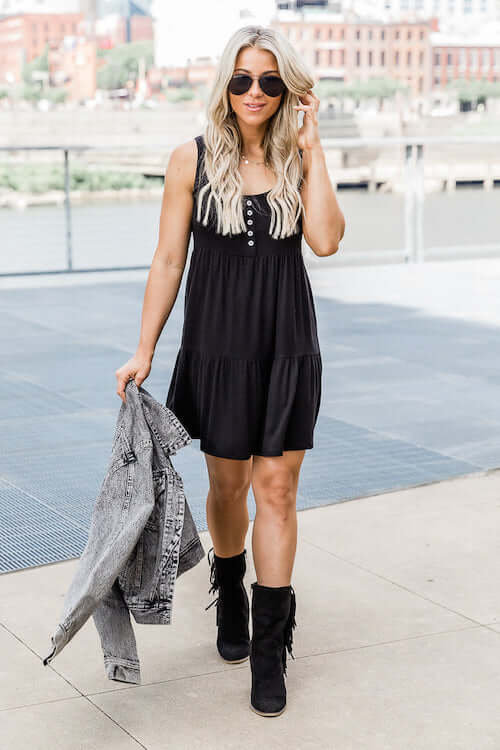 Light Wash Belted Denim Romper + White Cowgirl Boots
Cute and comfortable vacation outfit for your Nashville days.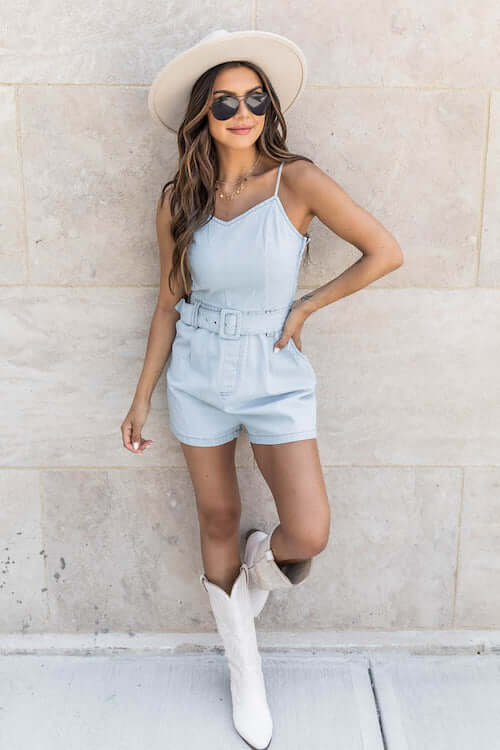 Country Music And Beer Black Graphic Tee + Black Jean Shorts + Black Boots + Black Hat
It is one of the best casual outfits for the Music City tour.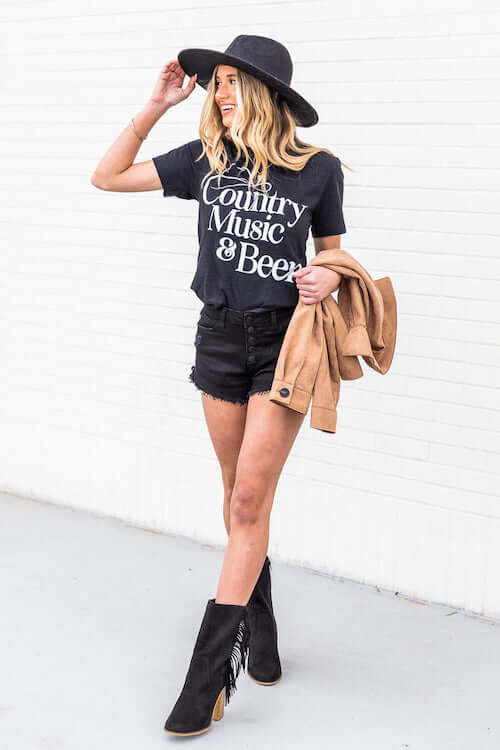 Floral Yellow Satin Scarf Blouse + Blue Flare Jeans
Perfect for the Nashville summer days.
Raised on 90s Country Cream Graphic Tee + Plaid Shirt + Denim Shorts
Another graphic Tee I am obsessed with. And I love the plaid shirt idea.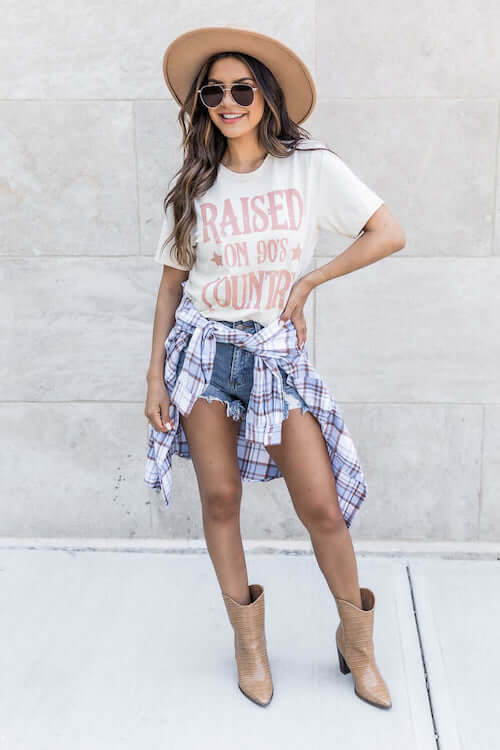 Medium Wash Asymmetrical Denim Skirt + Yellow Blouse
The easiest way to change your sweet top into a perfect Nashville outfit is to pair it with this asymmetrical denim skirt.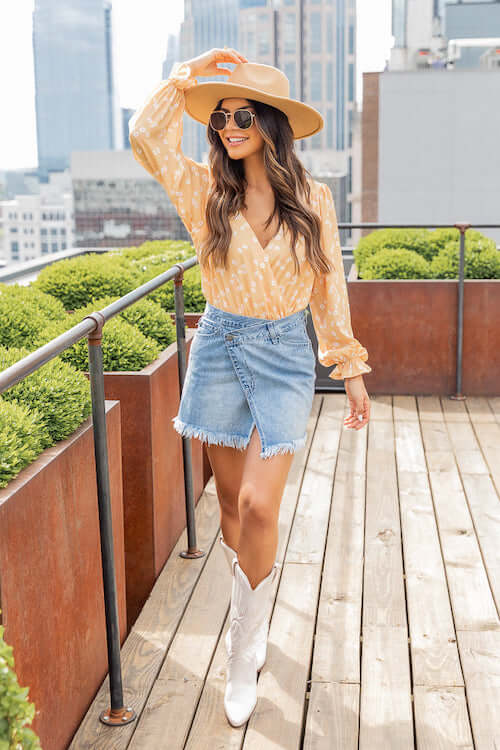 Beige Tie Front Cropped Blouse + High Rise Distressed Acid Wash Denim Shorts
I always recommend a long sleeve top for your Nashville trip and this blouse is perfect.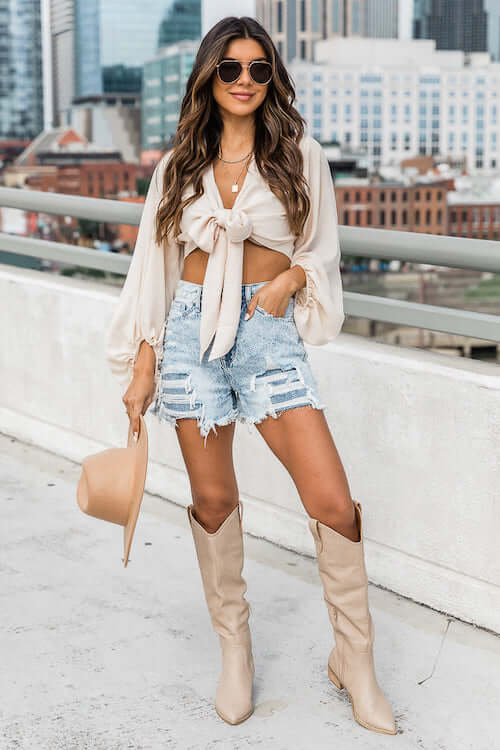 Red Tie Front Cropped Blouse + White Flare Pants
The same style with the one above but with a cute bolder color.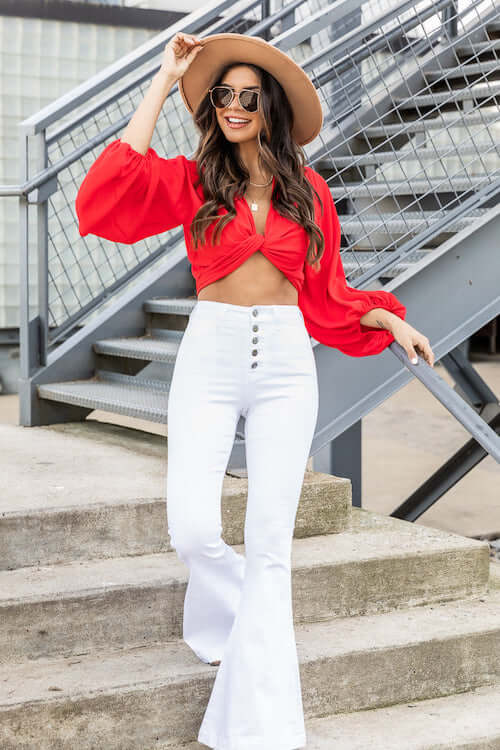 Chambray V-Neck Romper + White Cowgirl Boots + Hat
This romper features a V-Neck and help modify the facial lines.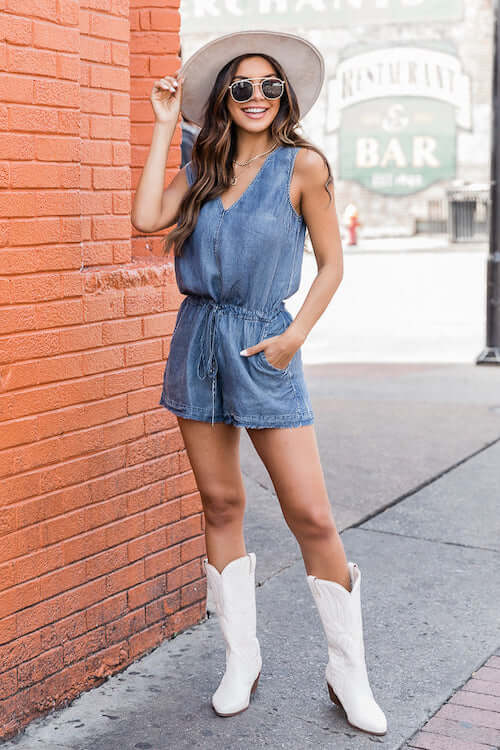 Tan Open Knit Sweater + Denim Shorts + Boots
The cute sweater is perfect for many seasons especially those transitional seasons.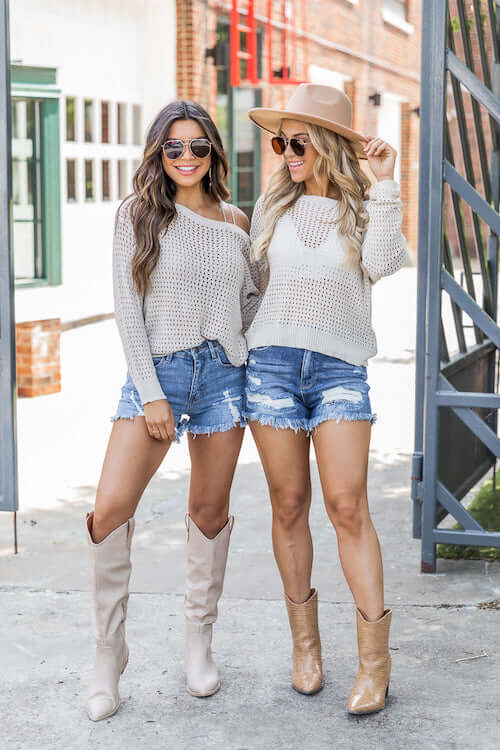 Tan Striped Tie Front Romper + White Boots + White Hat
This cute stripe prints help brighten up all your days on Nashville. Pair it with darker colors accessories in the colder months.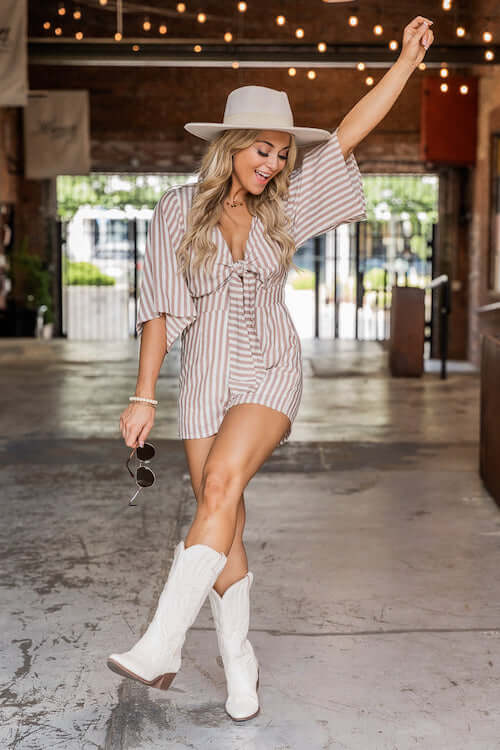 Pink Plaid Button Up Blouse + White Tank + Denim Shorts + White Booties
This blouse has a lovely pink color.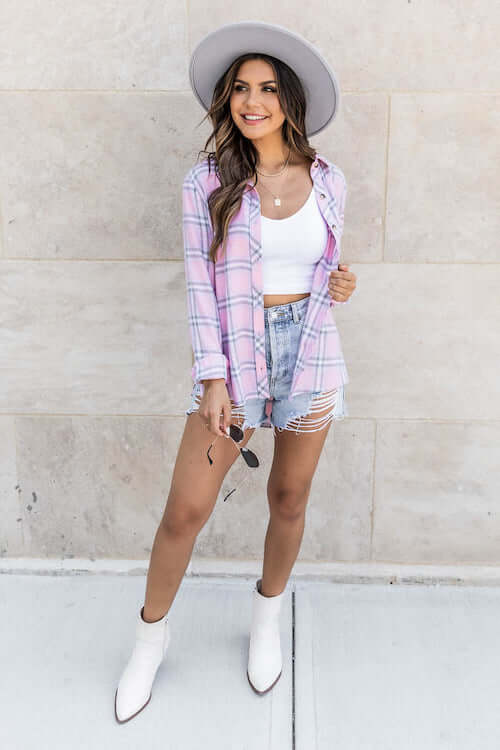 Peach Graphic Tee + White Jean Skirt + Tank Boots + Tan Hat
Looking for a cute color for the spring summer travel? Choose peach.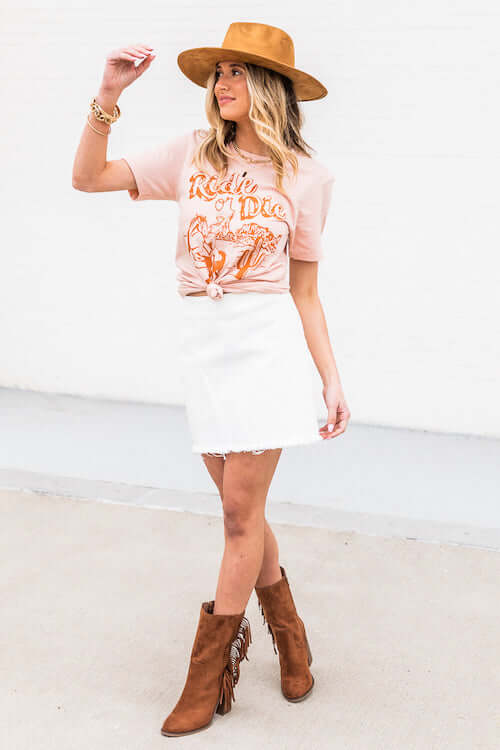 Cowboys Save The Day Cream Graphic Tee + White Flare Pants
I always love to wear a graphic tee for my Nashville travel, and this graphic tee has cute pattern with simple colors, and can be easily paired with any color in your wardrobe.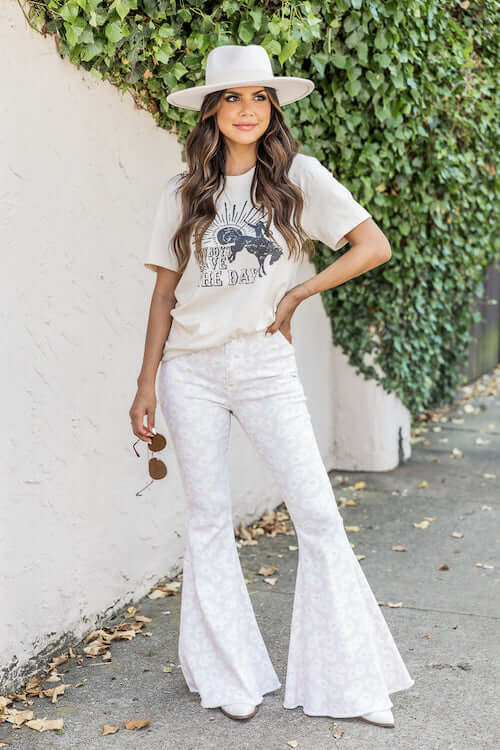 Brown Suede Jacket + Tank Top + Jean Shorts + Brown Boots
Suede jackets are perfect light weight jackets there.
Knit Top In Dark Teal + Black Flare Jeans
I love this combo, so stylish.
White Top + Medium Wash Flare Jeans
This is one effortless chic outfit idea.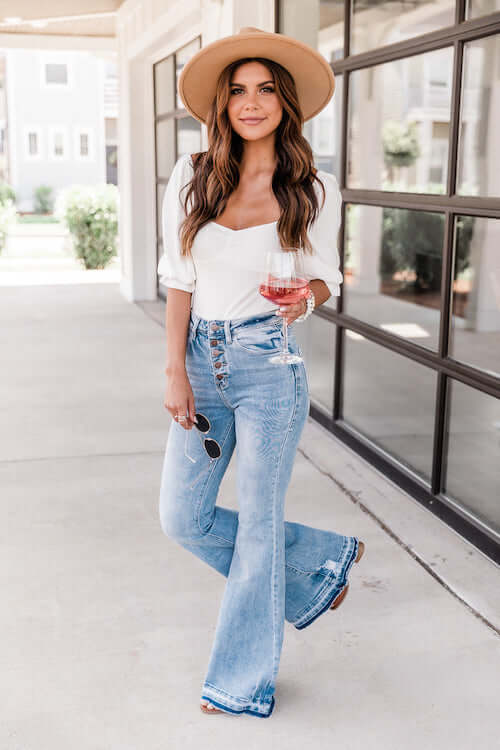 Black and Tan Dot Print Puff Sleeve Top + Black Leather Shorts + Black Boots
Dot print is perfect for many country travels.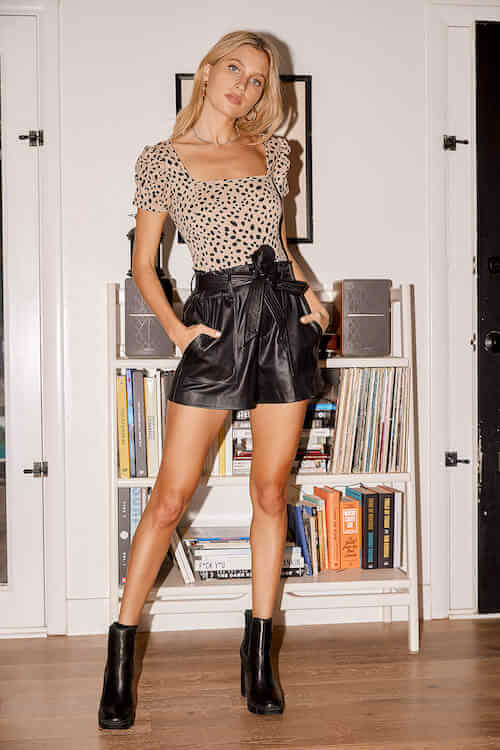 White Sleeveless Bodysuit + Denim Skirt + White Booties
Simple and cute for any warm day in Nashville.
Animal Print Lips Black Heather Graphic Tee + Tan Skirt
You can pair with this Tee with any bottom in your wardrobe and this tan skirt idea is so chic.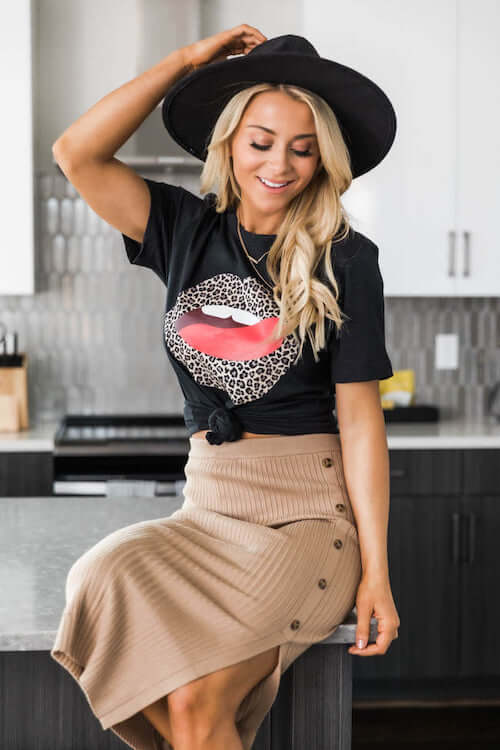 White Rhinestone Skirt + Knit Top
It's perfect for any occasion, whether you're going to music festivals or a coffee shop.
Denim Casual Dresses + Cream Boots + Cream Hat
You can add a belt to this dress or just wear it loosely for a casual comfortable travel.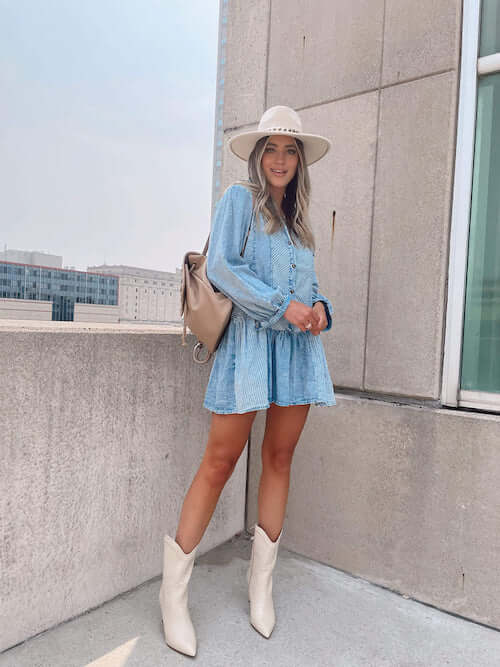 Fringe Denim Jacket + Wide Leg Jeans
This jacket has a perfect length to show your long legs.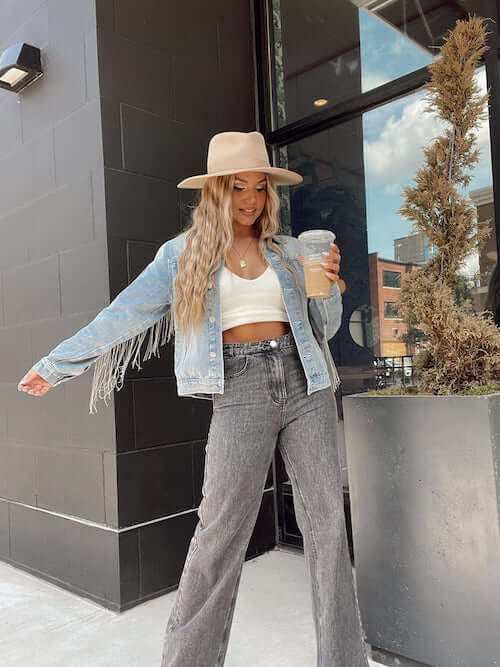 Corduroy Peplum Light Jacket + Skinny Jeans
If you're looking for something more casual, try pairing skinny jeans with a Corduroy light jacket. You'll still look put together without having to worry about matching everything perfectly.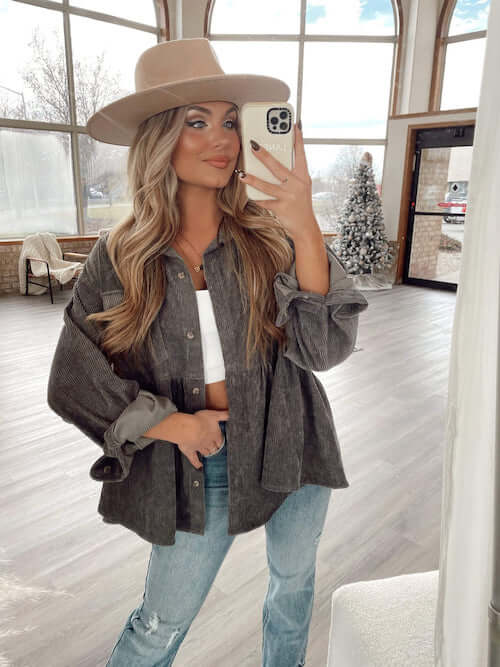 Paperbag Waist Distressed Mom Jeans + Simple Tank Top
This jeans has a cute paperbag waist, so even without a belt, it can still help show your perfect waistline.
Mocha Corduroy Peplum Top + Jean Shorts
This top has a cute and unique design to bring your wardrobe basics collection to the next level in a right way.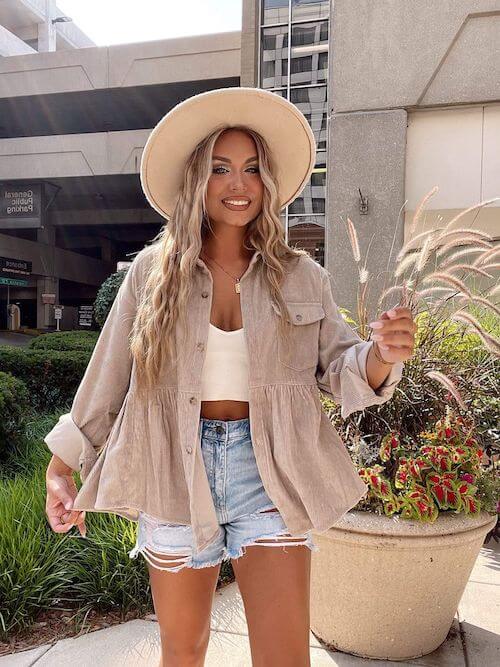 Denim Jumpsuit + Beige Booties
I always love the all denim style and this one is top of my wishlist.
Light Wash Distressed Raw Hem Denim Shorts + Denim Tank Top
A perfect light wash style outfit for your vacation.
Button Front Denim Shirts + Simple Jeans
If you are looking for a Nashville business trip outfit, this one if one great option. You can also turn it into a casual one by adding cute brown accessories.
Plaid Shift Dress in Camel + Beige Knee High Boots
A cute country style dress perfect for summer and fall days. It is so photogenic.
Neck Leopard Print Cami Top + Black Denim Shorts + Black Boots
I suggest at least one cami top in your packing list, and this one is very versatile.
Lantern Sleeve Shirred Back Dalmatian Print Crop Top + Black Shorts + Black Boots
If you are not so confident with your arm lines then this one is an ideal choice.
Lace Crop Cami Top + Black Long Pants
Wear it with your black skinny jeans or other black long pants to make it one of the best night out outfits.
Solid Button Front Pocket Detail Jacket + Skinny Jeans + Black Boots
I love everything of this jacket, the color, simple chic design, and the length.
Off Shoulder Ditsy Floral Maxi Dress + Flat Sandals
Can you wear maxi dresses in Nashville? Absolutely yes! And this one would be perfect for you. It features pretty ditsy floral print and off shoulder design which bring the breeze vibe to your summer travel.
Complete the look with shorts boots or flat strappy sandals.
Drop Shoulder Pearls Beaded Raw Hem Coat + Black Crop Top + Black Jean Shorts
This coat has the prettiest details that you can imagine.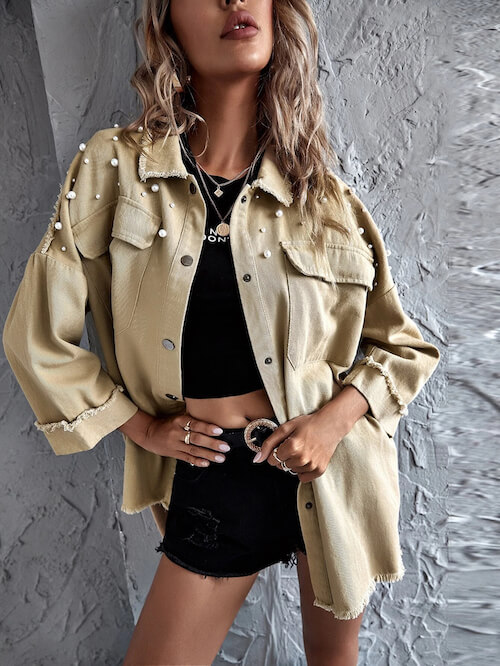 Lantern Sleeve Flippy Hem Dress + Cowgirl Boots
This country style dress is perfect for any occasion, whether you're going to a concert or just hanging out in the downtown Nashville.
Allover Cami Dress + Belt + Black Hat + Black Cowgirl Boots
A perfect cami dress that you can wear all year round for Grand Ole Opry or Country Music Hall Of Fame And Museum. Add a cardigan or jacket for the the cold weather.
Tie Dye Cow Print Button Front Shirt
One of the customer comments: a perfect rodeo shirt.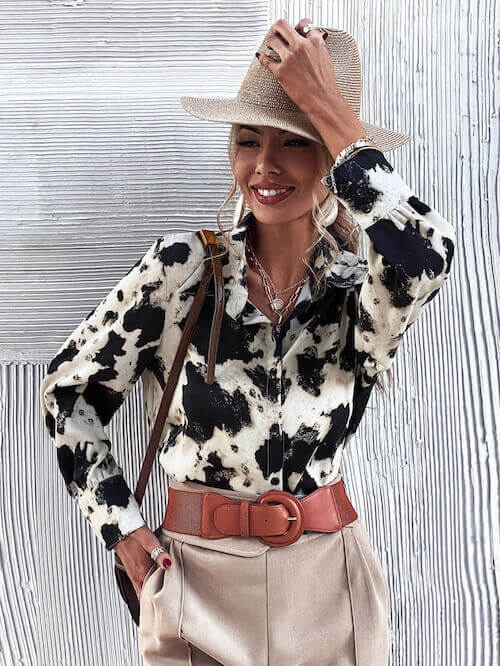 Drop Shoulder Corduroy Jacket + Black Jeans + Sunglasses
A cute and comfortable corduroy jacket is a good choice for your fall style in Nashville.
Allover Print Butterfly Sleeve A-line Dress + Comfortable Shoes
I love the color this cute dress. It is a little muted so it can be worn all year round, even in Nashville winters, it can be worn perfectly under any of your jackets or coats.
High Waist Allover Print Skirt + Crop Cardigan + Black Cami Top + White Boots
An ideal rodeo skirt to show your personal style! Pair it with a brown or black top.
Fringe Trim Crop Denim Jacket + Black Denim Shorts
You'll never regretting adding a fringe jacket to your Nashville wardrobe.
Nashville Outfits: Nashville Packing List Must Haves
Whether you're looking for a new outfit or just some accessories, these are the items you'll definitely need.
A Cami Top Or Tank Top
Perfect from day to night.
A Graphic Tee
For a cute casual wear for any season.
Pairs Of Quality Denim: Skinny Jeans Or Flare Jeans
The most comfortable choice all year round.
A Pair Of Denim Shorts Or Mini Skirt
The must have for the summer days. Choose the ones with rhinestones or fringes to bring more interests to your trips.
A Cute Summer Dress
When you are tired of wearing pants or shorts.
Long Sleeve Blouse Or Light Weight Jacket (Plaid Shacket, Corduroy Shirt)
You need it to add extra warmth in the cooler weather and you can also wear it on your waist if it is hot outside.
A Neutral Color Sweater
Bring a sweater with you in the cold months. Check the weather forecast before your travel.
Denim Jacket, Or Leather Jacket
For the colder days in the fall or winter season.
Comfortable Shoes: Cowboy Boots, Or Black Ankle Boots, Or Suede Boots.
White, black, brown or tan is the best choice.
Cowboy Hat Or Fedora Hat
Ideally choose the same color with your shoes. You don't always need this but it adds more fashion interests to your looks when you are visiting the tourist attractions.
Brown Accessories
The best ways to quickly add the right Nashville vibes to your outfits.
An Umbrella!
It rains very often. Do bring one!
This post was all about what to wear in Nashville.
Related Posts: