Wondering what to wear in Nashville? Check this post for the latest fashion guide on Nashville outfit ideas for different occasions, and cute & chic Nashville outfits for inspiration!
Nashville, the home of country music and hot chicken, has a unique style all its own.
Whether you're planning on catching a show at the Grand Ole Opry, exploring the bustling downtown Nashville, or visiting one of the many honky-tonks, it's important to know what to wear in Nashville.
Dressing for comfort is key – but that doesn't mean you can't express your own personal style.
So scroll on and check out our favorite Nashville's style guide, and elevated outfit ideas for your next Nashville trip!
This post may contain affiliate links, which means I'll receive a commission if you purchase through my link, at no extra cost to you. Please read the full disclosure here.
This post is all about what to wear in Nashville.
What is the clothing style in Nashville?
Nashville has a unique clothing style that reflects the city's culture and personality.
Whether you're looking to dress up a bit or keep things casual, there are fashion options for everyone.
The people of Nashville embrace their Southern roots when it comes to fashion.
Many locals opt for classic pieces like cowboy boots and denim jeans paired with more modern items like graphic tees and sneakers.
Layering is also a popular trend in Nashville – adding a lightweight cardigan over an oversized shirt looks both stylish and comfortable.
Accessories such as statement hats and chunky jewelry give any outfit a bit of extra flair.
What To Wear in Nashville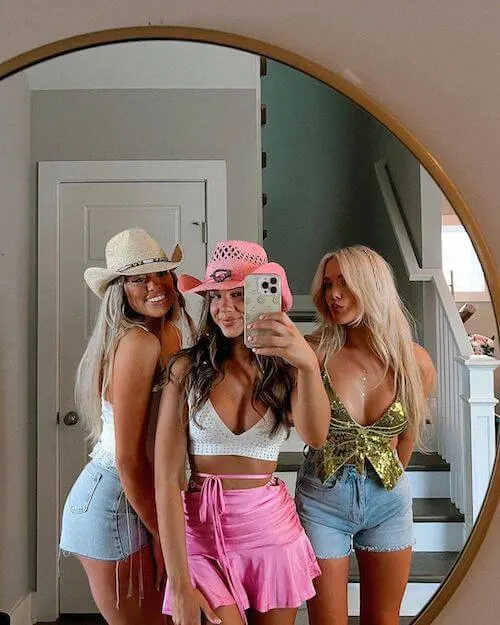 @inatalieking
Whether you're planning a trip to Nashville or just visiting for the weekend, there are some important tips to keep in mind when deciding what to wear.
What's Trending in Nashville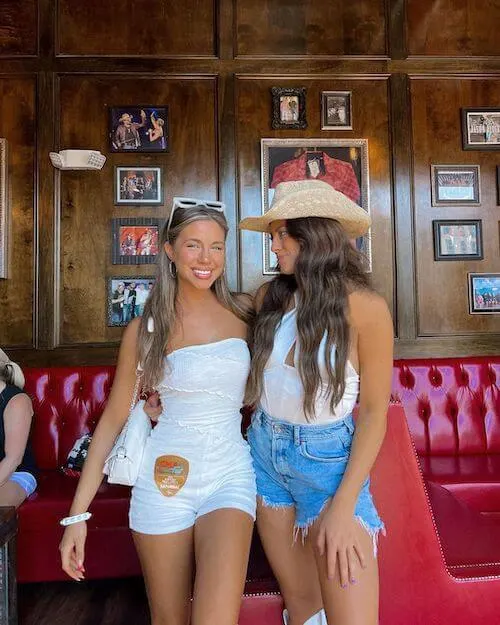 @inatalieking
Nashville is known for its music scene and country lifestyle, and that extends to the clothing choices of locals.
To truly fit in with the culture, it is best to embrace traditional southern style.
Choose outfits that are classic and timeless.
Denim jeans can be a great choice for both men and women, often paired with button-down shirts or plain t-shirts in neutral colors like white, black, gray or navy blue.
If you're looking for something more dressy, try wearing a shift dress or skirt with a blouse and cardigan sweater combo.
Add boots or sandals depending on the season; cowboy boots are always popular in this city!
How do I not look like a tourist in Nashville?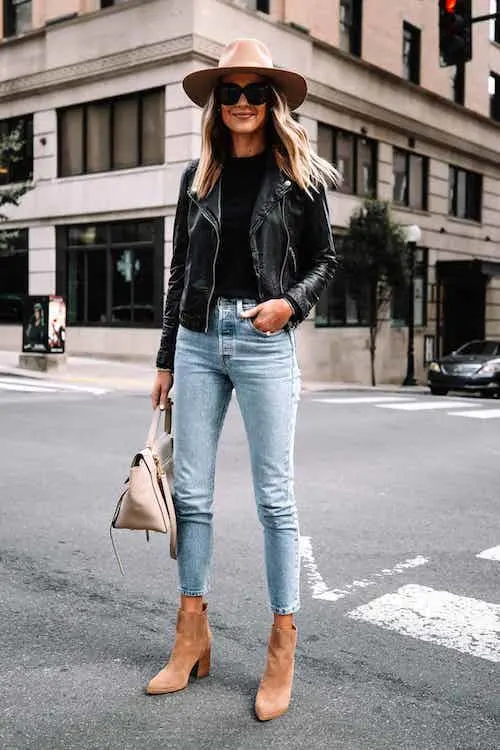 @fashion_jackson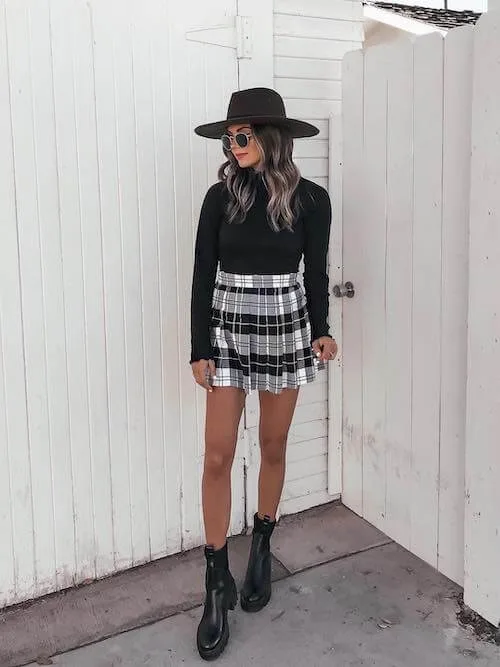 @jilldeconti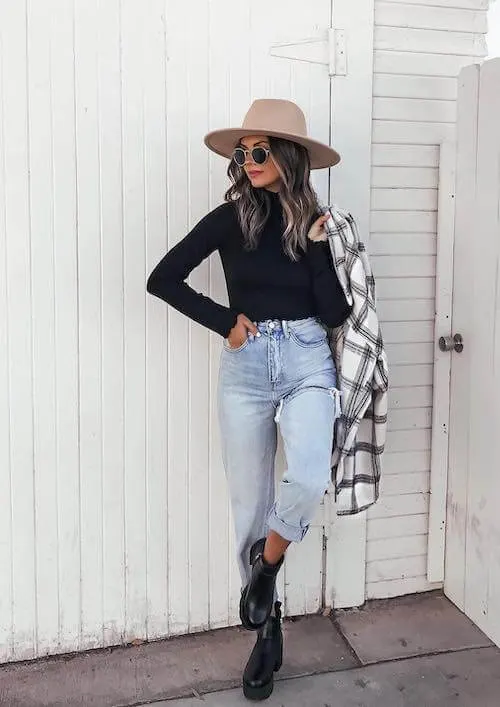 @jilldeconti
Traveling to Nashville can be an exciting experience, but some of you may want to fit in and not stand out as a tourist.
While the city's music and culture are inviting, there are certain tips that will help make sure you do not look like a tourist when you visit.
To make sure you blend in with locals while exploring the city, start by wearing clothes in muted colors instead of bright or flashy ones.
It is also important to familiarize yourself with some local lingo and expressions that natives may use.
This will help you sound like a local even if you don't know everyone there.
What NOT to Wear in Nashville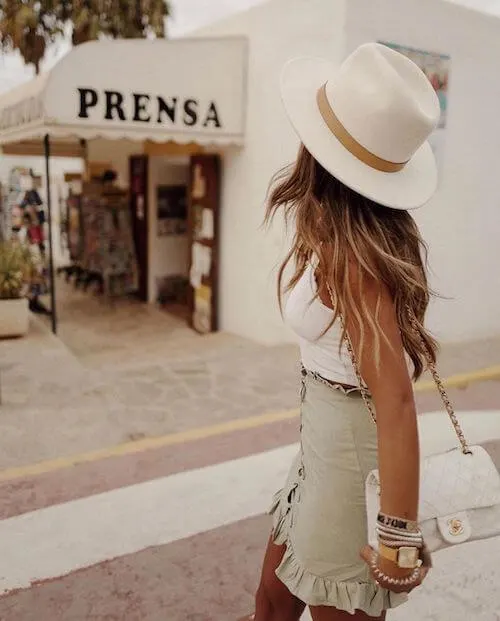 via Pinterest
Visiting Nashville? Be sure to pack the right style of clothing! Whether you're a tourist or local, there are certain looks that don't fit in with the city's chic and sophisticated vibe.
From flashy cowboy hats to crop tops, here is a list of what NOT to wear in Nashville.
Although cowboy boots may be synonymous with country music, flassy cowboy boots should be avoided if you want to fit in with the locals.
Leave your ten-gallon hat at home – although it may seem cute for a night out on Broadway, it will likely draw more attention than intended.
Instead opt for classic styles such as jeans and a t-shirt or even loafers and khakis when exploring downtown.
Another fashion faux pas is sporting too much skin – while Nashville has an upbeat atmosphere, revealing clothing isn't necessary when walking around town.
What to Wear During the Day in Nashville
Heading to Nashville for a day trip? You want to be sure you pack the right clothes so you feel comfortable and stylish.
Women have many options when it comes to what to wear during the day in Nashville.
Lightweight, breathable fabrics are great for warm days, such as linen or cotton shorts and skirts paired with short-sleeved shirts and tanks.
If visiting in cooler weather, jeans and leggings can easily be dressed up or down with layering pieces like light sweaters, blazers, and vests.
Choose colors that reflect your personal style – blues, pinks, purples all look great against the backdrop of Music City's lively streets!
And don't forget your shoes – comfortable cowboy boots, chic sandals or minimalist sneakers are ideal for taking on the city's sights!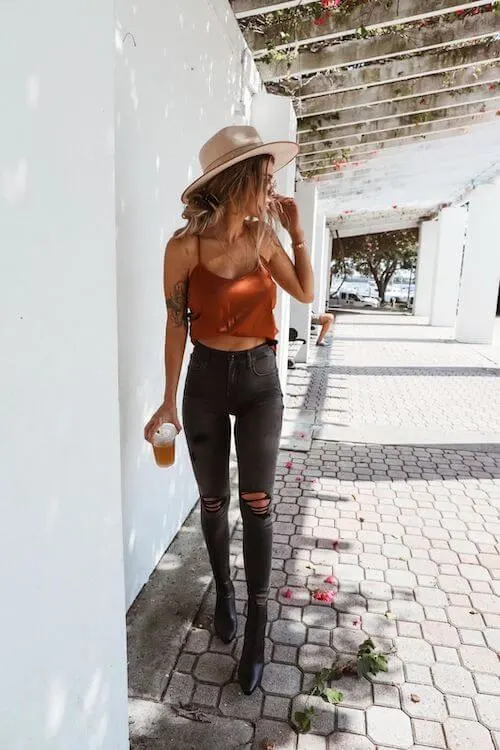 via Pinterest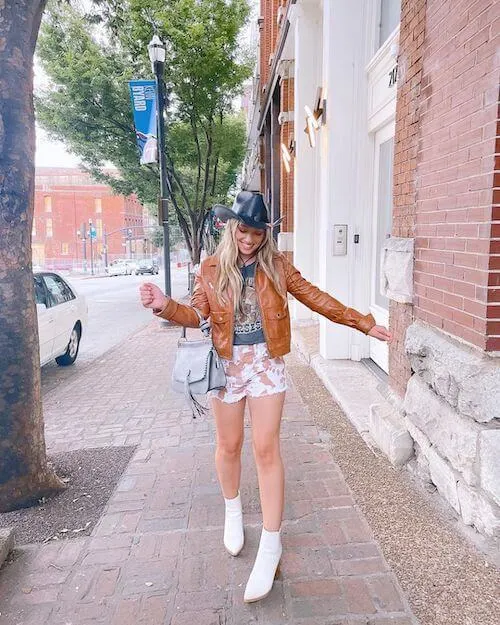 @nickolehaymaker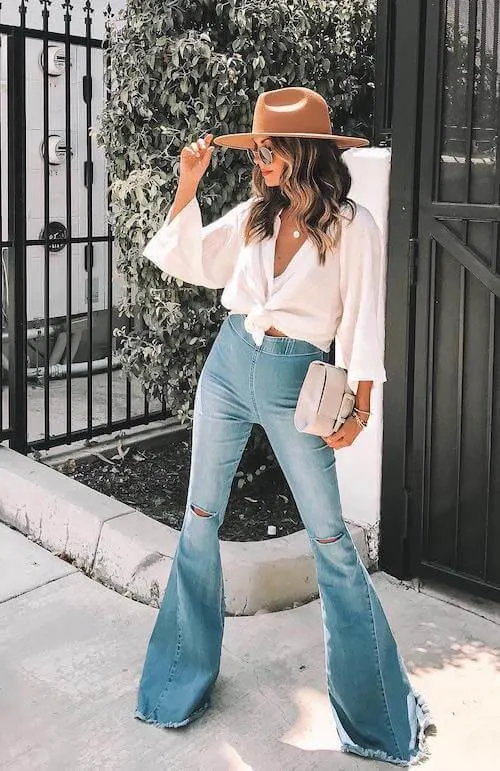 @jilldeconti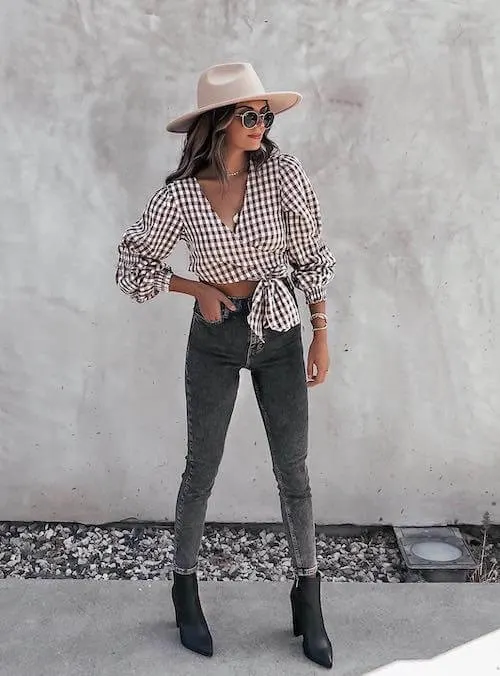 @jilldeconti
Is There A Dress Code At Nashville Bars?
Nashville is known for its vibrant and vibrant nightlife.
From the honky-tonks on Broadway to the live music venues, there's no doubt that Nashville knows how to party.
But with so many options, it can be hard to know what might be expected from you in terms of dress code. So, is there a dress code at Nashville bars for women?
The short answer is yes.
Many establishments across Nashville impose a certain level of dress code as an unspoken expectation.
While the specifics may vary depending on the bar itself, generally speaking, women are encouraged to dress up rather than down when going out in Nashville.
This could mean anything from dresses or skirts with blouses and heels to nice jeans and a top paired with wedges or sandals.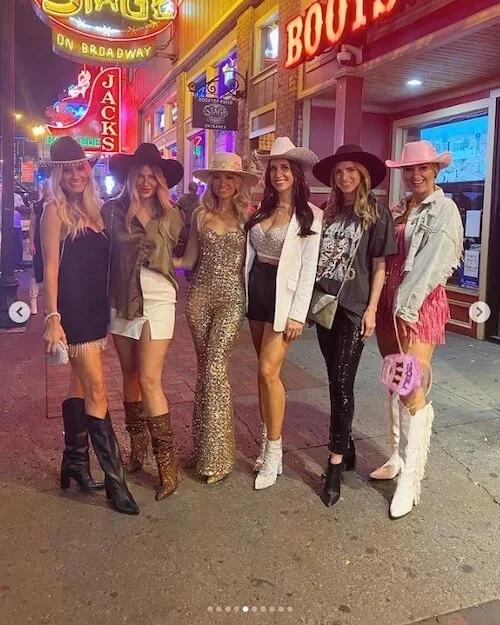 @willworkforfashion_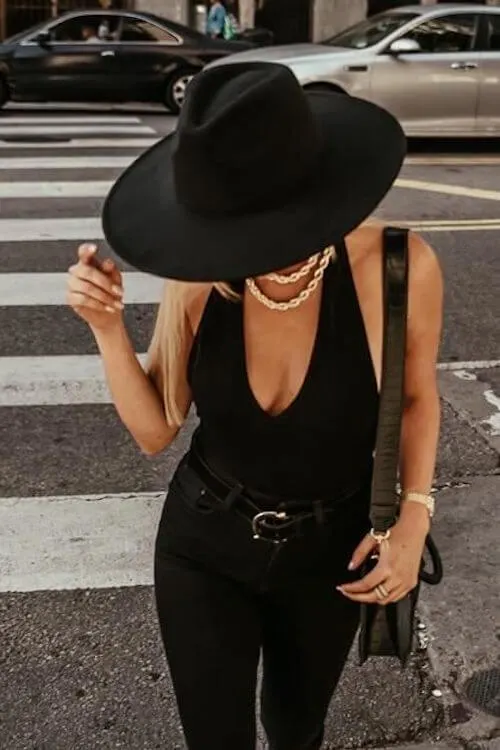 via Pinterest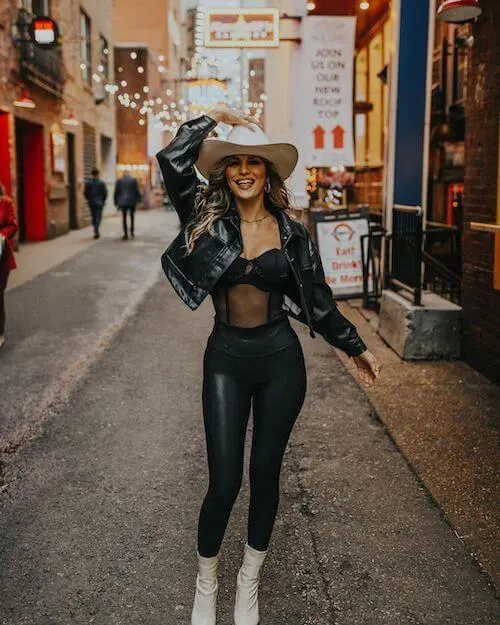 @taystanford
Best Nashville Outfits for Every Season & Style Tips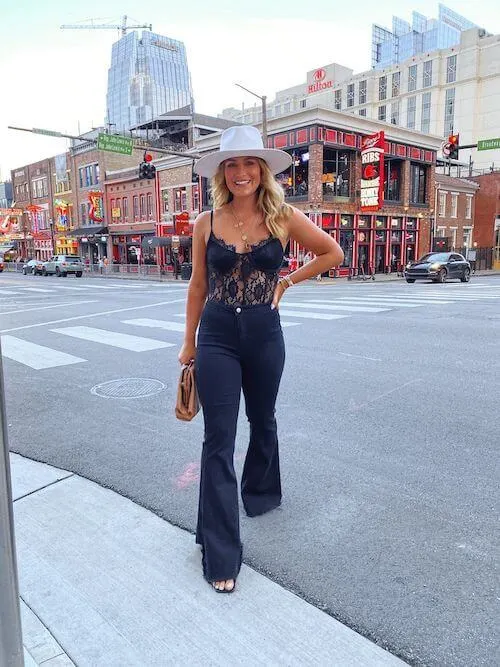 via Pinterest
Nashville Outfit Ideas for Spring
Spring is a great time to visit Nashville Nashville.
With the buzz of outdoor restaurants, live music and bustling street life, there are plenty of occasions for stylish springtime dressing.
Whether you're traveling to Nashville for a long weekend or just looking for some style inspiration, here's what to wear if you want to look your best during this season.
The weather in Nashville can vary from warm and sunny days to cooler rain showers, so it's important to dress accordingly.
One great option is light-wash jeans paired with a sleeveless chambray shirt – perfect for keeping cool when temperatures soar without sacrificing style points.
If the day calls for something more formal, try a dressy jumpsuit or off-the-shoulder top with tailored trousers – both looks are sure to turn heads on Broadway!
Long Sleeve Shirt + Denim Shorts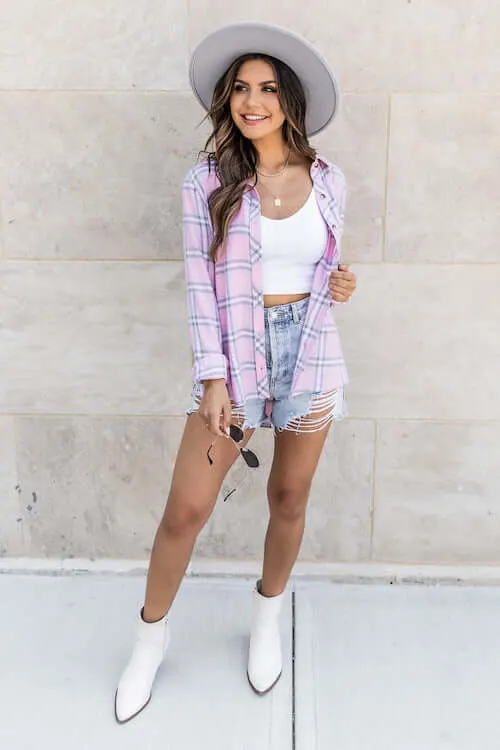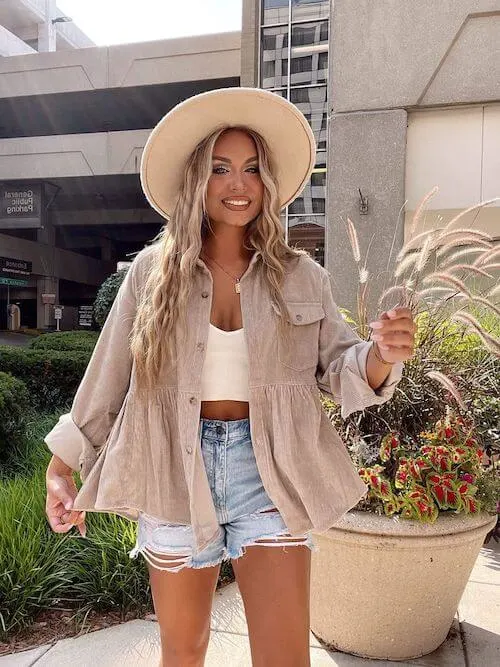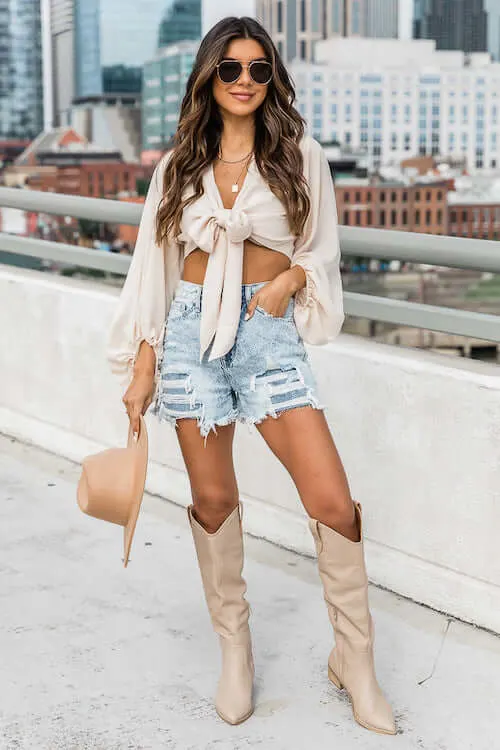 Light Jacket + Denim Shorts + Cowboy Hat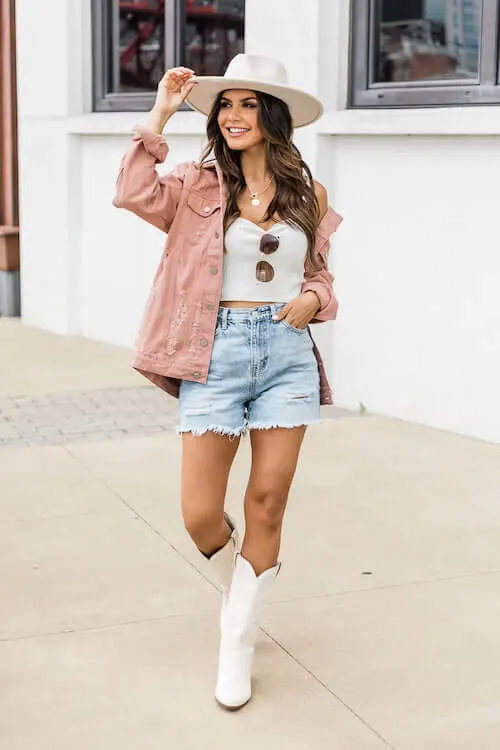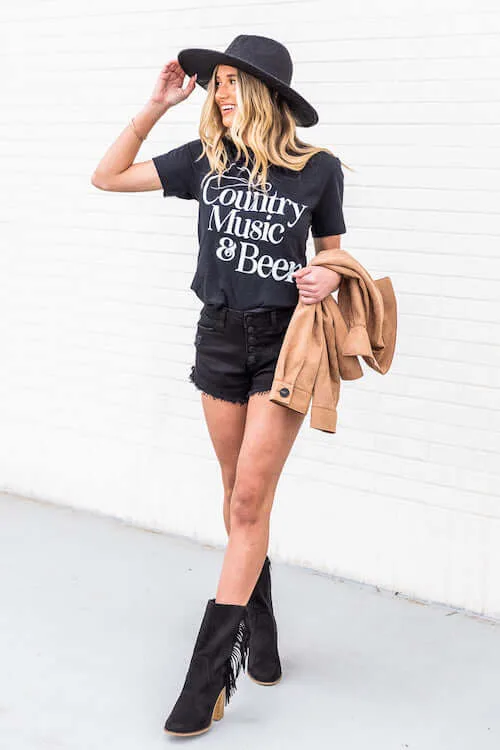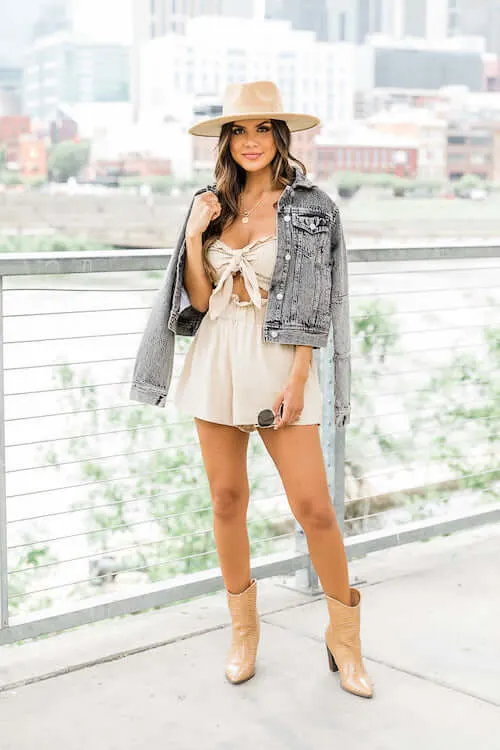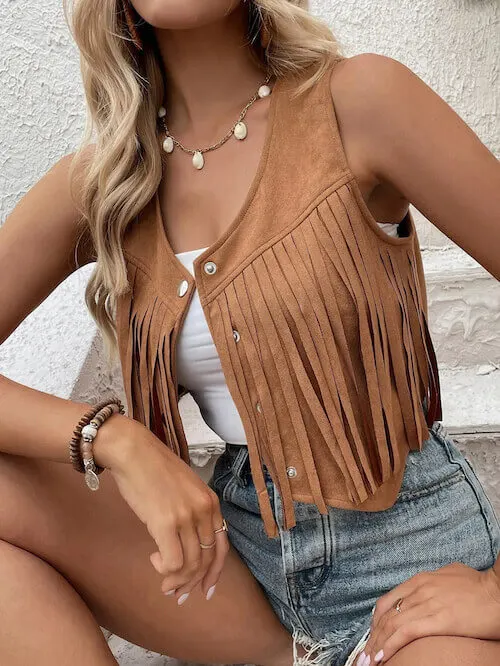 Cute Top + Long Pants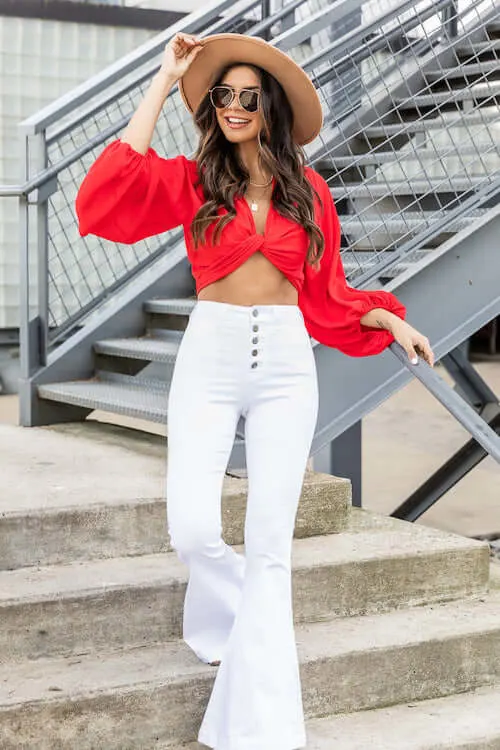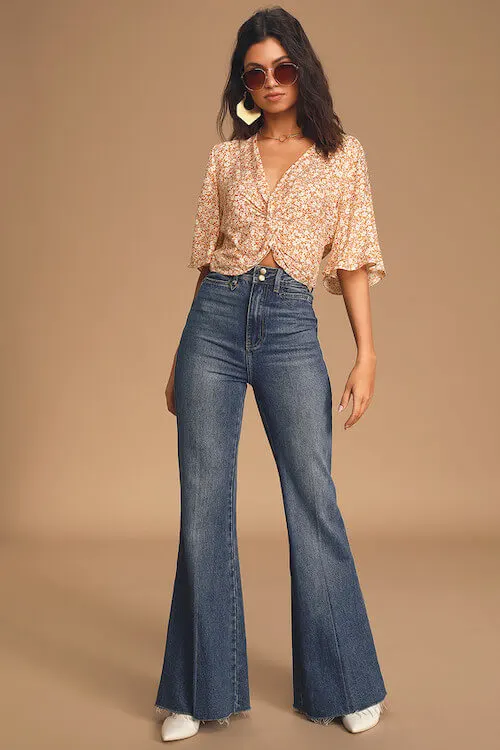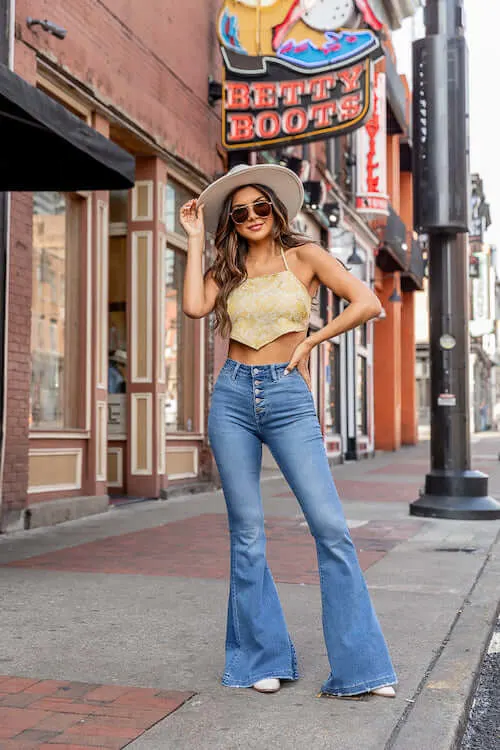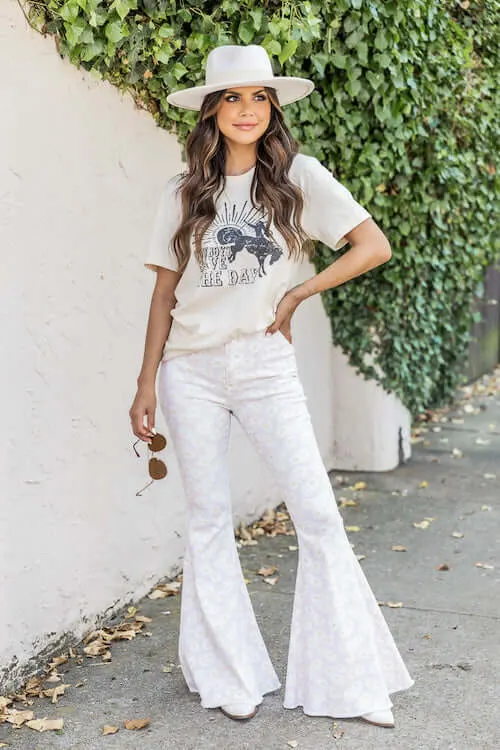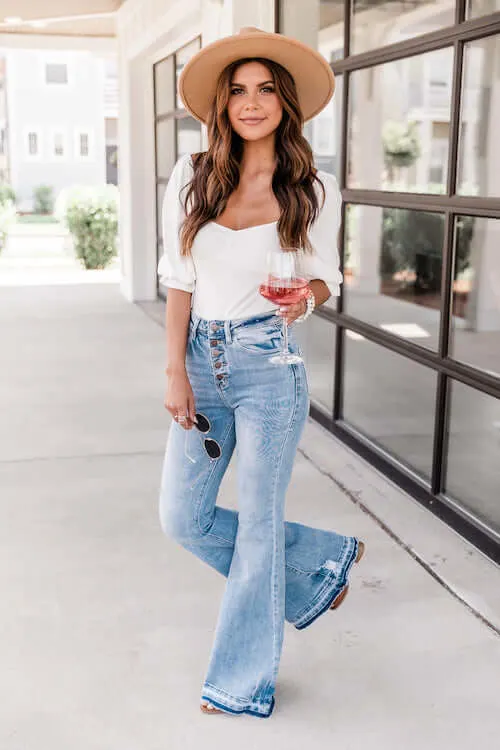 Stylish Jumpsuit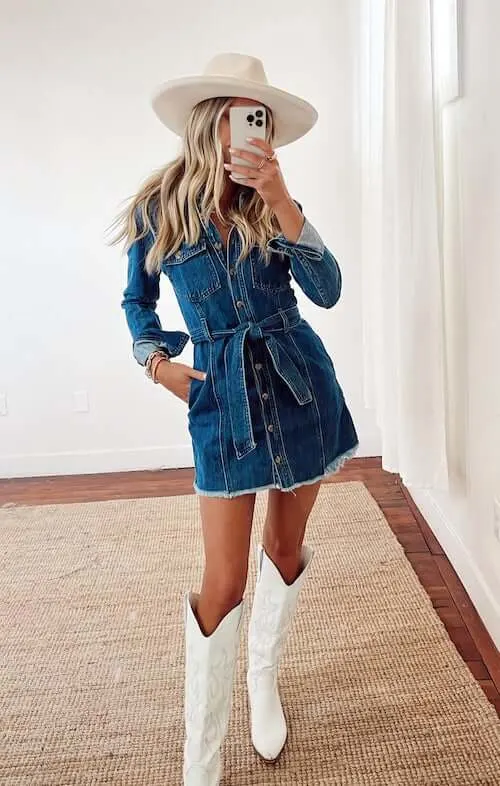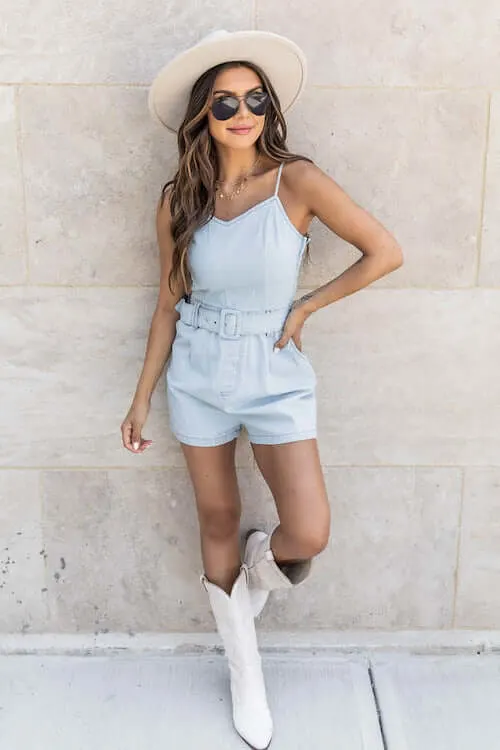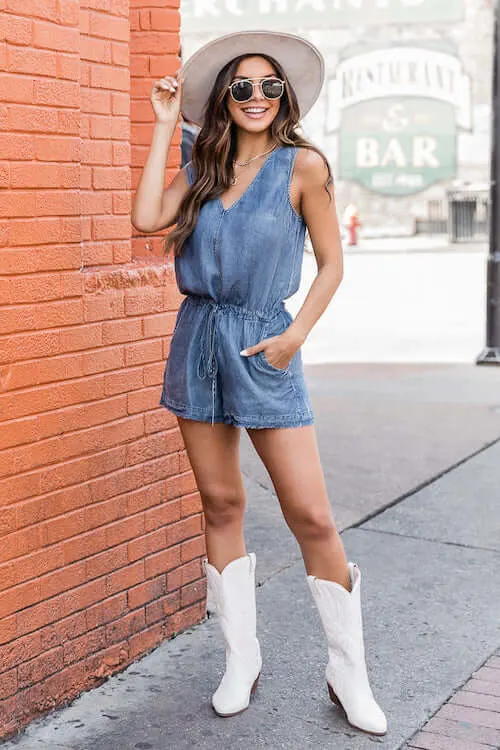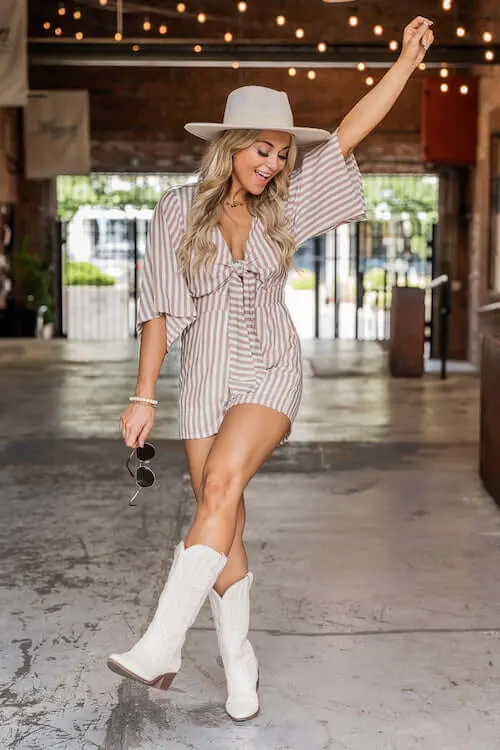 Wear Cowboy Boots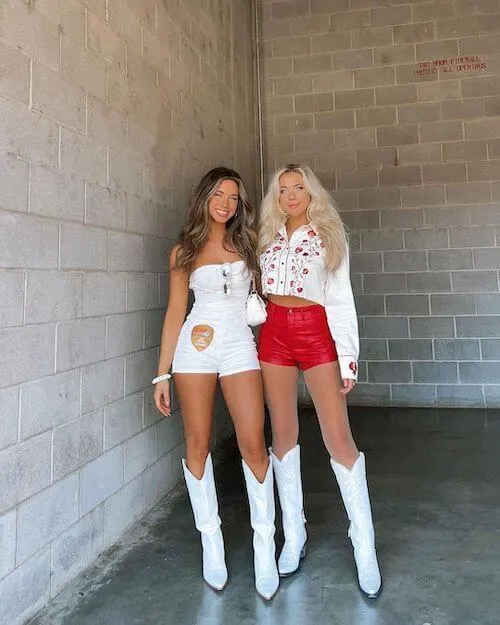 @inatalieking
Nashville Outfits for Summer
Nashville, Tennessee is known for its hot and humid summers.
However, this doesn't mean you have to leave your fashionable side behind when packing for your trip.
To stay cool and comfortable while looking stylish, here are some tips on what to wear in Nashville in summer for women.
Tops that are lightweight and breathable are a must-have item.
Try to stick with fabrics such as cotton or linen that won't cling to the skin and will keep you feeling cool throughout the day.
For bottoms, look for skirts and shorts that hit just above the knee since longer lengths could make you feel even hotter in the summer heat.
Flowy sundresses are also great options since they provide coverage without making you overheat.
Mini Dress + Chic Booties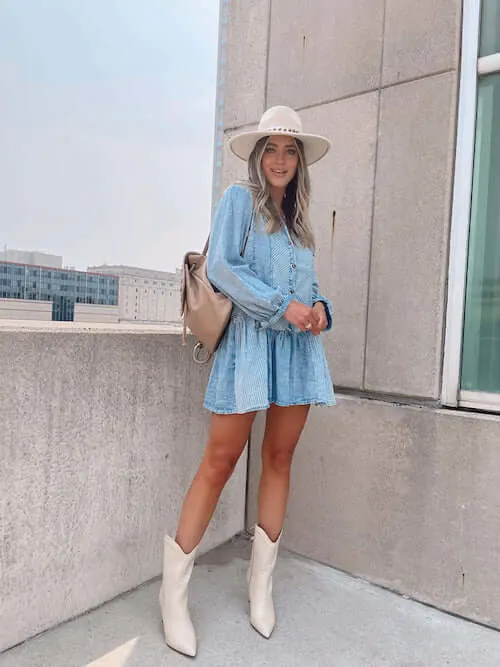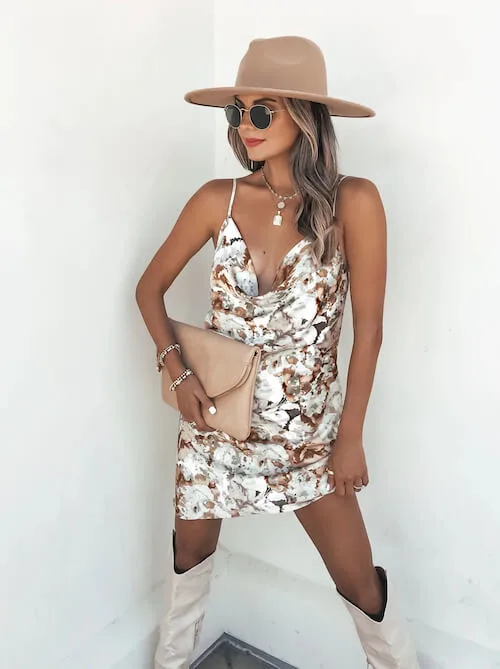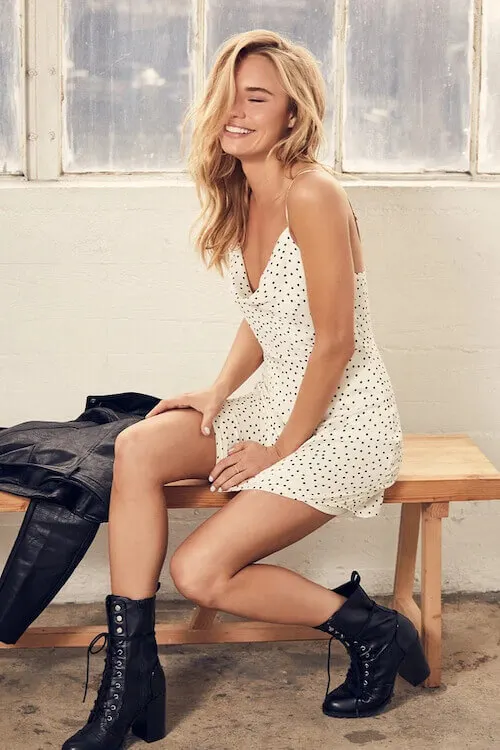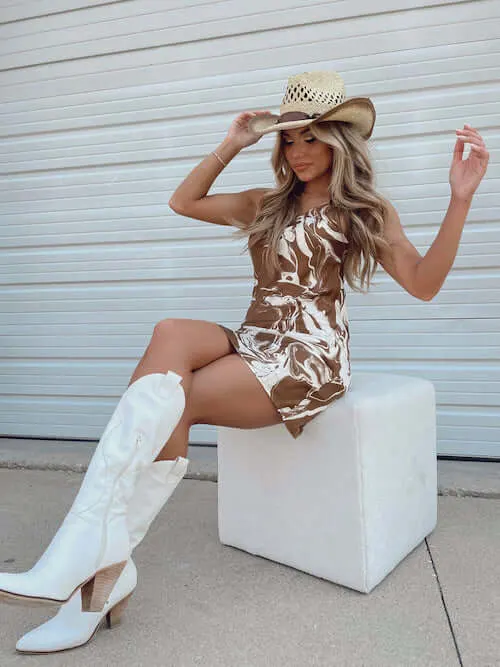 Trendy Top + Mini Skirt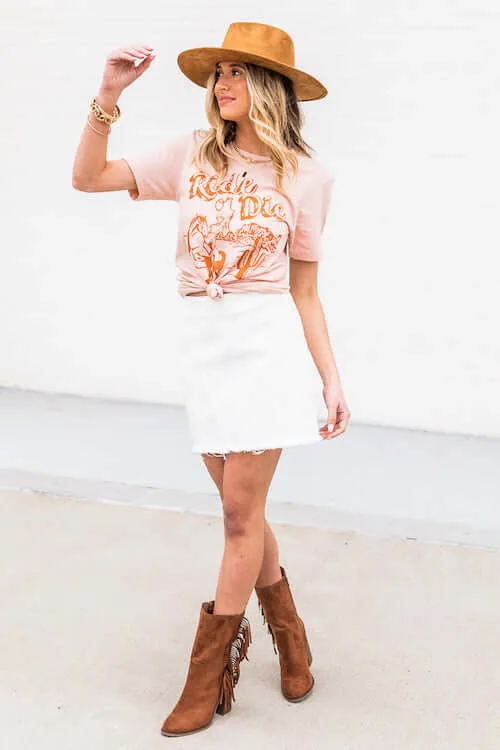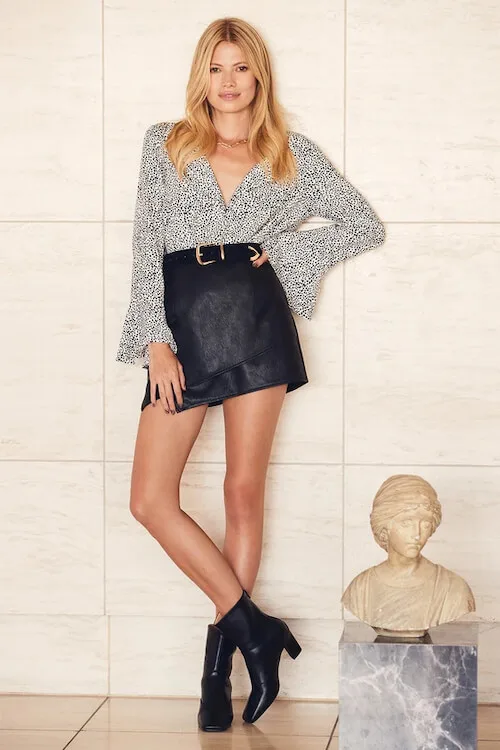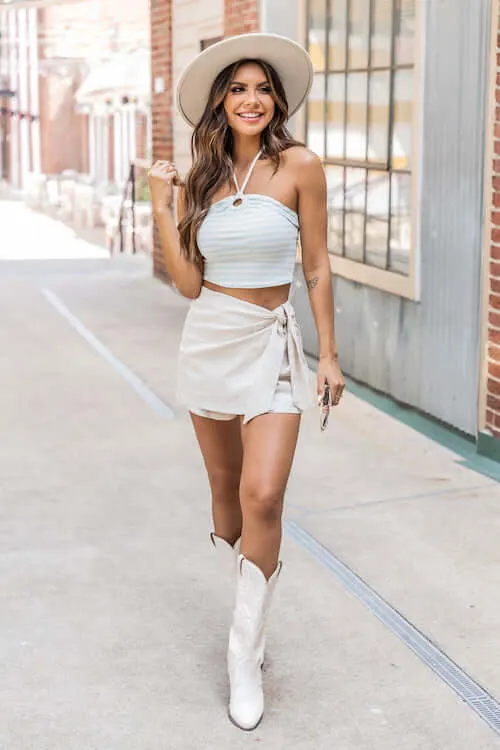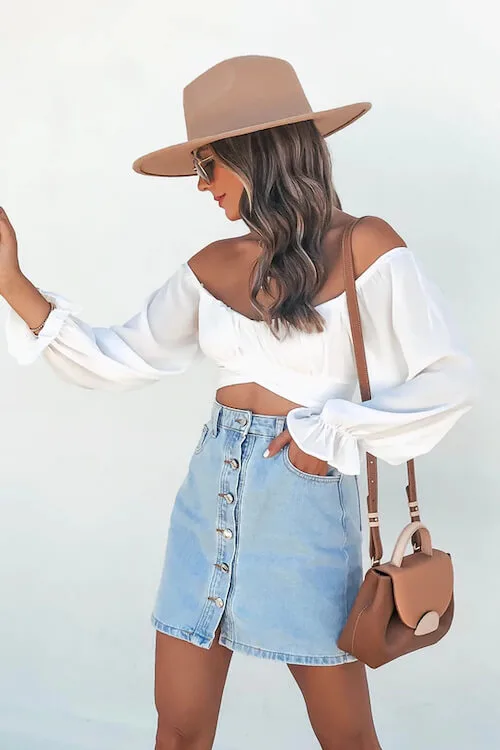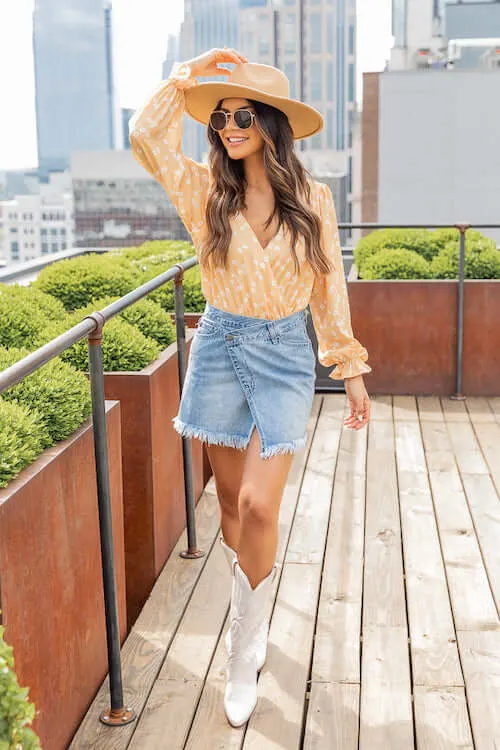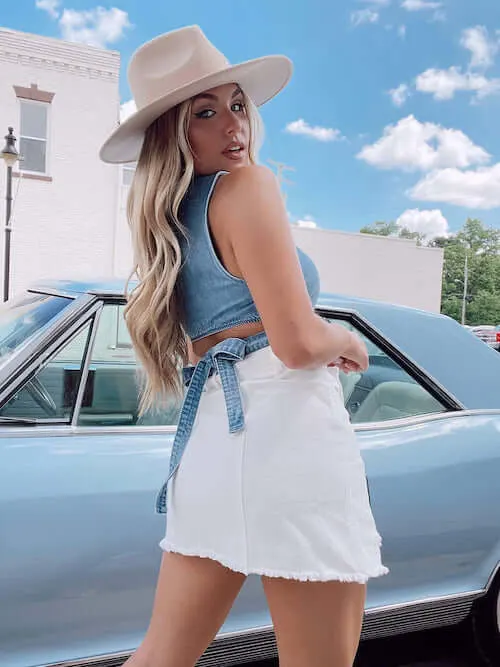 Cute Top + Shorts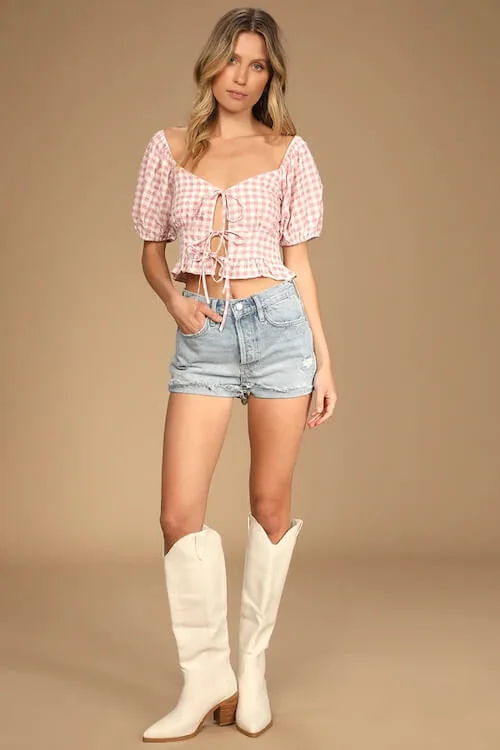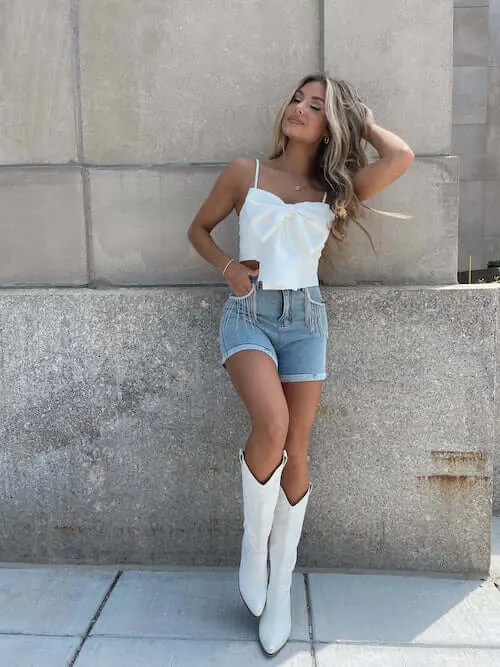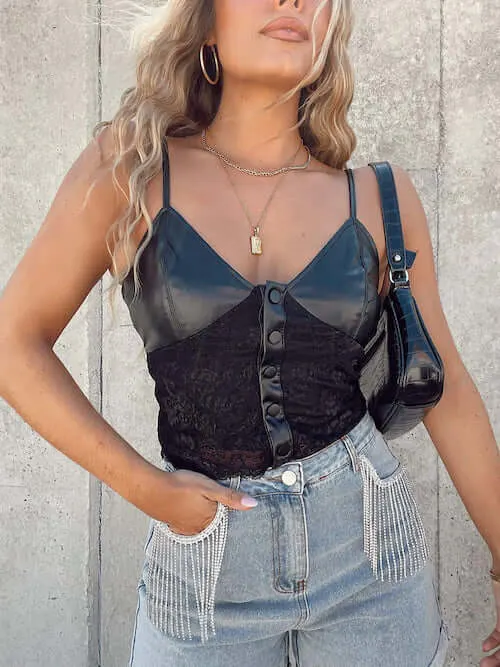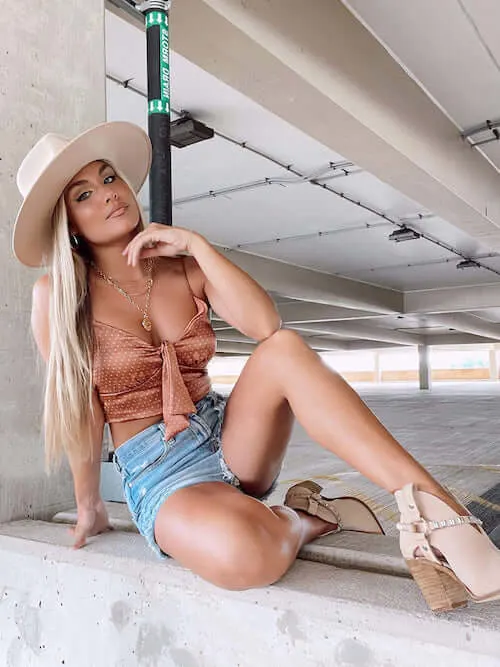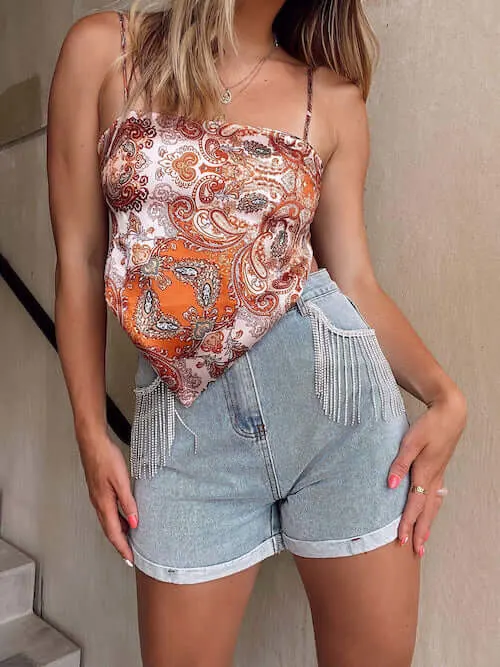 What To Wear In Nashville In The Fall
As the leaves begin to change, women across the country are looking for cozy and stylish ways to dress for fall weather.
Nashville is no different! From cool evenings by the Grand Ole Opry to a night out in downtown Music City – here's what you need when it comes to fashionably dressing for Nashville in the fall.
When autumn rolls around, there's no better way to stay warm than with layers.
Start with an essential pair of jeans or corduroys paired with a long-sleeve top, then accessorize with sweaters, hats and scarves.
Add a light jacket or denim jacket when you're headed out on chillier nights.
Classic flannel shirts also make great layering pieces that can be worn over tees or under jackets — just be sure you have plenty of style options so you can mix and match throughout the season.
Denim Jacket + Shorts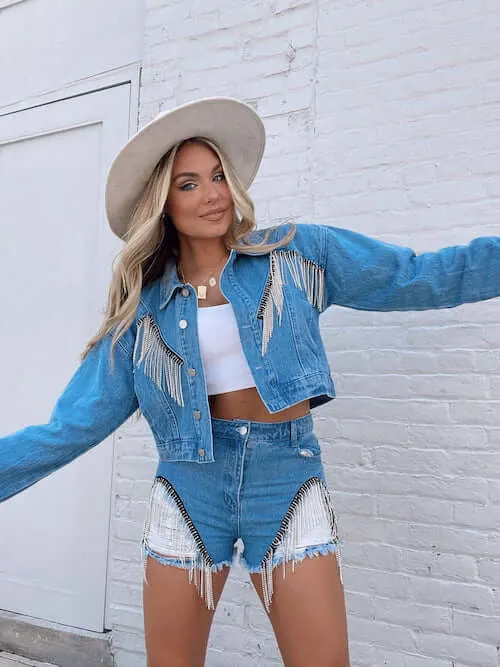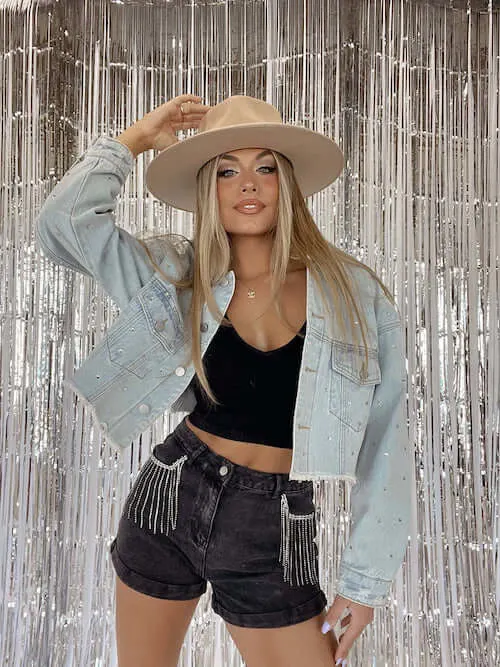 Midi Skirt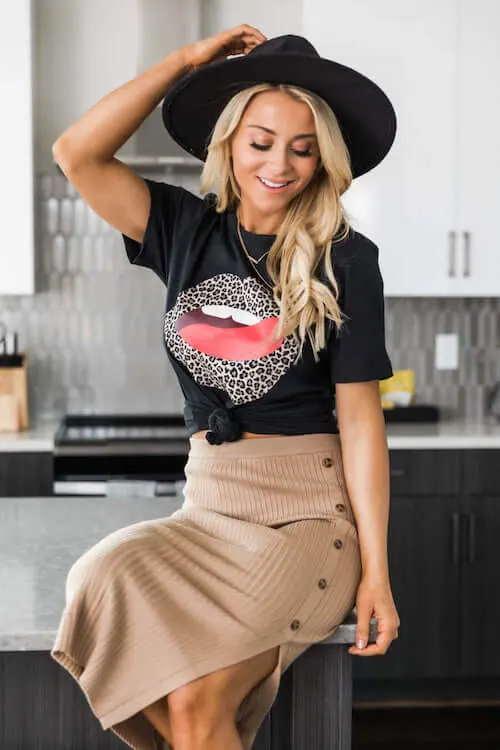 What To Wear In Nashville During The Winter
Dressing for Nashville in the winter can be tricky.
It's a city that experiences milder winters than many other cities across the United States, but there are still days when temperatures dip below freezing and snowfall is common.
As a result, it's important to have the right items of clothing on hand to keep you warm and stylish throughout the season!
When it comes to deciding what to wear in Nashville during the winter months, look for pieces that offer both warmth and style.
Layering is key: start with long sleeved tops or sweaters, add a coat or jacket over top, and complete your outfit with a pair of jeans or leggings.
Scarves, hats, gloves and boots will also help ensure you stay warm on cold days.
Light Jacket + Jeans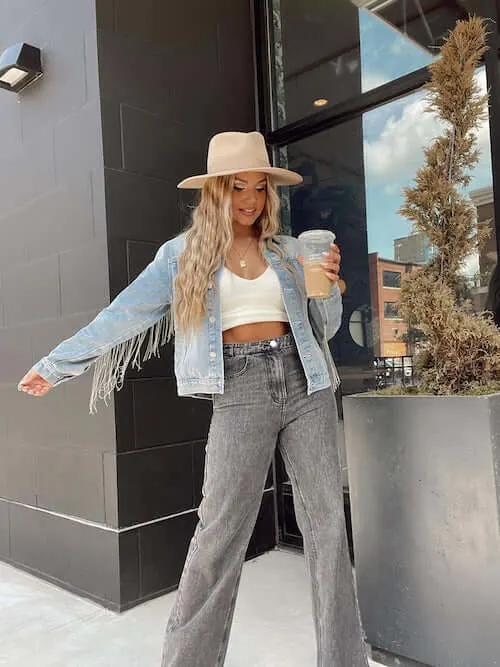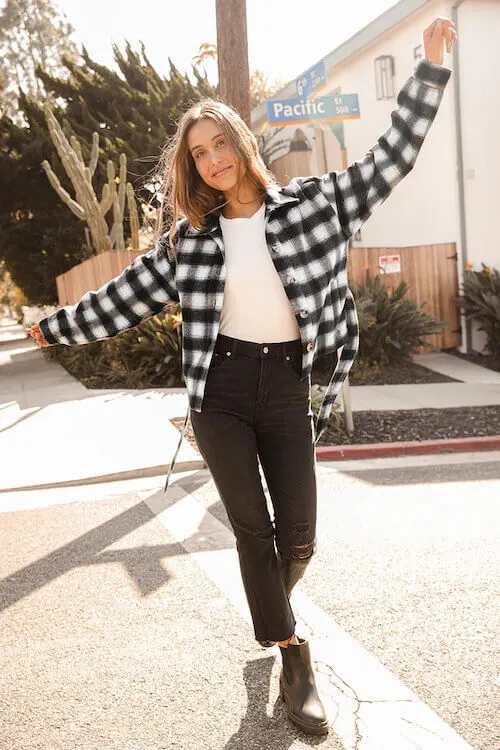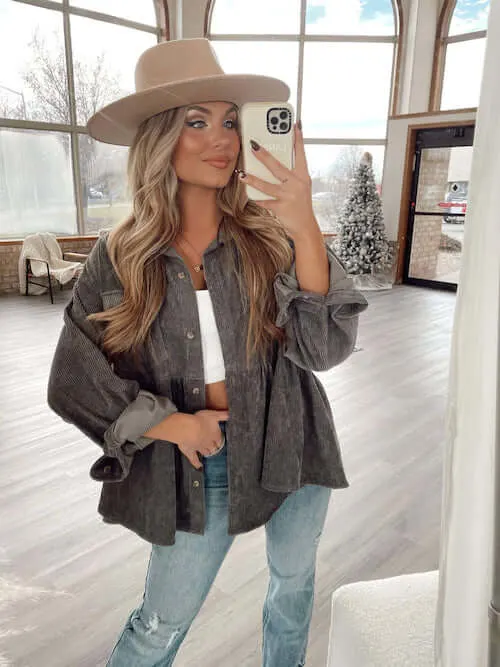 Leather Jacket + Dress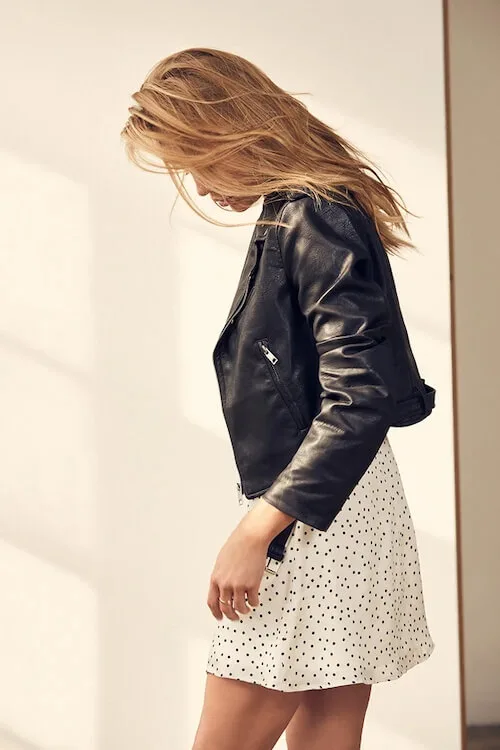 Chic Nashville Outfit Inspiration
Dress Like Locals On Your Trip To Nashville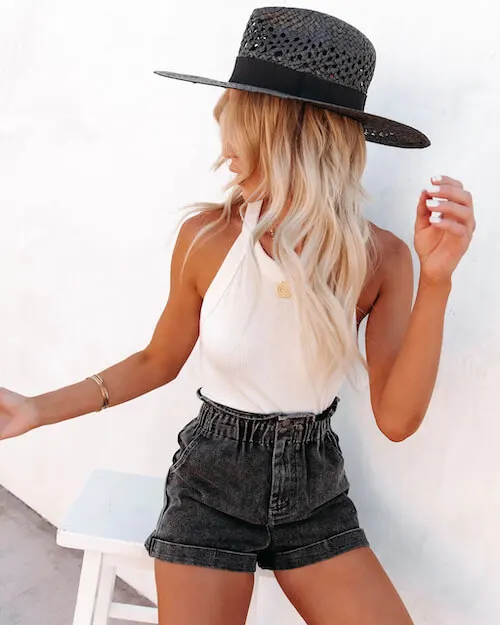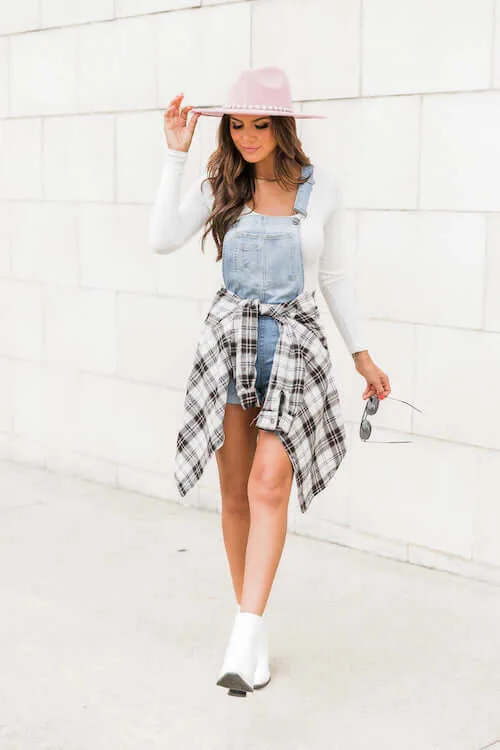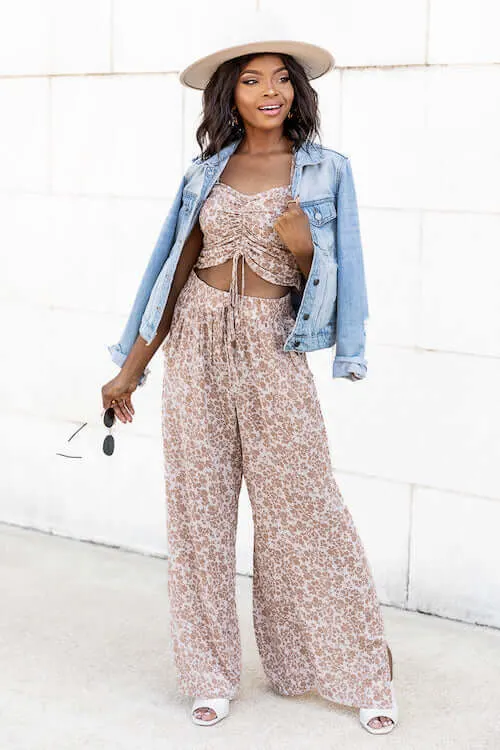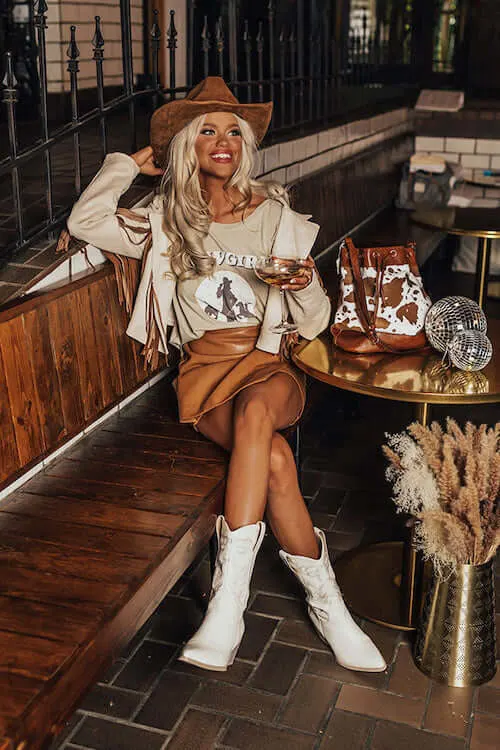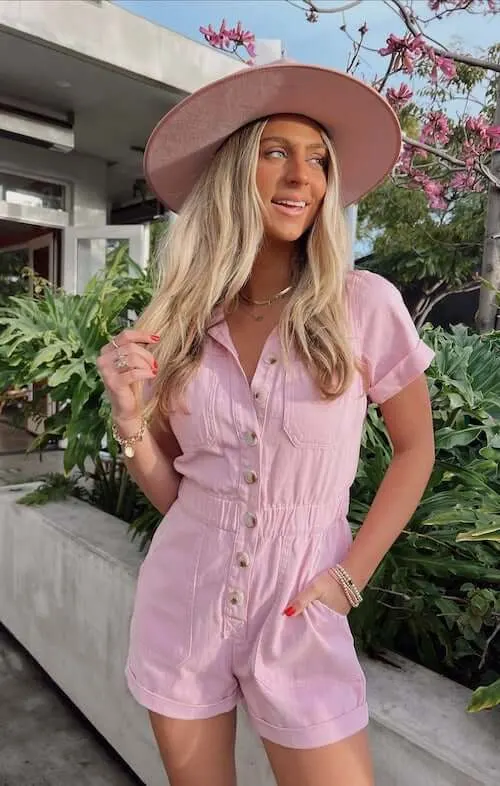 More Nashville Style Outfit Ideas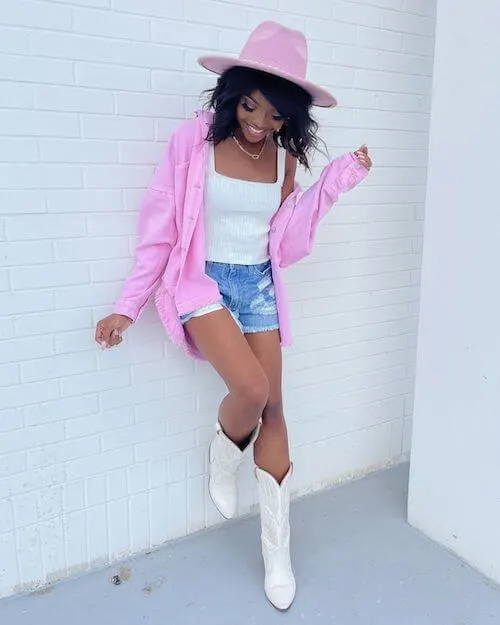 Outfits To Wear To Nashville Without Cowboy Hats and Boots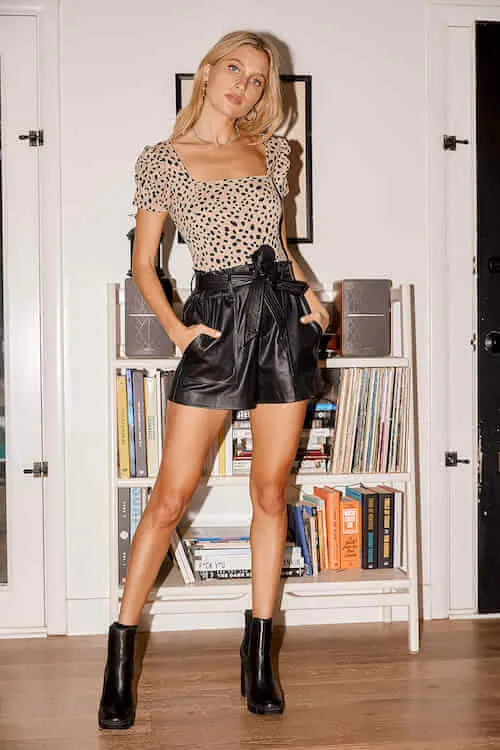 If you're visiting Nashville and want to fit in with the locals but still stand out, you don't need to go all-out cowboy.
There are plenty of other fashion options that will help you look cool and stylish without looking too touristy.
For a classic Nashville look, women should wear lightweight denim or chambray tops, paired with jeans or shorts – preferably in a dark wash or black.
A great accessory is a bandana, which can be tied around the neck for an easy dose of country flair.
For shoes, choose wedged sandals or classic leather boots for a dressier look or minimalist sneakers for something more casual.
Floral prints are popular during the summer months so consider adding some pops of color with pieces such as skirts and dresses to brighten up your outfit.
What To Pack For Nashville: Nashville Packing List for Women
Nashville, Tennessee is a booming city full of entertainment and activity.
For any woman planning to visit Nashville, it is essential to prepare the right packing list.
Whether you're going for a weekend getaway or a longer vacation, here are the must-haves for your next trip.
To start off your wardrobe basics, make sure to bring along several pairs of jeans that are both comfortable and stylish.
A few solid t-shirts or cute tank tops will be perfect for days spent exploring the town's attractions, as well as nights out on Broadway in Nashville.
In addition, make sure you're packing at least one pair of good walking shoes as well as sandals or flats that can take you from day to night.
This post was all about what to wear in Nashville.
About The Author
Tracy is an experienced personal stylist, shopping expert, and fashion & lifestyle blogger. She has been featured on Time Magazine, Bustle, Best Life, Glam, The Zoe Report, Mic, and GOBankingRates, for her insights on fashion, beauty, home decor, and lifestyle. Read More
Related Posts: