Looking for oversized shirt outfit ideas to copy this year? Check this post for the trendiest styling tips and outfits with oversized tees, oversized button-down shirts, and oversized button-up shirts to copy directly.
The oversized shirt trend is taking the fashion world by storm.
Women everywhere are searching for ways to style this look in their own unique way.
Whether you want to keep it simple and classy or bold and daring, there are endless options when it comes to creating your own oversized shirt outfit.
From tucking it into a skirt, pairing it with jeans or even playing around with layered looks, there is something for everyone.
This post may contain affiliate links, which means I'll receive a commission if you purchase through my link, at no extra cost to you. Please read the full disclosure here.
This post is all about oversized shirt outfit ideas.
Are Oversized Shirts In Style?
Oversized shirts have been a fashion staple since the late 80s and early 90s, when hip hop artists began wearing them.
In recent years, they've made a resurgence in street style and can be seen on celebrities such as Gigi Hadid and Kanye West.
The oversized shirt trend is still going strong today, with larger-than-life statement pieces being all the rage.
These oversized shirts come in a variety of styles – from classic plaid flannels to bold graphic tees.
They pair perfectly with skinny jeans or leggings for a casual day look or dress them up with high-waisted trousers for an edgy evening ensemble.
Oversized shirts can also be worn open over another top as an easy layering piece that adds dimension to any outfit.
What looks good with oversized shirt?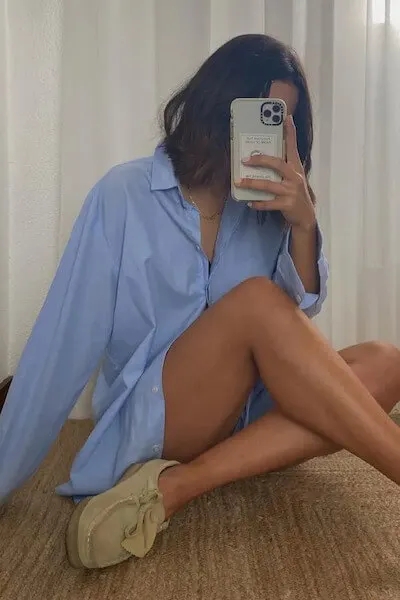 Women can create a casual look by pairing a plain oversized shirt with denim shorts or jeans.
For a slightly more elevated look, try tucking in the shirt and wearing it with culottes or tailored trousers along with loafers or heels.
Oversized shirts also look great when combined with midi skirts, creating an effortless chic outfit that's perfect for brunch dates and day outings.
Scroll on to check out more stylish outfits with oversized shirts!
Which Oversized Boyfriend Shirts Are Trendy Right Now?
The first is this minimalist tailored white shirt worn by Kendall Jenner from The Row.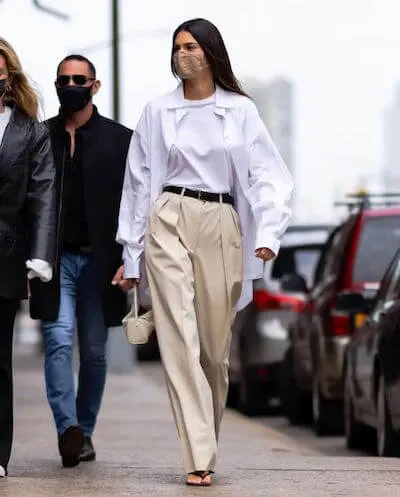 This shirt is quite trending on Instagram.
The second piece comes from the popular New York brand The Frankie Shop.
This brand produces big hits almost every season. This year, its Melody Oversized shirt has become a favorite in the fashion world. Many bloggers such as Pernille Teisbaek and Camille Charriere are wearing them.
The eye-catching bright green (named Island Green), coupled with the loose and casual designs, has attracted many fashion bloggers.
Valentino's oversized grosgrain shirts are also popular.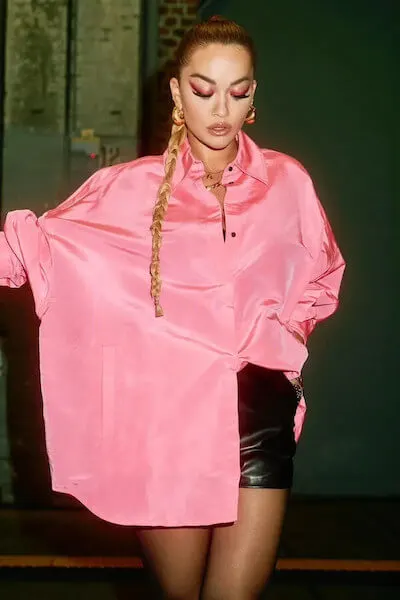 Rita Ora in Valentino
Elasa Hosk in Valentino
Storets is so popular among fashion bloggers. They have launched many pretty oversized shirts this season. Their pink oversized shirt is almost a Valentino's dupe. They have white oversized shirts and many cute colorful shirts, covering almost all the popular fashion colors in the summer that you can imagine, including pink, green, yellow, purple, and blue.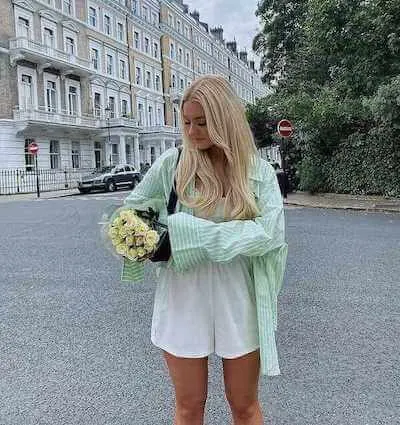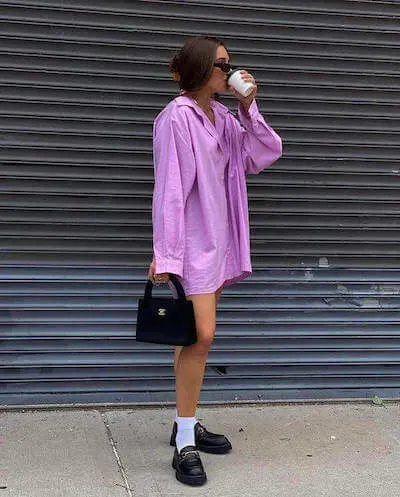 How To Wear A Oversized Shirt: Best Oversized Shirt Outfit Ideas To Copy
Oversized Shirt With Skinny Jeans / Skinny Pants
This combination is not only stylish and flattering, but also comfortable and easy to pull together.
Whether you're heading to work or going out for the day, this look can be adapted into a variety of different styles.
For a classic and professional look, try tucking in the shirt and wearing tailored black trousers with loafers or sandals.
Accessorize with subtle jewelry pieces such as earrings or a necklace, while keeping the outfit chic yet simple.
To make it more relaxed for weekend errands or casual outings, go for lighter-colored slim-fit jeans and your favorite pair of sneakers instead.
Finish off the outfit by tying up your hair in an effortless messy bun for an effortlessly cool vibe.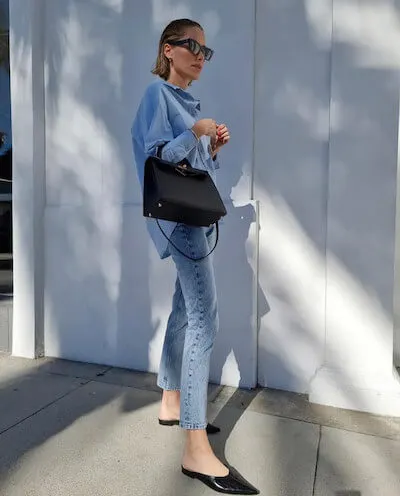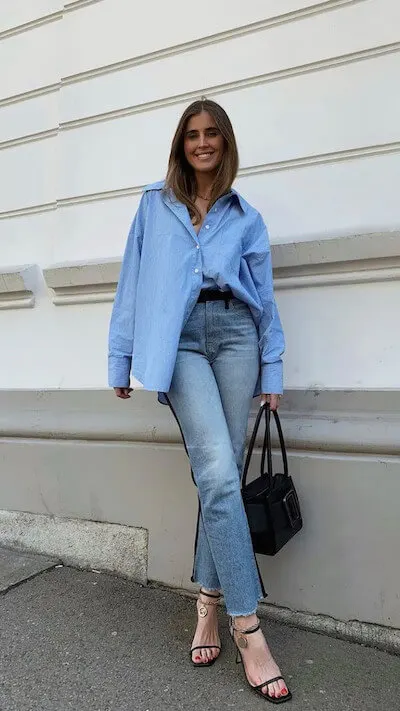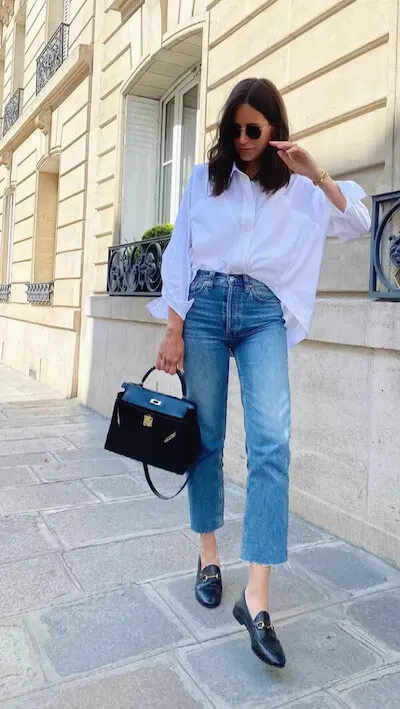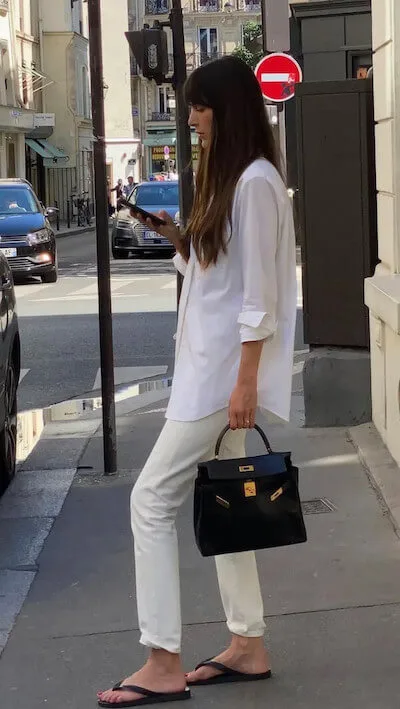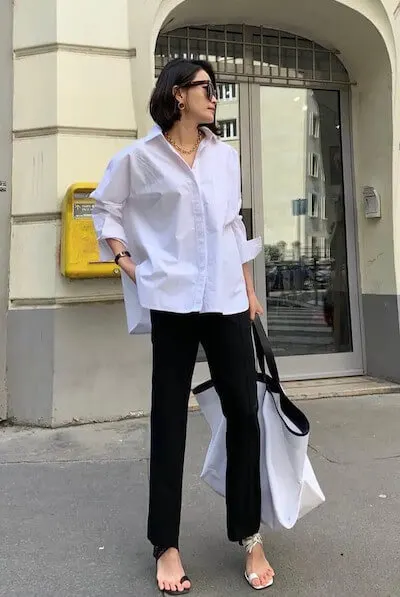 With Shorts or Mini Skirt
The oversized shirt can be effortlessly styled with shorts or mini skirts for women, allowing you to create an easy and stylish date outfit.
Whether you are looking for something casual or more dressed up, this style of clothing can easily be adapted to suit your needs.
For a more casual look, team the oversized shirt with denim shorts and stylish sneakers or slides.
For dressier occasions such as a date night, pair the shirt with a leather mini skirt and heels.
If you want to add some extra glamour to your outfit then accessorize accordingly – some simple jewelry pieces like earrings and rings will help pull the entire look together!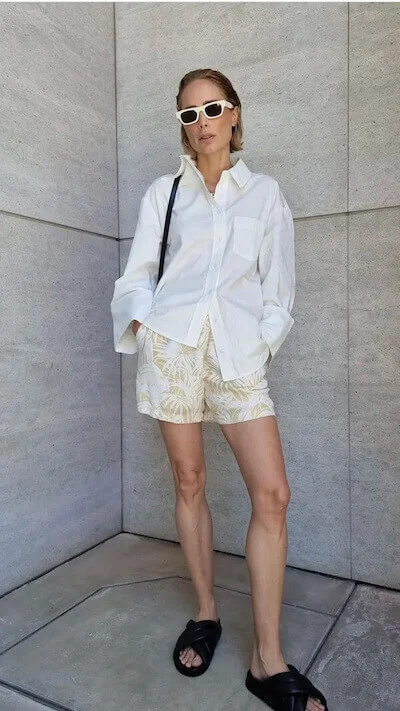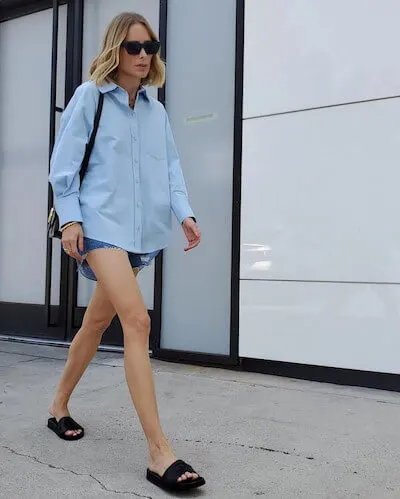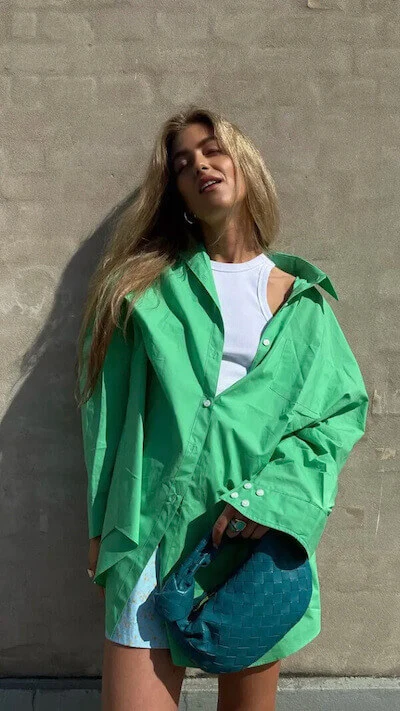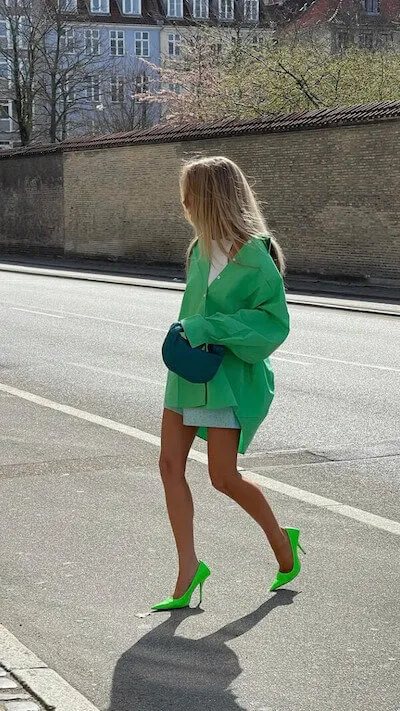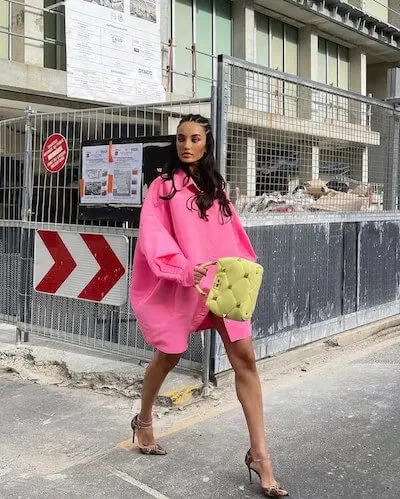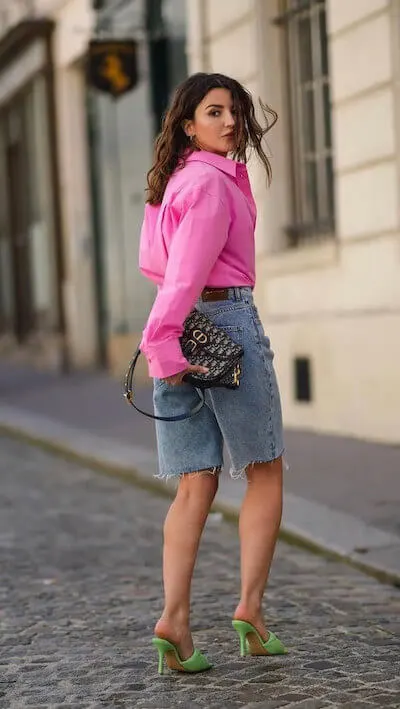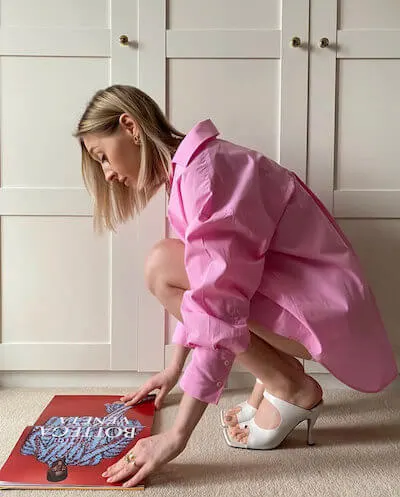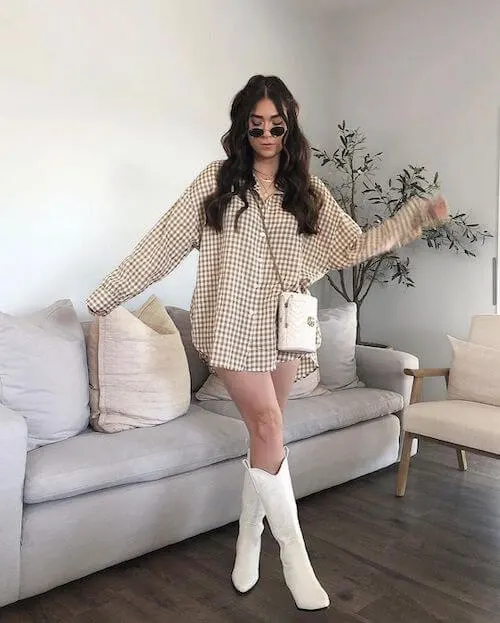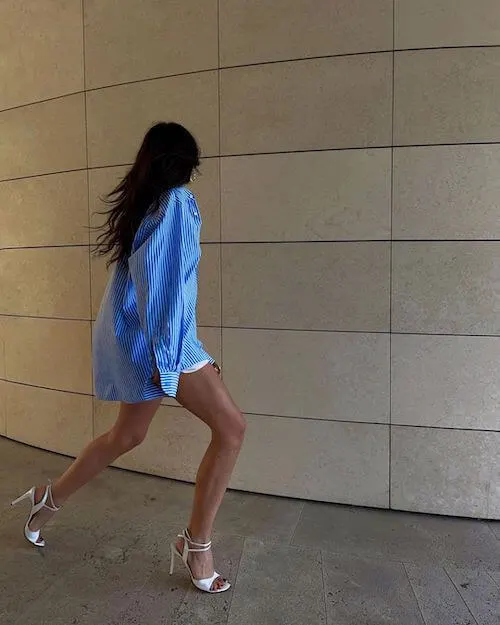 With Wide Leg Pants
An oversized button down shirt with wide leg pants is a timeless combination that creates an effortless, yet stylish look.
Start by selecting an oversized button-down shirt that fits comfortably and flatters your body shape.
Opt for one that is lightweight and flowy, as it will create a more relaxed look when paired with wide-leg pants.
When choosing the bottom half of this outfit, pick out high-waisted trousers in a solid color like black or white for maximum impact.
For added drama, try wearing bold prints such as polka dots or stripes to make the statement piece stand out even more.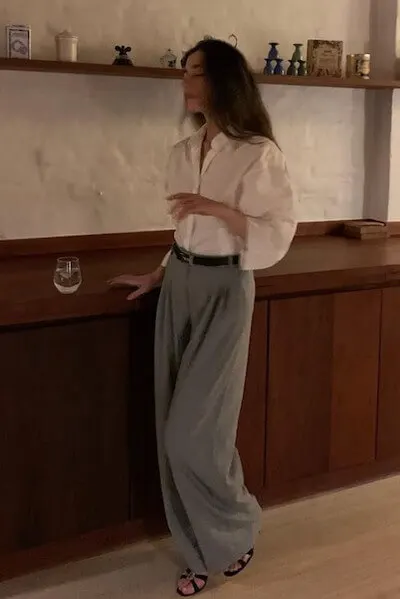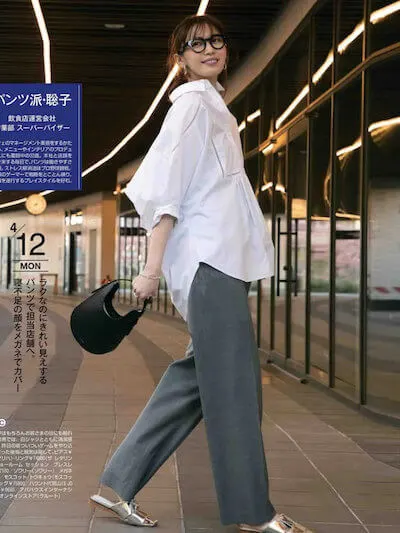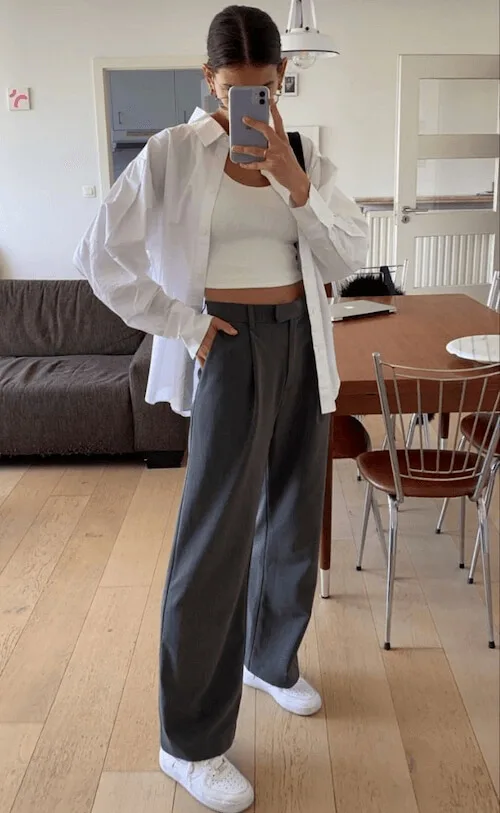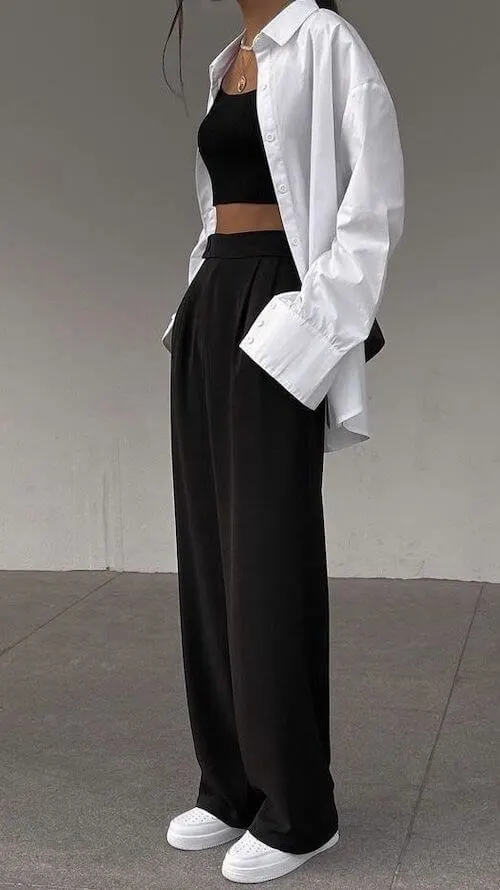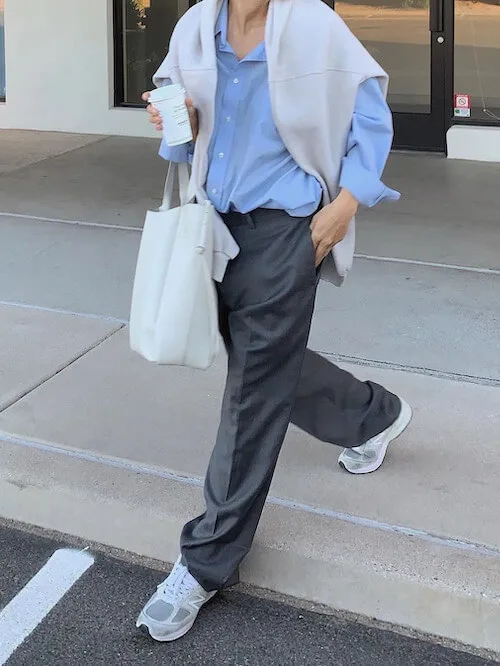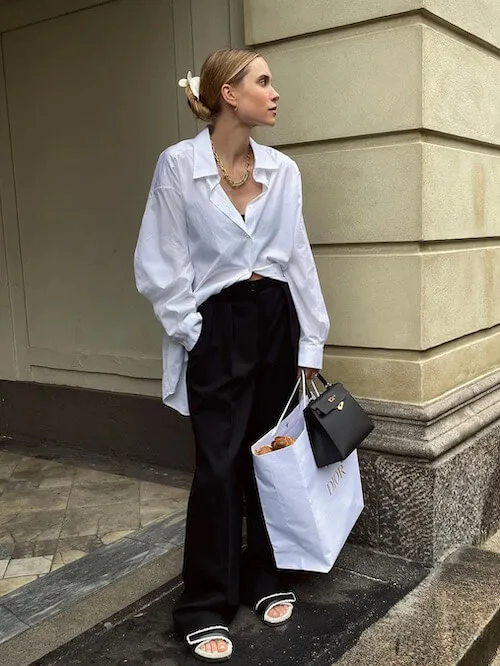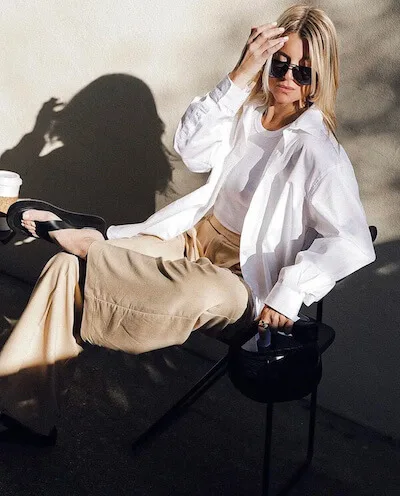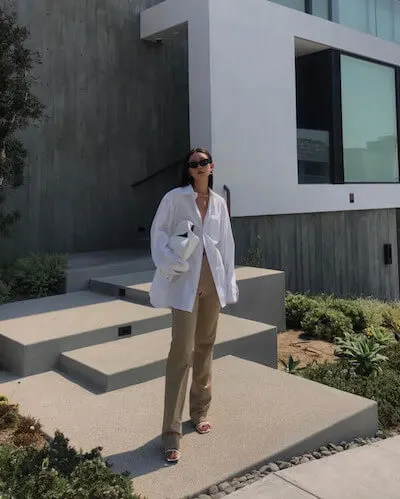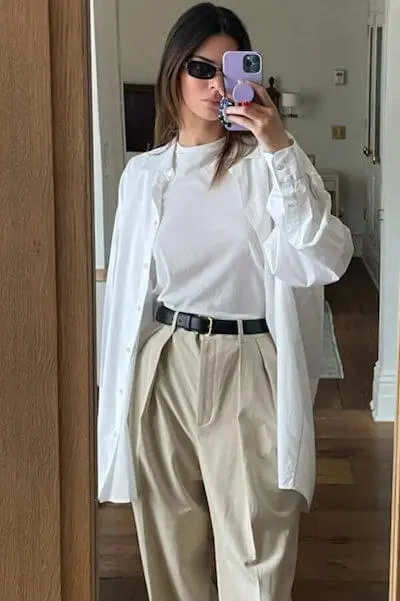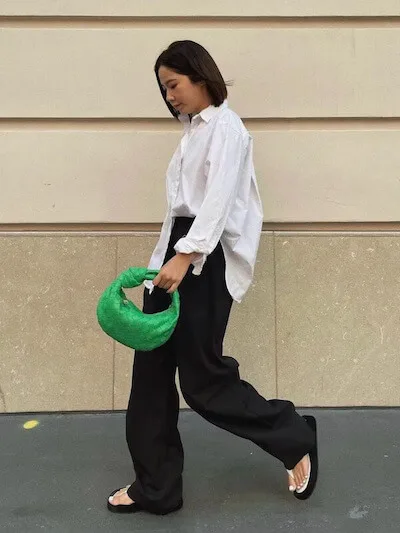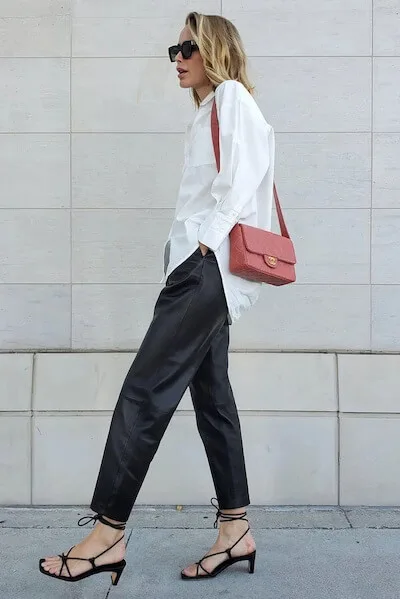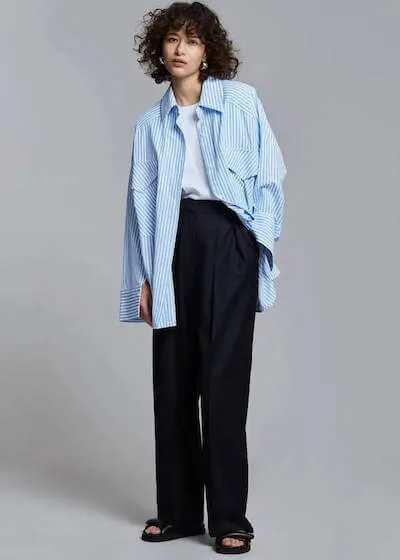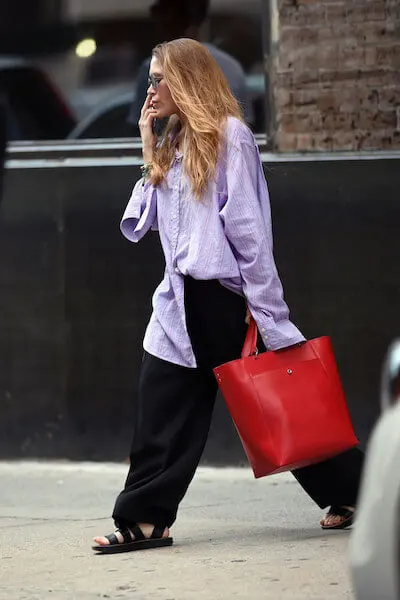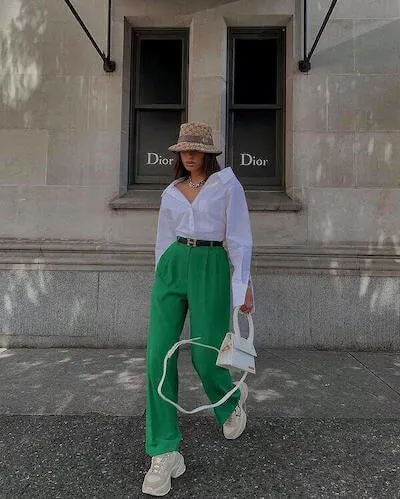 Emphasize Your Waistline
One of the easiest ways to emphasize your waistline is by using a belt.
A skinny or wide belt cinched at the waist will not only add structure and definition to an oversized top but also accentuate any curves that may be hidden beneath it.
Another way to 'dress up' baggy shirts and give them more shape is by pairing them with high waisted pants or skirts; tucking in the front of the shirt will help further define your waistline while still keeping it comfy and casual.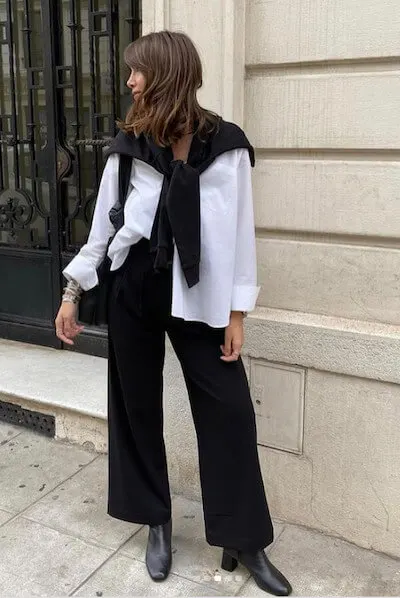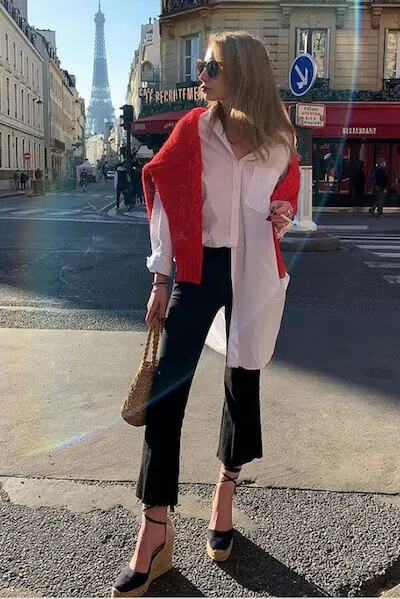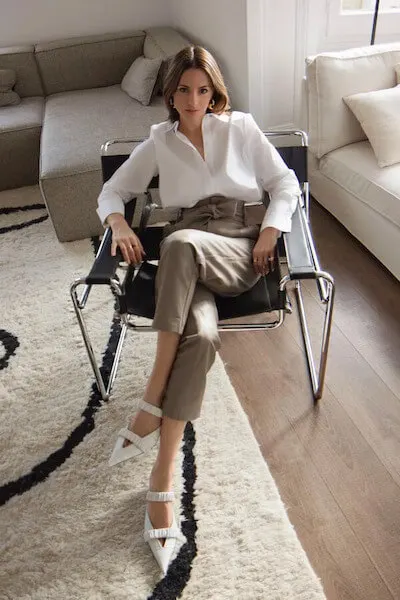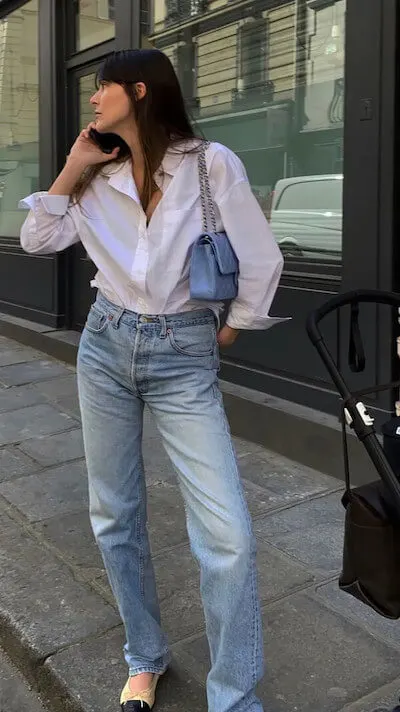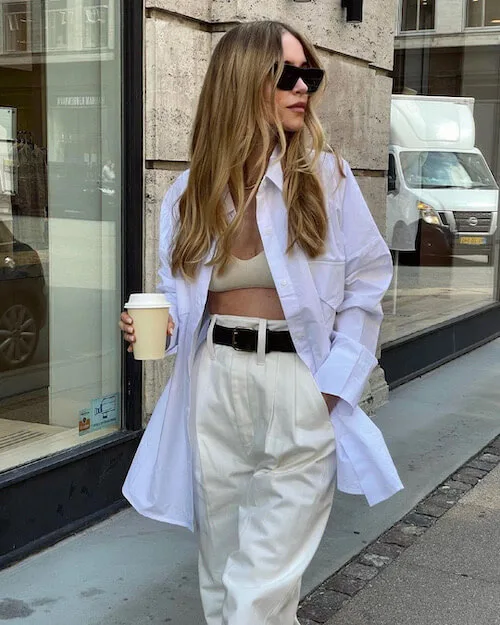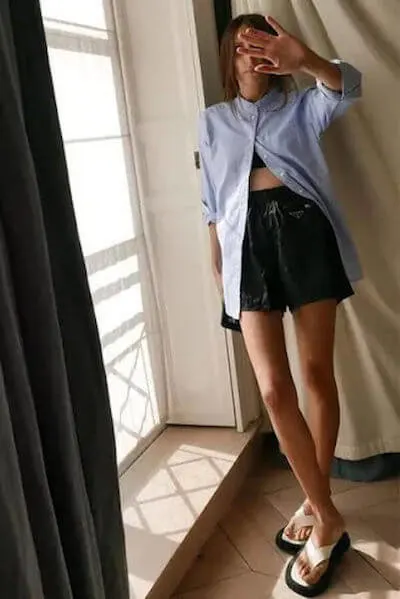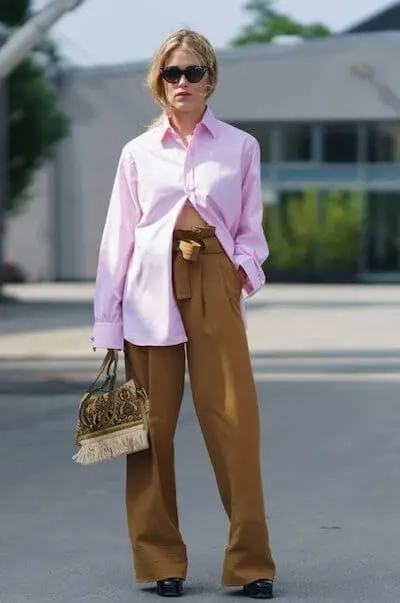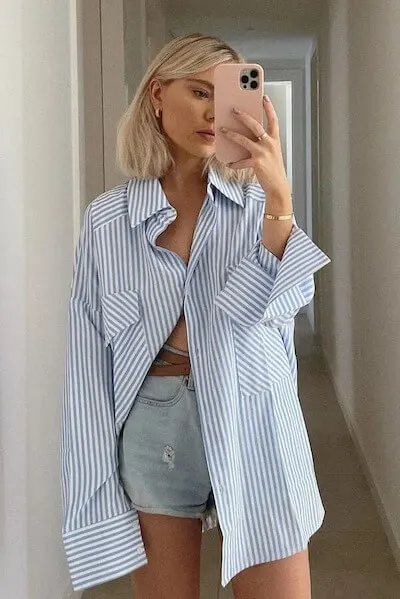 Tie The Front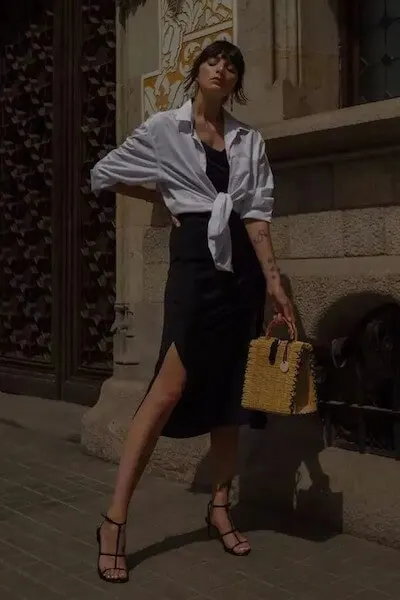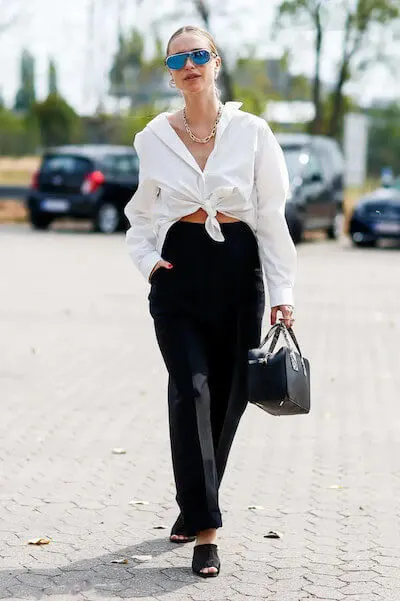 With Midi Skirts
If you're looking for an easy yet stylish way to look sexy and laid-back, try wearing a midi skirt with an oversized white button-down shirt.
The combination of the fitted skirt and relaxed top creates a balanced look that's both flirty and sophisticated.
Start by opting for a light weight cotton or linen skirt that sits just above the knees for a classic midi cut.
To complete the outfit, choose a white button-down shirt in your size but two sizes up so it's slightly oversized.
Roll up the cuffs to show off your wrists and finish with strappy nude sandals or pointed-toe pumps.
For extra warmth on cooler days, add a denim jacket or cropped blazer, then accessorize with some bold earrings or a statement necklace.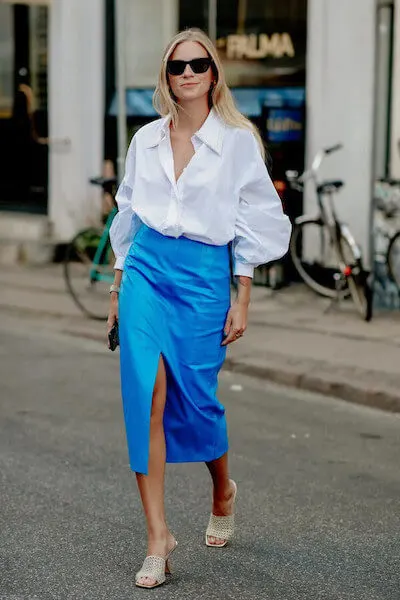 How do you style oversized T-shirts?
For women who like to dress casually and comfortably, oversized t-shirts are a great wardrobe staple.
But how do you make them look stylish? With the right styling tips, you can easily upgrade your look with an oversized t-shirt.
First, try pairing an oversized t-shirt with leggings or jeans for a comfortable and on-trend outfit.
By adding accessories like a belt at the waist or jewelry, you can create more shape without sacrificing comfort.
Finish the look off with some sneakers or sandals to complete the casual and cool style.
If you want to go beyond basics and add some glamour to your outfit, try layering an oversized t-shirt over a fitted skirt or dress.
This creates an interesting silhouette that will keep all eyes on you! Don't forget some statement heels for extra pizzazz.
Street Style Oversized T Shirt Outfit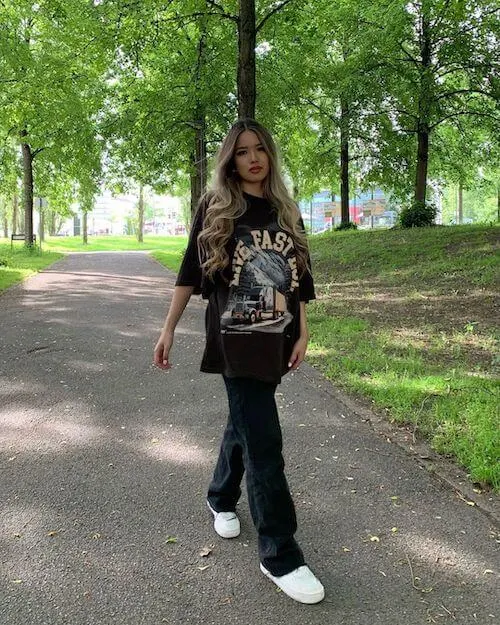 Oversized T Shirt Dress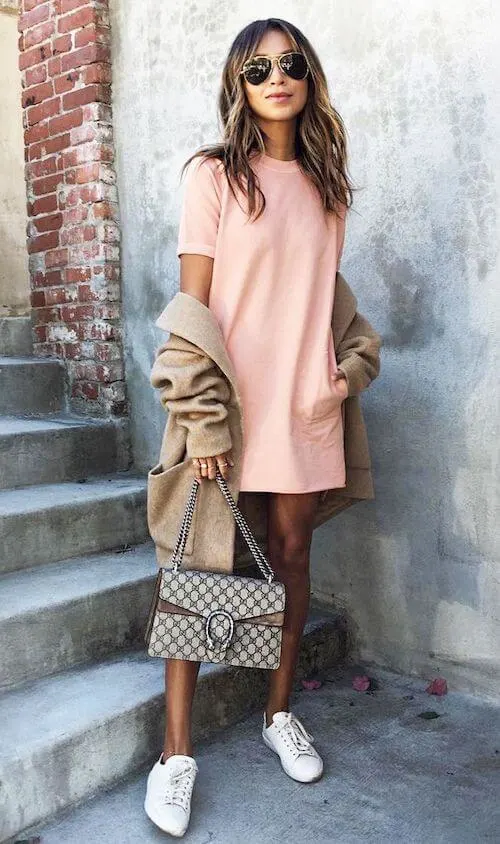 Simple Oversized T-shirt Outfit Ideas
Oversized Graphic Tee And Bike Shorts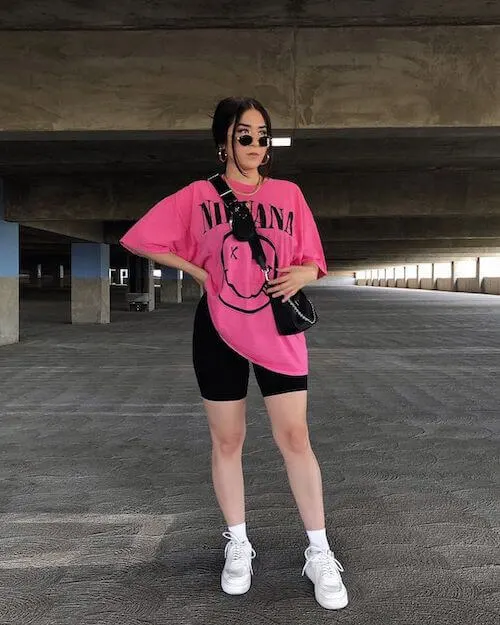 Wear Your Oversized Graphic T-shirt / Letter T-Shirt As A Dress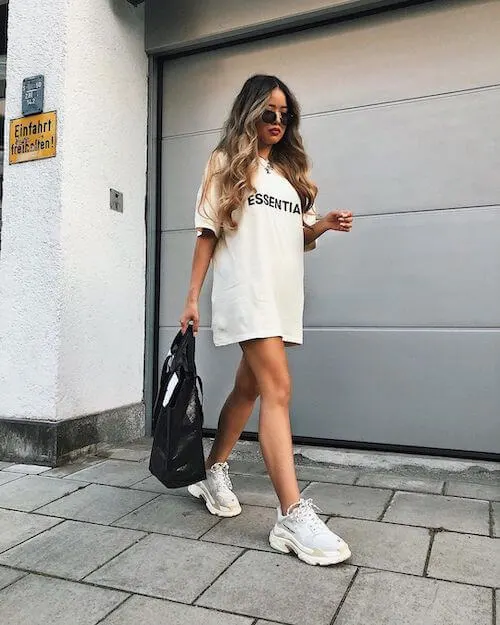 More Chic & Modern Oversized Shirt Outfits
Tuck In Your Oversized Shirt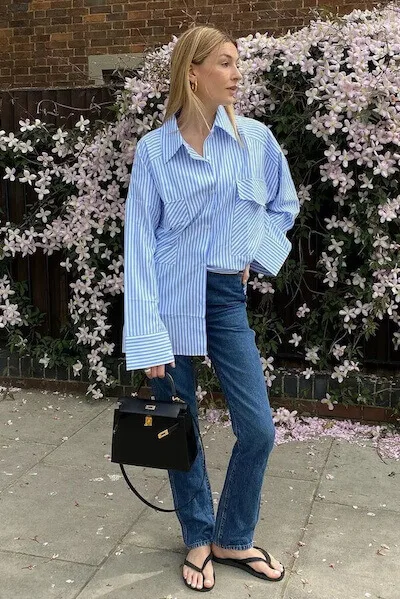 With White Tee or Tank Top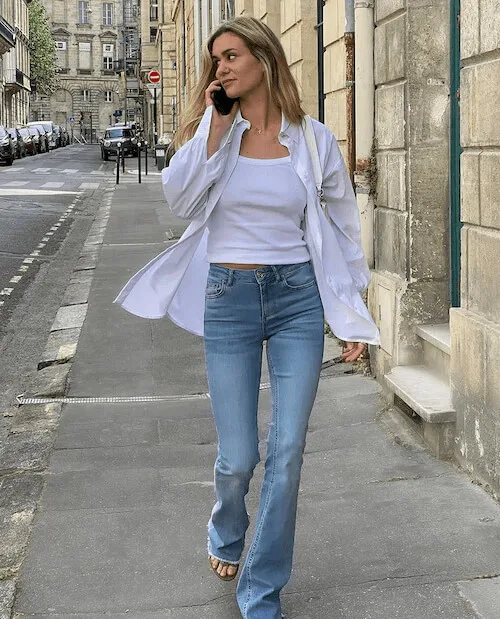 With Denim Shorts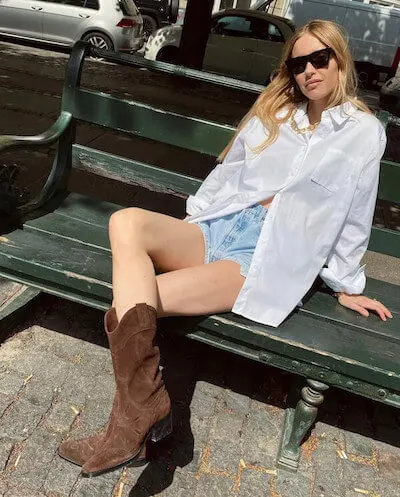 With Blazer
With Platform Sandals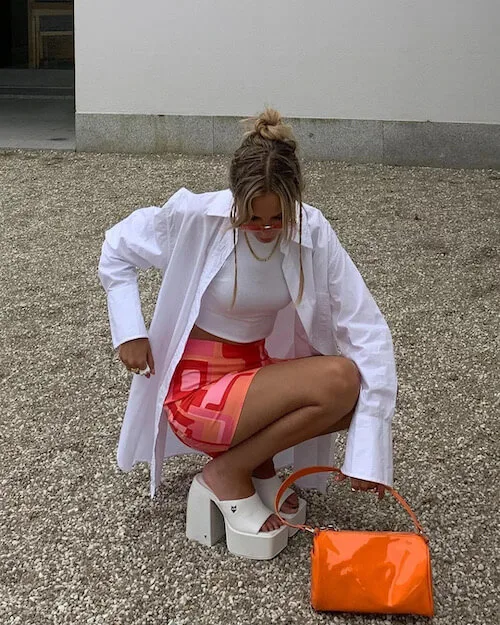 Oversized White Shirt + White Sneakers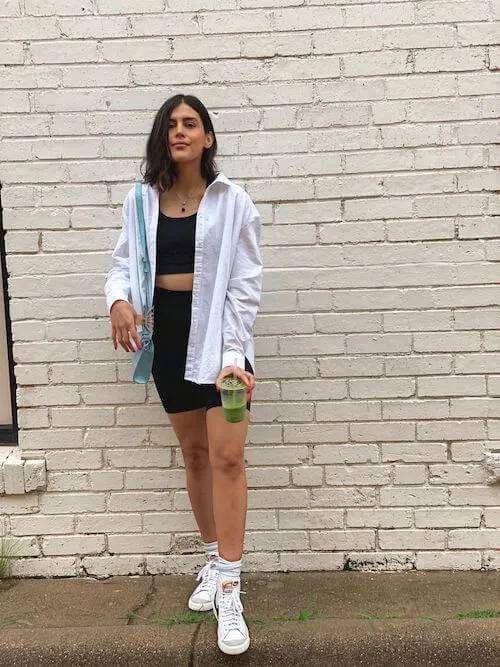 Oversize Shirt With Leggings / Skinny Jeans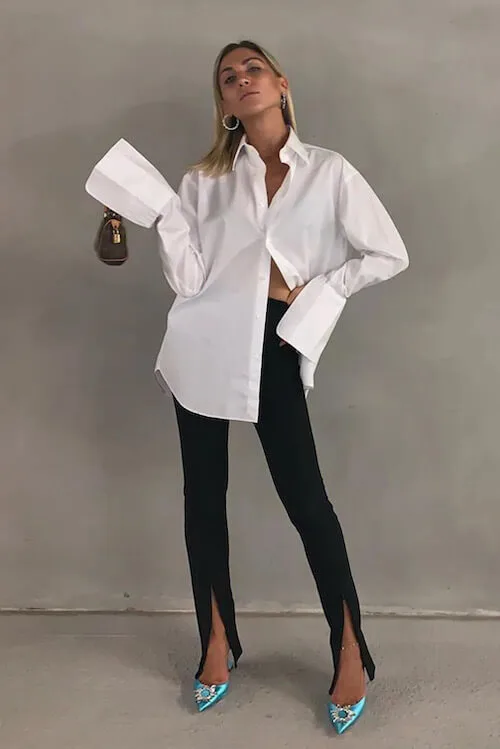 With Crop Top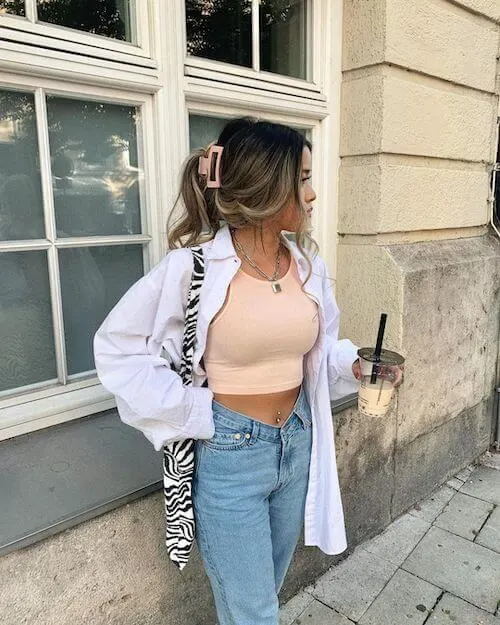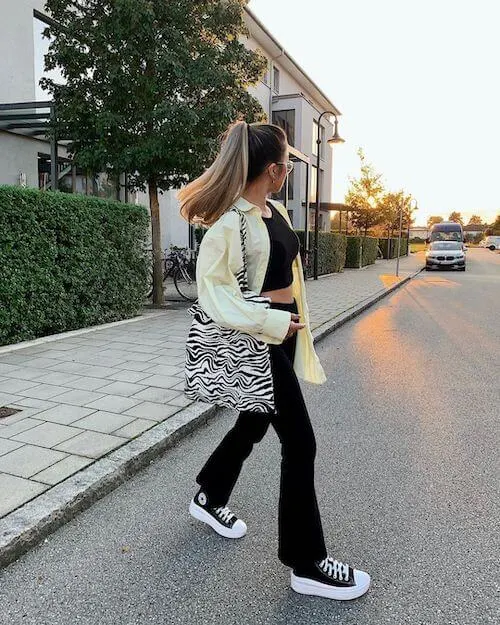 With Crop Jeans
An Easy Way To Wear An Oversized Button-Down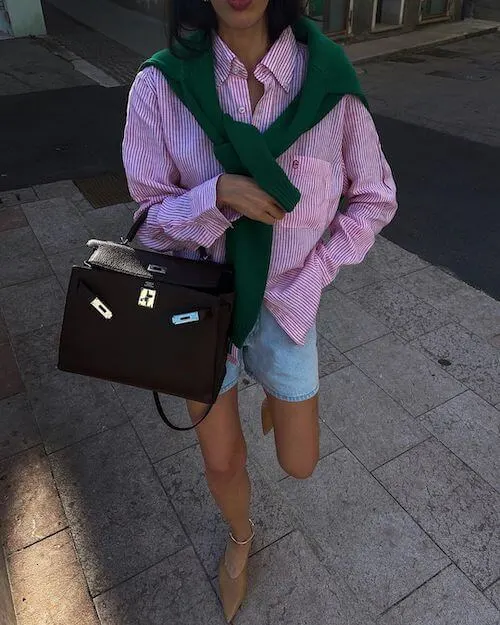 Elevated Casual Style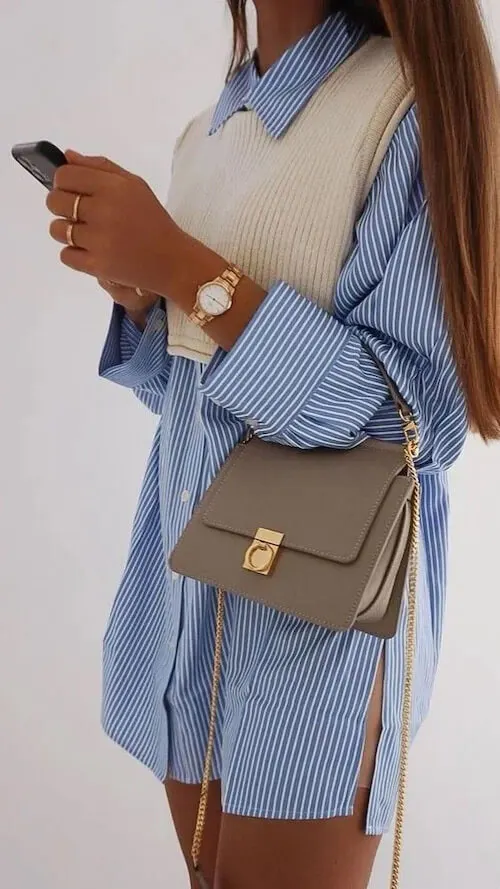 White Oversized Shirt And Jeans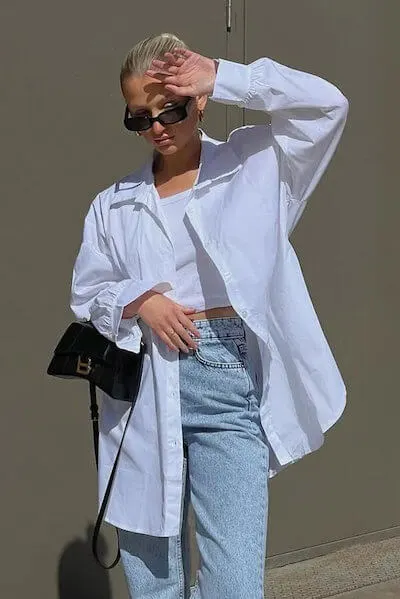 Blue Oversized Shirt + Blue Jeans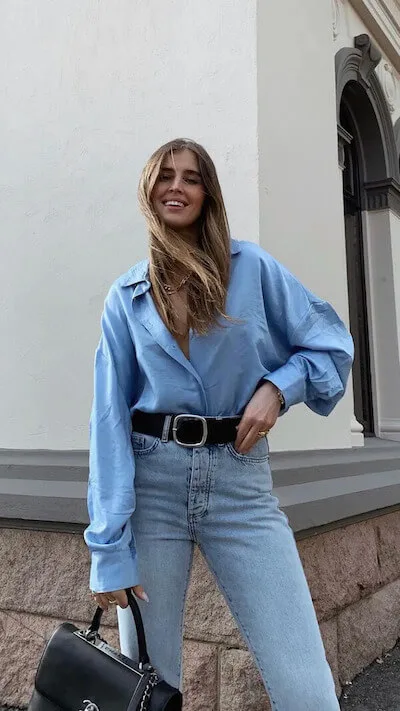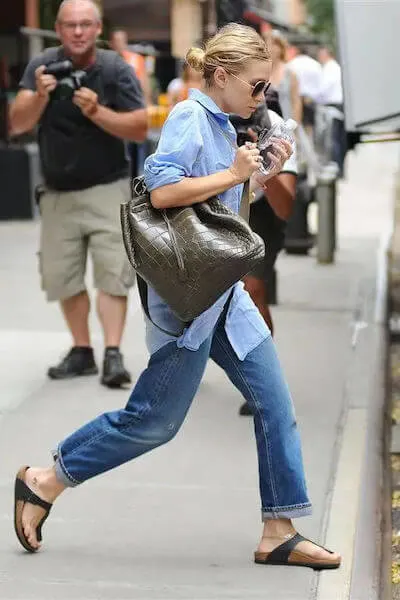 Laid-Back Casual Outfit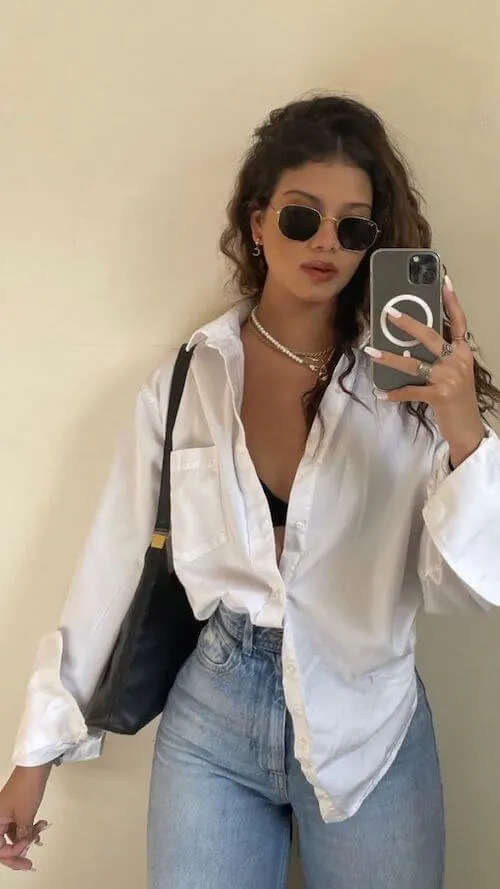 Stylish Beachy Outfit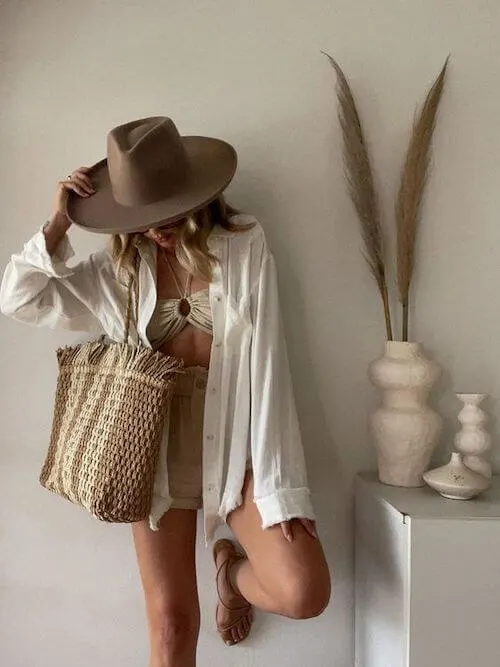 How Do You Style An Oversized Shirt For A Party?
Start by rolling up the sleeves of the shirt or tying them into knots at the elbows.
This will give your outfit more definition and create an effortless, stylish look.
Next, pair your oversized shirt with slim-fitting bottoms such as skinny jeans or tailored trousers – this helps balance out the proportions and adds structure to your overall outfit.
Finally, accessorize with statement jewelry pieces such as chunky necklaces and bold earrings for added glamour!
How To Wear Oversized Shirts In Winter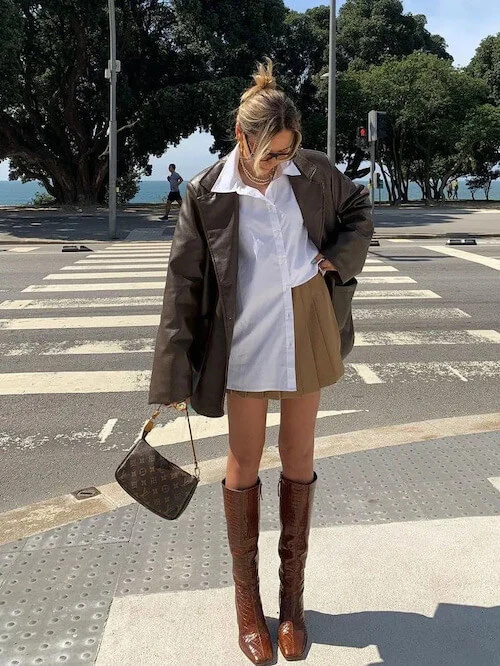 Whether you're looking to stay warm, or just want to add some extra style to your look, there are plenty of ways to wear oversized shirts this season.
To create the perfect winter outfit, start by pairing an oversized shirt with a blazer or leather jacket – this will help keep your silhouette from becoming too boxy.
For bottoms, skinny jeans or leggings can work great with an oversized shirt and look chic when paired with knee-high boots or UGGs.
To accessorize your ensemble make sure you pick pieces that complement the shape of the shirt like statement earrings or a wide-brimmed hat.
How Do Oversized Clothes Look Hot?
For women looking to give off a confident, cutting-edge style, oversized clothes are the way to go.
The trend has been popularized by celebrities and influencers alike who often rock baggy t-shirts, blazers, and jeans for their everyday looks.
But how can you make sure your oversized pieces look hot? Here's how!
Balance out the proportions by pairing your baggy top or pants with something that fits more snugly – think fitted tank tops or cropped leggings.
This will create shape and draw attention away from the fact that it might be a bit too big.
For extra oomph, add some funky accessories like hoop earrings or vibrant sunglasses as they'll help create an eye-catching contrast with your outfit.
This post was all about oversized shirt outfit ideas.
About The Author
Tracy is an experienced personal stylist, shopping expert, and fashion & lifestyle blogger. She has been featured on Time Magazine, Bustle, Best Life, Glam, The Zoe Report, Mic, and GOBankingRates, for her insights on fashion, beauty, home decor, and lifestyle. Read More
Related Posts: