Looking for oversized shirt outfit ideas to copy this year? Check this post for the trendiest styling tips and outfits to copy directly!
Speaking of spring and summer essentials, button-up shirts are the true wardrobe essentials for all women. Classic, versatile, not picky, perfect for every age group. It looks good when you wear it alone, it is practical when you wear it, and it can also create different styles with different items.
Which shirt is the most fashionable this year? Oversized boyfriend button-up shirt!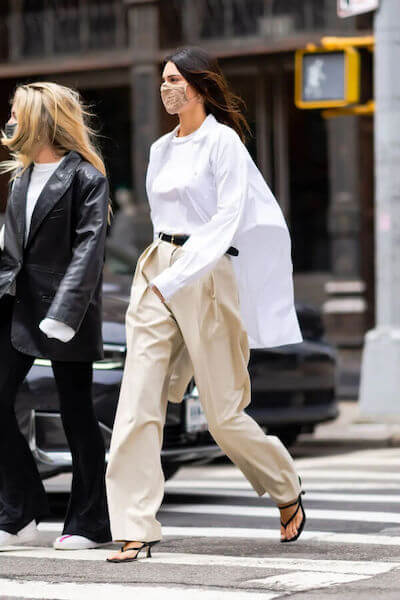 Kendall Jenner
Total:The Row
Not only do celebrities and supermodels love them, but also fashion bloggers on Instagram are wearing them.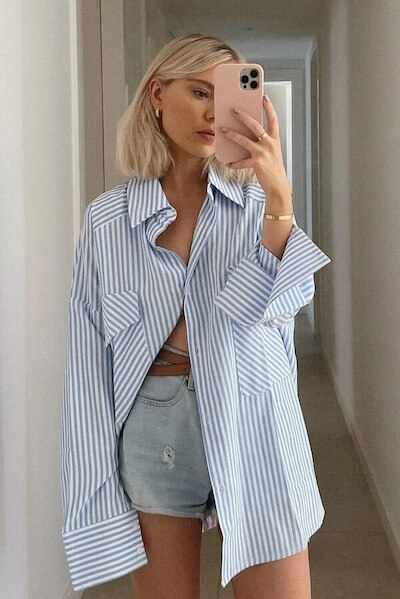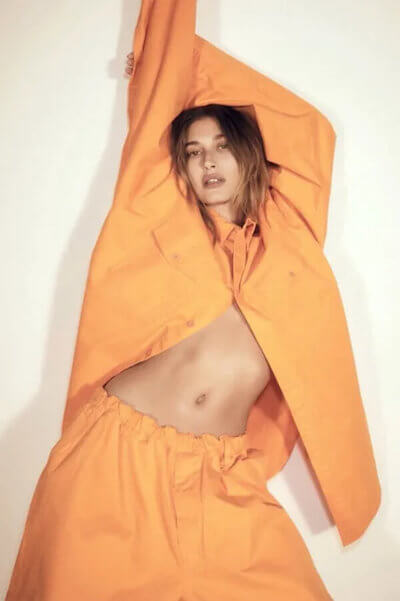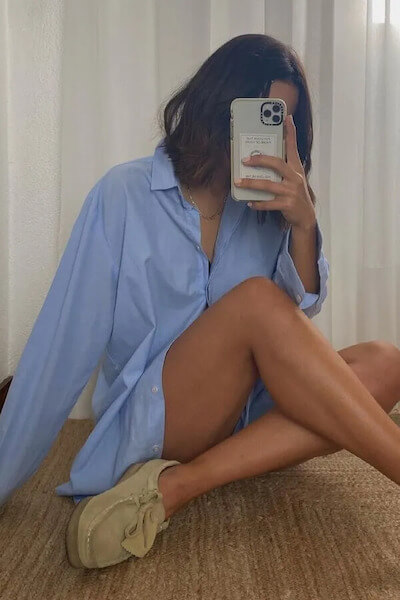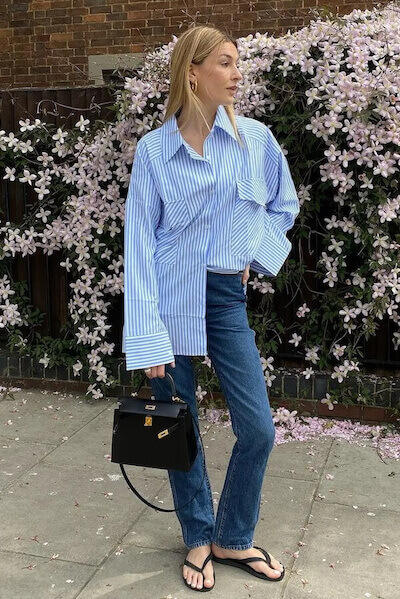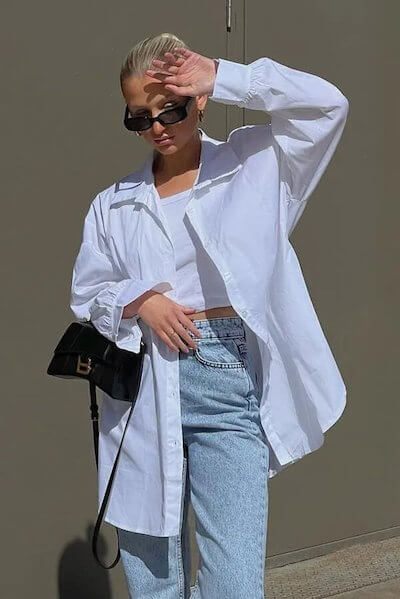 In this post, we share which brands of oversized shirts are tending now and how to wear them this year. So scroll down to check the best oversized shirt outfit ideas.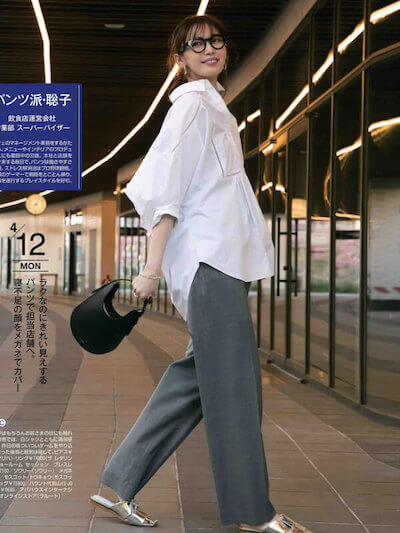 This post may contain affiliate links, which means I'll receive a commission if you purchase through my link, at no extra cost to you. Please read the full disclosure here.
This post is all about oversized shirt outfit ideas.
Which Oversized Boyfriend Shirts Are Trendy Right Now?
The first is this minimalist tailored white shirt worn by Kendall Jenner from The Row, the high-end brand of the Olsen twins.
This is the look from their look book.
This shirt is quite trending on Instagram.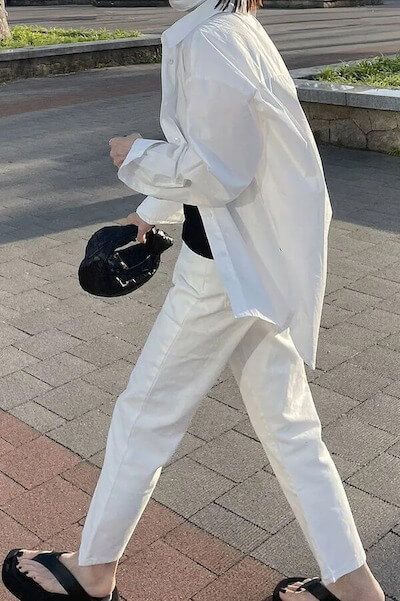 The second piece comes from the popular New York niche brand The Frankie Shop.
This brand produces big hits almost every season. This year, Kendall's Melody Oversized shirt has become a favorite of fashionable people. Many bloggers such as Pernille Teisbaek and Camille Charriere are wearing them.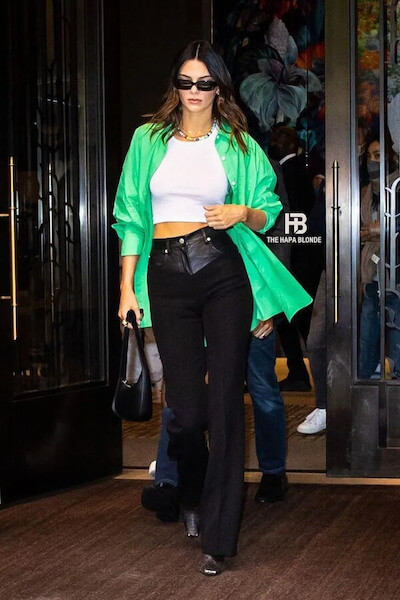 The eye-catching bright green (named Island Green), coupled with the loose and casual outline, has attracted many fashionable girls.
The price is not too expensive, $115 US dollars.
In fact, The Frankie Shop also has other versions of Oversize shirts this season, like this Turkish blue wide-sleeved shirt. The color is also very bright and beautiful.
In addition, Valentino's oversized grosgrain shirts are also trendy, especially the rose-red one from the brand's 2021 spring and summer series.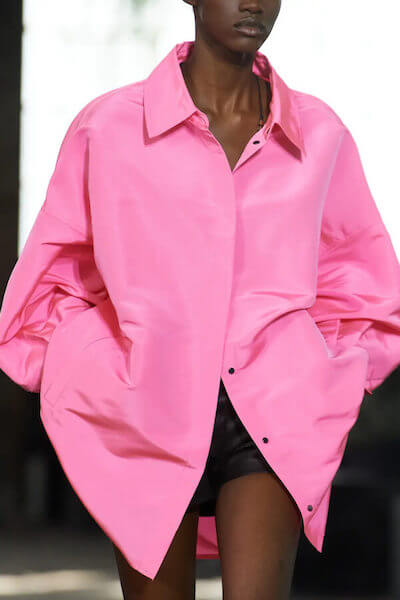 Rita Ora in Valentino
Elasa Hosk in Valentino
Storets is also so popular among fashion bloggers. They have launched many pretty oversized shirts this season. Their pink oversized shirt is almost the dupe of the Valentino one. They have white oversized shirts and many cute colorful shirts, covering almost all the popular fashion colors in the summer that you can imagine, including pink, green, yellow, purple, and blue.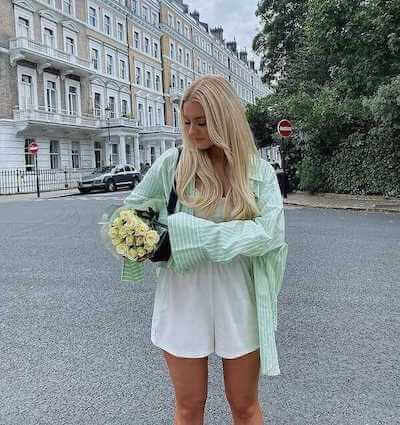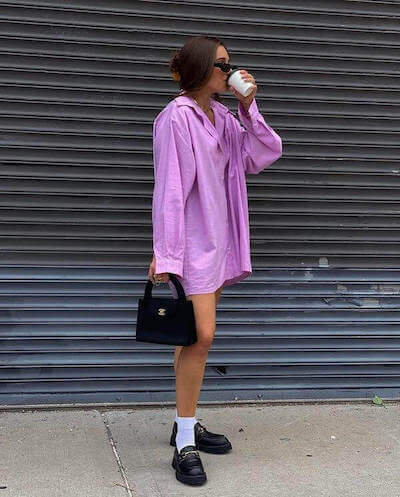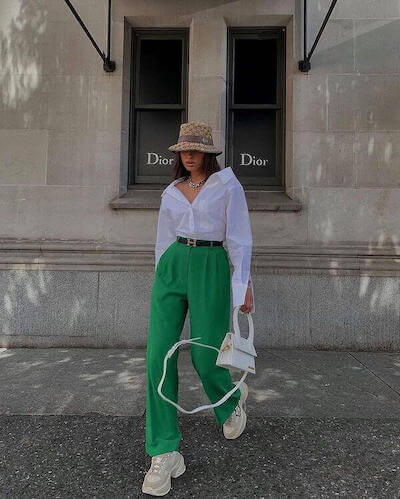 How To Wear A Oversized Shirt: Best Oversized Shirt Outfit Ideas To Copy
The boyfriend-style shirt itself is very handsome, how to match it more fashionable?
1. Wide Top And Wide Bottom
When the editor of "Vogue" praised Kendall and Rosie's new look, he specifically mentioned the soft color scheme of milk + oatmeal.
This is indeed a color combo with its own high-end texture. The elegant atmosphere created by these two colors can be seen everywhere in the lives and outfits of fashionable people.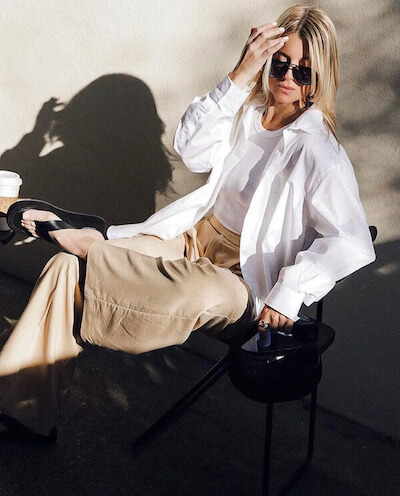 When applied to the outfit style of a silhouette shirt, a white shirt with khaki pants is naturally the best look.
This outfit of Asian blogger Caroline Lin is very stylish. The way to wear a button in the middle of the shirt can emphasize the waistline and show the proportion of thin and tall.
Or you can wear a belt. Its function is similar to accessories, which can play a "finishing" effect in light tones stacking; simultaneously, it emphasizes the waistline and makes the body proportion look better.
However, the combo of the wide top and the wide bottom is not friendly to short girls. You can try to tuck the shirt halfway to have a sense of style and proportion.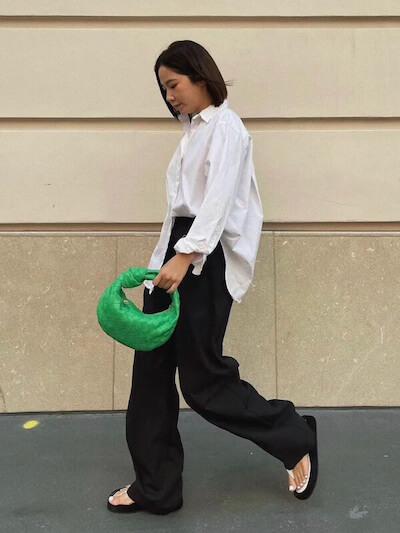 Choose the crop pants, put the hem of the shirt in, and pair with a pair of pointed shoes to easily complete the stylish look.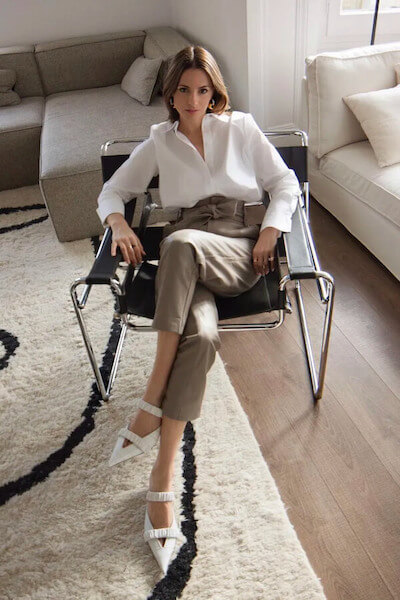 Tall girls can wear black wide pants or straight pants with a white shirt, which has a relaxed and casual fashion sense.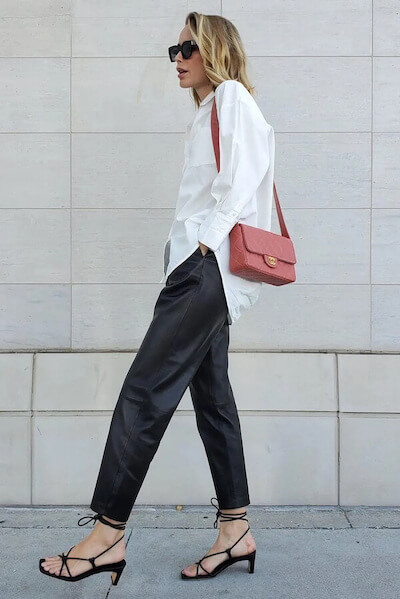 This blue and white striped shirt from The Frankie Shop is fashionable, with a white T-shirt and black wide-leg pants, which is quite chic.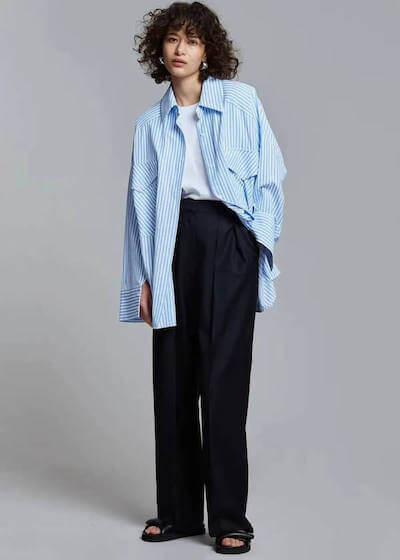 The Row set off a boyfriend-style shirt + wide-leg pants style. Its founders, Olsen twins, usually wear it. And they like to wear flat shoes.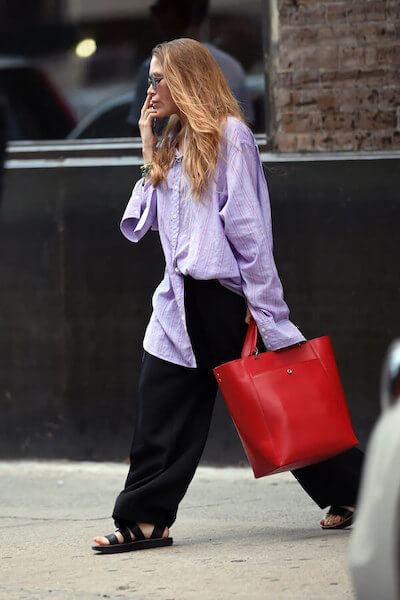 In fact, as long as you choose a slightly more fitting style, you can shape your height and proportions. Does the following outfit look much better?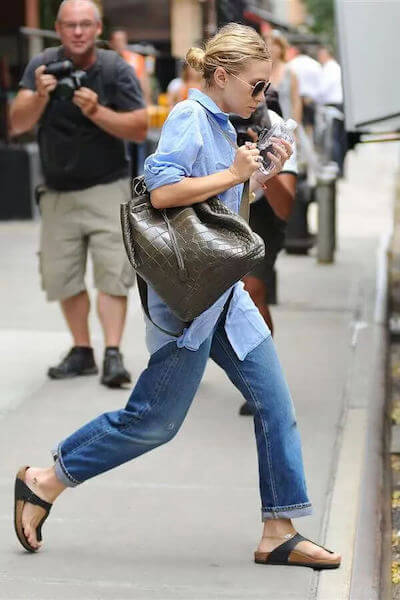 The bright greenery hits the classic black and white in the outfit of Polish blogger Julia Kuczynska.
Wide Top And Skinny Bottom
If you feel that the combo of the wide top and the wide bottom is not suitable for your height, you can try changing your bottom to skinny pants.
Blue shirt + skinny jeans, very chic.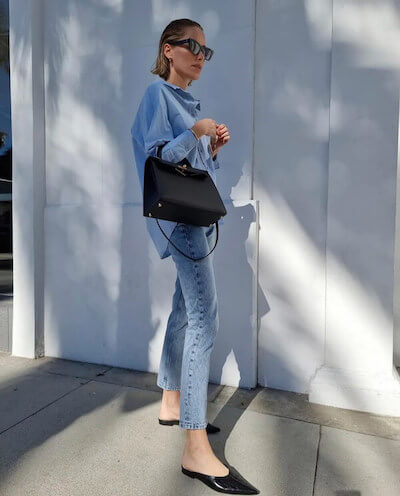 Many girls who expect to look slender also put the hem of their shirts into their pants.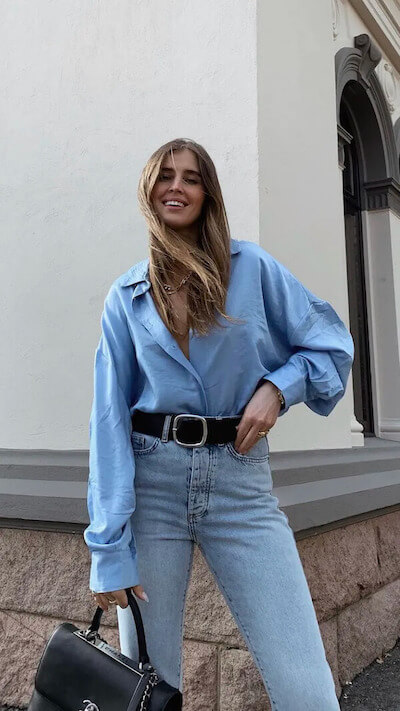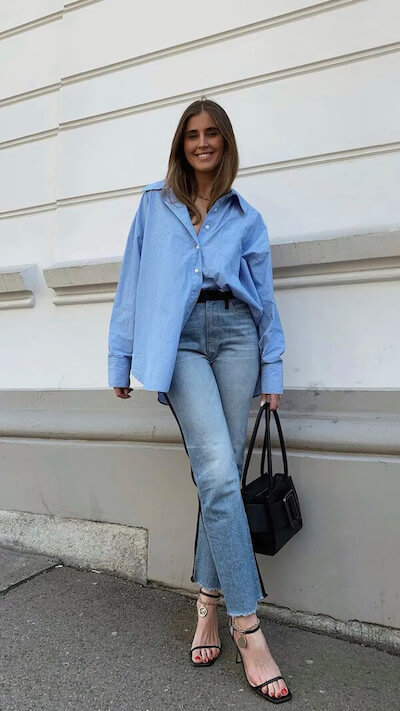 White shirt + blue straight leg jeans make an excellent combo.
However, girls with petite figures are still recommended to tie up the hem to look taller.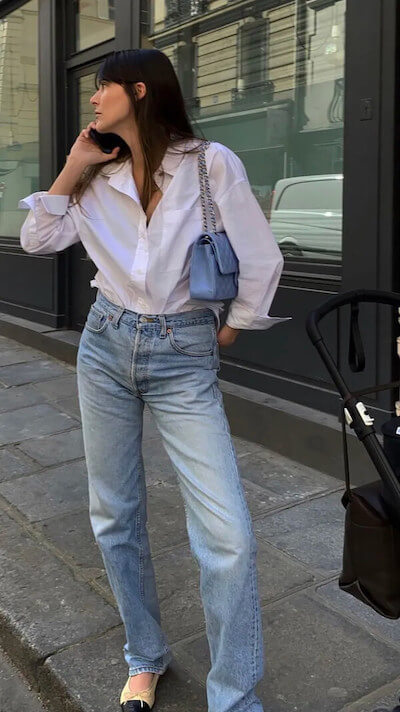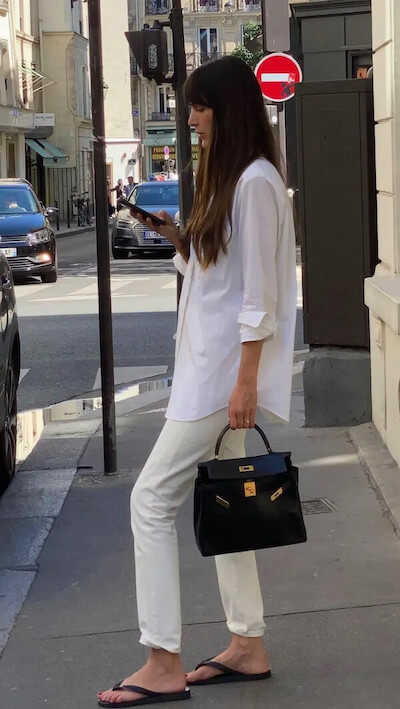 An oversized shirt is also suitable for work outfits.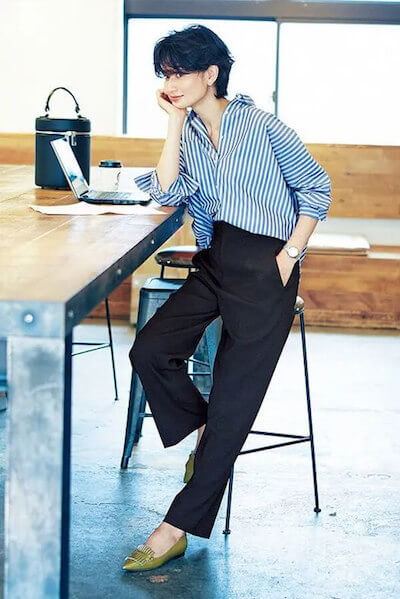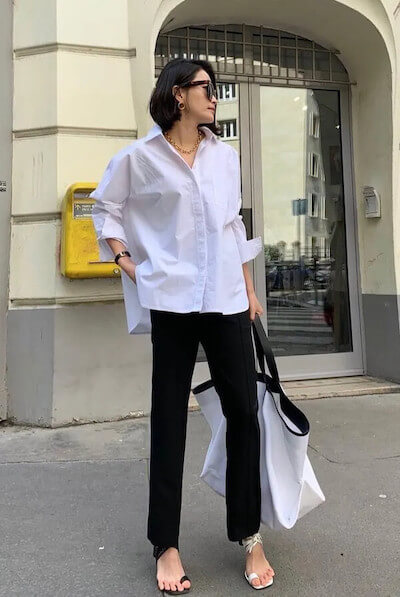 Short Bottom
Summer is here. The cool and easy-to-wear Bermuda shorts and linen shorts match the boyfriend's white shirt very well to create refreshing and simple outfits.
Hailey Bieber first liked to wear it like this. With sneakers and high heels, it can be casual, chic, or sexy.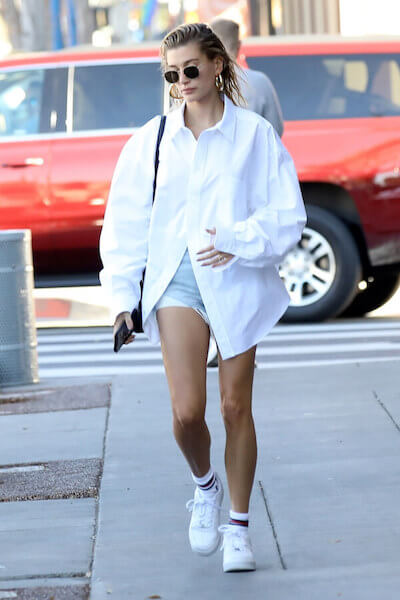 Shirt: Balenciaga
Shorts: Levi's
Shirt: MM6 Maison Margiela
Inside: Aym
Short skirt: MM6 Maison Margiela
High heels: Christian Louboutin
Shirt: Raf Simons
Shorts: Eb Denim Levi's
High heels: Bottega Veneta
Shirt: Balenciaga
Shorts: Re/Done
Sports shoes: Balenciaga
Sunglasses: CELINE
Shirt: Acne Studios
Boots: House of Holland x Grenson
Handbag: Fendi Peekaboo
To match the shorts well, it is recommended to loosen up your shirt a little bit, creating a little sexy, leisurely and relaxed look.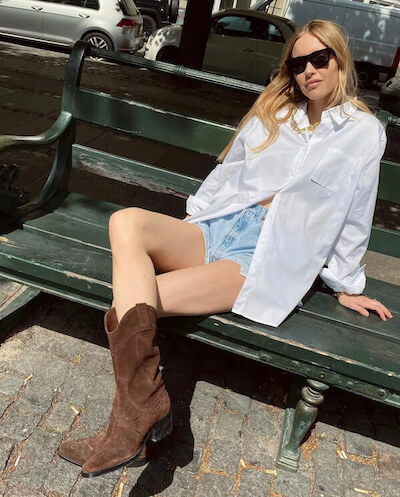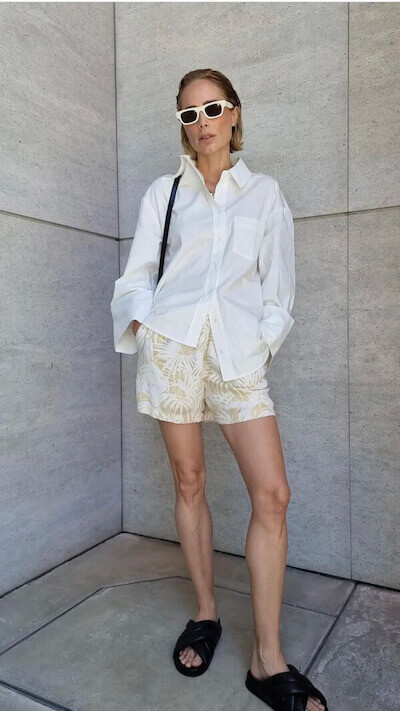 The all-blue outfit is excellent in summer.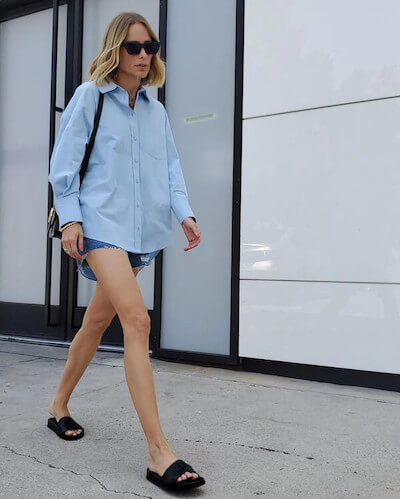 And the most popular this year is the big shirts with high saturation colors.
The color formula of Danish blogger Emili Sindlev is green + white + blue.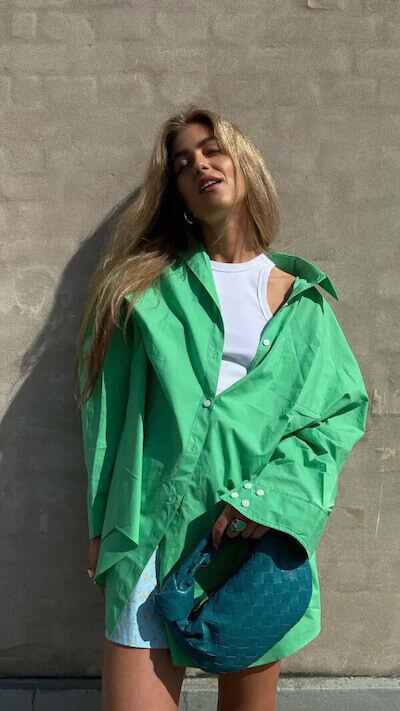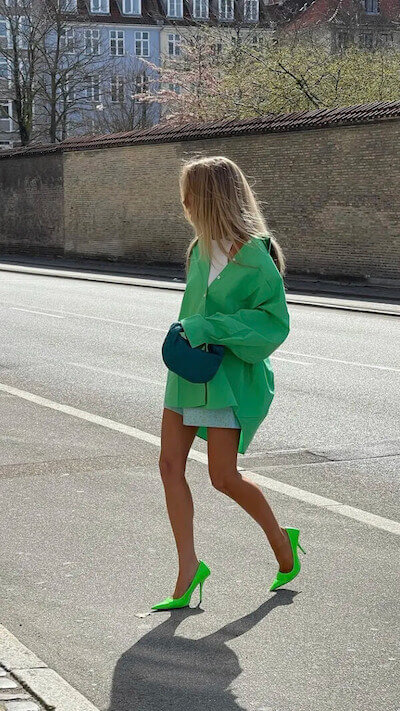 This shirt on her is from the designer brand eppram.
Julia has also used this shirt with two outfits, both of which use the green shirt inside, but it may not be suitable for everyday wear because of the bright contrast color.
Valentino's rose-red grosgrain shirt is also trendy among fashion bloggers.
Put the whole body visual focus on a single product; it is not easy to make mistakes; use accessories to contrast colors in a small area to level up fashion style.
It can also be worn with long jean shorts, and the neutrality of denim fabric is used to balance the gorgeousness of the pink shirt. This outfit is very easy to copy.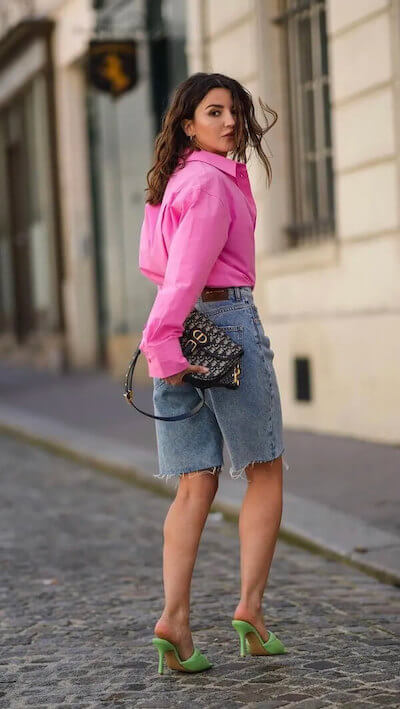 The lighter pink shirt can dilute the visual impact of this large area of ​​solid color. However, it is refreshing with white shorts and sandals, and it also has a lovely summer vibe.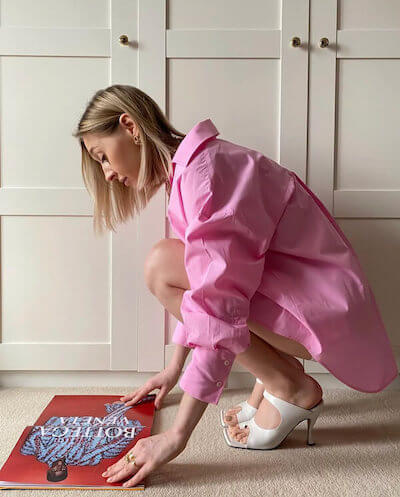 With Wide Leg Pants
Oversized shirts are very changeable in how they are worn. Paired with a pair of wide-leg pants, the outfits are very chic.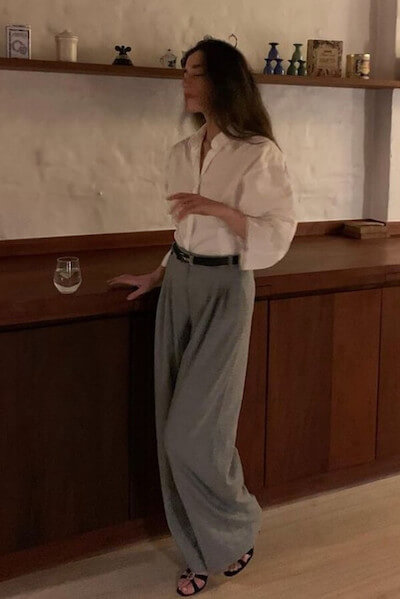 Show Your Waistline
Again, don't forget to show your waistline when wearing oversized shirts.
You can wear a knitted sweater as a shawl to add a fashionable hierarchy to the look.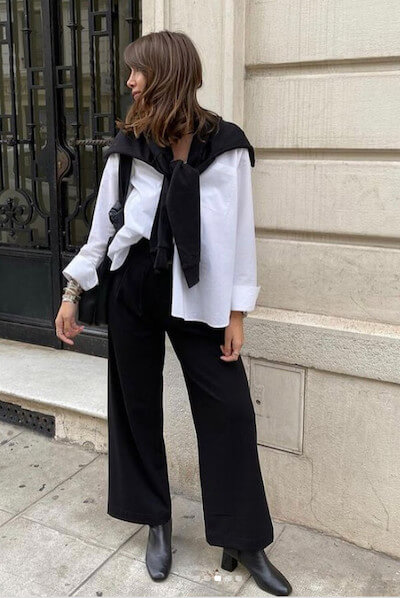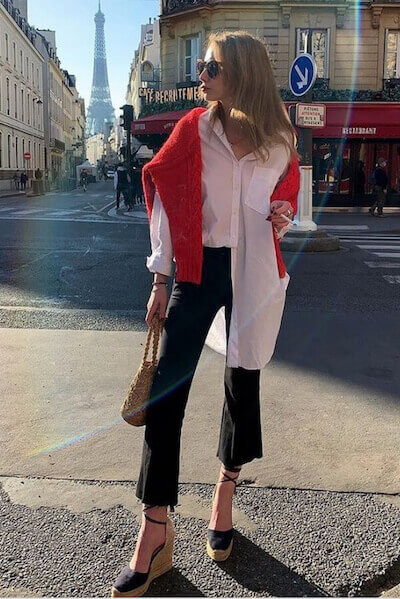 Please don't wear them too formally.
Because Oversized shirts are large and loose, they are not suitable for regular wear. Another trendy way to wear this year is to unfasten the 3 buttons on the hem (starting from under the chest) and put on high-waisted pants or shorts.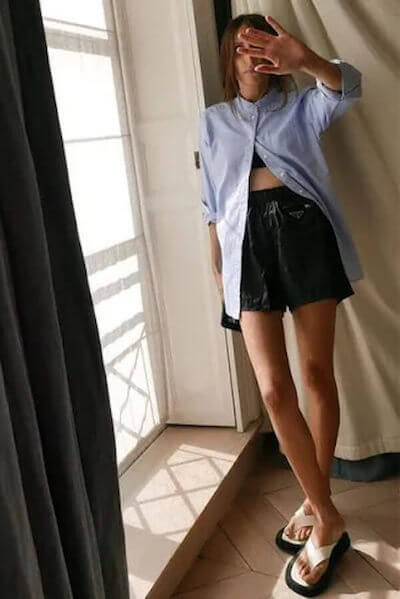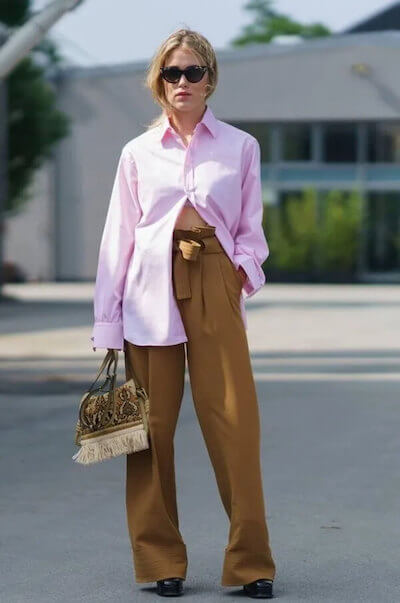 Tie The Front
If it is made of a softer fabric, don't forget to tie the front to make it a crop top, showing a good proportion in a relaxed and chic style.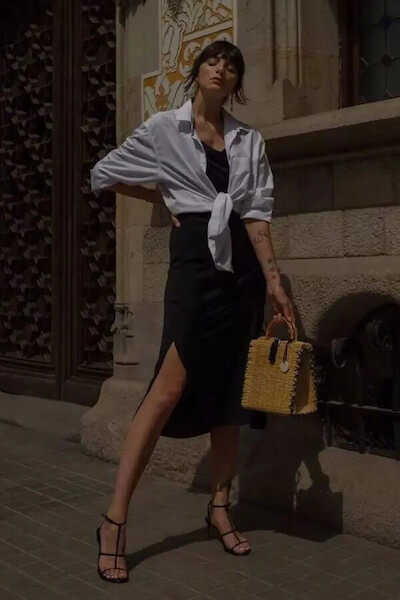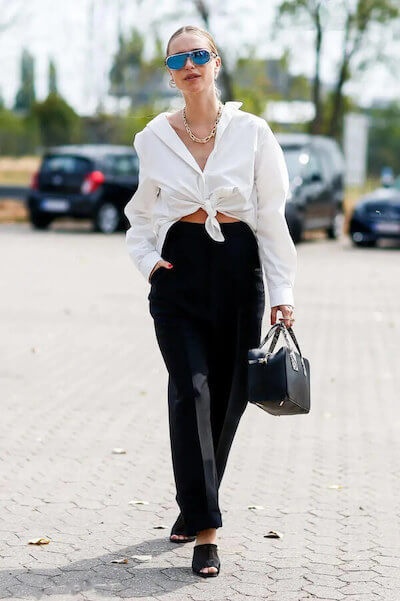 With Split Skirts
The oversized are amazingly paired well with split skirts. The whole outfits look fashionable and sexy.
If the oversized button-up shirts are white or light blue, you can boldly wear a split skirt with a bright color or unique design. The tops of the outfits are simple enough to balance the whole style.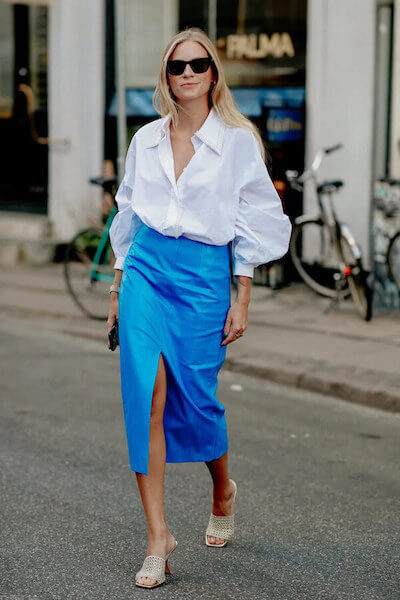 Don't forget to check these Outfit Ideas:
This post was all about oversized shirt outfit ideas.