Looking for trendy cute tennis skirt outfits? Check this post for the 59 best outfit ideas, including white tennis skirt outfits, black tennis skirt outfits, and more!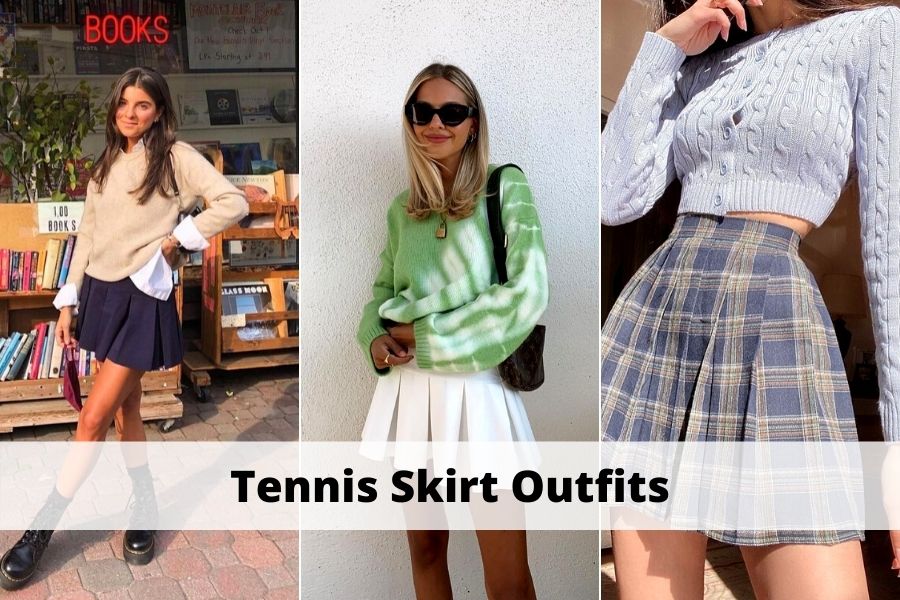 We have been obsessed with tennis skirts and short pleated skirts or pleated minis for a long time, but still find that they are quite versatile and fashionable!
They are still so in style now! Many influencers still regard them as staples in the wardrobe. Whether it is sweet style, elegant style, baddie style, they can be perfectly matched.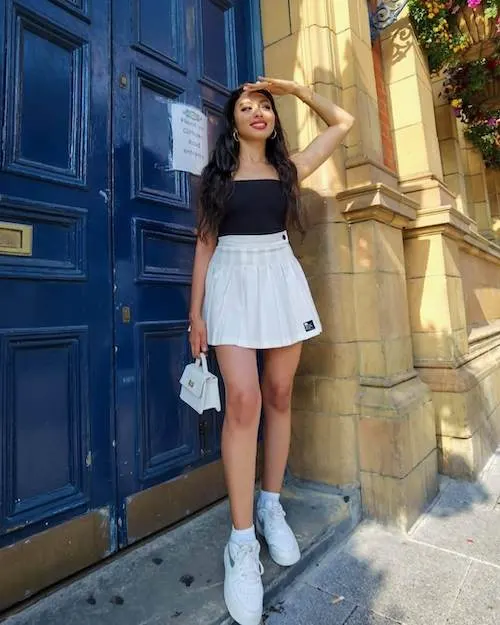 Moreover, even the same tennis skirt, combined with different tops and accessories, or even the same accessories, can easily create completely different styles with different styling ways!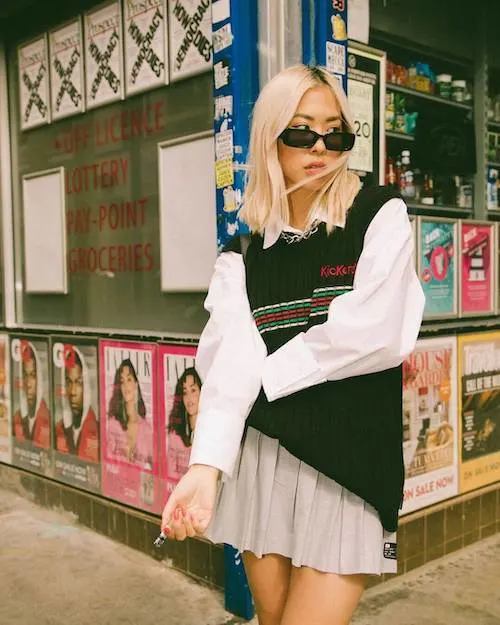 In today's post, we will share the brands to shop trendy tennis skirts now, what to wear with a tennis skirt, and our favorite outfit ideas for white tennis skirts, black tennis skirts, plaid tennis skirts, and so many more! Enjoy!
This post may contain affiliate links, which means I'll receive a commission if you purchase through my link, at no extra cost to you. Please read the full disclosure here.
This post is all about tennis skirt outfits.
Where To Buy The Cutest Tennis Skirts?
Firstly, let's look at what tennis skirts are trendy right now. If you are looking for tennis skirts for fashion, not merely for sports, I suggest you check the below brands. They have the cutest designs of this season that we love so much!
1. Nike
Nike, of course. You can see their white tennis skirts and black tennis skirts in so many Instagram feeds last year. And we start to see them again as the weather gets warmer.
If you still don't know what color to go with Nike's tennis skirts, I suggest you try a light blue top. I fall in love with these combos, really.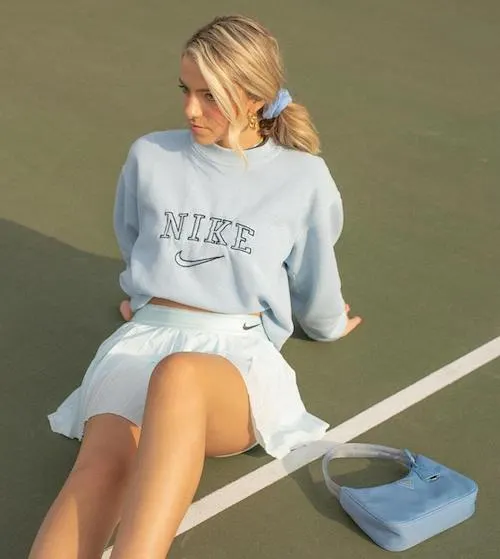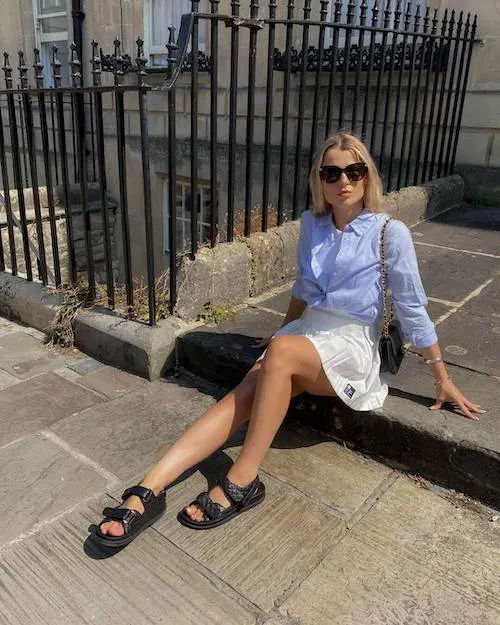 Or pair it with a white shirt and a black vest to create a cool style.
2. American Apparel
American Apparel has good quality tennis skirts every season.
This brand has always been a perfect blend of retro style and casual feel. Although their design is effortless, it is very suitable for mixing and matching various styles.
Tennis skirts, as their brand's icons, have very high popularity. Whether it is the skirt's right level or the skirt's height to highlight the waist, it can perfectly show the body.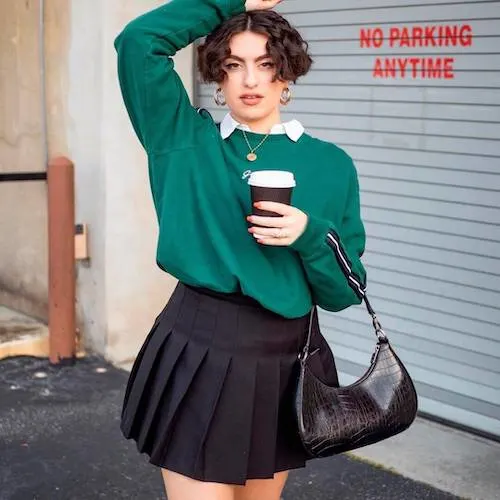 Designers copy the main classic styles and basically introduce new patterns every year. There are many colors and patterns to choose from. Plaid pattern products or solid color products are excellent, and there is always one that will make You like it.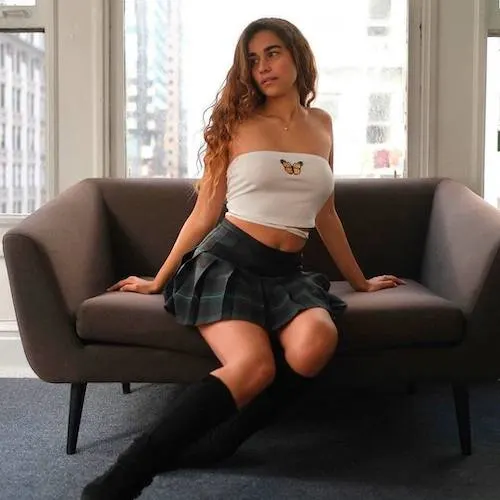 If you choose a solid color skirt, it is very cute to wear a vest or Tee casually, showing a perfect youthful atmosphere instantly.
If you like something more distinctive, you can check out their plaid products. The plaid pattern and full color enhance the overall look's vitality, and it looks very nice with a neutral color or a top of the same color.
3. Urban Outfitters
If you are looking for tennis skirts with unique colors, you should check Urban Outfitters. Urban Outfitters currently sell some pretty tennis skirts! We are obsessed with the gentle colors with them, perfect for summer and any other days bringing in a sunshine feeling. These colors and designs are unique and could make you stand out easily with even the simplest tops!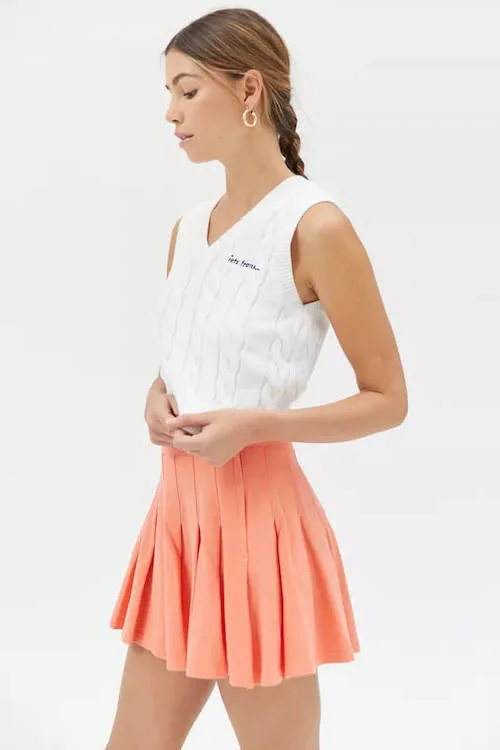 The tennis skirts and other short, pleated skirts of this brand are very suitable for wearing casual outfits that are comfortable and designed to show women's inner strength and style to the fullest.
You can copy the outfits on their official website.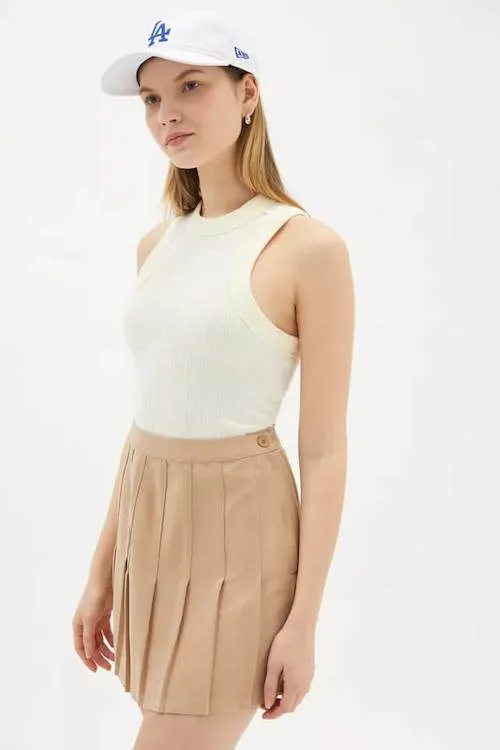 4. Bershka
Bershka's tennis skirts are trendy on Instagram. Their products are not expensive, but the design and production are excellent. Their white tennis skirt has been popular from last year to this year. This product has wide pleats and looks very cute.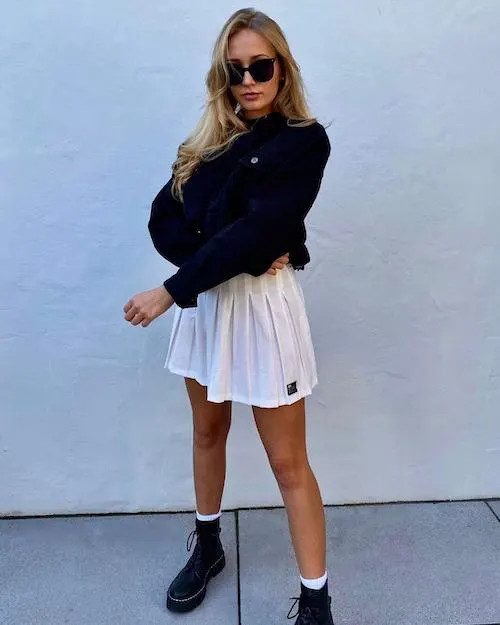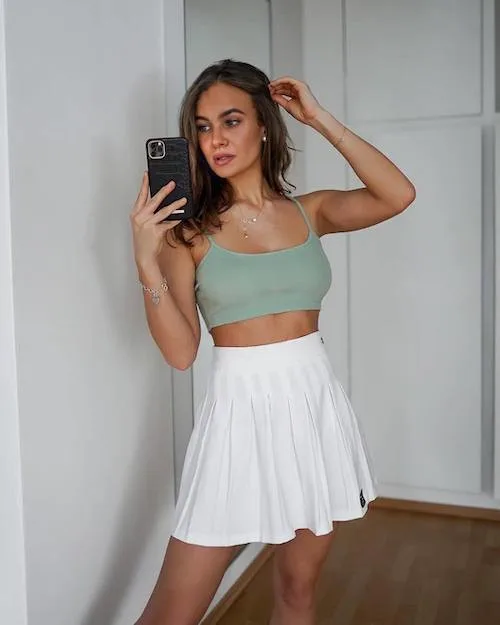 They have great grey ones too.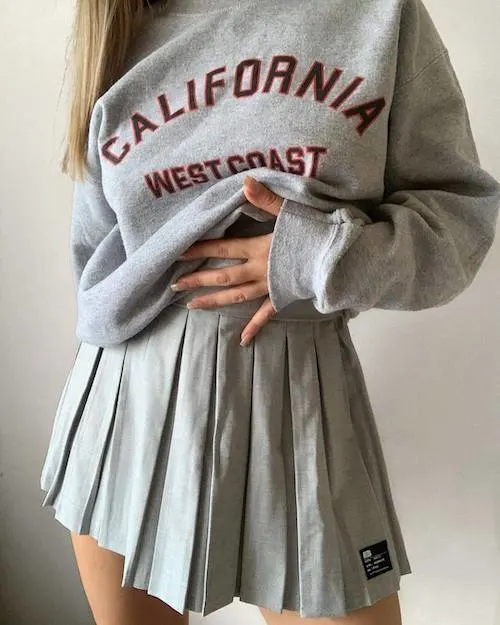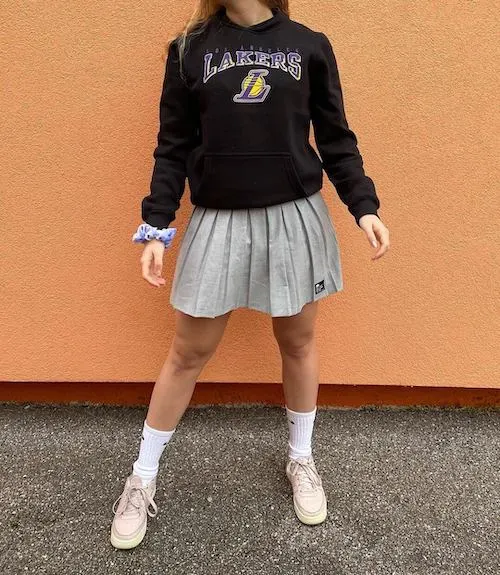 This season, we especially like their yellow one, which is very suitable for spring and summer!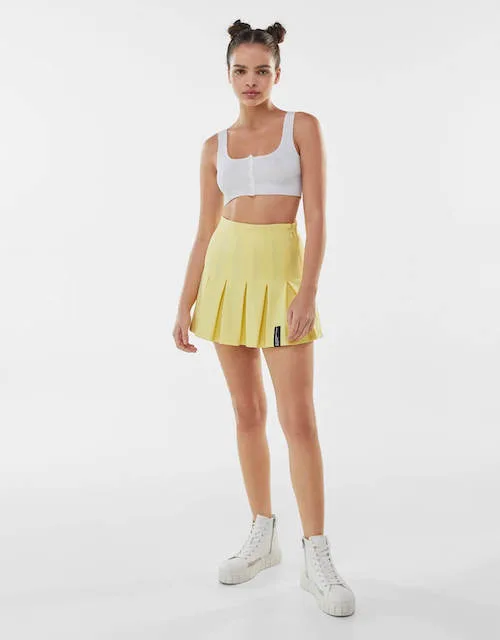 Their unique plaid tennis skirts are also trendy. The mixed colors on the skirt make it easily match more tops in different colors.
5. Princess Polly
Princess Polly right now has so many cute tennis skirts on their website! They have tennis skirts with beautiful plaid patterns in a super wide range of colors, including pink, purple, green, beige, almost all the colors you are looking for or even dreaming of for a tennis skirt.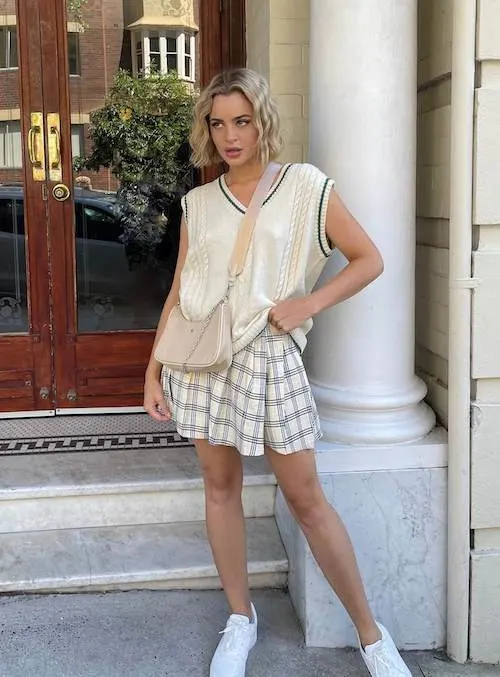 And I also strongly recommend you check their adorable tops too. They have great oversized hoodies, graphic tees, and other tops that go directly with the tennis skirts.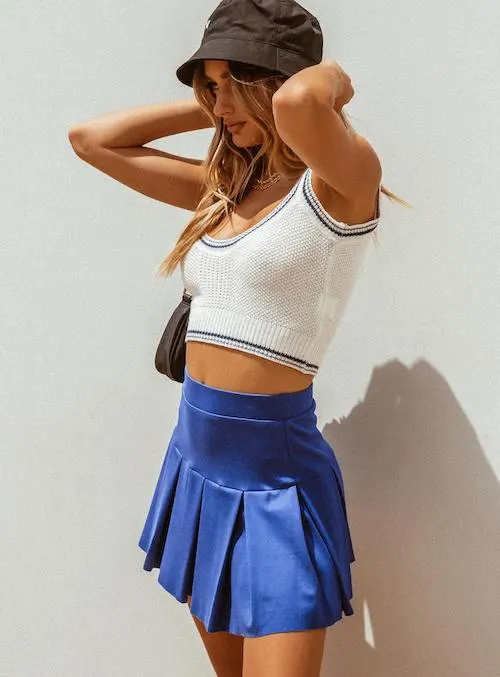 6. Zaful
If you are looking for Korean tennis skirt outfits, you definitely need to check Zaful. This Asia-based brand has quite many Korean fashion-inspired designs and can help you create a Korean street style look.
Zaful's pretty short pleated skirts literally are not really tennis skirts, but they are worth trying. Zaful has a trendy white tennis skirt with a unique design and will make your white skirt outfit unique and cuter.
I also recommend you to check Zaful's purple tennis skirts and light blue plaid tennis skirt. Both are of a fantastic fabric, and careful designs make their products stand out.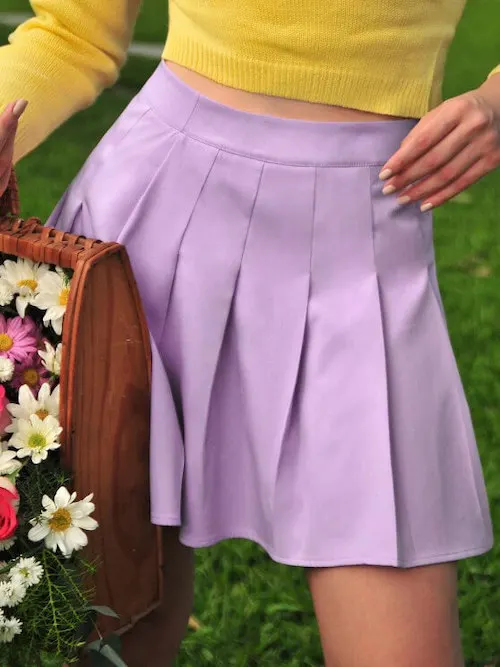 6. Amazon
If you haven't tried buying fashion goods from Amazon, check them, and you will not regret it. Amazon recently has many trendy clothes to choose from, including tennis skirts.
You will find almost all kinds of white tennis skirts, black tennis skirts, and plaid tennis skirts in pink, red, green, purple, and so many more. They are at affordable prices, so do check them out!
By the way, before you place the orders from Amazon, don't forget to sign up for their Prime program, from which you can get instantly watch thousands of movies and TV episodes, borrow Kindle books, get unlimited FREE two-day shipping (no minimum order size), and more. You can get 30-day Free Trials of the Prime program.
In the outfit ideas below, we will introduce more of our favorite Amazon products for your reference.
What should you wear with a tennis skirt?
Best Tops To Wear With A Tennis Skirt:
Oversized hoodies, oversized sweaters, oversized sweatshirts, graphic tees, cropped tops, sweat vest, off-shoulder top. A cozy brazer or denim jacket adds extra layers to the top.
Best Shoes To Wear With A Tennis Skirt:
White sneakers, boots, platform loafers.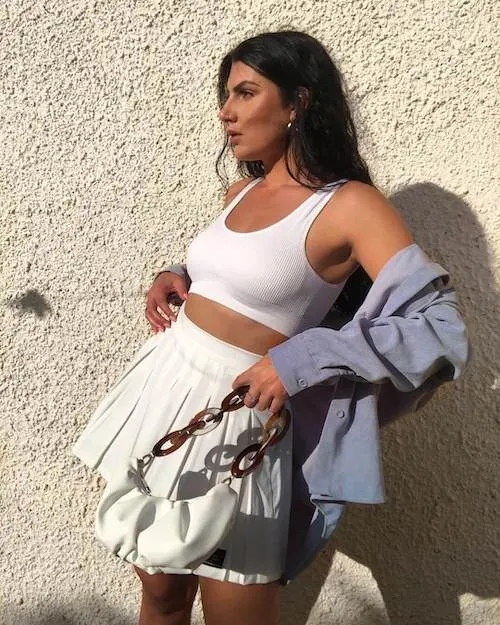 Best Bags To Wear With A Tennis Skirt
Retro 90s baguette bags.
Other Stylish Accessories To Wear With A Tennis Skirt:
White socks (which would add more details in your outfits), simple pearl necklaces (add some 90s fashion aesthetic), headbands, and baseball caps (add more sporty vibe).
Now, we will explain to you in detail how to style tennis skirts.
How to style tennis skirts: 50+ Cute Outfit Ideas
White Tennis Skirt Outfits
A white tennis skirt might be your first tennis skirt. One of the most fashionable ways to wear it with a retro oversized sweatshirt. Very youthful.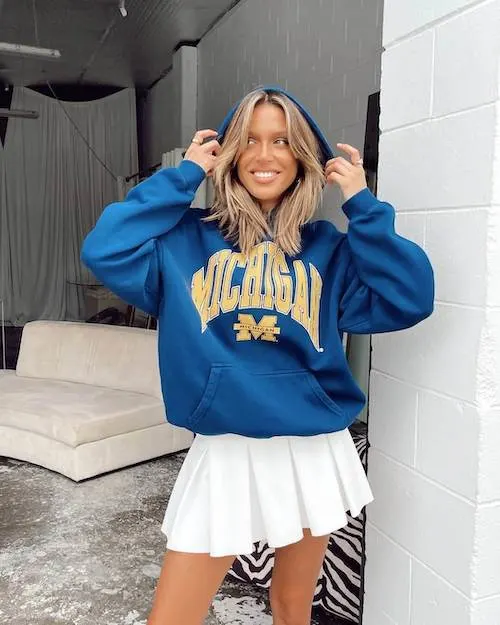 Of course, if you are worried that the color of your shirt is too dark, you can expose the white collars, put on white socks, or even match white sneakers directly to brighten the whole look further.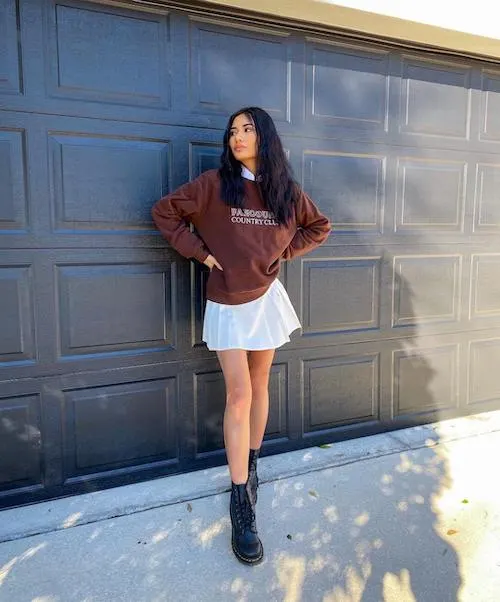 When you are wearing an oversized top, a common dressing technique is to move the bottom of the top to show the waist and optimize your body proportions.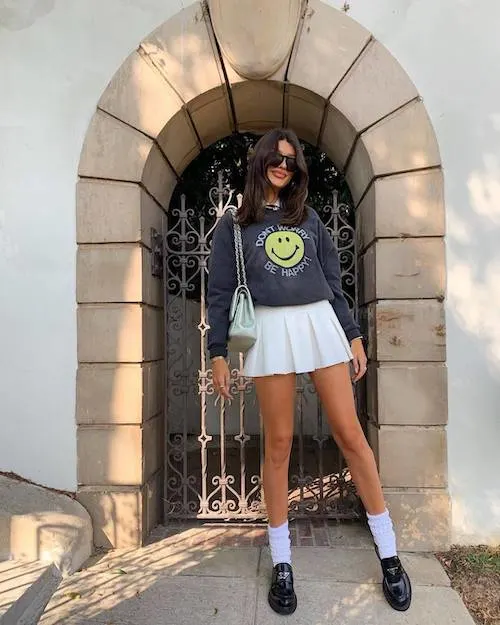 The wearing method in the picture below is more obvious. The front hem of the top was completely put into the skirt, perfectly showing the skirt's waist.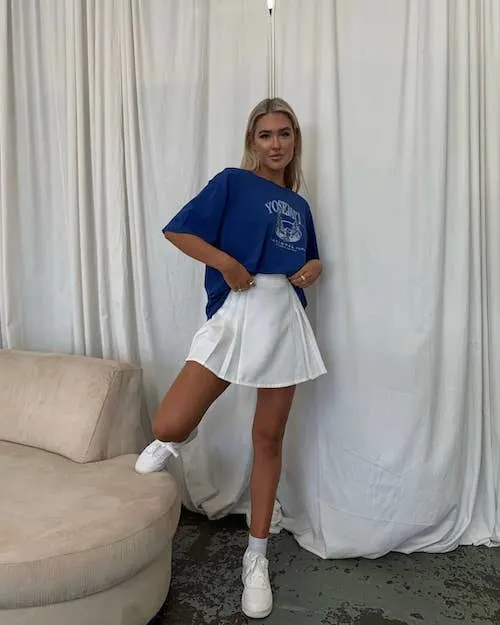 When the weather is warmer, you can also wear a lighter oversized sweater or sweatshirt, which is still very beautiful.
The color choice of the top can be extensive. We love the green top and the pink top below.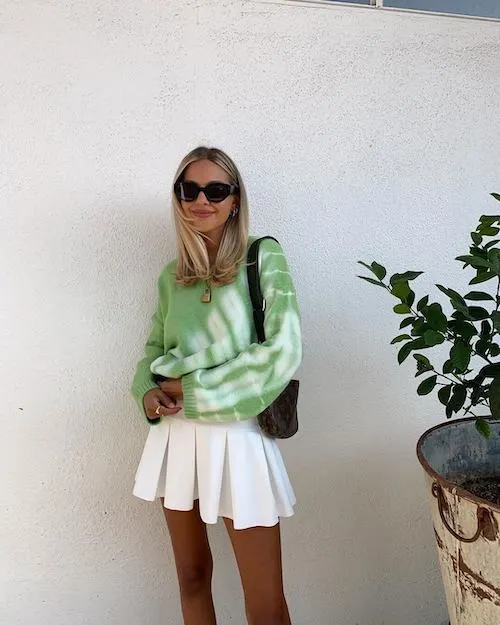 (via Pinterest)
When you choose a top, if you don't have a white inner, choose a top with a pattern that matches the color of the shoes to make the overall look more complete.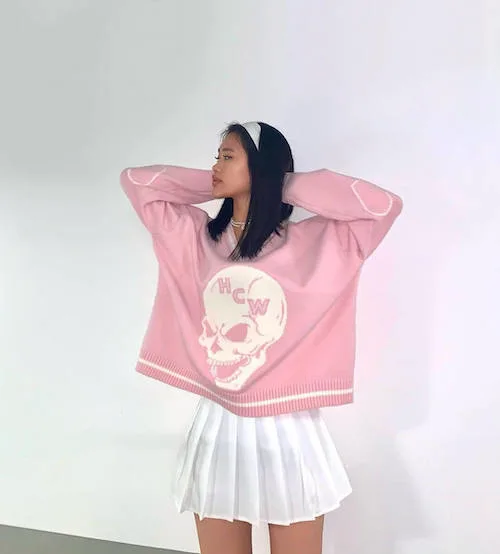 If the skirt's fabric is relatively thick, the white skirt is still a great item for you to match elegant night-out outfits.
Choose a slim, short top to show your waist, put on pointed long boots, and you are ready to go!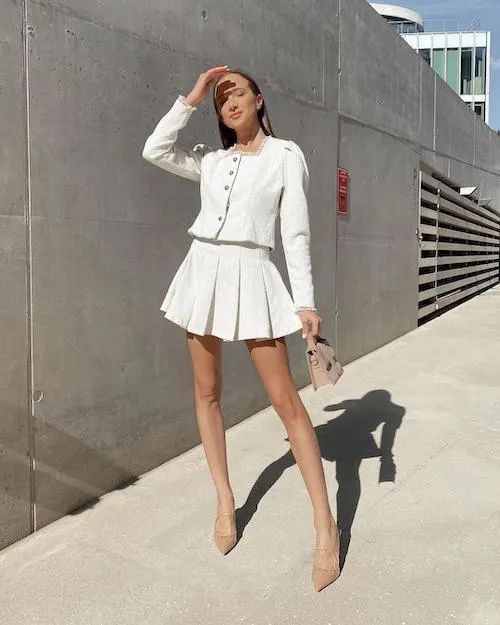 (via Pinterest)
The following Outfit really shows the skill. The white details are perfectly matched with the white boots and accessories, very classy.
And when you put on round-toed, platform boots or shoes, the overall look immediately becomes very cool!
If you want to highlight the waist further and take advantage of a tennis skirt, remember to choose a short jacket.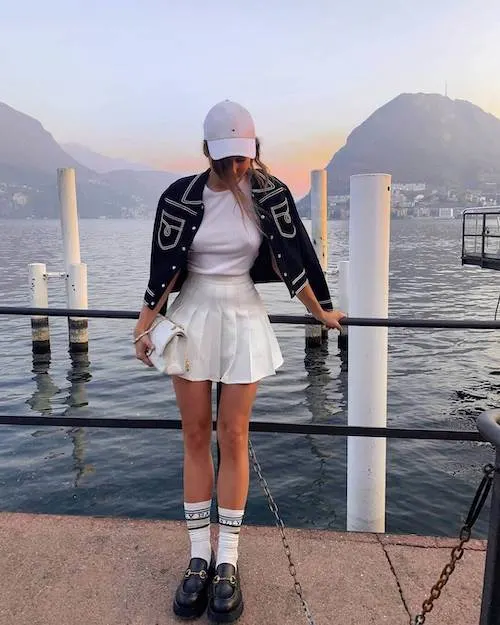 (via Pinterest)
Another perfect friend of the white tennis skirts is the diamond-patterned sweater vest, which gives people a sweet feeling.
You can wear a white Tee or a polo shirt inside of the vest.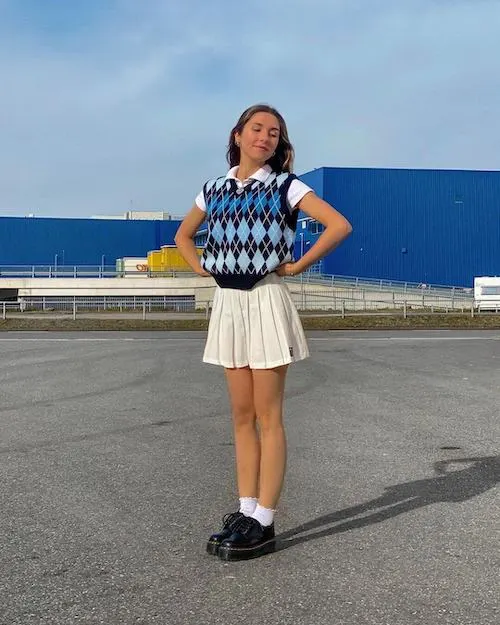 (via Pinterest)
Or you can wear the vest directly. Do you see the careful details again from the below outfit? The black boots and the black colors on the vest!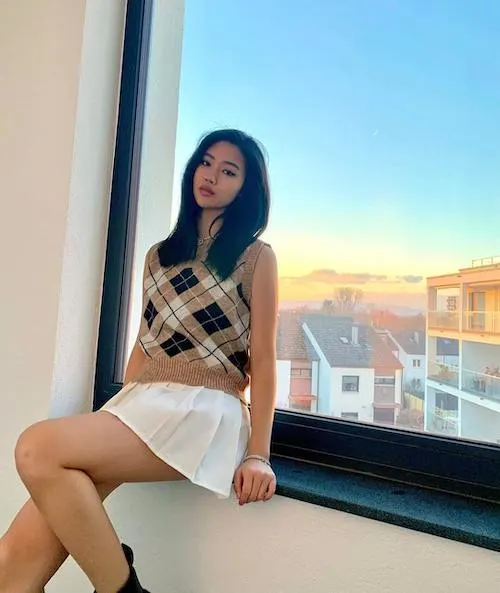 Of course, you can also wear the same white shirt very creatively. At this time, put the hem of the top into the skirt to highlight your waistline again and make the whole figure look better!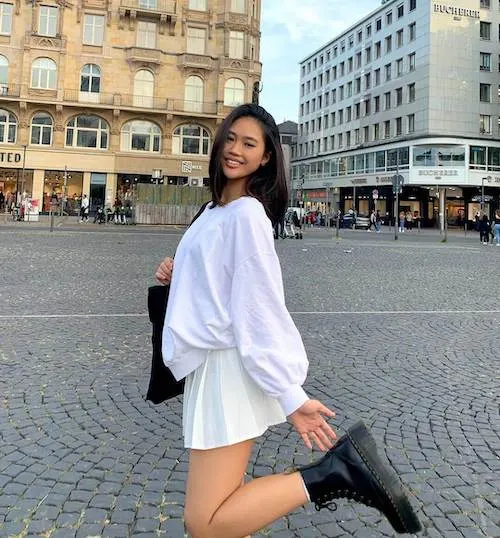 Products We Love:
Black Tennis Skirt Outfits
You may wear a black tennis skirt in the fall and winter but don't forget to wear it in the spring. It perfectly goes with a green top.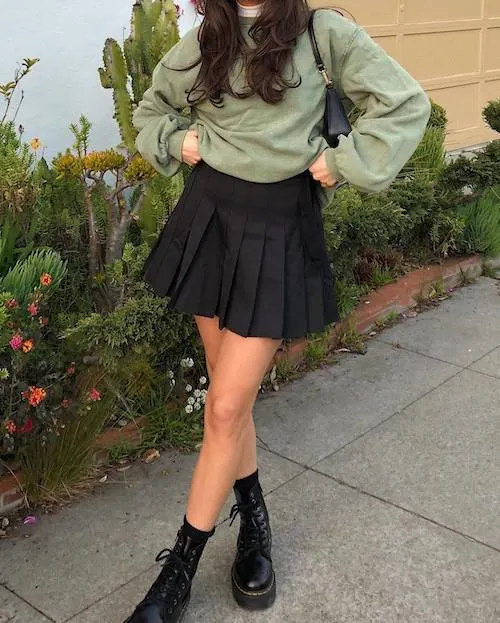 One of the more popular ways to wear them is with platform boots.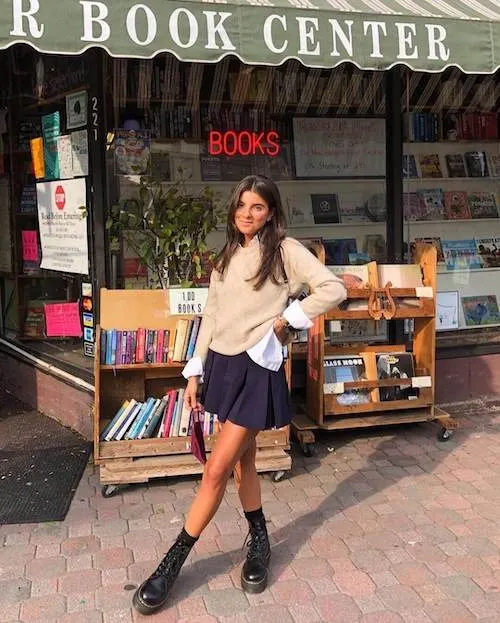 Or an almost all-black look. How cool is this! Try a short jacket to make it cuter.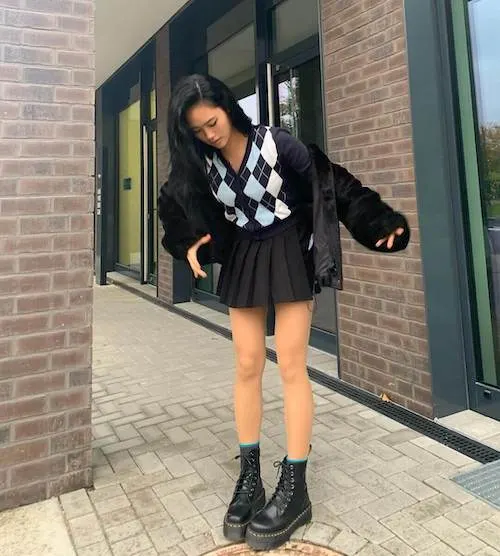 To make your style better, you can refer to the following ways to wear it.
You will find that they have paid great attention to adding more small white details to the overall outfits to make the overall outfits more delicate and lovely.
Such as white collars, white cuffs, white socks, white patterns on the other accessories, etc. This can alleviate the dull feeling brought by the black skirt.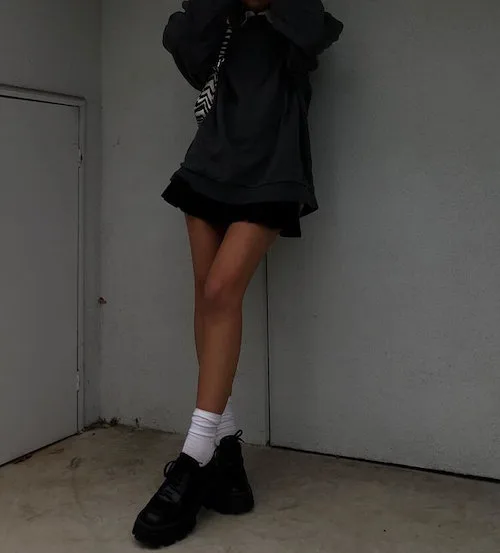 When buying a black tennis skirt, you must pay attention to the thickness of the fabric, and it is best to iron it before wearing it to modify the body's curve to the greatest extent.
If you don't want to show your waist so much, here are a few ways to wear it for reference. The pointed ends of the shirt hem are exposed, which can make the overall outfit look thinner.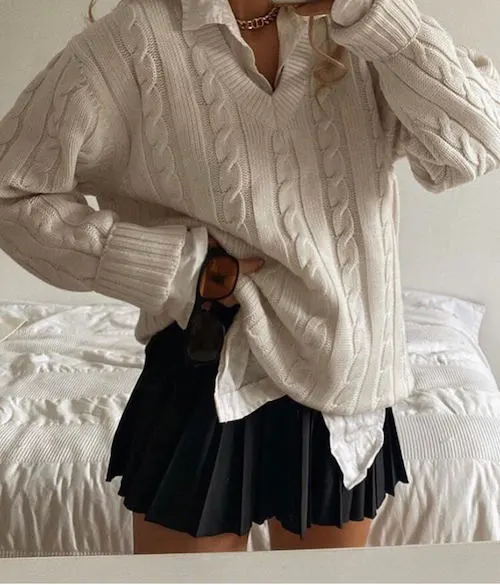 The material of the shirt is best to choose light, thin and soft. It does not matter if it is a little wrinkled so that it looks more casual.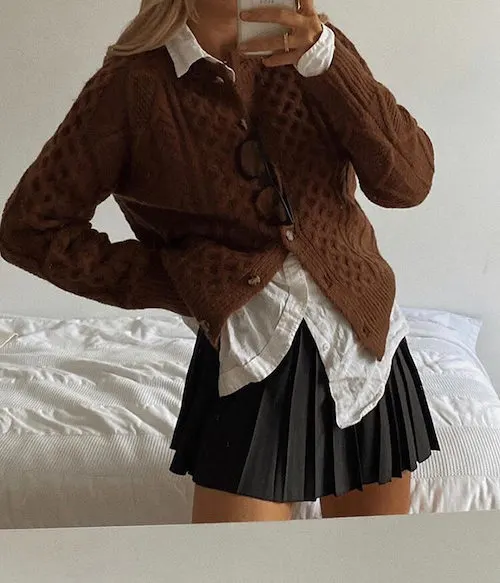 Like the picture below, just put on platform boots to make the legs longer and adjust the proportions.
This girl is even smarter. She wore a pair of long white socks and exposed the edge of the socks from the boots to make the boots look taller so that her legs looked longer. What a genius trick!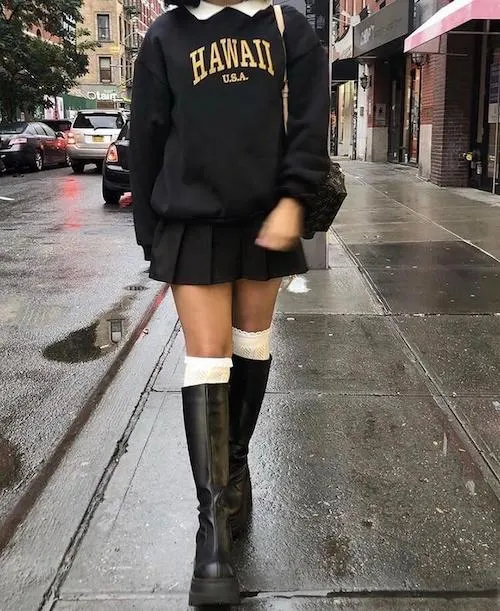 You see how they exposed the white collars of the clothes inside the tops. And the white socks are really useful!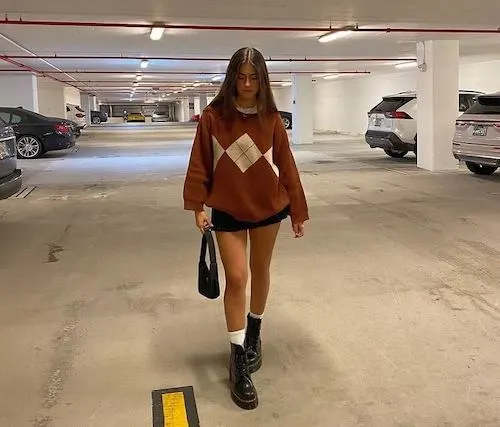 If you don't have tall boots? Use the socks! They are even cuter!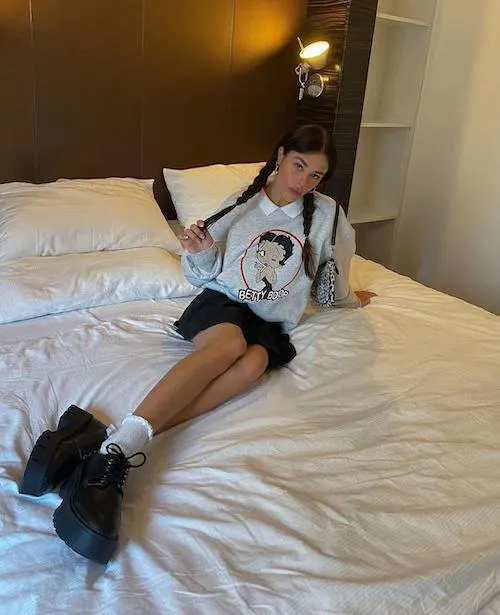 We love the two cool outfits below very much.
One is with sweater vests. It is effortless to wear in hot weather. And you can also copy how she wore the accessories from this outfit.
Of course, in summer, you can also wear tank tops directly instead of vests.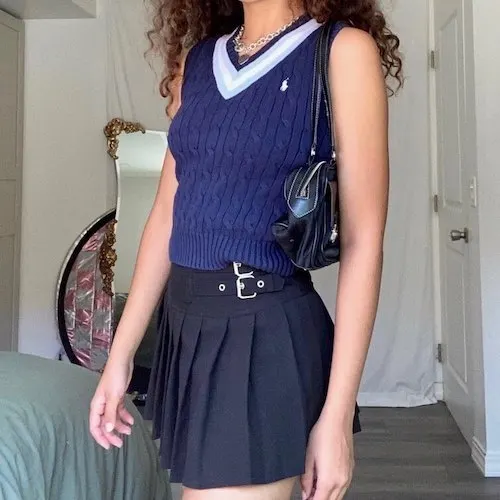 The other way to swear the black tennis skirt is to use it as a tool to increase the overall white outfit details. Like the outfit below, add something black into the all-white look. So cute.
In cold weather, you can pair it with a leather blazer. This is a perfect outfit for a night out.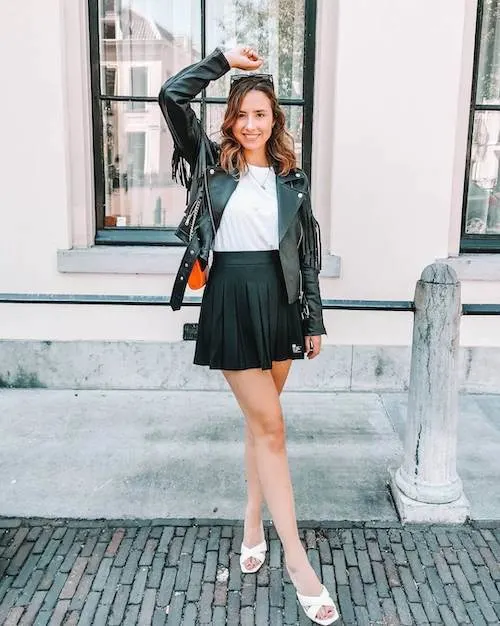 Products We Love:
Pink Tennis Skirt Outfits
Although pink tennis skirts are not common, they are the favorite of many girls. It looks sweet and sexy.
When wearing them, try to choose simple tops, which will make the outfit look more expensive. At the same time, don't forget to use some jewelry to increase the sweetness.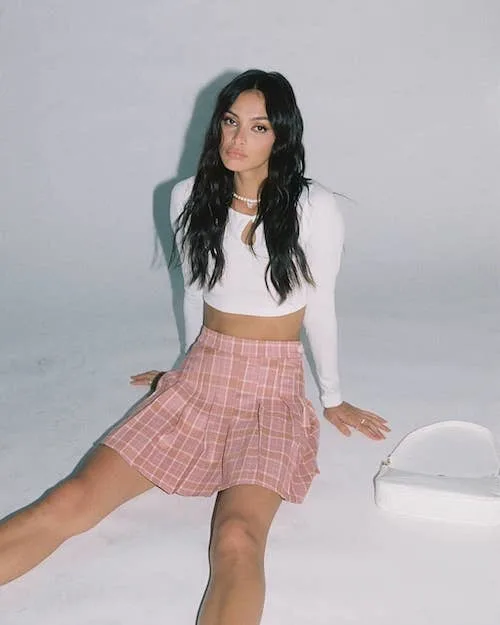 Products We Love:
Plaid Tennis Skirt Outfits
In addition to the pink plaid tennis skirt, there are, of course, many styles to choose from. You can boldly try large or small plaid to create different styles.
If you like a sexy style, you can choose off-shoulder tops or crop cardigans, like the following two outfits. Both looks are very sexy.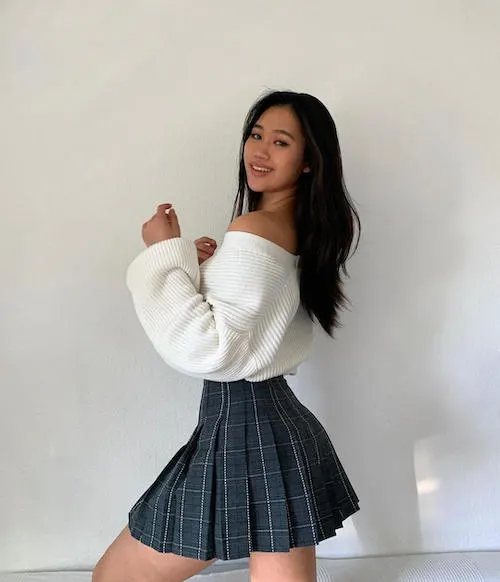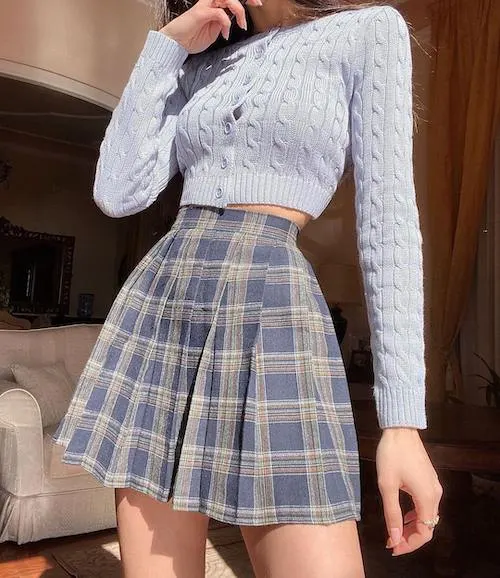 (via Pinterest)
Plaid tennis skirts often have their own academic atmosphere. If you like this style, you can try the following two ways to wear it.
One is with a sweater vest. A perfect outfit for school.
The other is wearing an oversized V-neck sweater and then wearing a shirt to expose the collars.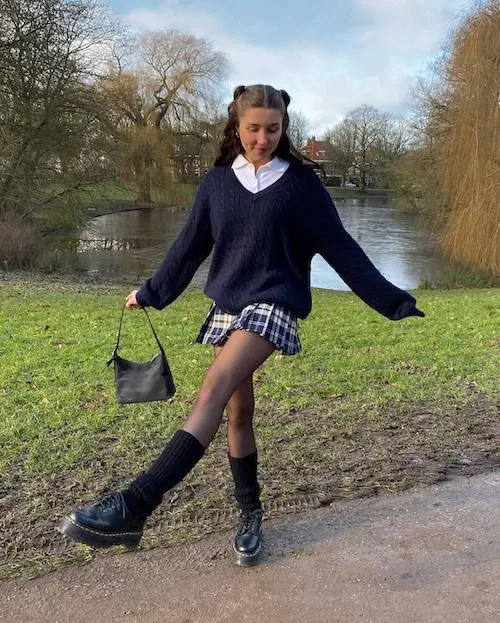 If you like the quiet style but want to look more mature, you can try the following two methods.
One is wearing a cropped cardigan, but wearing the cardigan open.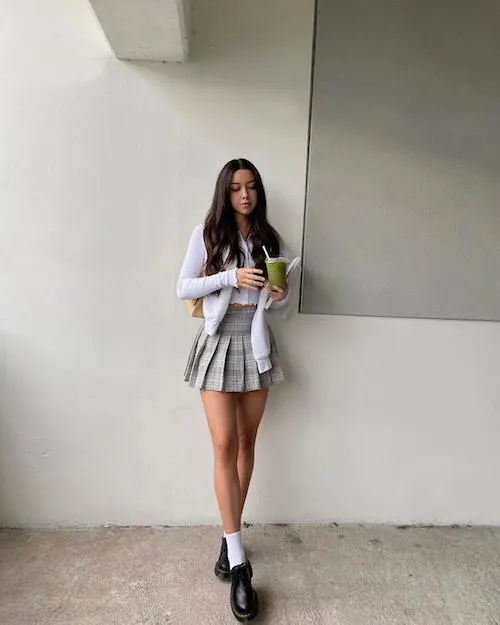 The other is to choose an oversized sweater that is very similar to the skirt color, which looks very gentle.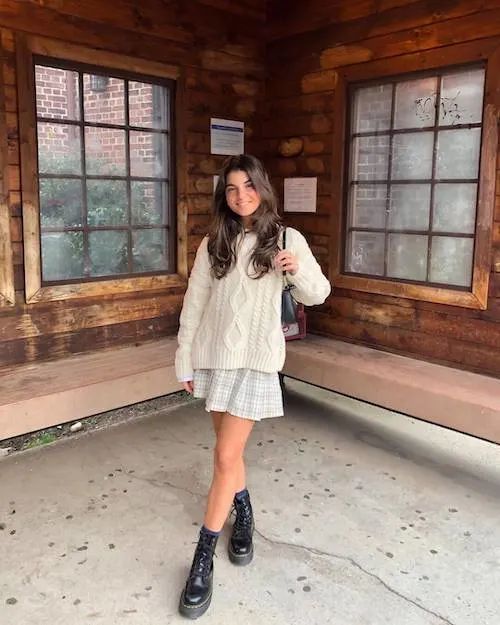 Of course, we also recommend that you follow the following styles, more casual: choose a similar color, or pop up color, to show vitality bought by tennis skirts.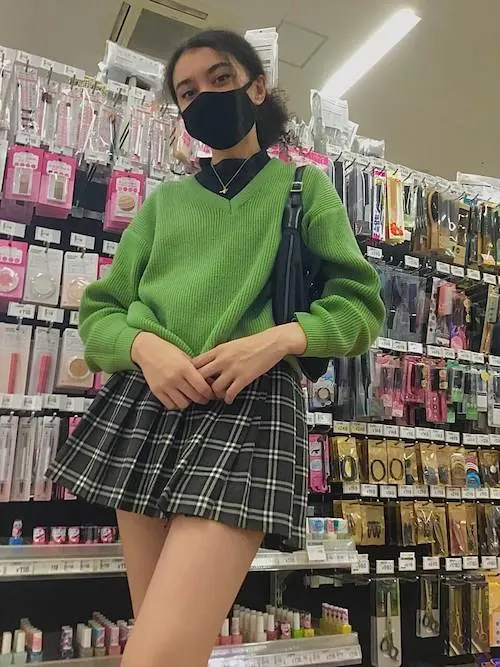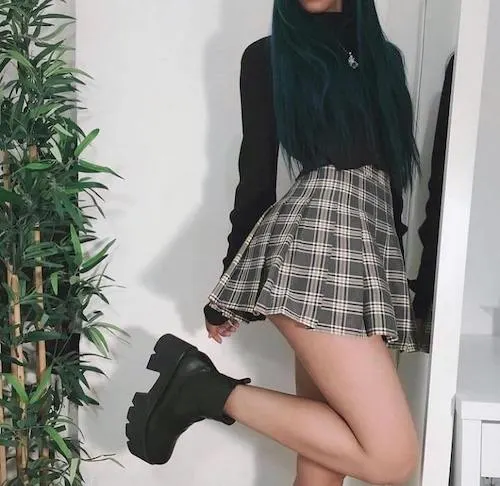 (via Pinterest)
Although the following outfit does not have too many accessories, she wears a sweater of the same color. The overall outfit looks more expensive.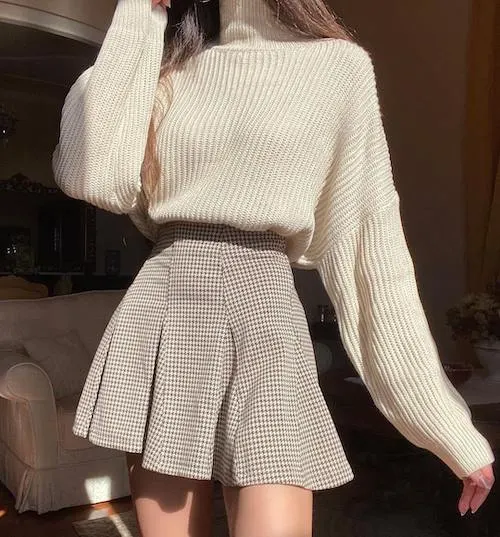 If you want to be more mature, the following set is worthy of reference. She used denim jackets and exquisite feminine bags to add mature and gentle femininity.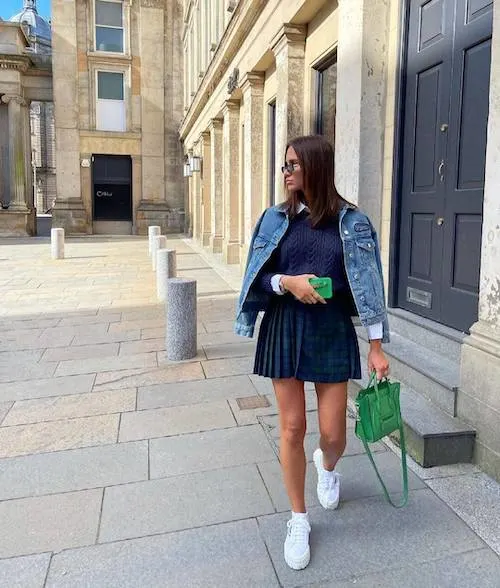 (via Pinterest)
The other way is to pair the plaid pleated skirt with an oversized blazer. We love the below outfit, and even the hairstyle and the tie are so perfect.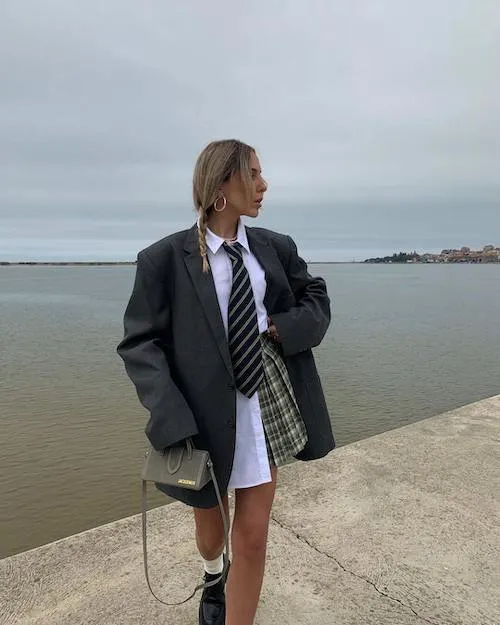 Products We Love:
How To Style Tennis Skirt Outfits
If you want to try more different tennis skirts, we first suggest that you try a dark blue tennis skirt. It looks similar in color to the black skirt and is relatively simple to match.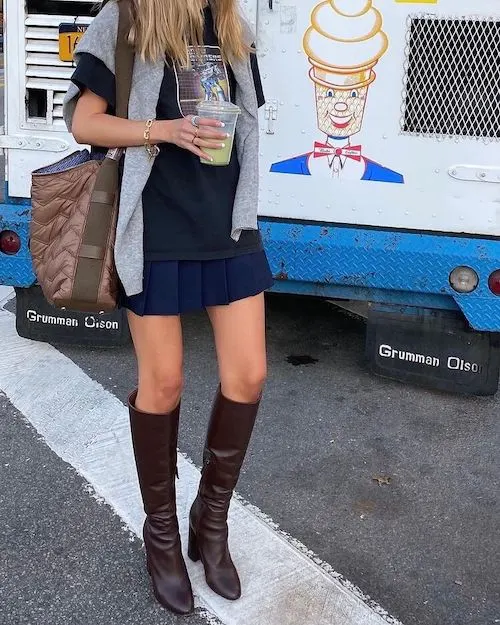 Furthermore, baby blue tennis skirts are also trendy recently, full of sunshine and gentle breeze feelings. And they are surprisingly easy to match with shoes of different colors and styles.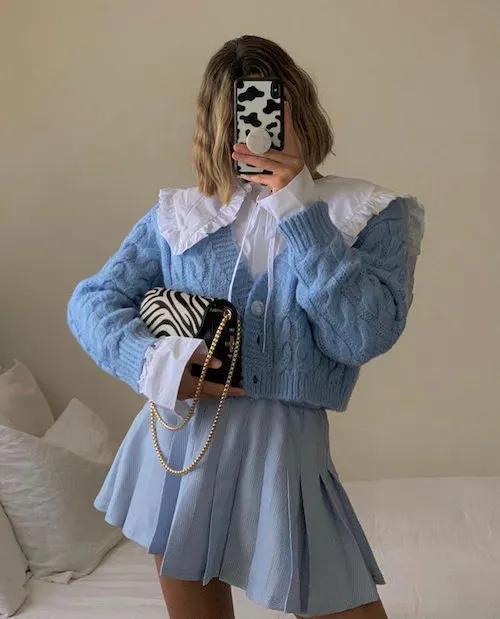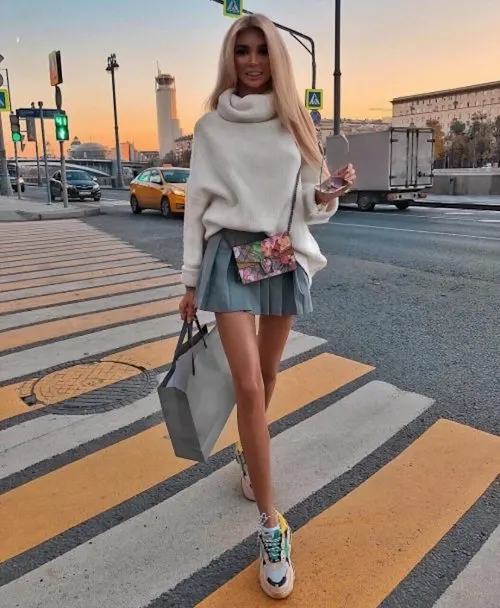 Products We Love: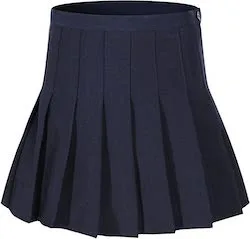 When the weather is still cold, a beige skirt is a lovely choice. What you need are a leather jacket, boots, a white shirt, and a retro bag to complete the whole look.
Products We Love: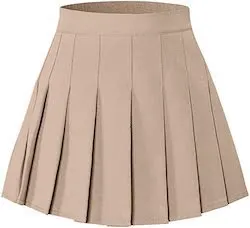 This post was all about tennis skirt outfits.
About The Author
Tracy is an experienced personal stylist, shopping expert, and fashion & lifestyle blogger. She has been featured on Time Magazine, Bustle, Best Life, Glam, The Zoe Report, Mic, and GOBankingRates, for her insights on fashion, beauty, home decor, and lifestyle. Read More
Related Posts: