Looking for the trendiest dress with sneakers outfits for inspiration? Check this post for 50+ outfit ideas to copy this year.
Spring and summer are always the best time to wear various cute dresses, the most eye-catching and suitable. This year, the dress with sneakers trends are still dominating everywhere. This magical combo balances feminine and boyish, which is not only cool but also attractive. It is comfortable and suitable for daily life and also the perfect choice for a casual date!
So how to wear a dress with sneakers? In this post, we are sharing the most popular styling ideas of this season.
This post may contain affiliate links, which means I'll receive a commission if you purchase through my link, at no extra cost to you. Please read the full disclosure here.
This post is all about dress with sneakers.
Best Dress With Sneakers Outfit Ideas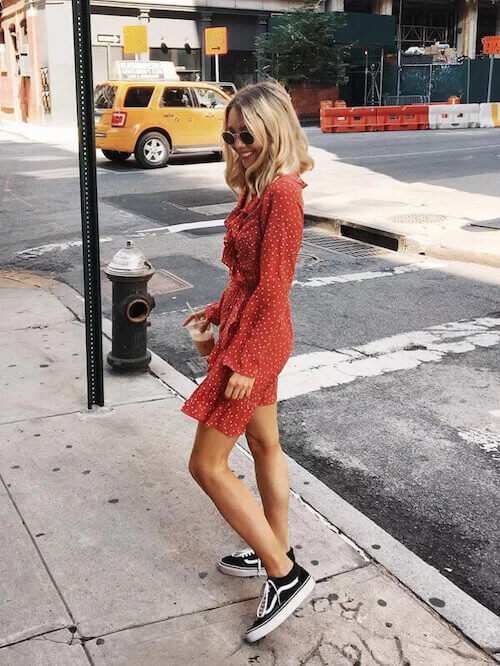 via Pinterest
Floral Dress With Sneakers
The romantic floral dress is undoubtedly the best item to represent spring and summer, and it is bright and attractive to help you create a charming street style on your own. Meanwhile, the sneakers are inherently neutral and boyish, neutralizing and diluting the sweetness that is easy to express in floral dresses.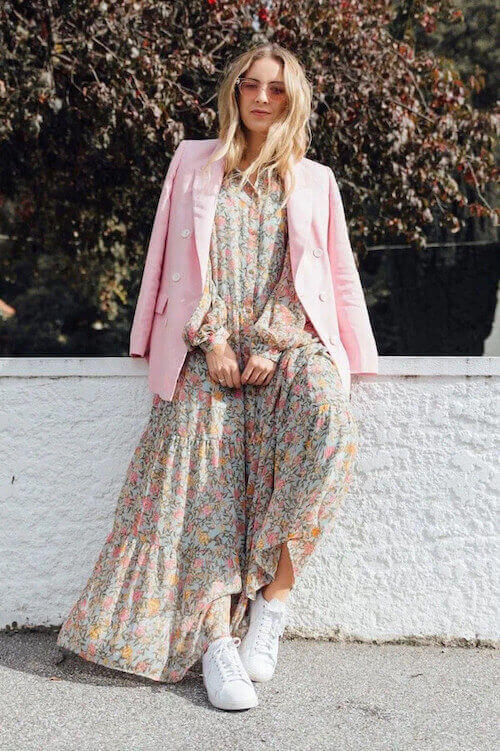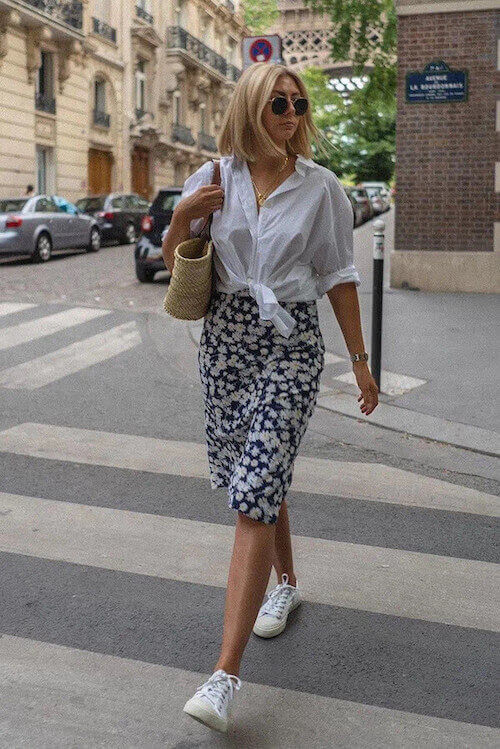 via Pinterest
This combo makes your s/s collocation look more youthful and energetic.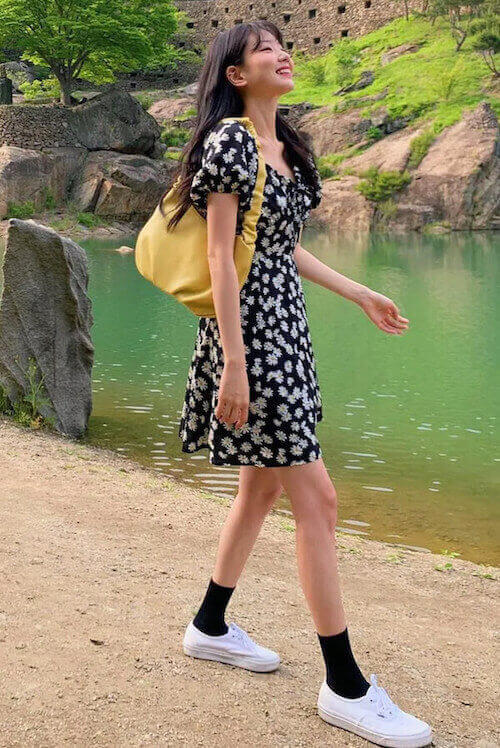 via Pinterest
The dark color floral dress looks. Even if it is paired with simple sneakers, it can still make you tall and slim.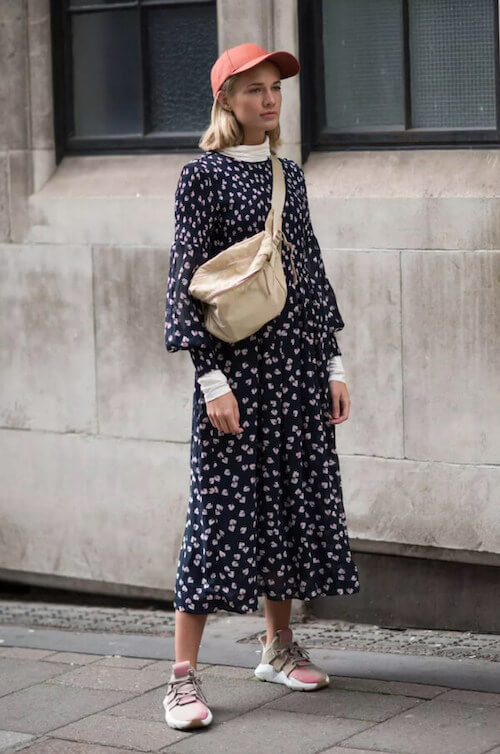 via Pinterest
Of course, in the pretty spring and summer weather, I suggest you try light-colored floral dresses, which are beautiful and refreshing, paired with sneakers. They look amazing and pleasing.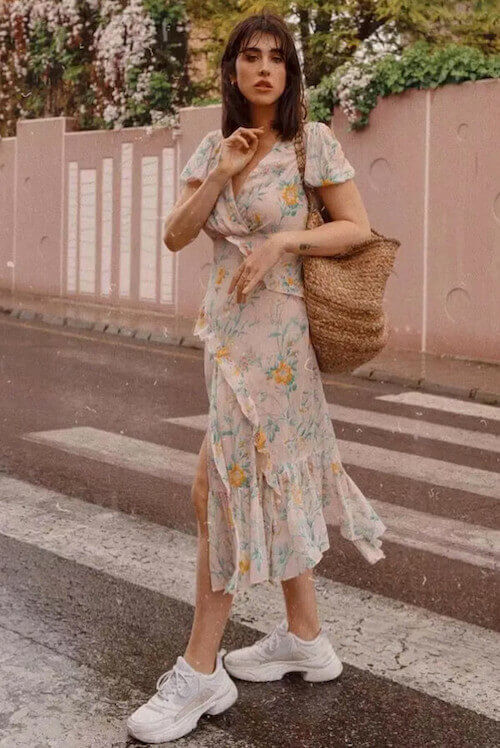 via Pinterest
Since the floral dress itself is eye-catching enough, you can choose the simplest white sneakers or black sneakers to pair with it, which is very chic. The dress is complex, but the sneakers are simple are neutral. Everything is just right.
via Pinterest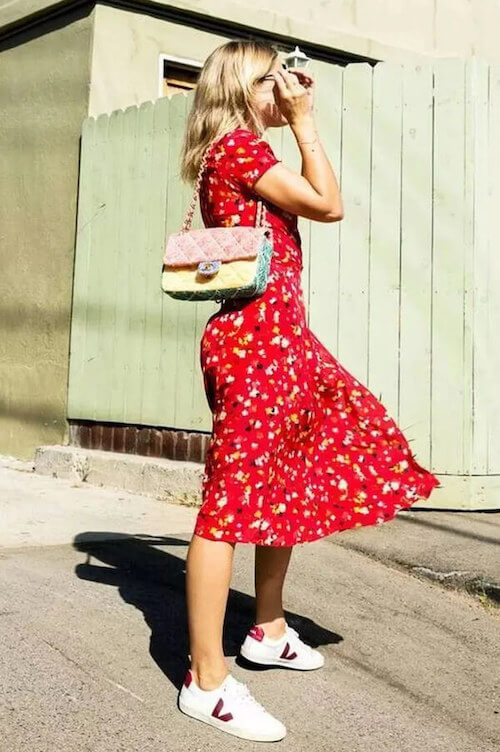 via Pinterest
If you like a fresh style, it's okay to wear simple white sneakers to match your floral dress. The dress will instantly become a lot sweeter with the white sneakers.
via Pinterest
And don't forget the black sneakers. They can make your floral dresses cute and cool! Look how charming the below looks are!
via Pinterest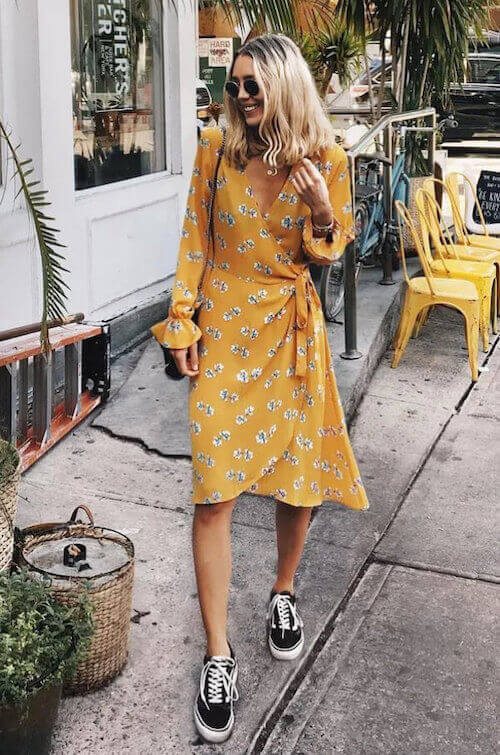 via Pinterest
Retro Printed Dress With Sneakers
Since the "retro-style" has been quite popular in the fashion trend in the past two years, retro printed dresses like polka dots, plaids, and other patterns have also become the most fashionable ones.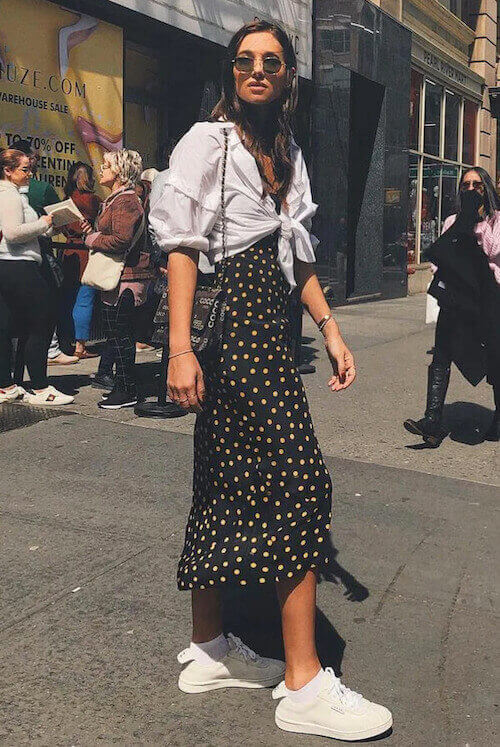 via Pinterest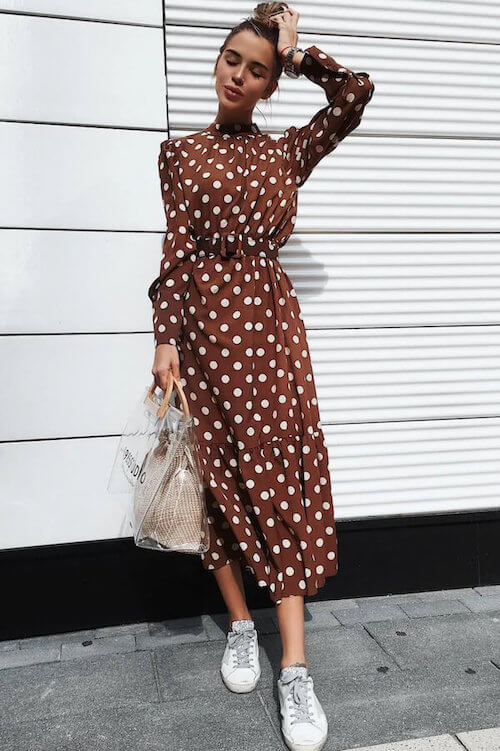 via Pinterest
Sneakers and retro printed dresses create an excellent combo to achieve the perfect combination of casual street style and French retro style.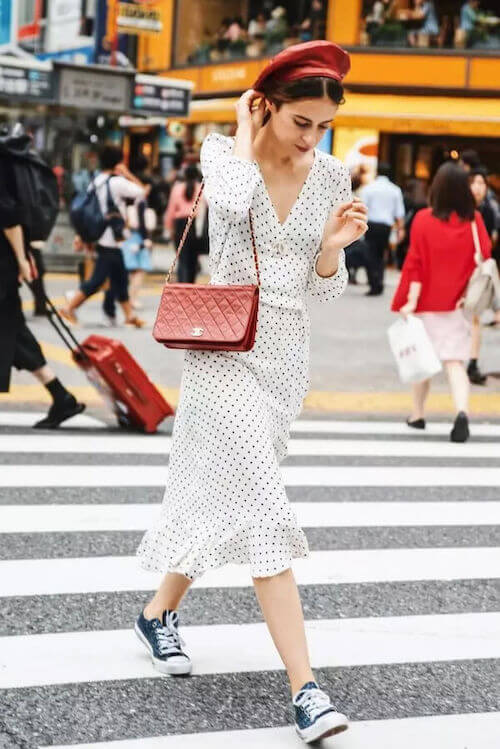 via Pinterest
The romantic polka-dot dress has always been a staple for the French style. Use it with a pair of sneakers this spring and summer. You can express a romantic and effortless French chic look.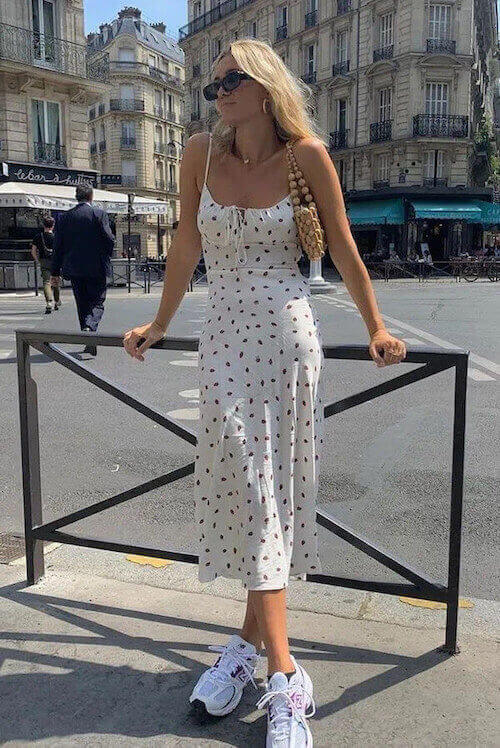 via Pinterest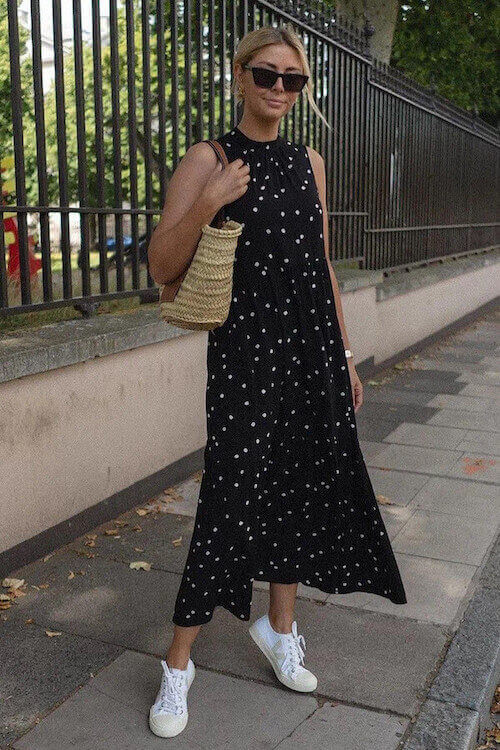 via Pinterest
The most classic black and white polka-dot dresses are effortless to wear and eye-catching.
via Pinterest
The colored polka-dot skirt will, of course, be even better. A pair of simple sneakers and the pretty colored polka-dot dresses make you the most beautiful girl in the crowd!.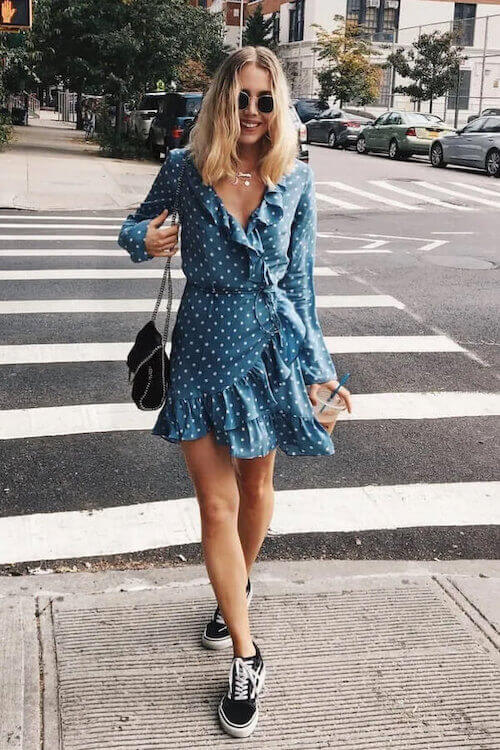 via Pinterest
via Pinterest
The retro plaid dress is also a favorite of fashionable people, and it can be paired with sneakers well. These outfits look young and stylish.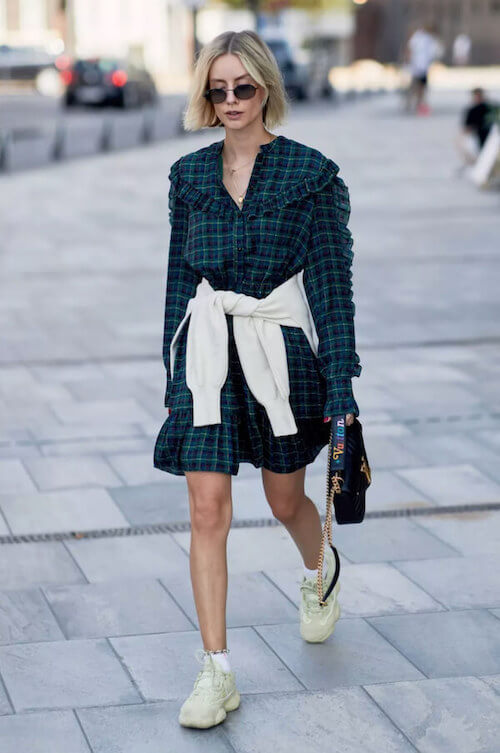 via Pinterest
You can easily pair them with different styles of accessories, and the whole outfits always look chic and full of vitality at the same time.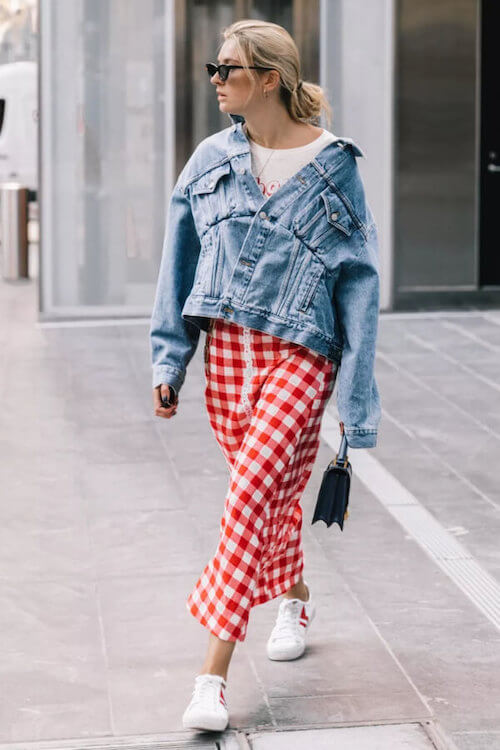 via Pinterest
Shirt Dress With Sneakers
Shirt skirts are one of the timeless classic items. No matter how the trend changes, they always look fashionable. Together with sneakers, they look elegant and expensive.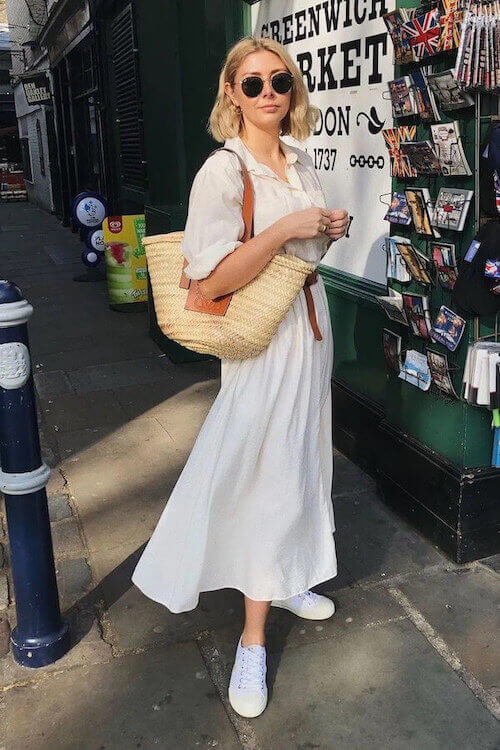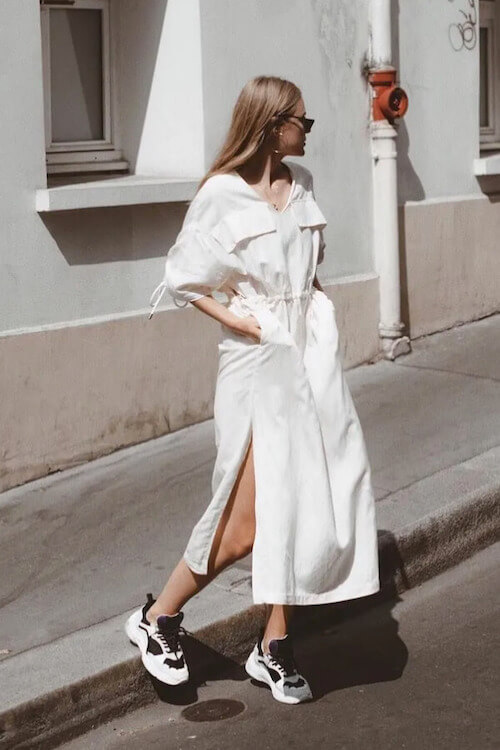 via WeHeartIt
In the past two years, the fashion circle has been advocating the oversized trend. This kind of oversized shirt dress to match sneakers is the favorite of many fashion girls, creating a very lazy easy chic.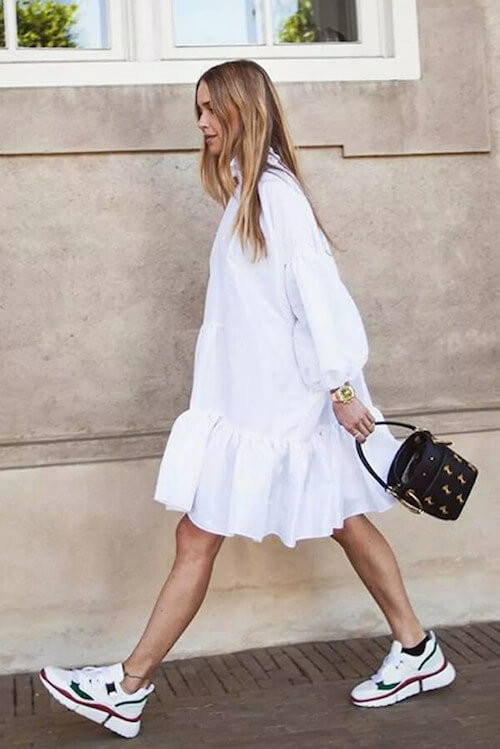 They can help you create a free and chic style but also help you shape your figure.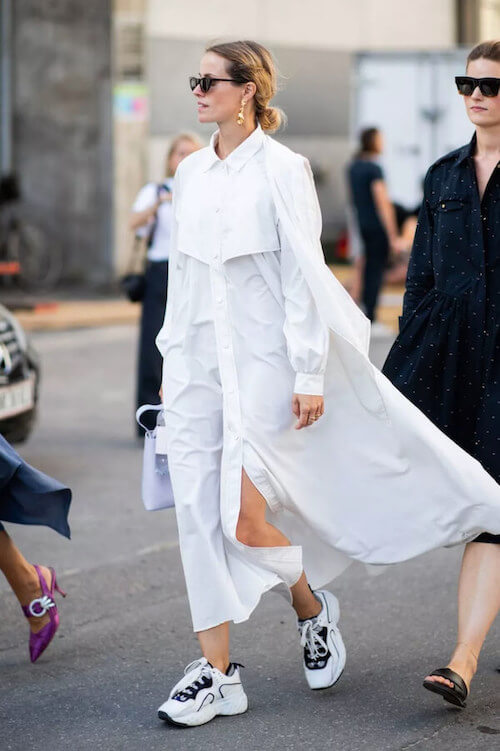 via Pinterest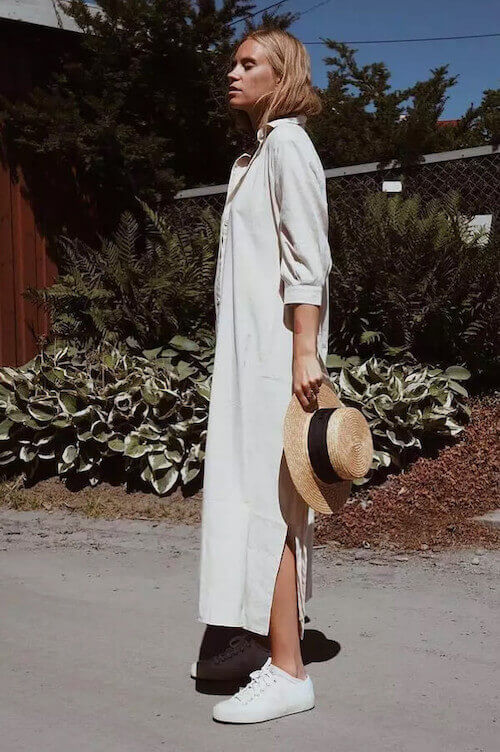 via Pinterest
Of course, to make your figure look even better, if you want to wear flat sneakers, it is more recommended to choose this kind of lace-up shirt skirt to increase the waistline and optimize the proportion, and you will look taller.
The white shirt skirt is undoubtedly the most classic one. No matter how old you are, you can easily wear and sneakers to create fashionable outfits.
via Pinterest
The striped shirt dress is also a fashionable item in the fashion trend. It is simple and reveals a sense of fashionable details. It looks refreshing and handsome with sneakers.
via Pinterest
via WeHeartIt
Satin Dress With Sneakers
The minimalist and beautiful silk or satin dress is a must-have for fashion girls. The sneakers not only can your dresses "look expensive," but also make them more suitable for everyday wear.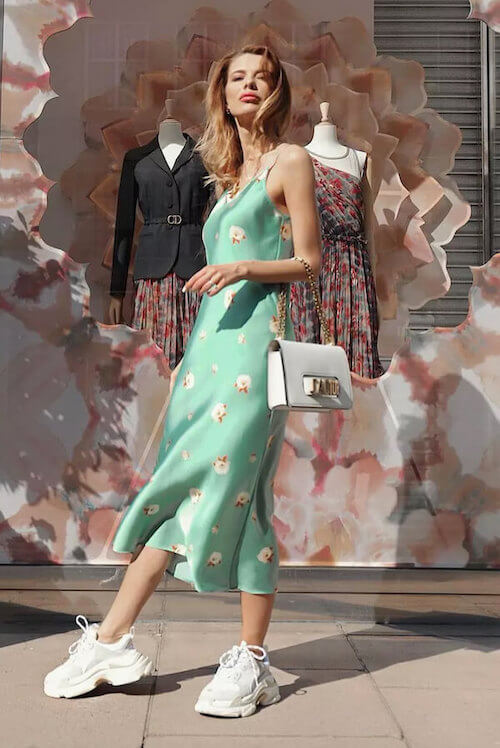 @glaminati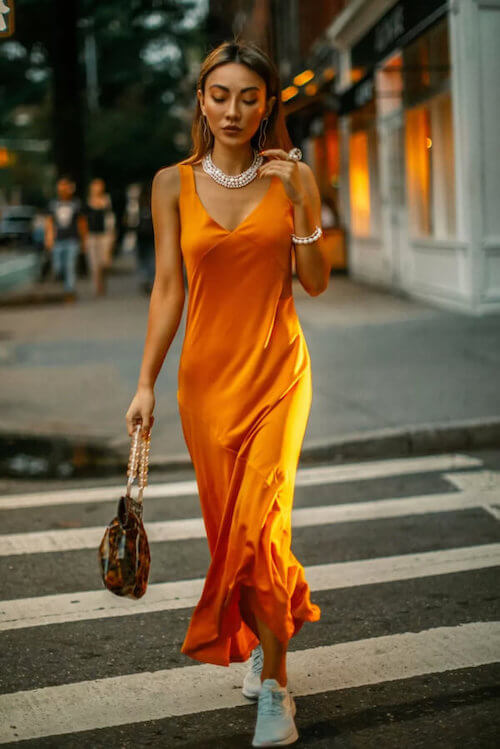 Sneakers can dilute the maturity of the satin dress and add vitality, so you can even wear casual tees, sweaters, and other casual or retro tops.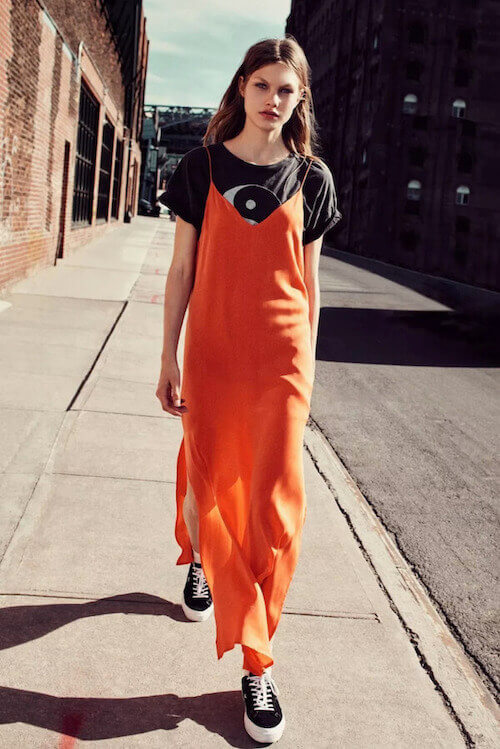 via Pinterest
via Pinterest
These looks have a unique vitality, charm, and style.
via WeHeartIt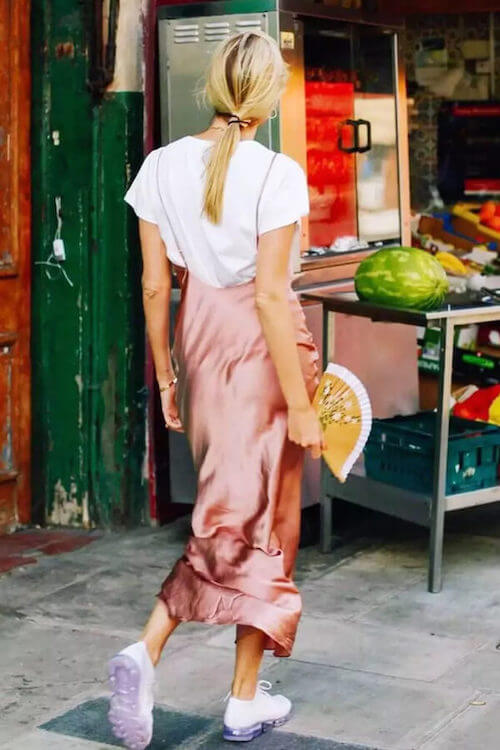 via Wheretoget
In cool weather, you can wear cozy knit sweaters to pair with your satin dresses and sneakers.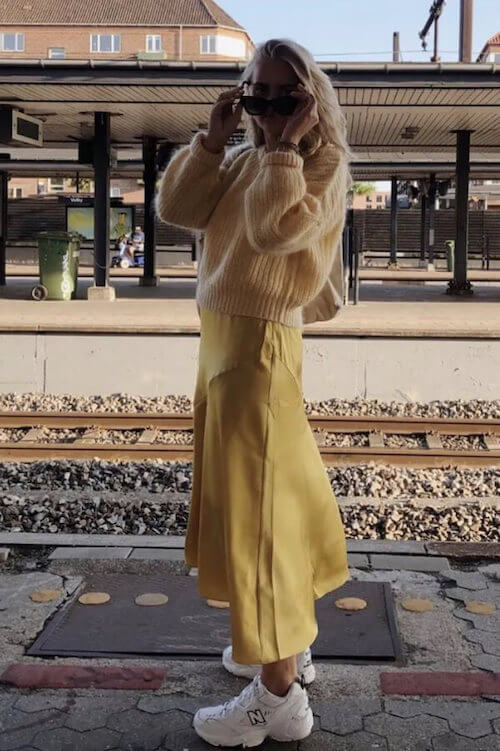 via WeHeartIt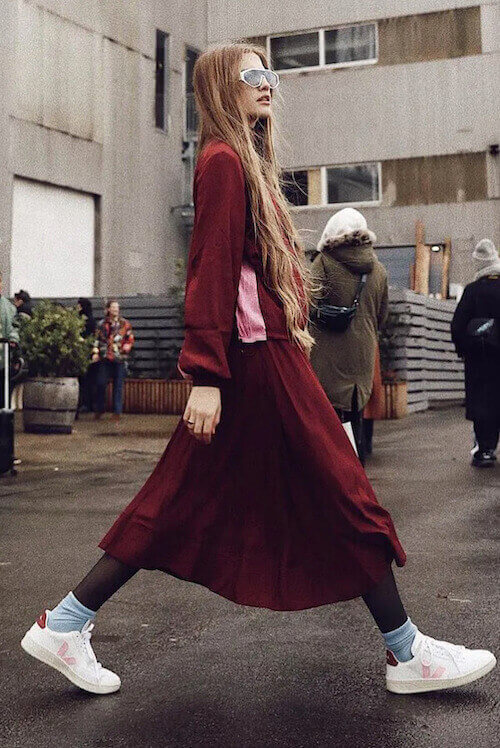 via WeHeartIt
They look feminine and effortlessly chic.
via Pinterest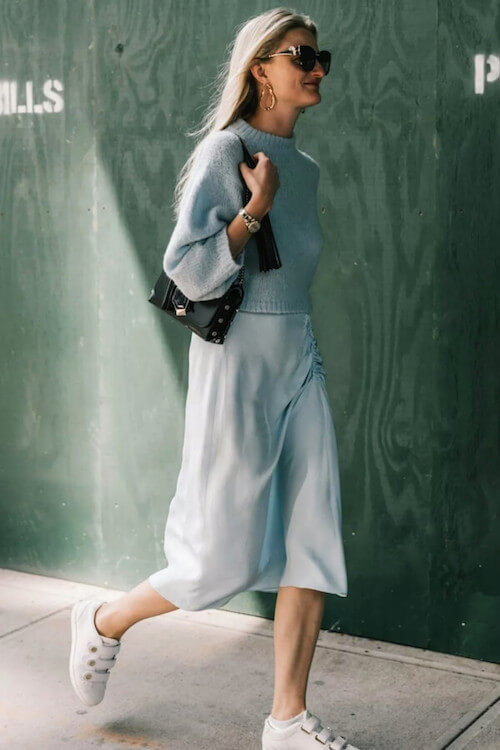 via Pinterest
The combos of a stylish blazer, a satin dress, and sneakers, are also gorgeous, perfect for work or a casual date.
via Pinterest
via Pinterest
The elegant style and the free and easy charm are perfectly balanced. You will look fabulous in such an outfit!
via Pinterest
This post was all about dress with sneakers.
Related Posts: