Want to know angel wing tattoo meaning, and look for the best designs? Check this post for angel wing tattoo meanings for different types of designs, and the best 120+ ideas for women.
Since ancient times, people have had a desire for the sky, and thought the birds with wings have a natural worship. After the tattoo became popular, different tattoo styles with wings are also welcomed by many tattoo enthusiasts.
The initial tattoo of the wings are generally pure white wings of angels, pure, holy, free, but slowly people have given more beautiful symbolism to the wings, but also created different types of tattoos with wings.
But overall, the tattoos of angel wings are still the most popular choices for tattoo lovers. So, what are the different meaning for different angel wings tattoo designs?
In this article, I am sharing the true meaning of the angel wings tattoo, and I also curated 120+ best ideas for different types of angel wing tattoo designs, and the best placements for you to choose from.
So scroll down to check the analysis and ideas, to pick your favorite angel wing tattoo design, and don't hesitate to share them on social media sites.
This post may contain affiliate links, which means I'll receive a commission if you purchase through my link, at no extra cost to you. Please read the full disclosure here.
This post is all about angel wing tattoo meaning.
Must Know Tips For Your First Time Tattoo
If you are having the tattoo for the first time, below are the must know tips for you:
Dose Tattoo Hurts?
Tattoo pain varies for different people, and pain level will also be different due to the location, for example, the outside of the thigh, the outside of the calf such places, is less painful, but the foot with more bones and where the skin is relatively thin, is hurtful.
And the buttocks, Ih heard that it is the most painful location.
Additionally, smaller designers are less painful than larger designs.
Choose A Professional Tattoo Studio And Tattoo Artist
Tattoo safety and hygiene depends on what kind of tattoo store you find, it is important to choose a professional tattoo store.
Ask the price in advance is important, it is best to be introduced by a friend, or check the previous work and reviews of the studio in advance.
After all, it is a body art lasts for a long time, so you can save money to have a good tattoo.
Before And After Care Tips
If you have a cold, fever, or other illness, or you are on period, or you have dermatitis or scarring, then you are not suitable for tattooing.
After the tattoo, you can take a shower, you can also rinse the tattoo place, but do not force rinse or rub. However, you can not take a long hot bath. After the tattoo, you can not drink alcohol, can not eat spicy food, and do not exercise vigorously.
Angel Wing Tattoo Meaning & Different Styles Of Angel Wings Tattoos
Guardian Angel Wing Tattoos Meaning
Guardian angel wing tattoos are the most popular patterns. A large or small guardian angel wings tattoo is telling you: do not be discouraged, do not give up. This tattoo means God is behind you to bless you.
This popular design is acting as the messenger of God, telling you that even if life brings you suffering, trials and tribulations, there is always someone behind you silently support you, inspire you to bravely out of trouble, to meet a better future.
You can also add meaningful names, dates, or even the image of a deceased loved one to the different designs of guardian angel wing tattoos.
Choosing a guardian angel wing tattoo is one best way to show that angels are always watching over them and guiding them through life with good luck.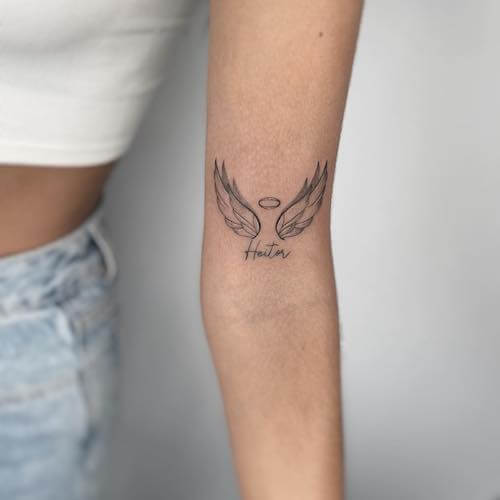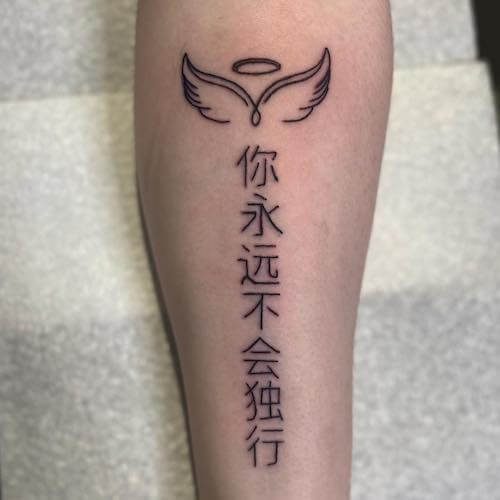 The Chinese sentence in the tattoo above means you are never alone.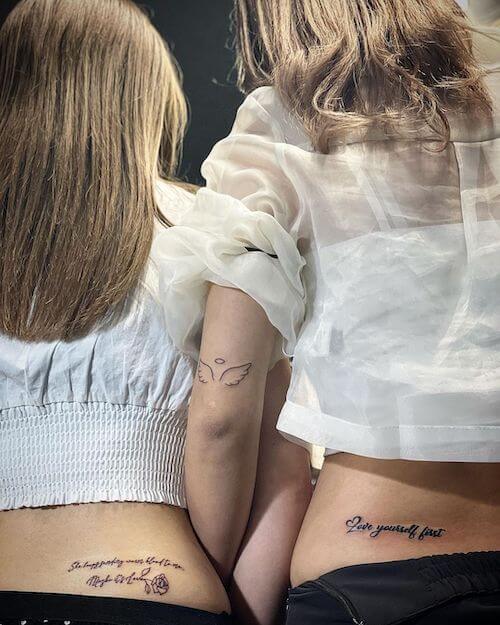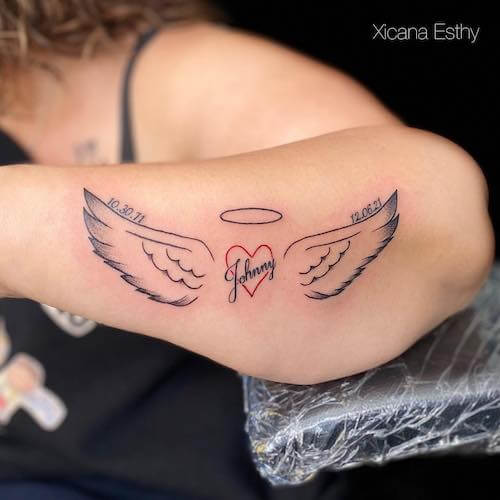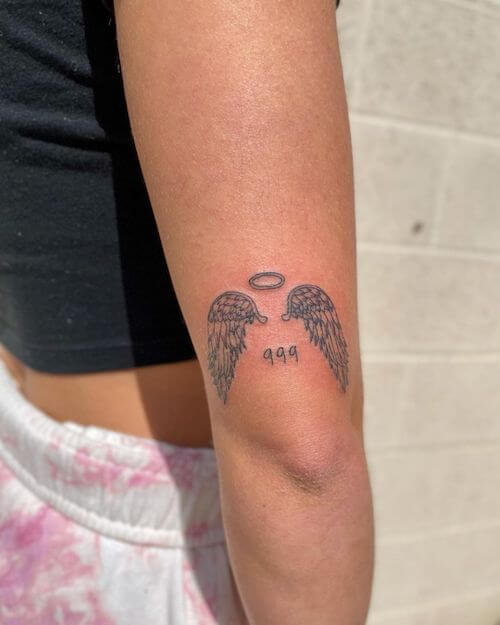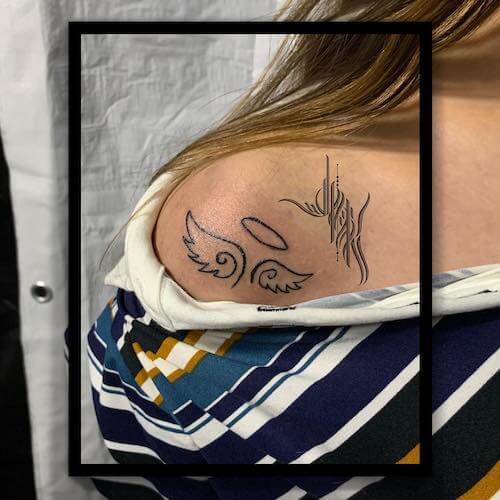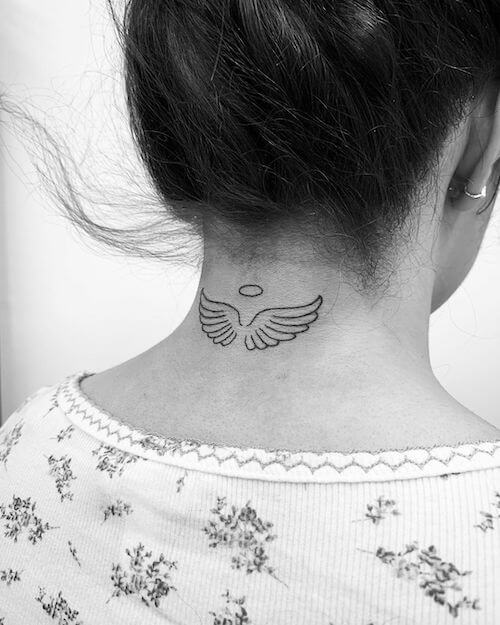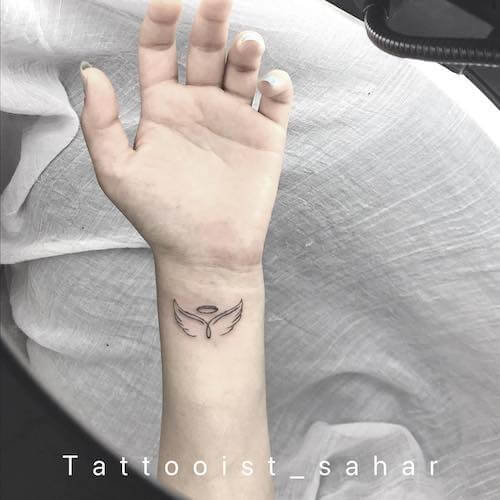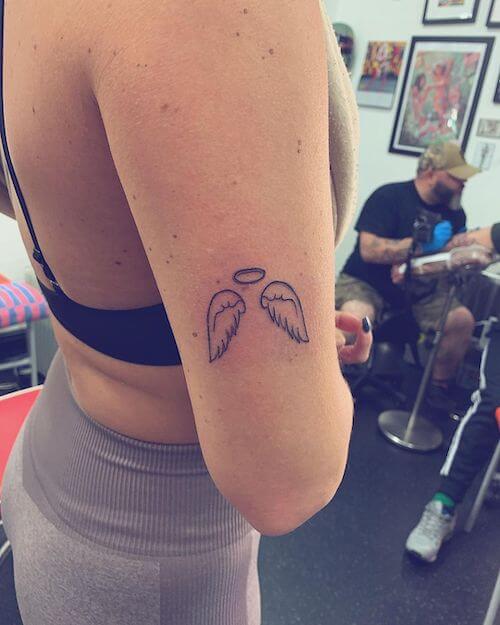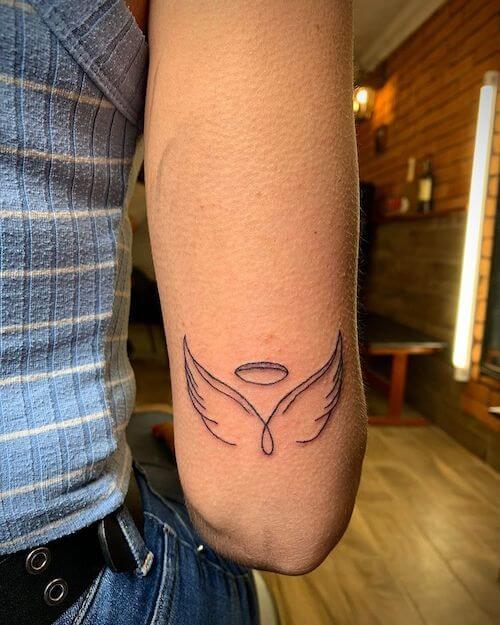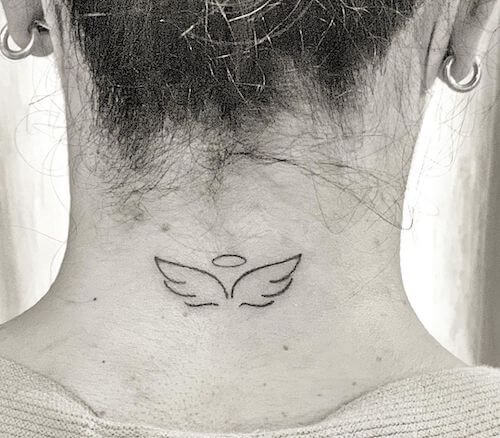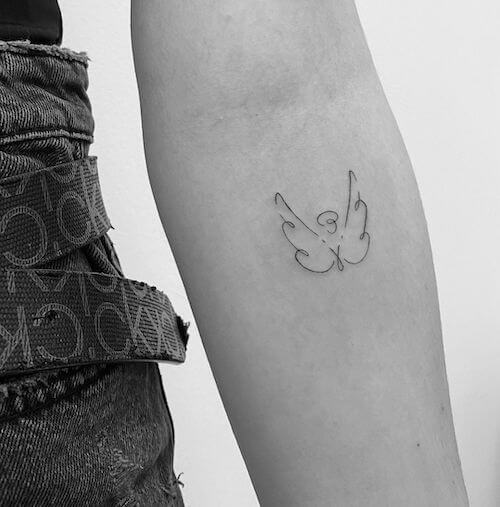 Angel Wing And Cross Tattoos Meaning / Celtic Cross And Angel Wing Tattoo Meaning
The cross is a perfect combination with the wings. The cross is a symbol of believers, representing faith and salvation, and the wings represent religious freedom and angels, giving faith and strength.
The symbolic meaning of a cross and wings tattoo is life everlasting. Many people choose the cross as their tattoo design, because of their religious faith.
The cross is the path of life that Jesus gave guidance to overcome the devil, so that the devil is away from themselves, but also symbolizes the tree of life, in the path of Jesus Christ will always be safe and happy.
The religious people who choose the cross tattoo design have a high faith in their own hearts, with their own faith and a spirit of never retreat to defeat all demons.
Also, paired with a cross, this popular tattoo design can serve as a reminder of a near-death experience or a tribute to a deceased loved one.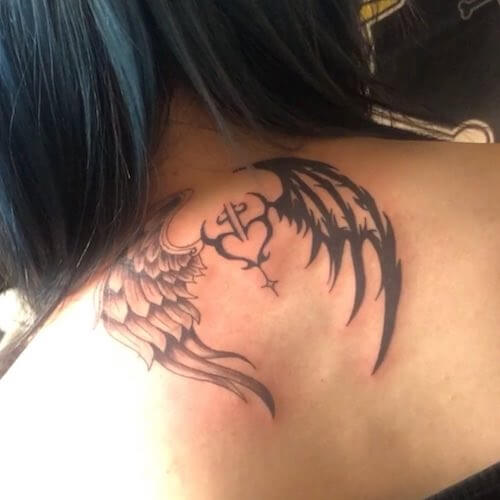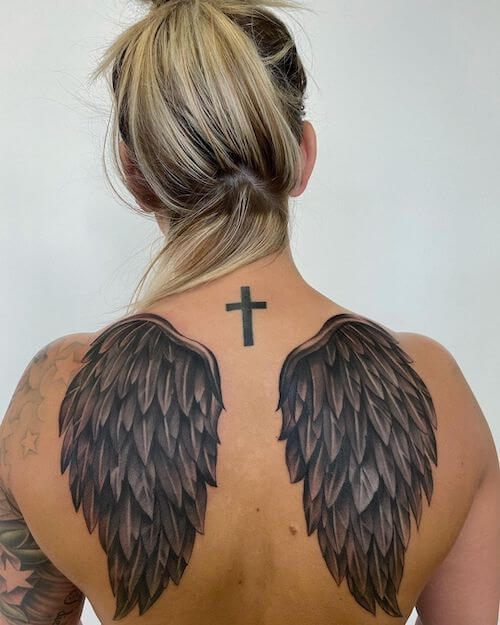 Dark Angel Wings Tattoo Meaning
Fallen angel wing tattoos are also common types of angel wing tattoos which represent the paradise of loss. In a sense, having this design means that you have lost something or someone because of your actions.
The most famous fallen angel, Lucifer, lost his seat as the senior archangel after leading a rebellion against God, and his actions led to him being cast out of heaven.
The fallen angel is usually depicted as having a broken wing and a face of shame or regret, which often symbolizes something negative.
In addition, a dark angel tattoo usually reminds people that they should not be proud even if they are successful, pride is the source of the fall.
At the same time, many people like the fallen angel wings tattoo, may want to serve as a wake-up call, to warn themselves not to lose their original thoughts for some reason.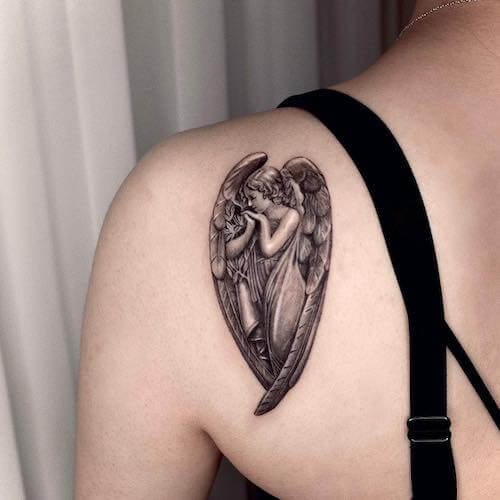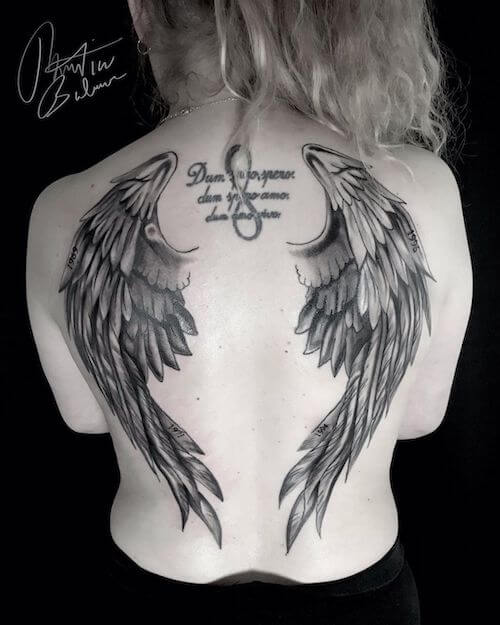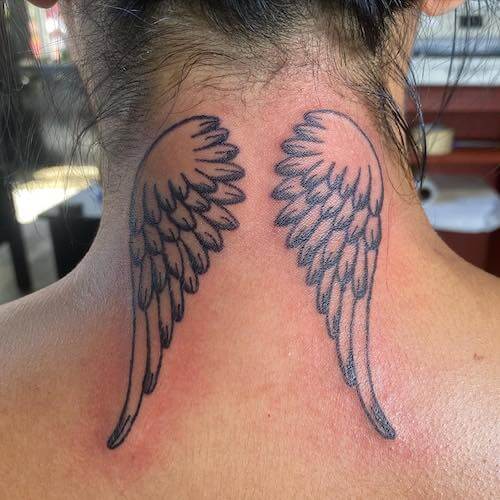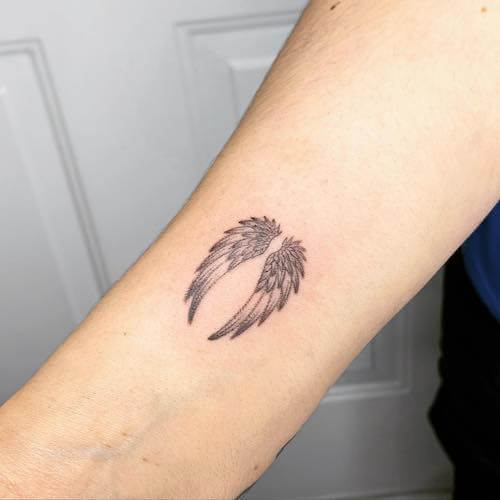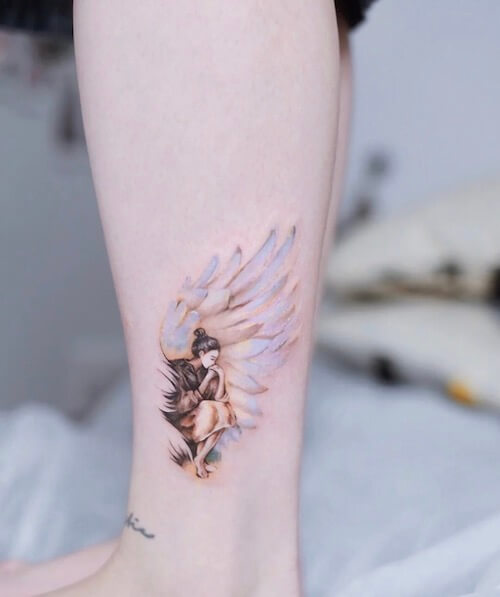 Matching Angel Wing Tattoos
Matching angel wing tattoos are also very popular among couples or good friends.
The angel represents the purity and beauty of the angel and sends their good wishes and aspirations for their relationship.
At the same time, the wings also carry freedom and express their willingness to work together for a happy future.
In Matching angel wing tattoos, you can also ask the designer to add your initials and other words or patterns with meanings for you to make your tattoos more meaningful.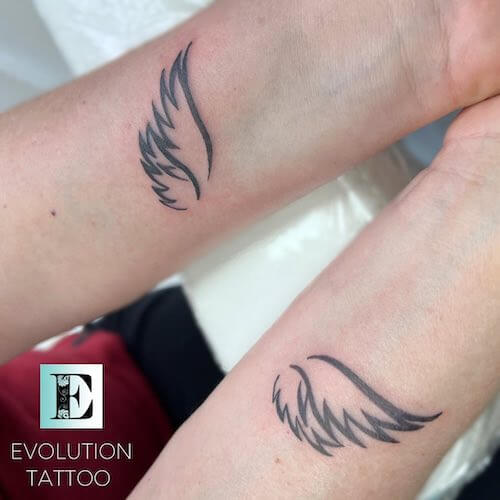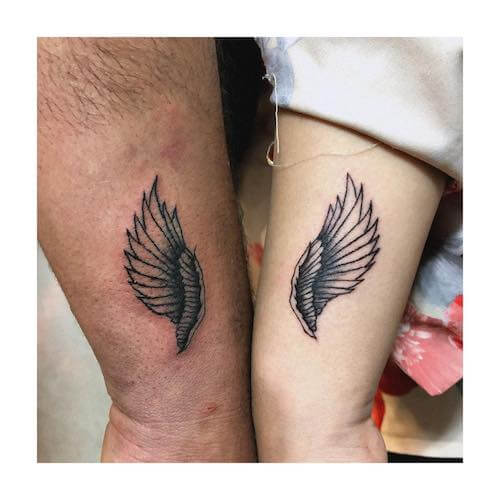 Broken Wings Tattoo Design Ideas
Broken angel wings tattoos usually represent frustration, sadness. Angel wings are injured and they inscribe the broken wings forever to remember their tough times.
However, even with broken wings, angels are still angels. Therefore, broken angel wings tattoo or a single wing tattoo also represents the resignation, determination to endure the pain and continue to pick up the tenacity of the will.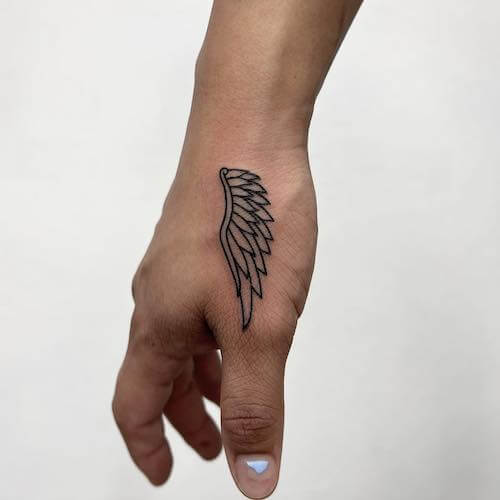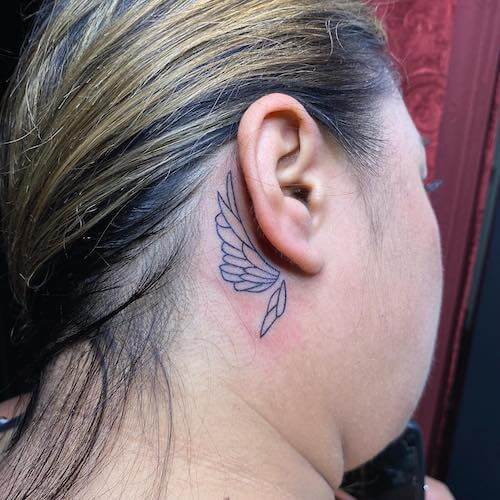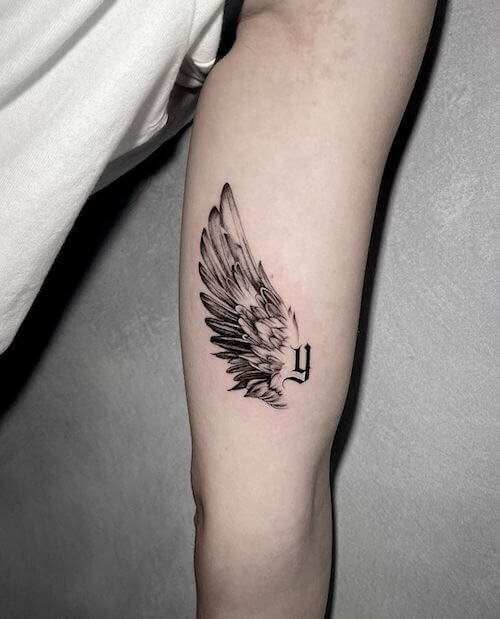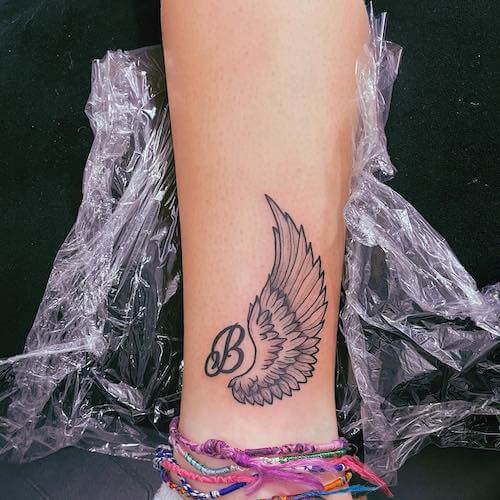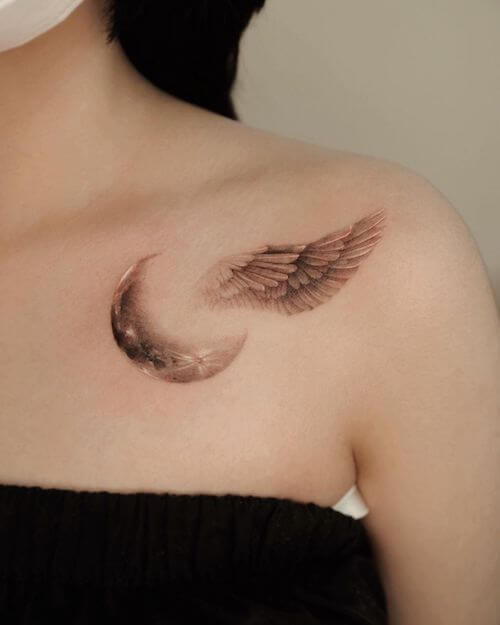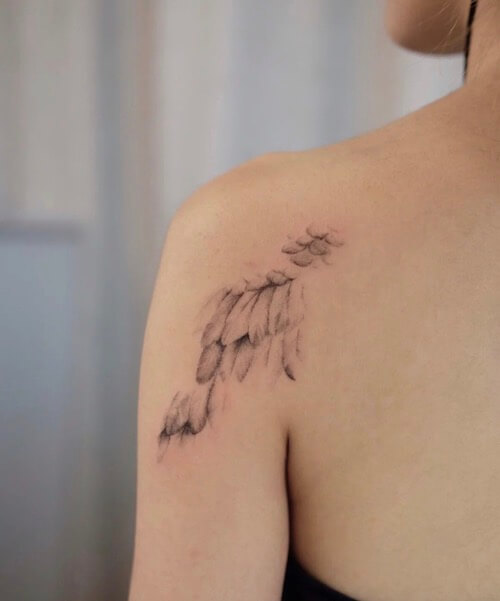 Baby Angel Tattoos
Cupid is the most popular baby angel and it symbolizes love and destiny. Therefore, it makes sense that a tattoo inspired by an angel expresses the great love you have for the name next to the tattoo.
The baby angel tattoos are very popular for mothers. This type of wing tattoos is often used to express affection for people, especially children at birth or, more sadly, after death.
Also, you can have the designer monogram your child's name or design it together with the angel to have a strong connection with the loved one.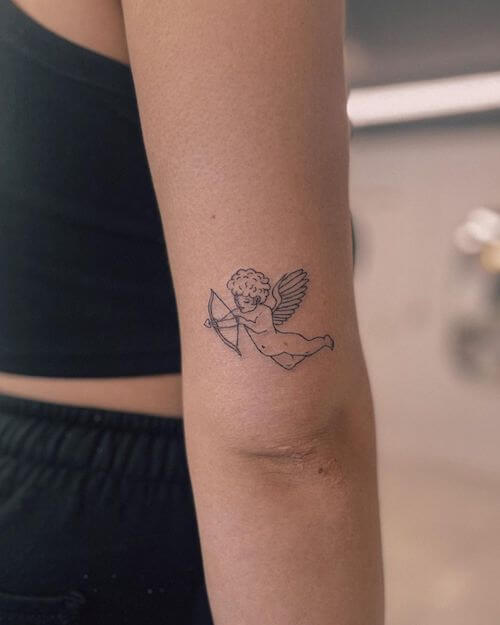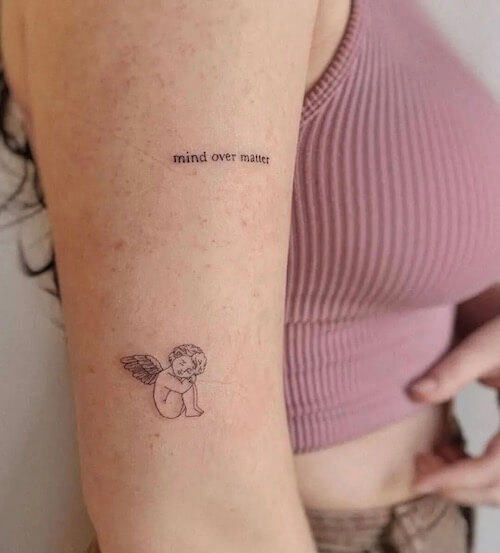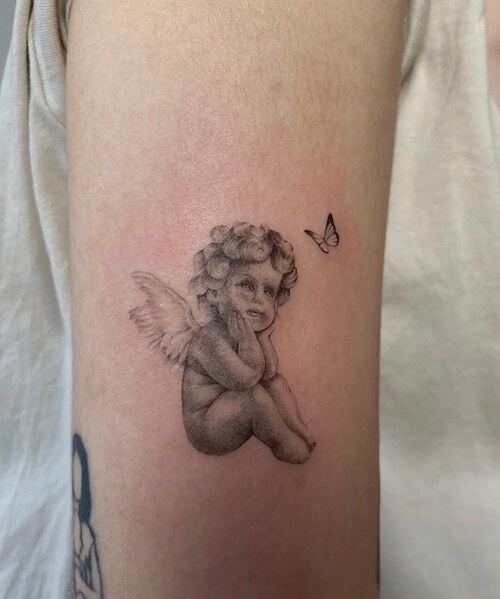 Large Wings Tattoo On Shoulder Blades
Now more and more girls are also trying large angel wings tattoos on their shoulder blades to express their desire for freedom.
Unlike men who like domineering wings tattoos, girls' large wing tattoos usually use thinner lines and lighter colors, as well as lots of details to complete a stunning angel wing tattoo, which looks very gentle, as a kind angel descends to earth.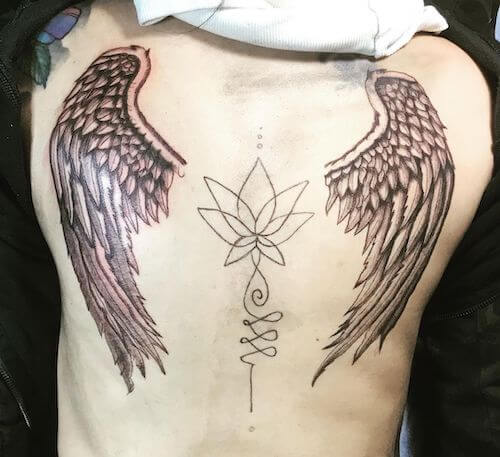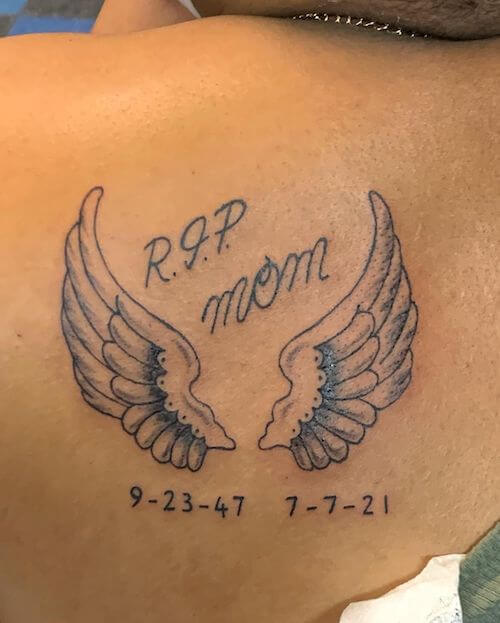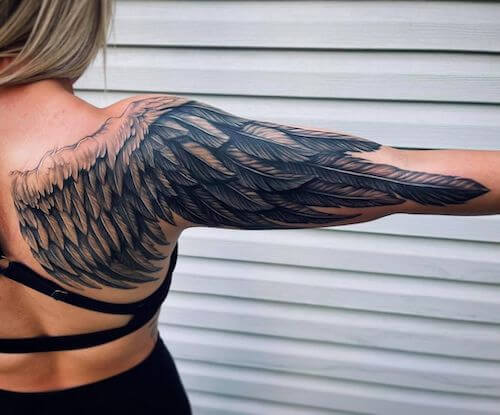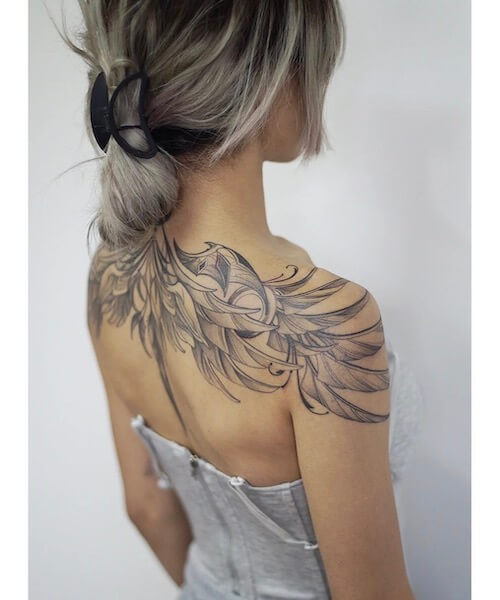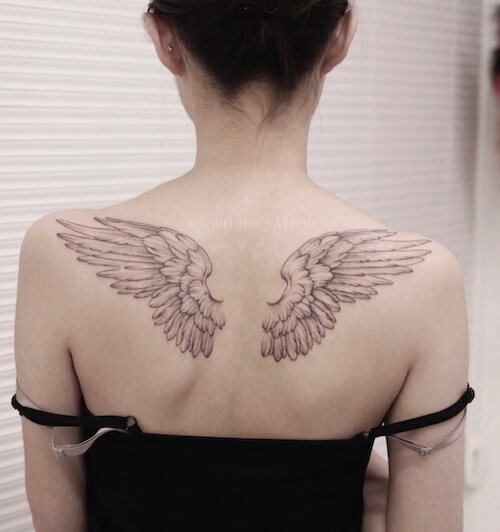 Double Wings
Having a pair of angel wings tattoo on your favorite parts is also a fashionable pursuit. Especially in summer, showing a pair of wings will make your overall outfit look great.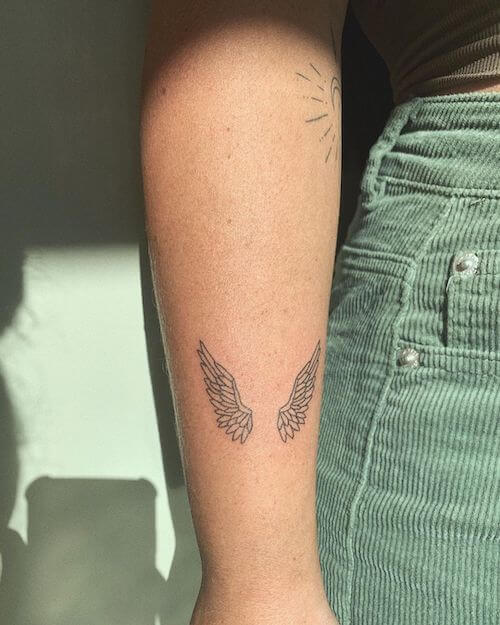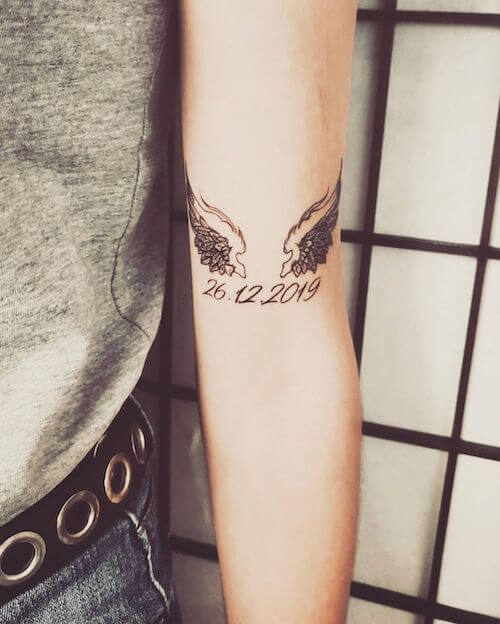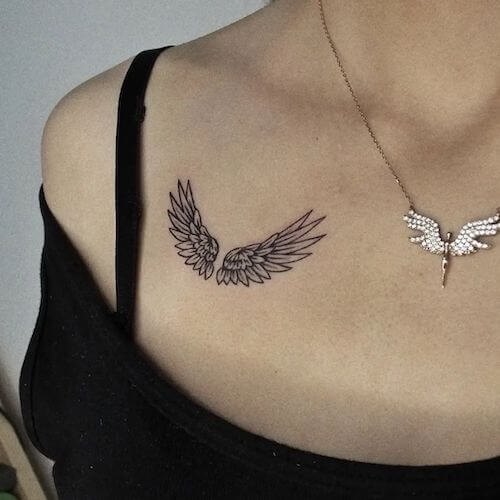 Black Wings
Black ink angel wings tattoos are most common. To be different, you can put your favorite quotes or sacred texts and angels wings together to get an ideal choice.
Also, angel numbers, life path numbers, names, etc. are very popular elements to combine with angel wings tattoos.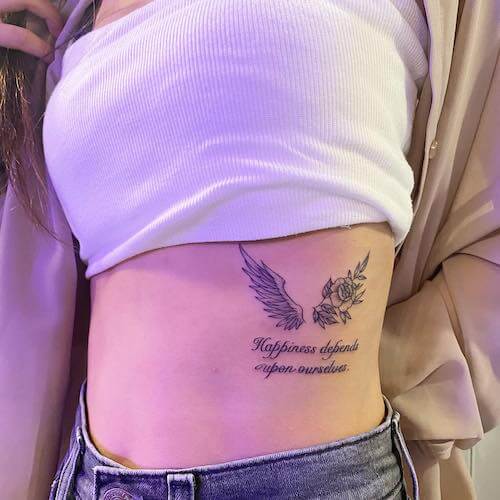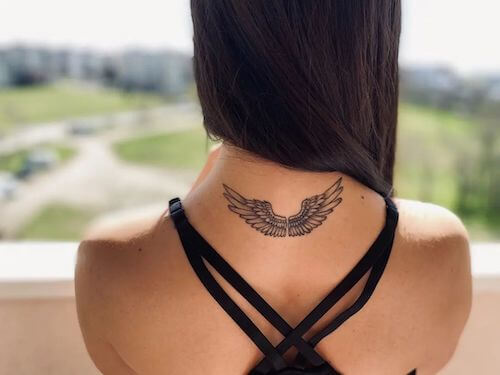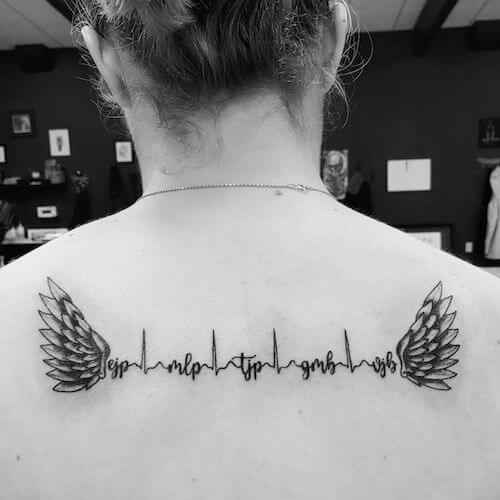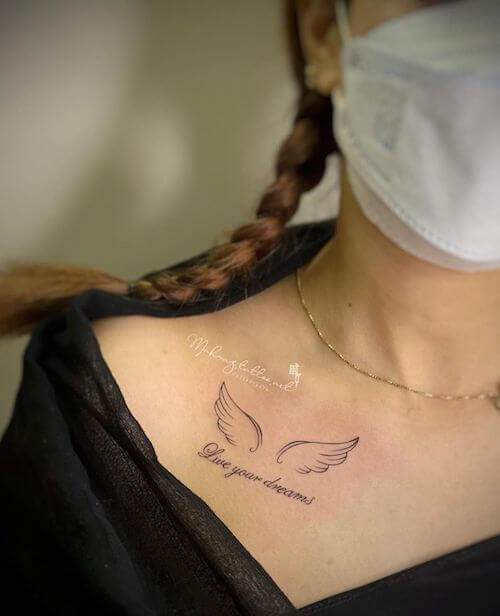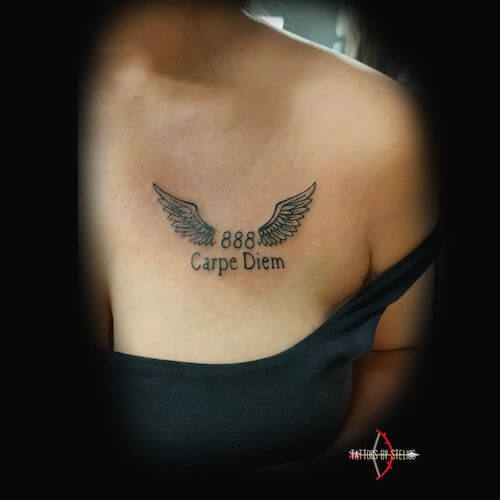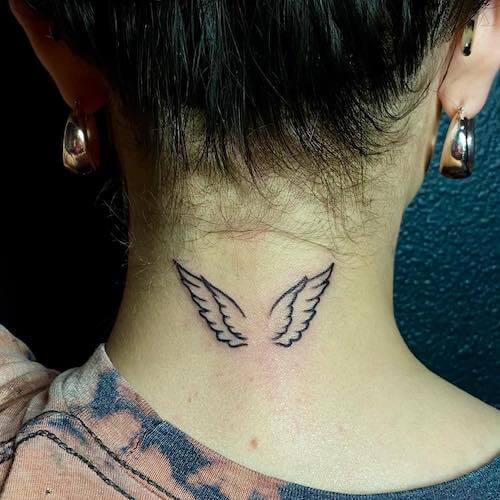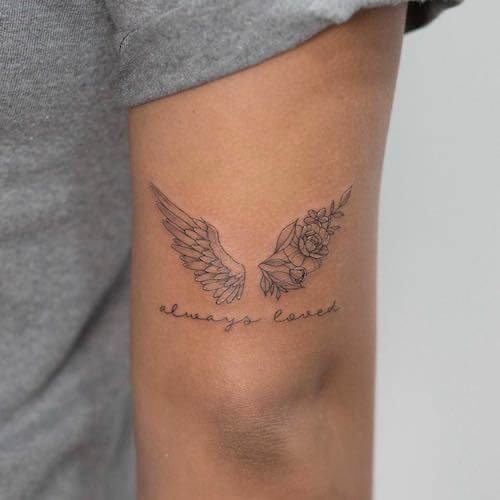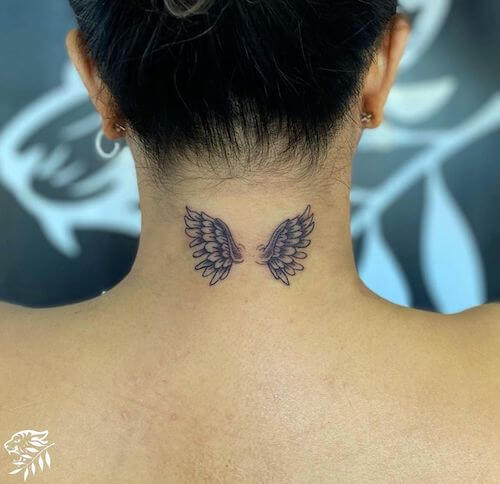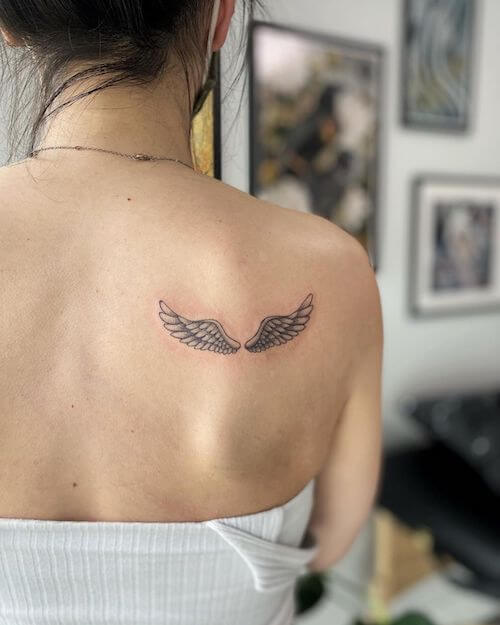 Angel Wings Tattoos With White Ink
The following tattoo design creatively uses white ink in the diamond pattern to make the pattern more vivid.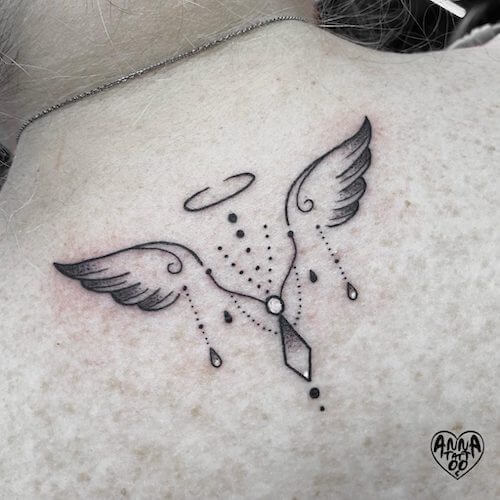 Cool Angel Wing Tattoo Ideas
The abstract and minimalist style angel wings tattoos are also very beautiful. Choose a unique design of minimalist angel wing tattoos to level up your style.
The following ideas are very creative in combining the wing pattern with other elements such as quotes, with vivid and smooth lines and simple and elegant images, perfect for women to try.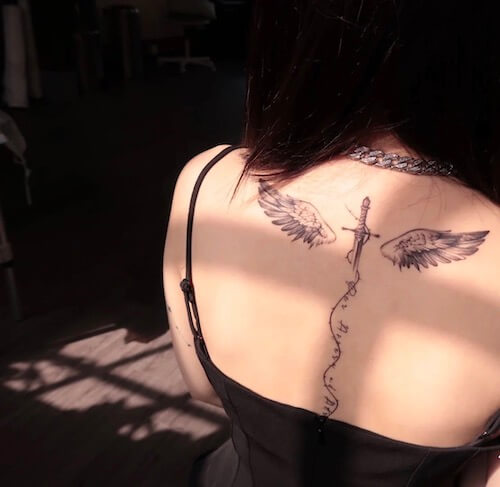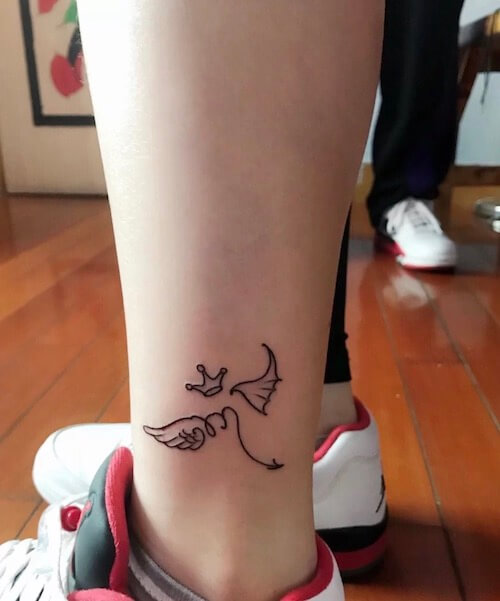 Watercolor Tattoo Designs Of Angel Wings
Watercolor tattoos are getting trending lately. if you are already familiar with tattoos, you can also try watercolor angel wing tattoos.
They show more perfectly the beauty of angel wings and the femininity of women, very eye-catching. The tattoos will be rendered in different colors, very suitable for women.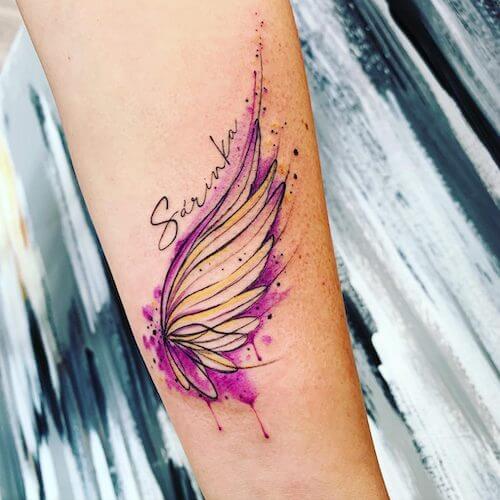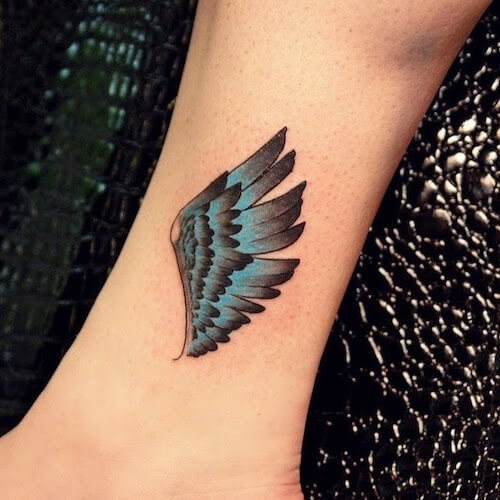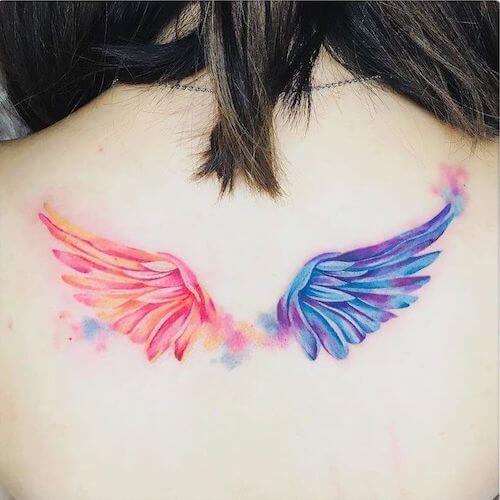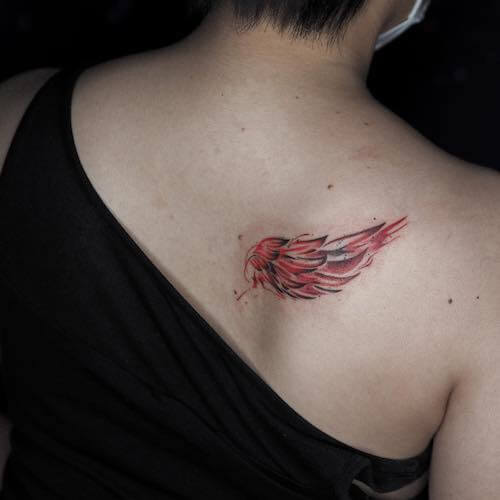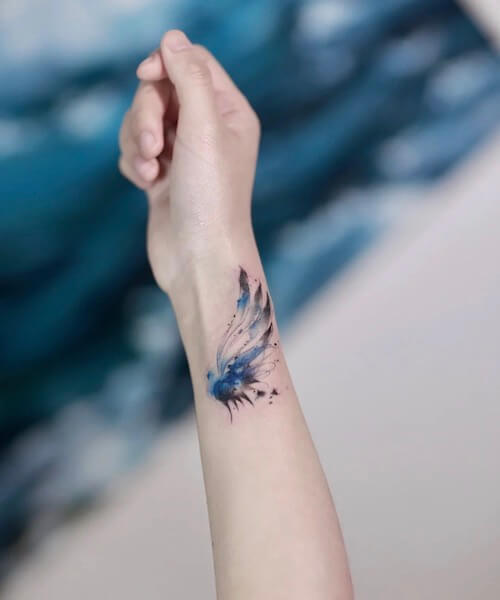 Memorial Tattoo Ideas Or Motivational Tattoo Designs With Angel Wings
The meaning of guardianship represented by the angel wings tattoo makes it one of the most popular memorial tattoo designs.
People get dates, names, events, quotes, etc. or any other personal choice that they want to commemorate, to be tattooed with the tattoo of angel wings on themselves to make their blessings and remembrance last forever.
At the same time, there are angel wings memorial tattoos in which patterns are added to enhance these meanings.
Flowers or butterfly wings, for example, are usually designed with the angel wings tattoo that blesses love.
There are also cute hearts, which are also common elements in angel wings tattoos.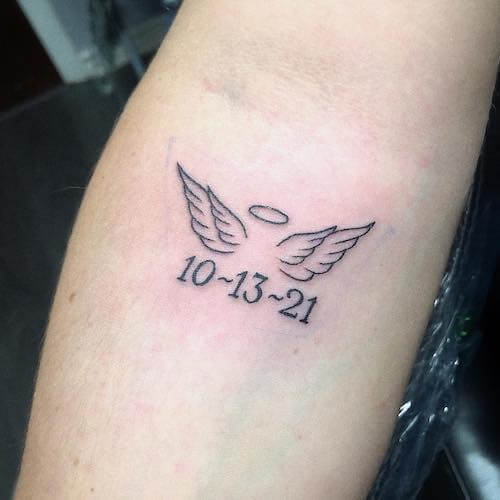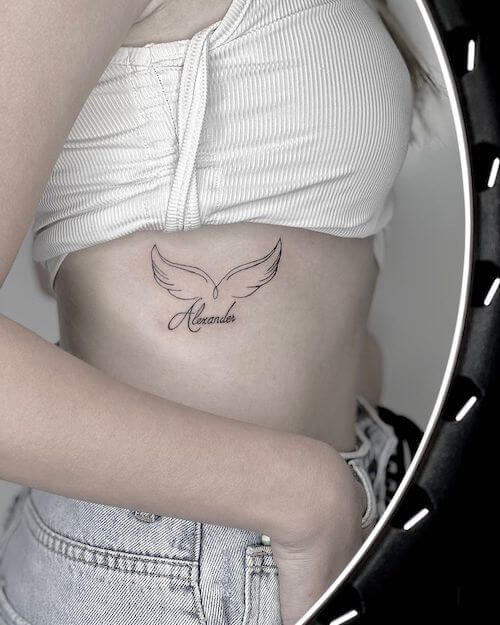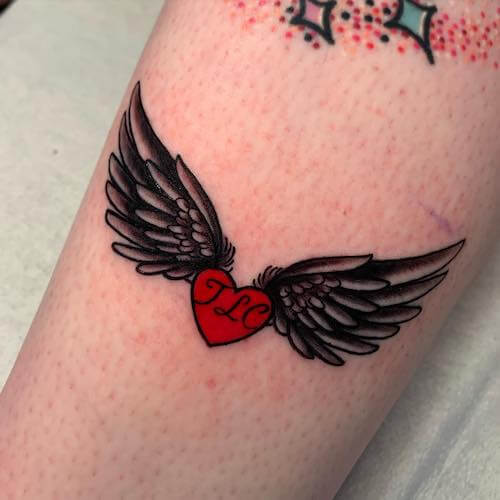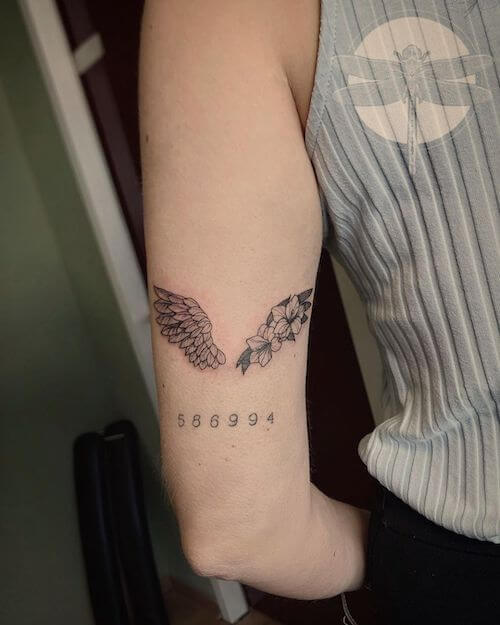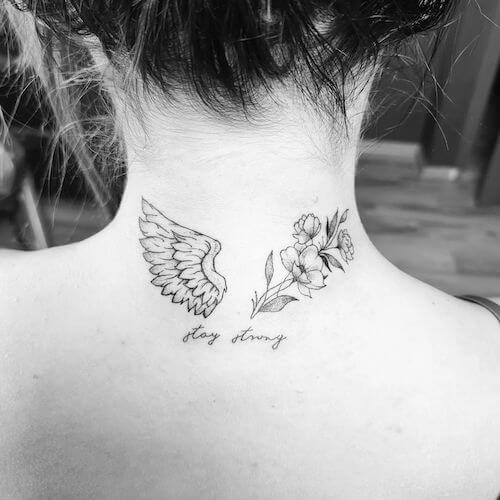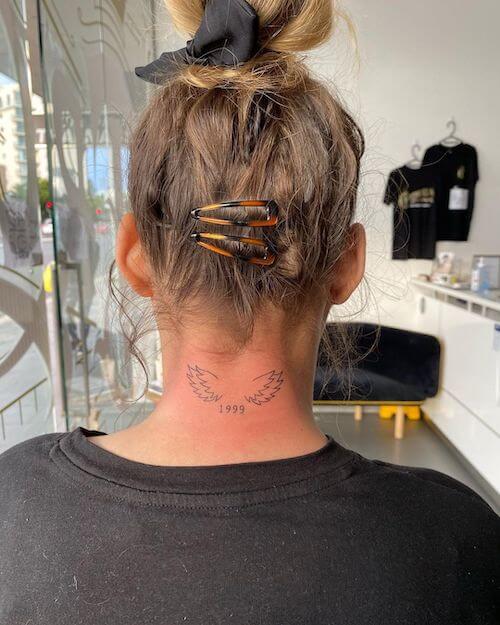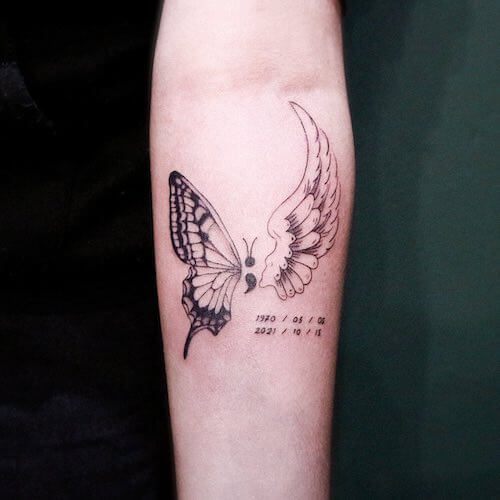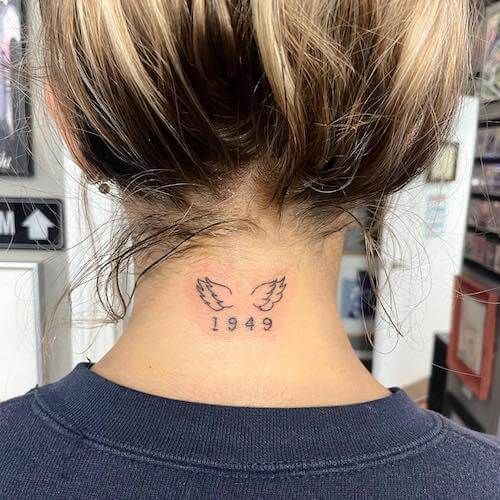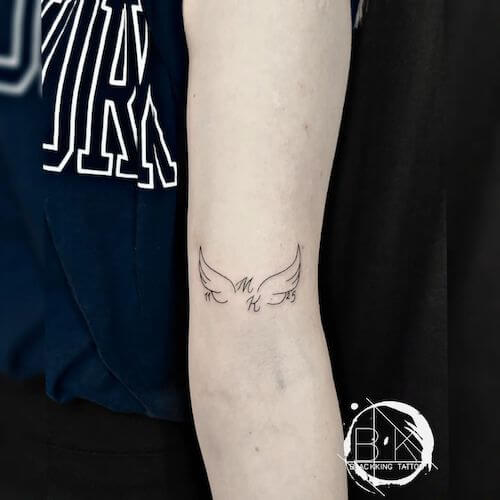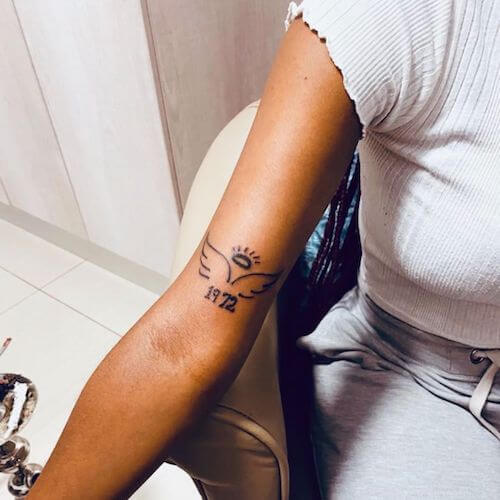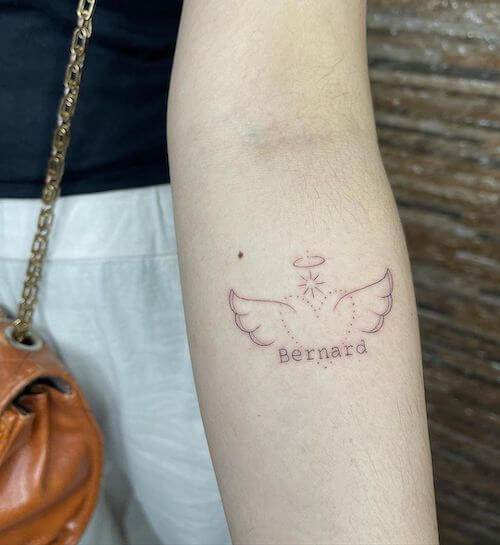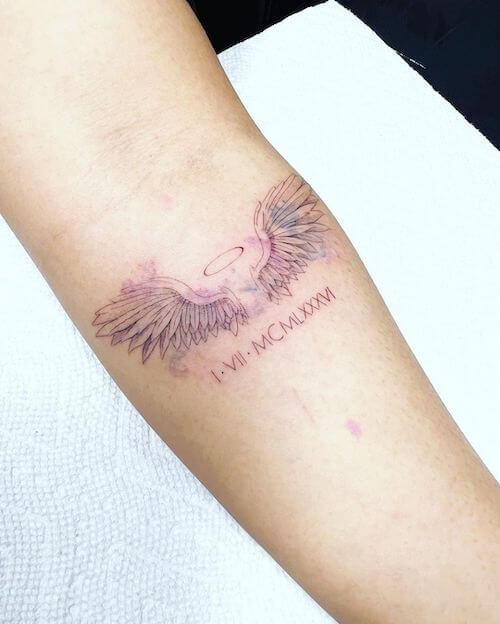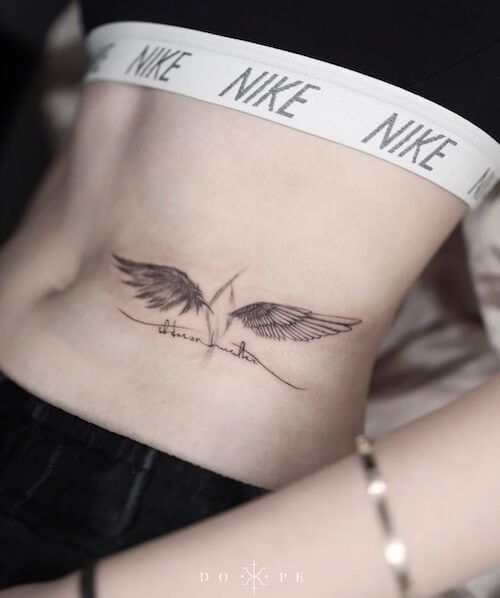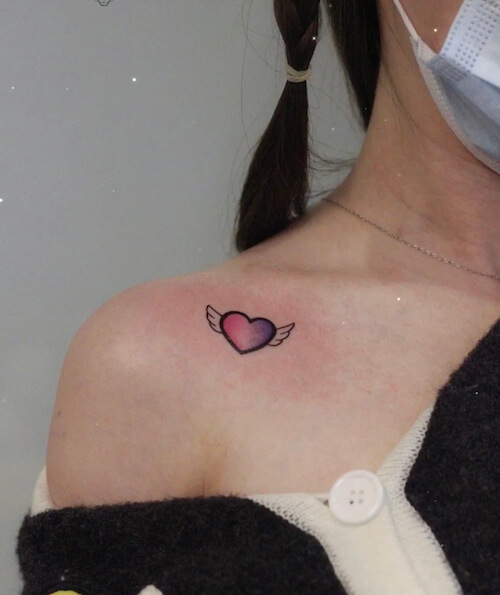 Angel And Devil Wings
An Angel and Devil wing tattoo is also a popular choice. The Angel Devil wings tattoos usually represent the dual or split personality of the person.
At the same time, this angel demon tattoo also represents people's inner struggle and confrontation, marking themselves as being in a very contradictory process that takes a while to complete self-redemption.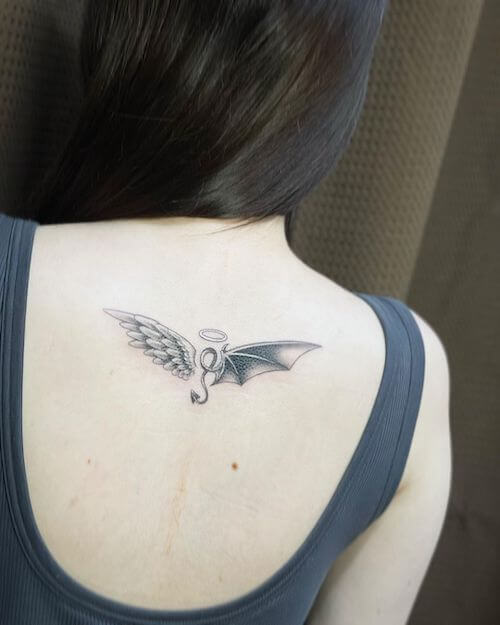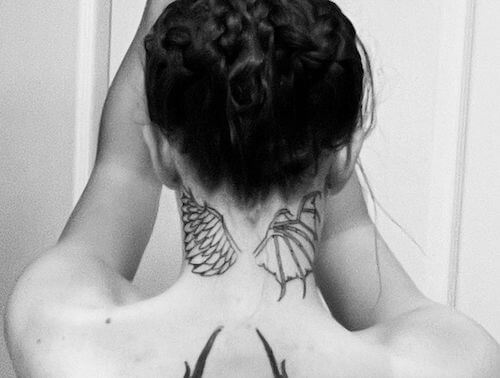 Cute Small Angel Wings Tattoo Designs
If you're looking for a small, cute angel wings tattoo design, here are some great small wings ideas we've found for you.
You can also see what parts of the body are suitable for these cute tattoos. Besides the chest or or the back of the neck, your arm or the lower back is a perfect spot, or behind the ear area is also a popular place for a small design.
For women who are getting tattoos for the first time, we would recommend trying these small, minimalist designs. This style of tattoo is a great way to fit a very wide range of clothing styles and occasions.
Below is a batch of beautiful examples we love: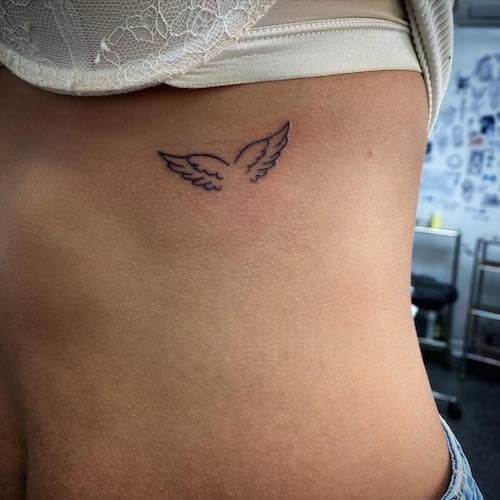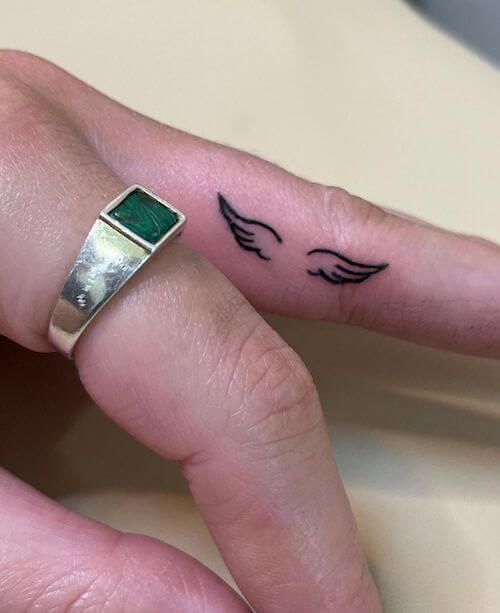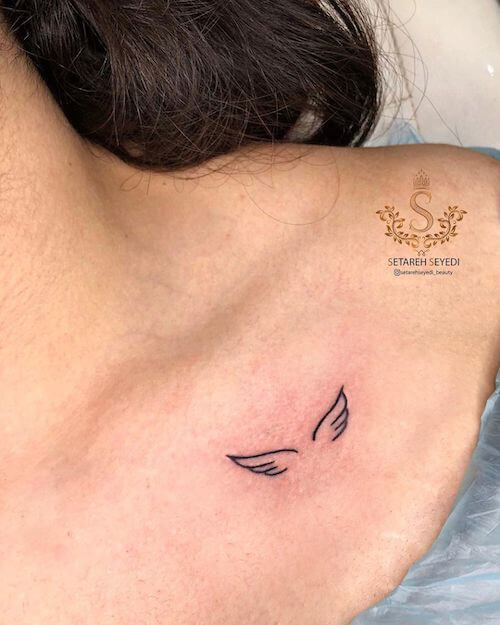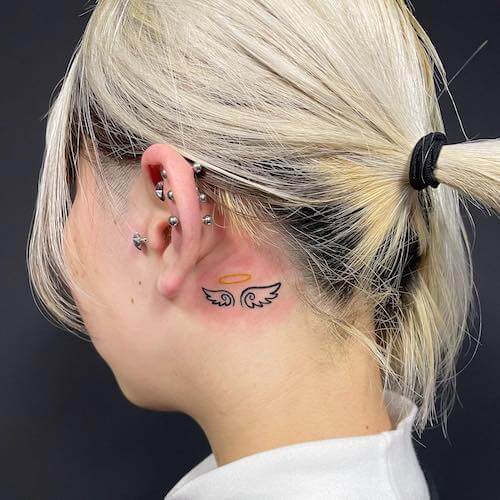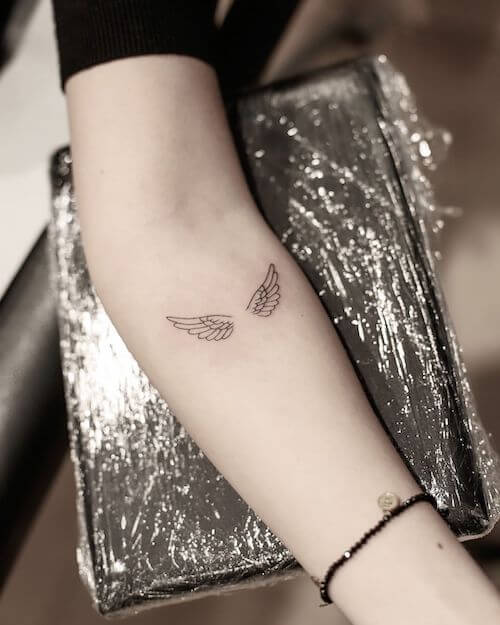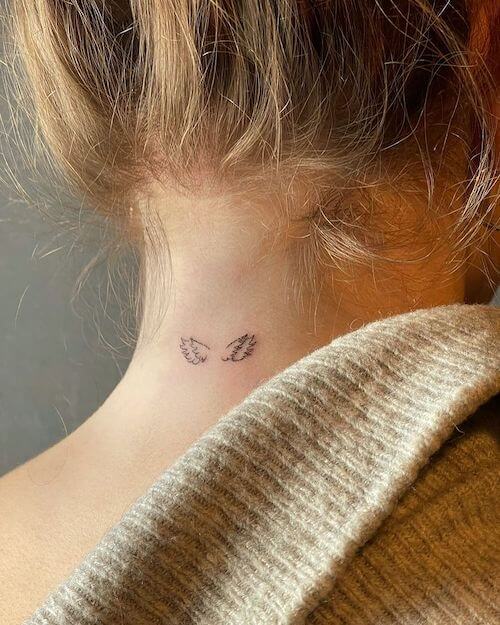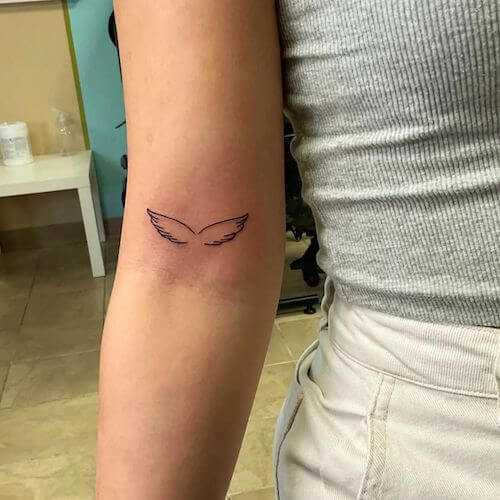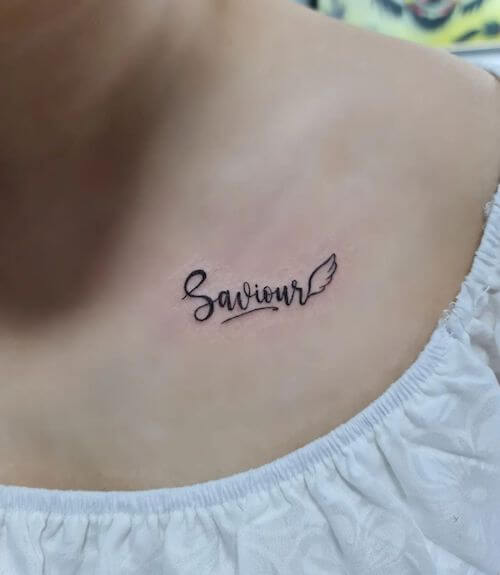 This post was all about angel wing tattoo meaning.
Check More Tattoo Ideas: